There are many different farmyard animals that we are all familiar with, and many people like to portray them in different forms of art.
In this collection of free chicken coloring pages for kids, we will be covering one of the most well-known farm animals out there.
There is a wide range of fun pictures involving this famous animal for you to enjoy, and they're all free for you to print and share.
Whether you pick a few favorite images or color every single one, you can have a great time expressing your creativity with this collection!
15 Brand New Chicken Coloring Pages – Free to Print and Color
This first page that we have for you in this collection of free chicken coloring pages for kids features an adorable cartoon chicken for you to color in.
It has got quite a simple design, but that only adds to the charm!
When coloring this cute chicken, you have many different options for how you can go about it. How will you get this collection started?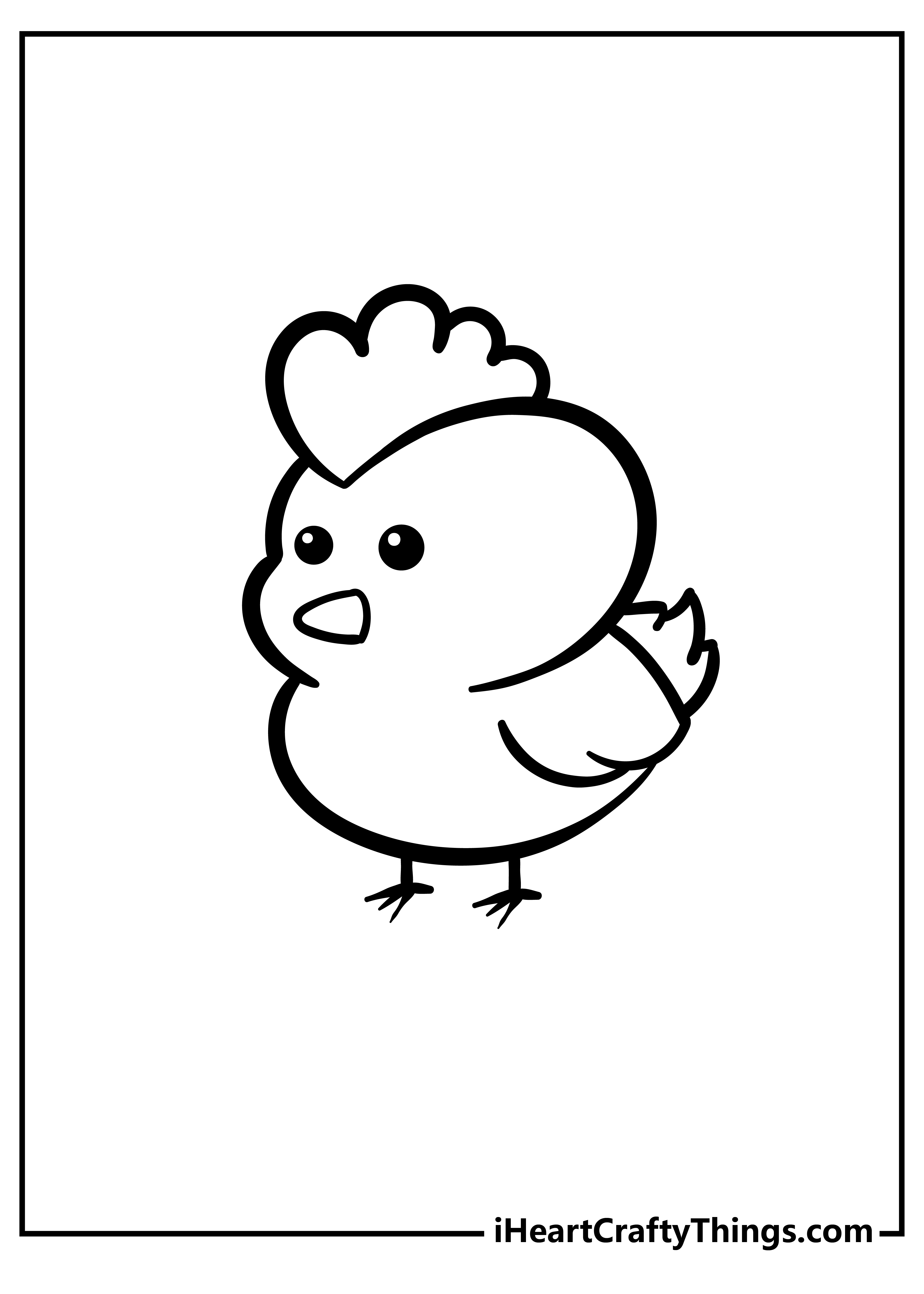 There's a happy and adorable chicken for you to color in this second page of the collection. This one is drawn in a different style to the first one, but it is no less cute and charming.
When coloring this one, you can also add some extra background details to create a little scene around this cute chicken. What kinds of settings can you think of?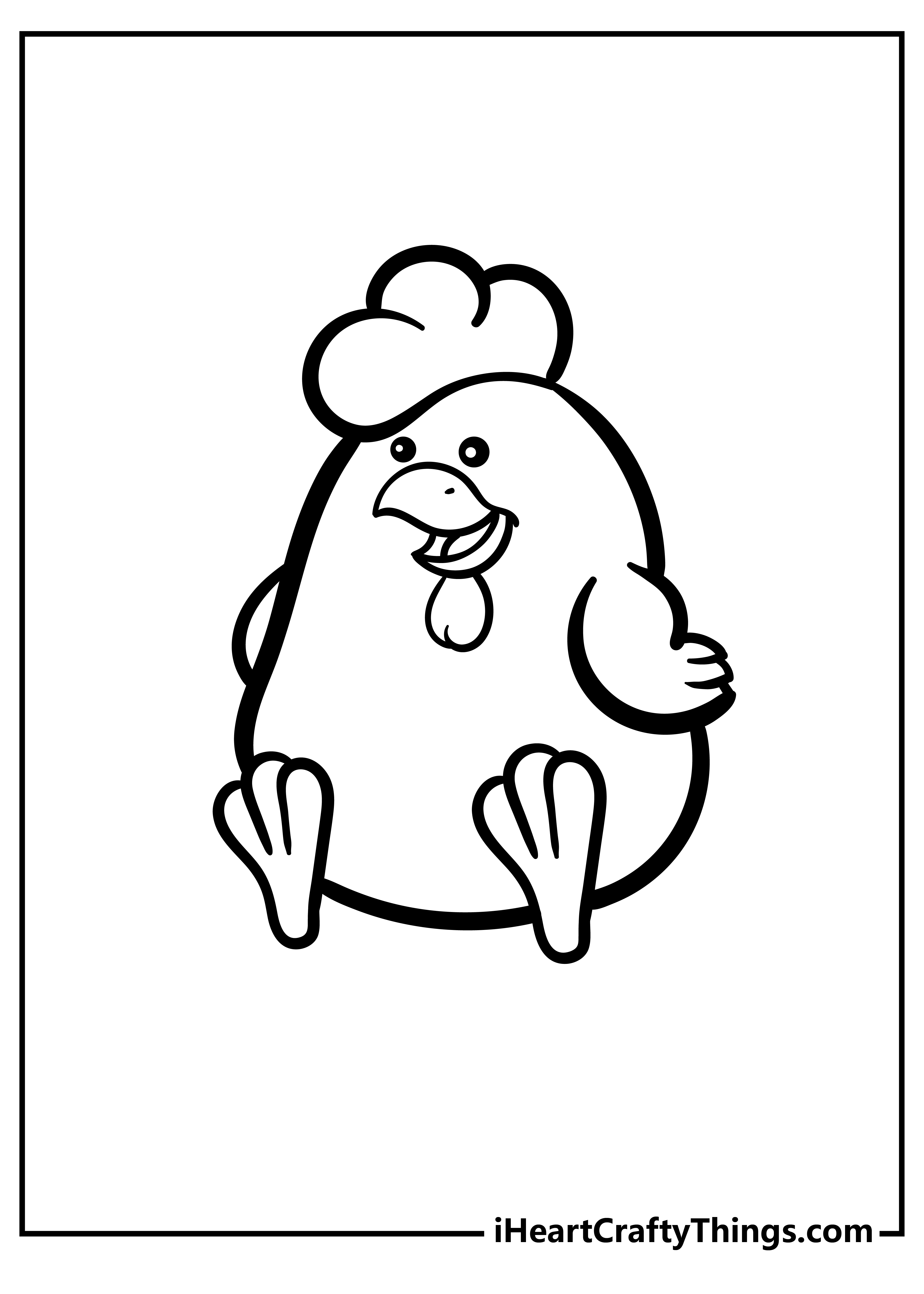 We have a chicken that is looking pretty calm and neutral in this next picture we have for you.
You can't help but think that this chicken must be enjoying a calm, happy day, and it's another one where you could have even more fun by drawing a background to go with it.
Do you think you will draw some background details or keep it to some solid colors?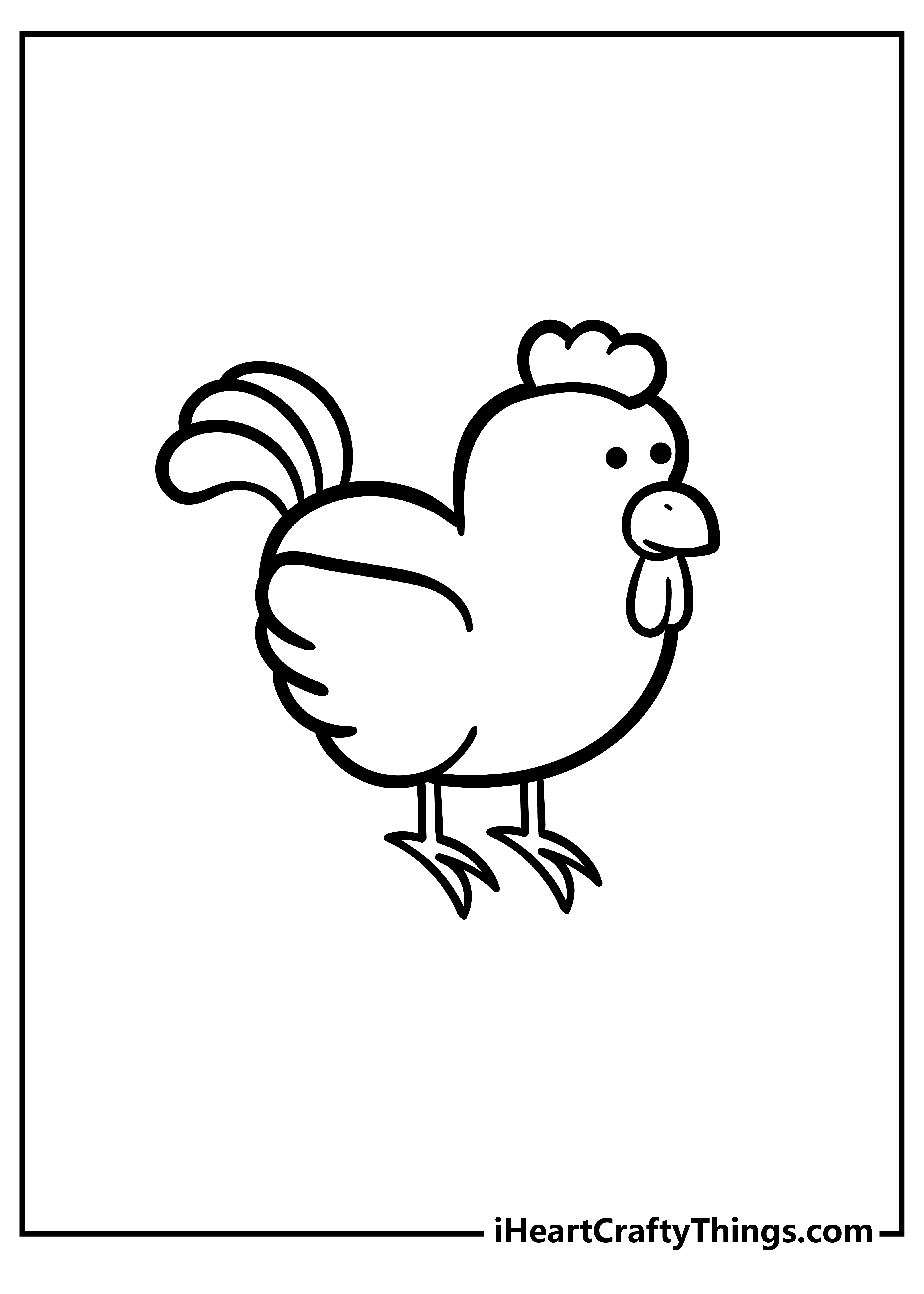 While the previous page featured a calm chicken, this one is looking a bit more agitated and nervous.
It also seems to be looking at something, and this could be what is making it look so nervous. What do you think could be making it look this way?
Maybe it has spotted a scary spider or snake, and you could draw in an extra character if you think that could be it!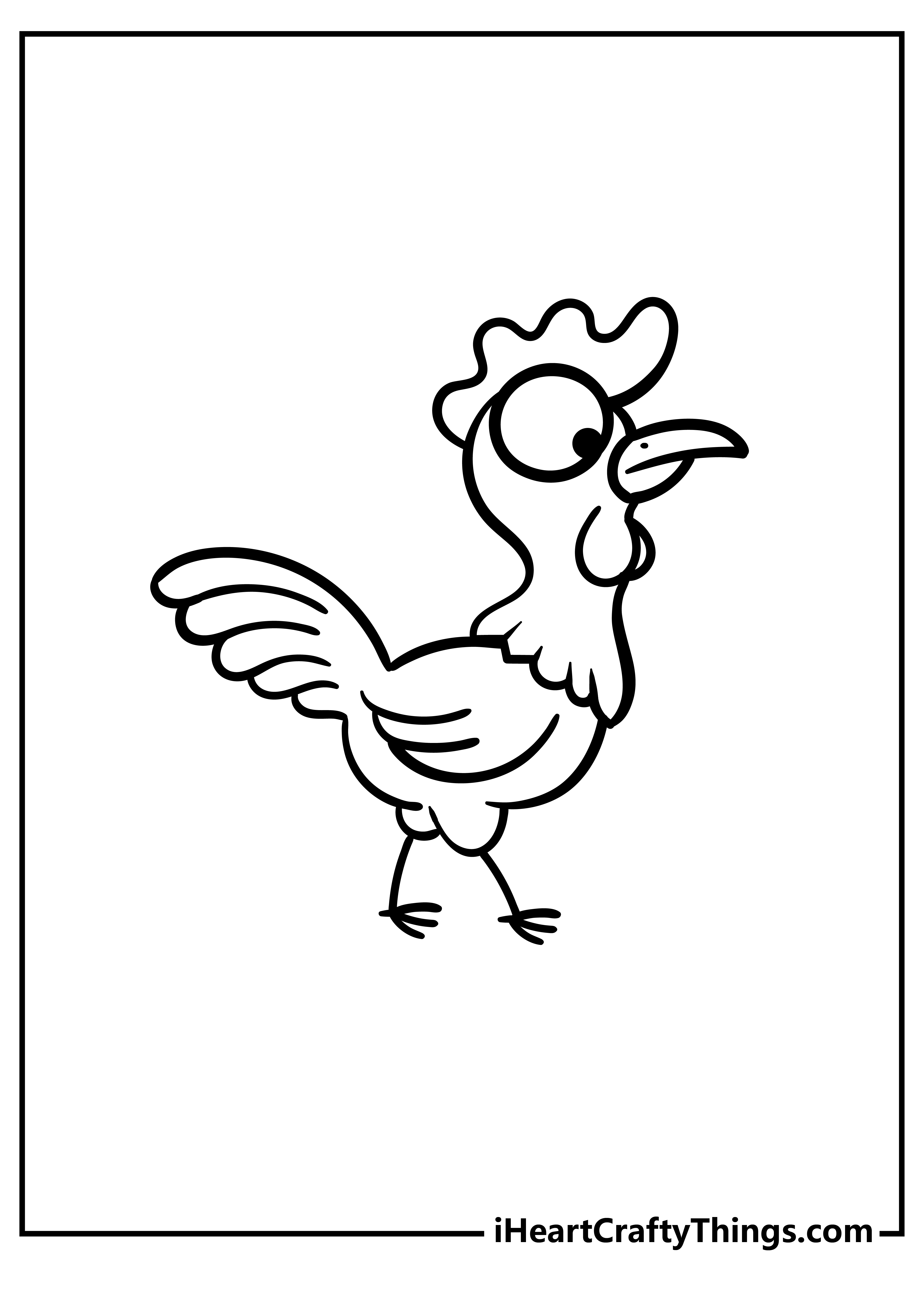 There is a really fu design to this next chicken coloring sheet that we have for you! It's drawn in a different style to the previous ones, and it has a really expressive face.
We would use some bright, flatter colors done with colored pens or paints for this one, but it's up to you to decide how you will color it in!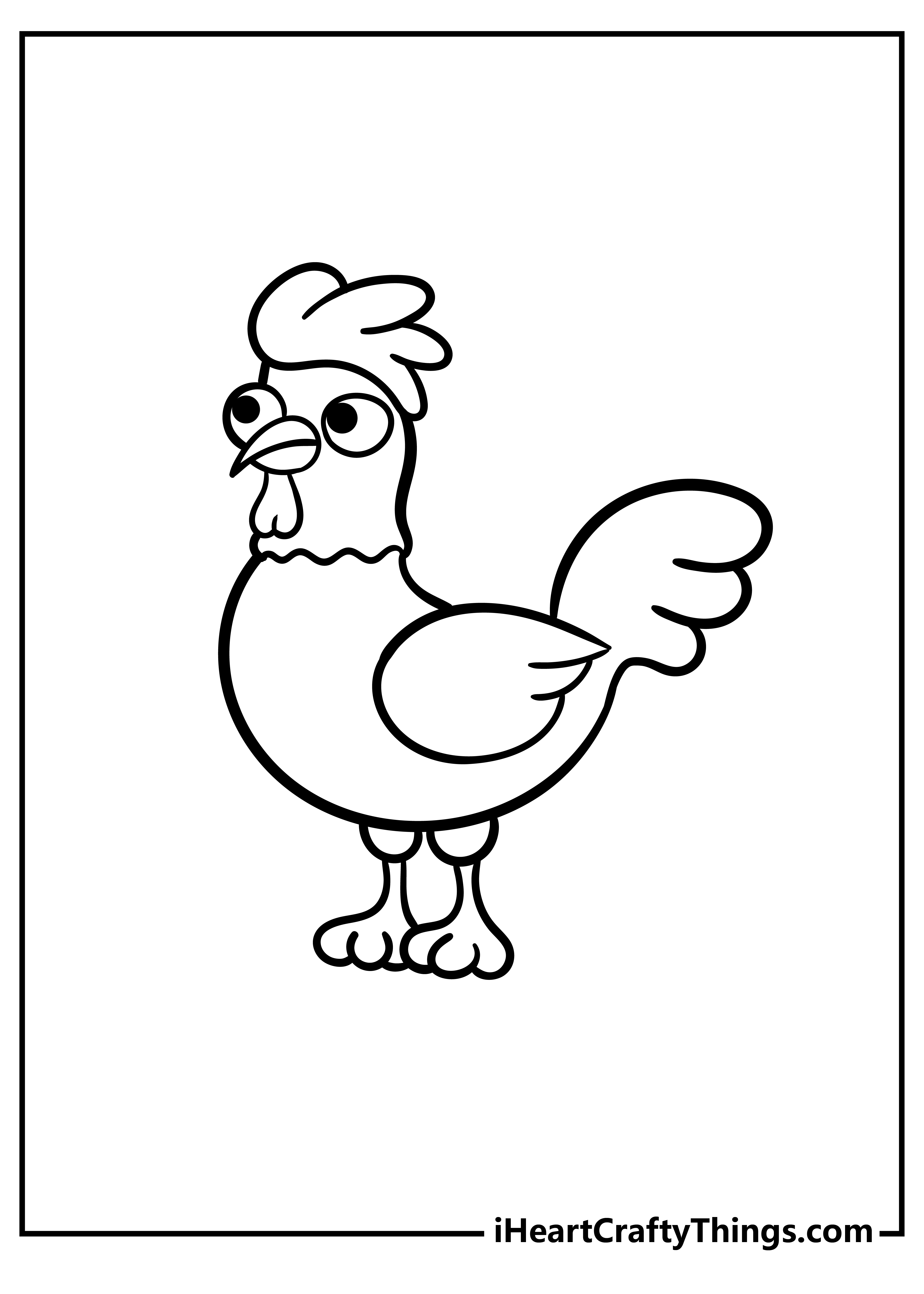 The design that this next chicken is drawn in makes it look a bit like a mosaic, and it's a really interesting design.
We think that this one would look amazing if you colored every section a different bright color.
This would make it look like it could be a design on a stain-glass window, and that would make this page really eye-catching.
Of course, that is just one idea, and there are many other ways you could color it in instead. What will you choose.
For the seventh chicken we have for you to color, there are some fun smaller details that you can have fun filling in.
Even though the style is a bit simple, there are details such as the wing and sections of the legs that you can work some interesting color details into.
What ideas do you have for this chicken design?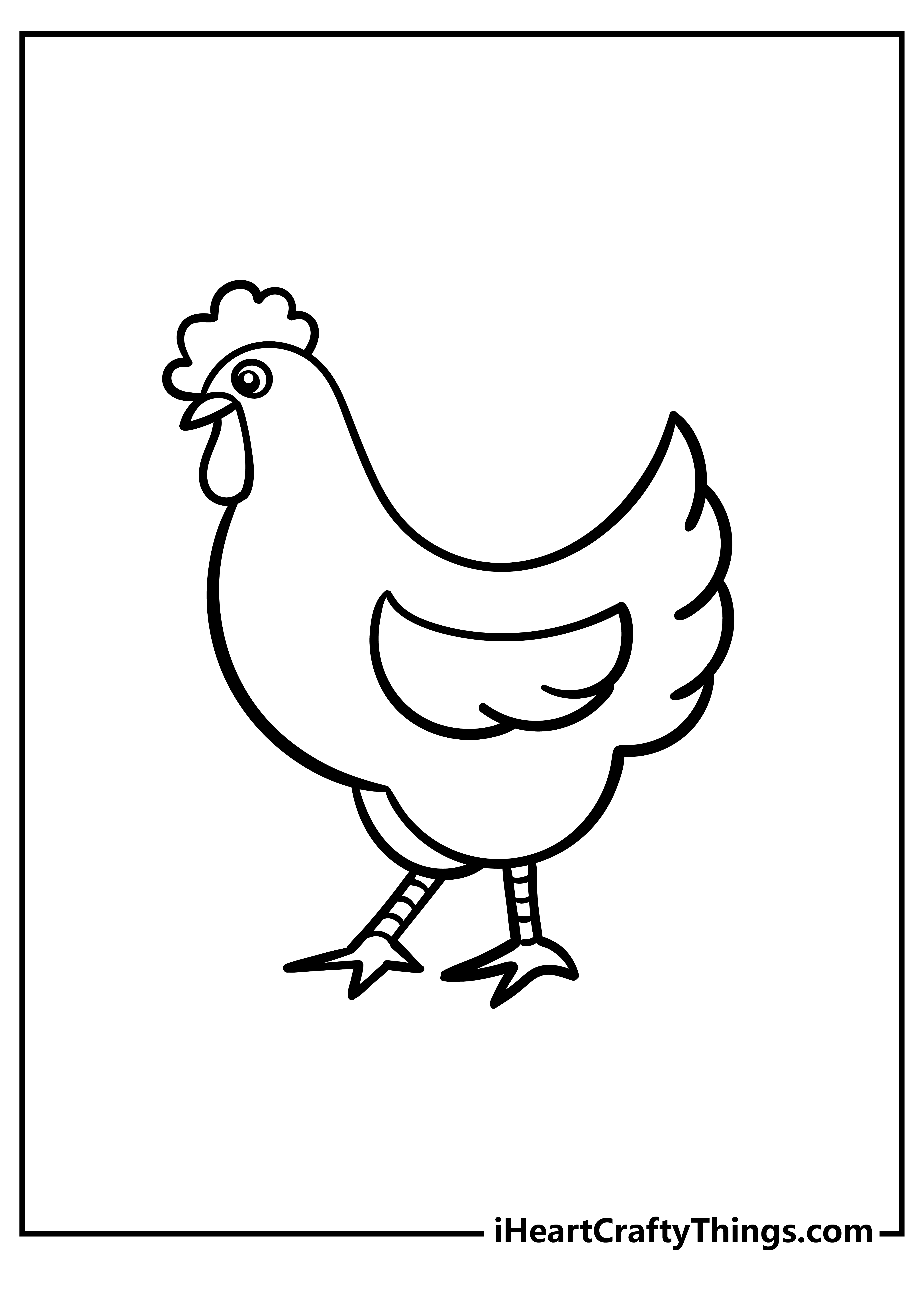 The eighth chicken we have for you to color is another one that is drawn in a rather adorable style.
When coloring in these chickens, you could either go for realistic colors that you may see on a real chicken, or create your very own chicken variation with your own colors!
Which approach will you take for this one?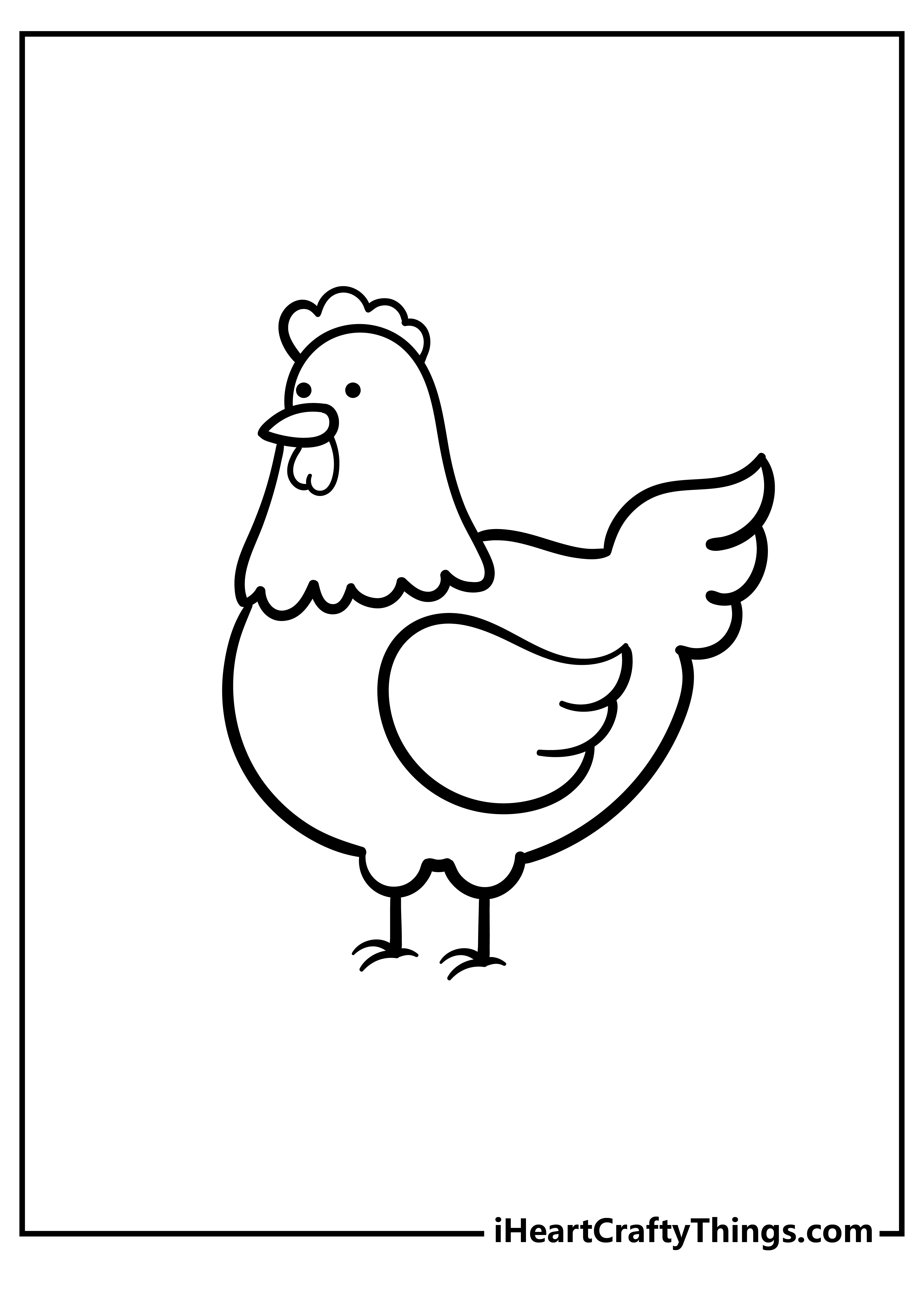 We have a proud chicken mother in this next chicken coloring printable! This cute chicken is sitting atop some eggs, and she looks very pleased with what she has accomplished.
When coloring the eggs, do you think you will make them all the same color or use a unique color for each one?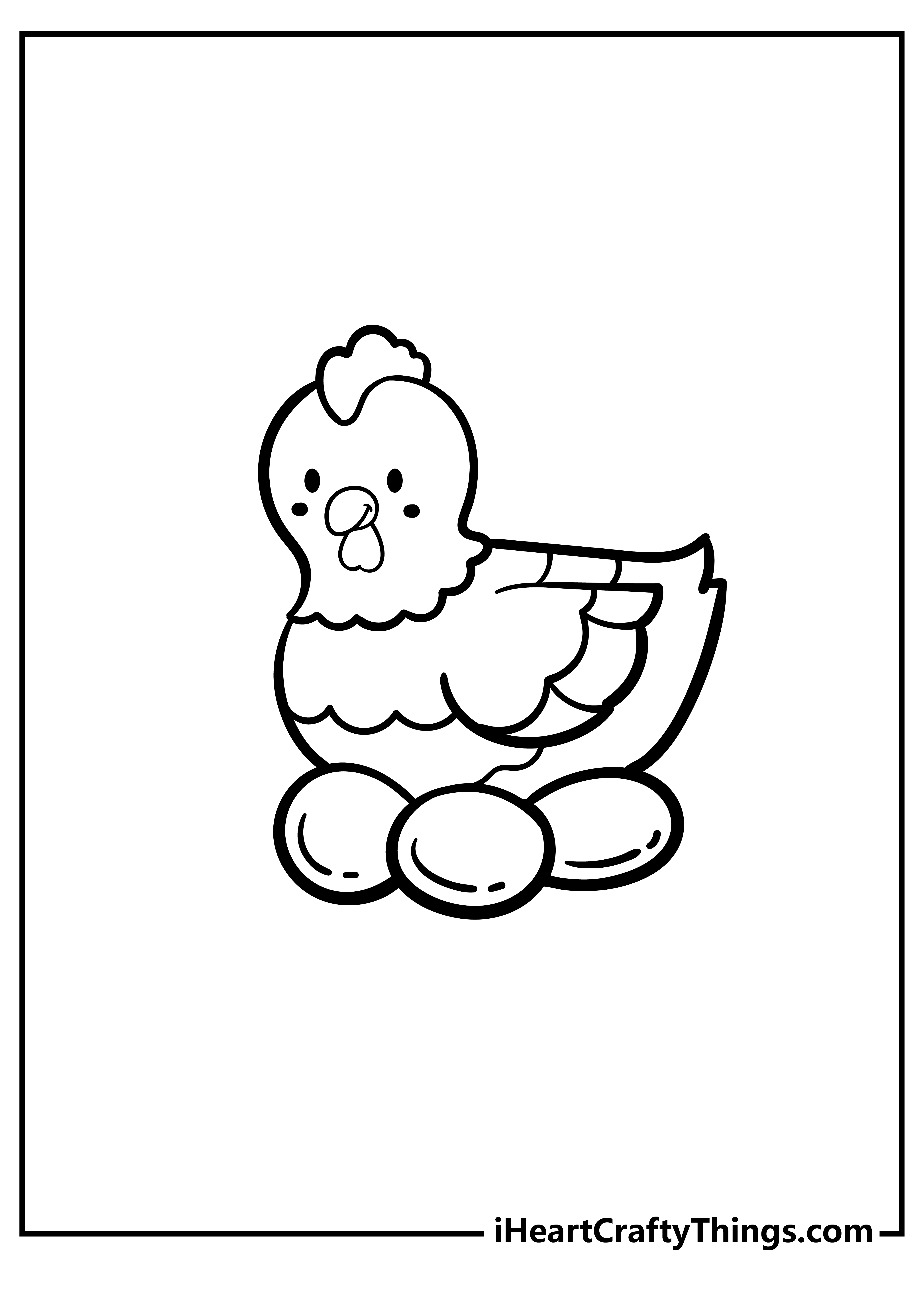 The next image we have goes nicely with the last one! The previous chicken had laid some eggs, and this one is seemingly in the process as it sits on a nest.
For some extra detail, maybe you could draw some eggs around the nest that you can color in as well!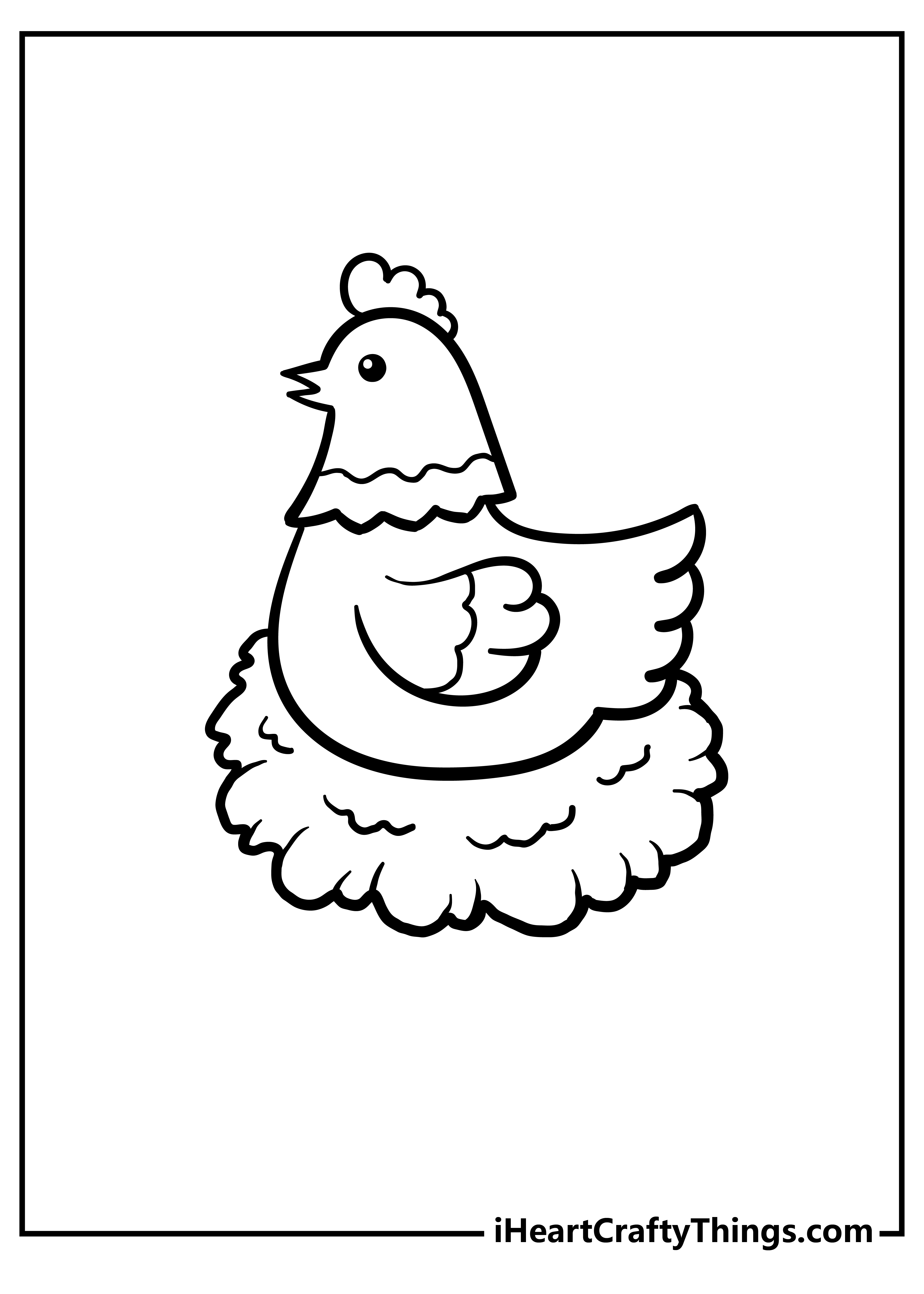 The 11th chicken we have for you to color follows the same concept as the previous one, but it is drawn in a different style that's really fun.
This chicken is drawn in a bit more detail, so you can work in some more color details as well.
Using mediums like colored pens and pencils is a great way to work in these finer details, so what will you use?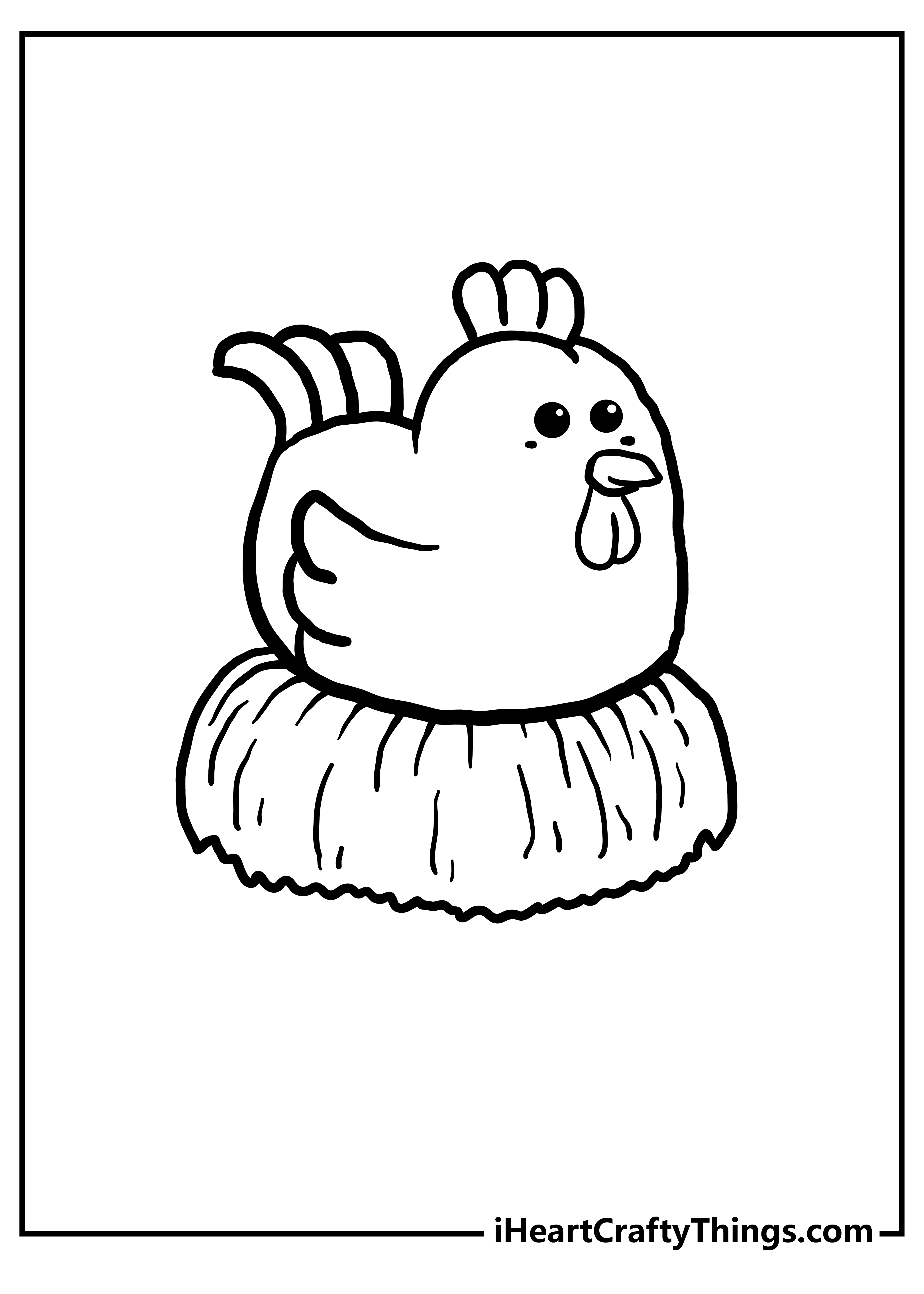 There is another adorable chicken ready for you to color them in for this twelfth image! With an image like this, you could go for any kind of color scheme you like and it would work really well.
Whether you wish to keep things simple or go for bright and complex colors, there is no wrong way to go about it!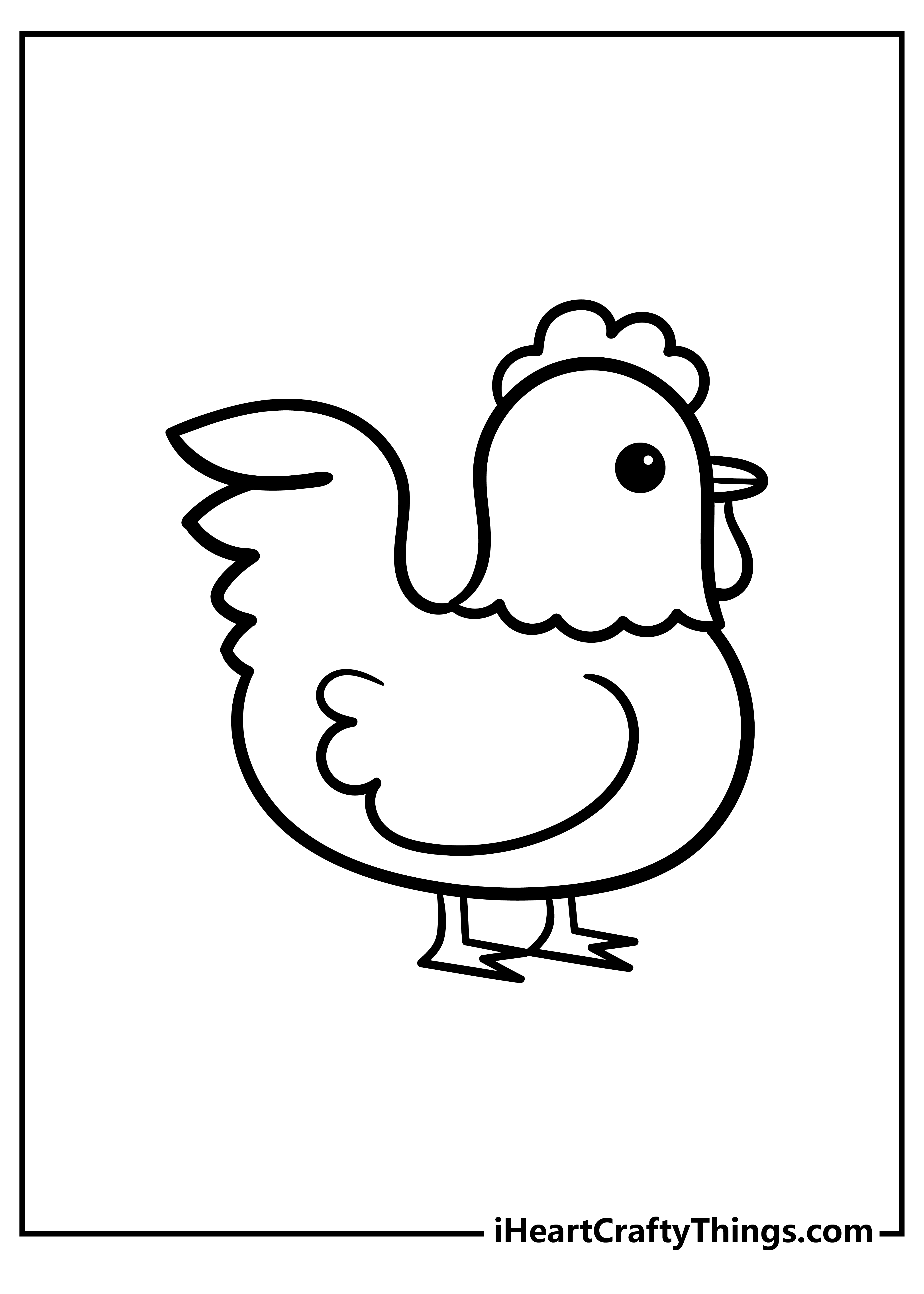 This next chicken is looking a bit uncertain! What do you think could have made it look this way?
If we were coloring this one, this is another one where we would use lighter colors to suit the mood. You could also draw a background to show what situation has made it a bit nervous!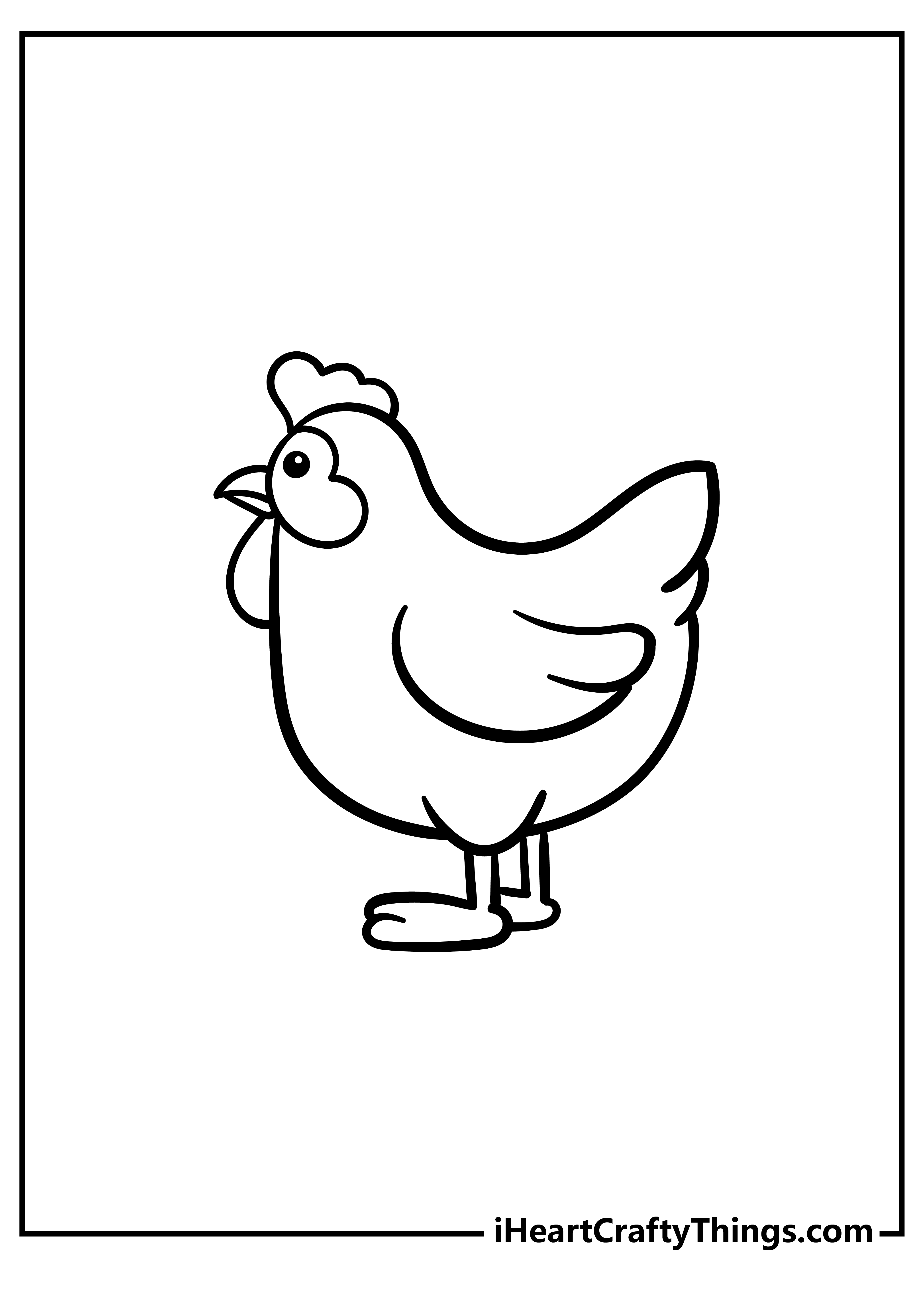 The fourteenth chicken we have is looking like it's having a better day than the previous one!
In fact, it seems to be having a really happy day, so we would draw a bright sunny sky into the background of this one. Do you agree, or do you have another setting in mind?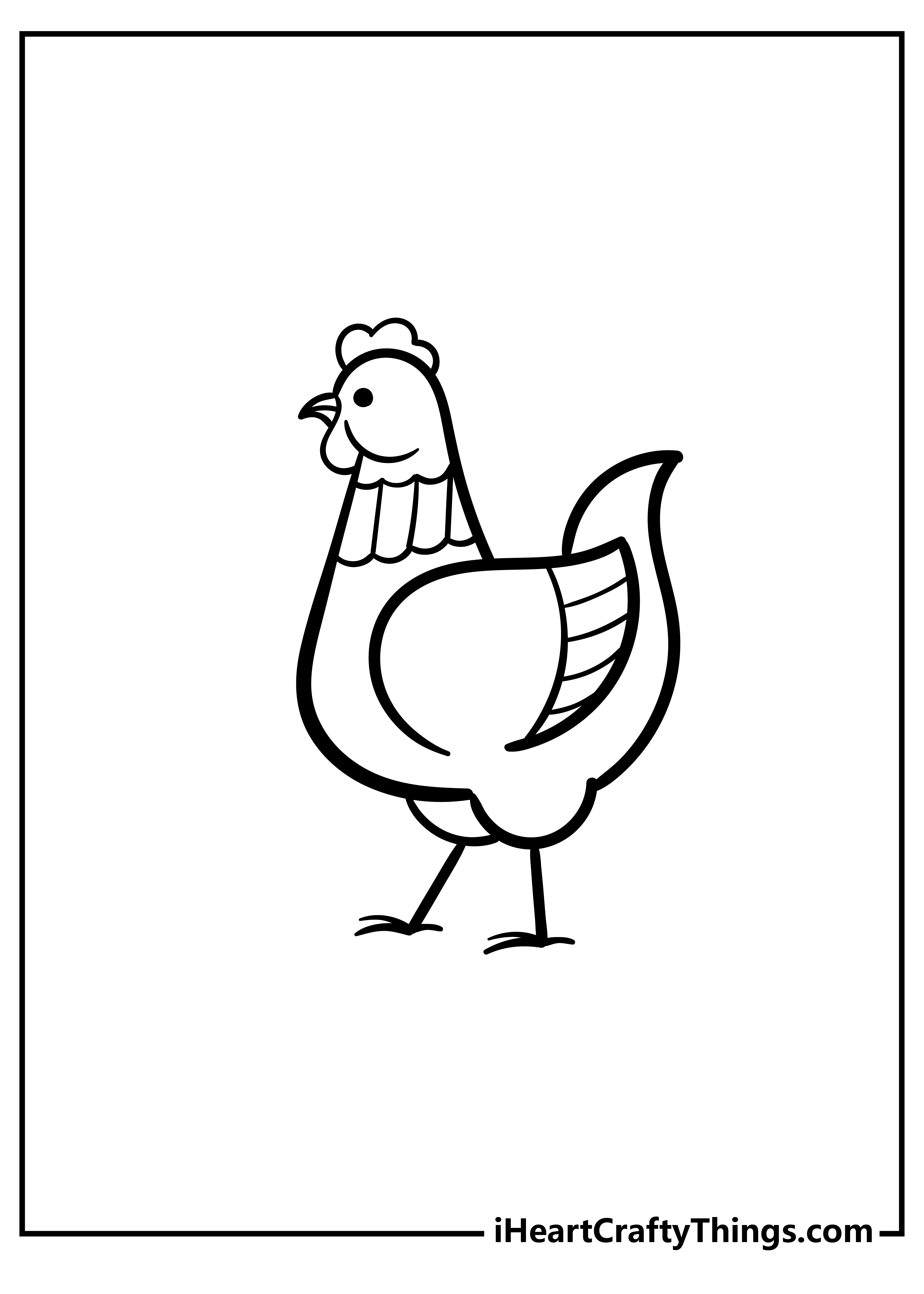 Our final chicken coloring sheet is such a fun and happy one! This chicken is having a great time as it runs around looking really happy.
We would definitely use some bright and vibrant colors to close off this collection, but as always it is entirely up to you to decide what you will go for!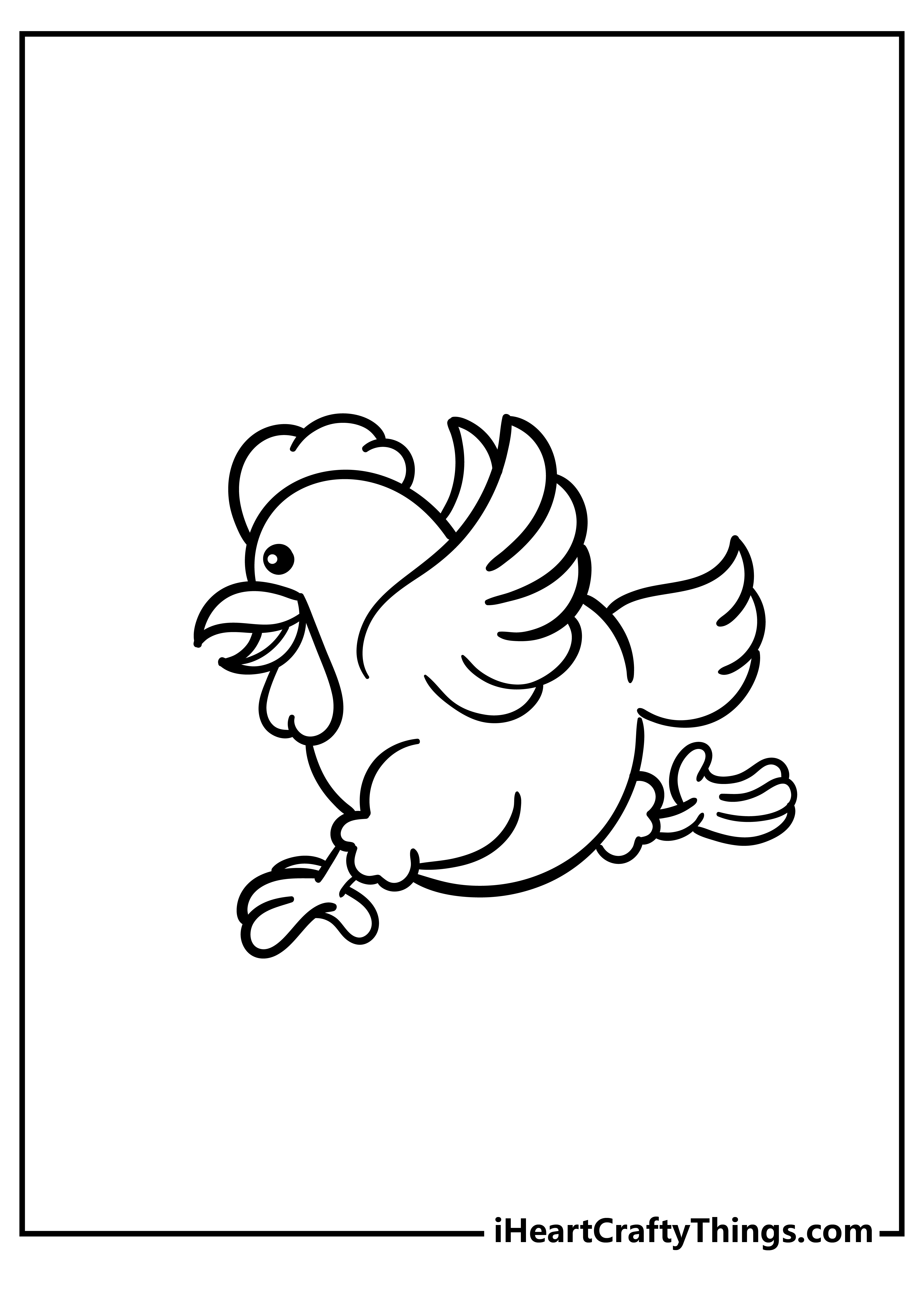 Chicken Coloring Pages – Which will you choose?
This was a great collection of free chicken coloring pages for kids, and we hope you enjoyed working through it!
This collection is all about color creativity, so don't feel chicken about using some bold and inventive colors.
It would be great to see how some of these pages turned out, too. Please remember to show us by sharing some of your finished pages on our Facebook and Pinterest pages for us to see!