I think we can all agree that tanks are pretty cool. I'm sure a couple of us used to imagine rolling up to school in our very own tank!
Tanks come in many different variations in class, size and color schemes. Sometimes they'll have a solid color scheme and others they'll have intricate camouflage designs. This will be the chance to imagine what other colors and designs tanks could have if we got to choose!
These free tank coloring page printables for kids are a great way to show off your creativity and create your very own versions of what you would choose for a tank's color if you got to own one.
When you've finished coloring in these coloring pages we'd love to see your creative designs, so please be sure to share them on our Facebook page so we can see what you come up with!
REMEMBER: You can get the COMPLETE set of these coloring pages >> HERE
10 Brand New Tanks Coloring Pages – Free to Print and Color
The first image for our series of tank coloring page printables shows a tank heading off down a road.
I wonder what kind of terrain it's travelling on? You could color in a dark road or use browns to suggest it's on a more dusty desert road. Whichever you choose, maybe you can make the tank's camouflage match whatever terrain it's on!
Maybe you could print out a few copies and try different terrains. You could even draw in some background details if you're feeling extra creative.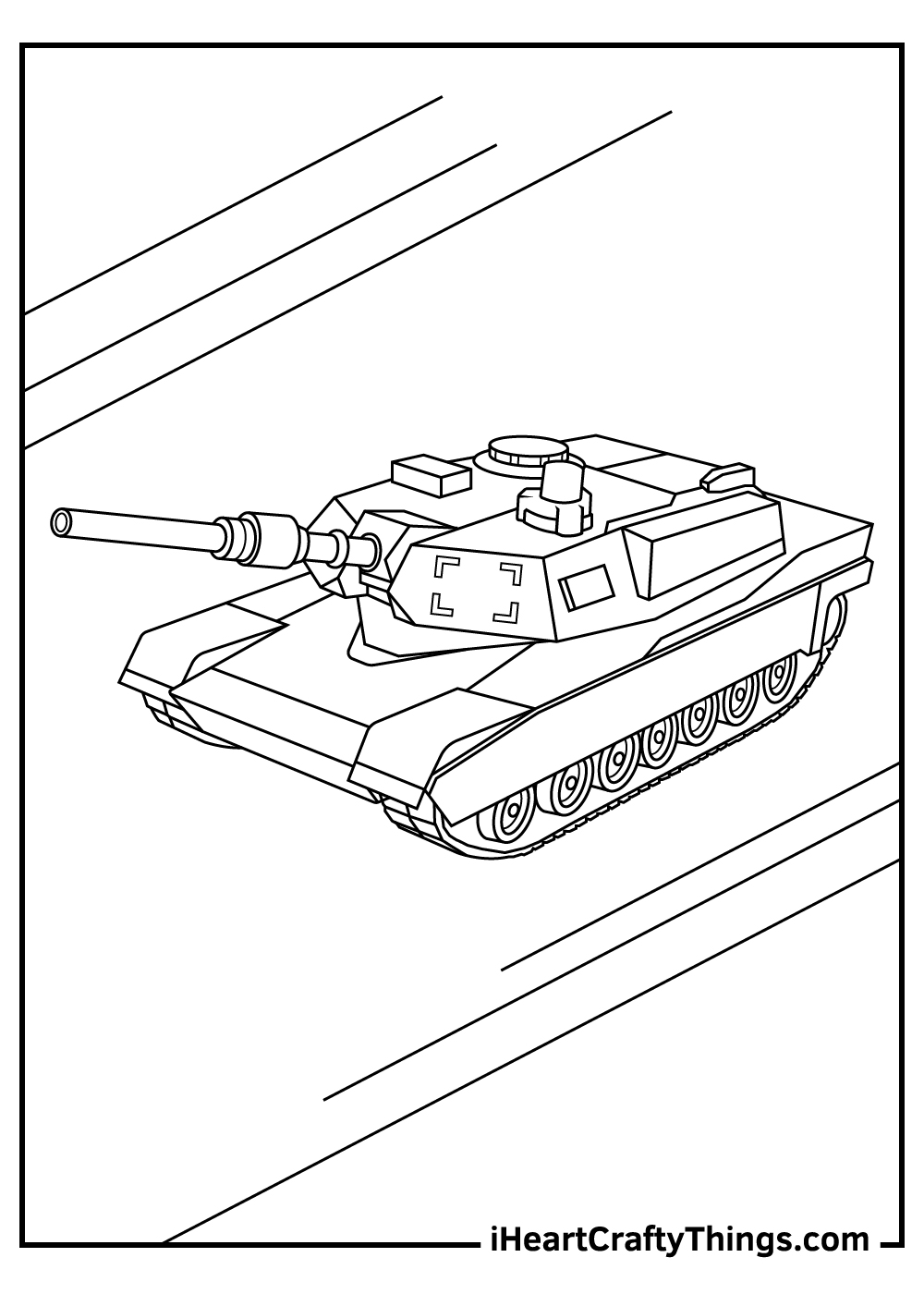 There's a star theme for the next tank coloring page we have. With the stars in the background it makes me think of the American flag, so maybe you could leave the stars white and use a blue for the rest of the background to create a cool flag themed image!
You could also try to use variations of red, white and blue for the tank colors.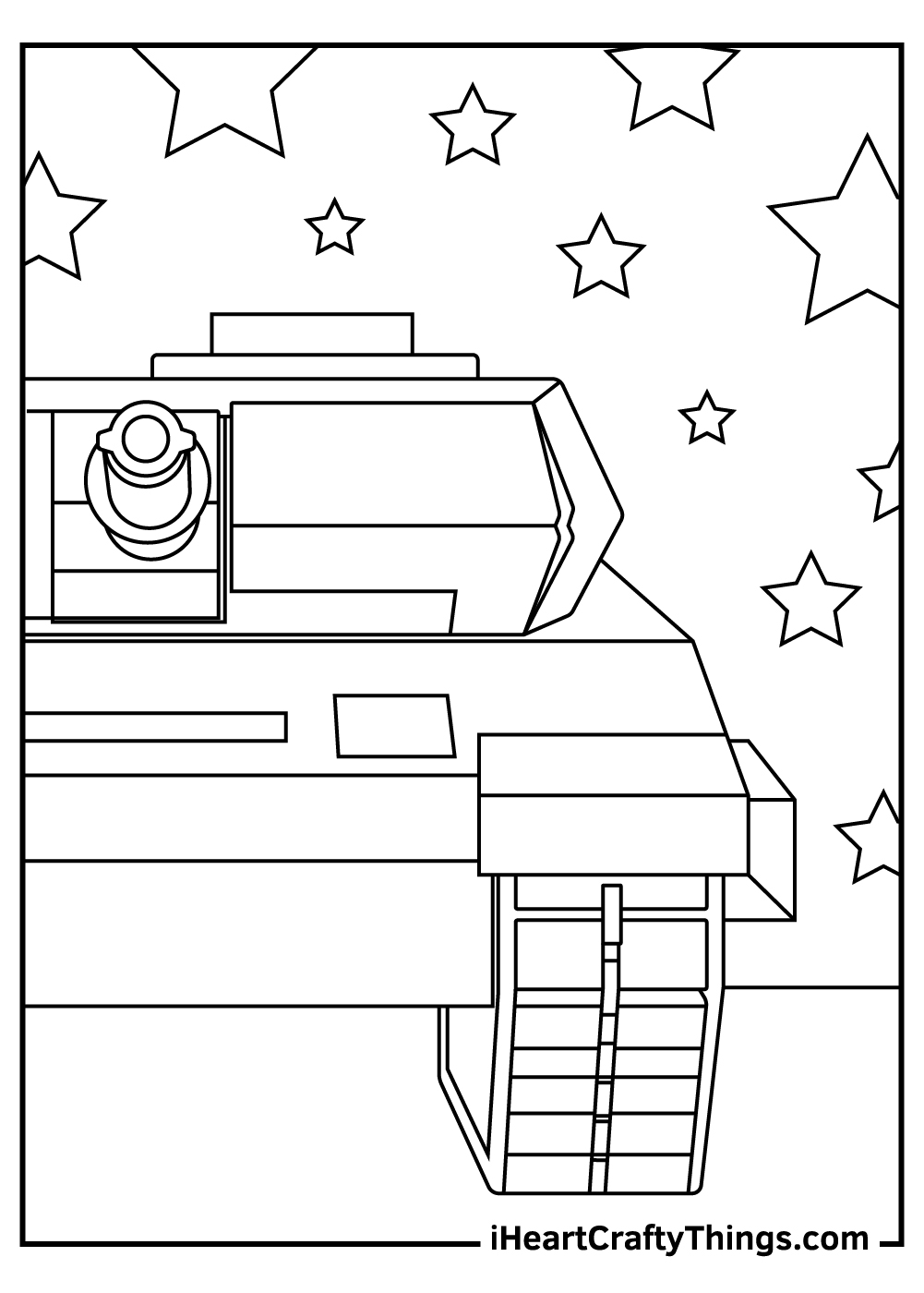 The segmented background design of this free coloring sheet opens up a lot of possibilities for some great color variations.
Maybe you could use two or three of your favorite colors and alternate them for the background to create a colorful image!
Once you've finished it, this could make for a cool poster for your room.
REMEMBER: You can get the COMPLETE set of these coloring pages >> HERE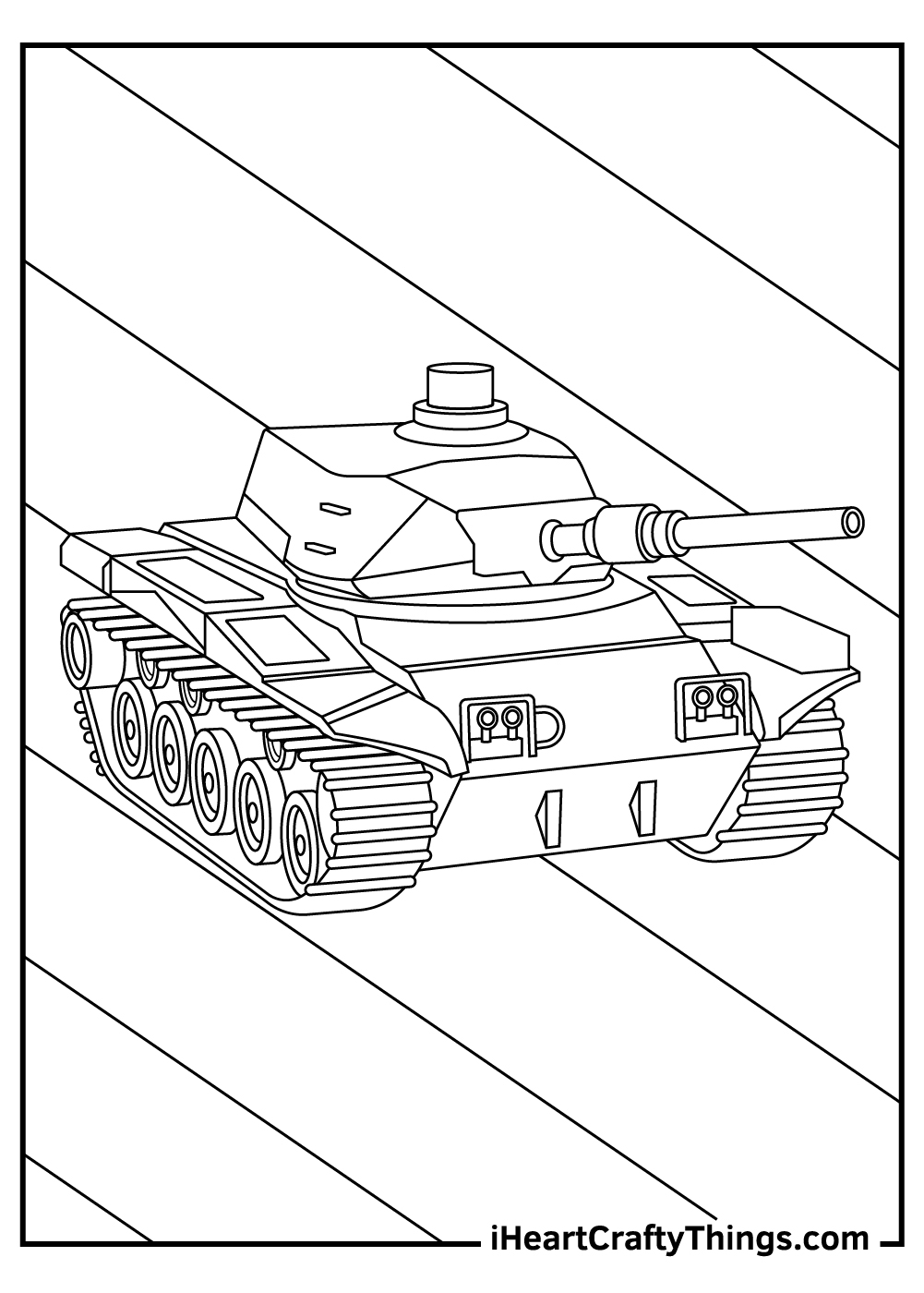 It's a bright and beautiful day behind this tank. Maybe it's part of a military parade and rolling proudly past a crowd of cheering people in this printable sheet.
For this bright day, I'd suggest a lighter blue to contrast against the white clouds and green for the ground to give a feeling of a clear Summer day.
What color will you use for the tank?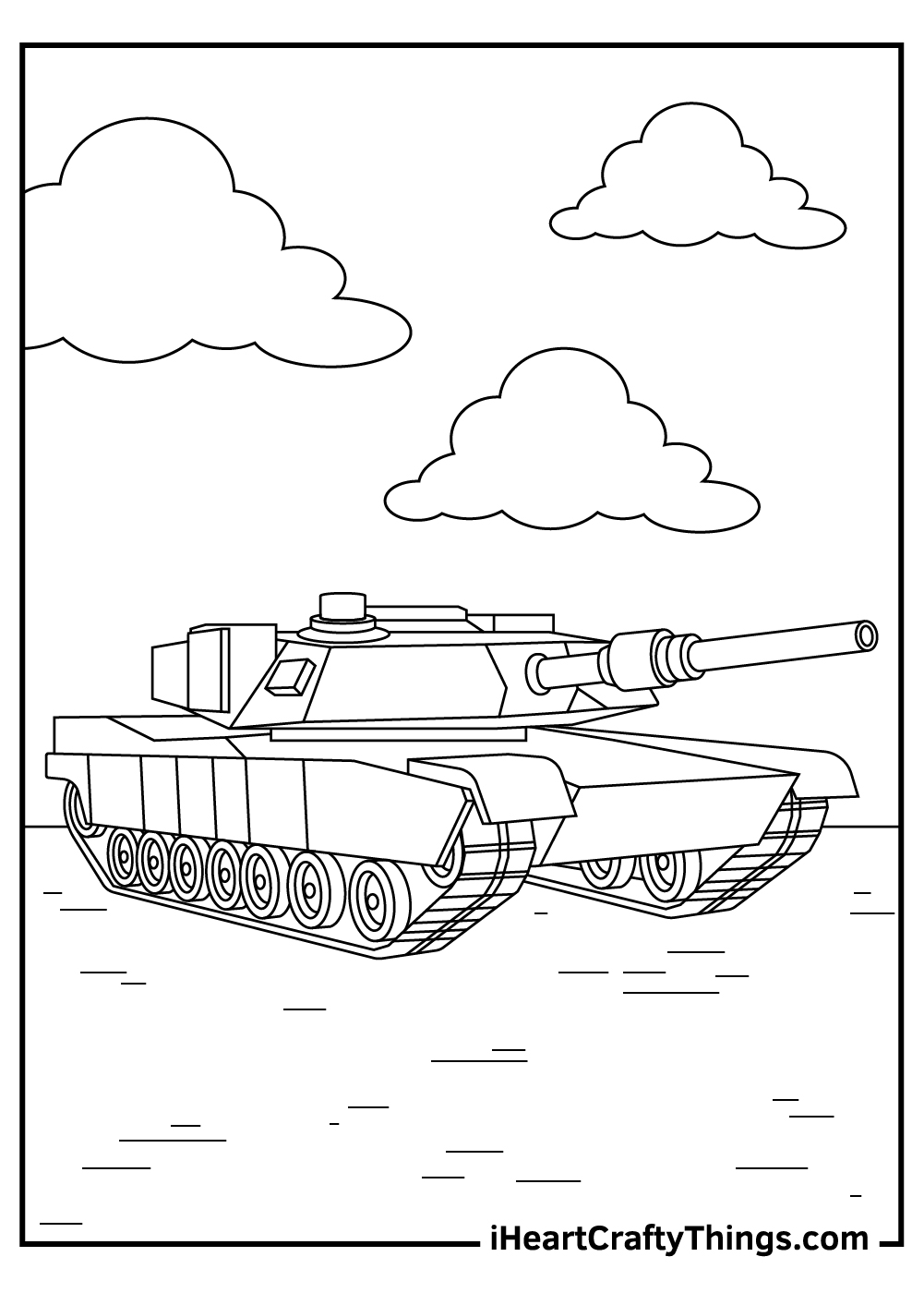 This next tank coloring page shows another tank with a star pattern behind it. You could color this sheet in similar flag colors to a previous coloring page that had star patterns and put them together for a matching flag themed tank set!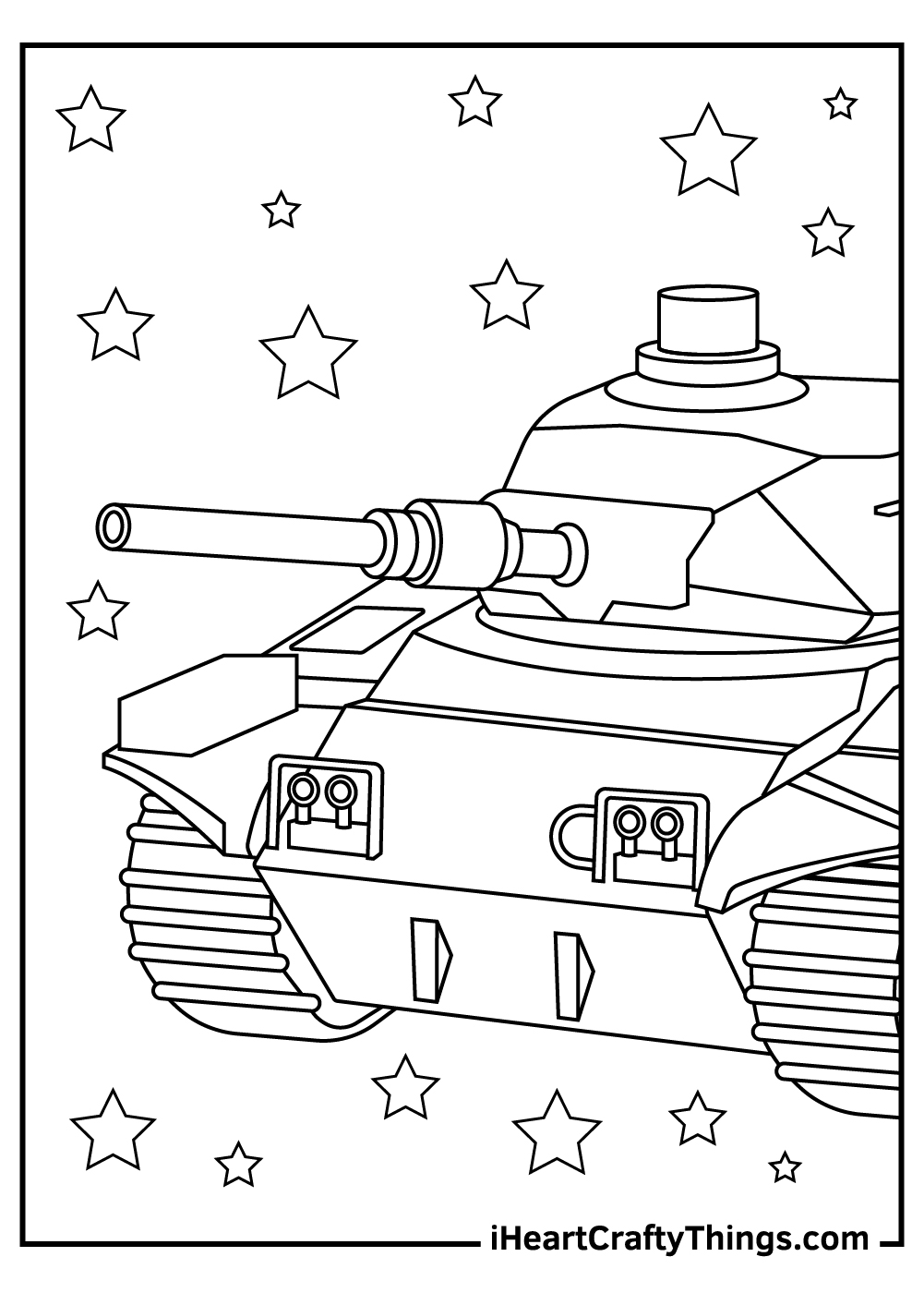 We have another outdoor scene for this tank coloring printable. It doesn't look like as clear a day as the previous outdoors image, wouldn't you say?
Maybe you could use oranges, yellows and reds for the sky to suggest that this image is taking place at dusk. If you do, I'd think the tank should be a slightly darker color too so that it can fit the mood.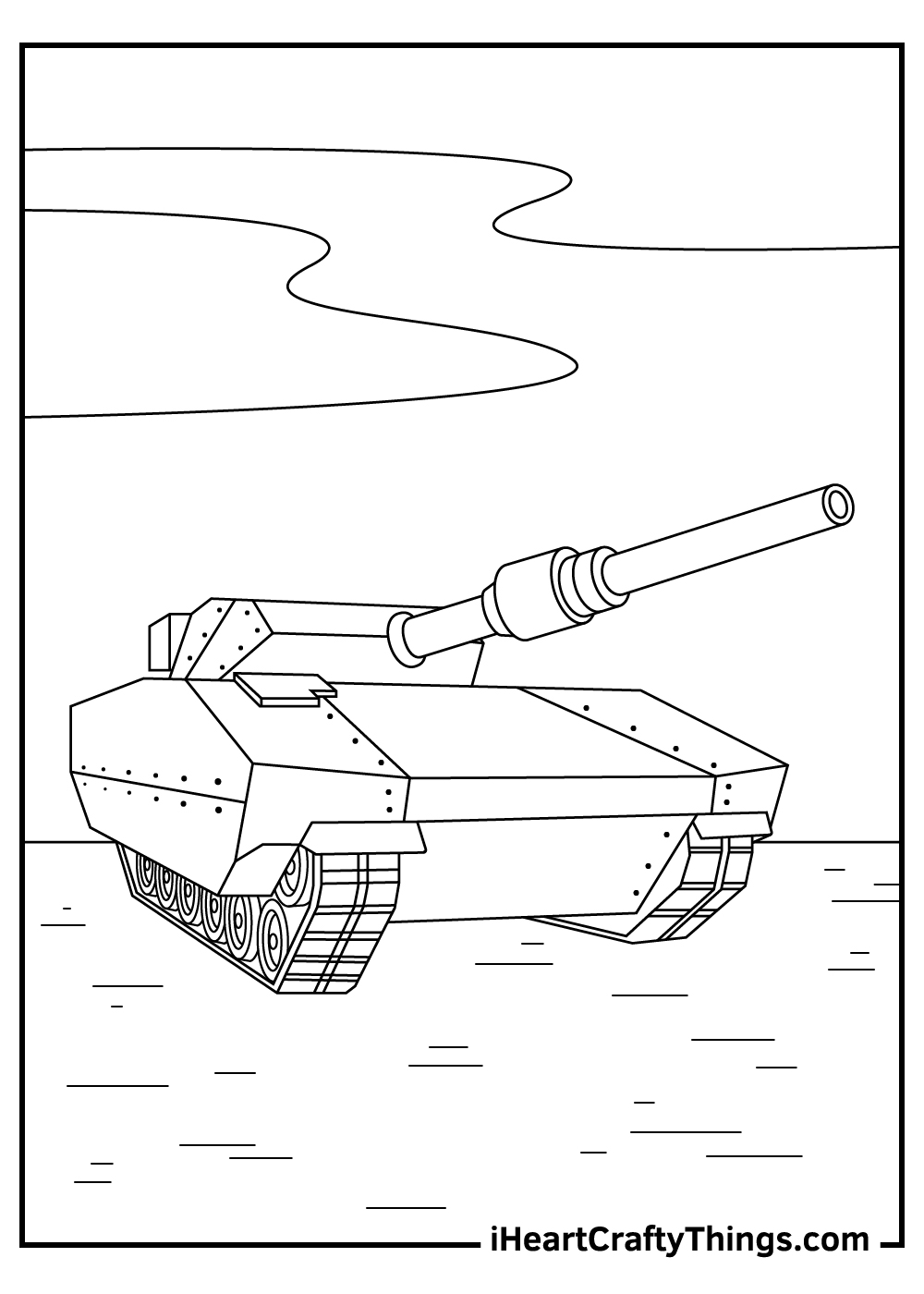 The tank in this coloring page has an intricate camouflage pattern for you to color! Tanks will be camouflaged depending on the terrain they're travelling. A browner pattern would be used for more desert like environments, green for a more jungle terrain and white for more snowy environments.
What color scheme will you choose to suggest where this tank could be stationed? You could go with crazy colors as well if you feel like being creative! It's free to print multiple copies of this page so maybe you should do that so that you can experiment a bit.
REMEMBER: You can get the COMPLETE set of these coloring pages >> HERE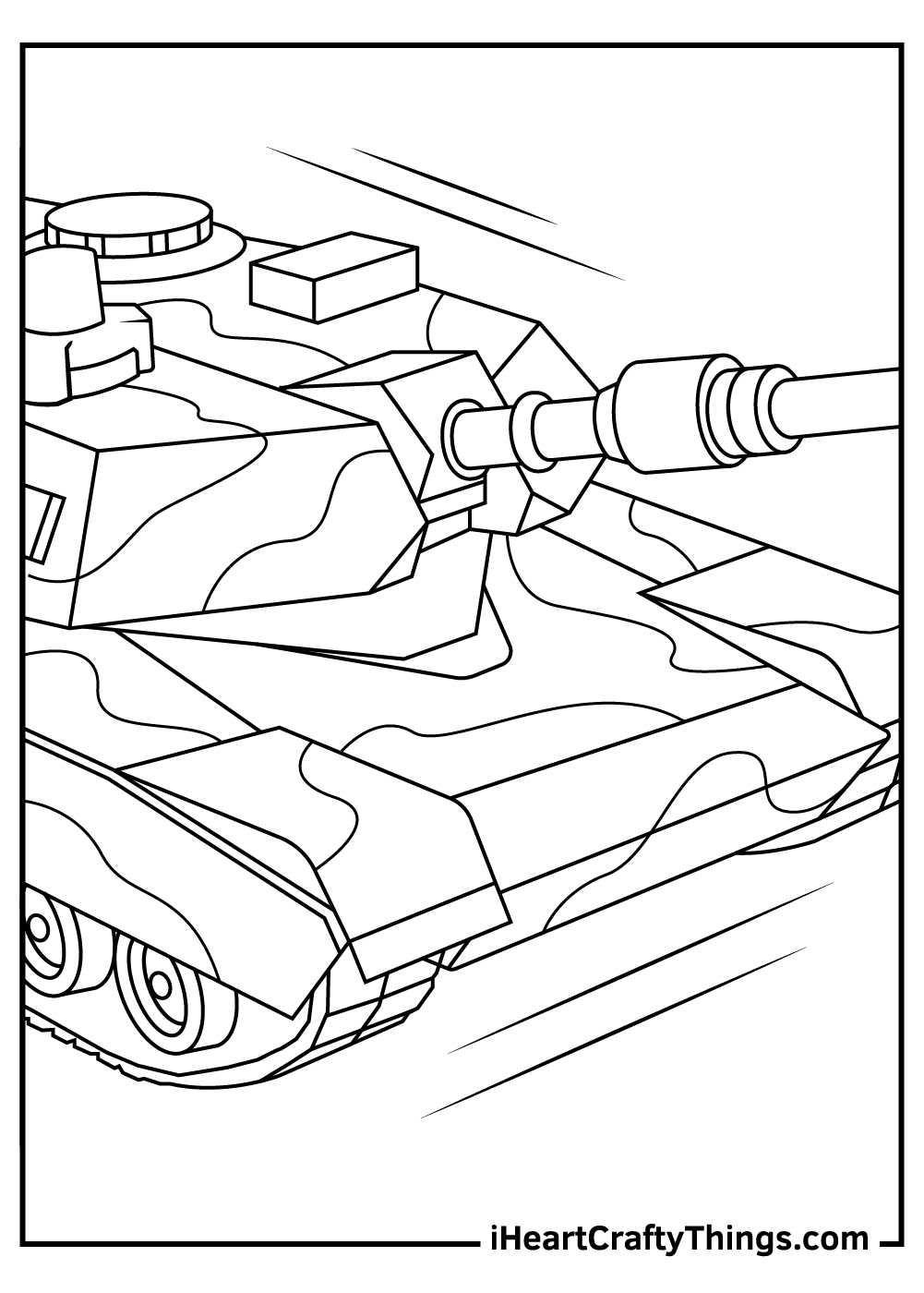 Another camouflaged tank is the focus on top of another segmented background in this next tank coloring page. This is another opportunity to pick your own camouflage color scheme.
Once you've picked the colors for the tank, maybe you could alternate them for the sections of the background to suggest the area this tank could be in.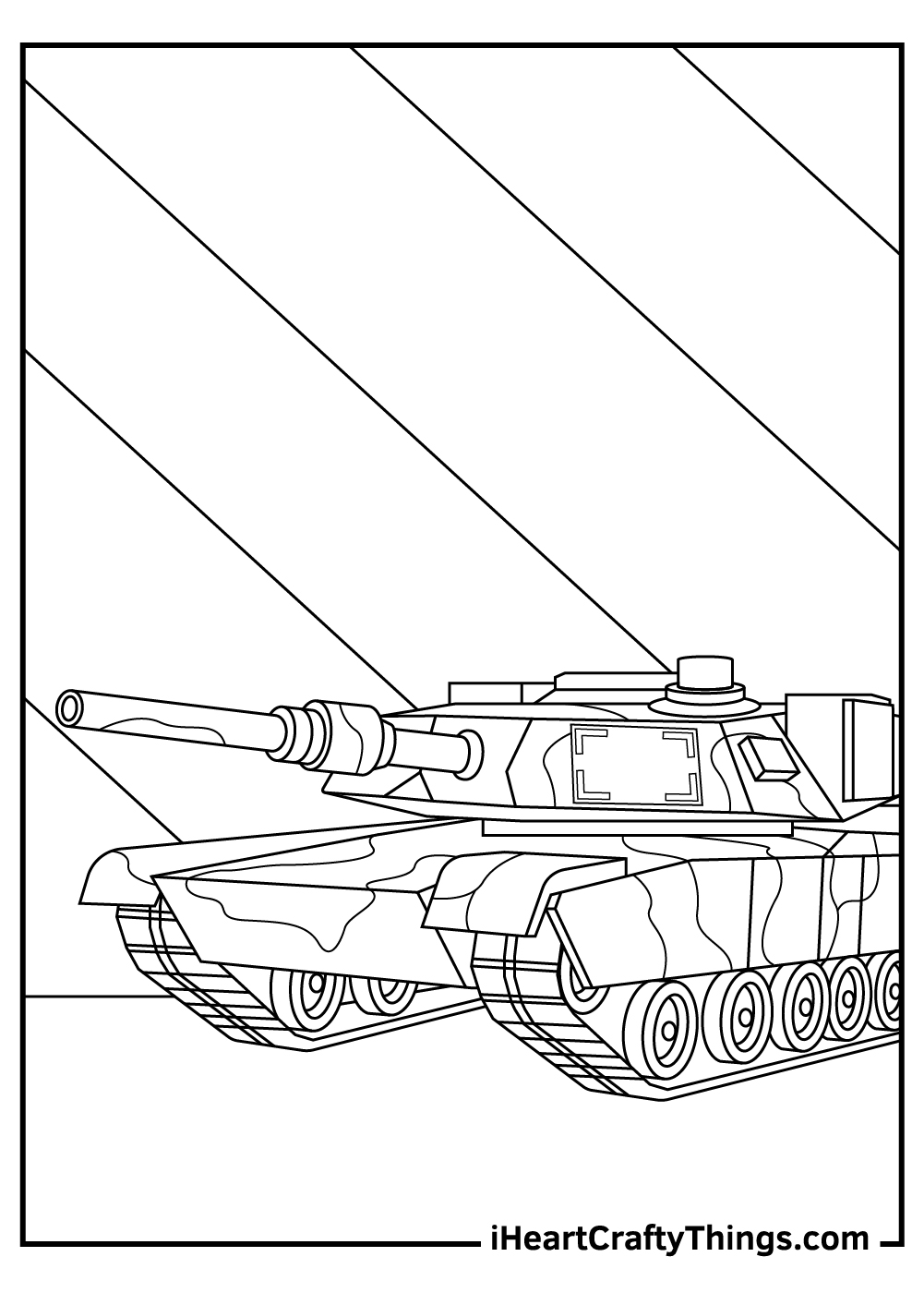 The tank in this coloring sheet printable looks like it's being shown off in a showroom! It's in a circle with more stars in the background, so maybe it's a fancy new model being shown off to a cheering crowd.
I think it would finish the effect nicely if you colored in a bright yellow for the circle it's in like a spotlight and used brighter colors for the rest of the background and tank.
REMEMBER: You can get the COMPLETE set of these coloring pages >> HERE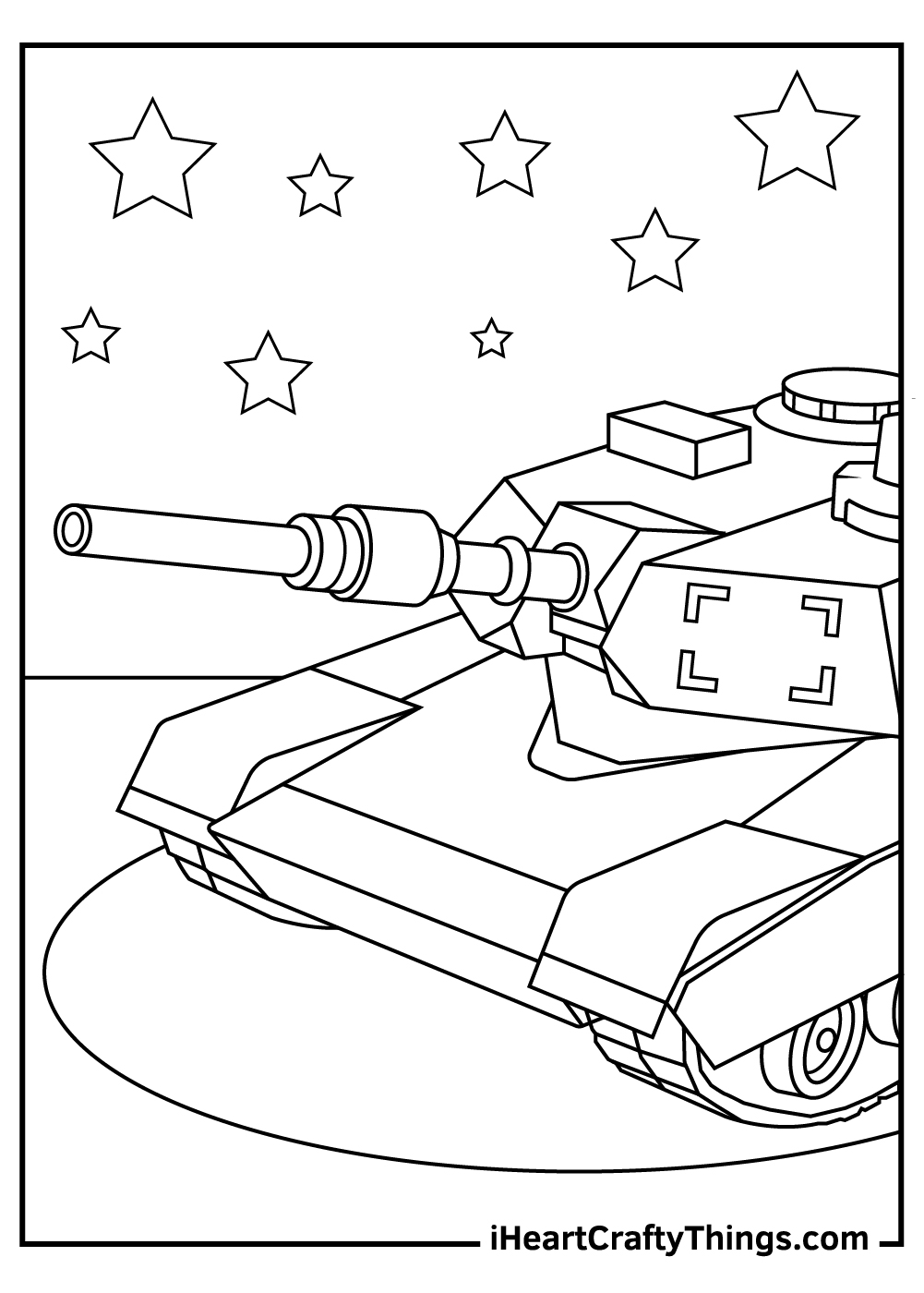 The background of our last tank coloring page has different sections for you to color again.
This image would look really striking with a great variation of your favorite colors, so why not try and fit in as many as you can to create a really cool and colorful tank picture?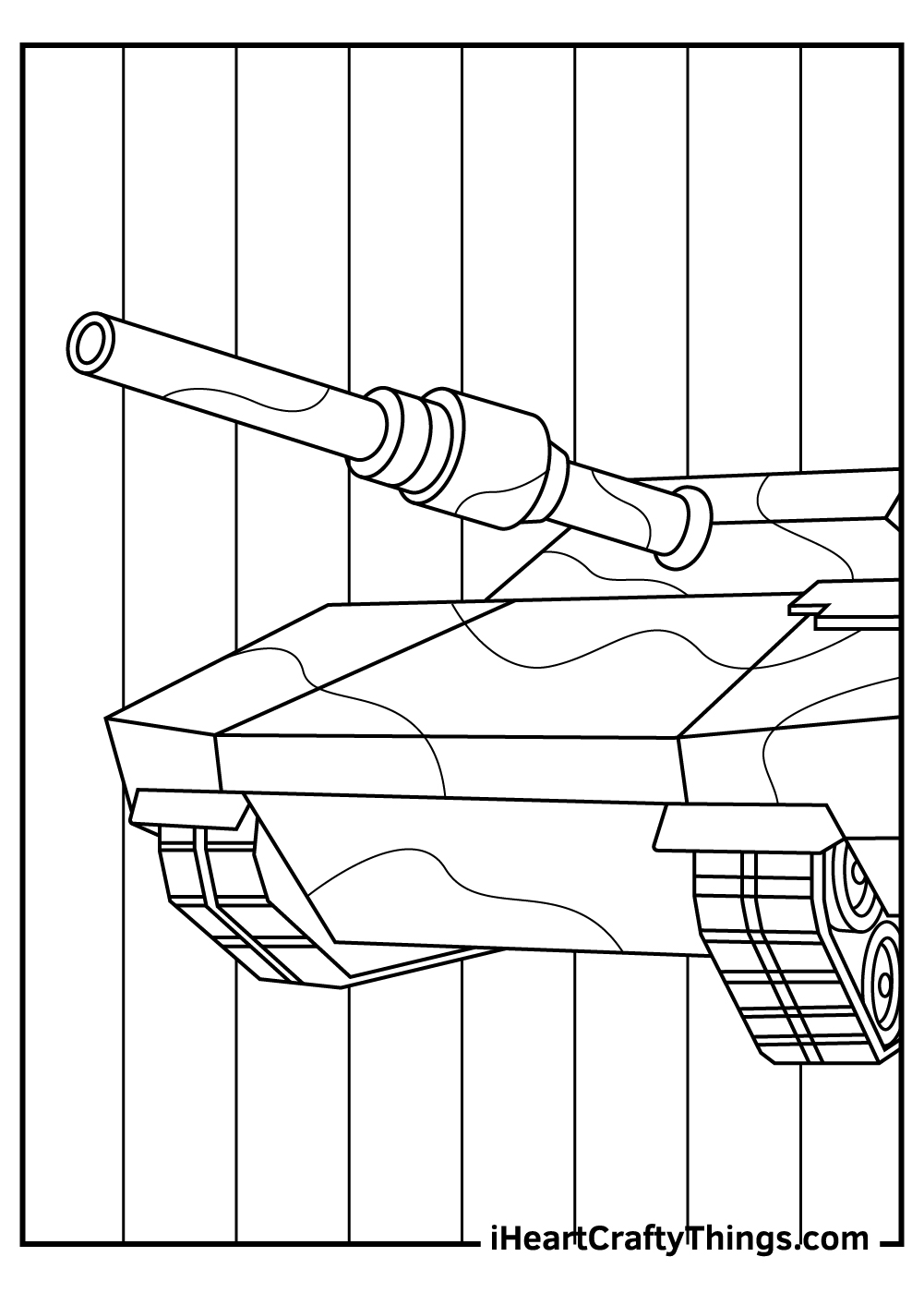 Tanks Coloring Pages – Which will you choose?
We hope you had a lot of fun with these free tank coloring page printables! Remember that all of our coloring pages and printables are totally free for you to print, color and enjoy! So why not print out multiple copies of your favorite coloring pages and see how many creative camouflage designs you can come up with?
Also, please be sure to like and share our Facebook page with your friends so that no one misses out on our awesome printables and coloring sheets!
And please do share your completed tank coloring pages for us to see, we always enjoy the creative colors and patterns you come up with for these coloring pages.