Growing plants at home can relieve stress and anxiety. Cactus plants are a good option when choosing indoor plants because they're not high-maintenance so they're fairly easy to take care of.
There are over 2,000 species of cactus that exist. They also come in a wide range of colors, including yellow, pink, orange, and green being the most common.
Cactus are interesting and unique plants, thus it has created a huge demand for cactus coloring pages. Well, you asked for it, so we delivered. So without further ado, we present to you—free cactus coloring sheets.
With these cactus coloring printables, coloring activities with friends and family is made more fun and easy. Simply choose the image you like, print it out, and finally—the most fun part—color it!
Once you've chosen an image, why not try experimenting with different coloring materials like watercolor, brush pens, and oil pastels?
Have fun making these cactus plants colorful!
Cactus Coloring Pages — All-New Free Printable Sheets
This coloring printable shows four different types of cactus plants all planted in pots. They are all standing upright and in their best form.
The pots look stylish with their varying structures and designs. What colors will you use to make these pots colorful?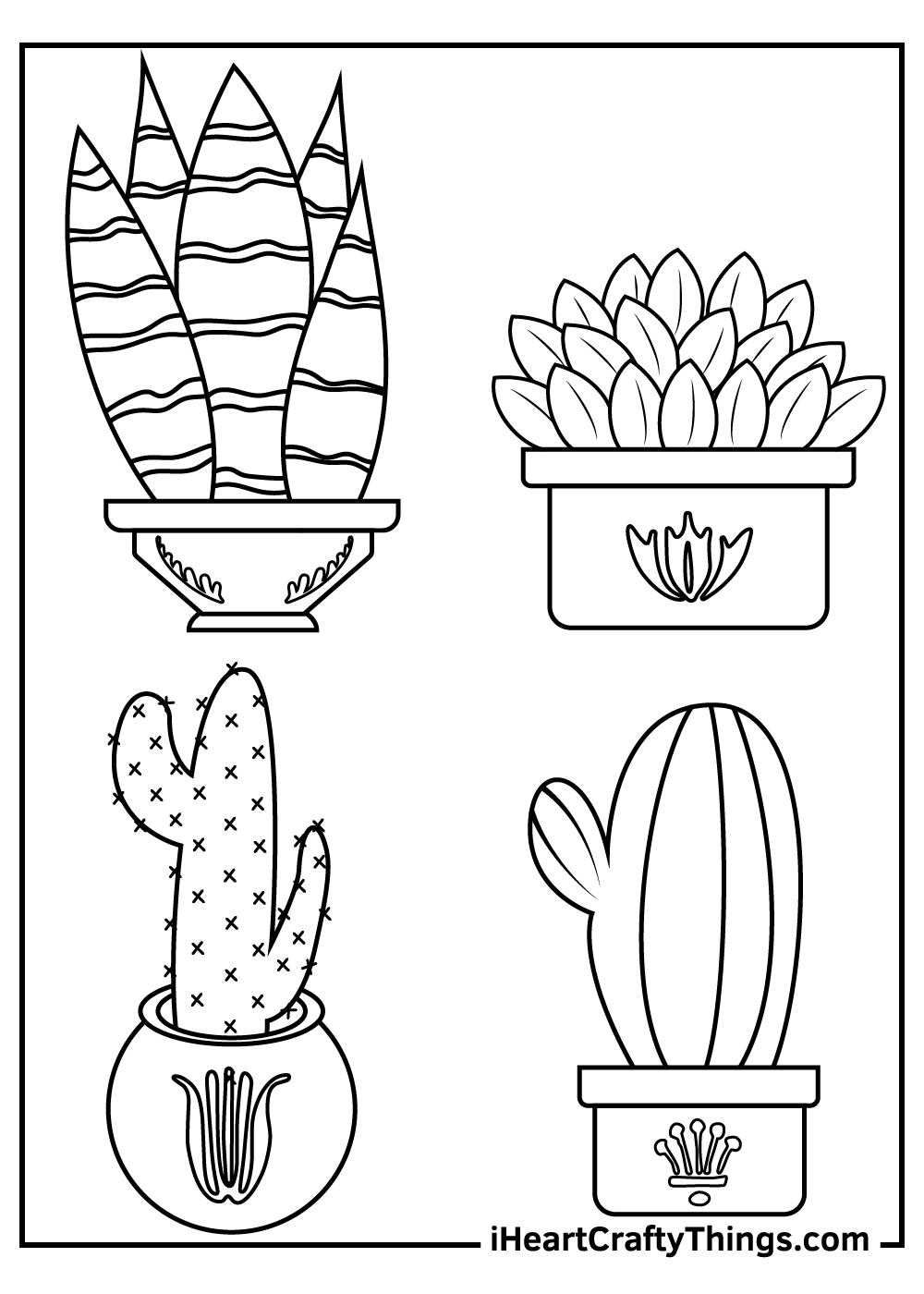 Growing cactus plants can be therapeutic. Unlike most indoor plants, cactus are very easy to take care of. There are four different types of cactus plants in this coloring page.
All of them are small, making them the perfect option when choosing indoor plants. Imagine how good these potted cactus plants would look on your coffee table!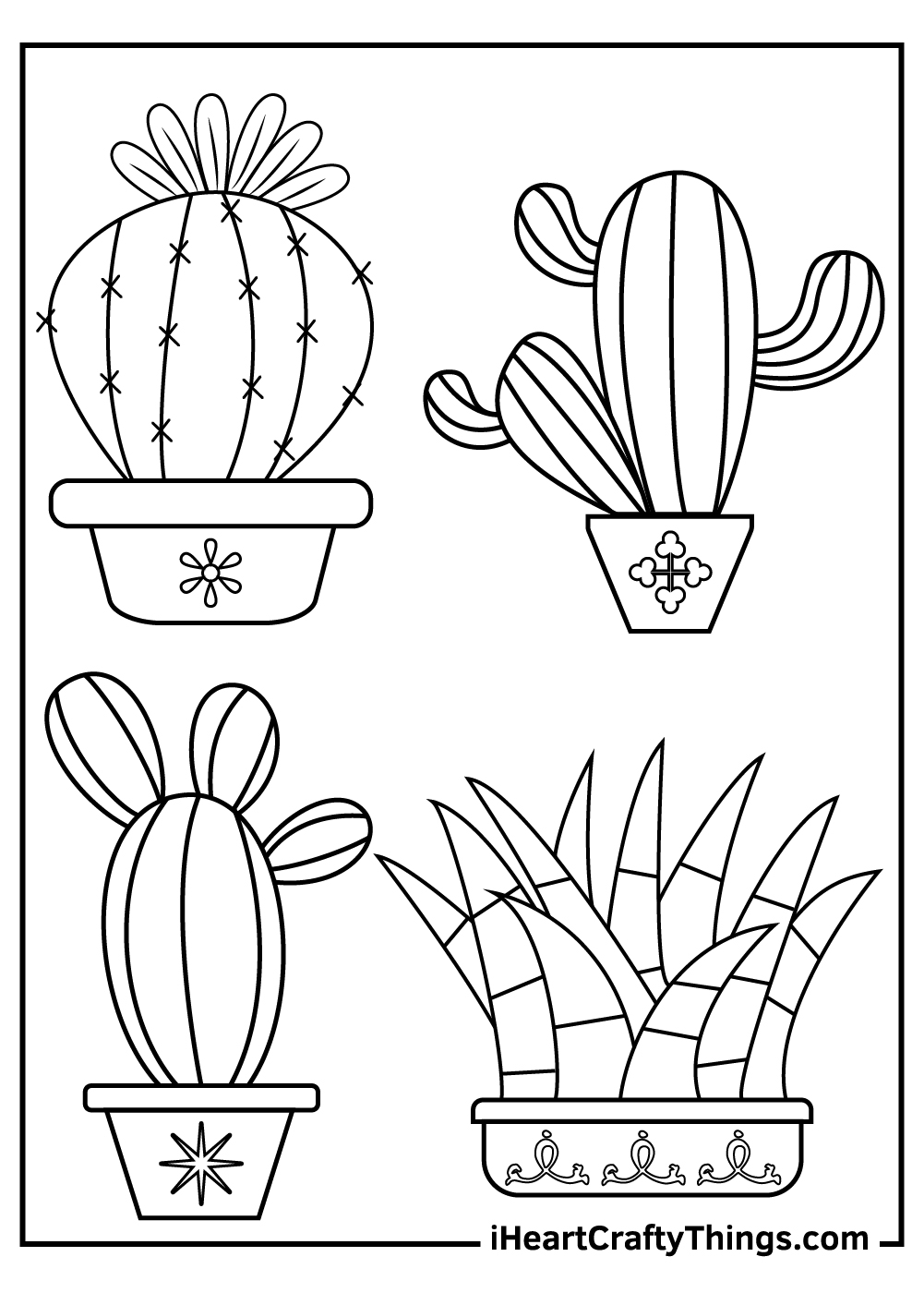 This coloring sheet displays four kinds of healthy-looking cactus plants. They are planted in chic pots with various star designs at the front.
These stylish pots definitely complement the beauty of the cactus plants!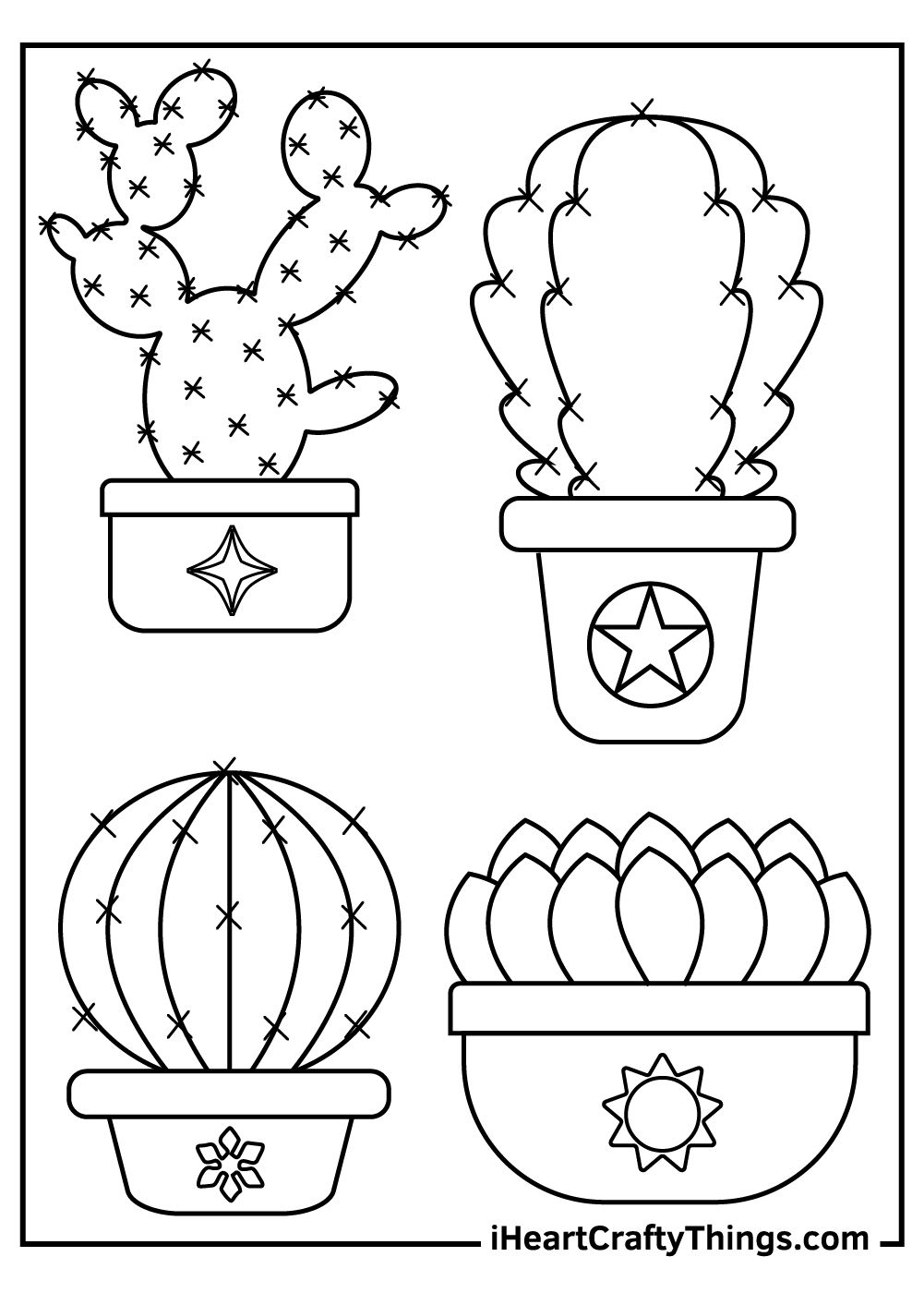 In this coloring sheet, the potted cactus plants are thriving and in good shape. It has an upright and thick structure, which are signs of healthy and happy plants.
Having plants inside your home can help brighten up your day. If you have actual cactus plants like these, in which part of your house would you place it?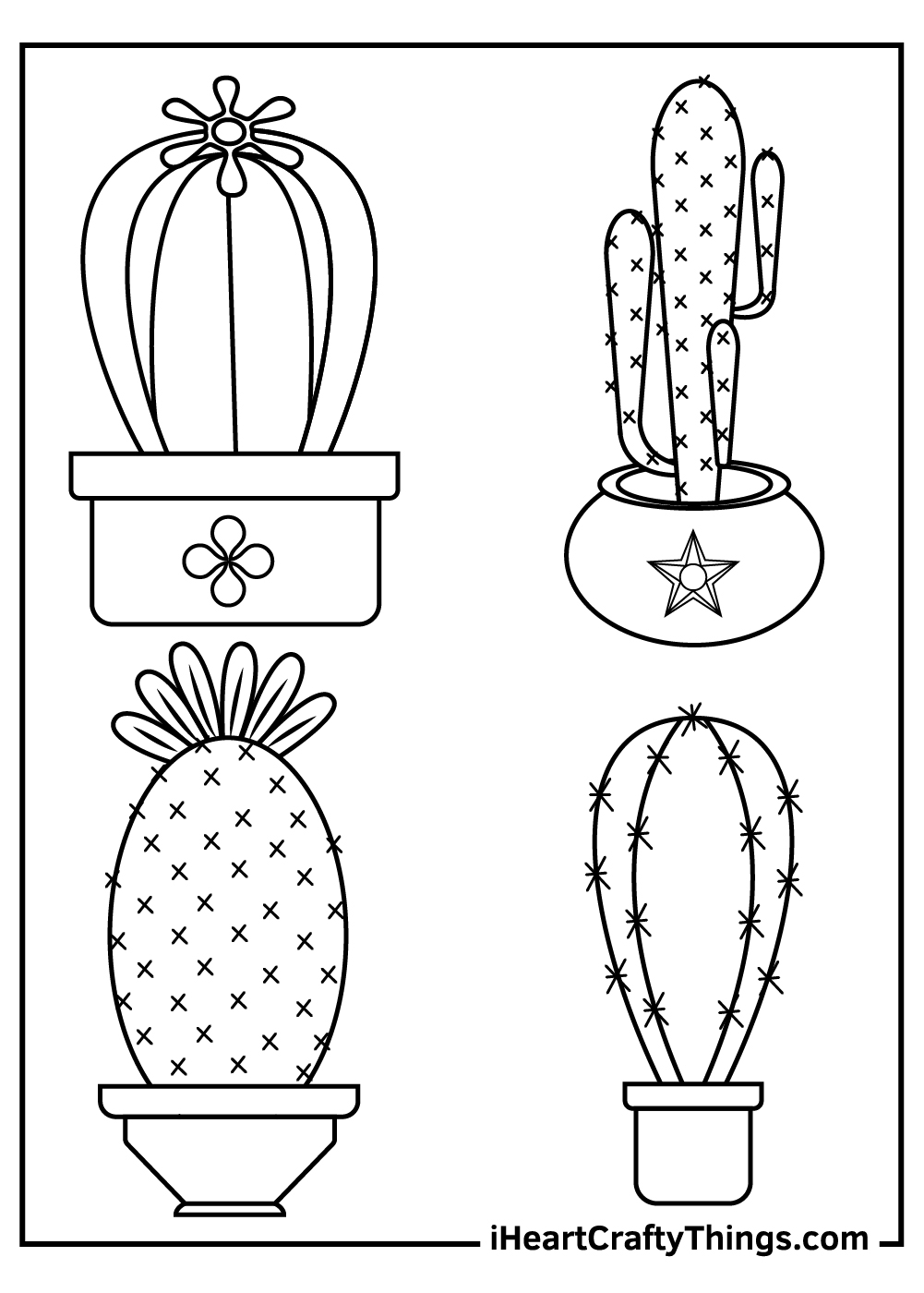 The cactus plant in this coloring page is growing beautifully! It looks extremely happy with its huge gleaming eyes and wide smile. It must be getting lots of sunlight and air!
There's also a lovely flower blossoming at the top of the cactus. What color will you use for the flower?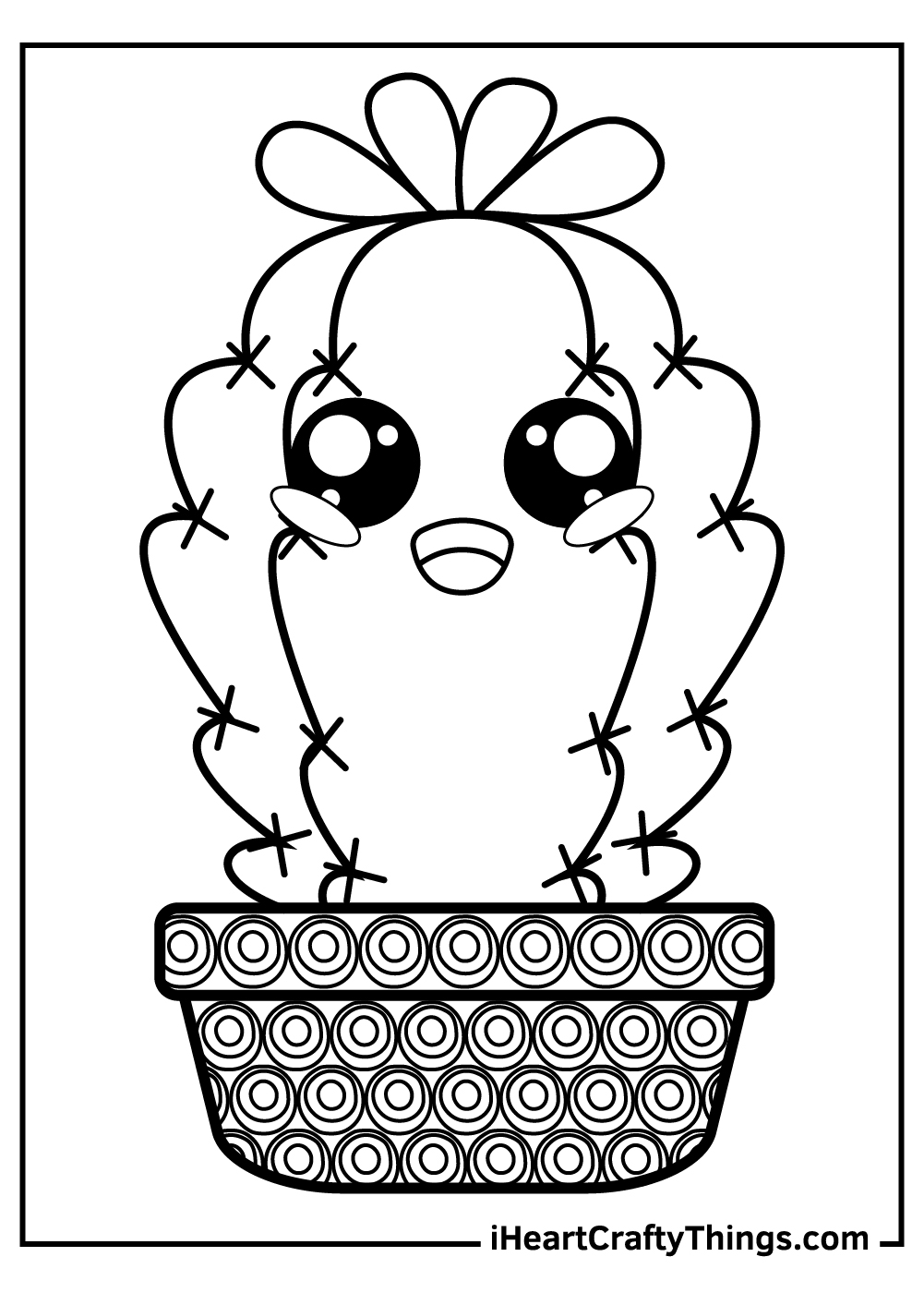 This coloring page shows a healthy potted cactus plant that looks like it's well taken care of. Based on its round shape, it must be a golden barrel cactus! The cactus is planted in a stylish pot, making it look more aesthetic. The pot is designed with floral patterns—so pretty!
We suggest using a variation of bright colors for the pot to complement the color of the cactus. What colors will you add to this printable?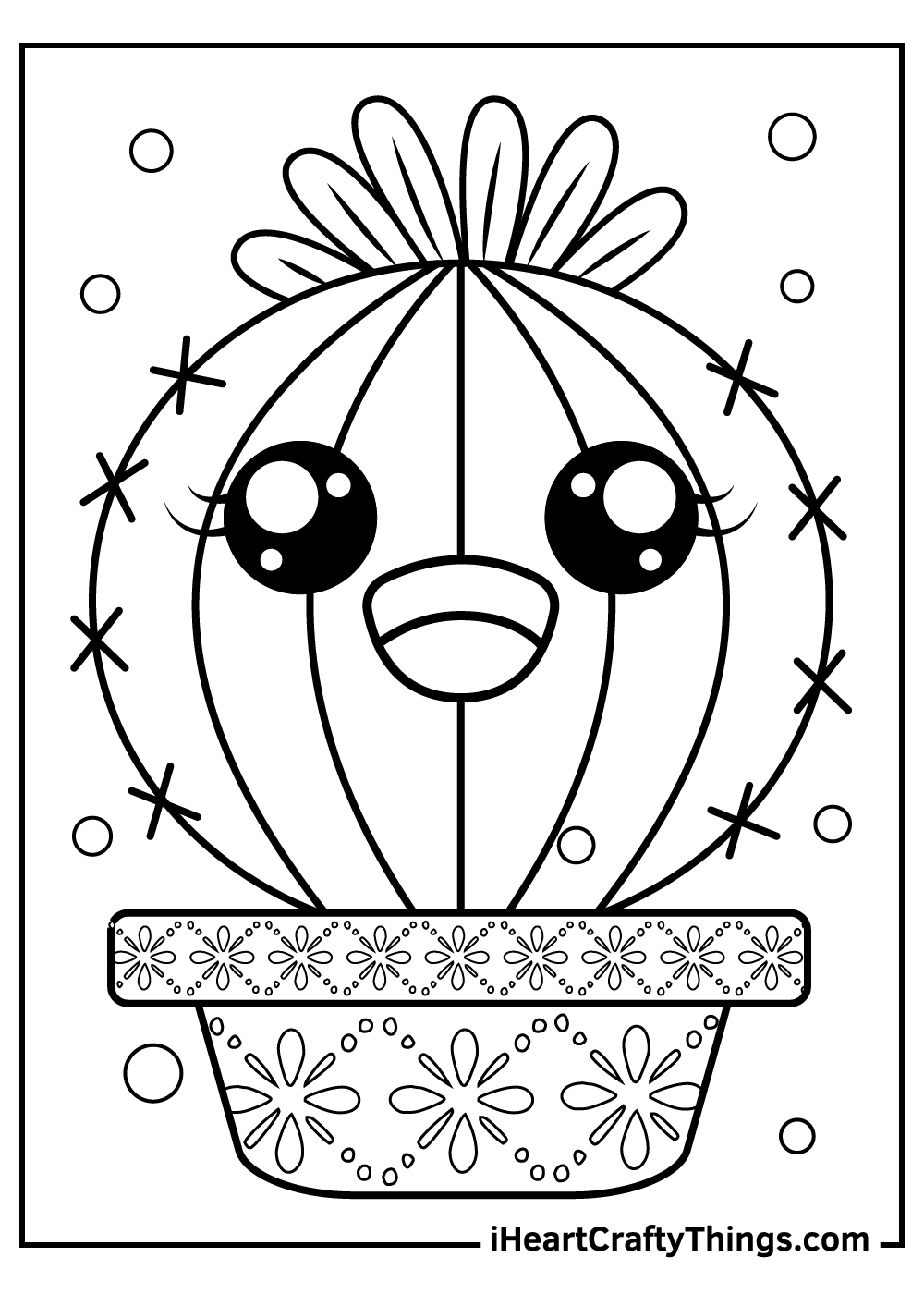 The type of cactus shown in this coloring sheet is called saguaro cactus. They are most commonly known for their tree-like appearance and arms that bend upwards.
Look at the cactus—they're a family of three! There's the mother, father, and their child. All of them look extremely happy and healthy! They must be getting a lot of sunlight everyday. The pot where they are planted in looks chic with those curvy horizontal patterns too!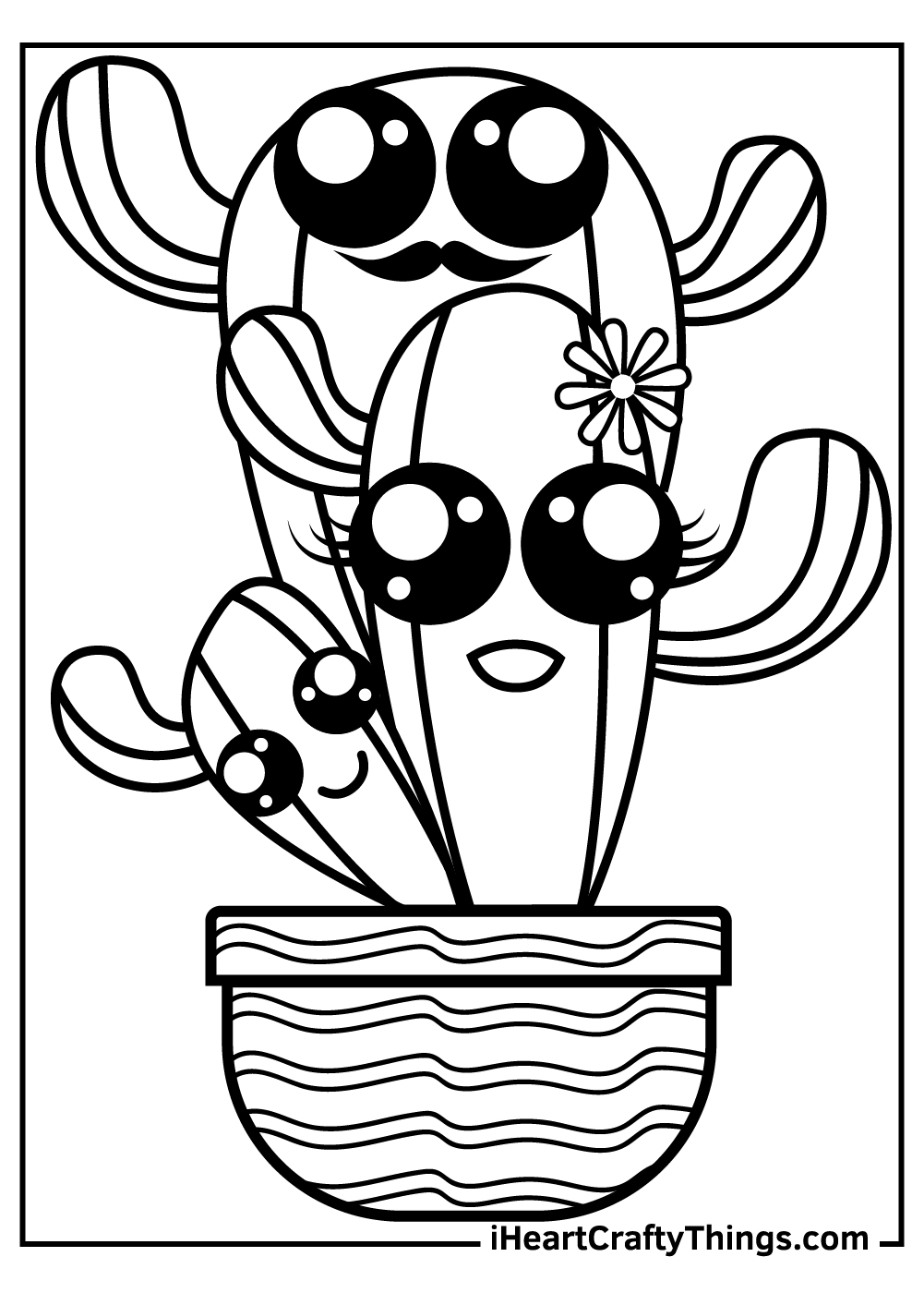 There are enormous cactus species, and there are also tiny ones. Small cactus plants are especially ideal as an indoor plant because it wouldn't take too much space nor get in the way.
There's two different types of cactus plants on this coloring page. Both of them are planted in aesthetic-looking pots with stylish designs. They look cheerful and nourished too! Which colors will you use for these potted cactus plants?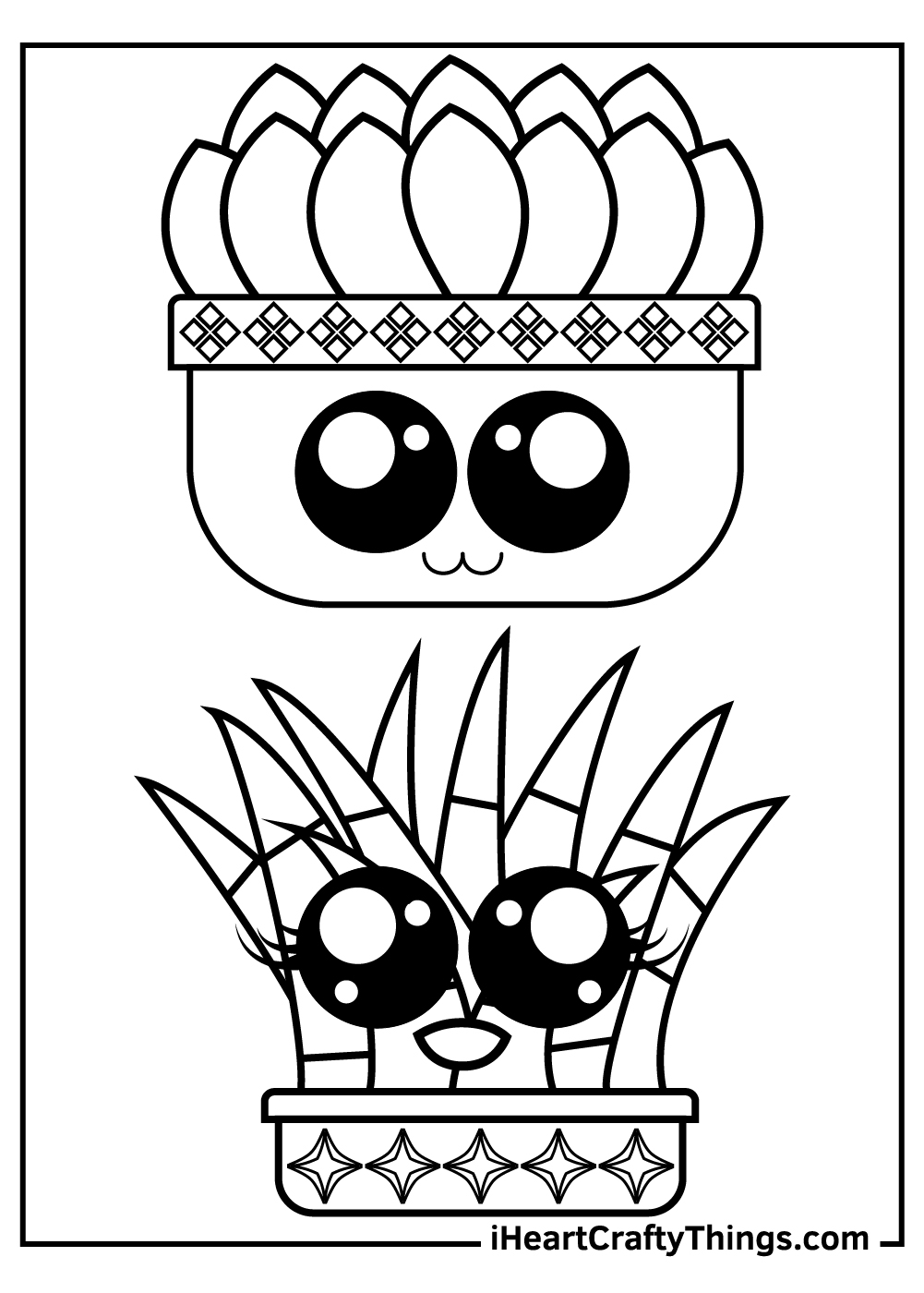 This coloring printable shows three different types of cactus planted in a single pot. Although they look crowded in a single pot, all of them appear to be in good shape.
We think they will be outgrowing their pots anytime soon, so it's probably time for repotting!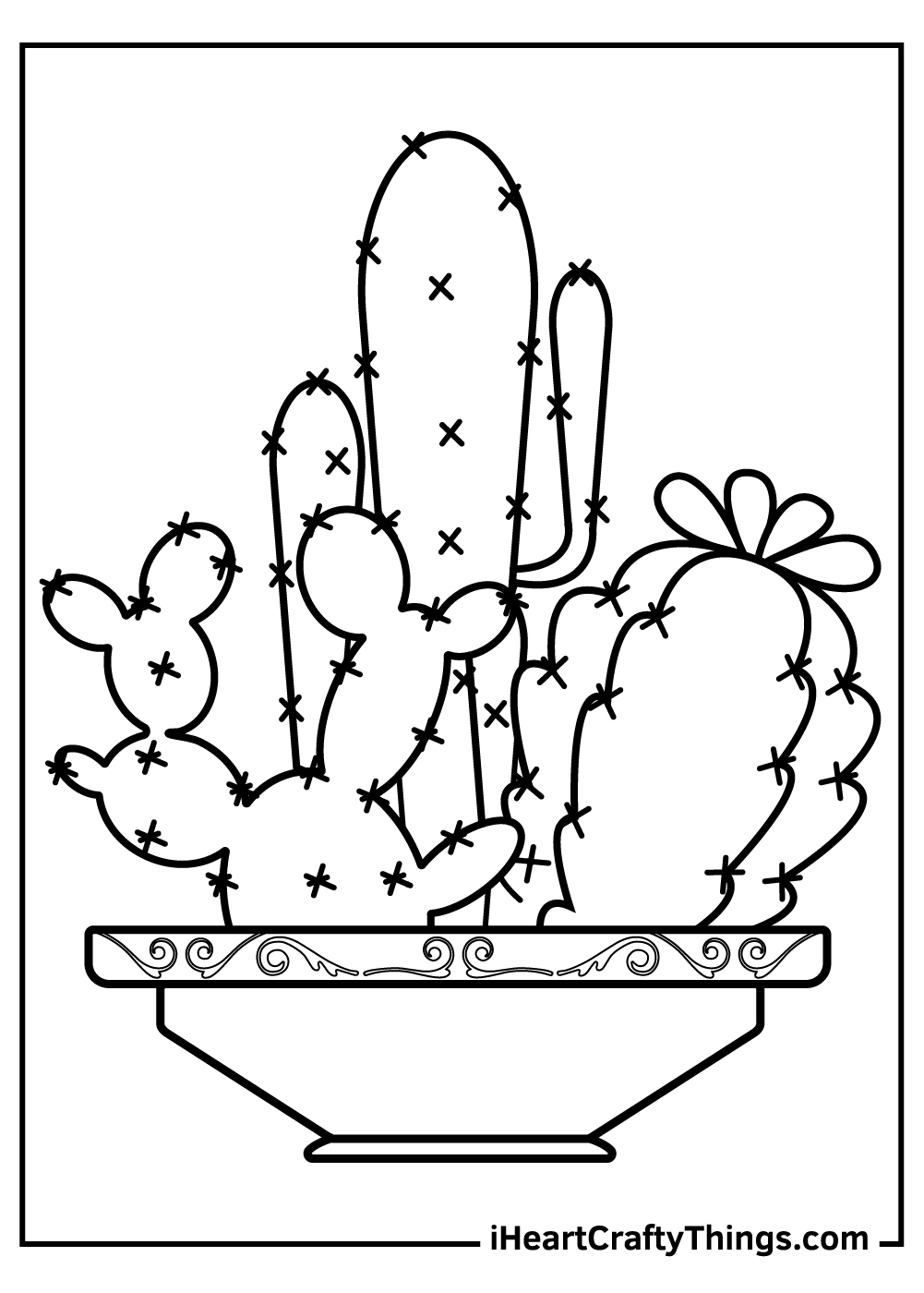 There are four different types of cactus planted in a single pot in this coloring printable. All of them are flourishing and growing beautifully!
We imagine this artwork would look amazing as a decoration hanging on the wall once colored and framed. This is a good alternative to actual cactus plants, especially if you want a plant in your home but you don't want to have to take care of it.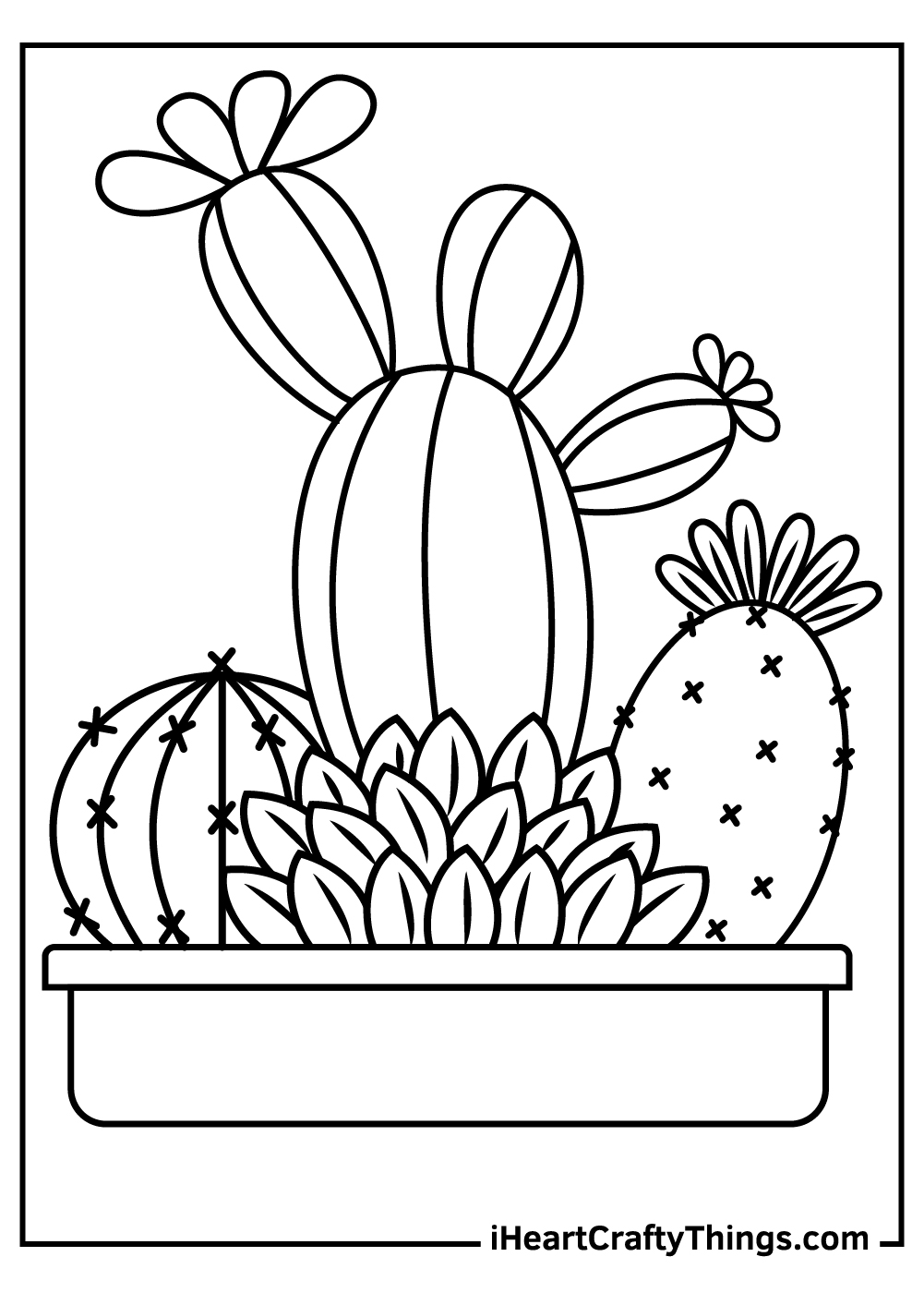 Cactus Coloring Pages — Which type of cactus do you like?
Cactus are unique plants most commonly known for their spikes. They typically flourish in dryland areas and can survive the extreme weather conditions in a desert. Whether or not you love plants, you will surely have a good time with these cactus coloring pages The most fun part is, you can even color these cactus plants however you want using any color you like!
Remember, all of our crafts and coloring printables are 100% free for you to print and color. We are always updating our website and uploading new content. So, don't forget to keep re-visiting our website to continuously enjoy all-new printable sheets.
Once you've finished coloring your cactus coloring sheets, you should feel proud of yourself for completing a masterpiece. Don't hesitate to show off your work and share it on our Facebook page. We're sure it looks impressive!
We can't wait to see all of your colorful cactus plants!