When it comes to royalty, it's fair to say that there's plenty of public fascination with the various royal families around the world!
Around the world, people dream about what it would be like to be a king, queen, princess or prince and wear fancy crowns in lavish mansions.
Many people treat the royal family like movie stars, and we will be doing that in this collection of free queen coloring pages for kids!
In this collection, you will see representations of fictional queens along with some images featuring real queens!
This variety will give you a lot of opportunities for some lovely bright colors. We especially think that the jewelry that these queens are wearing will look amazing with the colors you use!
You can enjoy this collection of coloring pages as much as you want, and that means that you can print them out as many times as you please.
You will also want to make sure you share these pictures with the other royalty fans in your life!
We hope you enjoy this coloring collection that's fit for a queen!
When you have colored your favorite pages from the collection, feel free to share some of your artworks on our Facebook and Pinterest pages!
10 Brand New Queen Coloring Pages – Free to Print and Color
We have a really graceful queen for you to color in this first page of our collection of free queen coloring pages for kids!
She is looking very calm and elegant, and she is dressed in a  lovely understated yet beautiful dress.
Now it's time for you to unleash your inner royal fashion designer as you choose the colors for this pretty queen!
If we were coloring this one, we would go for some light pinks or blues to color her dress, but these are just some of the colors you could go for! How will you color the outfit of this pretty queen?
This next queen is looking very happy! She is dressed in fancier clothing than the previous one, and she has a gorgeous veil dropping down from her crown.
The way this queen is dressed makes us think that she must be at some fancy ball or another royal event. This fancy outfit deserves some equally fancy colors, we think!
You could also draw a background or add some royal accessories for her to wield that will make her look even fancier. What will you choose to add to this portrayal of a queen?
Our third queen coloring sheet features another graceful, fancy queen! This one has an outfit that looks rather old-fashioned in a good way.
She looks like she could have walked right out of a frame of a classic Disney fairy tale!
This would be a fun one to draw a background for, and you could make the background suit the fairy tale feeling that this queen gives off.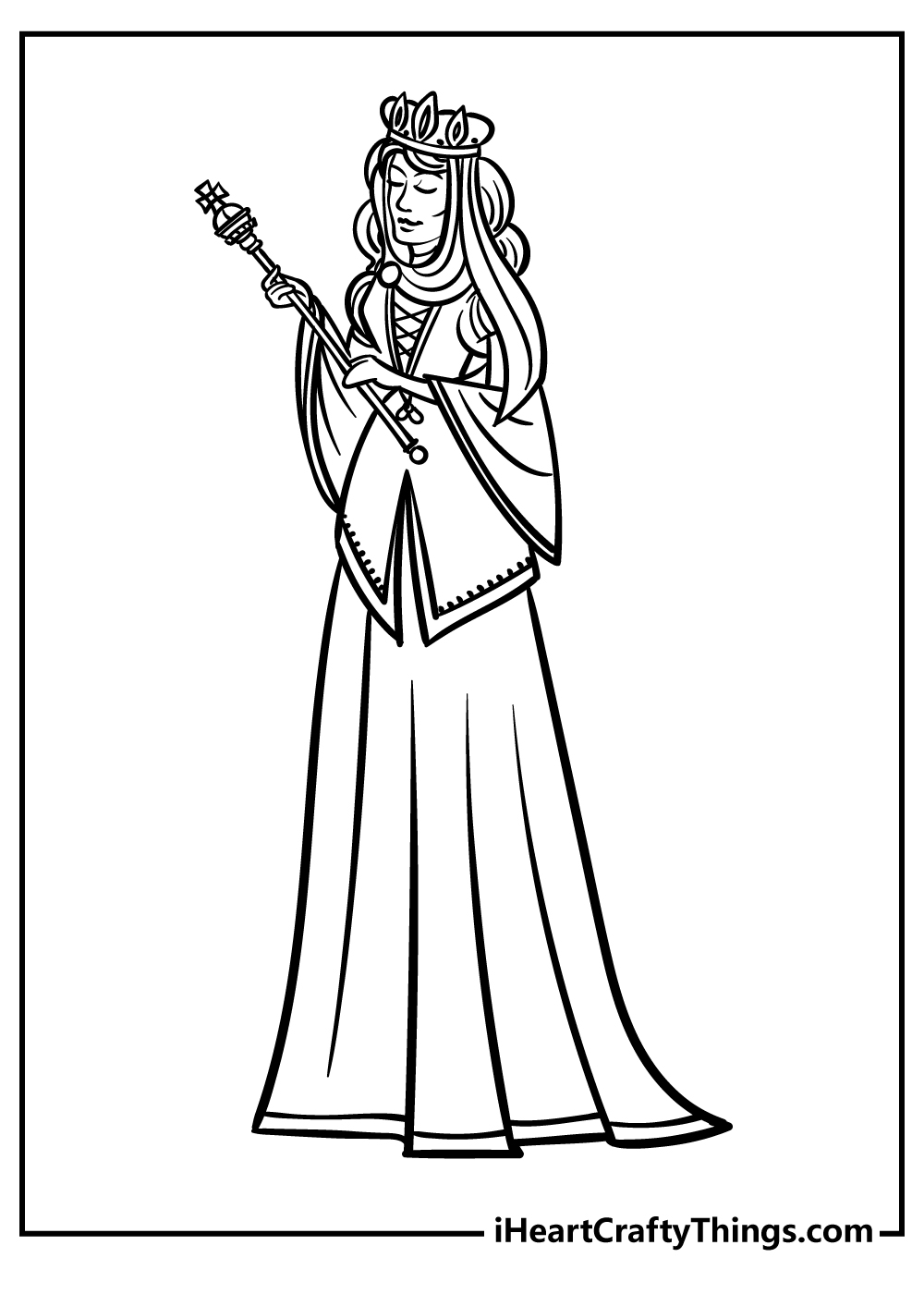 Now here's another regal queen! This queen is looking very serious, and she looks as if she could be at some kind of fancy ceremony or function.
She is holding a scepter, and that can make for some fiddly coloring.
We would recommend using mediums such as colored pens or pencils with sharp tips for the thin details of the scepter, but what are you thinking of using?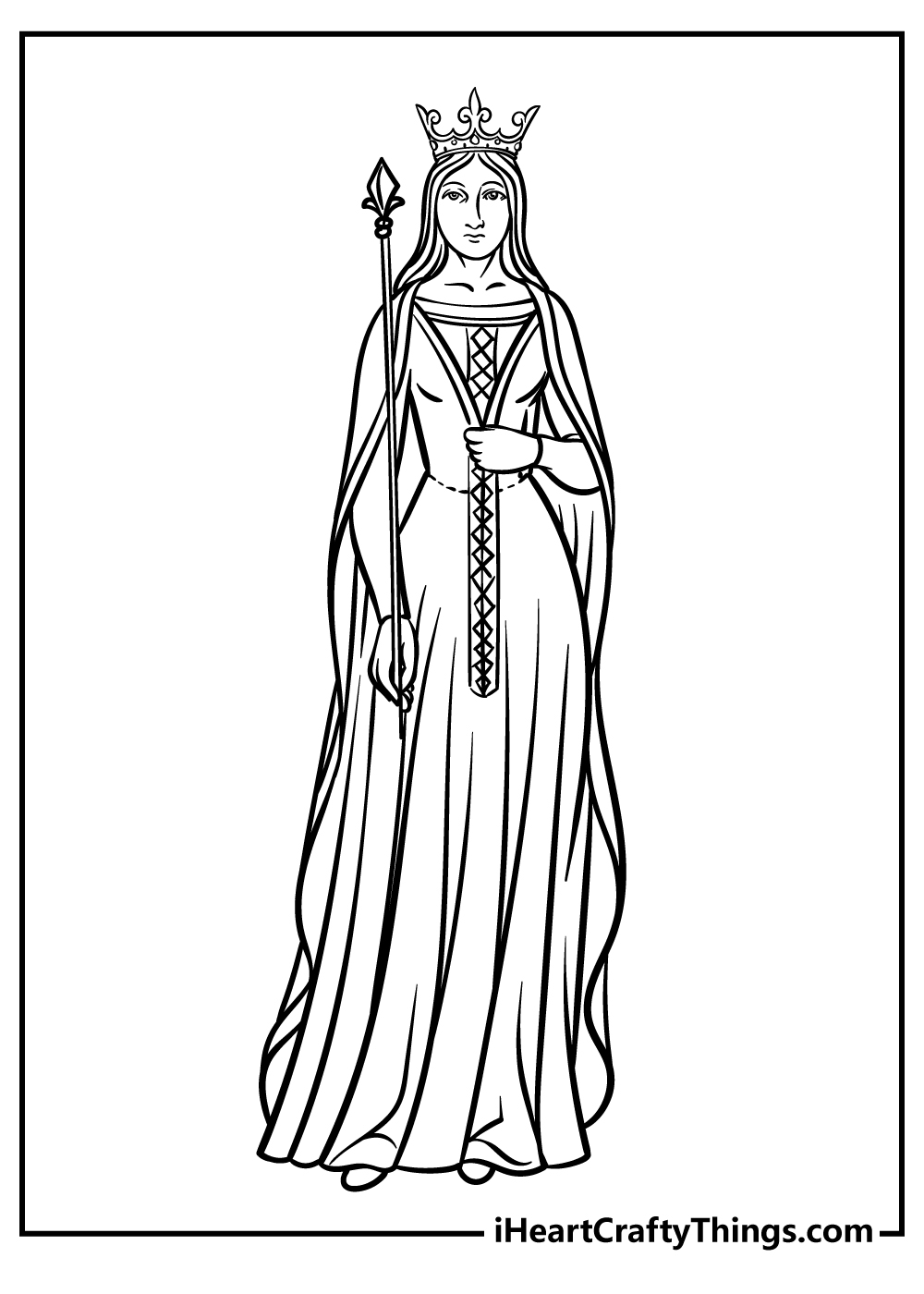 Our next queen coloring printable features one of the most stylish queens we've seen yet in this collection!
She is decked out in some really fancy robes, and she also has a cool scepter she is holding.
We would use some bright and fancy colors for this awesome queen, and we would also use some solid colors for the background to create a striking image.
That is what we would pick, but what will you choose for this one?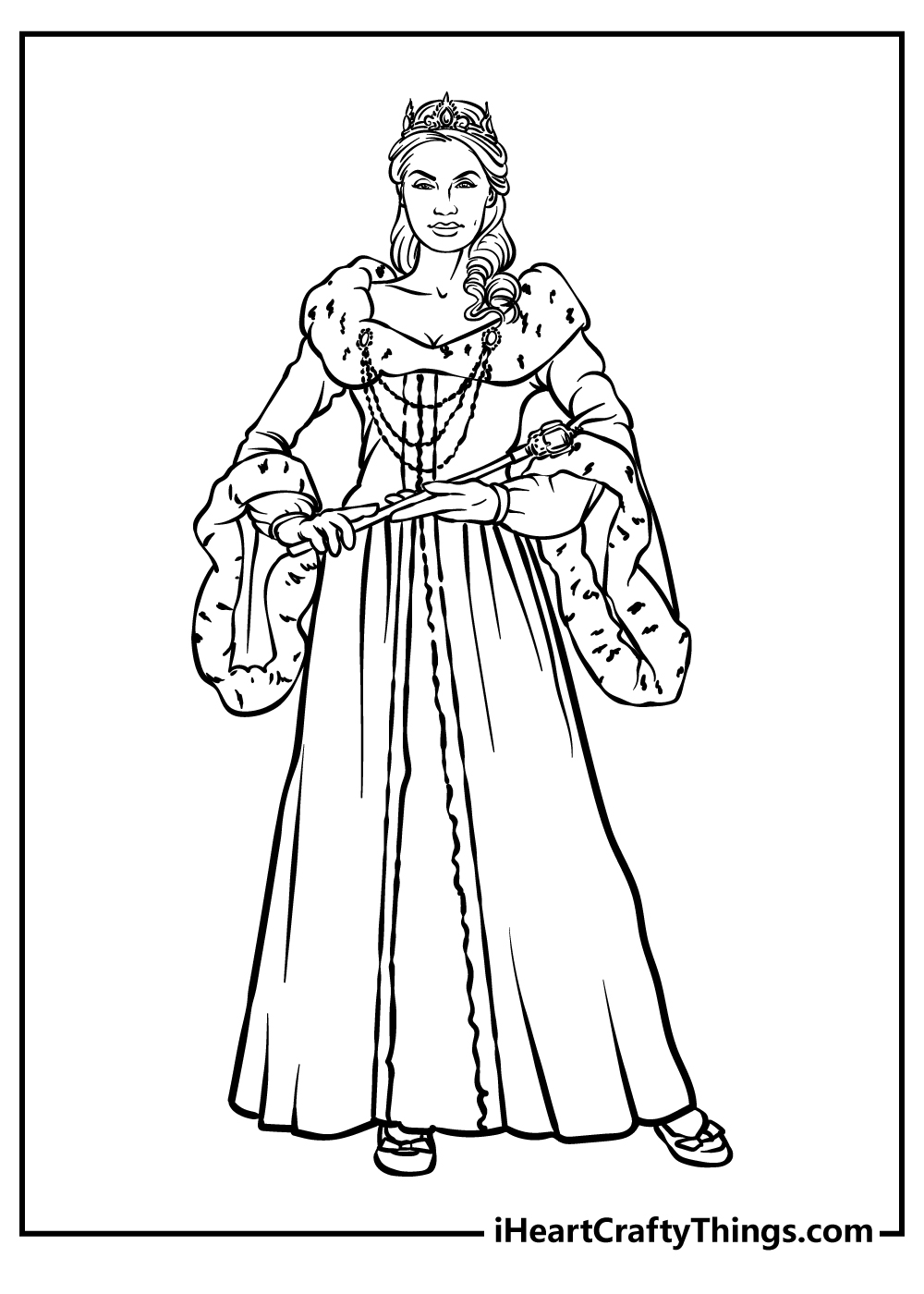 Most of the previous queens we've had in this collection have been fairly realistic, but in this sixth queen has a fun stylistic look to her!
She is also looking rather graceful and regal in this one, and the more cartoonish style lends itself to brighter colors as well.
For this one, we would use some really bright, striking colors to make her stand out, but we will be curious to see what you choose.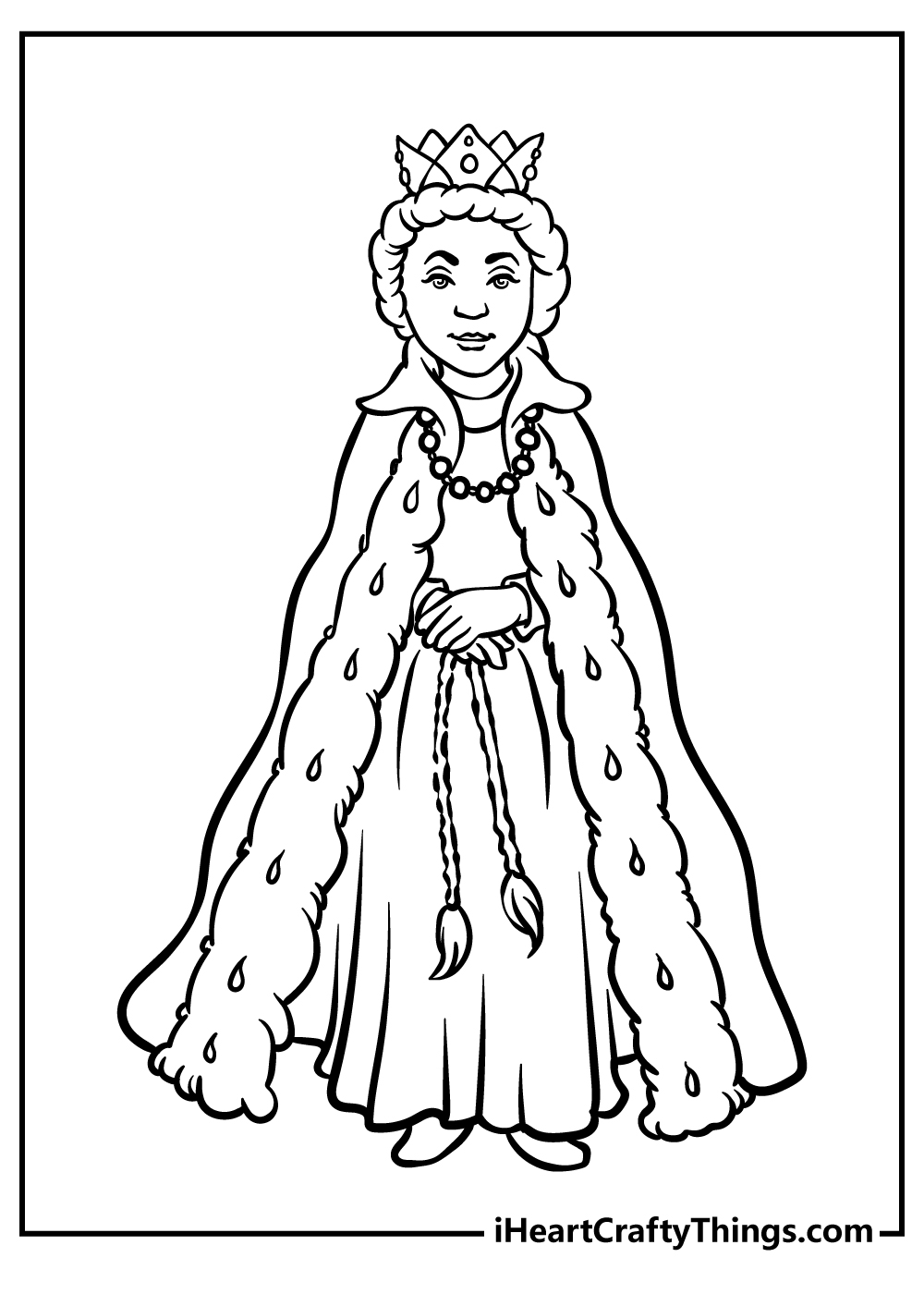 This next queen coloring sheet features a really regal profile shot of a queen. This image really gives off a dignified feeling, and it looks like it could be from an old portrait.
One approach would be to use some acrylic paints to make it look like this could be an old commissioned portrait.
For another fun idea, you could use some browns and greys to color this picture to make it look like an old photograph.
These are just some of the ideas you could use for this wonderful image, so what will you do for this one?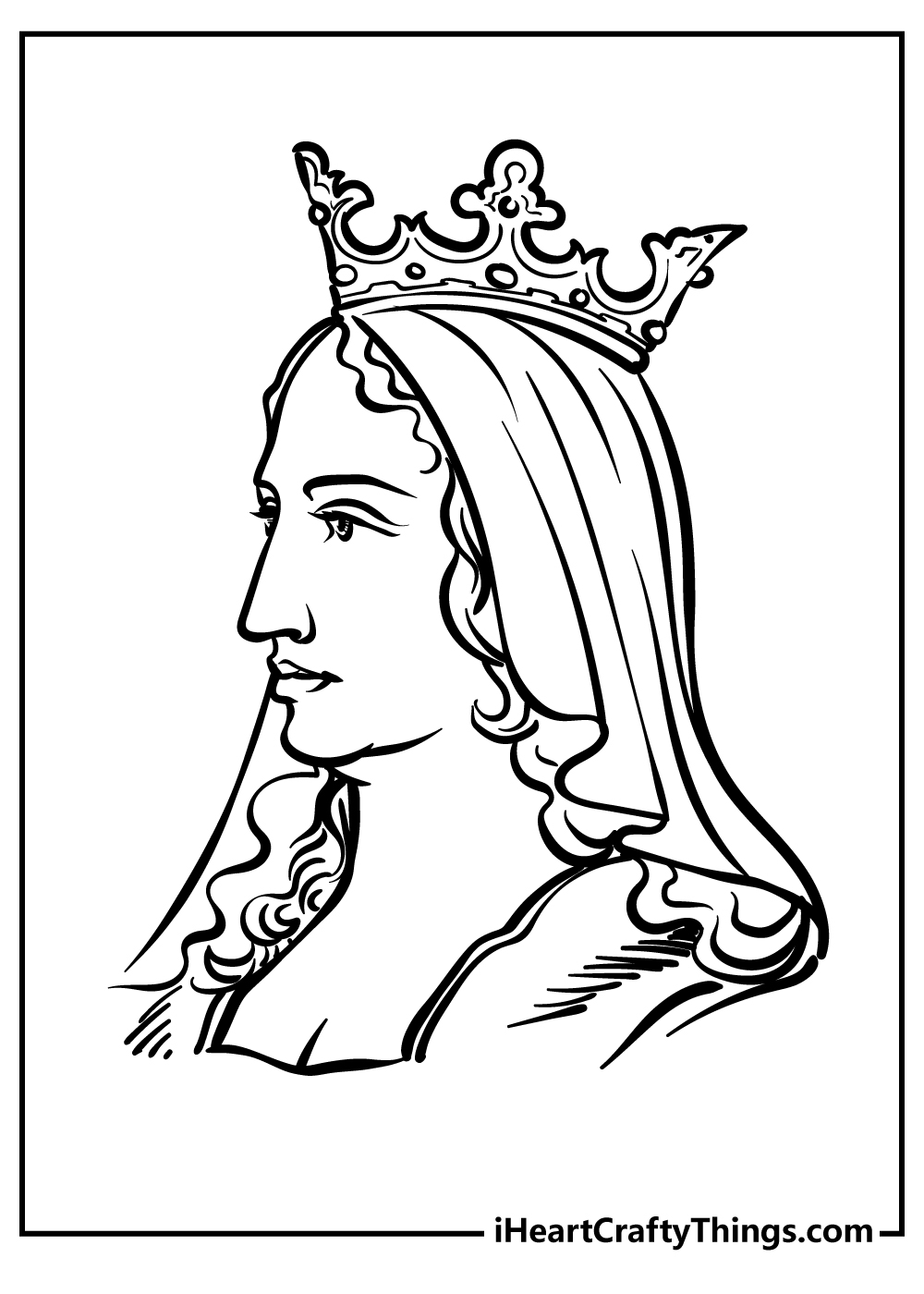 There's another profile shot being used in this image. This one features Queen Elizabeth herself, and it's a really fantastic portrayal of this beloved queen.
Her famous crown is really on display in this picture, and we think it would look great to use some bright colors and mediums for the crown.
Maybe you could even use some glitter on it to really give it that sparkle effect that all great crowns have!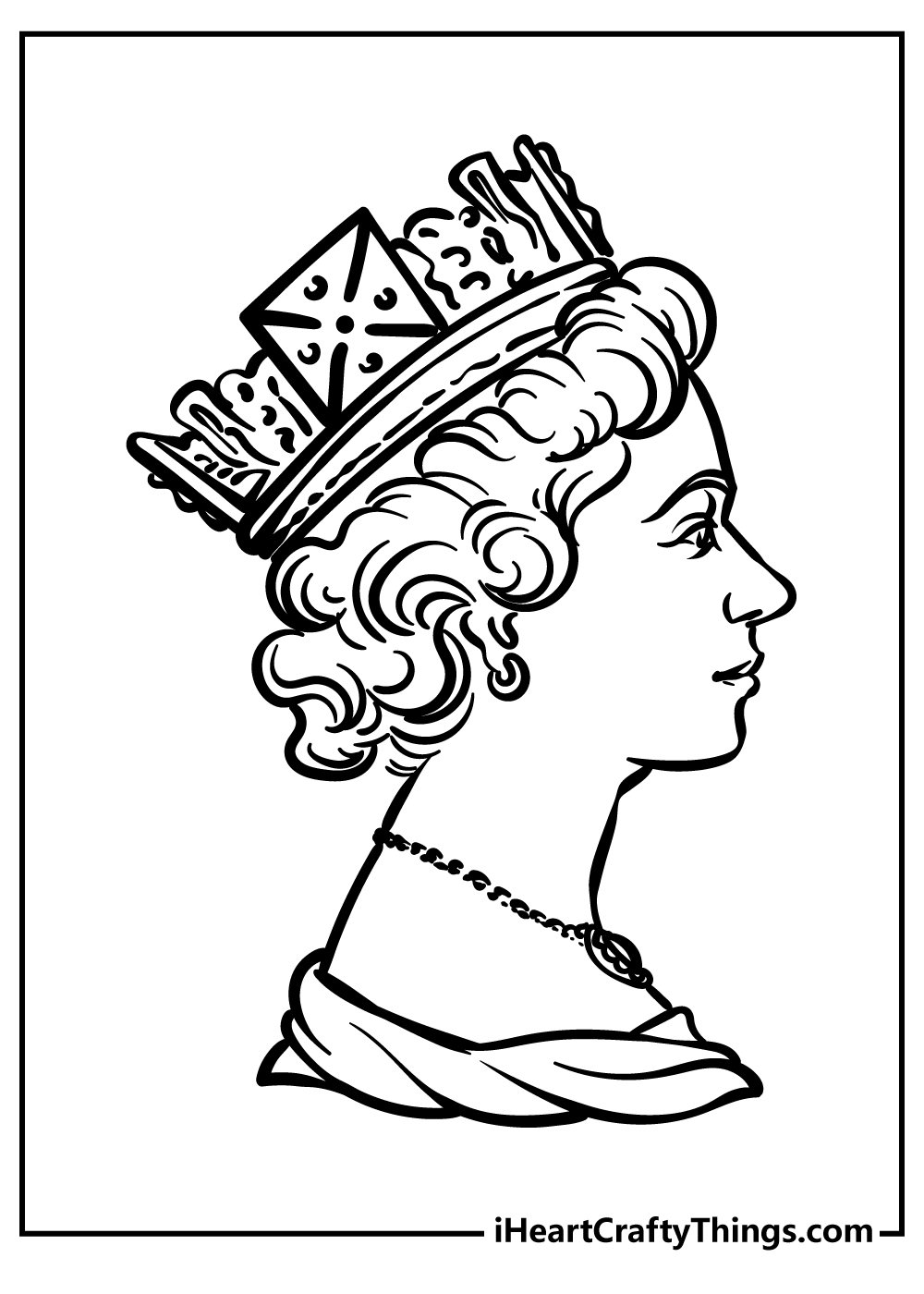 Queen Elizabeth is featured again in this picture, and this is from a later period of her life.
The Queen is famous for the fancy hats that she wears to occasions, and she is wearing one in this image. The only question is what kind of color scheme will her hat and outfit have?
That's where you come in! You could use a favorite outfit the queen has worn for inspiration or create a brand new look for her.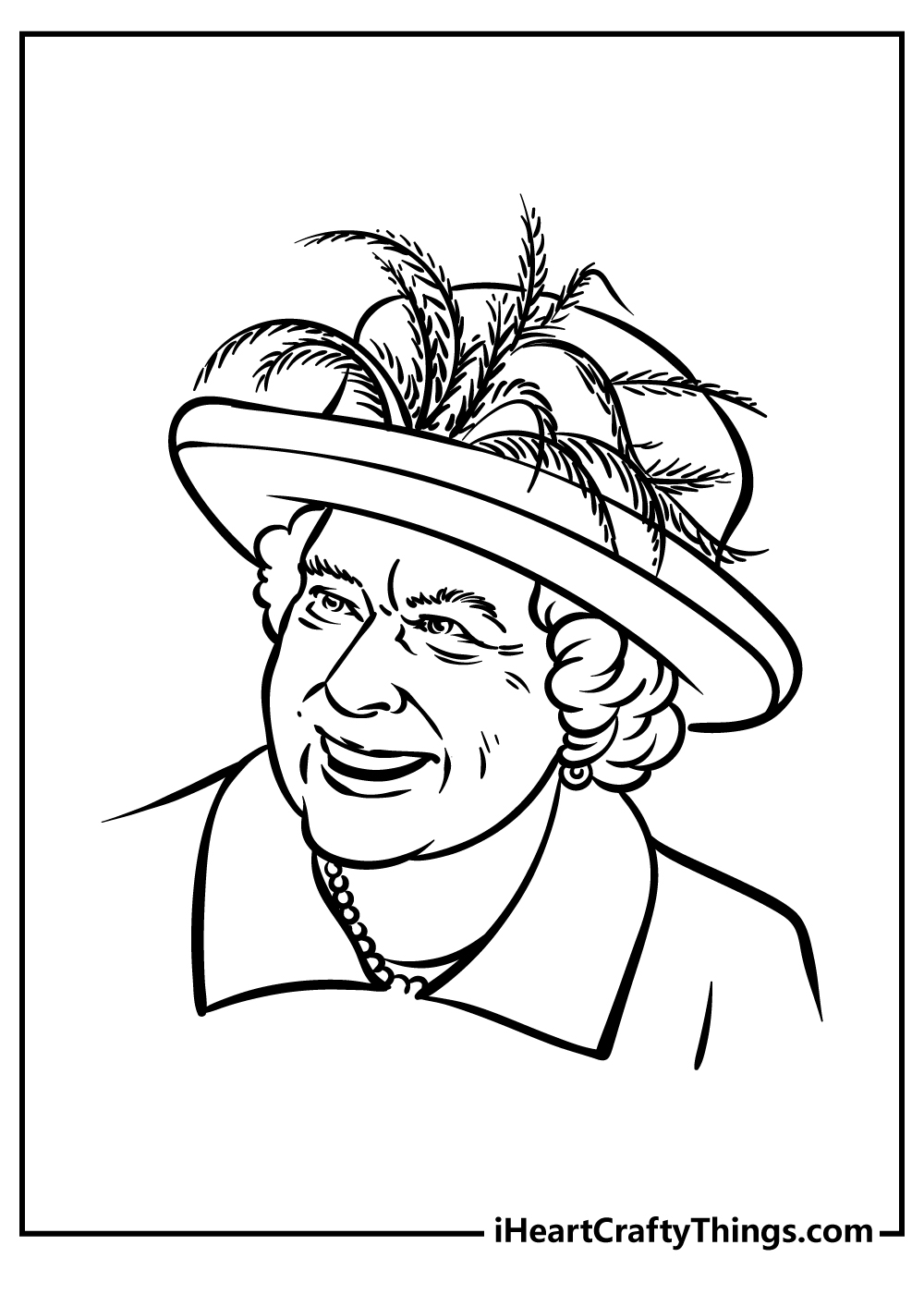 Now you have arrived at the final free queen coloring printable that we have for you in this collection!
This is another beautiful portrayal of Queen Elizabeth in her younger years, and once again you have an incredible view of her gorgeous crown.
If you have been sticking to a certain art tool or medium throughout this collection, why not try branch out with one you're less familiar with for this final page?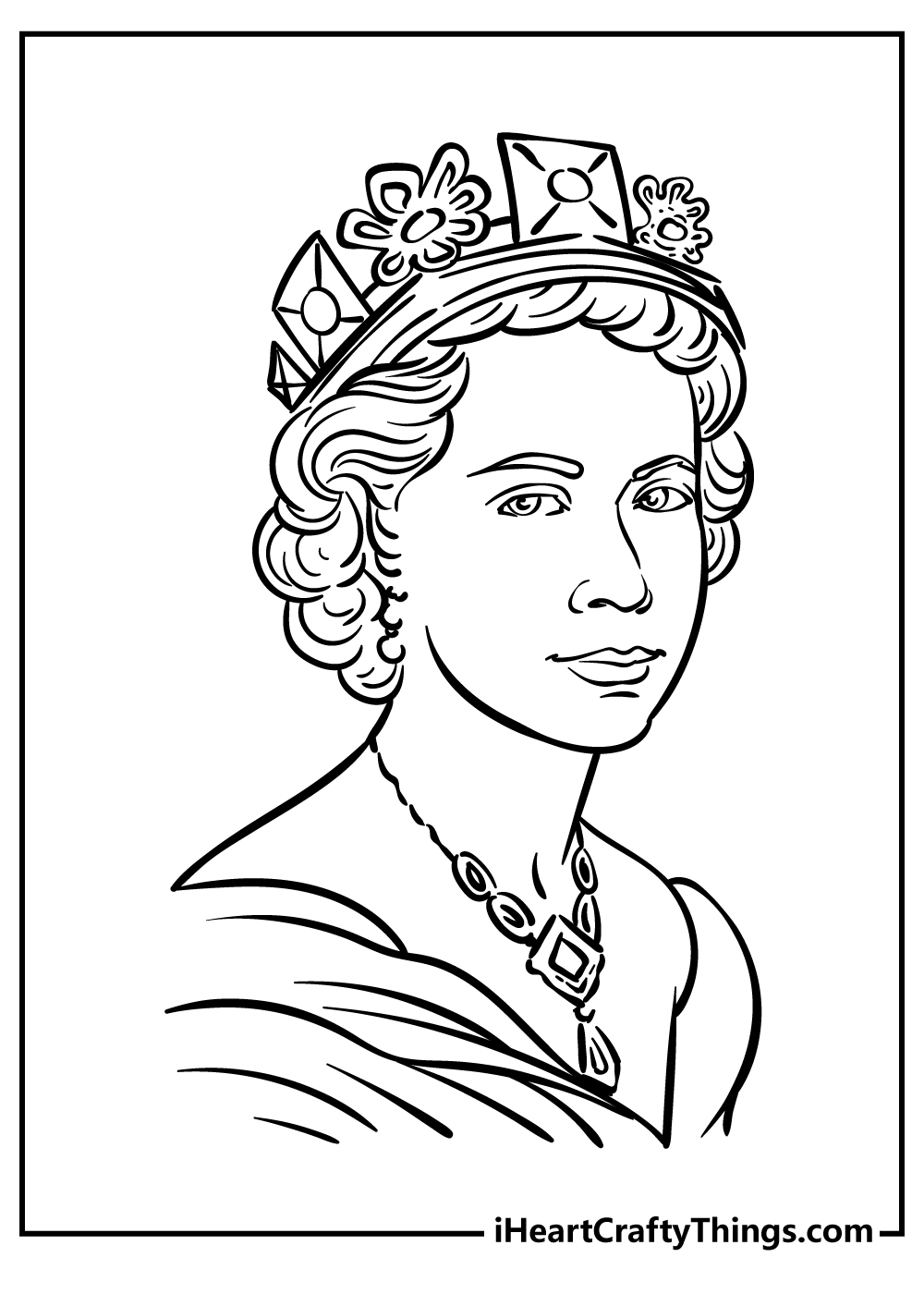 Queen Coloring Pages – Which will you choose?
This was a very royal collection of free queen coloring pages for kids!
We hope that you had an amazing time working on these incredible portrayals of regal queens both real and fictional.
Remember to print out your favorites as many times as you like so that you can experiment with different colors!
If you had a great time with this collection, be sure to check out more of the coloring pages and other goodies we have for you on our website!
Please remember to check in often, as we have new ones coming soon.
We would be thrilled to see your finished queen coloring pages, so please share some of your finished pages on our Facebook and Pinterest pages!