As promised, and to go along with the "Piggies" Story time and Craft, I introduce to you my Piggy Snack…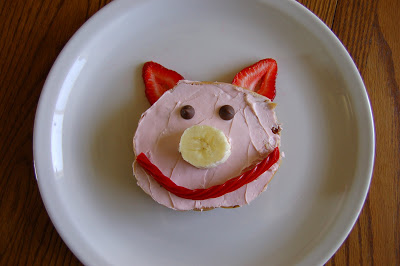 If you didn't catch the "Piggies" Story time and craft, you can find it HERE. My kids had a hoot and holler about this little creation. They loved it! Since it's pretty self-explanatory, I didn't feel a tutorial was necessary.
I used one-half of a bagel and spread strawberry cream cheese on it to make the pig face. I like the cinnamon raisen bagels, but you choose whatever is to your liking. I sliced a banana slice for the nose which also conveniently covered up the hole in the middle of the bagel, a couple chocolate chips for the eyes, 2 strawberry slices for the ears, and about 3/4 of one Twizzlers for the mouth.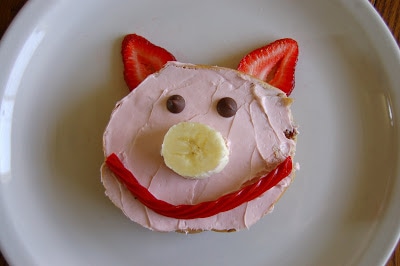 YUM! YUM! I hope you have a fun-filled week full of Piggy-related awesomeness!!!  :o)