There are so many different kinds of parrots and each kind has it's own beautiful colors to share with the world. With this collection of free parrot coloring book page printables you have an opportunity to share your flair for color and creativity on a variety of cute parrots!
Parrots display every color of the rainbow and then some, so get out your coloring crayons, pencils and paints and be prepared to not hold back with creating some stunning pictures!
Hours of bright and happy coloring fun are waiting for you with these free printables, so be sure to print out as many copies as you like and have fun with these beautiful parrots!
When you've colored them in, we'd love for you to share your pretty parrots with us on our Facebook page! We'll be looking forward to seeing some amazingly colorful pictures from you.
REMEMBER: You can get the COMPLETE set of these coloring pages >> HERE
10 Brand New Parrots Coloring Pages – Free to Print and Color
The macaw is one of the most stunning parrots in the world, and we have a close-up on a very happy looking one in this first parrot coloring page! There's no wrong answer when it comes to colors on a macaw; some breeds have more reds and yellows and others have beautiful blue color schemes.
I think this parrot would look amazing no matter which colors you choose, so maybe you can print out a few copies and try out some different ideas!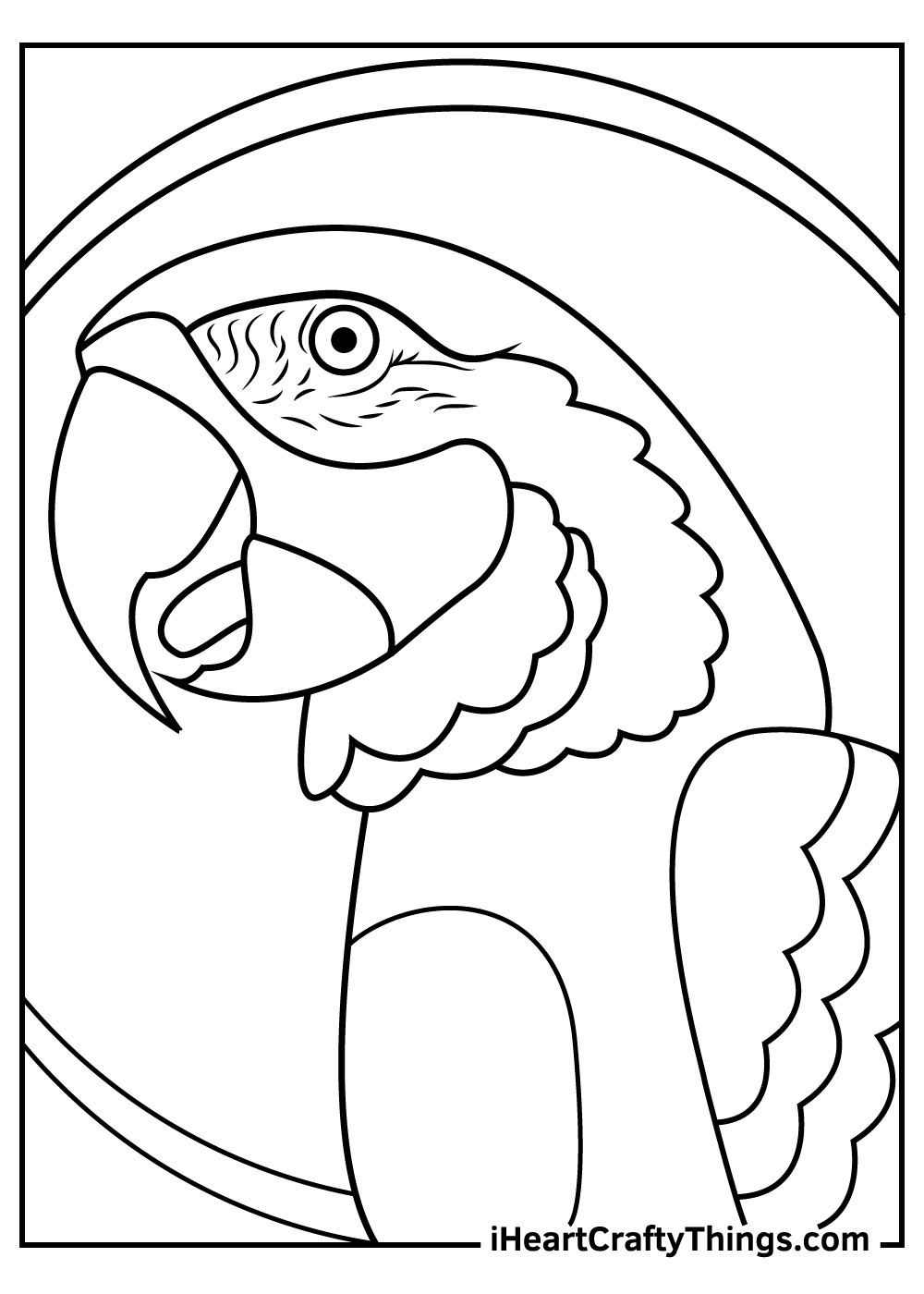 The pattern behind this other macaw parrot looks a bit like a stained glass window, and with how colorful those windows are I think it's the perfect complimentary backdrop for this beautiful bird in this coloring sheet.
I think some bright and warm colors that emulate a stained glass window would look so beautiful behind the colors of this parrot.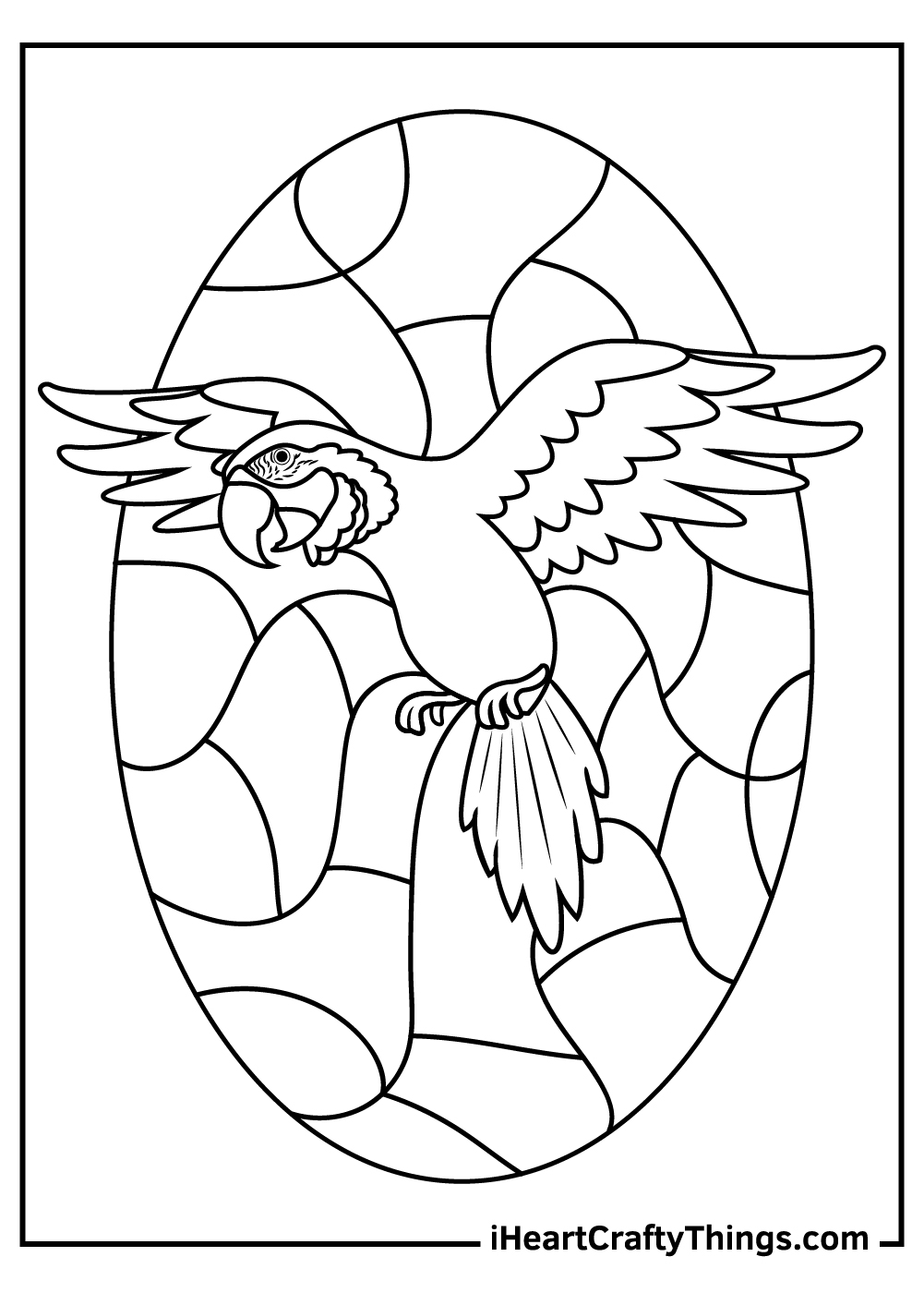 What a cute looking parrot we have in this coloring page! This one has a calm and gentle look about him, and seeing as we just had two bright macaws, it might be nice to dial it back a bit for this little guy and use some cooler, more muted colors for his feathers.
REMEMBER: You can get the COMPLETE set of these coloring pages >> HERE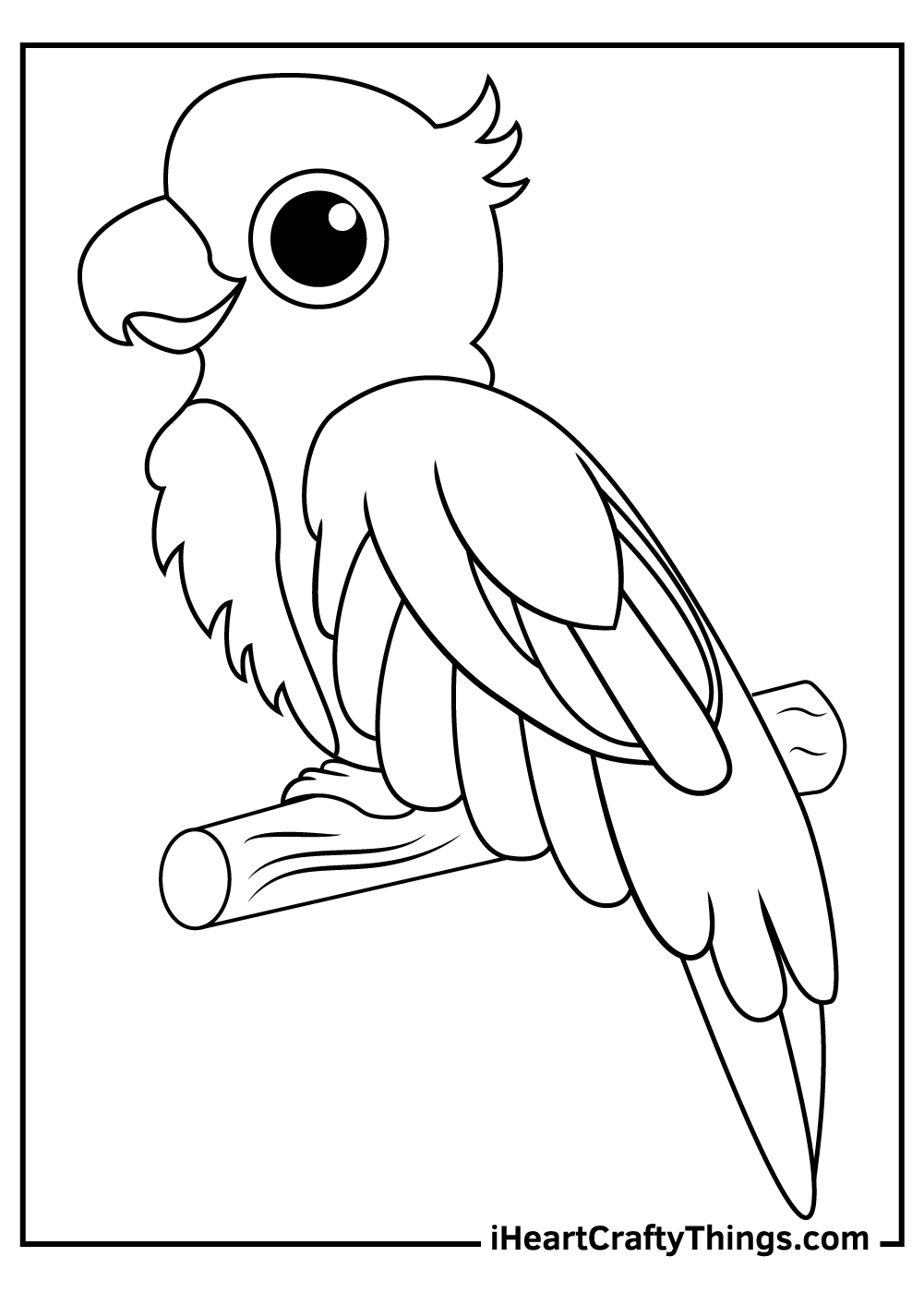 It looks like the parrot in this printable sheet wants a high five from you! There's a lot of character in this cute parrot, and it seems very confident and friendly. Don't you think some oranges and yellows would look so pretty on this one?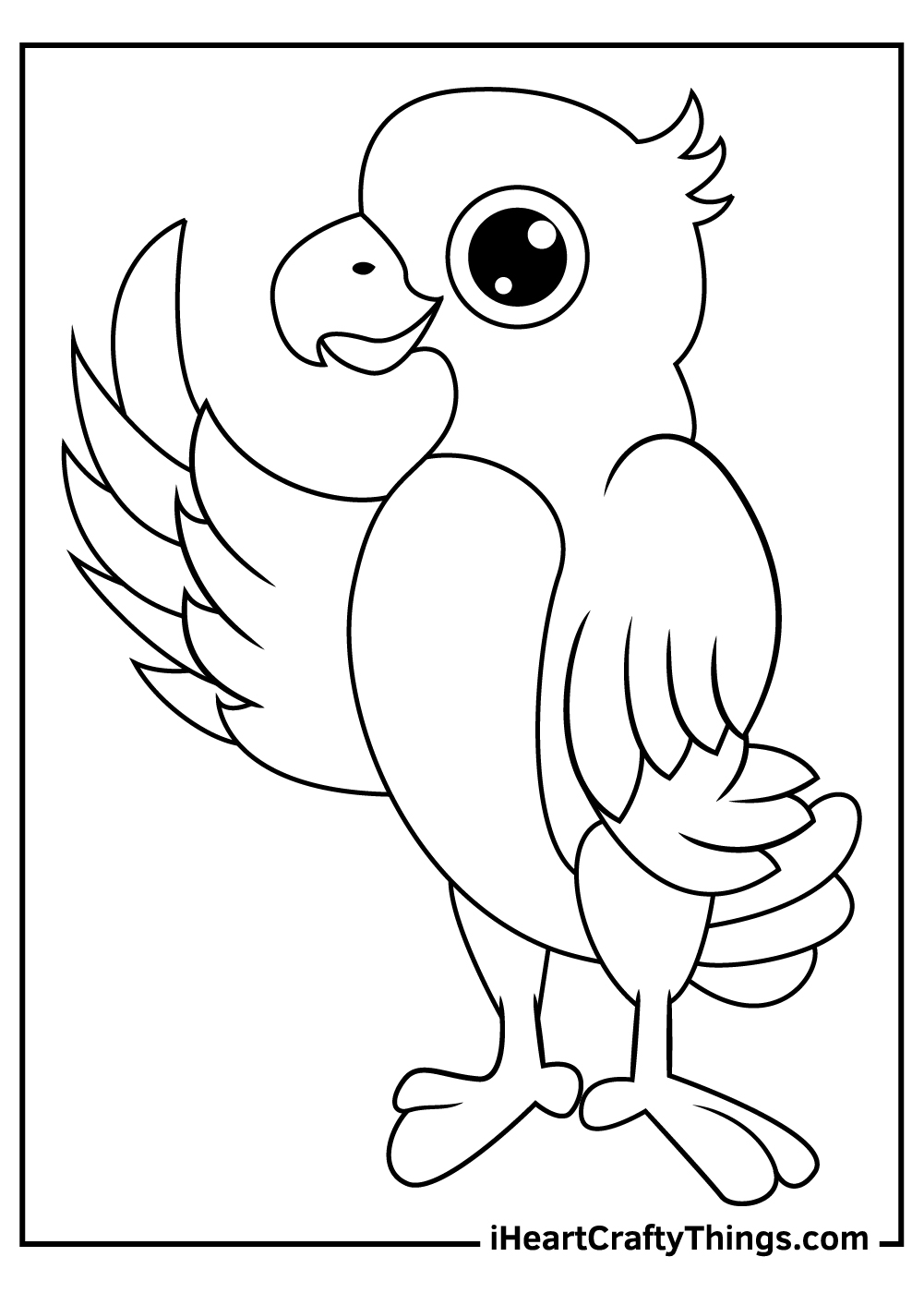 The parrot in the next free coloring page has a bit of a cheeky, mischievousness look about him. I wonder what he's pointing at? Whatever it is, he seems to be having a good laugh about it and seems pretty happy.
This is another printable that I think would look great with vibrant colors and a bright background to go with the playful look of this parrot.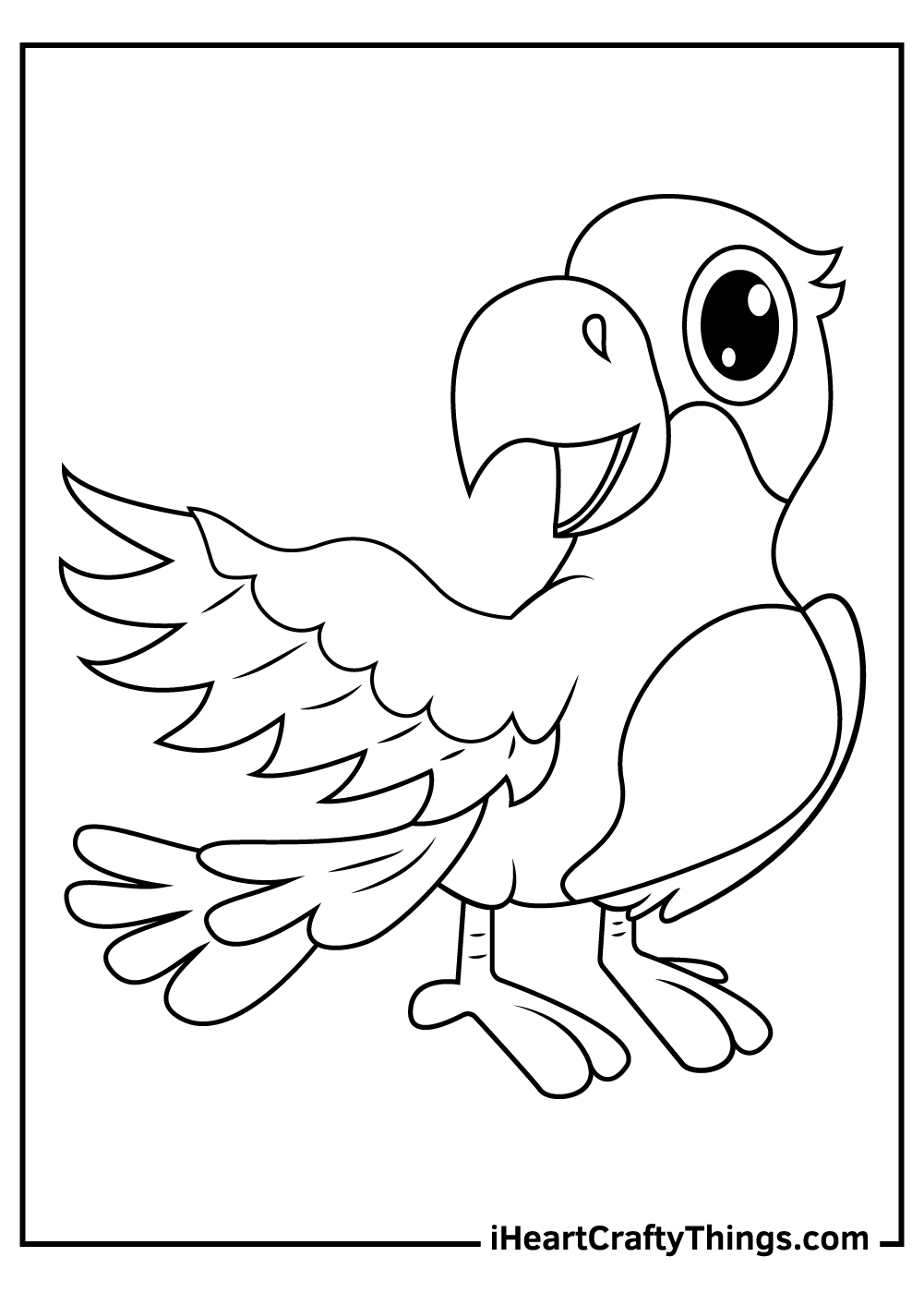 Another happy looking parrot is the focus of this next printable coloring sheet. She's perched on a stick or a branch, and I bet she's singing a song or maybe repeating a funny phrase from her owner.
This parrot seems too happy for a muted color scheme, so I think it would be a great page to really get creative with lots of bright colors.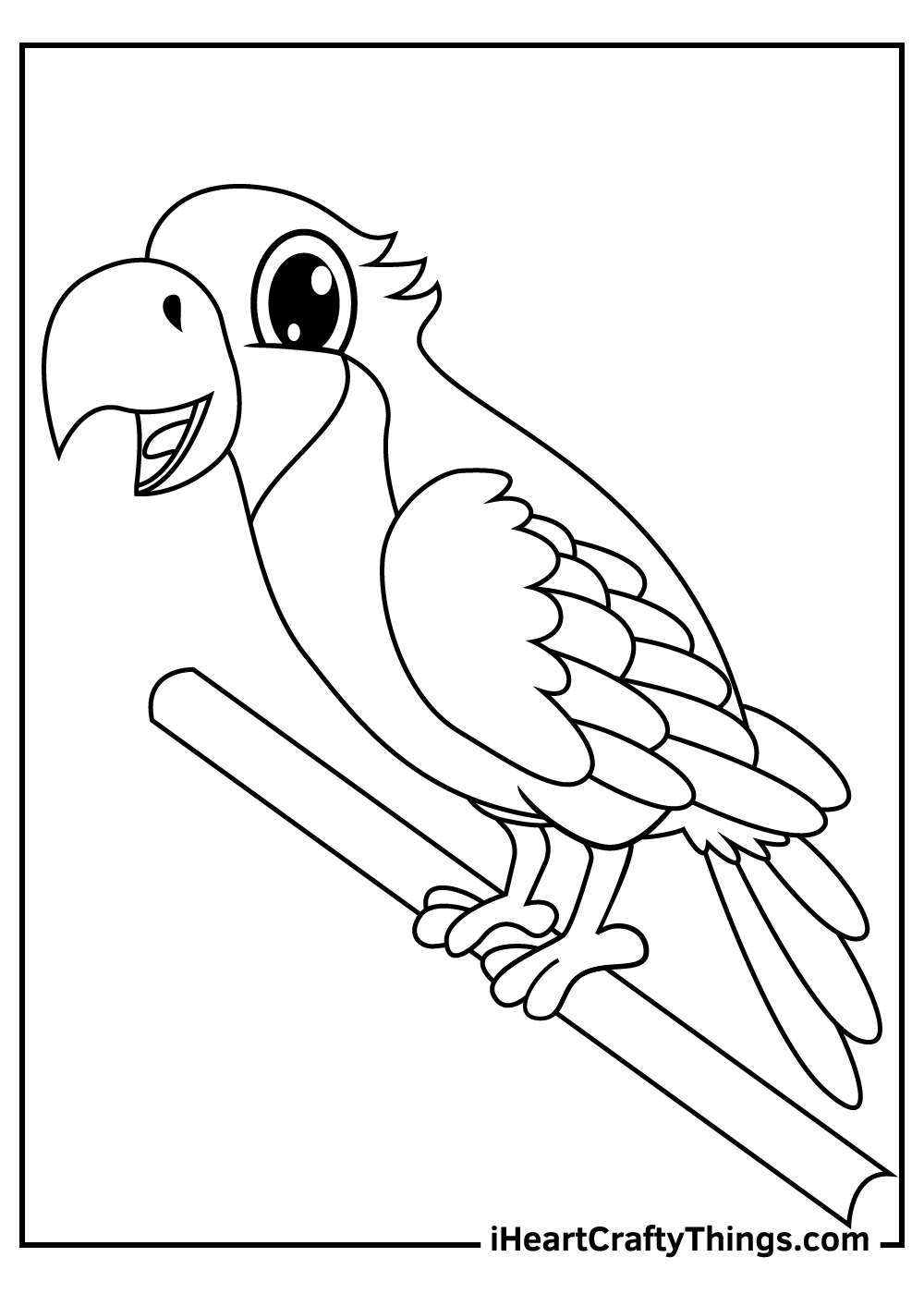 The next parrot is striking a pose in this next coloring page, and the stars around it show that it knows how pretty it is!
Maybe some deep blues, purples and greens contrasted with red and yellows for the background and stars would help show what a star this parrot really is.
REMEMBER: You can get the COMPLETE set of these coloring pages >> HERE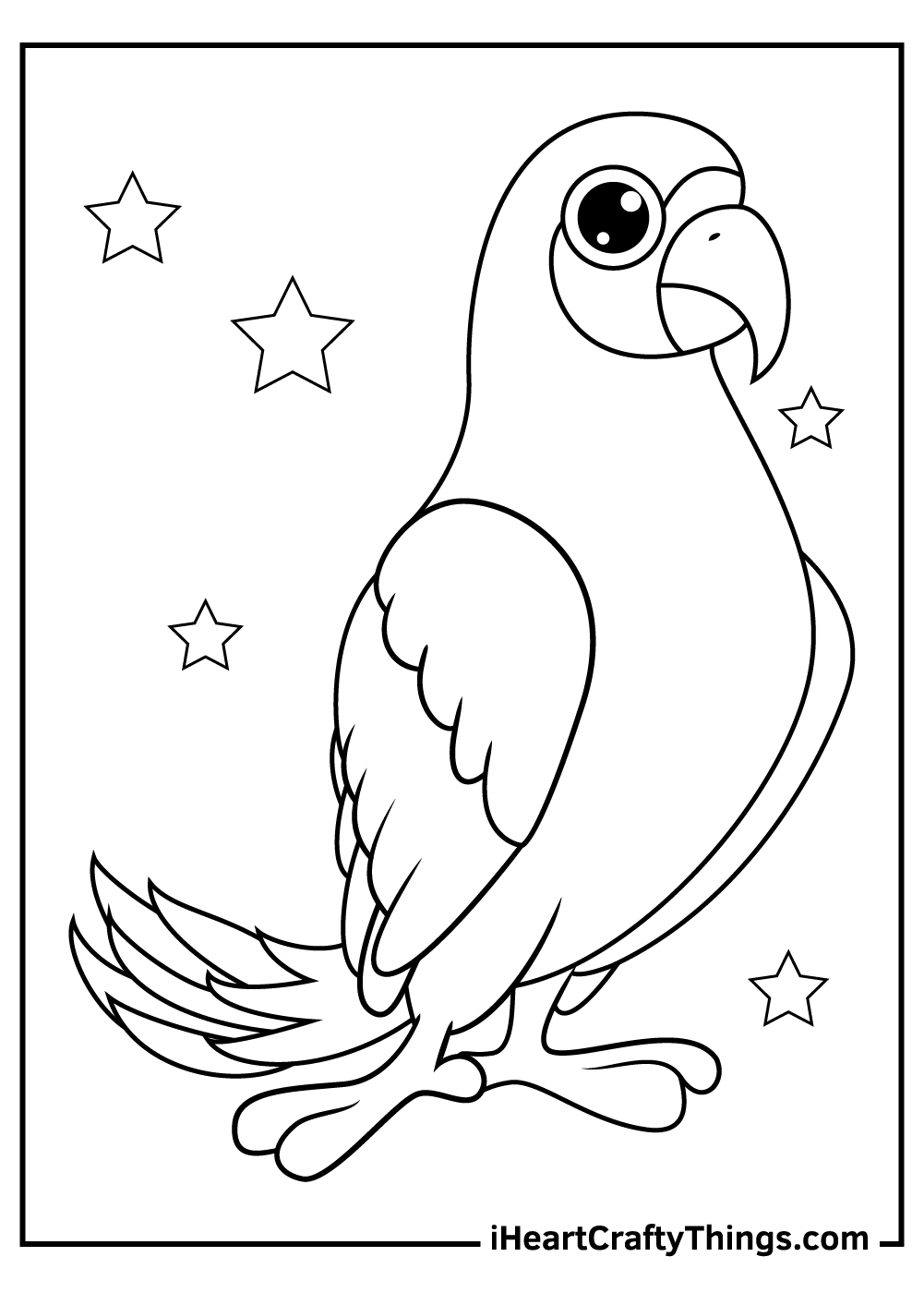 We're getting a friendly wave from this parrot, and the cheerfulness of this coloring page makes me think that this is another page that would benefit from bright reds, yellows and greens.
What colors do you think of when you see this pretty parrot?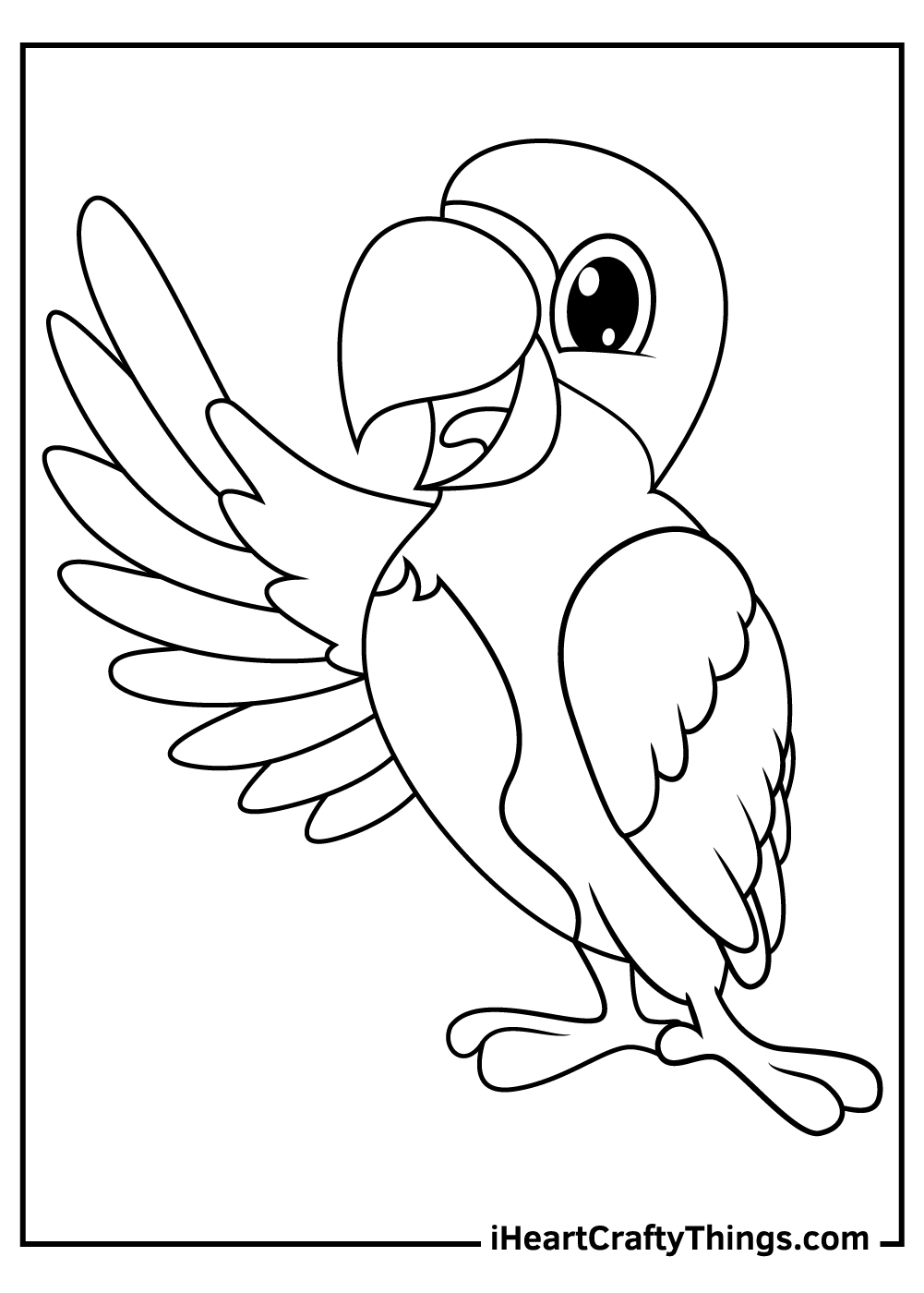 We've seen a lot of confident parrots in the previous coloring pages, but this little one looks a bit shy to me! I think either cool or warm colors would work equally well for this parrot; maybe he's shy because his bright colors attract so much attention, or maybe he's embarrassed by everyone admiring his beautiful cool colored plumage.
What colors do you think would best suit this more shy parrot?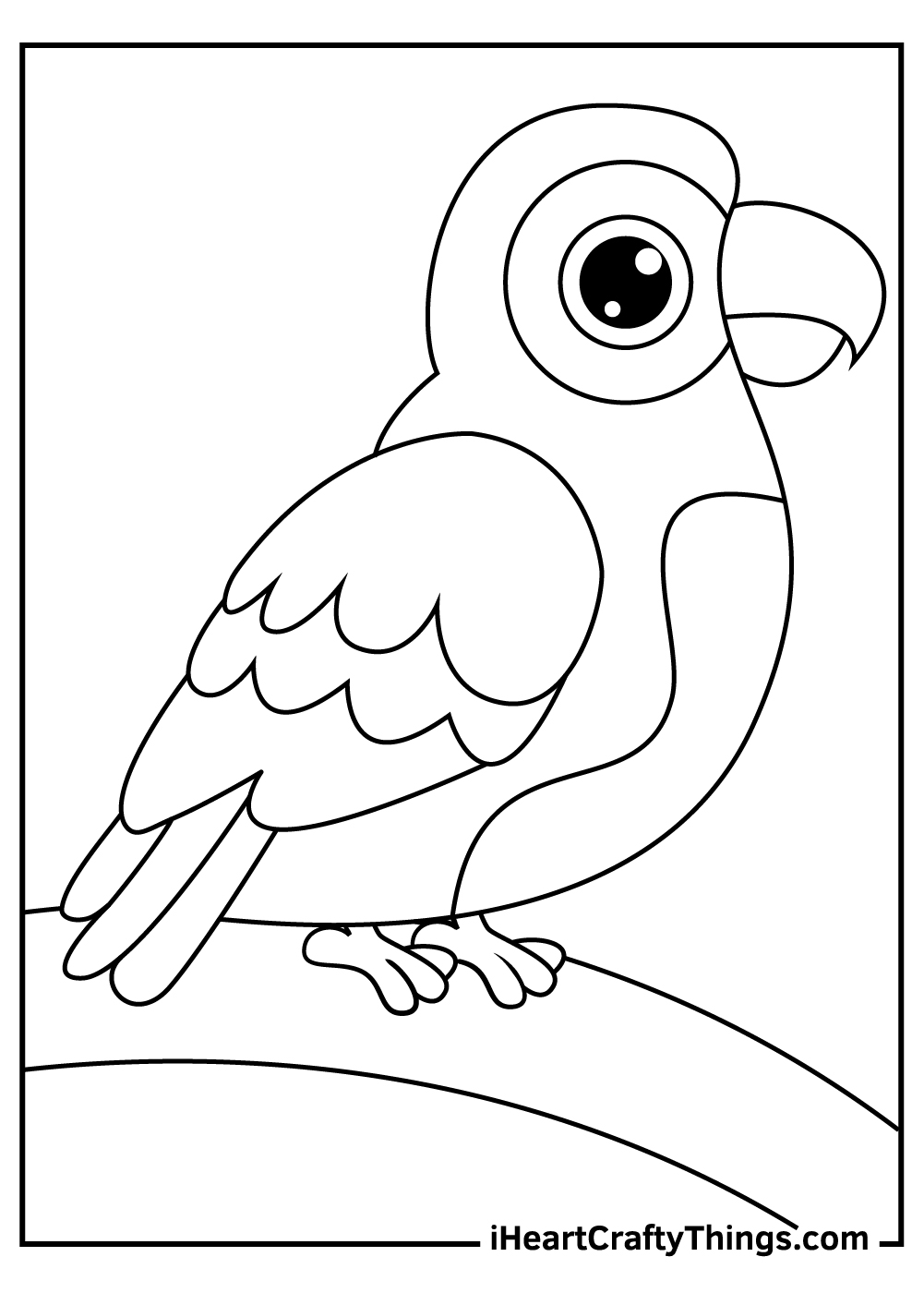 In the second coloring page of this collection, we saw a macaw parrot in front of a stained glass window, and this final printable shows what a stained glass window would look like if it was made to look like a parrot.
I think taking some inspiration from real stained glass windows in old churches and cathedrals would be a great source of ideas for how to bring this coloring page to life.
Are you going to make this image bright and colorful as if sunlight is coming through or make it more calm and muted? We can't wait to see your designs!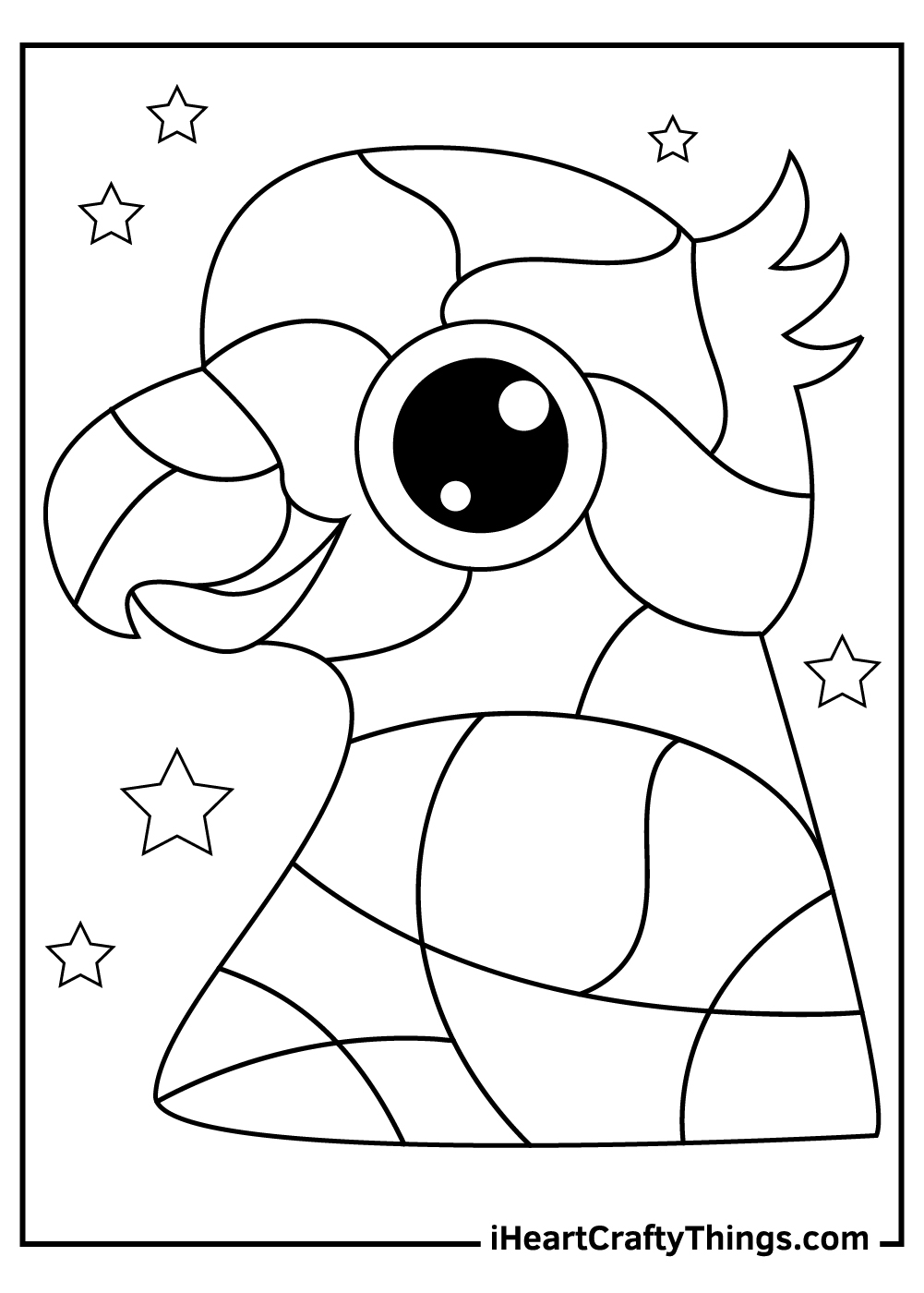 Parrots Coloring Pages – Which will you choose?
We really hope these parrot coloring page printables provided some colorful fun for you and let you show off your creative side!
Our coloring page images are completely free for you to print out and enjoy as many times as you like. Don't be shy to print out multiple copies to try out different color schemes or share with your friends!
Speaking of sharing, please do show us some of your colorful parrot pages once you've done them! We're sure you're going to come up with some stunning colors and patterns, and we'd love to have them brighten up our day on our Facebook page.
Also, don't forget to like and share our page with your friends so you can have access to many more free, fun coloring page printables!
REMEMBER: You can get the COMPLETE set of these coloring pages >> HERE