I repinned this adorable craft on Pinterest a couple weeks ago after scoring the cutest old oval frame at my local thrift store for $1.50. The original project comes from Love of Family & Home, where you can read their tutorial.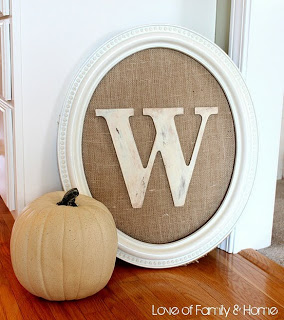 I decided it had been a long time since I did something for me, so after reading the tutorial, I decided I could conquer this one. This is how mine turned out.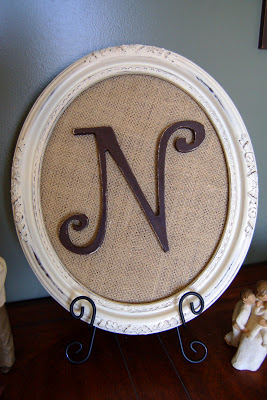 I should have taken a before picture, but you know, I was just too excited when I got started to think about getting out my camera. The original frame was gold and it cried 1970's. I painted mine a little differently than the original craft. For the frame, I first gave it two coats of Rust-oleum Espresso color spray paint. Then I added a third coat of Valspar Churchill Hotel Vanilla. When it was completely dry I sanded it in areas to give it more of an aged look, and because I wanted some of the espresso color to come through.
I opted to use more a fancy letter for mine and I used the same technique to paint it. I used the Valspar Churchill Hotel Vanilla first and then gave it a good coat of the Rust-oleum Espresso. Then I sanded and aged it the same way, letting some of the Vanilla color come through.
The color combinations work perfectly for my front room, and I love the accent of the burlap in the frame. It was such a fun project. I even bought extra burlap so I could try making one of the fun burlap wreaths I've seen floating around blogland lately. Pinterest is way too fun!!
Happy Crafting!!
Linking up to THESE fun Parties