Christmas is a magical time of the year, and it's a time that many people really look forward to!
Part of the fun of the festive season is decorating your house and yard with all manner of colorful Christmas decorations, and it makes everyday life a bit more magical!
This collection of free Christmas ornament coloring pages for kids will let you create some of your very own wonderful decorations!
These pages are all free to enjoy, and you can spread the Christmas cheer by sharing them with others to enjoy as well.
So let's begin this collection as we start the first page!
20 Brand New Christmas Ornament Coloring Pages – Free to Print and Color
Our first Christmas ornament coloring sheet that we have for you features a simple but pretty bauble that would hang from a Christmas tree.
It has a really pretty wavy design on it, and there are many different ways that you could color it in even though it is a fairly simple design. We can't wait to see how you tackle this first image!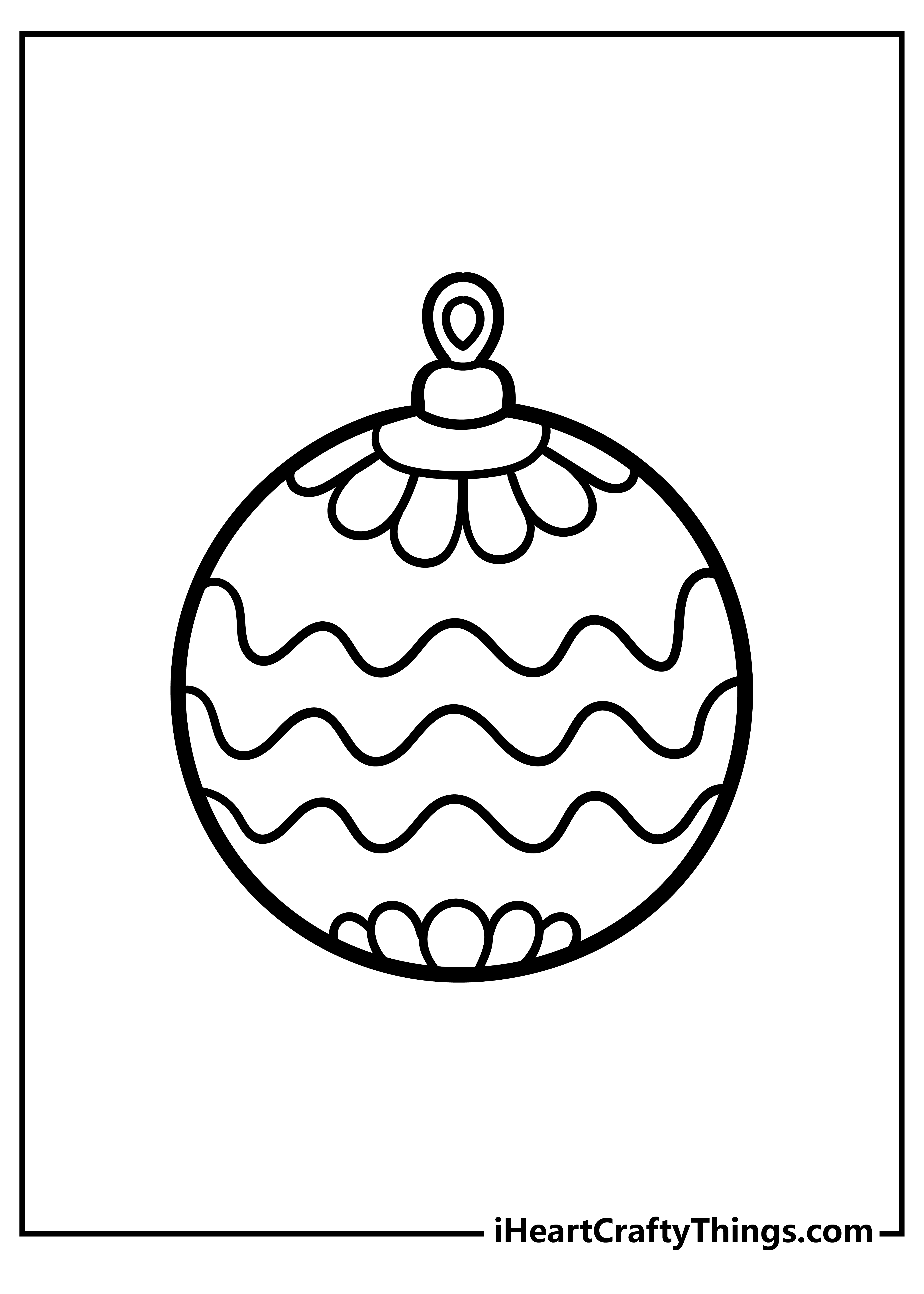 The design of this second bauble is a bit more complex than the previous one, and it makes for a really pretty design.
If we were coloring this one, we would probably go for a different color for each individual element, as that would really make this a colorful explosion!
There are so many possibilities here, so what will you choose?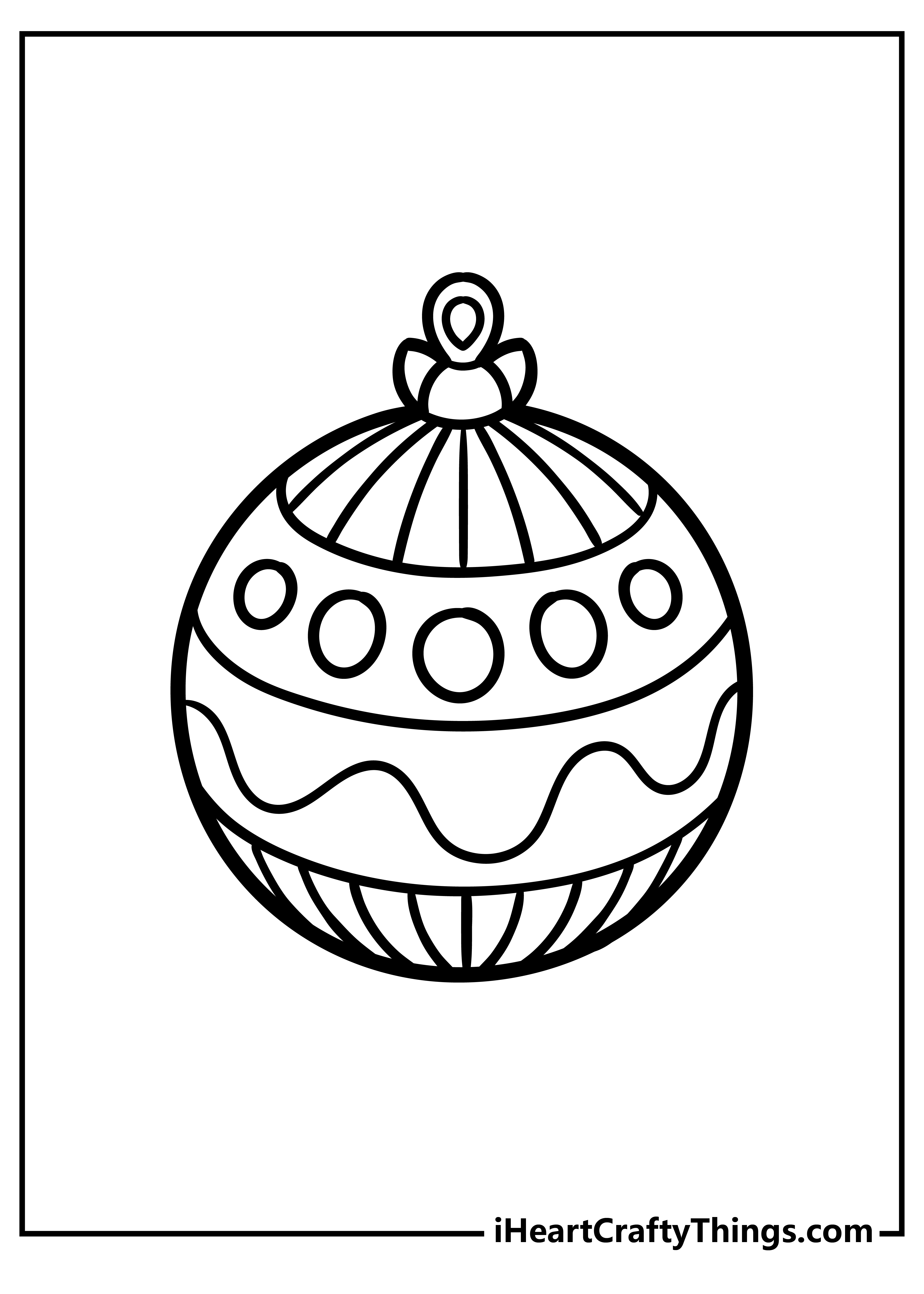 Ignite your creativity by coloring this exquisite vintage-inspired Christmas ornament.
Featuring an intricate floral pattern with delicate leaves, vines, and flowers, this ornament has an elegant teardrop shape with a loop at the top for hanging.
You can add a background that contains faint music notes and staff lines, evoking memories of carols and holiday songs.
As you color in the tiny details with your favorite festive hues, imagine the history behind this ornament passed down through generations.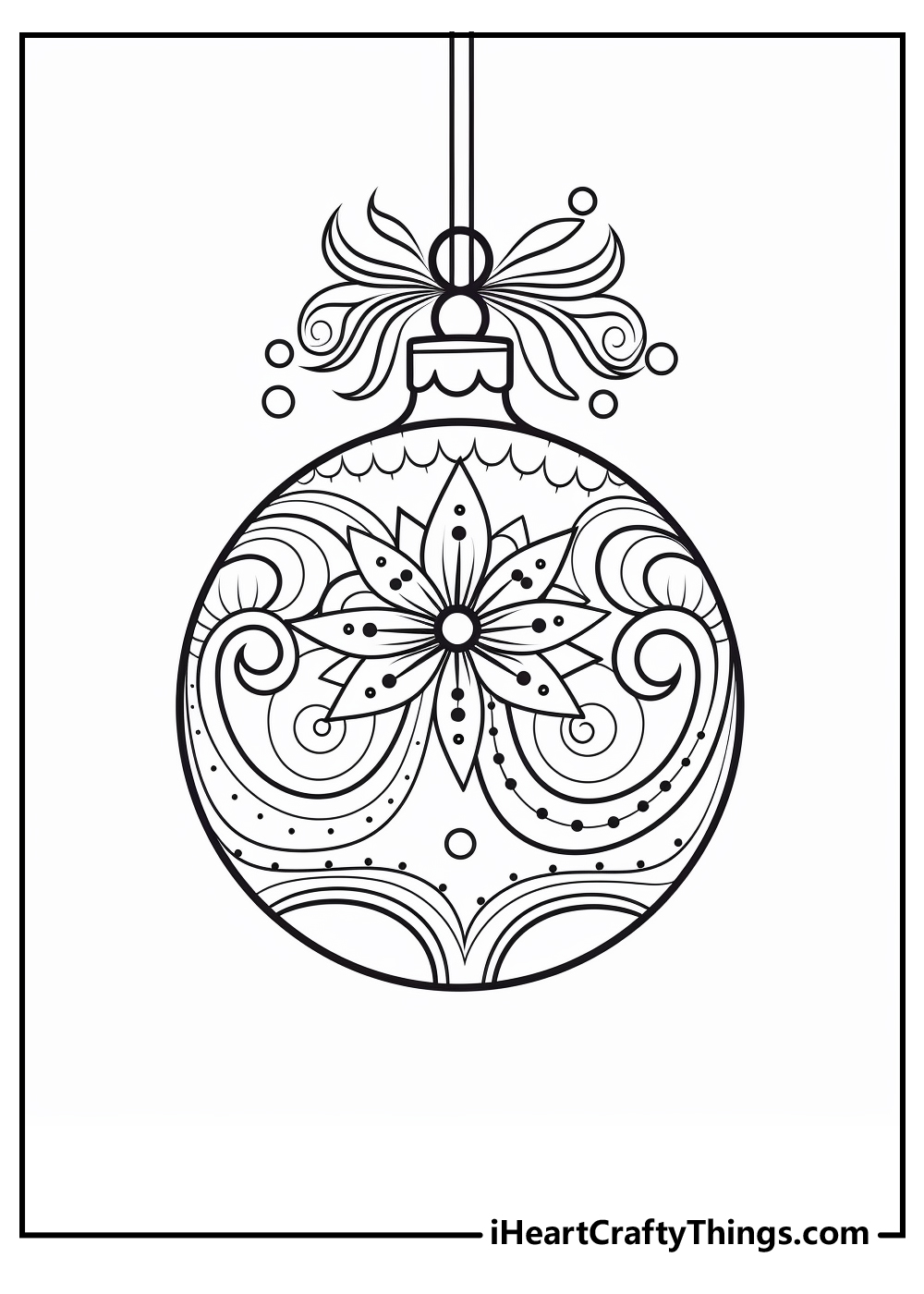 This next bauble has a design that incorporates Santa's outfit into the design.
For that reason, we would use colors such as red, black and white for this one in order to really finish off the Santa outfit theme.
Will you go with this iconic Santa look or will you give this bauble a unique appearance?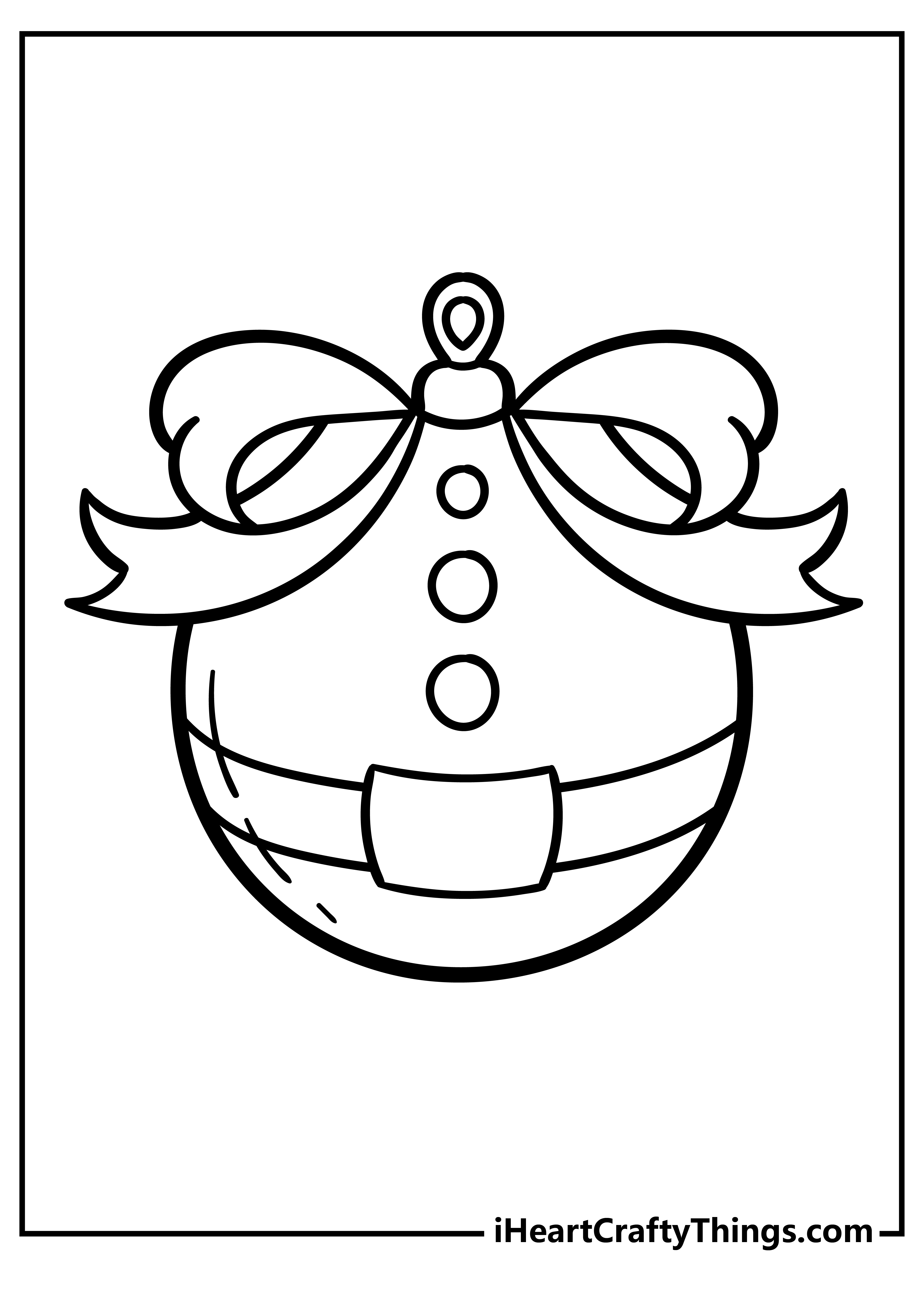 It's beginning to look a lot like Christmas with this festive collection of ornaments.
The ornaments are different shapes and sizes, including a round one with stripes, a round one with zigzags, a star-shaped one, a round one with stars, and a round one with a tree.
Use vibrant reds, greens, golds, and silvers to make each ornament pop. Try different color combinations and patterns on each one.
This merry medley of ornaments will look incredible decorating your holiday tree.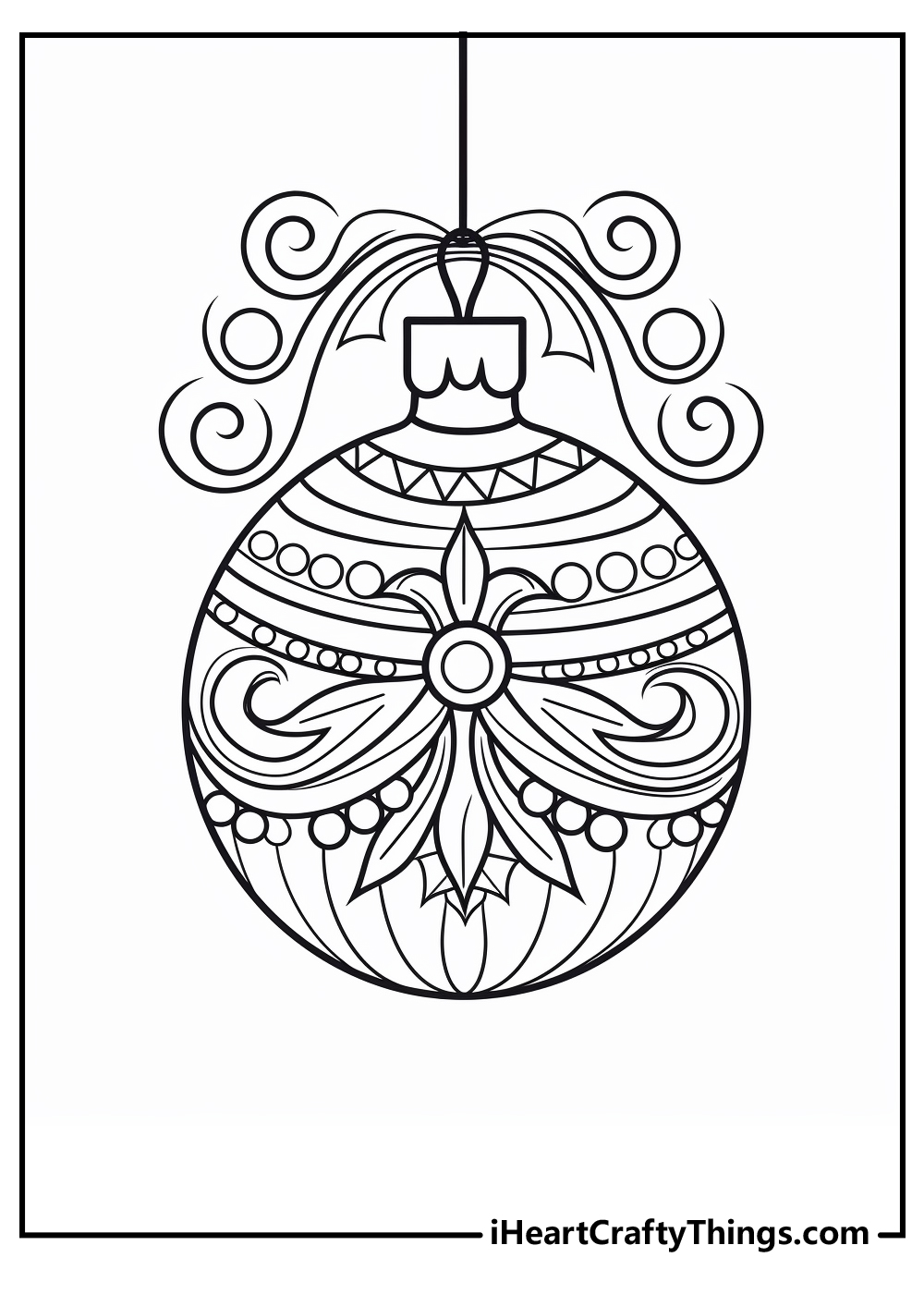 We have Santa as a theme for this next Christmas ornament coloring page that we have for you!
This time, the design takes inspiration for his jolly face, and this is a bauble that would look great on any Christmas tree.
Be sure to let your creativity flow as you add your colors to this charming and festive image!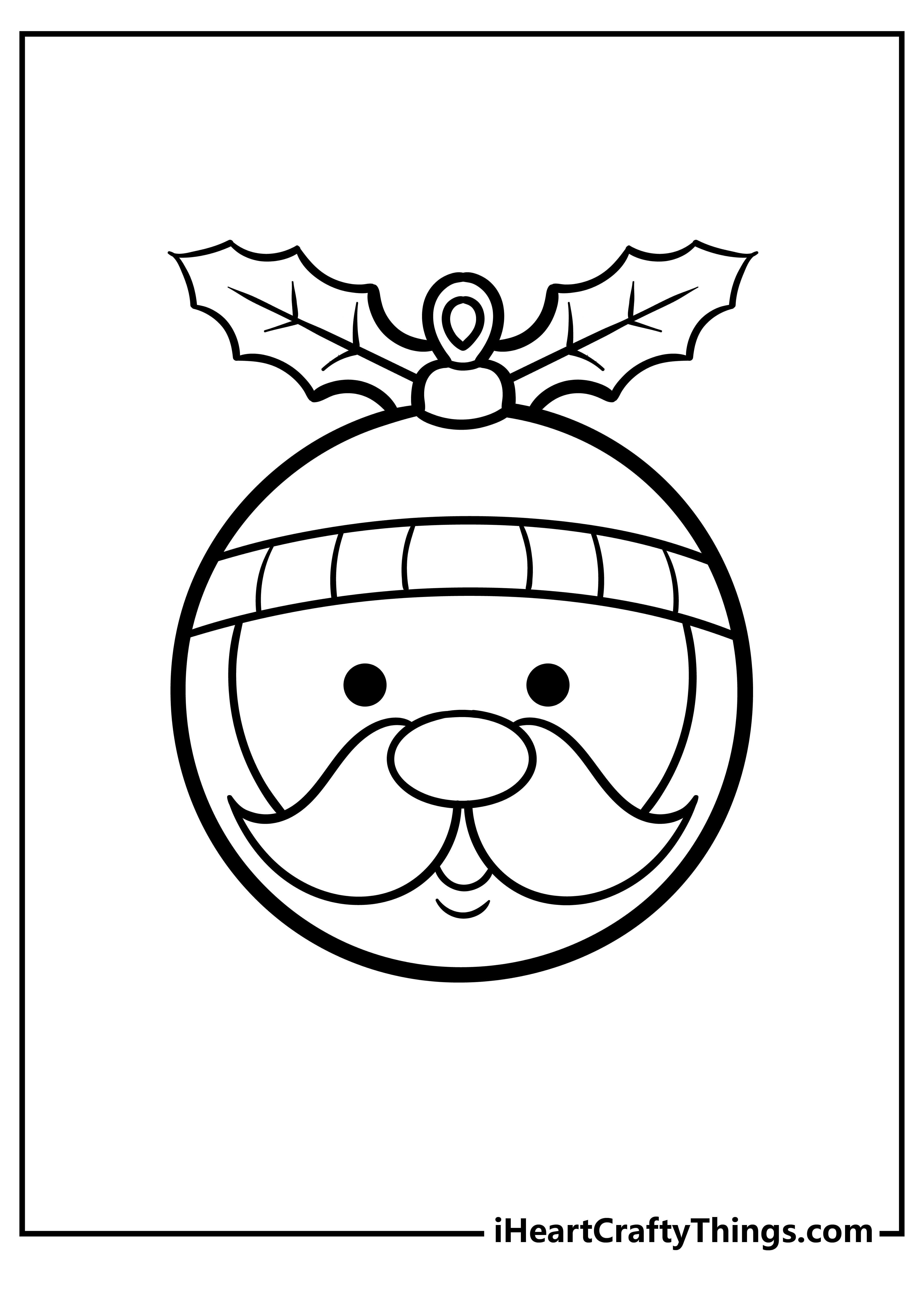 Next, we have a bauble that is different to all of the previous ones we've seen so far.
Baubles are traditionally round in shape, but this one has a pointy end at the base that makes it stand out from the rest.
There are some thin shapes on this one, and these could prove a bit tricky to color in. You can use mediums like colored pens or pencils for more precision for trickier details like these!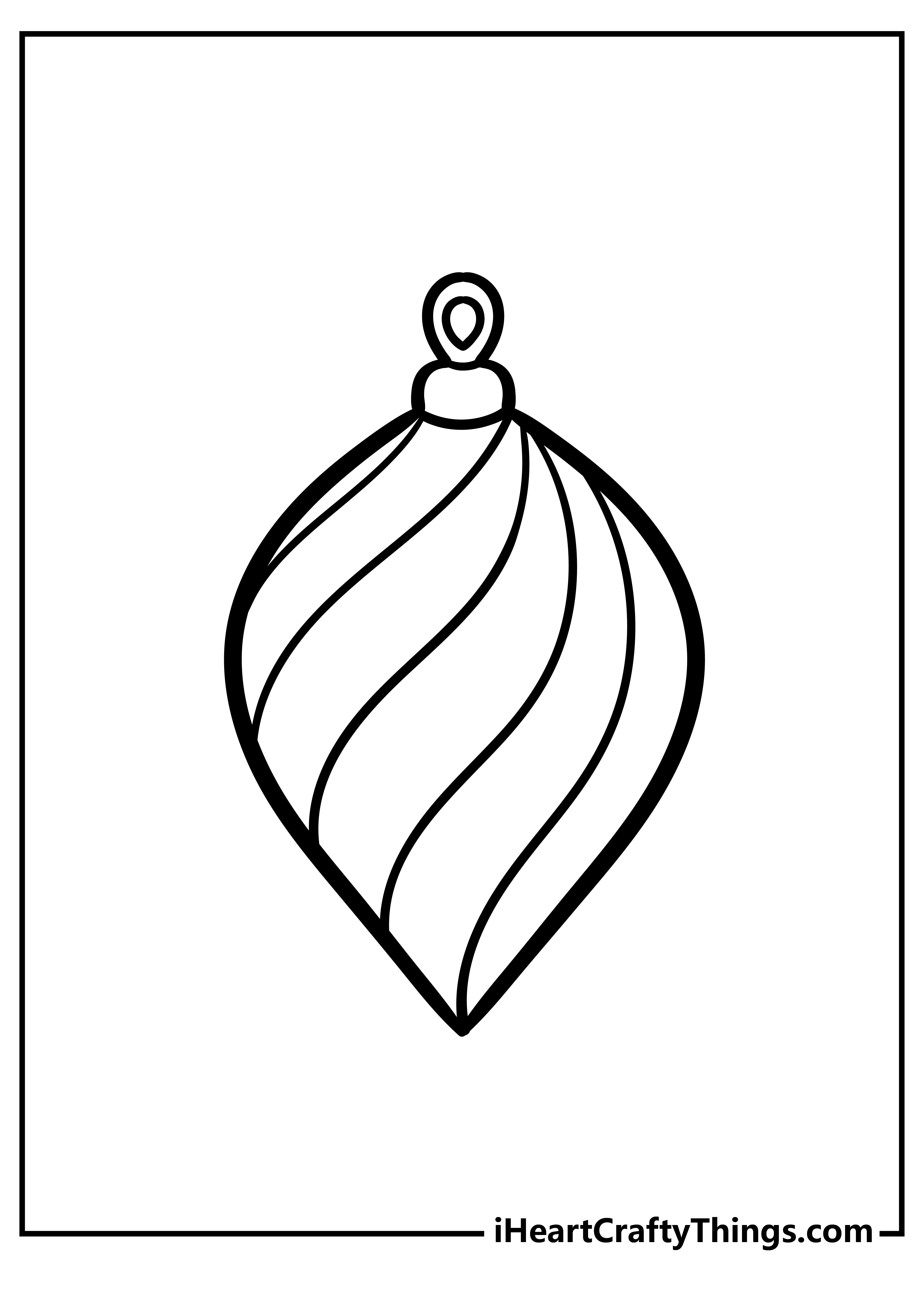 What's better than coloring one bauble?
Two would be the answer to that question, and that's just what we have for you in this next page in our collection of free Christmas ornament coloring pages for kids!
They both have a unique pattern on them, and you could make them similar color schemes or maybe make them look entirely different from one another.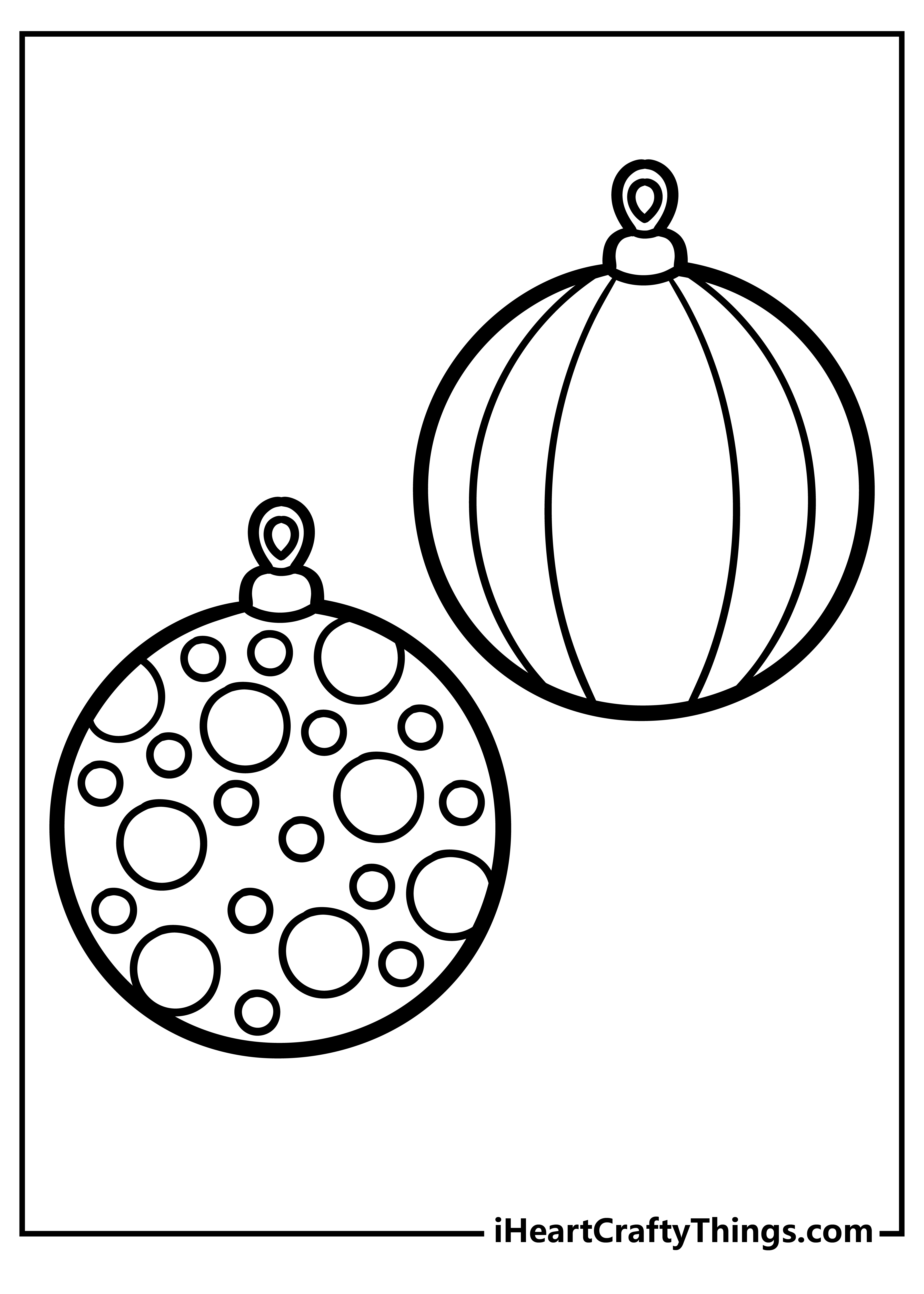 Bring this magical Christmas ornament coloring page to life with color. This round ceramic ornament features a snowflake design of incredible complexity and detail.
Intricate swirls, lines, dots, and shapes adorn the ornament from top to bottom, with a frosted white sheen over the entire surface.
As you color each minute detail, imagine you are frosting an actual snowflake with shimmering hues of blue, white, silver, and purple.
When complete, this icy masterpiece will dazzle on your holiday tree. Remember to share it with us on Facebook and Pinterest.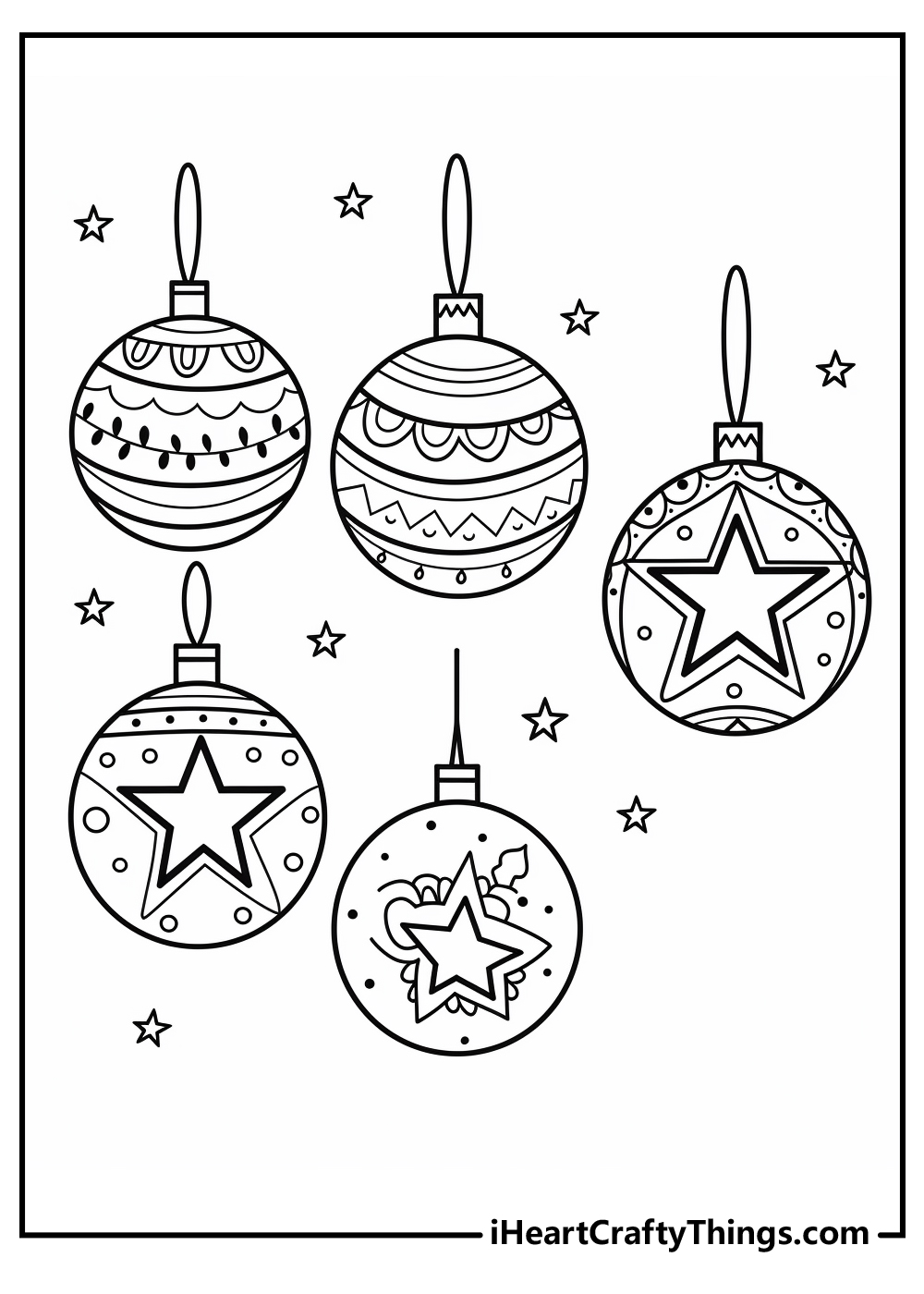 We have another really cute bauble design for you to color in here. This one has a cool star design on the front, and it has a pretty bow on top as well.
We think that coloring the bow with a softer medium such as watercolors or colored pencils would give it a softer look that would make it look like it's made of material.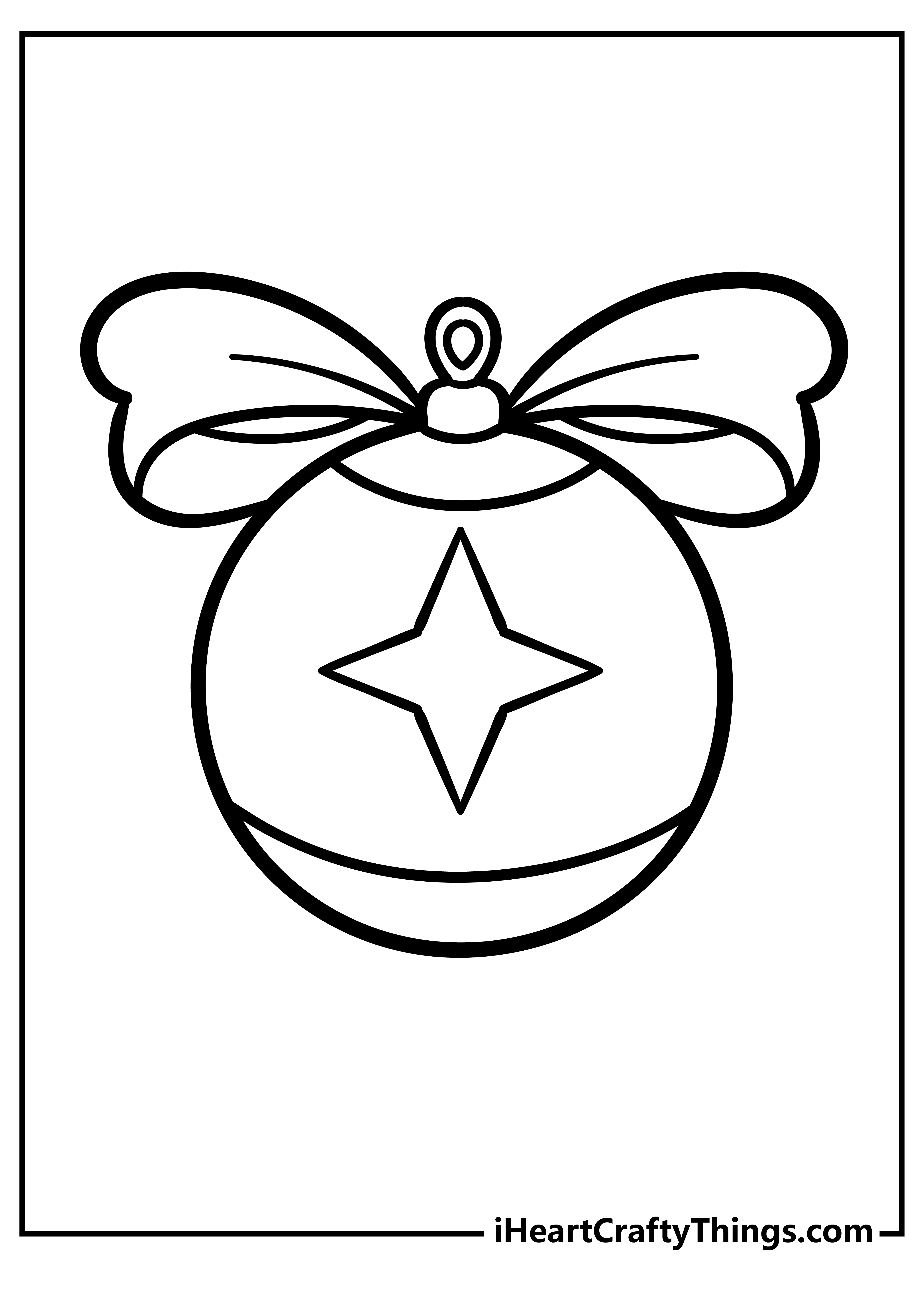 This next bauble has the most intricate design we've seen yet! This one has a flowery design that gives you lots of detail to color in.
this is definitely one that we would probably use some bright and vibrant colors on to really finish off the floral feeling of the bauble. What color schemes come to mind for you when you see this one?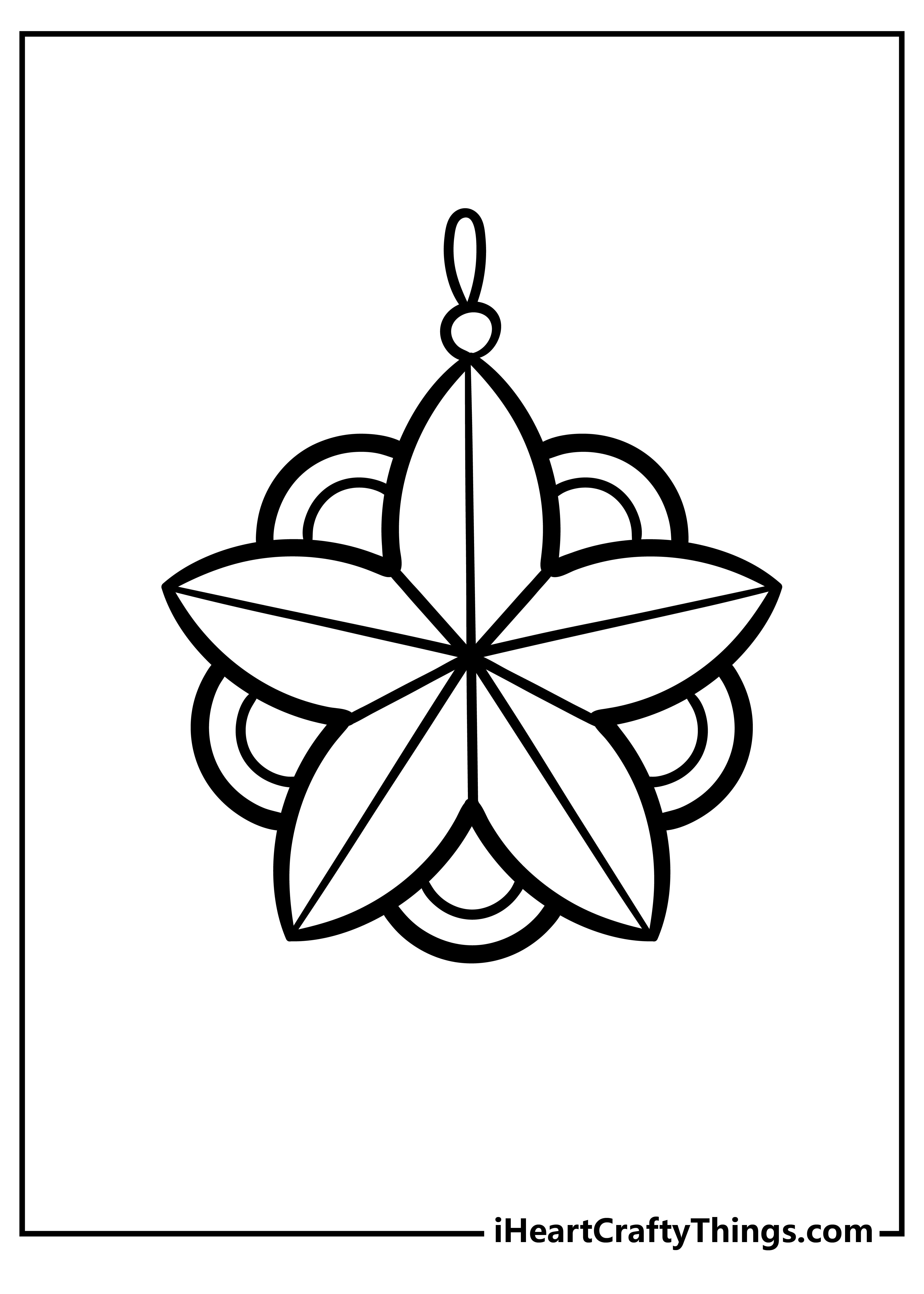 Look at the whimsical melting wax candle ornament in this Christmas ornament coloring page. This round, cartoon-style ornament has drips at the top meant to look like wax.
A detailed poinsettia flower, stars, and swirls decorate the main body. When coloring in the intricate patterns, visualize the ornament as a real candle with melted wax pooling at the base.
Would the flame flicker bright yellow, orange, or even purple? The melted wax could be crimson, emerald, or sapphire as it drips down the side.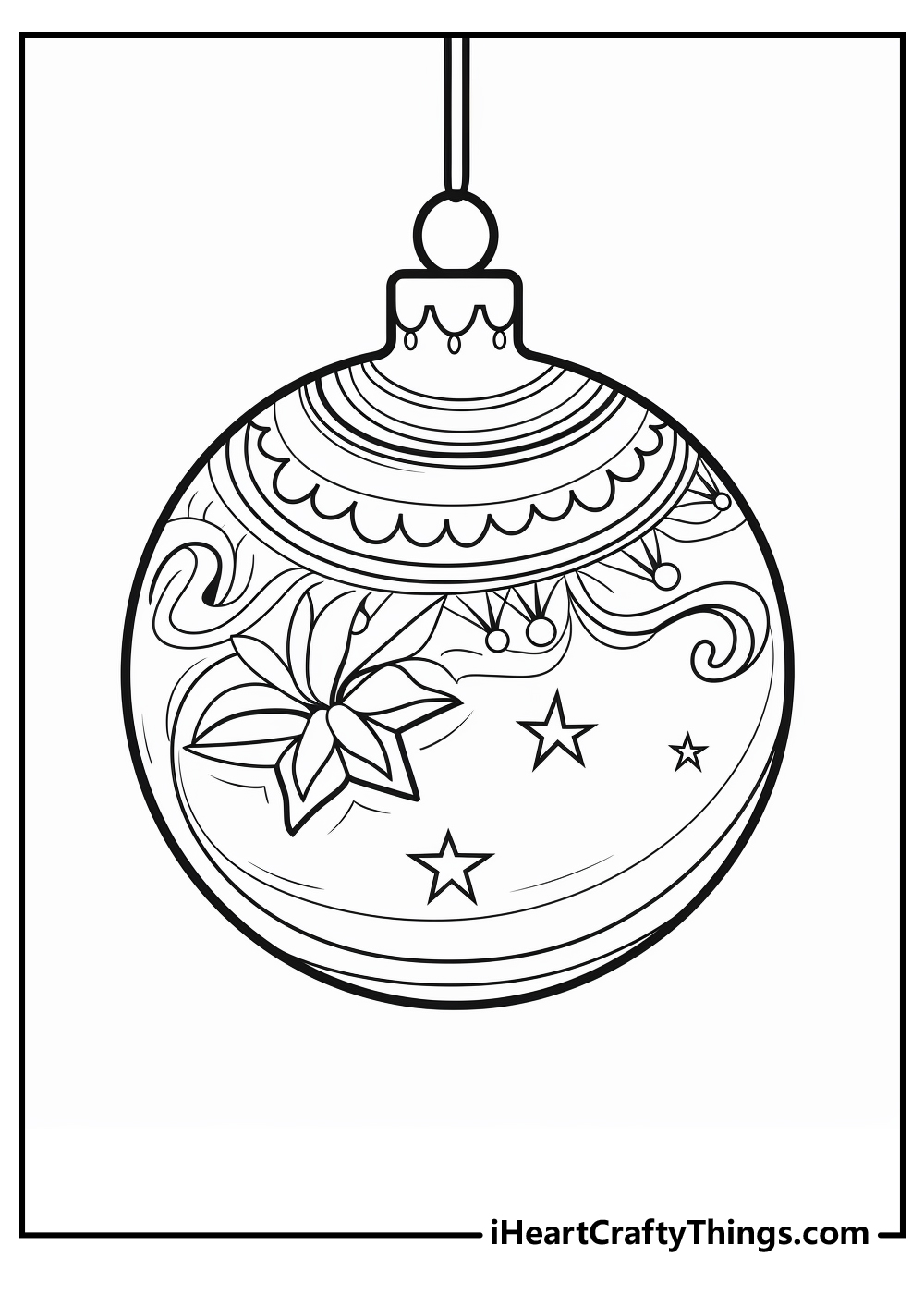 The previous bauble was quite complex, so we're bringing things back to basics for this next image.
This one has a pretty bauble that has a simple bow design around it, and you could draw some extra patterns or other details onto the empty space on this bauble in order to make it look even better!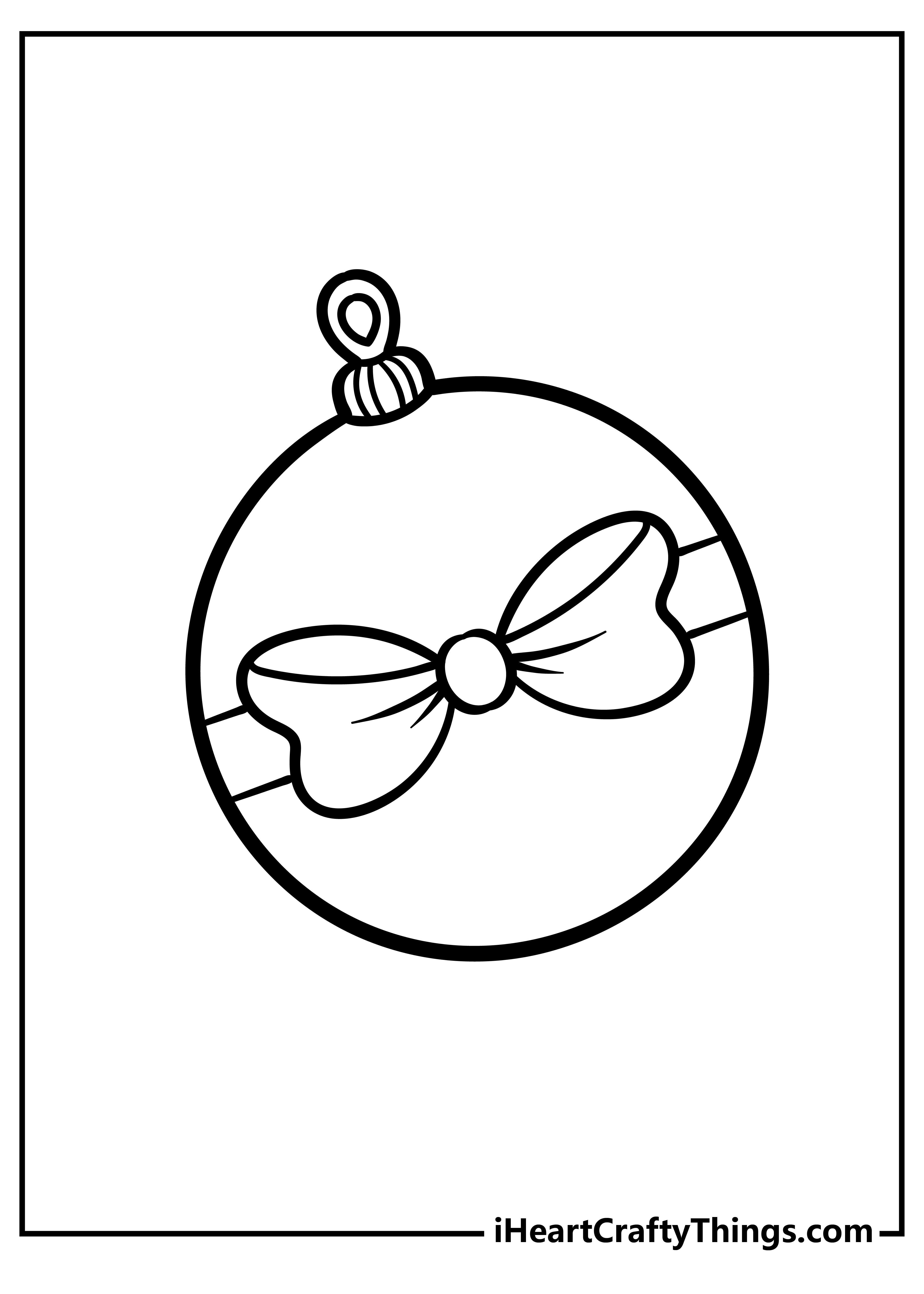 We have a bauble that has a rather unique shape featured on this next Christmas ornament coloring printable.
When coloring any of these baubles, remember that you can play around with different art tools and mediums and print these pages out as many times as you wish!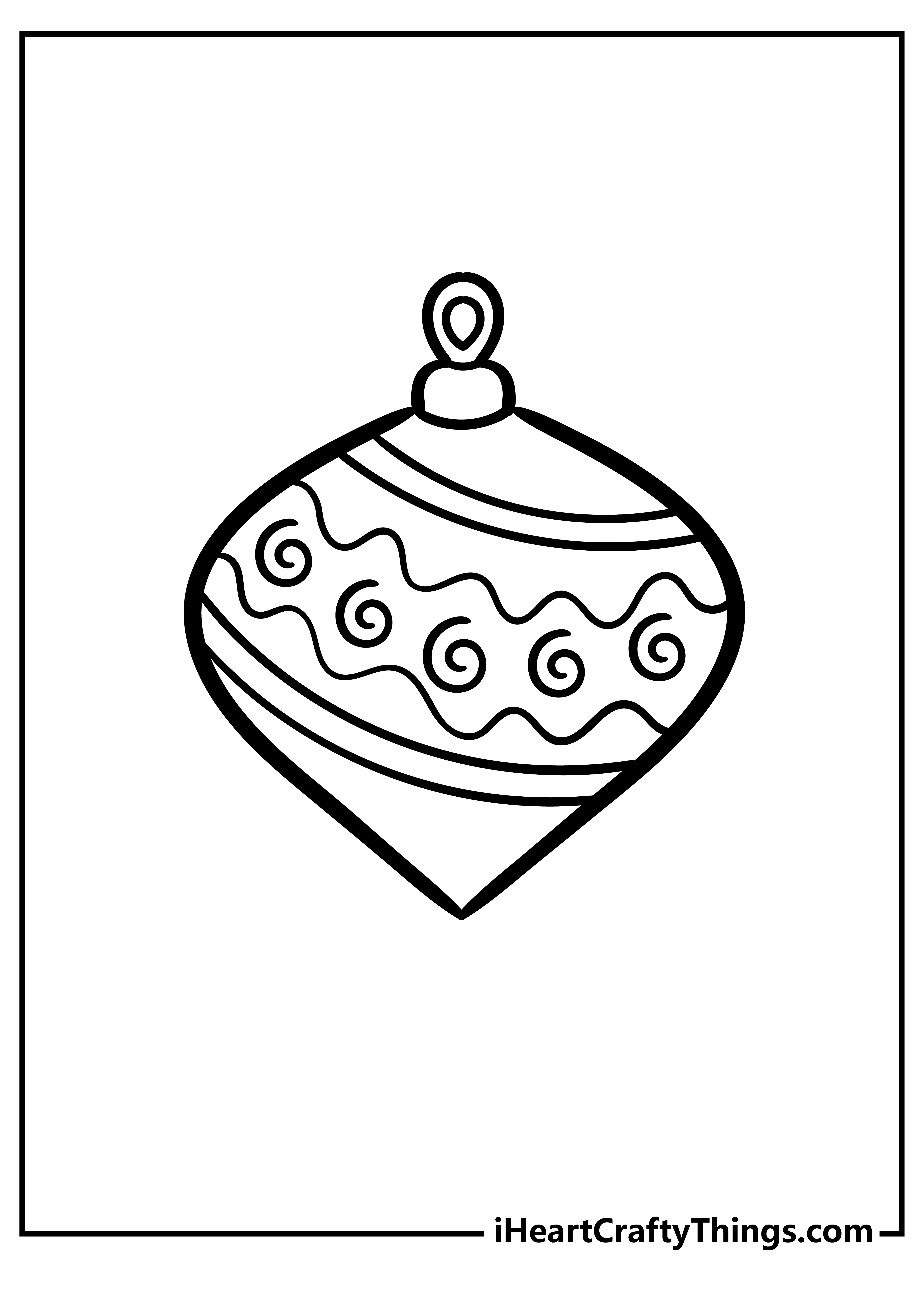 Another uniquely shaped bauble is here for you to color, and this one has a fun detail of some holly leaves poking off the top.
Do you think you will use an alternating color scheme for the bauble or will you try to use a different color for each stripe?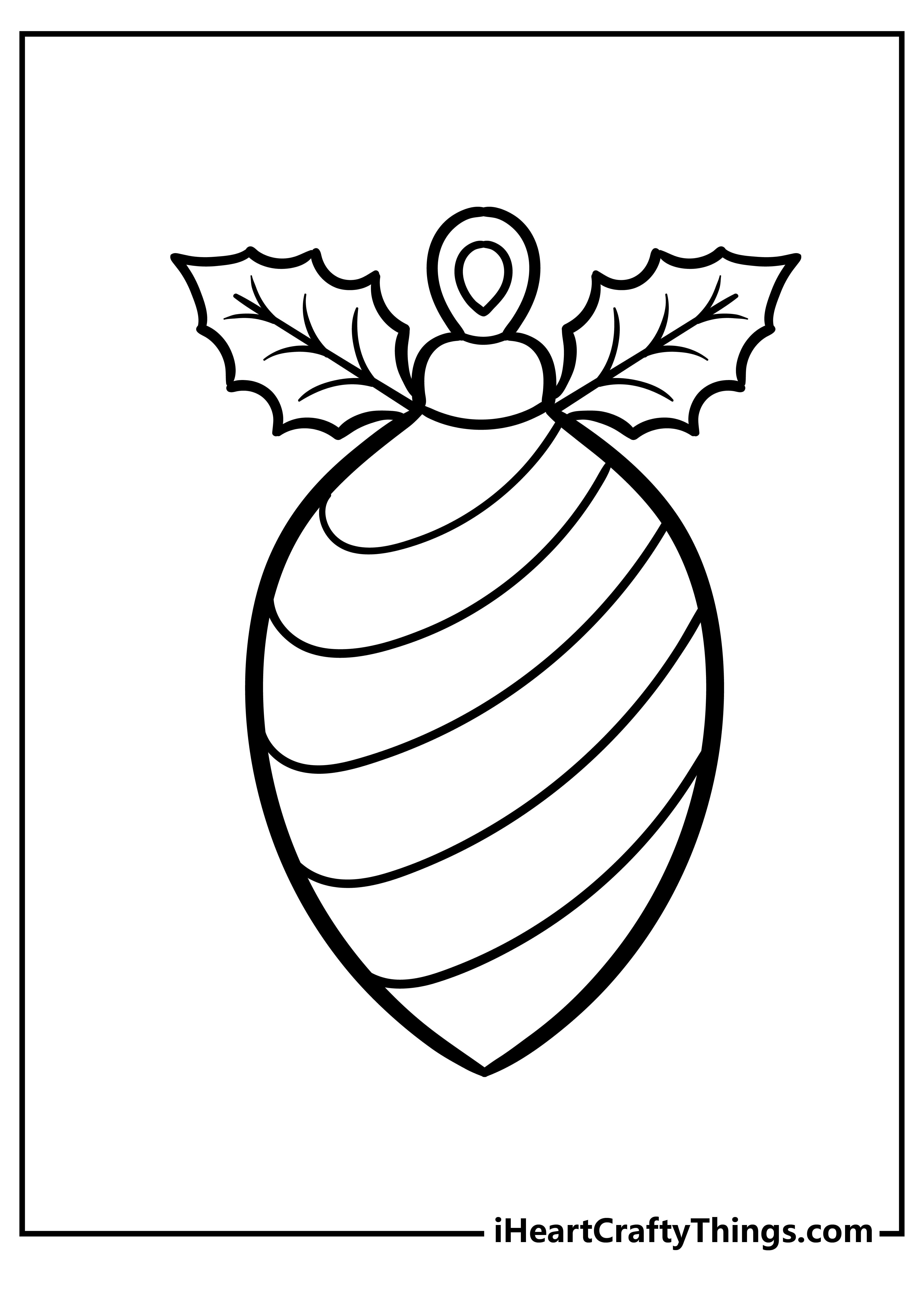 The theme for the next bauble is pine trees, as three are on the surface of this one.
If we were coloring this one, we would use some bright greens for the trees and maybe a vibrant red for the background.
We think that would look really lovely, but what color scheme comes to mind for you when you see this design?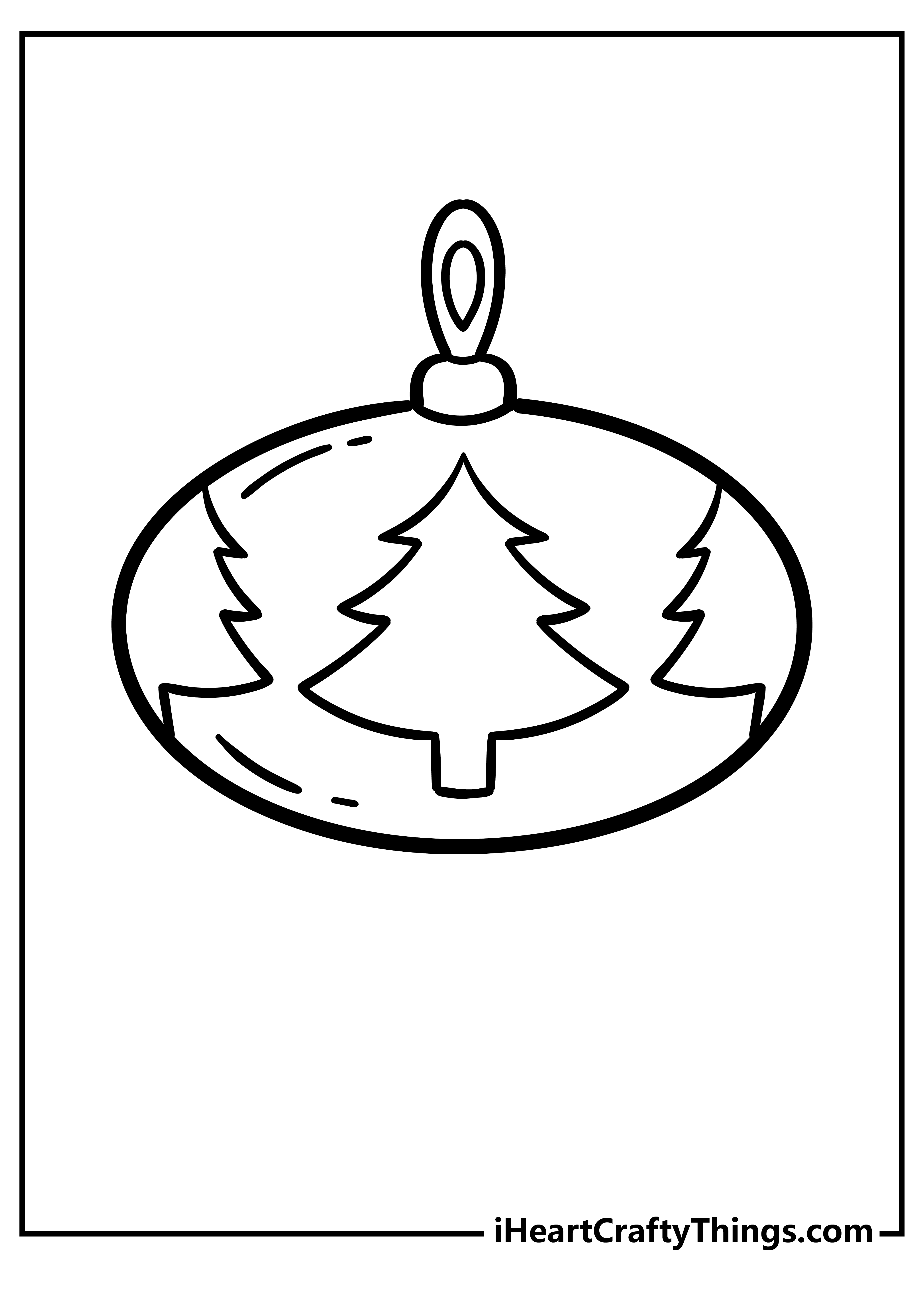 This Christmas ornament coloring page features a cute and simple design that will appeal to kids and adults alike.
An elegant poinsettia with leaves and berries decorates the round ceramic ornament, with petite stars scattered about.
Imagine this ornament hung on your own tree or as part of a collection passed down through generations.
Carefully color it with warm reds, greens, and golds to capture the holiday spirit. Bring nostalgic joy to the season by coloring this timeless treasure.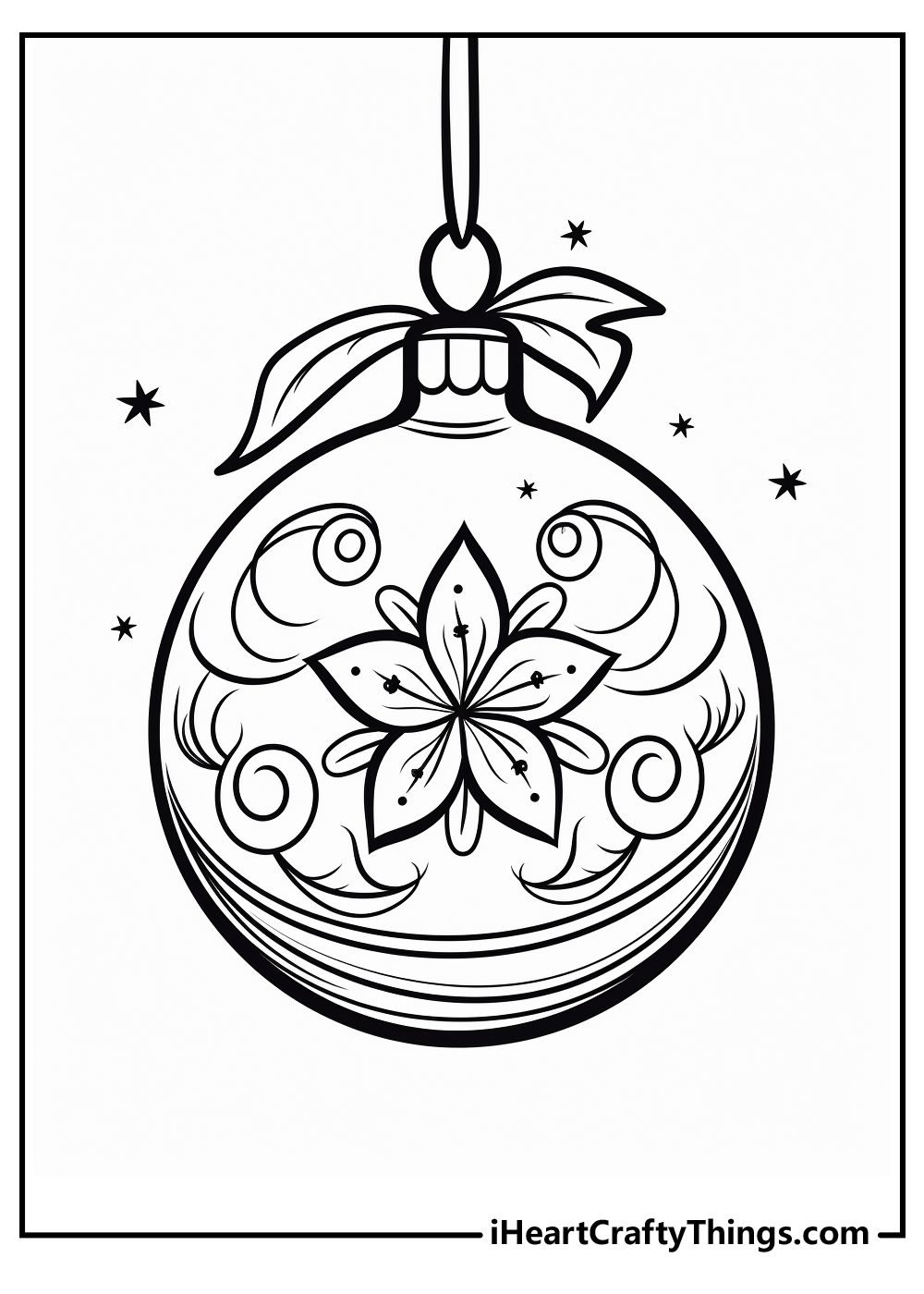 We love the swirly design on the bauble featured on this 13th page. This is another design that, while not overly complicated, could still be a bit challenging to color.
For that reason, we would again recommend some colored pens or pencils for this one, as they would give you enough control to make it much easier.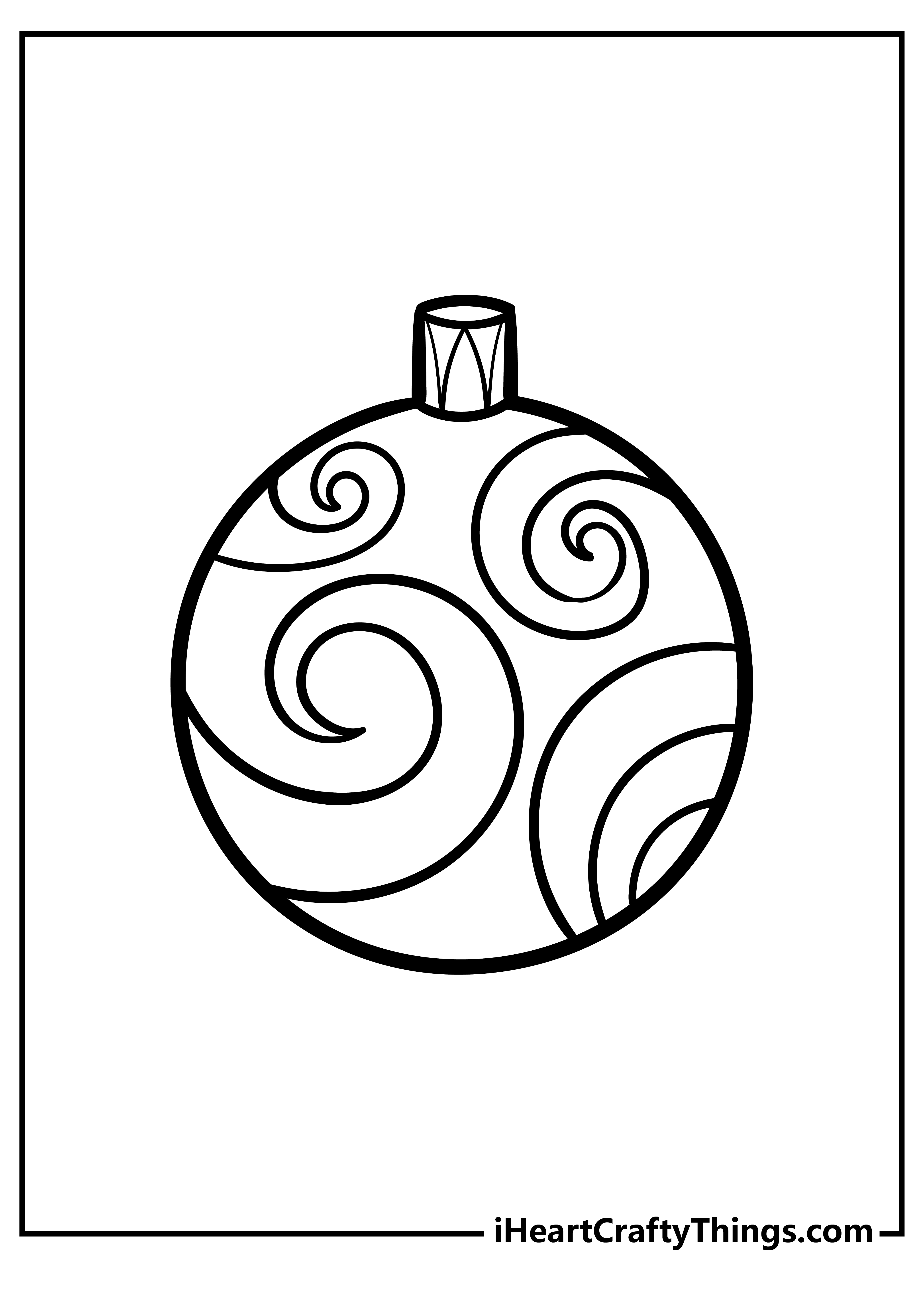 It's time for double the fun again, as this time we have two baubles for you to color again!
It's another example of two baubles that have very unique patterns to one another, so it's another case where you could use similar color schemes or go for opposite approaches.
Which approach will you go for?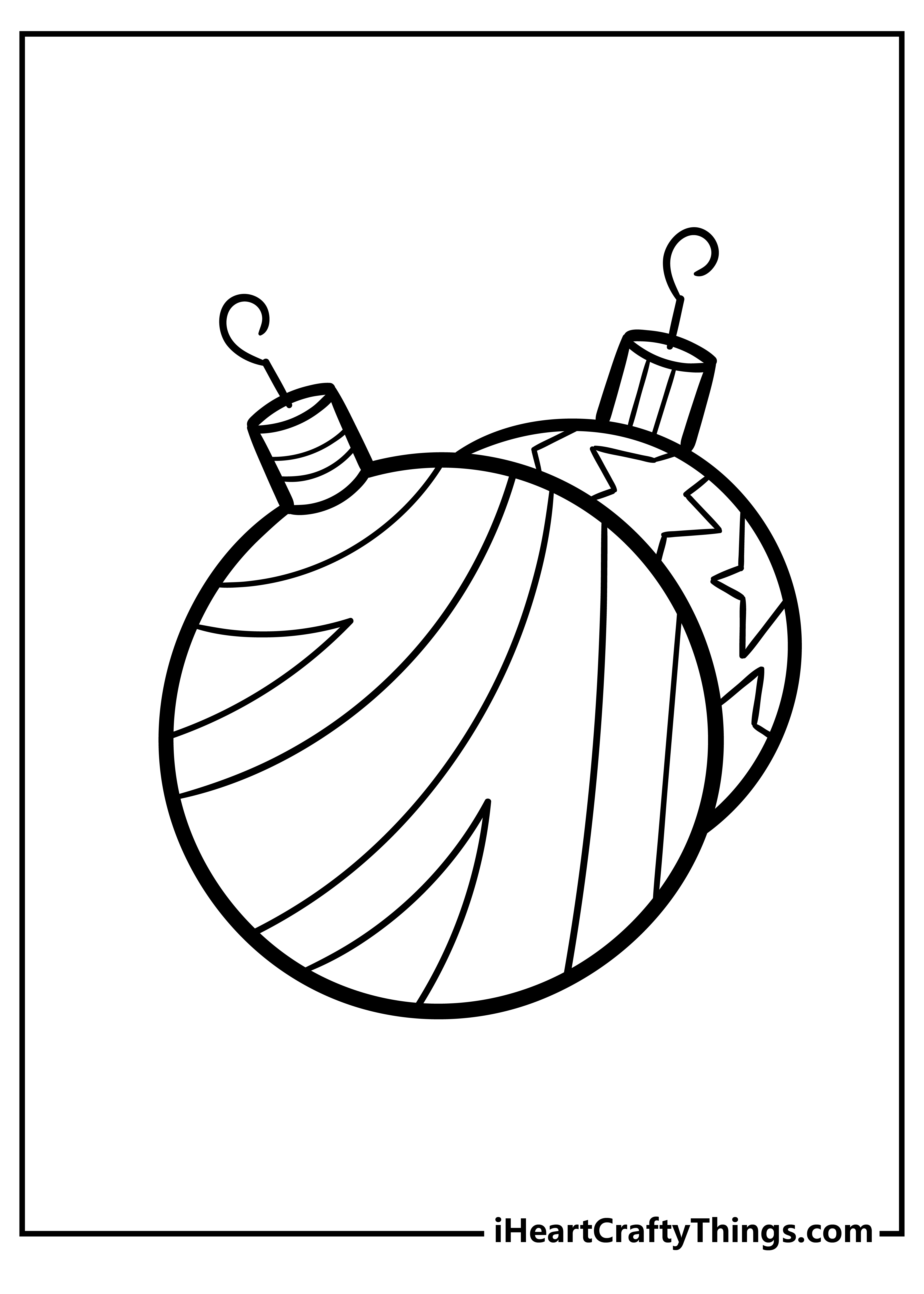 We have one final unique shape for the bauble on this last Christmas ornament coloring sheet we have for you.
This time, it's shaped like a bell, which is a really appropriate shape for a Christmas ornament.
There are plenty of pretty details for you to color in here, so you can really get creative with it! We can't wait to see how you close off this collection.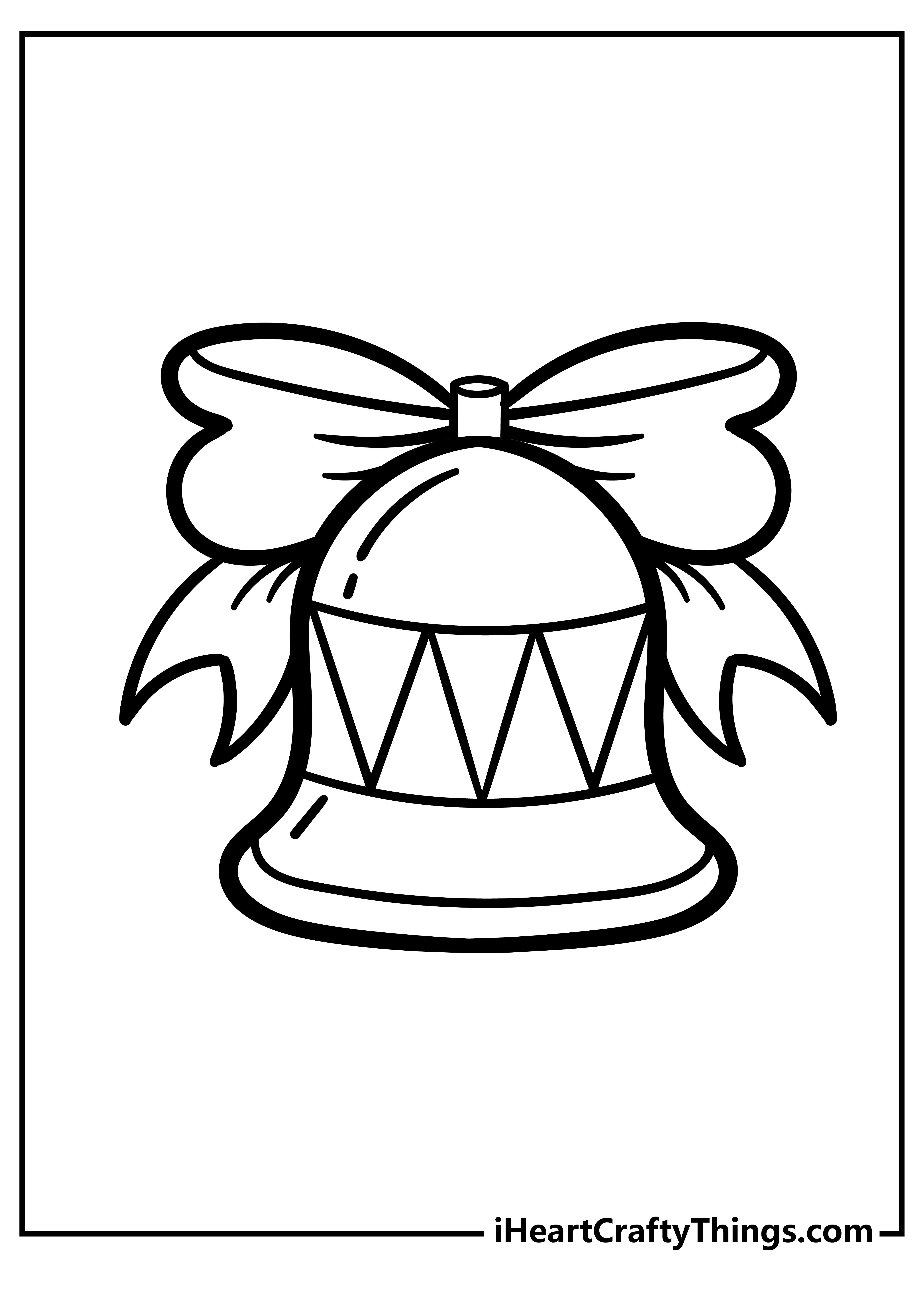 Christmas Ornament Coloring Pages – Which will you choose?
We hope you had a fun and festive time with this collection of free Christmas ornament coloring pages for kids!
There were so many amazing bauble designs to color in here, and we know they will all look amazing when you're done with them.
If you had fun with this collection, we have many more incredible coloring page collections for you to enjoy on our website!
When you're ready to show off some of your finished pages, you can also share them on our Facebook and Pinterest pages for us to see.
We will be looking forward to seeing how incredible they look!