You are going to have a blast celebrating love day this year at school or at home by making this adorable Valentine gnome craft with your kids.
These cute heart filled Valentine gnomes are easy for preschoolers and kids of all ages to make. They will look fantastic up on display in the home or classroom for Valentine's Day. You can also turn them into Valentine cards by writing a special message on the inside of large heart held by the gnomes.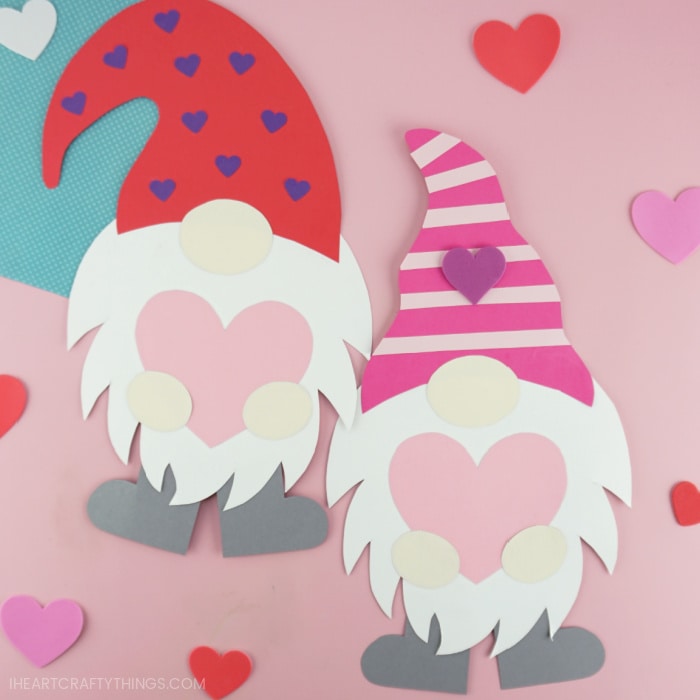 We created two different hat options for you to choose from to make creating these gnomes even more fun. You can choose a large floppy hat, or one that stands straight up.
Whether you make this festive Valentine gnome craft at home or school, they are sure to be a hit with all the little ones in your life!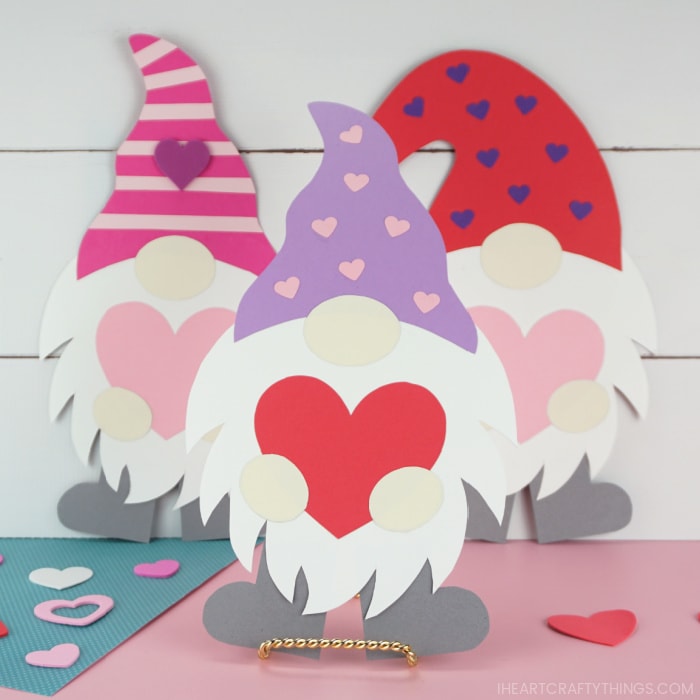 Good news! We just updated our gnome template to include a shamrock so you can easily make this cute gnome craft for St. Patrick's Day too. Simply swap out the heart for a shamrock and use green and orange colors for St. Patrick's Day.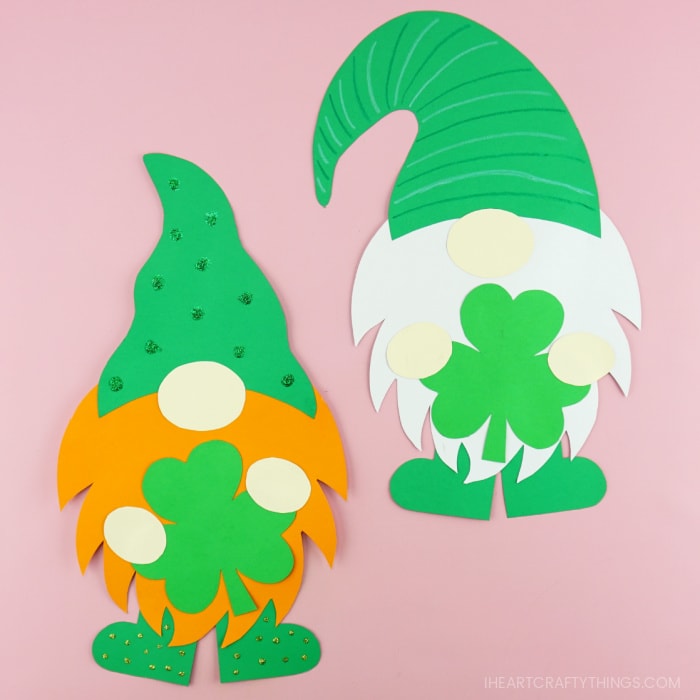 How to Make a Valentine Gnome Craft
We always try to keep the supply list simple for each of our paper crafts so you will probably already have on hand mostly everything you'll need to make your cute Valentine gnomes.
Read our simple how-to instructions below for how to create your own paper gnomes. You'll also want to watch our full video tutorial inside this post before you get started too.
Supplies needed to make this paper gnome craft:
Gnome craft template <—– Purchase the template in our shop
Colored cardstock paper (red, pink, purple, white, cream and gray)
scissors
glue stick
embellishments for decorating the gnome hat like heart stickers, paper strips, small paper hearts, pom-poms, crayons, markers, etc.
"Where do I get the Gnome Craft Template?"
To simplify prep for this cute Valentine craft, we have created a template you can purchase in our shop or our TpT store.
Included with the template is printable how-to instructions and helpful tutorial photos. Click the blue button below to be taken to our shop to purchase the template.
The template is optional and if you prefer not to purchase it, you can easily follow along with our tutorial instructions below to see how to create your own Valentine Gnomes. We truly appreciate you supporting our website!

NOTE: If you are in the EU, please visit our TpT Store to purchase any of our templates.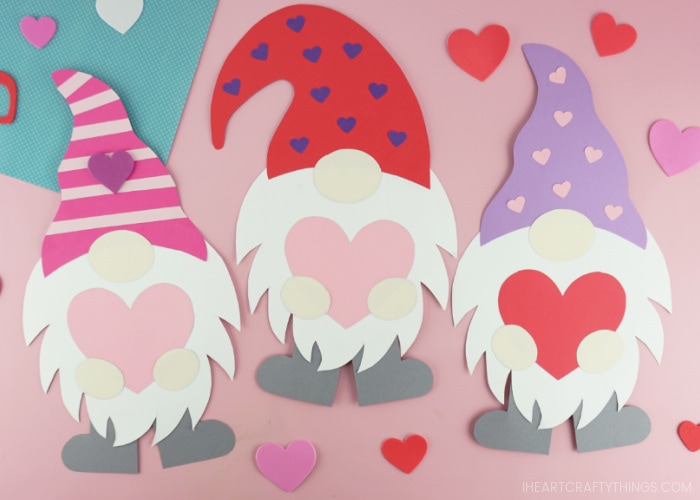 Instructions for making a Valentine's Day Gnome
1. Purchase and download the gnome template in our shop. Print out each of the gnome template pages on colored cardstock paper. Print the hat of your choice on red, pink, or purple; the beard on white; the nose and hands on cream; the shoes on gray; and the heart on pink or red.
To conserve paper, you'll find that we included two templates on several of the pages. This way you can cut the printed template page in half and have pieces for two children to make the craft.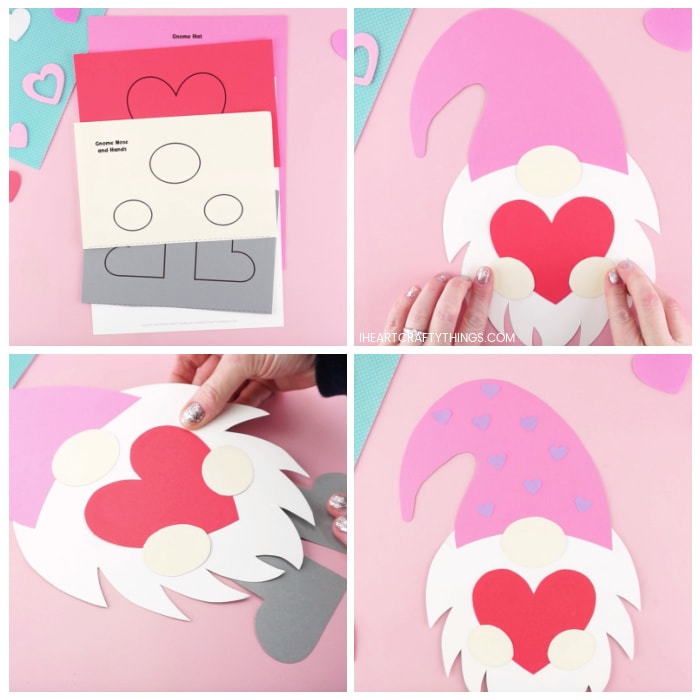 2. Cut out each of the pieces from the template.
Gnome craft template <—– Purchase the template in our shop
3. Add glue along the top of the beard and attach the hat to it. Then glue the nose onto the gnome, overlapping the hat a little. Next, glue the large heart in the center of the gnome beard. Finally, glue the two oval hands at the bottom of the heart in a way that looks like the gnome is holding the heart.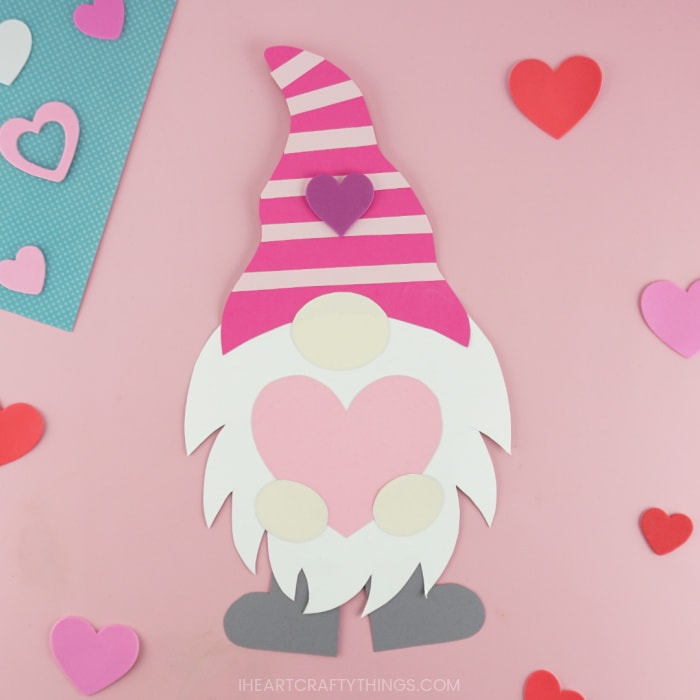 4. Add glue at the top of both shoes and glue them at the bottom of the gnome beard.
5. Use crayons, markers and embellishments like heart stickers, paper strips, small paper hearts or pom-poms to decorate the gnome hat.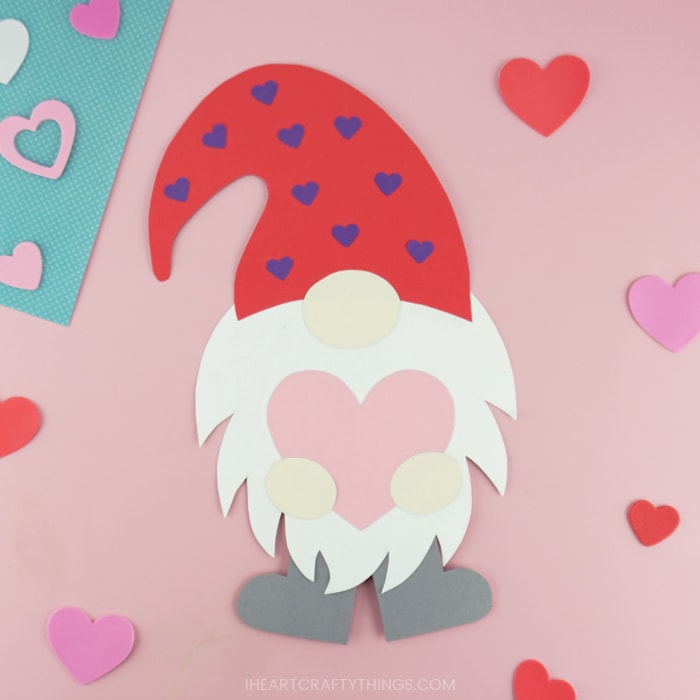 A classroom full of cute gnomes would make an adorable display hung up outside the classroom or on an art wall.
To personalize the Valentine gnome craft even more, children can write a friendly message like "I am glad I gnome you!" on the inside of the heart, and give their gnome to a friend or family member for Valentine's Day.
Gnome craft template <—– Purchase the template in our shop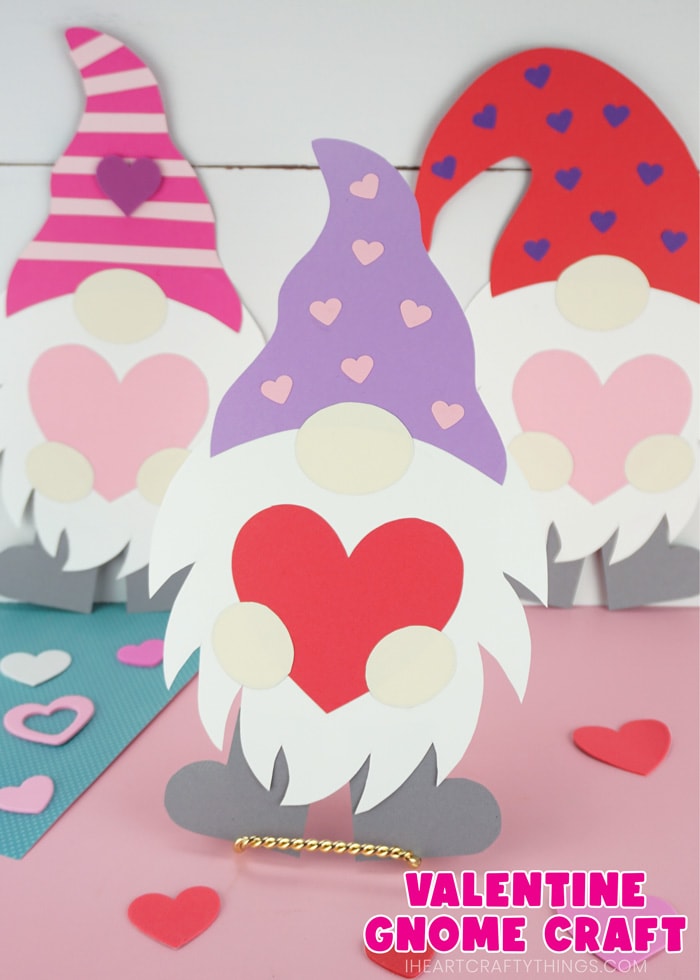 More Fun and Easy Valentine's Day Crafts for Kids
These cute hedgehogs holding 3D hearts are another fun Valentine's Day paper craft that kids will love making for a friend or loved one. Our handy free template makes it super simple for kids to create.
Here is a simple technique for kids to learn how to fold a heart into an envelope. Kids can enjoy decorating one side of the heart and then fold it up into a cute little envelope.
When I was a child, making pop up cards was a favorite activity of mine. Check out this clever way for how to make a simple pop up flower card for Valentine's Day.
Check out our amazing list of over 40 fantastic Valentine's Day crafts for kids.