On this page, you will find 14 all new Letter S coloring pages that are completely free to print and download.
These Letter S coloring sheets are a lovely way for children to practice letter formation and phonics. You can download and print them to color and offer them to your family and friends.
These coloring pages will help your little one focus on details while being relaxed and comfortable.
14 Brand New Letter S Coloring Pages – Free to Print and Color
Letter S is for stories. What's it about stories, anyway? Let's say that storytelling is central to human existence.
It's common to every known culture, and it involves a symbiotic exchange between teller and listener.
We love stories because they make sense of our world and use them to share understanding with others. Stories are the signal within the noise. What's your favorite story?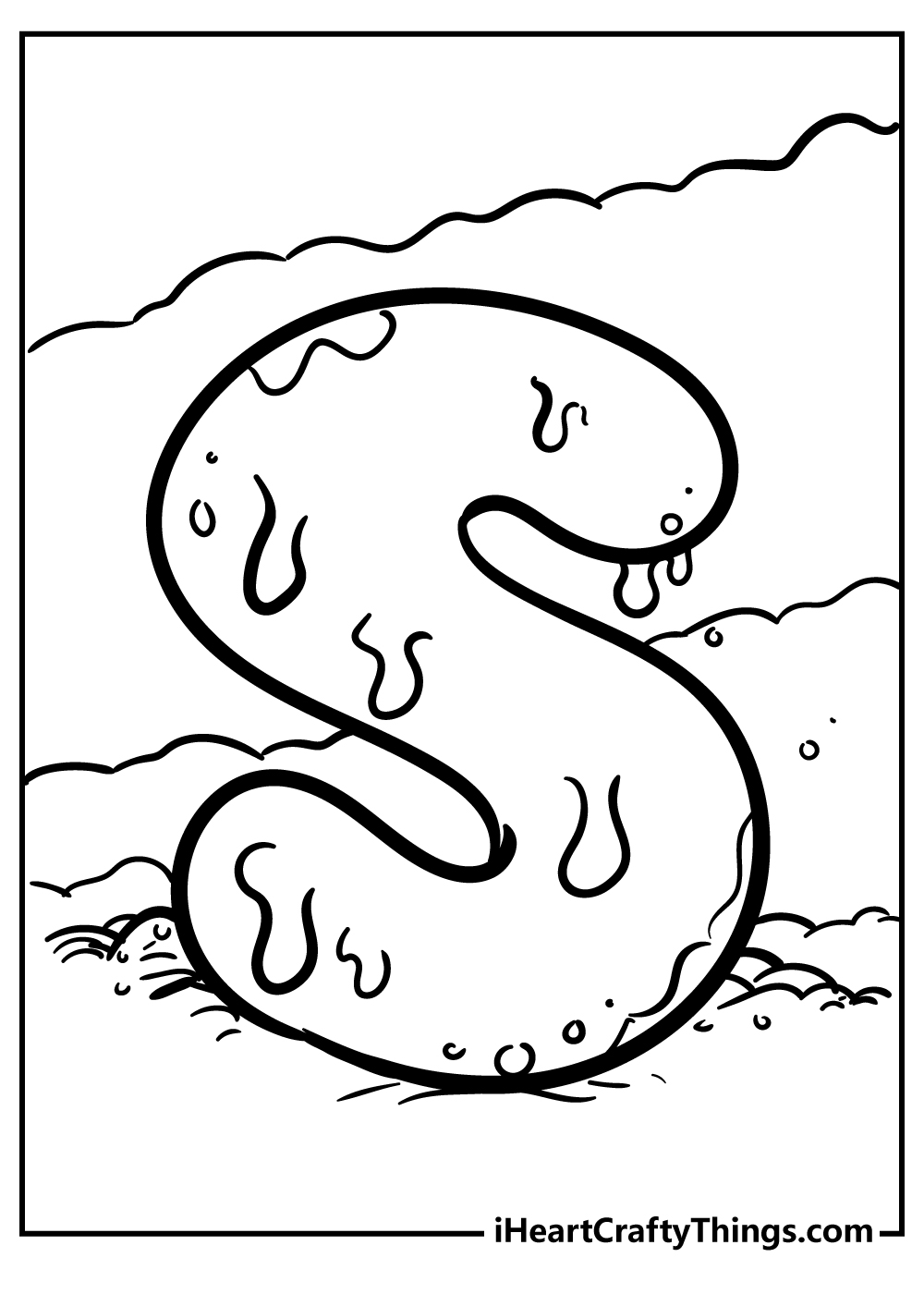 Get set for slithering fun with S, the sensational snake! This curvy letter has transformed into an adorable serpent ready for adventure.
Use bright greens, radiant yellows, and earthy browns to color its scaly skin.
Give the snake googly eyes, a tongue flickering with curiosity, and tree branch arms for exploring its habitat.
In the background, draw a sizzling swamp or tropical jungle for S to slide through on its belly.
Add squiggly vines, pretty flowers, and buzzing insects to complete the scene.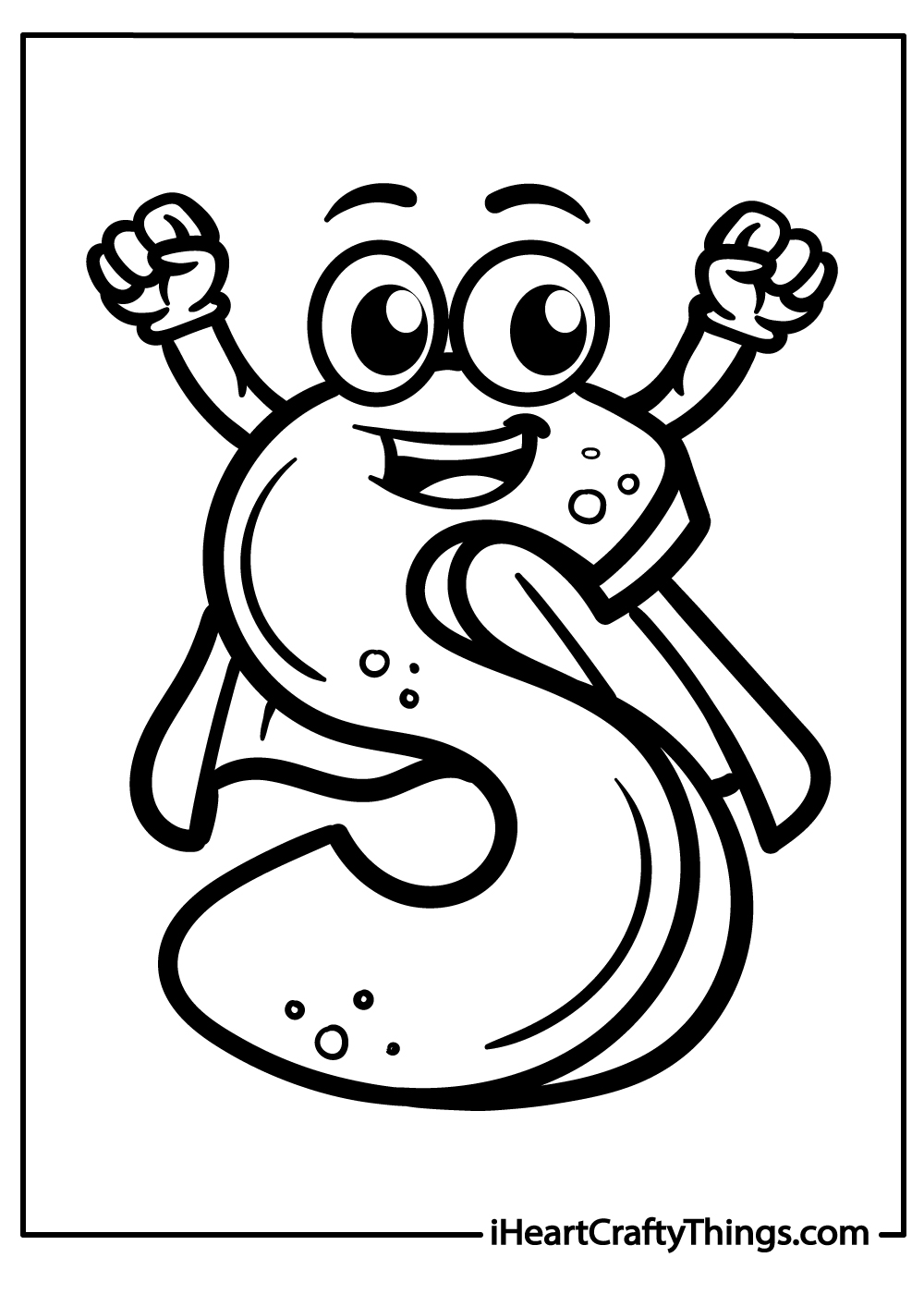 S is for savory. When you savor something, you enjoy it so much that you want to make it last forever.
Sometimes you have to grab something quick and easy, and sometimes it's not what you really want.
But the more you practice savoring the moment, the more you practice being thankful. Is there something you savor while working on these Letter S coloring pages?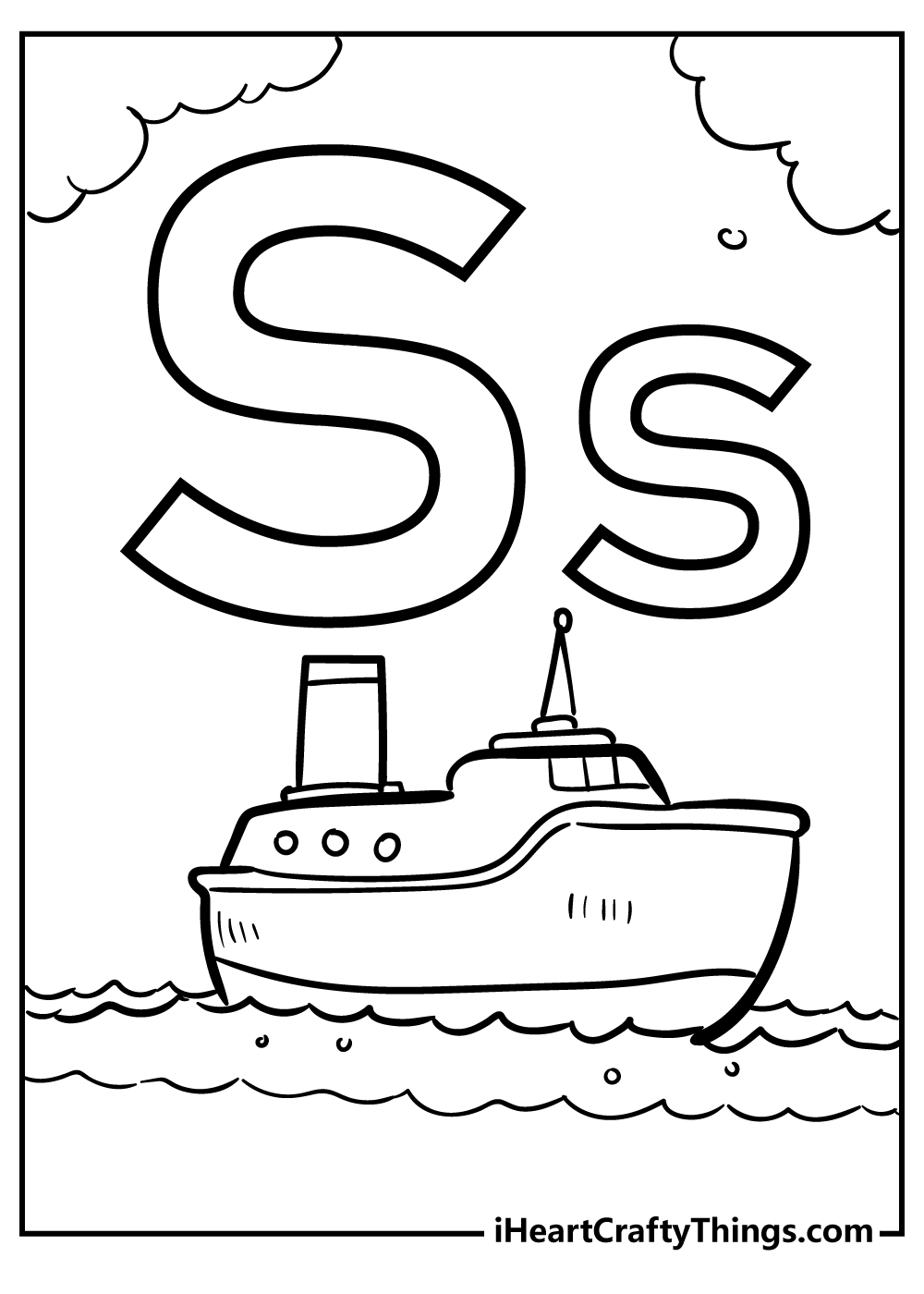 Letter S is for feeling safe. Feeling safe, stable, and secure is fundamental to our wellbeing. When we feel inner safety, it means we are safe of not being harmed mentally or physically.
Feeling safe allows us to reach peace of mind and focus on the present. Are you fully present at this moment? Do you feel safe?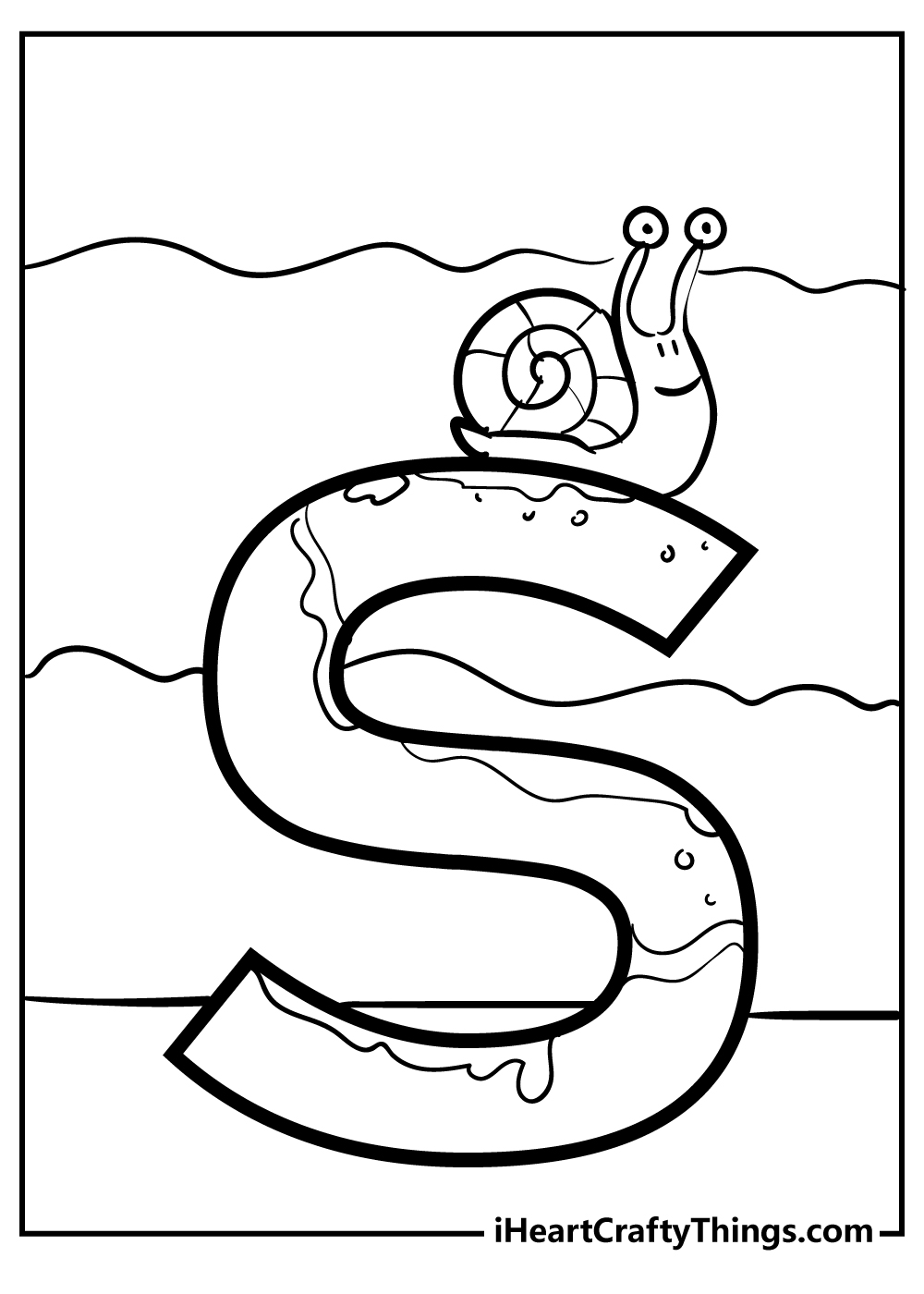 Letter S is for surprise. Surprise is an emotion that we feel when something unexpected happens. It can be a pleasant or unpleasant feeling, depending on the situation.
Sometimes we surprise ourselves by doing something we didn't know we could do. Other times, we surprise others by giving them a gift or a compliment.
This snake is very surprised by something. Maybe it saw a mouse or a bird. Maybe it found a new book or a puzzle. What do you think surprised the snake?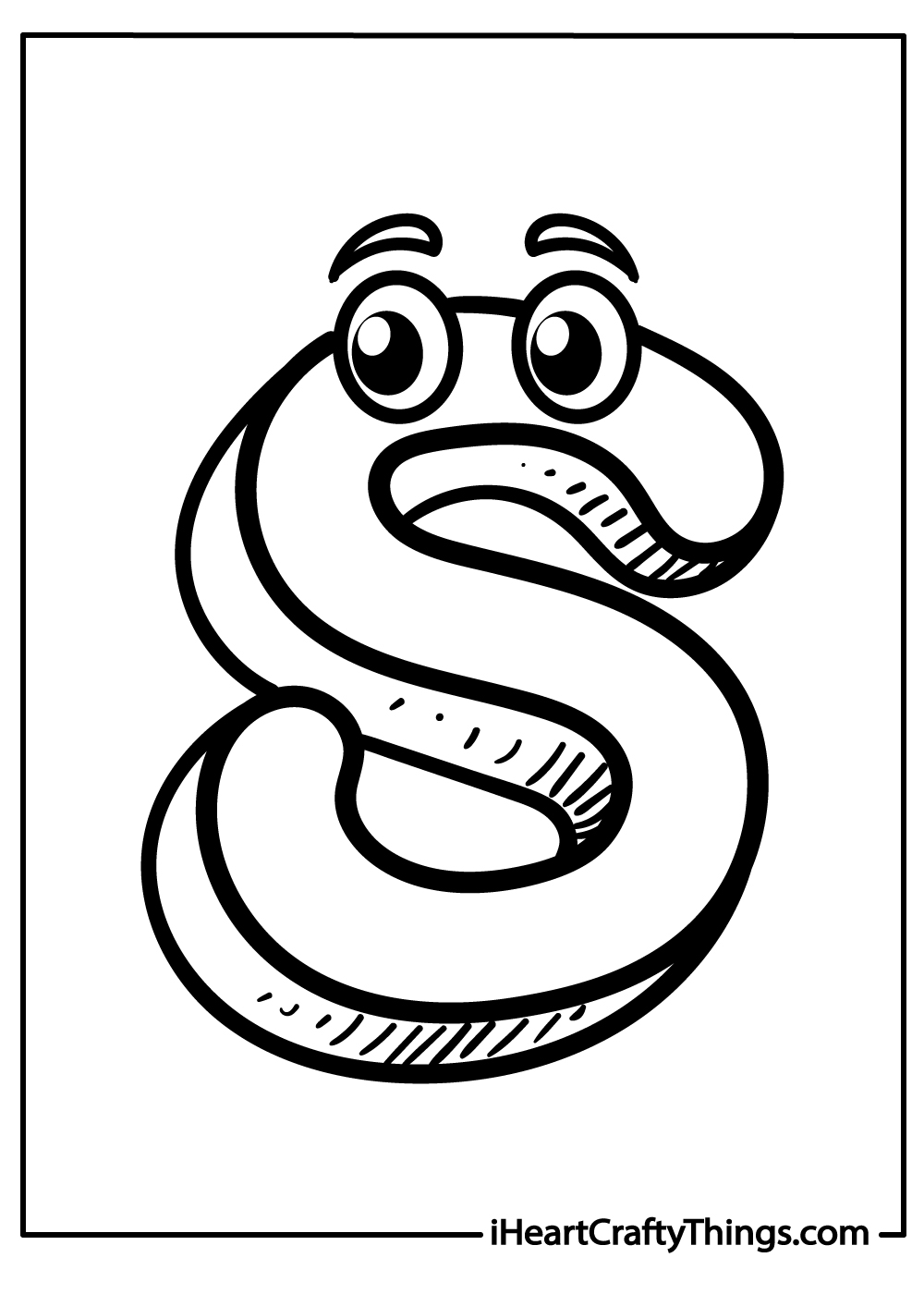 S is for self-esteem. When you value yourself and have good self-esteem, you feel secure and worthwhile. You get along with everyone and feel confident about your abilities.
When our self-esteem is as high as the sky, we're more open to learning and feedback, which can help us acquire and master new skills. How's your self-esteem?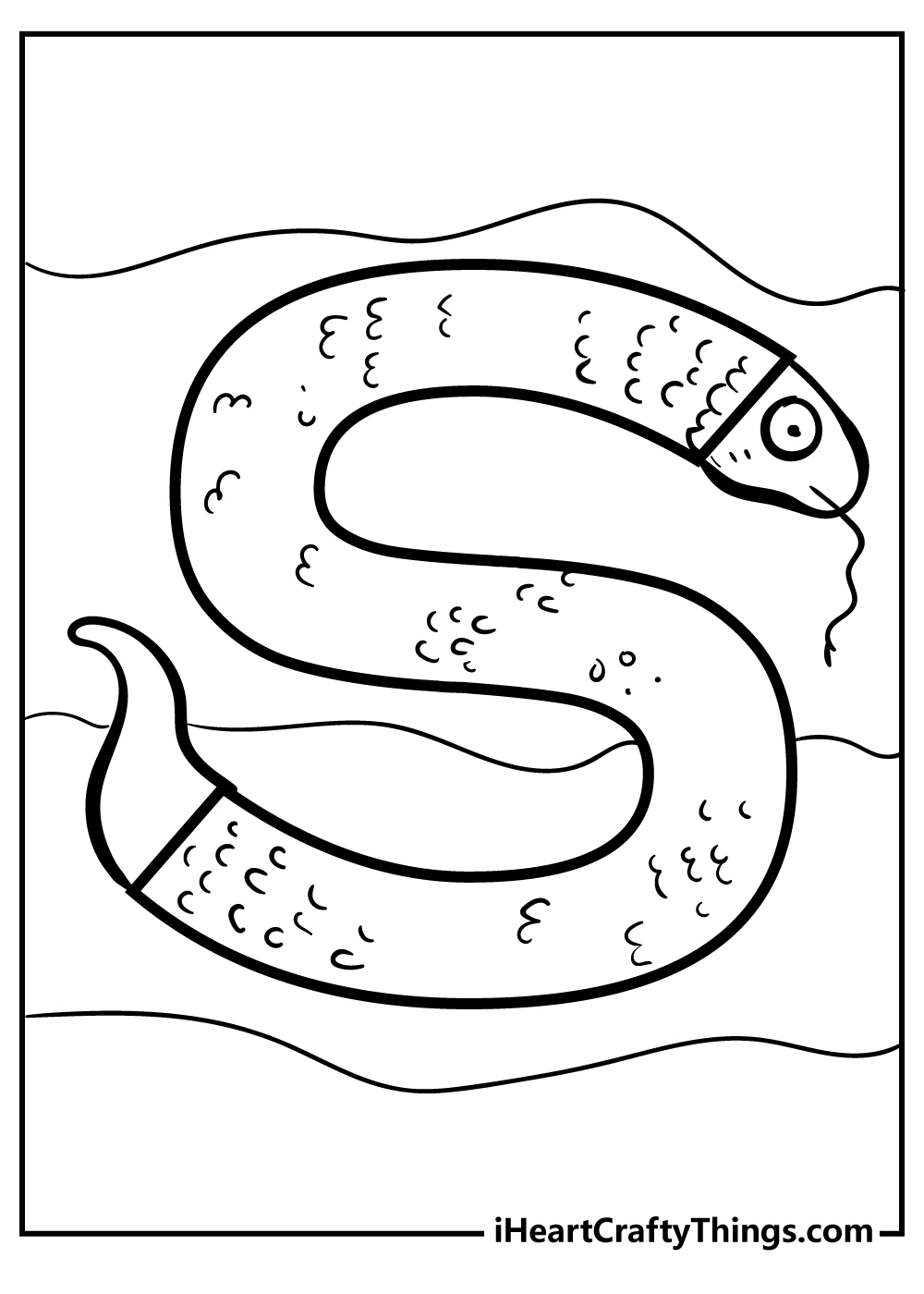 S is for sense, and we have 5 of them. The human body's five senses are sight, smell, taste, hear, and touch. These senses allow us to perceive the world as it is.
We see with our eyes, we smell with our noses, we listen with our ears, we taste with our tongue, and we touch with our skin.
When working on these Letter S coloring sheets, you're using your sight to tell the difference between hues, your touch to feel the paper and pens, and hearing to hear the scribbling of your utensils.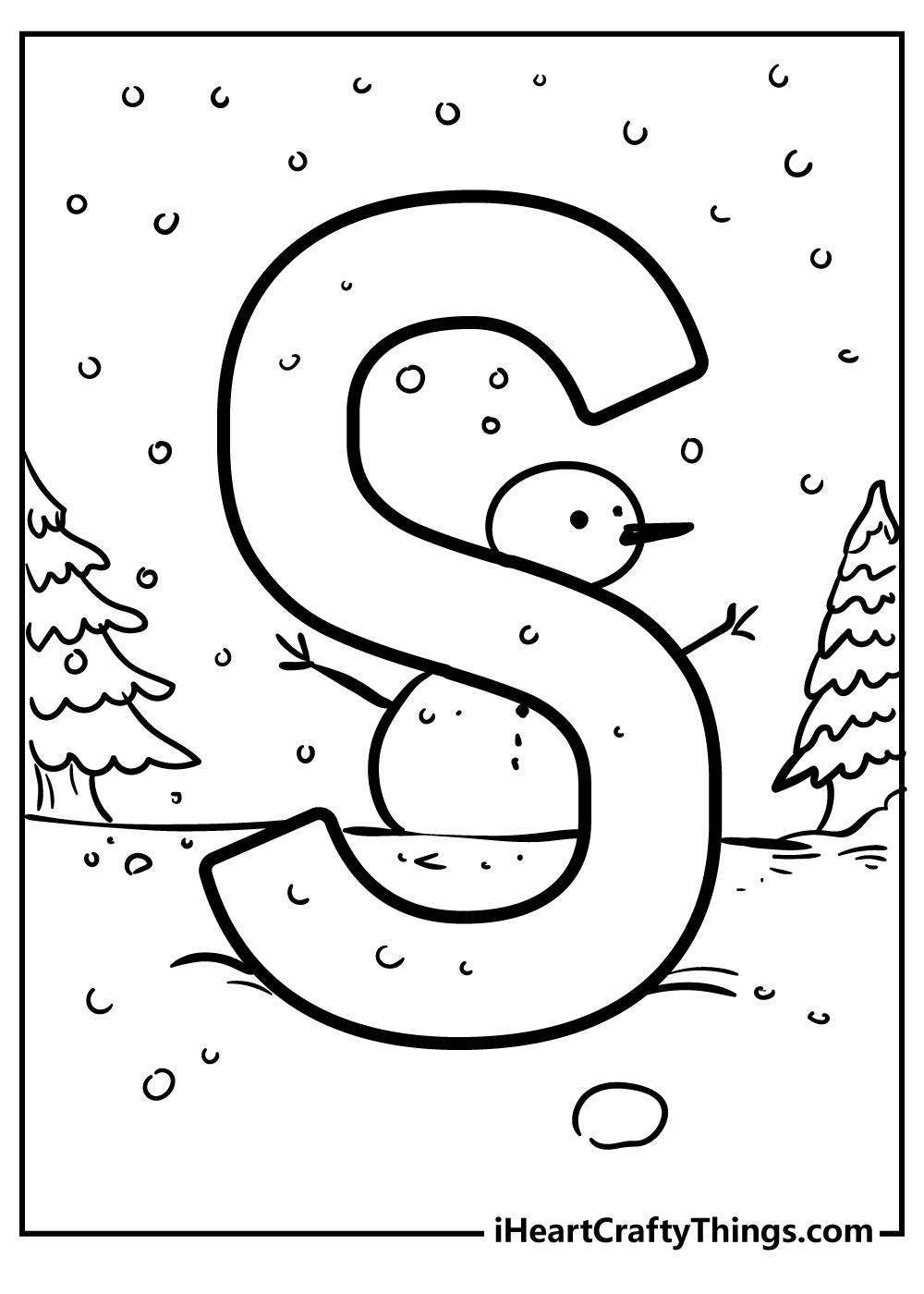 This Letter S coloring page shows a Snake smiling and giving a thumbs up with its right hand. Grab your coloring supplies and make S super splendid.
Try zany zig-zag patterns, flashy scales in every color, and mismatched stripes to capture his playful personality.
Add bubbles, flowers, and creatures for S to befriend. Let your imagination shine as you make this merry snake your own.
It has eyes, eyebrows, arms, and legs. It also has a large nose that makes it look funny and cute. What color would you use to color this letter S?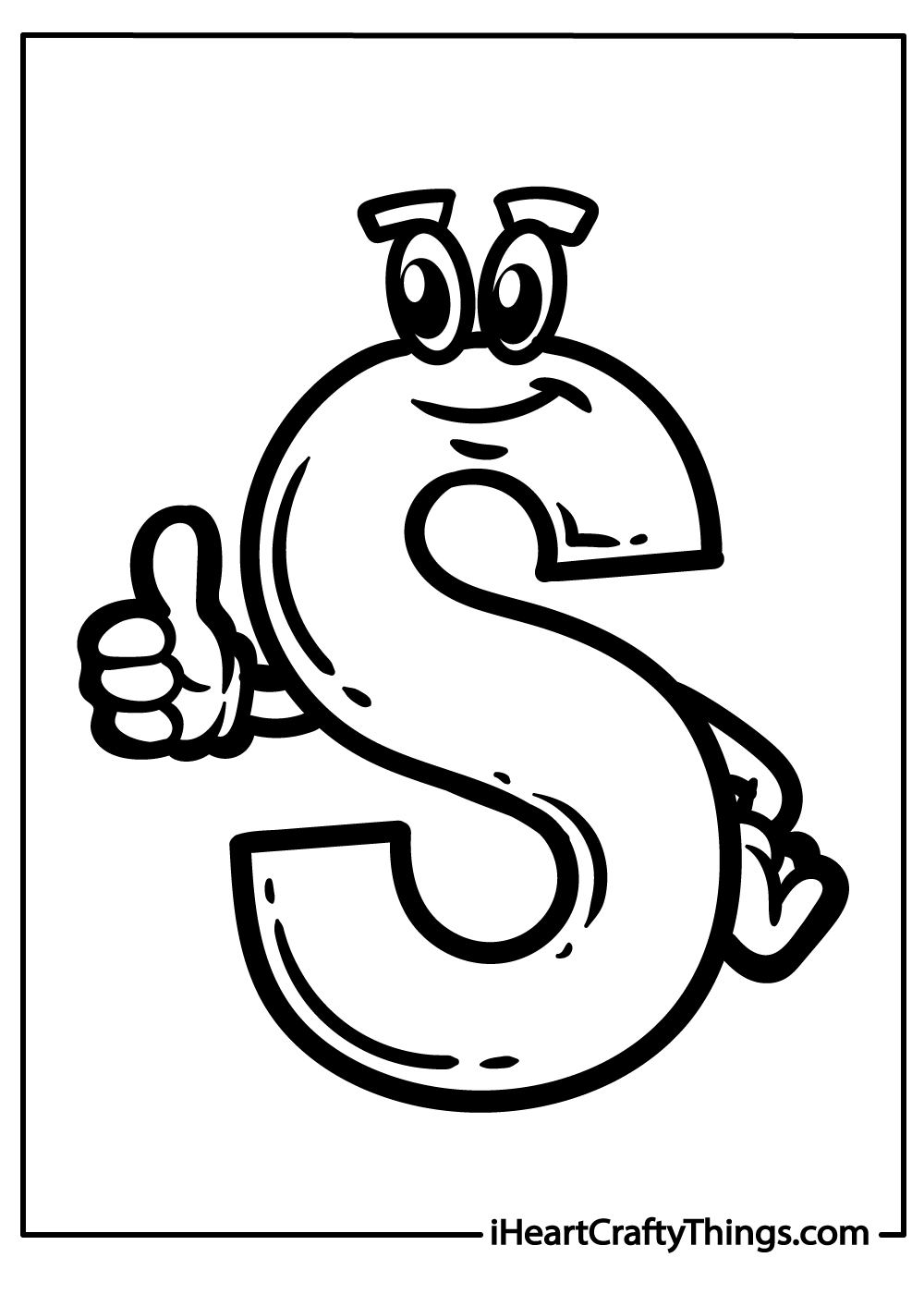 Letter S is for sensitive. Being sensitive is often a good thing. It allows you to respond to the environment and other people and helps you be alert of the danger.
Sensitive people are also more sympathetic and empathetic, and they can easily build and maintain personal and professional relationships. If you're a sensitive person, then you should be proud.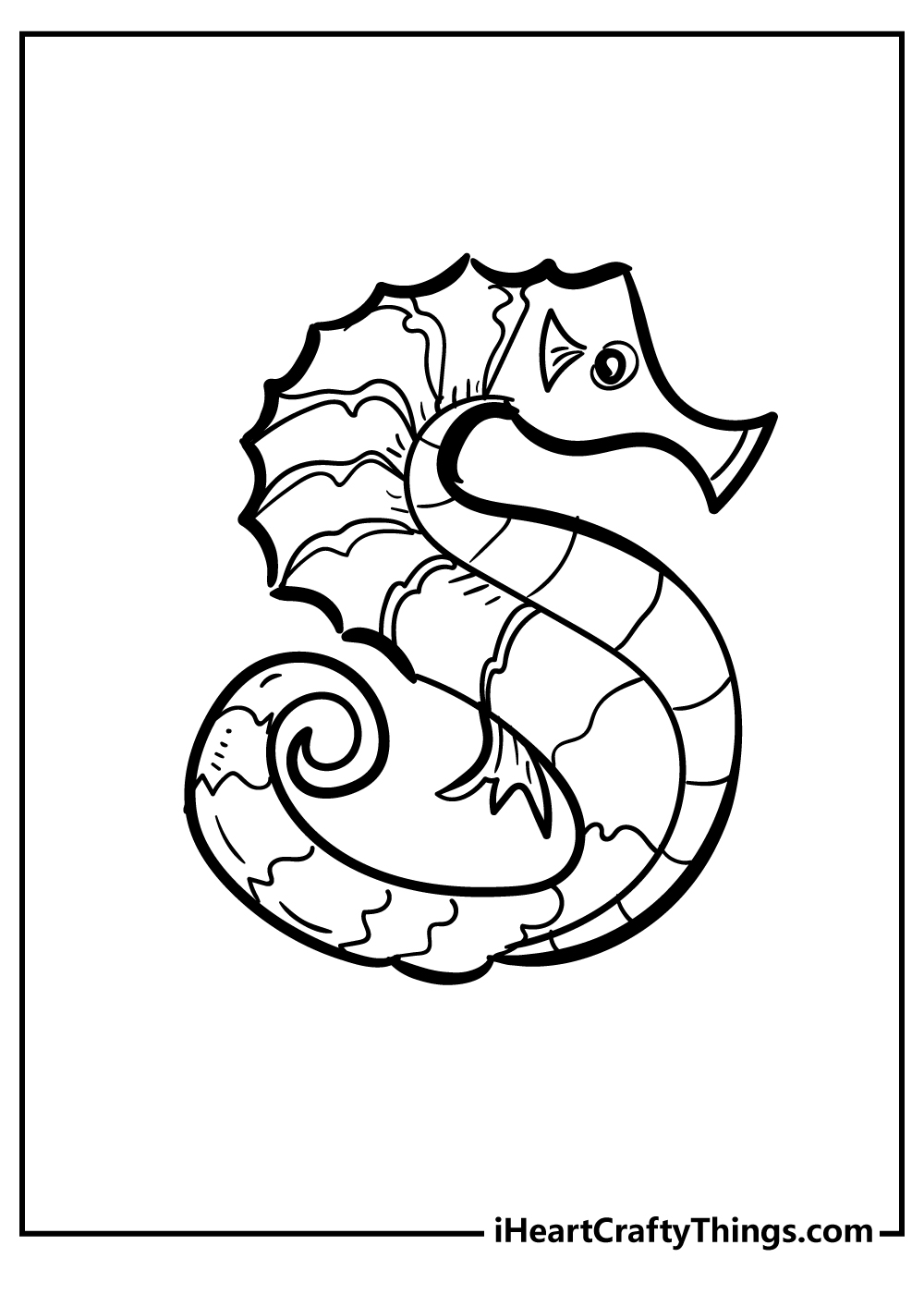 Letter S is for significance. There are six basic human needs that every single person on the planet tries to fulfill: variety, certainty, connection, growth, contribution, and significance.
We love feeling significant, and we can attain that by trying to stand out for our accomplishments.
We also use "significant" to refer to the person who's most important in our life. Share these Letter S coloring pages with your significant other.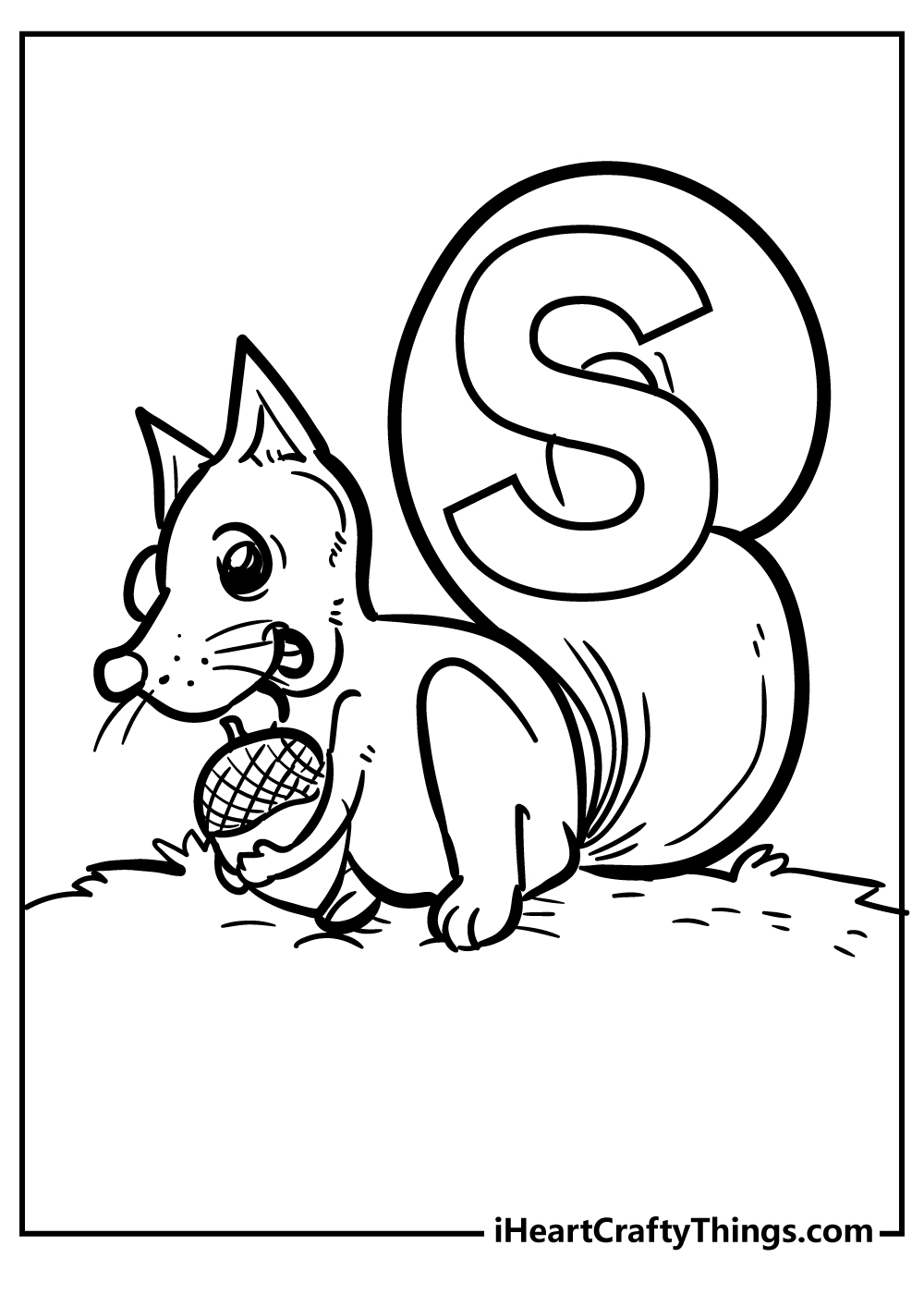 This Letter S coloring page looks calm and ready to be colored. The letter S is smiling, which is a simple way to express your happiness and friendliness.
It can brighten up your day and make others feel good too. Smiling can also improve your health and mood, as it releases endorphins and reduces stress.
When you work on this Letter S coloring page, don't forget to smile and have fun.
As you color in the S, think of things that make you smile like playing with friends, seeing a rainbow, or eating ice cream.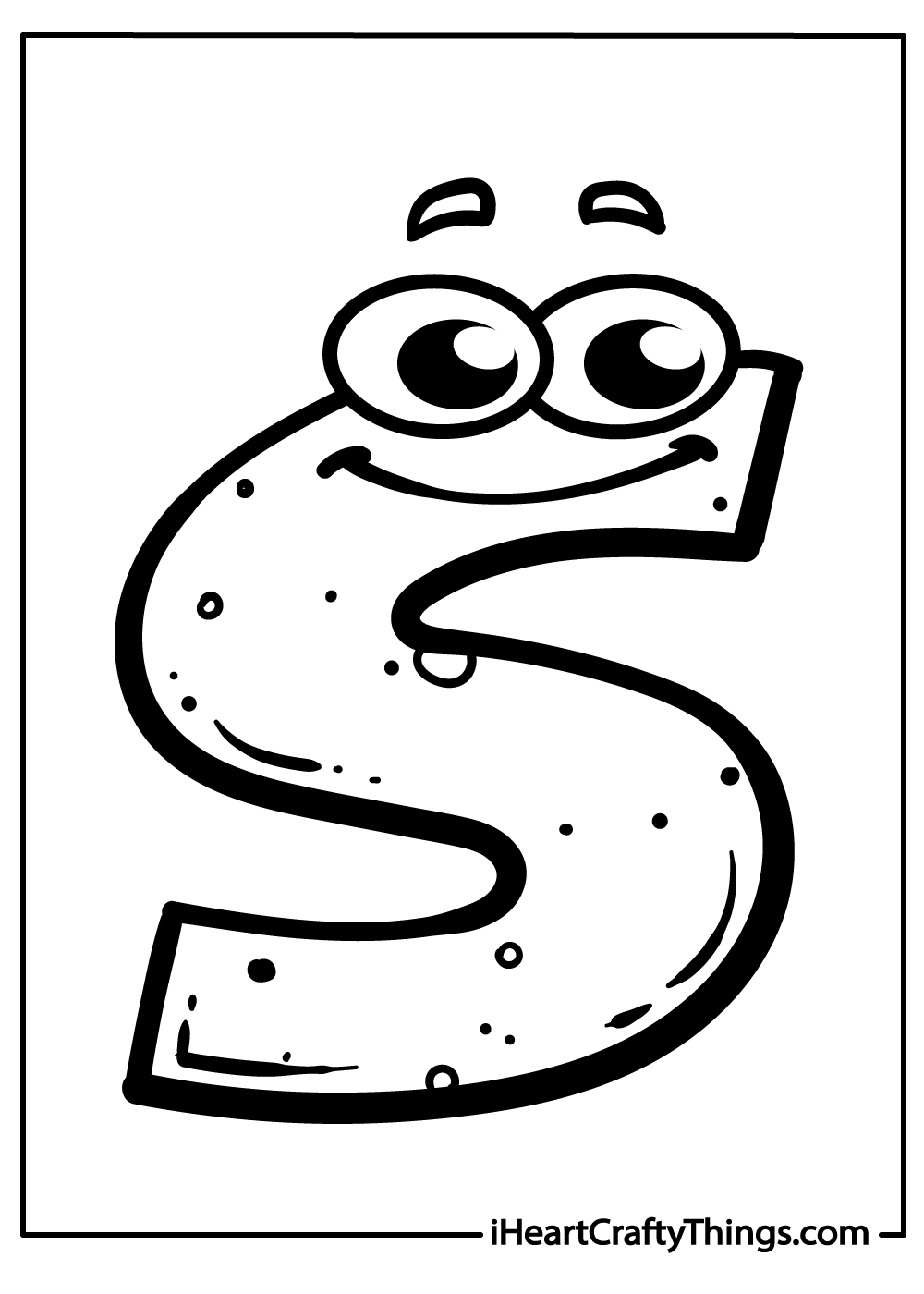 S is for siblings. They are both a blessing and a course. Siblings are awesome when you want to share things that you might not tell your parents.
Rising with siblings gives you a natural understanding that people can be different but also makes you feel more supported and secure during adulthood.
While we might not always have a perfect relationship with our siblings, we love and appreciate them as they are.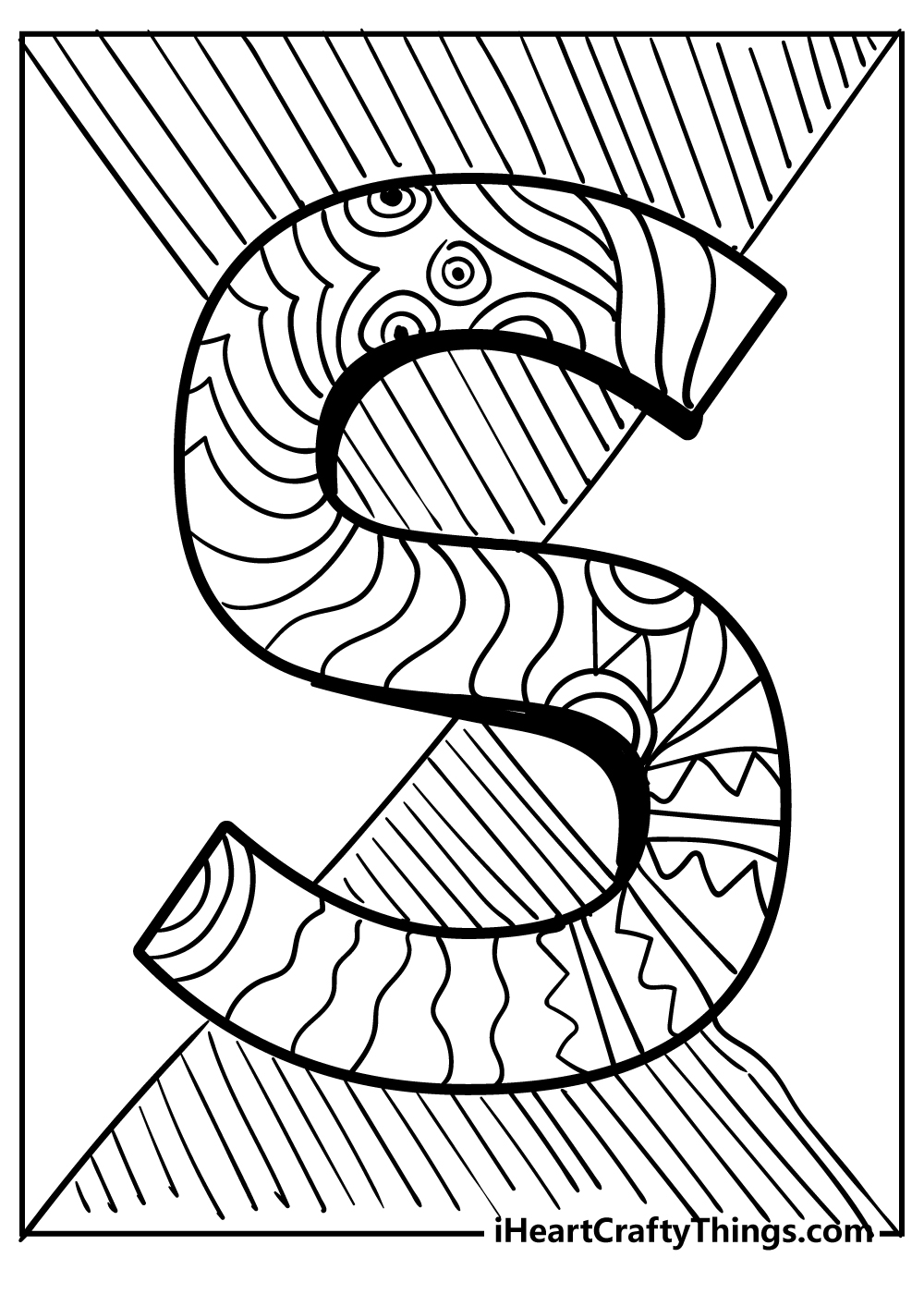 This letter S looks very shocked at the sight of something. It has round eyes and an open mouth. It is in a bold font and is slightly tilted to the right.
Maybe it saw something that made it scream. What do you think it was?
Make S vibrant green, neon blue, or outrageous orange. Give it panicked eyes, rosy cheeks, and a forked tongue curled in a gasp.
In the background, draw the source of the fright – maybe a giant spider, shrieking ghost, or mysterious UFO. Add fun details like lightning, tombstones, or alien slime.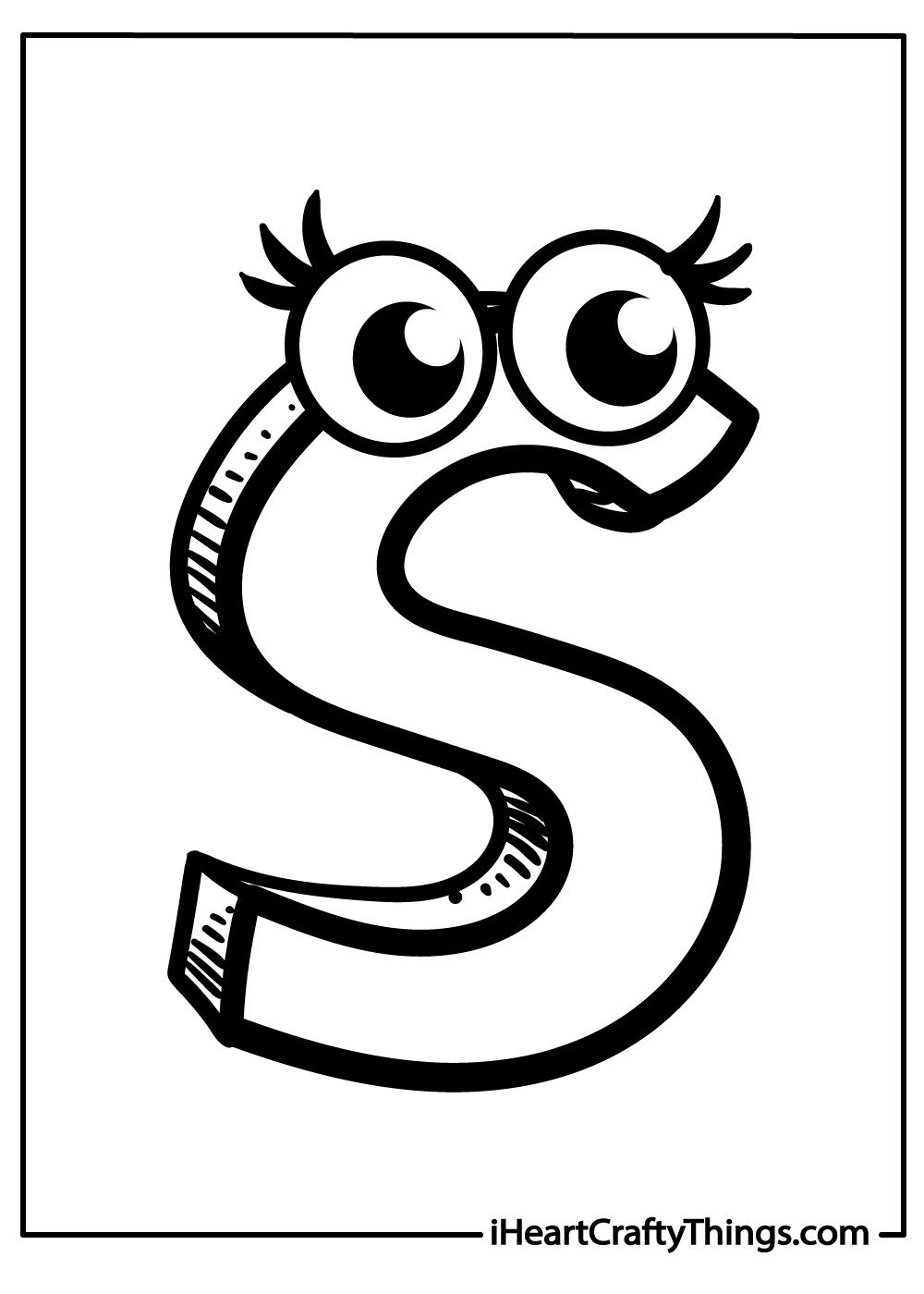 Letter S is for sincere. Being sincere is being genuine. If you've been offered a sincere thanks from someone you've helped, the person is probably really grateful.
When you give without expecting anything in return, giving becomes an act of sincerity and an expression of your genuine concern for and interest in others.
Also, when you speak sincerely, it means you speak from the heart.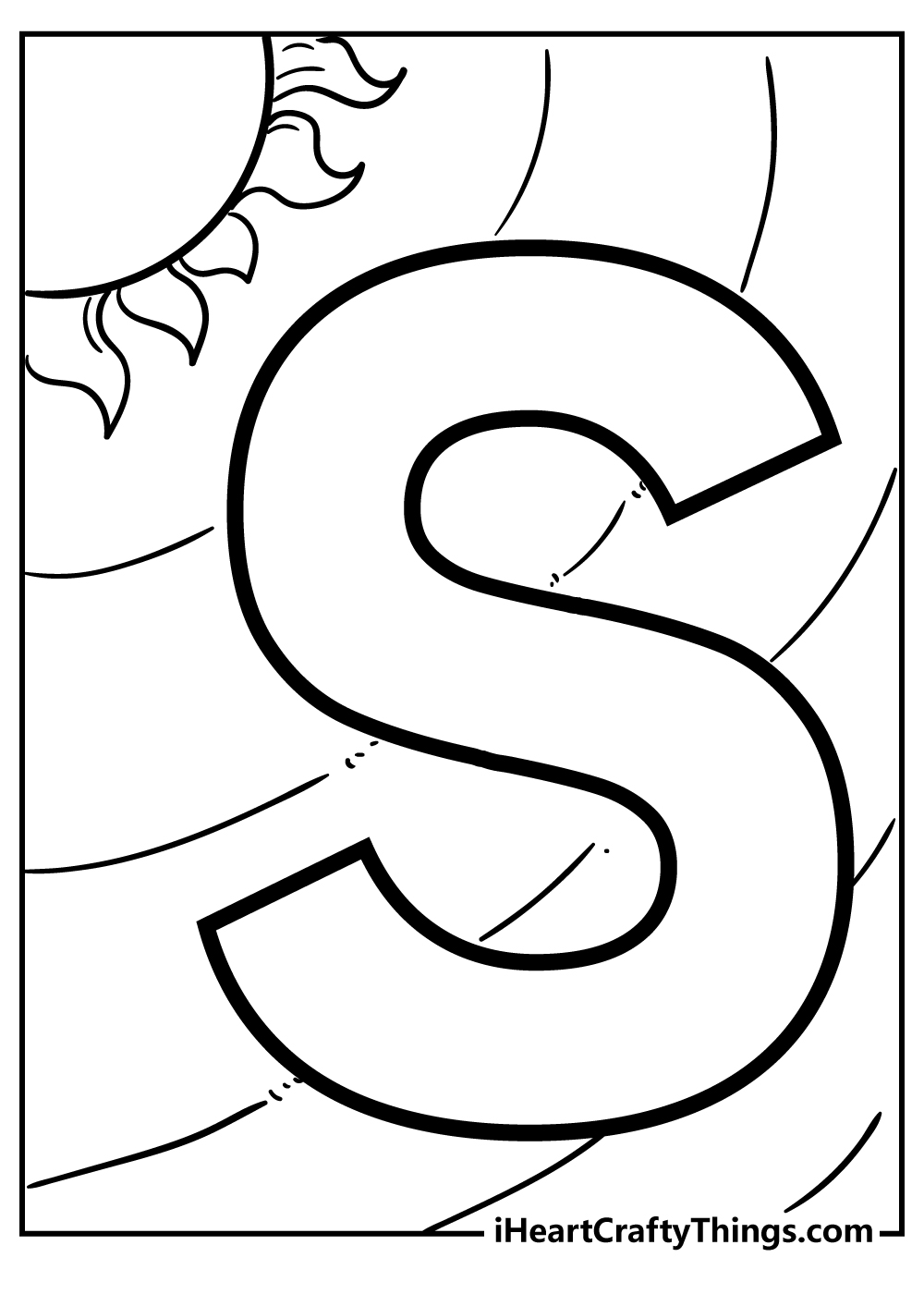 S is for smart. Being smart is great, but it doesn't happen overnight. If you're out and about to become smarter, you have to create habits that will groom your intelligence and nourish your mind.
You can do that by discovering what motivates you. Find something that keeps you interested and dive in.
There must be something that excites your mind. Feed your mind with these lovely Letter S coloring pages!