When you pick any letter from the alphabet, you may be surprised by how many different words you can think of that start with that letter.
That is what we will be exploring in this collection of free letter R coloring pages for kids! You will find many objects that start with this letter for you to have fun coloring.
We tried to create a big variety of different objects and other things that start with the letter R for you to color.
That means that as you work through these pages you will be bound to use all of your favorite colors and art mediums.
You can print out your favorite pages from the collection as many times as you like as well!
Whether you select a few or color every single one, you will really be able to express and experiment with your creativity.
We hope you have a great time with these letter R coloring pages! When you're ready to show off your finished pages, be sure to share them on our Facebook and Pinterest pages for us to see.
15 Brand New Letter R Coloring Pages – Free to Print and Color
For our first page that we have for you, there is a length of rope featured. This rope is twisted into a pretzel shape, and it provides a surprising amount of coloring opportunities!
Ropes are usually in tones of brown, and while you could go for that in this picture, you could also use all sorts of bright colors for each section of the rope.
Either approach would look great in its own way, so what approach will you take for this image?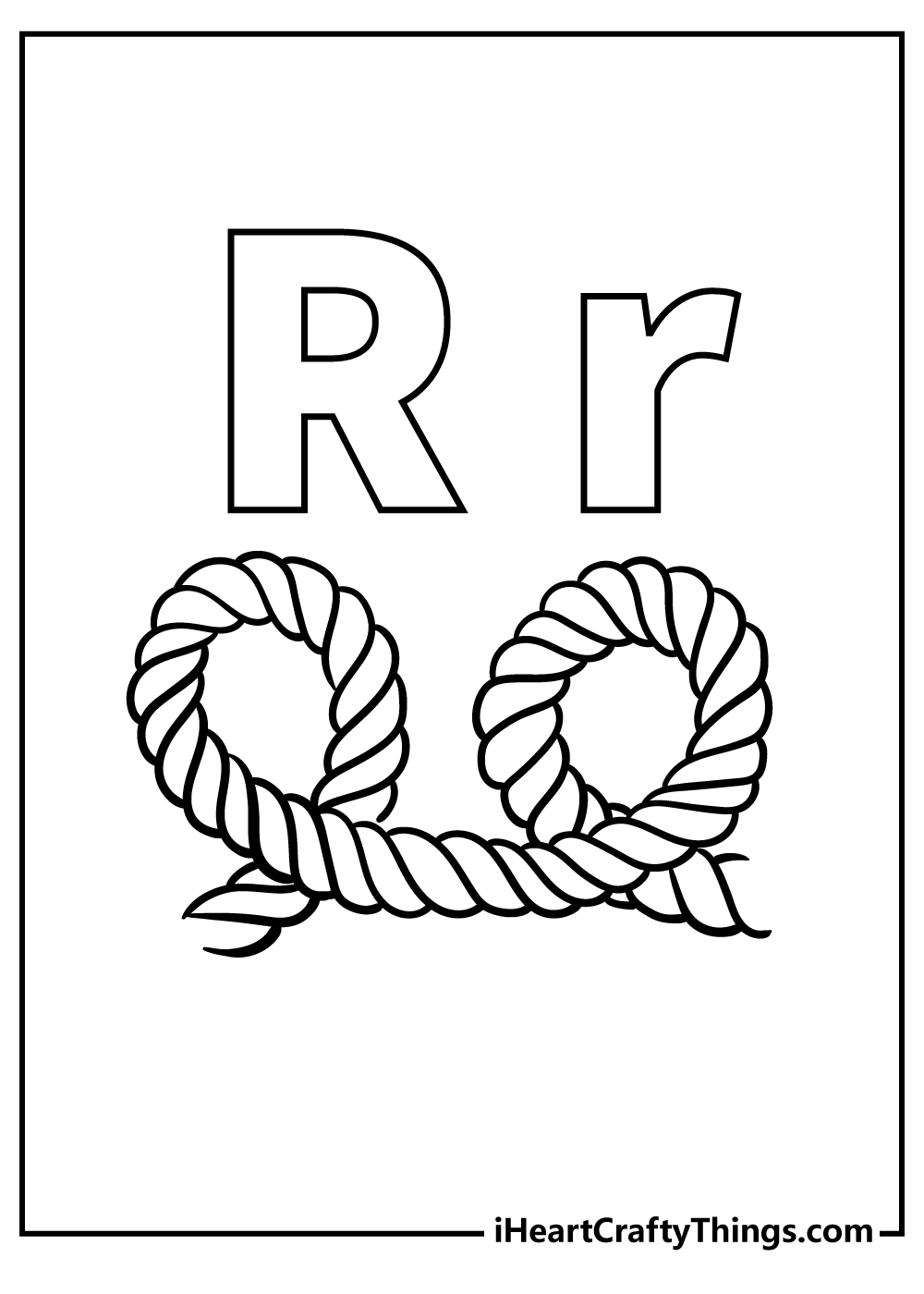 The letter R stands tall and proud in this fun coloring page. Its bold, wooden texture resembles a tree carved into the shape of the 18th letter of the alphabet.
Color in the letter R with earthy browns and deep greens to capture its natural wooden essence.
When you're coloring, think of all the wonderful words that begin with R – red, rainbow, robot, rocket, and more. Let your creativity shine as you decorate this awesome letter R.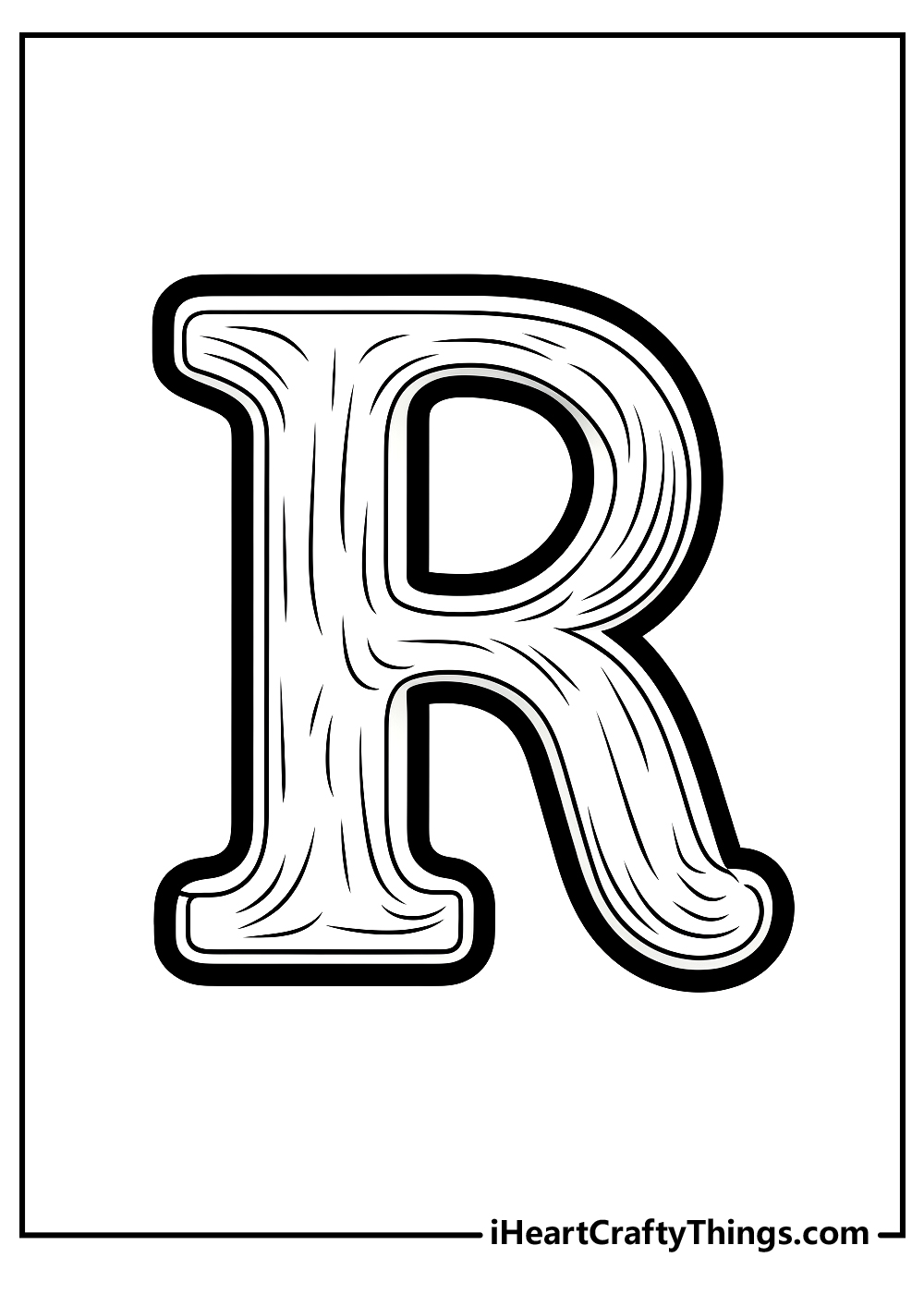 An awesome rhino is the star of our second free letter R coloring page for kids! This rhino is drawn in a detailed, realistic style, and this should prove to be an interesting coloring challenge.
There is a lot of empty space in the background, and you could draw a great background to show the environment this rhino is living in.
What color will you use for the letter R above the rhino to finish off this picture completely?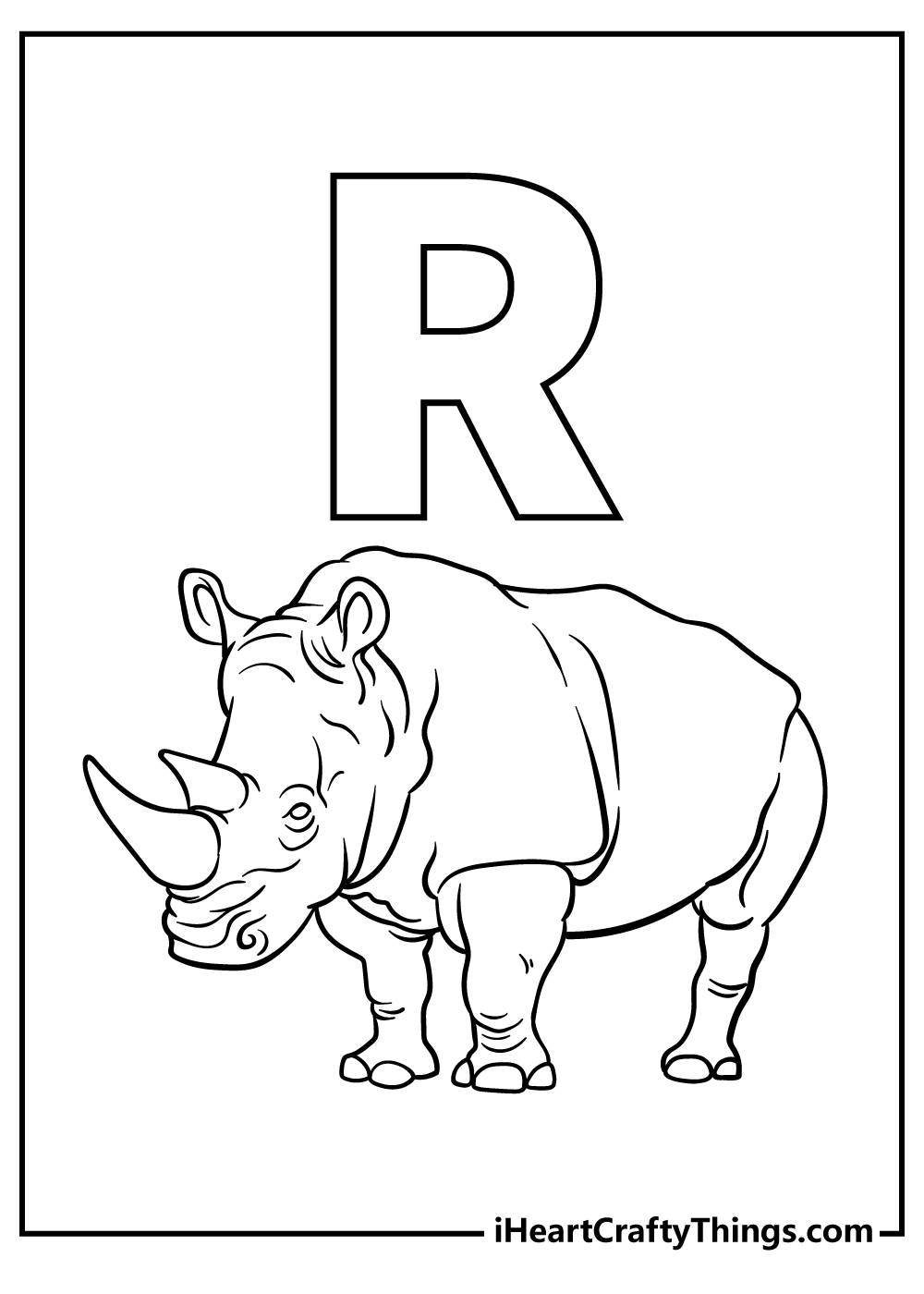 We have a really pretty picture for you to color in this third page. If you don't recognize the bird in the picture, we're sure you can figure it out based on the letter!
This little guy is a cute robin, and we love the way it's perched on a branch attached to the letter.
This is one composition where the letter is bigger than the thing it's representing, so we would use some bright colors for the giant R.
This is the approach we would take, but how will you color this one?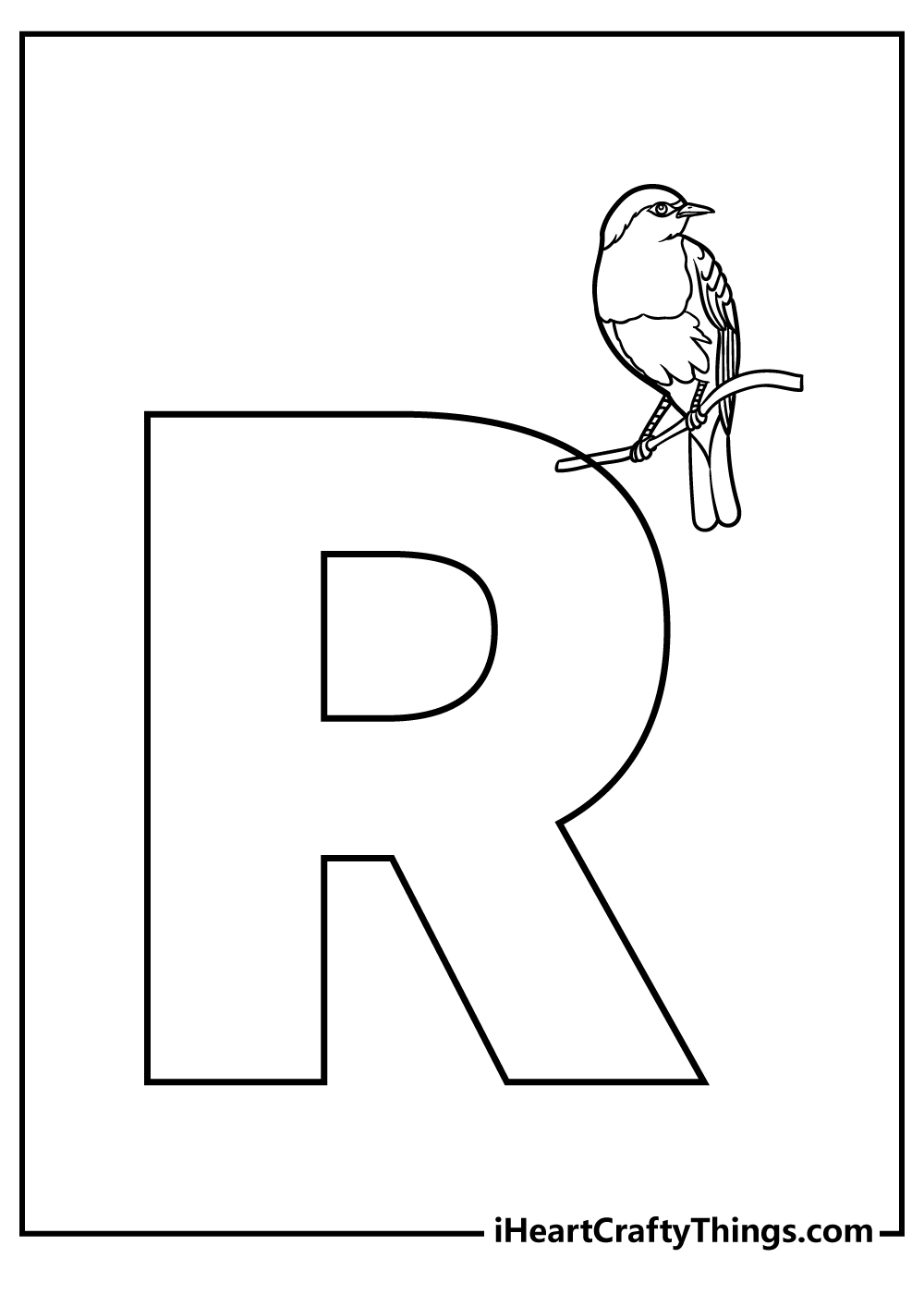 Journey through a magical rainforest in this illustration of the letter R. The stately letter R reigns over a landscape filled with roses, rainbows, rivers and more.
You can draw colorful birds flicking through the trees and cozy critters like rabbits and raccoons exploring the flower-filled meadows.
A winding river is flowing by, its surface shimmering in the sunlight.
Can you think about the words that start with the letter R? From rocks to rainclouds, this coloring page overflows with R words waiting to be discovered.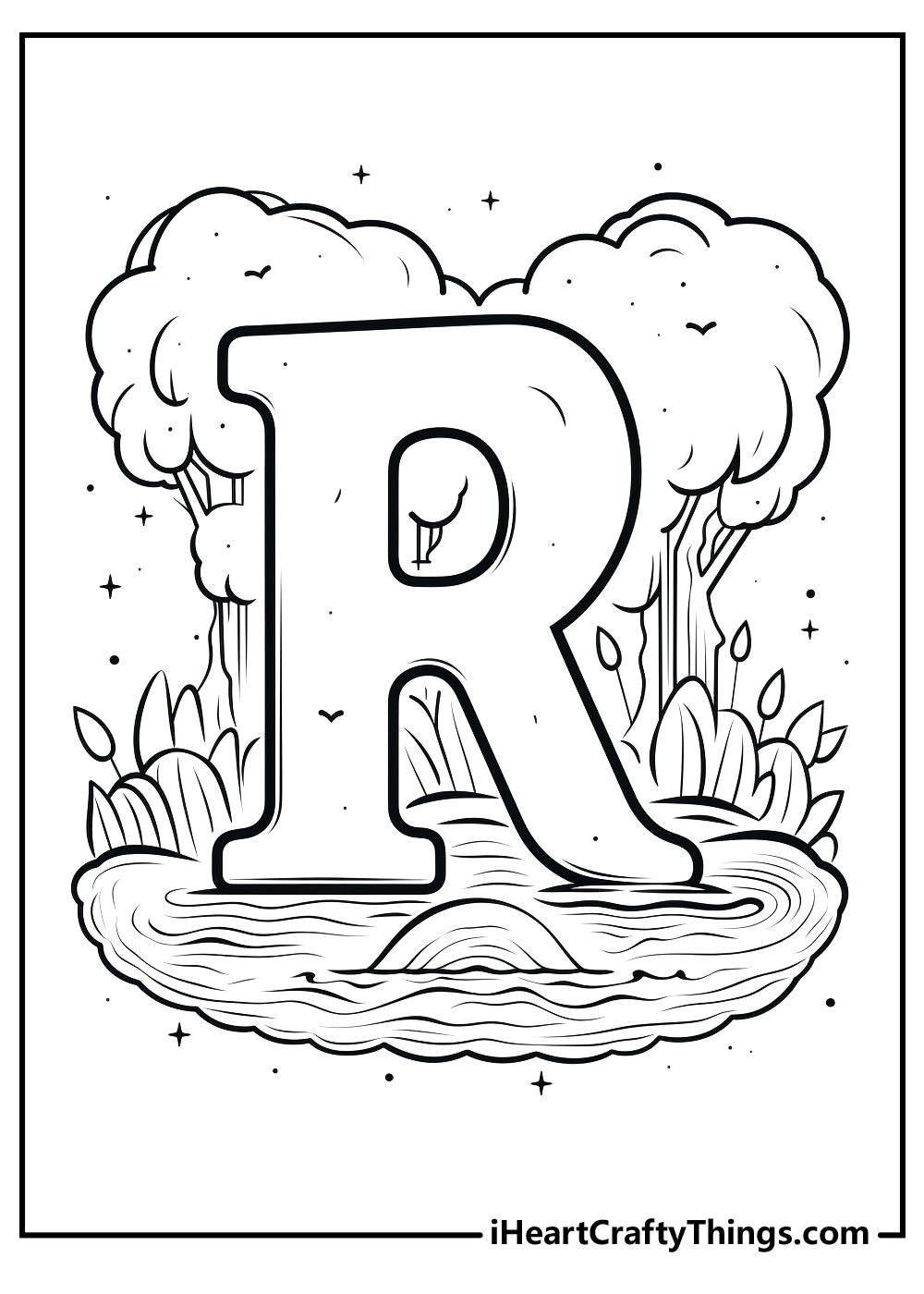 An adorable reindeer is up next to provide Christmas cheer no matter the time of year in this letter R coloring sheet!
This cute reindeer is decked out in bells, and there are so many great details to color on this reindeer.
We think that it would be fun to color its nose with red to make it look like Rudolph the red nosed reindeer! As an added bonus, Rudolph even starts with R as well, so it would be a really good fit!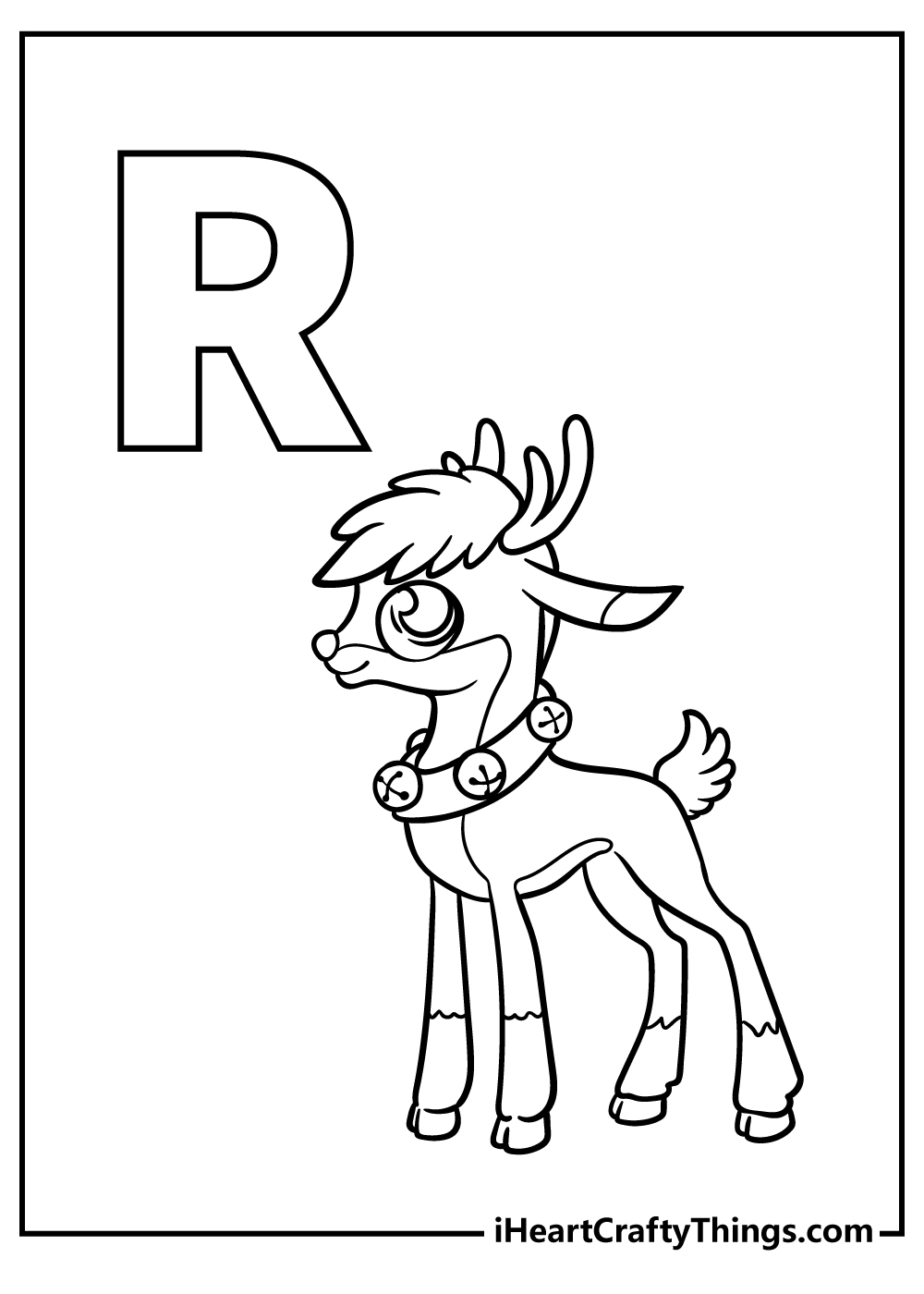 We have an incredible coloring challenge for you to take on in this next scene! A rooster is up next, and there are so many incredible details on this one for you to color.
When coloring this one, we would use mediums such as colored markers or pencils, as their thin tips make it easier to color fiddly aspects.
We would also use a lot of different colors for all of the details to create a really interesting picture to look at. This one will be great to see once you've finished it!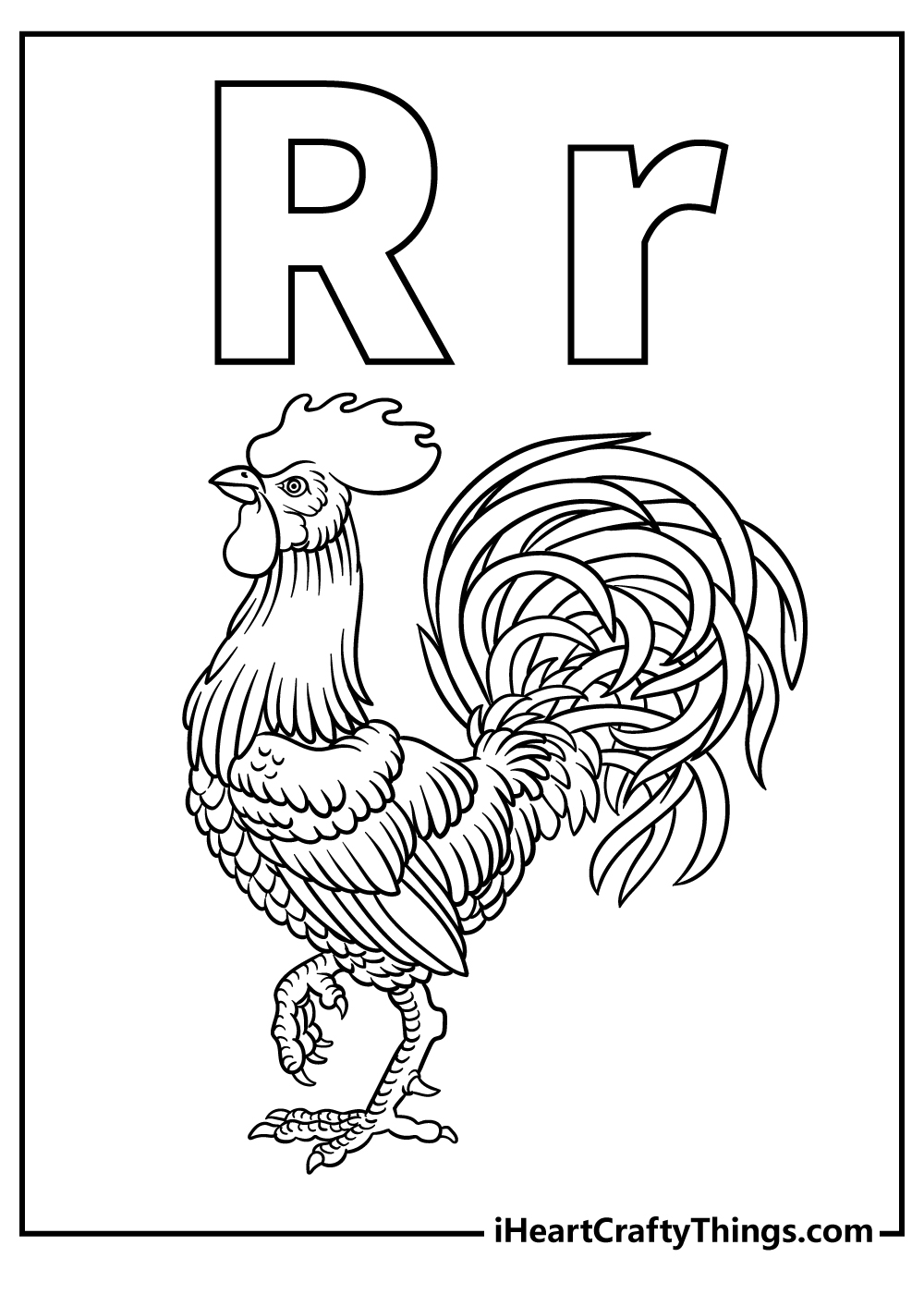 Let's take an adventure down the river with the letter R! This big curvy R rests on a flowing river that leads into the distance.
Tall leafy trees and fluffy clouds dot the landscape on either side of the water.
Use cool blues, greens, browns, and greys to color the winding river and its earthy surroundings. Add textures like ripples, waves, and rocks in the water.
In the sky, make fluffy white and gray clouds. Draw birds, butterflies, and other riverside creatures around the letter.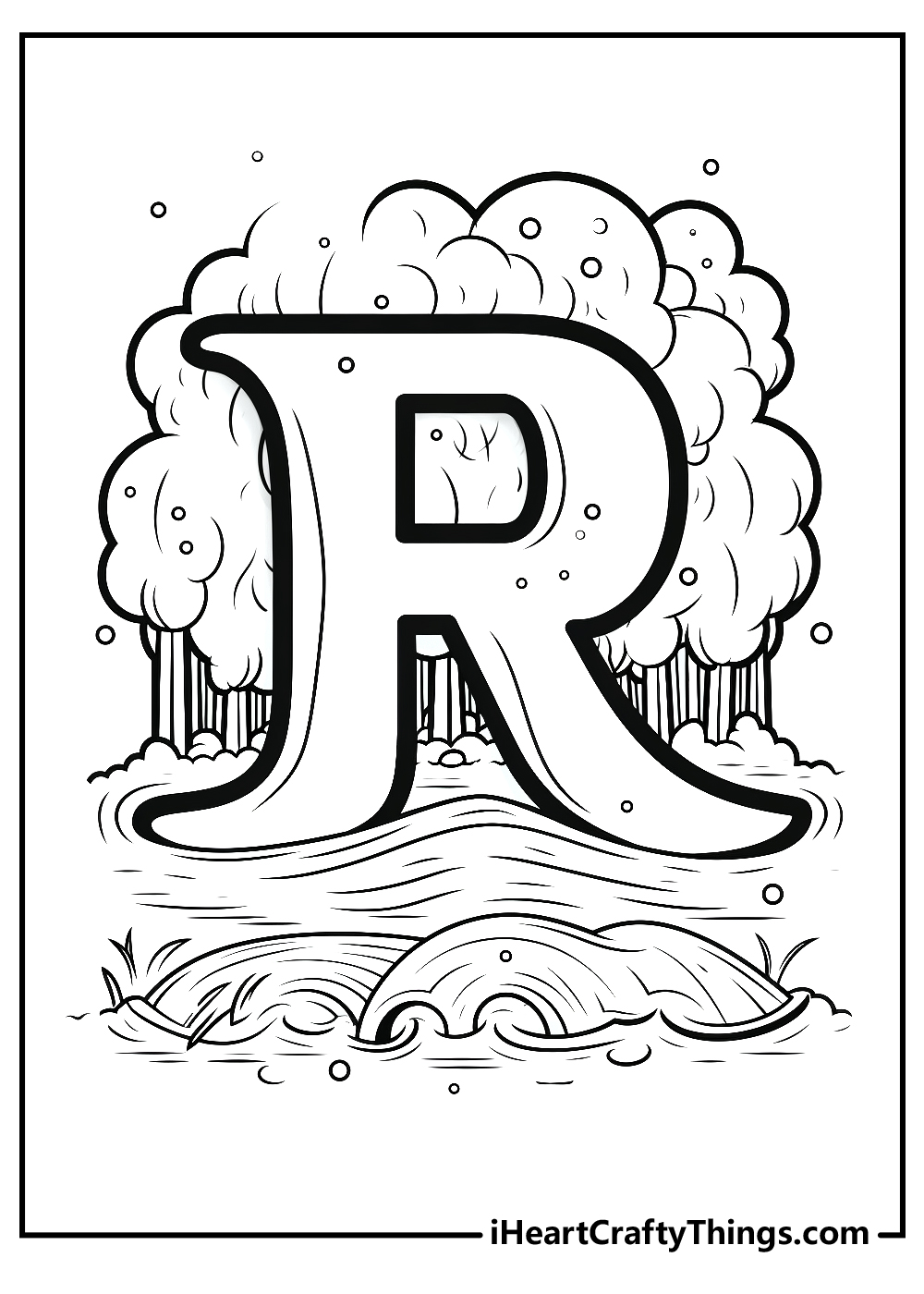 Strap in for coloring fun with this next page! There's a thrilling roller coaster featured in this one, and there are so many great details to color with this one.
This is the kind of image that you can spend a lot of time on having fun with all the little details and elements.
It may require more work and concentration than some of the simpler images in the collection, but it will be worth it in the end as you'll have a stunning picture!
Why not put on some of your favorite music as you work on this radio-themed letter R coloring printable?
Listening to a radio can be a lot of fun as you work on an art project, so a real life one would be perfect to have on as you color this one.
Radios can come in any colors you can imagine, so you could use any of your favorite colors when finishing this one off!
What colors will you choose for this fun picture?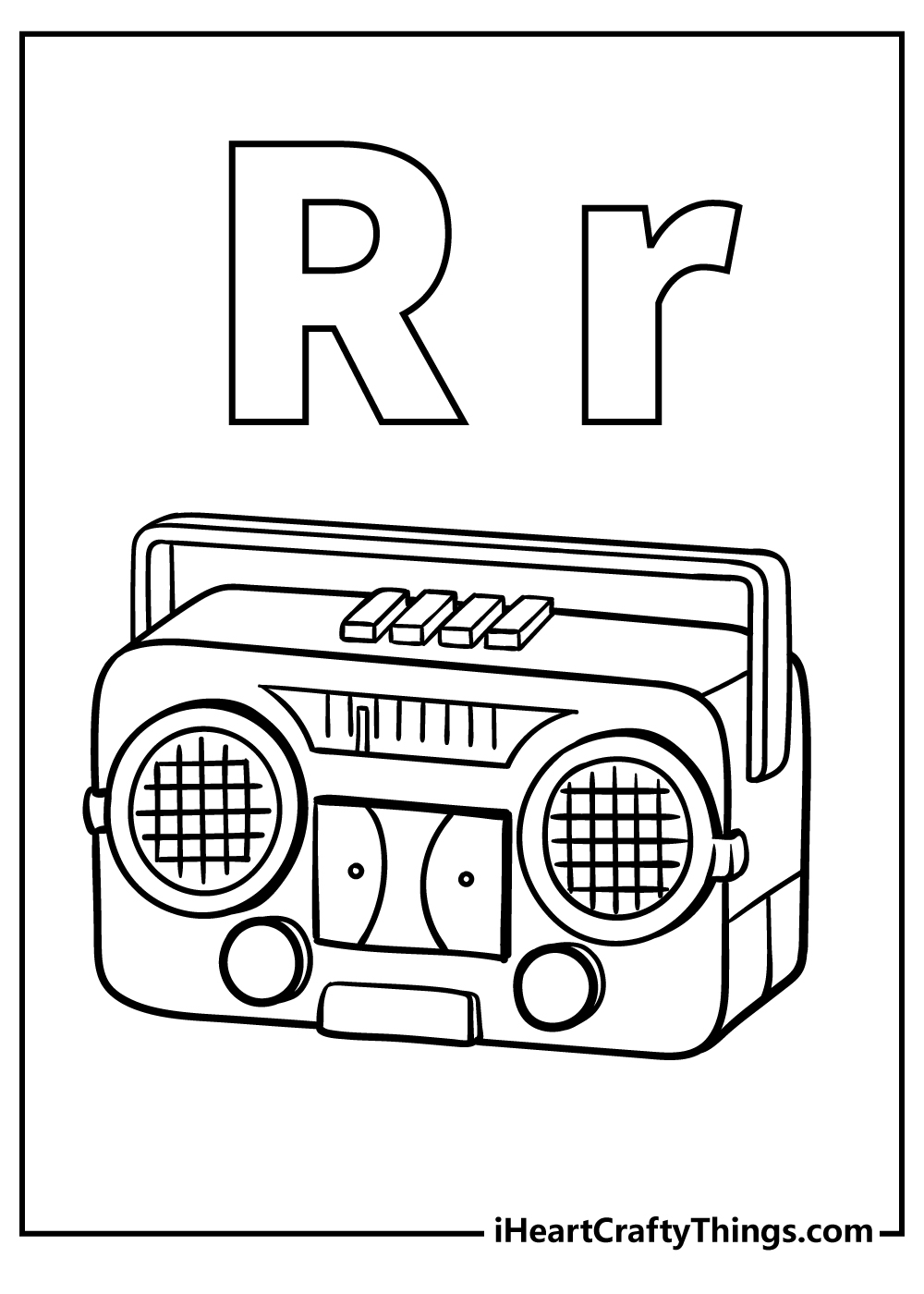 Drift down a rolling river as you color this scenic letter R page. The bold letter R stands amidst gentle waves, its serif edges evoking the flow of water.
Make the R into a pirate ship sailing the high seas for adventure. Add details like skulls, flags, parrots, treasure chests and waves crashing against the ship.
Add life to the scene by coloring animals like turtles, fish and beavers swimming in the current.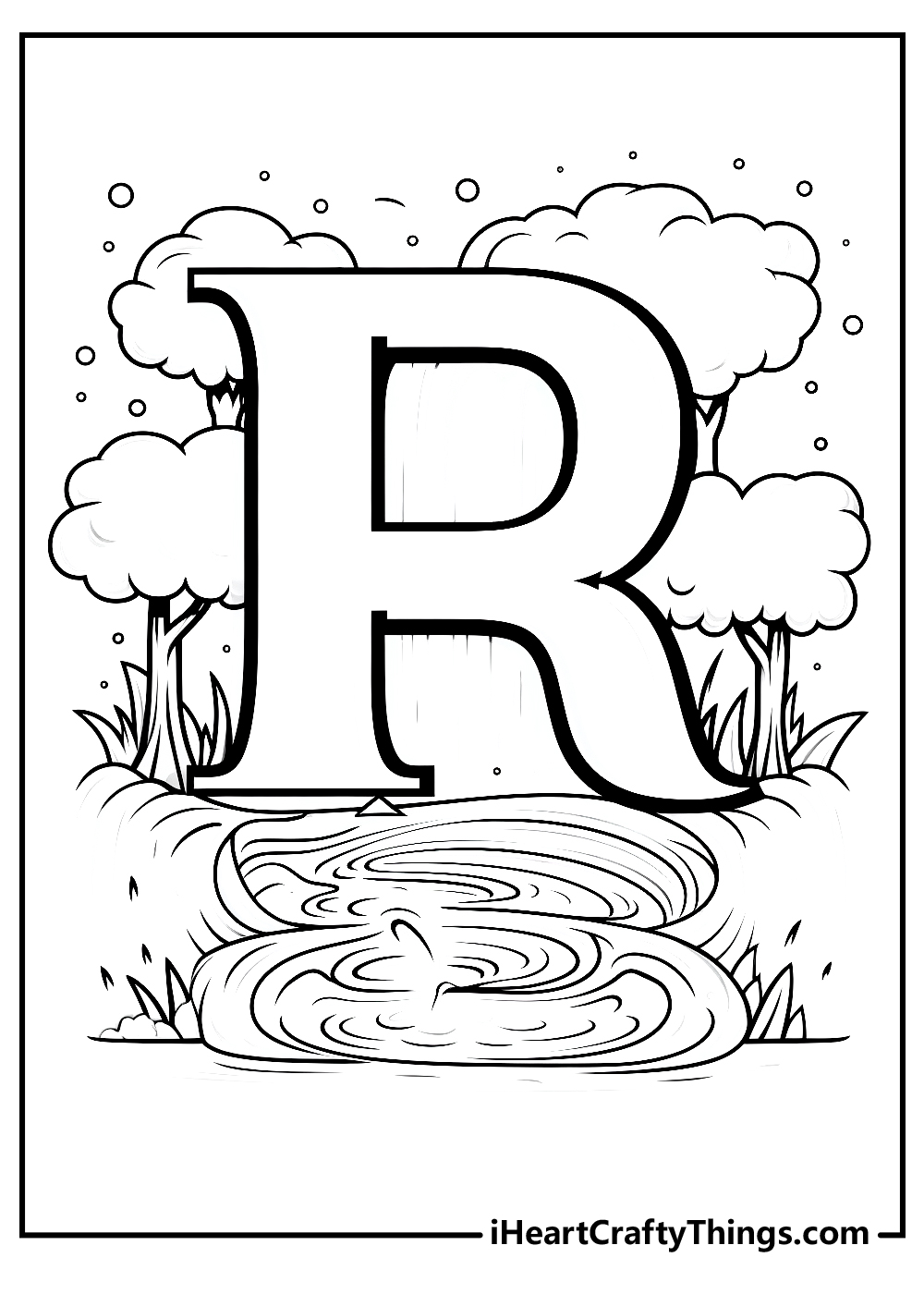 Here's a more unusual image to color in this ninth page. This special necklace is called a rosary, and it is used for prayer in the Catholic faith.
The rosary is very special to many people, and we think that it would look great with a more muted color scheme.
If we were coloring this one, we would use some watercolor paints or colored pencils with some light colors to give it a calmer look.
Do you think you will go for a similar approach or do you have something else in mind?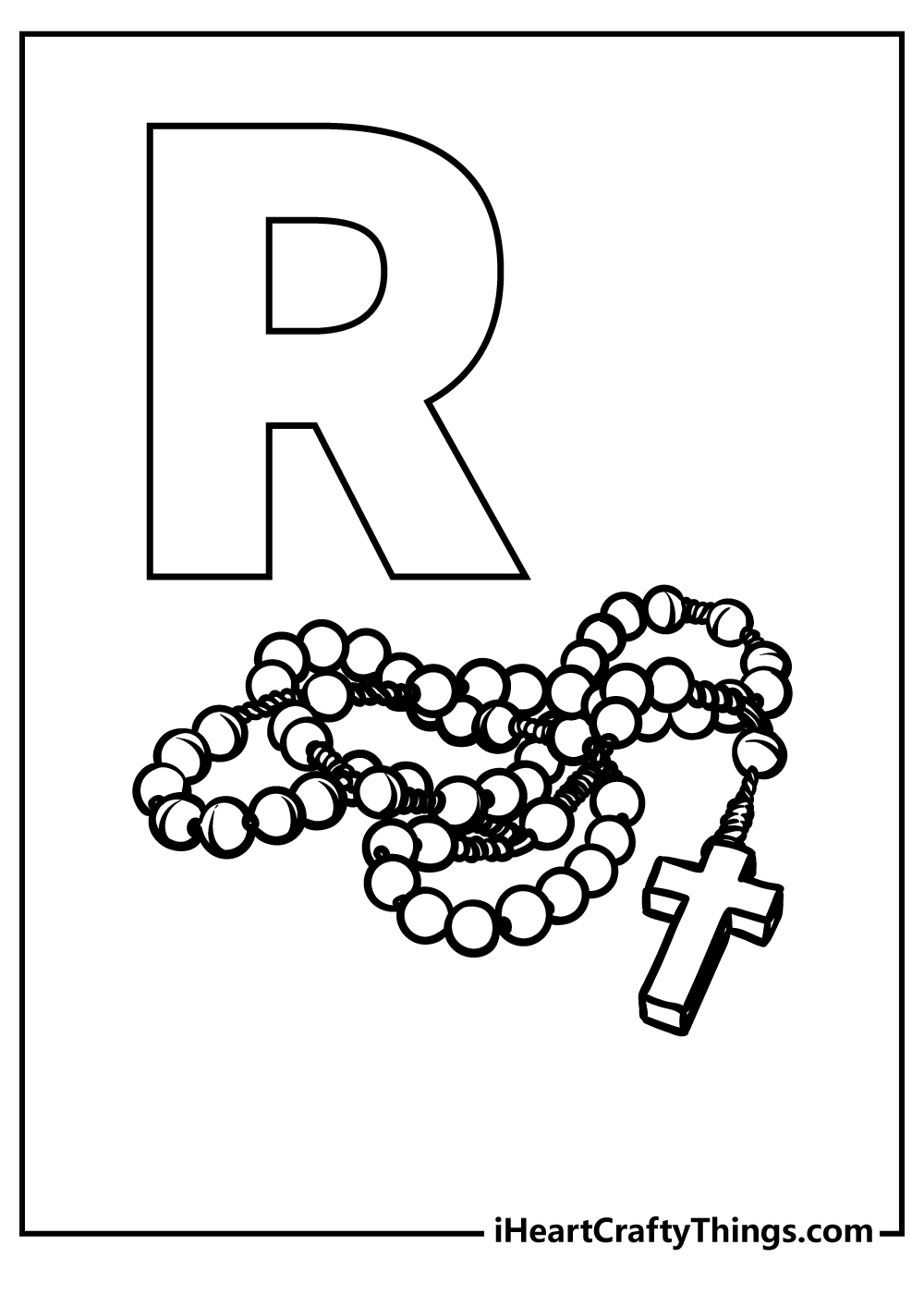 There's no need to race through this next letter R coloring page! This one features a runner, and he seems to be moving very quickly.
The background is also left blank for this image, so that again gives you a lot of opportunities for some fun extras.
You could design any kind of cool background setting for him to finish it off. What kind of setting can you think to put this runner in?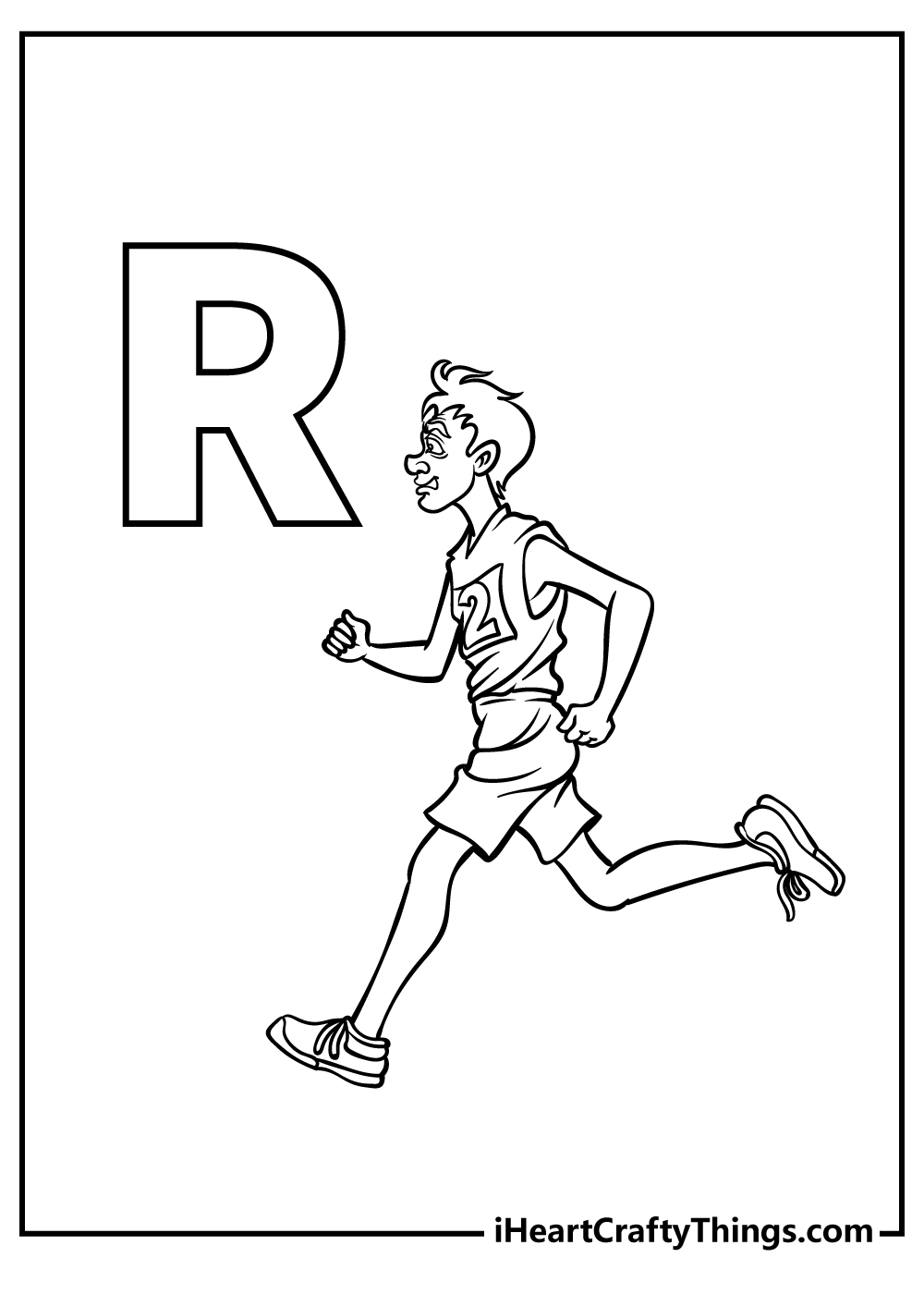 Let's get creative with the letter R and add some floral flair! This fancy R is covered in a variety of colorful flowers and flowery designs.
Use bright, vivid colors to bring each flower to life. Roses can be red, tulips yellow, daisies white and poinsettias pink.
Feel free to draw new flowers too – sunflowers, lilies, orchids, the options are endless!
In between the flowers, decorate the R with more flowery patterns. Try swirls, vines, leaves, checkerboards and more. Make them curl and curve gracefully around each letter line.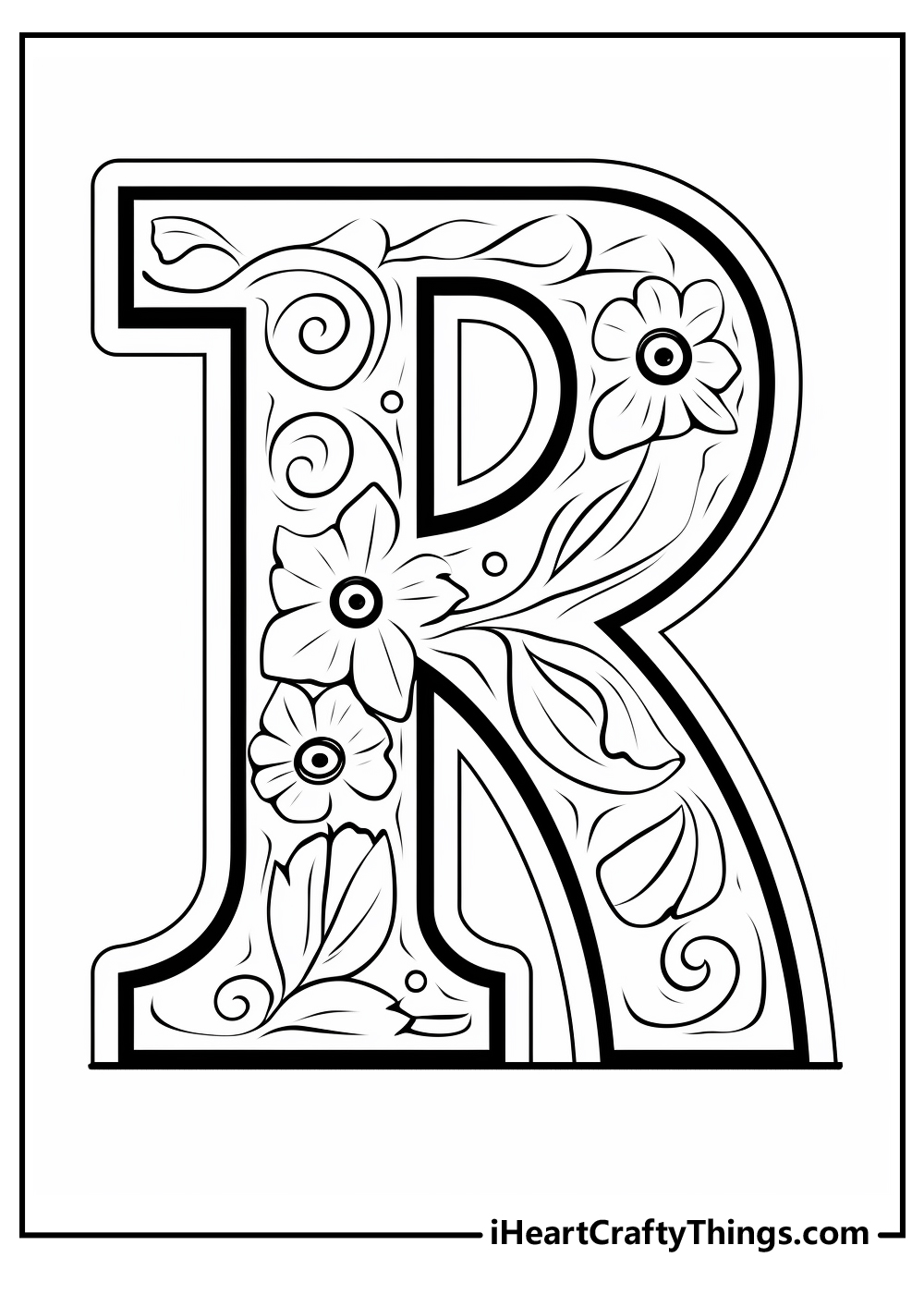 The final page that we have for you is a really fun one! This page features a cartoon rat, and he looks very happy to have found a big block of cheese.
It would look great if you used a bright, vibrant yellow for the cheese and then contrasted it with lighter greys for the rat.
This is just one idea to try, but how else would you like to finish off this cute cartoon rat?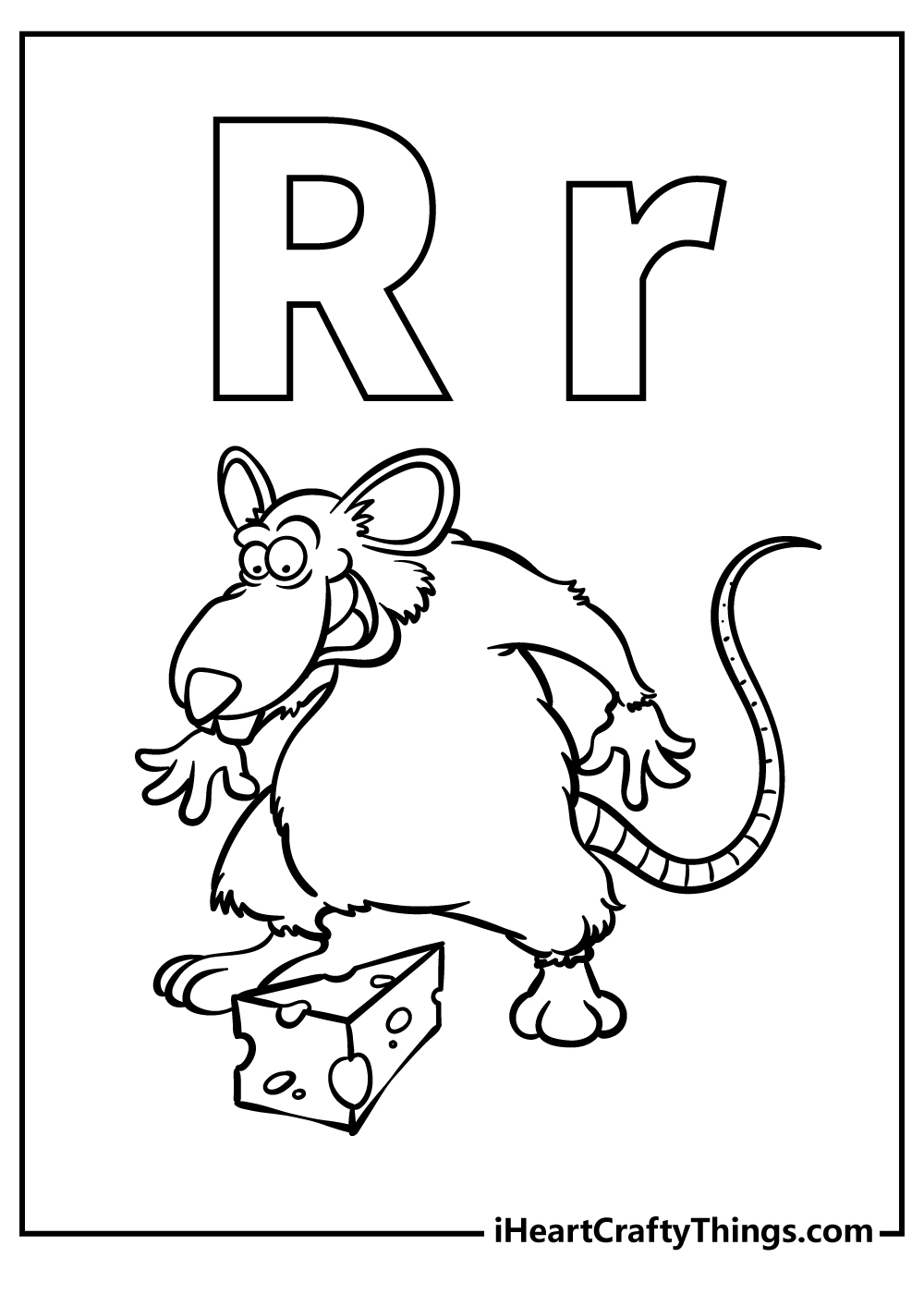 Letter R Coloring Pages – Which will you choose?
That will finish off this fun collection of free letter R coloring pages for kids! We hope you had a really fun time bringing color to all of these objects, animals and people.
We're sure that you will have brought all manner of great colors to the pages in this collection by the end!
You can also head on over to our website for access to even more coloring page collections to enjoy. We will be bringing more out soon, so stay tuned!
Please also be sure to share some of your finished letter R coloring sheets on our Facebook and Pinterest pages for us to see!