In the English alphabet, we have 26 letters that make up every word in the language. Some of these letters are more used than others, and the letter P is an example of a lesser-used letter.
It's estimated that the letter P has a frequency rate of around 1.9%, and while that doesn't put it at the bottom of the list it does put it pretty low down.
That being said, there are still many objects, animals, places and other things that start with the letter P, and these are what we will be covering in this collection that we have prepared for you.
You will see just how much variety there can be even for a less used letter such as this!
All of the coloring pages in this collection are also free for you to print out as much as you like, and you can share the collection with other people to enjoy too.
Get ready for some pleasant coloring fun as you begin this collection of free letter P coloring pages for kids! Don't forget to share some of your finished coloring pages on our Facebook and Pinterest pages for us to see later.
15 Brand New Letter P Coloring Pages – Free to Print and Color
For this first page, we are featuring a pitbull for you to color. The pitbull is a dog that is known to be quite vicious and tough, but they are also very intelligent and loyal to their owners.
They can also come in many different colors, and that gives you a lot of freedom with how you could color this one in.
Do you have a specific color scheme you would like to use for this pitbull?
This coloring page is a fun way to learn the letter P. Featured is a big uppercase P with a printer underneath. The boxy printer has buttons, a lamp, and is placed on a flat platform.
Decorate the large letter P with cool patterns, shapes, or designs. Try zigzags, polka dots, swirls and more!
For the printer, use gray for the metal body, black for the screen, colorful buttons, and white paper printing out.
Add a rainbow assortment of colored ink cartridges inside too!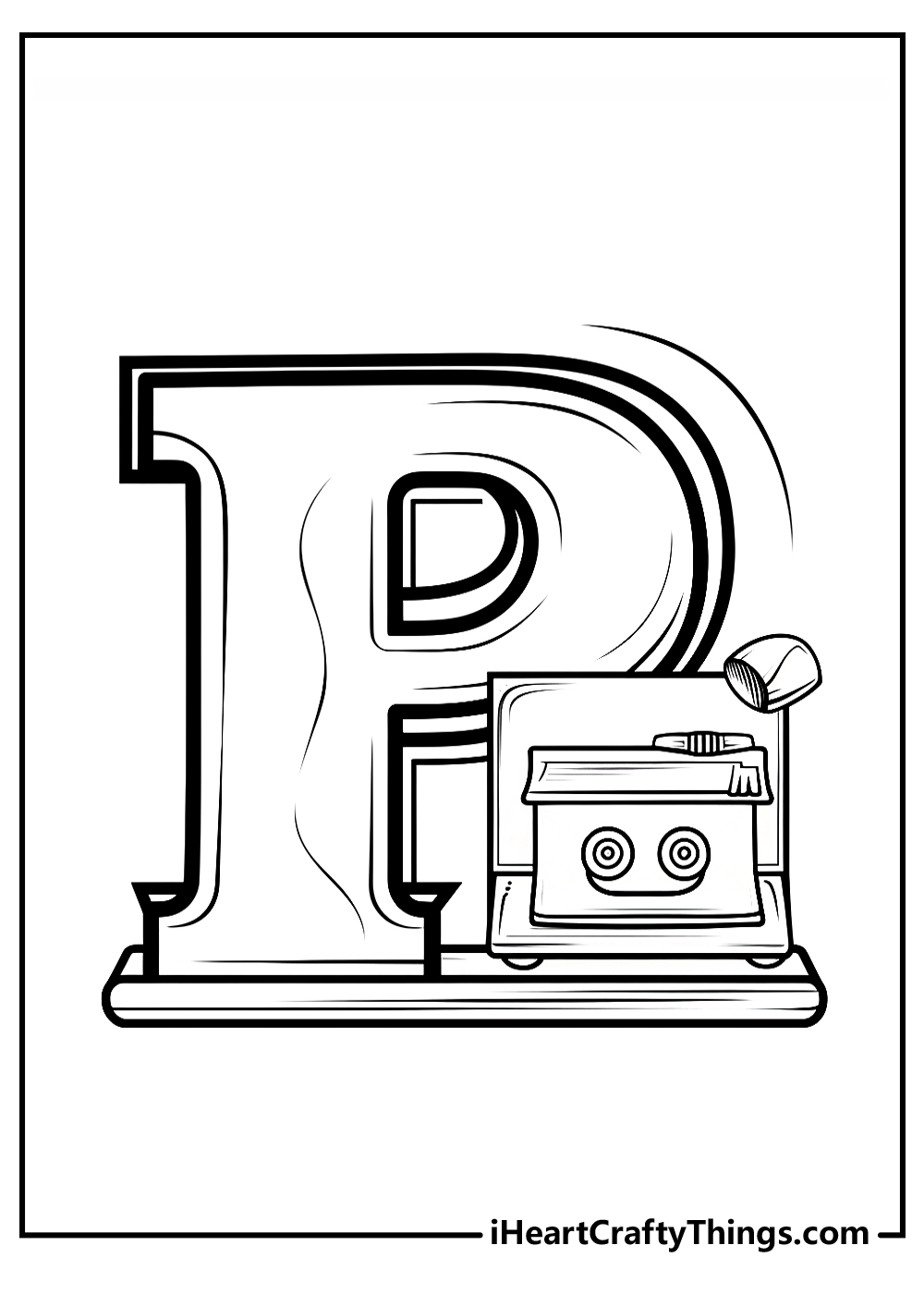 It's time for some vacation vibes in this next letter P coloring page. This time we have a palm tree for you to color, and it really creates a relaxing vacation feeling.
There are so many great ways that you could color this in! We think it would look great with some watercolor paints that would give it a softer look.
Do you agree with this or will you use a different art medium for this one?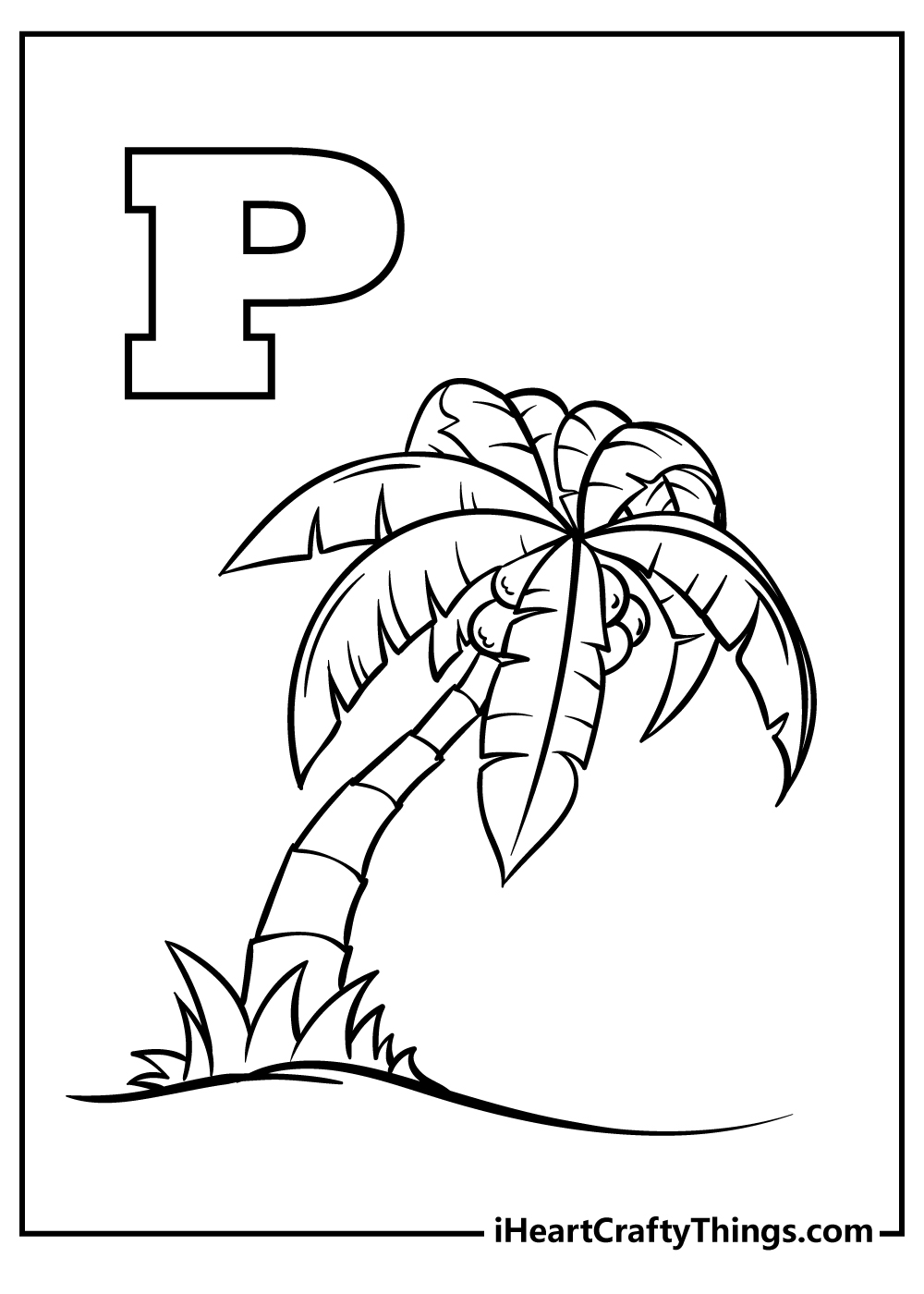 This letter P coloring page is a wonderful way to practice shading and perspective while having fun with the 16th letter of the alphabet.
The elegant, serif-style P leaps off the page with its sharp outlines and white interior.
Lightly shade the right side of each line and curve to make the letter appear three-dimensional. Turn the P into a unique work of art by filling it with intricate designs or using complementary colors for shading.
You could shade the inside edges dark blue and use light blue for the highlighted areas.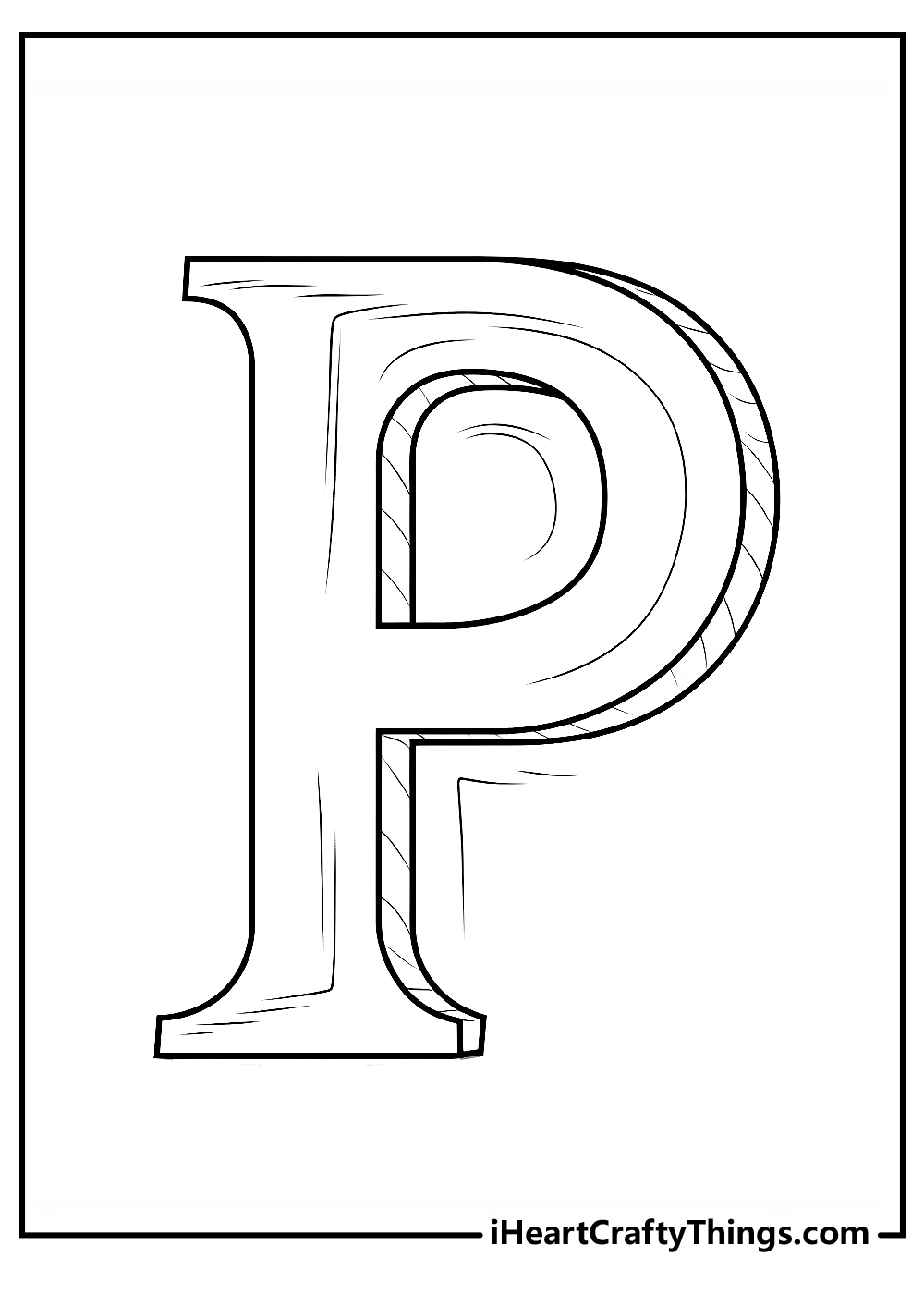 We had better be on our best behavior for this next page, as the police are in town! Our next letter P word is police, and we have a police car to color in.
This car is nicely detailed, and this allows for some great color details.
You could color some alternating bright red and blue for the lights on top of the car to make them look like they're flashing for one idea! This one should look really cool when you're finished with it.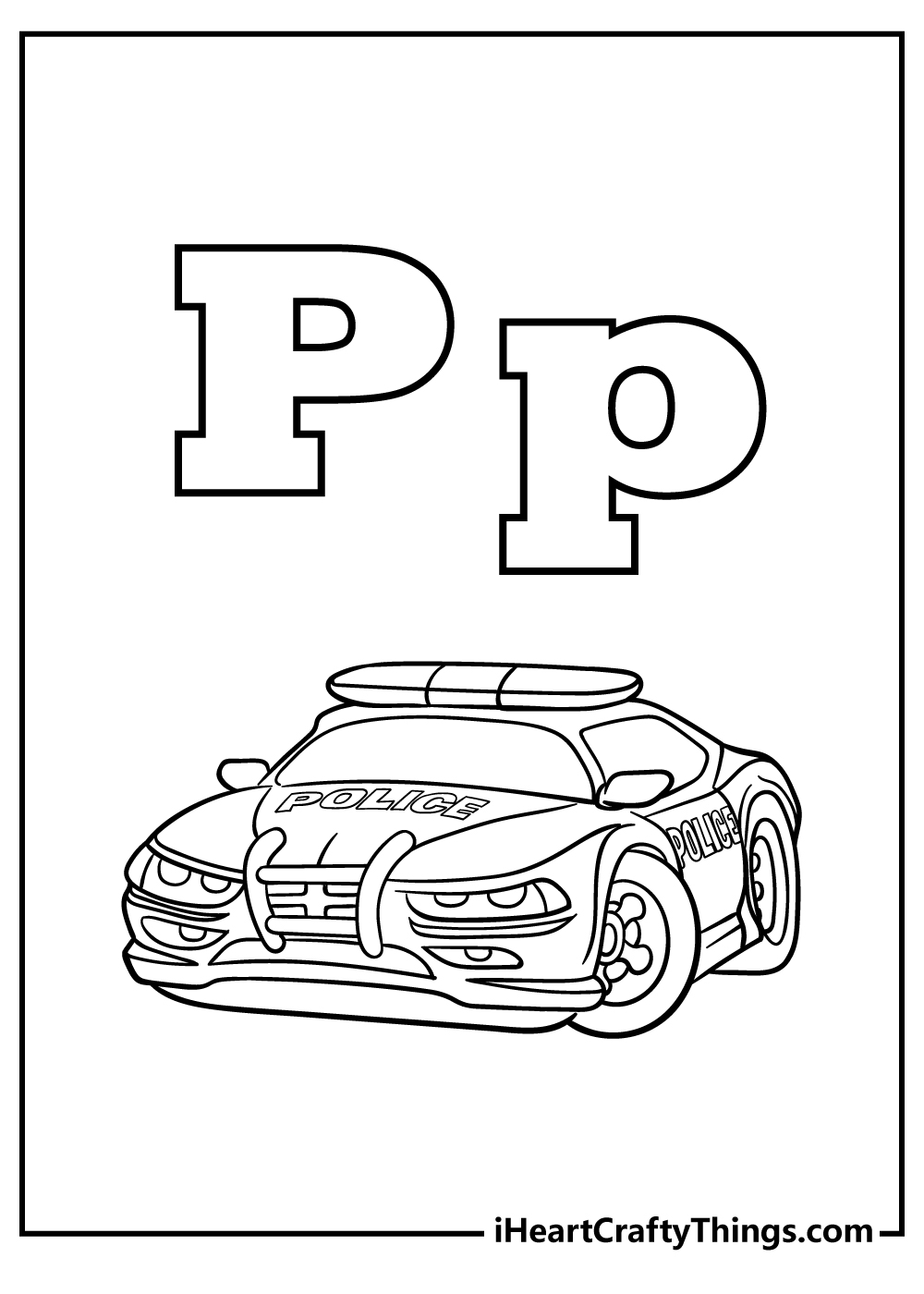 Get ready to take a slice out of this next letter P coloring sheet that we have for you!
This time we have a pie for you to color, and it looks really good! It will look even better once you have added some color to it, and you can also decide what kind of pie it is.
One way to show what kind it is would be to draw some fun details in the background.
For example, if this is a cherry pie then you could make a pattern out of cherries! What favorite pie variation would you like to make this one?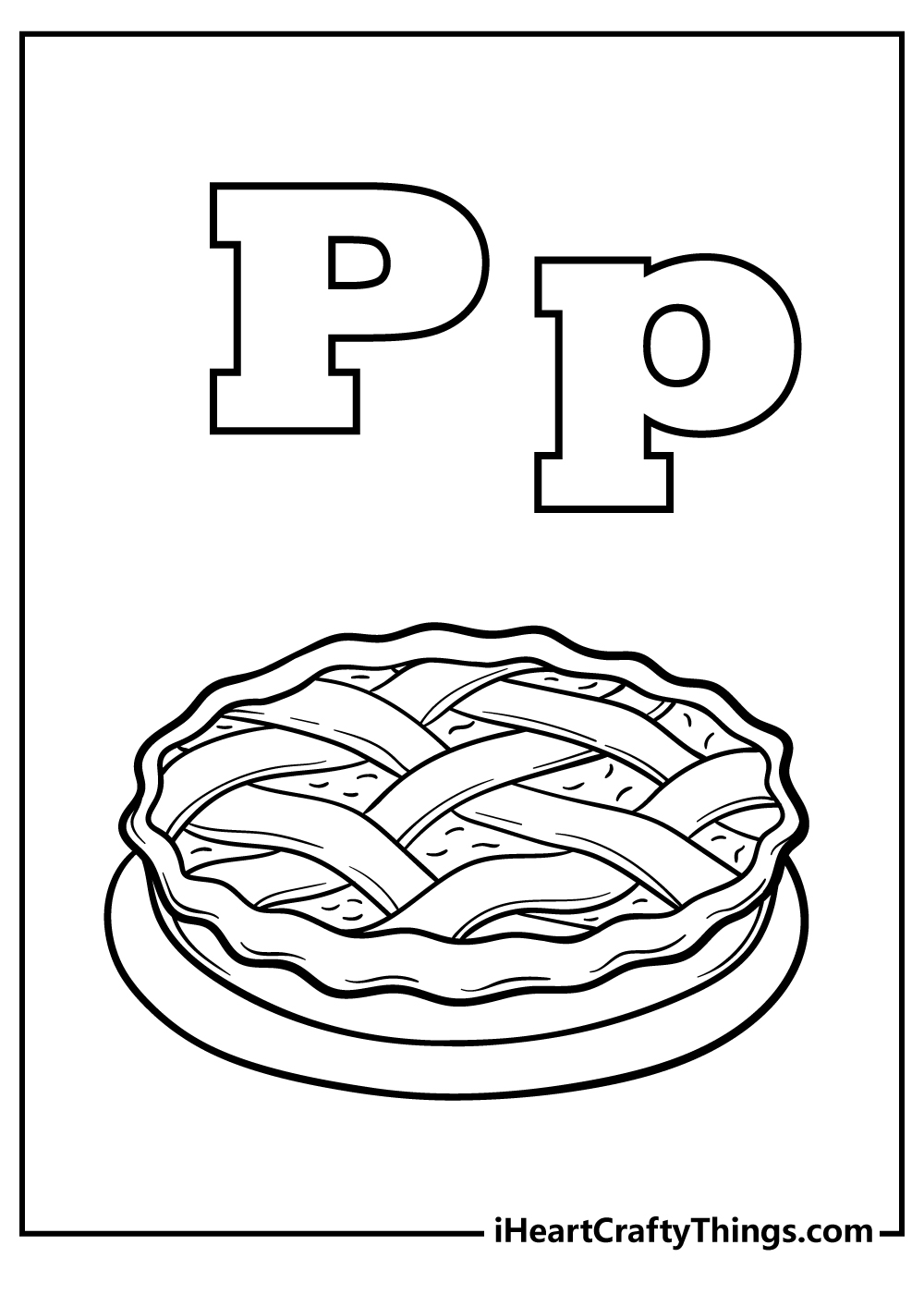 This letter P coloring page swirls with artistic flair. The flowing, swooping lines create a feeling of movement and energy.
Make each area pop by using contrasting hues like neon pinks and greens. Add patterns or textures inside the thinner parts of the letter for extra dimension.
Highlight key areas with metallic gel pens or glitter glue to make this P shine. You could turn it into a mystical masterpiece by coloring it with cosmic purples and blues.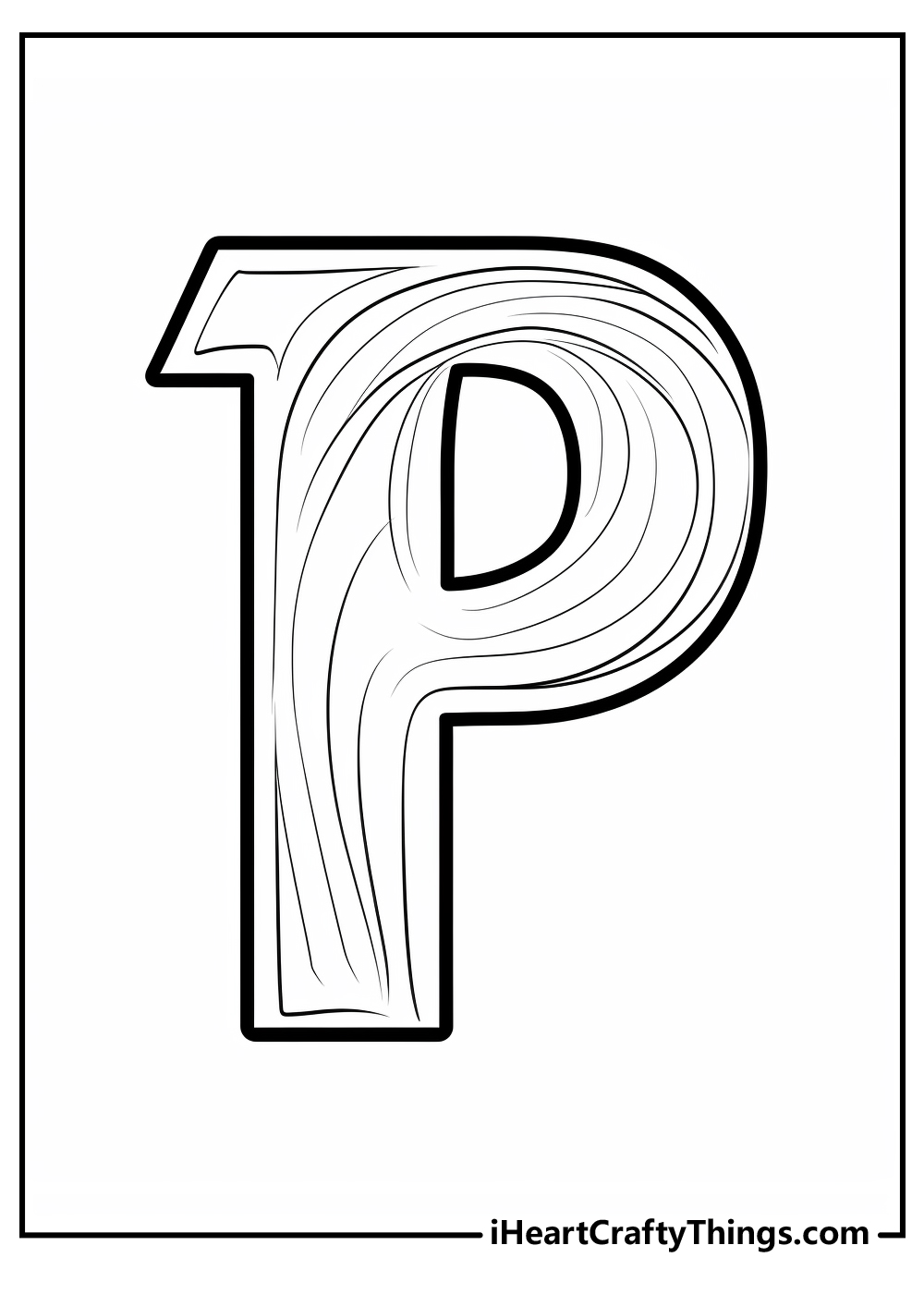 Things are about to get a lot cuter on this next page. We have an adorable little panda for you to color in this scene! You may think this is limiting, as pandas are black and white.
Even if you stick to these realistic colors, you still have many options for making it look interesting.
You could color the panda in some more stylistic colors, or you could incorporate some bright colors into the background.
What creative ways can you think to make this page look even better?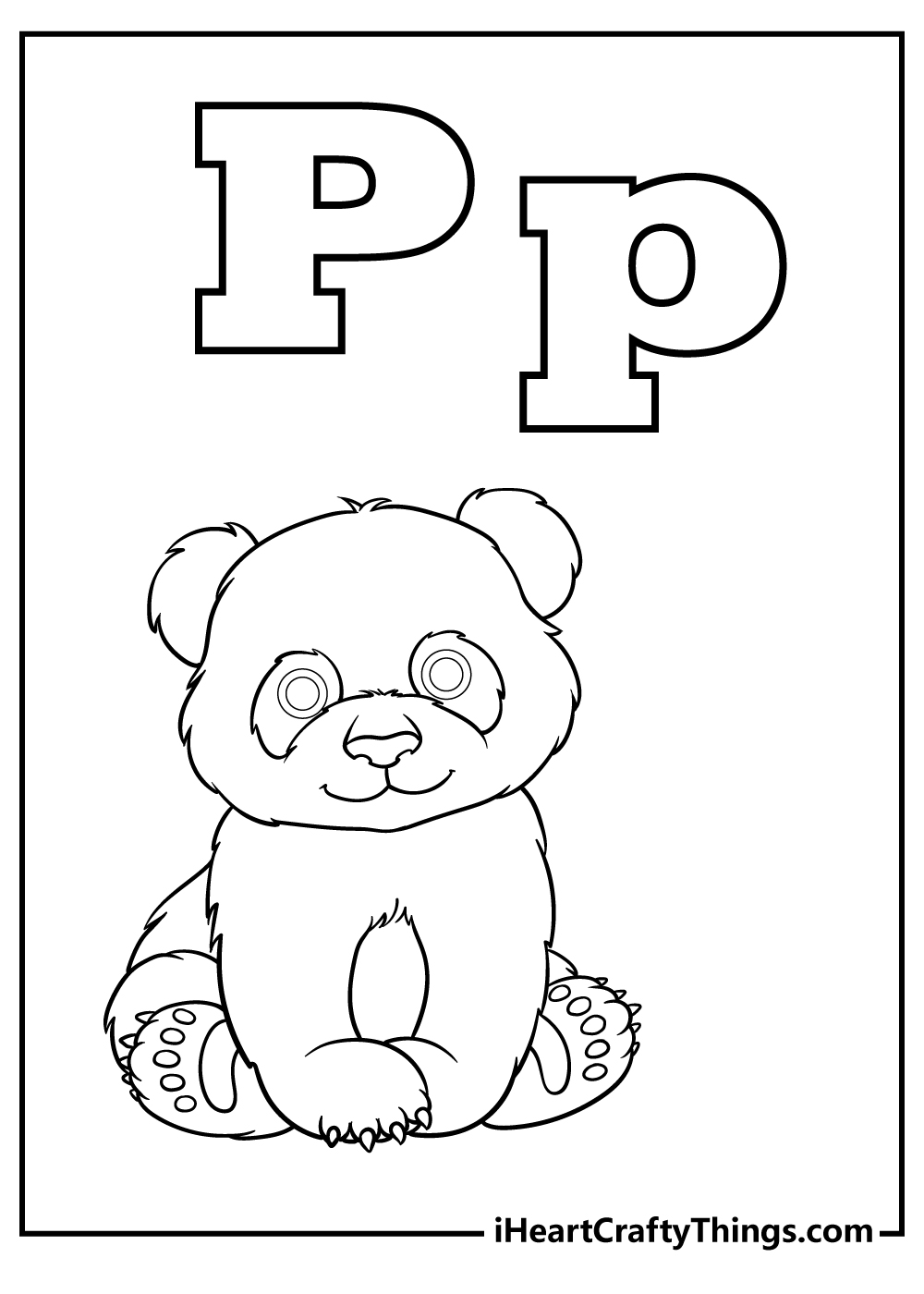 You'll want to put on your favorite music for this one, as we are coloring a piano in this next image. Pianos can come in pretty much any colors you can imagine, so that gives you lots of freedom.
Whether you go for a classic black or use some wild, bright colors we know that it will look incredible!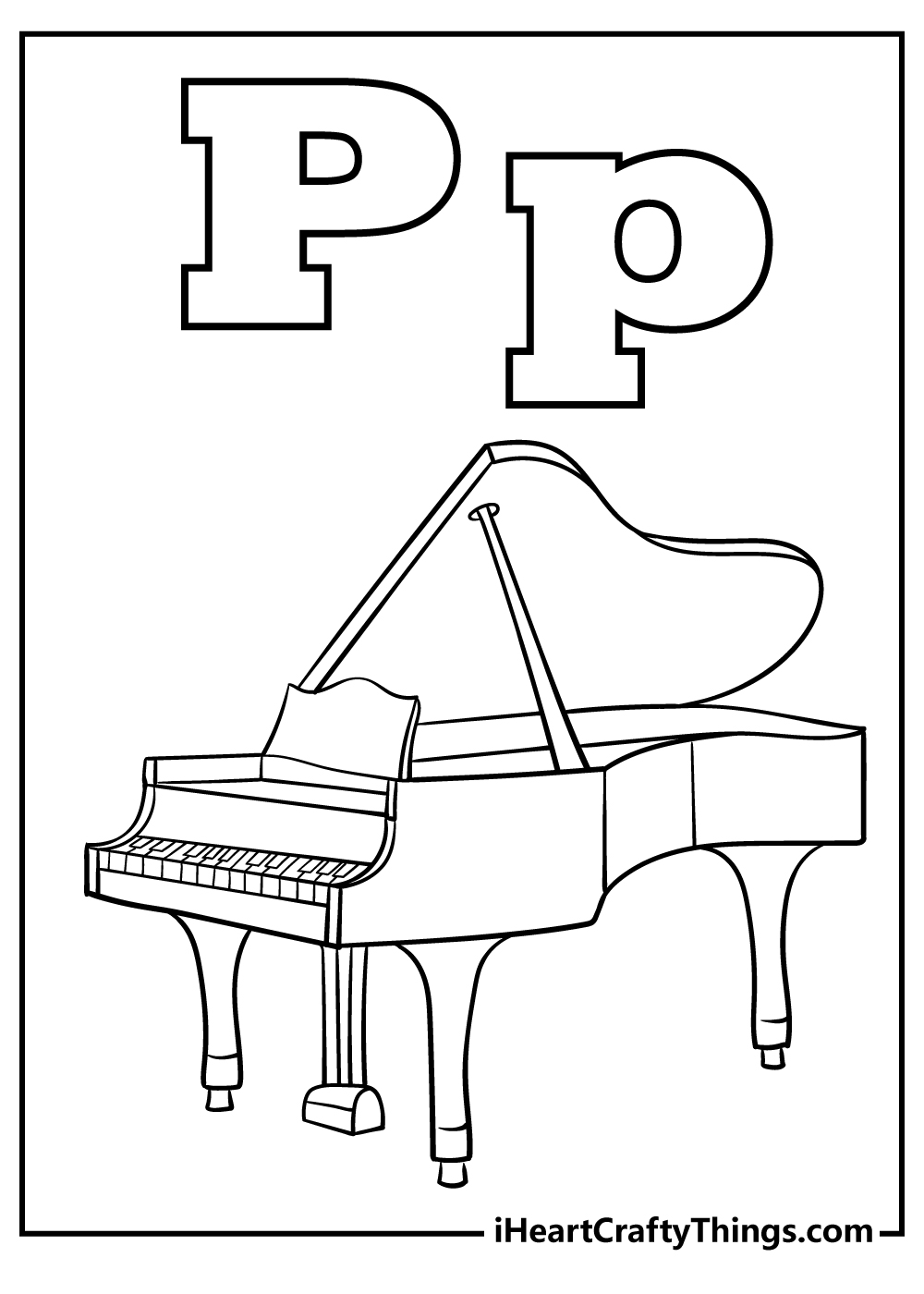 This cute, bubble letter P is dotted with circles ready for color. The playful P stands sturdily on a thin platform connected to its base.
Customize this cheerful letter by coloring the circles in a rainbow of colors.
Try shading the letter different hues for a fun ombré effect. You could make it glitter by filling in the circles with sparkly gel pens.
For extra whimsy, add details like flowers, rainbows or your name. Make this P page unique by portraying a party scene with balloons and confetti.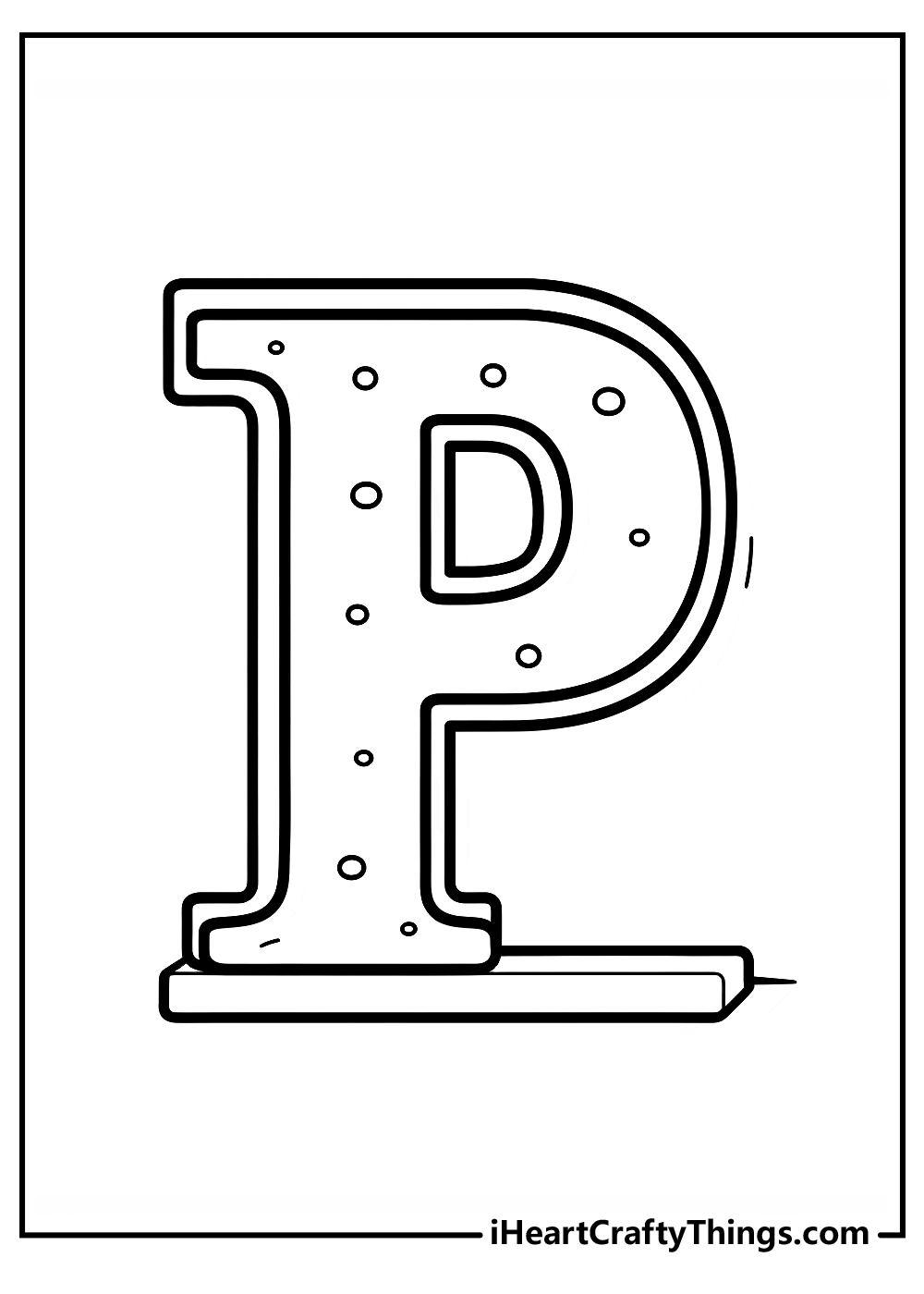 An awesome pirate is the star of this seventh letter P coloring printable! This pirate looks very cool, and he is drawn in a very detailed style.
There are so many great small aspects for you to color in this design, and we also think it would be cool to draw a background for him.
Additionally, you could also add some extra scene props such as a treasure chest or maybe a parrot on his shoulder! This is really one where you can let your imagination run wild.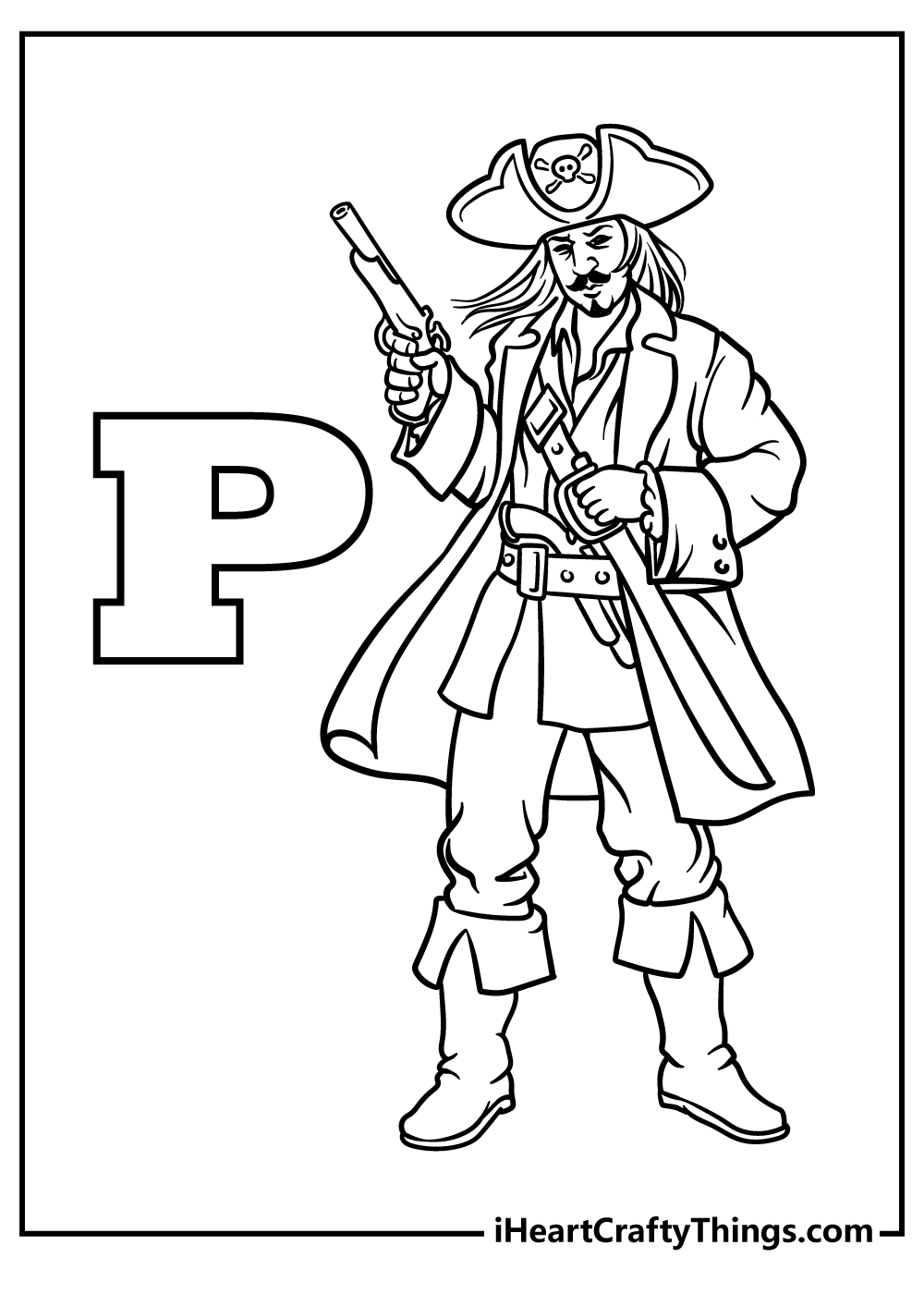 Next, we have a pinecone for you to color. Pinecones may be fairly small, but they are very complex in structure, as they are made up of lots of small pieces.
This can make them a bit fiddly to color, but there are art mediums that can make it easier!
By using colored pens, pencils or paintbrushes with thin tips you can color these fiddly pieces with ease. These are a few suggestions, but what else can you think of?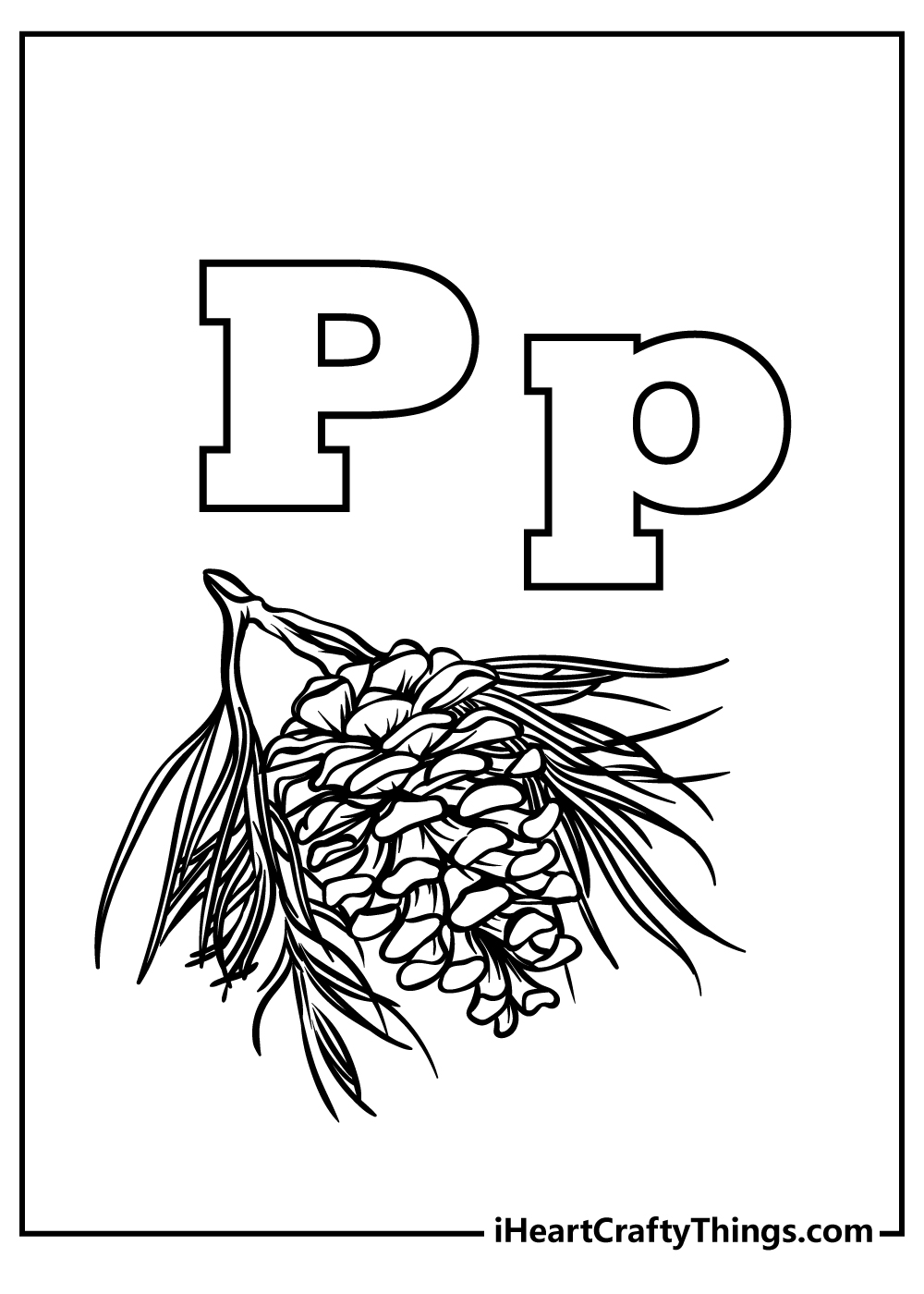 This fizzy letter P overflows with bubbly charm. The thick outlines and abundance of circles and lines give it an effervescent, carbonated feel.
Make this P pop by coloring it and the bubbles in bold primaries like red, yellow and blue.
Try shading some areas to make the bubbles appear 3D. For extra fun, use glitter glue for sparkling accents.
You could portray a colorful soda shop and fill your scene with milkshakes, sundaes and soda pops.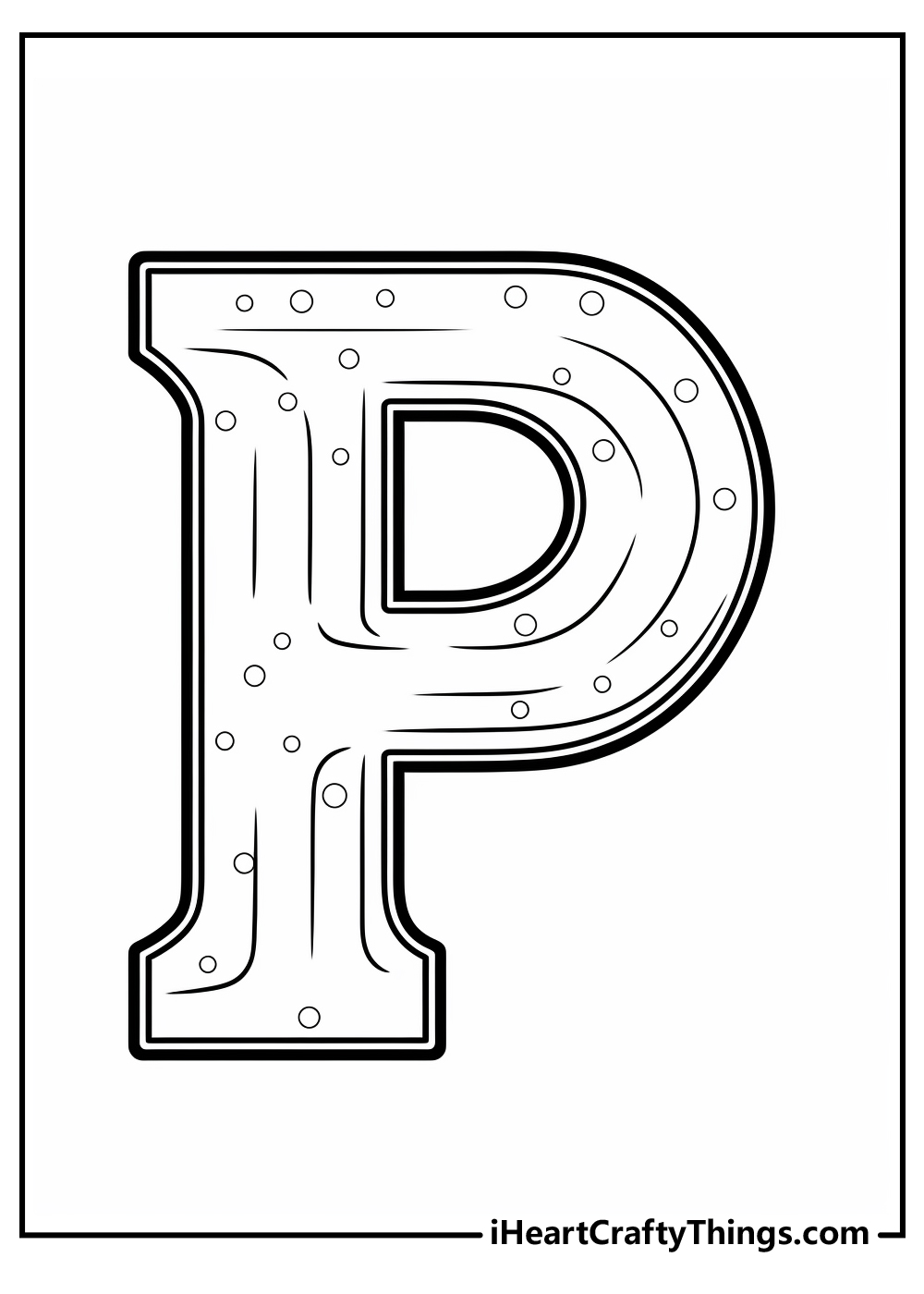 The potato is possibly the most versatile of all the vegetables we have available to us, as it can be made into a huge variety of foods and drinks.
We have one for you to color here, and it is being chopped up into slices.
For a fun extra touch, maybe you could draw some of your favorite forms that potatoes can take in the background. French fries would be one idea, but what else can you think of?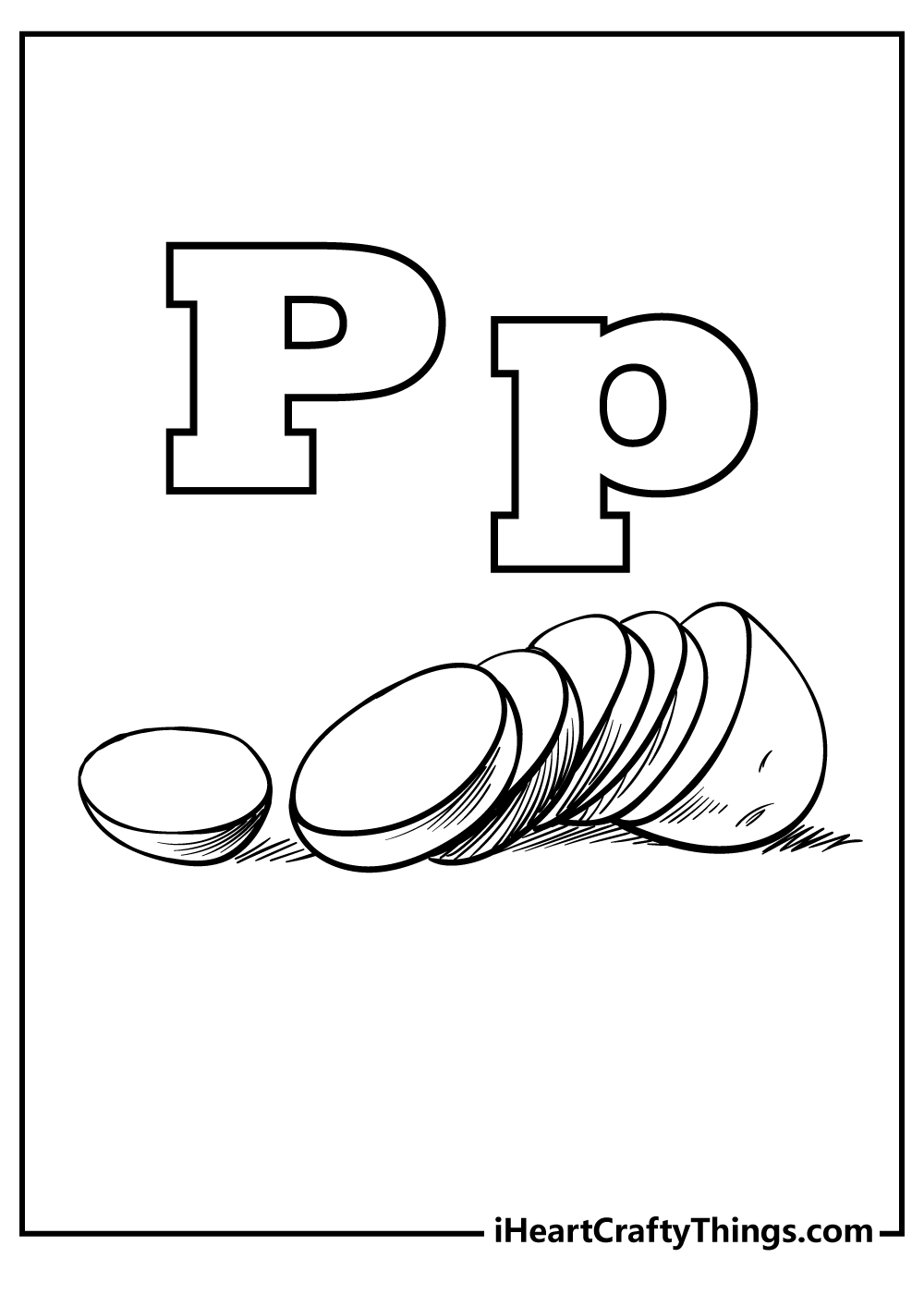 We're ending this collection of letter P coloring pages with style, as we have the mythical winged horse Pegasus for you to color!
This character from Greek Mythology is very popular and well known around the world, and now you get to create your own variation.
What color do you think Pegasus could have been? She is usually depicted as being white, but even if you went with that approach you could use brighter, more varied colors for the background.
We can't wait to see how you finish off this collection!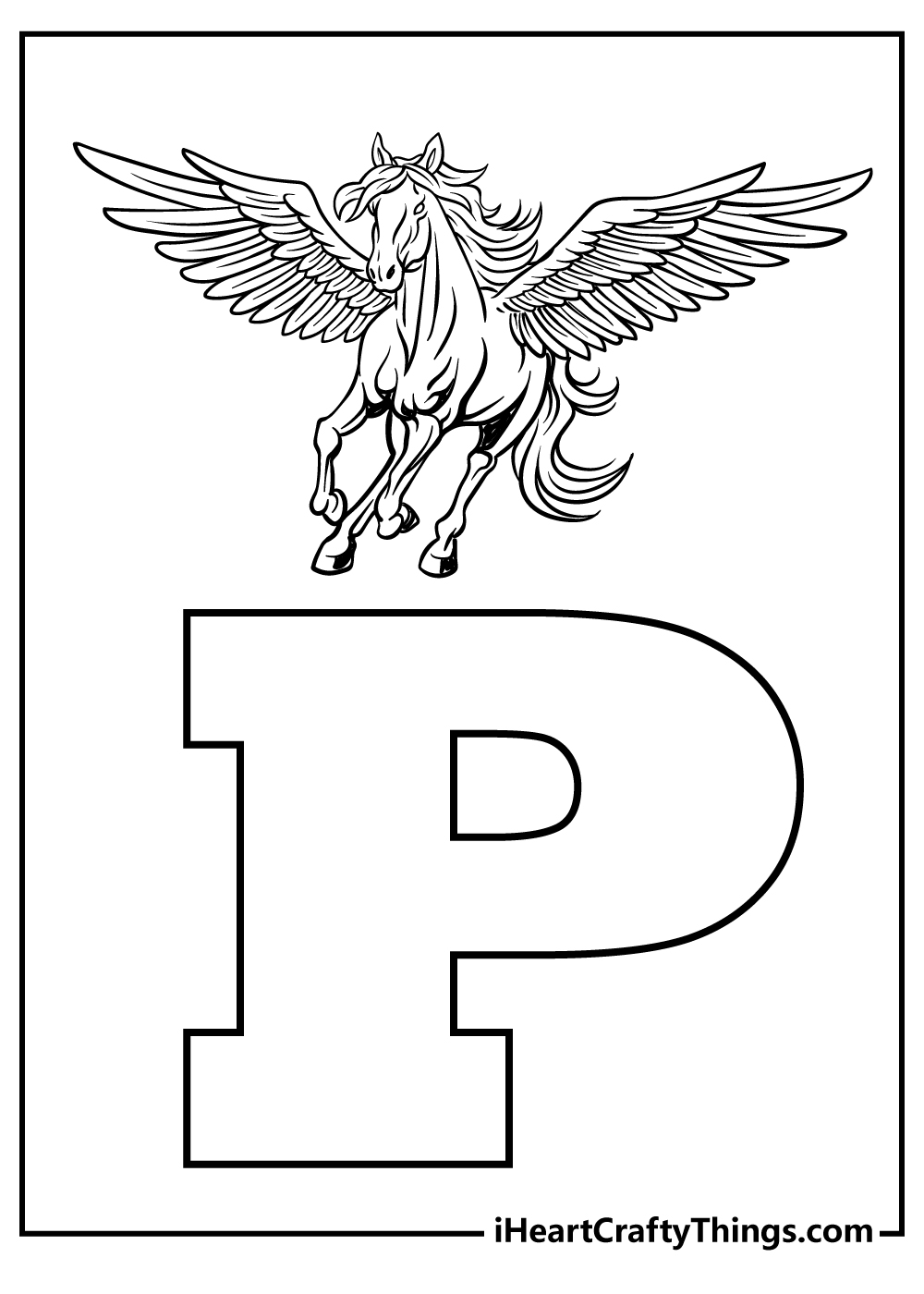 Letter P Coloring Pages – Which will you choose?
There was a huge variety of different subjects contained within this collection of free letter P coloring pages for kids, and we hope it was tons of fun to work on!
We're sure that you got to really experiment with colors and art mediums to create some incredible images.
Don't forget to check out our website for even more coloring page collections that are free to print and enjoy! Check in often to never miss out.
When you have finished your chosen letter P coloring sheets, please share some of your finished pages on our Facebook and Pinterest pages!