On this page, you will find 15 all new Ladybug coloring pages that are completely free to print and download.
There are so many different kinds of insects in nature, and while they are usually small they still manage to show off some beautiful colors and patterns!
Ladybugs may be small, but they look stunning with their red and black shells when you look closely.
This collection of free ladybug coloring pages for kids aims to highlight this insect and show off their cuter side!
15 images are in this collection, and all are free for you to color and have a great time with.
You can also share them with others and then show us some of your finished pages on our Facebook and Pinterest pages to keep the fun going!
15 Brand New Ladybug Coloring Pages – Free to Print and Color
This first page in our collection of free ladybug coloring pages for kids features a positively adorable little insect friend for you to meet!
This little ladybug has so much personality radiating from it, and there is a really happy feeling given off from the image.
We think it would be a great start to the collection to use some bright and vibrant colors!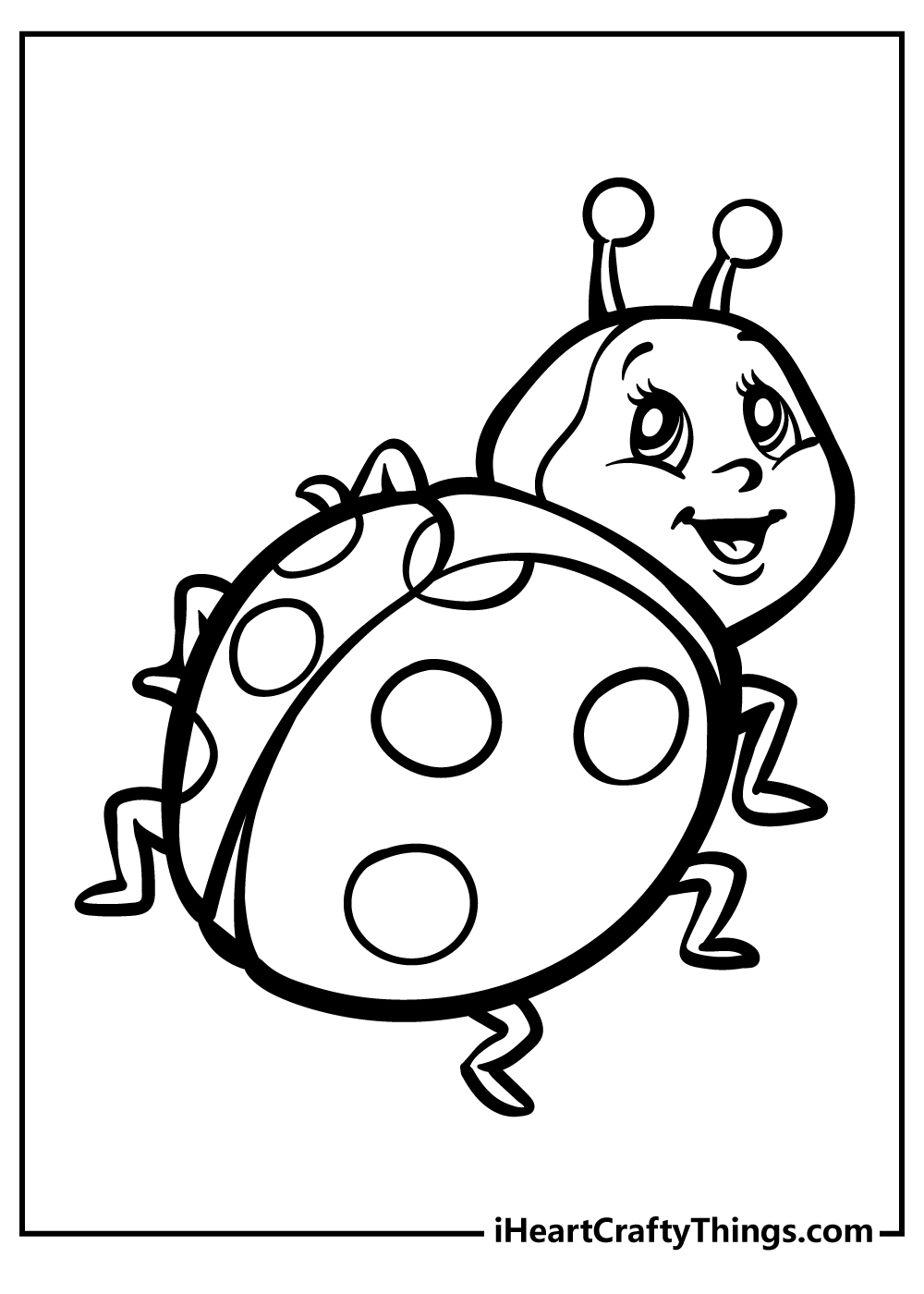 The next ladybug that we have for you to meet is another real cutie! This one has such a vibrant expression on its face, and it's ready for some amazing colors.
What sort of color palette do you think you will use for this adorable little ladybug? We know that whatever you choose will look amazing!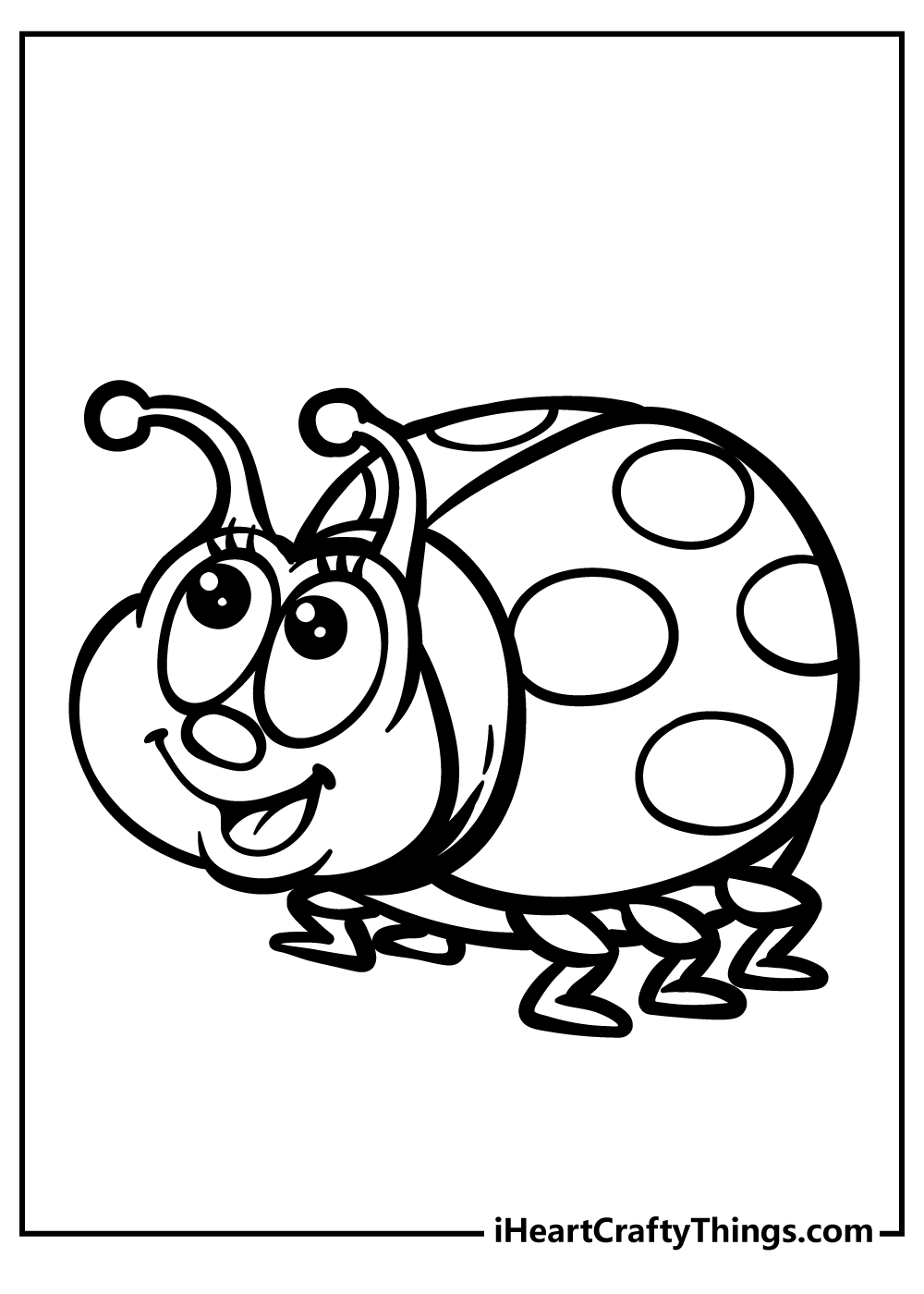 The third ladybug that we have prepared for you is also a really cute one. This one looks like it's aither about to take flight or already flying.
If you want it to look like it is flying, you could add some motion lines around it and add a background to show where it is zooming about!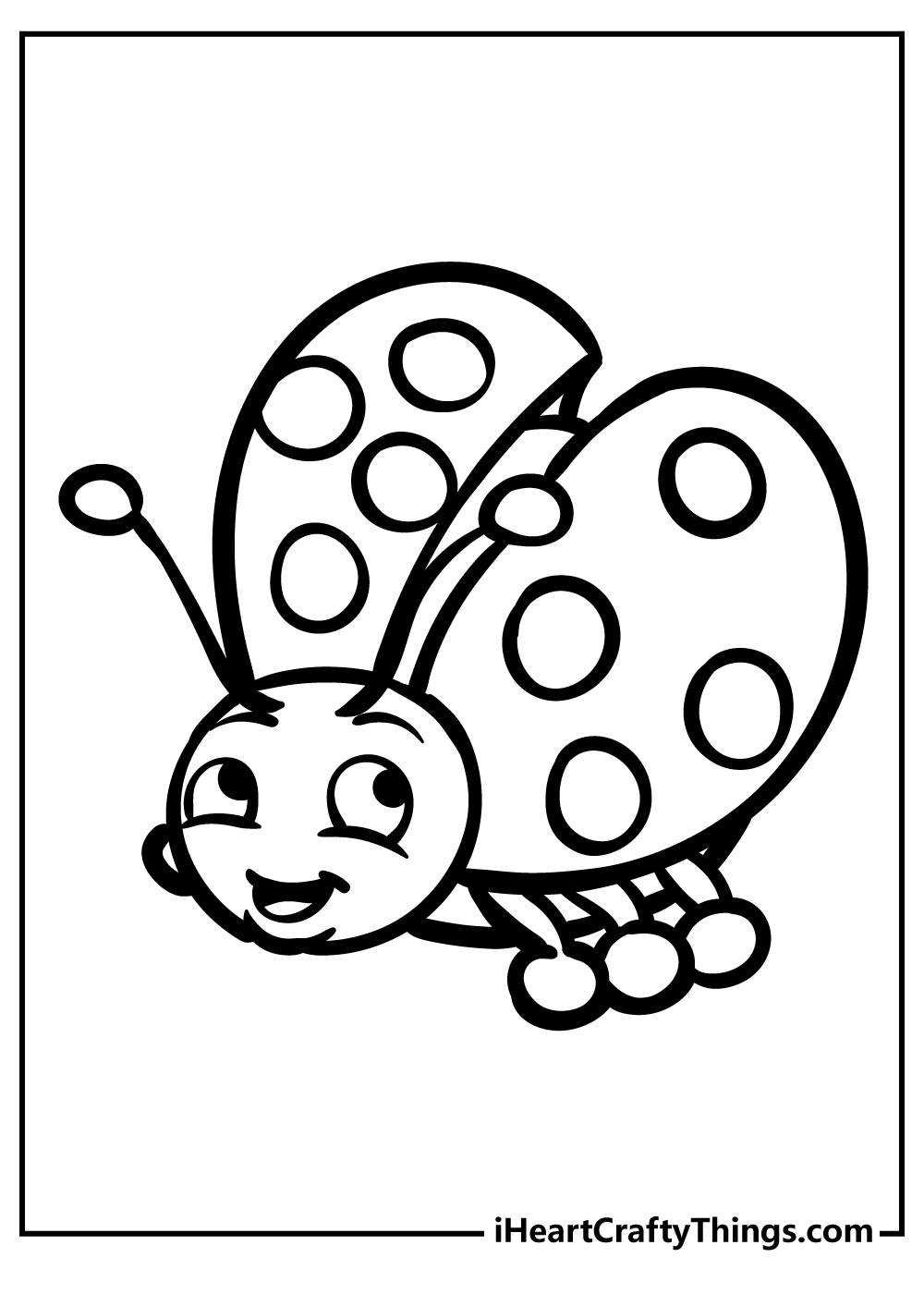 There is a mischievous look to this next ladybug that we really love! This one has a lot of character, and it makes for a really fun and quirky portrayal.
We think this one would look amazing with some equally fun and quirky colors! If you agree, which colors would you choose to bring this one to life?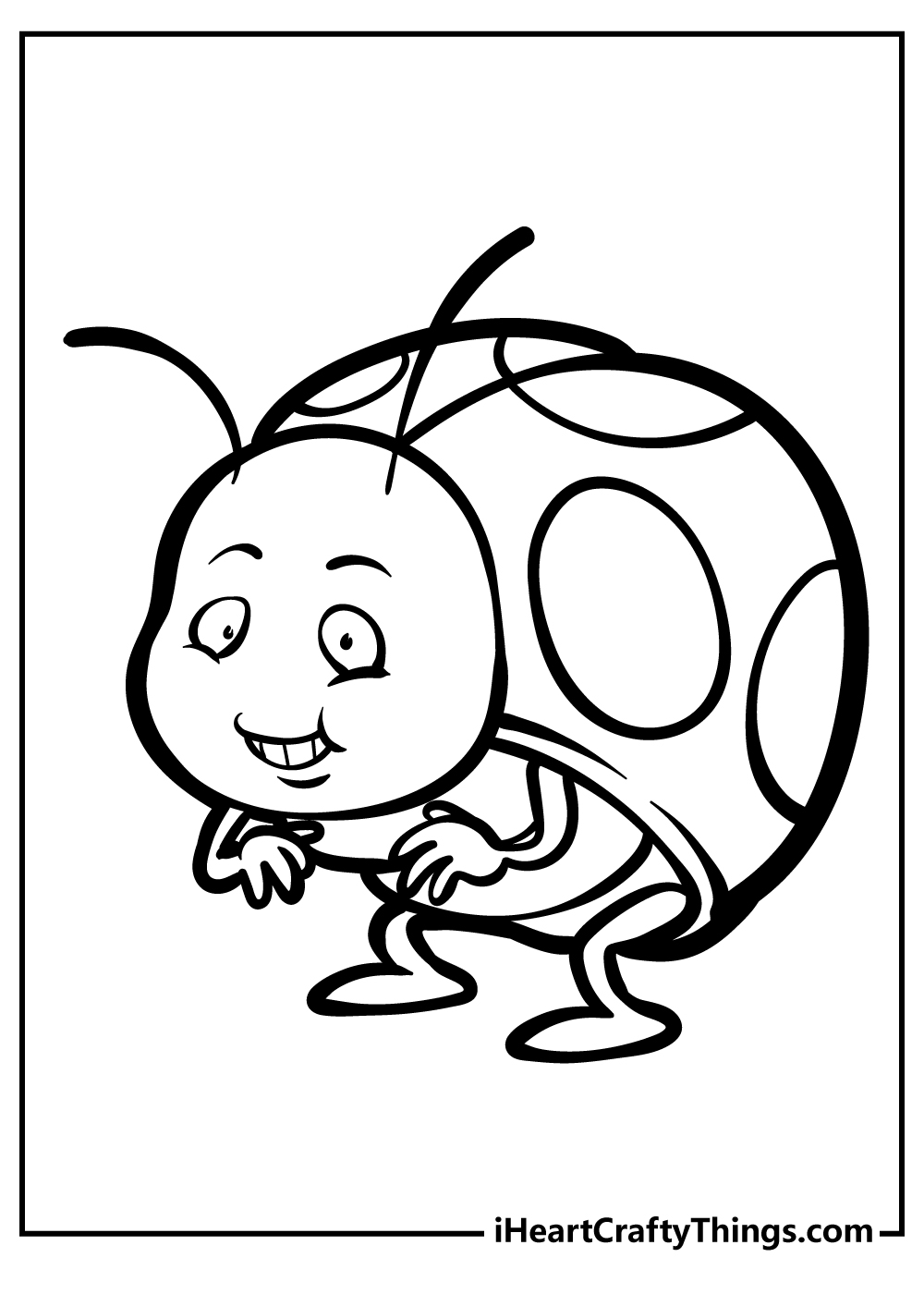 In this fifth ladybug coloring sheet, we have a very excited insect for you to color in. He looks to be very happy and pleased about something, and you can't help but wonder what has got it so excited.
You could show off what you think it is so happy about by drawing a bubble over its head to show what it is thinking about! What are some ideas you have?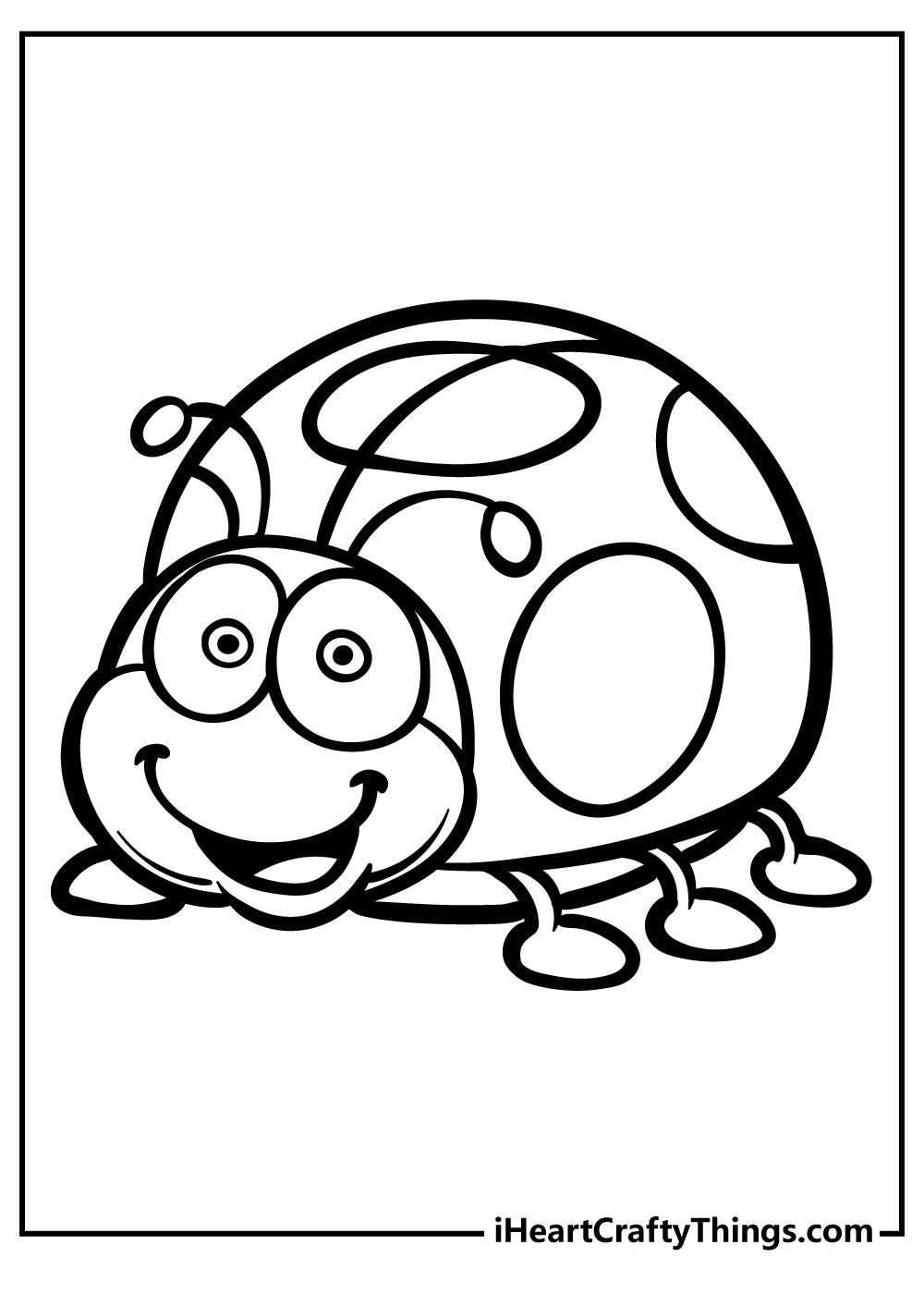 It's time to laze around on a big leaf for this next image. This happy ladybug is looking like it's having a great day, and we will make it even greater with some colors!
The best part of having a leaf in this image is that it allows for some lovely bright greens to make the image pop. we're sure this one will look amazing when it's done!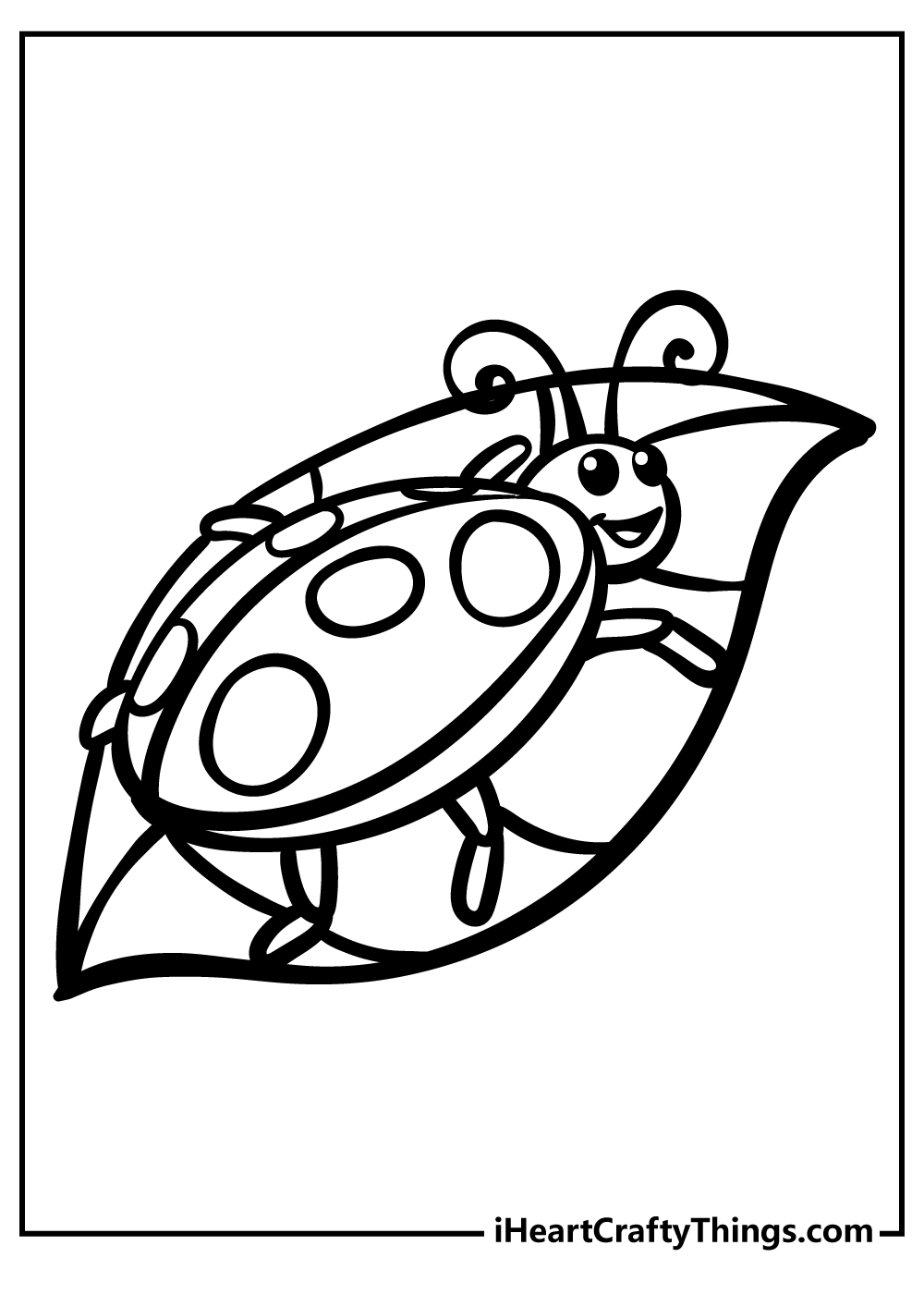 Wave hello to the next ladybug we have, as it is waving at you! This one is looking especially friendly, and it is another one that gives off a really happy feeling.
Which colors tend to make you the happiest? Whatever they are, you could use them for this happy little ladybug!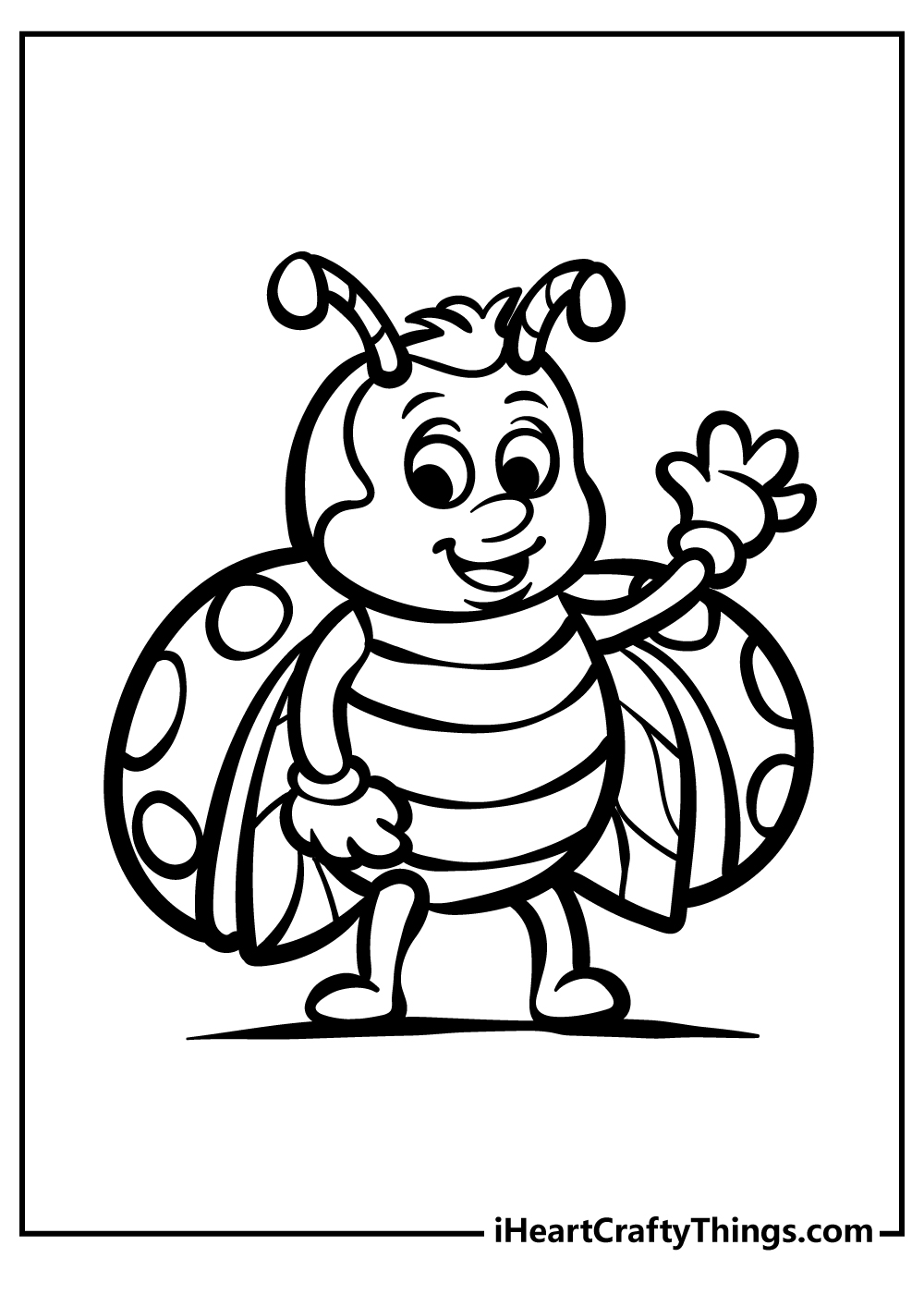 Another excited ladybug is here for some coloring fun! In this image, the background has been left quite wide and blank, and that opens up opportunities.
It could be fun to draw a background here, and there are many fun places you could put this insect. What are some locations you think this ladybug could be hanging out in?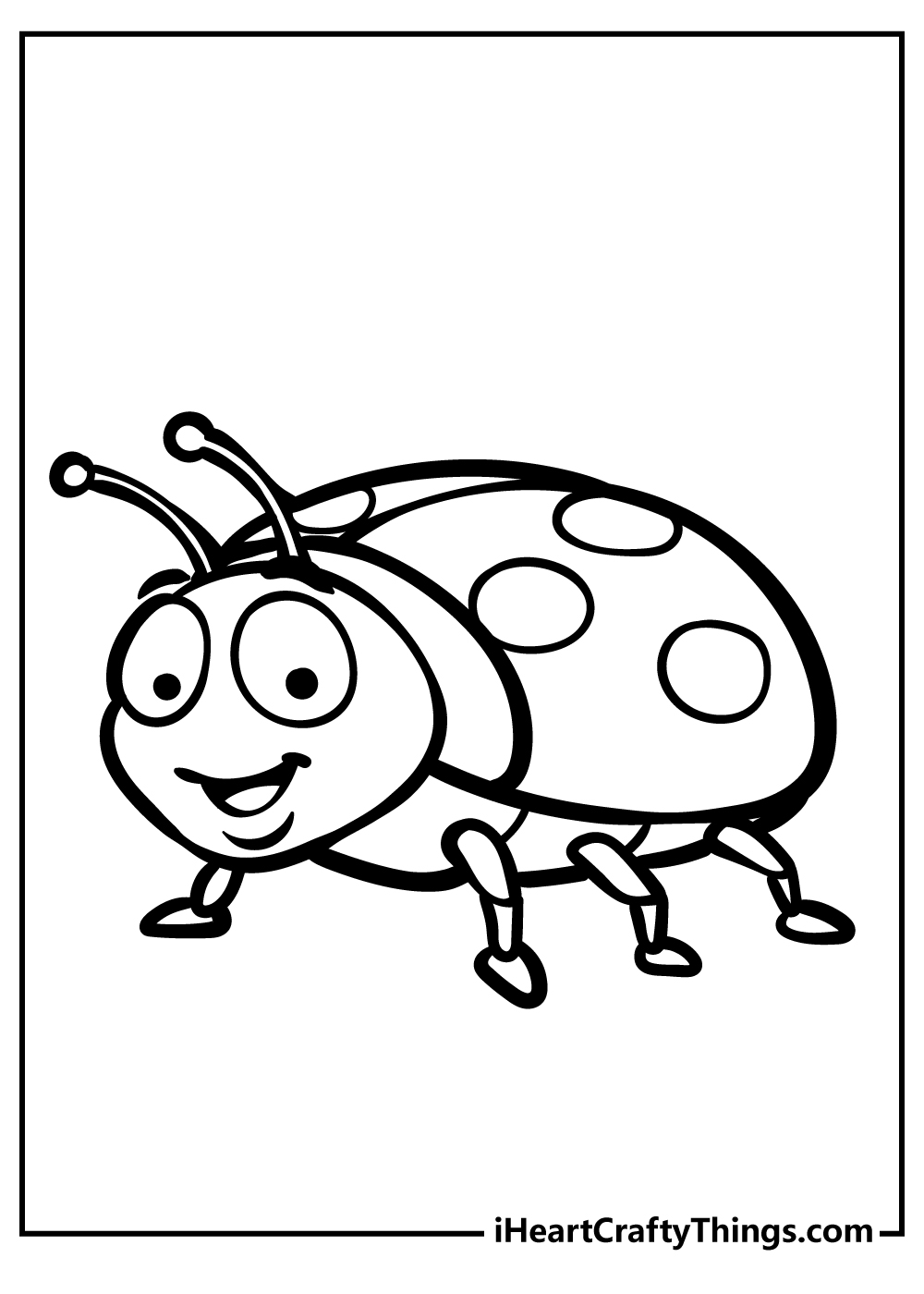 Get ready to take flight in this next ladybug coloring printable! This little one is zooming around while looking very happy.
It's another image where the background is left blank, and by filling it in you could also show where this one is flying to or from.
You could also use wider swatches of color in the background to give the impression of fast movement, so you have a few options to choose from.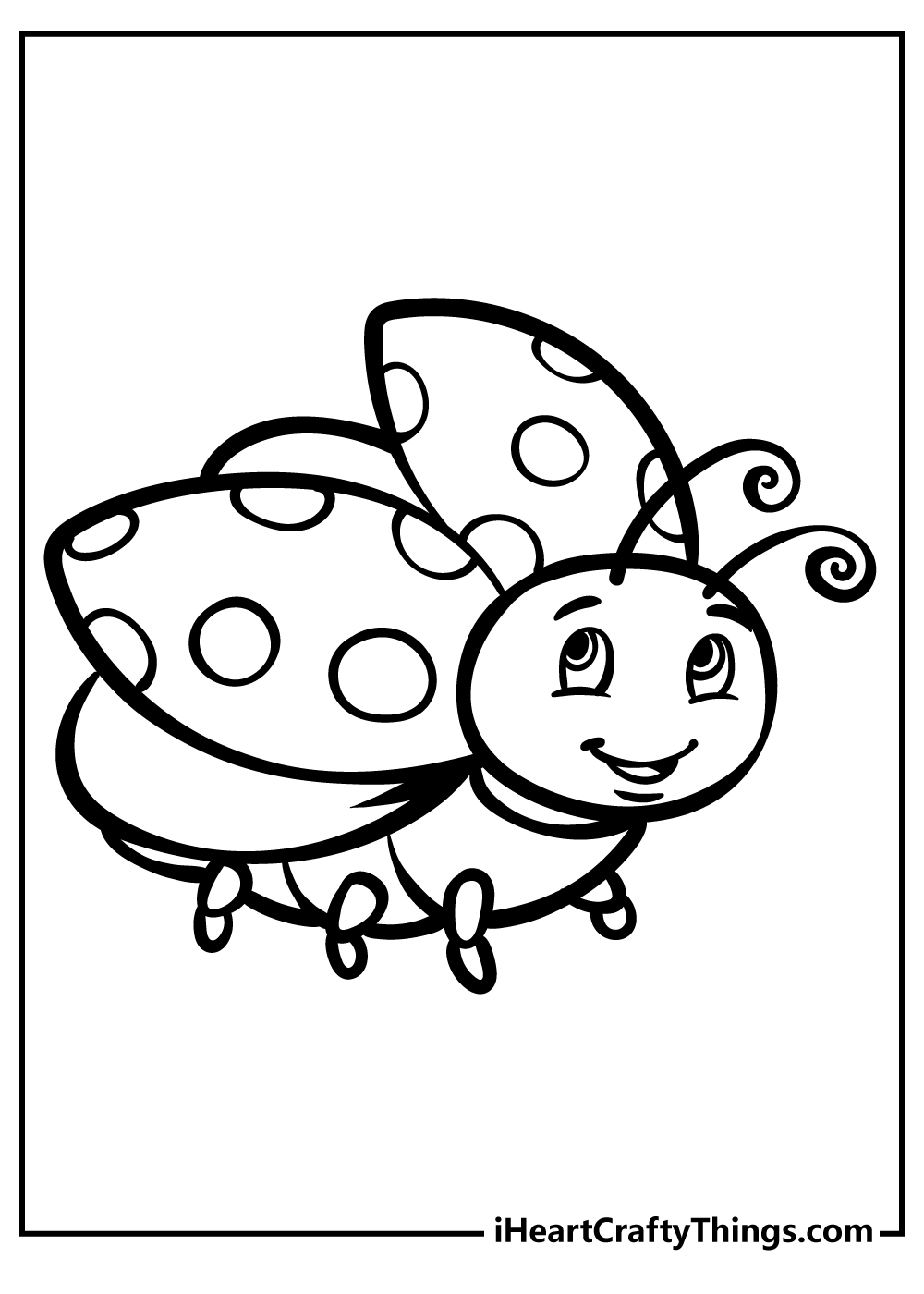 What a cute scene we have for you in this next one! This happy ladybug is tending its very own little garden of flowers, and it makes for a really pleasant scene.
The flowers will look great with some bright colors, and you could even add some more flowers for some extra details.
What favorite flowers would you add to this one?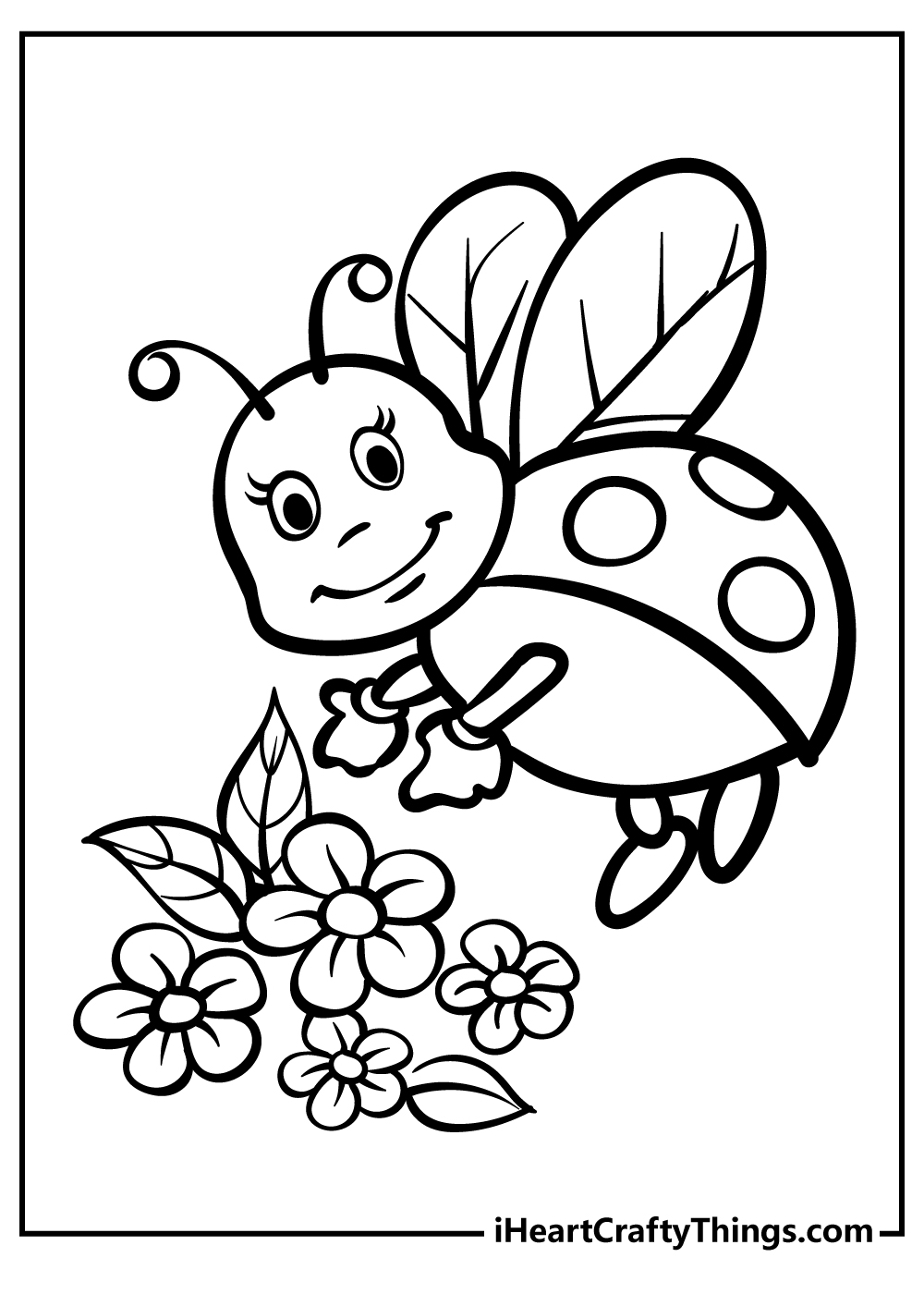 This next page is a bit simpler than some of the previous ones, but this ladybug is no less cute!
We love the simplicity of this image, and if we were coloring it we would use minimal but bright colors when filling it in.
Mediums like colored markers or pens would help to give this image a beautifully bright and vibrant look as well!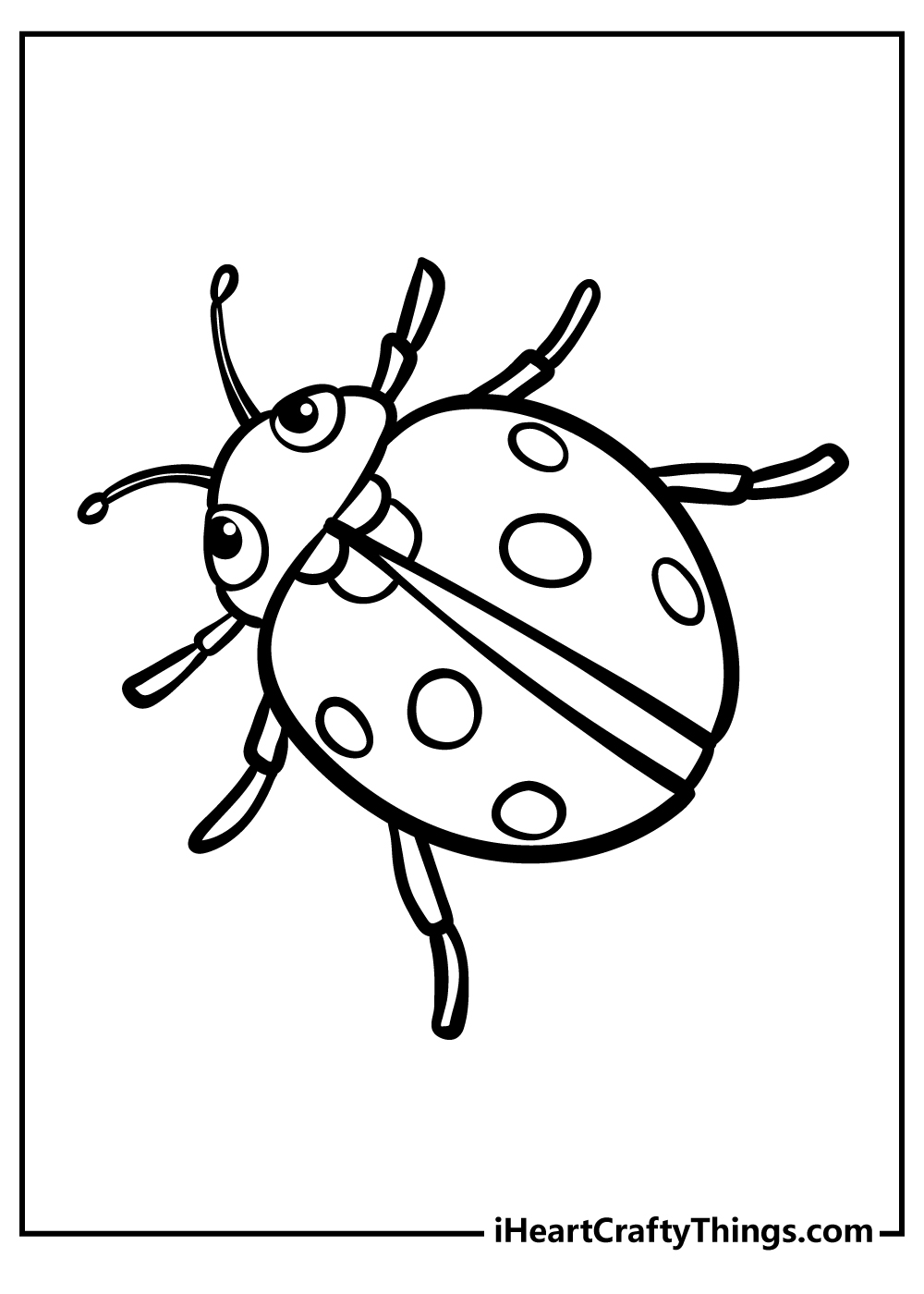 We're buzzing around again with this next image! This ladybug is flying somewhere, and its leg is extended up.
This could be to show it's waving, but you could draw in something for it to be holding as well. One idea would be a little teacup, but what else can you think of?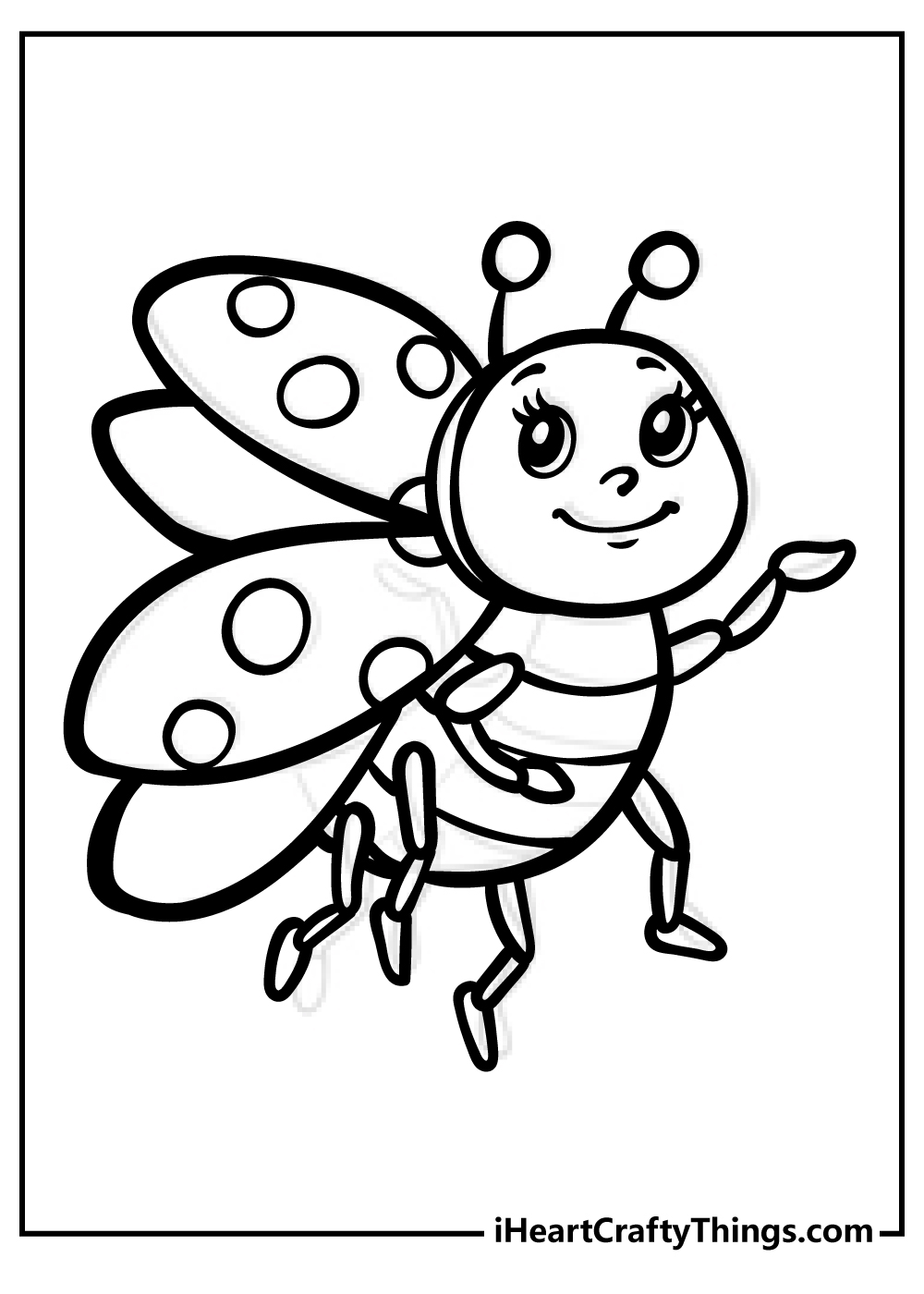 It's time to simplify things a bit again with this next picture. We get a nice close view of this ladybug, and even though it is a bit simpler there are still some amazing details to color in.
Do you think you will go for some bright and vibrant colors or keep things more muted?
We would maybe use lighter colors done in watercolor for this one, but anything you use will look beautiful!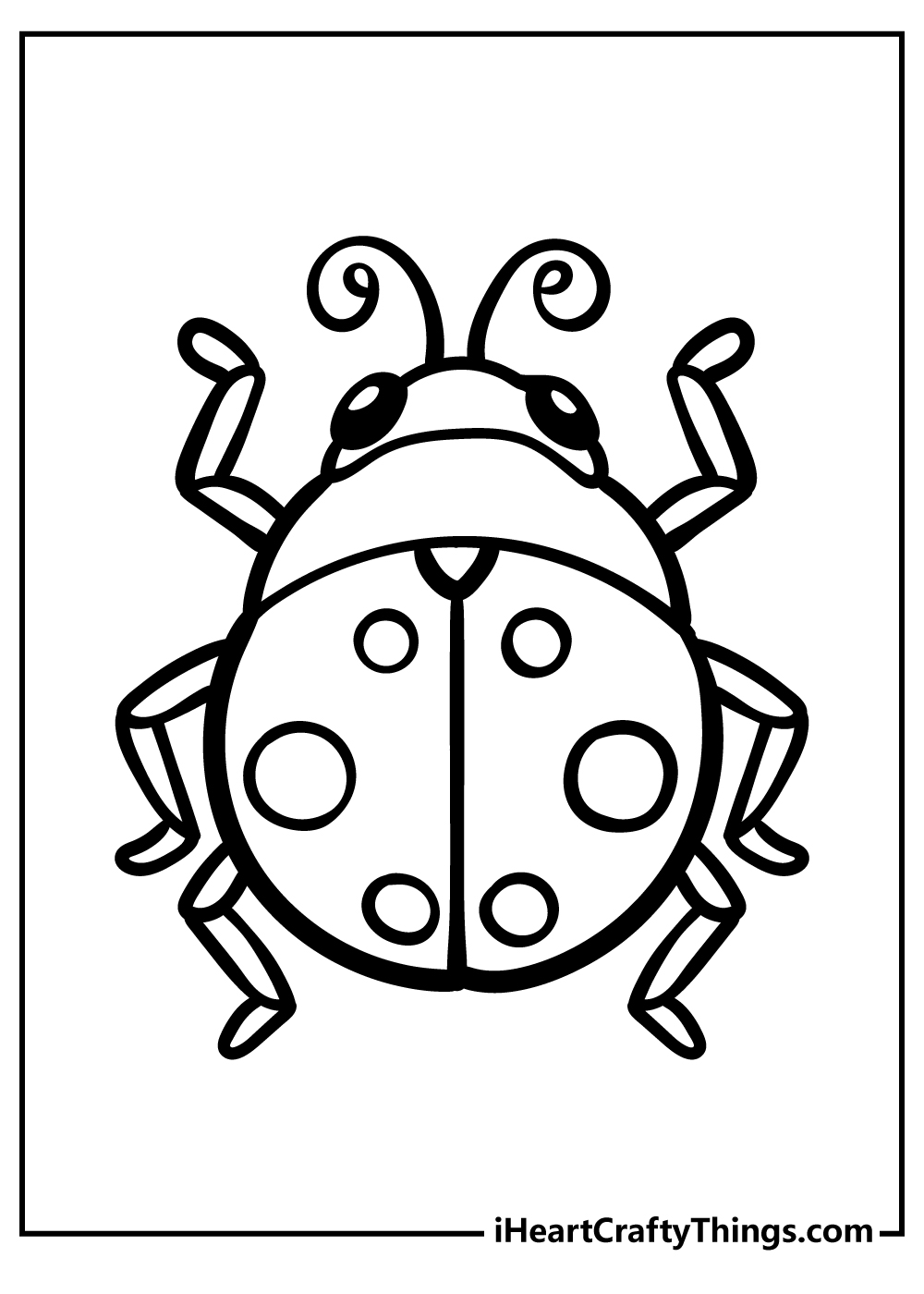 A ladybug on a leaf will usually be a happy ladybug, and that seems to be true for this lucky fellow!
Once again, you could use some lovely greens for the leaf, and that would contrast beautifully with the red of the ladybug's shell if you go for that look.
Then, you will be ready for the final picture of the collection!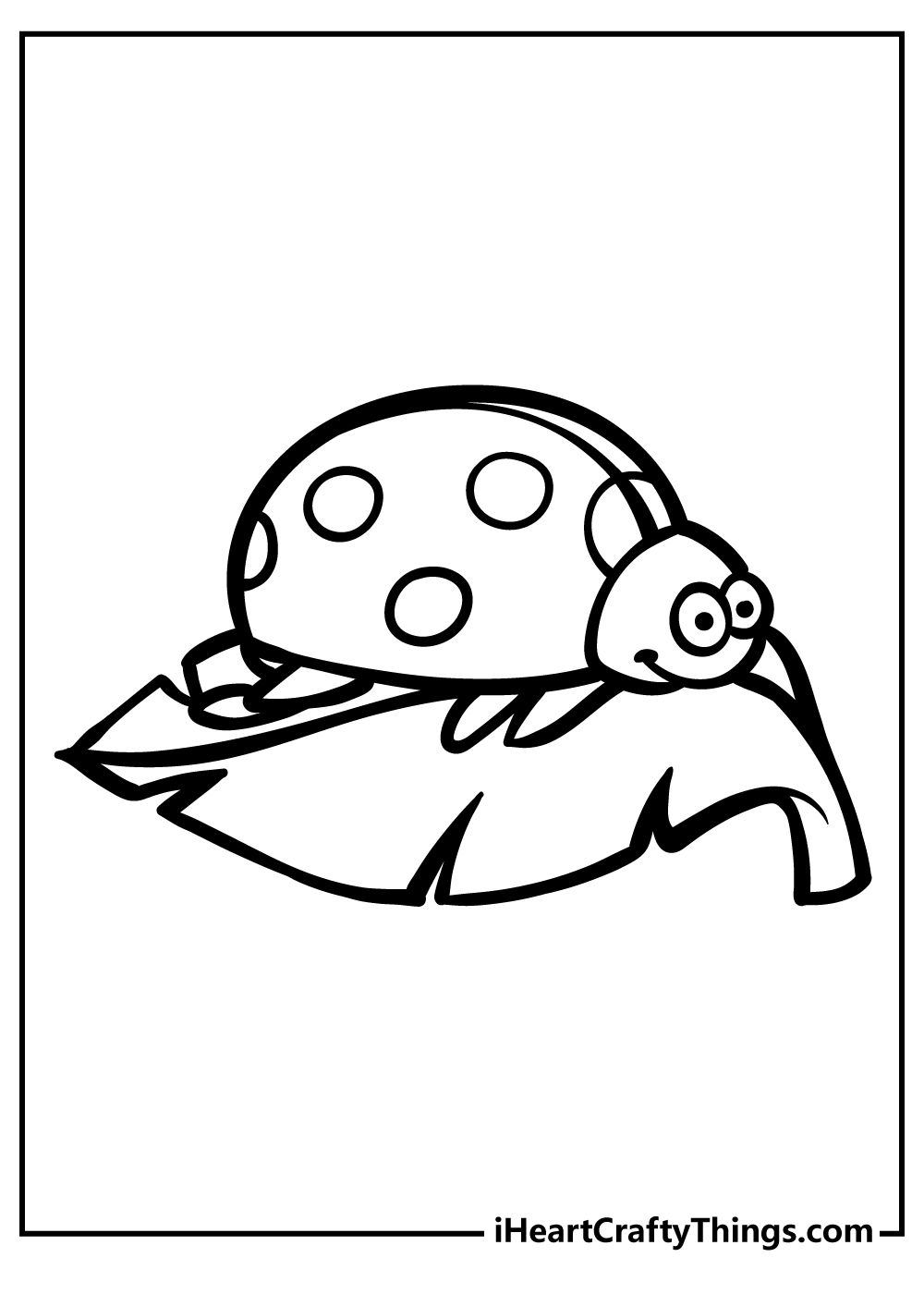 This last ladybug coloring sheet that we have for you is another cute portrayal of this famous insect!
For this final one, why not use some unique colors and mediums that you haven't tried out yet so that this one will stand out even more? We can't wait to see how you close off the collection!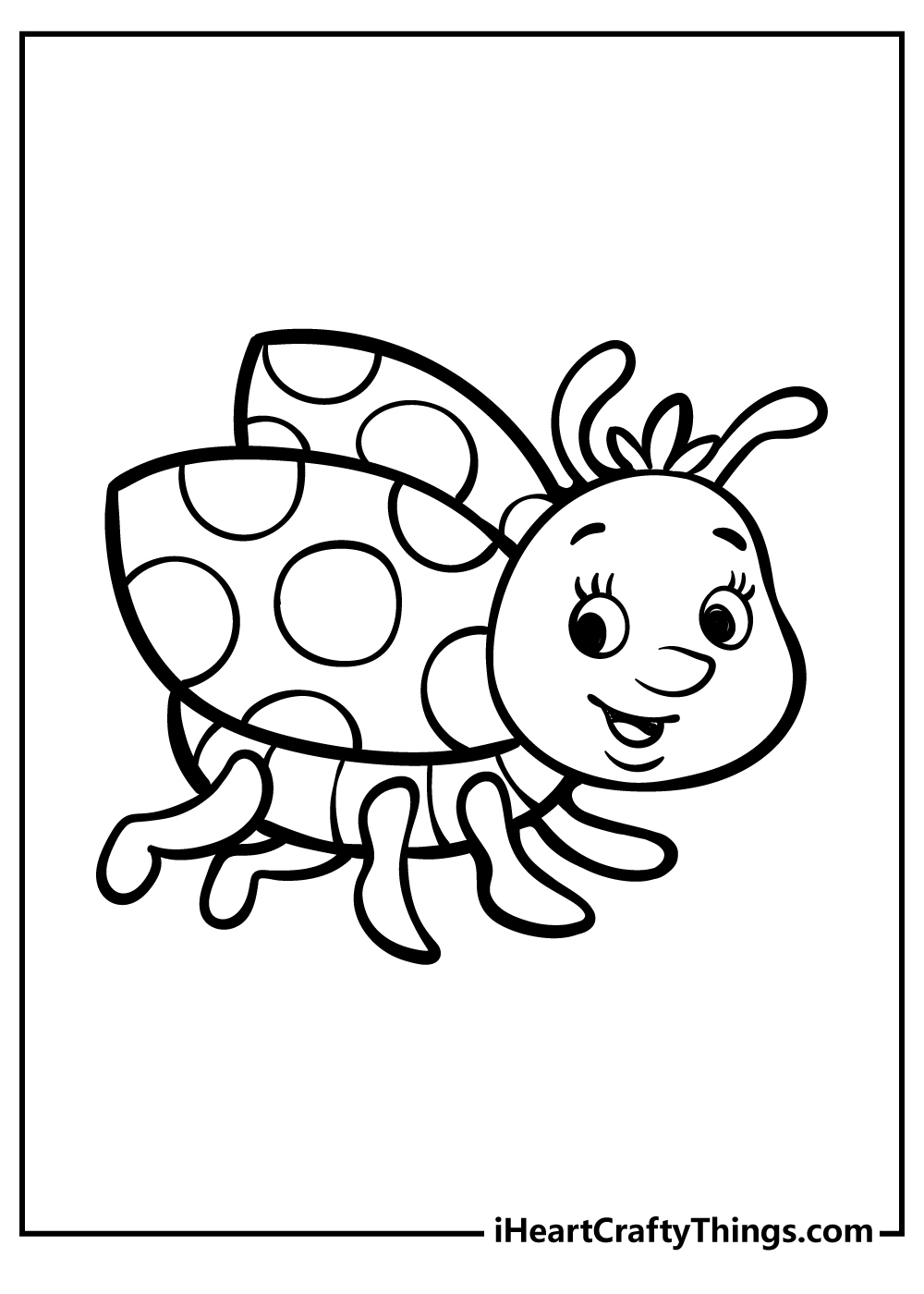 Ladybug Coloring Pages – Which will you choose?
We really hope that you had a great time working on this collection of free ladybug coloring pages for kids! Remember to share all of these pages with others so that you can really spread the joy.
We would also love to see how some of these pages turned out, so please do share some of your finished artworks on our Facebook and Pinterest pages for us to check out.