On this page, you will find 20 all new Bee coloring pages that are completely free to print and download.
In every colony, there's a single queen bee, tens of thousands of female worker bees, and hundreds of male drone bees. The queen bee, considered as the leader of the colony, is responsible for producing eggs.
The worker bees are responsible for preserving the survival of the colony, they do everything from collecting pollen and nectar to protecting the queen and the hive. Drones have only one task: to fertilize new queens.
Bees are, without a doubt, fascinating creatures. Thus, we have created and compiled 10 bee coloring pages for your coloring activity needs.
With these free bee coloring printables, coloring activities are made more fun and easy. Simply choose the image you like, download it, print it out, and finally—the most fun part—color it!
Have fun transforming these colorless bees into colorful ones!
REMEMBER: You can get the COMPLETE set of these coloring pages >> HERE
Bee Coloring Pages – Brand-New Printable Sheets
Did you know that a swarm of bees in a hive appoints a queen bee whose job is to produce eggs? This bee coloring page shows a fabulous queen bee wearing a crown. She looks so happy with that huge smile on her face, appreciating all the beautiful flowers surrounding her.
Imagine being a queen Bee with lots of worker bees looking after you. We think queen bees are living the dream life!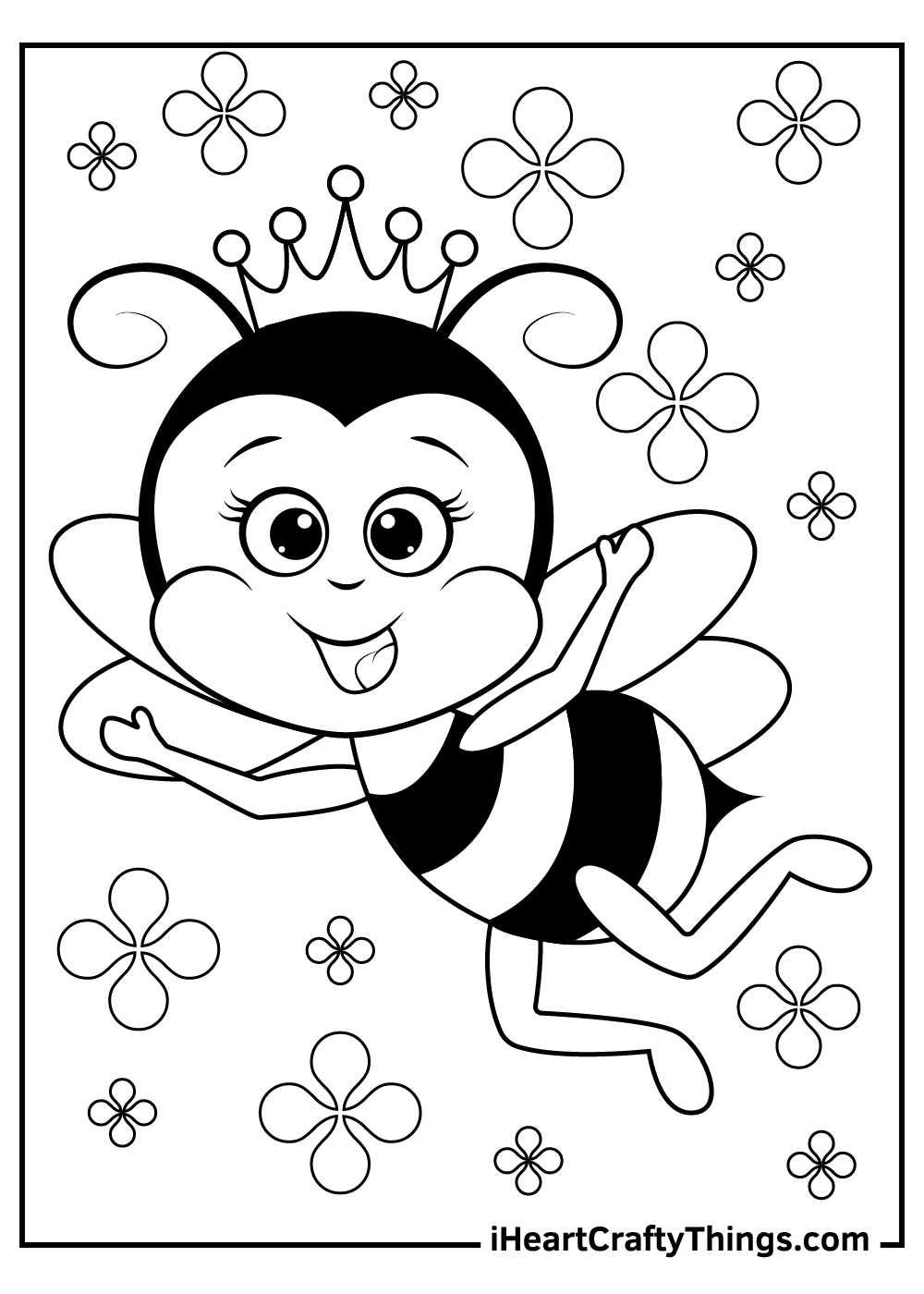 Lovely flowers are blooming during springtime! The queen bee in this bee coloring pages is definitely loving it.
She's flying around, relishing all the beautiful flowers around her. She probably can't wait to get a taste of the pollen from these flowers! What colors will you use to make the flowers in the background colorful?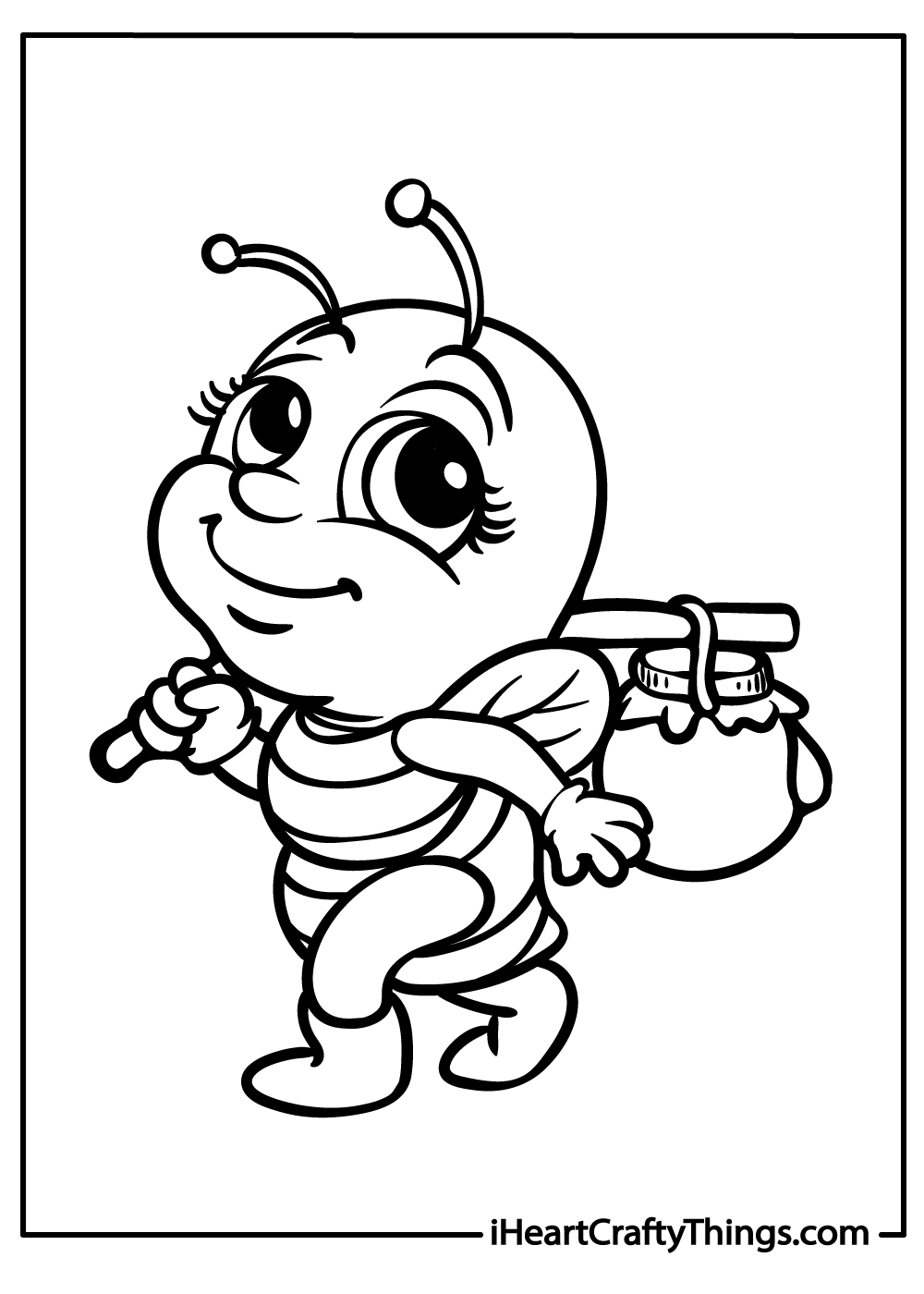 Do you love honey as much as this bee does? This bee coloring page features a young bee carrying a honey pot with a stick over its shoulder. It's wearing a striped shirt that matches its body and has a big happy smile on its face.
You can color this bee with different shades of yellow and black, or use your imagination and choose any colors you like. You can also add some glitter or stickers to make your honey bee sparkle.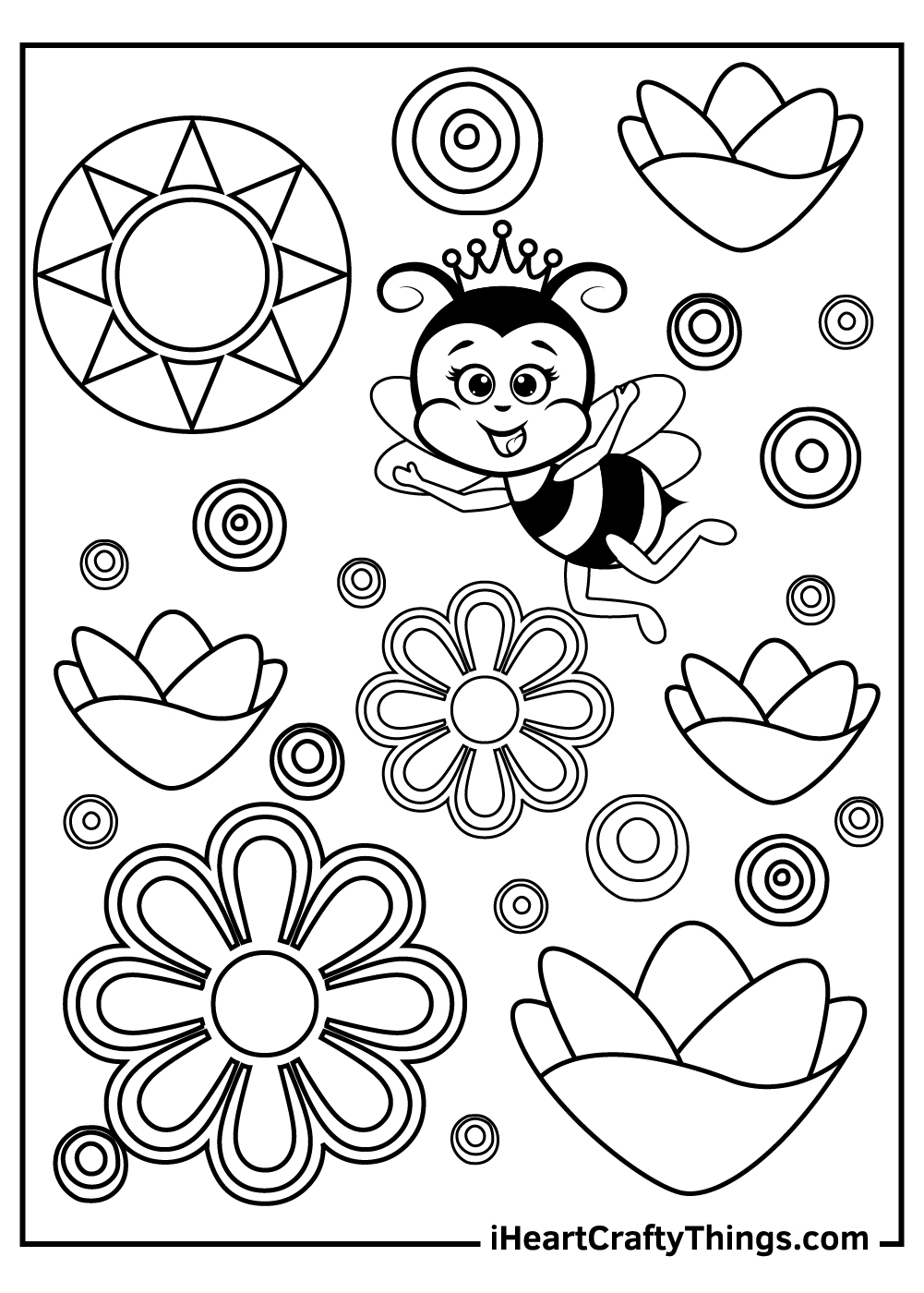 The bee is definitely having a good day on this bee coloring page. It looks cheerful with its huge gleaming eyes and wide beaming grin. This worker bee must be happy after a long day working because it was able to make lots of honey!
In the background, there's a huge beehive and honeycomb with perfect hexagon shapes. What colors will you add to this coloring printable?
REMEMBER: You can get the COMPLETE set of these coloring pages >> HERE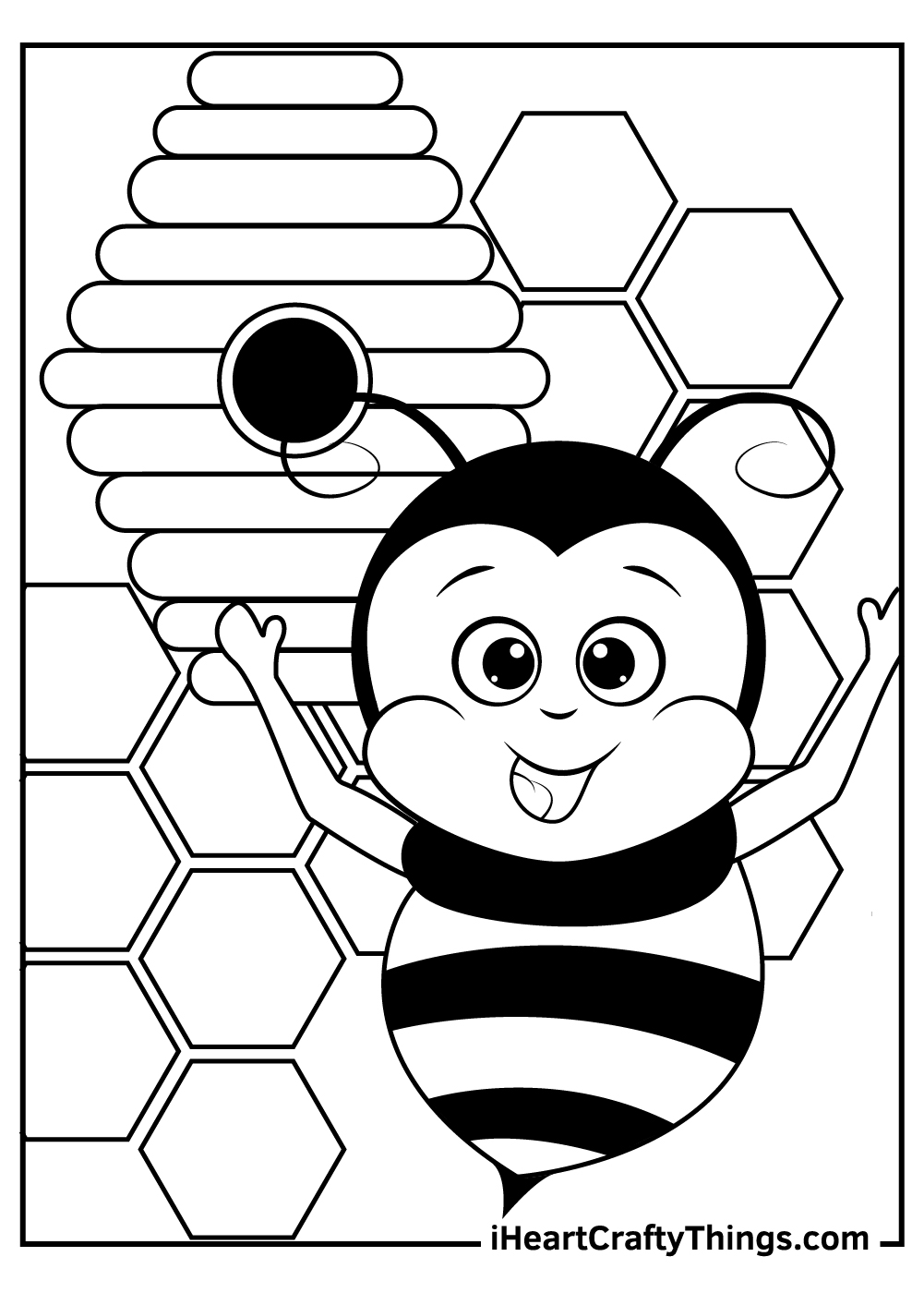 In this bee coloring page, there's a bee sitting at the top of a beautiful flower. This bee looks adorable with its sparkling eyes and wide smile.
It looks like it's in an extremely good mood too! Surrounded with lots of flowers, it seems like this bee had a very productive and successful day foraging for pollen and nectar.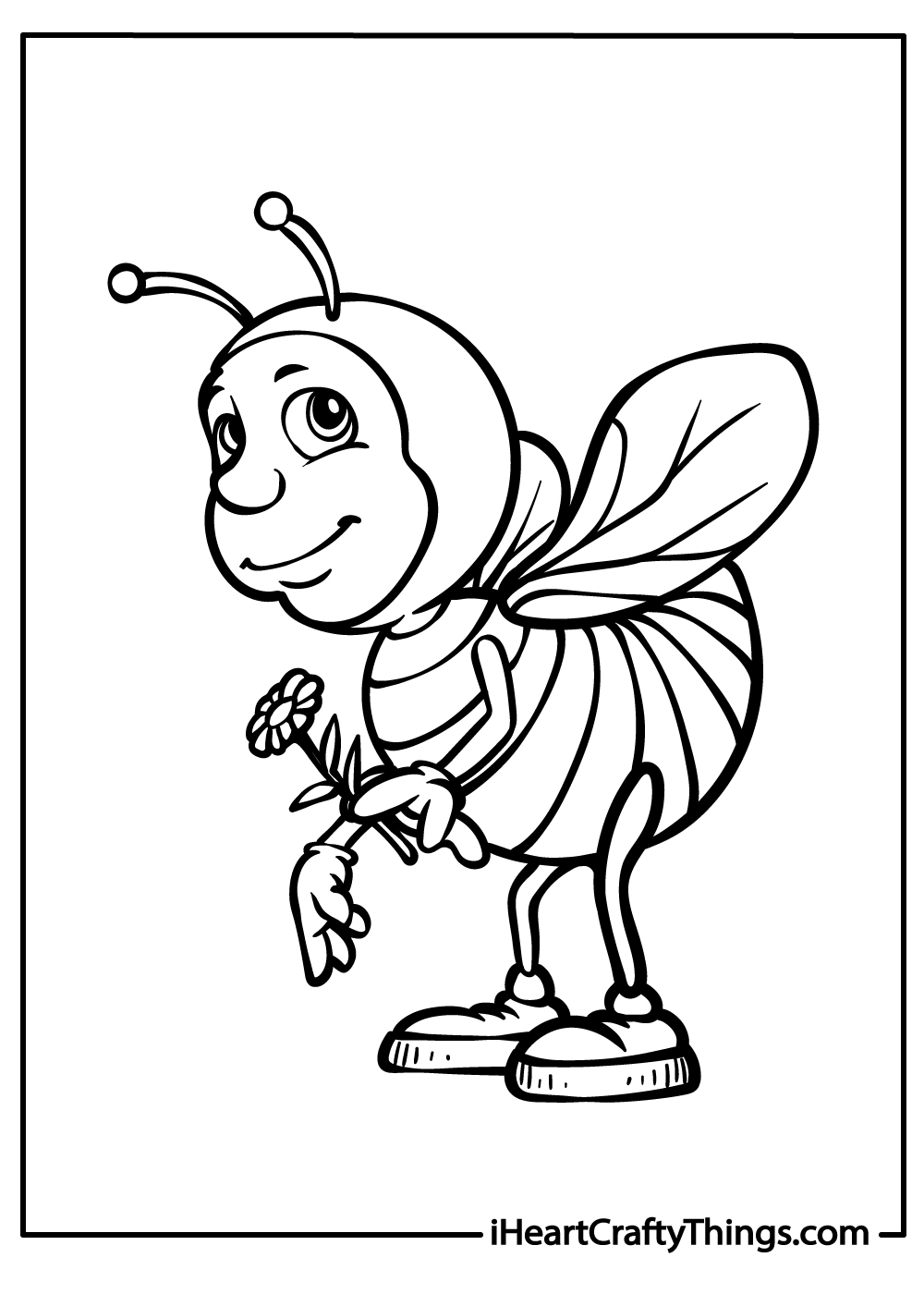 Meet this cute and cheerful bee who loves to collect nectar from flowers. It has found a beautiful flower and it's holding it in its right hand. His wings look ready to help him fly to another flower.
This bee has big, bright eyes and a friendly smile. He also has shoes on his feet that make him look stylish.
Can you color this bee and his flower with your favorite colors? What kind of flower do you think it is?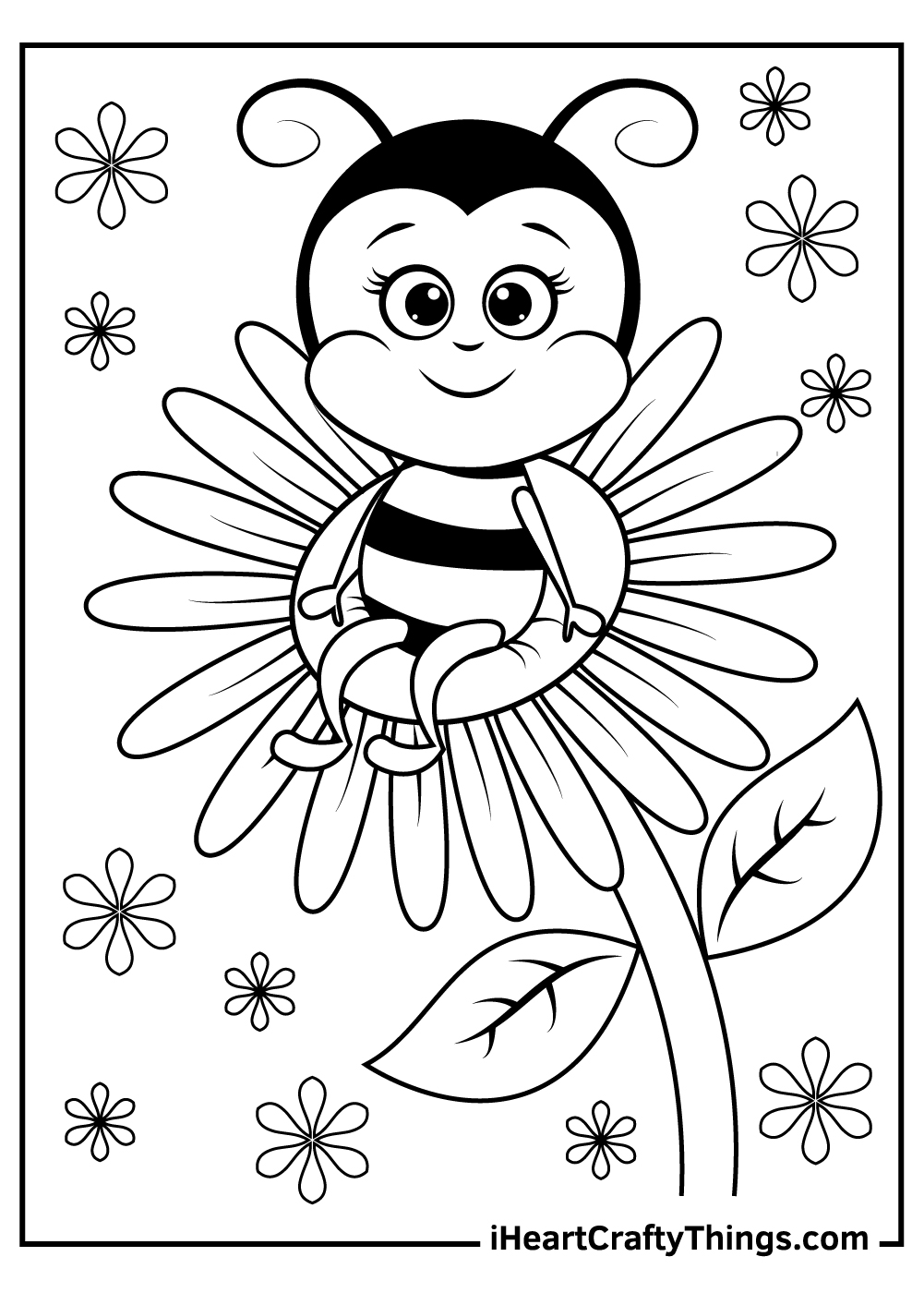 Bees are very hard-working insects, as shown in this bee coloring page. Every bee in a colony plays a significant role.
In this case, the bee wearing a crown is the queen bee while the other is a worker bee. They are creating honey and storing them in the honeycomb. There's a huge honey jar at the bottom, filled with sweet honey—so yummy!
REMEMBER: You can get the COMPLETE set of these coloring pages >> HERE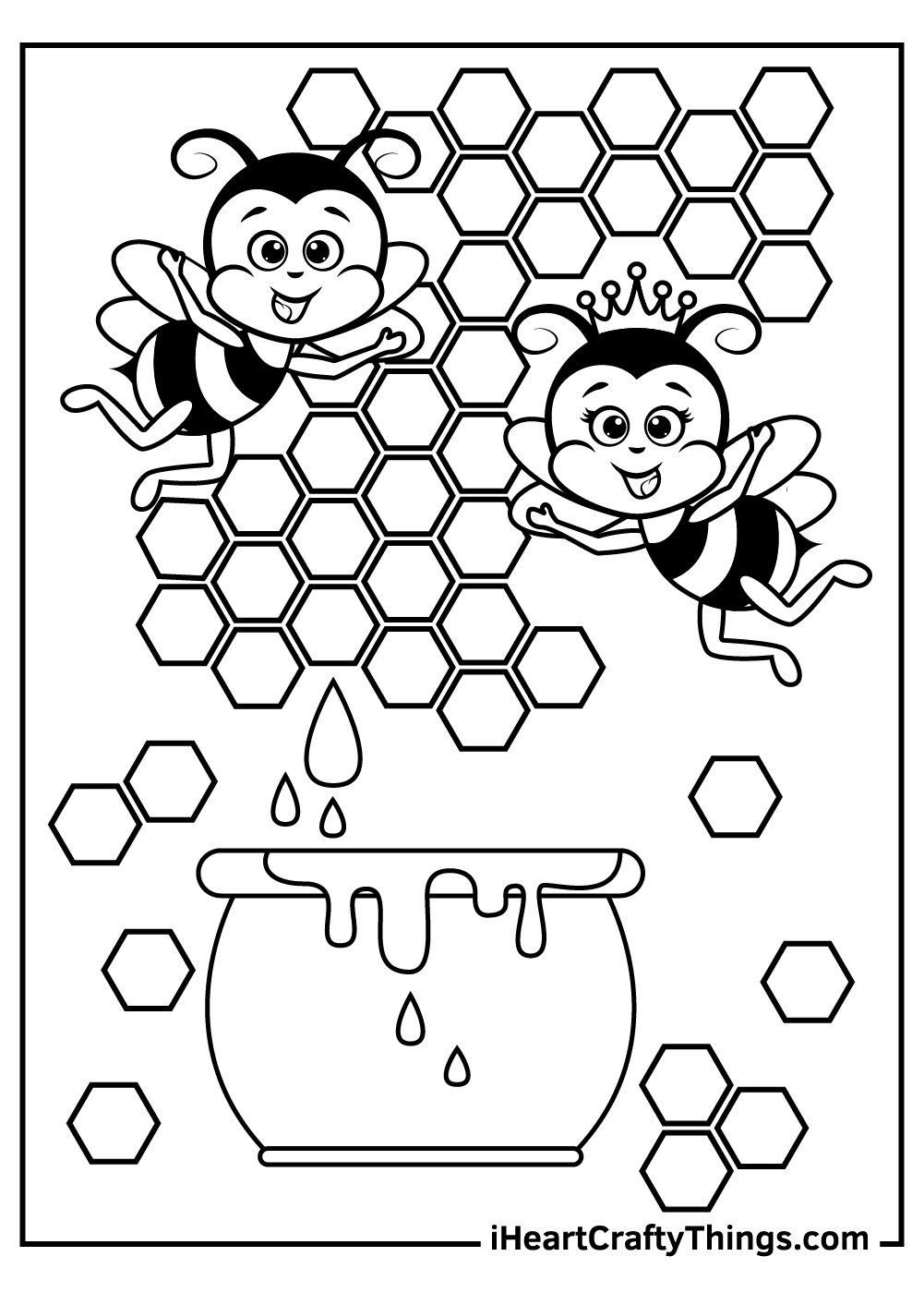 Did you know that there are over 250 species of bees? With that huge round butt, we think the bees in this bee coloring page is a bumblebee. They are lined up in this image alongside various types of blooming flowers.
Bumblebees are one of the many species in the bee family. They have significantly larger bodies in comparison to ordinary honey bees. They share the same purpose and behavior with the honey bees, but their colonies are typically smaller.
REMEMBER: You can get the COMPLETE set of these coloring pages >> HERE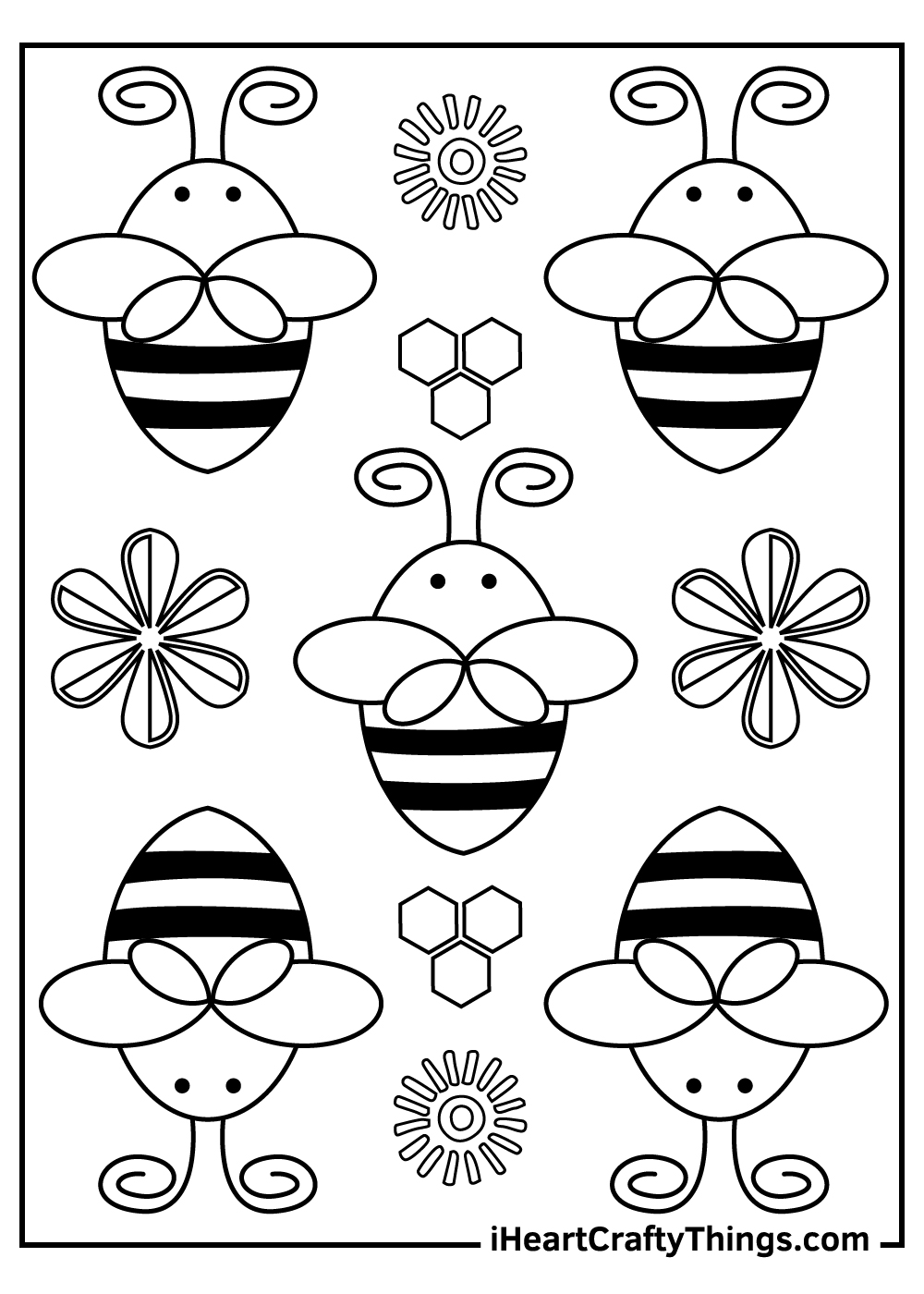 It's a good day to collect pollen and nectar on this bee coloring page. The bees are swarming around the flower, enjoying its sweet nectar.
Bees keep the pollen and nectar they gather on saddlebags that hang on their hind legs. Then they bring the stored food back to the hive to feed other bees in the colony and turn some of the nectars into honey.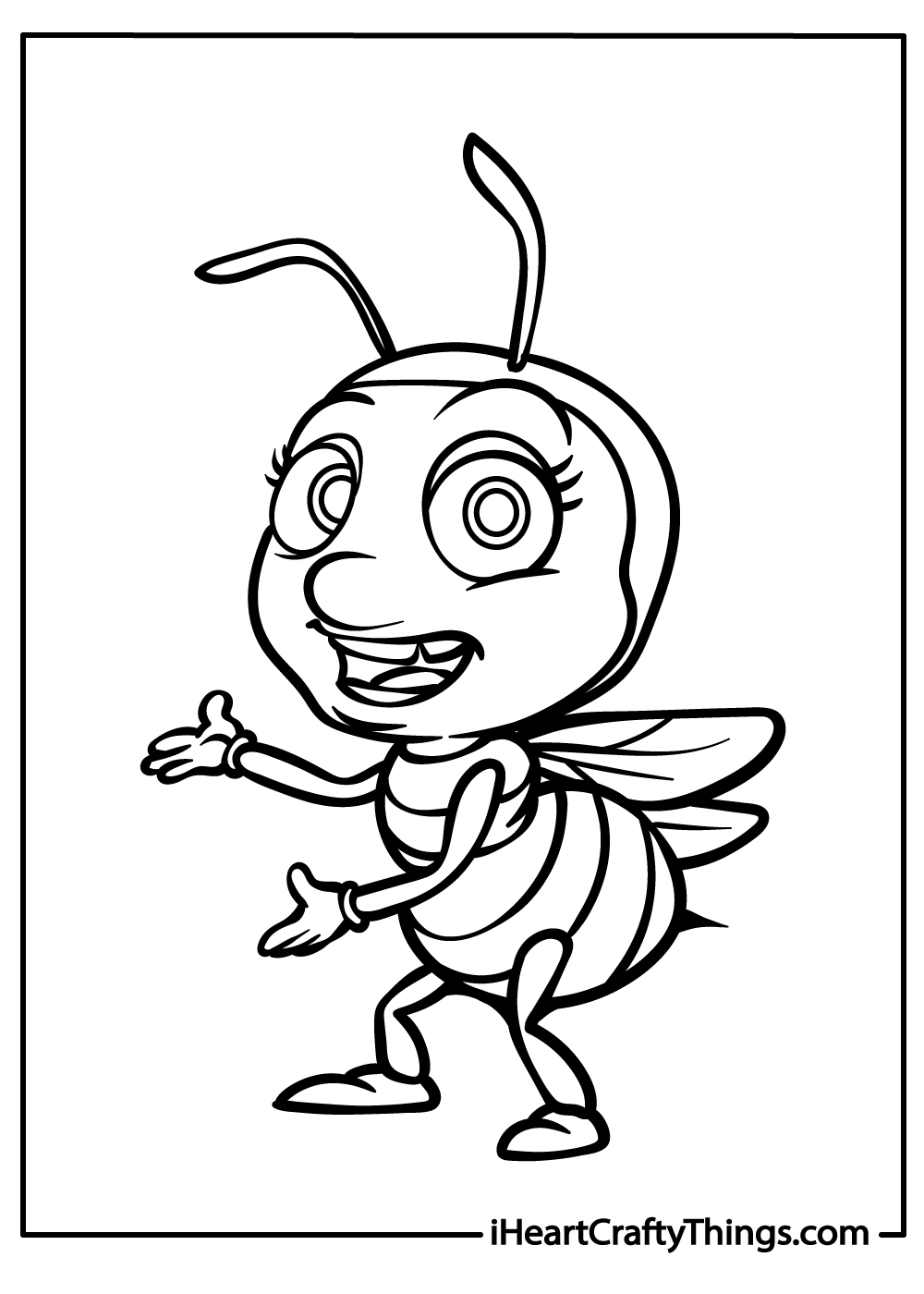 Did you know that bees can communicate with each other by using different movements and sounds?
The bee in this bee coloring page is using his hands to say hi and warmly welcome you into his hive. It's also possible that he's showing you his big stash of honey.
This bee is not only cute, but also very kind and helpful. His big eyes are lit with joy and curiosity. He looks very cheerful and loves to make new friends.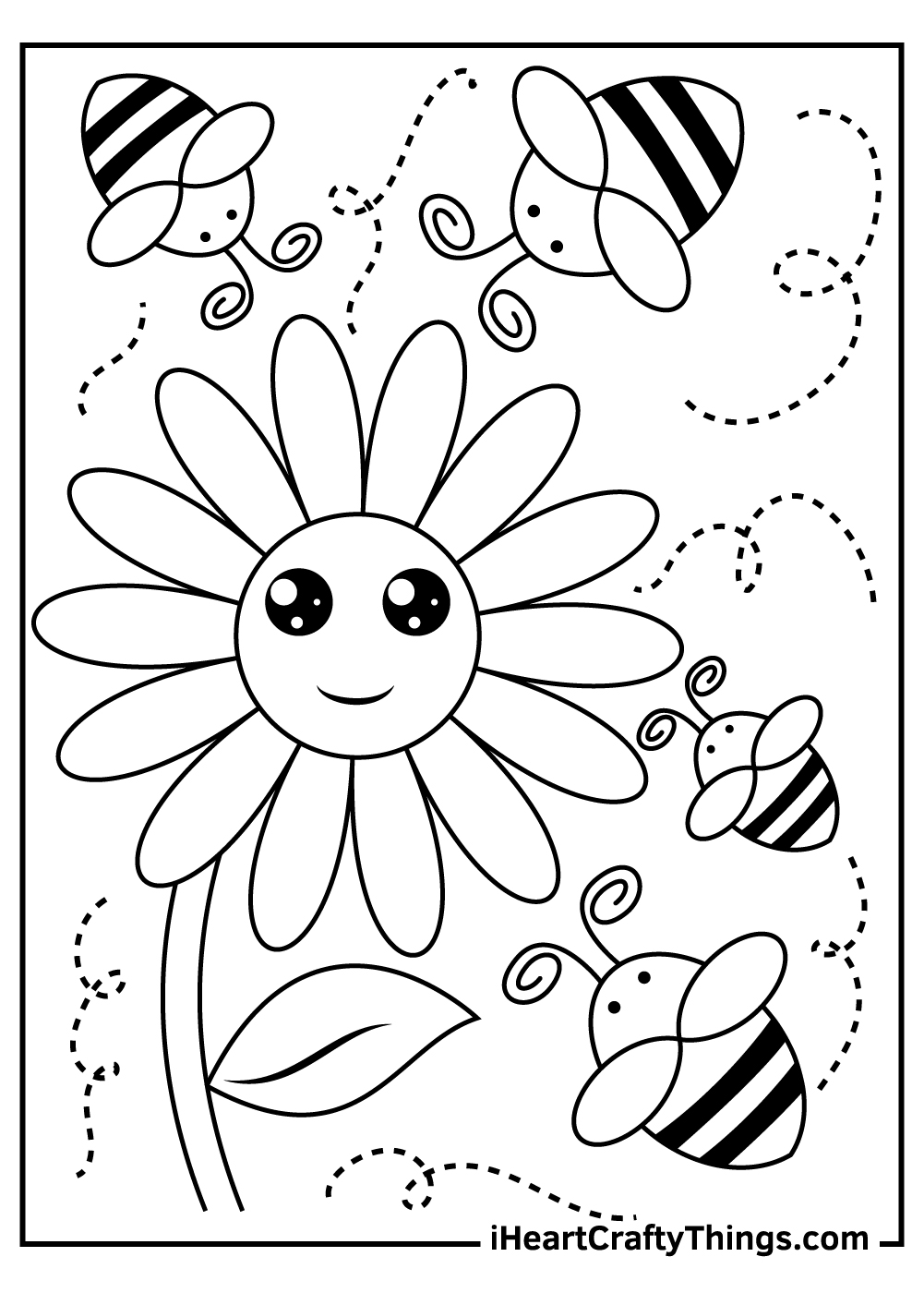 Did you know that a single hive can house up to 60,000 bees? The huge hive in this bee coloring page has lots of bees swarming all around it.
They appear to be flying back to their home after a long and tiring day of collecting nectars and pollen. The young bees inside the hive are most probably excited for the food!
In this bee coloring page, there's a short quote that says "bee happy". Above and below the text, there are two happy bees with huge grins on their faces.
The bee at the bottom is eating honey straight out of the jar. It looks extremely full with its bloated tummy and satisfied facial expression. Look at their chubby cheeks and gleaming eyes—so cute!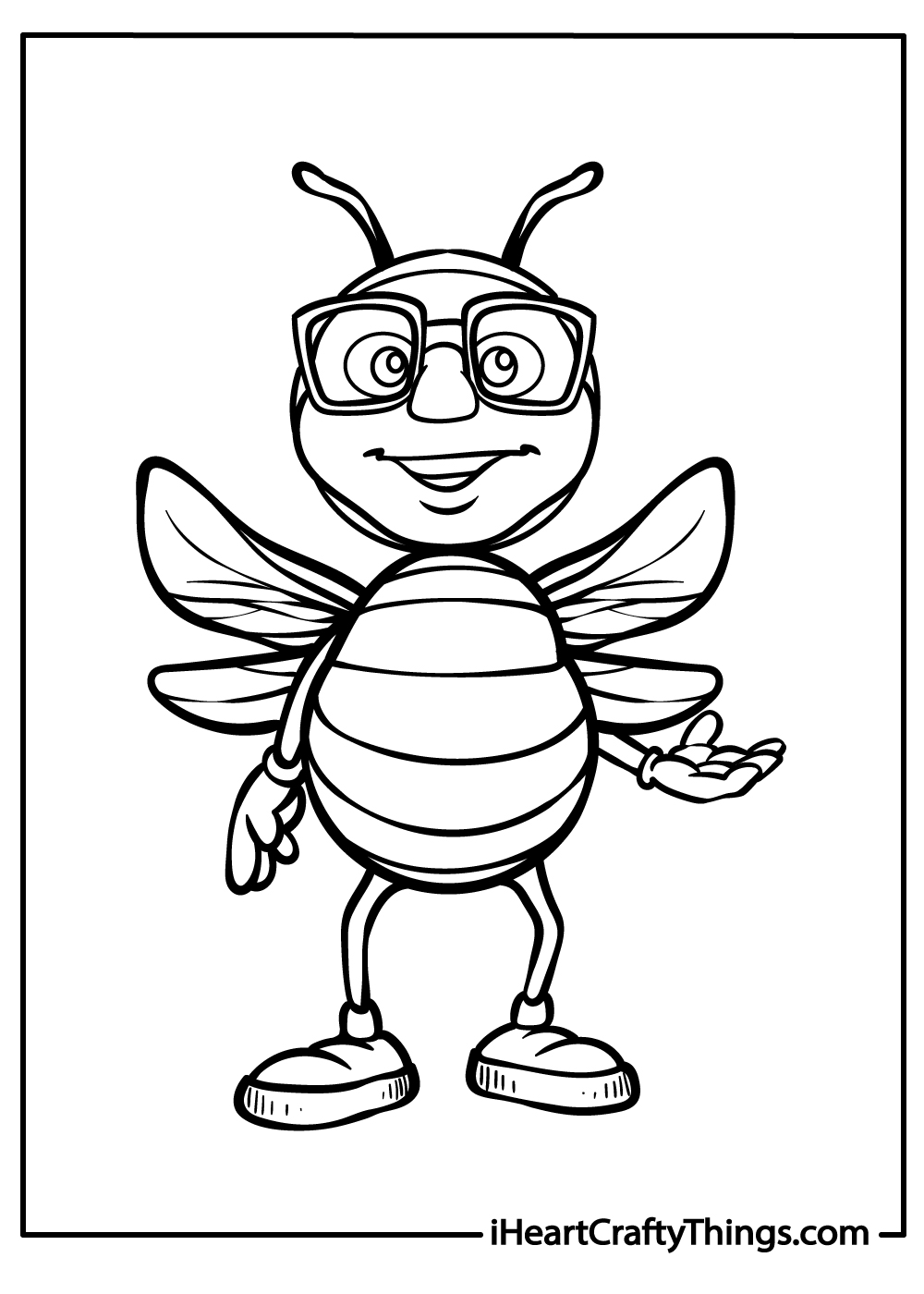 Bees have five eyes. Two large compound eyes that help them see in all directions, and three smaller ocelli that help them sense light and dark.
So, why is this bee still wearing glasses if he already has five eyes?
Well, it looks like he's up for some fun. His rectangular, thick-framed glasses only make him look cooler. He also has a big smile on his face and a gesture that says "Look how cool I am!"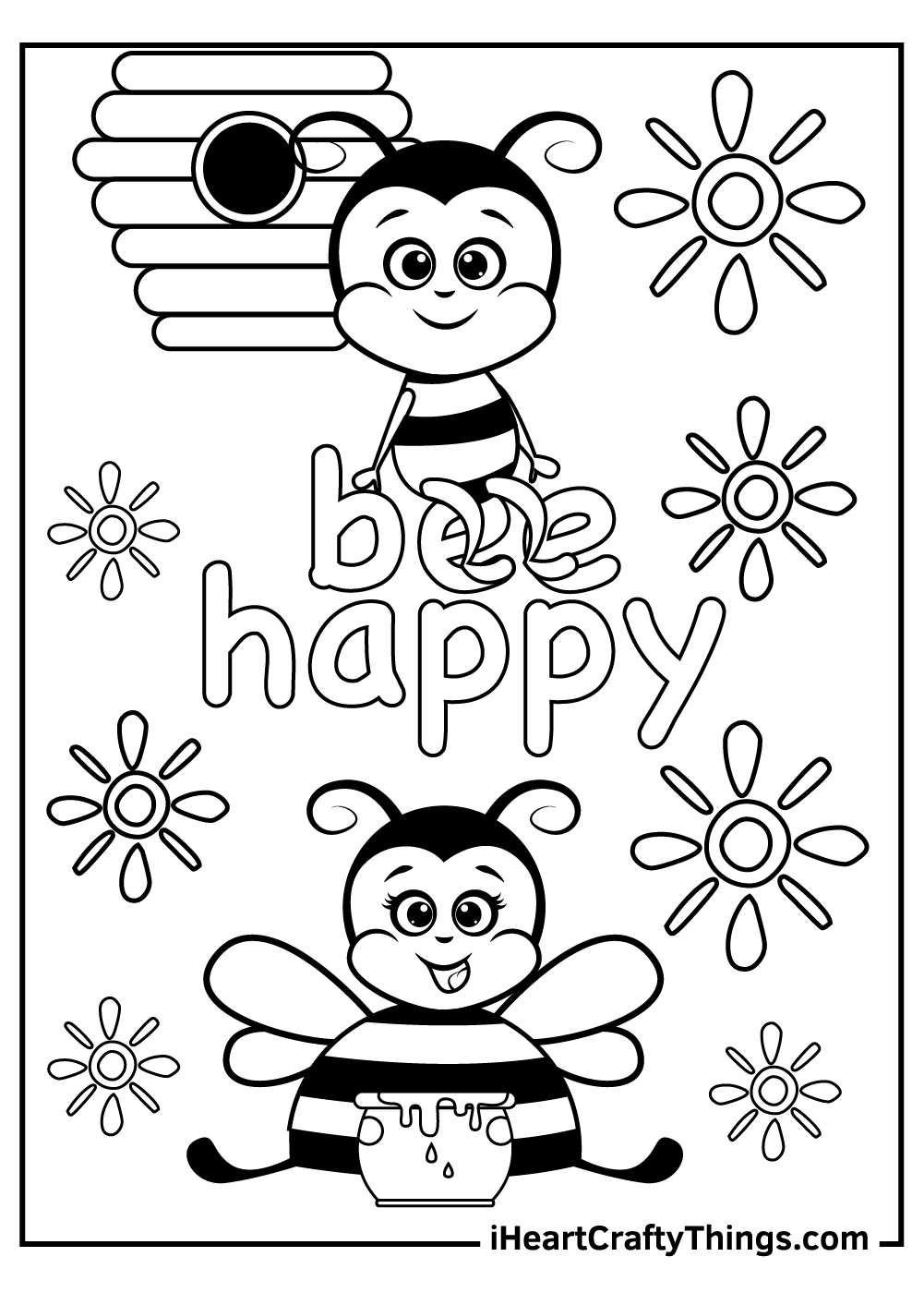 It's incredible how bees can create honeycomb with even hexagonal shapes perfectly aligned altogether, like the one in this bee coloring page. Each cell of the honeycomb contains different unique images. There's a bee, sun, honey jar, beehive, and different kinds of flowers.
We think this artwork is an amazing decoration to be hanged on a wall once it is colored and framed. In which part of your house do you imagine this would look great?
REMEMBER: You can get the COMPLETE set of these coloring pages >> HERE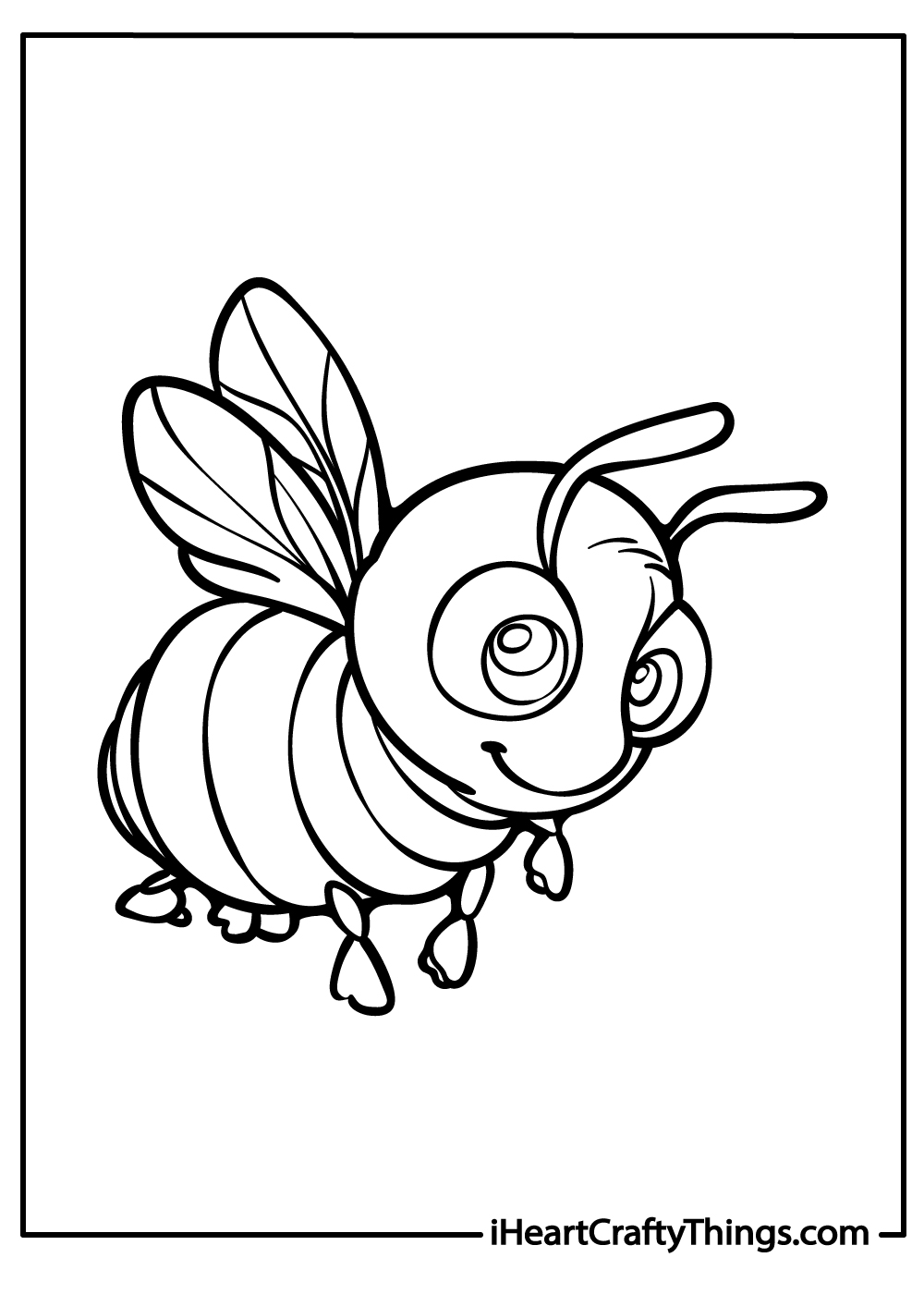 This little bee looks busy. It seems like he's flying around and ready to explore the world. His complete six legs are visible and you can see his friendly face is inviting you to come join him. Maybe he just had his fill of nectar and pollen.
How will you color this bee coloring page? For me, I would use bright and cheerful colors to make him look more happy and lively. I would also make the background a nice clear blue to represent the sky.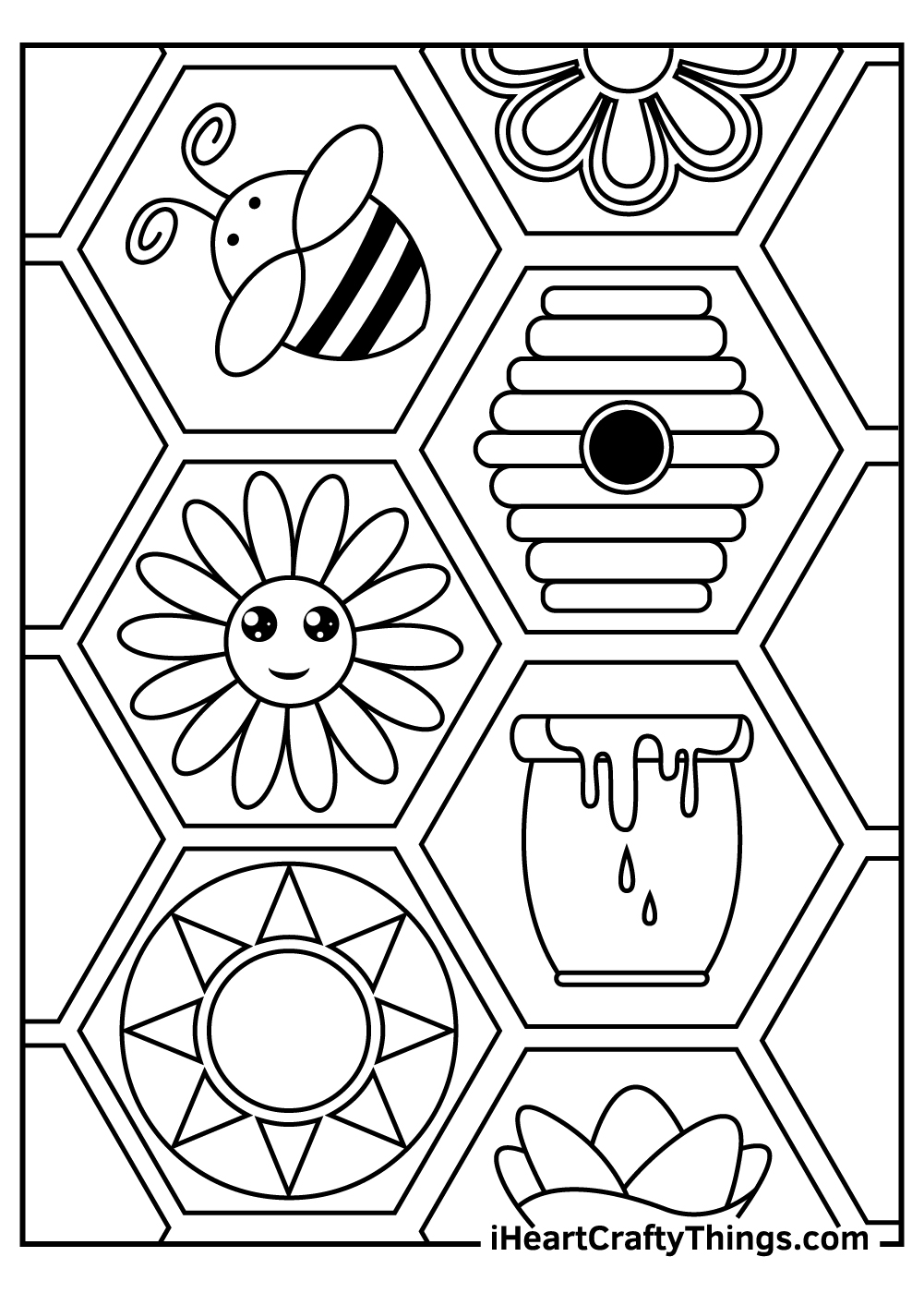 Bee Coloring Pages — Which image will you color?
We hope you enjoy these bee coloring pages. Honey bees have golden-yellow colors and brown bands, while some bees are predominantly black in color. However, feel free to let your imagination run wild and unleash your creativity!
Download and print these pages and use it for an enjoyable coloring activity with friends and family. Remember, all of our coloring printables are 100% free for you to download, print, and color.
Once you've finished coloring your bee coloring sheets, you should feel proud of yourself for creating a masterpiece. Show off your work of art and share it on our Facebook page. We're sure it looks awesome!
We are excited to see all of your colorful creations!
REMEMBER: You can get the COMPLETE set of these coloring pages >> HERE