I had this great week planned out for learning about Penguins…We were going to make a penguin out of a water bottle…Can I say HUGE FAIL! Life is not always perfect around here in the crafting department.
Since I had to find a way to redeem myself, I decided to teach my kids how to draw a penguin. Ok, ok, really, I found this awesome video that taught all of how to draw a penguin. haha! We were also inspired by some penguin painting at My Shae Noel All Things Wonderful in making our penguin scene.
My Preschooler's Artwork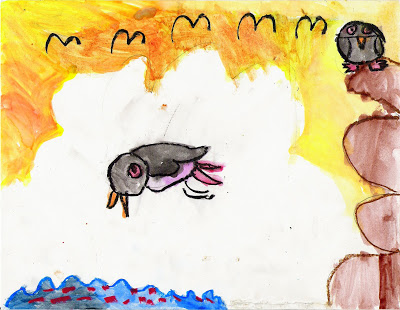 Over the last year I've noticed some difficulties my younger son has in being the younger brother. Don't get me wrong, he LOVES his older brother dearly, they are pretty much inseparable, but my youngest son can't help but compare himself to what he sees his older brother doing. It sometimes feels disheartening with the frustrations my youngest son feels when he can't do it as fast as his older brother or if he doesn't know as much as his brother. Anyways, so I thought teaching him how to draw his very own penguin was a perfect way to boost his self-confidence. It acted as a reassurance that he could do something as well as his older brother could.
My oldest's Artwork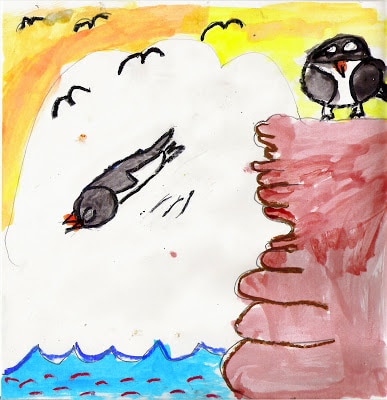 We started by following this step-by-step video and drew a penguin diving into the water with pencil. We also drew the rocks, the water, a big cloud in the sky, birds, and an extra penguin standing in line. My oldest learned how to draw a penguin in school so he gave a step-by-step on how to draw the standing penguin.
We traced our pencil lines with oil pastels and then finished off our artwork painting the scene with water colors. We opted to make the sky look like the sun was setting with yellow and orange. The red in the water is krill for the penguins to eat.
My Artwork
(I know, I know, I'm such a kid and can't stop myself from participating!)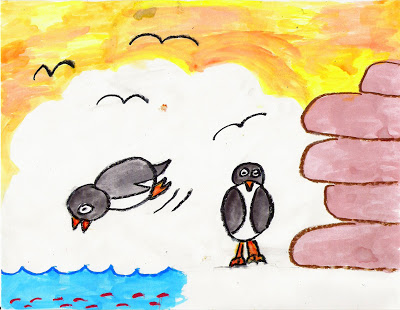 Some of the books we've been enjoying this week are:
Penguins by Valerie Bodden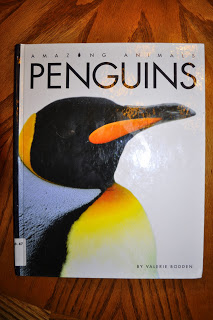 This is a great non-fiction read for preschool thru first grade. It wasn't too lengthy and filled with too many details. I felt like it was just enough to keep my boys interested and still contained plenty of facts and material to talk about during and after reading the book.
We threw in some comical reading this week with some Tacky the Penguin books as well.
Tacky in Trouble by Helen Lester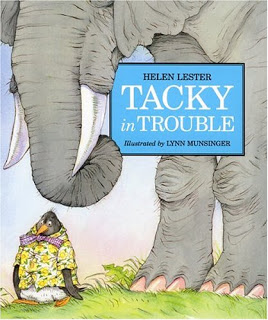 Tacky decides to go windsurfing when the other penguins are napping and ends up on a tropical island, captive to an elephant. A great read on how Tacky manages to get himself out of the hilarious jungle mix-up, and back to his penguin friends.
Tackylocks and the Three Bears by Helen Lester
The Penguins are in charge of entertaining a crowd of energetic young penguins and decide to put on a play. Will the young penguins pay attention through an entire performance? Let's just say our favorite misfit Penguin delivers an winning performance with his own indomitable personality and style.
Happy Crafting!!