My son was sitting next to me while I was on Pinterest the other day (I know, I know, great Mother/Son bonding time, right?!). He saw this Walrus craft as I was browsing and he decided his life would not be complete if we didn't make it. After two days of non-stop bugging me and a trip to the library, we not only made this adorable craft, but we learned a lot about Walruses as well!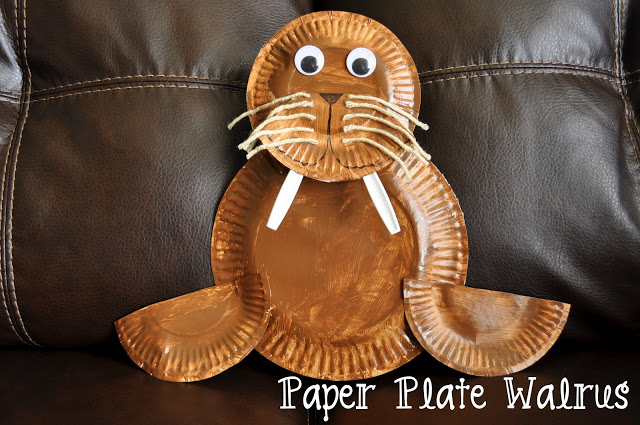 Isn't he cute? I traced the Pinterest link back to Danielle's Place of Crafts and Activities. Due to her Copyright Policy I can't give you a complete tutorial but you can find the directions for this craft on her Arctic Animal Page. (You have to scroll down the page a bit till you get to the Walrus craft.)
I did want to give you a couple tips if you decide to do this craft though. Danielle's directions say to glue the paper plates together. If you are inpatient like me and my boys, don't waste your time with school glue. Pop out the glue gun.
Also, we didn't glue in the tusks (plastic spoons) in the muzzle before we painted, as her directions said to. I knew painting would be messy for my preschooler, so we opted to glue on the muzzle and add the tusks after the Walrus was painted and dry. I used the glue gun for the tusks as well.
If I was going to do this craft with a class, I would probably have the paper plates all assembled, ready to paint to help with time. I think I would also consider using staples to put the paper plates together instead of glue. You wouldn't see the staples anyways once it is all painted.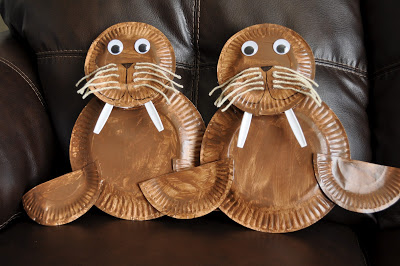 I was disappointed that I could only find one children's picture book with a Walrus as the subject. Turns out, it was a wordless book too. If you know of any fiction Walrus books, I would love some suggestions for future use.
Where's Walrus by Stephen Savage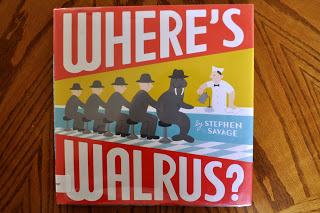 Although wordless, it was fun to make up words for each page with my preschooler. It is about a Walrus that escapes from a Zoo and the Zookeeper searches all over town for the Walrus. The Walrus was really good at disguising himself in each scene, which makes this book really fun.
Walruses by Jody Sullivan Rake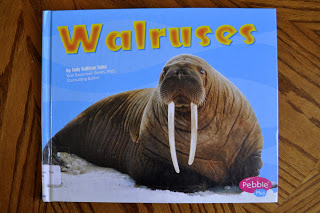 This is a perfect non-fiction book about Walruses for preschoolers age 3-4. There is one paragraph on each page with facts and info on Walruses. Just enough information for preschoolers to stay interested and not be too bored.
Walruses by Frank Staub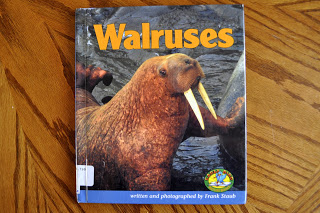 This was the perfect book for my son who just turned 5. I would recommend it for ages 4-7. It has a lot more detailed info and facts about Walruses. I feel like my so learned a lot from this book and he loved all the photographs of the Walruses. I asked him after we were finished with our craft what he learned about Walruses and he said, "If a Walrus gets too cold he turns white and if he gets hot he turns pink." I liked how this book showed pictures of the Walruses white and pink so he really grasped that concept.
Happy Crafting!!
I like to link my posts up to THESE great link parties.