On this page, you will find 15 all new Star Wars coloring pages that are completely free to print and download.
Star Wars is possibly the biggest fictional series ever created.
Even people who have never watched a second of a Star Wars movie could probably name several characters and know a few famous quotes from it!
Millions upon millions of people love this series, and this collection of free Star Wars coloring pages for kids features some of its most beloved and iconic characters.
All of these pages are free to choose, print, color and have a great time with! You'll also want to share the collection with other Star Wars fans you know.
So get ready for a colorful adventure, and be sure to share some of your finished pages on our Facebook and Pinterest pages!
15 Brand New Star Wars Coloring Pages – Free to Print and Color
Obi-Wan Kenobi is one of the most iconic characters from the series, and he is the first character in this collection of free Star Wars coloring pages for kids.
He has appeared as an older man in the original films, but here he is seen in his younger state as he appeared in the prequel movies.
Will you make him look like his film counterpart or create a unique look for him?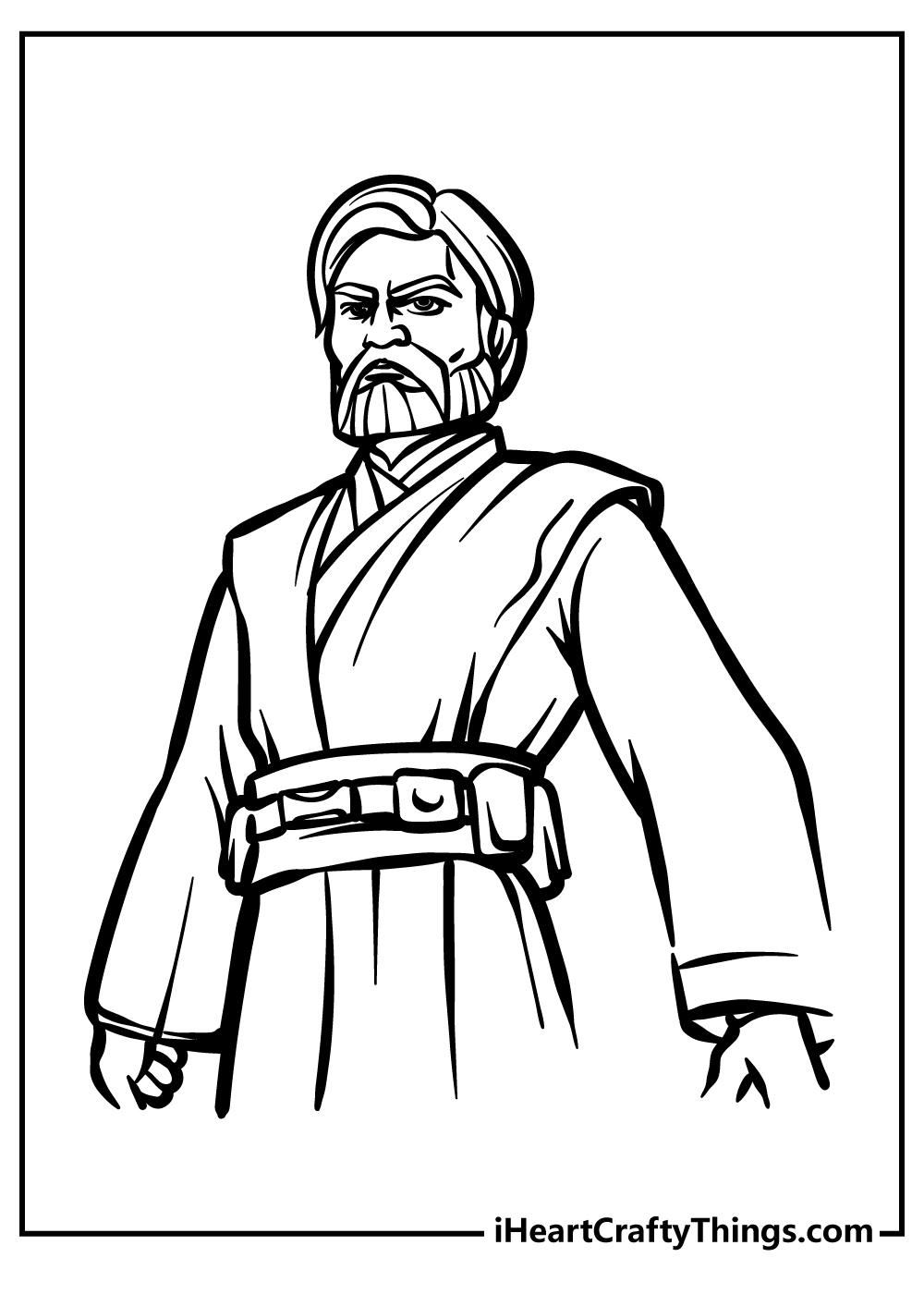 The Jedi Master Qui-Gon Jin is the next character we have for you to color. This page would pair well with the previous one, as this character worked alongside Obi-Wan Kenobi for many years!
How will you color this famous character?
For an extra touch, you could draw and color the beam of his lightsaber coming from the holt he is holding!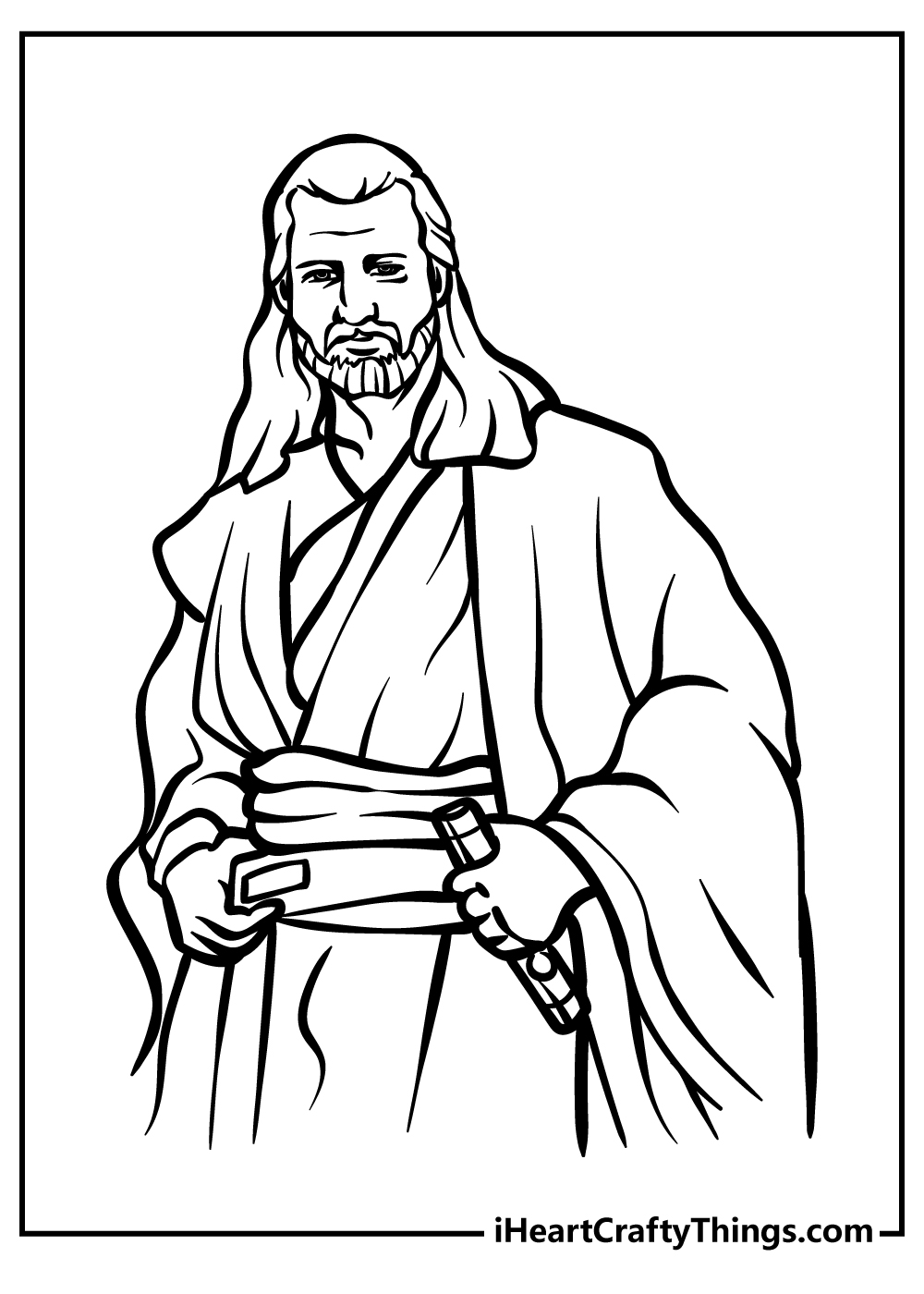 The previous two characters were very serious ones, but now we have a more lighthearted fellow.
Jar Jar Binks is a rather wacky character who sometimes messes up because of his clumsiness, but he can still be very brave and capable when it's called for.
Will you draw some more of his neck and body or leave this portrayal to just his head?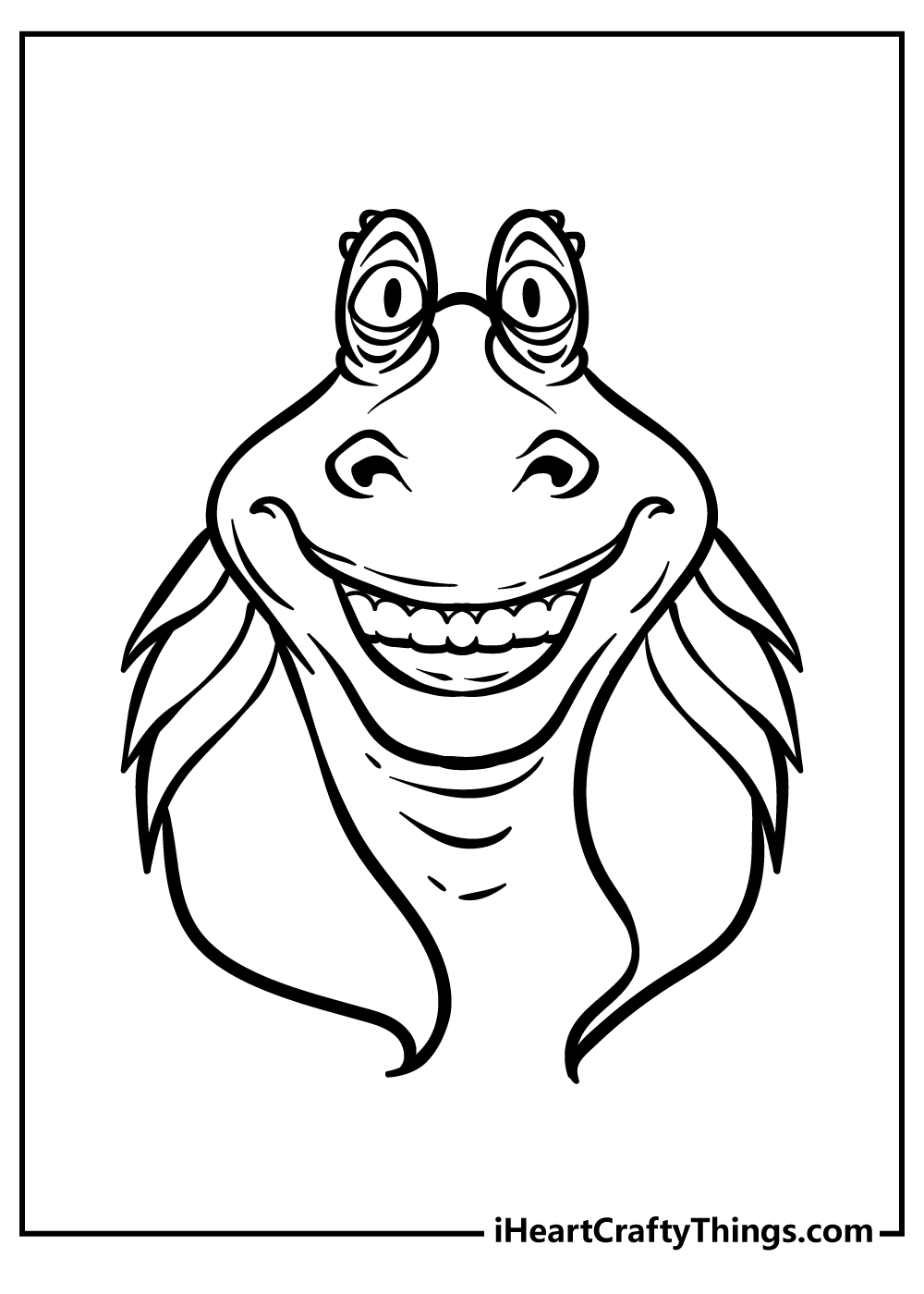 Darth Maul is one of the most intimidating villains in the Star Wars universe, and his appearance alone is enough to inspire fear!
We have a close-up on his face here, and there are some brilliant details to color in.
His face has a red and black color scheme, and you could look up some pictures of Darth Maul if you want to get the colors looking just right!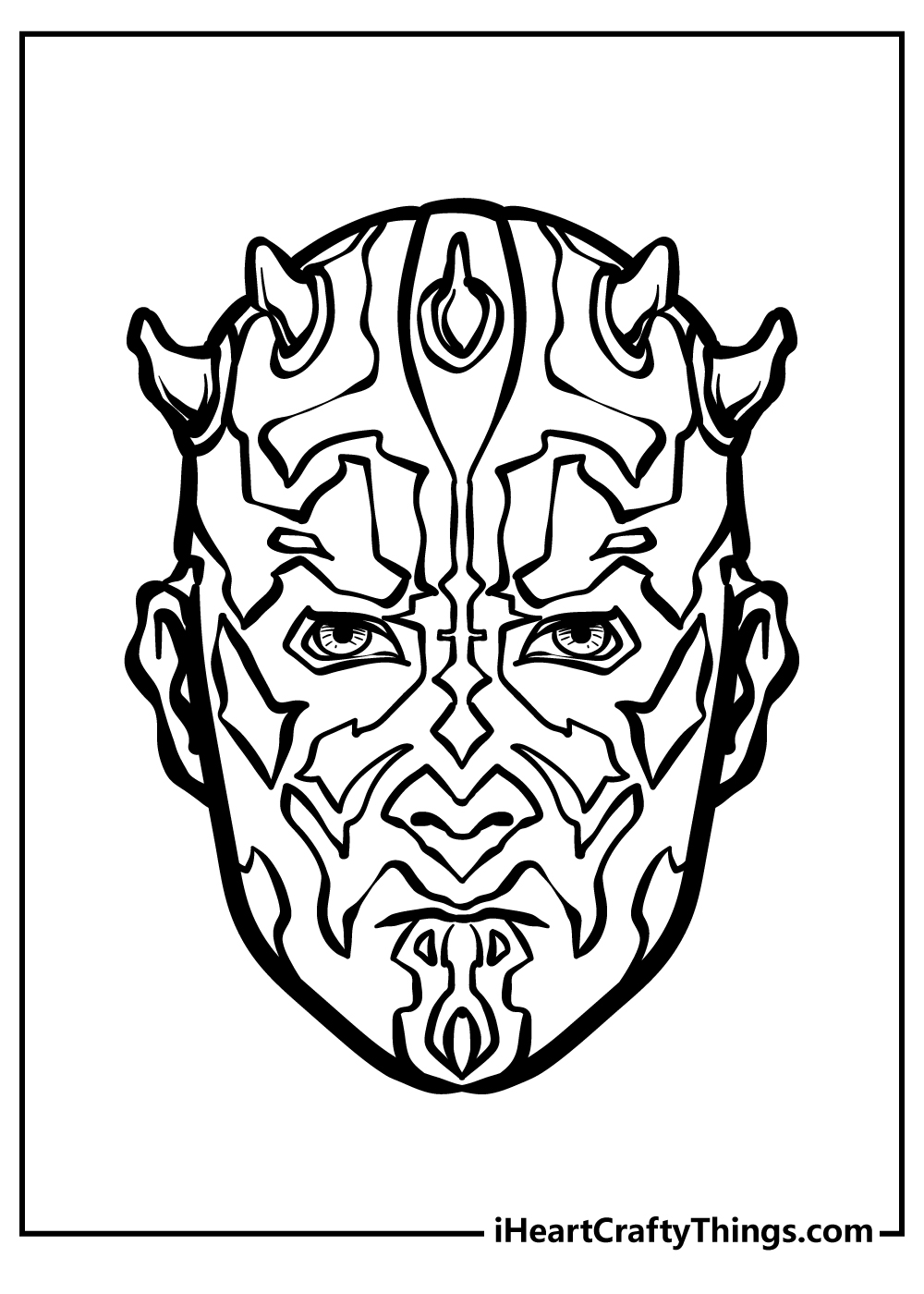 Our previous Star Wars coloring sheet featured a villainous character, and now we have a wise, good character.
Yoda is definitely one of the most iconic characters ever created, and even people who know nothing about Star Wars could probably name him.
We would use lighter shades done with colored pencils or watercolors to finish off the calm, wise look of this character.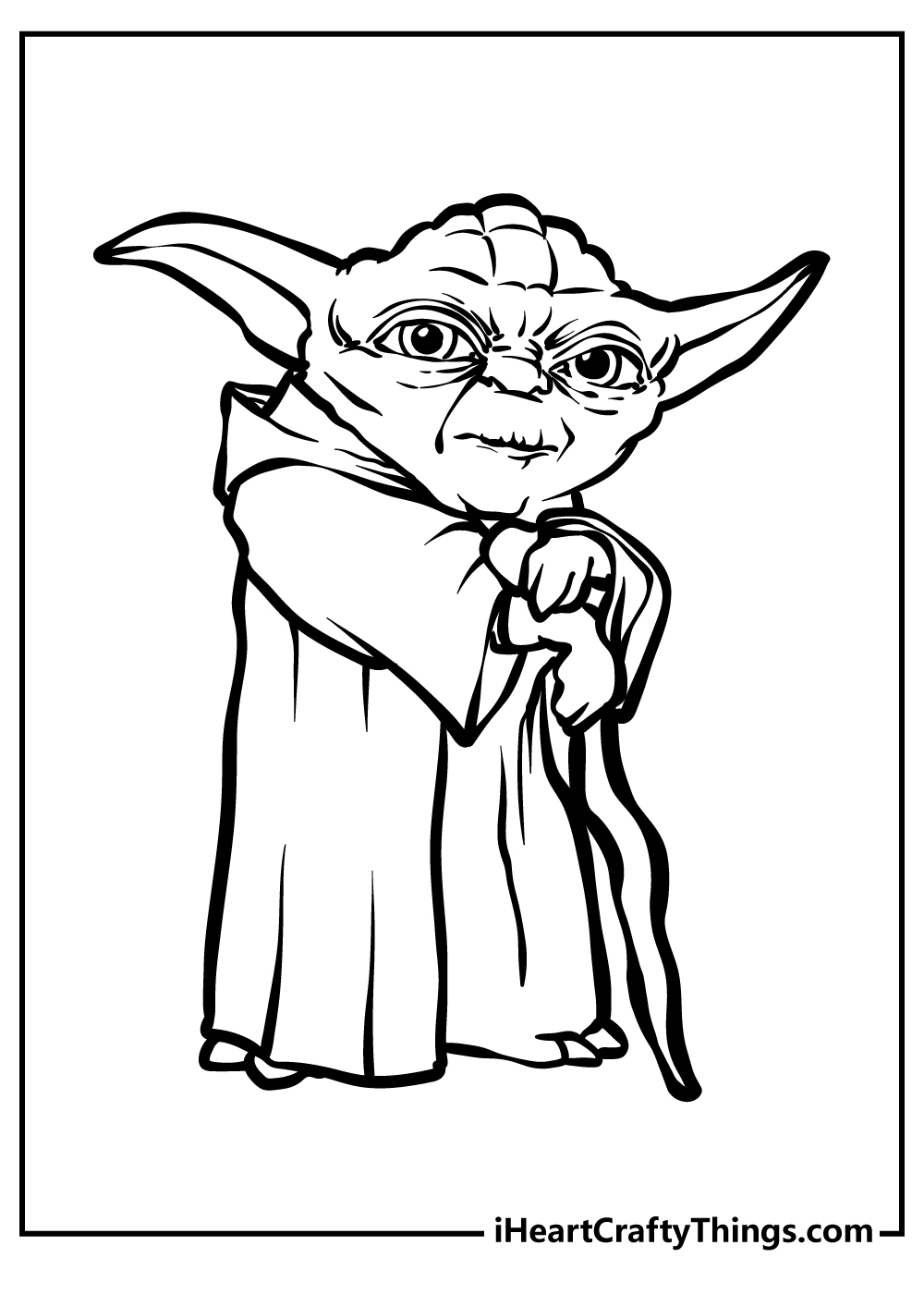 Star Wars is full of weird and wonderful characters, and this one is no different! This guy has a really unique head and face, and it seems to be inspired by the head of an insect.
There are plenty of awesome small details to this design, and we will be interested to see how you choose to portray this unusual character!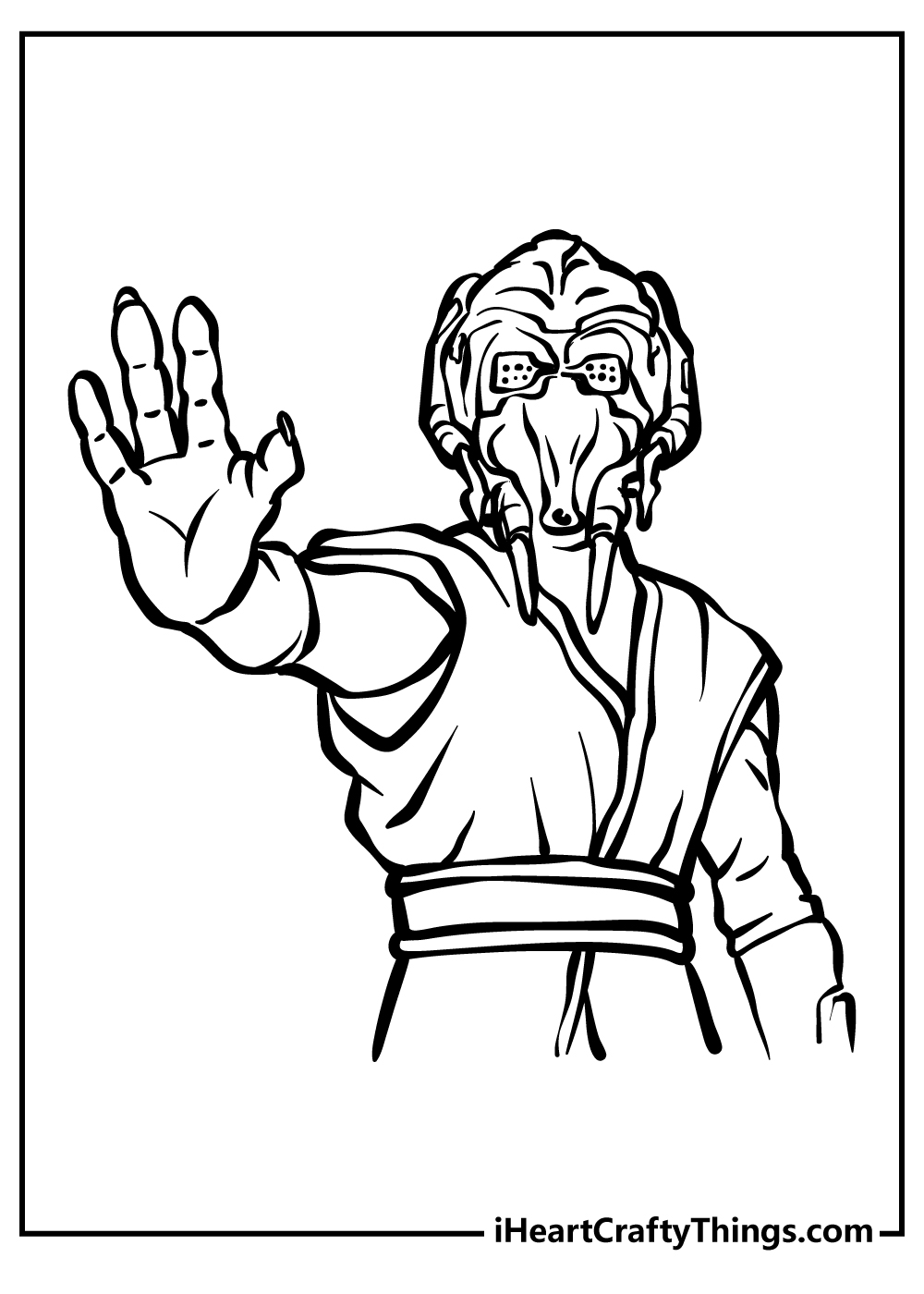 For this seventh page, we will focus on a character that is a bit more recent than most of the others! BB8 is a droid that can't speak, but still has a lot of character.
He zooms around at great speed, and he has a great white and orange color scheme.
We know this one will look great when done!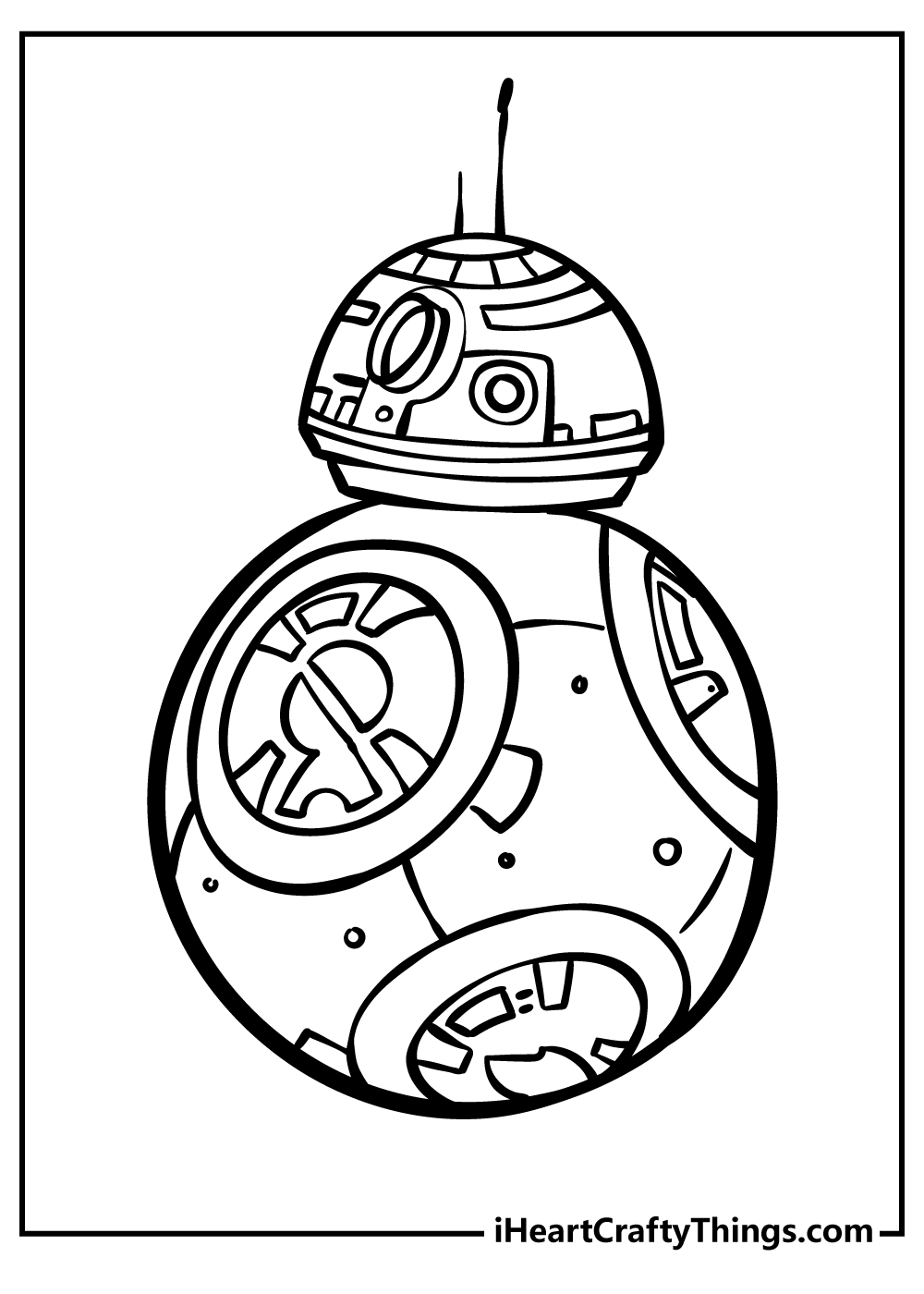 The troopers in Star Wars always have awesome uniforms, and this one is showing off one of the cooler designs.
These uniforms have different color schemes depending on the rank of the soldier or the environment they will be operating in.
What colors will you choose for this soldier?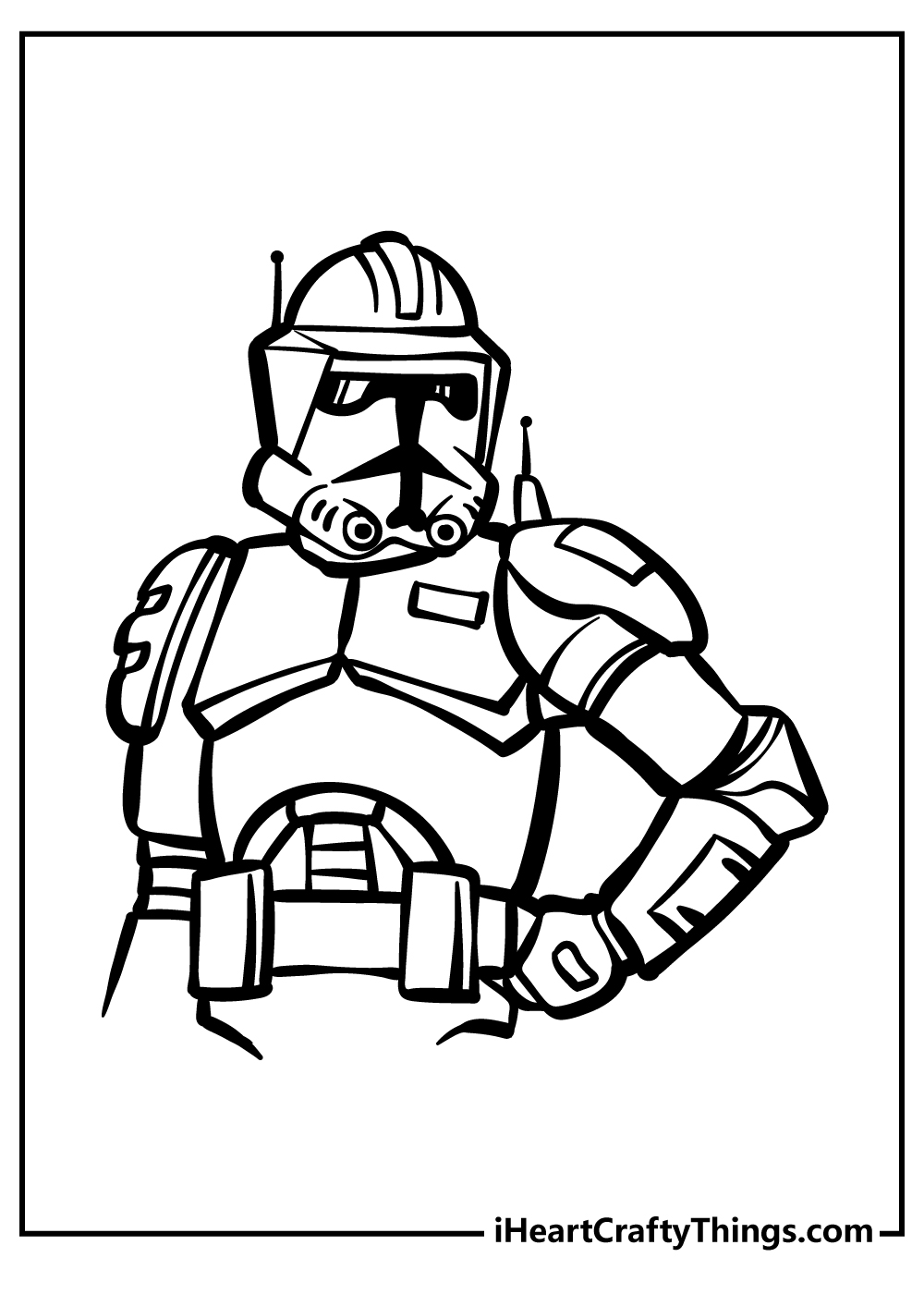 Of all the characters in Star Wars, Anakin Skywalker is probably the one we have seen most of.
We witness his transformation from a cute kid to a Jedi and then finally to the villainous Darth Vader throughout the films.
We would use some bright blue colored with a colored pen or marker for the blade of his lightsaber here!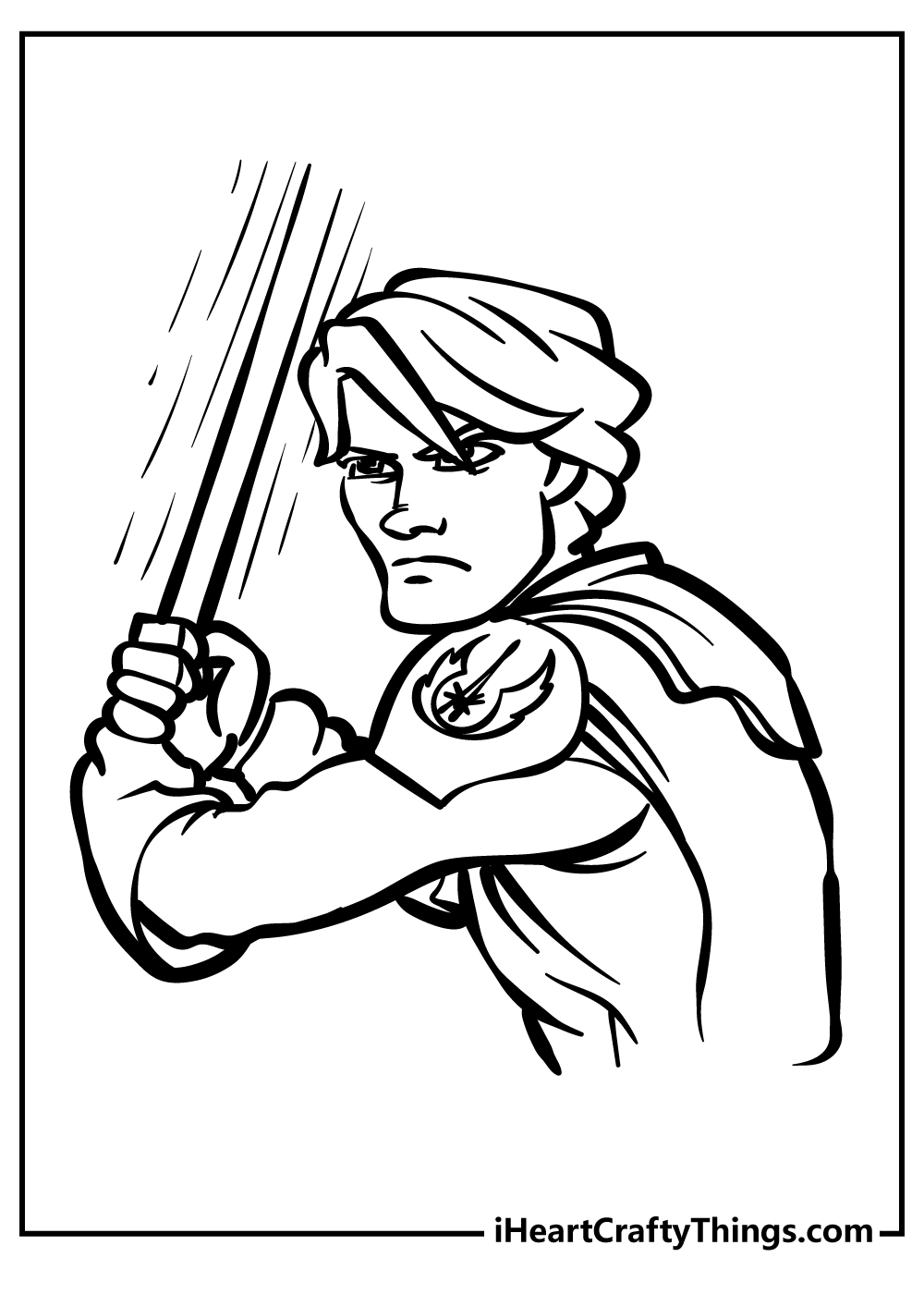 An older version of Yoda is here for you to color in this Star Wars coloring printable. He is looking very wise and friendly here, and you can represent that feeling with the colors you use.
When you have colored in this Jedi Master, you could draw some more details into the background to really finish off the scene!
We mentioned how we see a lot of Anakin Skywalker's life earlier, and now we have a younger version of the character.
This is how he appeared in the Phantom Menace movie, and his outfit's colors are a bit more earthy and muted.
Will you stick to these colors or give him a new look?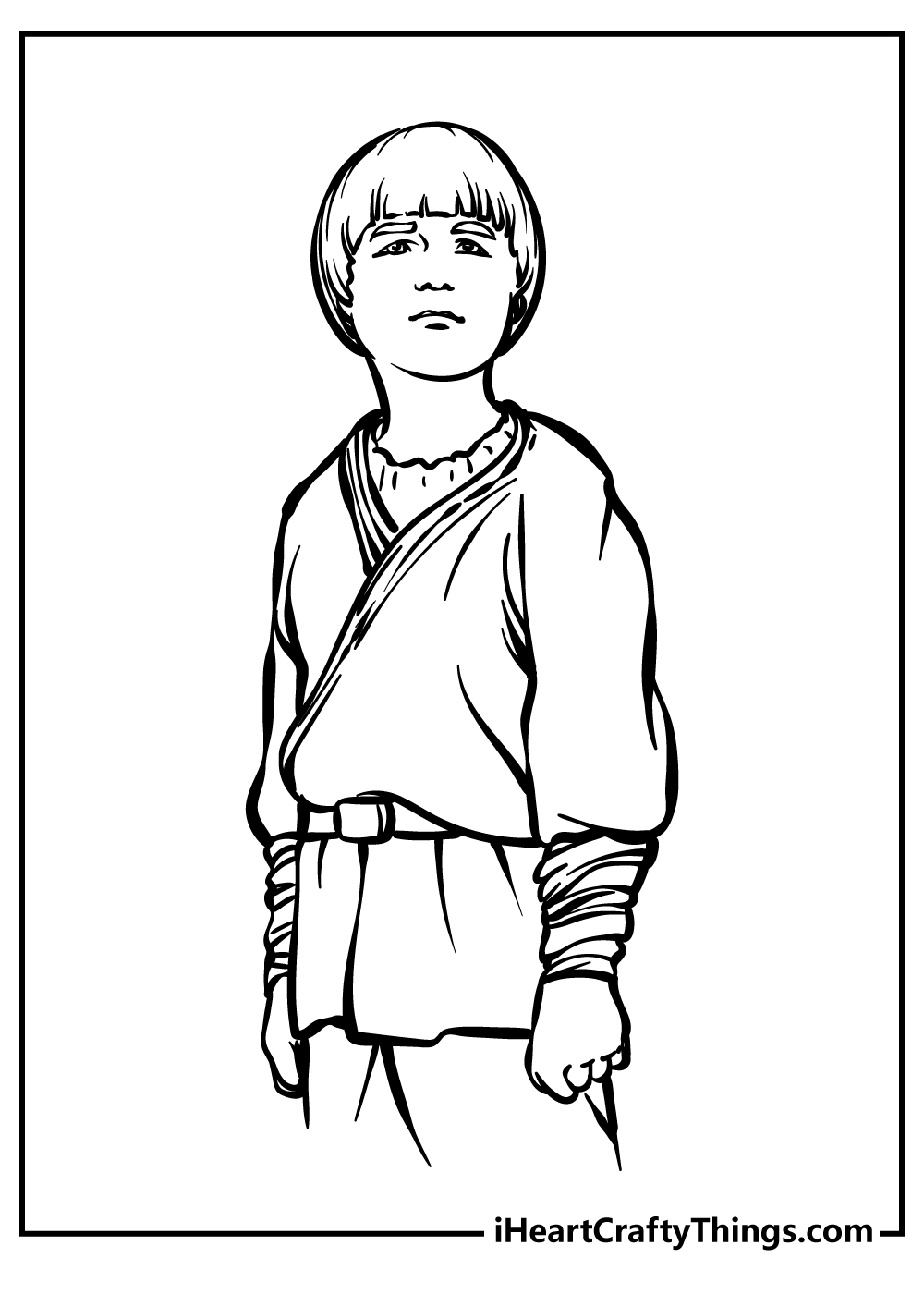 Now we have the final stage of Anakin's transformation with Darth Vader. It would be fair to say that Vader may be the most recognizable villain in film history, and he is looking very menacing here.
He has a black, shiny look to his armor, so you could incorporate some white highlights to make the helmet look nice and shiny.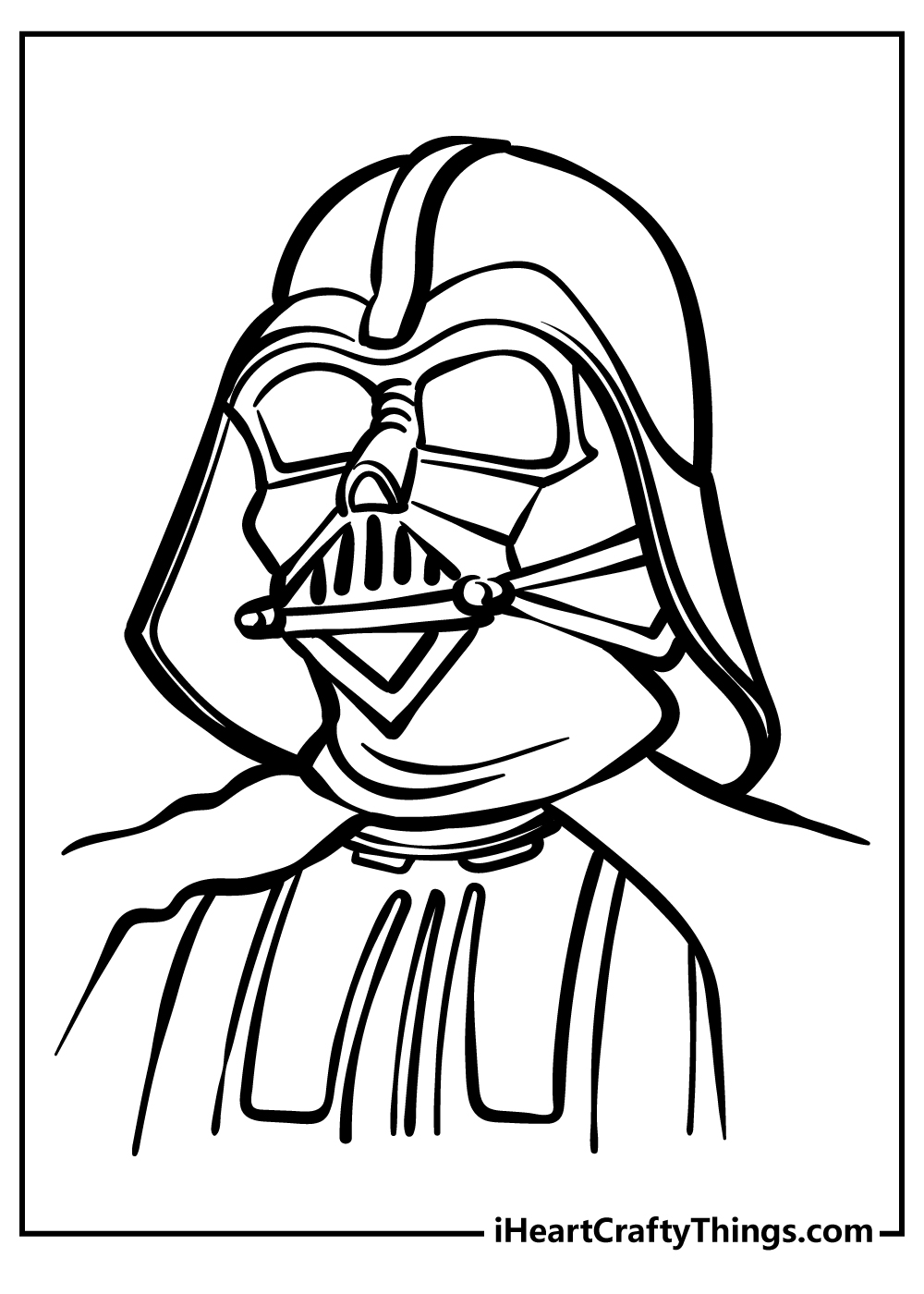 It's time for another iconic droid as we have R2D2 for you to color up next! This droid has appeared in many of the movies, and had a part in each of the three trilogies.
He has a white and blue color scheme, and there are so many great small details that you can color in here. We know it will look amazing when you're done!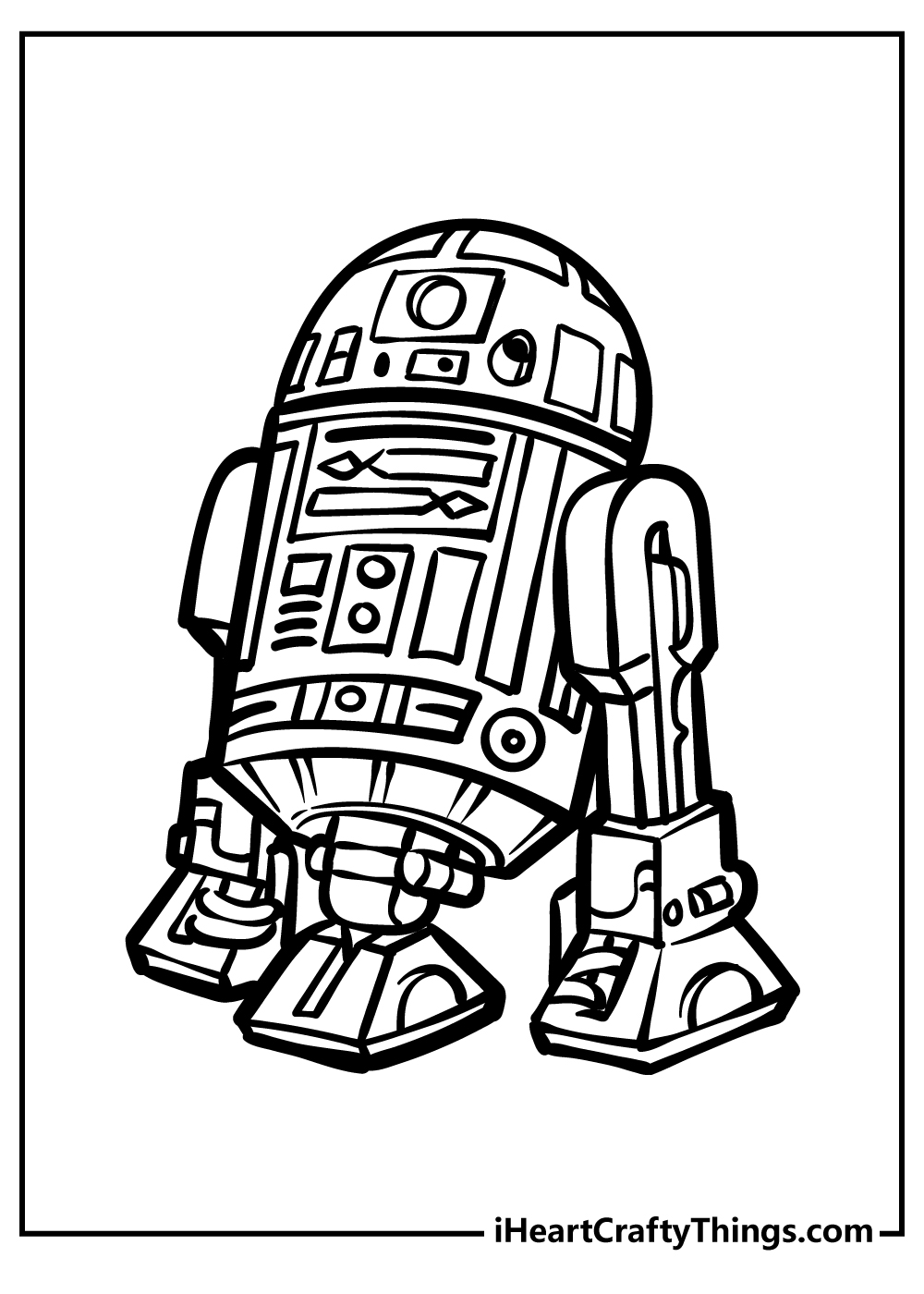 BB8 is zooming back for more in this one! He looks to be on the move, and we think it would be great to draw a background for him.
Maybe you could draw a desert setting to replicate the environment he is first seen in when he appears in Episode 7!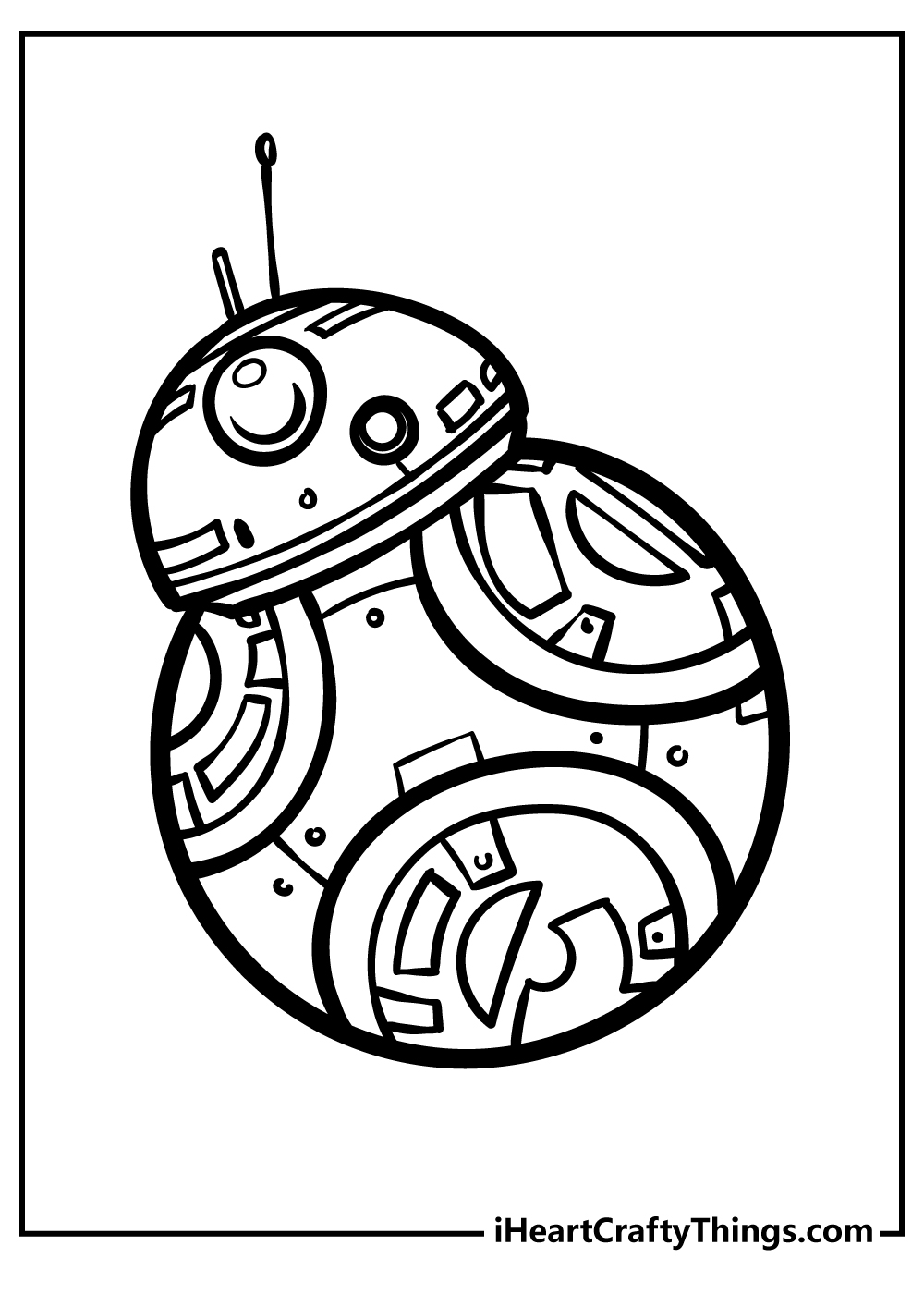 The final Star Wars coloring sheet we have for you features the brave and capable Princess Leia!
She is looking very cool and tough here, and she looks like she won't be taking any nonsense from anyone.
She is another iconic hero, and now you get to show off how you think she should look as you color this final page!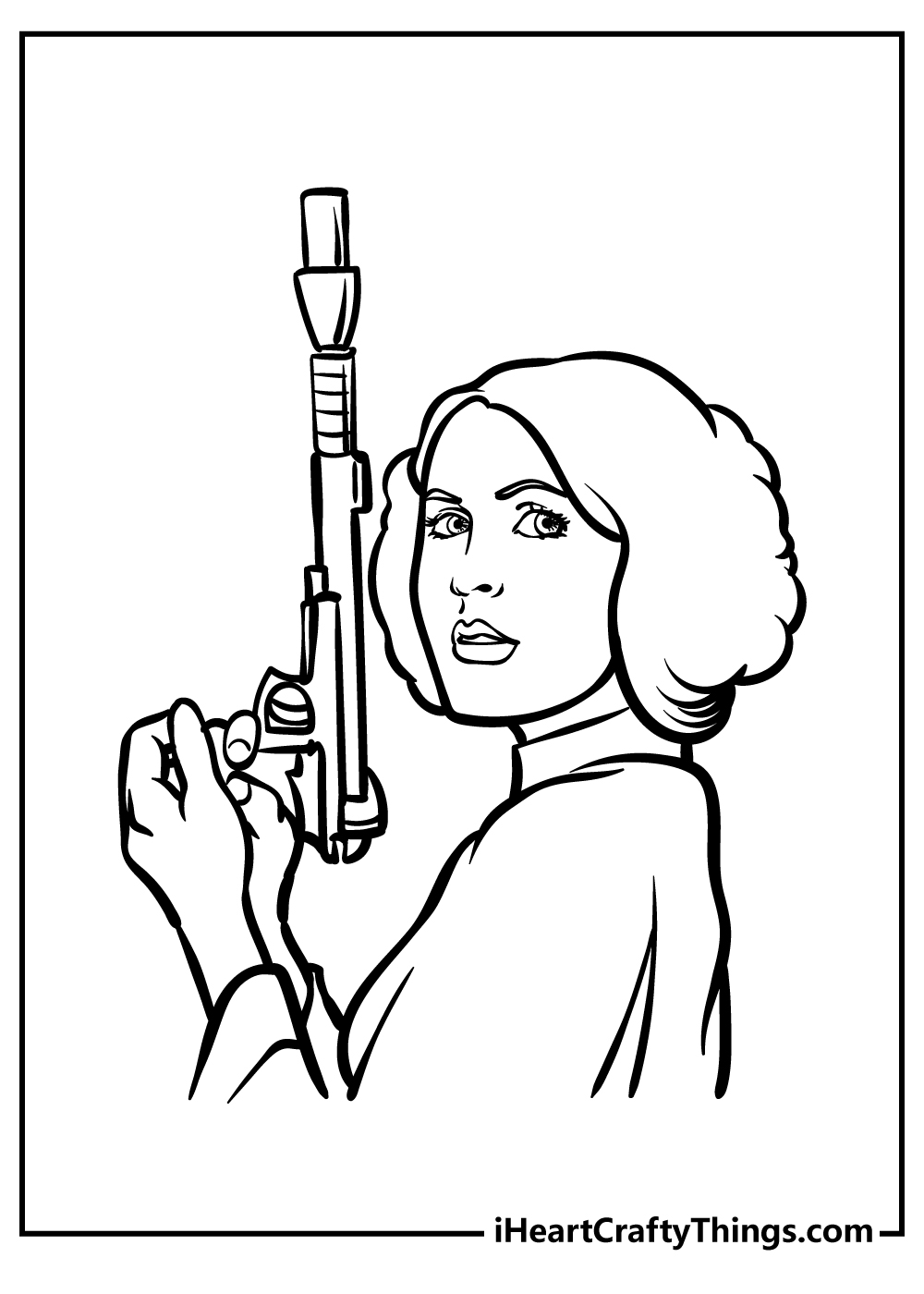 Travel To A Faraway Galaxy With These Extra Ideas!
In this collection of Star Wars coloring pages, we saw many iconic characters from all eras of Star Wars. It's fair to say that this series has some of the most beloved and recognizable characters of all time.
We hope you had fun bringing color to your favorite characters, but we wanted to give you a few more ideas to try before you finish this collection.
One thing we suggest is using different art mediums on the same images. For example, let's say you painted Obi-Wan with watercolor paints.
You could then use green colored pens or markers to color his light saber. This much brighter medium contrasted with the softer colors for the character will make his light saber look like it's glowing.
Of course, this is just one example. Star Wars isn't just famous for its characters though, it's also famous for its many iconic locations.
Most of these images have plenty of space in the background, and that means that you can represent your favorite locations from the series.
You can use the movies, shows or video games you love as inspiration and then draw the landscapes behind your favorite characters. Or, maybe you would like to make some unique locations never seen in Star Wars!
Drawing in extra characters in the background can also help to add some life to the images. There are so many ways you can personalize your favorite pages in the collection.
You can print out these pages as many times as you please, so if you're unsure about what approach you'd like to take, you can experiment on a few copies and see what works for you.
Then, you can do a final attempt on another copy to create your perfect interpretation!
Star Wars Coloring Pages – Which will you choose?
This series is all about grand adventure, and we hope you had an amazing time working on this collection of free Star Wars colors pages for kids!
There were some amazing portrayals of famous characters here, and there are so many ways to color them in. Be sure to share this collection with other Star Wars fans as well!
When you have chosen and colored your favorite pages, remember to share them on our Facebook and Pinterest pages for us to see and admire!