Star Wars is a series that has given us some of the most iconic fictional characters ever created.
From Luke Skywalker to Darth Vader, there are so many beloved characters known around the world.
Recently, the adorable character Baby Yoda has won the hearts of millions of fans after his appearance in The Mandalorian TV show.
Now, this collection of free Baby Yoda coloring pages for kids is here to provide plenty of fun for fans of this cute Star Wars character!
The collection features lots of poses and situations that you will be able to color and have fun with. So let's blast off for some coloring fun as you work on this Baby Yoda collection!
15 Brand New Baby Yoda Coloring Pages – Free to Print and Color
Baby Yoda may be extremely cute, but that doesn't mean he doesn't have some tricks up his sleeve! This first Baby Yoda coloring sheet shows the little hero performing a powerful Force move.
This allows you to use some amazing colors to color the bright effects that surround him. These could be contrasted with a darker background in order to really make them pop on the page.
Which mediums and colors do you think would be best for these magical effects that surround Baby Yoda in this first picture of the collection?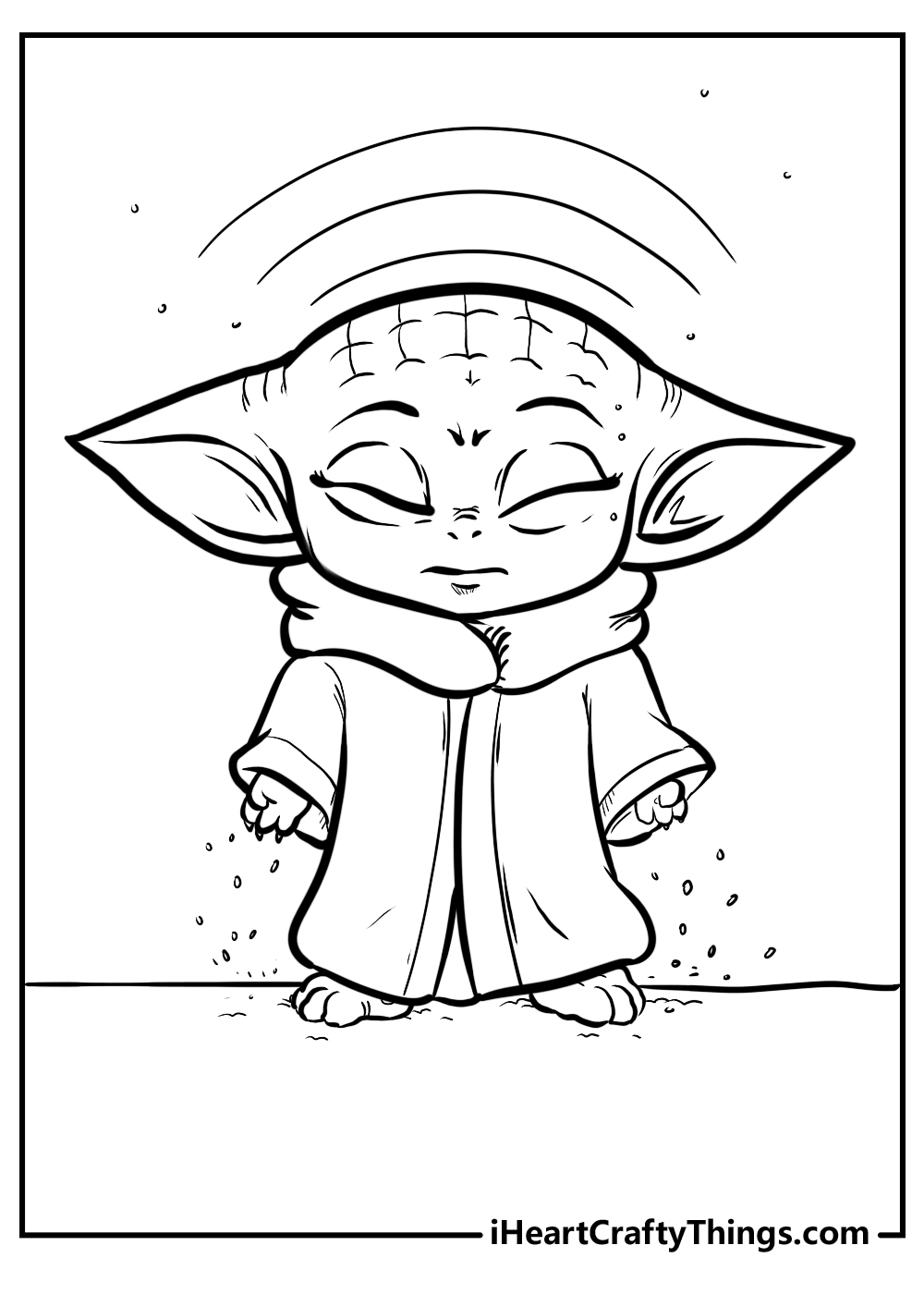 From what we have seen of him, Baby Yoda isn't much of a fighter, preferring to use his powers to help his allies. This next picture shows him preparing for future fights by training with a mini lightsaber.
When coloring the laser blade of the lightsaber, some bright and vibrant colors could be used to make it look like it's glowing. Some colored pens could be used to make the colors really pop.
A colored marker could also be a good choice. Some craft stores sell glow in the dark paint, and you could use some of that to make the blade actually shine!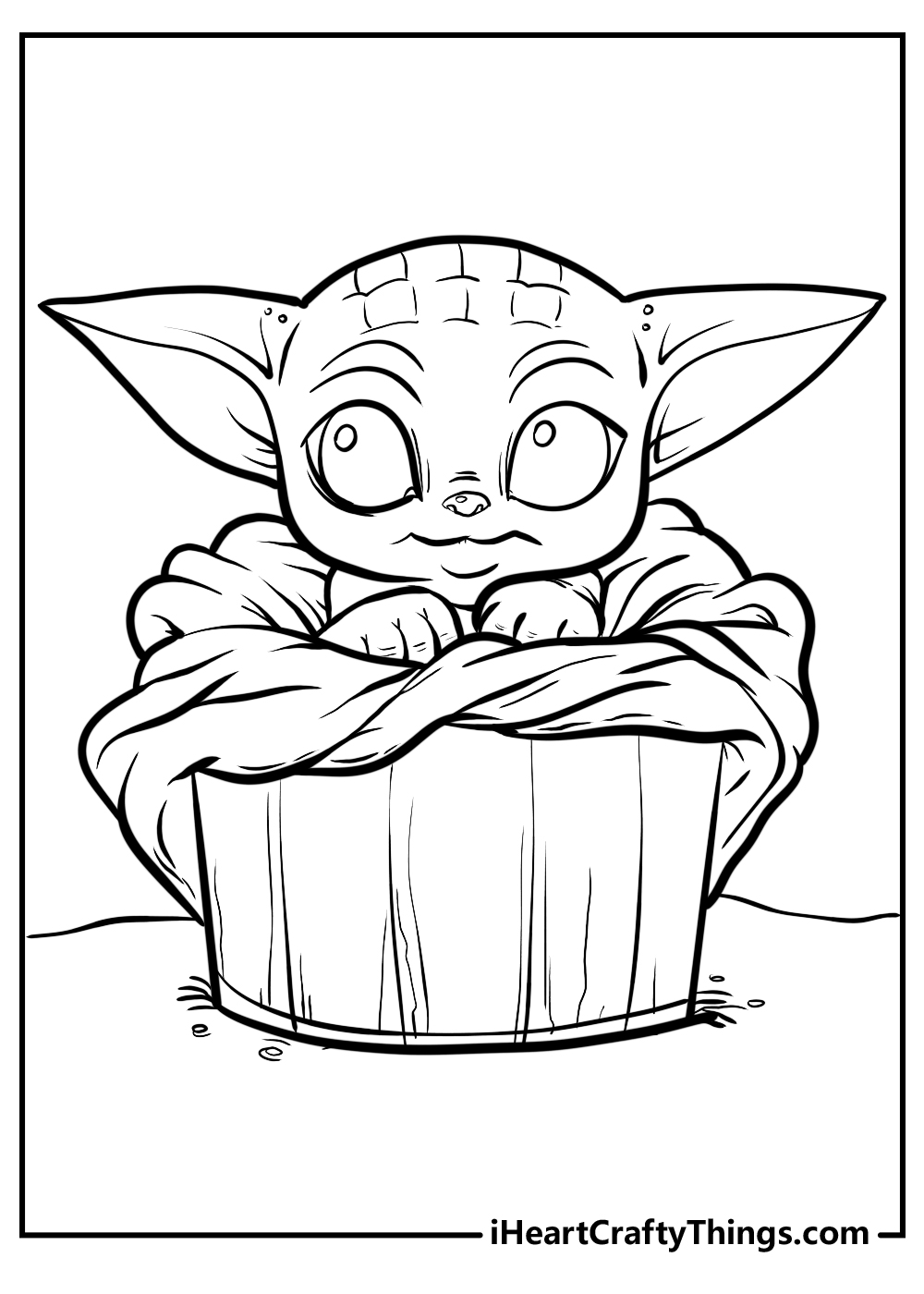 If you thought the previous page showing Baby Yoda with a lightsaber was cool already, we're upping the ante here by adding a second lightsaber for him to practice with!
This picture is also drawn in a slightly different style, and that opens up some opportunities for you to play around with different colors and techniques.
Once again, some bright colors could be used for the blades of the lightsabers. But which colors should you use? You could go for green to match the lightsaber of adult Yoda.
Which other colors could you use?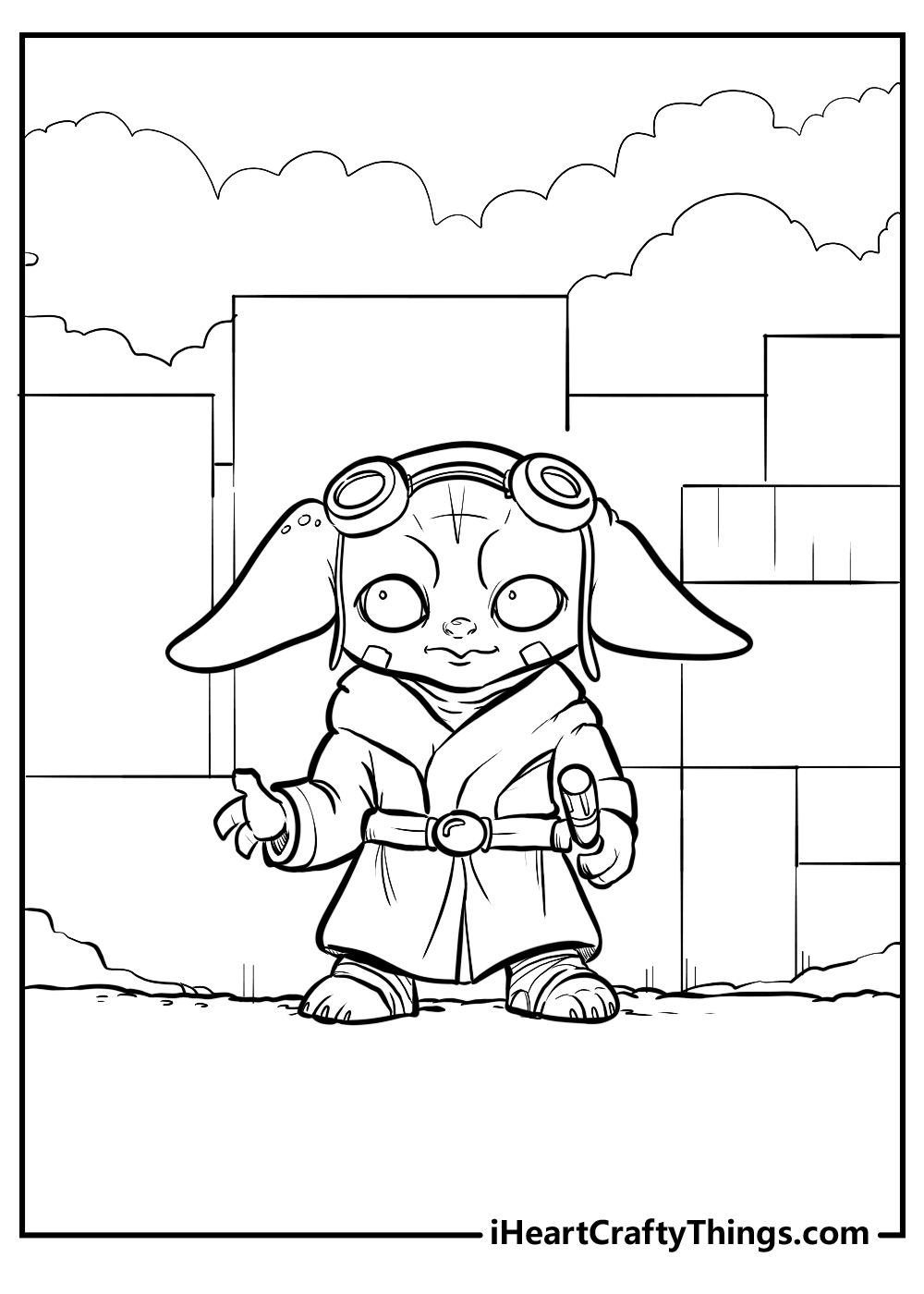 There are so many great details to color on this next page! Baby Yoda is levitating among some circles, and it gives you lots of opportunities for great colors.
You could color each circle something unique in order to create an explosion of color. Perhaps you could even use a different medium for each circle in order to make them really stand out.
There is also a lot of empty space in the background, so you could also draw some additional details to create more of a background setting.
Adding other Star Wars characters would be a great way to do this, but there are so many ways you could go about it.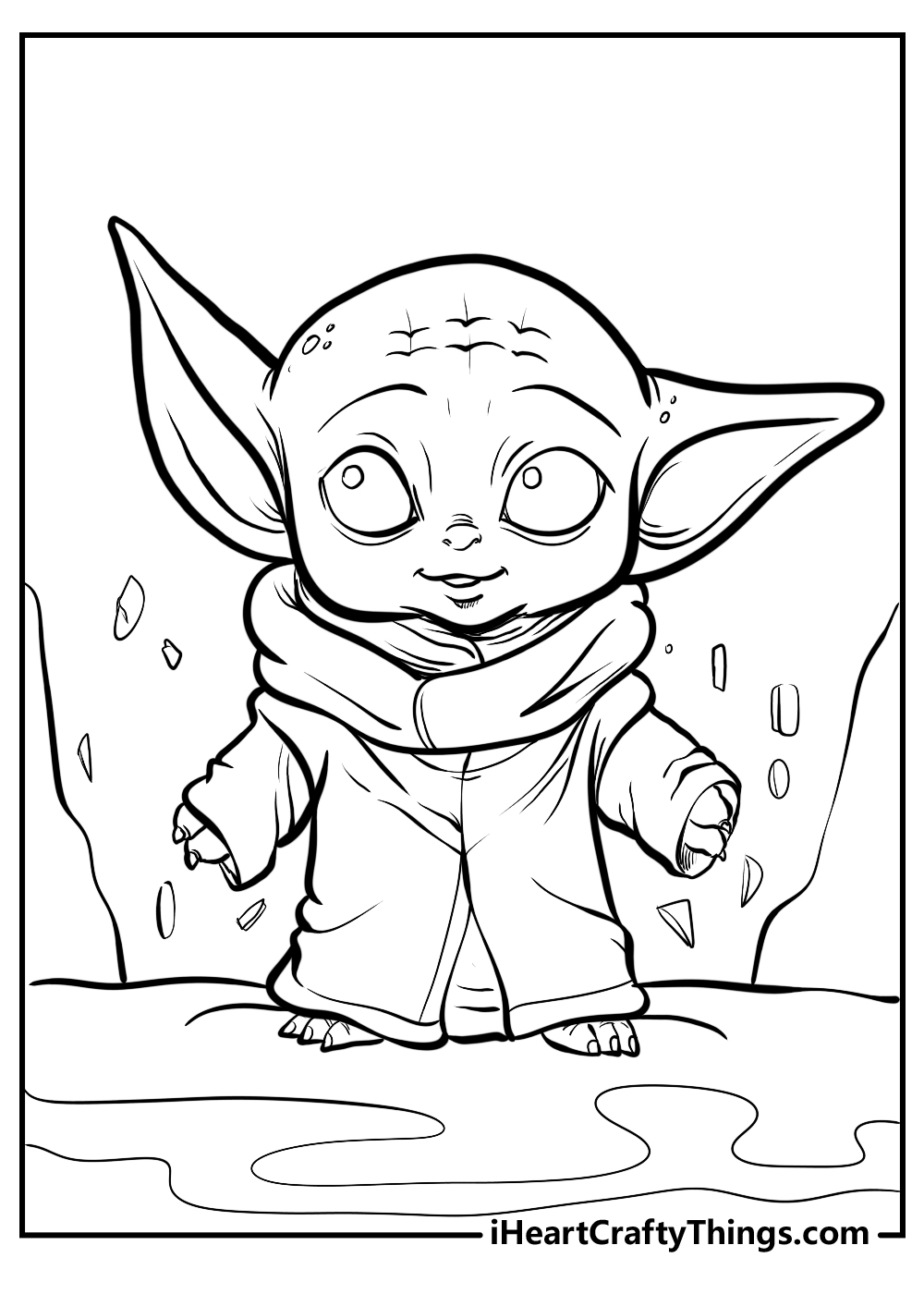 It's time for some action in this Baby Yoda coloring printabel! He's running away from some fire in this picture, and it makes for a really awesome pose.
He doesn't look too bothered though, so it seems he has it under control. Now you can show off your coloring skills as you bring this scene to life.
The fire calls for bright reds, oranges or yellows to make the flames look as hot and realistic as possible. What do you think caused this action packed scene we are witnessing?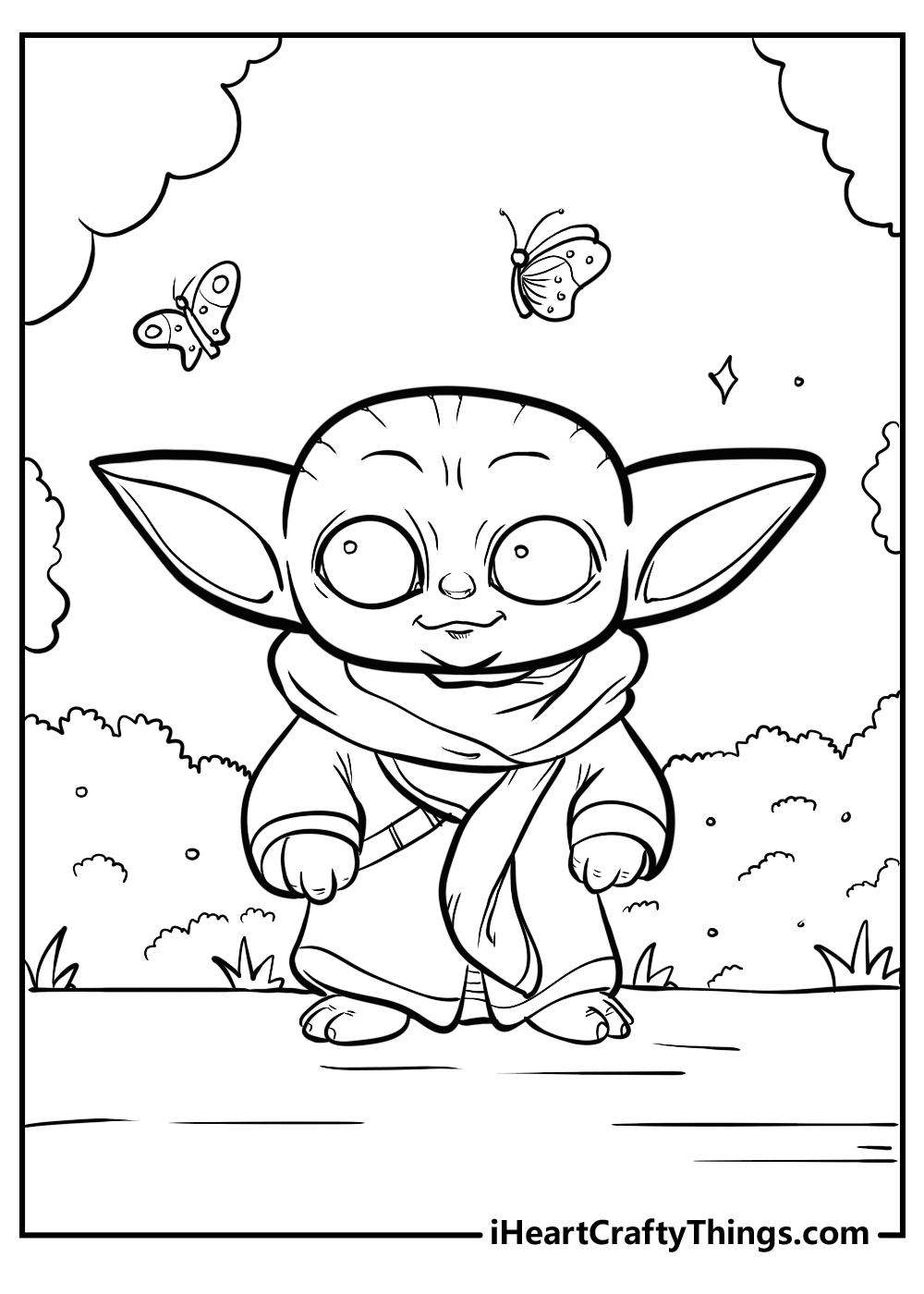 Baby Yoda can use the Force to levitate small objects around him, and that is what he is doing in this next picture. Not only does it look really cool, but it also gives you some more details to color.
Also, remember that you could draw in even more details if you wanted to. There is plenty of room for more debris if you want to add any, or you could add a background setting.
If you wanted to add a background setting, perhaps you could choose your favorite setting from the show and use that!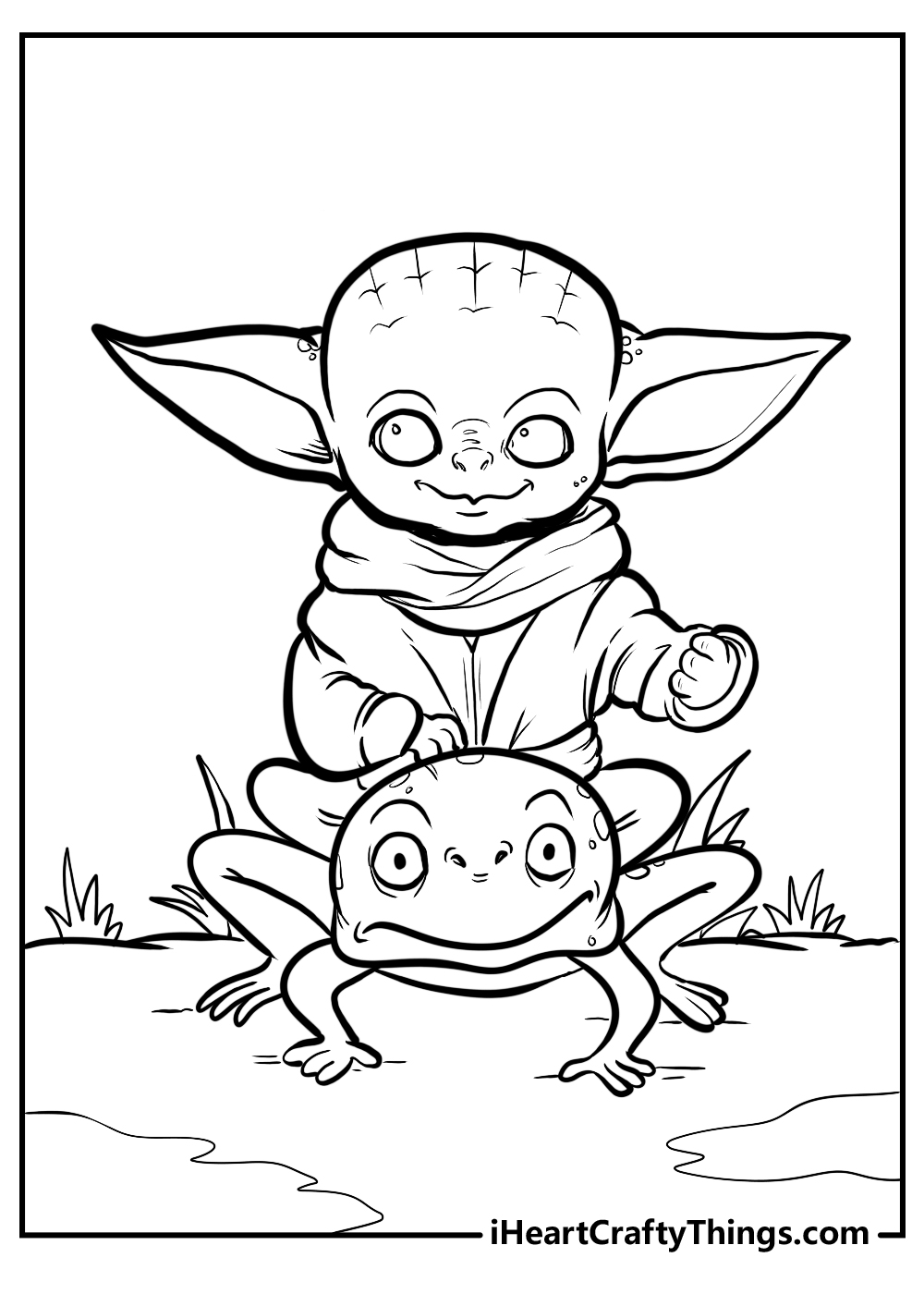 There is a lot of power suggested in this next image we have for you. Baby Yoda seems to be in the middle of a stressful and tense situation, and it makes you wonder what could be going on.
If you wanted to show what you think is happening to Baby Yoda in this picture, then you could add some visual clues to show off what you think is happening.
Once again, you could use a scene from the show to inspire you as you add some more things to the picture!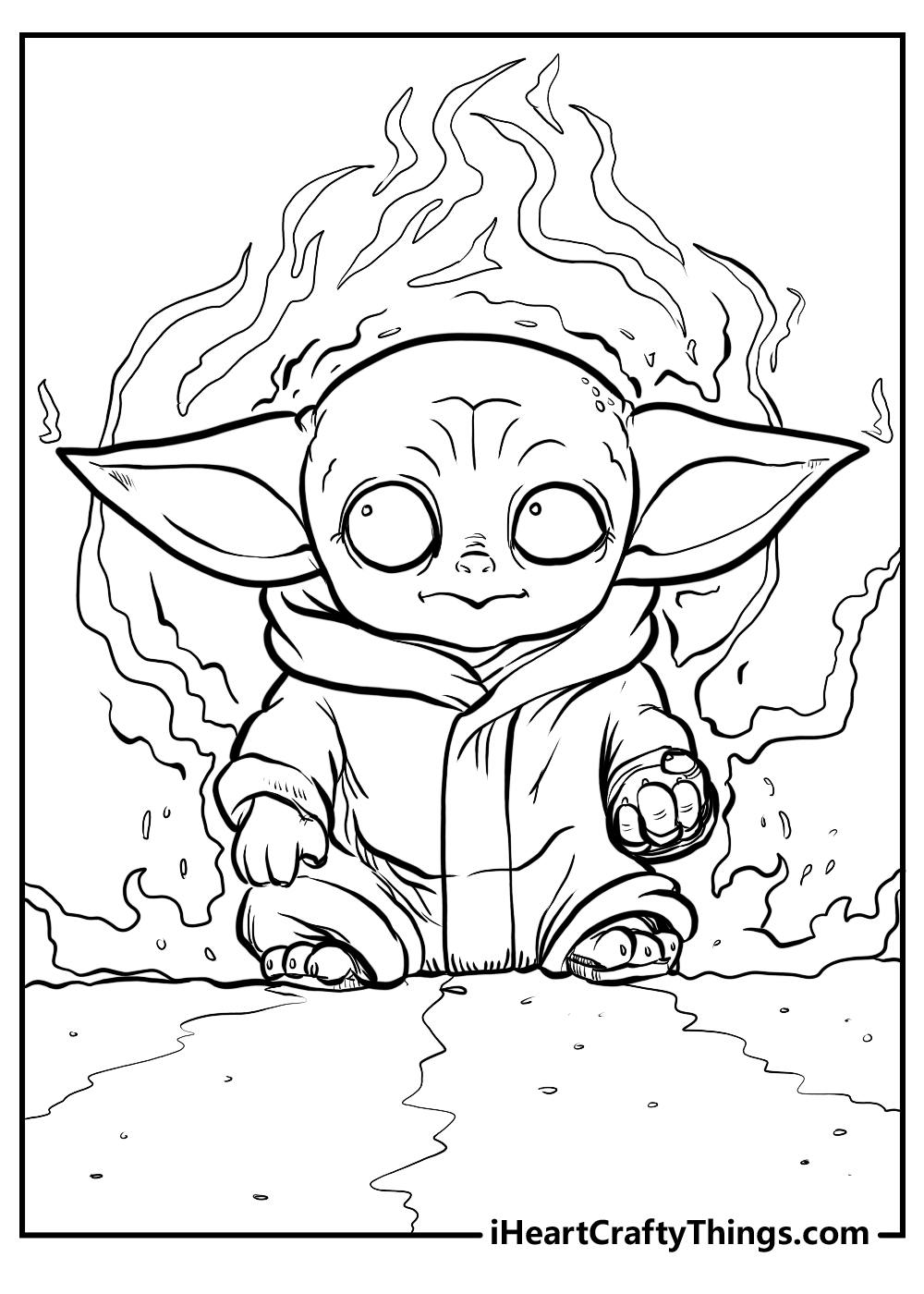 There's an interesting view in this next picture, as we look up at Baby Yoda as he gazes down a well. There are several ways you could make this effect even more striking with your colors.
One way would be to keep the colors of the well dark while making the sky a much brighter color. This would create a brilliant contrast that would make the colors really stand out!
It can also create the illusion of looking up into a bright sky. This is one trick you could use, but what else could you use to color the picture?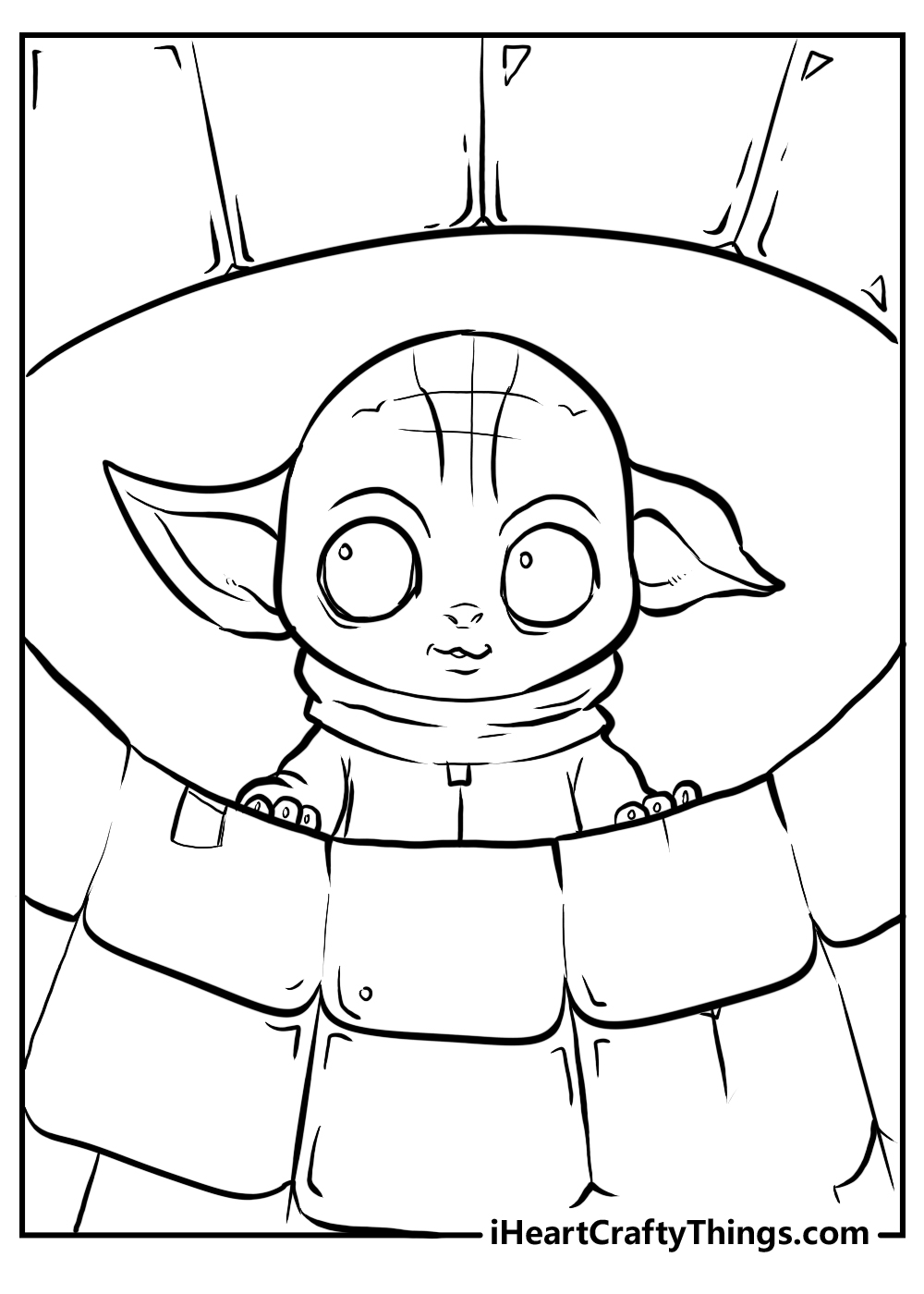 We have another Baby Yoda printable showing off the power that this character is capable of. He is surrounded by the power of the Force, and it is swirling all around him.
Coloring this power around him will look amazing, but it could also be a bit tricky. Luckily, you can take your time with it and have fun adding some color.
Using art tools and mediums like colored pens or pencils would make it easier thanks to the precision these tools allow for.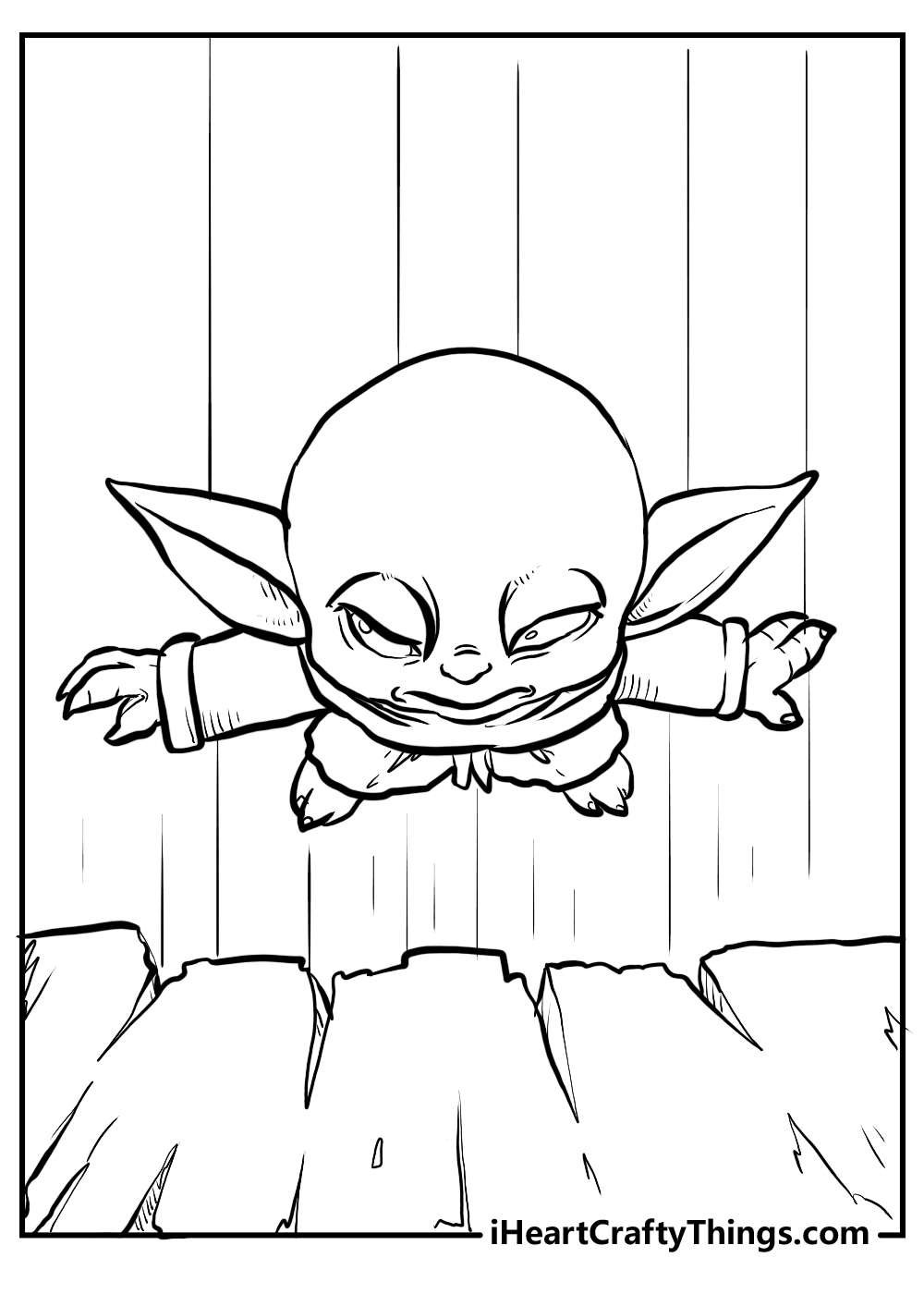 This next picture of Baby Yoda is so cute! For a bit of a change from the rest of the pictures, he is dressed in a Jedi robe with some goggles as well.
This makes this picture stand out from the rest of the collection and gives you some great details to color. There is also a bit of a background setting which you can add more detail to as well.
This could also be a great picture to add more of your favorite Star Wars characters to. Which characters would you like to join Baby Yoda on his adventures?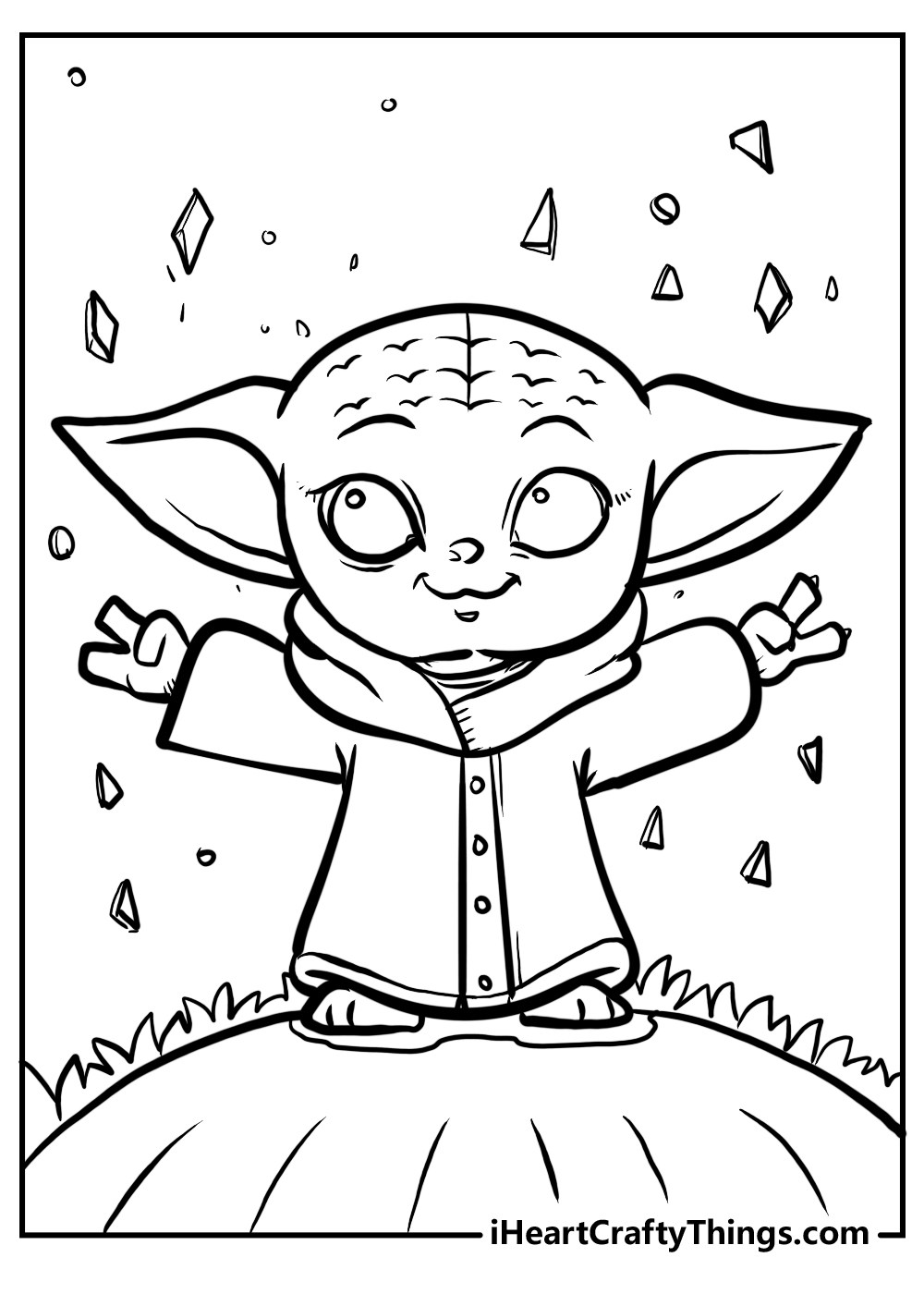 Anyone who has seen The Mandalorian knows that Baby Yoda loves frogs! That's why we have included one in this charming picture of our favorite infant hero.
In this picture, he is riding a frog like a trusty steed, and it's hard to look at this picture and not smile a bit! Not only is it cool to look at, but it will look even better once you have added some color.
The only question is which colors will you use for this picture to finish it?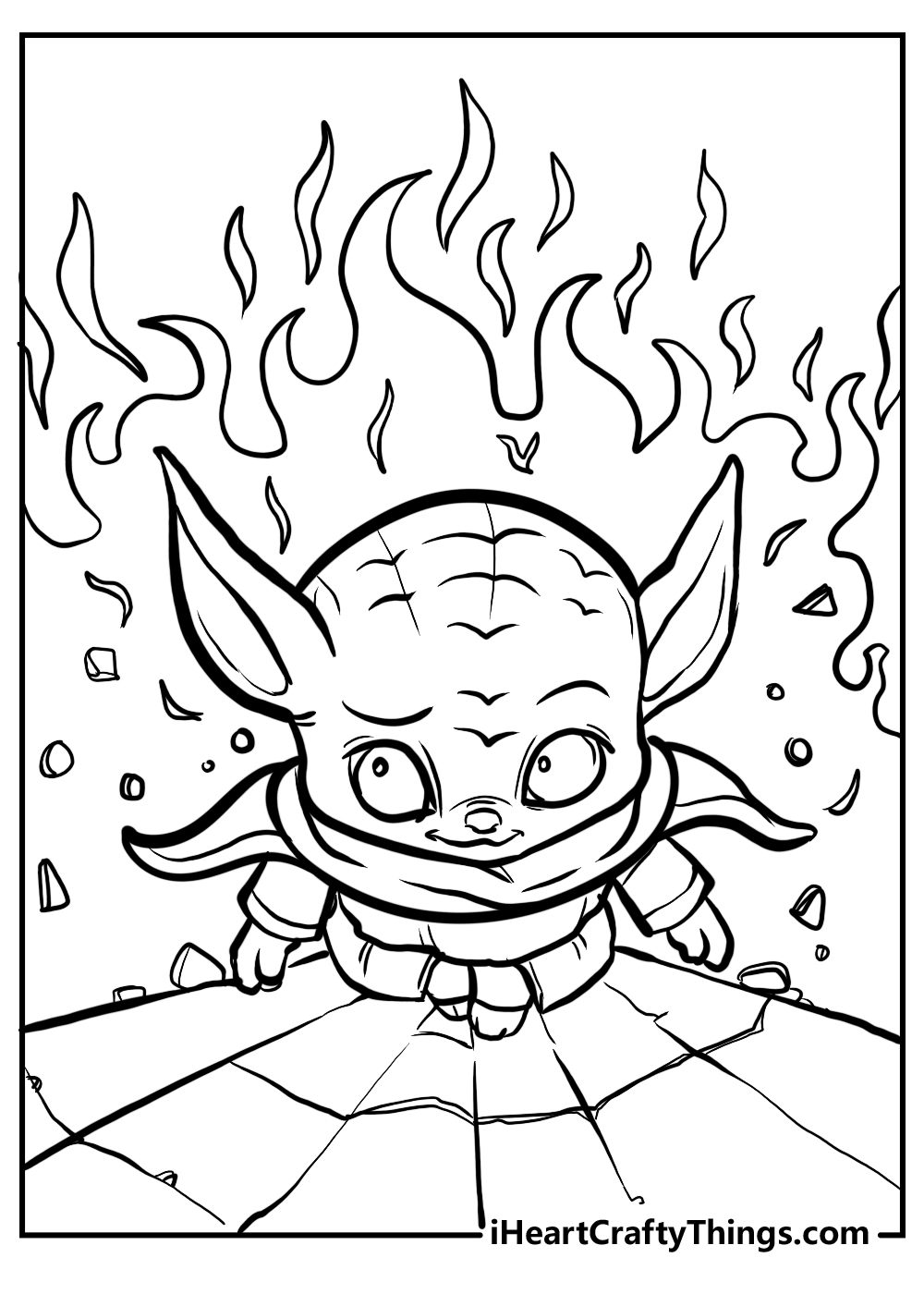 Baby Yoda is enjoying the wonders of nature in this next adorable picture! He is out and about while looking with wonder at some pretty butterflies.
Butterflies are so colorful in real life, and adding them to this picture gives you an excuse to really add so many amazing colors. I would probably use some colored pens for the finer details of the butterflies.
Of course, there are so many more that you could add as well! What colors would you like to use for these butterflies?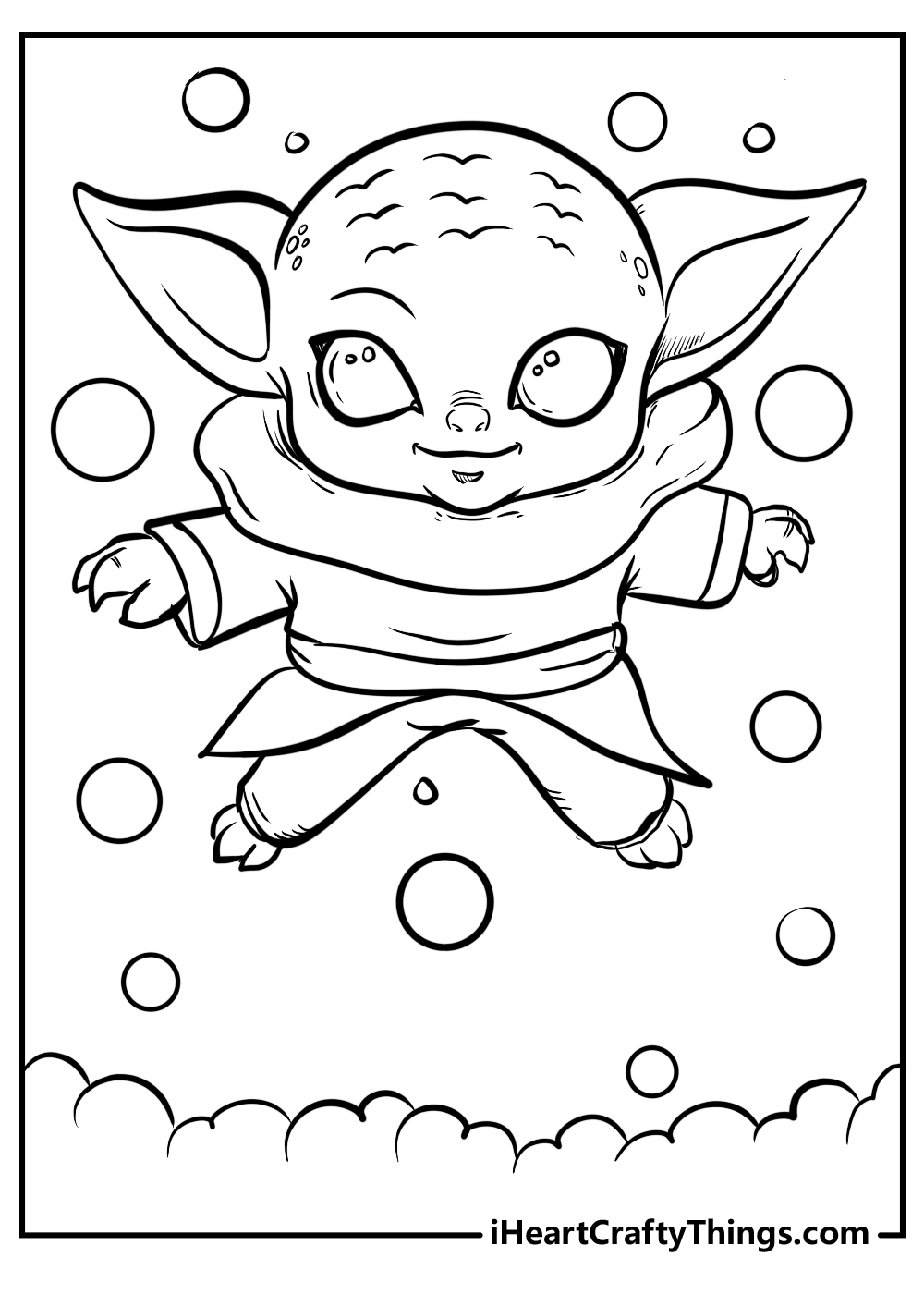 This picture shows Baby Yoda showing off his amazing powers of the force! He is floating some small pieces of debris around him, and it makes for a really cool scene.
For some extra fun, you could find some small stones or other objects and then use some glue to stick them to the picture. This would make it look like he is levitating real objects that have real texture!
Can you think of some small objects you could stick to the page to add some texture to the image?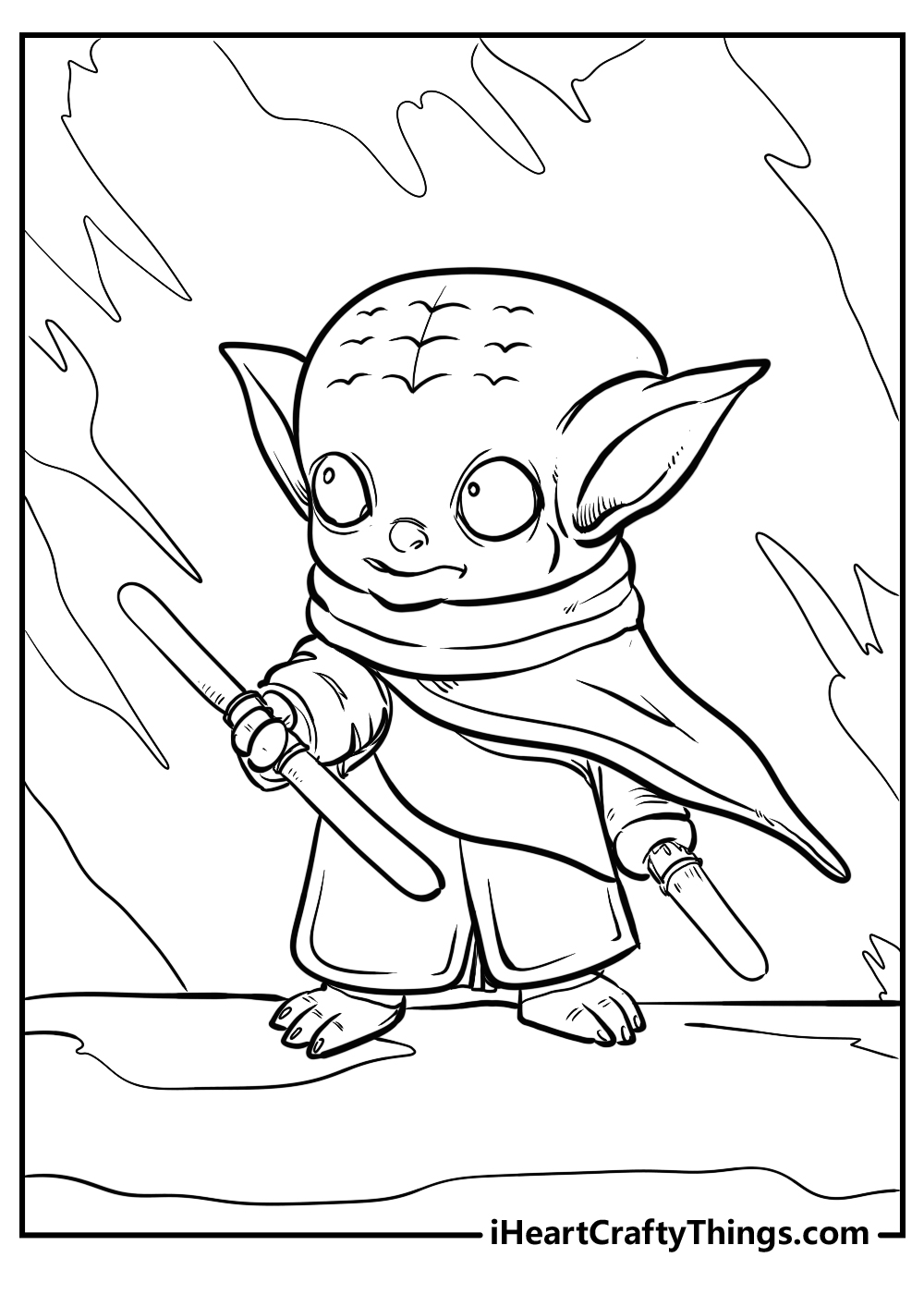 It's time to get cozy in your favorite blanket as we present this next Baby Yoda coloring sheet for kids! Here we see the little guy snuggled up in some blankets.
It's a peaceful image, so I would use some milder colors and use watercolor paints for this one. That would help to give this picture a nice relaxing feeling.
Of course, that is just one of many ways in which you can color this picture! What are some other colors and mediums you think would properly suit this picture?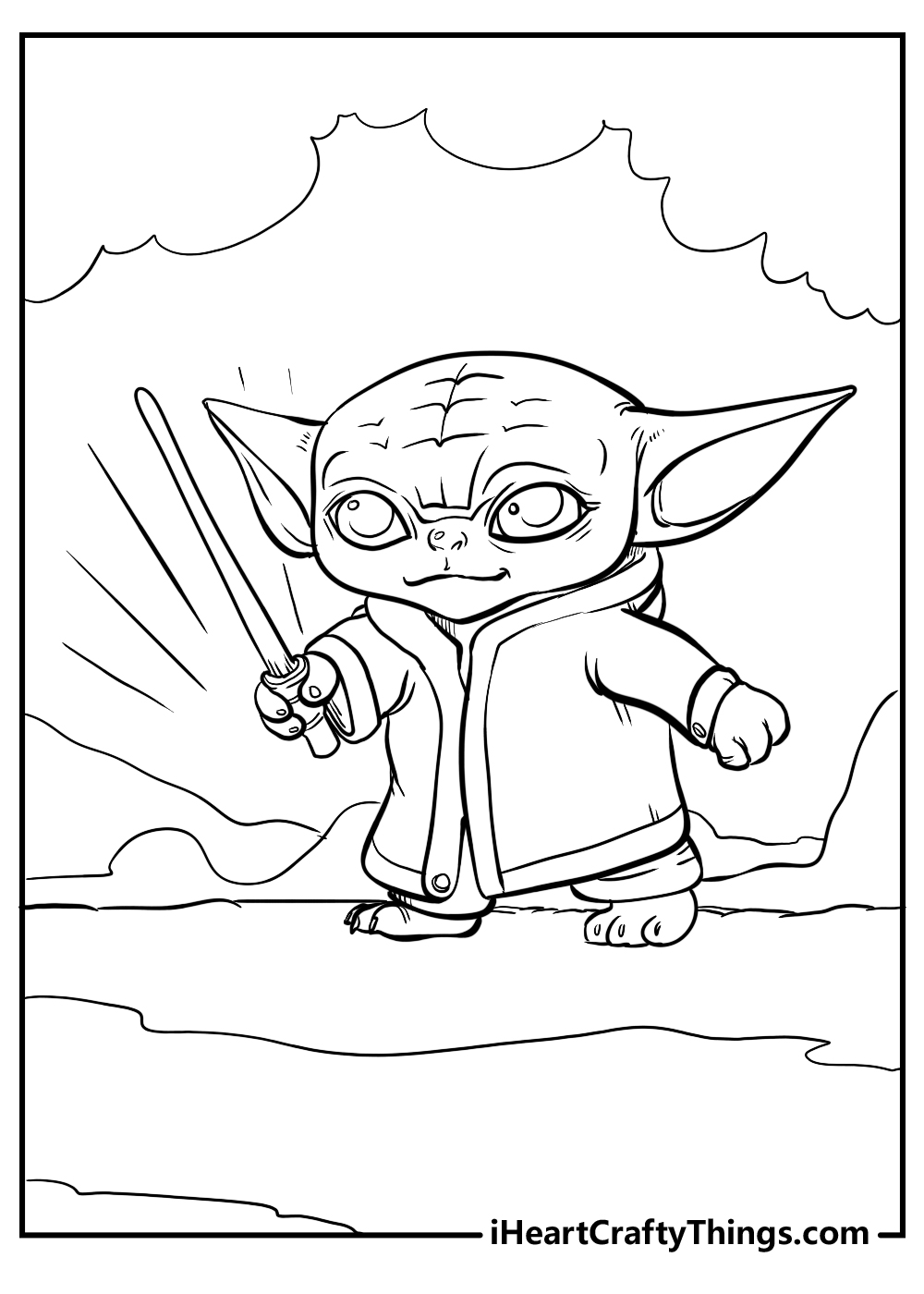 Baby Yoda is really concentrating on his powers in this dramatic coloring page! He seems to be summoning up his power, and you could add some extra details to show this.
This could be done by adding some swirling Force effects surrounding him, similar to the ones we saw in previous pictures. Not only would this look cool, but it would add even more details for you to color!
You could also create a background scene and add some details and additional characters or props there. Does this picture remind you of a scene from the show?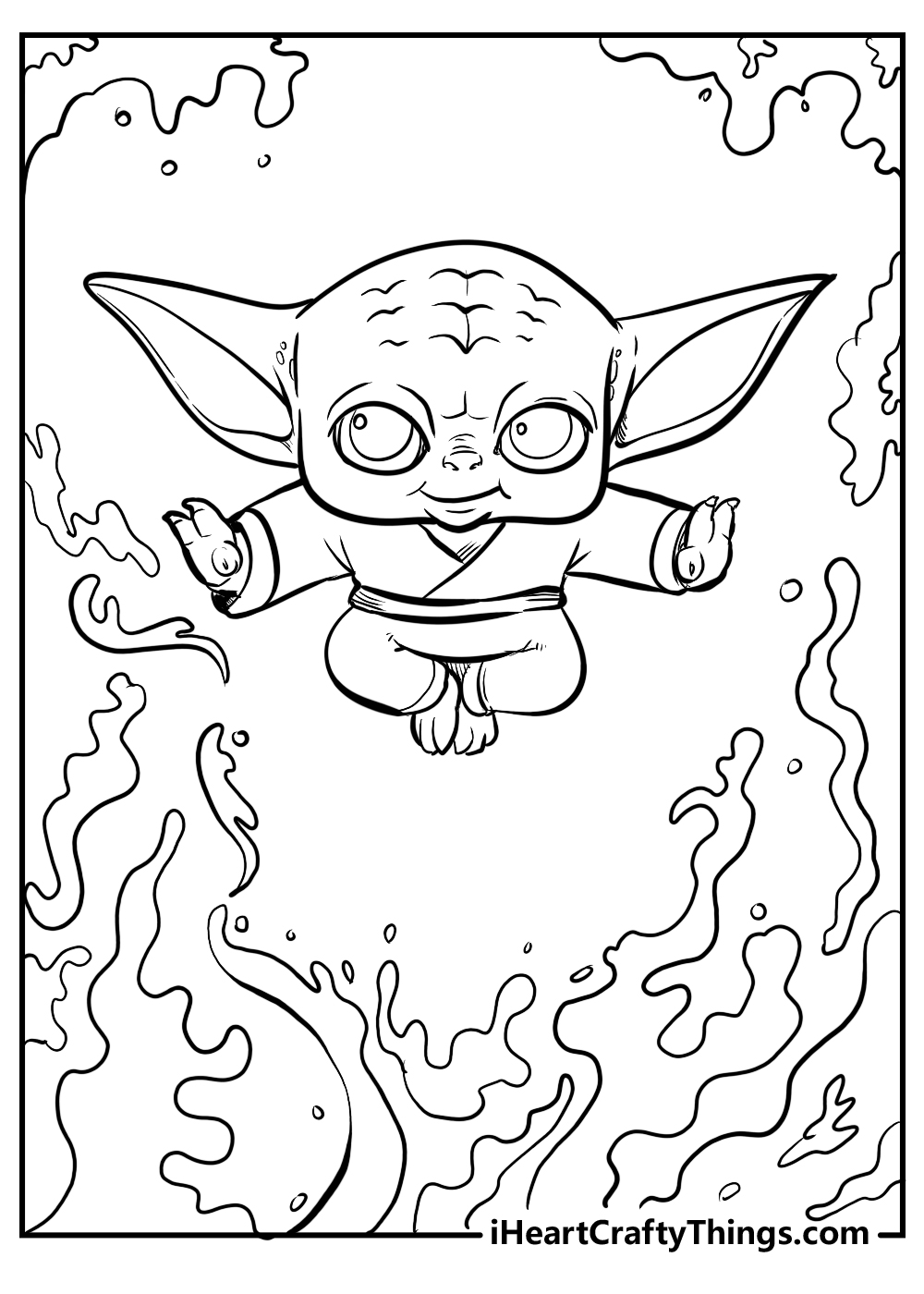 Baby Yoda Coloring Pages – Which will you choose?
That brings us to the end of this collection of free Baby Yoda coloring printables for kids! Now you have embarked on some epic adventures with this little hero, but the fun doesn't have to stop there.
You could print out some more copies of your favorite pages and try out all kinds of different colors and effects. Drawing your own extra details and backgrounds can also be great for having more fun.
You can also share these pages with your friends who also love Baby Yoda! This would be a great way for you to keep the fun going.
You can also share some of your completed artwork on our Facebook and Pinterest pages so we can see how they turned out!