There are few villains as well known and iconic as Darth Vader. Even people who have never seen a Star Wars movie would recognize his terrifying mask and ominous breathing.
While he is an evil villain, fans also admire his complex character development as well as his tragic fall to the Dark Side. Plus, he's just pretty cool looking, it has to be said!
With millions of fans worldwide, many have been looking for a collection of free Darth Vader coloring pages for kids. That is what we're here to provide, as we have 15 pages fit for any Vader fan.
There are some awesome poses to color here, and we hope you're ready to take on this iconic Star Wars villain!
15 Brand New Darth Vader Coloring Pages – Free to Print and Color
This first Darth Vader coloring sheet really captures the menacing look of this famous character. Looking at the page, you can almost hear his breathing as he contemplates his next move.
Darth Vader's suit is made up mostly of black and gray, but you can work in some interesting highlights and effects as well. Some small buttons on the suit also have colors like red and blue.
You could look up some reference pictures online or use stills from the film itself to get the right colors if you want him to look accurate!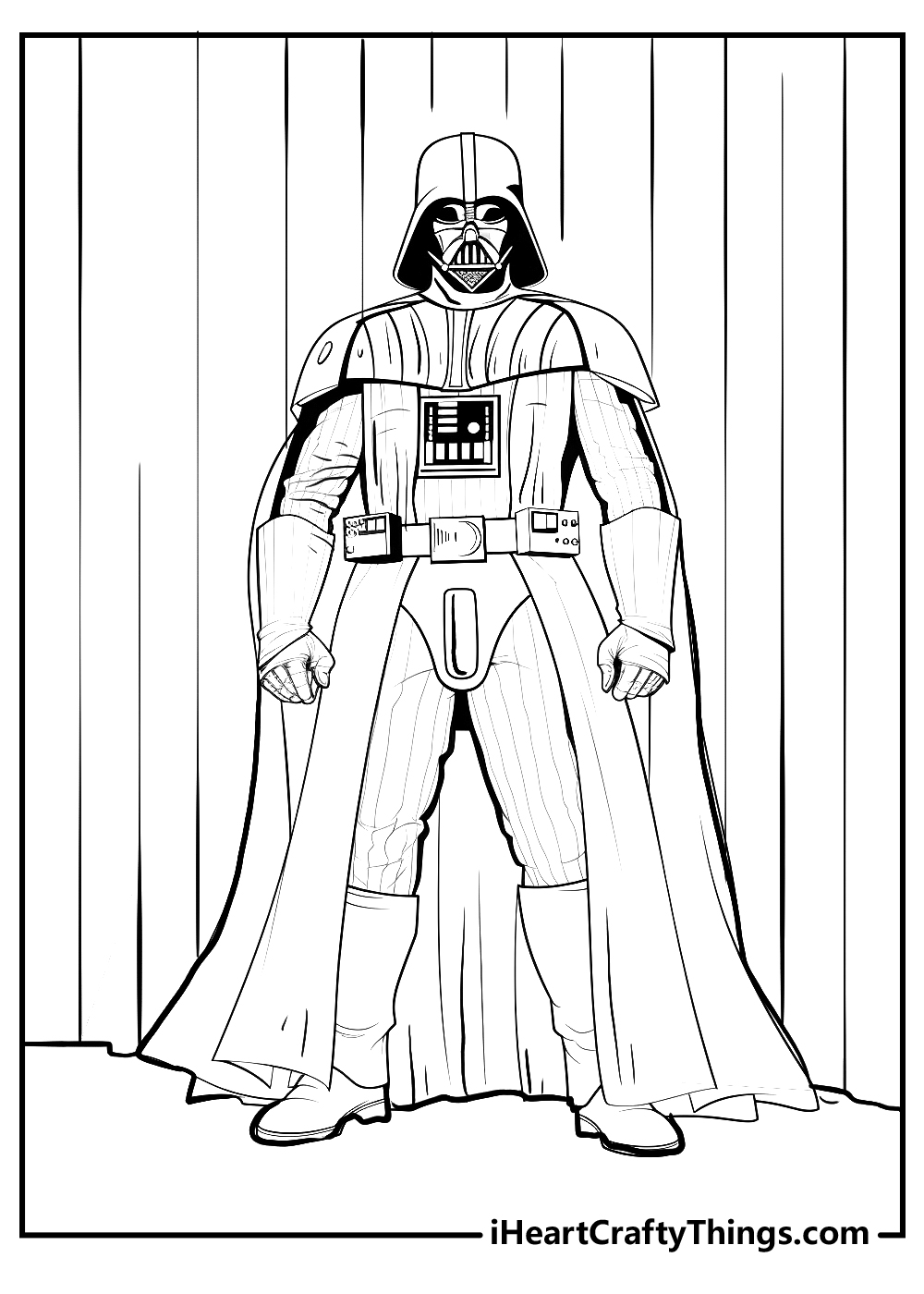 Darth Vader is known for his anger and his wrath, but he can also be a more contemplative character. That part of him is captured on this next page as he takes a quiet moment of thought.
Anyone that has seen the films knows that Darth Vader has had some tragic things happening to him in his life. It's no wonder he is so angry and wrathful all of the time!
I think that this quiet moment would be well suited to some lighter colors with some duller art mediums.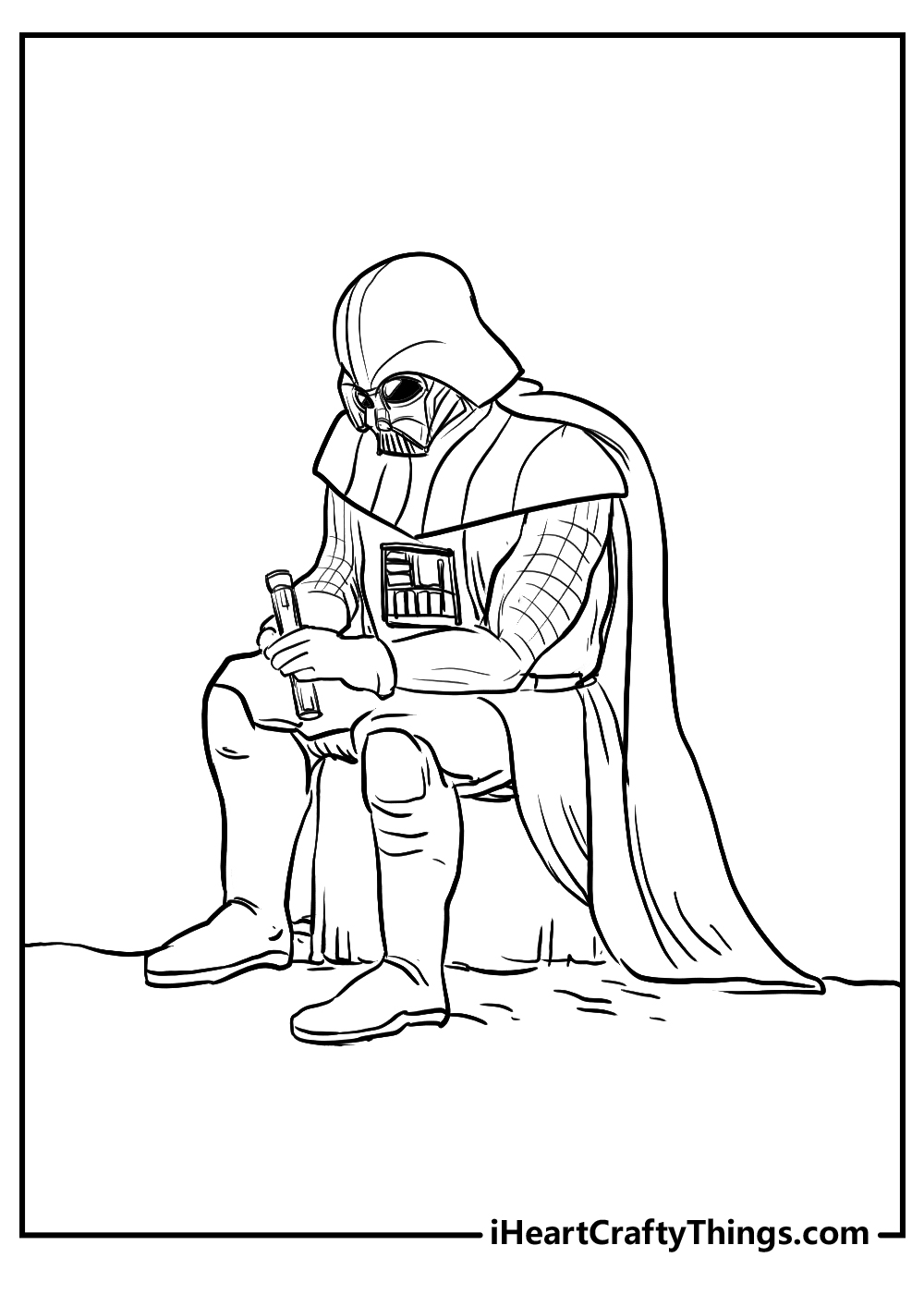 This next page has a sight that no hero would like to see. Darth Vader is wielding his lightsaber and he looks like he means business!
The lightsabers in the films famously glow, and you can portray this in various ways on this page. One way to start would be to color the red saber with some bright mediums like colored pens.
Then, you could color a lighter glow around the weapon with some lighter art mediums. That is one method that you could use, but there are many other ways to go about it.
How will you portray his fearsome weapon?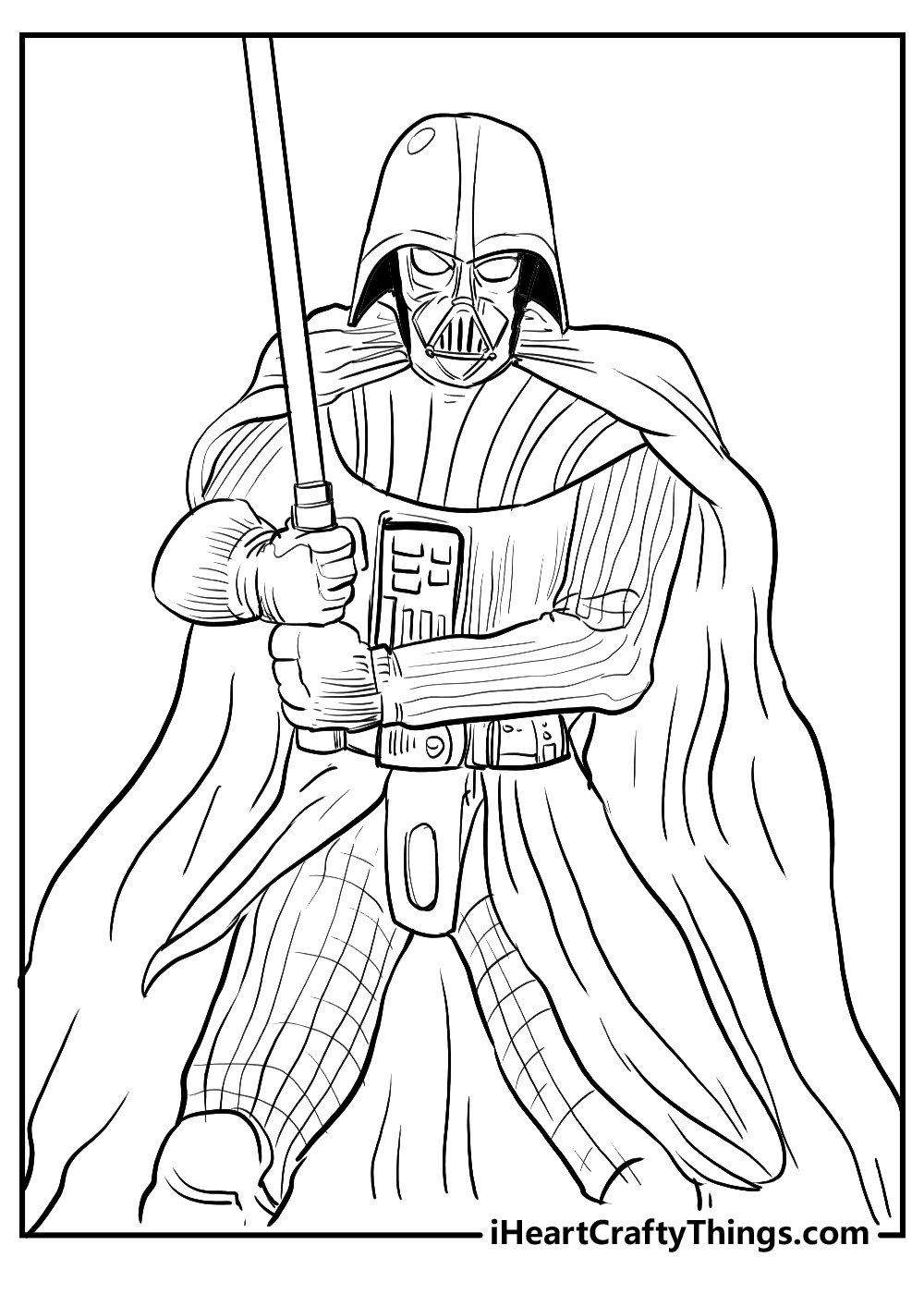 When it comes to weapons, Darth Vader has more than his fearsome lightsaber to rely on. He is also adept at using The Force to inflict damage, and that is shown on this page.
One of his signature moves is the choke move, and it's one that he uses in the films and other media. This page depicts that move, but it also has Star Wars written above the character.
Adding text like this gives you even more detail to color, and it allows you to work in some more vibrant colors to contrast his darker uniform.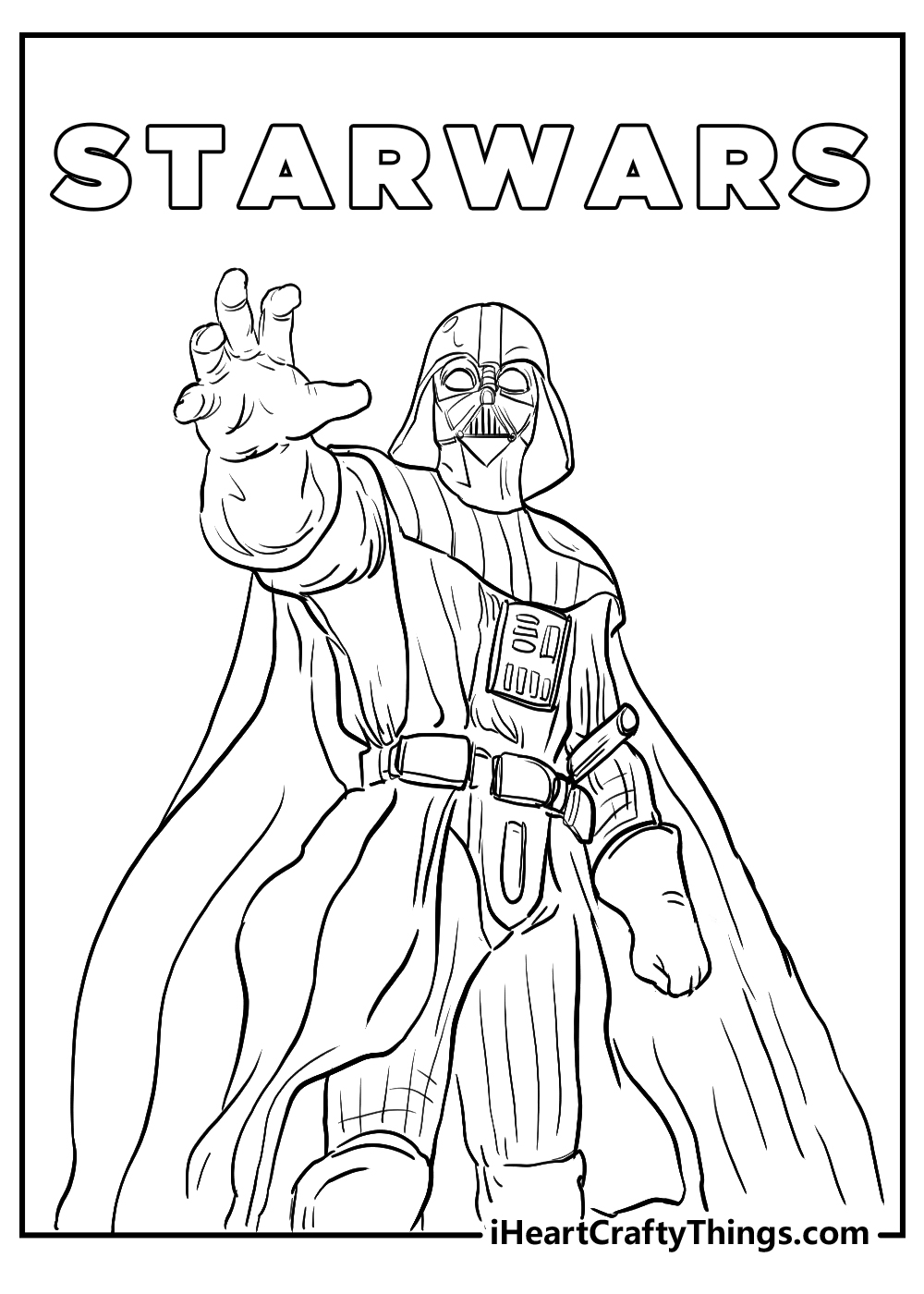 This next Darth Vader coloring printable shows him sensing something around him. Darth Vader is powerful in the ways of The Force, and he can even use it to sense threats around him.
The fact that it is depicted on this page makes you wonder what could be happening to cause this reaction. Maybe you could draw an extra detail for this picture to show what the threat is.
Maybe a character like Luke Skywalker could be hiding in the background, for one idea. What else do you think could be causing this reaction?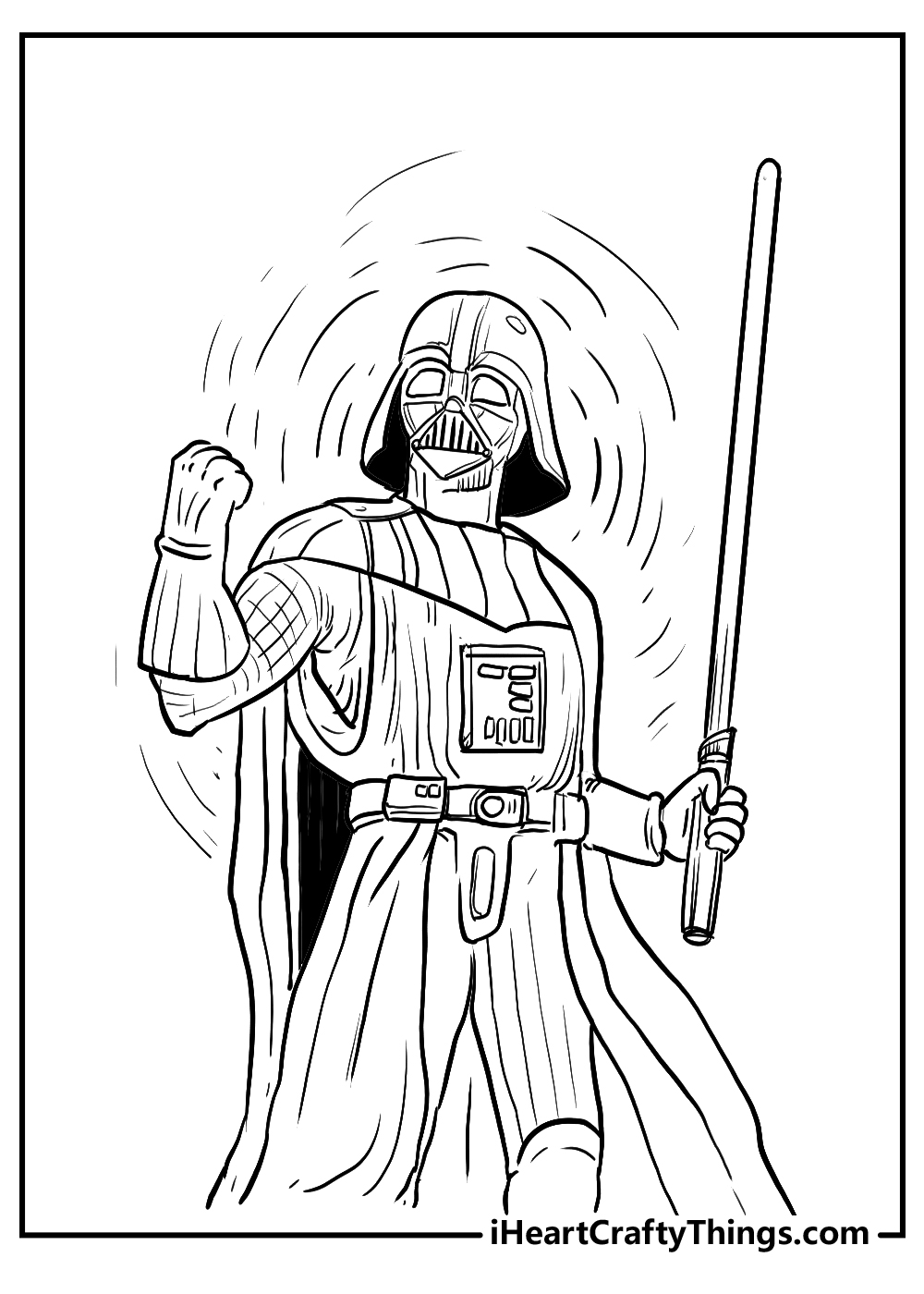 There are many incredible planets and other locations in the Star Wars series, and Darth Vader has been to many of them.
This next page shows him striding somewhere, and the background has been left pretty blank.
It's great, as this allows you to add some details of your own! You could show off where your favorite Star Wars locations could be by drawing them for the background.
It could be easier than you think, for example you could show Tatooine by drawing two suns in the sky! Which locations would you like to use?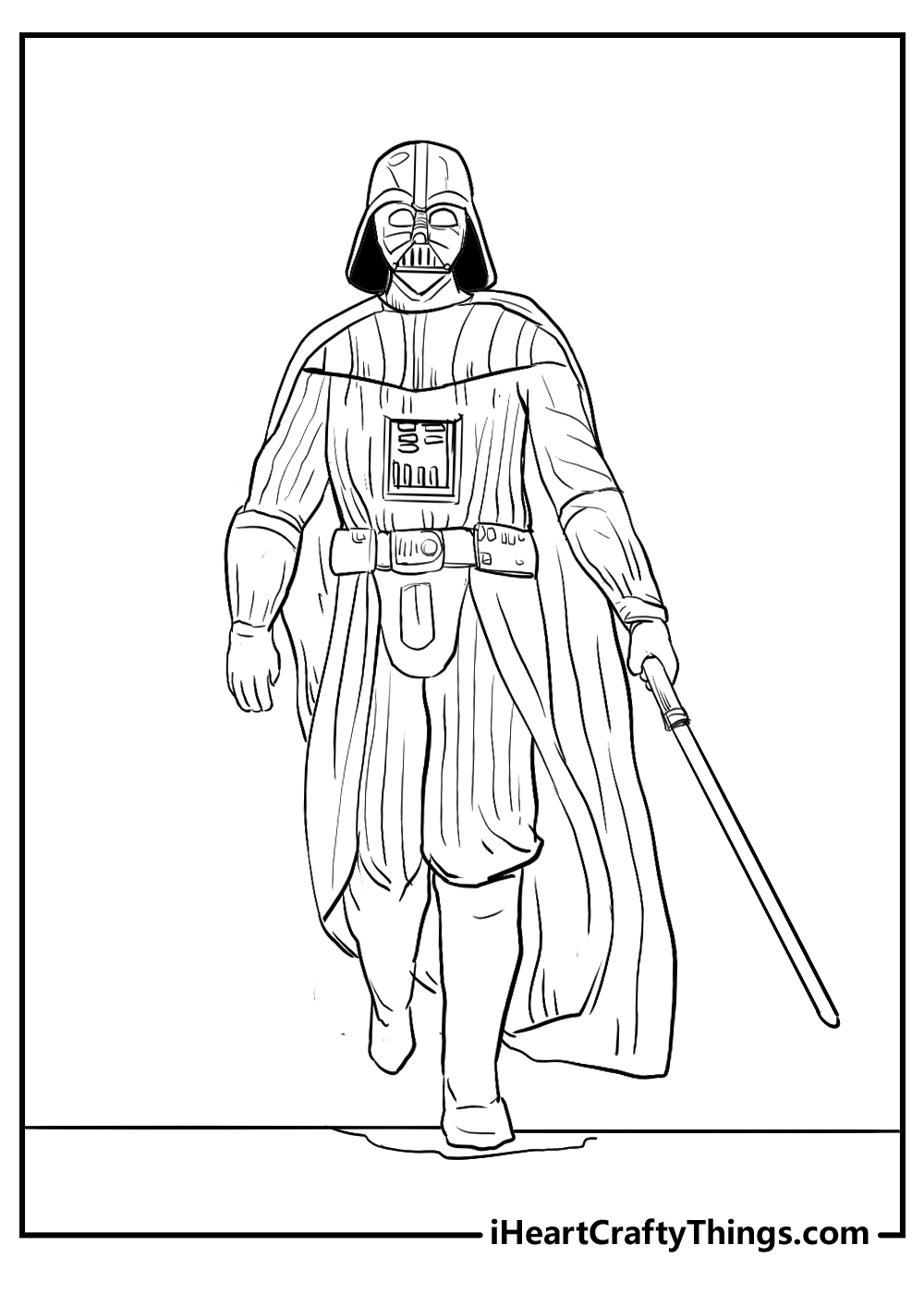 Now here is a page that would make an awesome poster for your wall! Not only is Darth Vader pulling a cool pose, but his name is written in large letters around him.
Once colored in, this would look amazing on any wall! Which colors do you think you would use for the letters of his name?
I know that I would use some dark red and maybe black for the letters, but that's one approach, so let your creativity take over!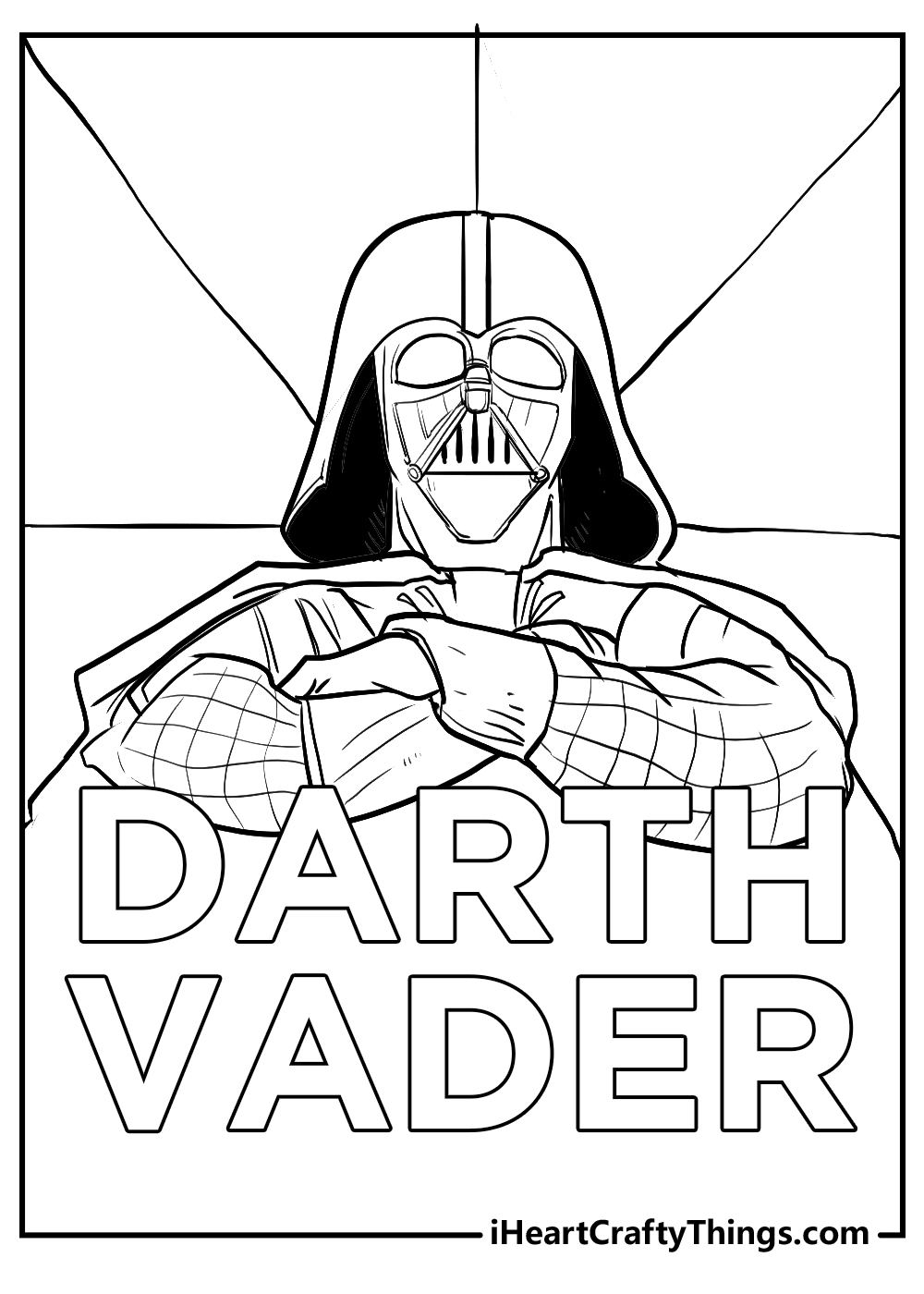 Many think of Darth Vader's fighting prowess when they picture him, but he is also a very wise and contemplative character.
This is another page that shows off this side of him as he appears to be meditating. As mentioned before, there is a lot for him to think about.
You could even add some extra elements to show what he could be thinking about on this page. For example, you could add some text or even some pictures that show events from his past.
How else could you show what is on his mind?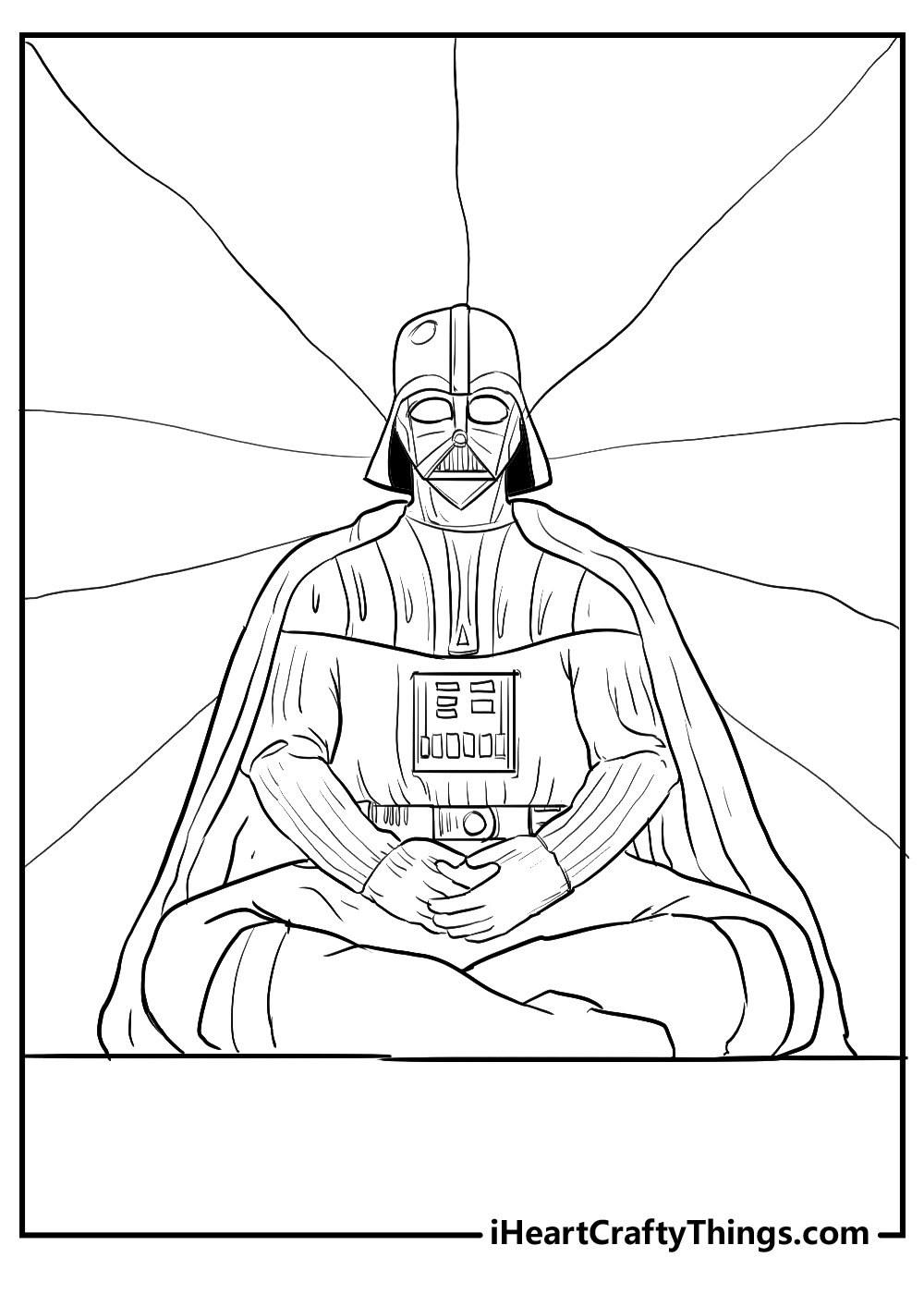 This next page is a really cool pose for Darth Vader. It shows him holding his lightsaber to his head like a samurai would, and it's a really awesome sight.
If I were coloring this page, I would make it very dark and moody with darker colors and mediums. Adding some rain effects would also add some mood to the piece.
I think that some acrylic paint would work for some darker colors here, but watercolors would also add some more subtle color to the page.
You can print it out as many times as you like if you want to experiment!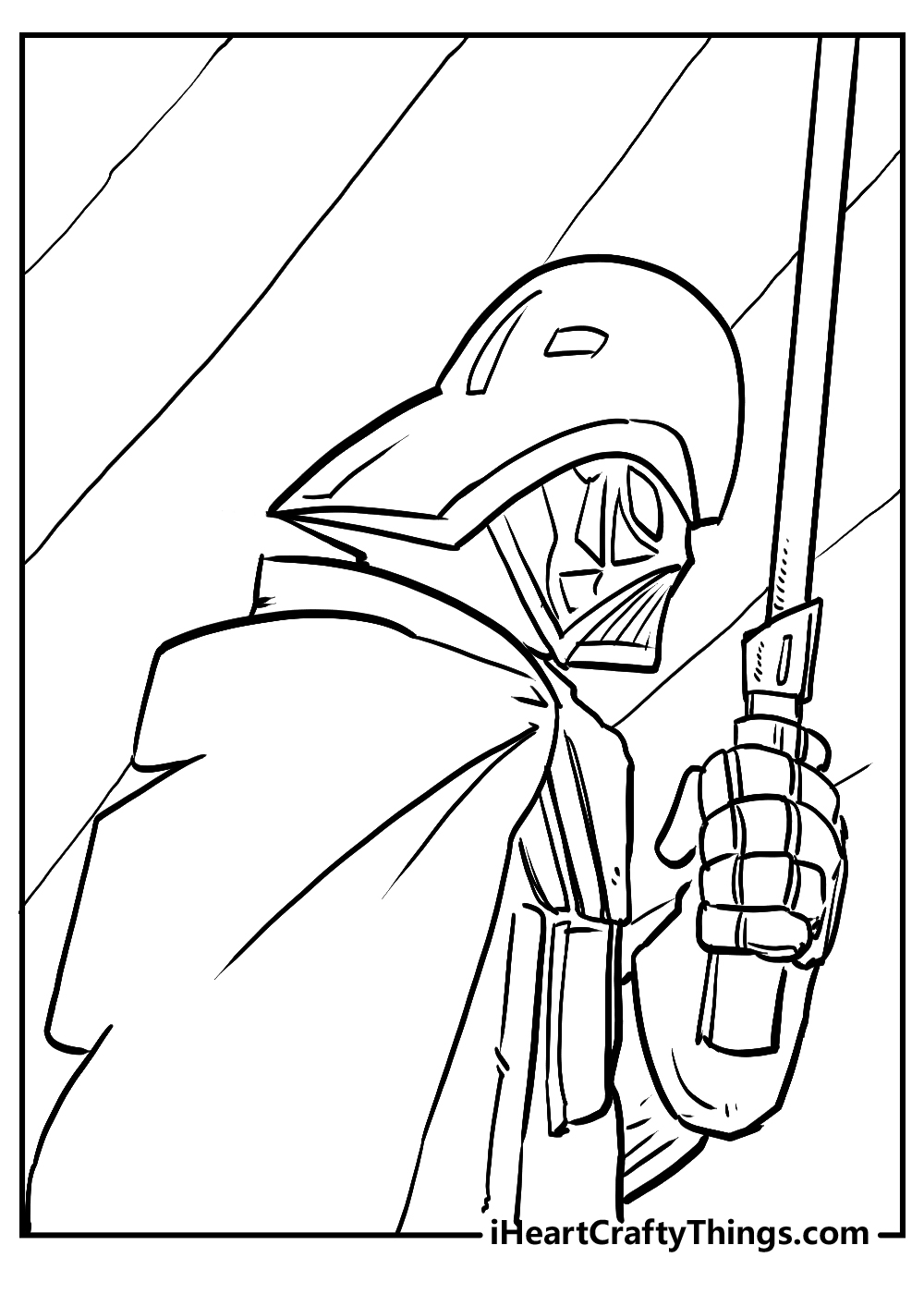 This Darth Vader coloring page shows him on the move, and he seems really determined! It seems like something is going down, and that things are getting serious.
It would be another page that would be perfect for some background details. You could once again add a background setting that shows off your favorite Star Wars location.
It could be based on a scene from the series, or you could create your own unique Star Wars location. What are some scenes from various Star Wars stories that this page makes you think of?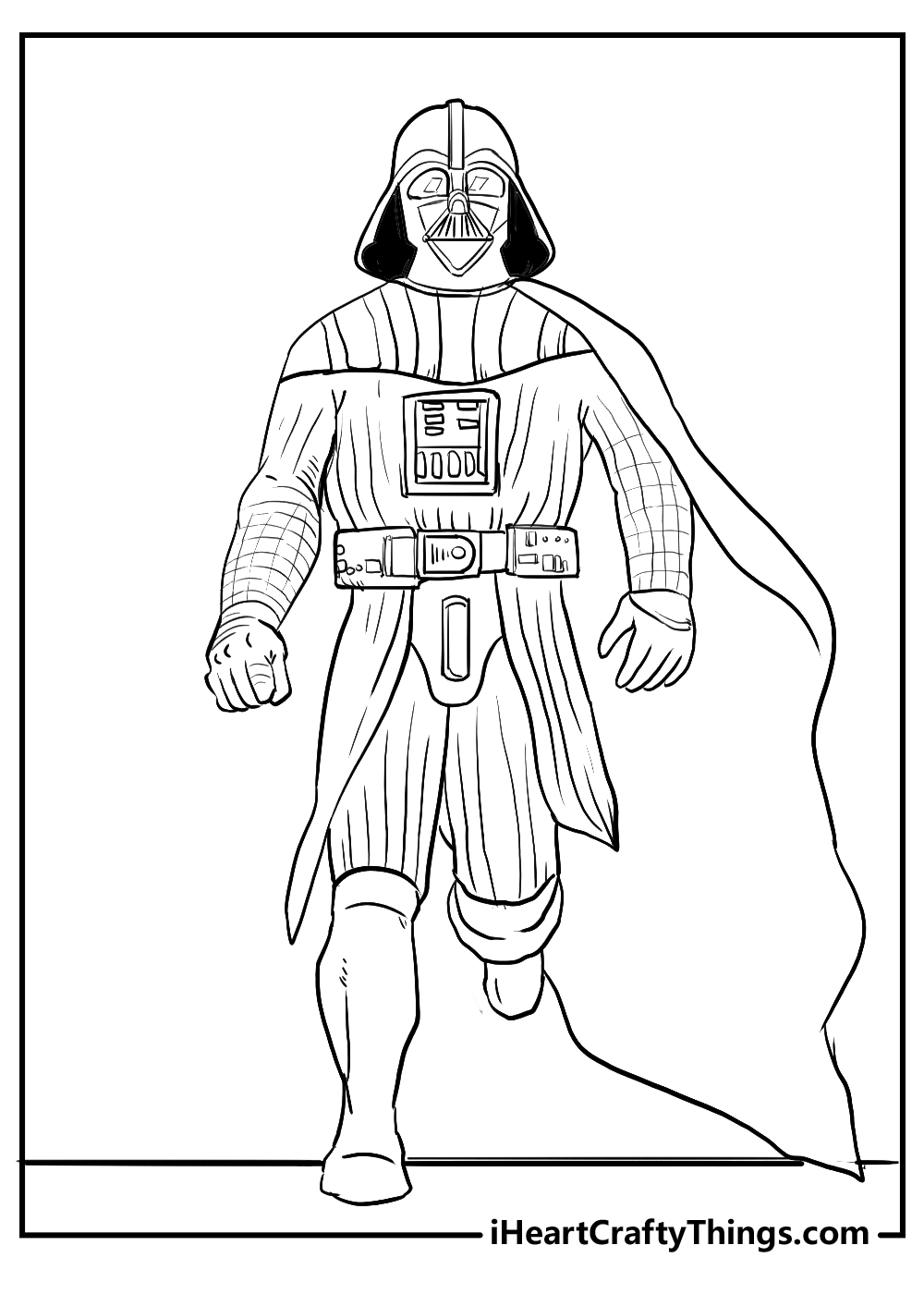 You can really feel the power on this next page! Darth Vader is clenching his fist while wielding his lightsaber, and it feels like a really intense image.
Not only is it a cool pose, but you also get a good look at all of the details of his iconic suit. For these small details, I think that some colored felt pens or markers would be perfect.
If you use something like crayons for a picture like this, you can find it harder to portray those finer details, so pick your mediums to suit your vision!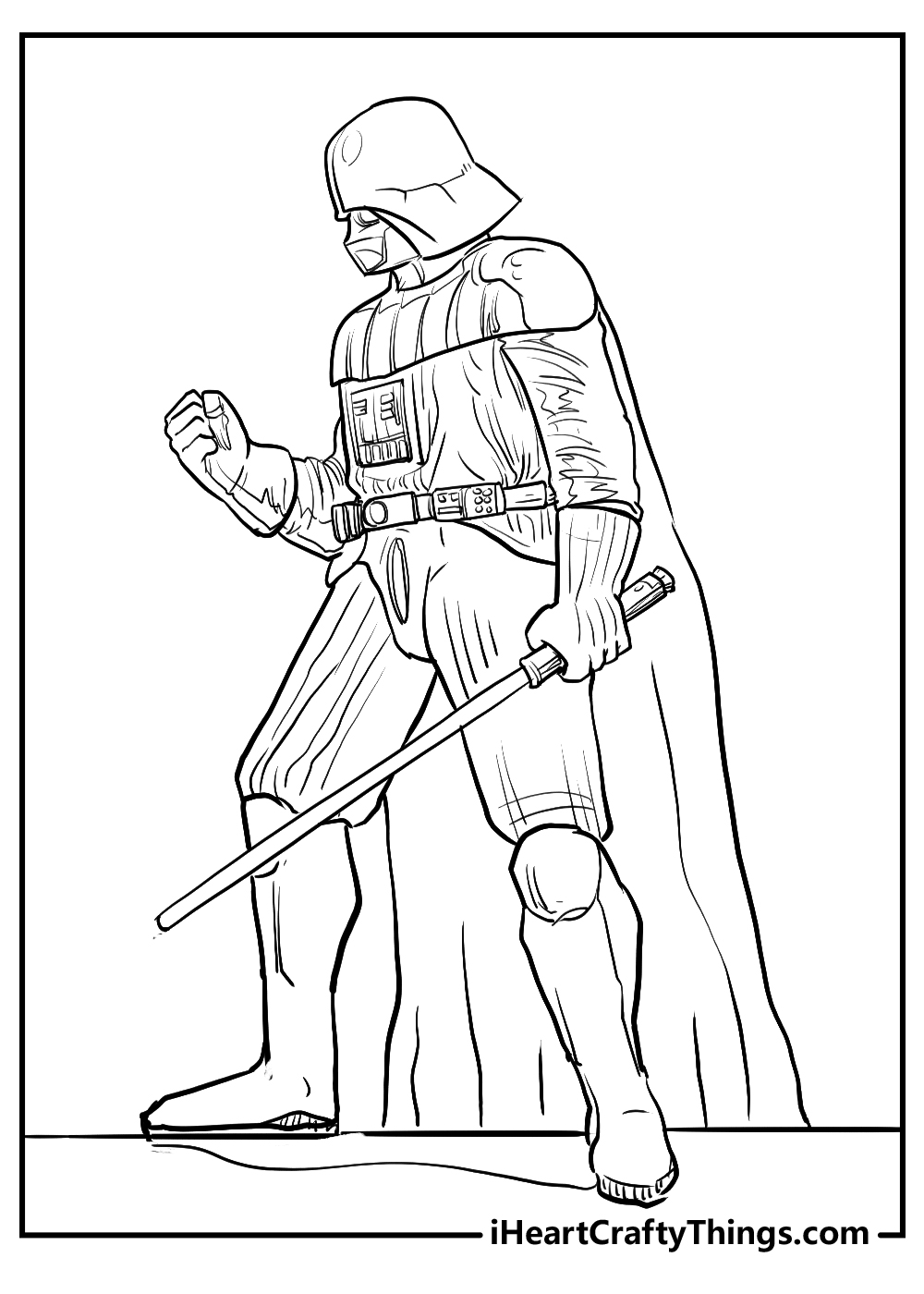 Something interesting about Darth Vader is that he is a very expressive character despite always wearing a mask. If you ask me, he looks furious on this next page!
It makes me think that someone has come close to besting him, and now he is really angry about it! There are so many stories that could be suggested here, and you can build one around him.
Adding extra details to the background to create a scene is fun and gives you more things to color as well!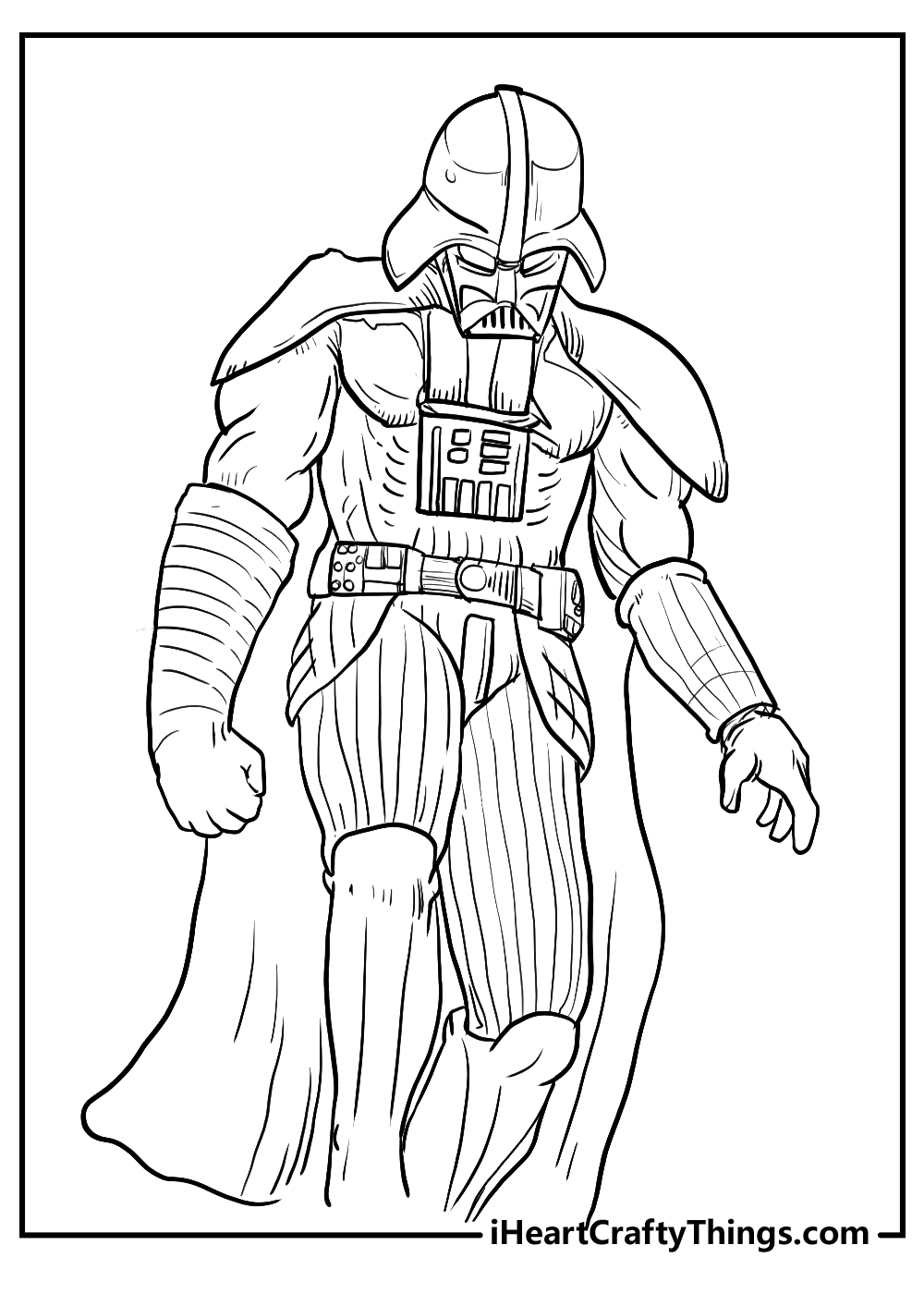 This next page is one of the most detailed depictions so far, so it is one that could keep you busy for a long time! I personally love to spend a good time on a coloring page.
There's no need to rush it, and you can try out different methods and mediums as well. I have mentioned using colored pens and markers for these finer details, but there are other ways.
If you like to paint, then you can use some small paint brushes to portray those finer details. What is your medium of choice for finer details?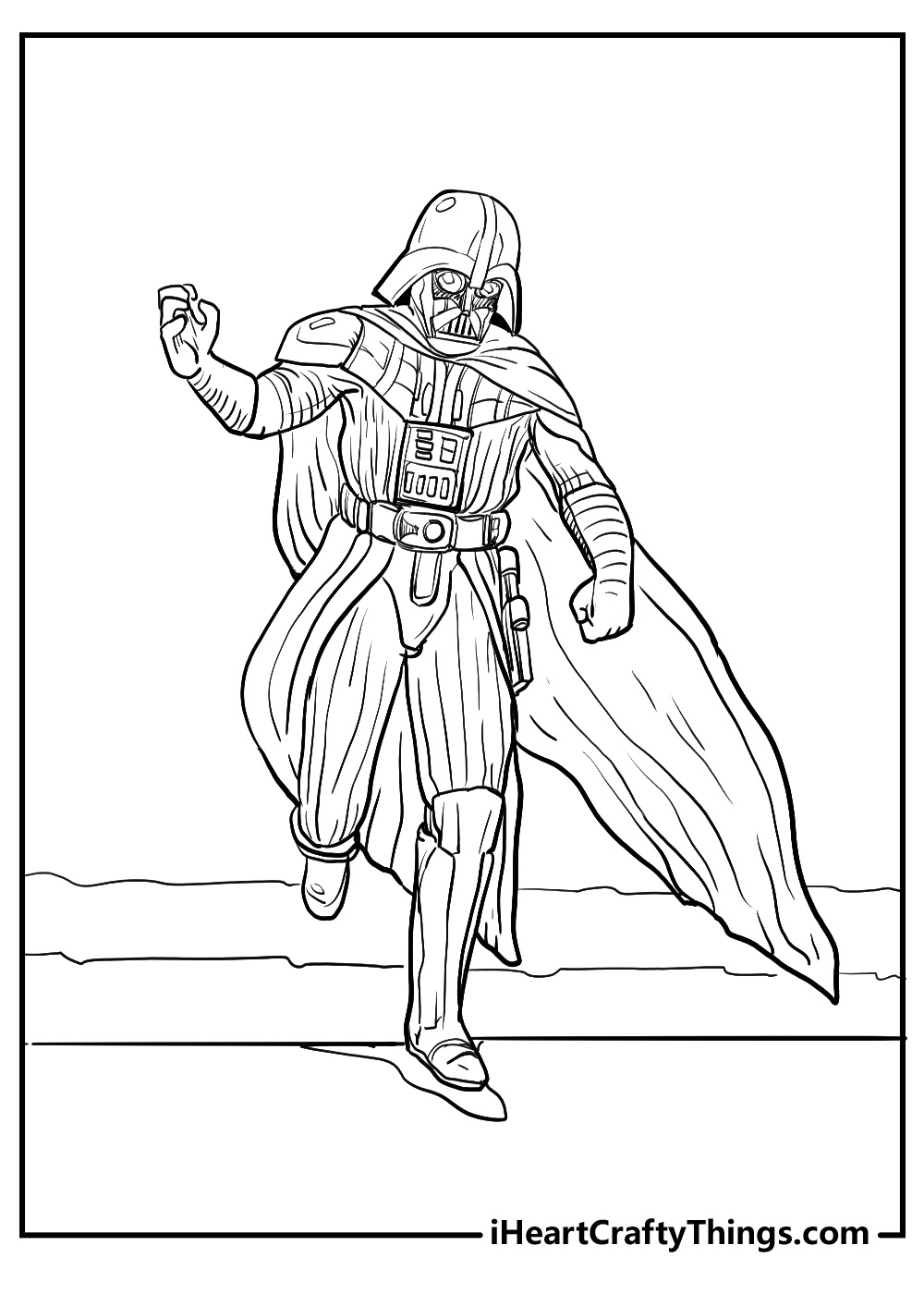 Some unlucky soul is feeling the full extent of Darth Vader's power on this next page! He is not only wielding his lightsaber but also using The Force, and it's quite a sight to behold.
Darth Vader is known not only for looking cool but also for his memorable lines and quotes. If you have a favorite quote, then you could add it to the page to show it.
It could be in a speech bubble or even as bubble text above him. Which Darth Vader quote would you use for this?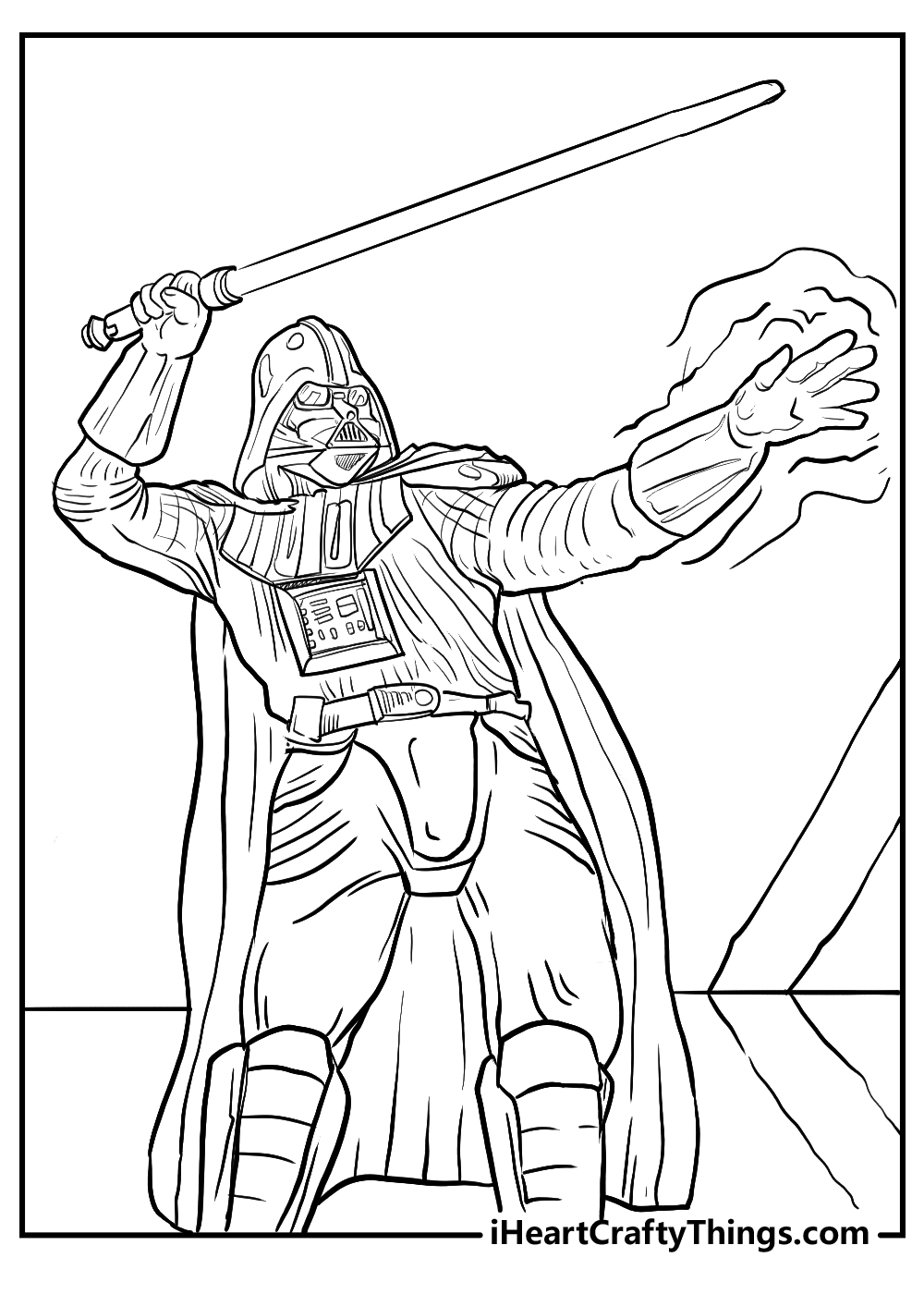 We have arrived at the final Darth Vader coloring page that we have for you, and it is another awesome and highly detailed one. You could color this page in many interesting ways!
The background has been segmented, so you could also fill each segment with different colors as well. That would make it really interesting to look at, and it would bring the focus on the character.
If you have lots of ideas for this page, remember it's free to print it as many times as you like, so you can try them all!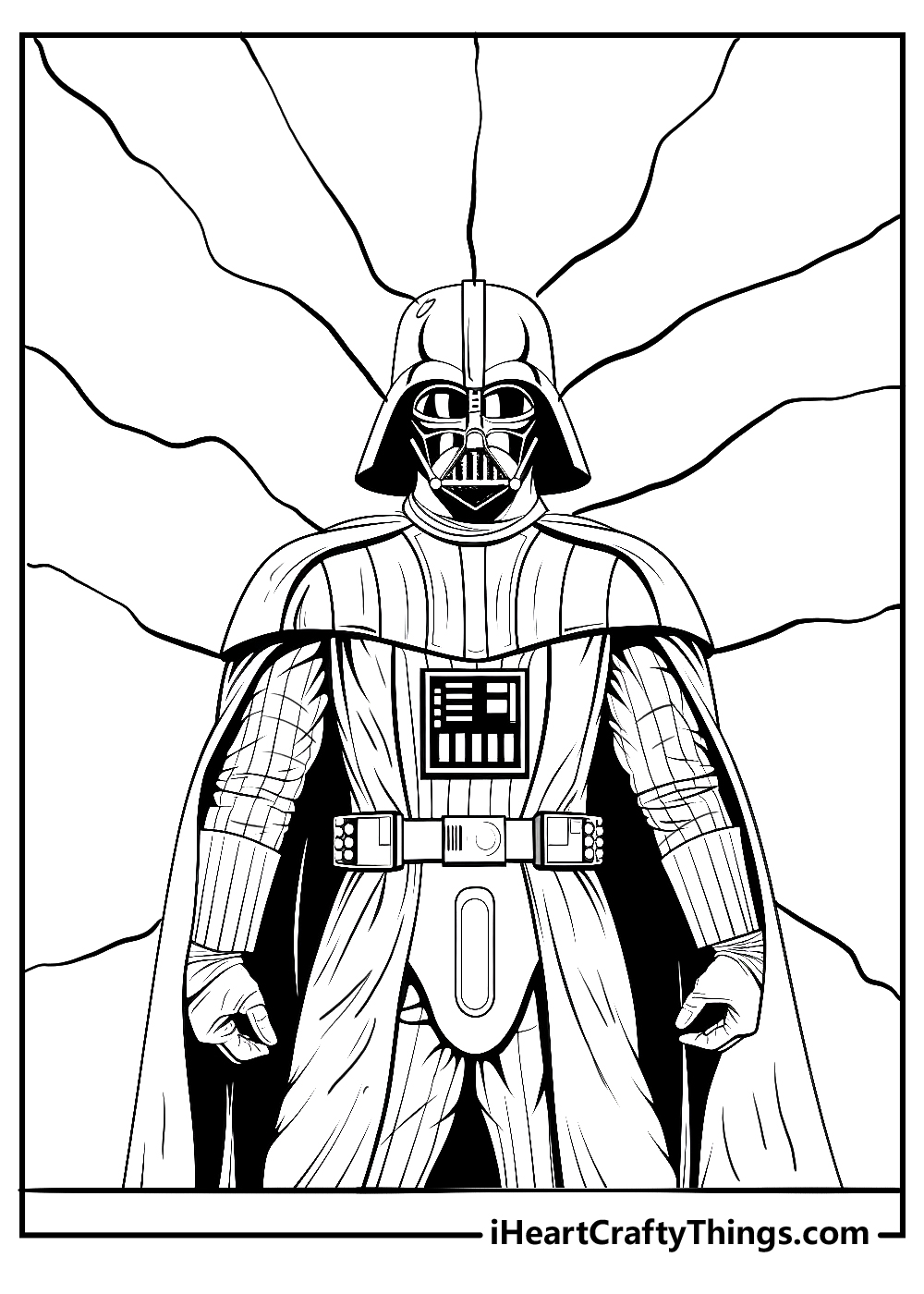 Darth Vader Coloring Pages – Which will you choose?
Darth Vader is one of the most famous fictional characters ever created. We hope you had a fun time celebrating his legacy with these Darth Vader coloring sheets!
There are so many cool poses and scenarios in this collection that you can recreate your favorite moments that involve this tragic villain.
Even though he may not have a very colorful outfit, there are plenty of ways that you could add some more colors to the surrounding elements as well.
This collection is also perfect to share with any other Star Wars fans that you know! We would also love to see your depictions of the Dark Lord, so please share them on our Facebook and Pinterest pages!