What's your child's favorite flower? If they say daisies, you're in luck. Did you know that there are 20,000 species of daisies?
While they come in many colors, most children paint them white because it's the most popular kind.
We created daisy coloring pages because a level of mystery has always surrounded these flowers. Daisies burst into bloom in the spring after a long winter of hibernation.
Download the following free daisy printable sheets if you want to teach your children that these flowers symbolize purity and innocence, which are also valuable traits in a human.
10 Brand New Daisy Coloring Pages – Free to Print and Color
Daisies are beautiful flowers, and children have a lot of fun coloring them. Seeing the flower at the stage depicted in this daisy coloring sheet is a rare and beautiful moment.
It's the type of moment that's worth using the most colored markers and pencils to paint it.
This daisy is the perfect distraction for your children if you want to keep their minds busy because it has a multitude of petals that require attention when coloring, not to cross over the lines.
To make the coloring process even more interesting, encourage them to use a different shade for each petal.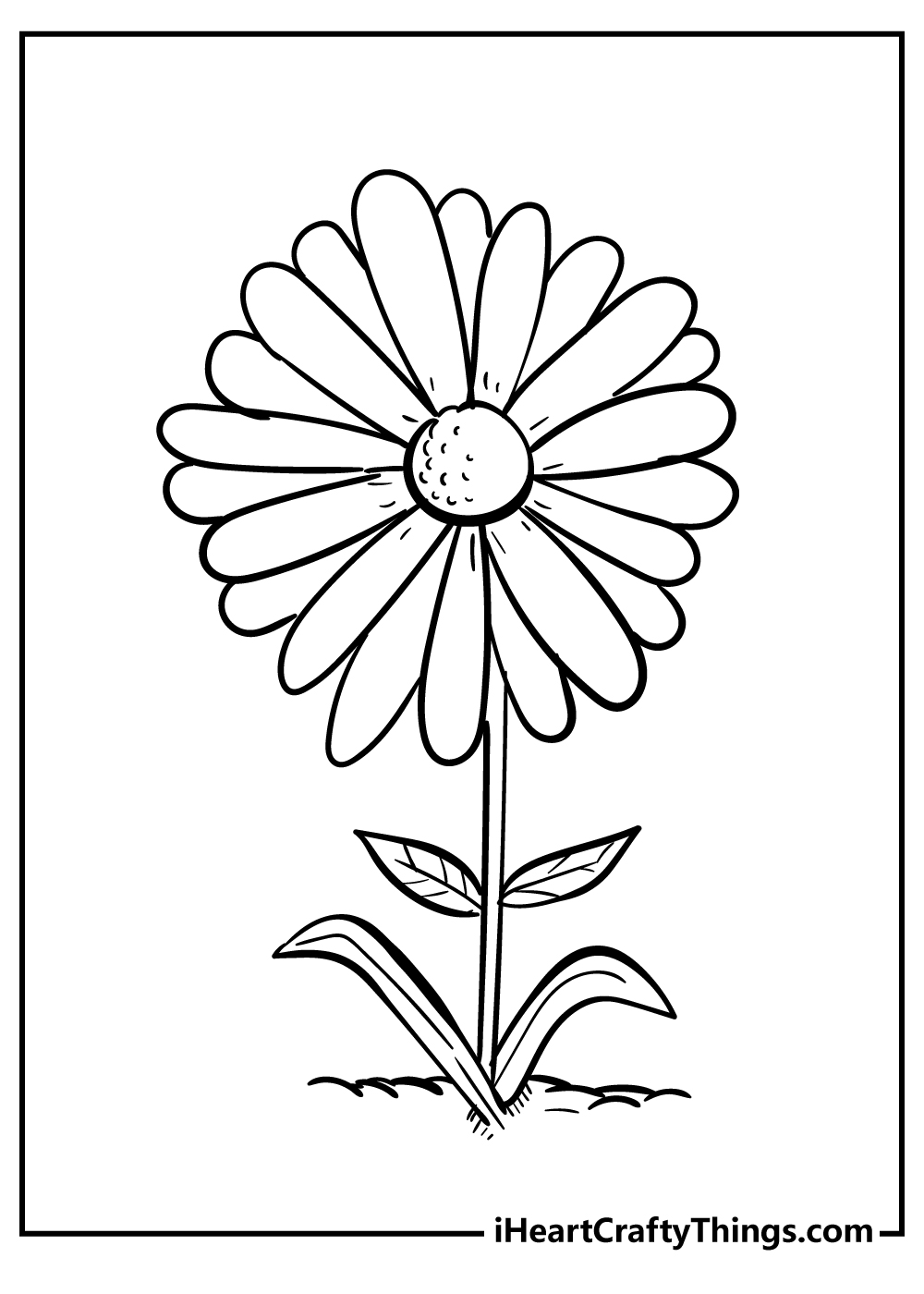 This daisy coloring printable is a bit more traditional as it shows a flower with simple large petals. Do you think it would look better in white or deep red?
The most popular daisies have yellow centers and creamy white petals and are usually called Chamomile or Mayweed.
How interesting, right? That Chamomile is actually a daisy flower!
The flower in this daisy coloring sheet has a large petal crown, two leaves attached to the stem, and a layered center.
We love that dew drops surround the plant because your children can paint the background to depict an early sunny morning.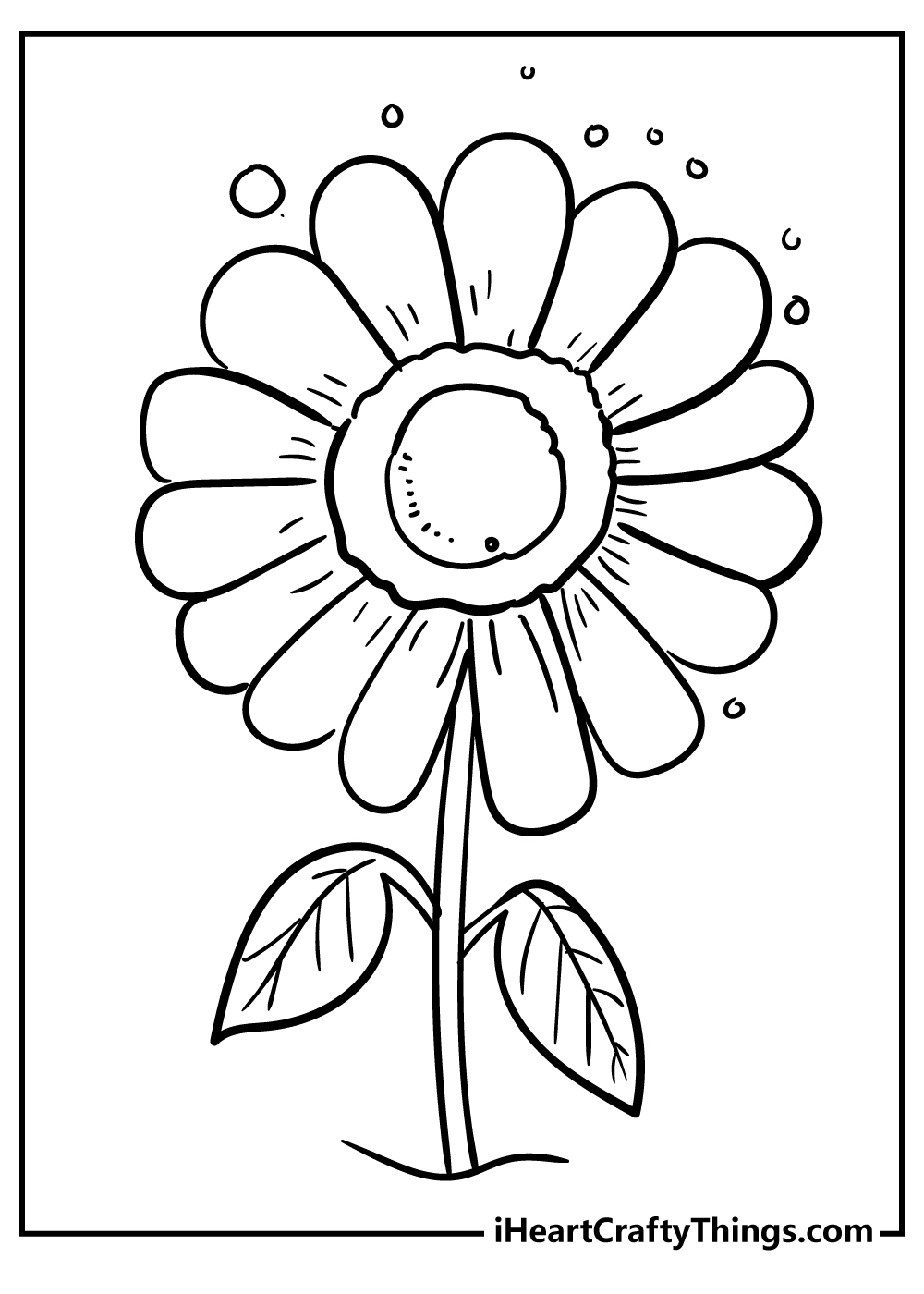 Do you want to keep your children busy while you have a Zoom meeting? These daisy coloring pages are the perfect distraction because they capture the beautiful flower in many forms.
What's better than a daisy printable? A flower drawing that has a smiley face in the center!
This coloring sheet shows a daisy with voluminous petals, a smiley face in the middle, and a long stem that supports two big leaves.
The background captures the field from where the plant springs so your children can color it in shades of green.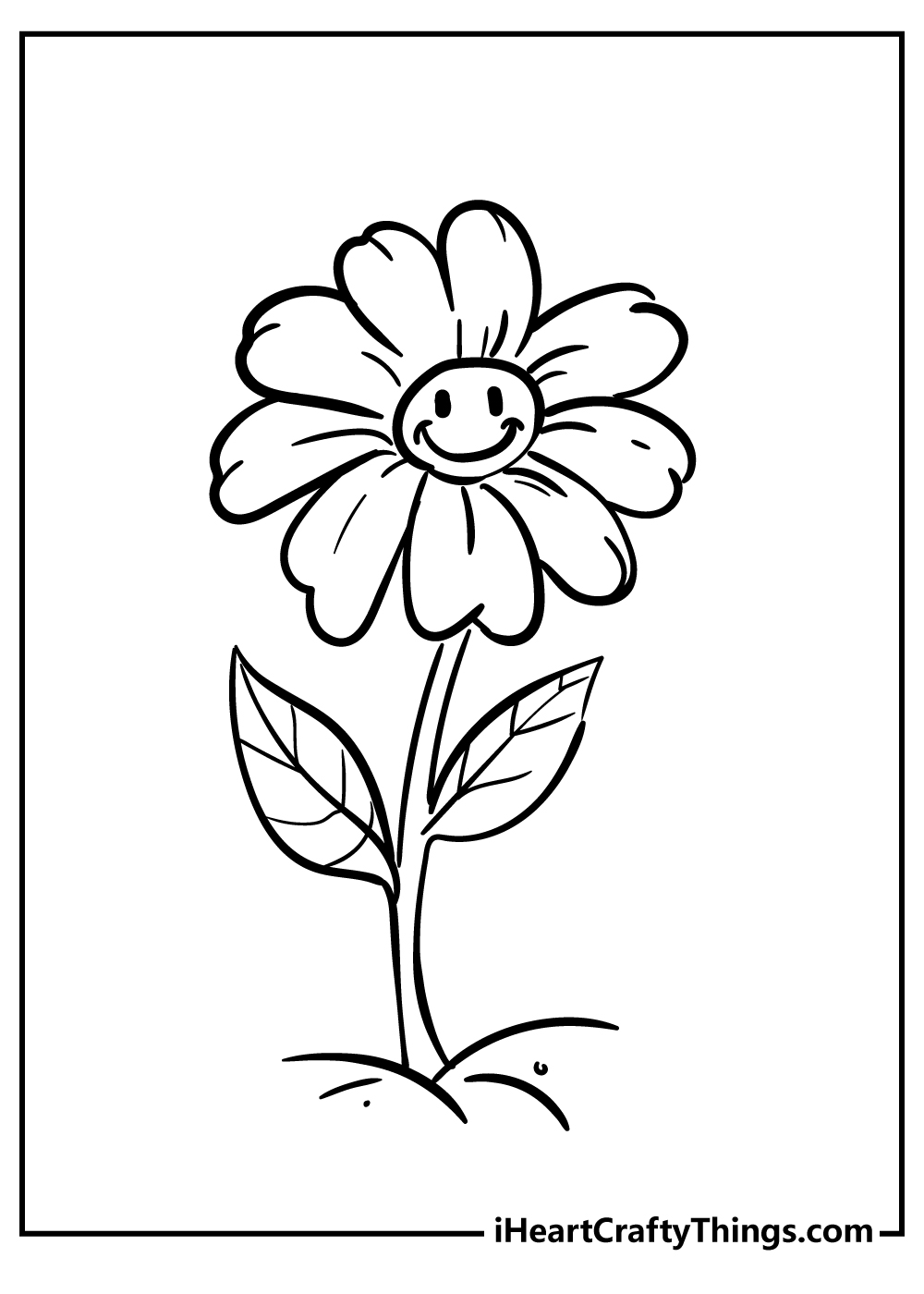 Now, this daisy coloring page is more complex, so maybe instead of printing it for your children, you use it for yourself to help you relax after a long day.
Yes, it's completely fine to give yourself a coloring break during the workday, especially after a stressful meeting.
Just by looking at this flower drawing, it's easy to imagine the daisies in your grandmother's garden. This one could bring you nostalgic feelings out of all the other daisy coloring sheets.
Besides the three daisies, the sheet also features some wild grass and long leaves.
So, you can take coloring a step further and create an entire garden starting from the flowers positioned in the middle.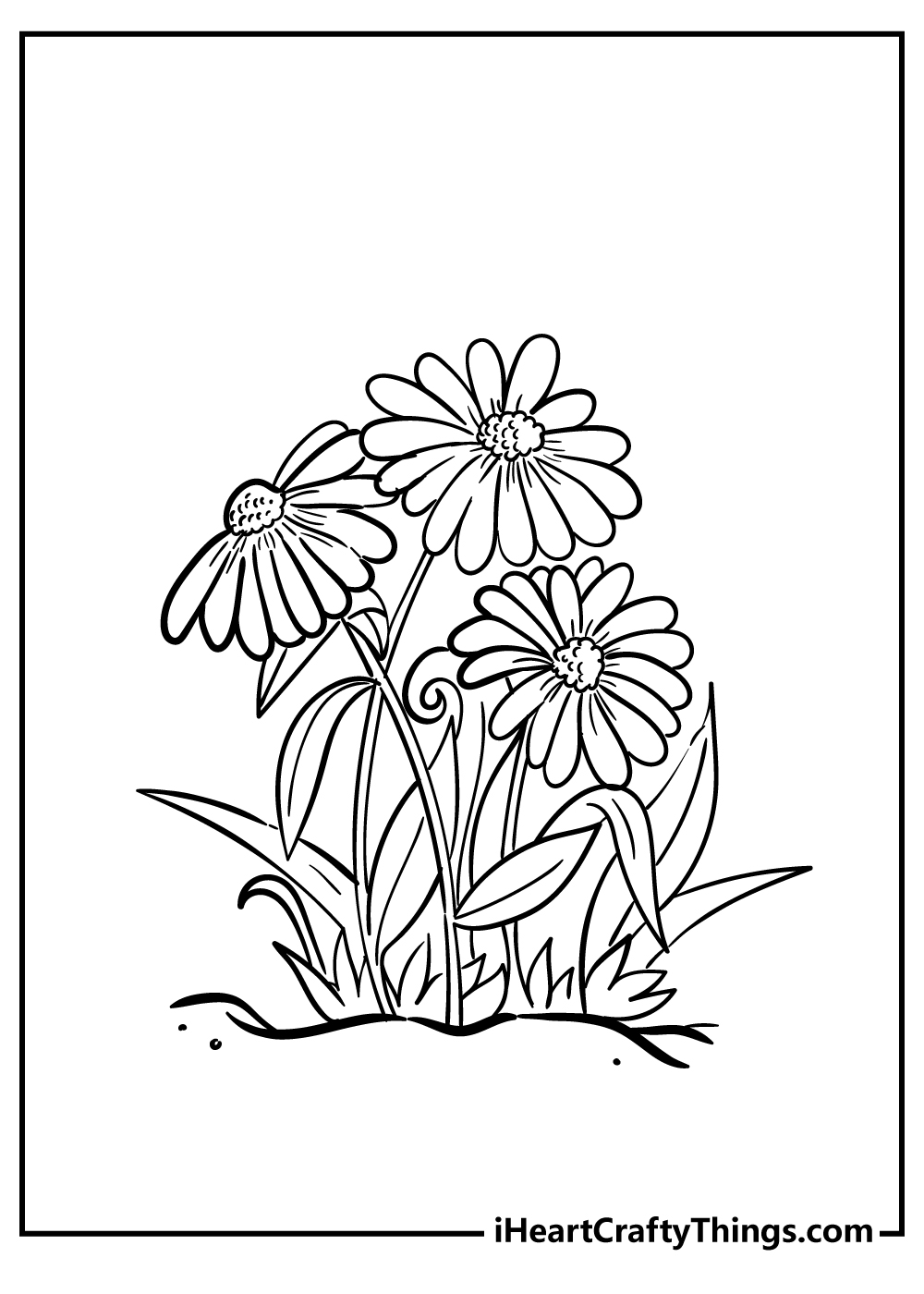 Have your children ever seen a pink daisy? Well, now is their chance.
Not only can they find flowers in this daisy coloring printable, but they can see it in three stages of life: a small bud, a young bloom, and a full-grown flower.
So, encourage your children to think outside the box when coloring these three flowers. They can paint the buds in darker hues, as the color of the petals brightens once it sees the sun.
Or they can pick a different shade for each daisy.
Daisies can be found everywhere on the planet, except Antarctica. Ask your children to imagine where in the world these two flowers grew.
Once they pick a destination, research what daisy species grow there to paint them in the appropriate colors.
These particular blooms from our daisy printable page look like they'd prefer to be a bright yellow or baby blue. Since daisies come in many colors, there's no wrong way to fill them.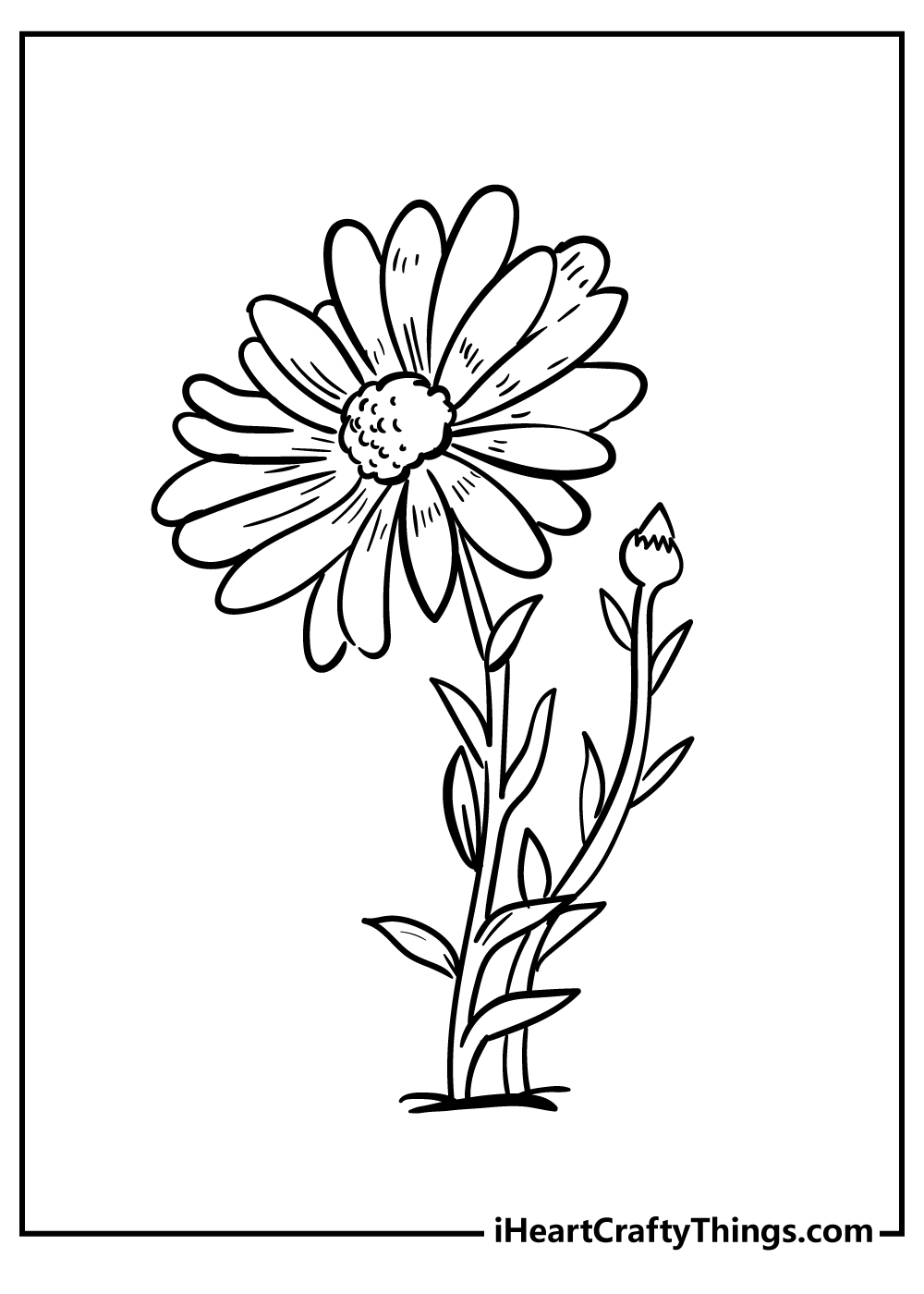 Save the bees! While your child draws these daisy coloring pages, take the time to teach them their importance as pollinators.
The planet will take a significant hit if bees disappeared one day, as they are the backbone of agriculture.
Let's say that our life would "bee" sad and ugly without our tiny buzzing friends.
Caring for bees is as beautiful as daisies and other plants they pollinate. Use this coloring printable showing a stem with two flowers and some delicate leaves to add depth to the lesson.
Encourage your children to add a tiny insect that pollinates the blossom to the sheet.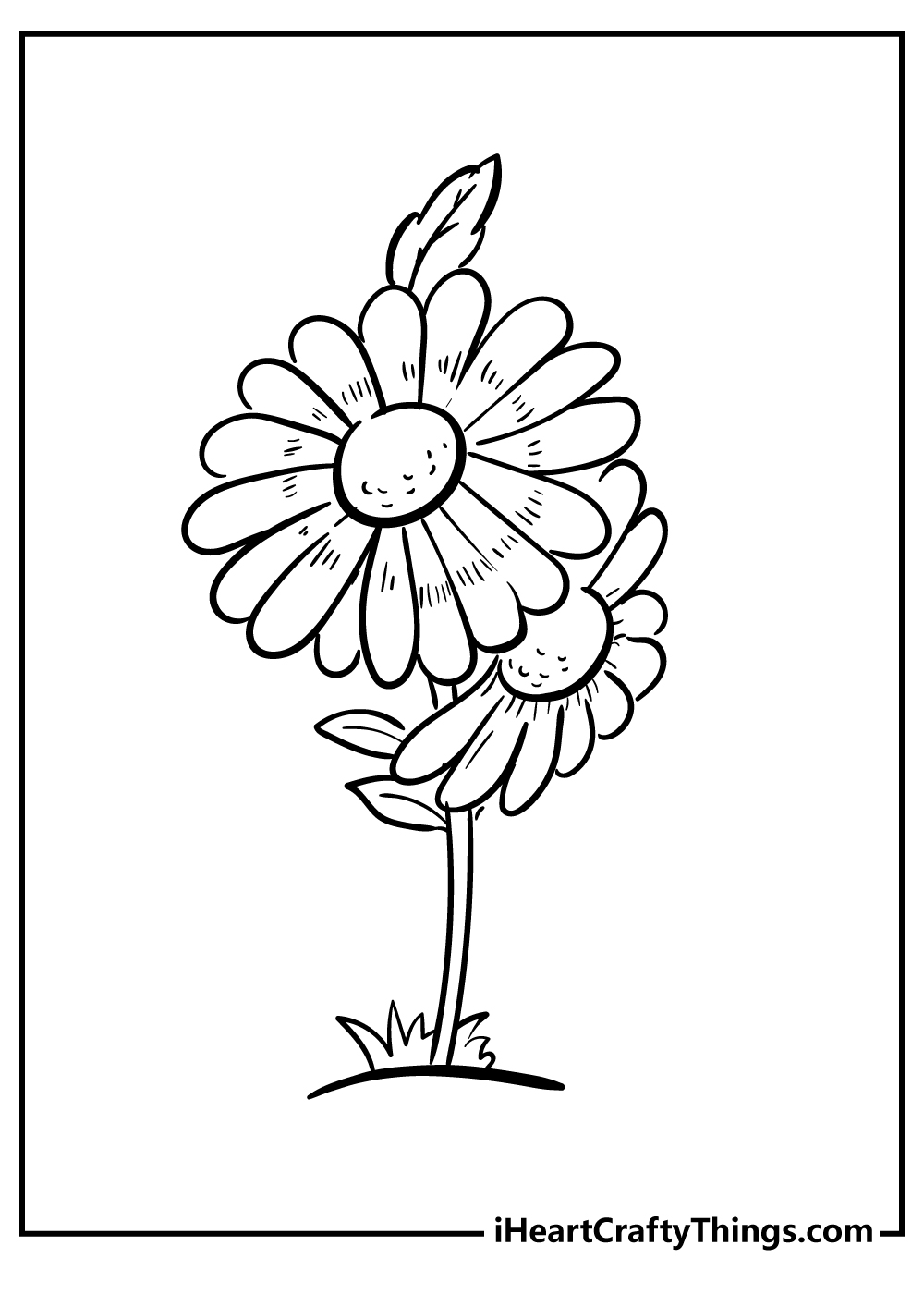 One daisy, two daisies, three daisies! Oh my! All of the flowers from this daisy drawing page are worth coloring. Your children can use endless color combinations to paint these three blooms.
They can paint all of them in the same hue, pick a different shade for each daisy, or alternate the colors for every petal. So many choices!
What would they choose? We know that we would love to color them in various shades and a shiny sun above.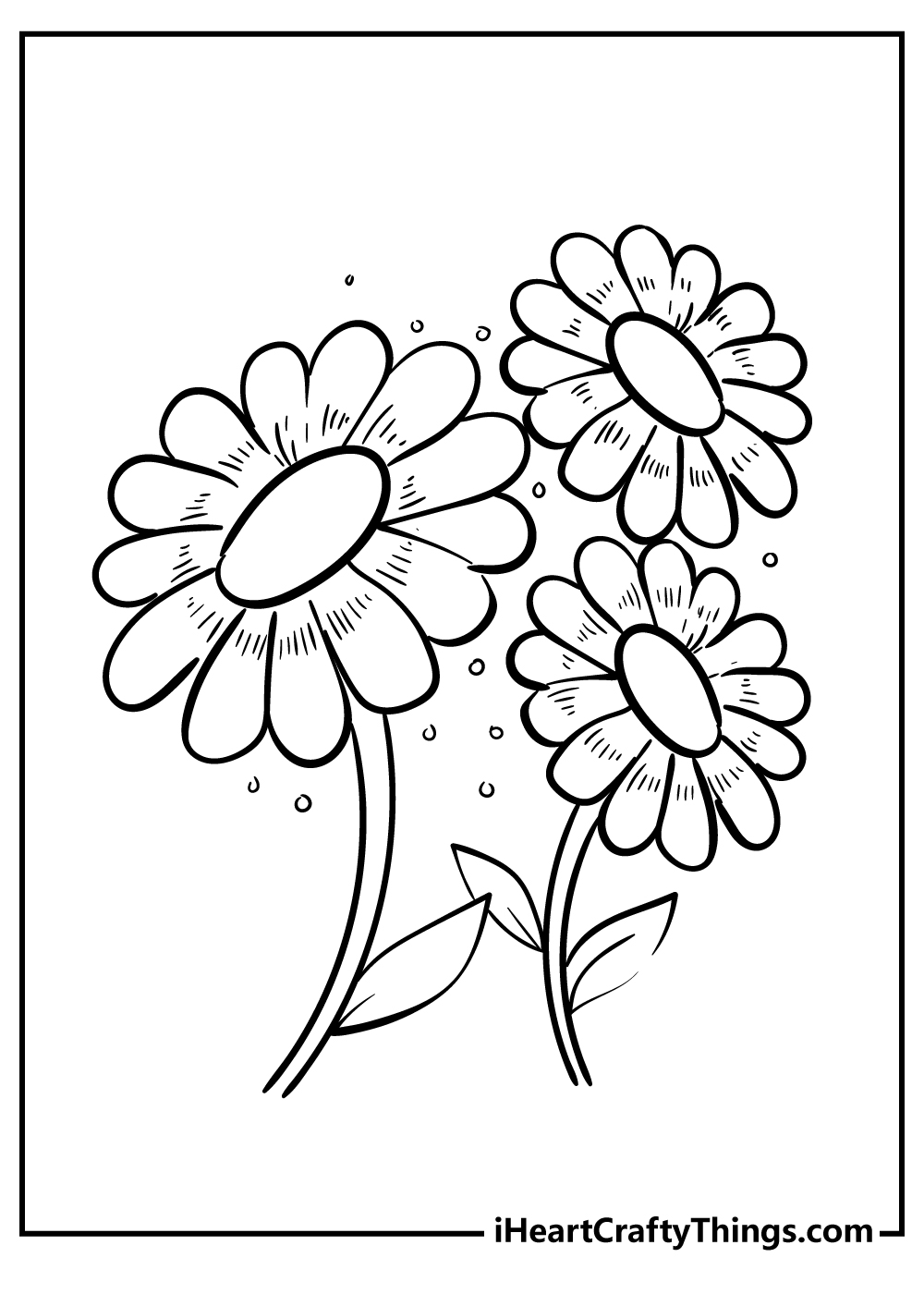 Each daisy can contain hundreds or even thousands of seeds in its small center. You can use its seeds to grow new flowers or offer them as food for birds.
If your children are interested in growing some daisies of their own, wait until late spring when the ground is warm and nice.
Until then, they can spend their time learning about how to grow a healthy garden and coloring daisy printables.
For example, this page is excellent for children of all ages because it depicts a flower with large and simple petals. They don't have to worry about crossing over the margins.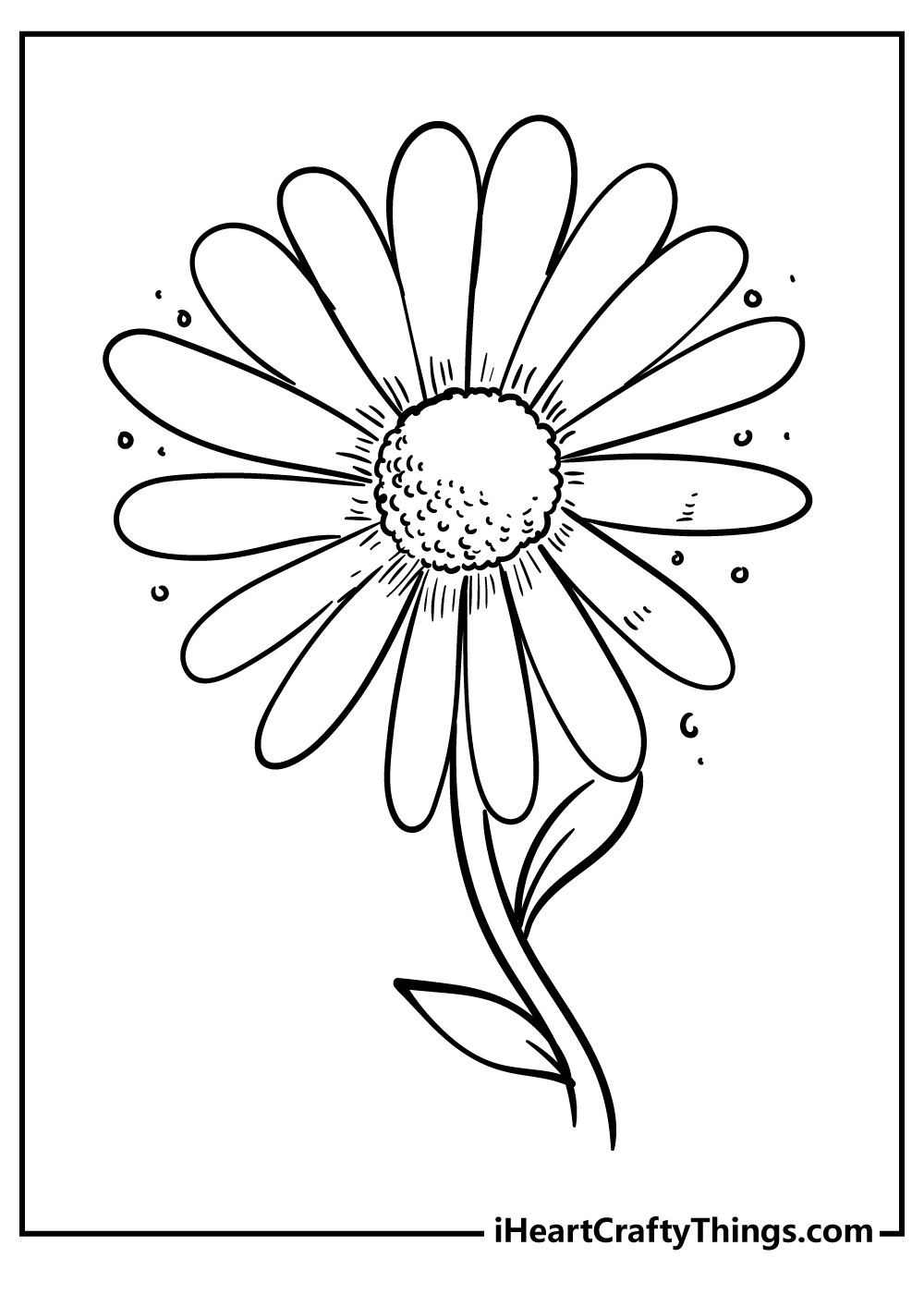 This coloring page shows one larger flower surrounded by two smaller ones. Your children can convert it into a birthday card for their friends or grandparents.
Is there anything more delicate than a daisy? Why do we love them? We love that each species has unique petals and comes in a particular shade.
We're also obsessed with the fact that the French word for daisy is Marguerite, which can make a great name for a baby, just like Daisy.
And it makes our hearts happy that daisies are easy to care for, and you can grow them both indoors and outdoors.