Everyone loves a good adventure, and there are few better companions to have on one than Dora the Explorer!
This adventurous little character has been taking kids on wonderful educational adventures enjoyed worldwide This collection of free Dora coloring pages for kids continues these adventures.
Within these 20 free pages, you will have many fun poses and scenarios featuring Dora and her friends to enjoy!
They're all free to enjoy, and you can share them with other adventurers you know to enjoy too.
So get ready to begin this colorful journey as we embark on the first page of this collection!
20 Brand New Dora Coloring Pages – Free to Print and Color
This first Dora coloring sheet that we have for you features the famous adventurer in a happy pose!
It's a portrayal that really captures her personality brilliantly, and she looks ready to have some adventurous fun.
How do you think you will get this collection started with your colors and favorite art tools?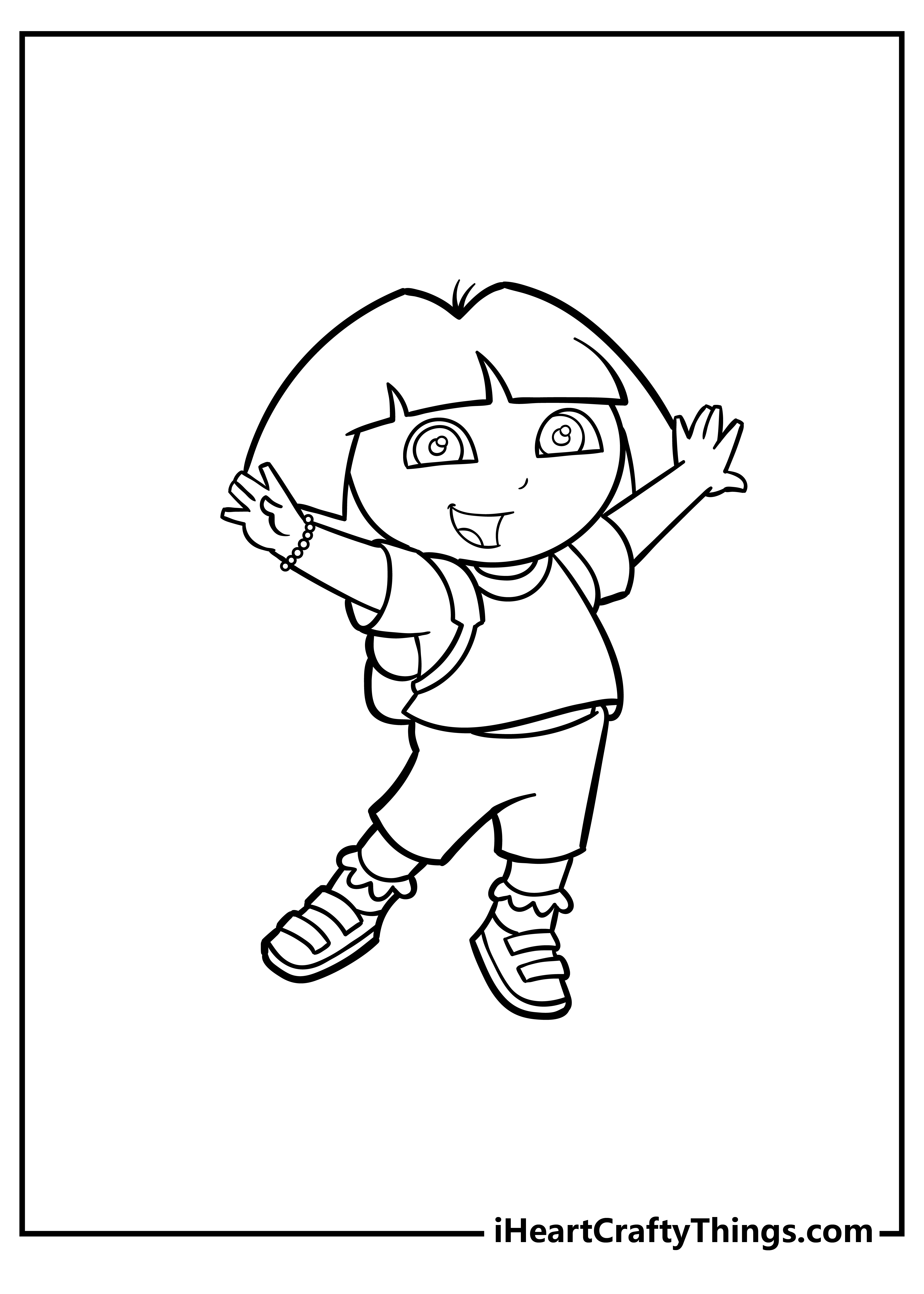 Dora is on the move in this second picture. She looks like she could be saying something here, and this could open up some possibilities!
You could draw a speech bubble above her head and incorporate your favorite Dora line to finish this one off nicely.
Which line would you choose if you were to do this?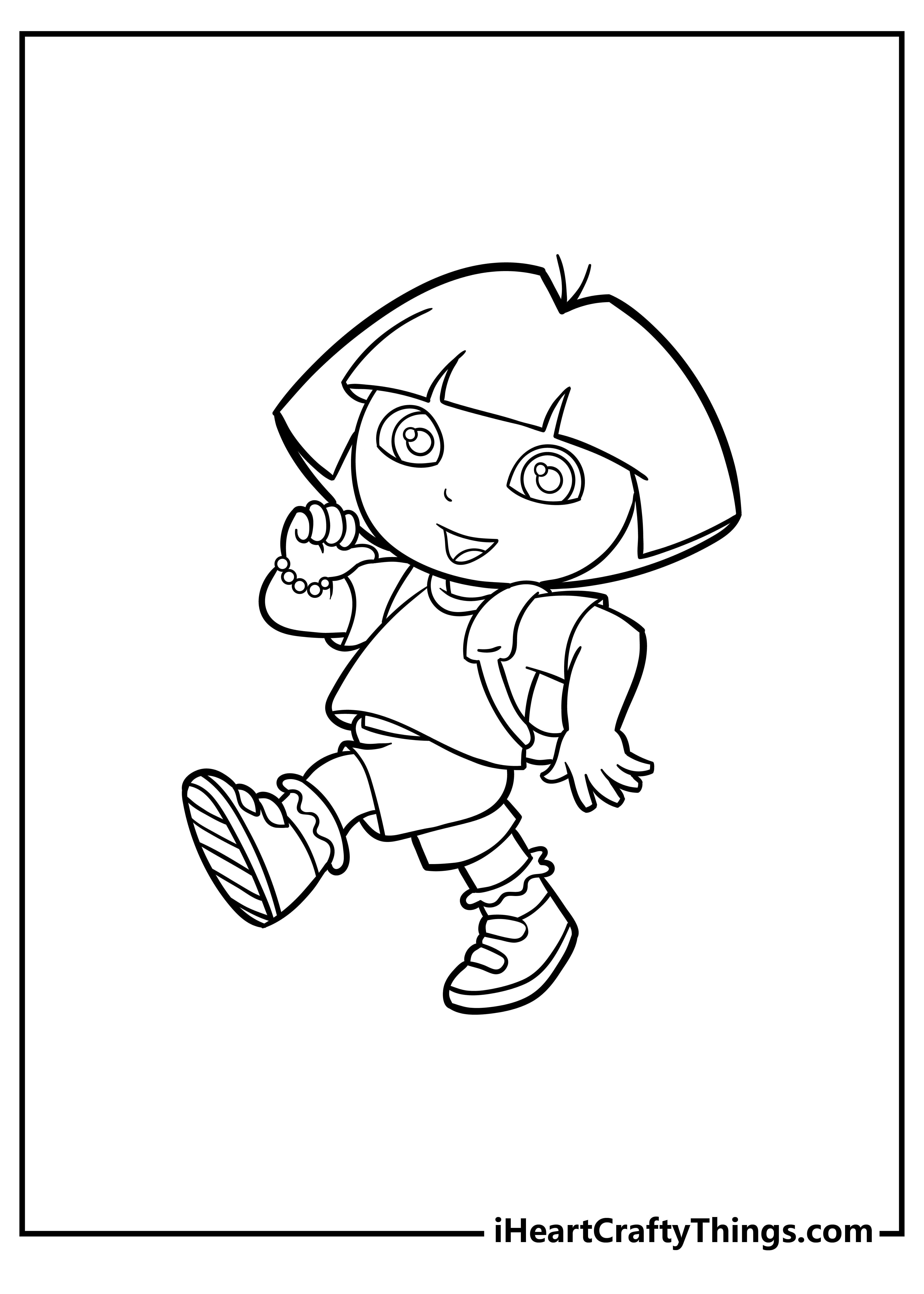 Get ready for an adventure with Dora in this fun coloring page. She's all dressed up and ready to go with her backpack, hat, and cute outfit. Dora is standing in front of some bushes and trees, smiling big with excitement.
As you color in her clothes, shoes, hair, and the forest background, think about where Dora might be off to today.
Maybe she's going to help Swiper the sneaky fox learn how not to swipe things! Or perhaps she's on a mission to Crystal Kingdom to return a lost crystal.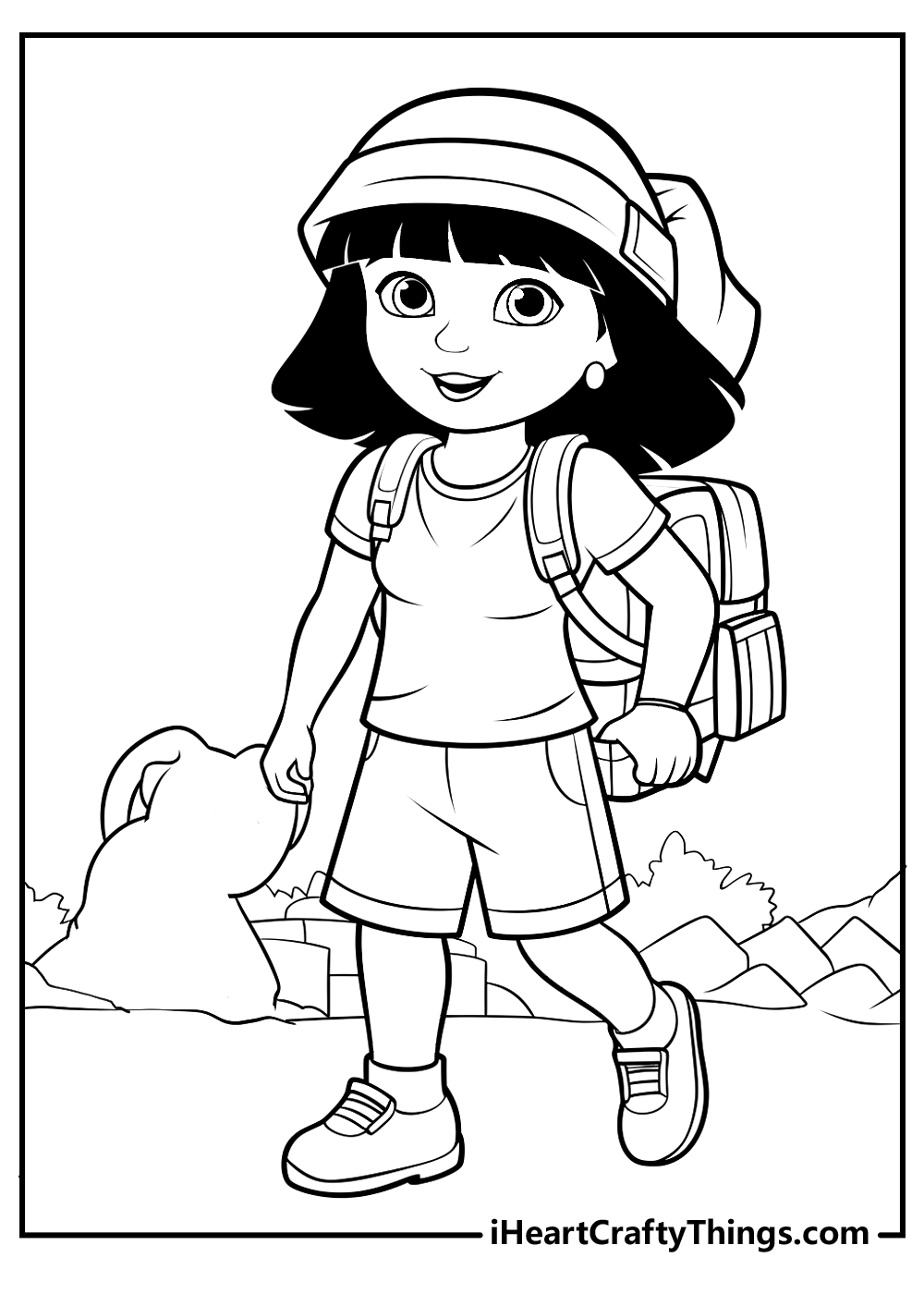 This character is known to be very confident and happy, and these aspects are both captured brilliantly here.
There is plenty of open space around her here, and you could make this drawing even better by adding some details of your own.
What sort of setting do you think Dora could be in here? We can't wait to see what you come up with!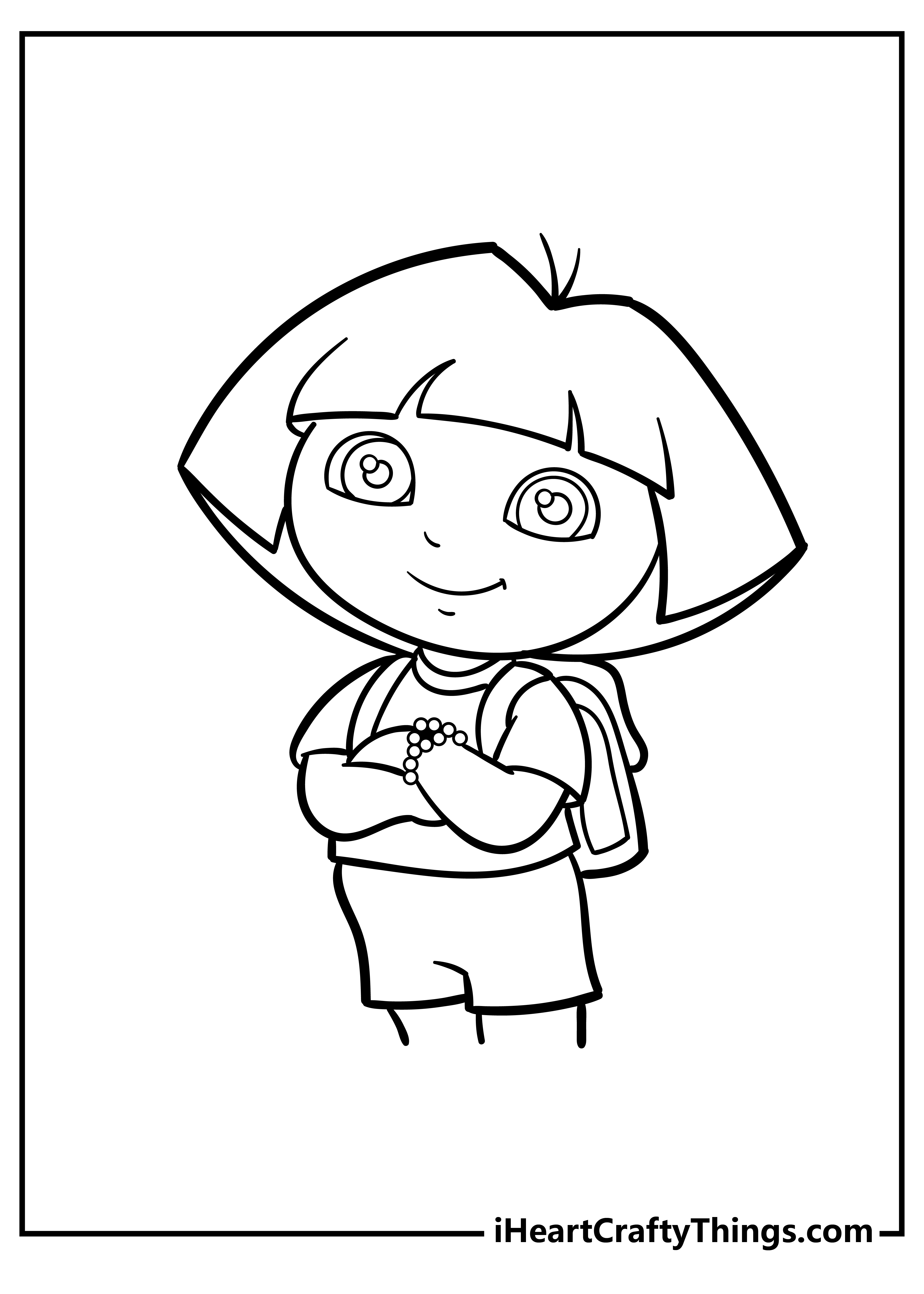 There has been a discovery in this fourth Dora coloring page that we have for you! She has discovered a cute starfish, and this gives you a wonderful detail that you can color in.
If you recognize this starfish from the show, you could color it in to look as it did there, but you could also pick some unique colors instead.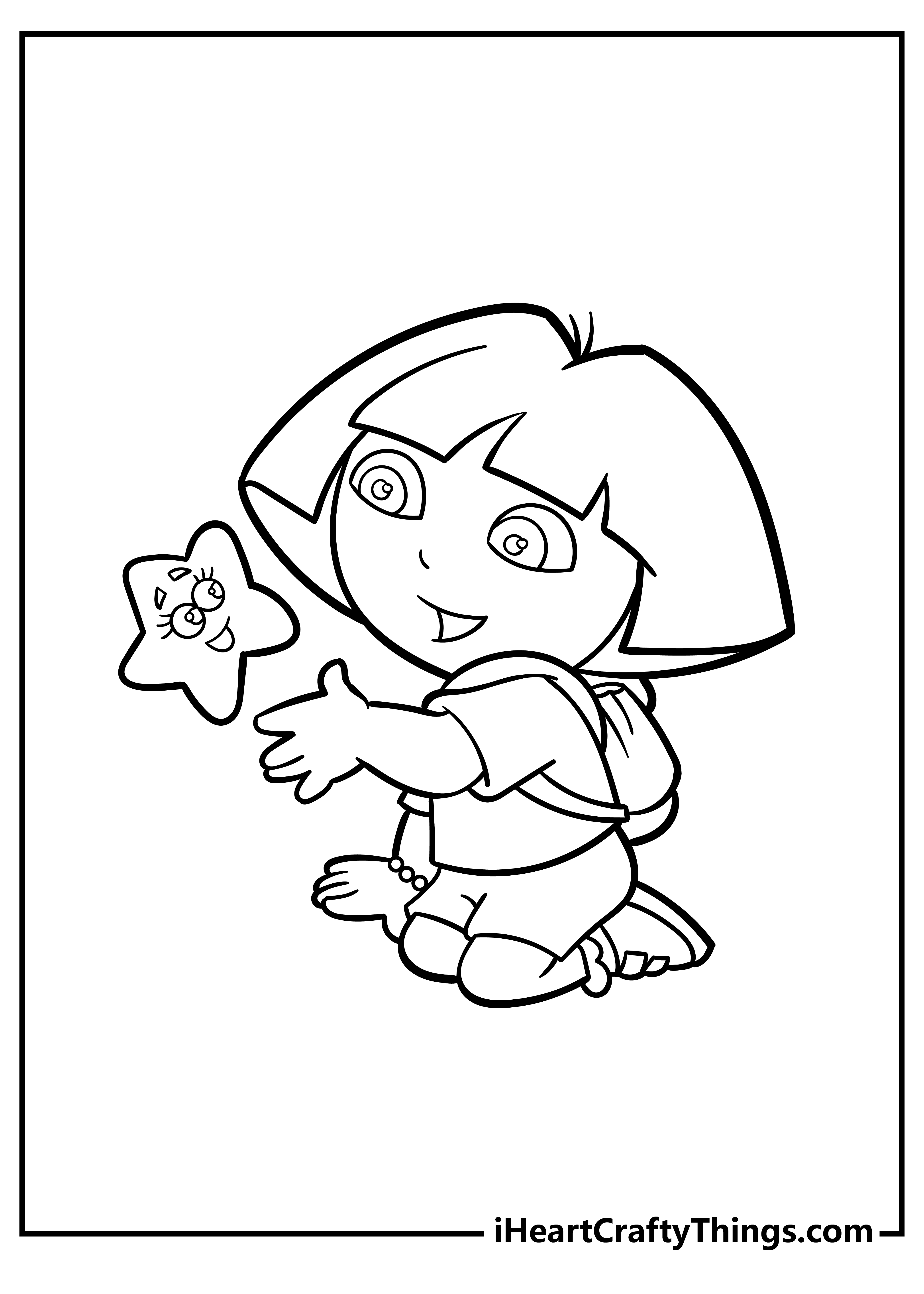 Dora is happily walking down a forest path in this coloring page, ready to explore nature. Look around the image well, maybe you'll spot a bunny in the bushes or birds in the trees!
Imagine hopping through the forest with Dora. What kinds of sounds, smells, foods and surprises do you think she'll find? Will she discover a yummy fruit tree or help an animal friend along the way?
Dora always has a fun adventure, so let your creativity shine as you bring this forest scene to life with color!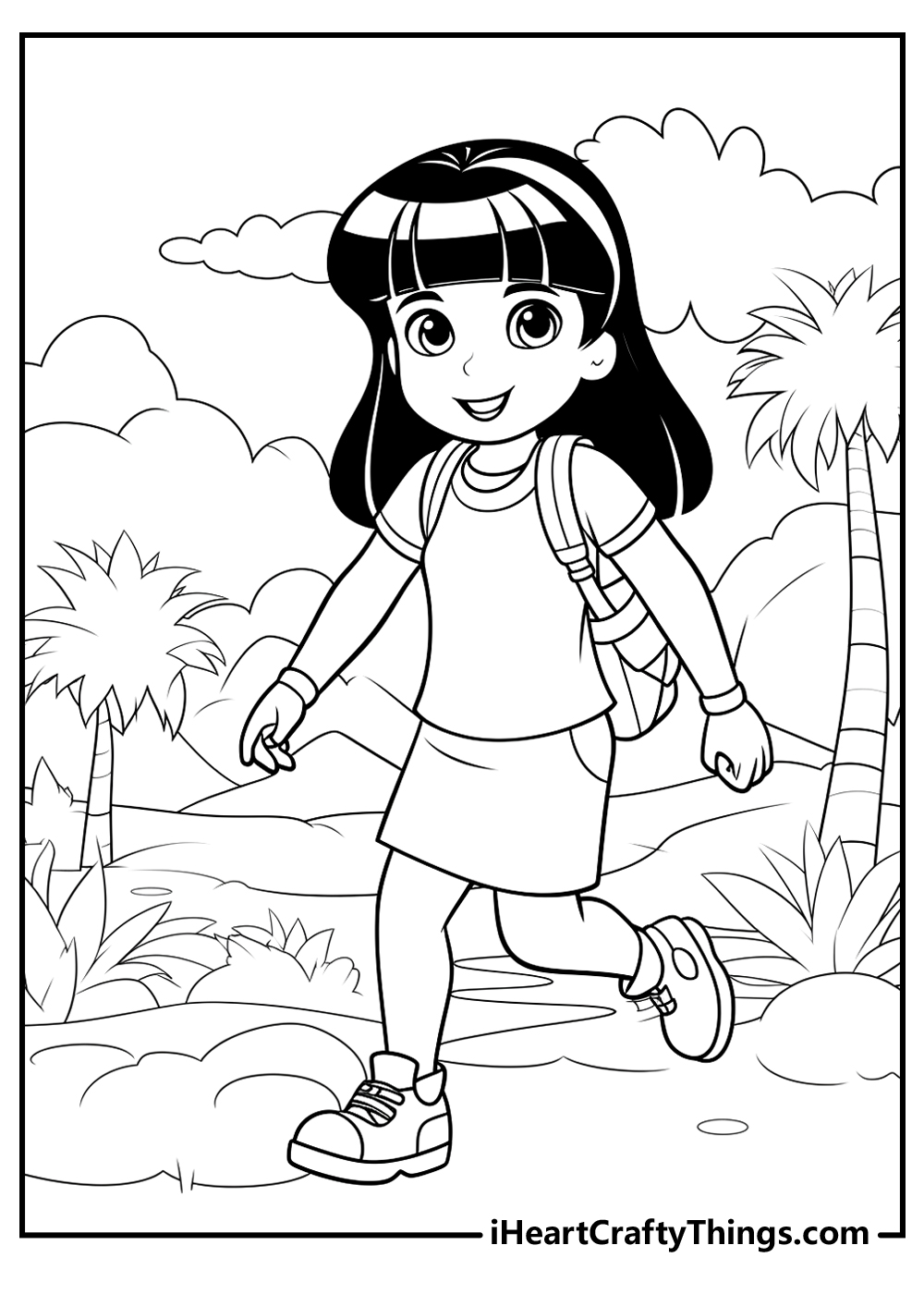 For the next scene we have, Dora is joined by her loyal monkey companion Boots! They are swinging from a vine and both look like they're having a ton of fun doing so.
The vine suggests a jungle setting, so you could draw a background to finish off this setting if you're feeling extra creative.
Dora and Boots return for some more coloring fun in this next image we have for you. She is giving her friend a nice hug in this one, and it creates a really wonderful scene.
We would use some warm, vibrant colors for this one in order to finish off the loving feeling of the scene. That's what we would do, but what ideas do you have for this one?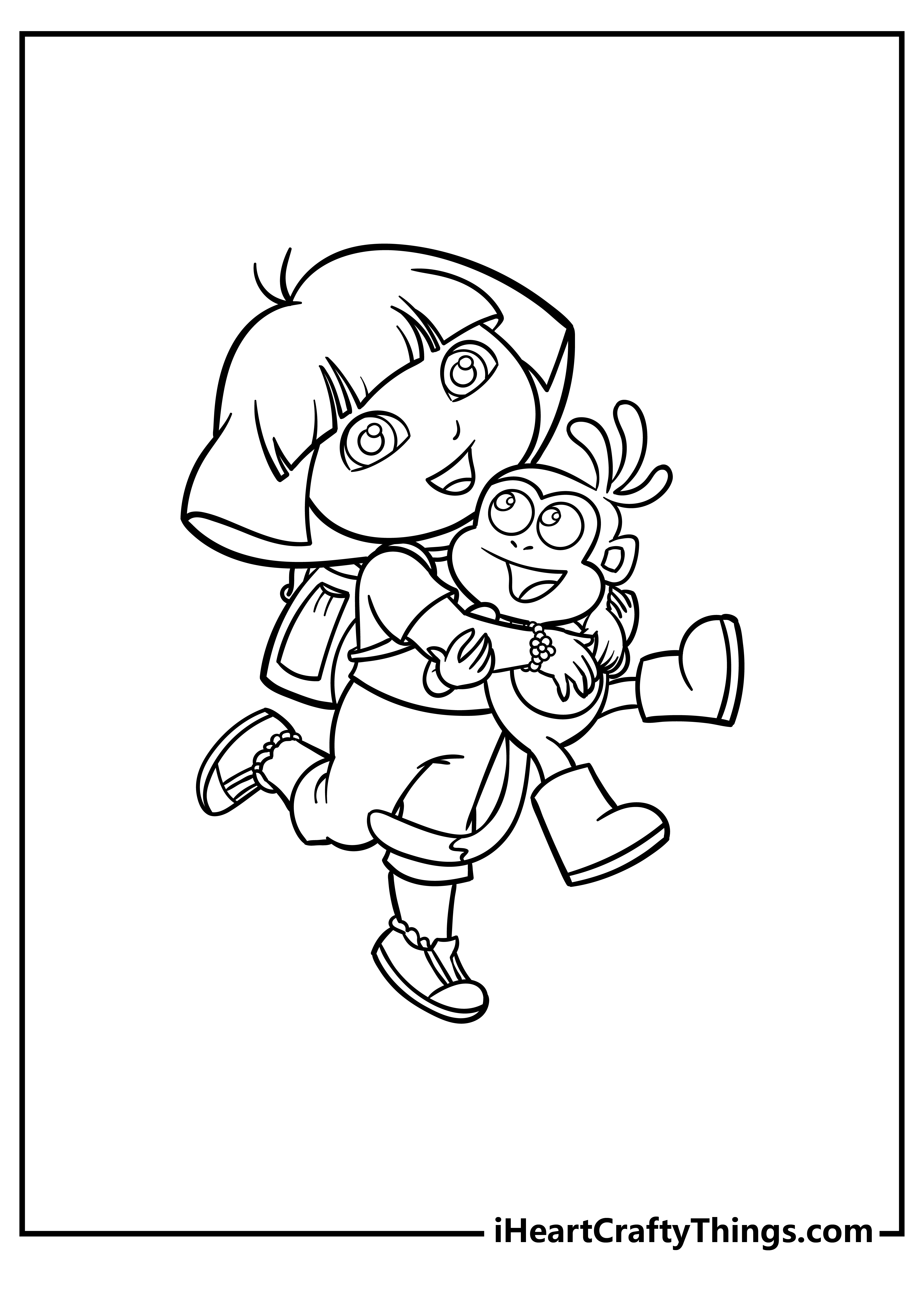 Dora is ready to explore the forest up close with her magnifying lens in this coloring page! She's got a lens hanging around her neck and a big excited smile.
As you color in her clothes, skin, hair and the background details, imagine what Dora might look at through her special magnifying lens.
Maybe she'll spot some tiny ants marching in a line and get a close-up view. Or perhaps she'll use it to see the pretty details on colorful butterflies and flowers.
She could even inspect the small scales on a fish by the river. Let your creativity flow as you color Dora using her magnifying lens to examine cool things on her forest adventure!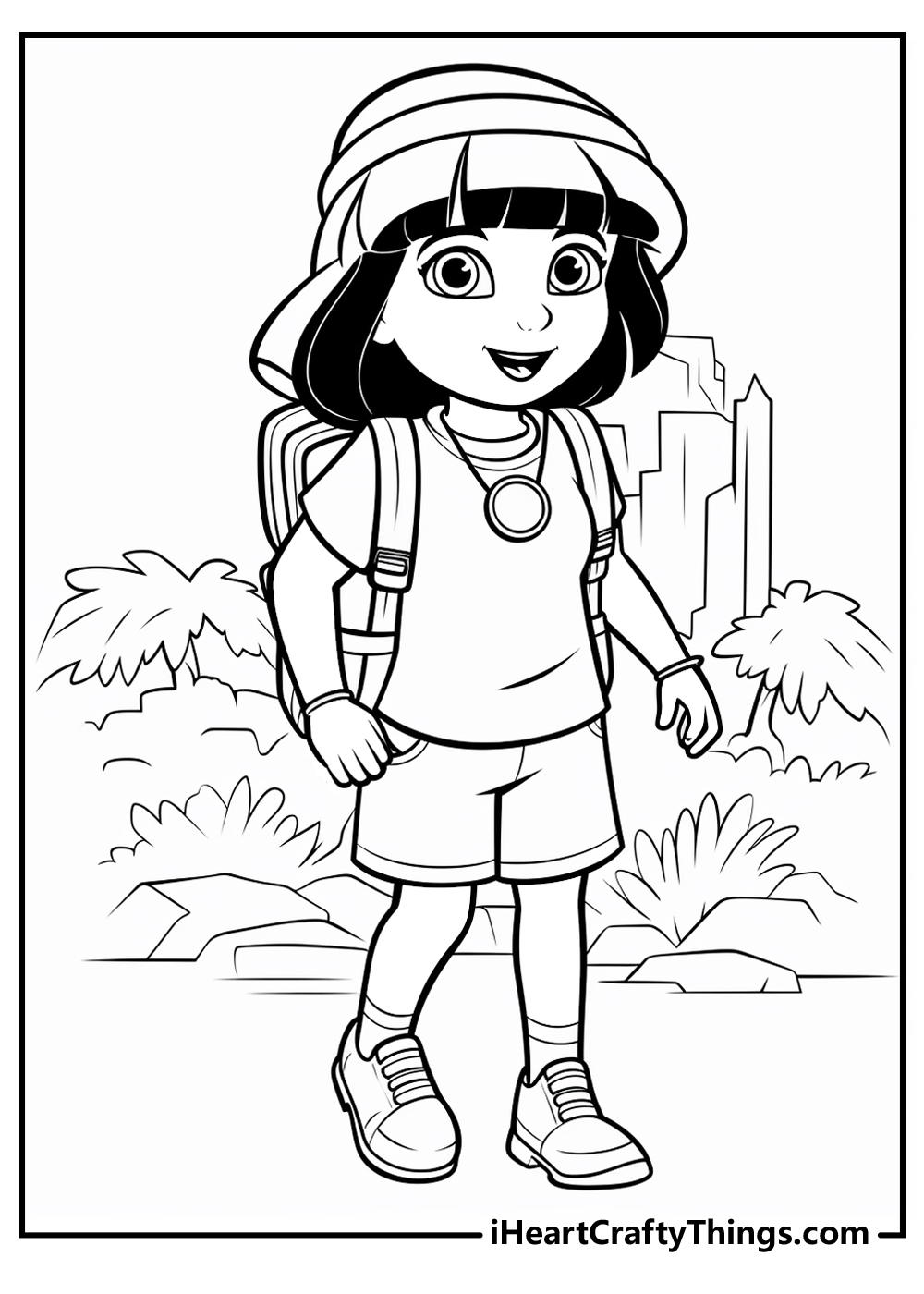 It's time for another adventure with this next page in our collection of free Dora coloring pages for kids!
She is running and looking very happy here, and there are so many ways you could color this joyful moment. Once again, you could also draw some background details to show where she is exploring!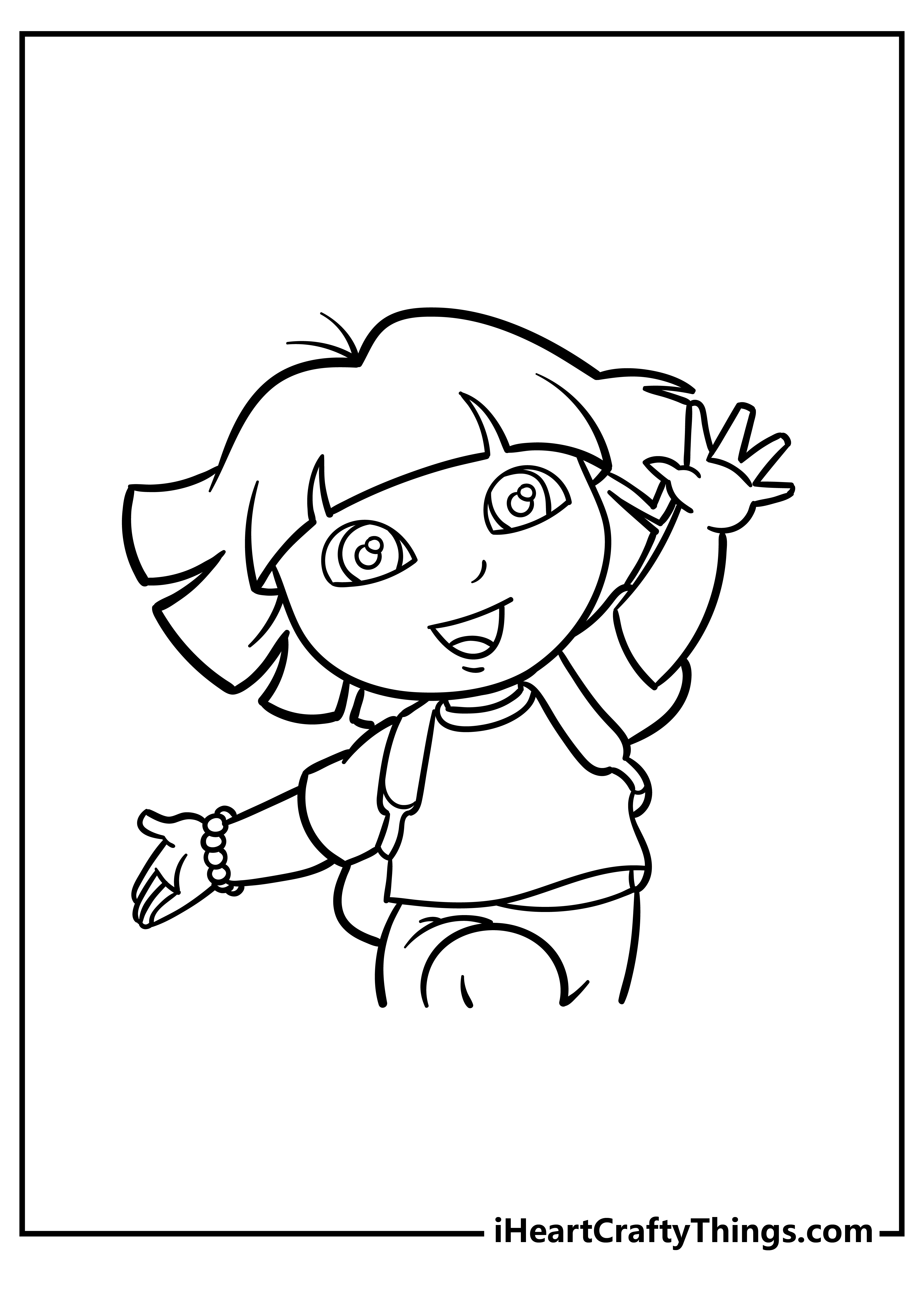 Our next page features Dora wearing a bit of a different outfit to the kind that she normally wears. She is wearing a pretty dress here, and it has lots of details for you to color.
Do you think you will stick to her normal color scheme or create a brand new look for her? Either way you choose will look amazing!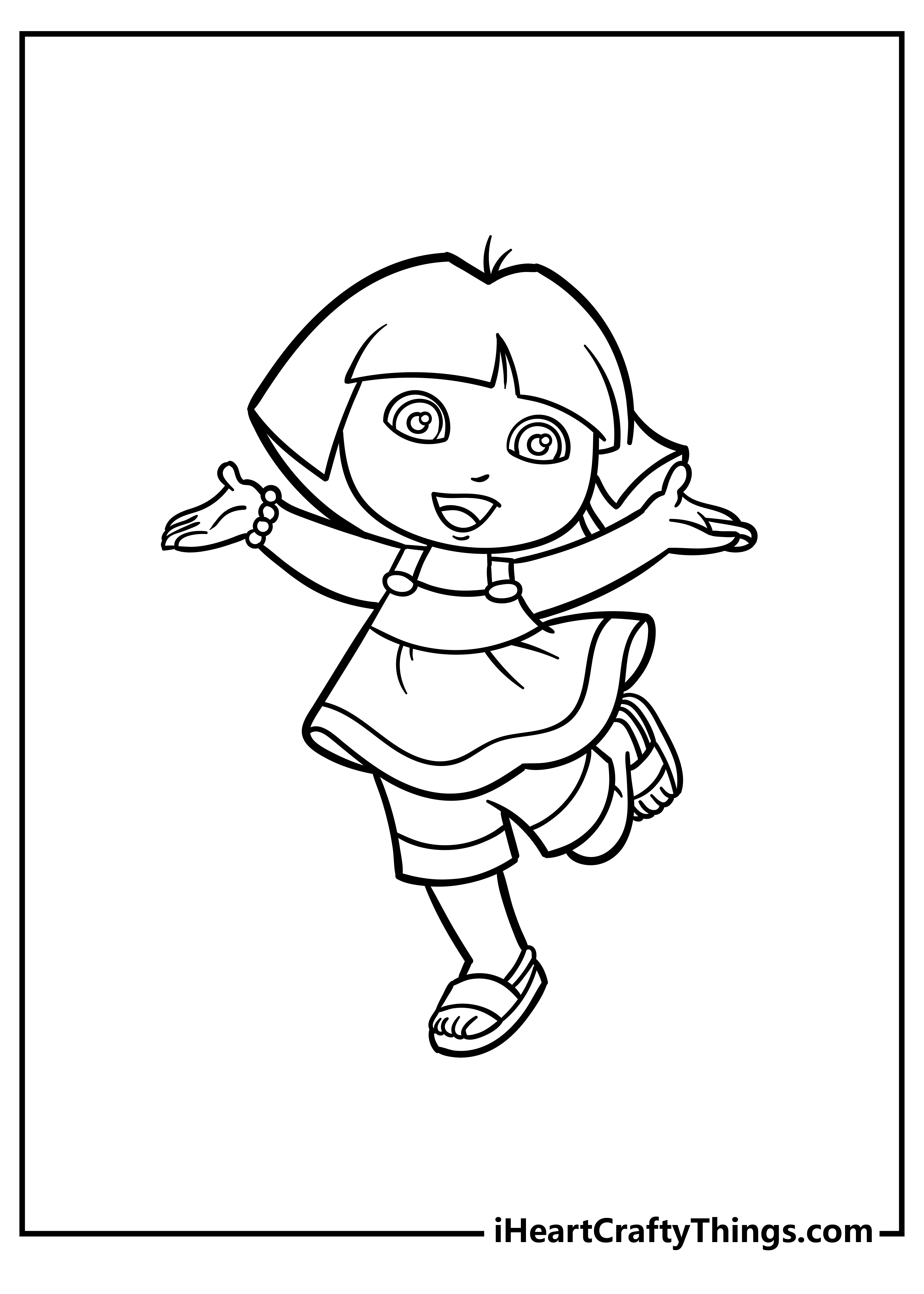 Get ready for a forest adventure with Dora in this coloring page! She's got her backpack on and a big excited smile, ready to explore nature. Dora's dark hair is peeking out from under her fun hat.
The forest background has lots of details to color including leafy trees, rocky mountains, and bushes.
Don't forget to color in her purple shirt, orange shorts, blue sneakers, and pink wristwatch too! As you creatively add color, imagine all the sounds of the peaceful forest surrounding Dora.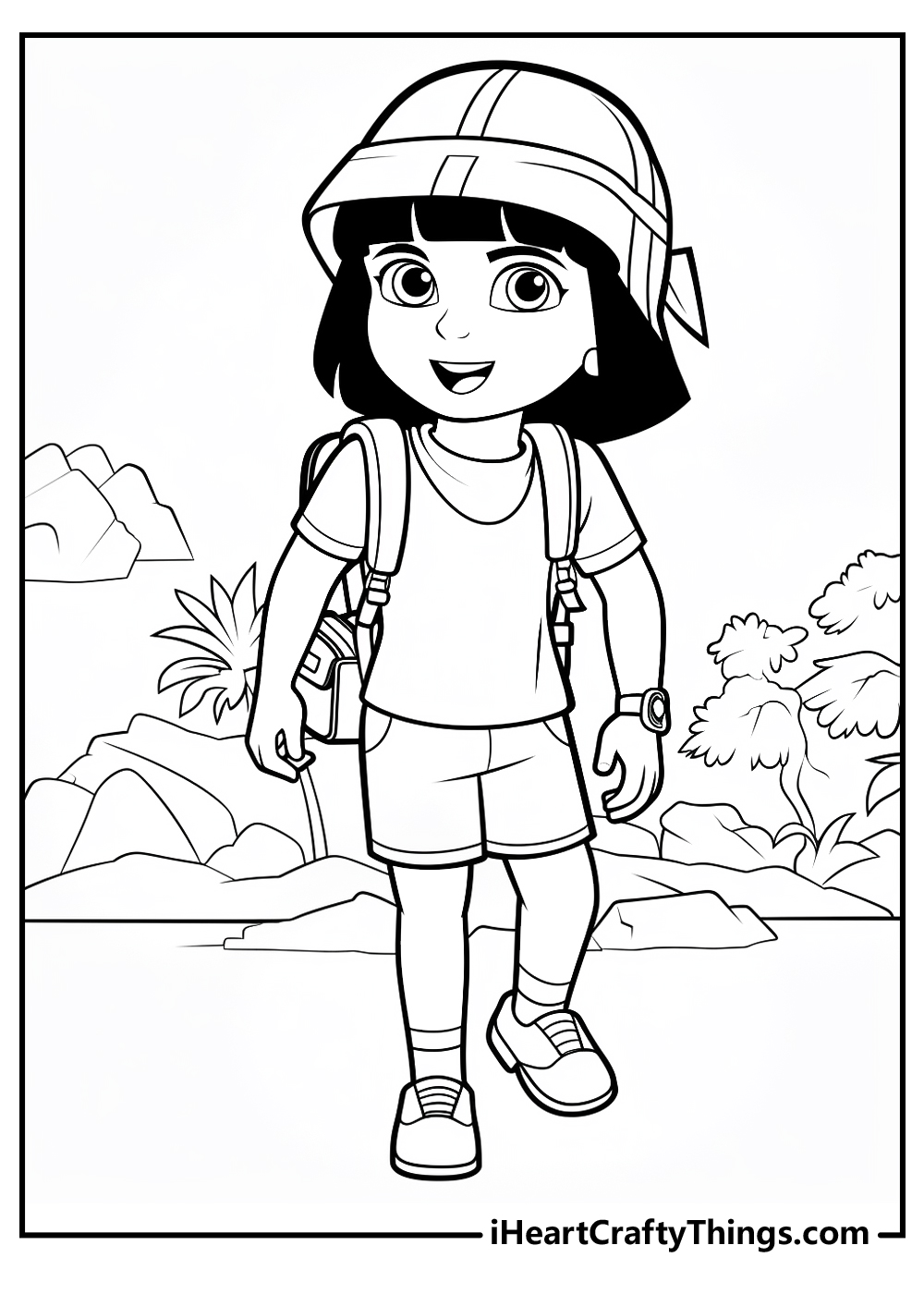 When going on a new adventure, you need someone that you can trust to guide you through it!
Dora certainly knows what to do on an adventure, so she's the perfect person to follow, and that's what is happening in this next scene.
What sort of adventure do you think Dora is leading us on in this one?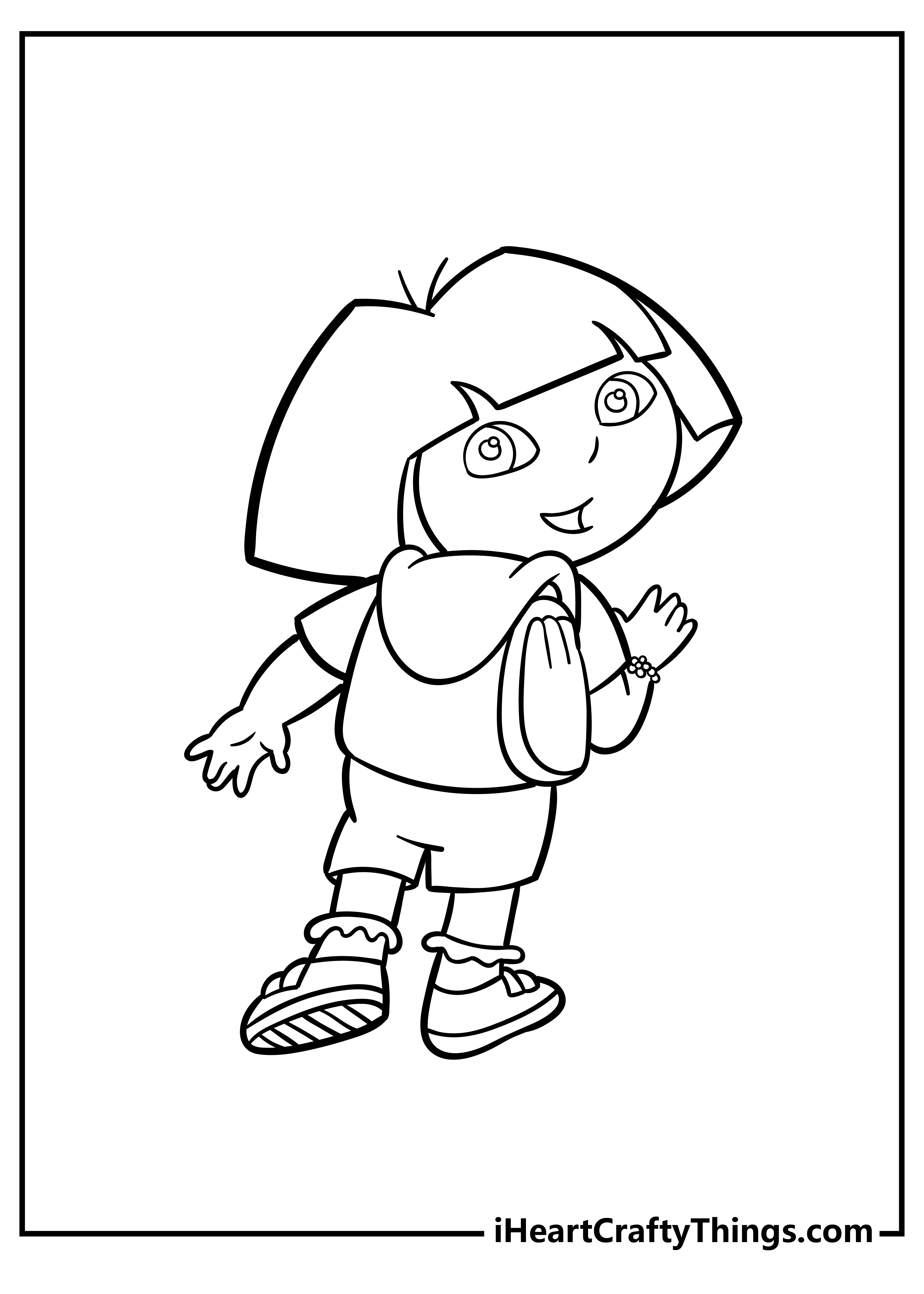 Here's another lively and adventurous Dora coloring printable that you can have some fun with!
You need a lot of energy when embarking on an adventure, and she certainly seems to have plenty of that in this image.
This is another picture that we would use some bright colors on in order to capture the fun feeling of the image.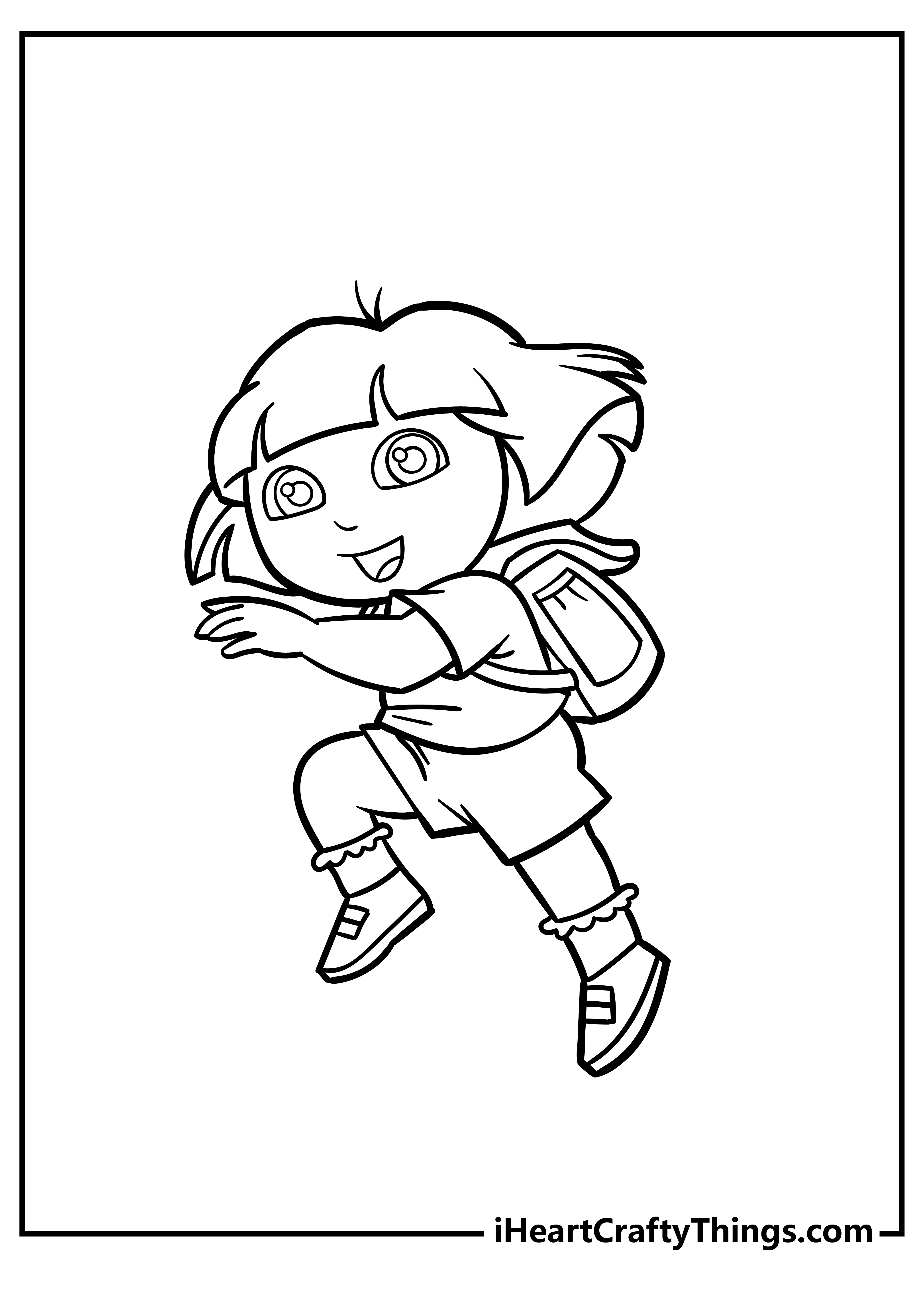 We love this next page, as it features Dora holding onto a big heart! Because she is holding this heart, you could use some lovely reds, pinks or purples to make it a bright spot on the page.
This one would also be perfect to turn into a card that you could gift to someone you love. What else will you do to finish off this lovely page?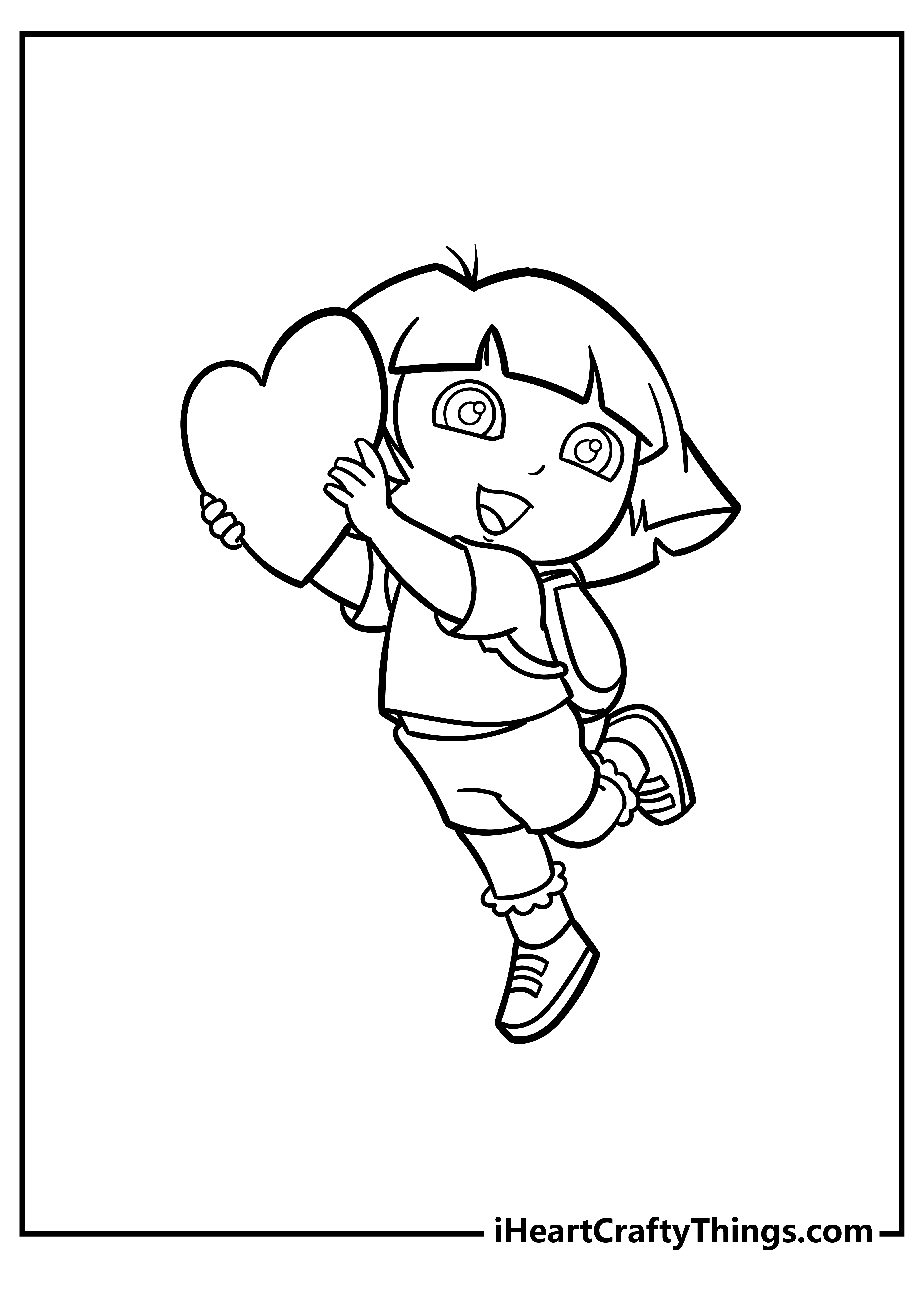 Dora is happily walking through a lush forest in this coloring page, with a smile on her face ready for an adventure! She's got her backpack on and her cute red hat sits atop her head with her dark hair peeking out underneath.
The detailed background includes leafy bushes to color in. Dora is dressed for exploring in her shirt, blue shorts and purple sneakers. It looks like she's carrying a special purse too!
Listen for woodpecker pecks, chirping crickets, and other nature sounds as you creatively color this page.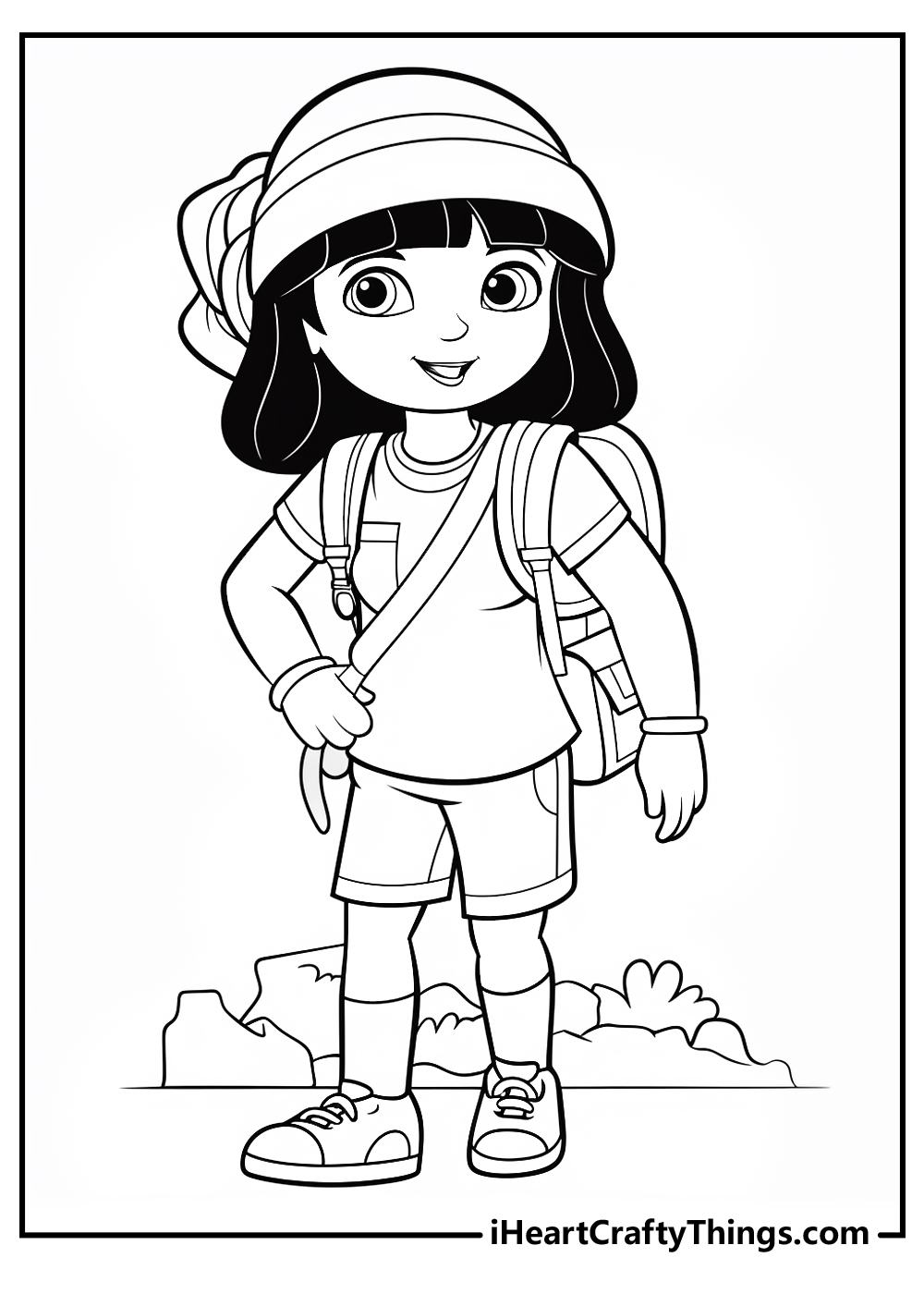 It's time for some beach time fun with this next image. This time, Dora is exploring a beach and is playing in the sand.
There are some details for the background, but you could add a lot more if you're feeling extra creative! What fun beach details would you add to the background?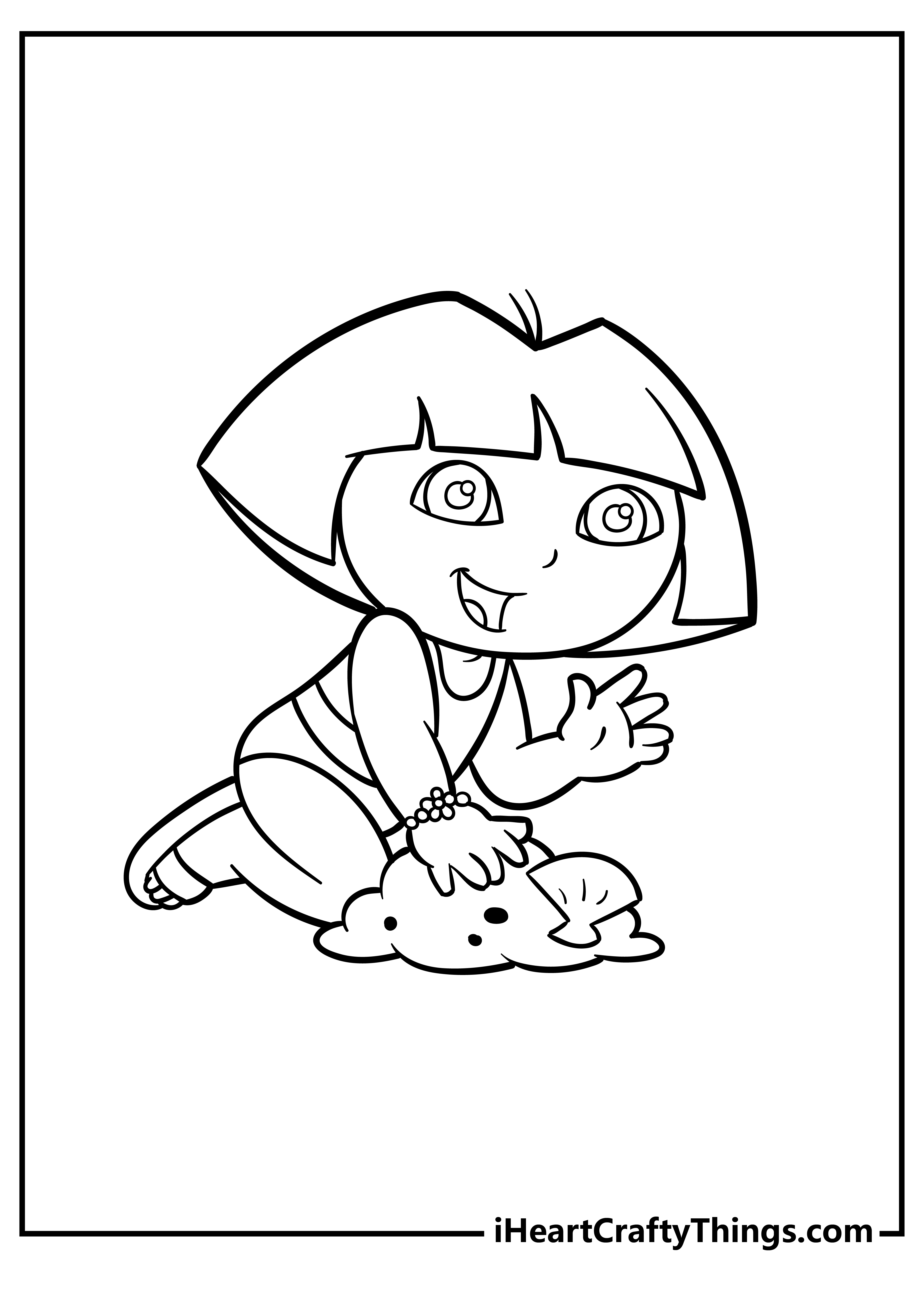 We're not quite done with the beach theme just yet, as this Dora coloring page features her in full vacation mode once again.
There are some great flower details on this page, as there is one her hair and some more on her outfit. What pretty colors will you choose for these flower details to really finish this one off?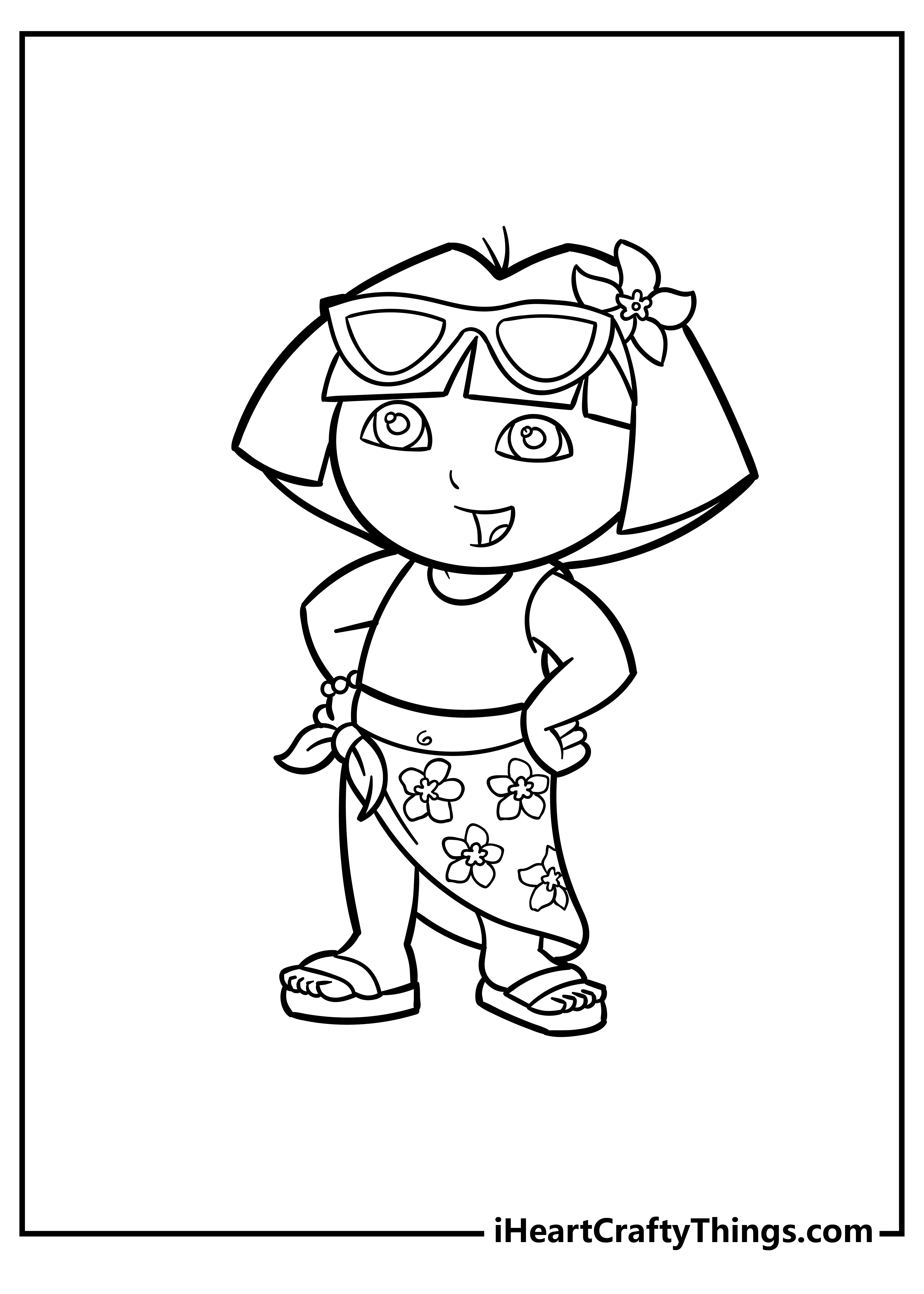 This picture of Dora's face would make for a great poster for your wall!
Her face is surrounded by a circle shape with different sections, so it gives you plenty of room for you to add all of your favorite colors.
We know that this one will look incredible when it's done, and we can't wait to see how it turns out!
The final Dora coloring sheet we have for you to color in is another one that would be perfect to make into a poster!
This time we have not just Dora but also her friend Boots featured in a circular design, and there are so many ways you could color in this fun depiction.
How will you close off this collection with your favorite colors and mediums? Whatever you choose, we know it will look incredible!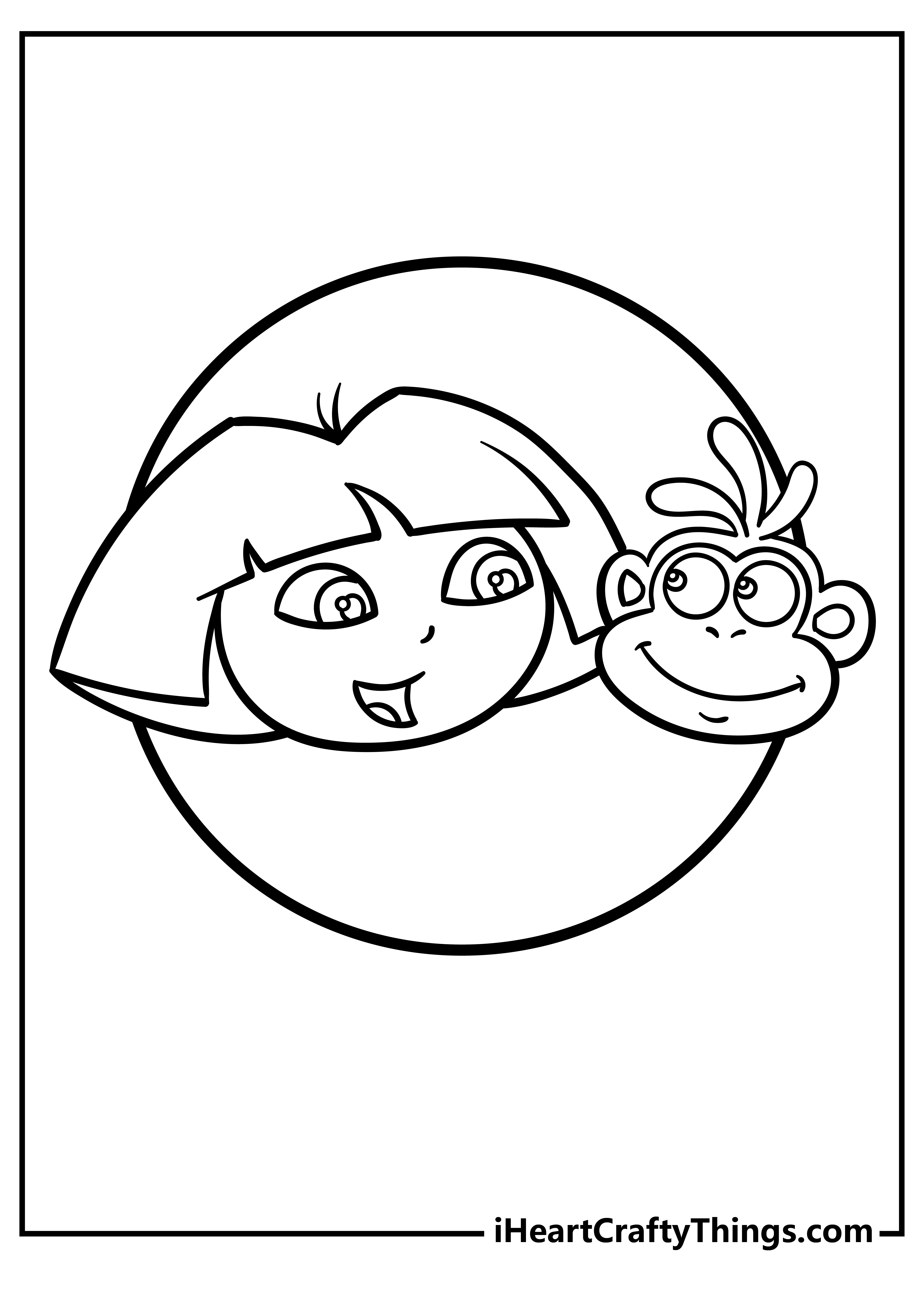 Dora Coloring Pages – Which will you choose?
This was a real adventure that we went on with this collection of free Dora coloring pages for kids!
We hope that you enjoyed spending time with Dora and her friends as you used all of your favorite colors and art tools.
Don't forget to also share this collection with your friends as well! We also have many more awesome coloring page collections and other activities to enjoy on our website.
We would also love to see how some of these pages turned out, so please share some of your artworks on our Facebook and Pinterest pages.