Learning the alphabet can be fun! We have an entire collection of letter B coloring pages that can help children become familiar with the second letter of the alphabet.
Our creative coloring sheets will make letter recognition feel less like a chore and more like an interesting and entertaining activity.
Get your child excited about reading and writing with these amazing coloring pages, free to download and print.
10 Brand New Letter B Coloring Pages – Free to Print and Color
There are many fun ways to introduce your child to individual letters. Since children love to color, this can be a wonderful way to help them learn the shape of each letter of the alphabet.
As they color over the patterns, they'll practice letter recognition while also having lots of fun.
The first printable in our letter B coloring collection is quite simple. We have the letter B placed in the center of the page, with a brick background behind it.
B stands for bricks, so children can associate the two and remember the letter with ease.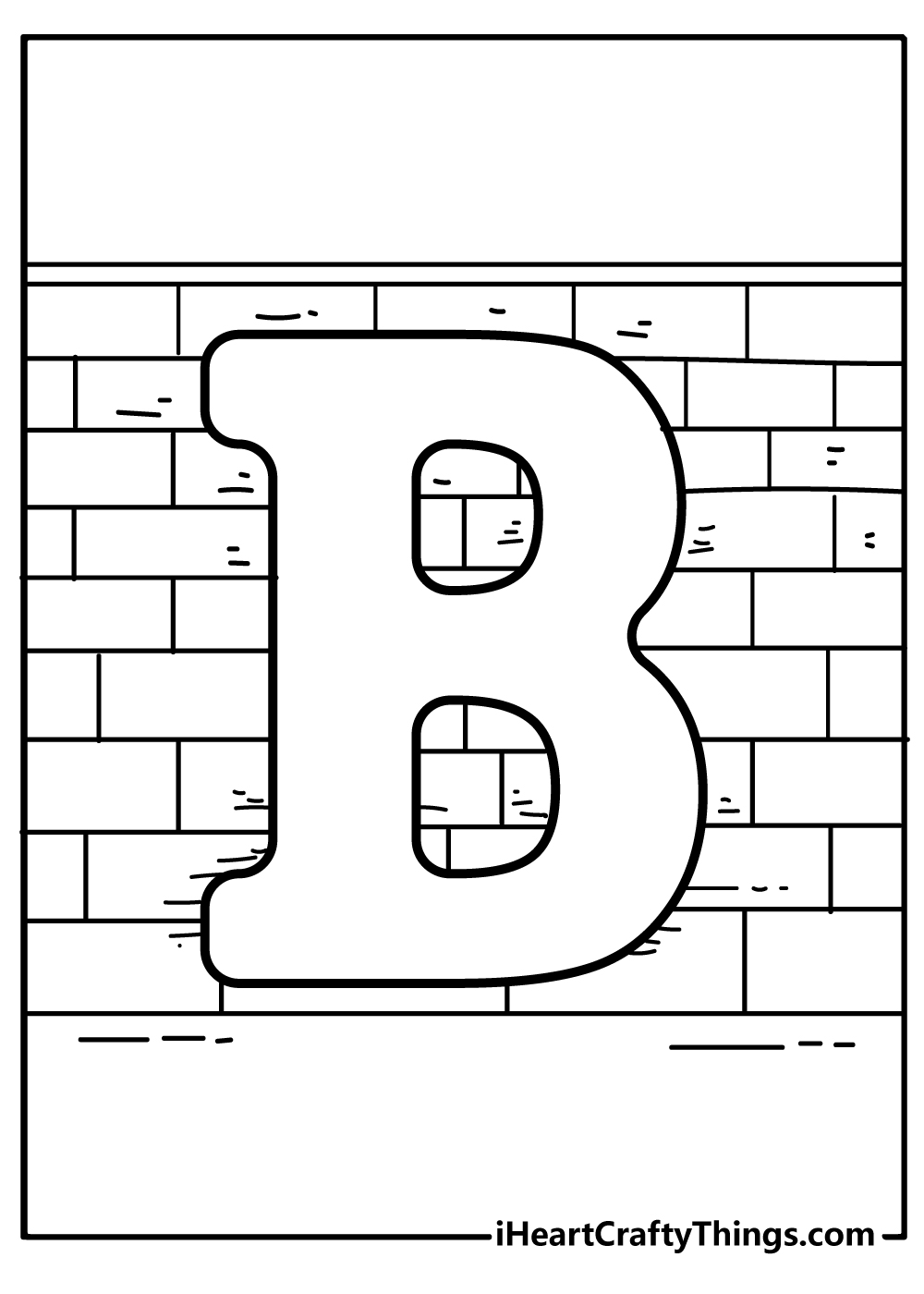 Here's another letter B coloring page that your little learner will love. This time the letter B is surrounded by a more intricate pattern.
We have two horizontal lines at the top and at the bottom of the pattern. Inside we have a bit of greenery, with wavy lines and cute little leaves.
If you take a closer look at this printable, you can imagine the letter in the middle of a bush, which is another word that starts with the letter B. Grab your green crayons and start coloring!
The capital letter B doesn't have a very complicated shape, but some children still have trouble remembering it.
It can be a lot easier for them to memorize it if there's a bit of creativity involved in the learning process.
Take a look at this letter B coloring sheet right here. The letter B is surrounded by four different patterns.
We can't really decide which design we love more, but your child will surely enjoy coloring all of them.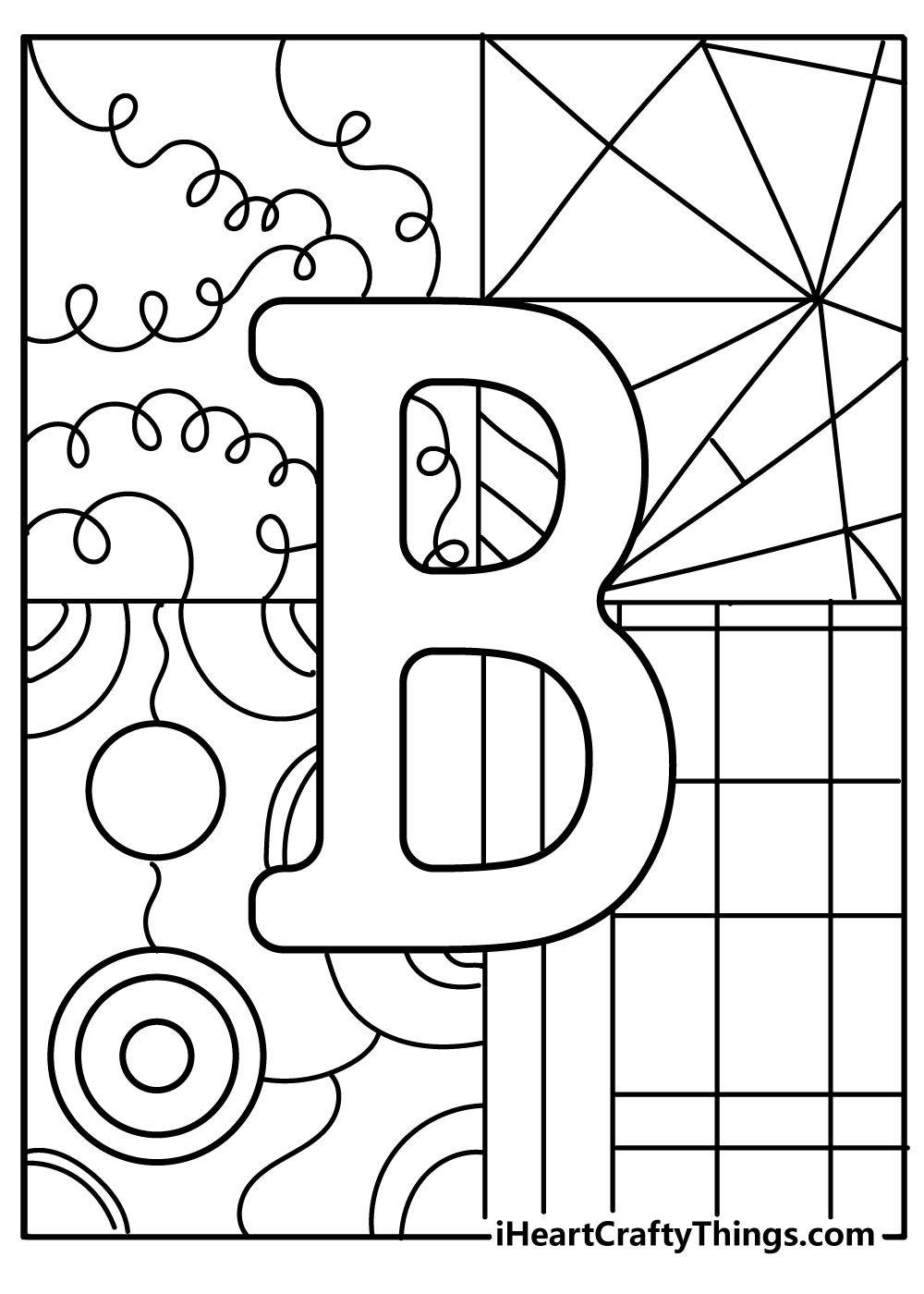 If you thought that learning the alphabet is boring, think again! With these letter B coloring printables, learning can be as fun and interesting as playing an exciting game.
All you need is a few colored pencils and lots of imagination.
The letter B pictured in this printable has two smiling faces, one in each loop. This is the friendliest letter B we've ever seen.
The background is filled with all sorts of geometric figures and shapes. There are tons of color combinations you can experiment with here, so let your creativity run free!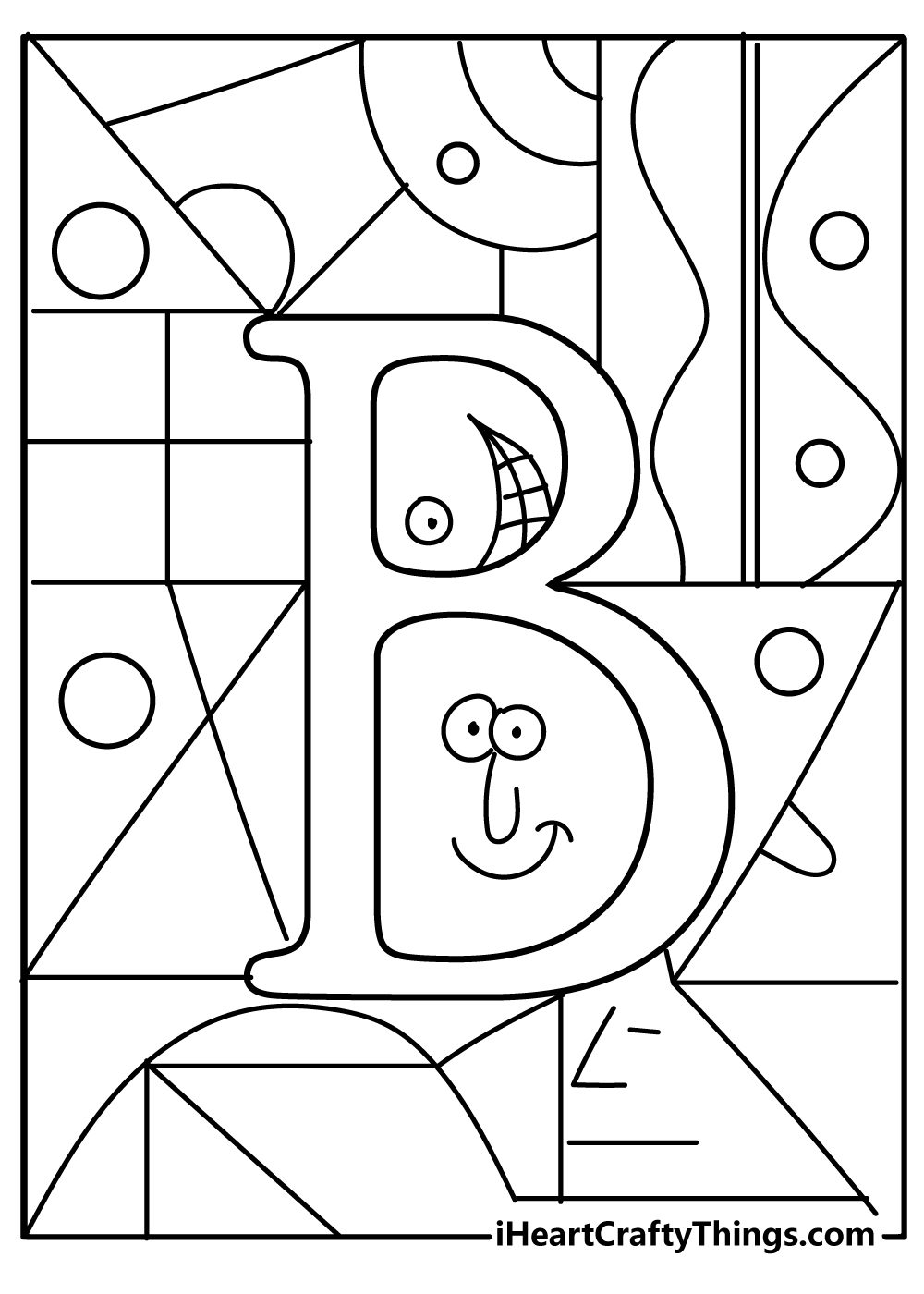 B also stands for blanket, and this is exactly what this coloring sheet looks like.
Use your imagination and you'll see different pieces of material stitched together, forming the letter B in the middle. The letter also has an interesting pattern around the edges and inside the loops.
We don't know if you like to sew, but we're sure you're great at coloring. You can choose different colors for each piece to make the letter B stand out.
After you finish, you'll have the most colorful blanket you can imagine.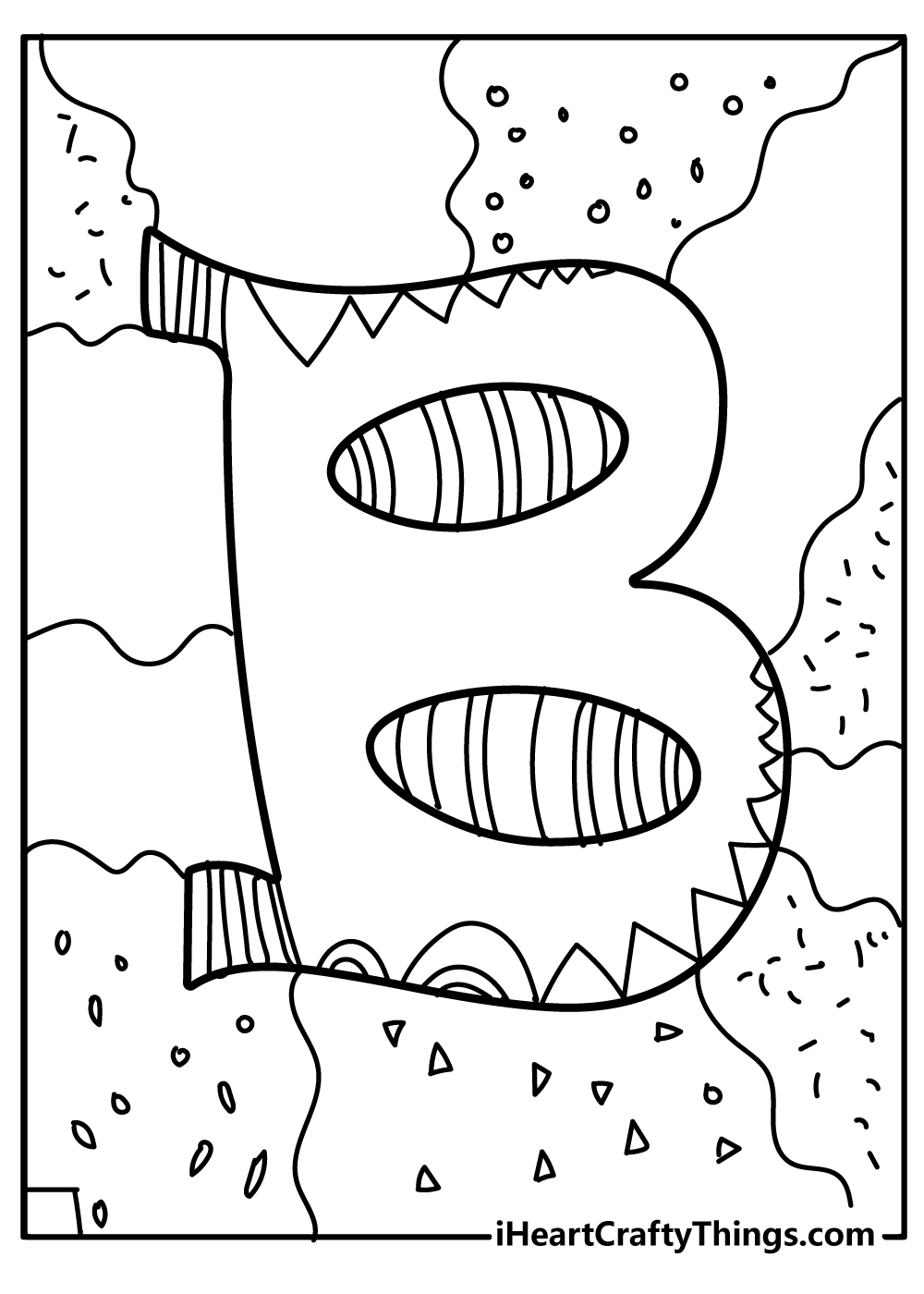 This next printable can be titled spot the letter B in the crowd. That's because there are so many elements surrounding the letter that it can be difficult to see it at first.
We've got all sorts of straight and wavy lines, as well as cute botanical motifs.
Once you start coloring all the different lines and shapes, you'll see how everything comes together.
We recommend starting with the thicker lines first, so you can demarcate the letter from the background.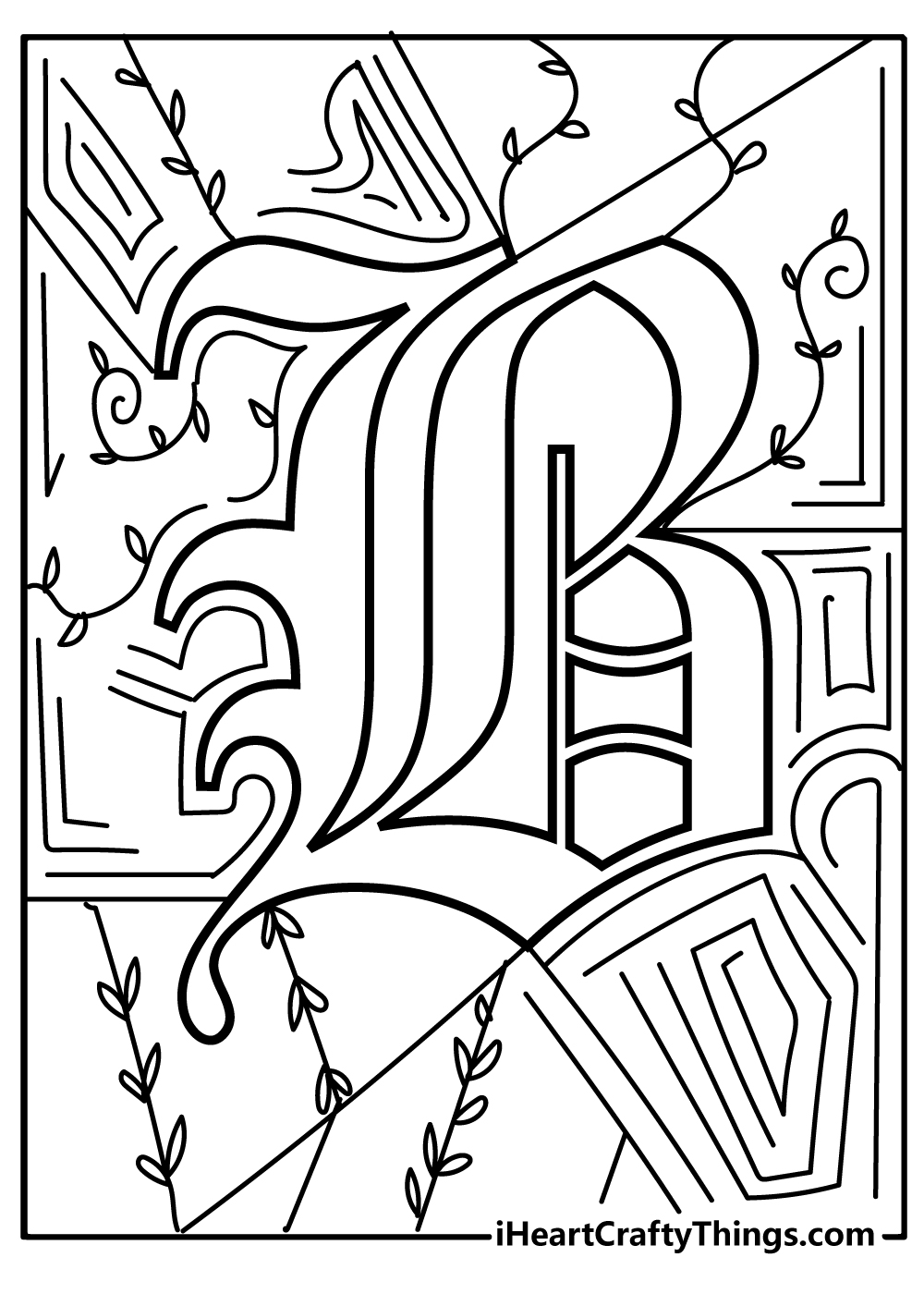 If you love plants and nature, you're going to have a great time coloring this cute letter B printable. It looks like an entire garden grew around the letter, with wonderful leaves, flowers, and fruits.
The two loops of the letter have taken the shape of two strawberries. You can even spot a spider web hanging in the bottom left corner.
There's an entire universe inside this picture that you can color. Use your favorite shades to bring this lovely coloring sheet to life.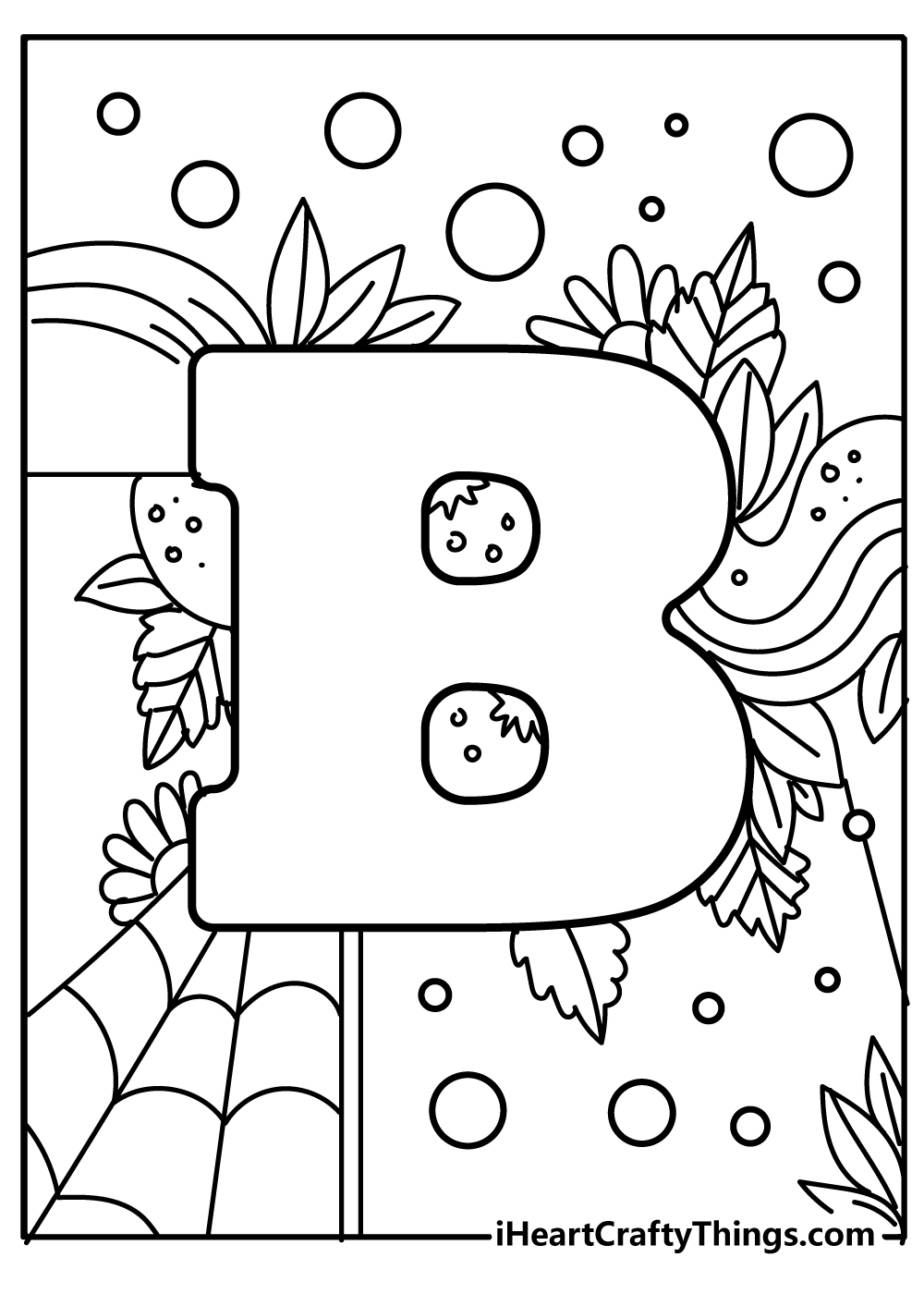 All letters are equally important when learning to read and write. But in this coloring sheet, it looks like the letter B is the star of the alphabet.
We see it here drawn in bold lines, with some geometrical shapes around it, and surrounded by many little stars.
It's as if the letter B appeared out of nowhere in the night sky.
You can use classic yellow to make the stars shine bright, or you can paint them in all the colors of the rainbow. It's your night sky, so you can picture it however you like.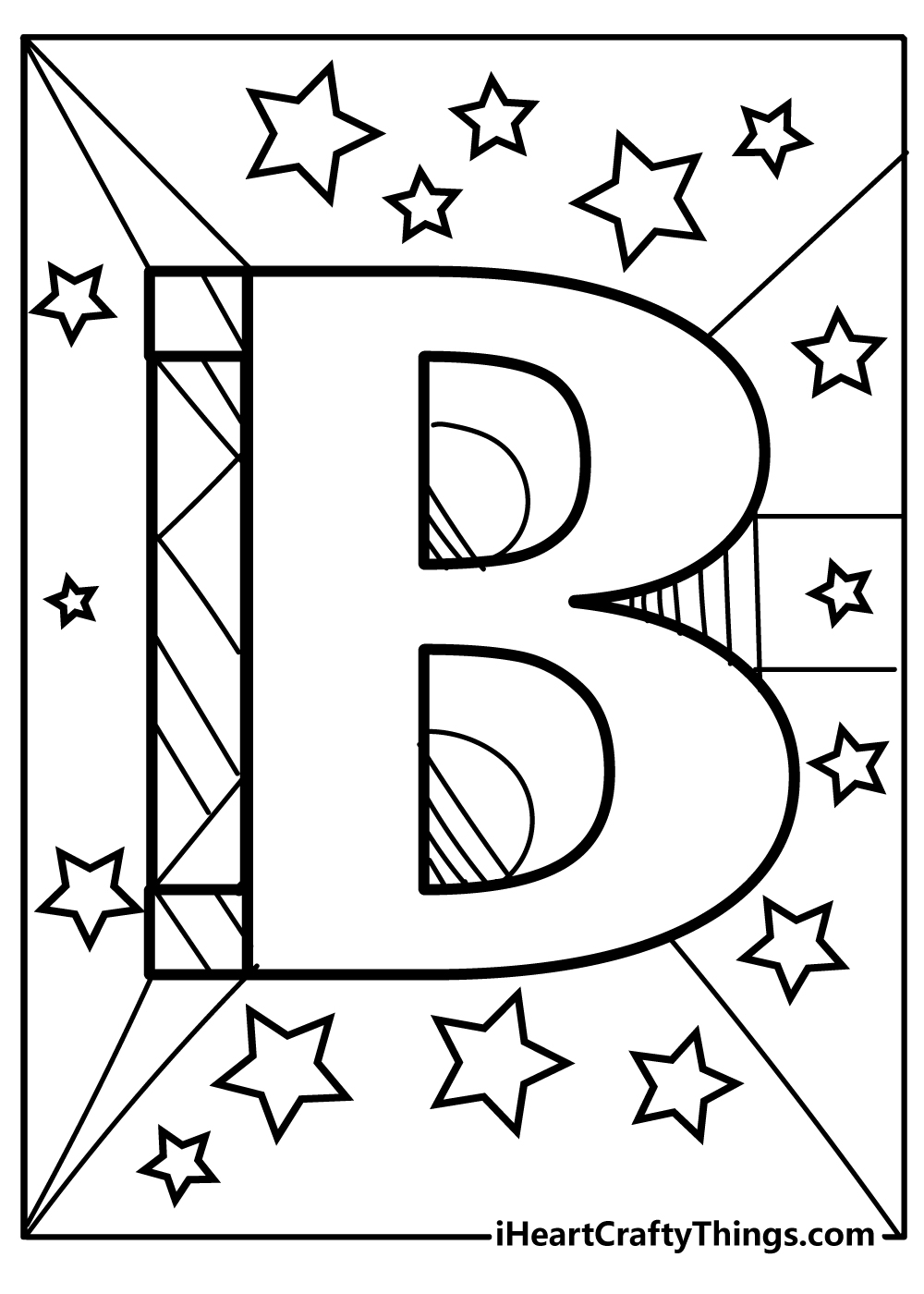 B also stands for bees, so we couldn't miss the opportunity to include them in our letter B coloring collection.
Bees are some of the cutest and hardworking creatures on the planet, as you can see on this coloring page.
They spend their days gathering pollen and nectar to produce honey. That's probably what they're doing here, as they're buzzing around the letter B.
Lend a helping hand by coloring them, the letter, the honeycomb, and the plants on this cute printable.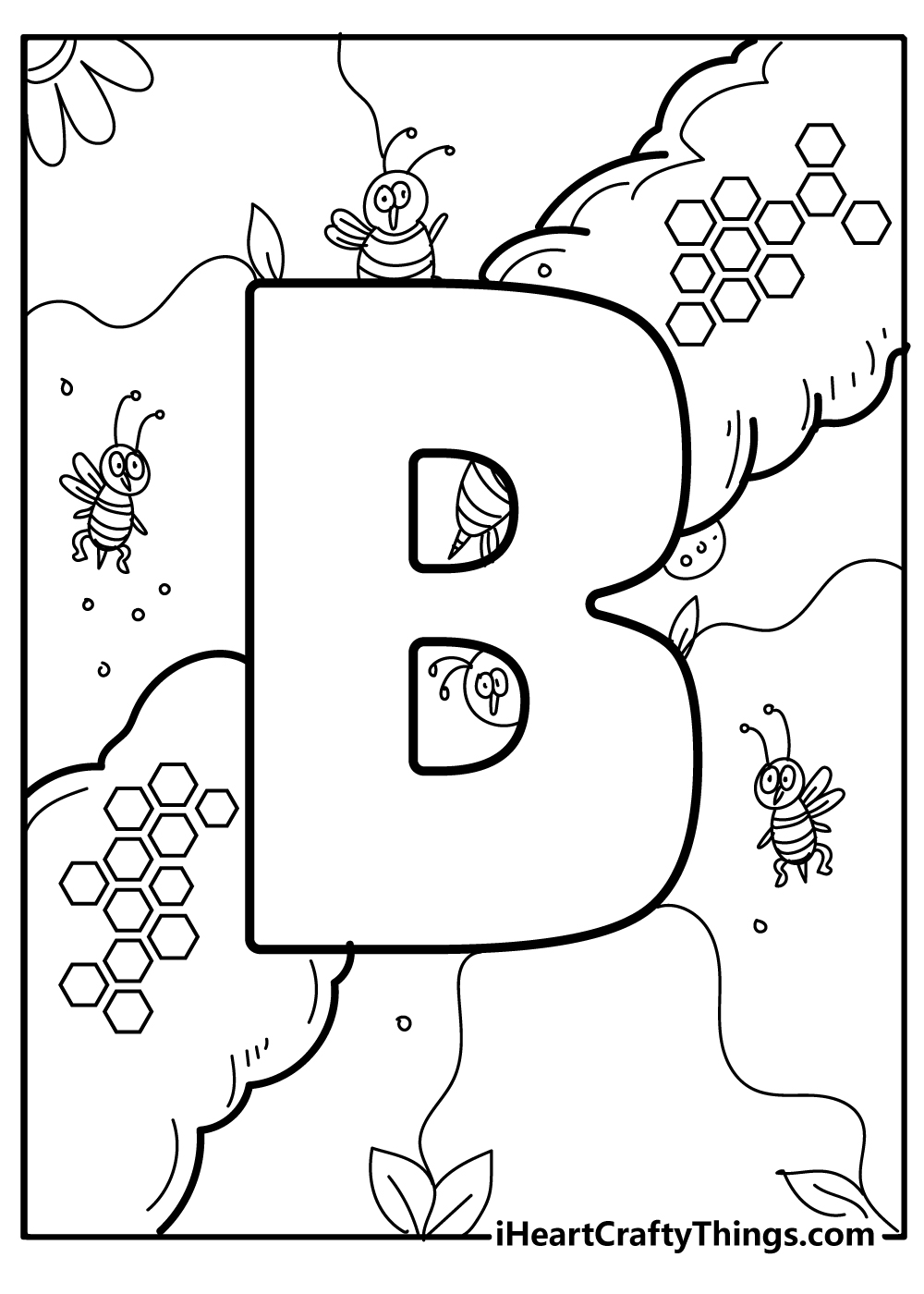 Did you notice that the letter B looks like a butterfly? So, if you like butterflies, it's going to be easy to remember its shape.
This fun coloring printable can also help you remember how the letter B looks. There are four different patterns on the page, with the letter B in the middle.
Put your creative skills to the test and choose your favorite shades to color both the patterns and the letter.