Developed in 2009, Angry Birds started out as a casual puzzle video game series. It became extremely popular the following year and gained over 12 million downloads. Due to its popularity, it was later adapted into a movie called "The Angry Birds Movie"
Angry Birds have been a phenomenon for people around the world. But sadly, the game is no longer available for download. So, we have created and compiled Angry Birds coloring pages to somehow bring them back to life. Without further ado, we present to you—free Angry Birds coloring pages!
With these Angry Birds coloring sheets, coloring activities are made more fun and easy. Simply choose the image you like, print it out, and finally—the most fun part—color it! Why not try experimenting and coloring these printables with other coloring materials like watercolor and brush pens?
Have fun transforming these colorless Angry Birds characters into colorful ones!
Angry Birds Coloring Pages — 10 Free Printable Sheets
The bird in this coloring page looks furious for some reason. With that distinct shape and unique hairstyle, the bird in the image is none other than Chuck!
Chuck is originally colored yellow with an orange colored beak. Which colors will you use for Chuck the bird?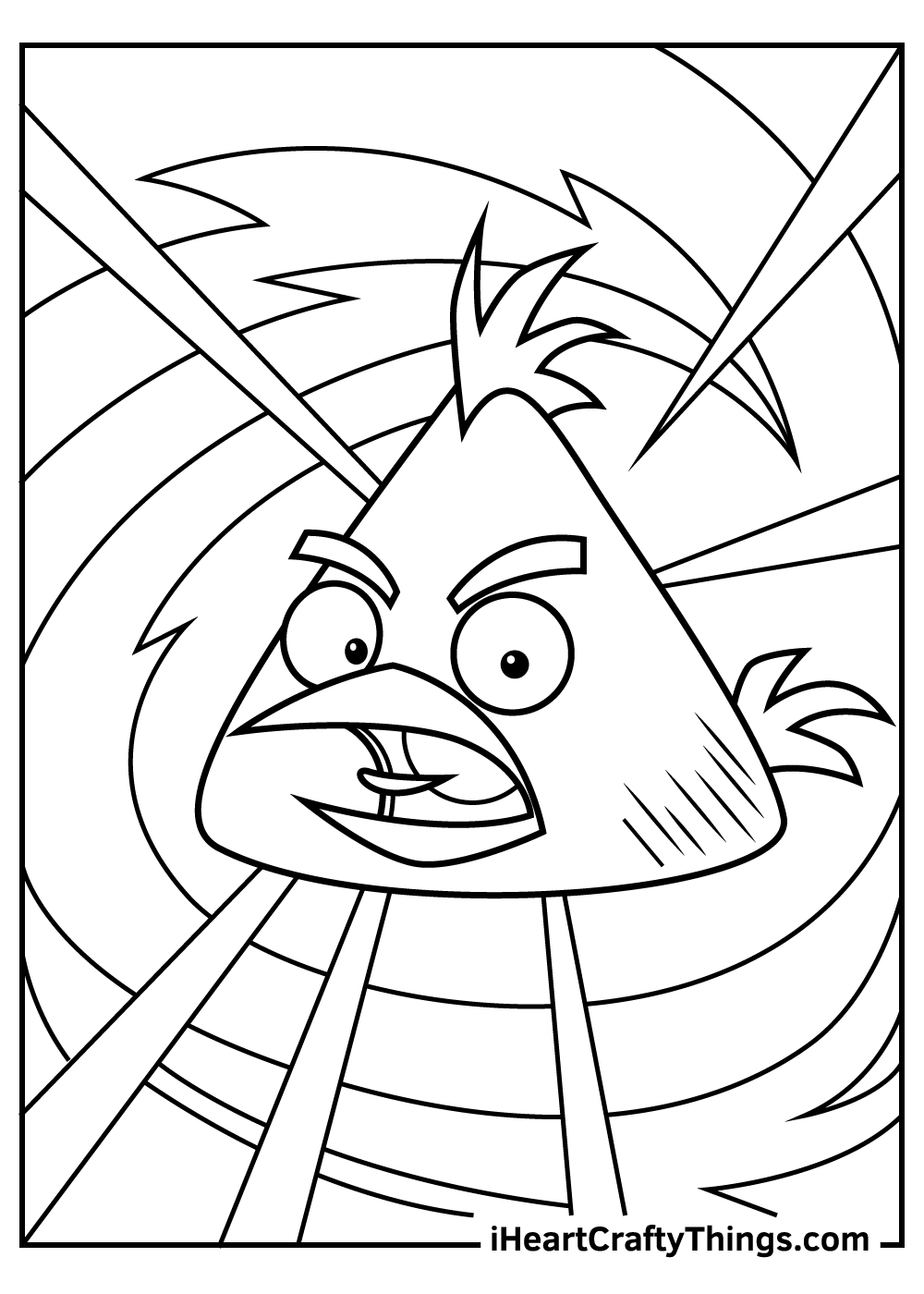 This may be the most furious bird you have ever seen! This coloring printable shows an extremely angry bird flying hastily.
It looks immersed in concentration with those focused eyes and puckered brows. The bird in the image is none other than Terence, the biggest red bird in the Angry Birds squad.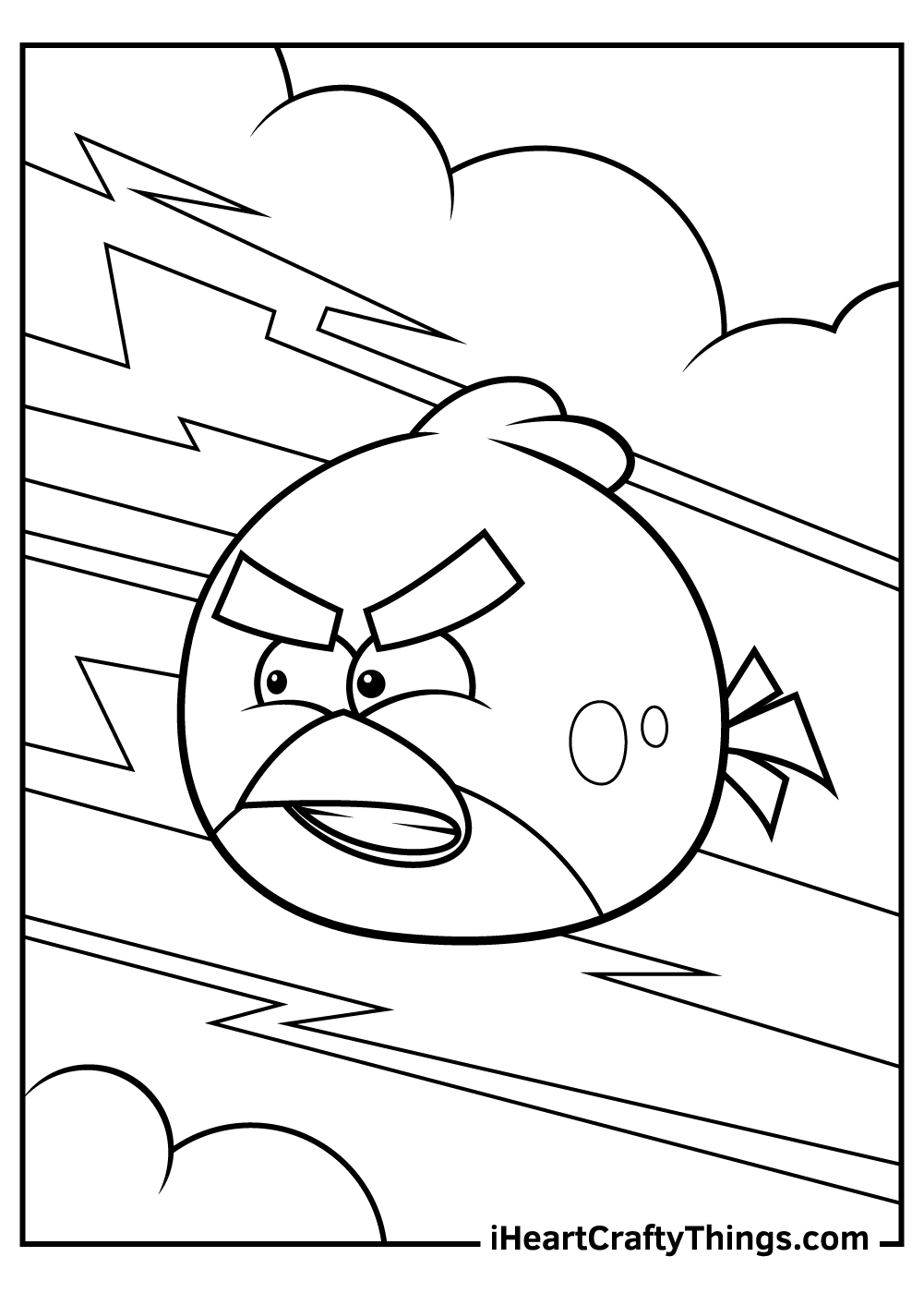 Slingshots usually use stone as an ammo. But in this coloring sheet, the ammo is three little birds. These birds are most commonly known as "the blues" because of their blue-colored feathers and yellow beak. Which colors will you use for these birds?
Surprisingly, these birds do not look angry at all like the other bird characters. In fact, they look extremely happy with those gleaming eyes and huge grin!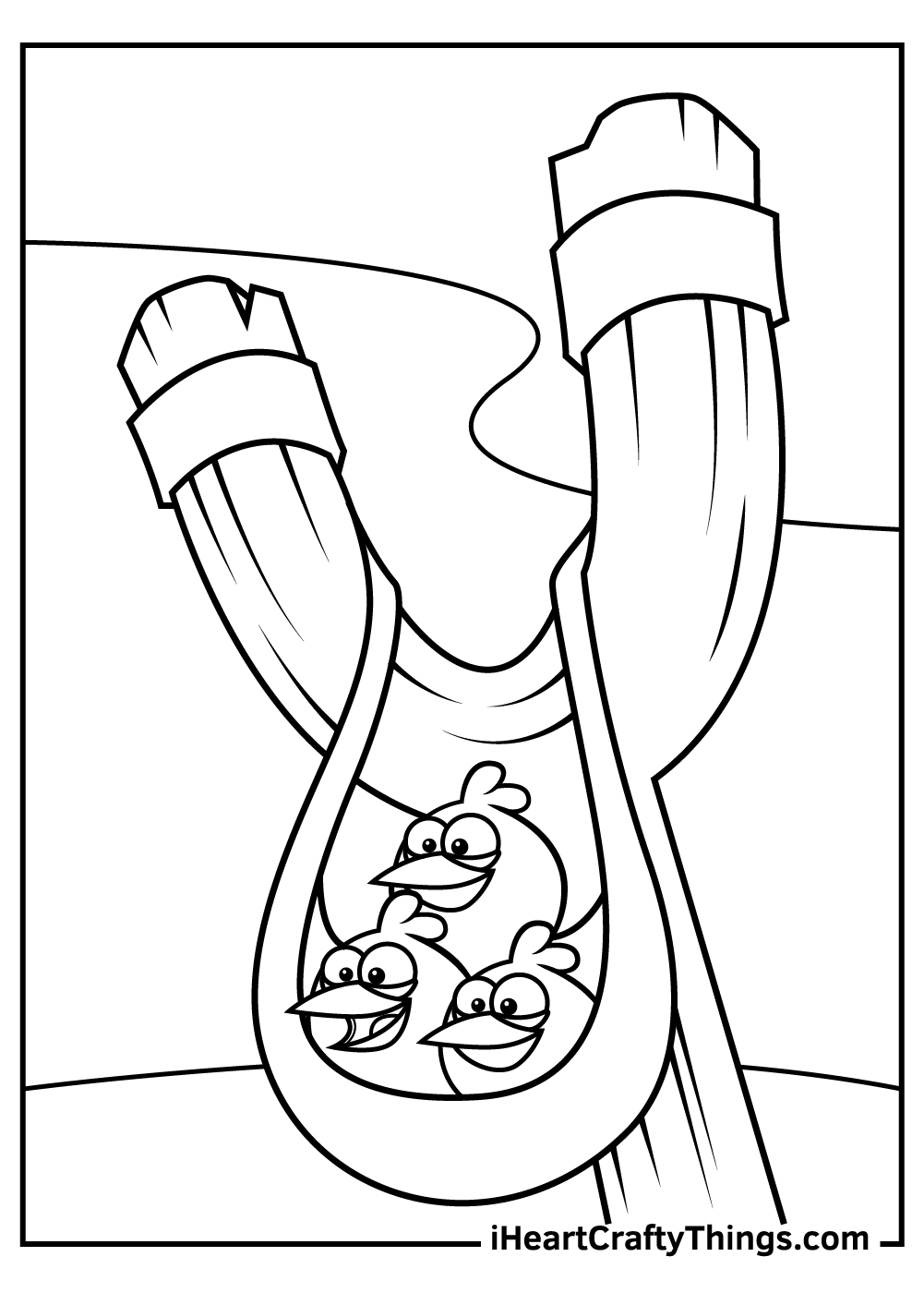 This coloring sheet shows the corporal pig wearing a helmet standing on a cliff. He looks determined with those sharp eyes and puckered brows.
It looks like he's giving orders to the two other pigs right below him. They are probably coming up with strategies to defeat the birds! Which colors would you pick for the pigs in this image?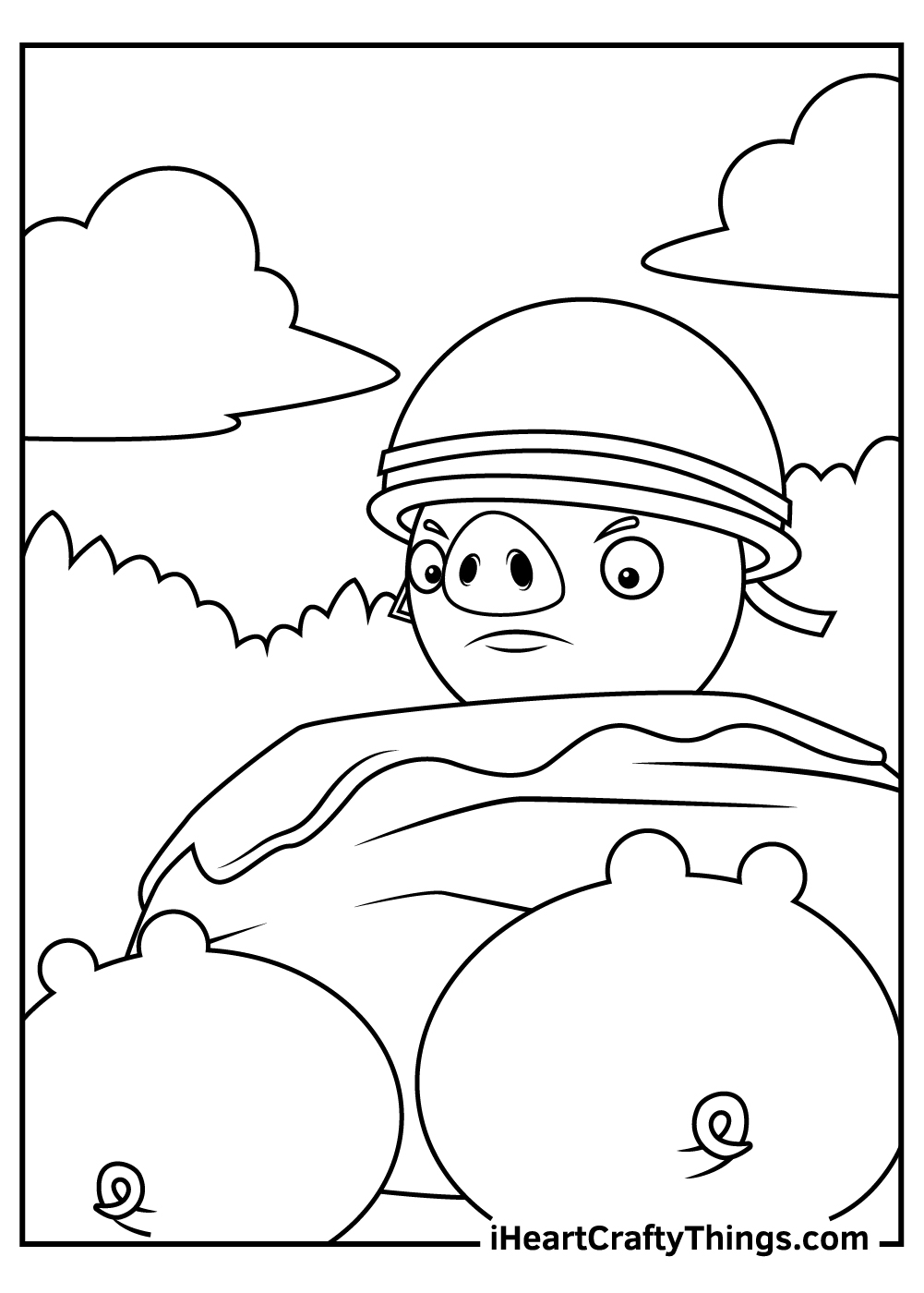 This coloring page perfectly captures the wonderful moment when the mother bird sees its children for the first time.
The mother bird watches the eggs as it hatches, instantly falling in love with them at first sight. So sweet!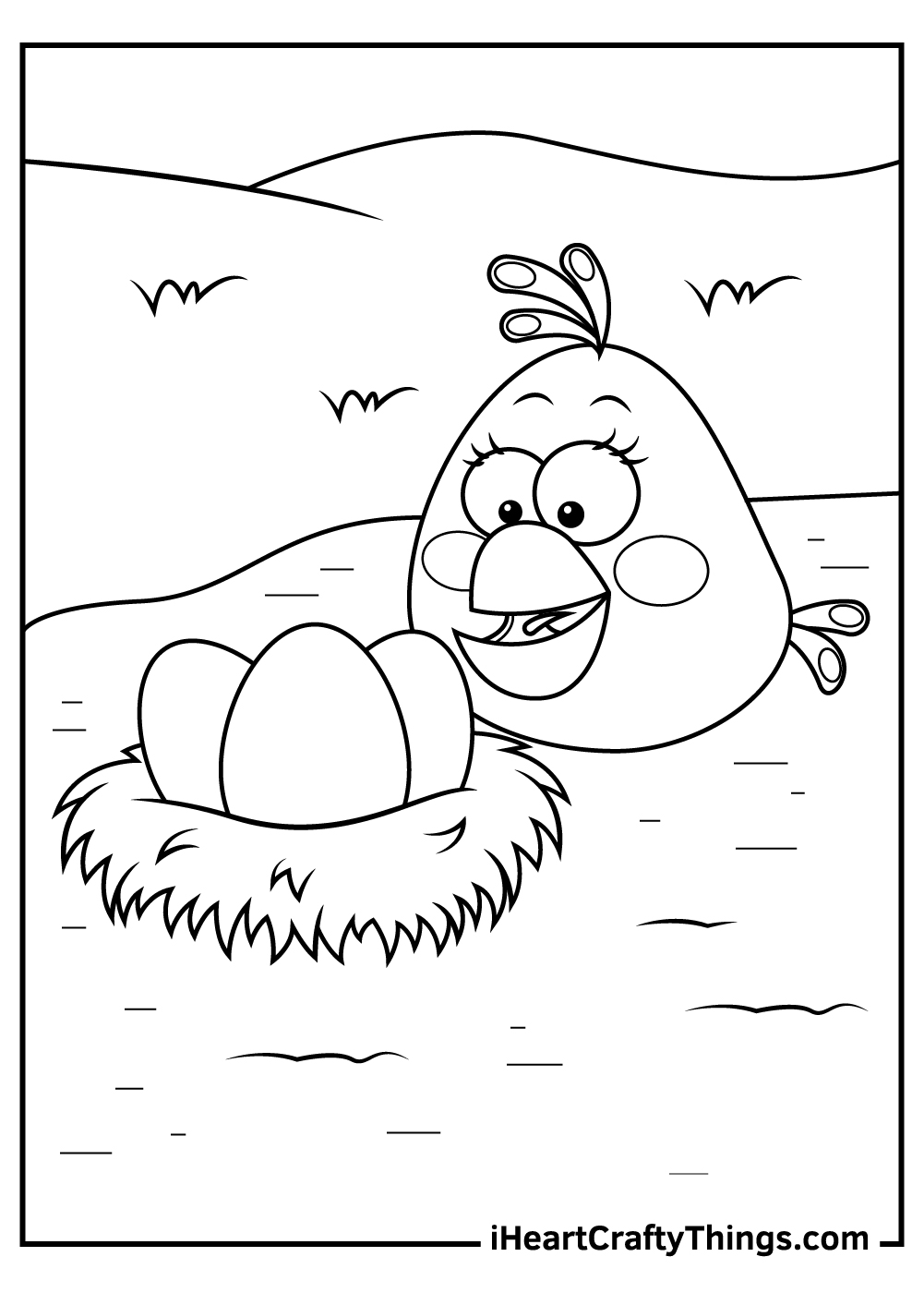 All hail the king! This coloring printable shows the King Pig sitting on its wooden throne outdoors. The king is wearing a tall crown with jewels in it. His eyes are furious and his mouth is wide open, possibly giving orders to his followers.
The pigs in Angry Birds are known as the villains. Despite being a pig character, they do not have the color of an actual pig and are in fact primarily green in color.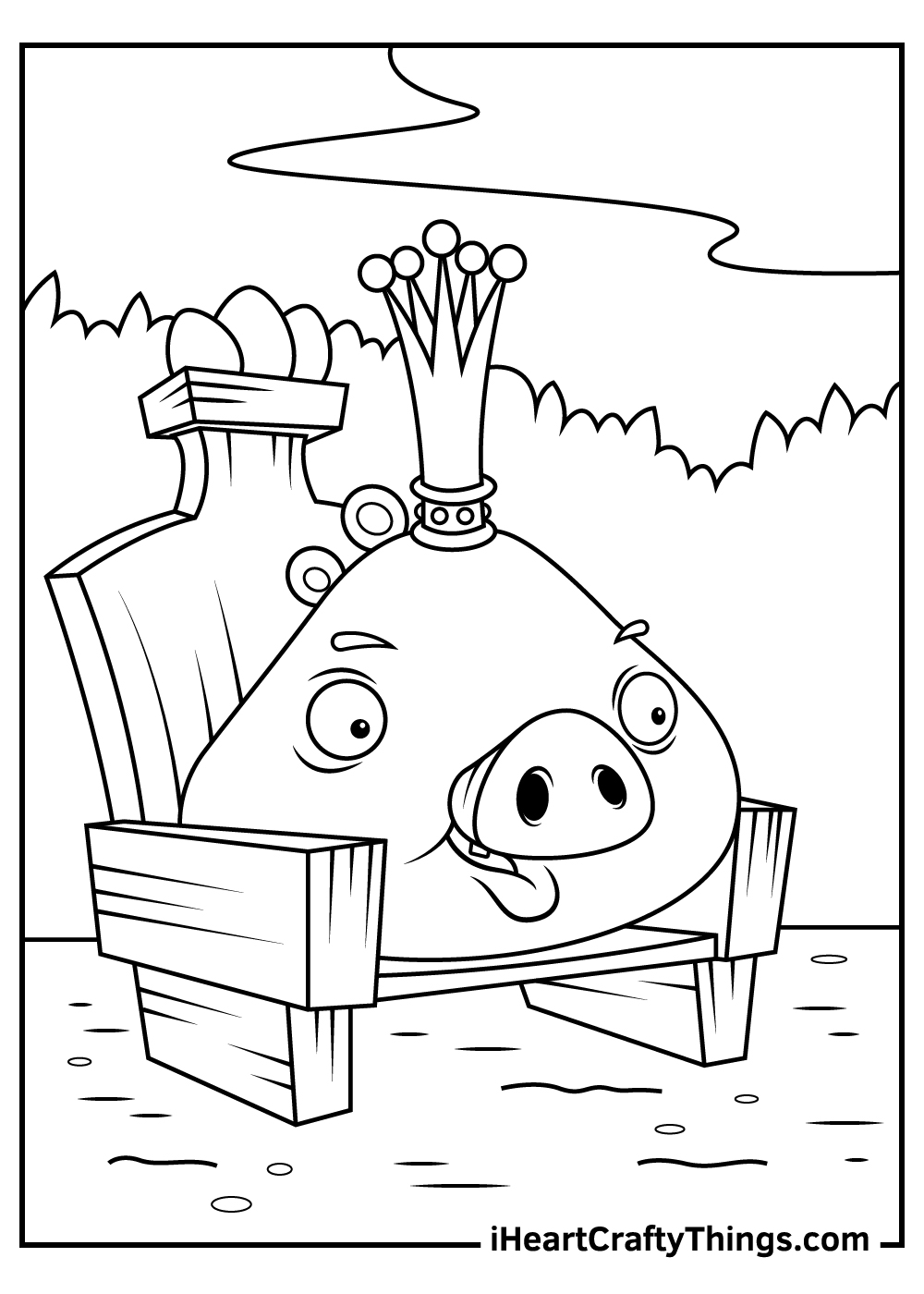 This coloring sheet shows a female bird looking pretty. With those long lashes and that unique hairstyle, it surely is Stella the bird! No other bird is as fabulous as her, that's for sure. Unlike most birds, Stella actually looks like she's in a good mood.
In the game and in the movie, Stella the bird is originally pink in color. But feel free to color her with any color you like! Which colors will you add to this printable?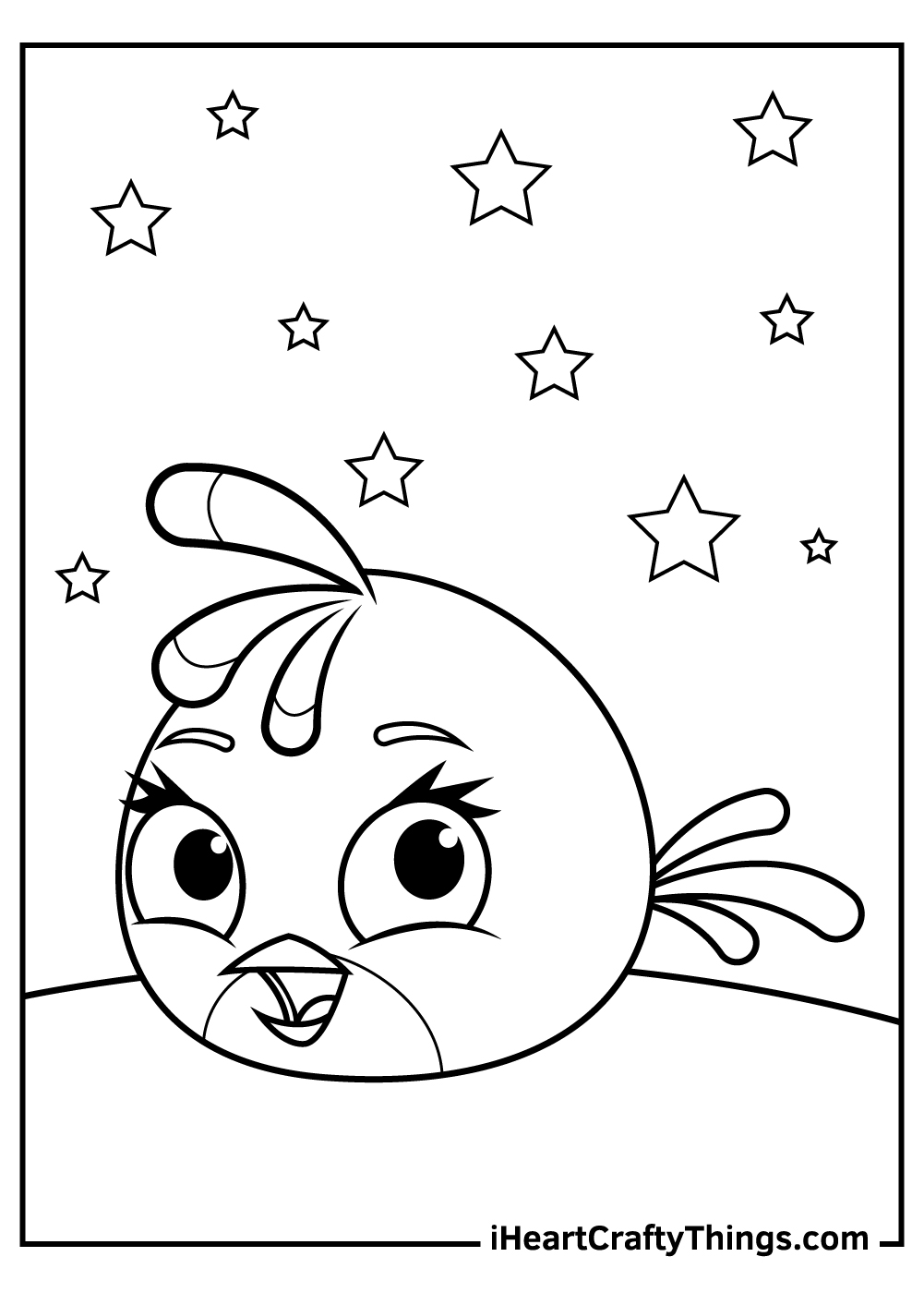 This coloring page shows an enormous slingshot with a bird as ammunition. With its furrowed eyebrows and sharp eyes, the bird looks determined to hit the target. The setting of this image looks like a meadow. There are bushes of greeneries everywhere.
Imagine being sent flying into the air by a slingshot like this bird—so scary yet seems fun! Which color would you pick for the bird?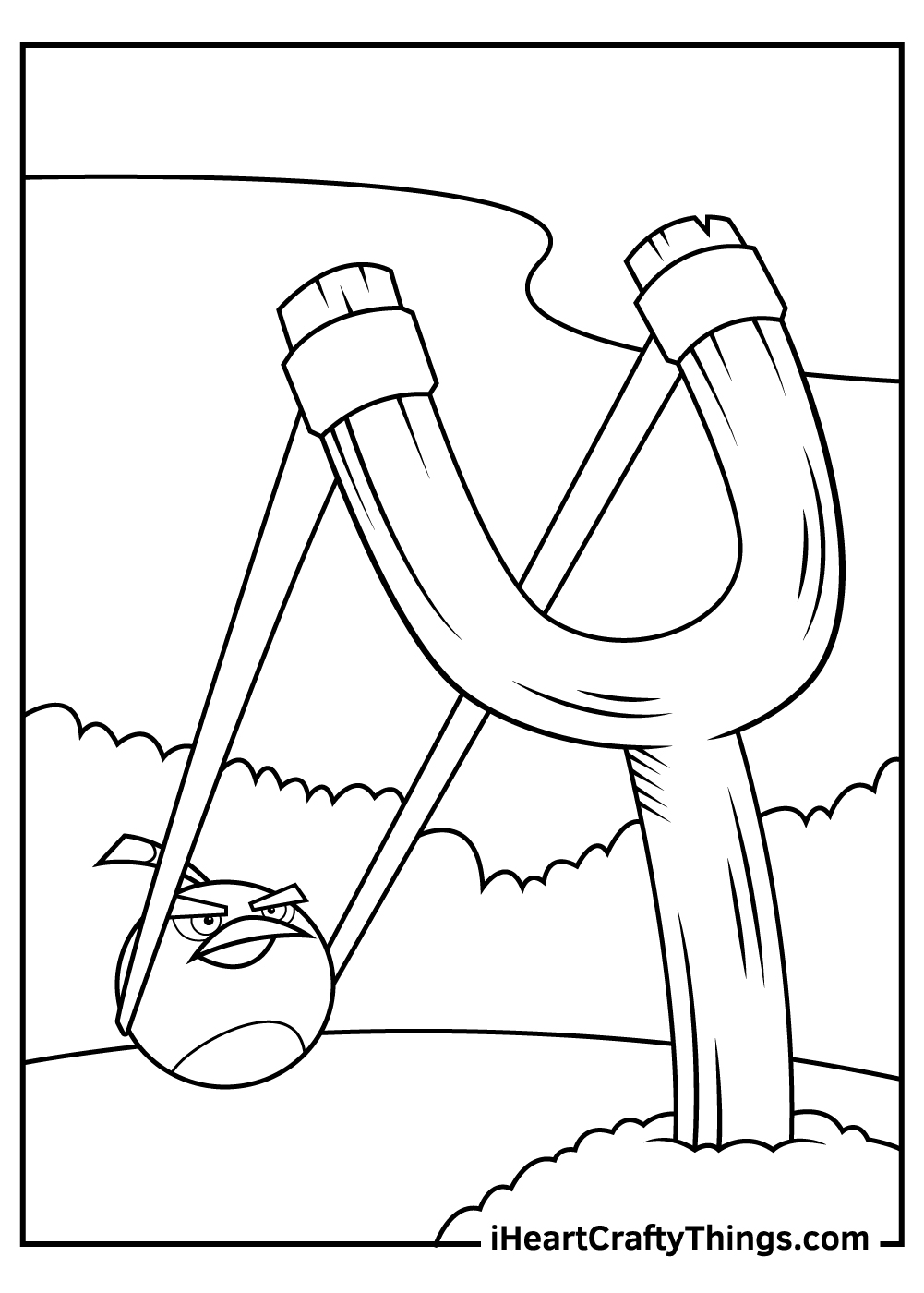 The bird in this coloring printable is hurling in the air at full speed. There's a blazing fire following the bird as it is in motion. The bird must have been sent flying extremely fast!
Was the bird used as an ammo in a slingshot? This bird wears the typical angry expression, looking focused and determined to reach its destination.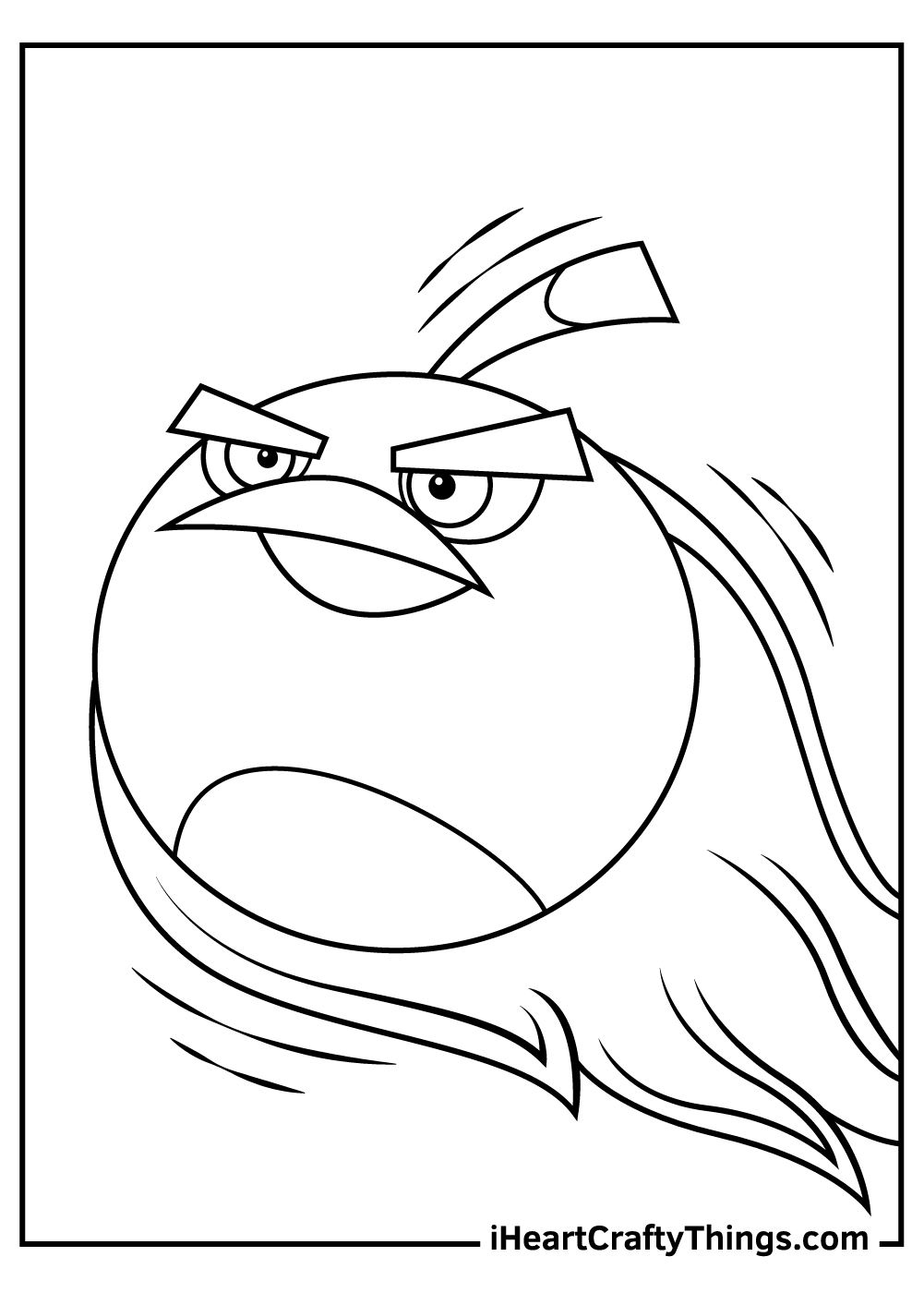 This coloring sheet captures the perfect moment of a bird's egg hatching. The egg shells are starting to fall apart, revealing a baby bird inside.
This baby bird has just been born, but it is already looking furious. It's probably looking for its mother!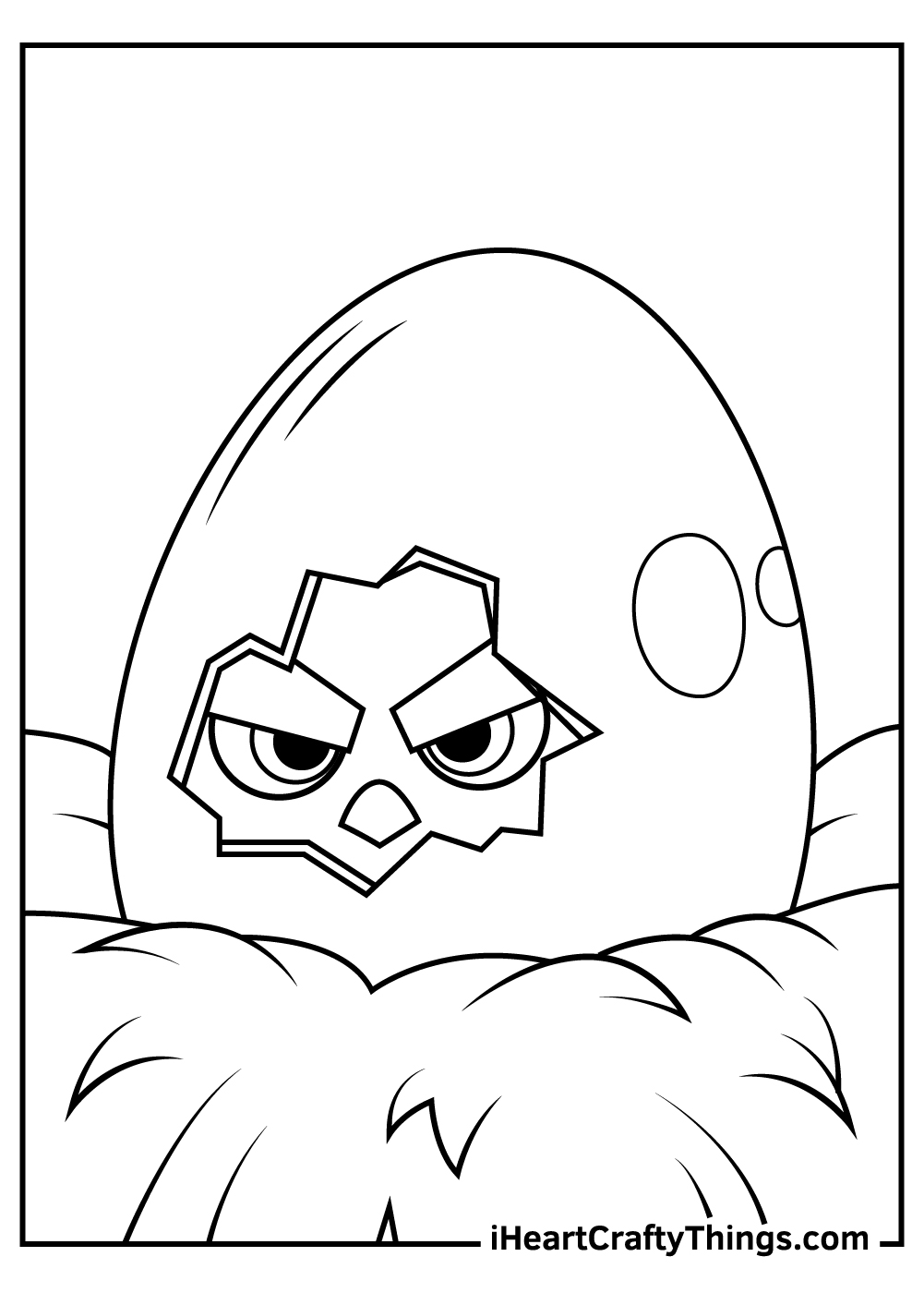 Angry Birds Coloring Pages — Who is your favorite character?
These Angry Birds coloring pages take you on a fun adventure with the angry birds and the villain pigs. So hopefully, you enjoy coloring these angry birds printable sheets with your friends and family.
We are always updating our website and uploading new content. So don't forget to keep re-visiting our website to see all-new printable sheets for your coloring activity needs. Remember, all of our crafts and coloring pages are 100% free for you to print, color, and enjoy.
Once you've finished filling in the colors for these angry birds coloring sheets, make sure to show off your amazing work of art by sharing it on our Facebook page. We're sure they are amazing!
We are excited to see how you brought these angry birds coloring printables to life!