There are so many amazing countries in the world with varied and incredible sights, sounds and cultures to explore.
It would take years to get to travel and see every single country and everything they have to offer, so these free world map coloring pages for kids are a great way to get in touch with and learn a bit about the world around us without having to leave your chair!
There are so many colors you can use to represent the diverse and varied planet we live on, so we're sure there will be a lot of bright and beautiful world map pages once you've finished coloring in.
You can print out several copies and try different mediums for a more layered look, too! It'll be hours of fun experimenting with colors.
Don't forget to share your globe-trotting colorful creations once you've finished coloring in to our Facebook page for us to see.
10 Brand New World Map Coloring Pages – Free to Print and Color
The first stop on our world map journey shows us the continents of North and South America. This coloring page even shows the different countries on the continents for you to color. Are there any countries you hadn't heard of?
Maybe you could look up the flag of each country and use the colors for each country segment!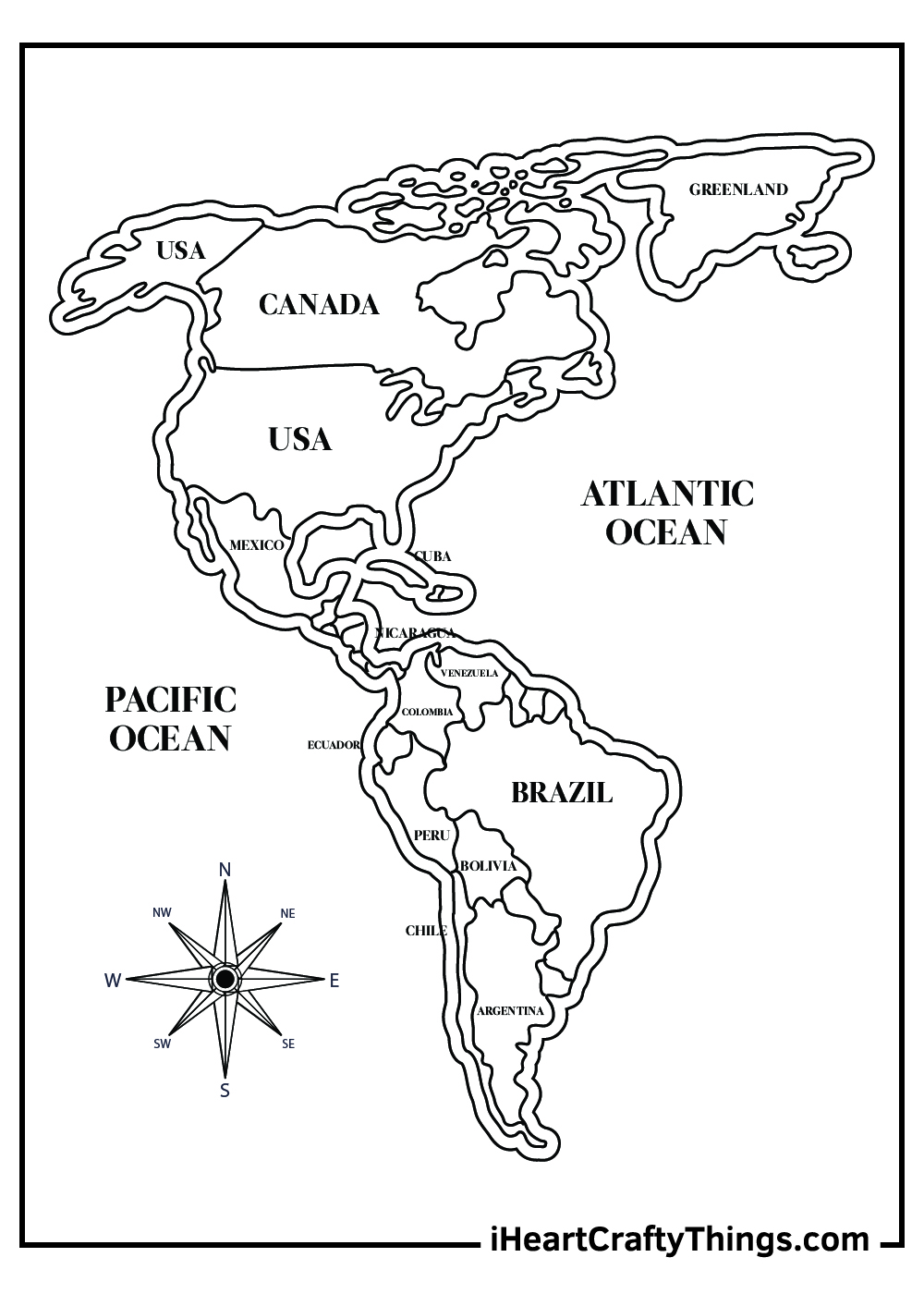 For the next world map coloring sheet we have the continents of Africa, Asia, Europe and Australia. This page also shows the various countries on each continent. Have you ever visited any of these places in real life?
If you feel up to the challenge you could continue with our suggestion from the last coloring page and look up the flag colors of each country to color in.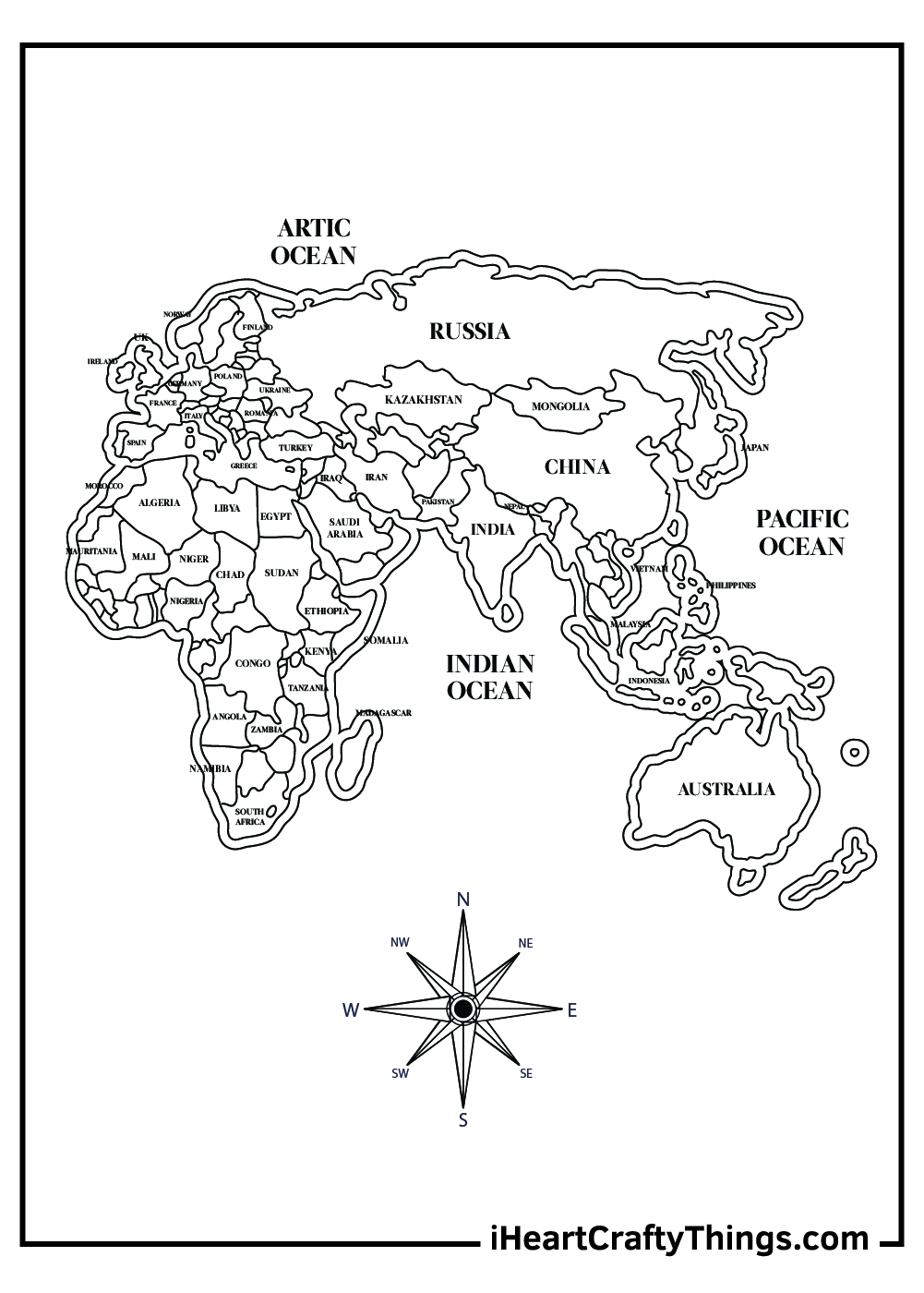 Be sure to pack a sweater and a raincoat because Europe is next on the agenda. How many countries would you be able to fill in from memory? You can use the previous coloring printable as a reference if you get stuck.
It's cold and rainy in much of Europe, so maybe you could use greens and blues to give a more chilly feeling to this coloring page.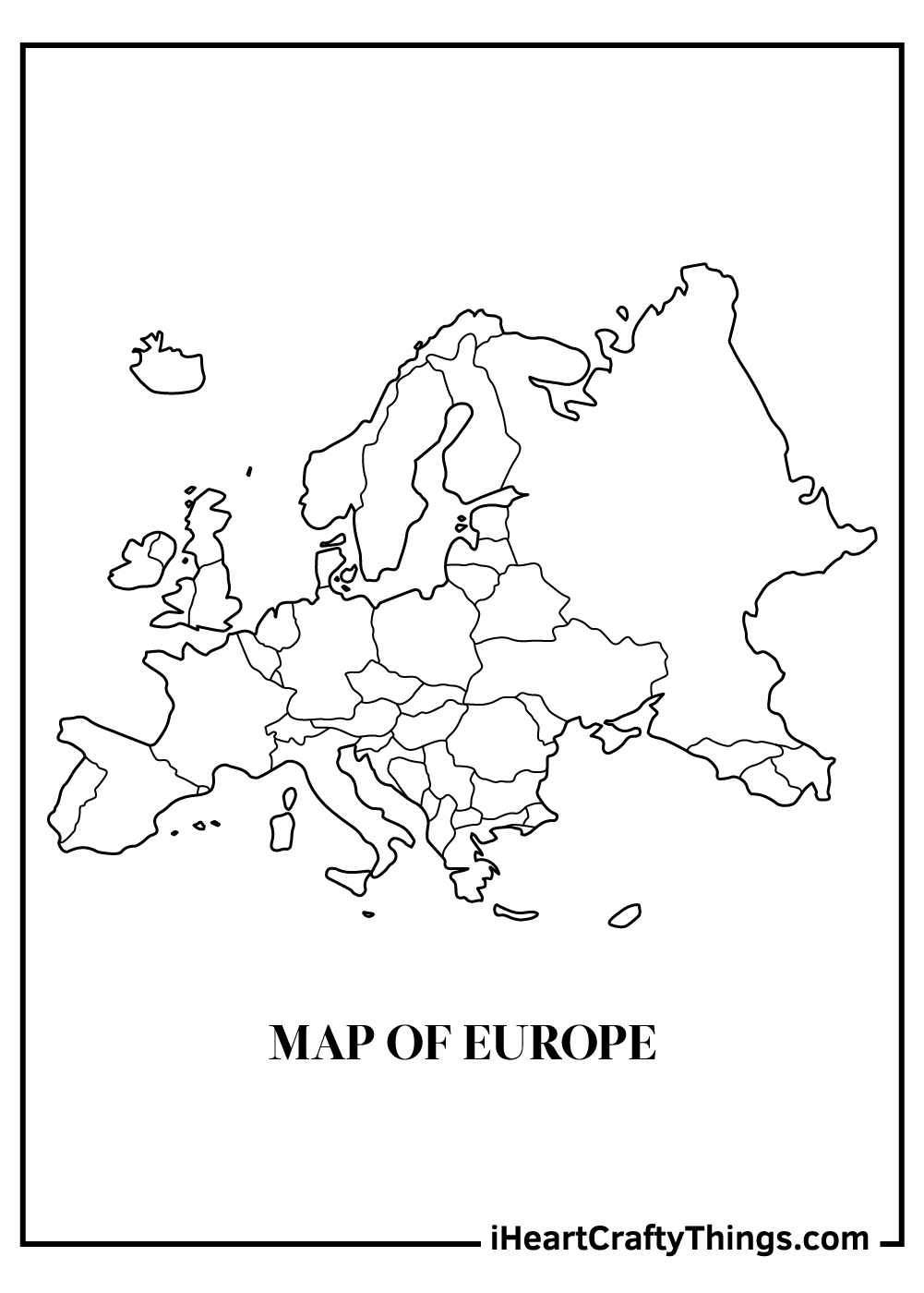 Don't forget your safari hat as we're heading to Africa for the next coloring page printable. From Egypt to the North right down to South Africa at the bottom, there are many different countries, cultures and wildlife to appreciate throughout Africa.
Africa can get pretty hot, so you could use warmer reds, yellows and oranges for this coloring sheet.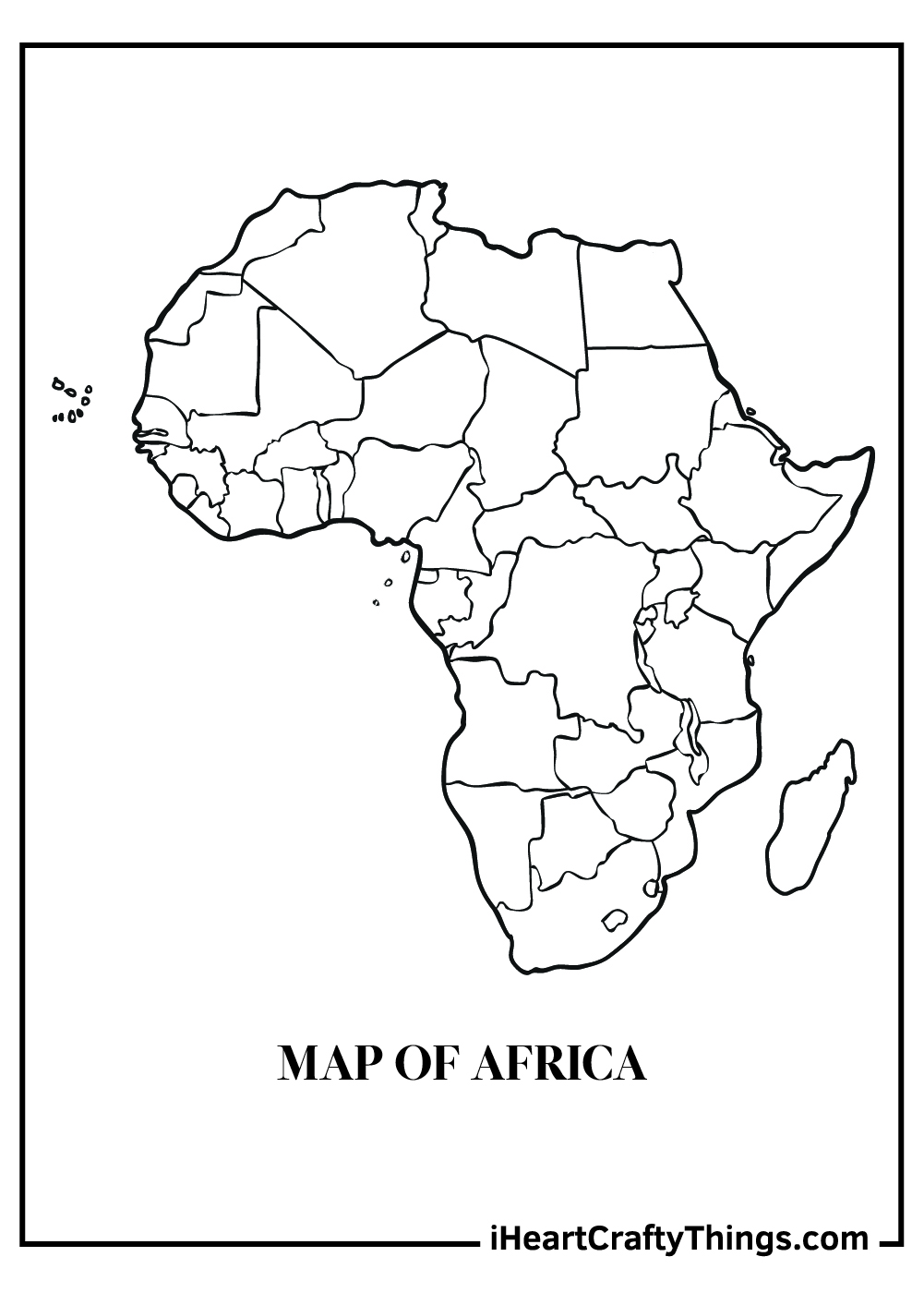 Asia is another continent with many different countries. From the cold lands of Russia to the bustling cities of Japan there's a lot to see and do for this coloring page!
How many countries would you be able to fill in from memory, and what colors would you use for them?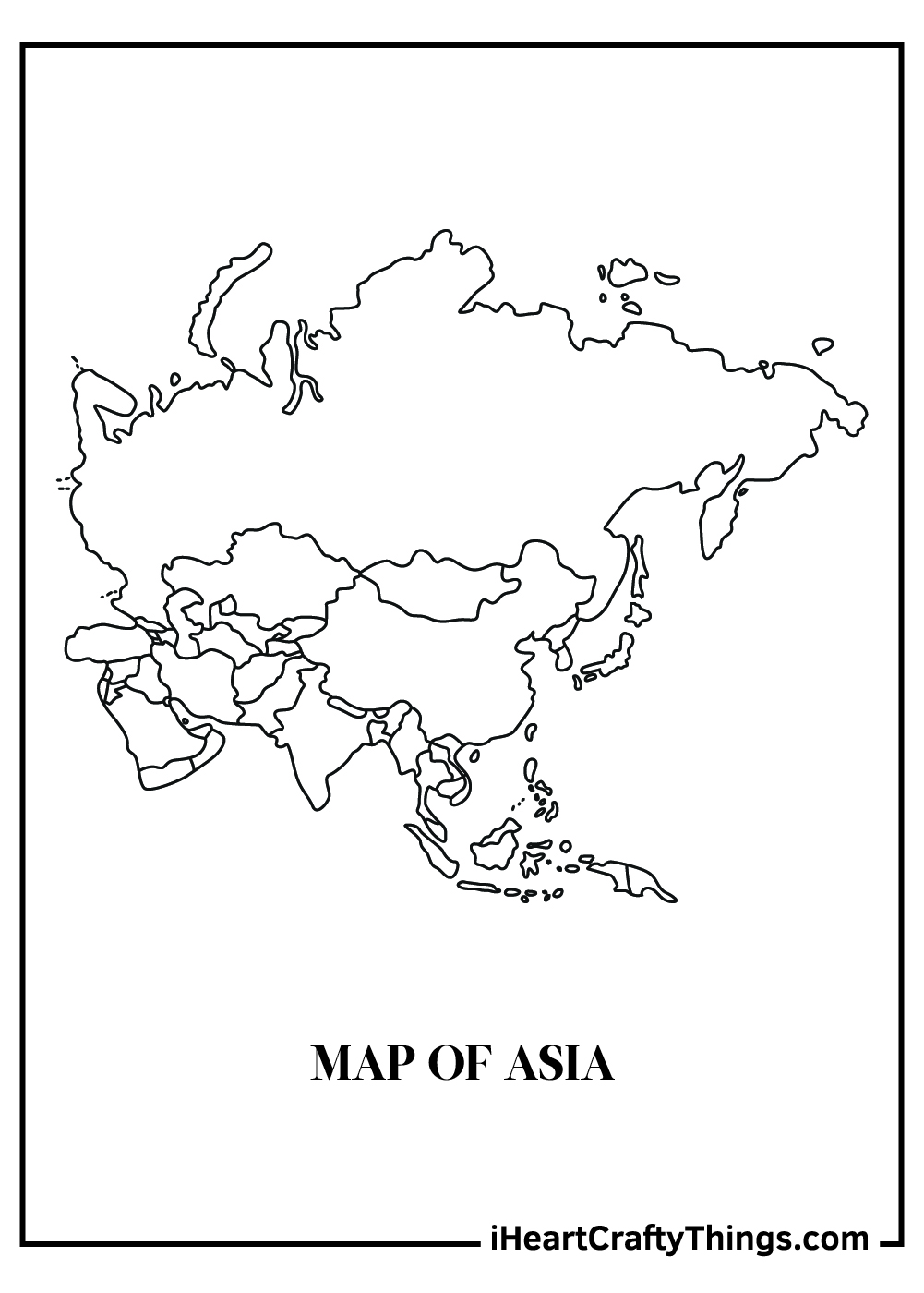 North America is the continent featured in this coloring page. How many of the fifty US states would you be able to name? Extra points if you know where they go on the map!
Don't forget that Canada is to the north, so you could draw in and color the flags for Canada and the United States to really help to distinguish them.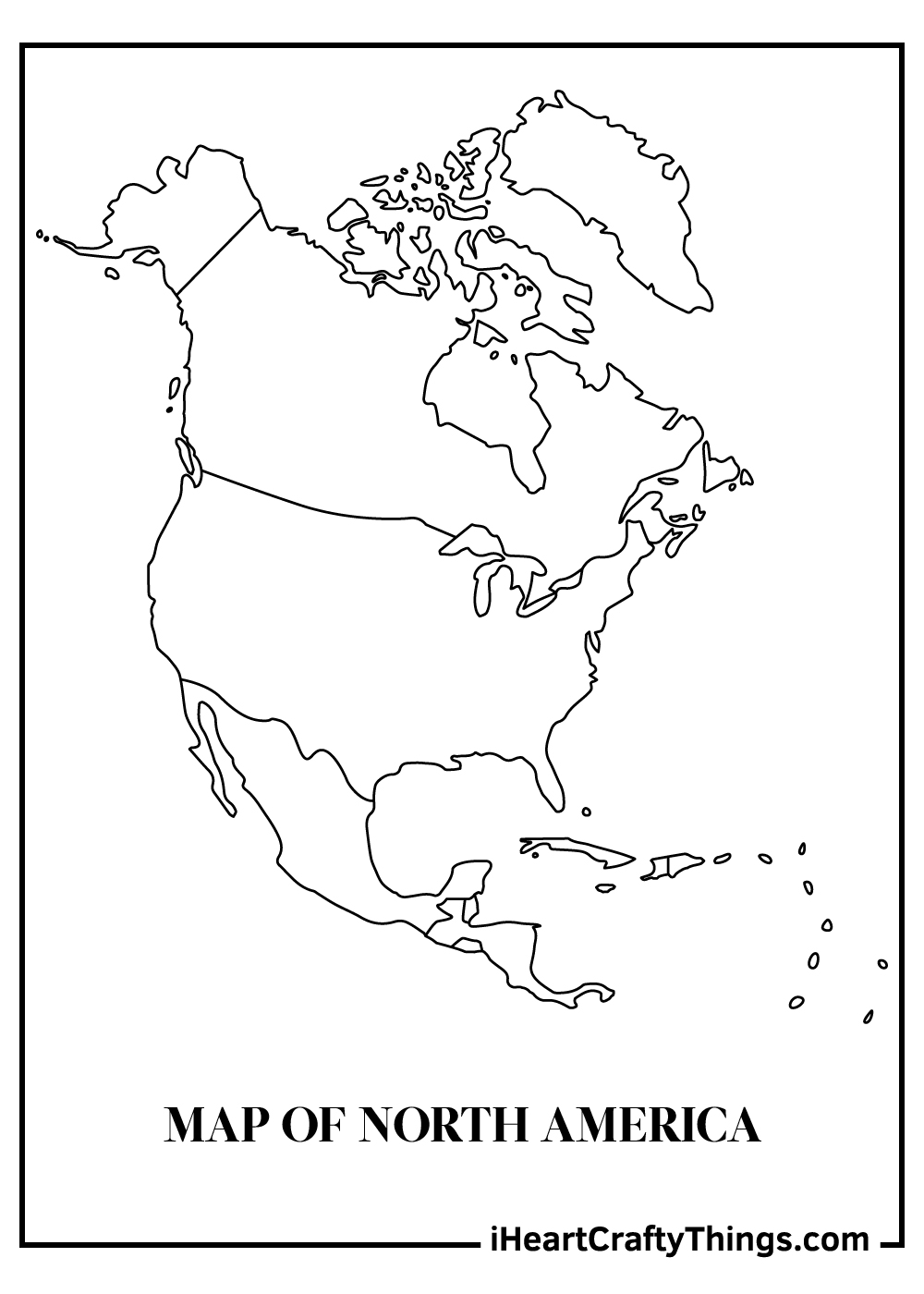 Our next world map coloring page printable features South America. This is a continent that has many huge jungles and cities with one of the longest rivers in the world, the Amazon River, being there too.
I'm thinking different shades of green would help represent the lush forests and vegetation that can be found throughout South America.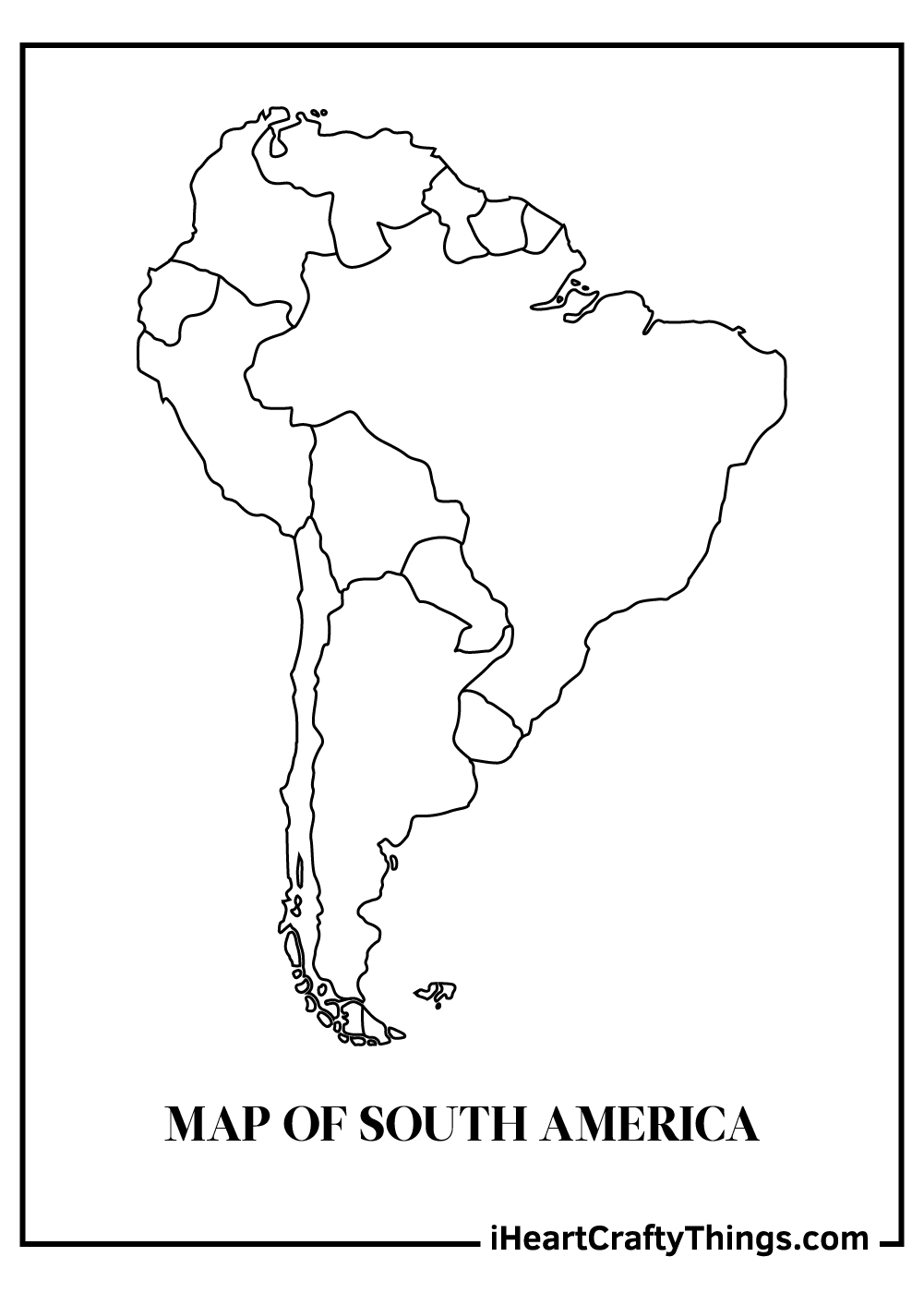 Pack your warmest coat, because Antarctica is our next world map coloring page location. This is a land of ice, snow and some of the coldest temperatures on earth. This may be a cold, unforgiving place, but you can find penguins roaming the frozen countryside, so that's a plus!
For this coloring page I think cooler blues and greens would make for an appropriate color scheme.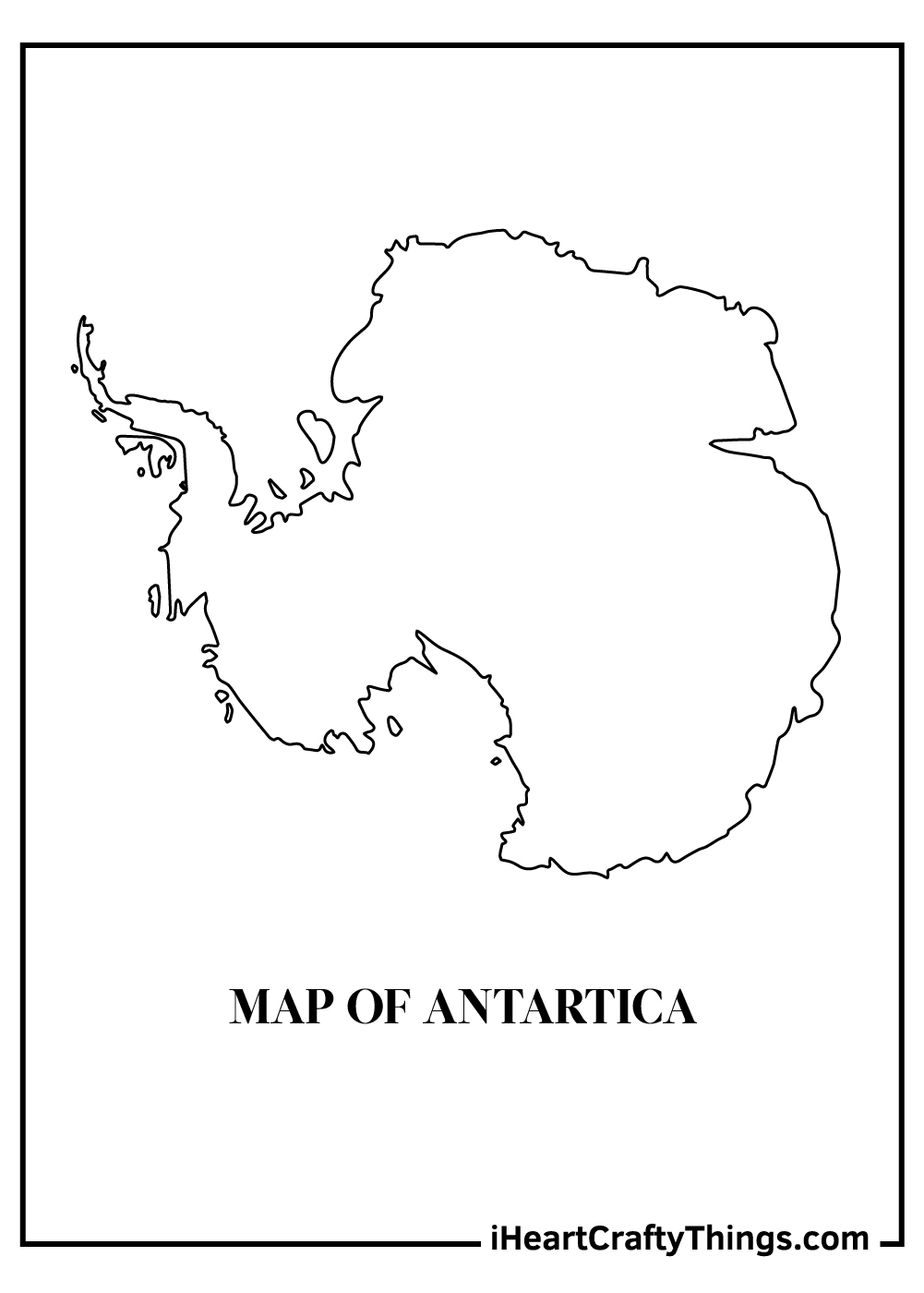 We're hopping down to Australia for the next world map coloring sheet. Don't forget New Zealand near the bottom of the map! There are some of the coolest and most unusual animals in the world in Australia, with everything from koalas to kangaroos and deadly snakes and spiders!
If you have a favorite Australian animal, maybe you could draw it into the map, and then use warm oranges to represent the heat and outback areas of Australia.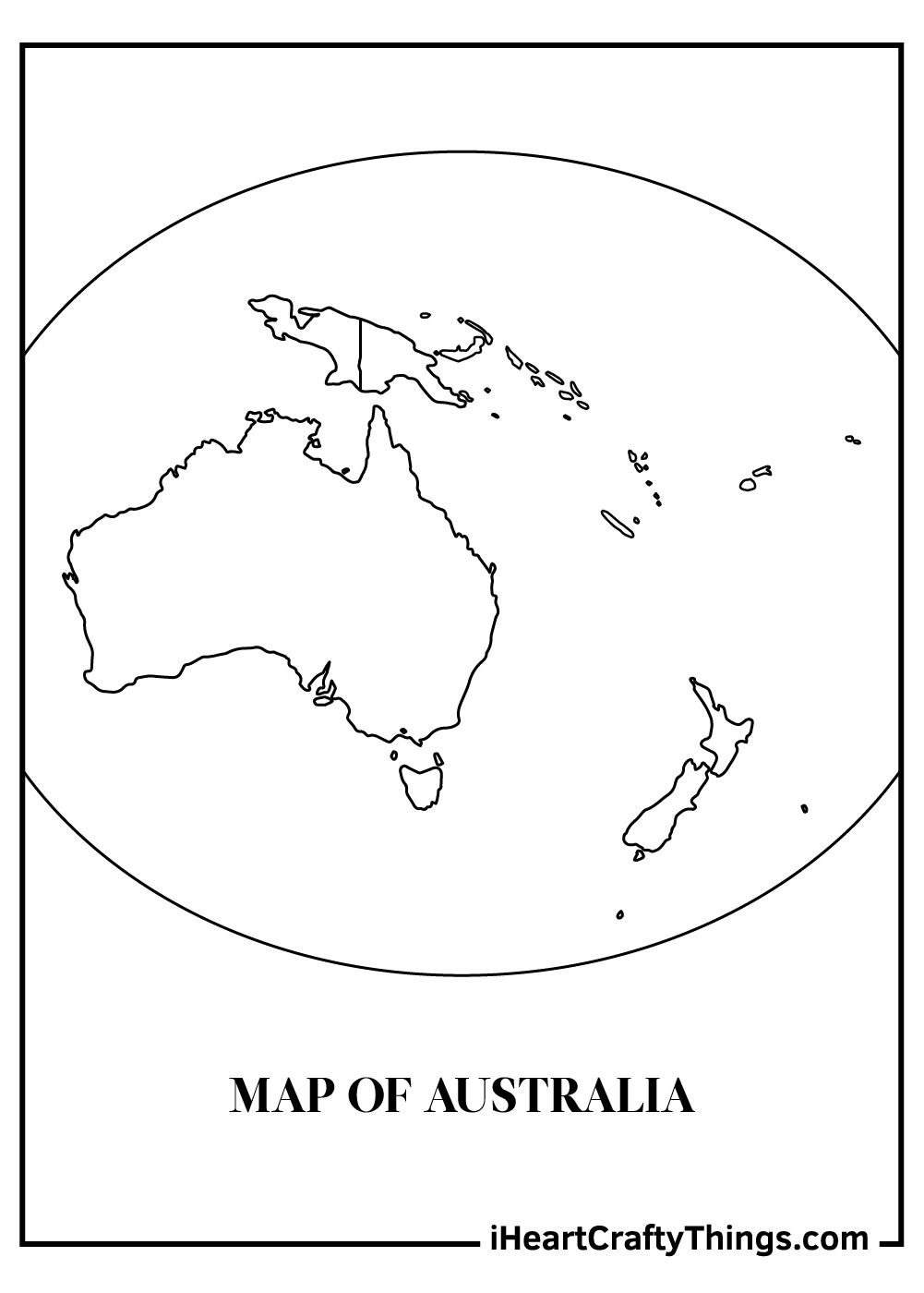 Our final world map coloring page shows a globetrotting adventure throughout North and South America. It looks like we're looking at a flight schedule with planes dotting around and flying all over the place.
If you could be on one of those planes right now, where would you want it to take you on this map to visit?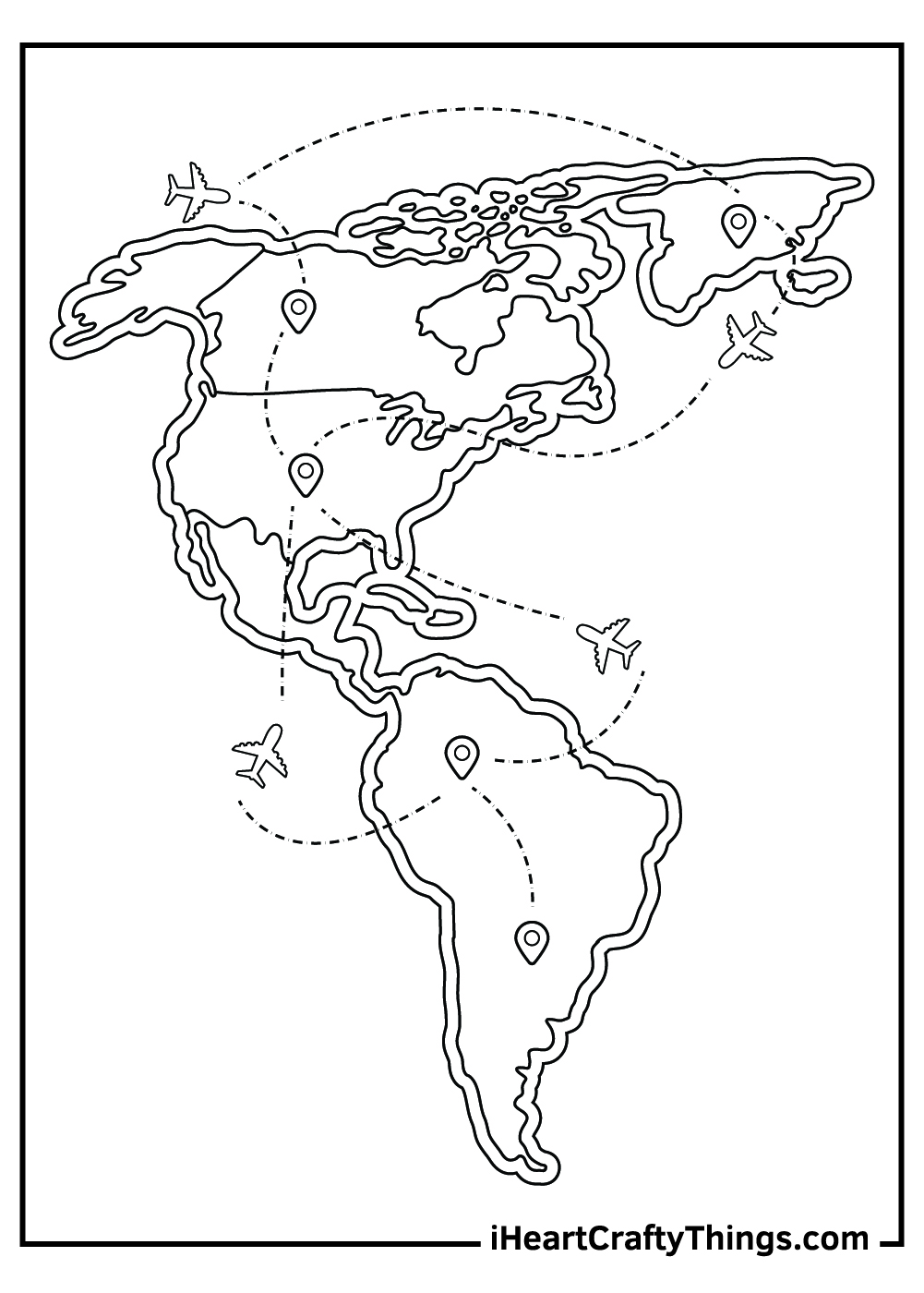 World Map Coloring Pages – Which will you choose?
We Hope you had a wonderful coloring journey with these free world map coloring page printables!
Hopefully they gave you hours of coloring fun and helped you learn a little bit about the countries of the world. Don't forget that all of our printables and coloring pages are free for you to print and share as much as you like.
If you want to experiment with different colors and mediums feel free to print out multiple copies of your favorite coloring pages to let your creativity run wild.
Please like and share our Facebook page for access to more awesome, free coloring pages and printables to enjoy! And when you've finished coloring in these world map pages we'd love to see your globe-trotting creations, so please go ahead and share them on our Facebook page so we can go on a colorful journey!