Science is one of the most useful and fascinating fields of study in the world. Thanks to science, we have had many innovations in medication, technology and many other areas that enrich our lives.
This collection of free science coloring pages for kids is here to celebrate the wonders of science!
We will be featuring many different objects and scenes that have to do with science throughout these coloring sheets.
You will have many opportunities to experiment with your favorite colors and art mediums as you work through these science printables!
Every single one of these science coloring pages are free for you to print and enjoy as much as you like. We hope you will share these printables with your fellow science lovers to enjoy as well!
Once you have shared them, you can then compare your finished pages to theirs to see how each person approached coloring these pictures.
When you have chosen your favorite science coloring sheets to fill in, you can share the results of your creativity on our Facebook and Pinterest pages for us to enjoy.
We can't wait to see how they turn out, so let's get started!
10 Brand New Science Coloring Pages – Free to Print and Color
This first free science coloring page for kids features a bubbling beaker. We wonder what kind of chemical concoction is within the beaker!
You can create all kinds of incredible reactions using chemicals, and the results can often be rather bright and colorful.
Why not use your favorite bright colors and mediums to give this bubbling concoction a truly striking appearance? You could also draw a background to add to this interesting science scene.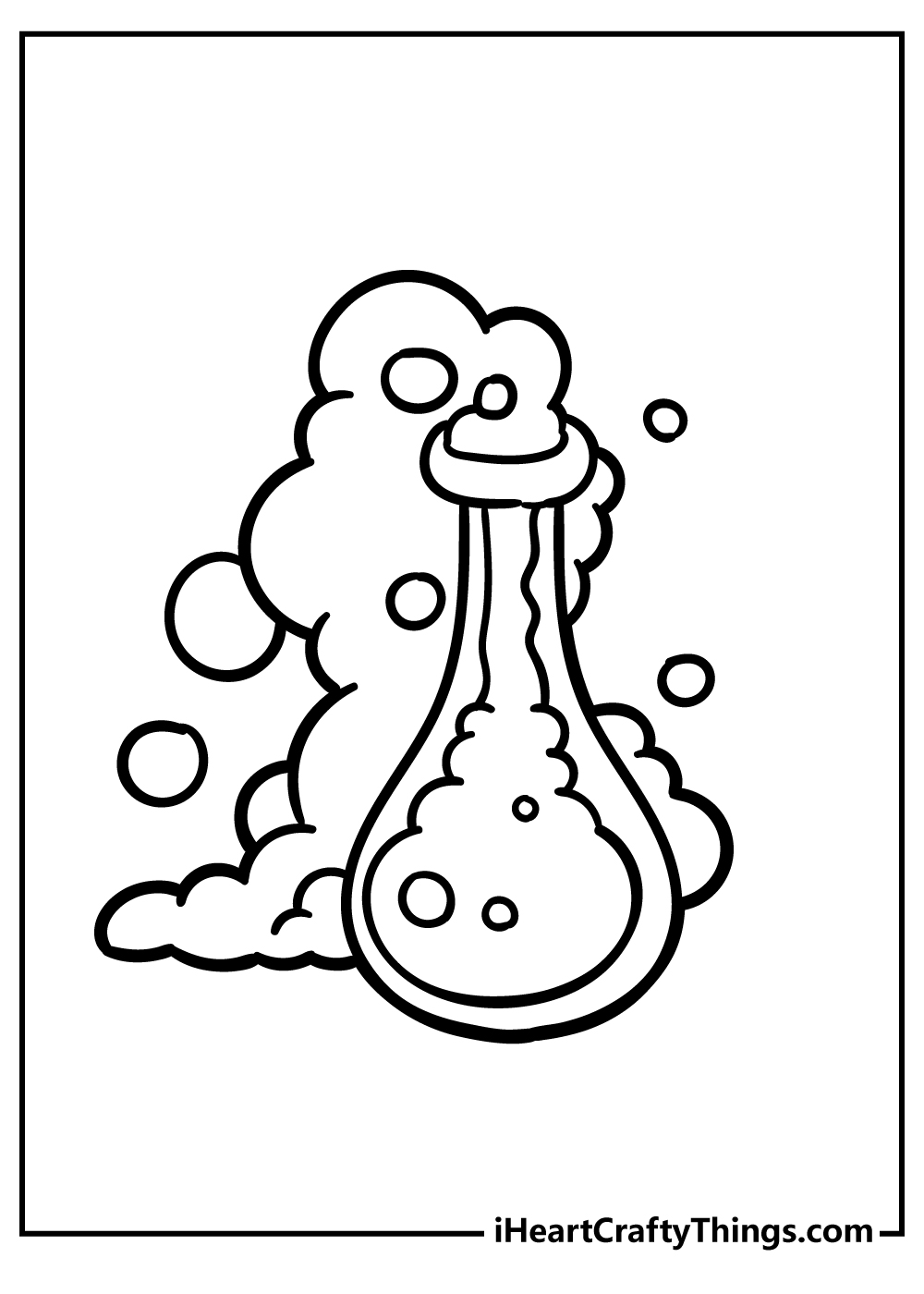 There are many different objects and symbols used throughout the various fields of science, and we are featuring a few of these in this second science coloring sheet.
First, we have two more science beakers with some kinds of liquids within them. When coloring these beakers, it would be fun to use some contrasting colors for each of the contents.
Between them, you have an interesting representation of a molecule that you could use any of your favorite colors on! How will you color this second printable?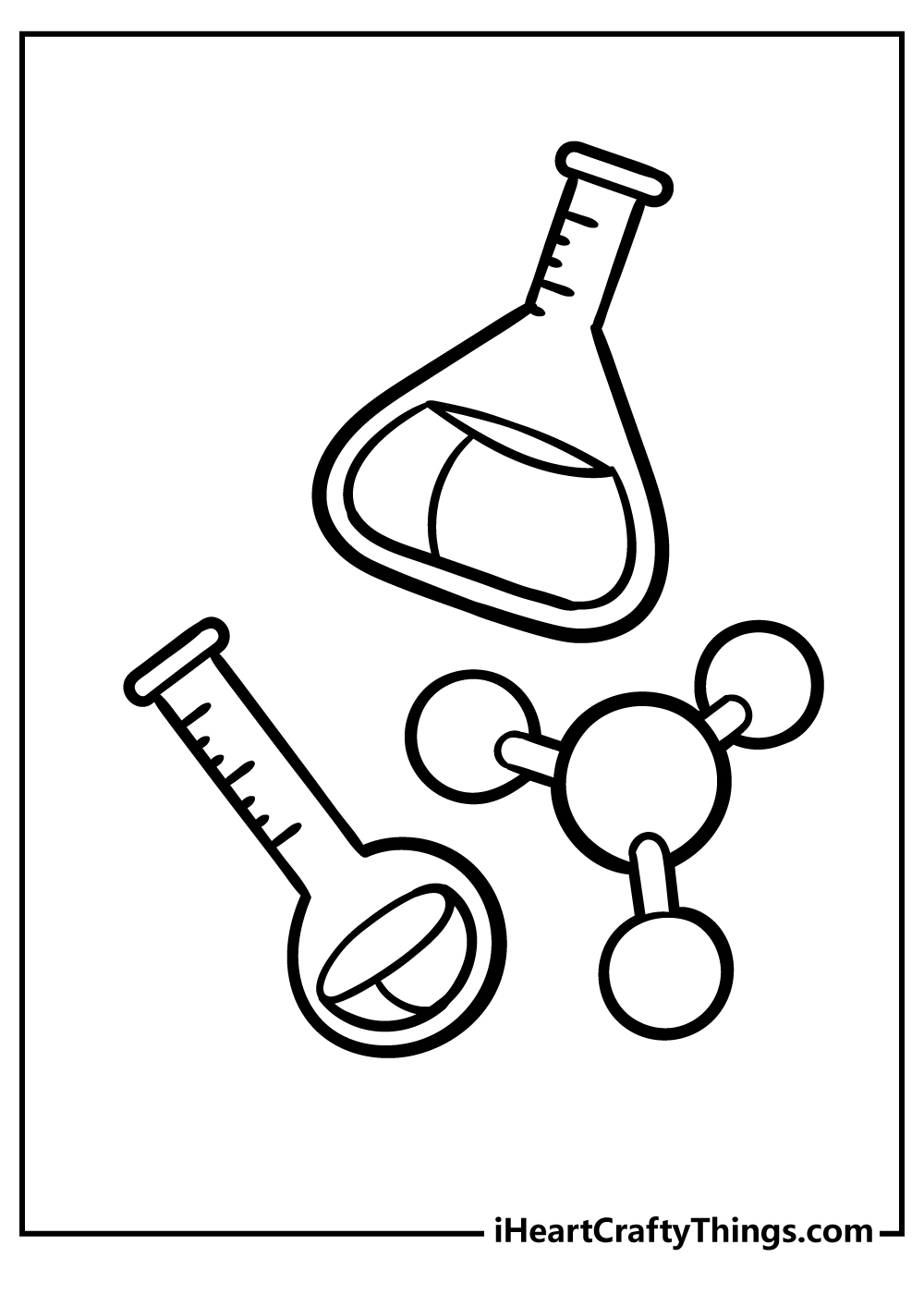 We have some more science objects for you to color in this third science printable. First, we have a microscope.
This tool is very useful for taking a closer look at things that are too small to see with the naked eye.
To the left, we have the kind of organism that one may view under a microscope, and it looks like some kind of bacteria.
Finally, we have a pipette on the left. This object is used to transport small amounts of liquid substances, and is often used to place drops onto the tray of a microscope.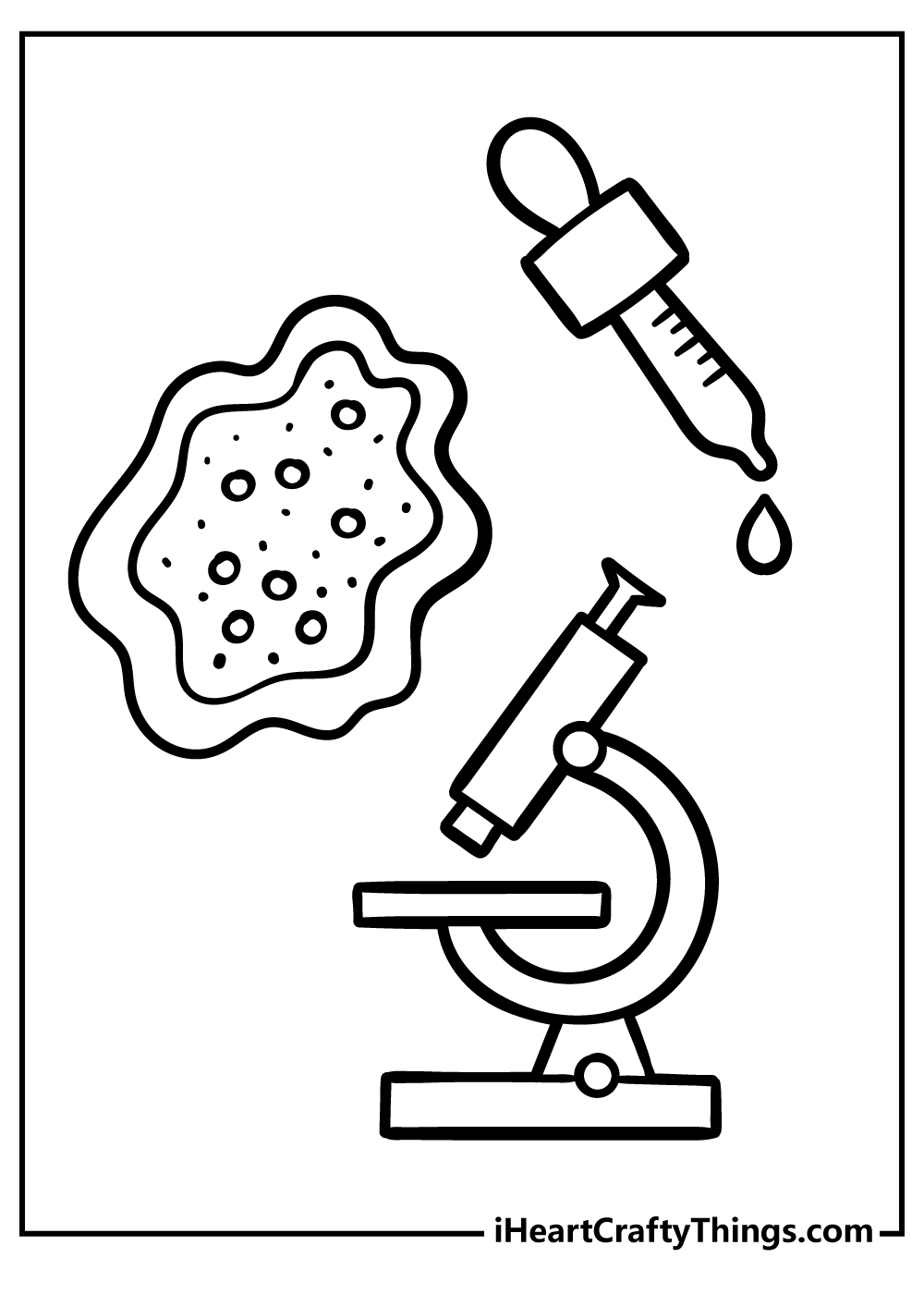 There's an interesting set of images for you to color in this fourth science coloring page!
We have three different kinds of molecule structures in this one, and there are many interesting approaches you could take when coloring them in.
We would recommend using a wide array of your favorite bright colors, but what colors came to mind for you when you saw these molecules?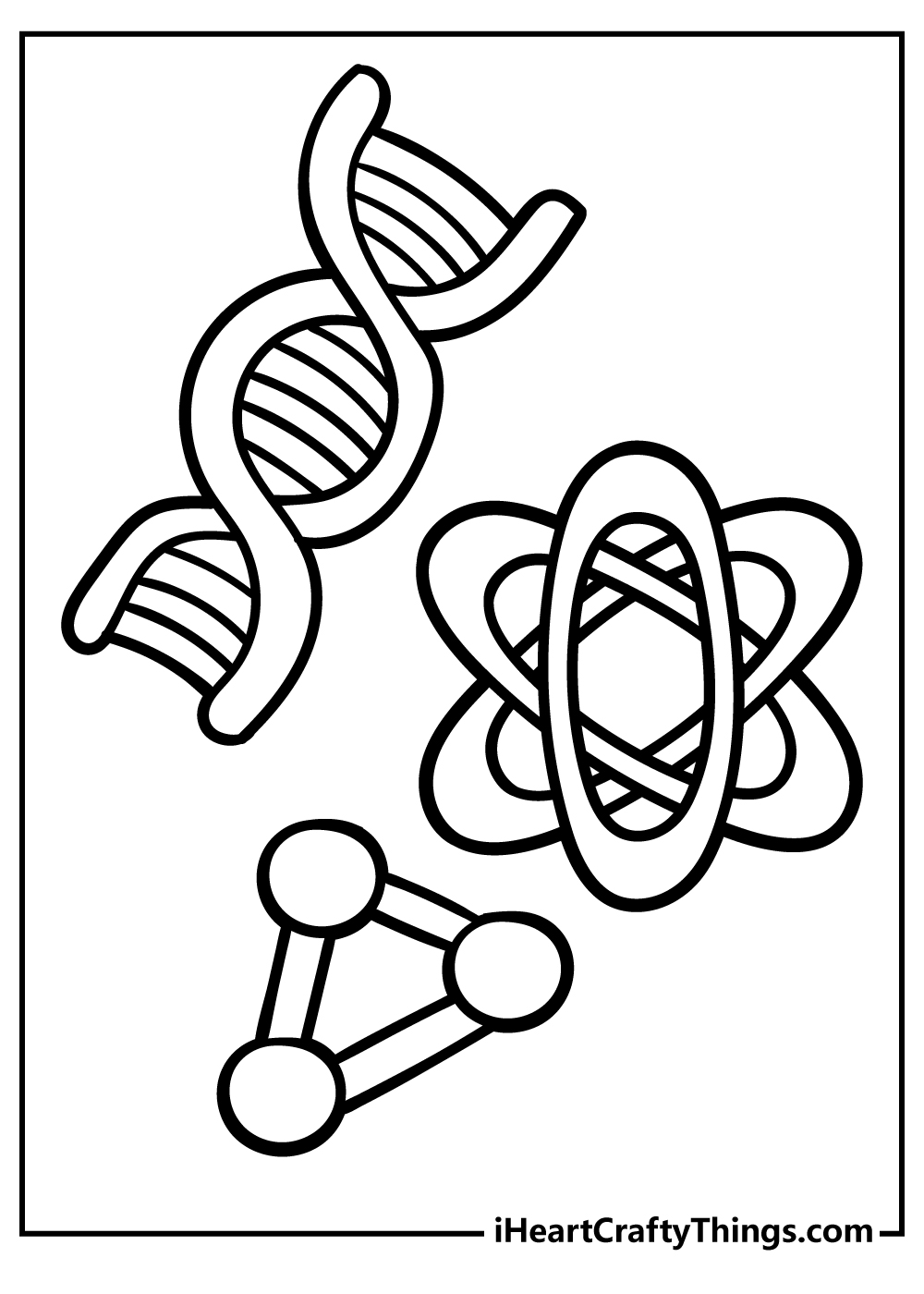 Science has helped us to develop all manner of inventions that have become essential in our modern lives.
In this fifth science coloring sheet, we show two of these inventions. Both were almost unbelievable achievements at the time, and they are both widely used to this day.
There is a lightbulb on the top of the image, and this could be colored with some bright, vibrant shades.
Below this is a horseshoe magnet, and you could use colder colors like greys for this one for some contrast.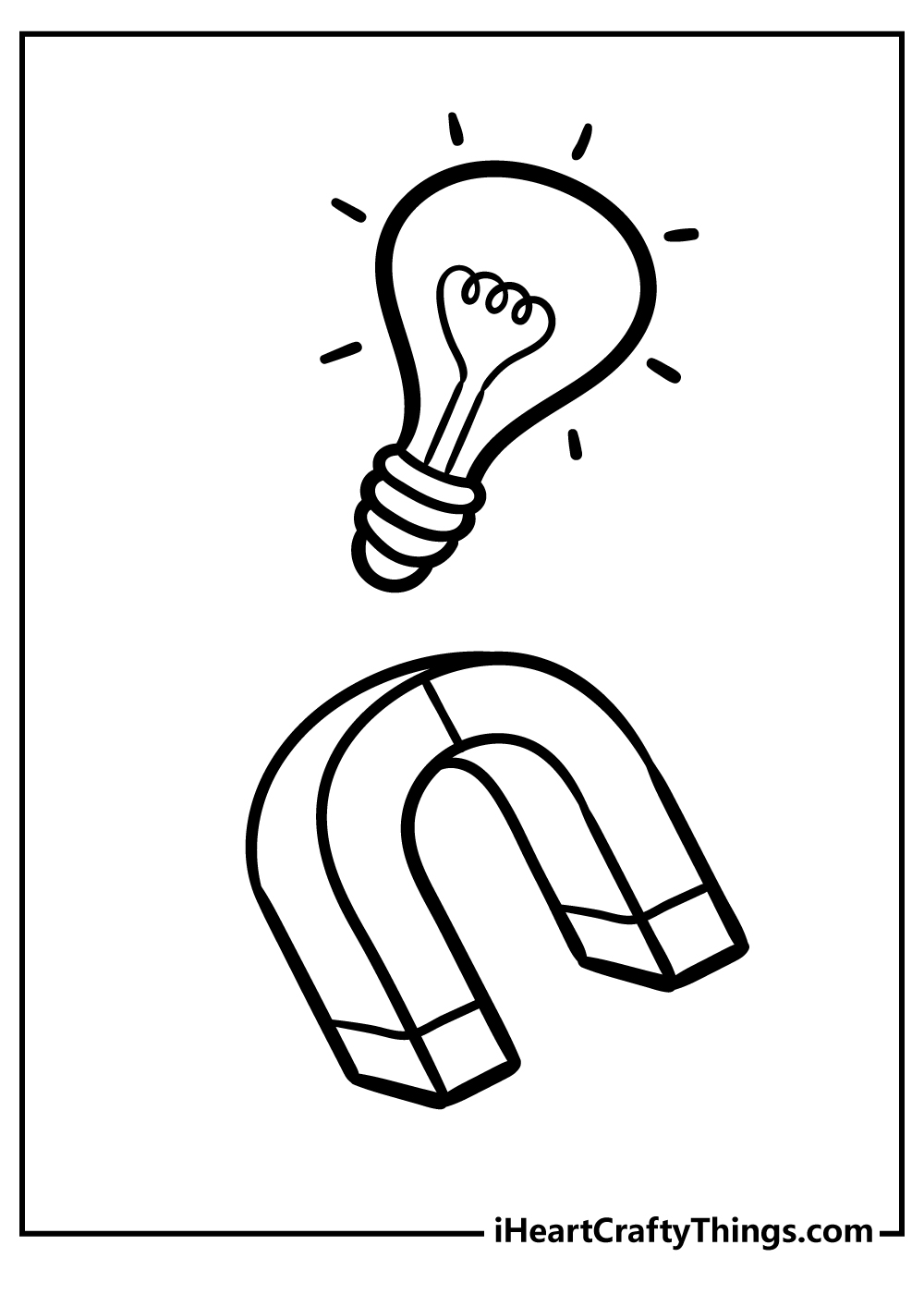 There is some more experimental coloring fun to be had in this next free science coloring printable. There are some more beakers containing substances in a stand.
For some extra visual flair, we also added some more molecule structures above these beakers.
What fantastic colors are you thinking of using as you fill in this fun science printable? We look forward to seeing your color choices!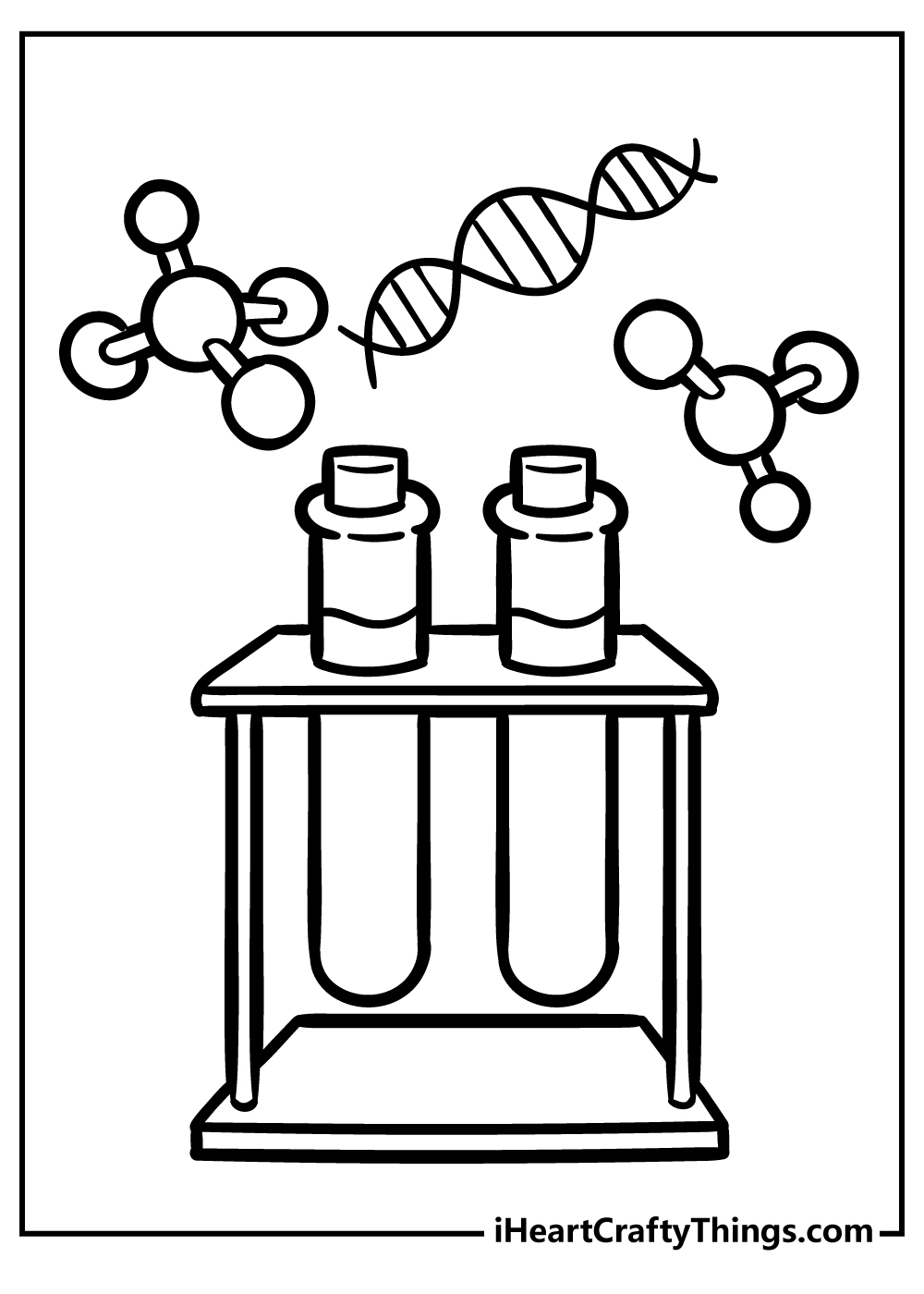 In this seventh free science coloring page for kids, there are some more fantastic molecule structures here for you to color.
When coloring things like molecules, you have a lot of freedom with how you can fill them in.
You could really use all of your favorite colors for this kind of image! When coloring, we would recommend mediums that allow for greater precision.
Examples would include some colored markers or thin-tipped brushes that let you color in the smaller aspects. What favorite art mediums will you choose to color in these incredible molecules?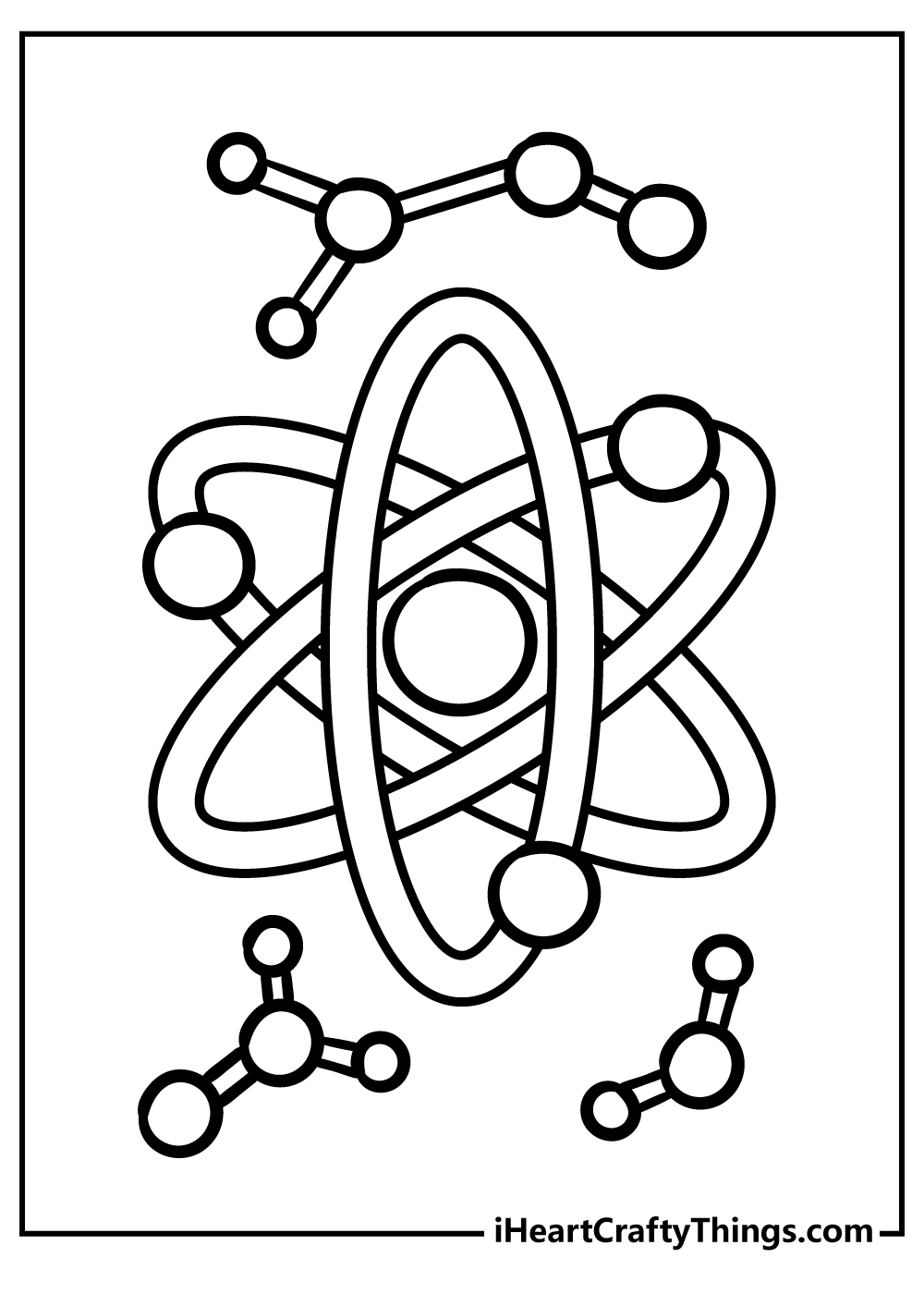 It's time for some more coloring fun in this eighth science coloring sheet. At the top of the page, we have an interesting molecule structure for you to color!
Below this, we have a DNA strand to color. DNA has a complex and intriguing structure, so that should prove a fun coloring challenge for you.
Finally, we have a small, thick beaker filled with liquid on the right. There is the possibility for a lot of color variation in this page, so have fun getting creative with it!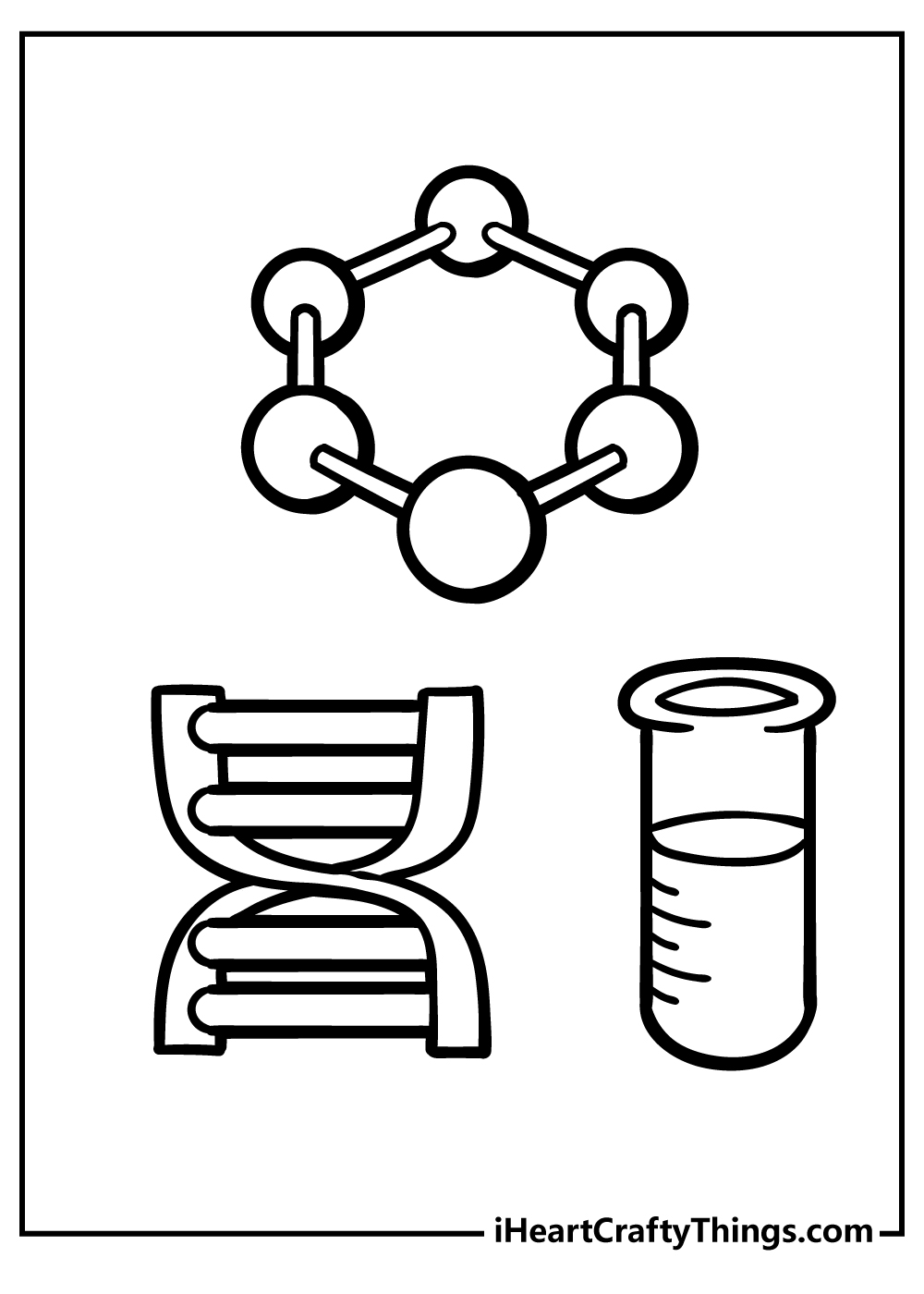 There are some more inventions that were made possible thanks to scientific innovations for you to color in this science coloring page.
First, we have a telescope at the top of the image. This is a tool that is not only fun to use but can also be very useful for studying the world we live in at a distance.
Finally, there is another coll magnet to color, so this should be a fun printable to work on!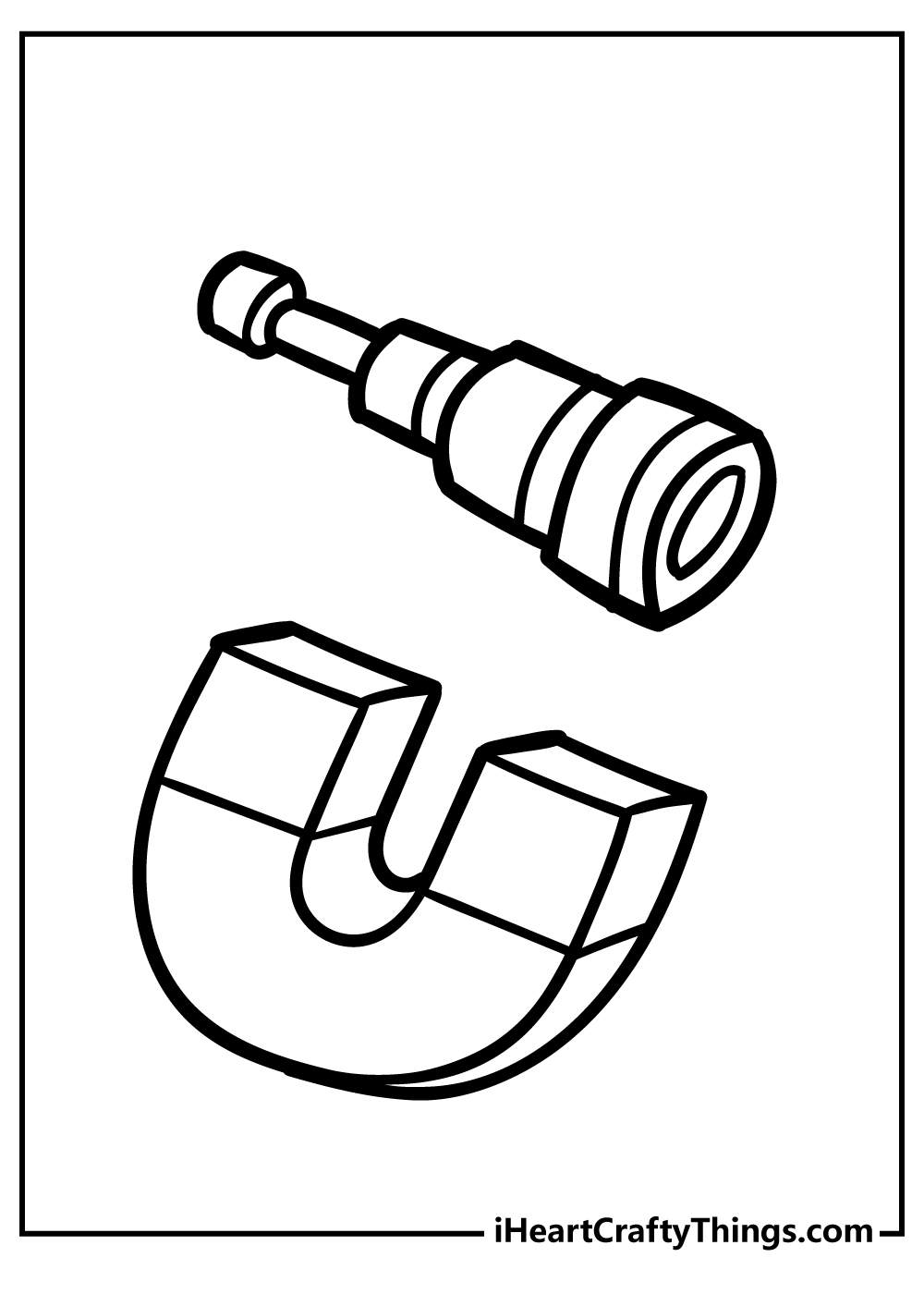 For the last free science coloring printable that we have for you, we have some interesting symbols and objects to color.
First, we have another strand of molecules. What colors will you use for the circles on this one?
In the middle, we have a radioactive symbol. These are used as a warning, so we would recommend some bright, intense colors for this symbol.
Finally, there's one more beaker to color, so what mediums will you use to color this final beaker filled with chemicals?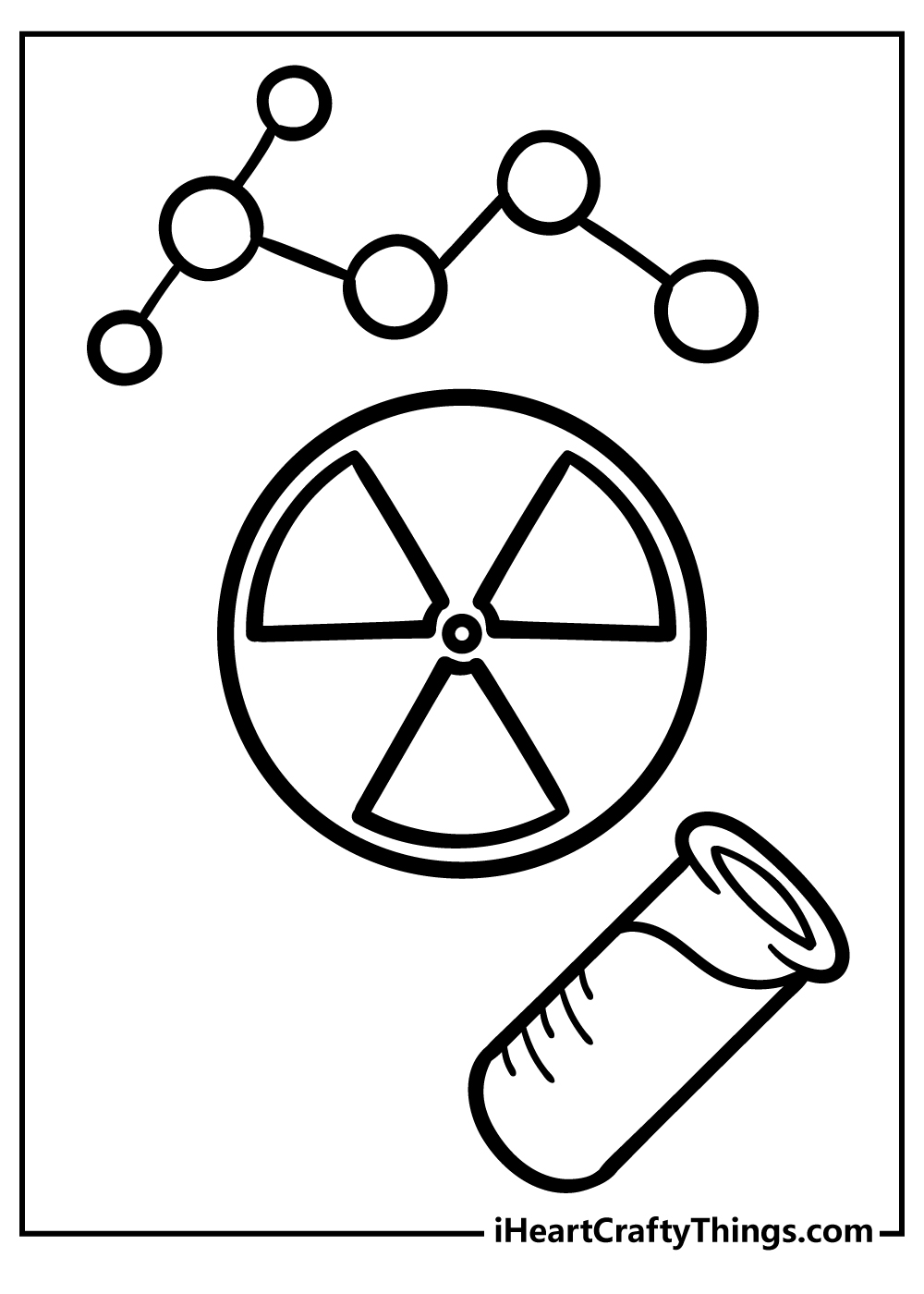 Science Coloring Pages – Which will you choose?
We hope that you had a really fun time working on this awesome collection of free science coloring pages for kids!
Science is fascinating and varied, so we tried to represent that in these images. Be sure to print your favorites and share these pages as much as you like!
When you're ready for some more coloring fun, be sure to check out our website for more coloring pages that cover a huge range of subjects and styles.
Be sure to check in often, as we upload new collections frequently!
It would be great to see how you colored in these science printables!
You can share your favorite finished pages on our Facebook and Pinterest pages so we can see how they turned out. We look forward to seeing your amazing creativity on display!