Remember when you were learning geometric shapes as a kid? Those abilities have come in helpful throughout life.
Sure, maybe you don't know the difference between a hexagon and a trapezoid at first look, but that's why you should keep practicing from time to time.
These geometric coloring pages of shapes are a fantastic method to accomplish just that.
Geometric coloring sheets are also a fun coloring exercise for toddlers and preschoolers who are getting ready for kindergarten, as well as kindergarteners themselves.
Print them out for free and let the fun begin!
15 Brand New Geometric Coloring Pages – Free to Print and Color
The first geometric coloring page on our list features 7 circles with geometric details that make them look almost like mandalas. Do you know what mandalas are?
For many of us, mandalas are just cool, repeated designs that may also be used as a simple DIY project.
In reality, a mandala is an image with a circular center (the term mandala means "circle" in Sanskrit). If you were to cut a mandala in half, both sides should look identical.
Coloring these symmetrical and highly detailed drawings is a lot of fun, but it is also worth noting that mandalas are used in Hinduism and Buddhism as a technique for meditation and teaching awareness.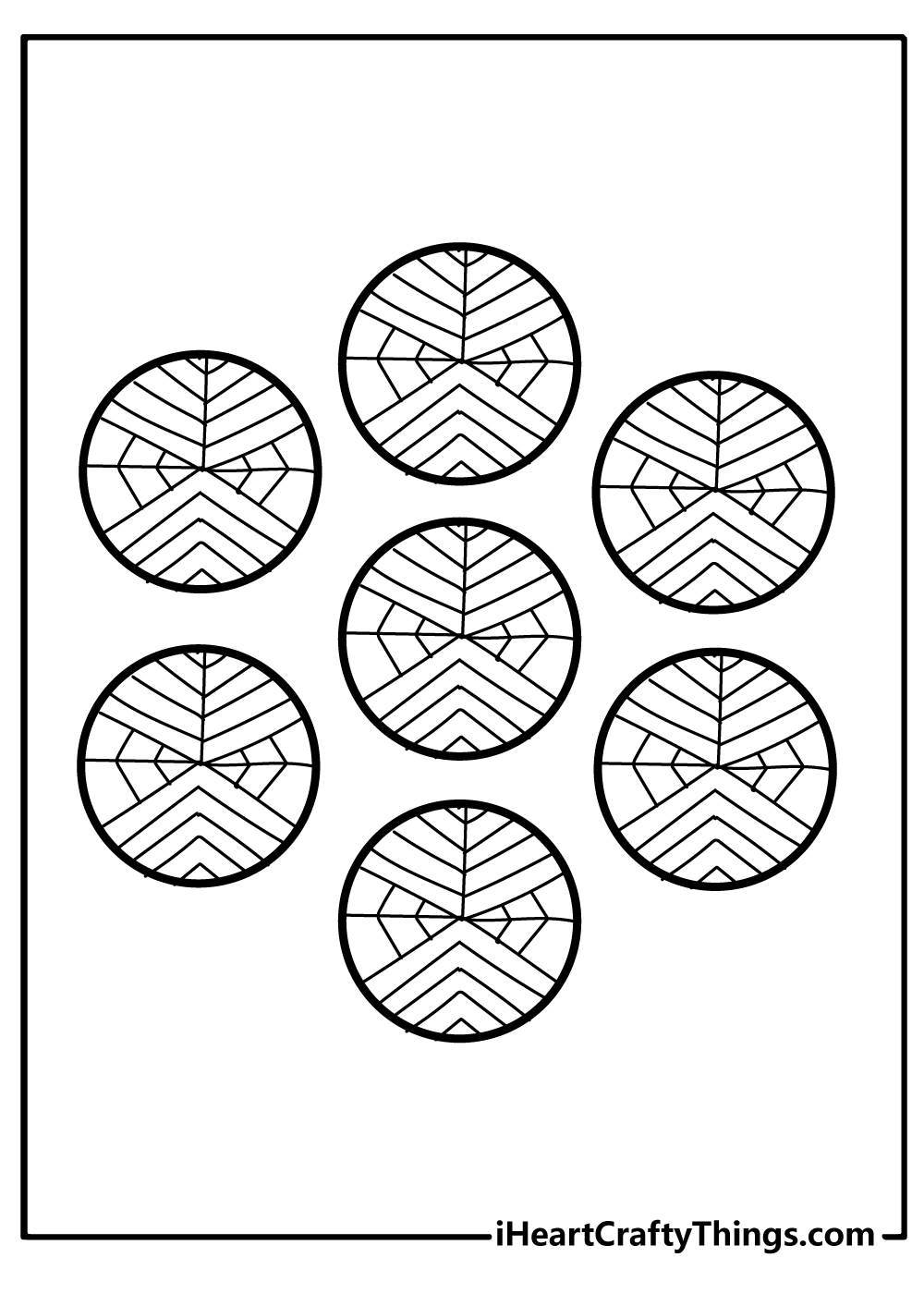 This geometric coloring page is simple but effective. To make them more enticing to color, these forms include strong, triangular, and rectangular details.
Colored pencils would be a natural fit for them.
Children can color inside the lines to enhance the vibrancy of these eye-catching forms or let their creativity run free and even add more shapes of their own.
There are lots of white spaces ready to be filled with shapes, lines, or any forms the little artists may think of.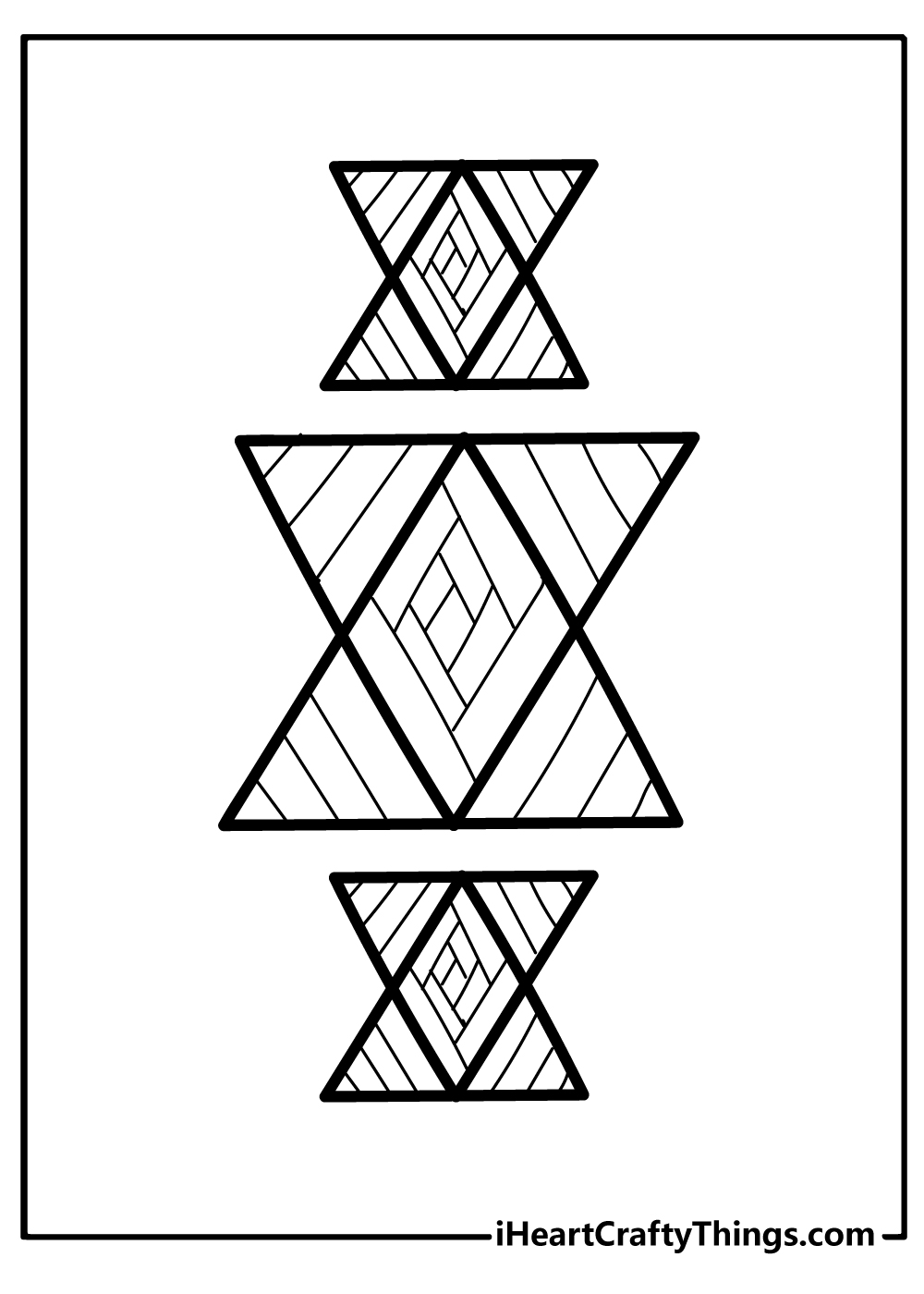 This coloring sheet features a simple and elegant cityscape with a large triangle in the center. The triangle is made up of three lines and is the largest element in the image.
You can use different colors to create contrast and depth in the image. For example, you can color the triangle in a bright color and the cityscape in a darker color.
Print these geometric coloring pages for free and have fun with it. You can also check out our other shapes coloring pages on our website.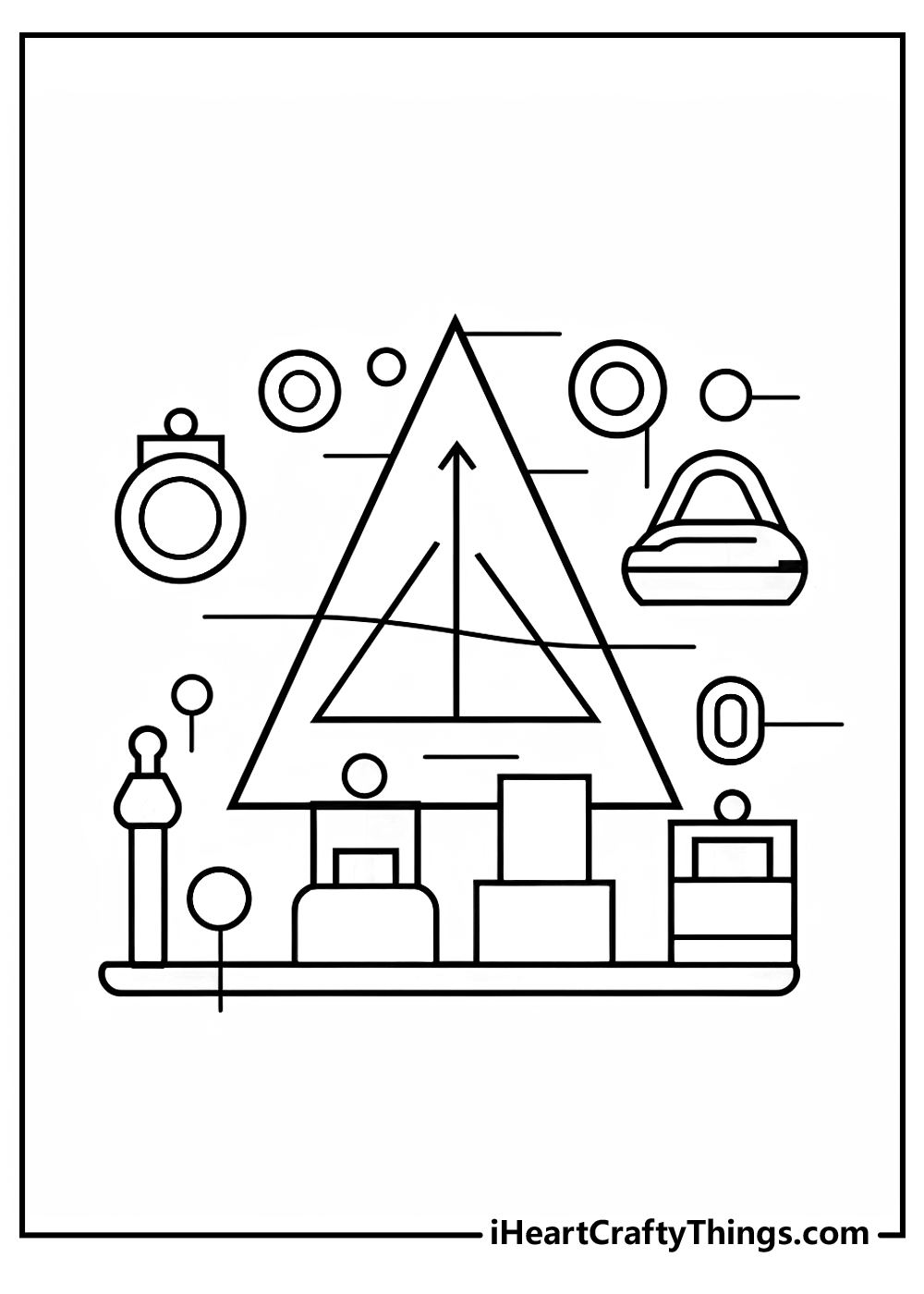 This geometric coloring page features triangles that are arranged to form a rhombus, also known as a diamond shape.
Children can color every triangle in various shades or experiment with more colors and fill in the rectangular pattern inside the triangles.
Challenge the children to use their imagination and come up with a fun design that they can display in their room or on the fridge – the place where all works of art should go!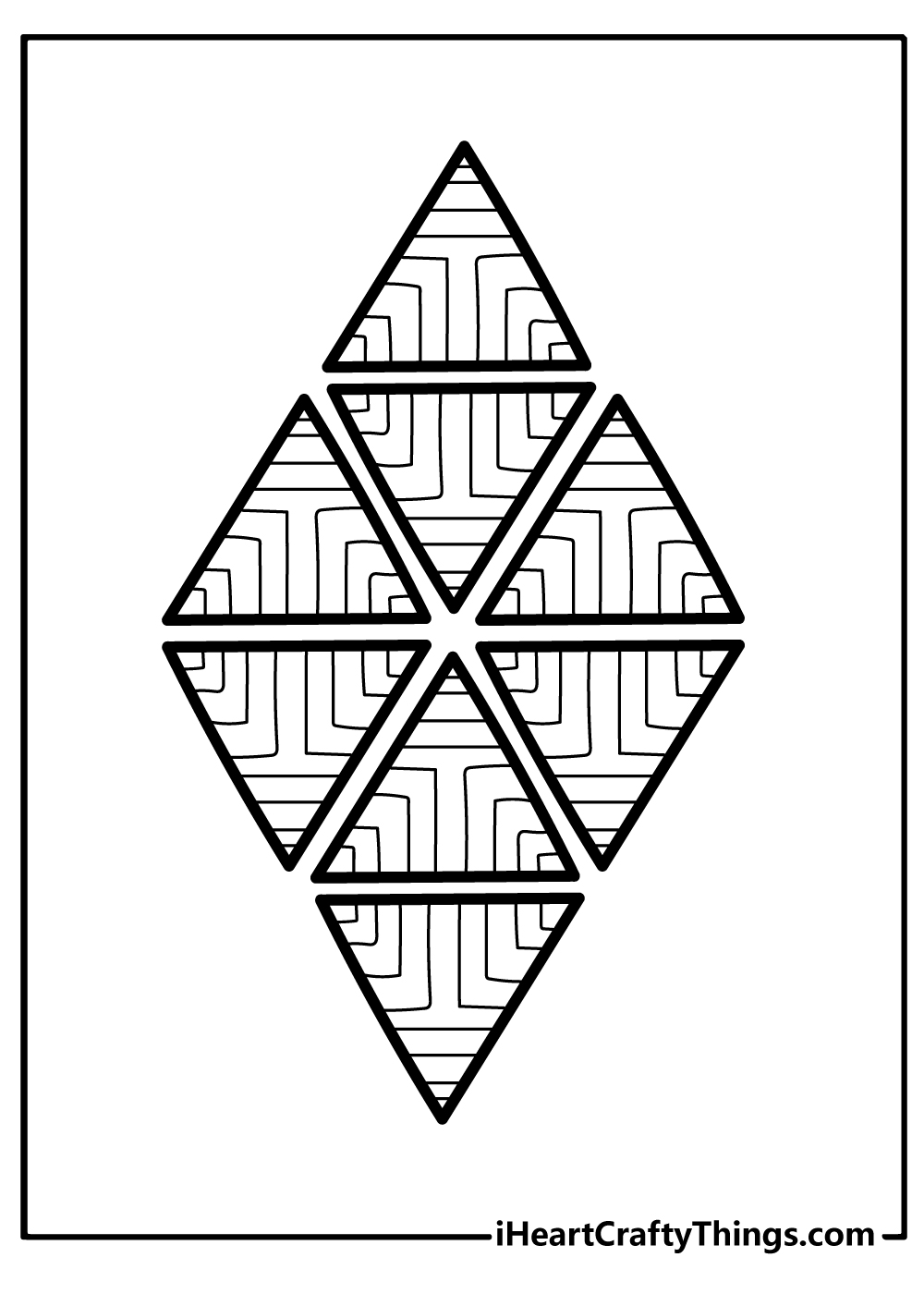 These hexagons feature intricate geometrical patterns that combine to create tridimensional shapes.
They can be colored as hexagons or cubes, because if you look close, you can see the optical illusion that creates the cubes.
This geometric coloring printable is a great way to teach children about tridimensional forms and how they are created.
How will your children imagine these shapes? Can they find more geometrical shapes than the ones we mentioned? Challenge them to find at least 4 new ones.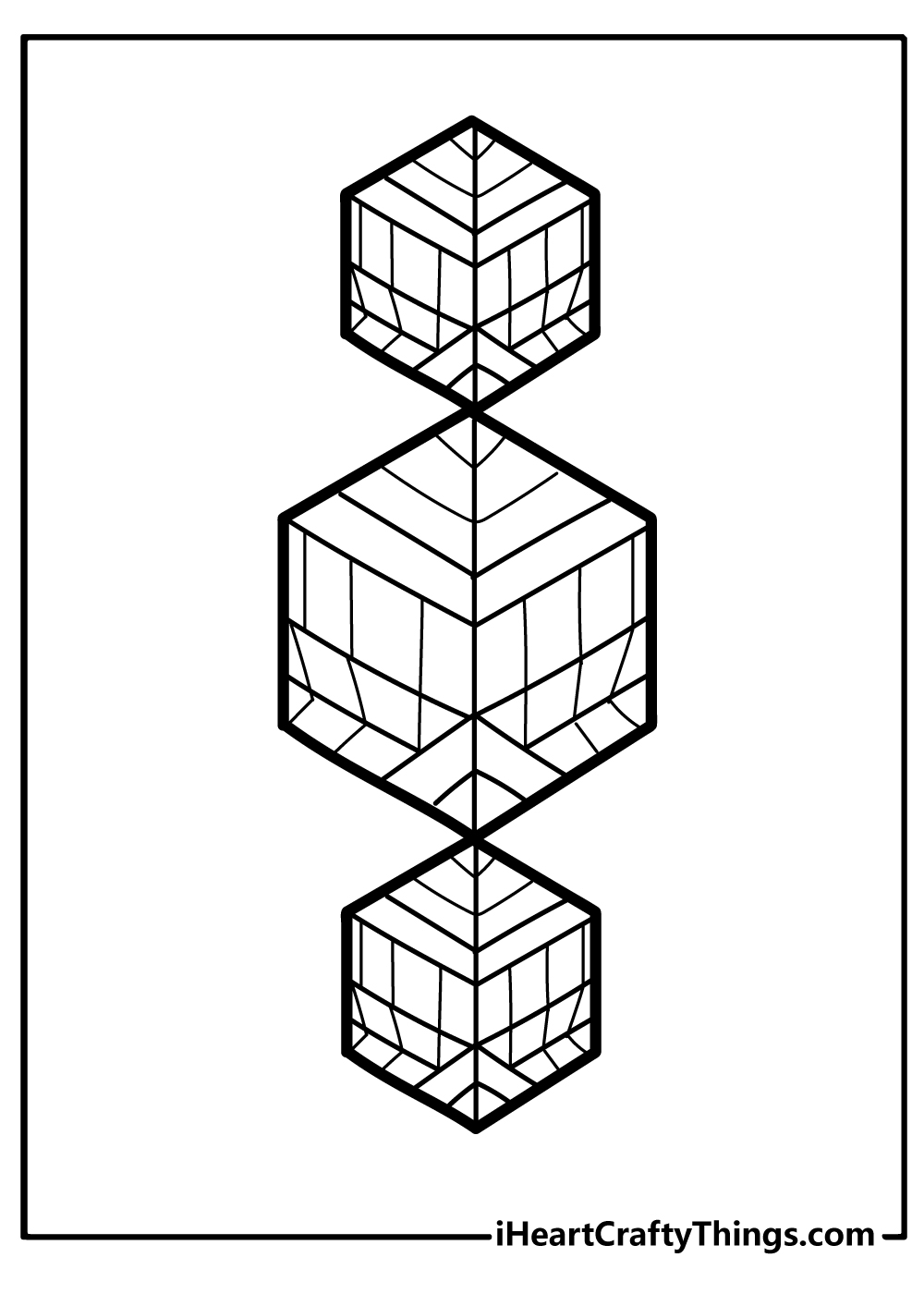 This coloring page features a stack of cubes and rectangular prisms arranged in a pyramid-like structure.
The lines are clean and geometric, and the drawing has a minimalist aesthetic for coloring.
It is great for kids who want to practice their spatial skills and geometry knowledge. You can print it out and let them color the front faces of the cubes and prisms in lighter green and the back faces in darker colors.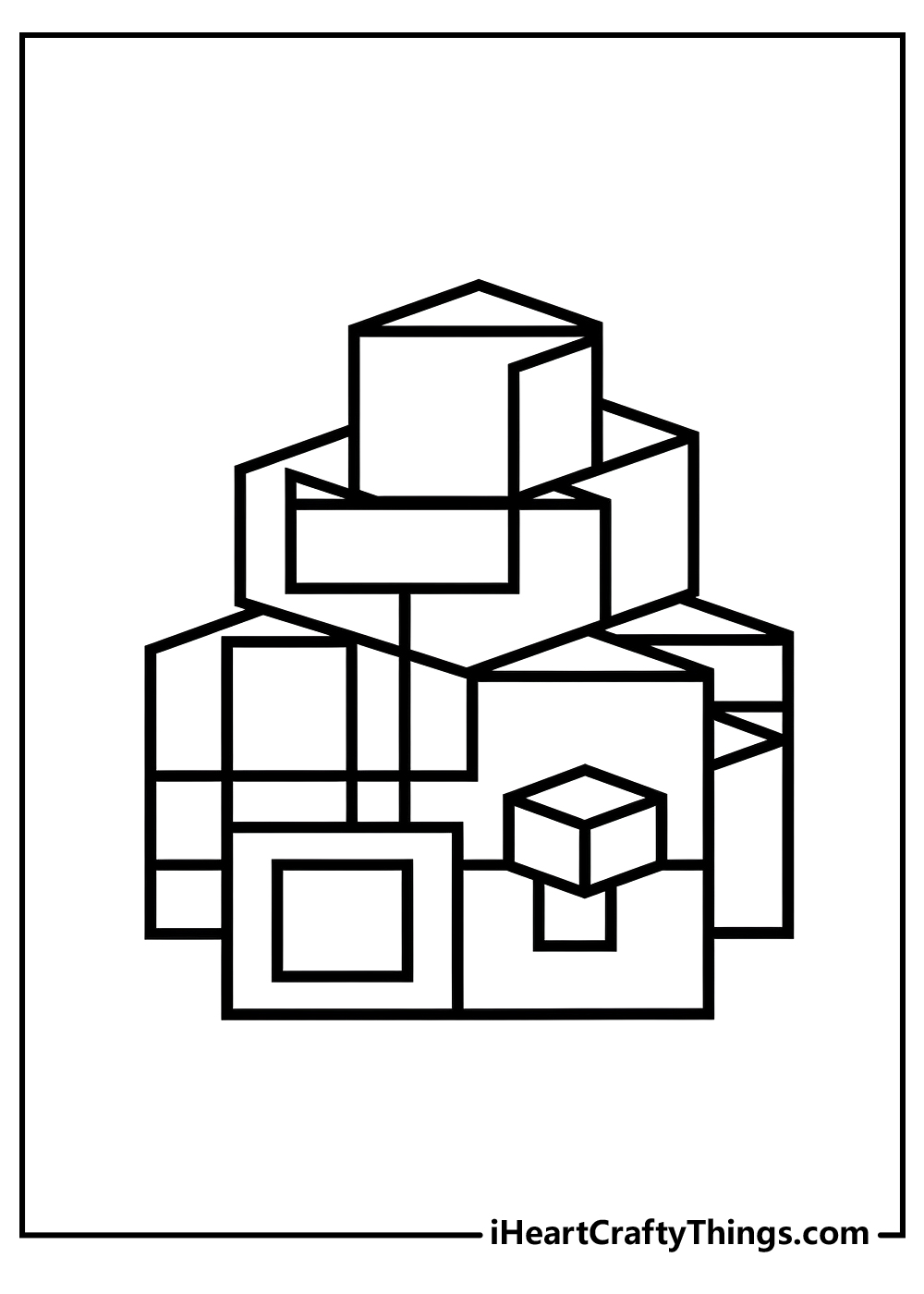 This is the page for those looking for geometric shapes with a bit more personality. Anyone who paints these friendly shapes will have a bright smile on their face.
If you have any colored pencils or markers that have a little shimmer or glitter, this is a great coloring sheet to use them on.
Children can color the stars in a shiny shade to make them pop out, and the rest of the details can be filled out with complementary colors.
Take this chance to teach children more about mixing and matching colors!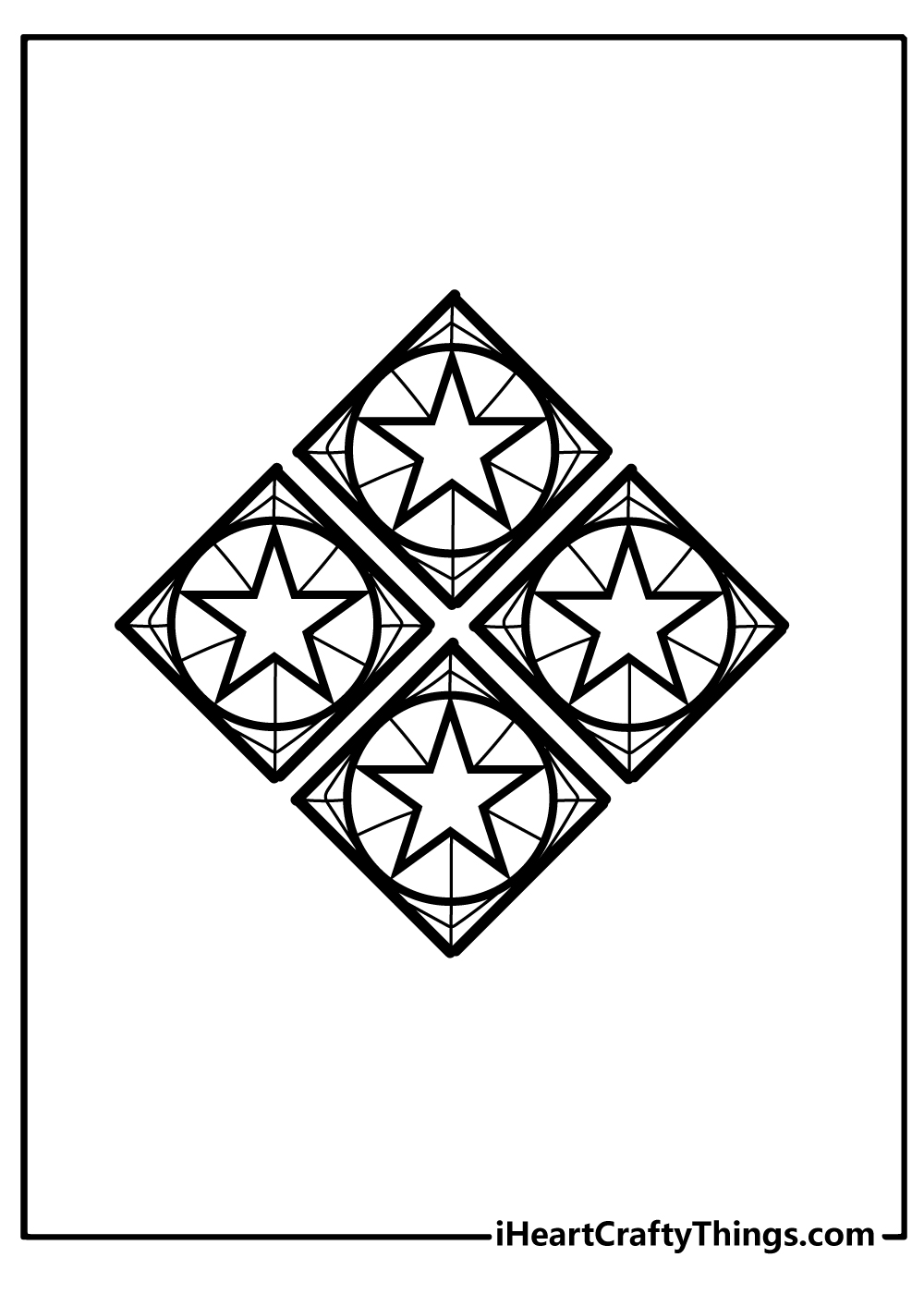 Can we be completely honest here? Even without any color, this geometric coloring page looks wonderful.
The way these shapes are intertwined with each other in black and white has a striking and satisfying quality to it.
When it comes to coloring sheets, though, there's always space for improvement! To give these forms a bit more edge, use bright colors.
Alternatively, have your child utilize the white space surrounding the objects to try and add even more shapes around. This geometric printable sheet is perfect for color experimentation!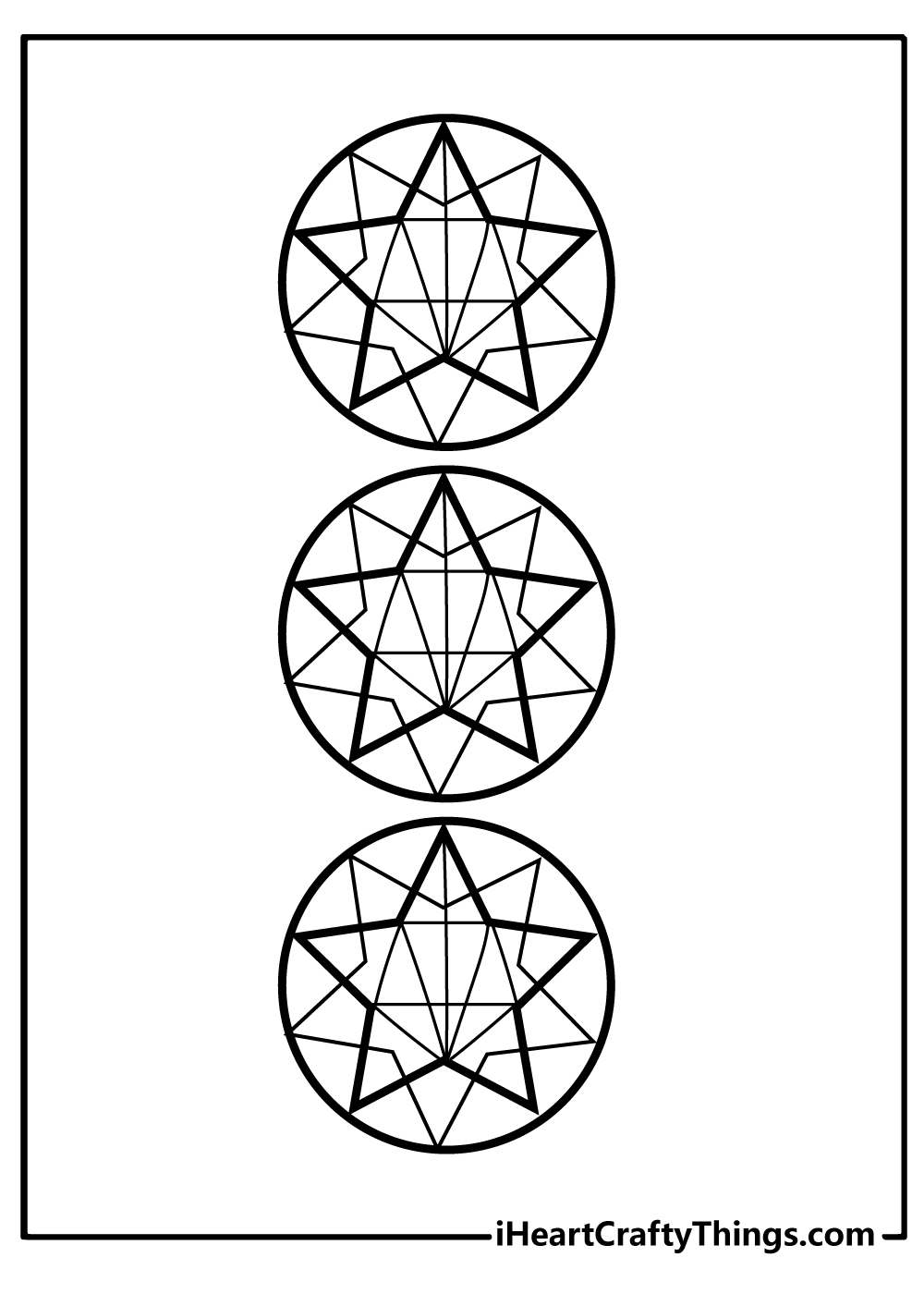 Do you like coloring different shapes and sizes? Then you will have fun with the stack of shapes in this geometric coloring page.
The shapes in this page include rectangles, squares, and circles arranged in a pyramid-like structure.
The shapes are outlined in black and are not filled in. The image is two-dimensional and does not have any shading or depth, so your kids can color the surface and enjoy it.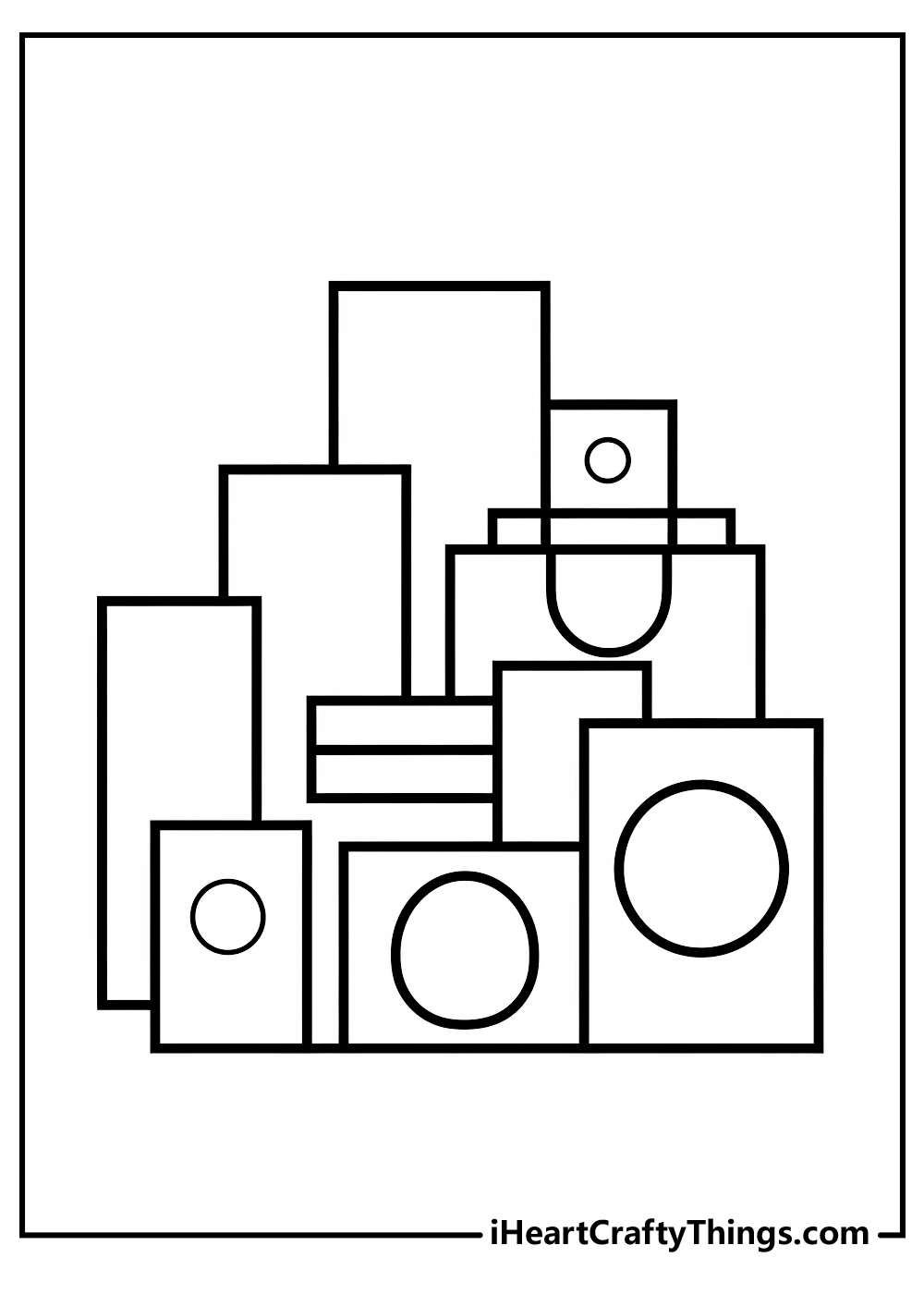 This coloring sheet may bring back memories of high school geometry class. However, even if math isn't your strong suit, this coloring page might still be beneficial to aspiring artists.
Try to get your youngster to shade them in such a manner that each individual shape stands out.
Giving forms additional dimension is thrilling, and it's a great method for kids to develop depth and shadowing.
Pyramids, for example, were three-dimensional forms with both physical and historical significance.
Did you know that each pyramid stone weighs between two and seven tons? That's a fun fact to share with the little ones!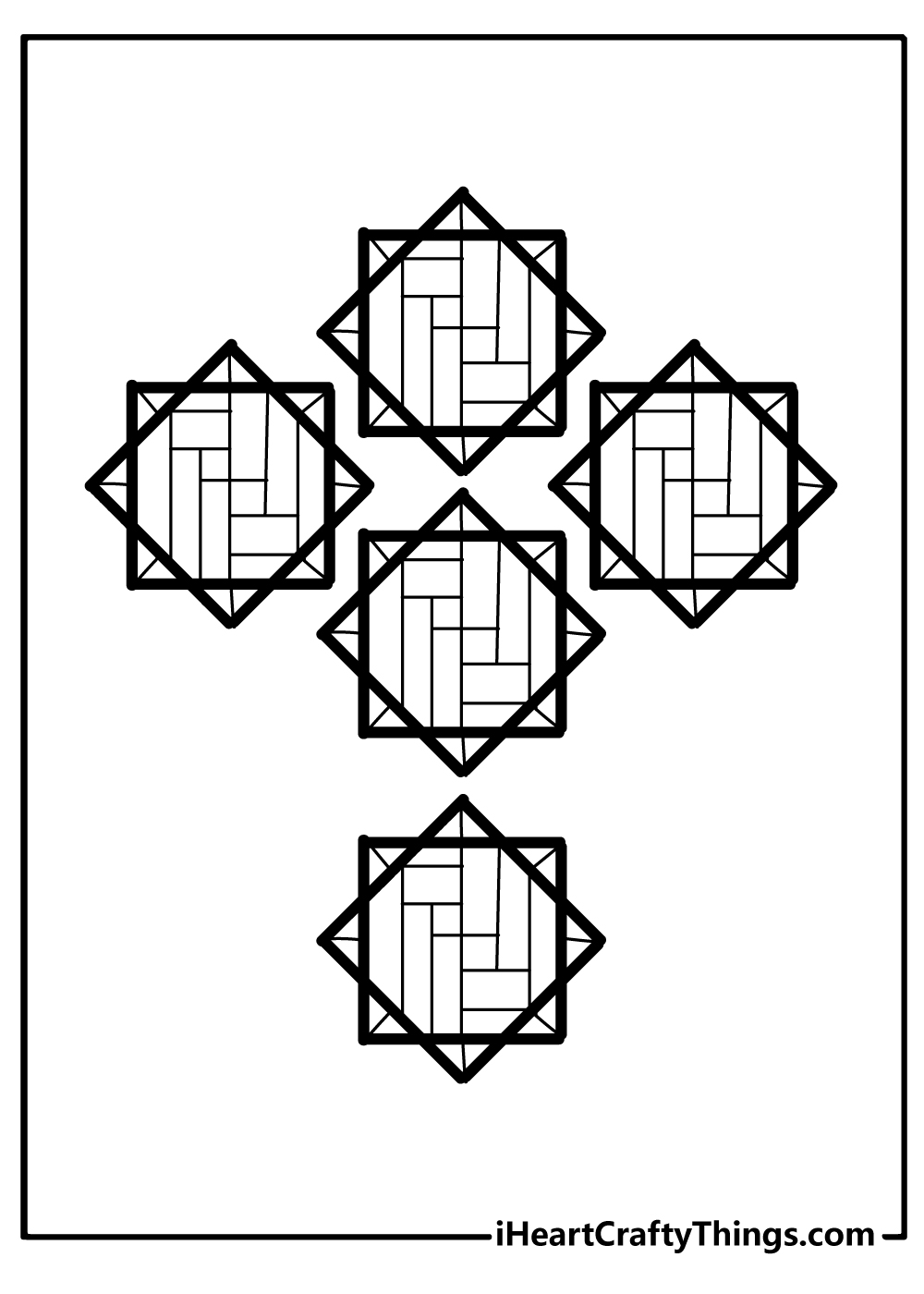 This geometric coloring page features a large triangle perched atop a square in an eye-catching design.
Within the shapes are symmetrical rows of smaller triangles and circles in a repeating pattern. The crisp, clean lines and angles create visual interest without any shading or pre-existing color.
Let your imagination run wild when coloring this geometric artwork. The large triangle can be vivid reds, calm blues, grassy greens – any color you choose.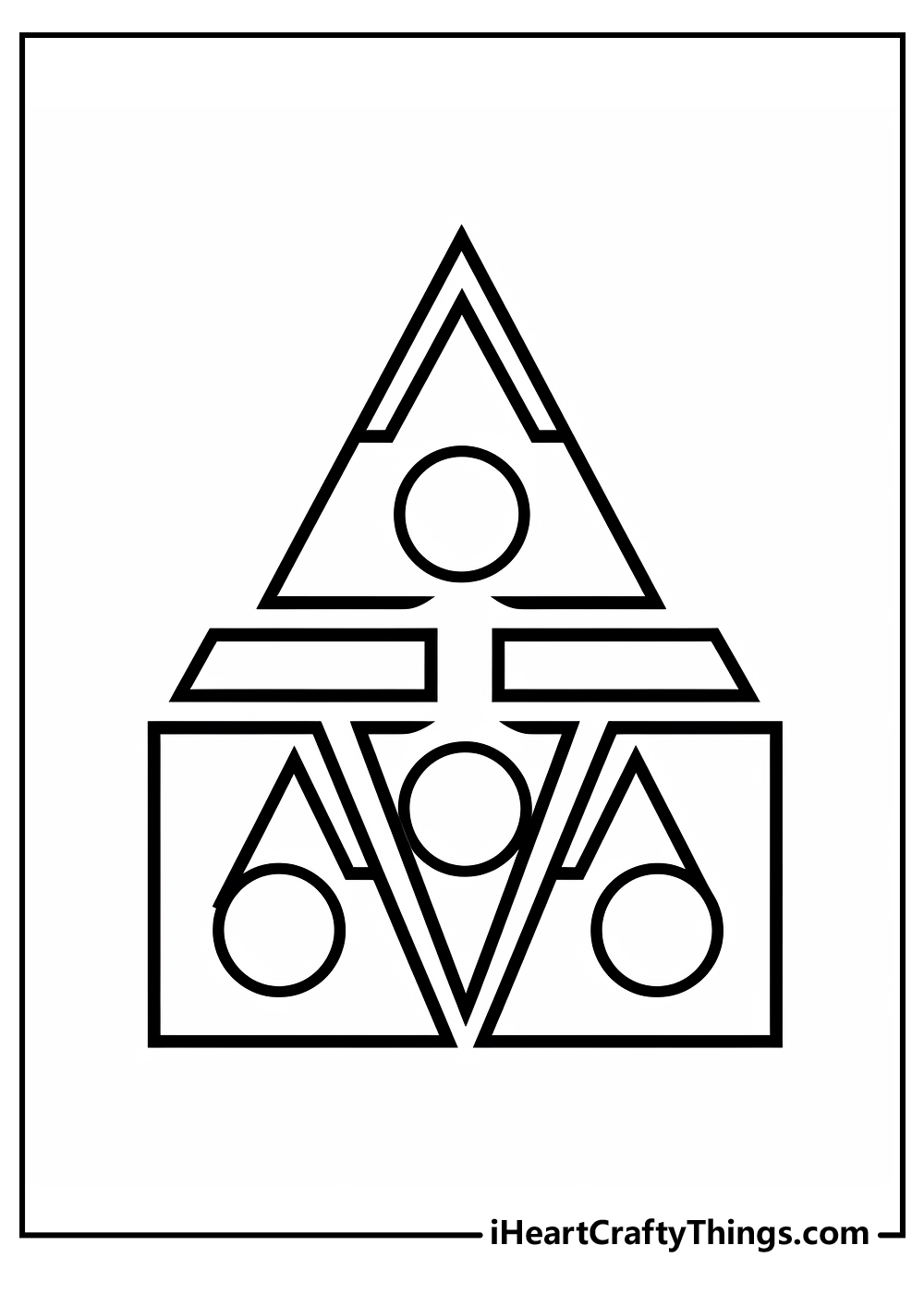 These shapes meet to compose an interesting zig-zag image that looks straight out of a game of Tetris. If your children don't know what Tetris is, now is a good time to introduce them to the game.
Have them color this geometric coloring page using the shades they like most and explain to them a few things about the game.
Once you get their attention, you can show them how Tetris is played and how various shapes and colors act in the game.
It is a nice, educative activity that can teach them more about fitting specific shapes into the right place to win the game.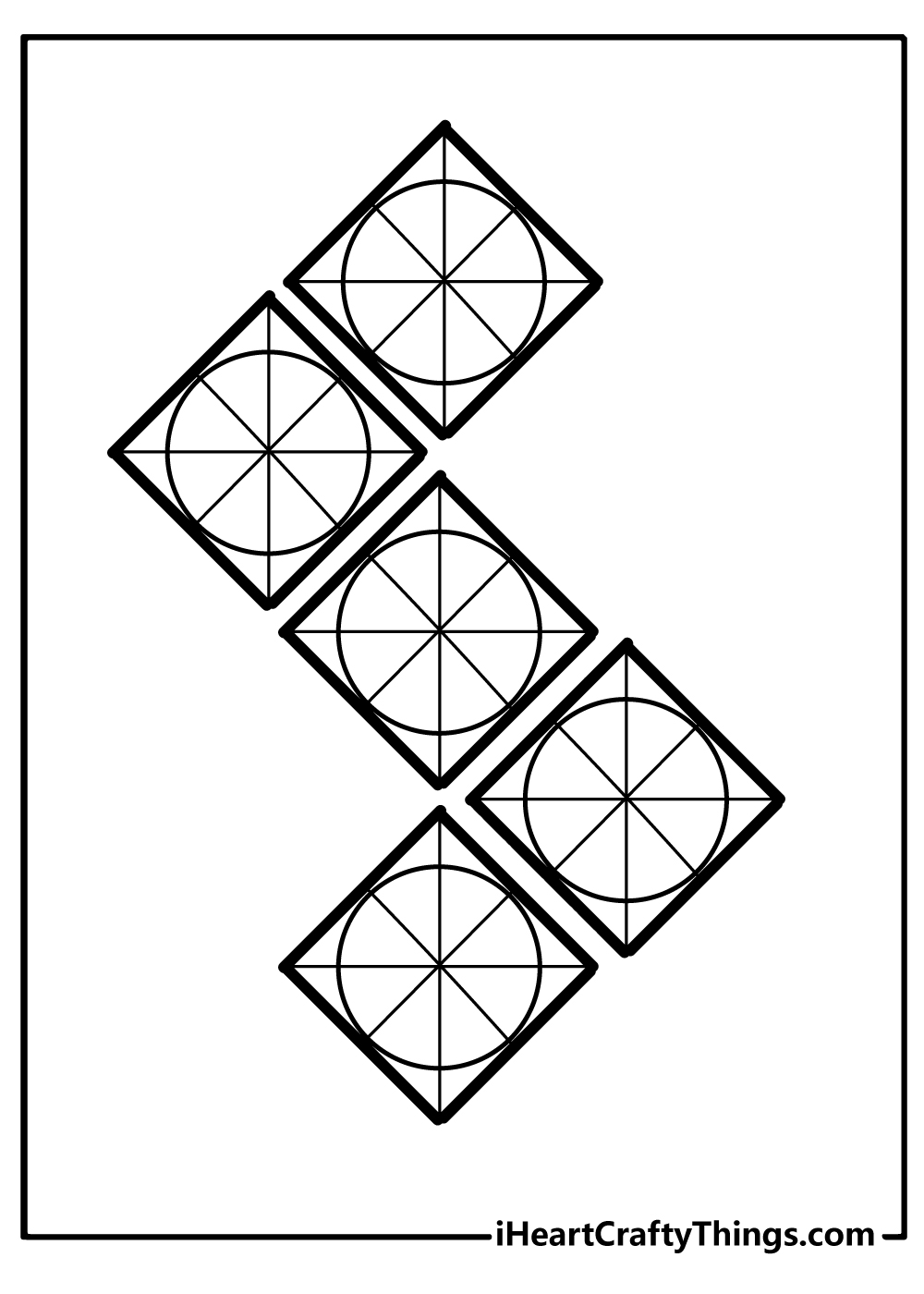 These geometric coloring pages make for great educational sheets.
If you're a homeschooling parent or attempting to educate your child from a distance, printing out all of the geometric coloring pages and listing a few basic instructions, such as "color all circles green" or "color every triangle purple," may be a fun activity.
Your youngster will be able to put together their knowledge of both shapes and colors in this manner and learn everything in a fun way.
When they learn through playing, kids are much more likely to retain information that sticks with them longer.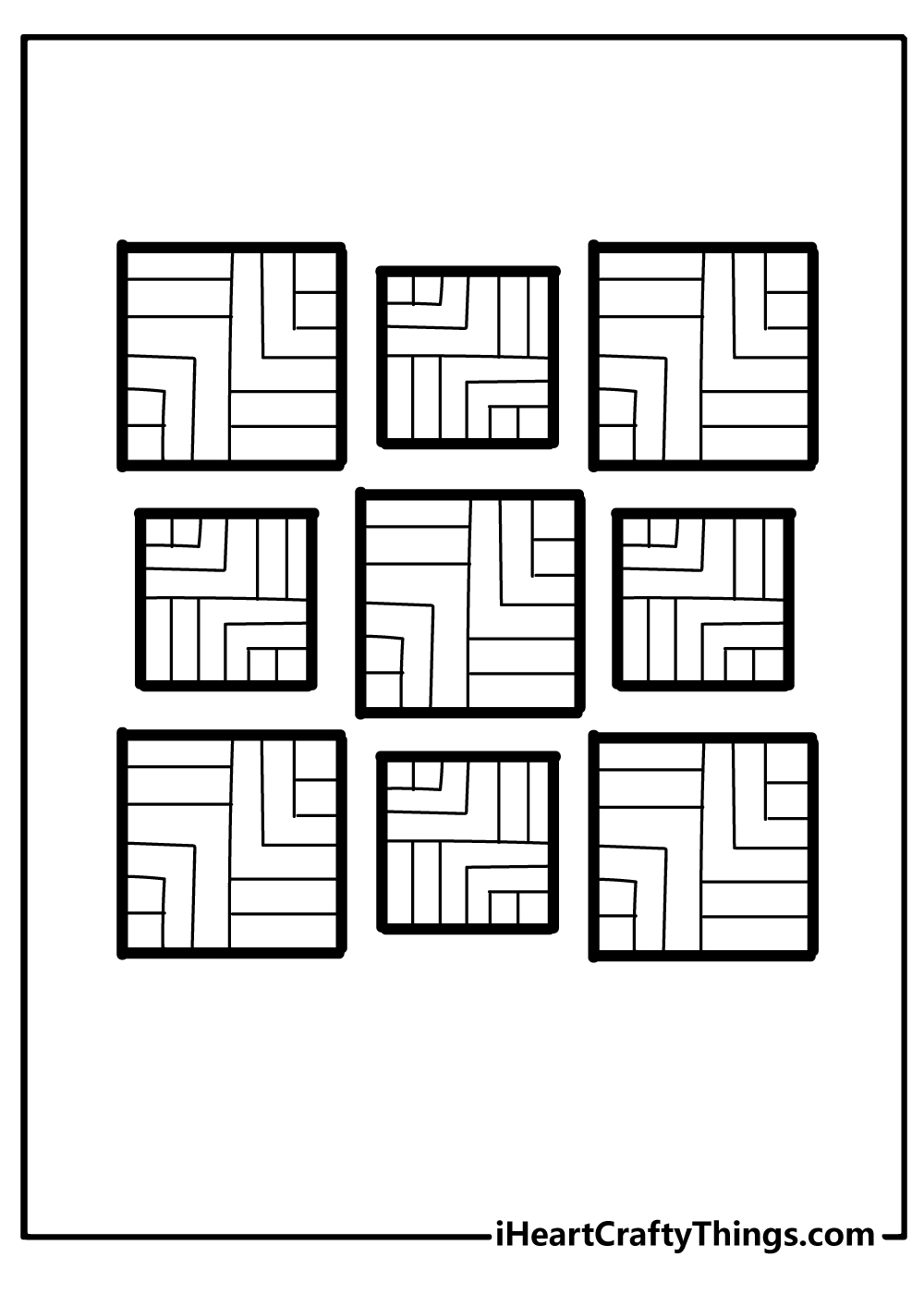 This geometric coloring page features a stunning abstract cityscape that will challenge your creativity and imagination.
You can color the various shapes such as squares, rectangles, circles, and triangles to create buildings, roads, and trees.
Some of the shapes are filled in, while others are outlined, giving you the freedom to choose your own colors and patterns.
This coloring sheet has a minimalist and modern aesthetic that will appeal to kids.
Have fun coloring this geometric cityscape and make it your own masterpiece.