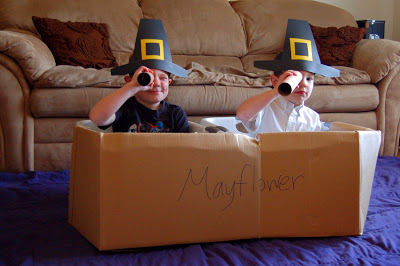 We spent some time yesterday afternoon reenacting the Thanksgiving story after reading these fun books.
Thanksgiving Mice by Bethany Roberts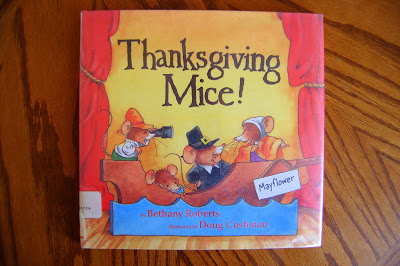 It's Thanksgiving and four adorable mice are putting on a play for their woodland friends. The play is of course the story of Thanksgiving. This is a GREAT book for Preschooler's to easily understand the story of Thanksgiving. My first grader even enjoyed it.
One Little, Two Little, Three Little Pilgrims by B. G. Hennessy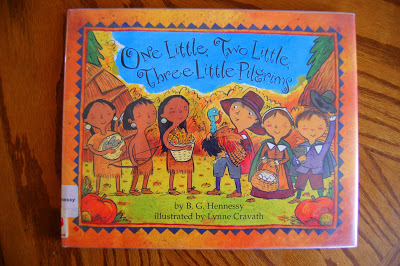 Ten little Pilgrims and ten little Wampanoag boys and girls are getting ready for the harvest feast. After gathering all the food, everyone gives thanks, and then it's time to eat and celebrate. The simple, rhythmic text is great for sharing the history and fun of Thanksgiving with young children.
After reading our stories my pilgrims set out to sea on their long journey on the Mayflower…(I know you are all loving how I wrote Mayflower on the cardboard, hahaha!)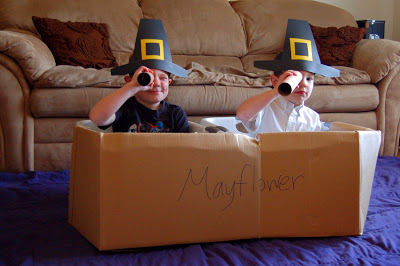 They got so hungry they even tried catching a small fish with their telescopes.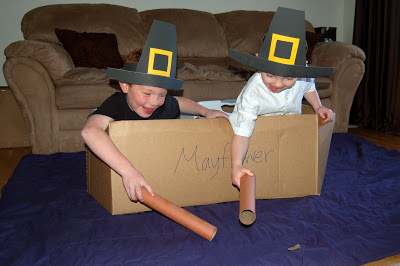 Finally they spot land far off in the distance…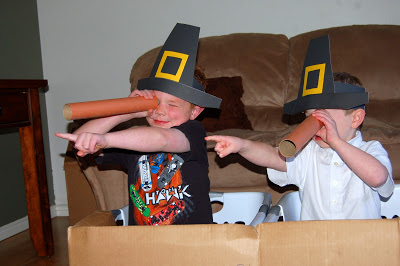 After reaching land and starting to settle in they meet the cutest little Native Americans you ever did see…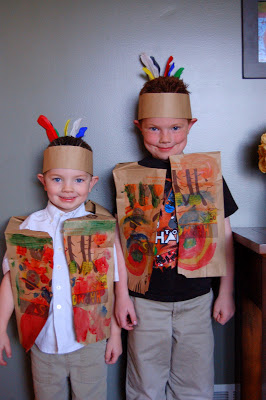 The Pilgrims made friends with the Native Americans they showed the pilgrims how to plant corn and other seeds…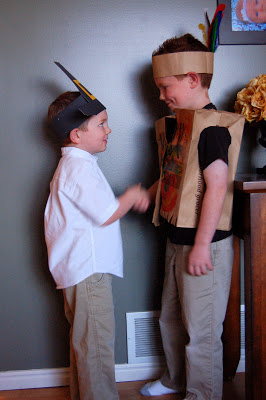 And after the garden had grown and was ready to harvest, they had a huge feast and gave thanks to God for all their blessings! I meant to pop popcorn with the kids to eat but the night got away from us. But we did make this adorable Indian Corn craft.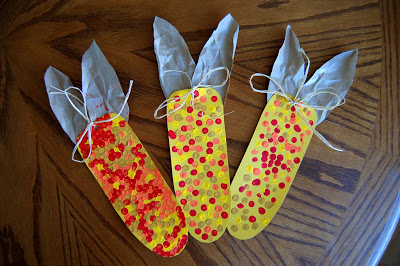 I cut out a corn cob shape out of yellow card stock paper and we used a pencil eraser to press on the corn kernels all over the cob. We made sure to use fall colored paint. The boys LOVED using the pencil eraser to paint with. Heck, even I did!  🙂
My cute little pilgrim hard at work on his corn.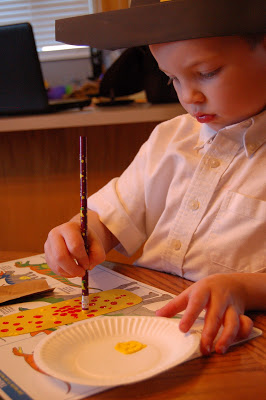 I cut out some corn husks from leftover scraps from our paper bag Indian vests. We crumbled them up and then straightened them out to give them some texture and glued them to the back of our corn. My son was such a perfectionist and made sure his kernels were all close together so it looked "real" (as he said).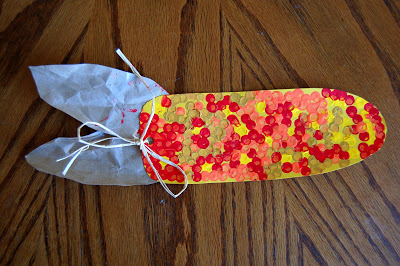 Next I lifted up the corn a little at the end, punched a hole in it with a hole punch, strung some raffia through it and made a bow. The raffia could act as a way to hang up the corn, or I just personally think it looks pretty. I got the idea for this craft at Spotted Canary.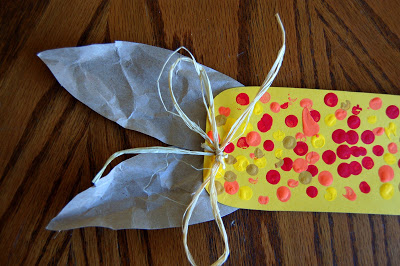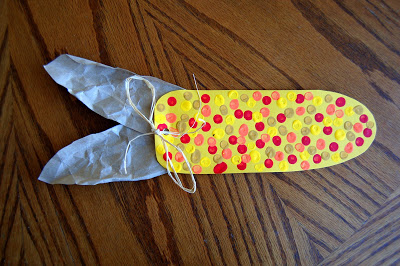 I had been working on the reenactment for a couple days before we did it (thus not a lot of posts last week). From painting the Indian vests and making the headbands one day, to making the pilgrim hats and telescopes one day. I've realized sometimes it takes a while to prepare for things, but the fun we have overall definitely outweighs the time spent in preparation. And I believe my kids now have a greater understanding of how Thanksgiving came about.
We did one more craft to go along with the being thankful part of the reenactment. I'll share that with you on Wednesday.
Happy Crafting!!