There are so many incredible superheroes that populate comics and other media, and everyone has their favorite.
Perhaps the most recognizable superhero would have to be Superman, as he was one of the first superheroes that is popular to this day.
This collection of free Superman coloring pages for kids is here to celebrate this iconic hero!
You will have 15 free images that portray Superman in a variety of different poses and situations, and you will really get to show off your creativity.
When you have finished some of these pages, remember to share some of them on our Facebook and Pinterest pages!
15 Brand New Superman Coloring Pages – Free to Print and Color
Is it a bird? Is it a plane? No, it's our first free Superman coloring sheet! Superman is known to fly through the air at great speeds, and that is exactly what is happening here.
He is in the classic Superman pose, and the background has been left blank if you would like to add any background details.
How will you go about completing this first page in the collection?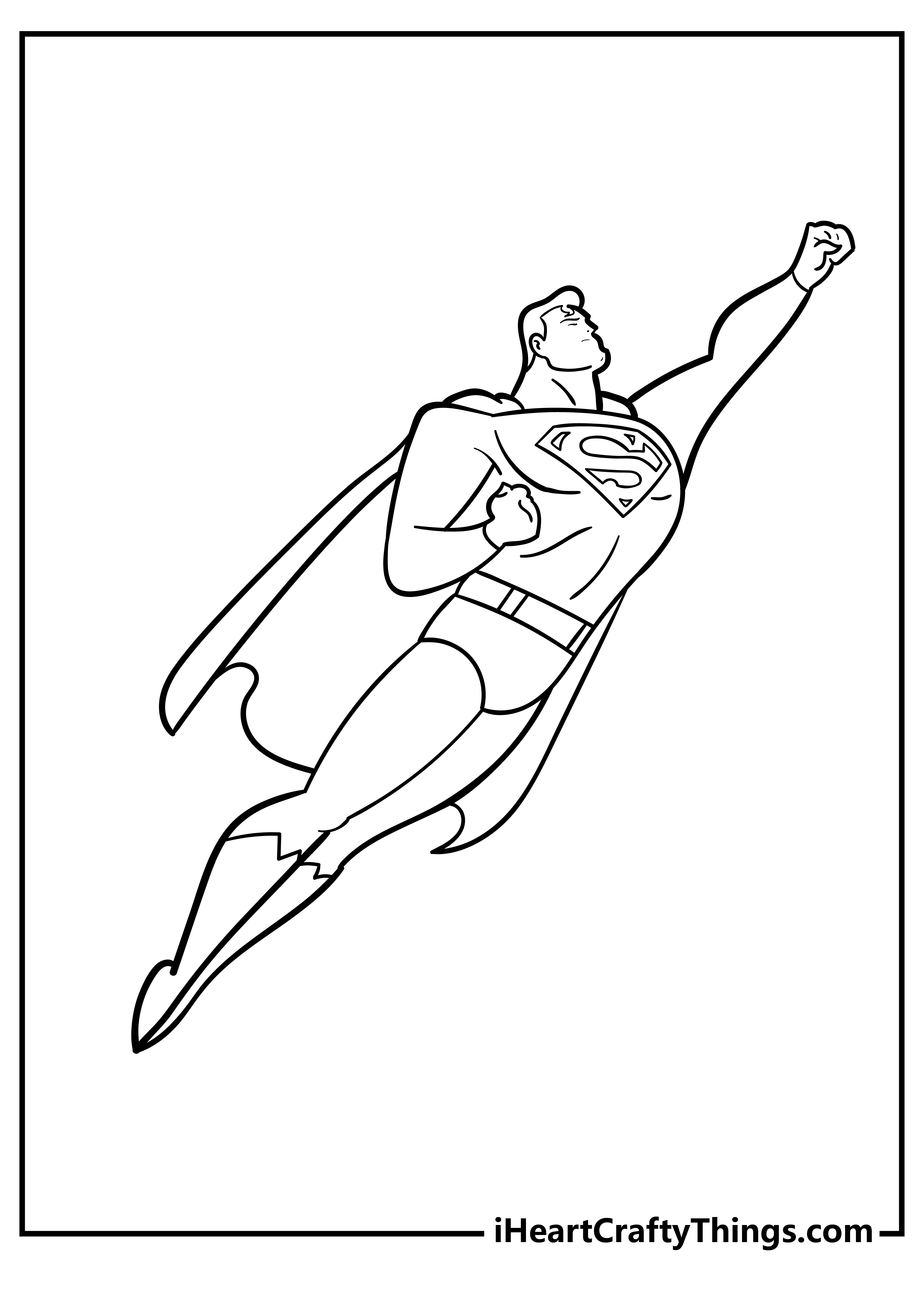 This second page also shows Superman flying through the air, but from a different angle this time.
He is looking very serious here, and it makes you think he is on his way to fight one of his many enemies. This would be another great picture to draw an awesome background setting for!
What kind of setting would you choose?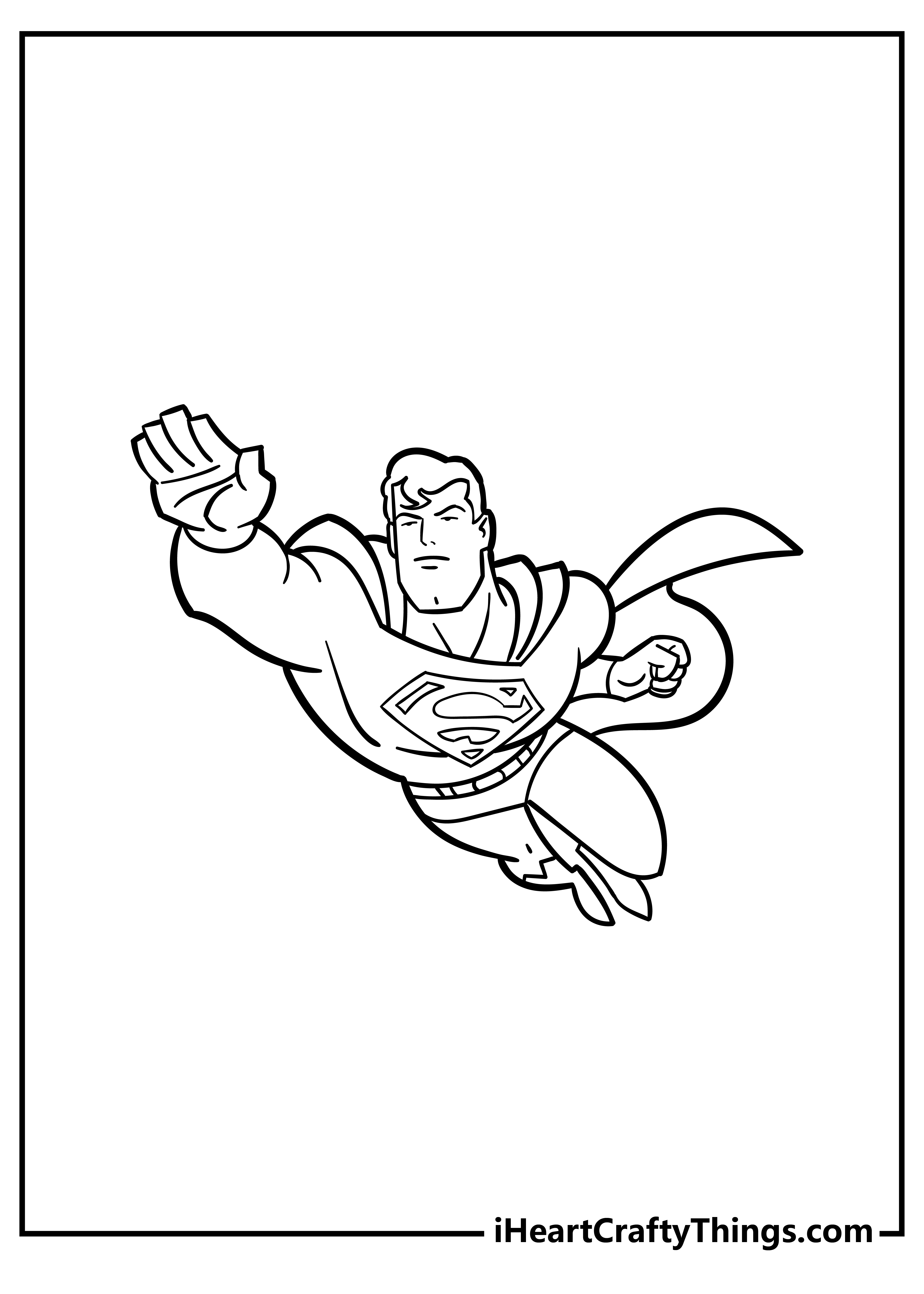 You wouldn't want to be on the receiving end of a punch from Superman, but that is what he is winding up in this second image!
It makes for a really cool pose, and his suit has a lot of details for you to color in as well. This should be a really striking image when you're done with it!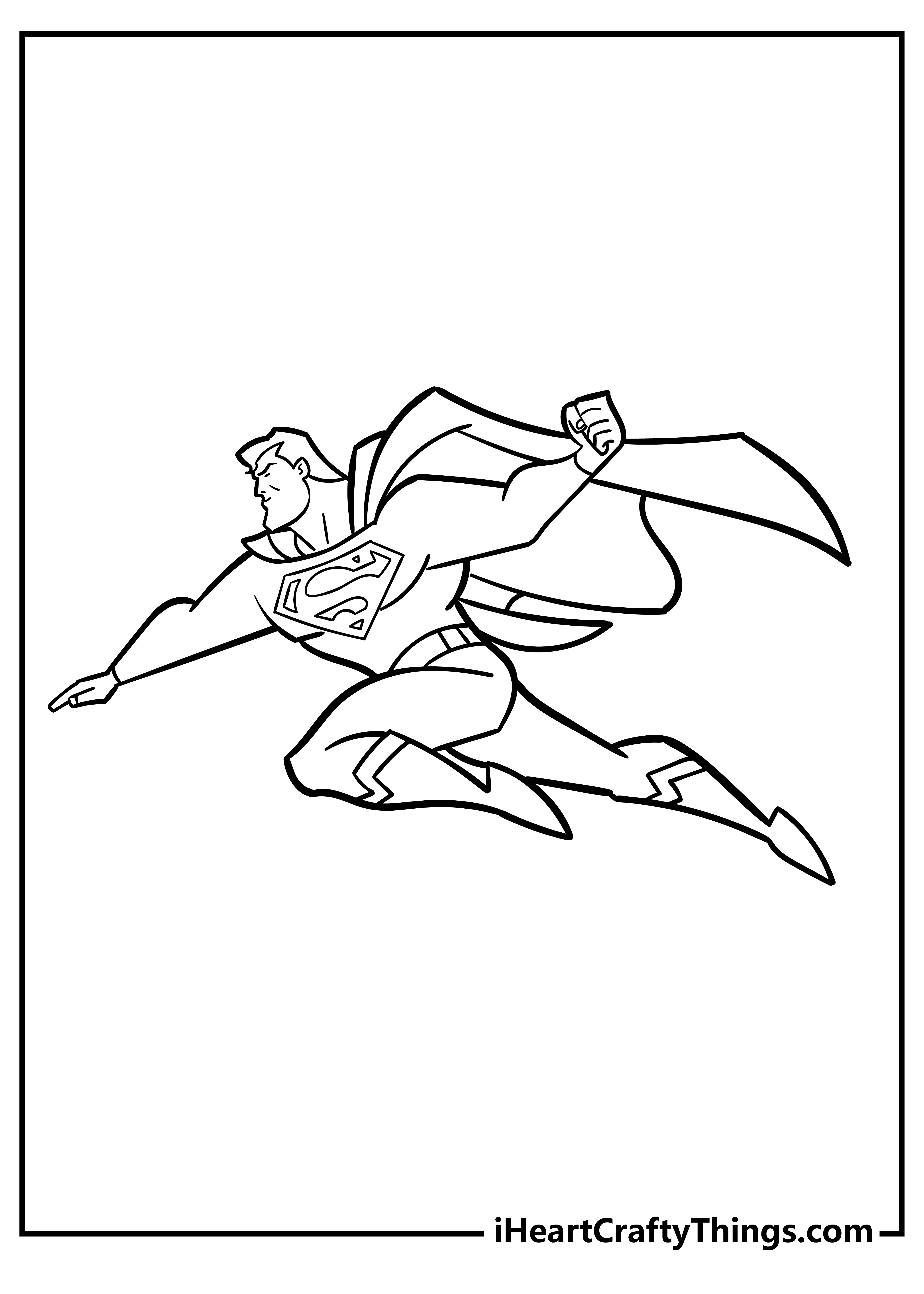 We have another image of Superman flying through the air in his classic pose. He is looking happier and more at ease here, so you can imagine that this time he is not on his way to a battle.
Instead, it seems like he could just be enjoying a leisurely flight through the sky, so we would color the background with a beautiful blue to make it look like a wonderful day.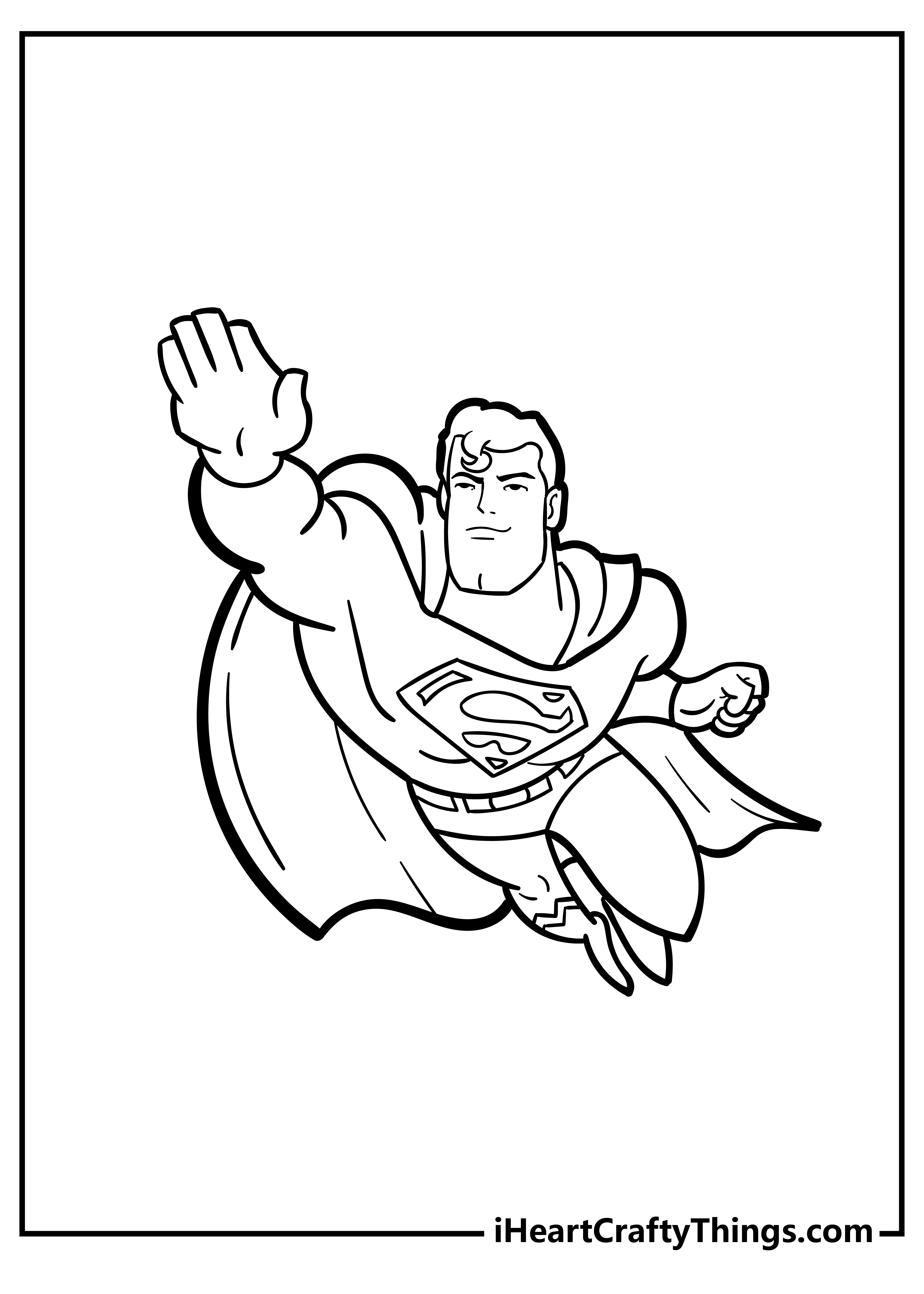 This fifth page in our collection of free Superman coloring pages for kids features our hero looking very noble!
With this page, he could either be standing on the ground or maybe even floating in the air. It would be up to you to decide if you add any background details, so which approach would you go for?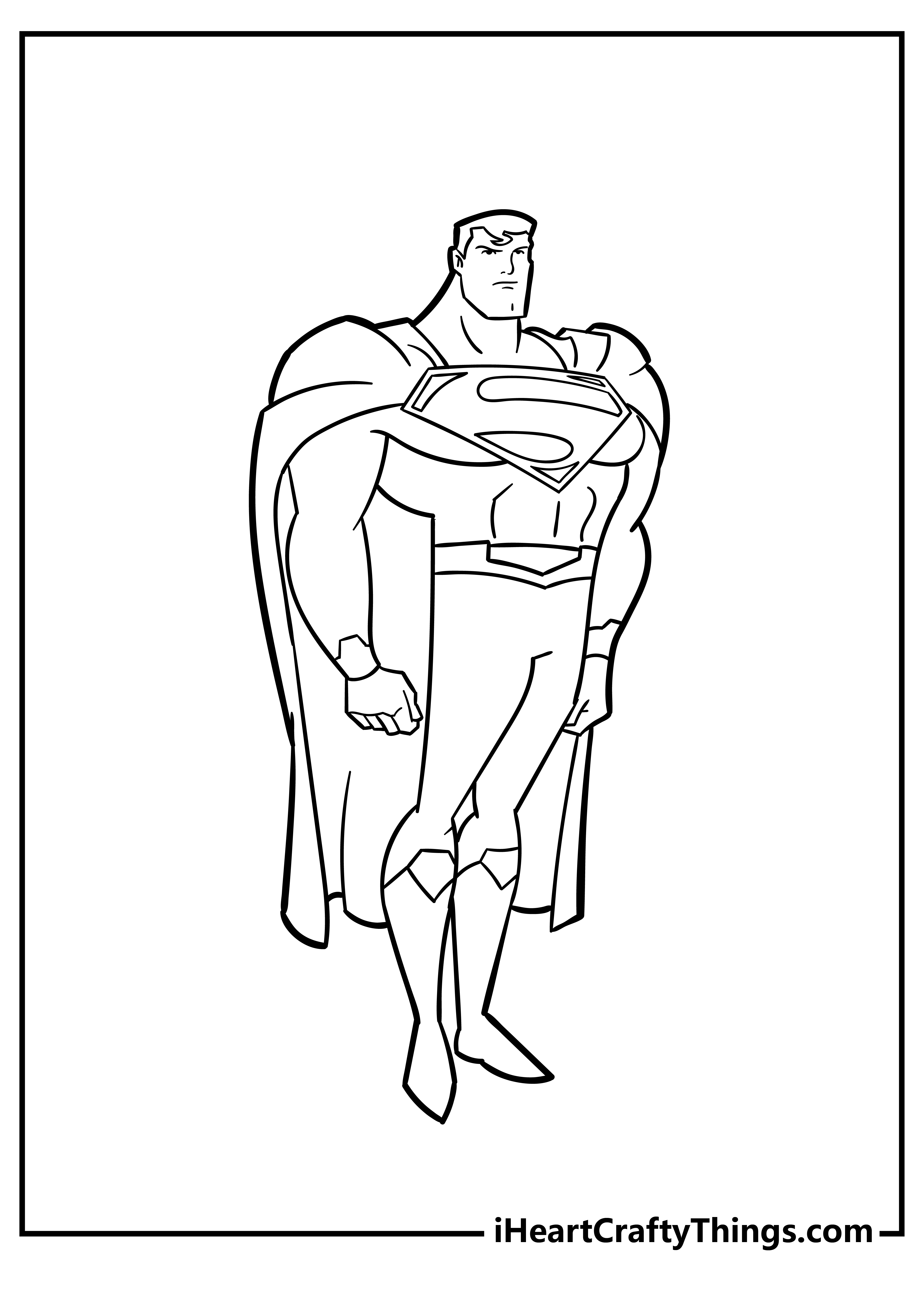 Superman has gone through many different appearances throughout his history, and in this image he is shown in one of his more modern styles.
The colors of his outfit are usually a bit darker and more muted in his modern appearances, so you could go for a similar look if you want to go with the time period of the image.
Do you think you will give him a more modern color scheme or a brighter one?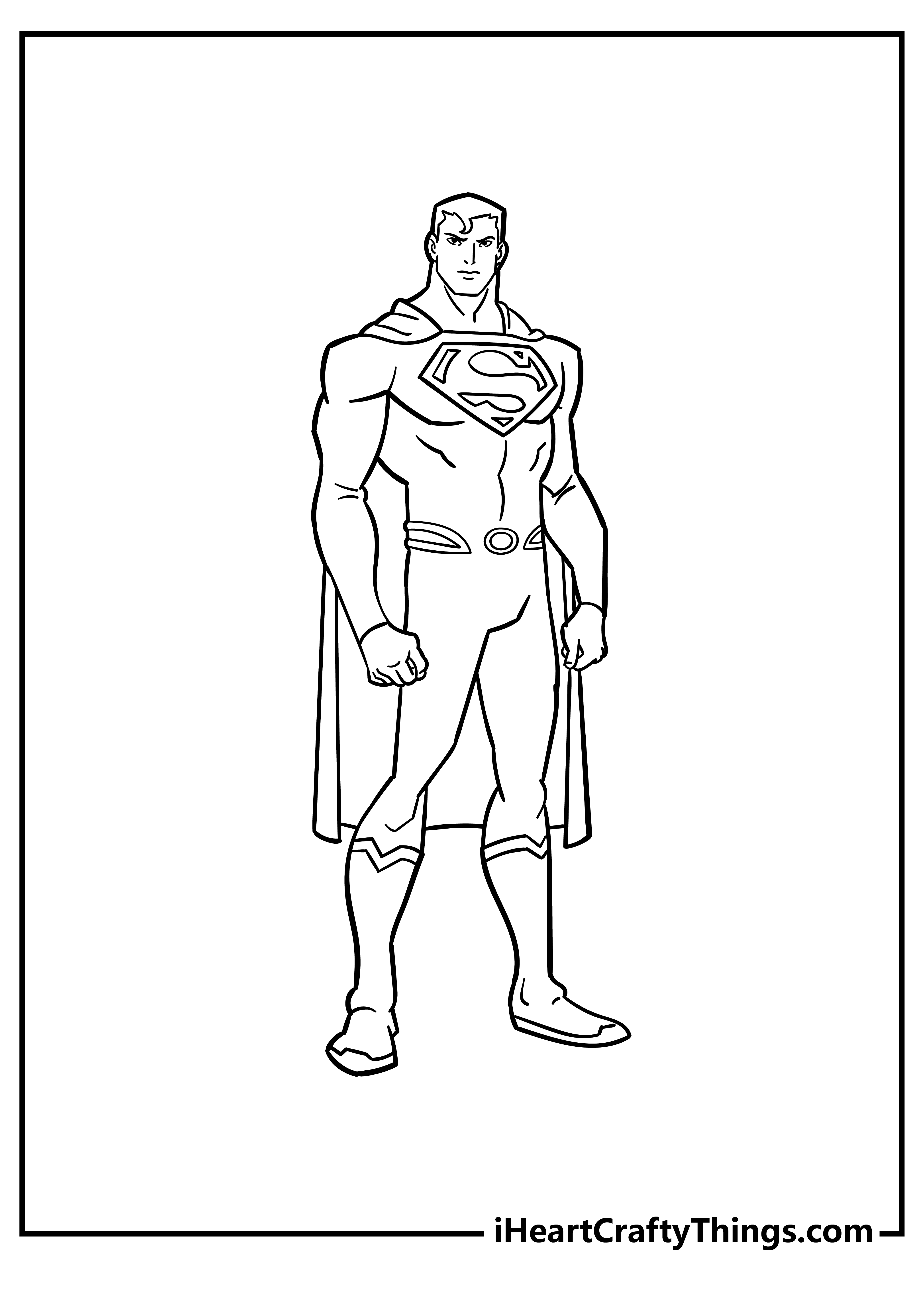 Our seventh Superman depiction again shows a more modern styling for this classic hero.
Not only that, but it is also one of the most highly detailed pages in the collection, and you can have fun taking your time with some more subtle color details and touches.
Will you add any kind of background to this one?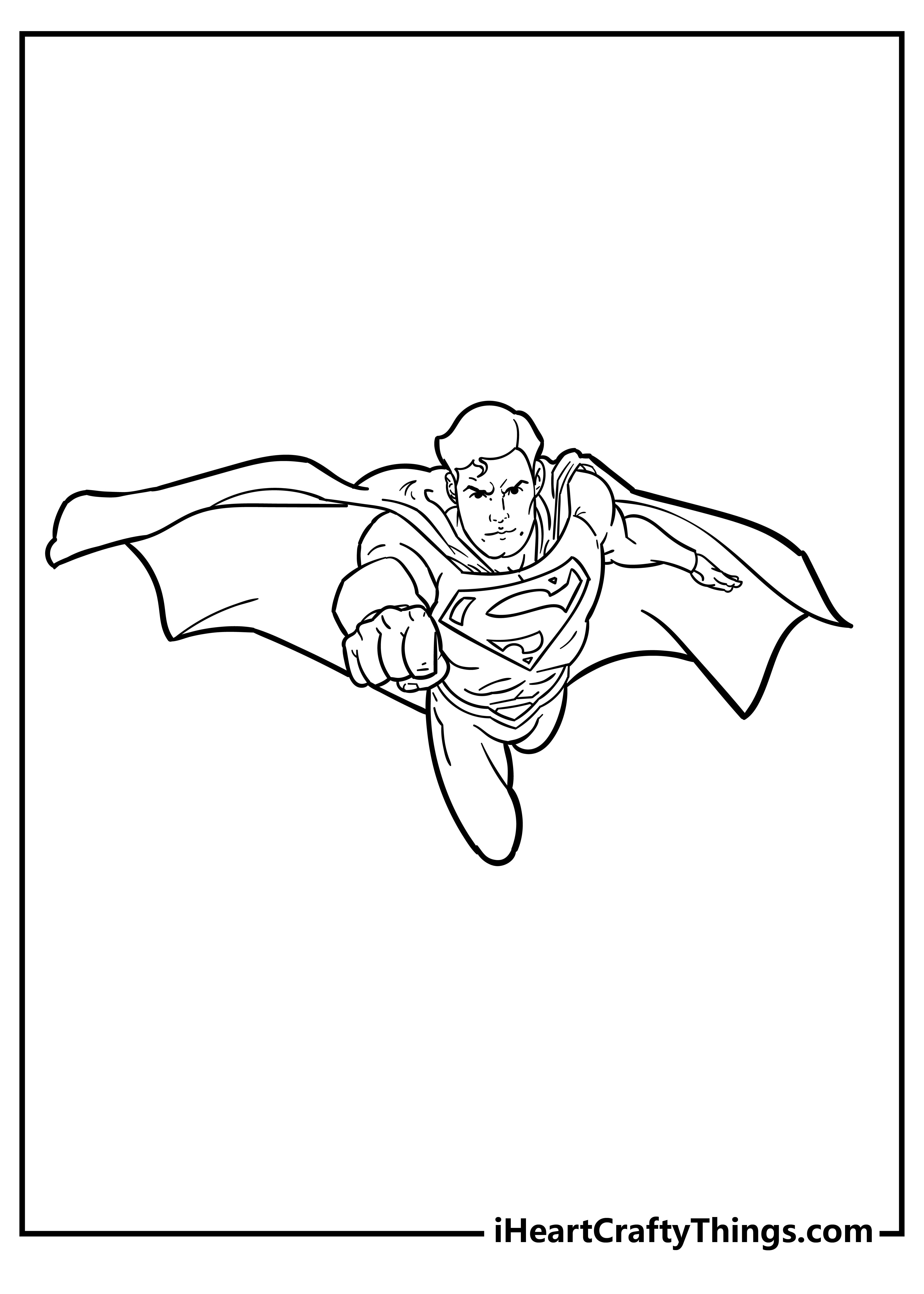 Superman seems to be having a great time in this next picture! It would probably be tons of fun to be able to fly through the air, and even superheroes get to enjoy their powers every now and then.
For this more light-hearted image, we would use some bright and vibrant colors to really make this depiction of Superman pop off the page!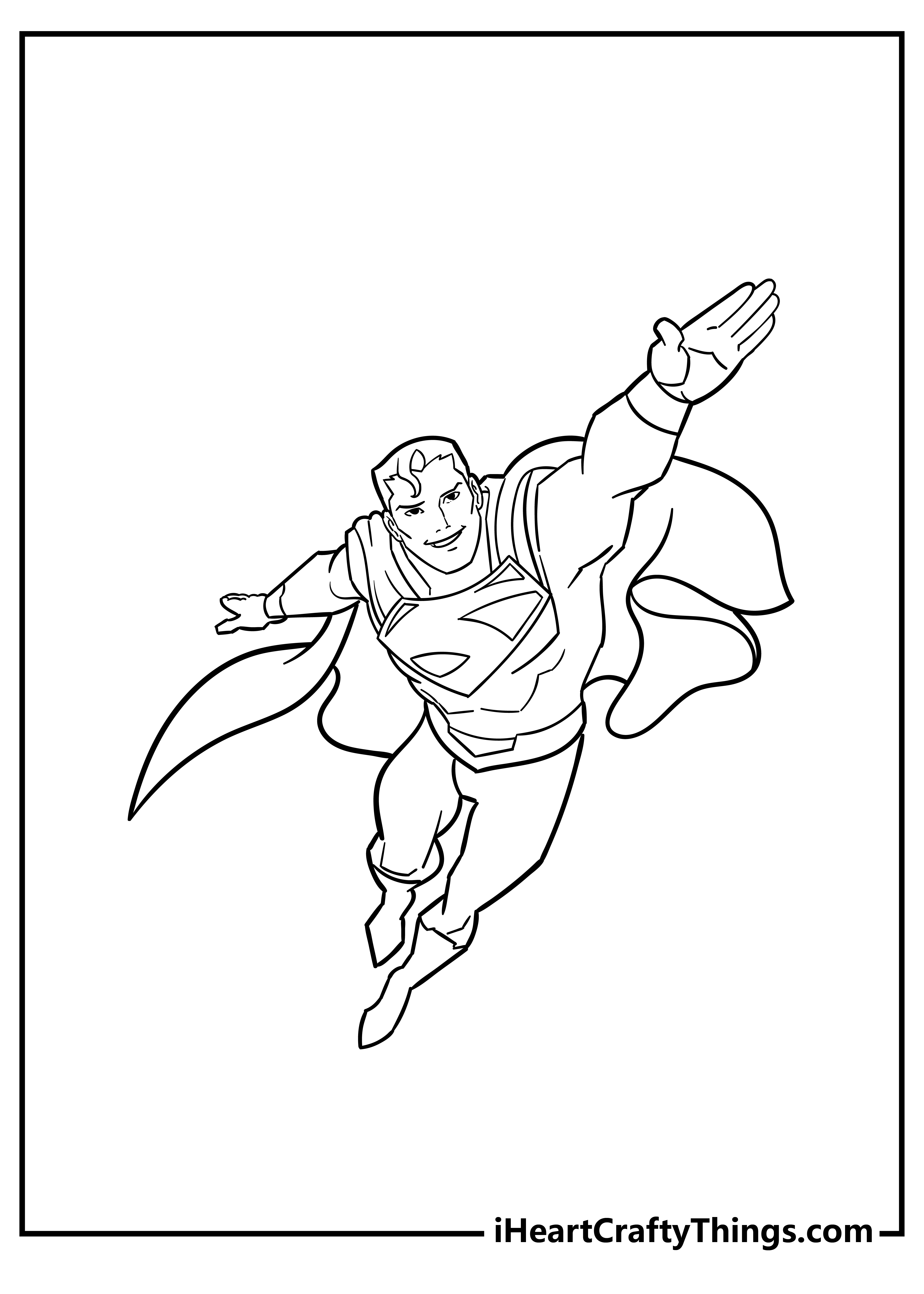 This next image of Superman is another one that has him in a very noble pose. He seems to be having a quiet moment between the action, but his expression indicates that he is still on alert.
When coloring this cartoon version of Superman, do you think you will make the colors bright or dark?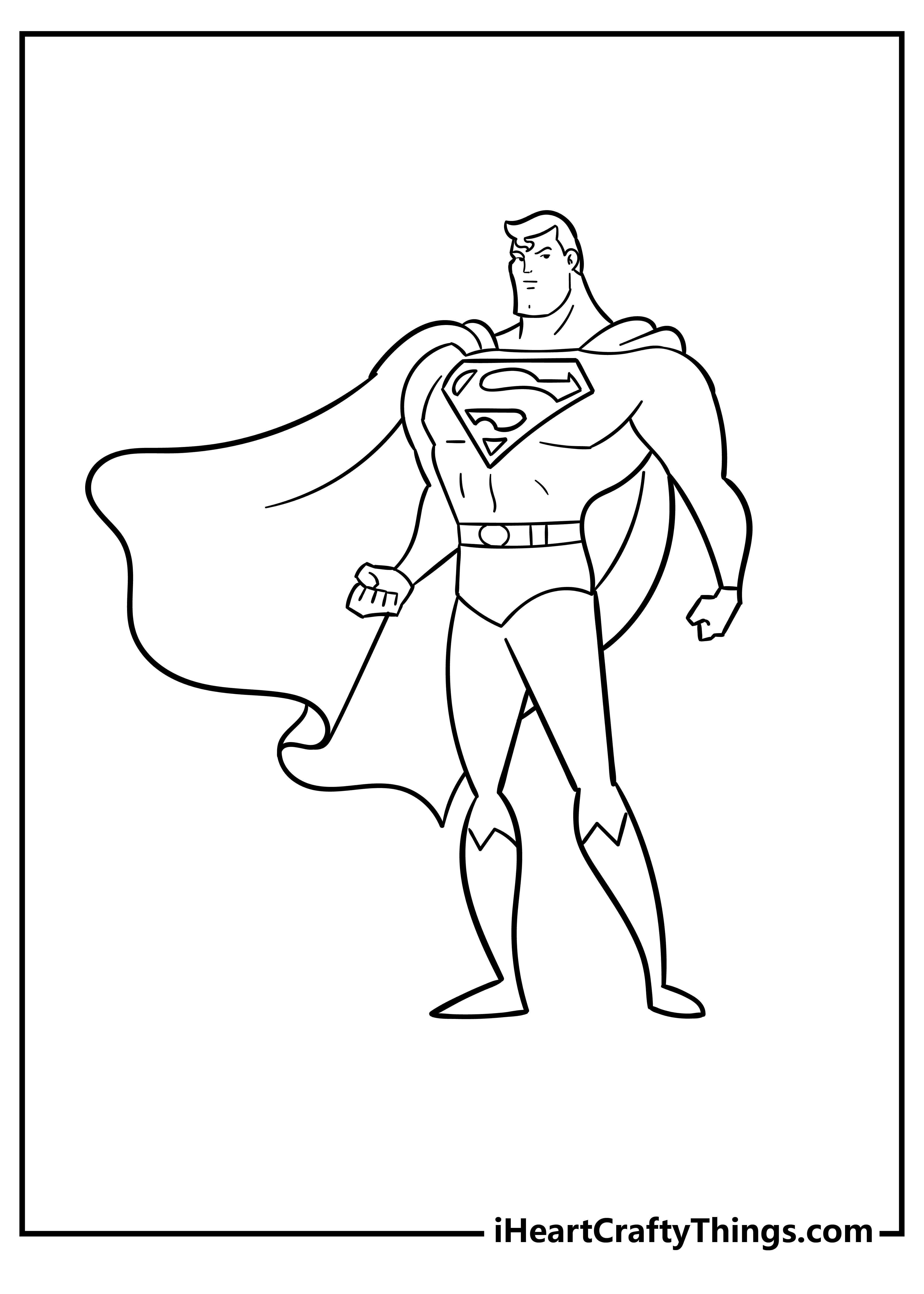 Our next Superman coloring printable features our hero flying through the air again! If you're coloring the background, you could use flurries of color to suggest the scenery whizzing behind him.
This would be one way of filling in the background, but there are many more ways you could do it instead! What other ideas do you have for the background?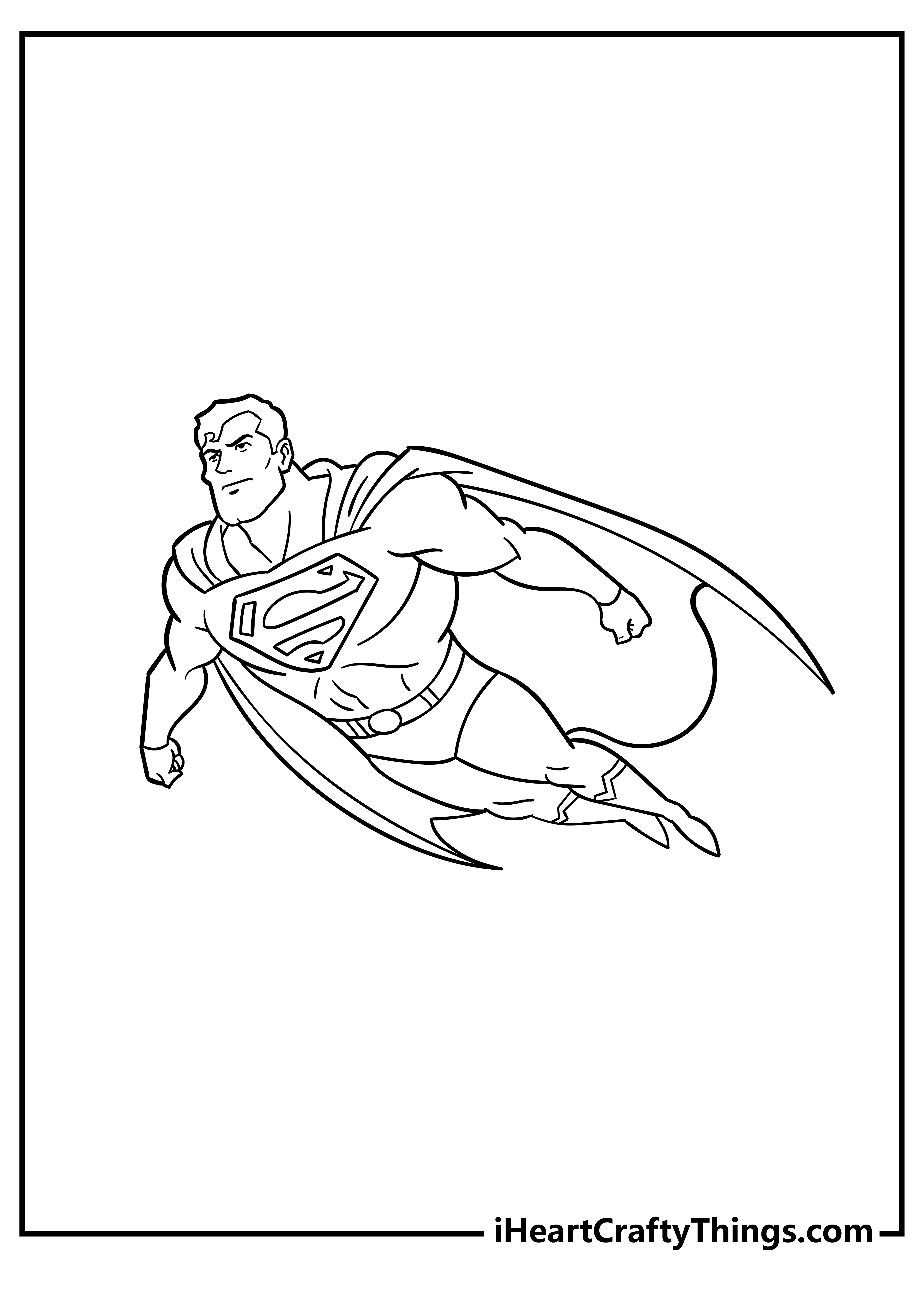 We once again have Superman flying through the air in this picture, but this time there is a lot of empty space behind him and he is quite small in the frame.
This means that the emphasis could be on the background for this one, and you could create all manner of great background settings.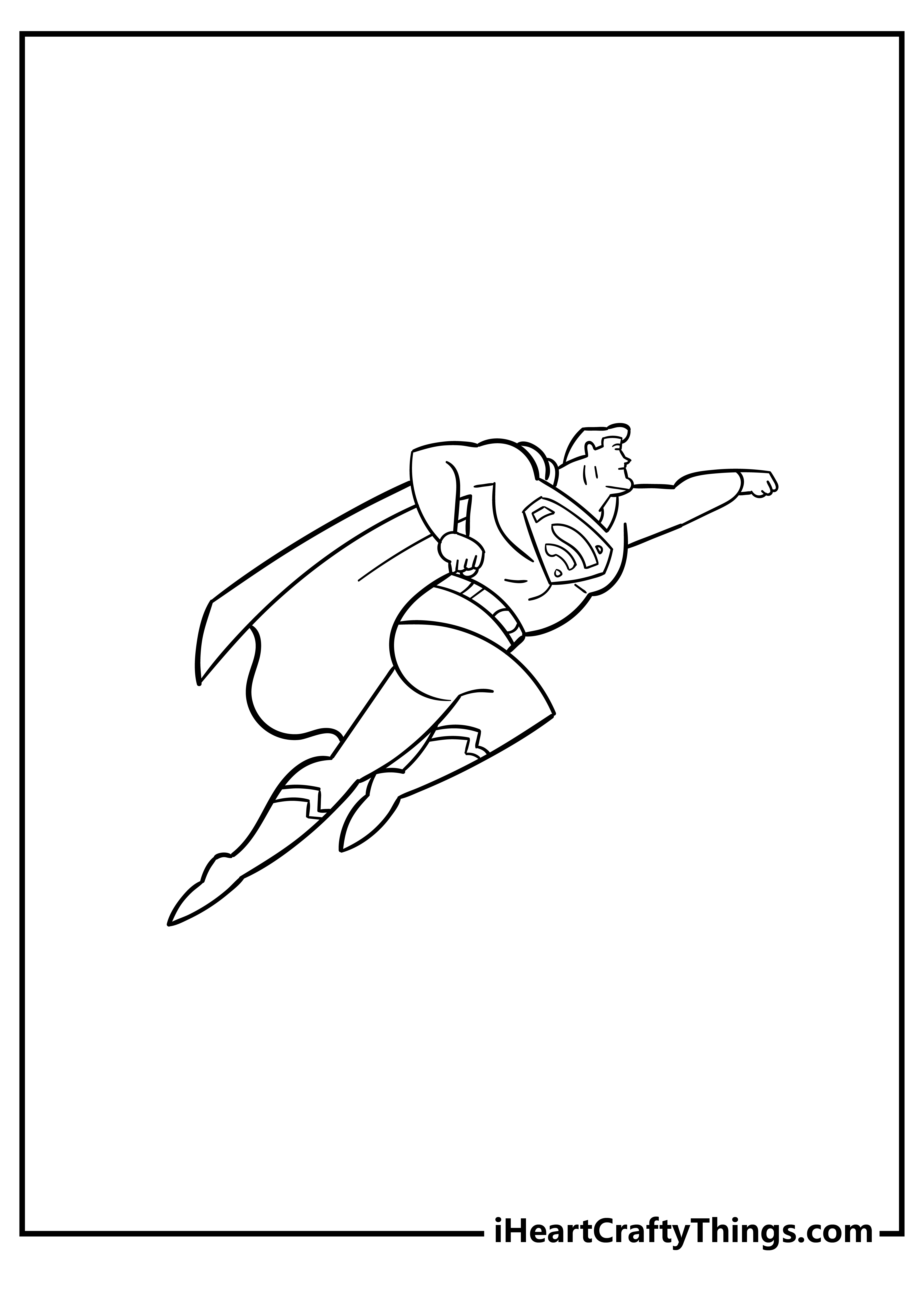 This next page would make a great companion piece to the previous one!
In this image, it looks like we are seeing Superman moments after his position in the last page, and there are a few ways you could play around with this.
You could cut out this Superman and stick him on the page near the one on the previous coloring page, or you could create a similar background here.
Will you pair this one with the previous image?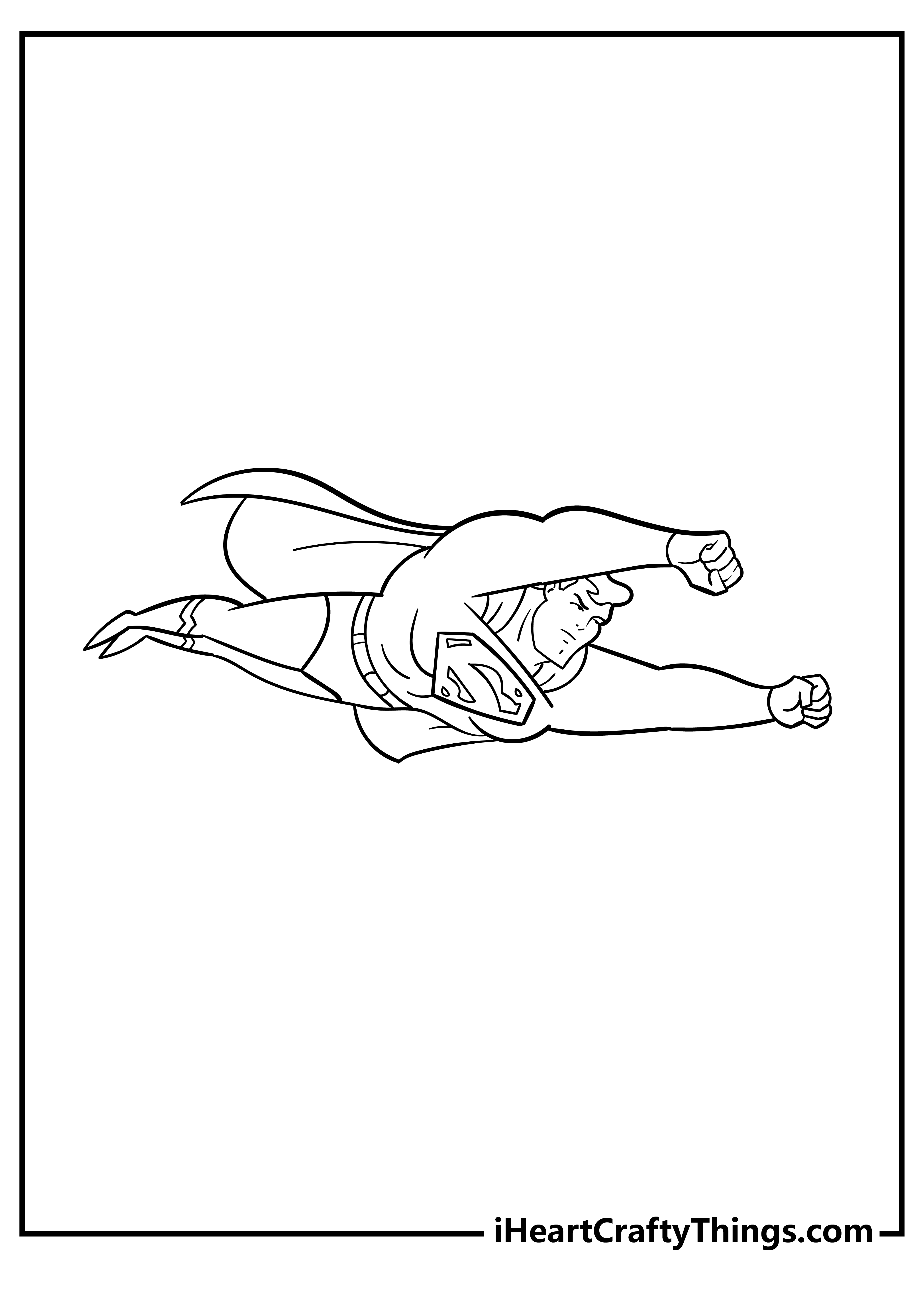 Superman is looking very focused and serious here! We also get a great view of the iconic S on his chest, and you can have a great time coloring details such as that.
If you have a favorite Superman incarnation, you could use it as inspiration for how you color this particular version!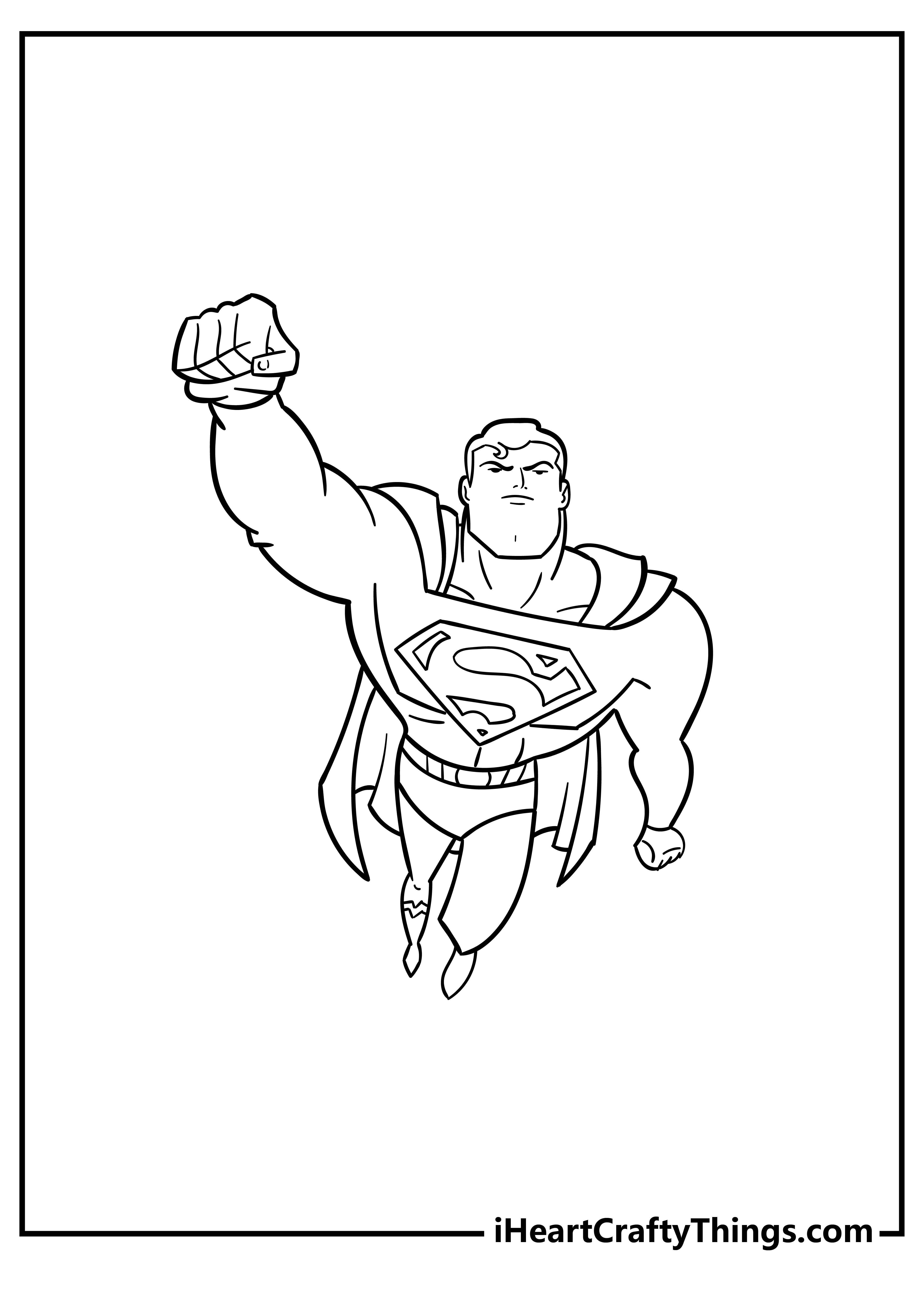 This next page features another really noble pose for Superman, and there are so many great details to color in here.
When you have finished this page, there is still one more awesome picture in this collection to enjoy, so we shall head to that one when you're finished with this noble pose!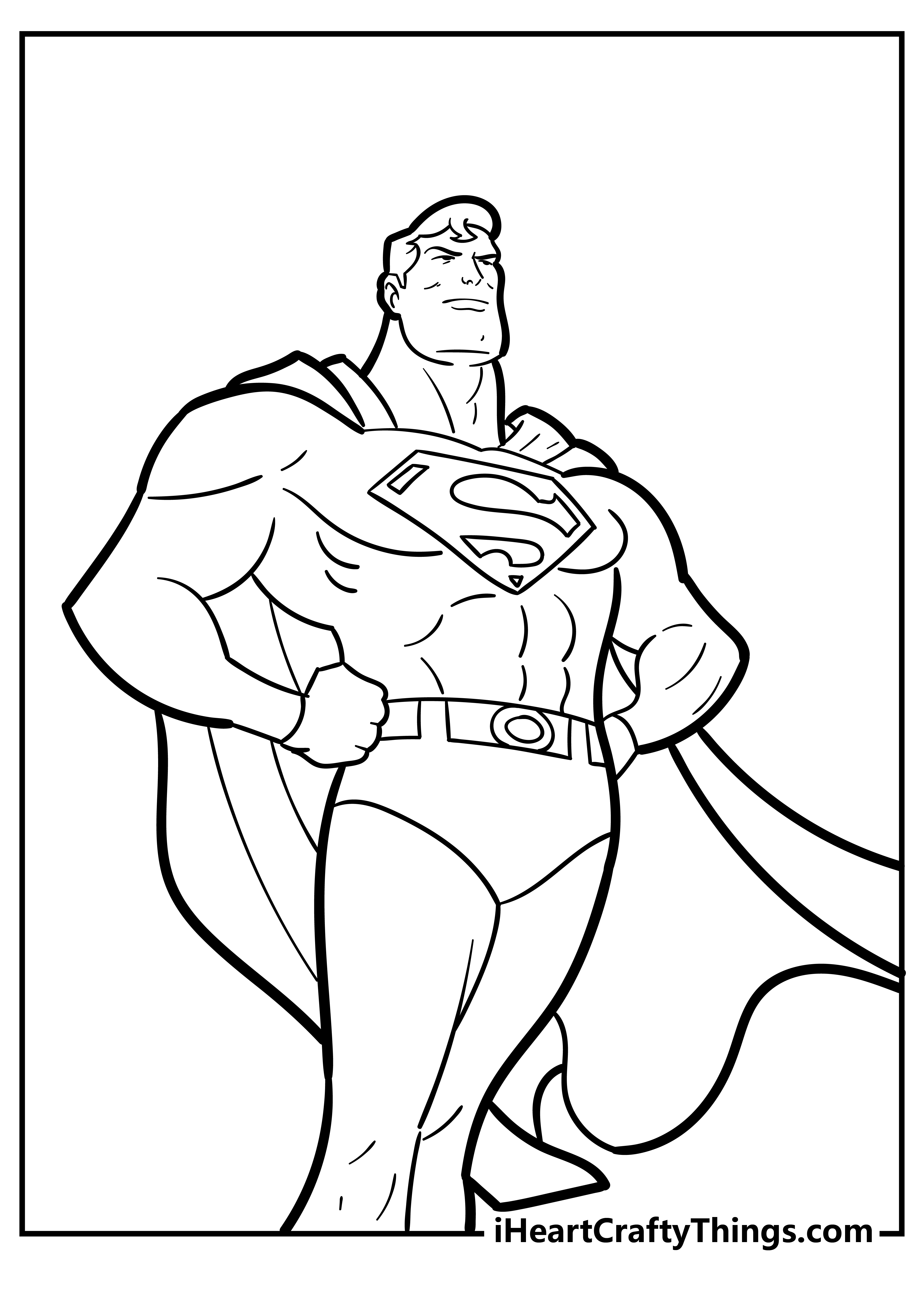 Our last Superman coloring sheet in this collection has a really detailed expression on Superman's face.
If you have a favorite Superman villain, maybe you could draw some elements of the character in the background to show that he could be battling this villain in this one.
Which character would you choose if you went with this idea?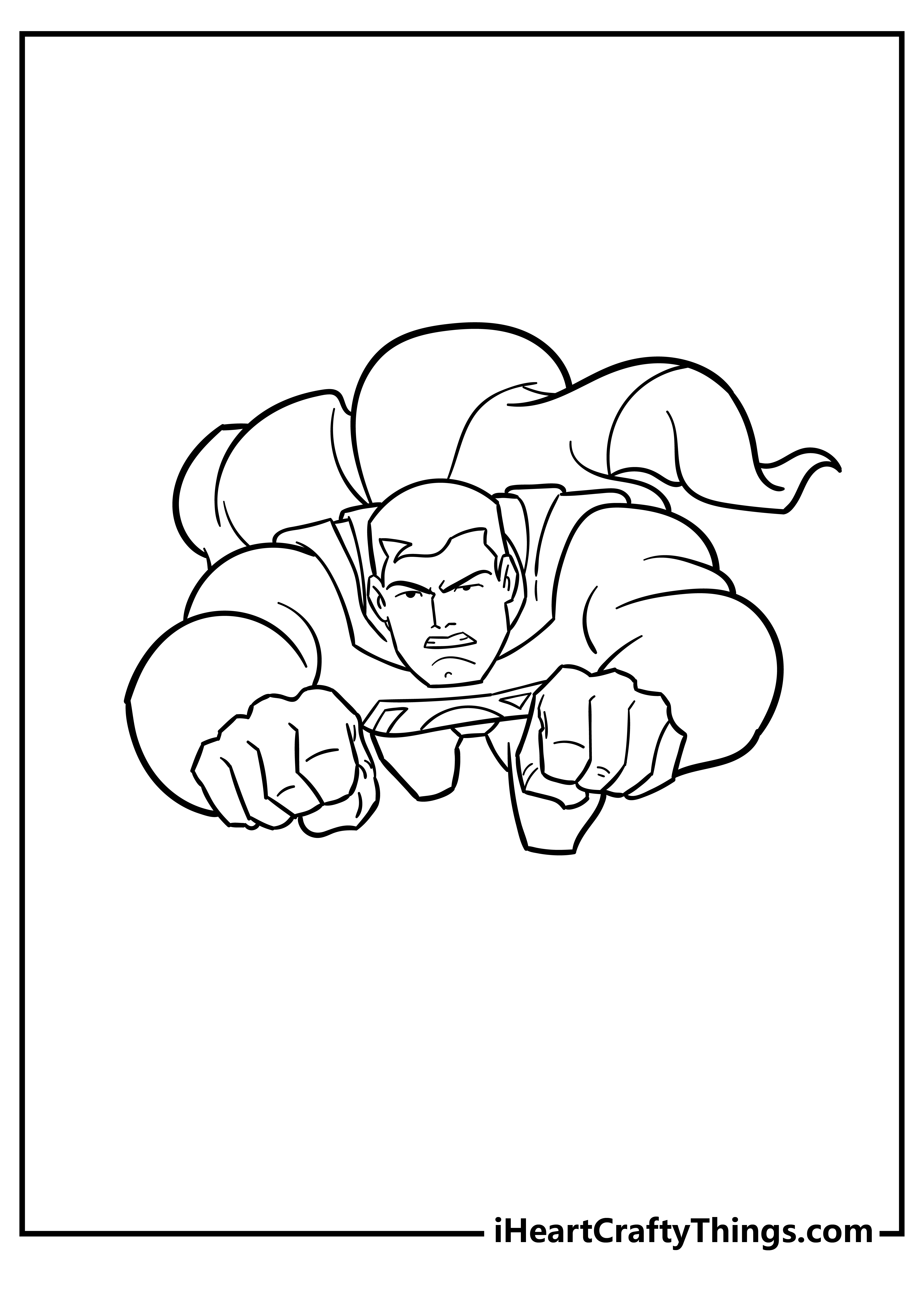 Superman Coloring Pages – Which will you choose?
This is one of the most iconic characters ever created, and we hope you had an incredible time paying tribute to him in this collection of free Superman coloring pages for kids!
We had a great variety of poses and scenarios for this famous character, and we're sure you got to use some of your favorite colors and mediums.
Please share some of your finished coloring pages on our Facebook and Pinterest pages when they're done so we can see!