Captain America is one of the most famous superheroes ever created, and he first appeared all the way back in 1941.
He has recently become even more famous thanks to some popular film appearances, and this collection of free Captain America coloring pages for kids will be celebrating him!
These 15 pages cover the patriotic hero from many eras of his history, and they are all free to enjoy and share!
When you have colored these pages, you can show off your artwork on our Facebook and Pinterest pages for us to see.
15 Brand New Captain America Coloring Pages – Free to Print and Color
This first page in our collection of free Captain America coloring pages for kids features a version of the hero that is inspired by one of his earliest appearances.
While his appearance has changed a lot throughout the years, the basic design principles have remained pretty consistent.
Will you use colors that go for a more vintage feel or keep them a bit more modern?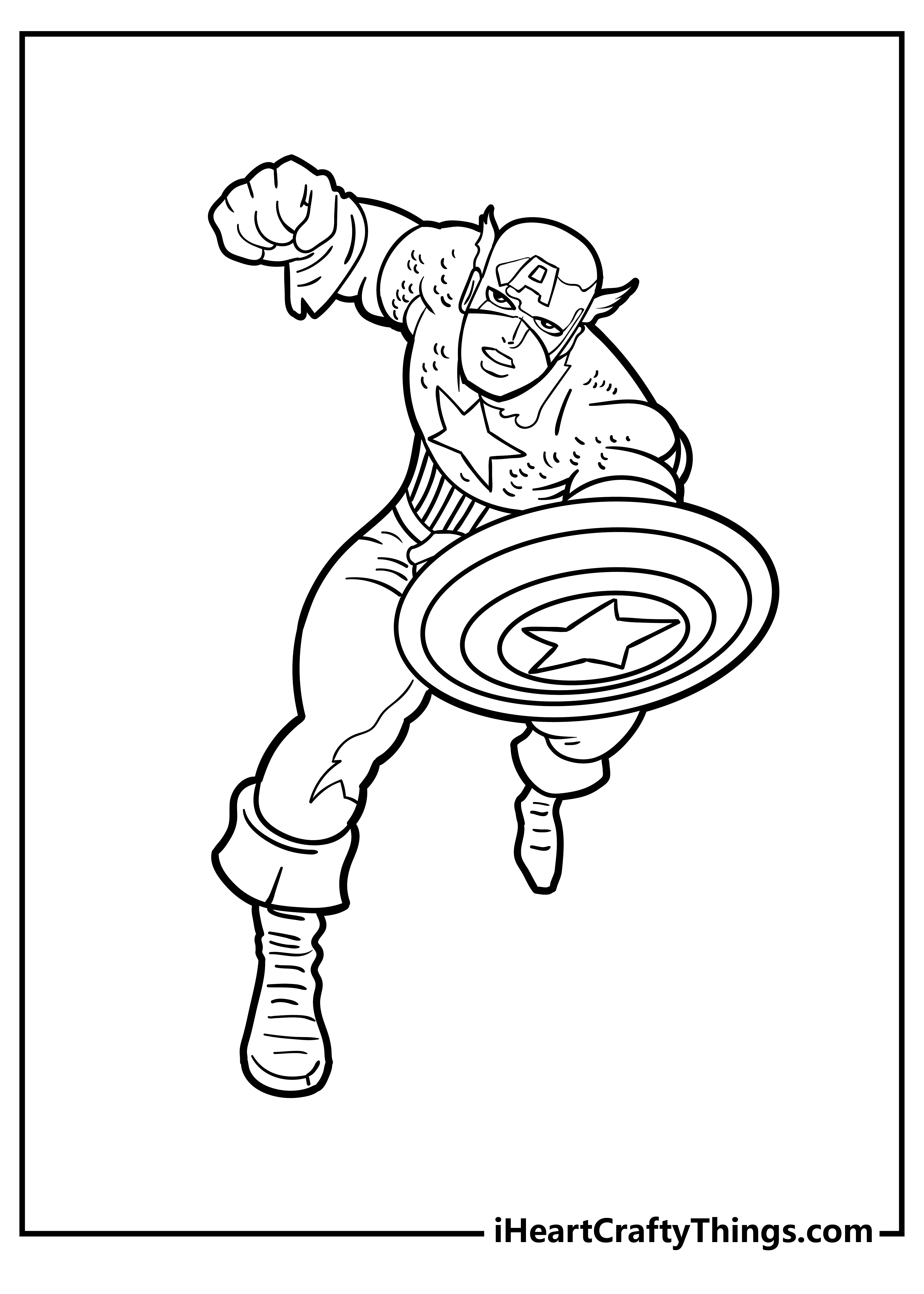 Captain America's signature weapon is his American flag inspired shield, and that is on full display in this second image.
He is looking rather intense here, and you can imagine that he is in the middle of a hectic action sequence here.
Will you draw a background to finish off the scene here? What kind of adventure do you think he could be on?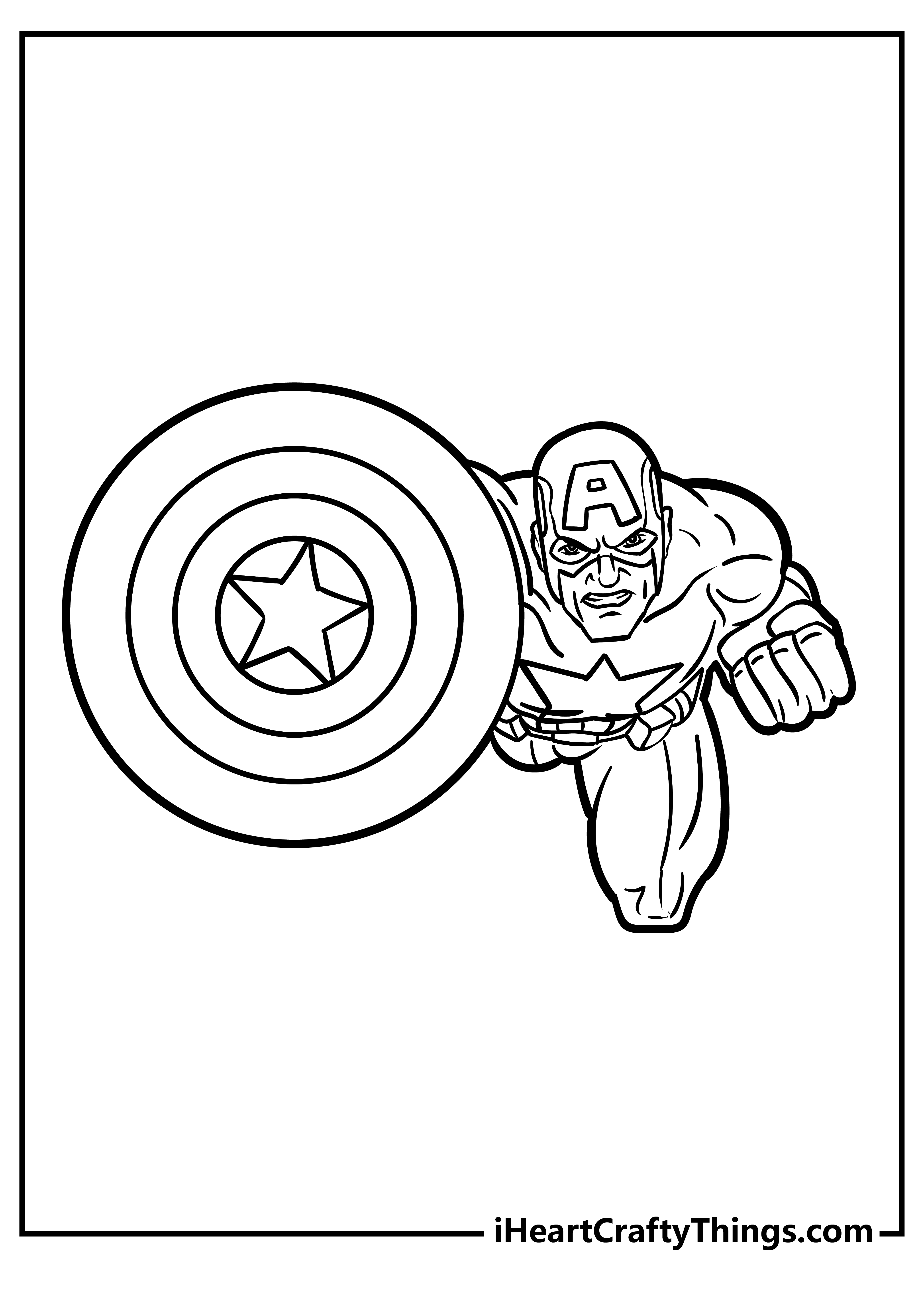 The third page we have for you to color features another portrayal that seems to be inspired by some of Cap's earlier comic appearances.
Colors in older colors were usually pretty flat and bright, so we would probably use some colored pens or markers to replicate that look if we were coloring this one.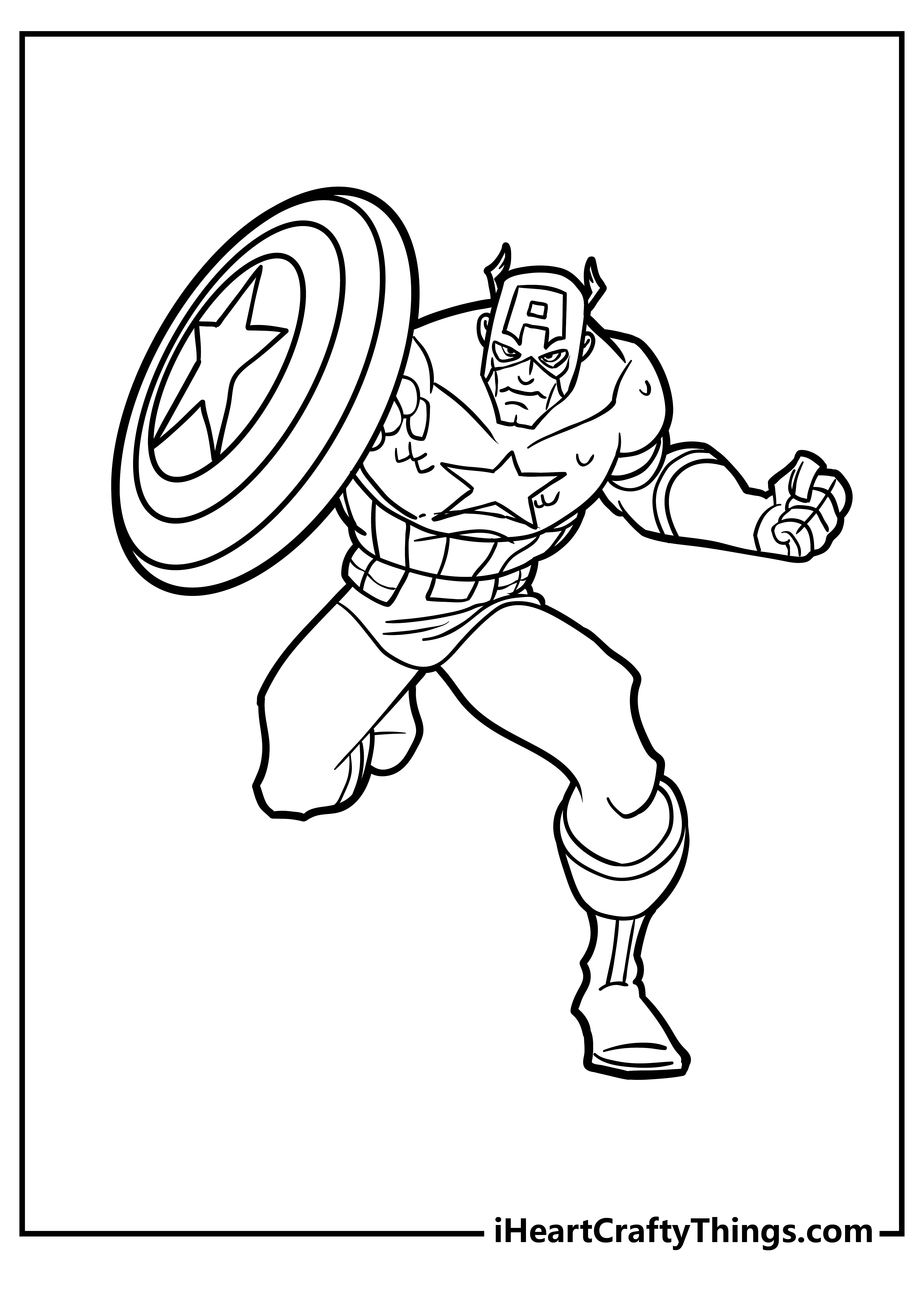 We have a close-up on Captain America's famous mask in this next image.
This closer look lets us color in some of the smaller details in the design, so we would use some mediums such as colored pens or pencils to make coloring the smaller elements easier.
What colors will you use for the background of this one?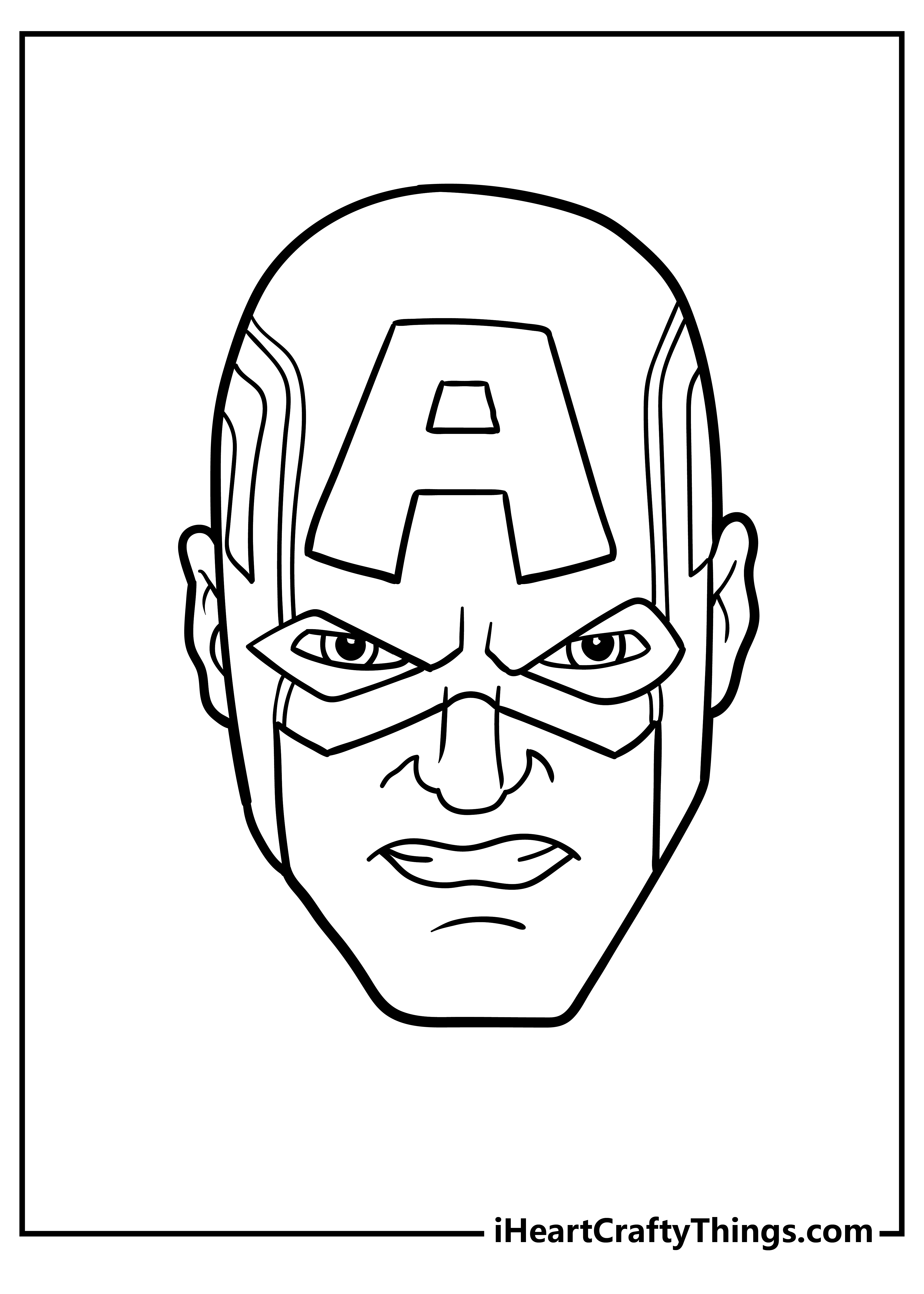 It's time for some more action with this next Captain America coloring sheet we have for you! Cap is once again leaping into action here, and his indestructible shield is leading the way.
If we were filling this one in, we would maybe add some explosions or other cool details to make it even more exciting.
What other background details can you think of to finish this one off?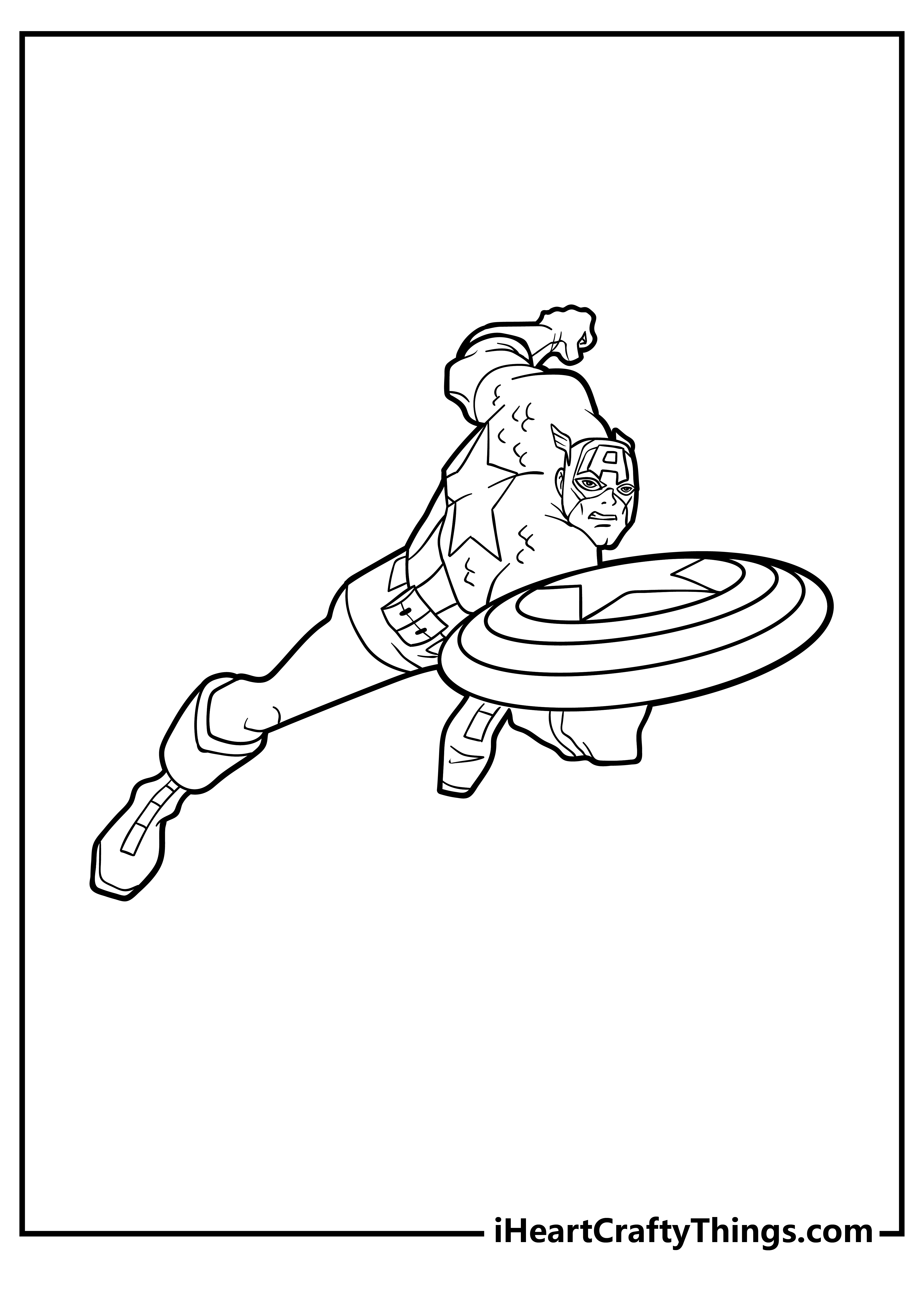 There is quite a dynamic scene for you to color in this sixth image.
In this one, Captain America is leaping over something, and it is another one where it seems like he is in the middle of an intense action moment.
What do you think he could be leaping over? We would maybe draw the hood of a car beneath him, but there are so many options you could go for!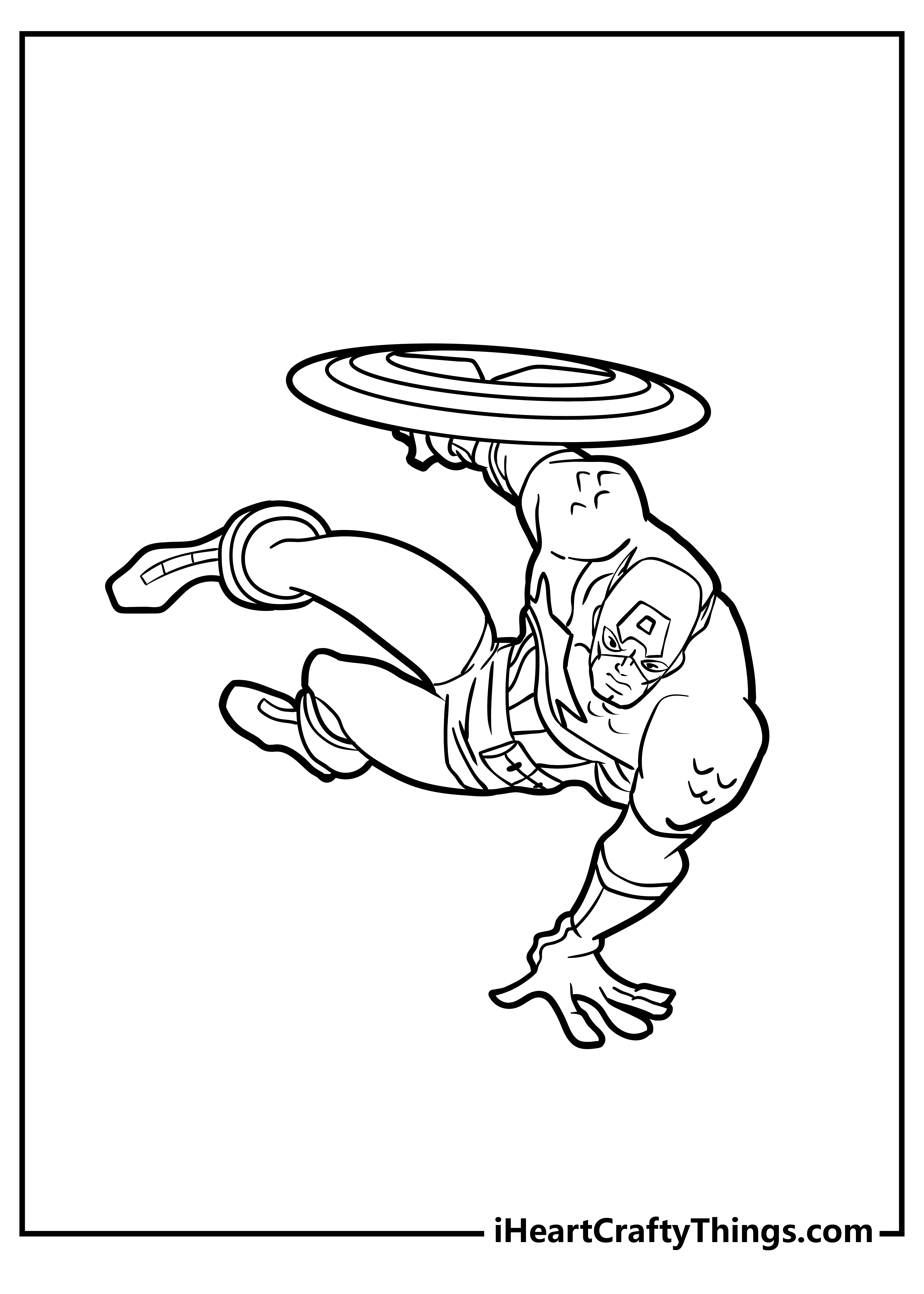 We have a really valiant pose for you to color in here! Captain America is striking a really great pose here, and he seems to be enjoying a quieter moment.
This hero has always been associated with patriotism, and we think this one would look cool with a flowing American flag behind him!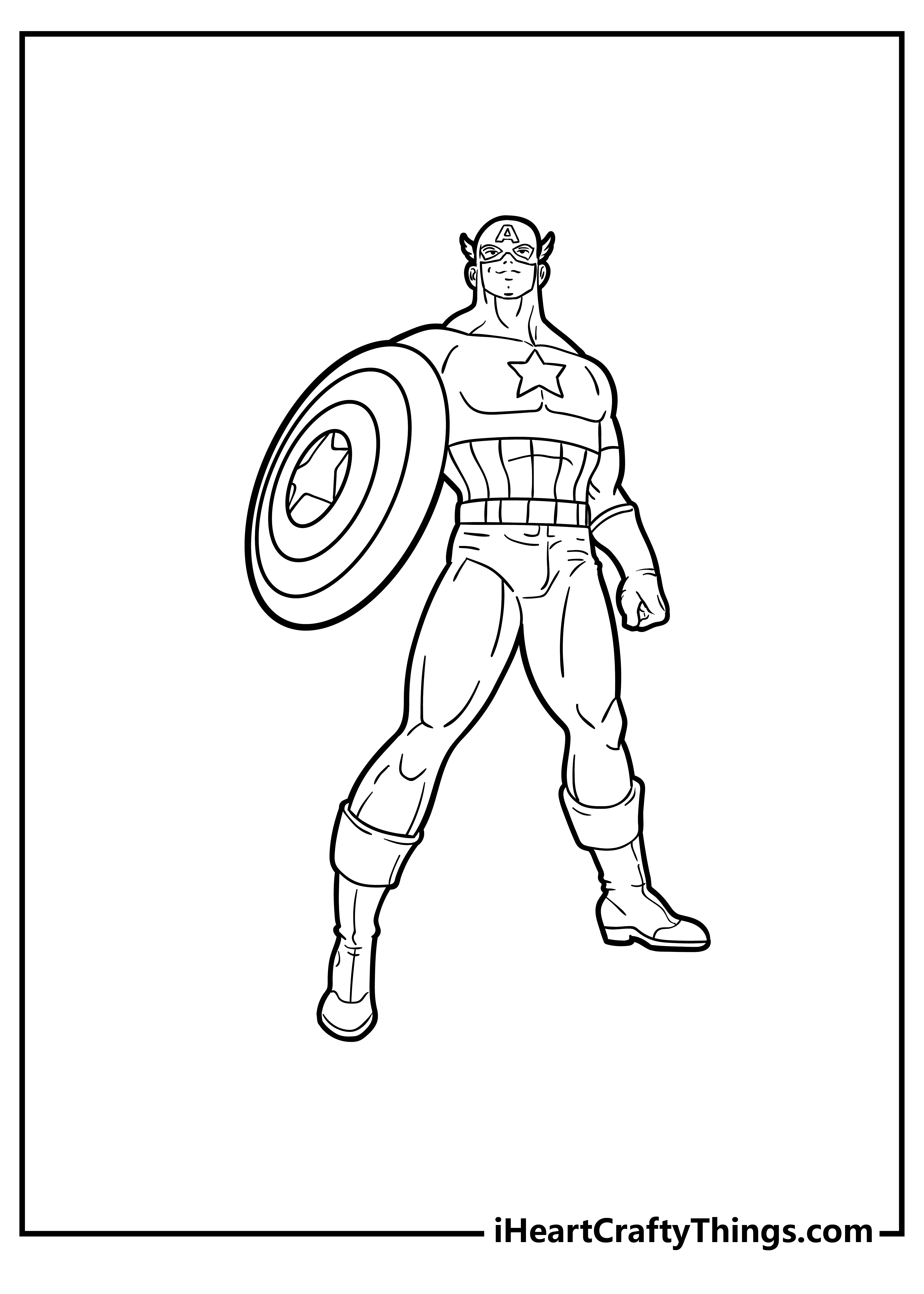 While Captain America is a very noble hero, you definitely wouldn't want to get on his bad side. That is certainly the case with this eighth image as he certainly means business here!
Which Marvel villain do you think he could be going after with such anger? You could show us by drawing a few clues around him!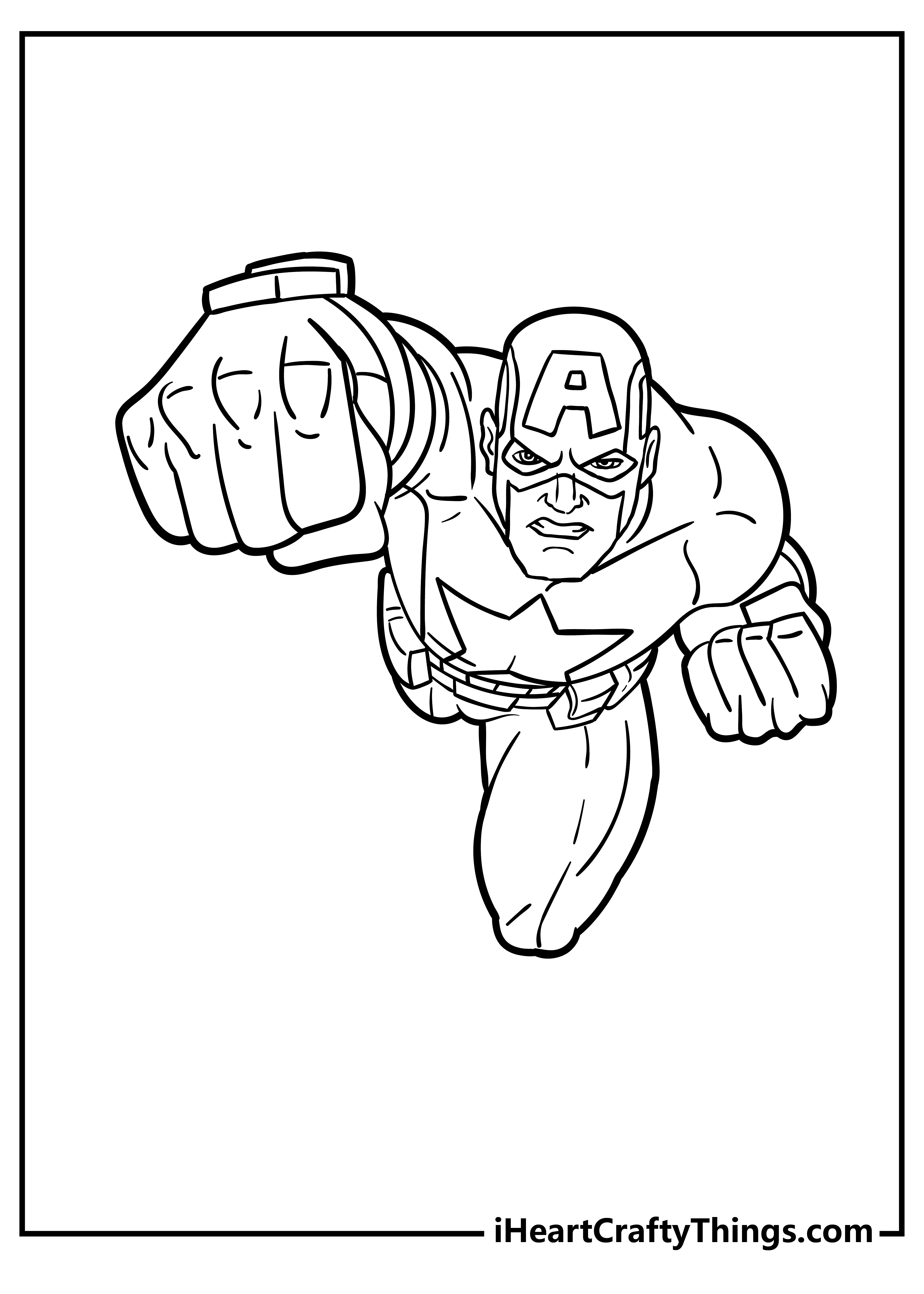 We mentioned at the start of this collection that Captain America has become even more popular recently thanks to some blockbuster movies.
This next one is inspired by how he looks in these movies, and it's an awesome portrayal! There are so many great details to color in here, so this is one you can really spend lots of time with.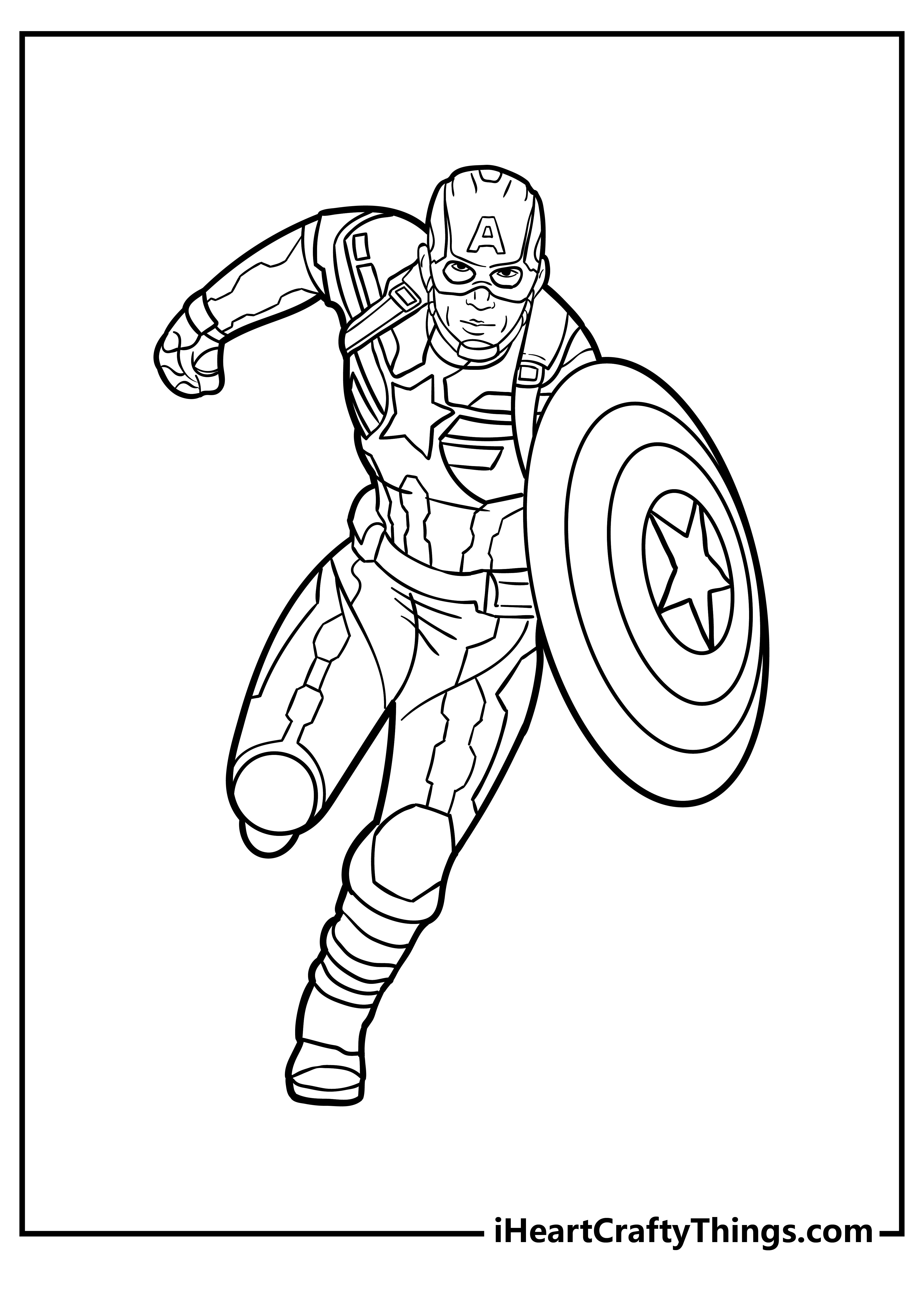 This tenth Captain America coloring printable is another one that is inspired by his look in the movies.
It's definitely in character for him, as he is giving a patriotic salute in this one. The fact it is inspired by the films also means that there are some more awesome details to color in.
Will you try to make this portrayal match his screen counterpart?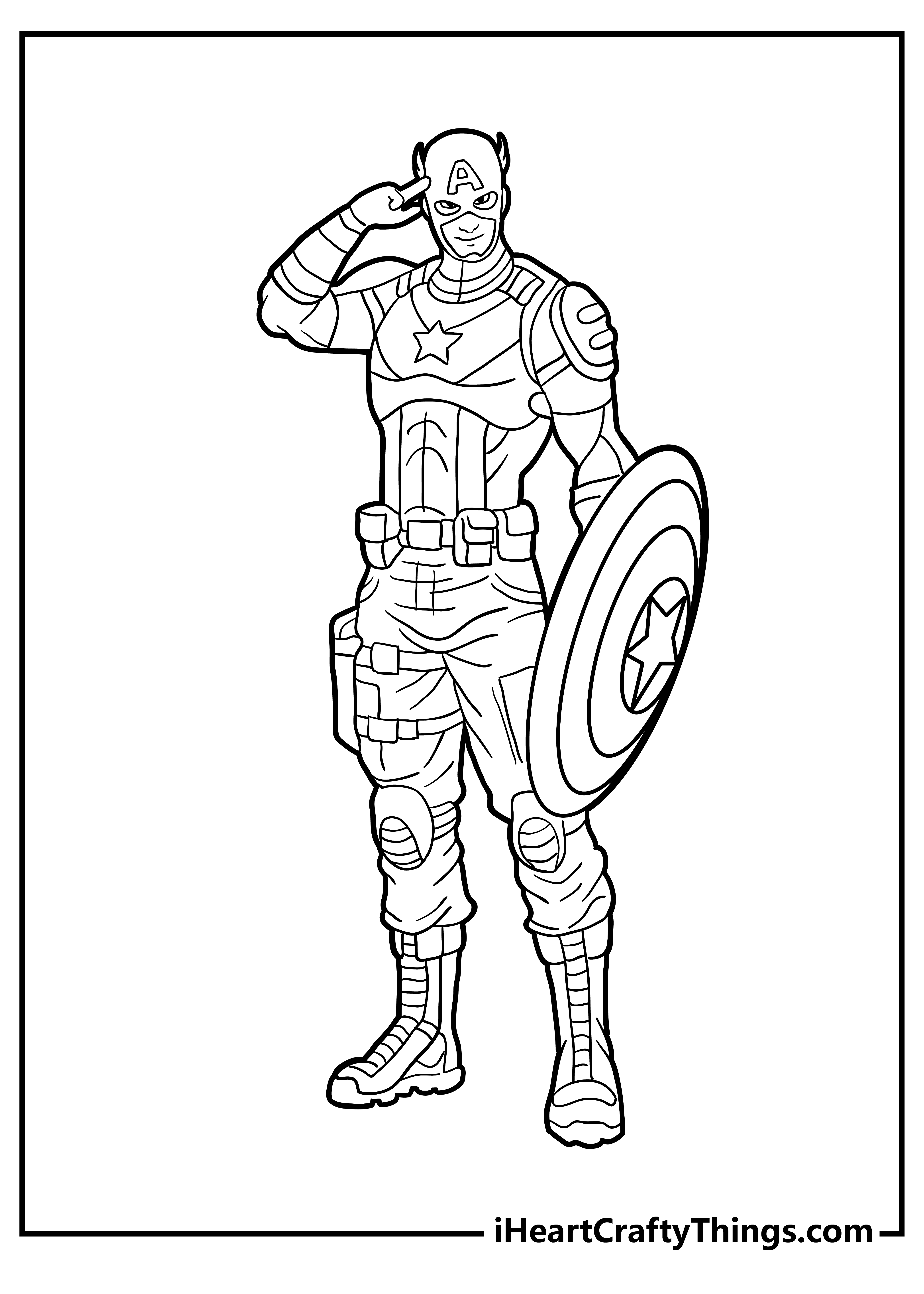 We're back to the comics with this next image. This version of Cap is definitely inspired more from the comics than the films, and it is a really cool pose.
If you have a favorite comic portrayal of Captain America, you could use that as inspiration when coloring in this particular page!
What colors come to mind for you when looking at this one?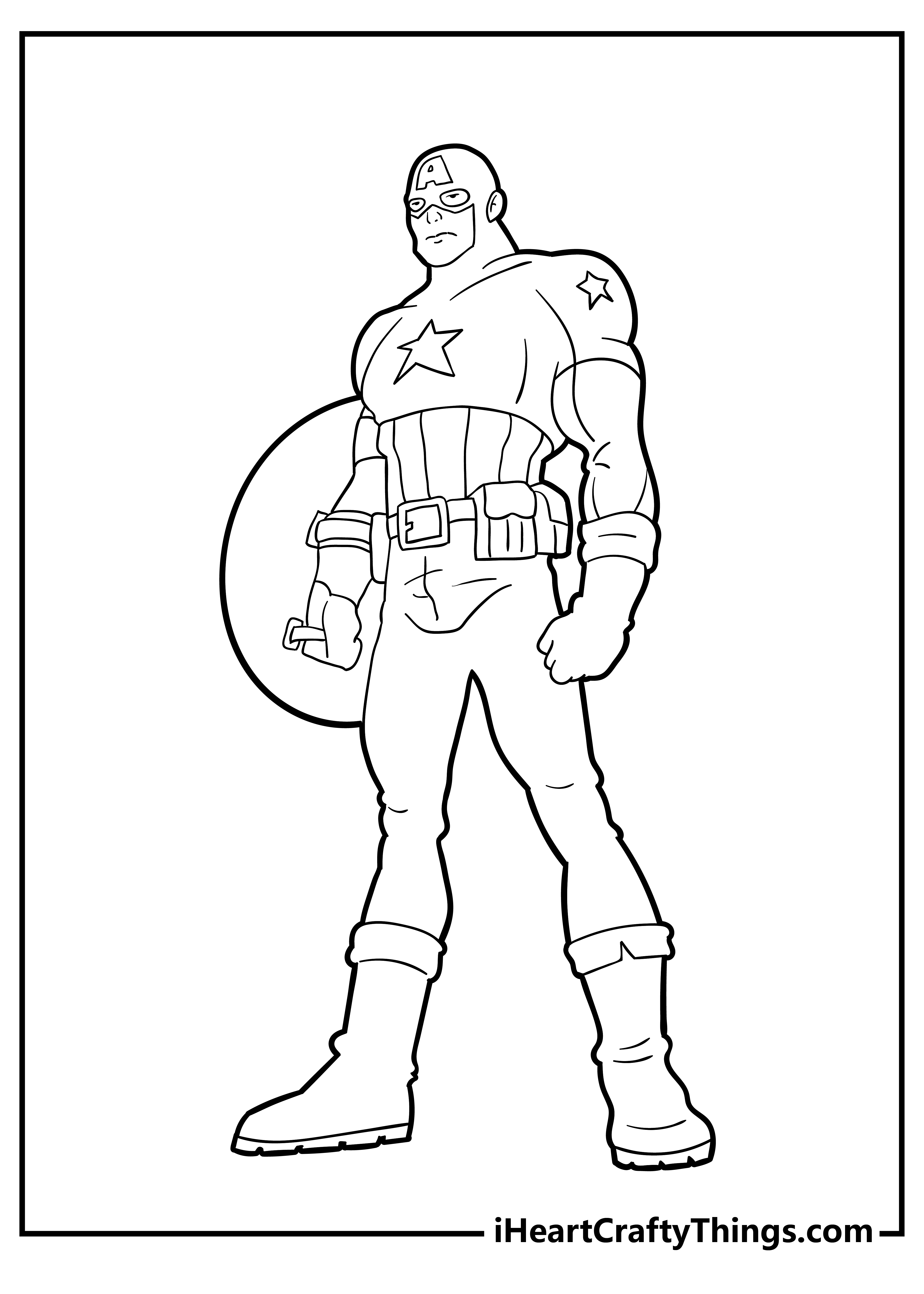 We love the details on this next picture of Captain America! This is the kind of image you can really go to town with, as there are so many ways you could color the smaller details.
If you have a hard time deciding, remember that it's free to print these pages as many times as you like, so you can really experiment!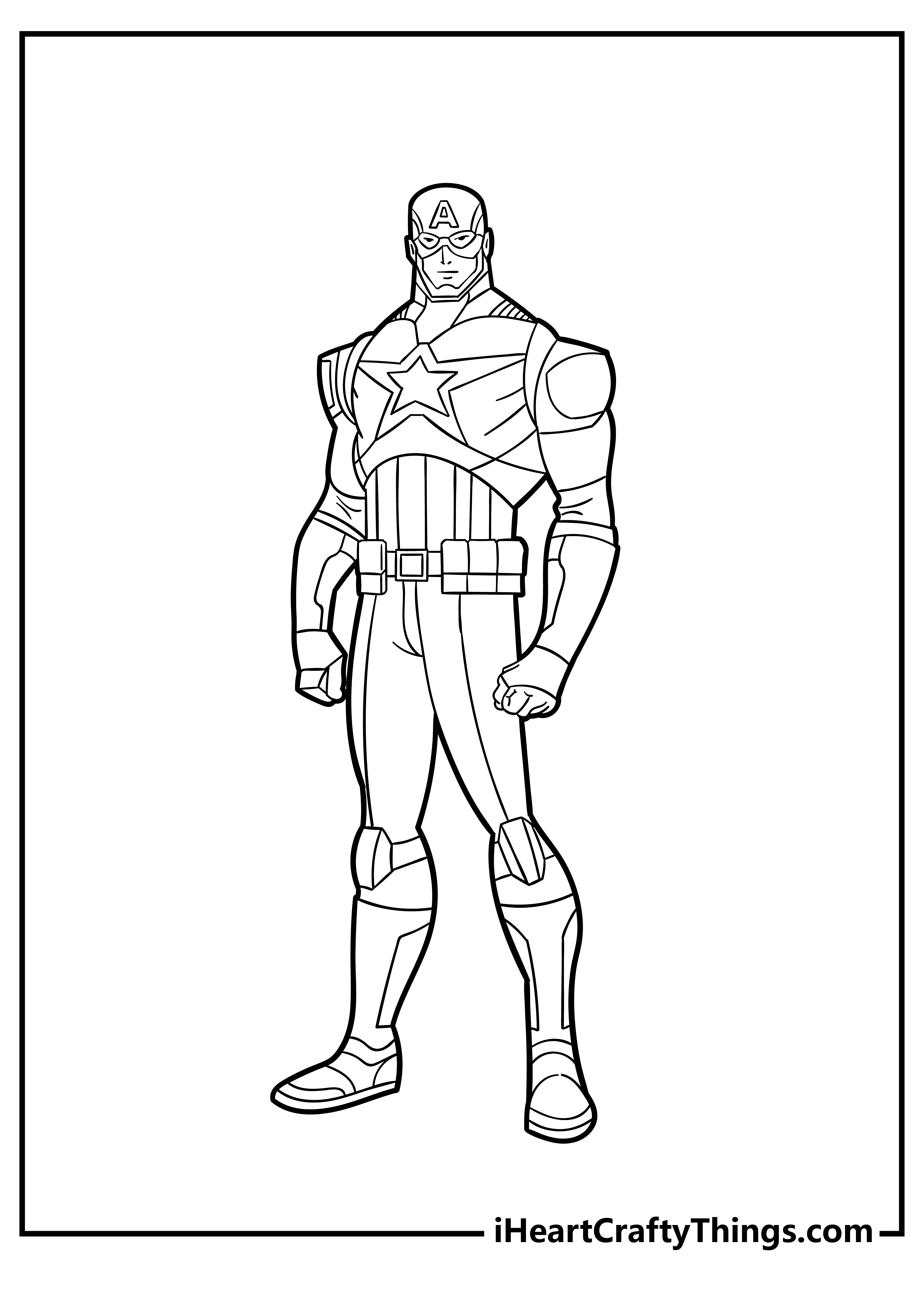 It's time to turn back the clock a few decades, as this next image is another that takes inspiration from some of Captain America's earliest adventures.
In this era of his comics, the red, white and blue of his outfit was always bright and vibrant, so we think some bright colors would suit this one brilliantly.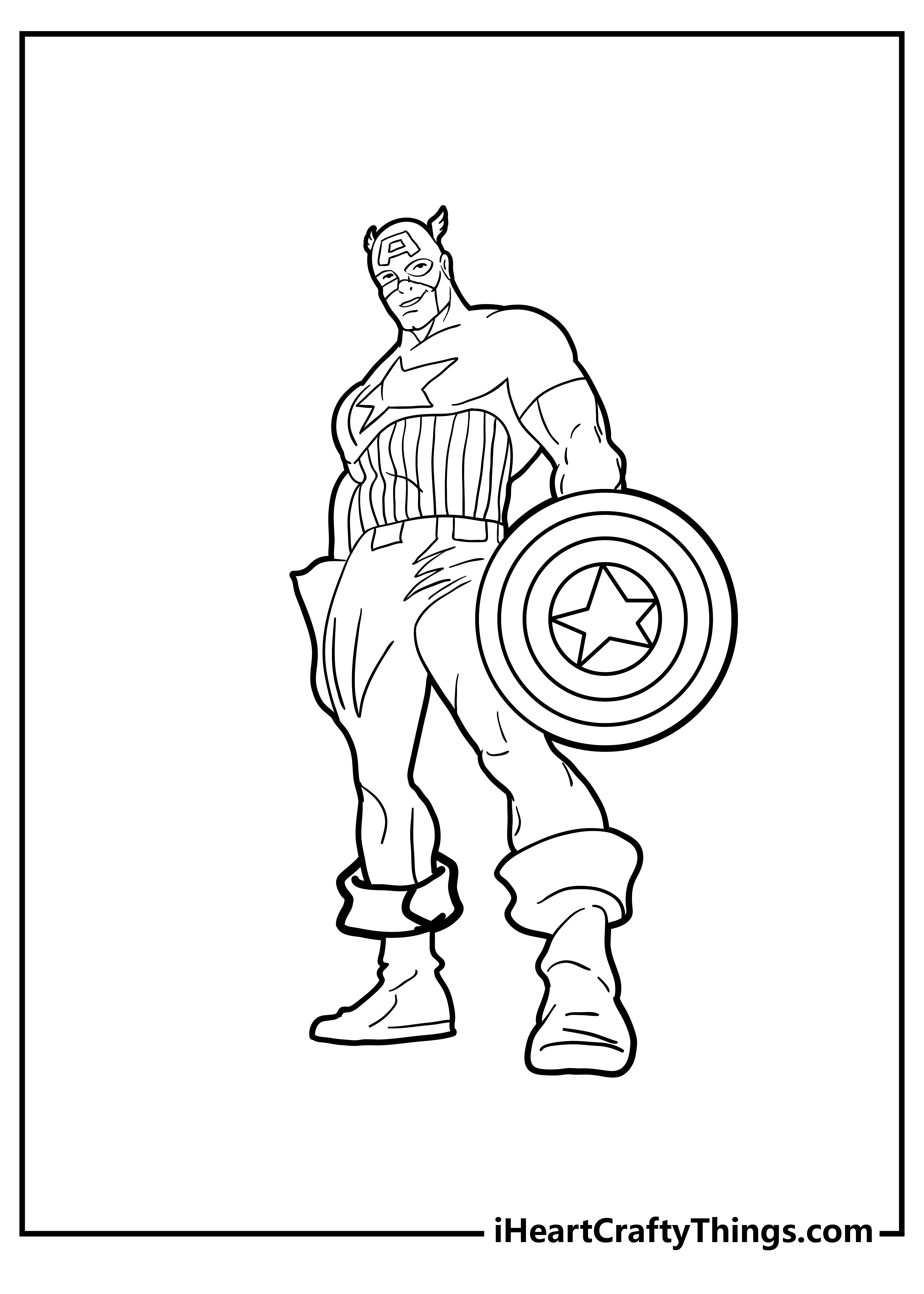 This is another portrayal of Captain America where he looks like he means business! It is another comic-inspired image, but even so there are loads of amazing details to color in with this one.
It's also another one where you could have a great time adding some cool background details to finish it off!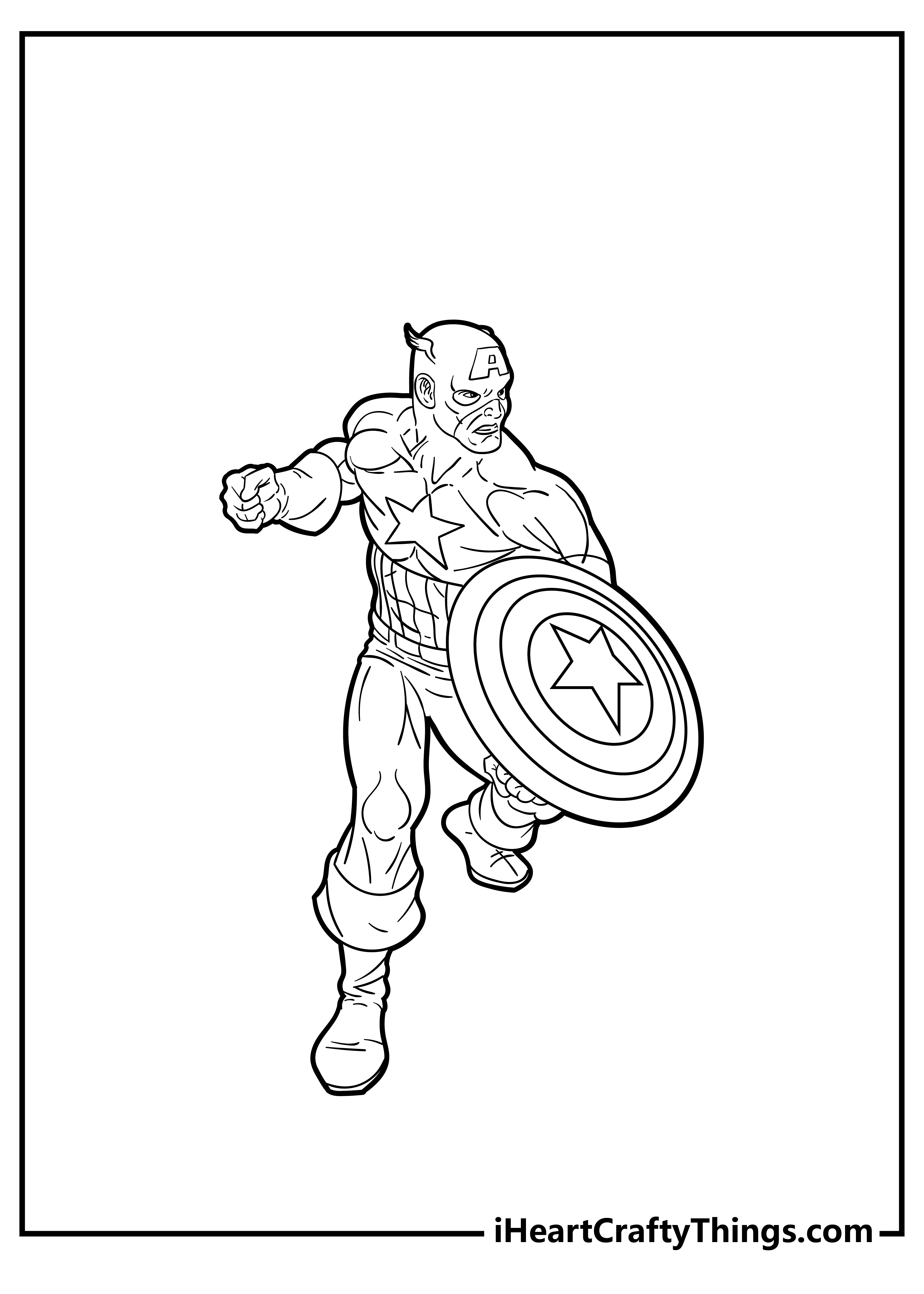 This is the final Captain America coloring sheet we have for you, and it's another one where he is in the heat of battle!
There are so many cool elements to this final image, and there are a lot of ways that you could color it in.
You could go for a classic look with the colors or maybe create a unique look for him! Which approach will you take for this last picture?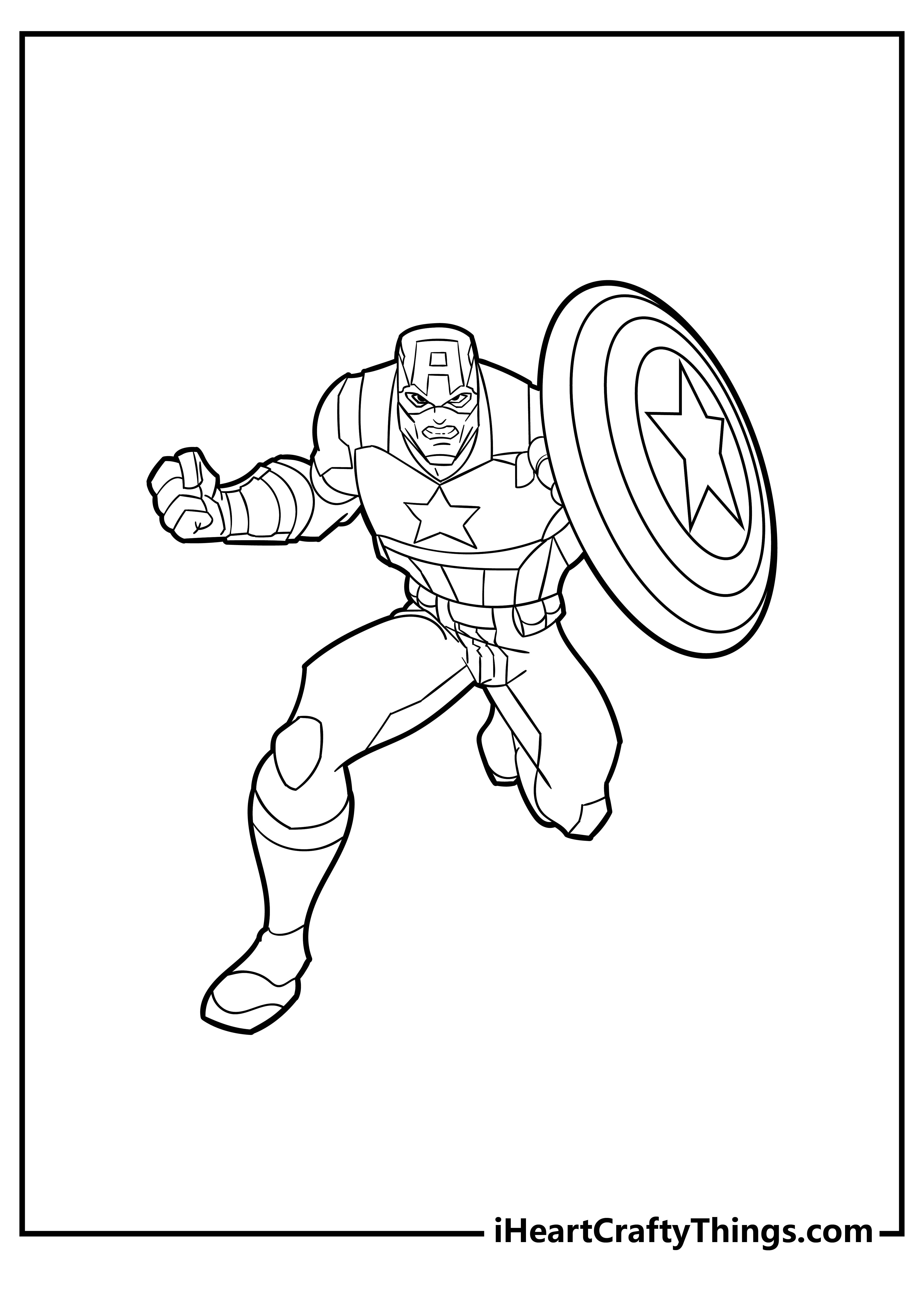 Captain America Coloring Pages – Which will you choose?
This was a thrilling set of adventures to color in as we worked through this collection of free Captain America coloring pages for kids! We hope you had an incredible time working through these pages.
If you enjoyed this collection, there are many more to try out on our website! Don't forget to also share the collection with others.
When you have colored your favorite pages, please also be sure to share them on our Facebook and Pinterest pages for us to check out!