The Incredible Hulk is one of the most recognizable and unusual superheroes ever created.
He is a transformation from mild-mannered scientist Bruce Banner, and his power and resilience is almost unparalleled in all of comics!
Here we have a thrilling collection of 30 free Hulk coloring pages for kids for you to enjoy.
You're free to enjoy these pages as many times as you like, and you can also share them with friends and family to enjoy as well!
Get ready for some amazing coloring fun, and remember to share some of your finished pages to our Facebook and Pinterest pages!
30 Brand New Hulk Coloring Pages – Free to Print and Color
The Hulk is a really visually distinct character, and he has been seen in many iterations throughout the years.
His most common look is bright green skin with purple pants, and you could use that for this first page of our collection of free Hulk coloring pages for kids!
Hulk is looking pretty angry here, which is a common look for the green giant. Will you go for a classic look or maybe try out a different look for him?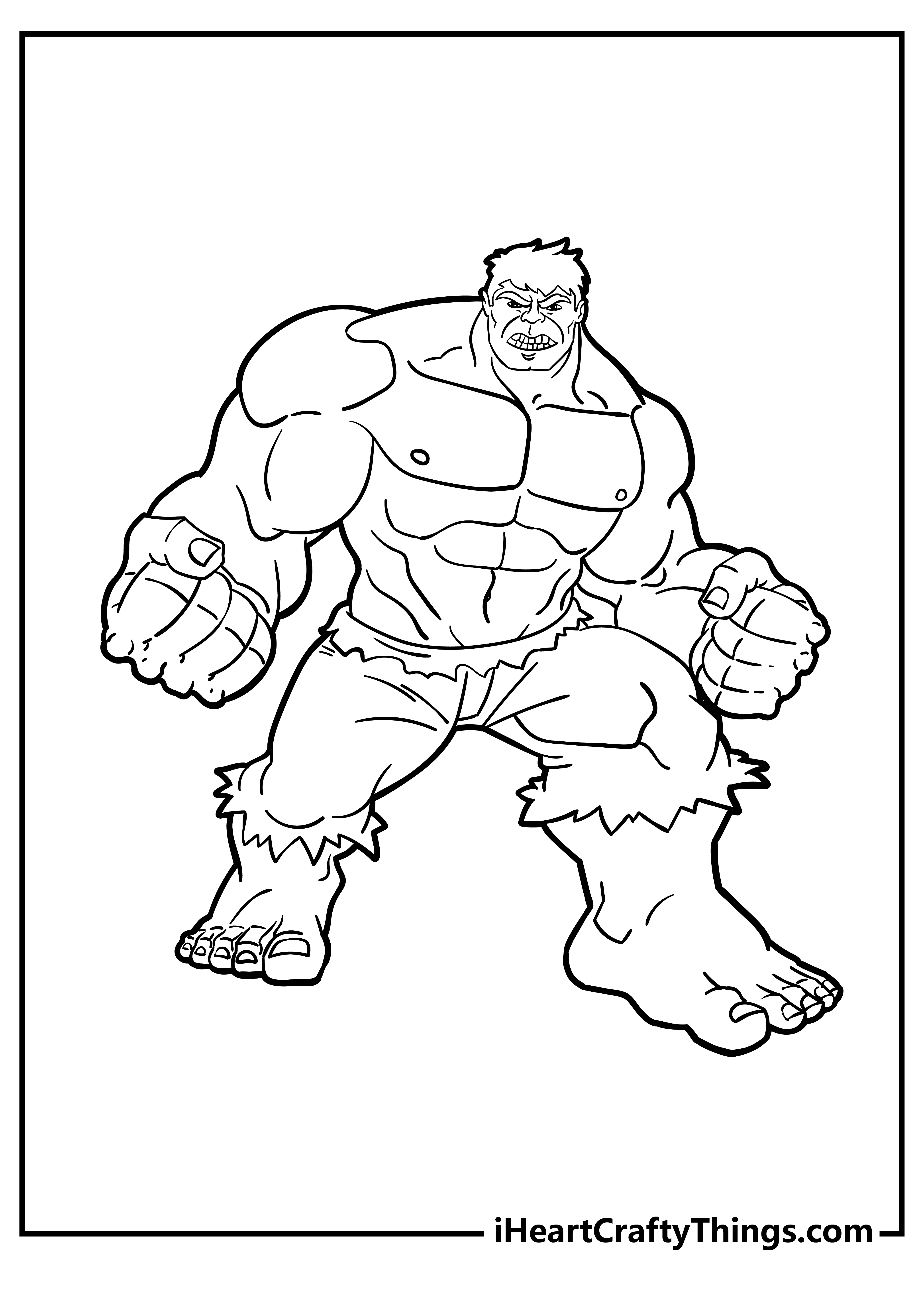 This Hulk coloring page has him looking pretty fierce, but that is a common look for him, to be fair! He looks like he is facing down a formidable villain, so you could add some details here as well.
Perhaps some clues as to who it is that he could be about to fight would finish it off nicely!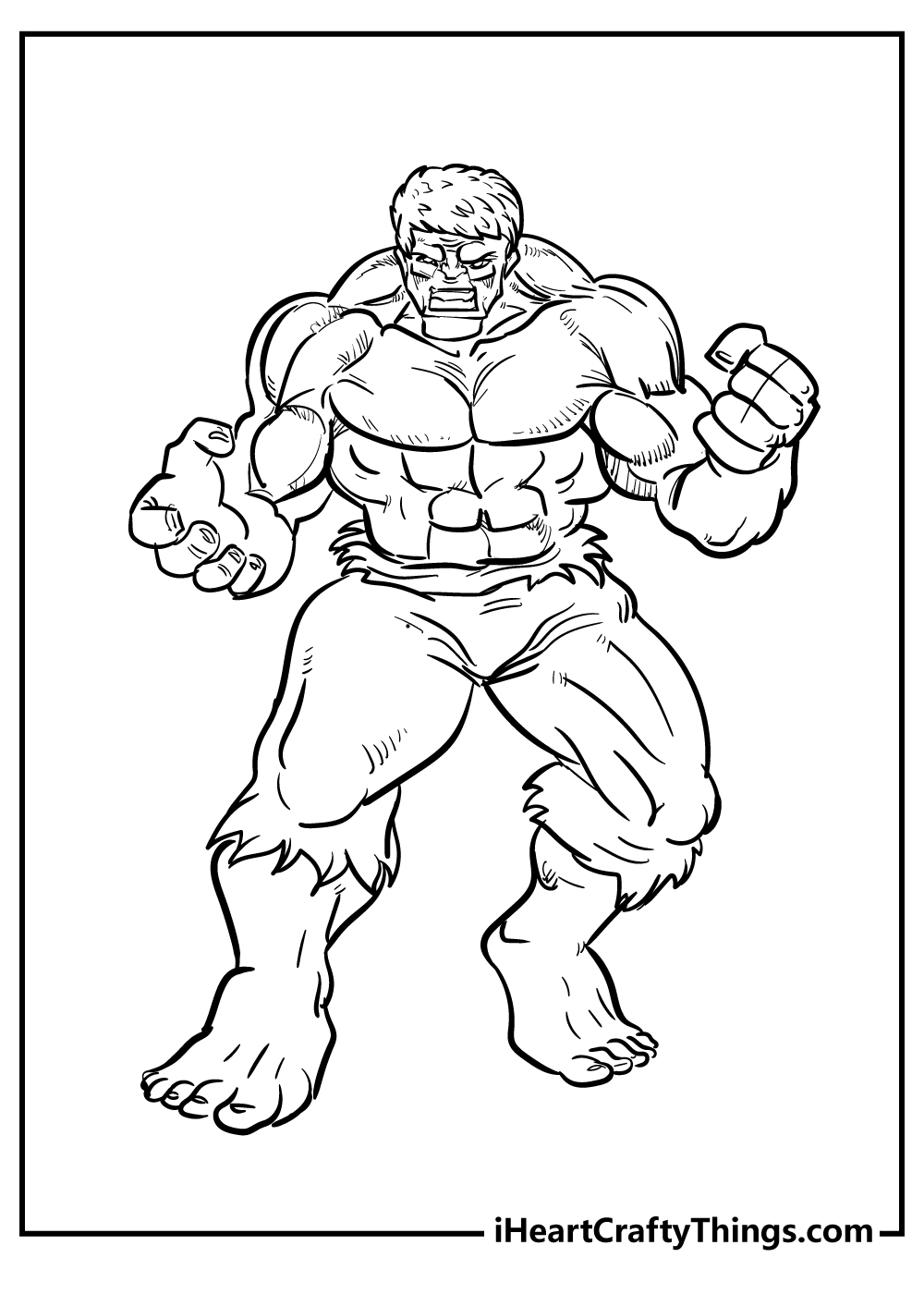 This Hulk coloring page shows our monstrous hero looking characteristically angry and fierce! There are plenty of great small details for you to color in here, and so there is a lot to keep you busy here.
You could even add a few more details if you want to make it look even cooler!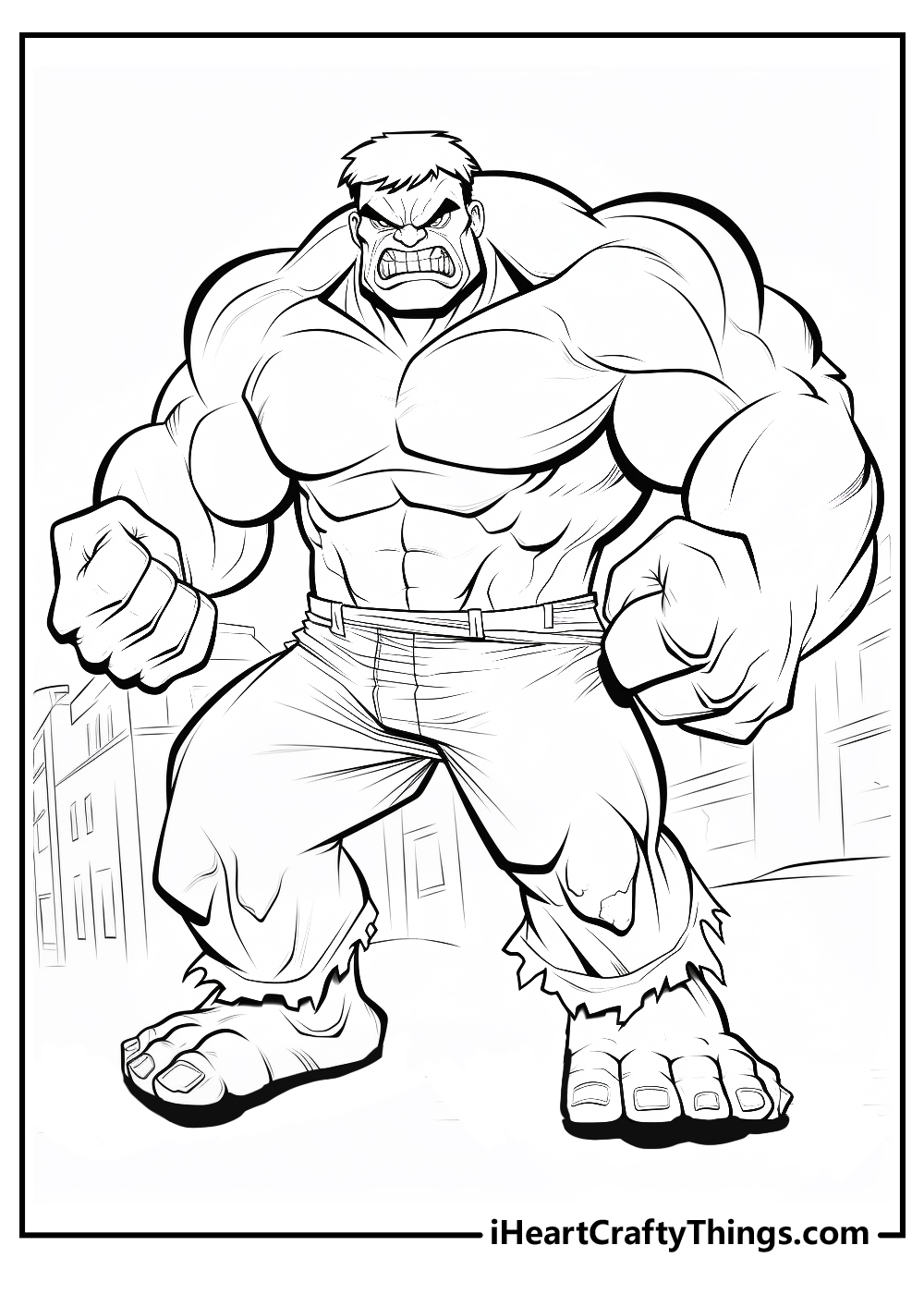 You wouldn't want to be on the receiving end of Hulk's fists, and he is punching while looking rather angry in this next image!
It looks like he may be fighting one of his enemies, and the angle his head is looking at makes it seem like the enemy may be bigger than he is.
Who do you think Hulk could be facing in this picture? You could draw some clues into the background to show what you think!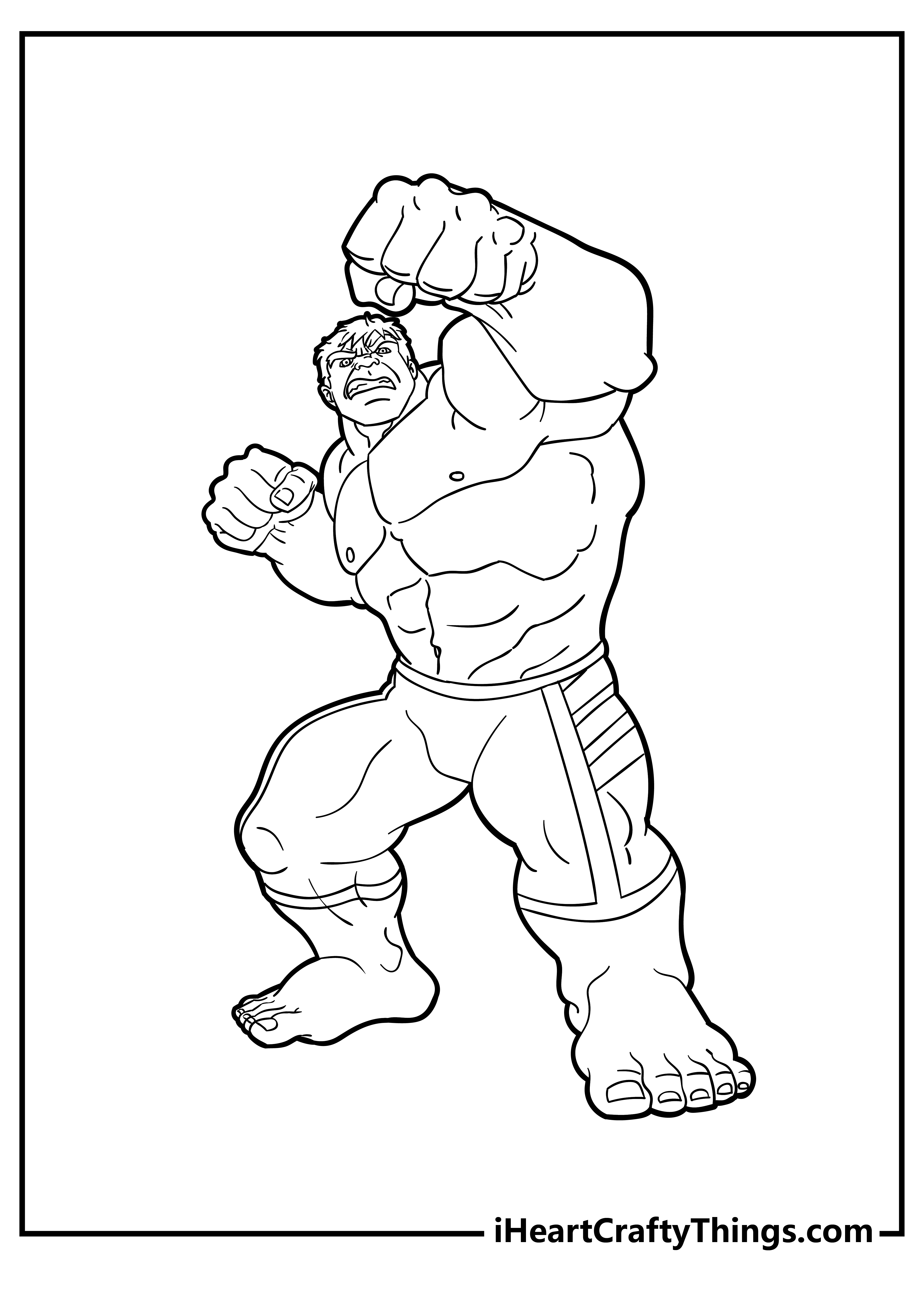 This page makes it look like Hulk is roaring with rage. You could use some text spelling out a roar above him in a speech bubble to illustrate this.
Plus, it would give you some more aspects to add color to, which would make the page even more interesting. What text would you like to add?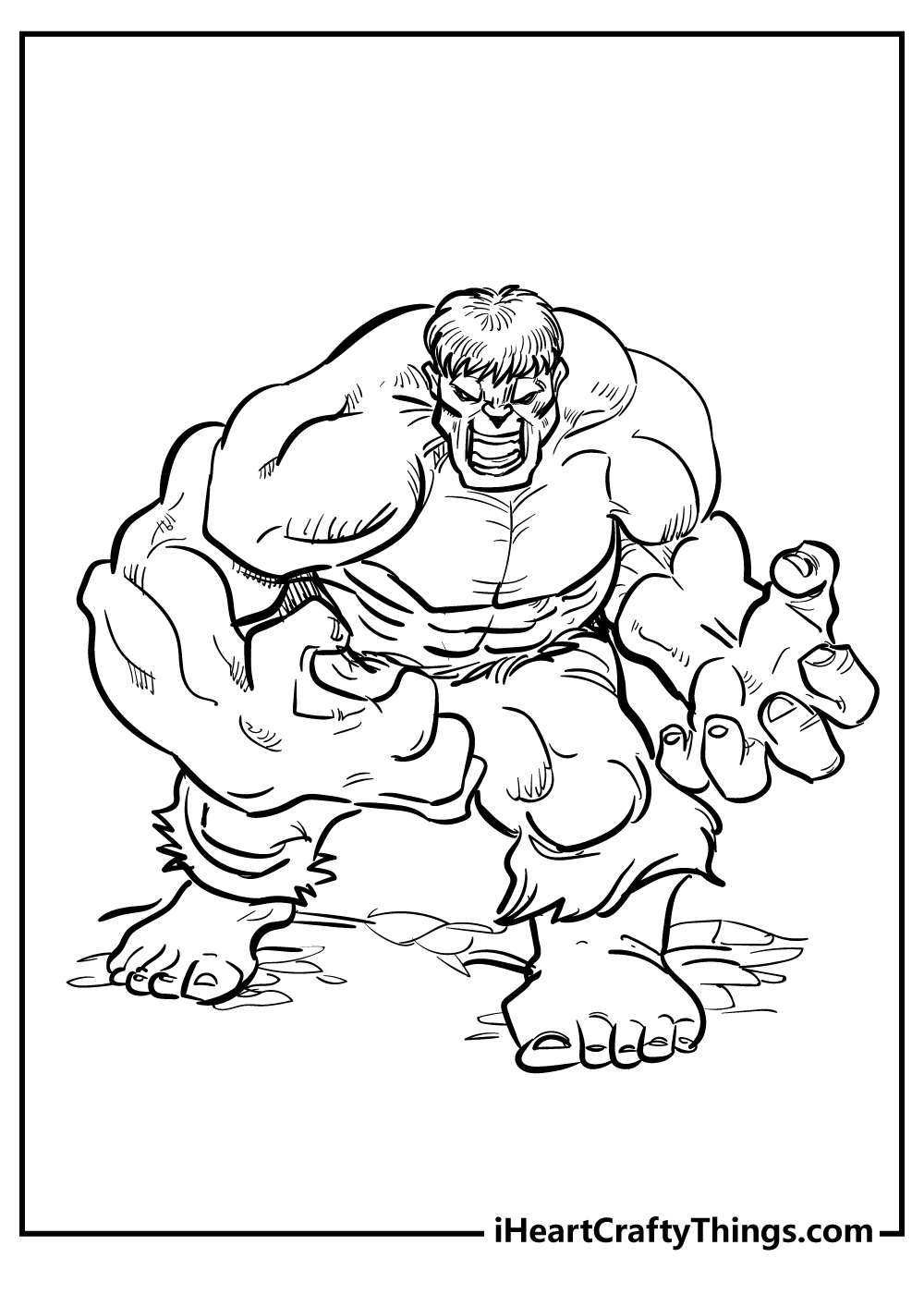 This third portrayal of Hulk is done in a slightly different style. He is drawn in a more cartoonish fashion here, and he seems to be in a calmer situation than the previous image.
We would use bright mediums such as colored pens or markers to suit the style of this image, but there are many mediums you could go for.
How will you finish off this picture?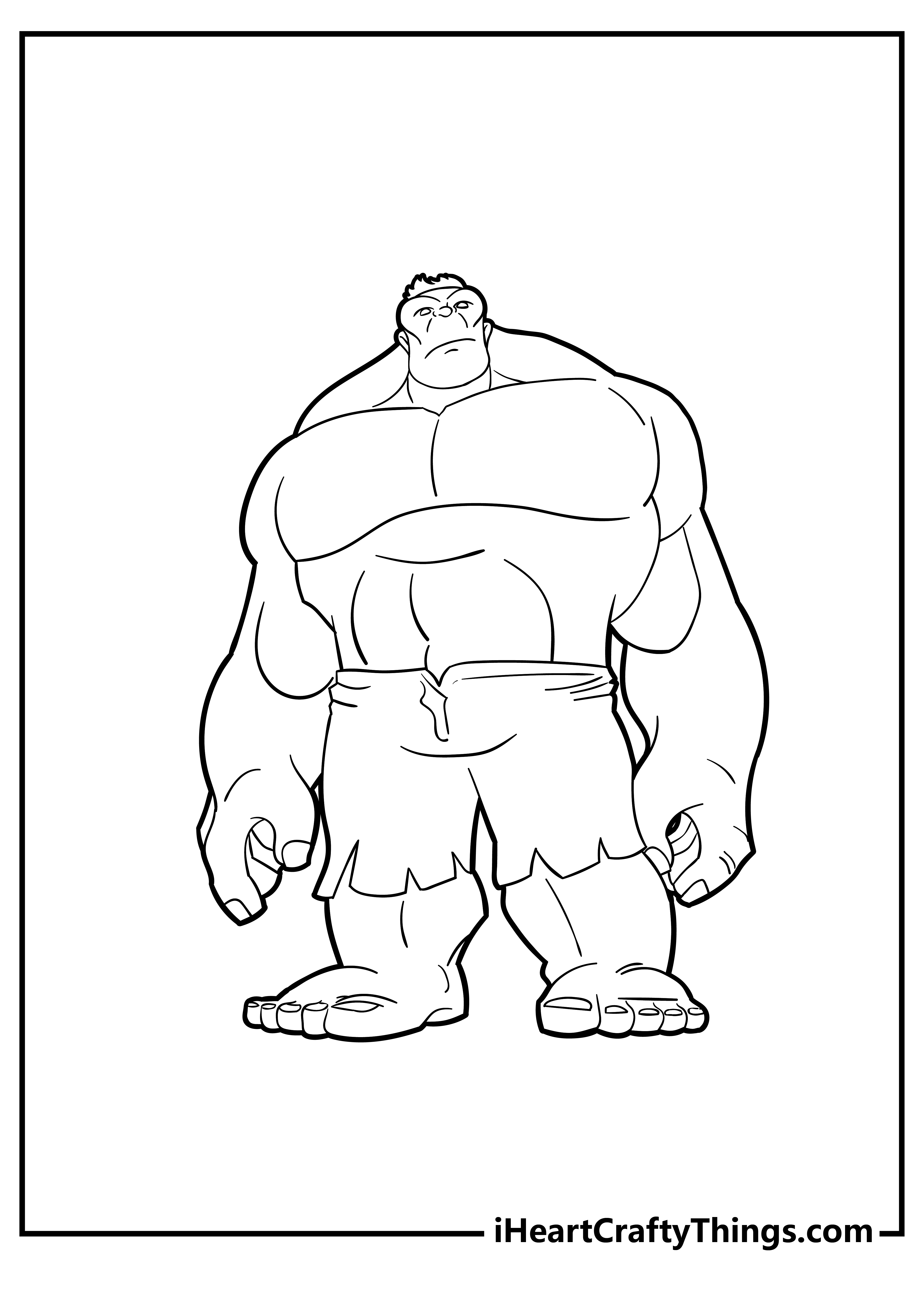 We can see a bit of the place Hulk is in if you look carefully at this next page. This gives you even more details to color once you are finished coloring Hulk himself.
You could keep the colors more subdued, but you could also make them bright for the background as well, if you prefer that look!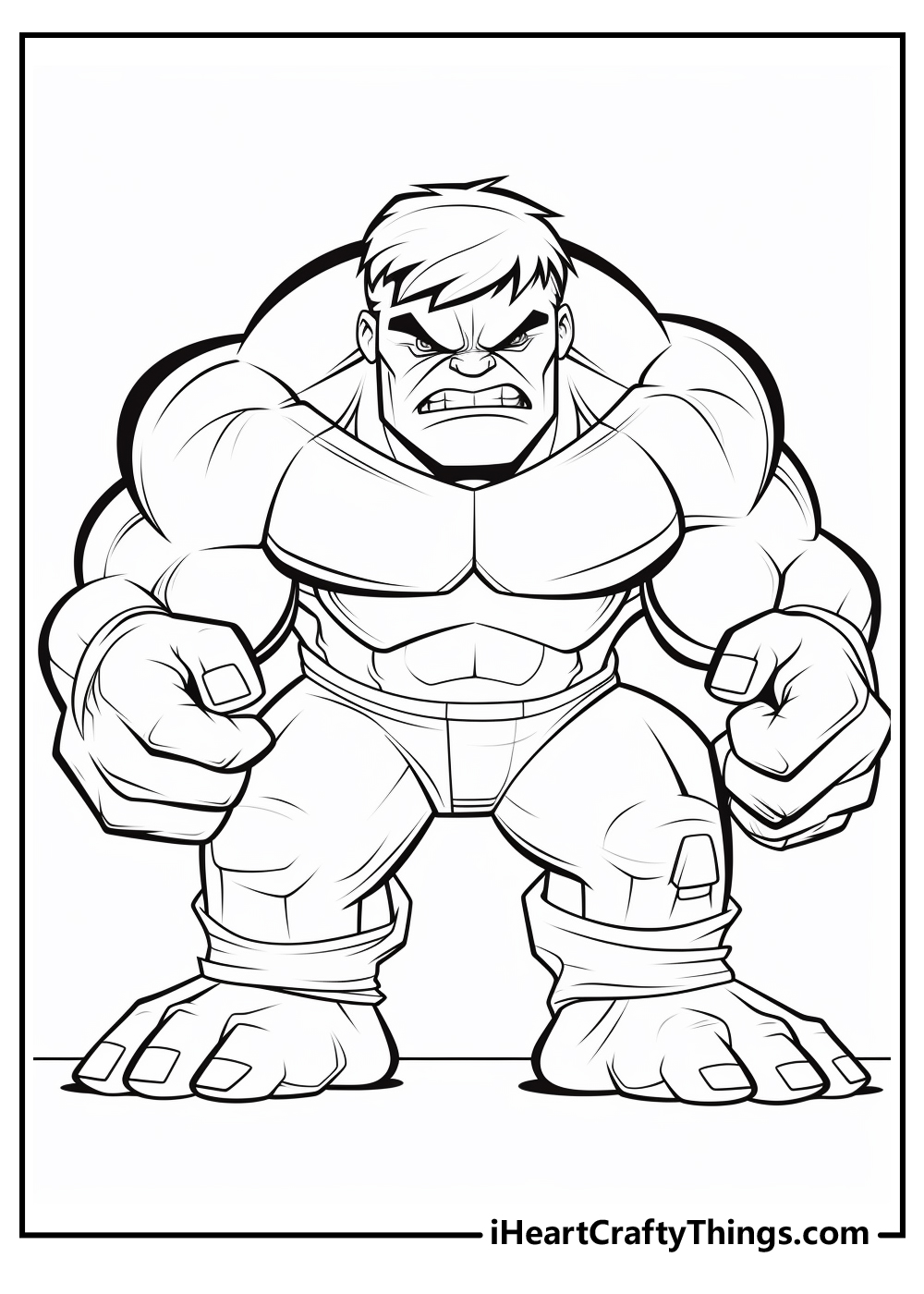 Hulk is certainly looking rather angry in this picture, and this is another instance where you wouldn't want to be up against him in a fight!
We would again use some bright, vibrant colors for this image, but it will be interesting to see what kind of approach you go for when coloring this angry version of Hulk.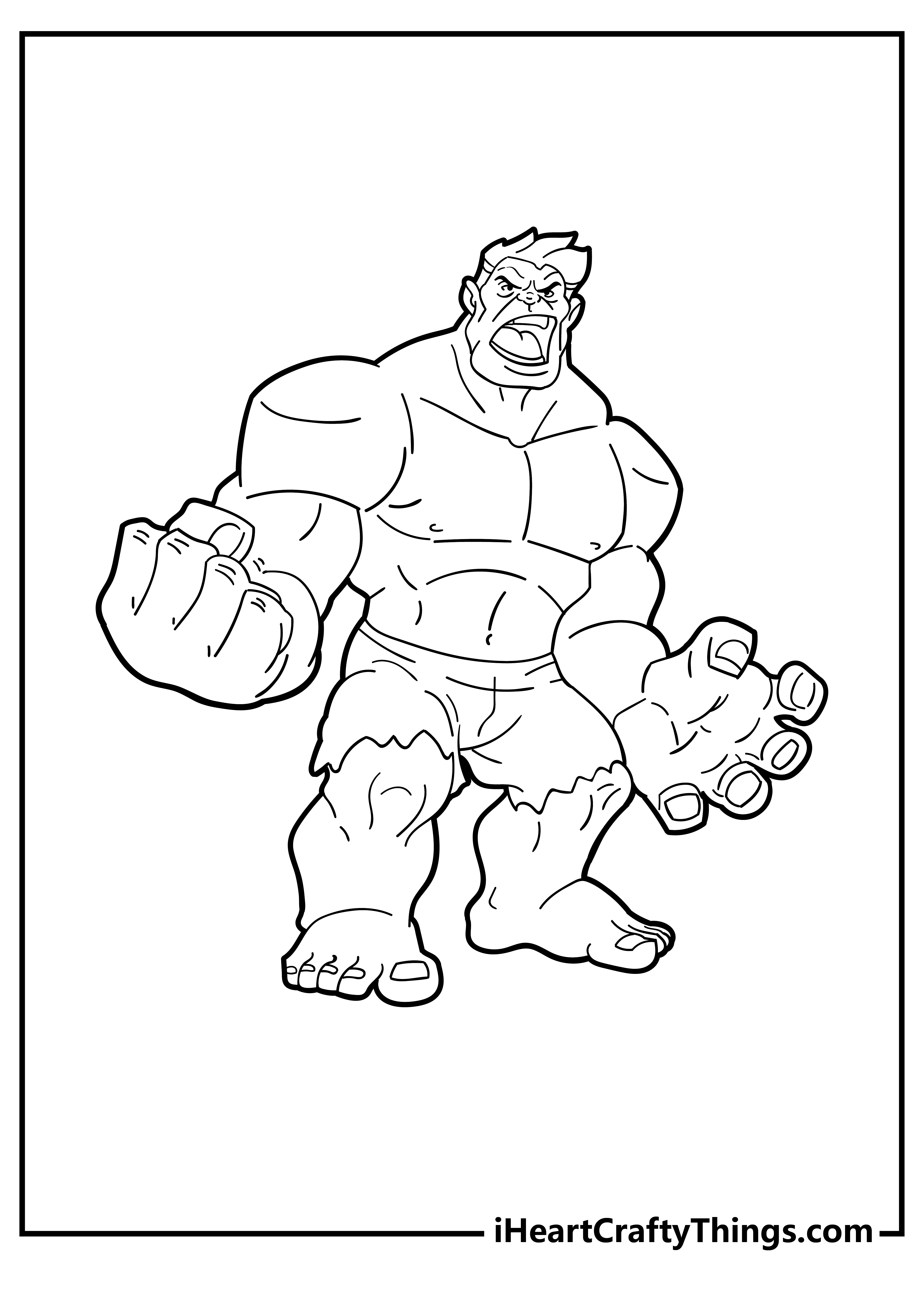 The next page we have for you makes it look like Hulk is about to land after a leap into the air.
You could draw some cracks beneath his feet to show the impact of such a landing to make it more dramatic.
Or you could keep the focus on Hulk himself and use solid colors for the background instead, it's up to you!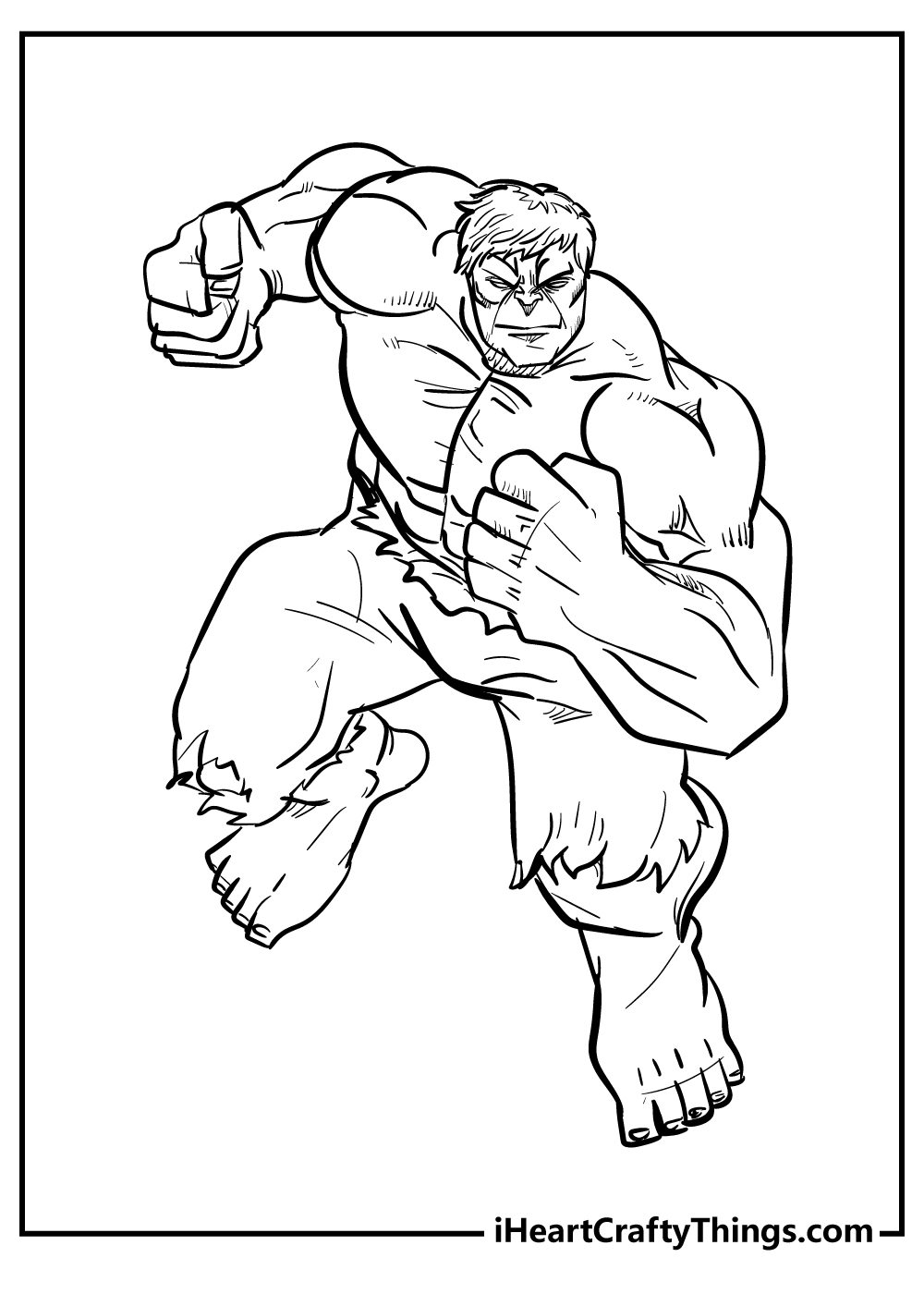 This next Hulk coloring sheet shows him mid-transformation, and it makes for a striking image!
There are some great details such as the rips over his knees that will make for some great small color details that you can add.
This one will look really great when it's done!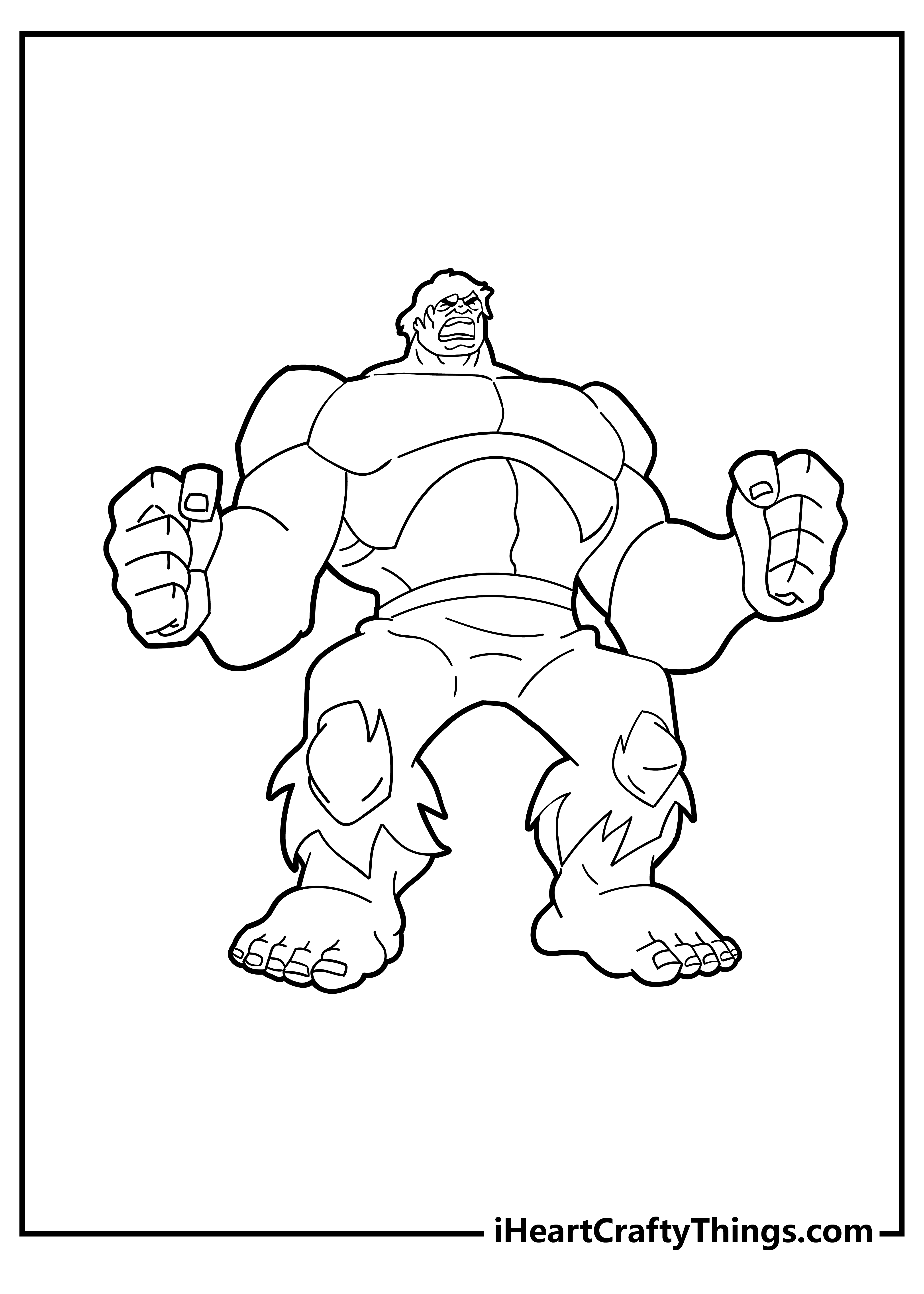 Hulk is almost always seen with his signature green skin, but he has had a few different looks in his comic history.
When bringing color to this Hulk printable, you could use his classic green or some other colors to make it unique.
Will you keep it classic or go for something more unusual to give it a different look?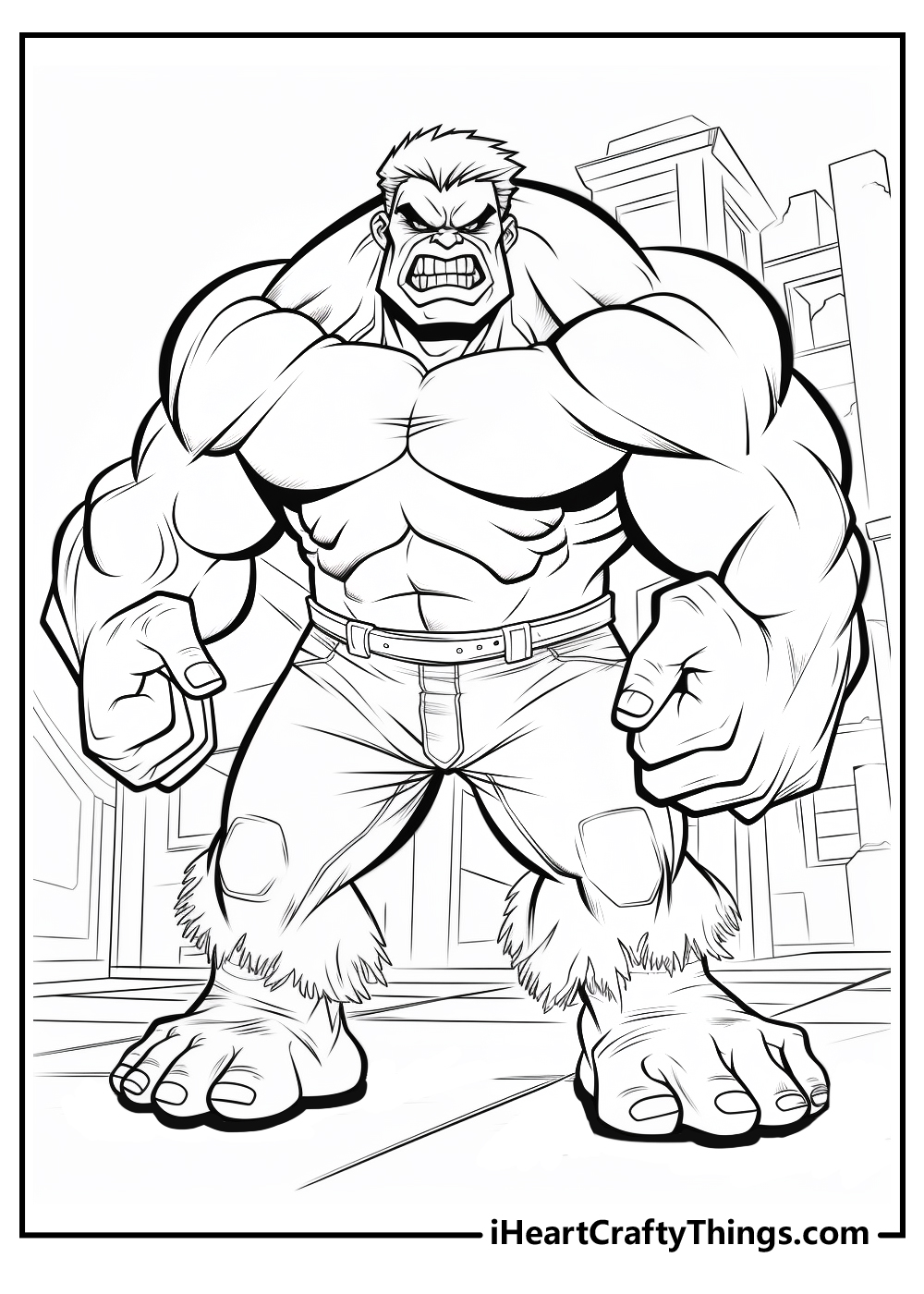 The pose shown off in this next image shows Hulk ready for action!
He seems to be wearing pants that are specifically designed for his Hulk form, so they are not ripped and tattered as they were in previous pages.
What colors do you think you will use for the details of his pants?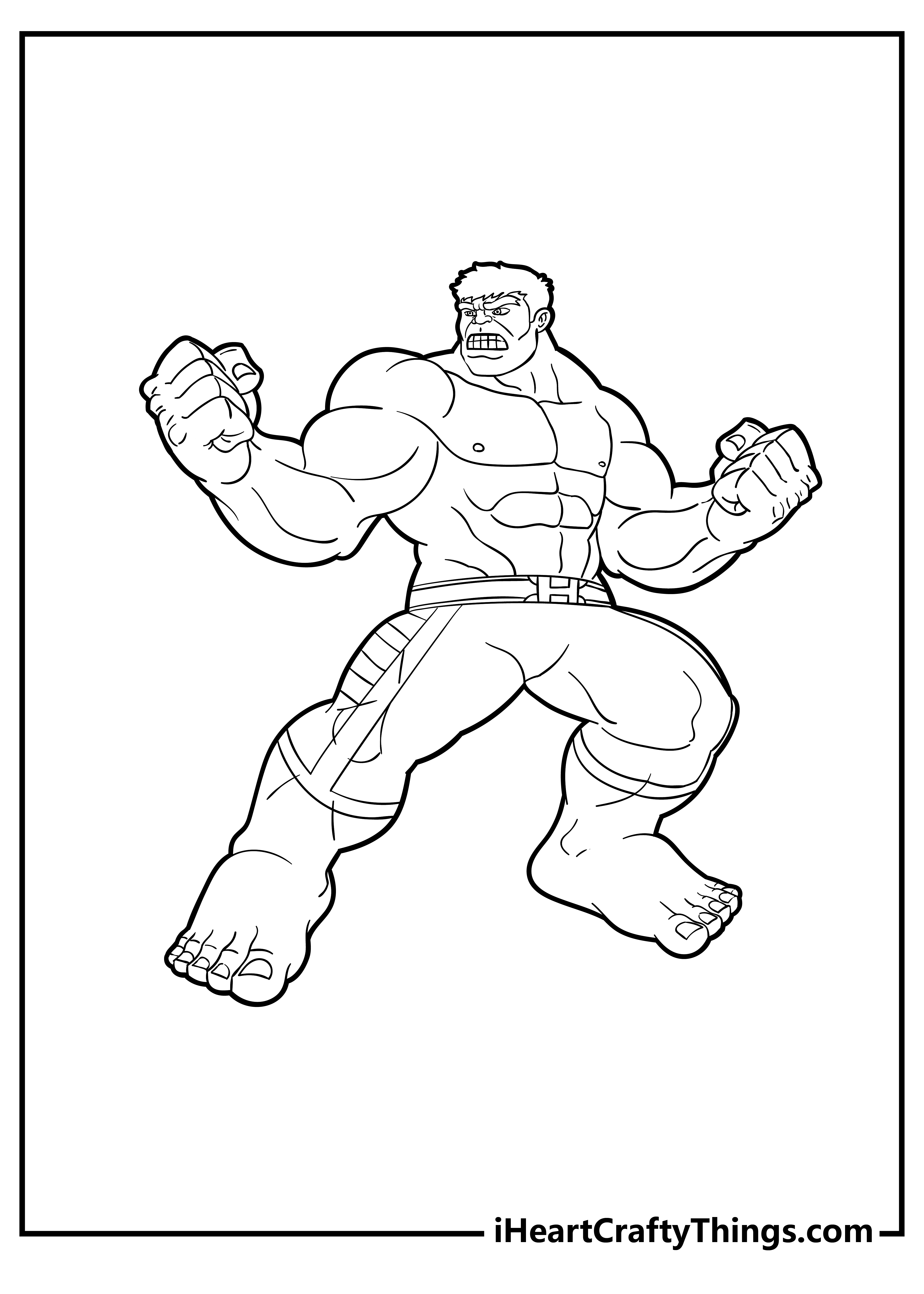 You would not want to see the sight of an angry Hulk rampaging toward you in real life, but for this page it looks very cool! The picture makes you wonder where he is running with such ferocity.
Drawing some background details would help to create a bit of a story for this image, so feel free to get creative!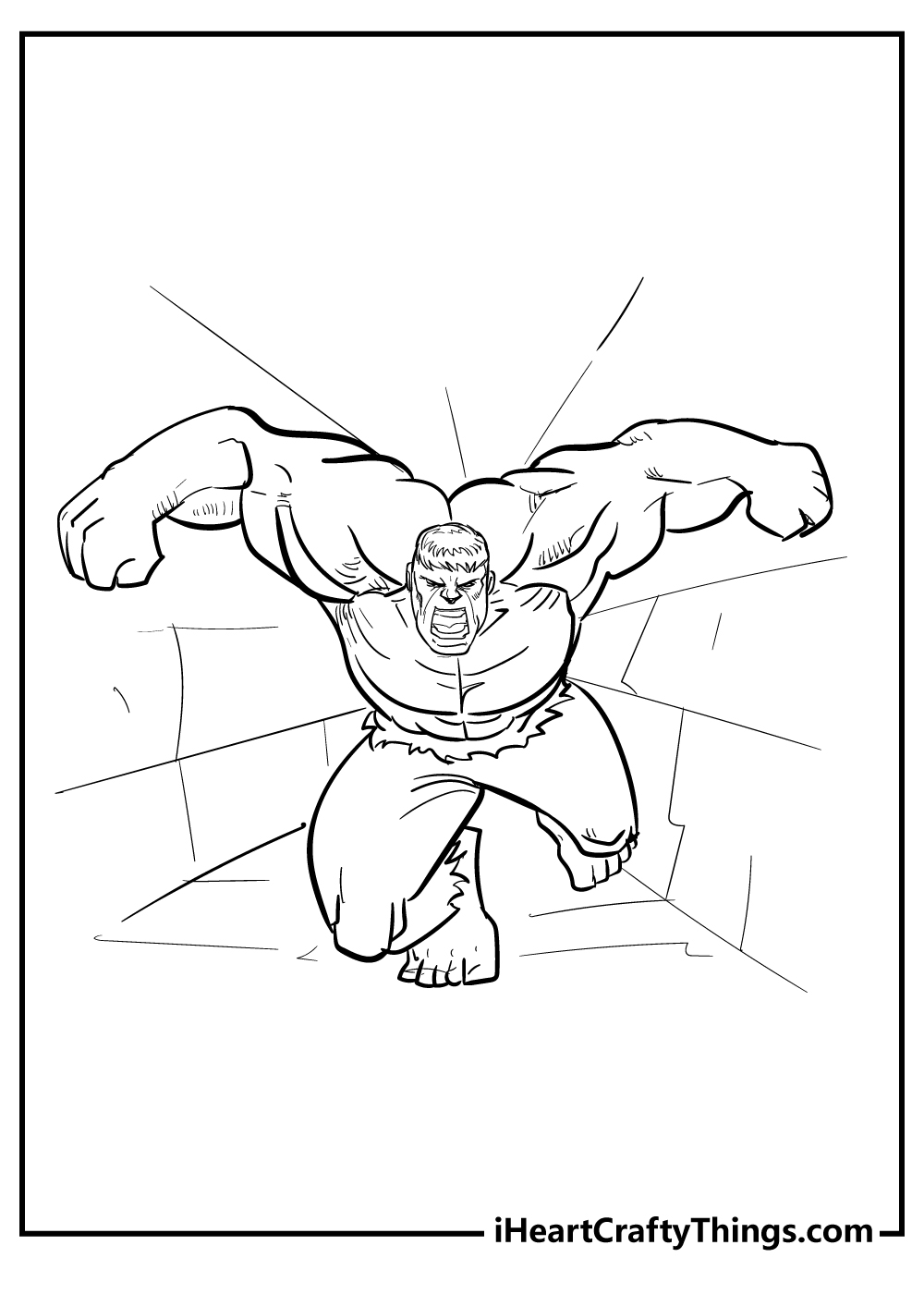 We would definitely not want to beneath the Hulk in this picture! He has leaped up into the air and is readying himself to slam down, and whatever is below him is in for a nasty shock.
You could draw what you think may be below him if you want to suggest who you think he could be battling in this dramatic scene.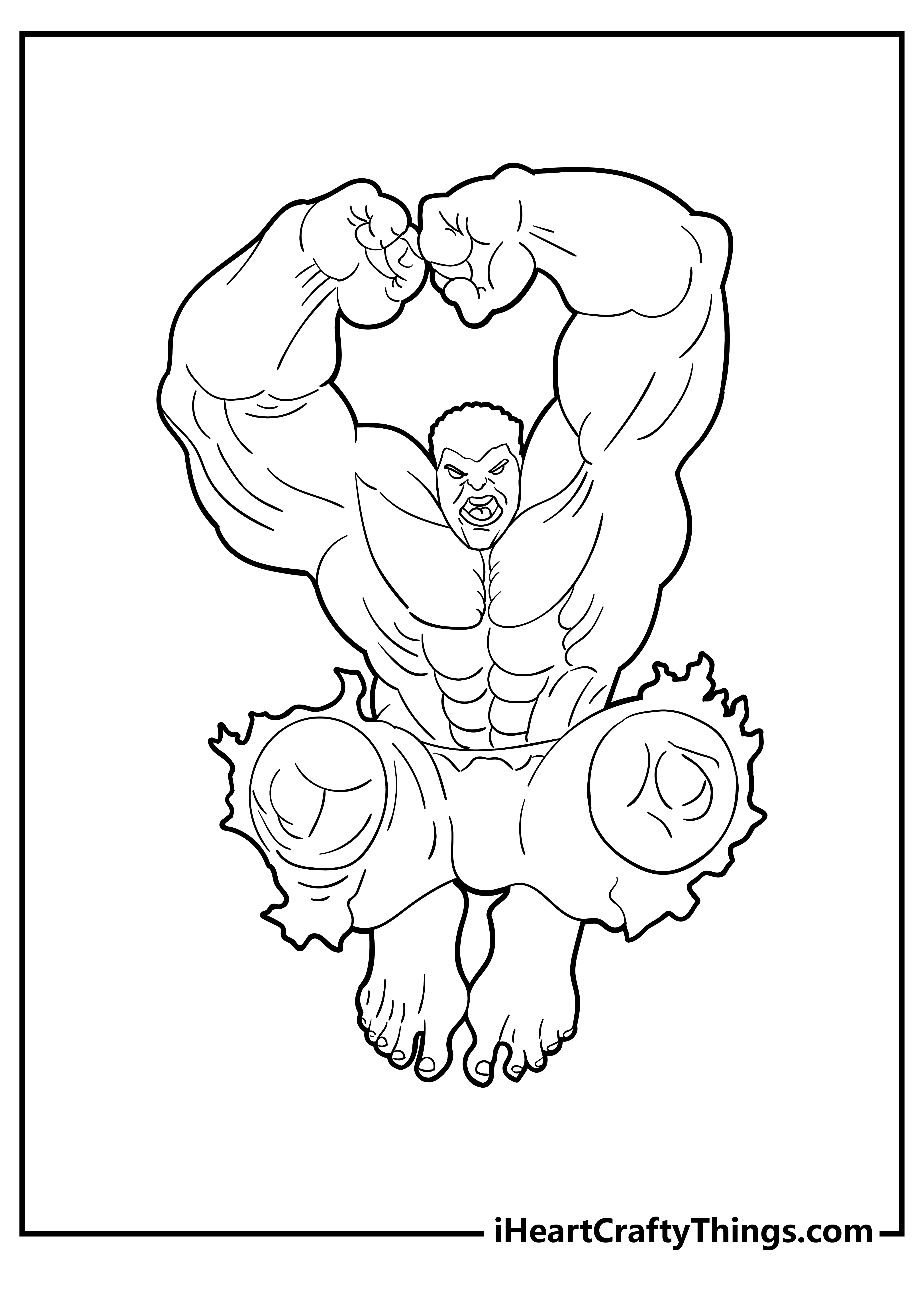 This next picture of Hulk is done in an interesting, cartoony style. For that reason, we are thinking some bright colors done with mediums such as colored pens or bright paints would be a good look.
Of course, it's up to you to decide, and many different looks would work here. Which will you go for when coloring this picture?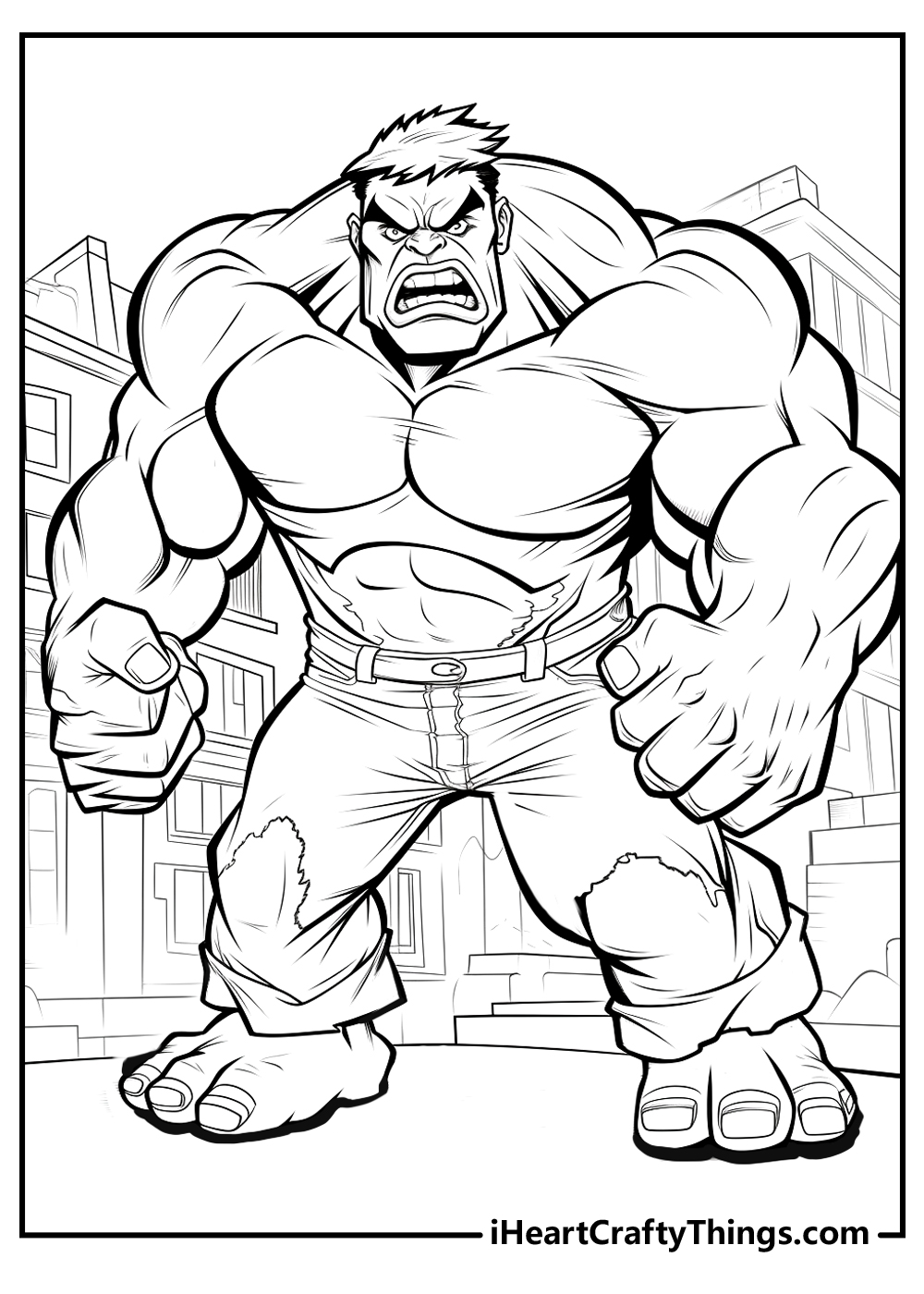 The eighth image that we have for you to color features a more detailed version of this iconic hero for you to color.
For this one, we would use art mediums that allow for smaller details and more precision, with some examples being some colored pens or pencils.
These would help you color in the smaller details with ease to make for a more realistic portrayal!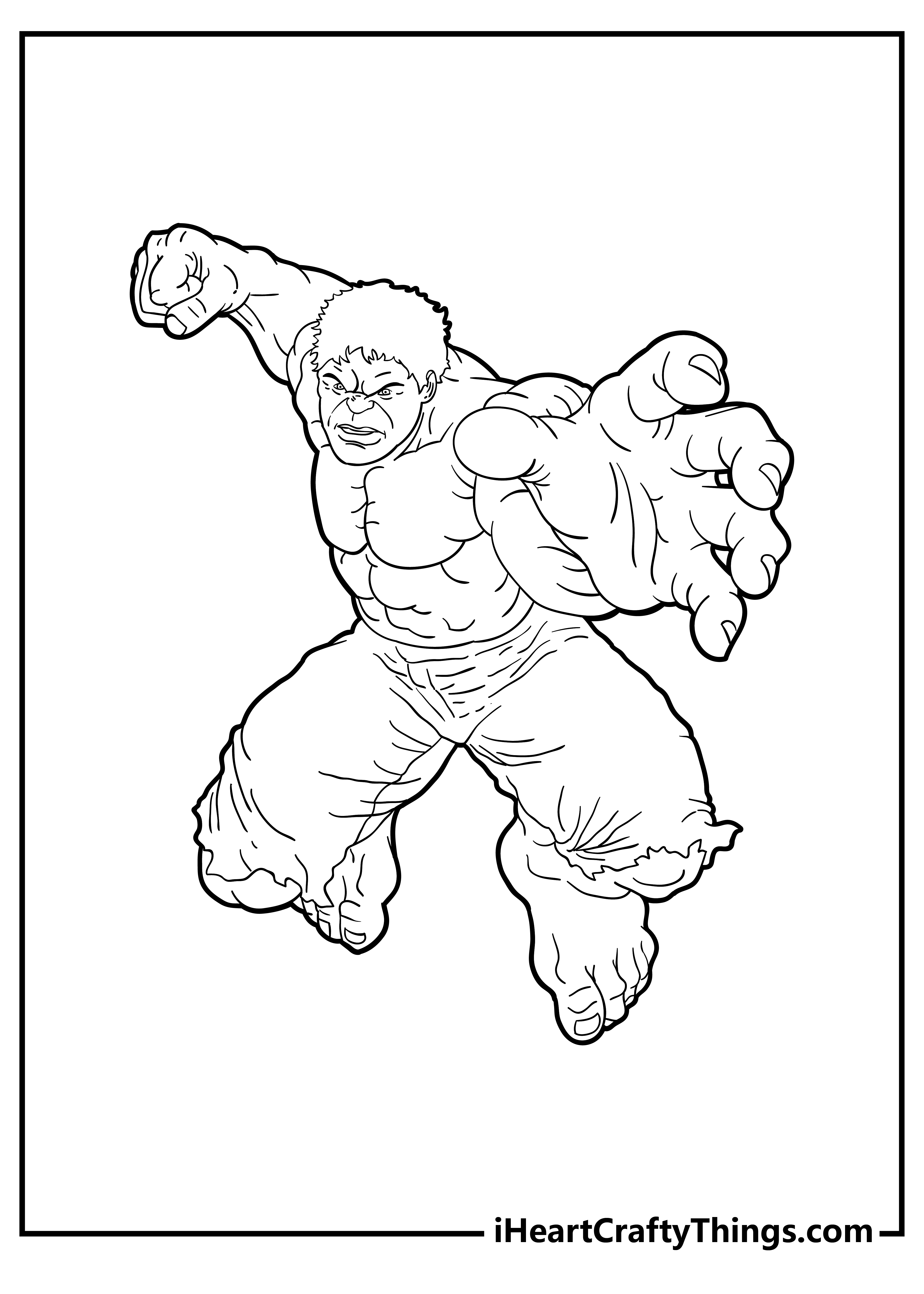 This Hulk printable shows him landing a devastating punch. What or who do you think he could be punching?
It could be cool to draw a car or a tank above him to really show off that he would be strong enough to send one flying into the air.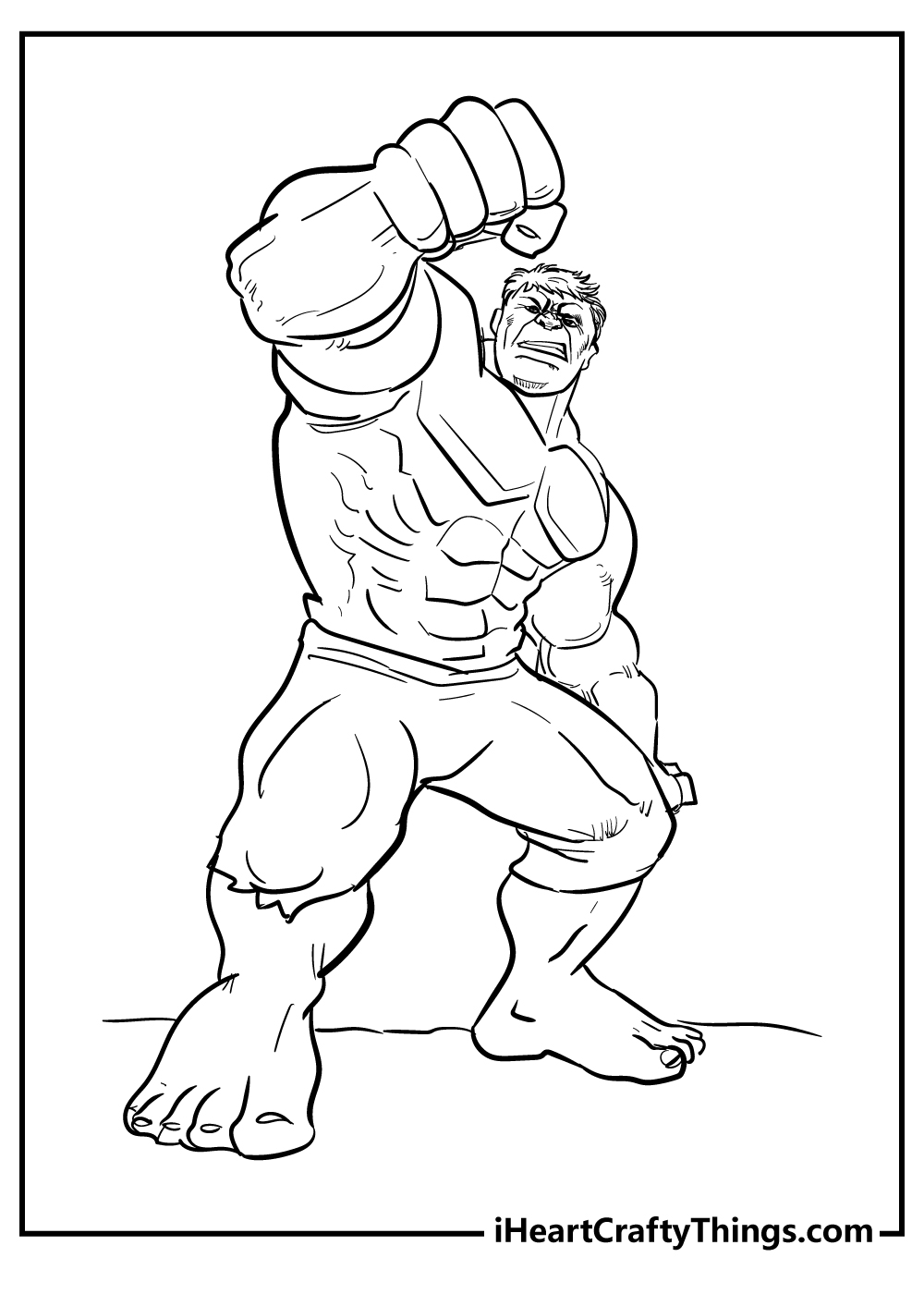 The pose we have in this Hulk coloring printable is another awesome one! Hulk is on the rampage again, and he seems to be mid-attack once again.
Do you have a favorite comic book hero or monster that you would like to see Hulk battling? You could create a scene featuring your ideas going up against this portrayal!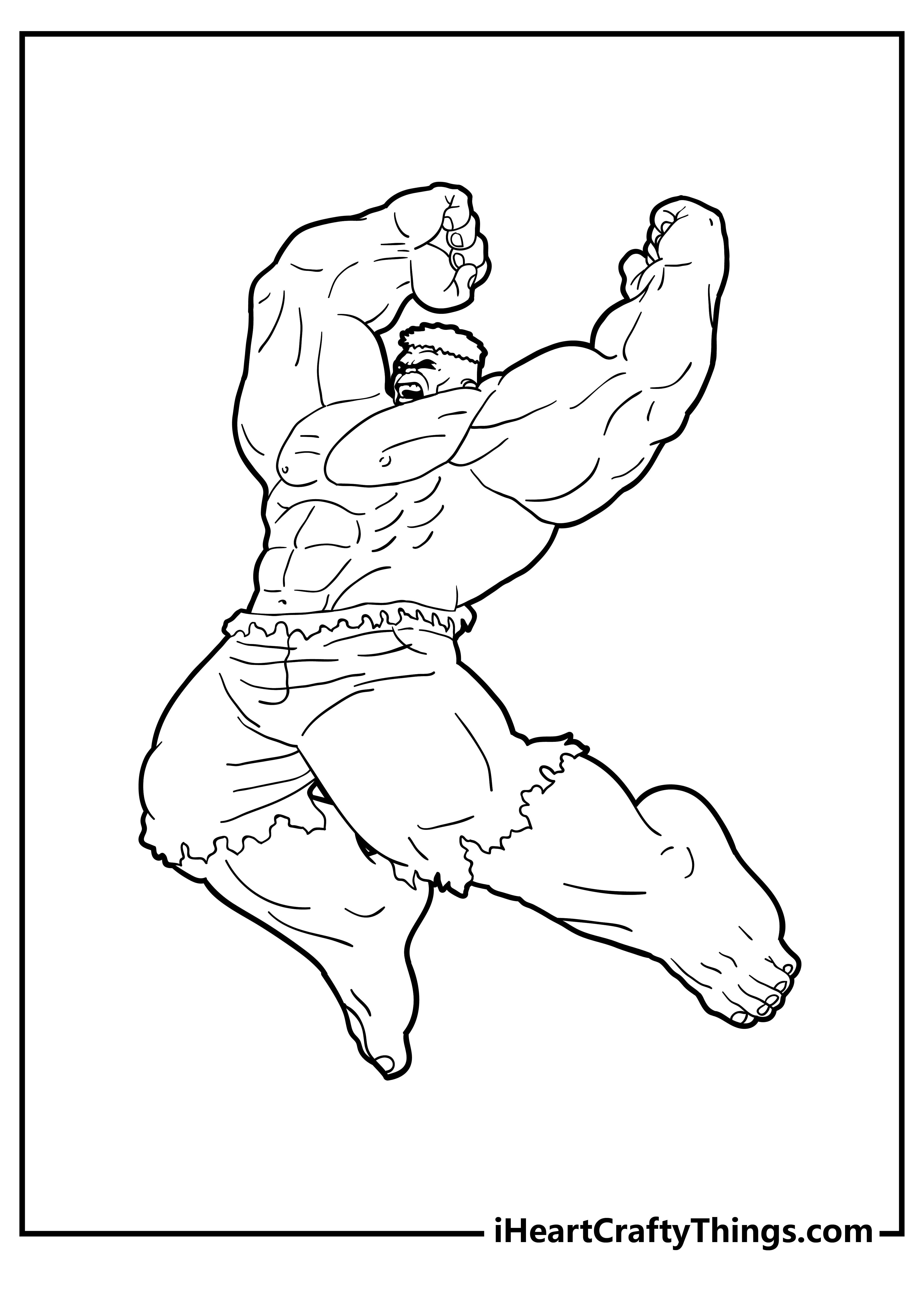 Hulk is on the move in this next awesome coloring page. He seems to be moving at speed, and his fist is swinging through the air as well!
He is again wearing less tattered pants in this one, and that allows for some more color details than some of the simpler versions in other pages of this collection.
We're sure you'll have fun with this one!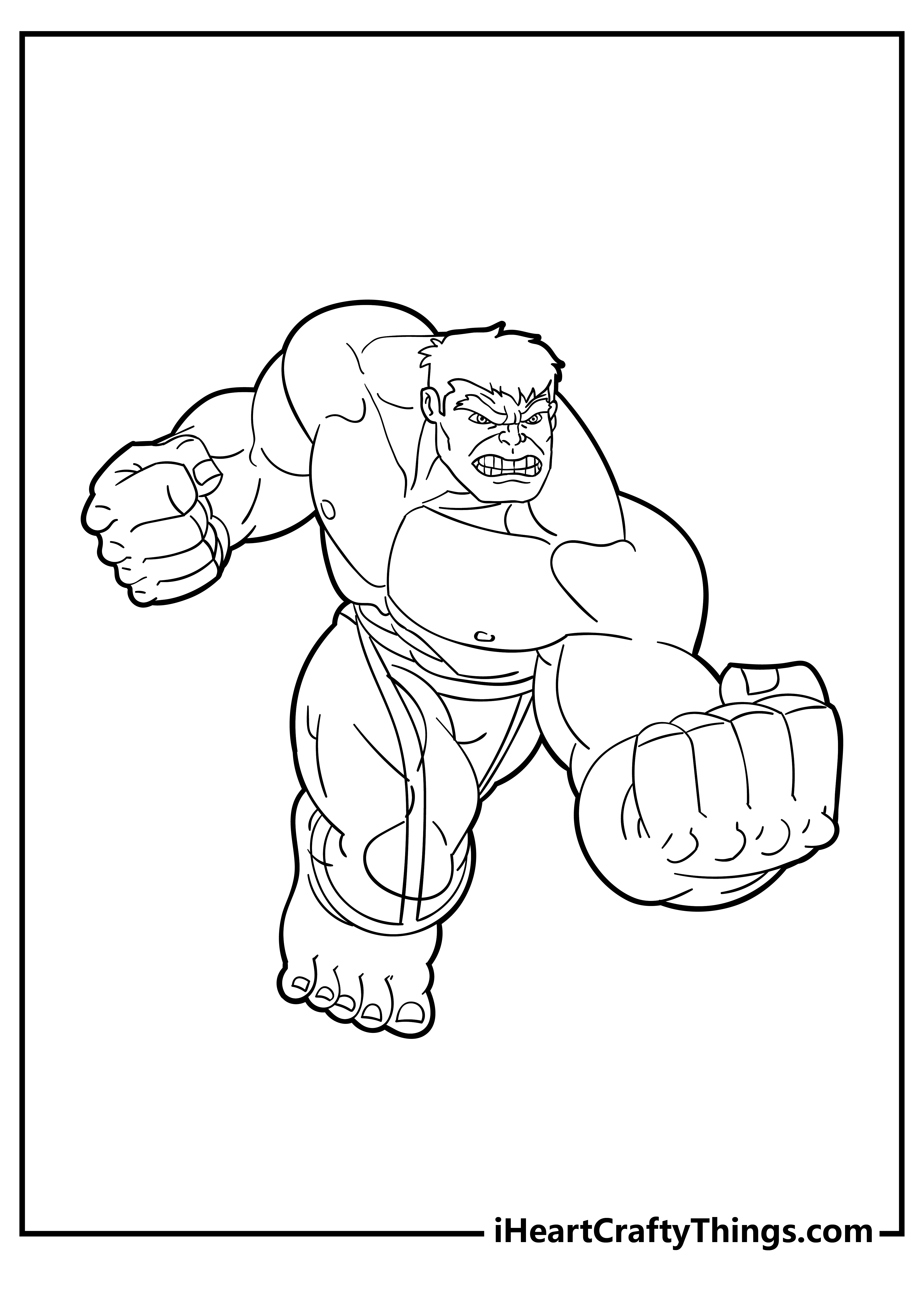 Our eleventh page that we have for you features Hulk drawn in another interesting style.
For this particular one, we would again probably go for brighter colors added with mediums like colored markers and pens for a comic-book look.
Do you agree with this idea, or do you have something else in mind?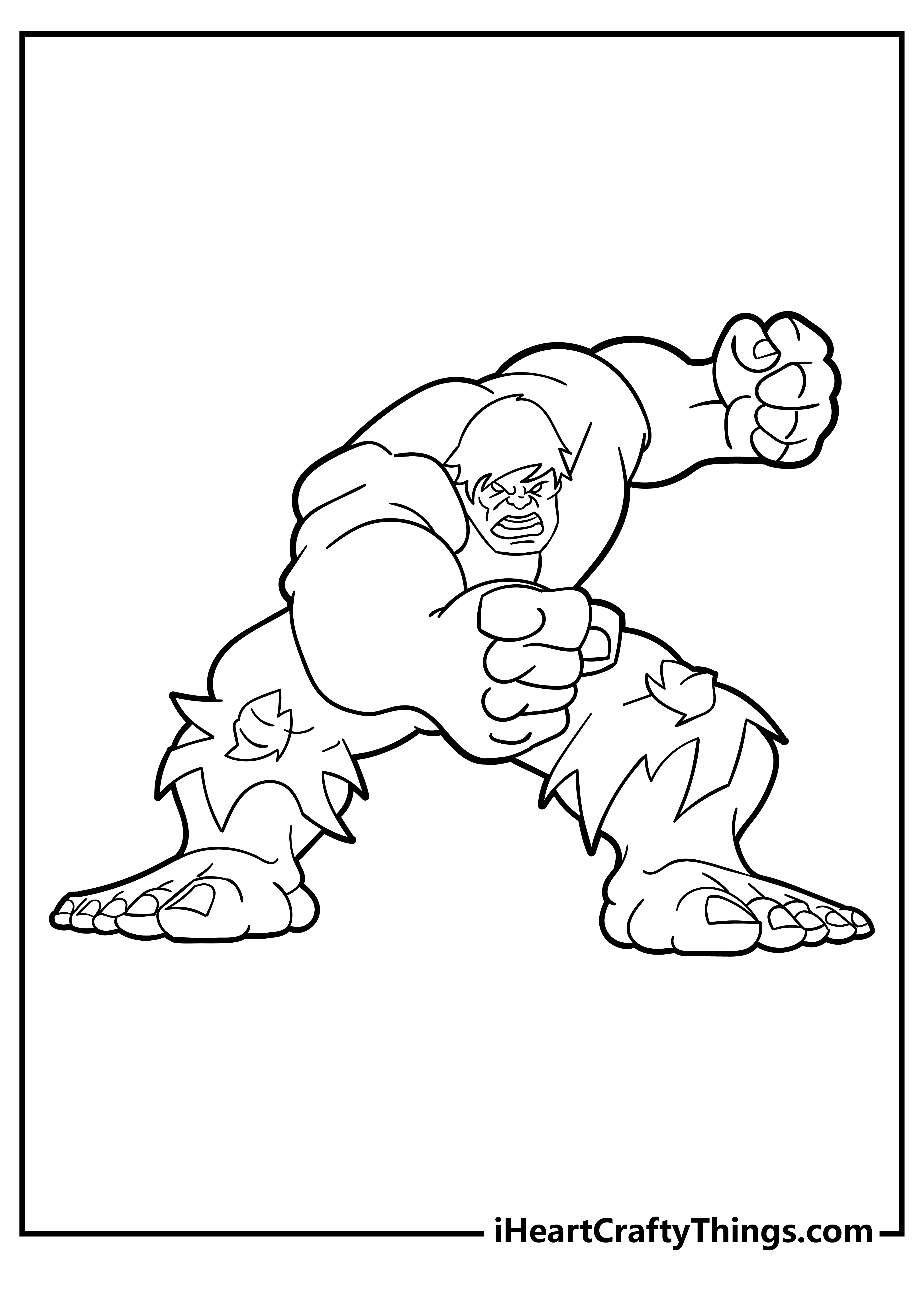 There is a look of determination on Hulk's face on this next page as he aims for a tricky-looking jump. He seems to be reaching out for something, and I wonder what it could be?
You could show what your ideas are by drawing an object or character that he is about to grab on this page.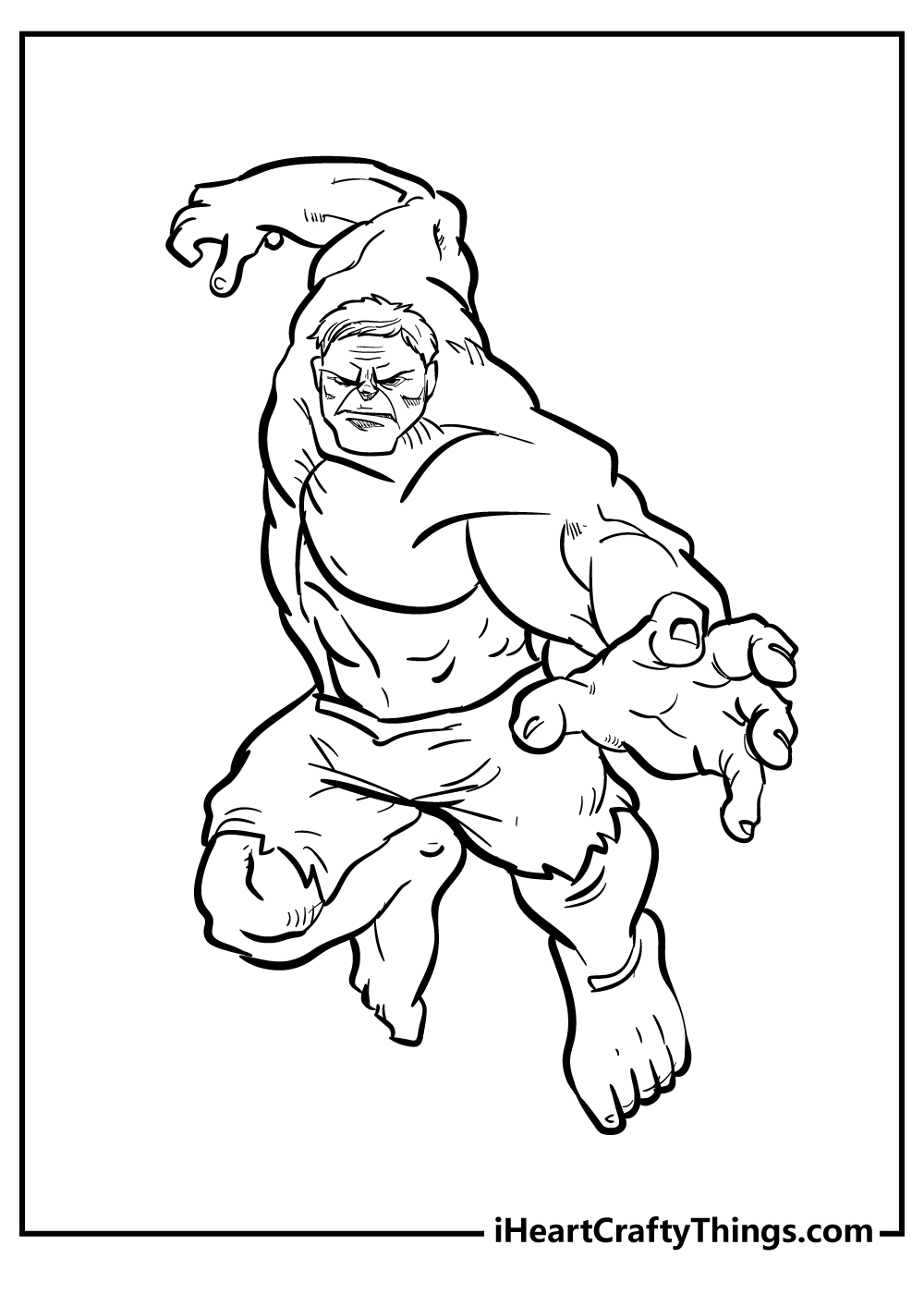 This next page is also very realistic in detail, and that allows you to also try out some smaller coloring techniques as you bring it to life.
This could be a fun one to try out some paints on, and if you were todo that then you could use brushes with thin tips to make coloring the smaller elements much easier.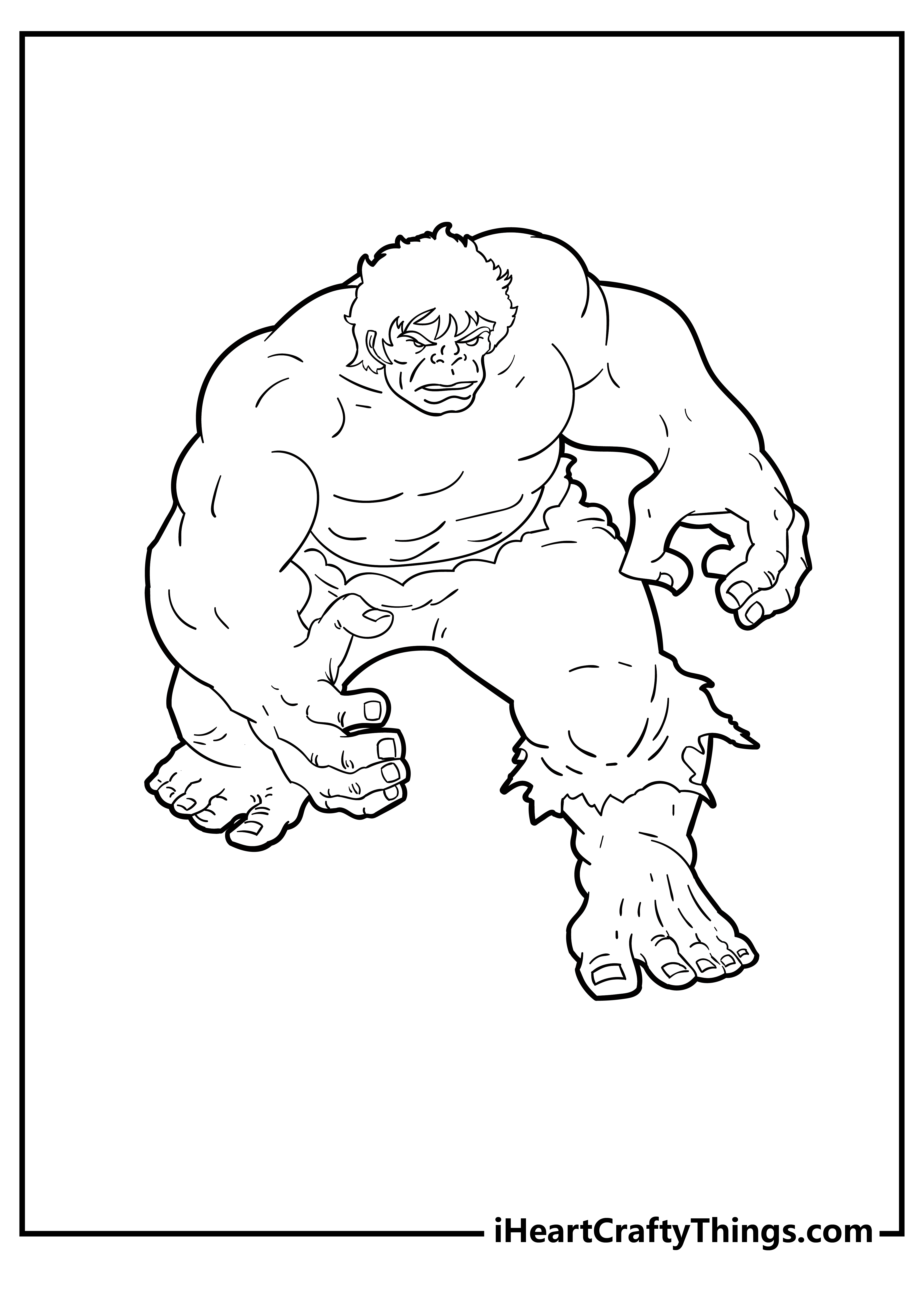 We have a new style that Hulk has been drawn in for this 13th page of the collection.
This one definitely feels very comic-inspired, and it is another one that would look really striking with some bright, vibrant colors that pop! Which colors do you think you will go for with this one?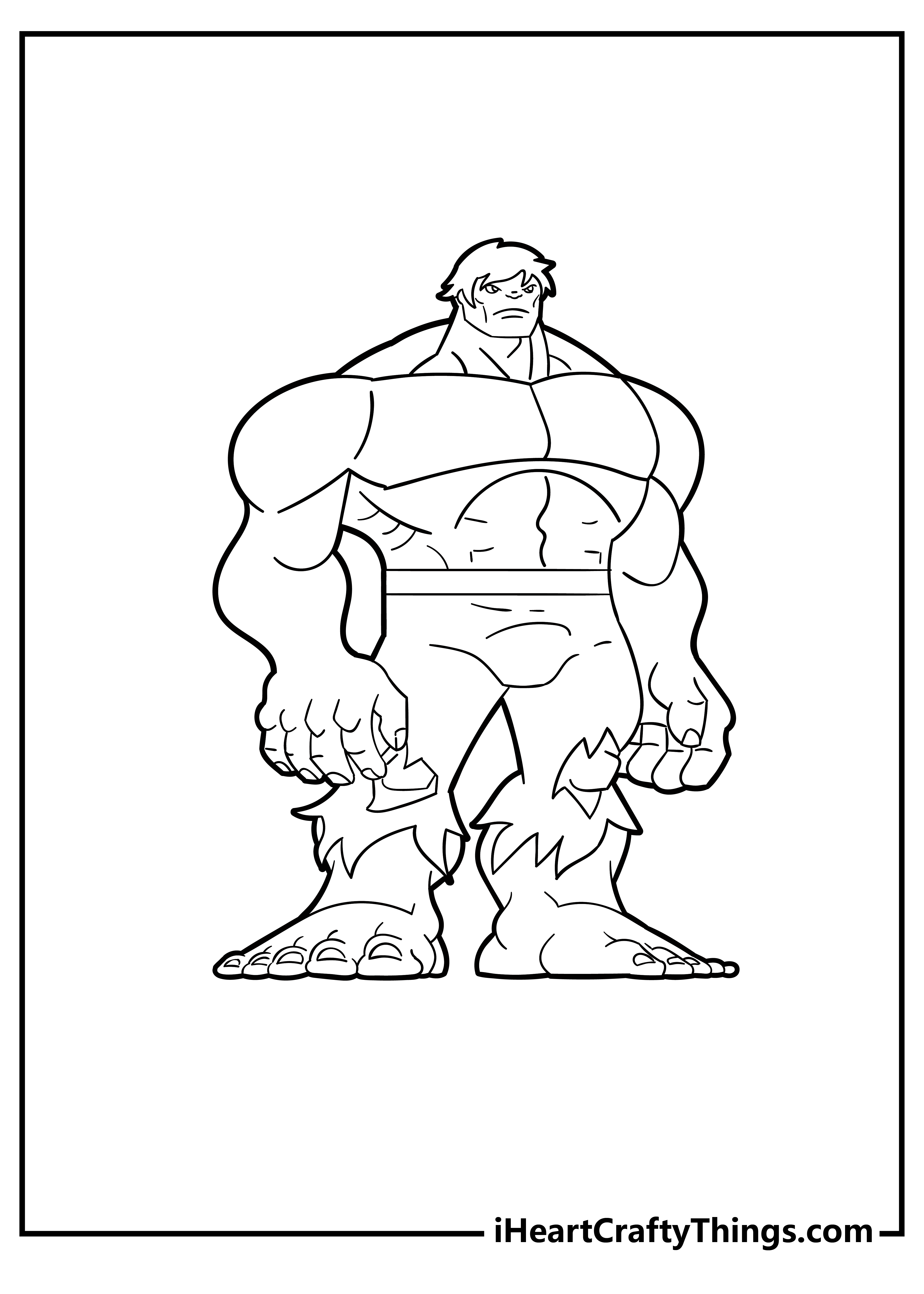 The pose on this next page is one I would assume Hulk would make when smashing through a wall or a building. If you agree, then you could add some details to suggest this.
It could be as simple as some bricks or wall sections flying into the air! What other surface could he be breaking through?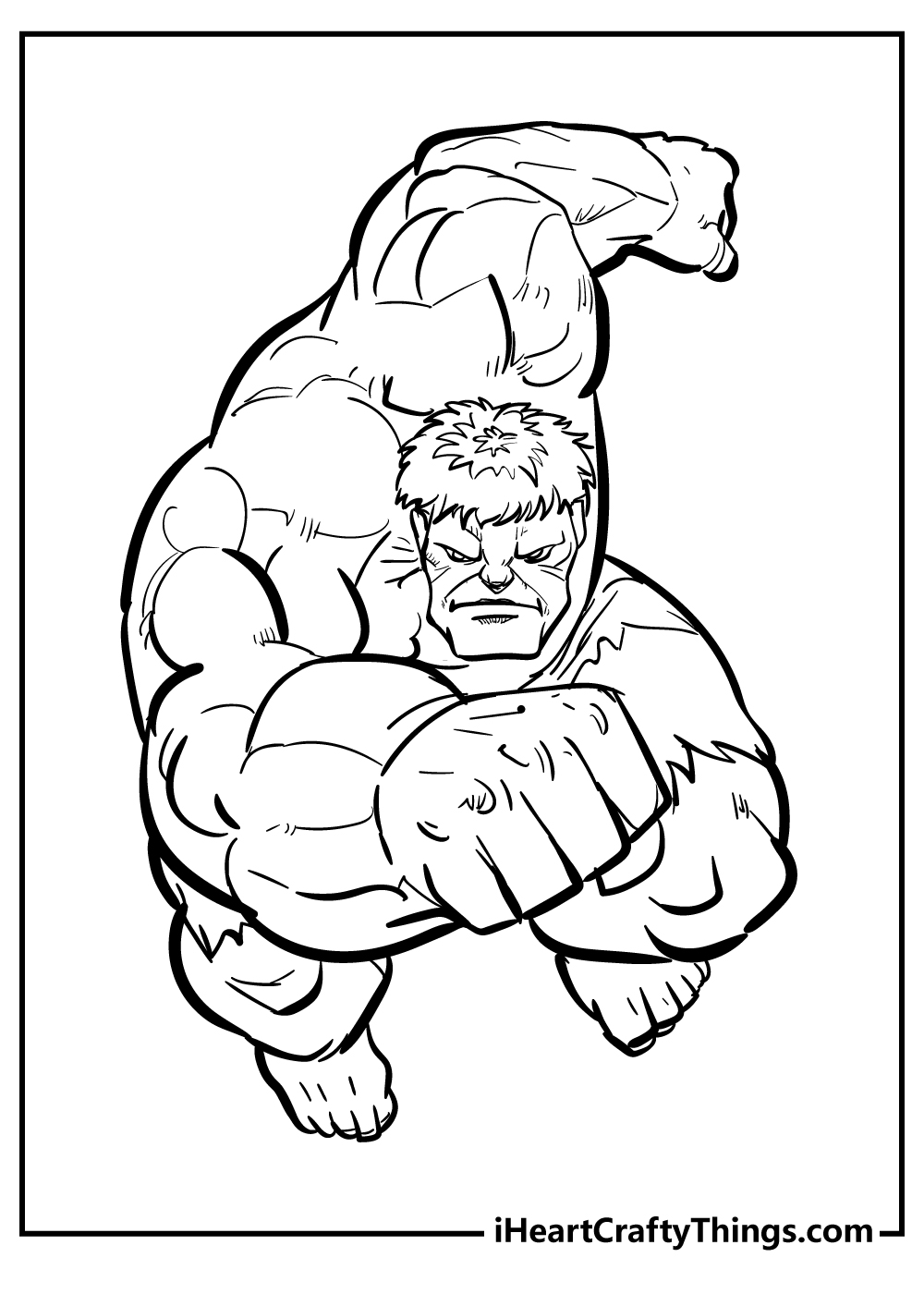 Hulk often works alone, but he is sometimes joined by other heroes as a part of the Avengers. If you have some other Marvel heroes you love apart from Hulk, it could be fun to draw them here as well!
You could add them to the background of this Hulk coloring sheet in order to make it a real superhero team-up!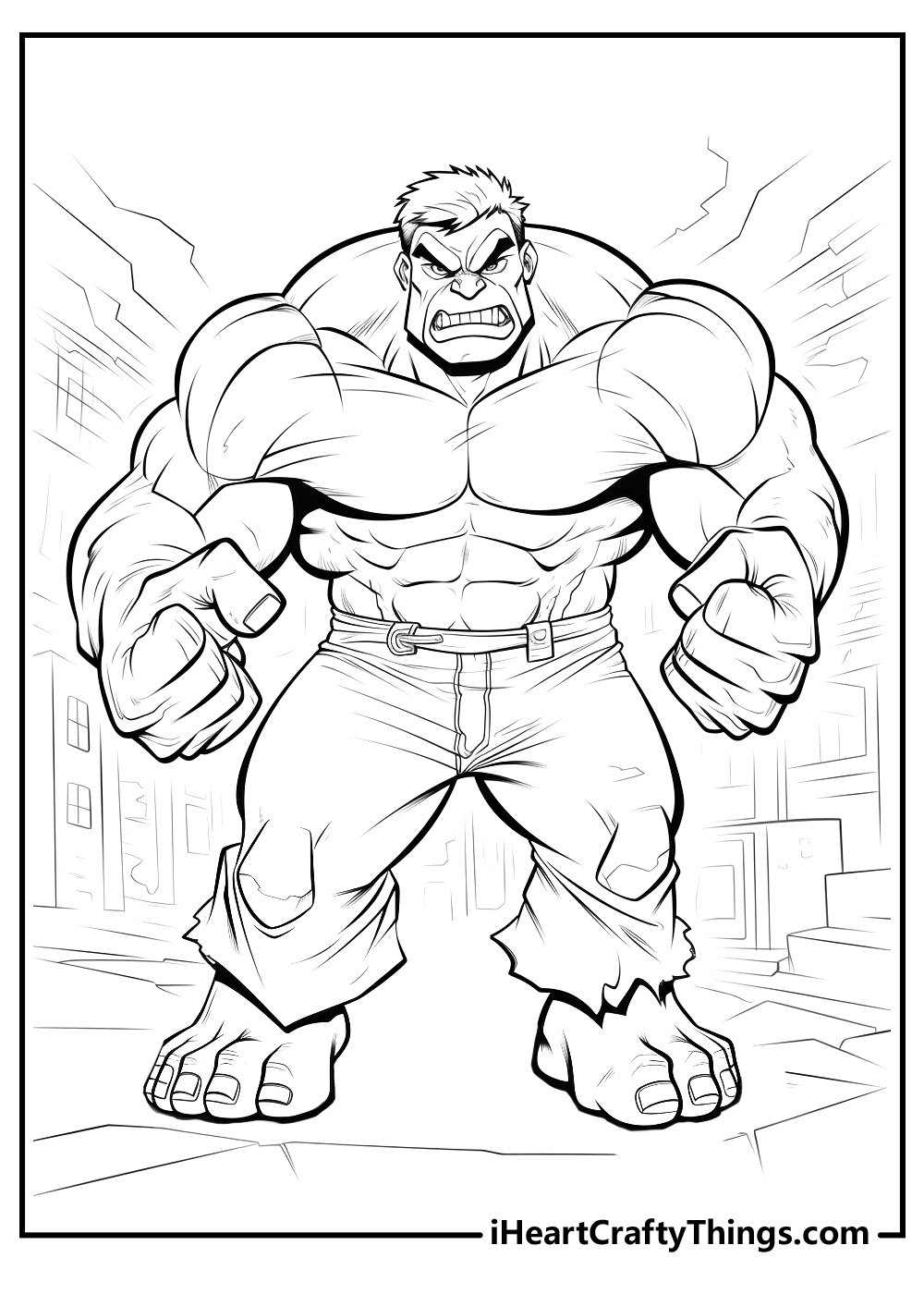 Hulk is known for being angry a lot of the time, but he looks especially furious in this image. He is leaping through the air, and he seems to be heading towards some kind of threat.
What do you think could have gotten Hulk so especially angry in this one?
We can't wait to see how you finish this one off!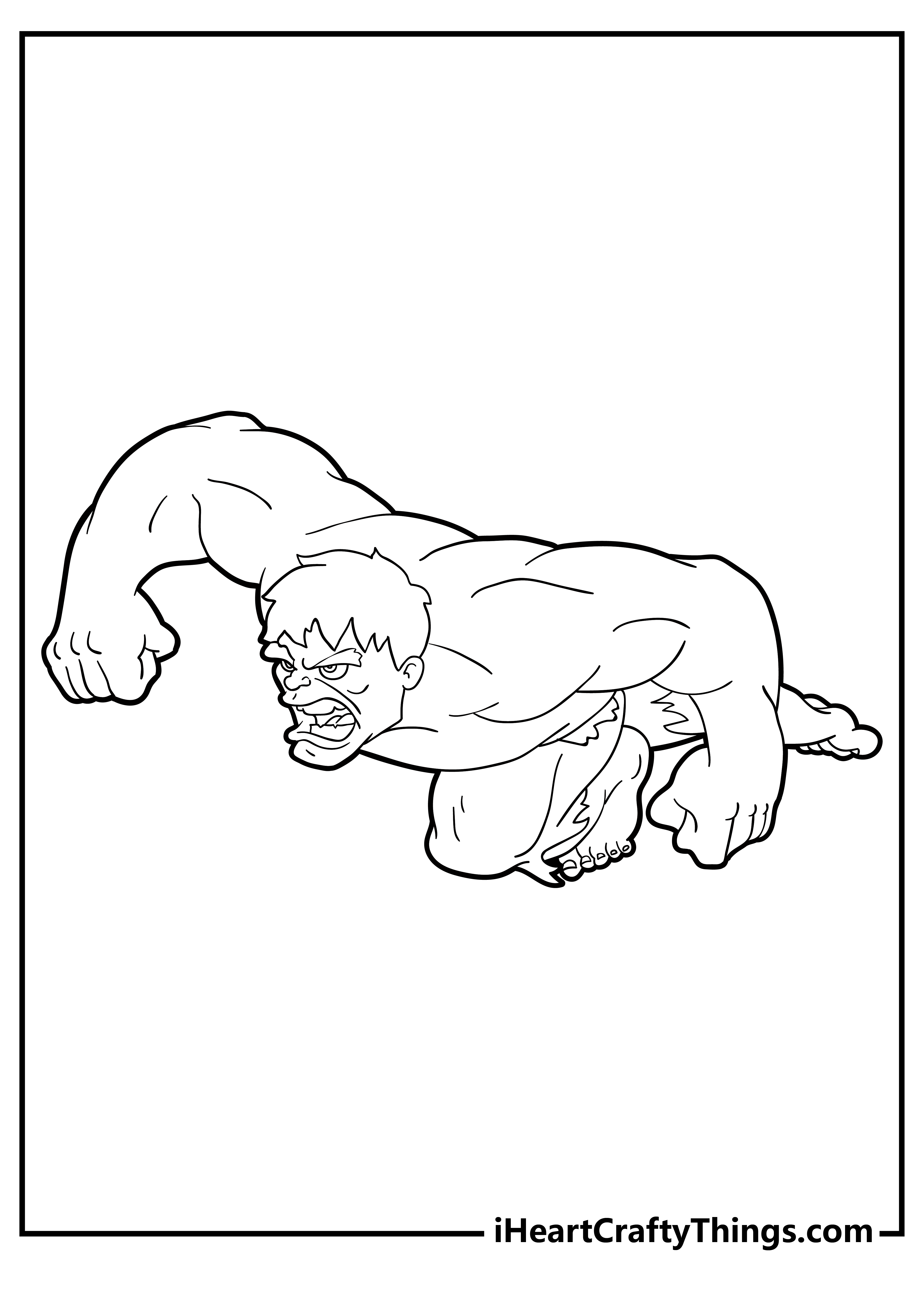 There is an animalistic fury to this next depiction of Hulk. He has a really ferocious look on his face, so you wouldn't want to be on his bad side at this moment!
When you color him, you could go for the classic green and purple combo or use any other colors that you think would fit the character!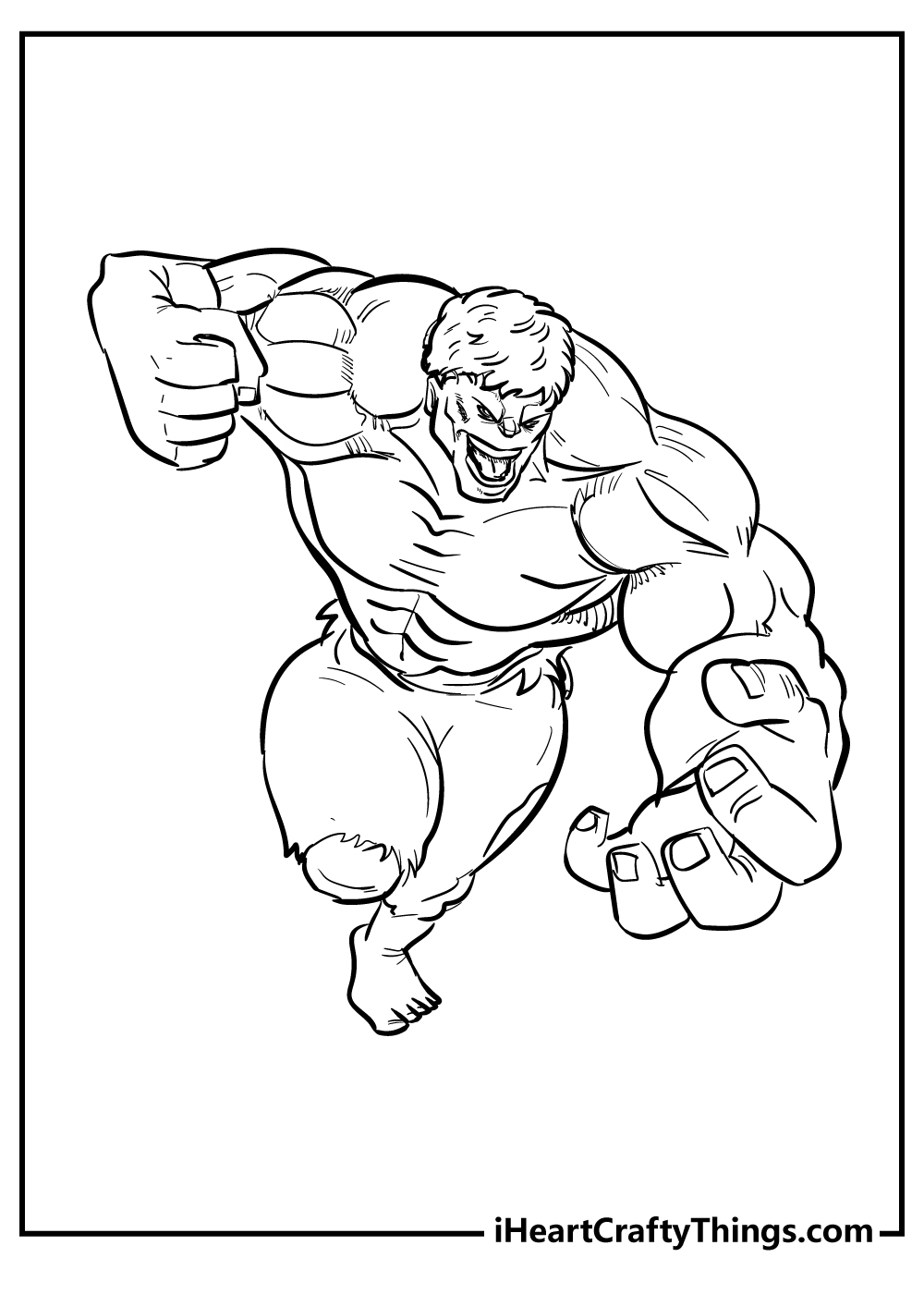 This is the final Hulk coloring sheet we have for you to color, and it's another one that we would not want to be in!
He is preparing a devastating slam with his fists, and anything beneath him is definitely in trouble.
What colors, mediums and extra details will you use for this final page of this incredible collection?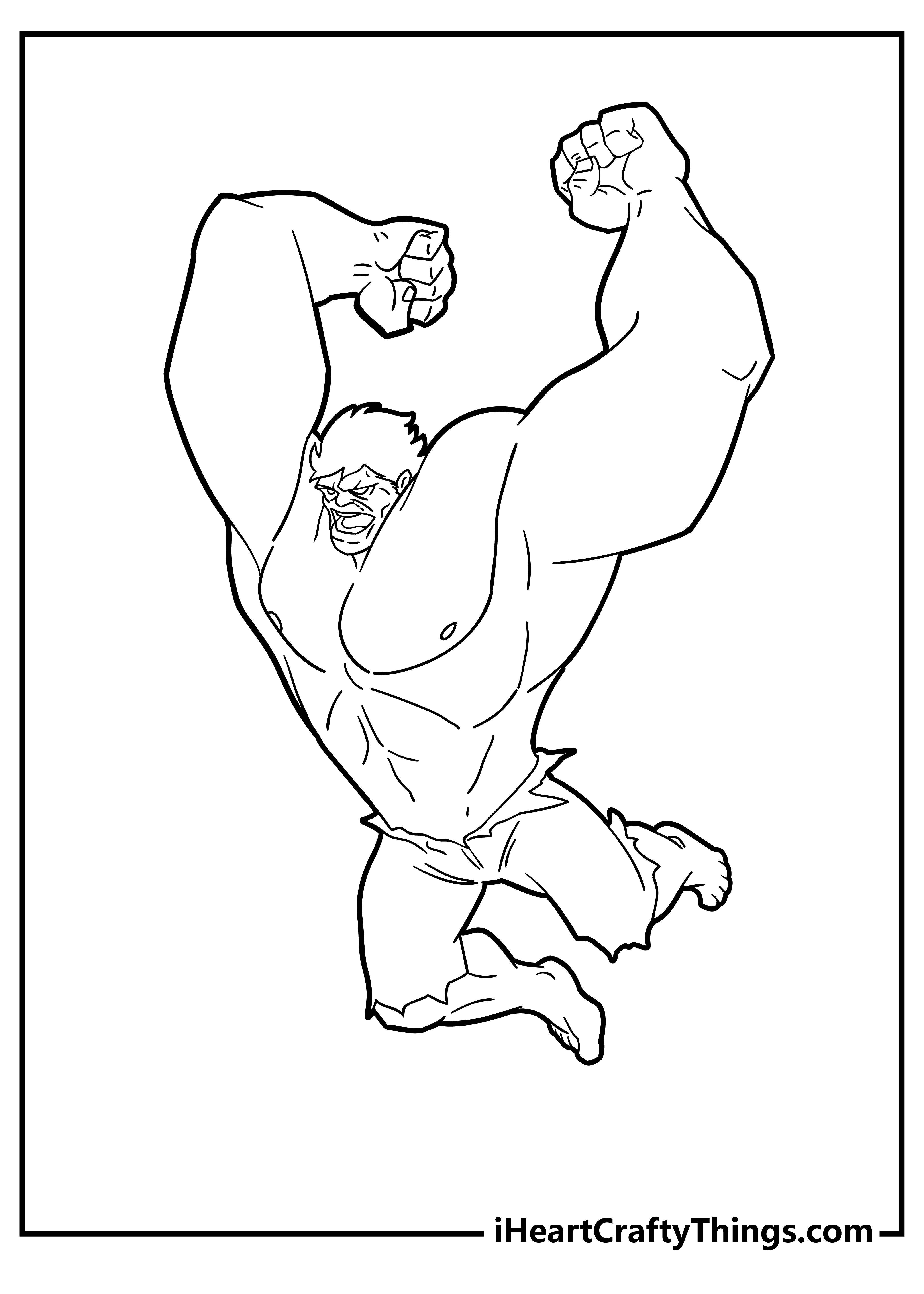 Hulk is about to land a punch on this next page. The high level of detail on this page makes me think of the films that Hulk has appeared in.
Does this remind you of a particular movie moment? If so you could make it match the moment from the film by drawing some extra details and using specific colors.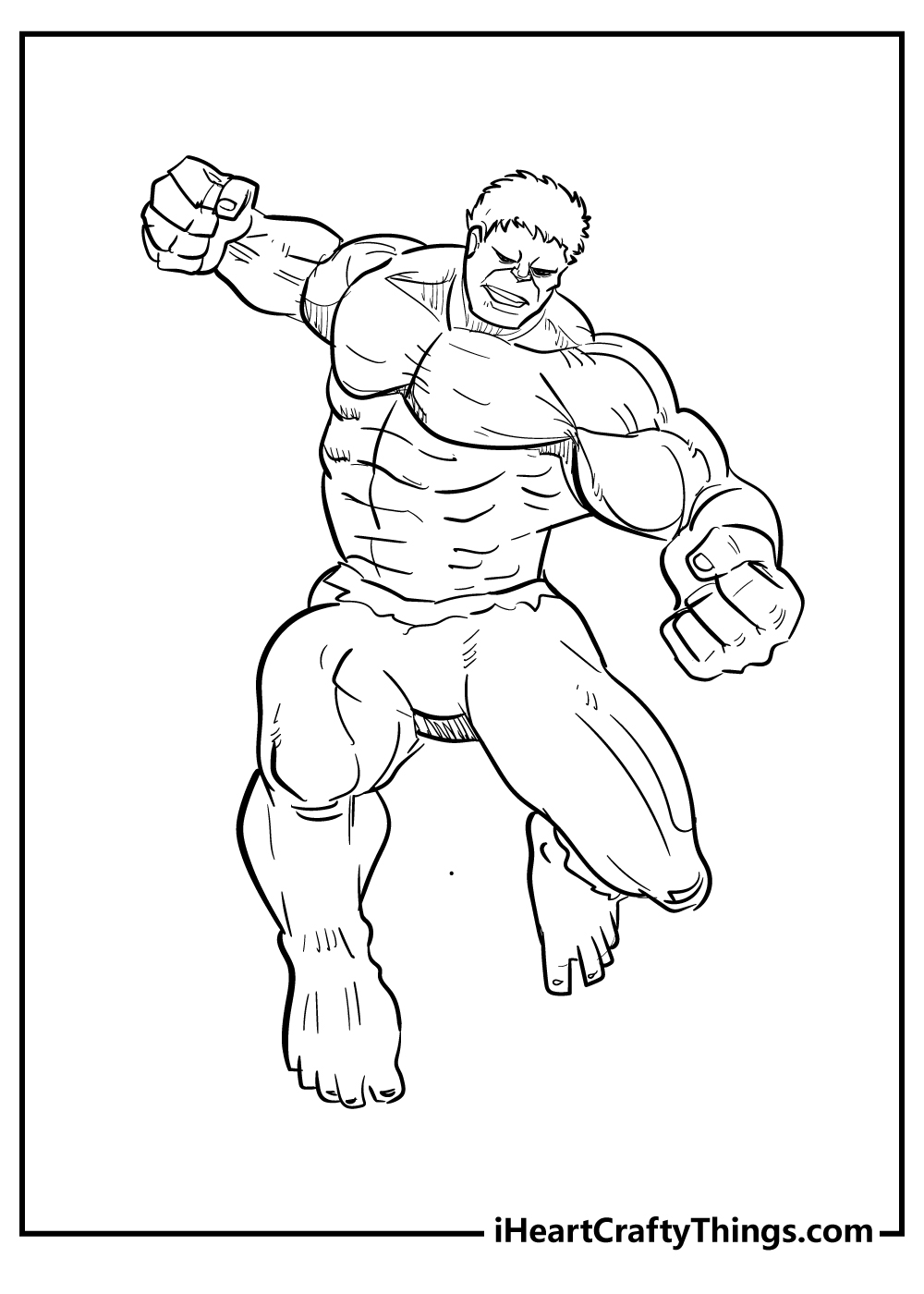 This next Hulk coloring sheet has him with his hand outstretched, almost as if he were holding something. If you have an idea for what he could be holding, you could draw it into the image!
There are loads of creative ways you could do this, so try out some ideas and see what works best for you to add!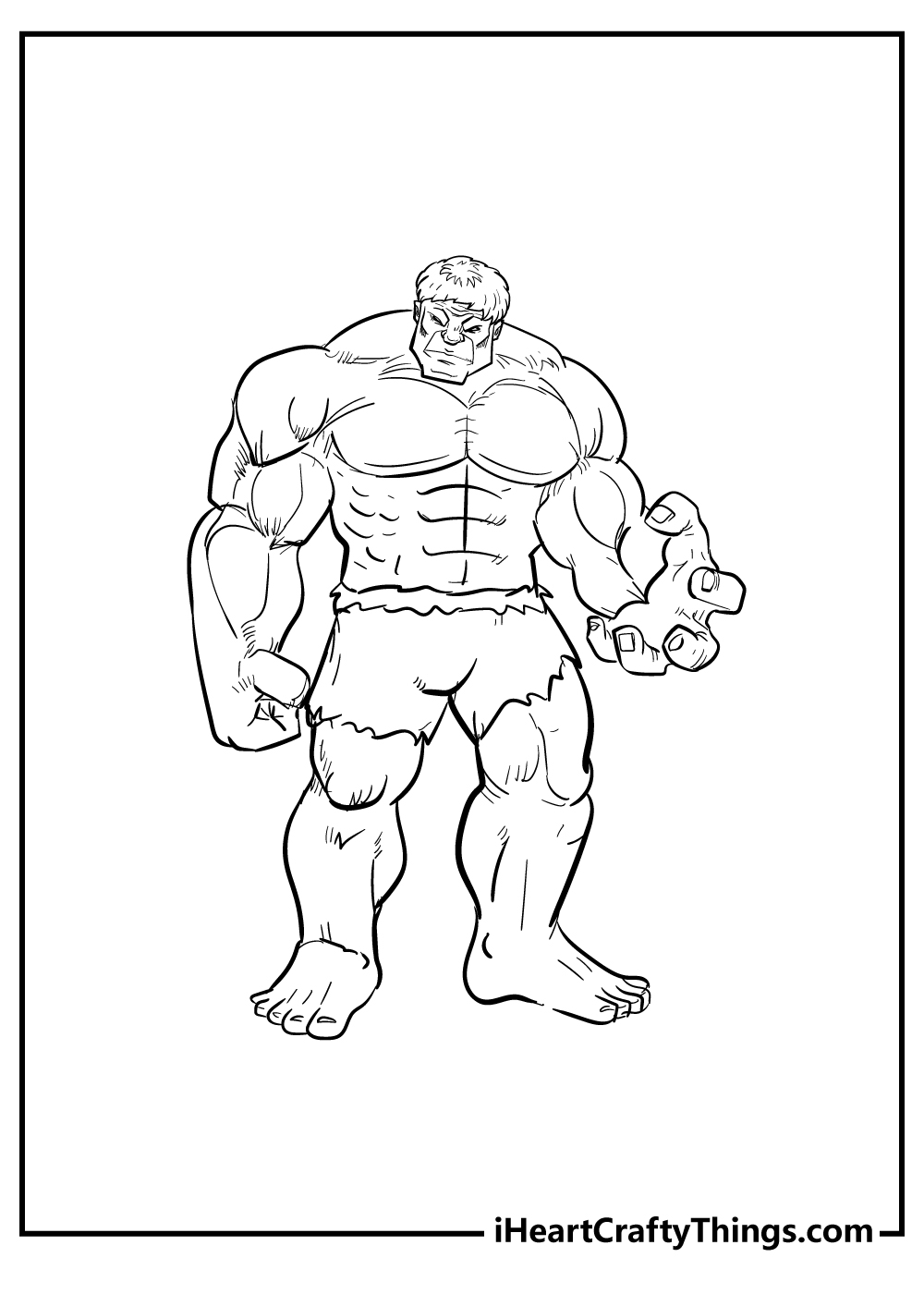 Hulk Coloring Pages – Which will you choose?
This is one of the most visually striking heroes ever created, and this collection of free Hulk coloring pages for kids did a great job of capturing the iconic aspects of the character.
We hope you had a ton of fun, and you can have even more by sharing the collection with fellow Hulk fans you know!
Don't forget that we would love to see your favorite finished Hulk coloring pages, so please share some on our Facebook and Pinterest pages for us to admire!