Escaping to the country can be great, but there are also sights, sounds and thrills that can only be found in the city.
There are some massive cities around the planet that many people visit every year and that many more call their home.
Many people have a favorite big city, and they capture the imaginations of lots of people as well.
There is a series of 15 metropolis settings for you to have a great time coloring in this incredible collection.
With these pages, you will get to create your very own awesome city settings using your colors and additional details.
We know that you will create some awe-inspiring cityscapes by the time you're done!
These incredible cities are all free to print, color and enjoy, so you can really experiment with your colors and mediums.
You can also spread the joy by sharing the collection with friends and family to try out!
We hope you enjoy this creative city expedition as you begin our collection of free metropolis coloring pages for kids!
Don't forget to share your favorites on our Facebook and Pinterest pages once you have colored them in.
15 Brand New Metropolis Coloring Pages – Free to Print and Color
We're kicking off this collection of free metropolis coloring pages for kids with an incredible view of a huge city. There is a great amount of variation in this city, and it makes for an incredible view.
The buildings and skyscrapers here all vary in size, and it makes for a lot of different details to admire. The sky is wide and open, and that gives you the opportunity to add some extra details.
You could draw some sky and weather details for just a few ideas, but what else can you think of for this picture?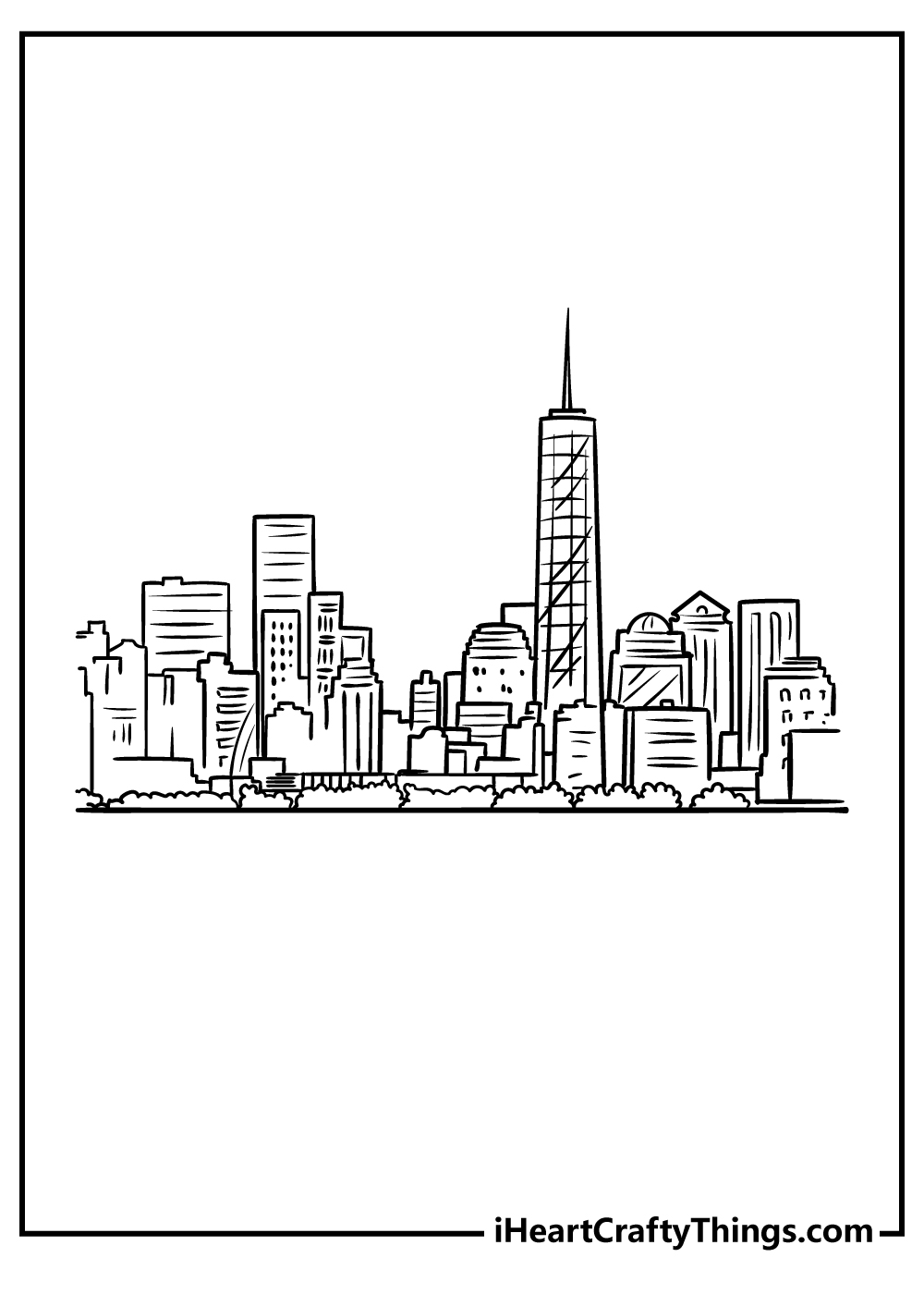 This whimsical metropolis bursts with the wonder and excitement of a fairy tale kingdom. Curving lanes twist between cheerful cottages and shops decorated with white and black.
Pointed turrets stretch toward the sunny skies where birds and hot air balloons drift by. Use your creativity as you fill this magical metropolis with your choice of vibrant hues.
Add special touches like flowers on the window sills or smoke from the chimneys to make this picture uniquely your own.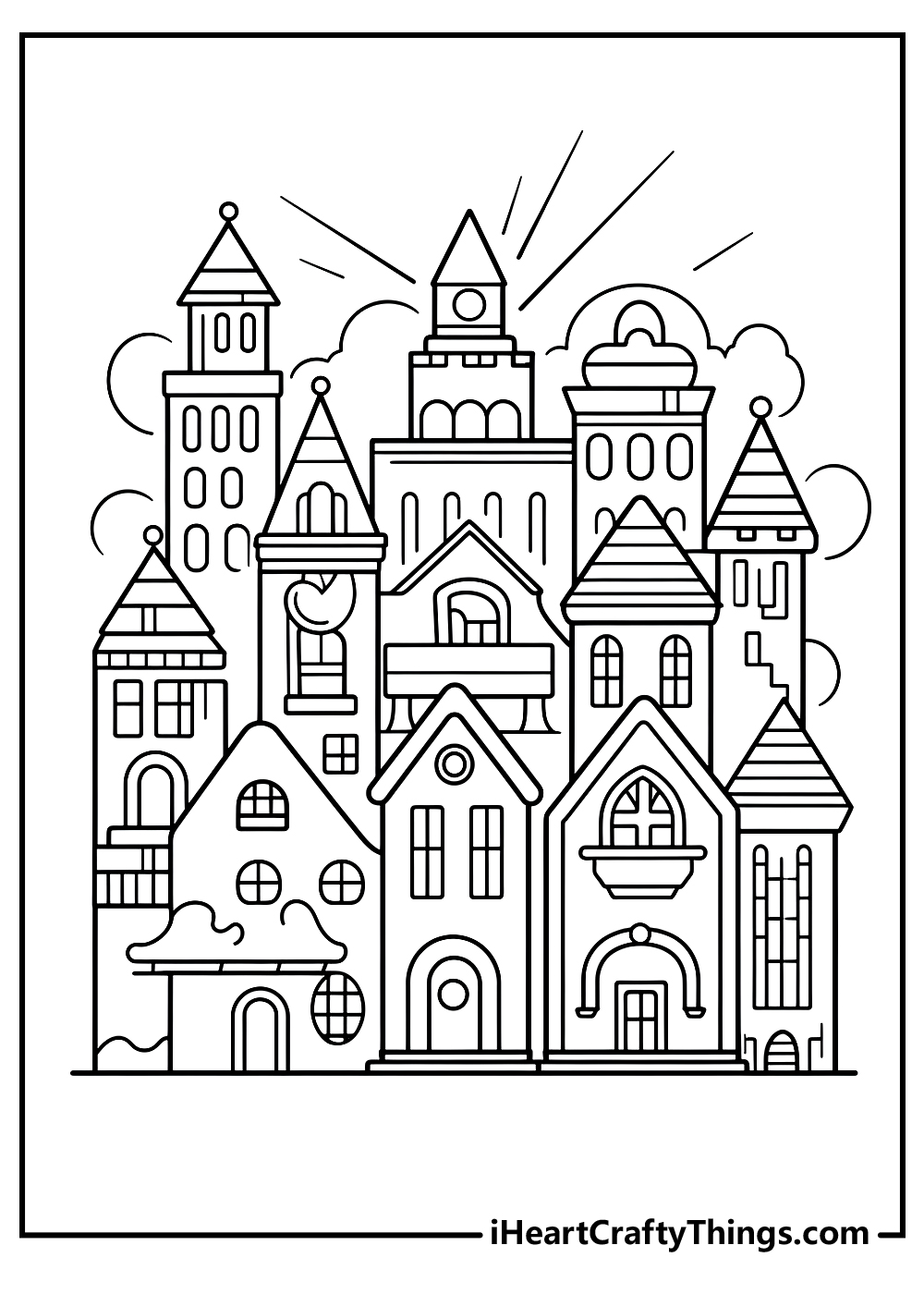 There's a lovely calm feeling to this next scene. There are some clouds in the sky, which gives this image a bit of an overcast look.
Because of this, we would use some light greys and other mild colors to fit the mood this image gives off, but as always you should feel free to use any other colors you would prefer!
What kind of vibe will you go for with this image?
We have quite a dynamic scene for you to color in this one.
We were viewing the cities from the side in the previous ones, but in this one we are at a lower angle, so we can see different angles of the buildings.
This allows for some great color details, and you could also add some of your own creative touches and additions. What kinds of extras can you imagine for this one?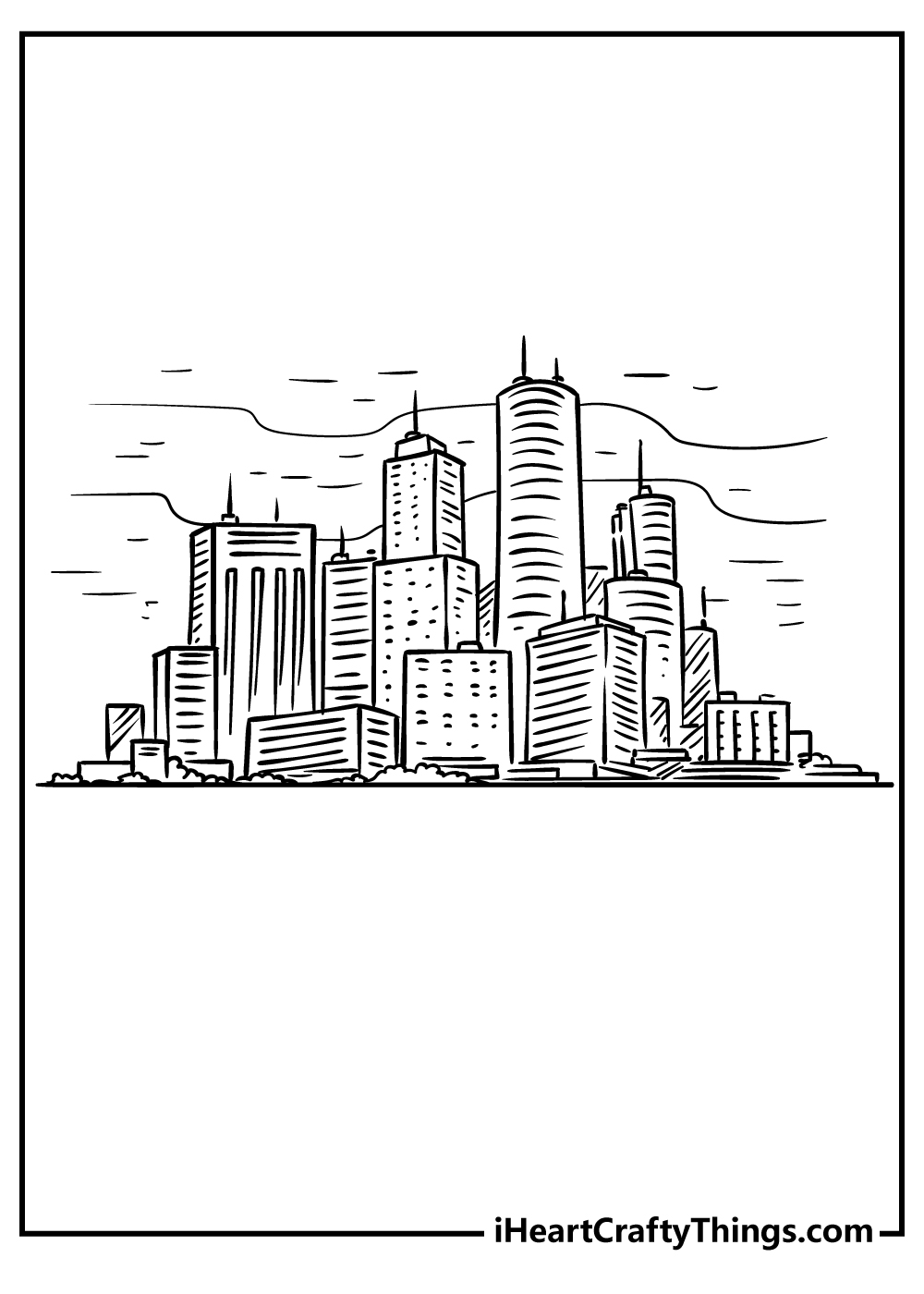 This metropolis comes alive with architectural diversity. Glass skyscrapers reach for the clouds beside brick apartments and ironwork townhouses.
Trees line the roads, providing a feel of nature amidst the concrete and steel. As you color, think what stories might be unfolding inside each building. What interesting characters live or work there?
No matter your palette, this metropolis offers endless options for making it your own.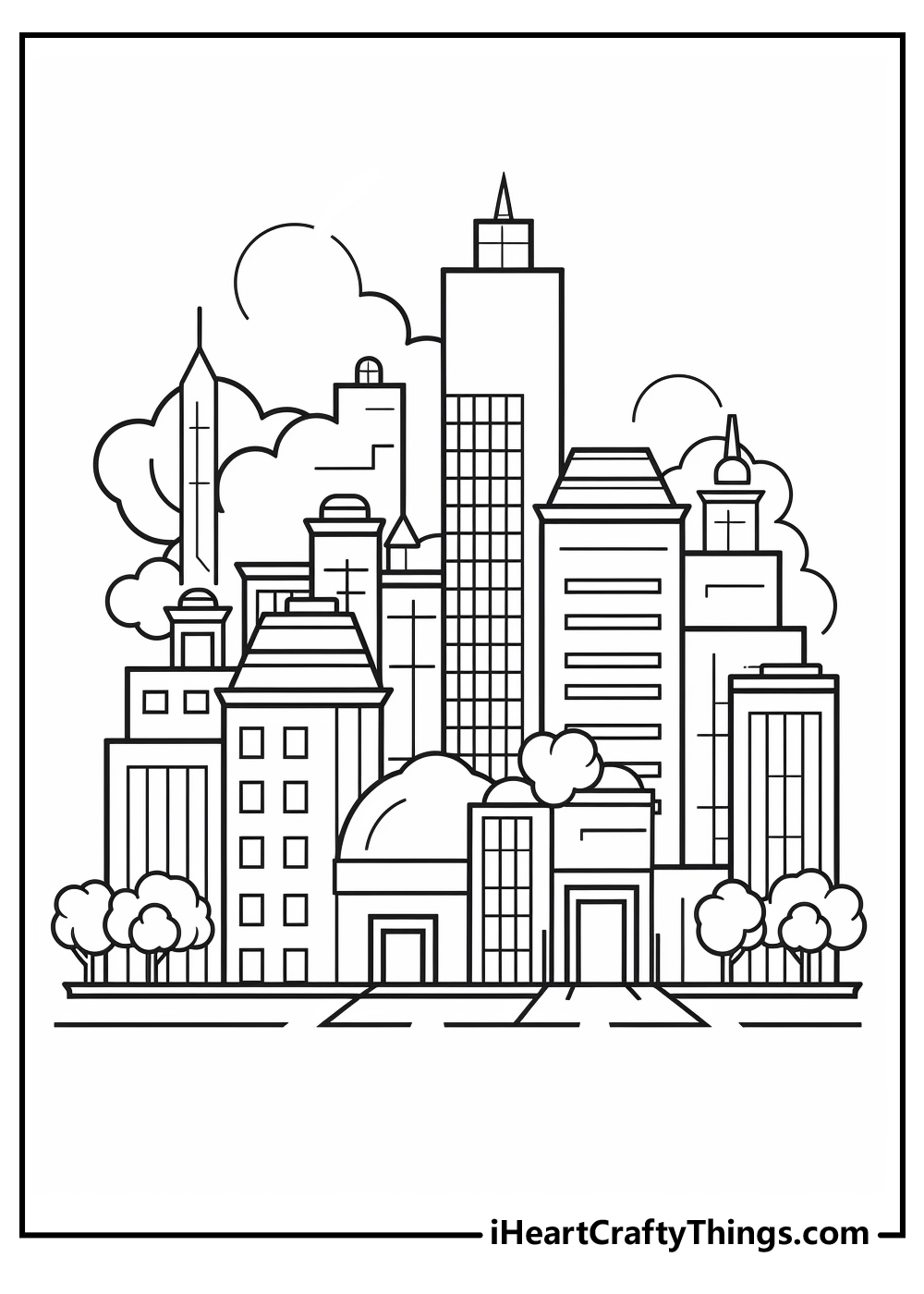 This fourth metropolis coloring sheet features an awesome, funky design. The buildings are very angular and pointy in this one, and it makes for a more stylistic interpretation of a city.
We think that this one would look great with lots of bright, vivid colors to really emphasize the cool design of this city.
You could also use art tools and mediums such as colored pens, markers or acrylic paints for brighter colors that really pop! What colors and mediums will you choose to finish this one off?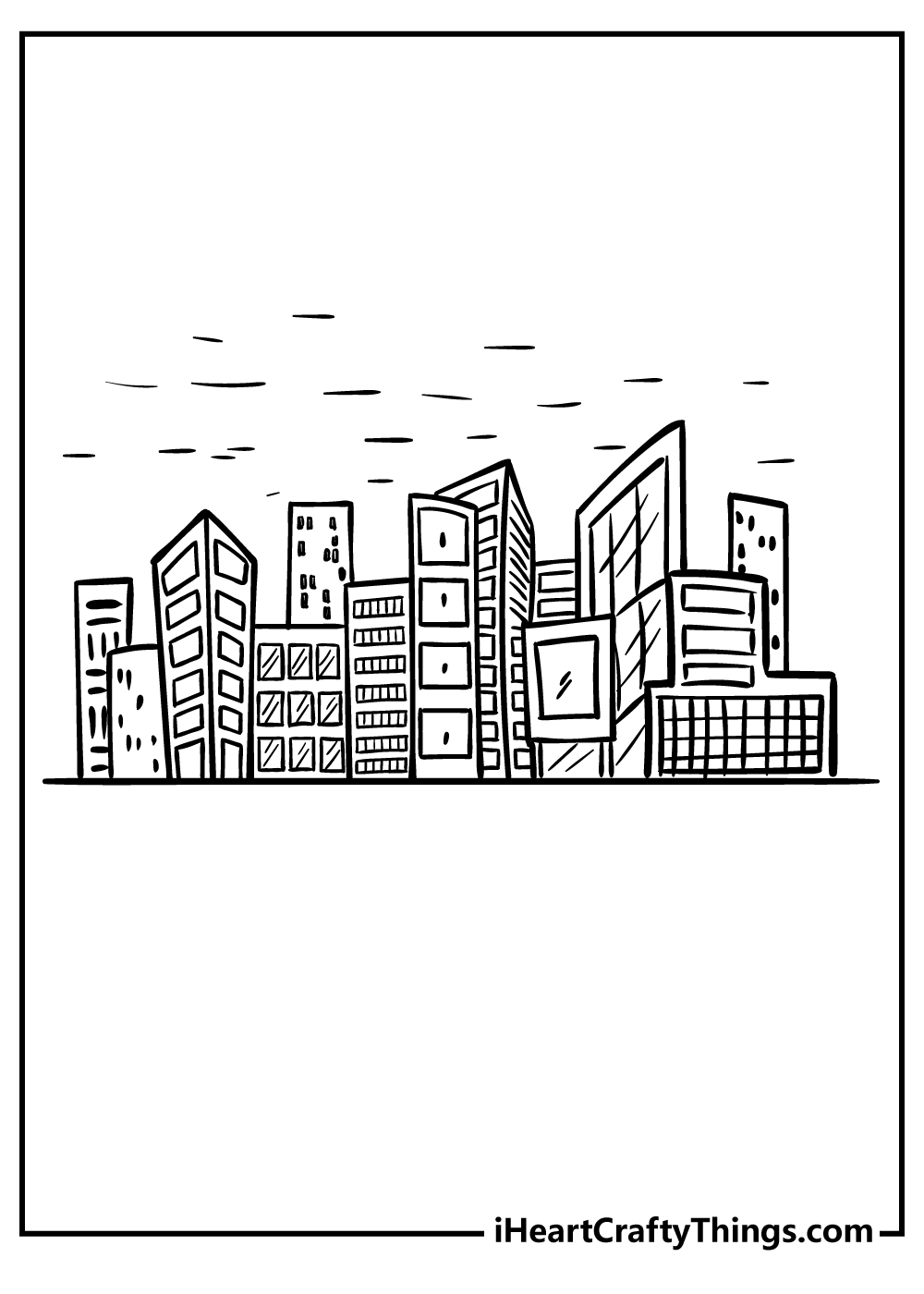 It's a beautiful clear day in the city in this next picture.
This huge metropolis is another one that has a huge variety of different buildings to color, and there is again a lot of room for you to add some great details.
The sky has got some simple line details, and it makes it look like a beautiful sunny day.
You could draw and color a huge sun into the image to really finish off the feeling of a beautiful day. You could also turn it into a rainy or overcast day if you prefer, so which approach will you take?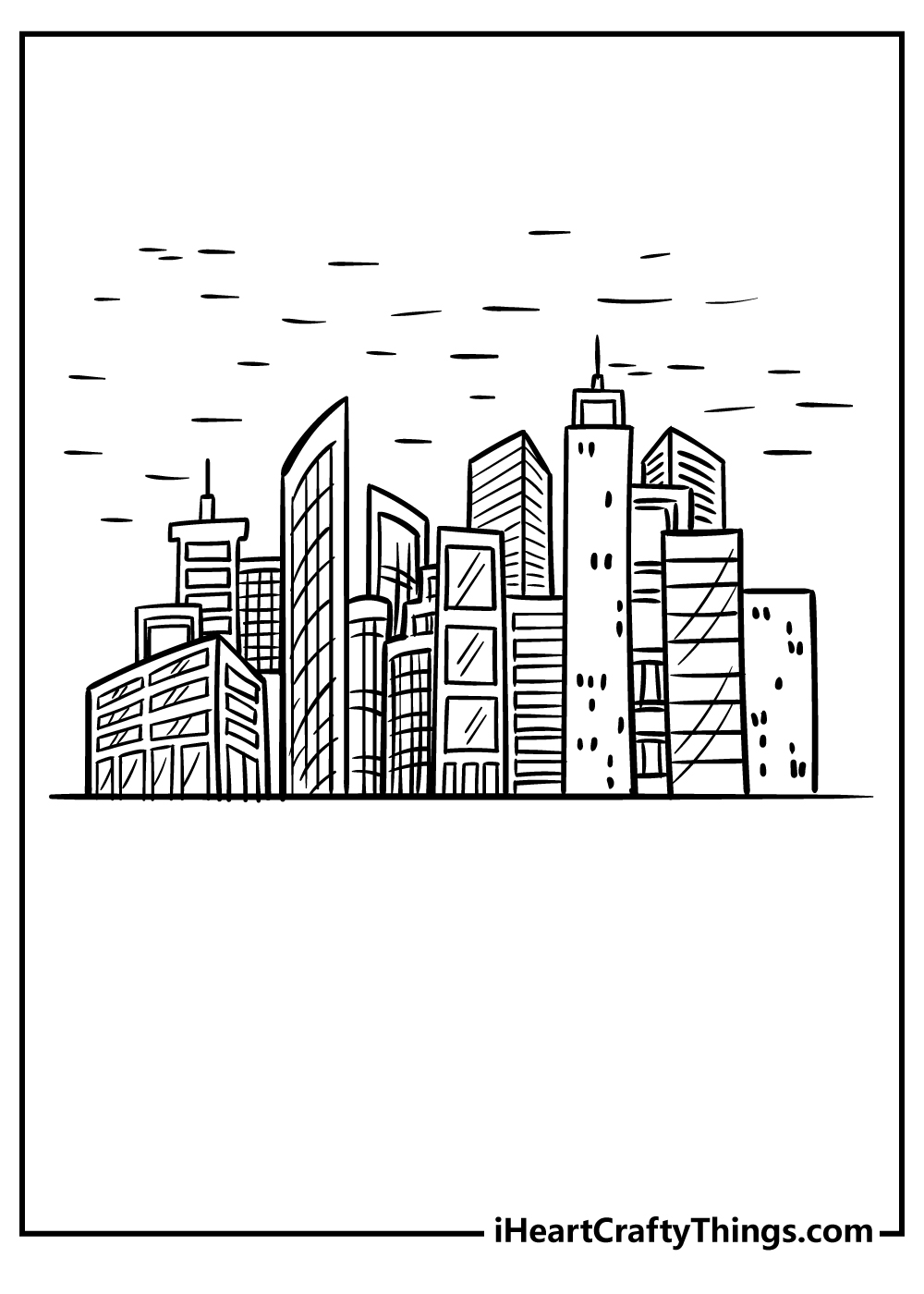 Wow, look at the super tall skyscrapers in this city! They look like giants reaching all the way up to space! Use your black and gray crayons to color the big buildings.
Leave little windows white like twinkling lights. Make pointy roofs with gold and copper colors. Draw busy people with your brightest crayons.
They are walking on the streets and sidewalks down below the giant buildings.
Color zoomy yellow cars down the roads too. There's so much to color in this busy city! What other fun colors will you use? Make this city come to life with all your favorite crayons.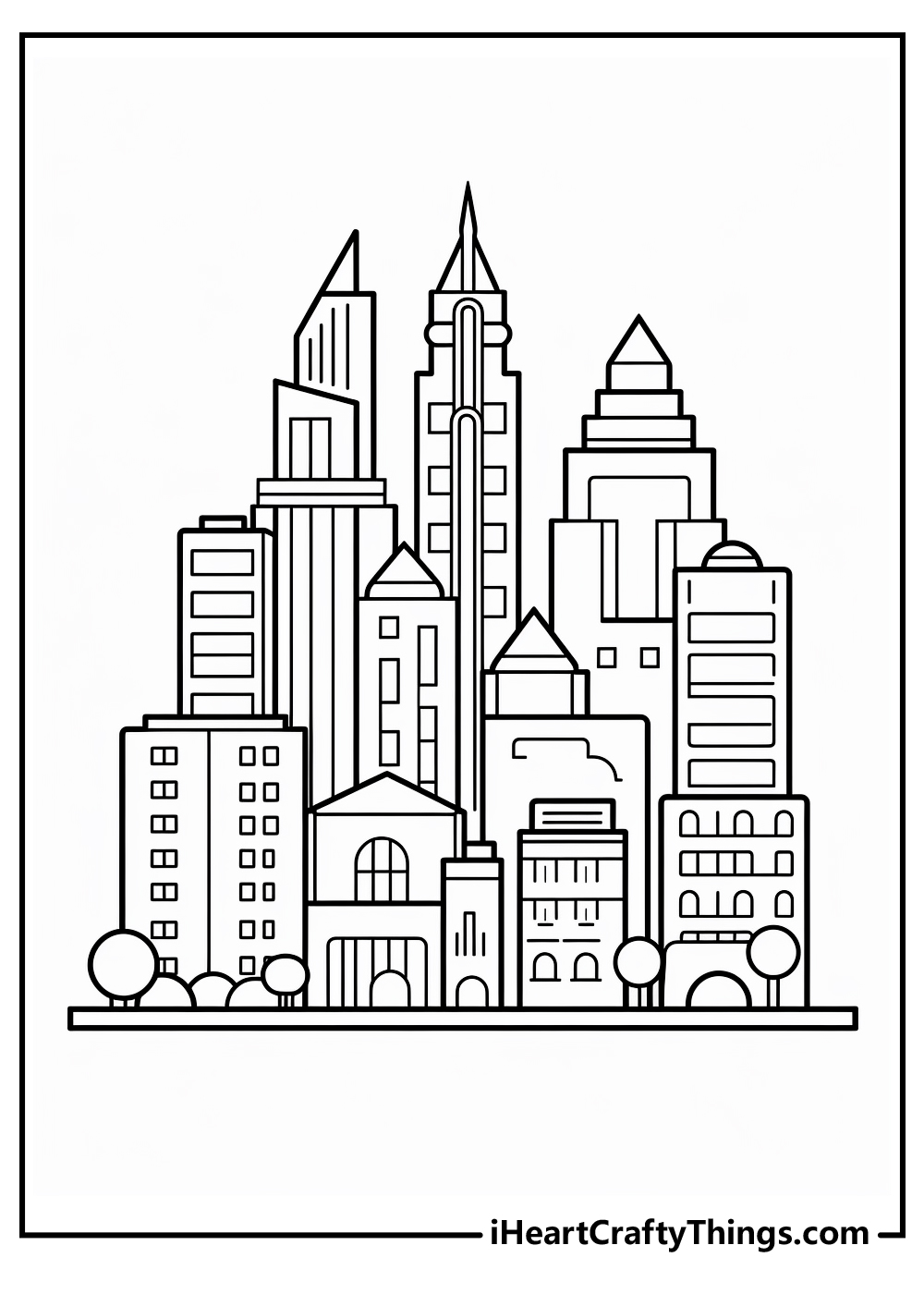 There's a bit of a different scene being portrayed in this next page. This time we see the road leading to the city, and this could mean that we are either approaching it or leaving it.
No matter which one it may be, it provides an interesting perspective of the city!
Because we're a bit closer, you can really make out the smaller details on the buildings, and they will be perfect for some subtle color details.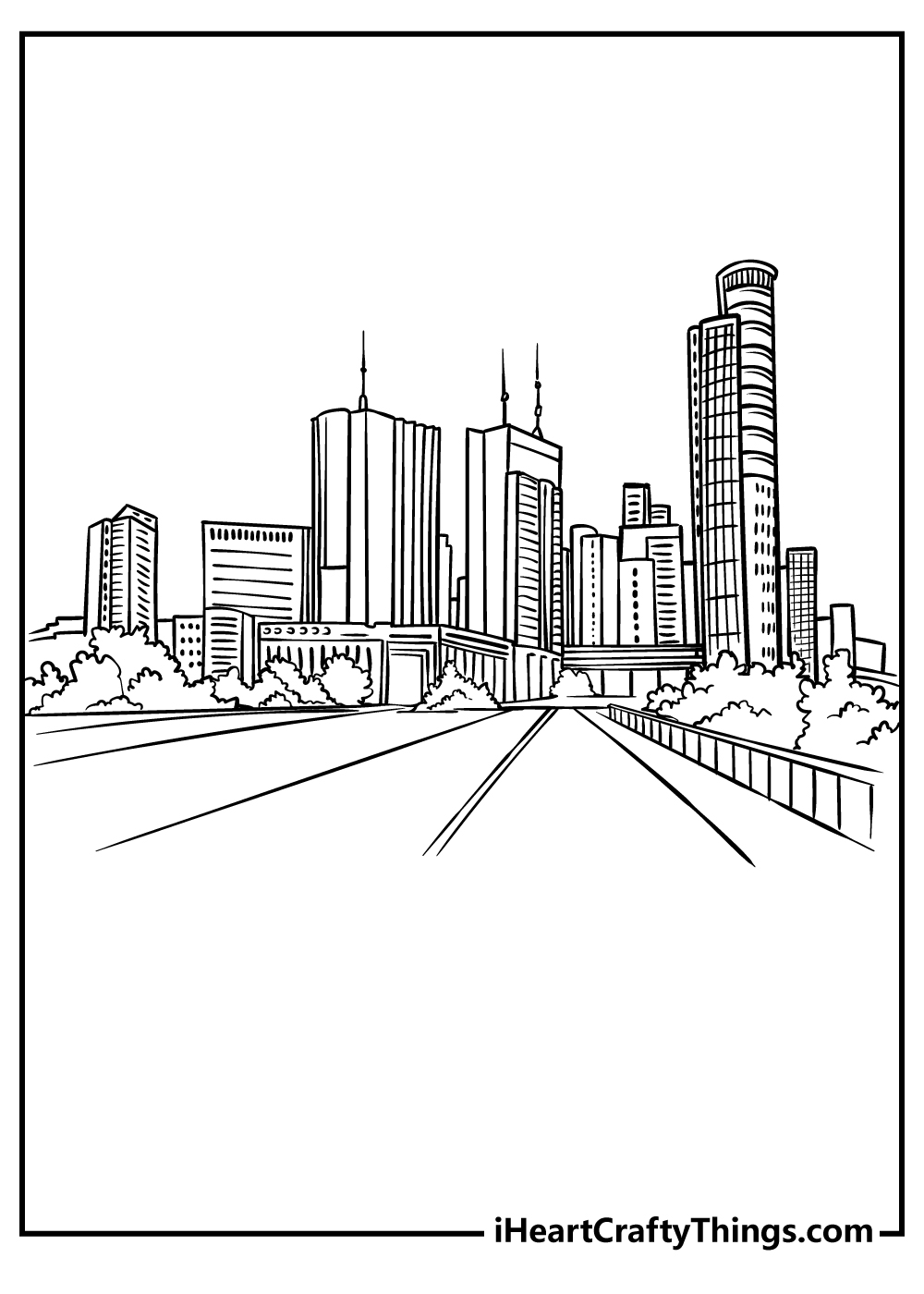 Our seventh metropolis coloring printable features some vegetation, which is something we haven't seen in any previous images.
We're close enough to see some bushes and trees, and that allows you to work in some natural colors such as greens and browns.
These would really contrast beautifully with the colors of the city, so this should prove to be a stunning image!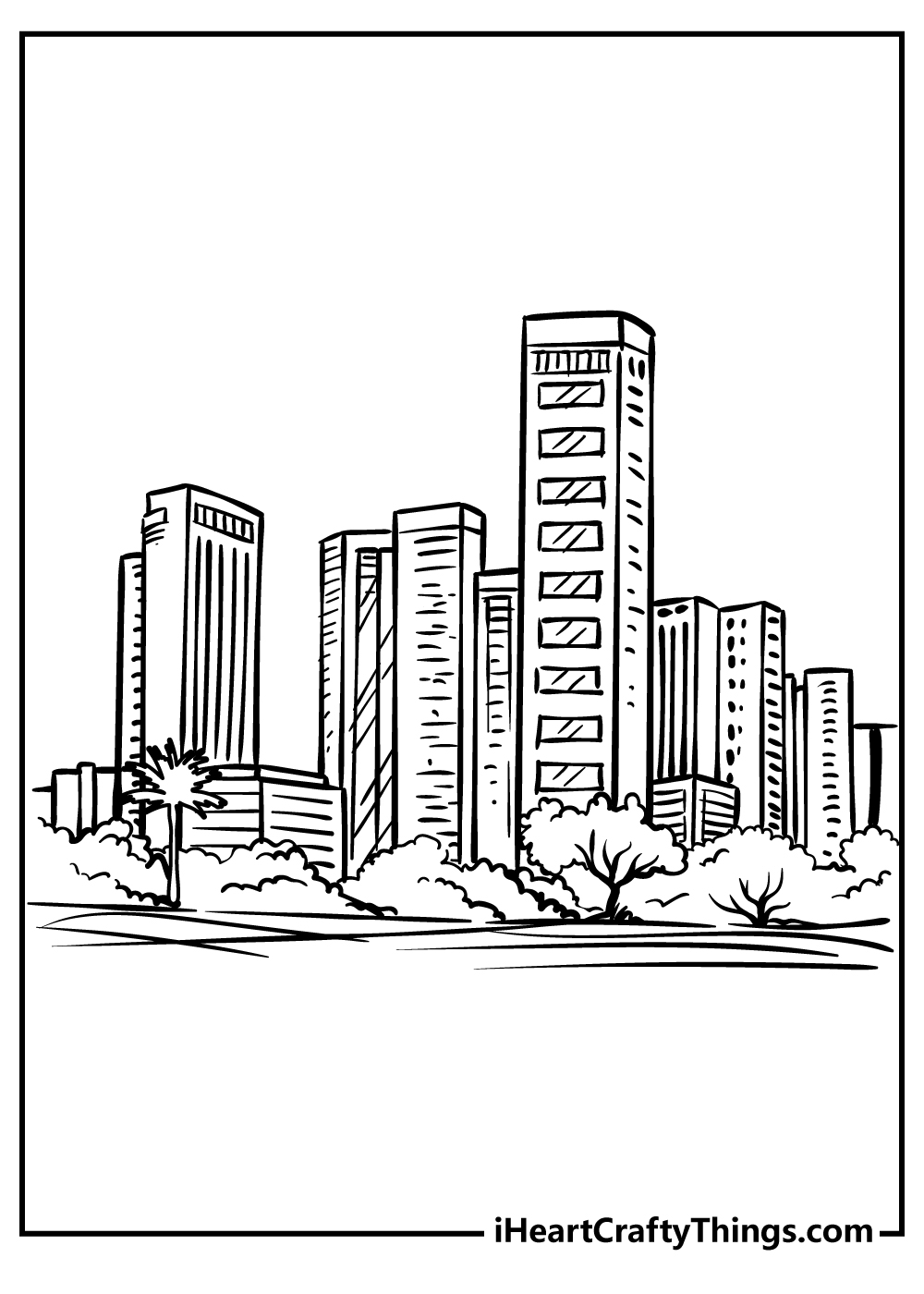 This coloring page features a metropolis stretched toward the horizon, an ever-changing landscape of towering peaks and sunken valleys.
The clocktower centerpiece keeps watch over the urban sprawl like a steadfast sentinel.
As you color, imagine what adventures transpire behind those countless windows. You can use Neutral tones like tans, grays, whites for the highrise buildings.
Blues and greens for the sky and trees. Vibrant tones like purple, orange, pink for creativity and fun. Let the city streets come alive with your creativity.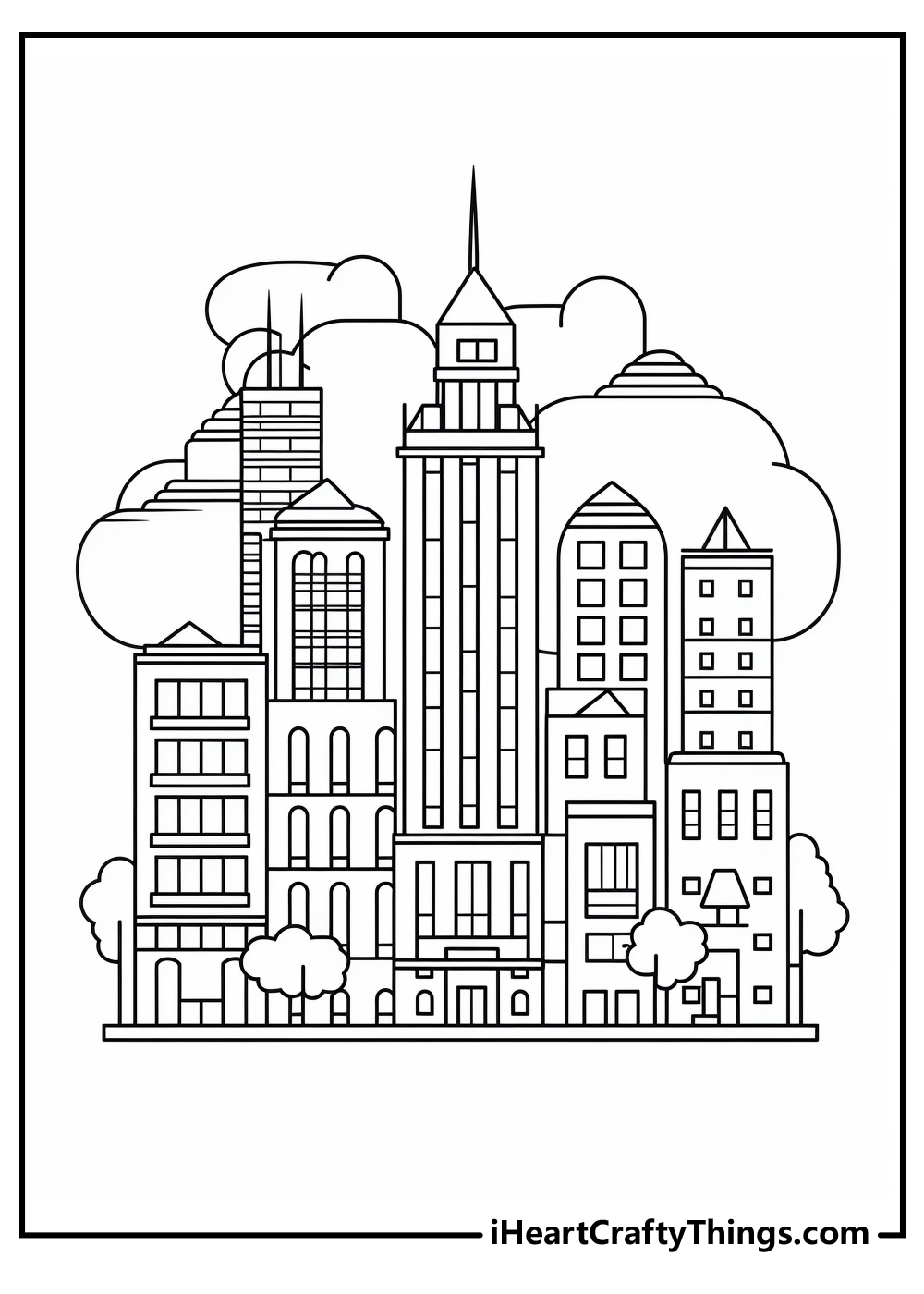 We love the beautiful view of the city that's shown in this page. Once again, we have some stunning details to admire here, and this is one of the most intricately detailed cities we've seen yet.
There are more trees in this image as well, so it's one where you could work in even more natural colors.
Will you add anything to the sky in this image or keep the focus entirely on the city?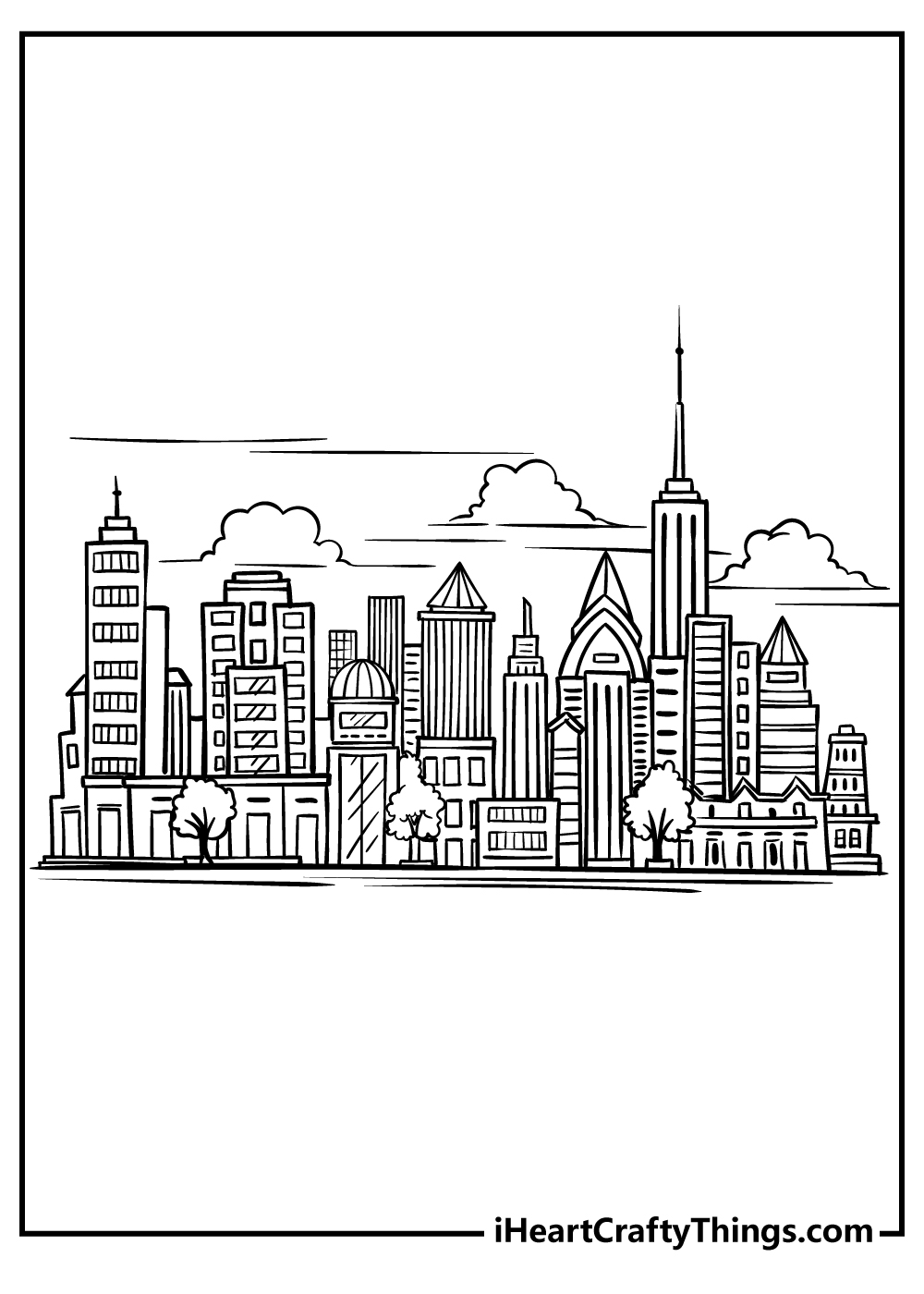 It's almost time for the final page in this collection, but first we have one more simple yet beautiful city for you to color in.
This one may be a bit less detailed, but there are still some great smaller elements such as more trees at the base for you to color.
What will you use to color this one before moving to the final page of the collection?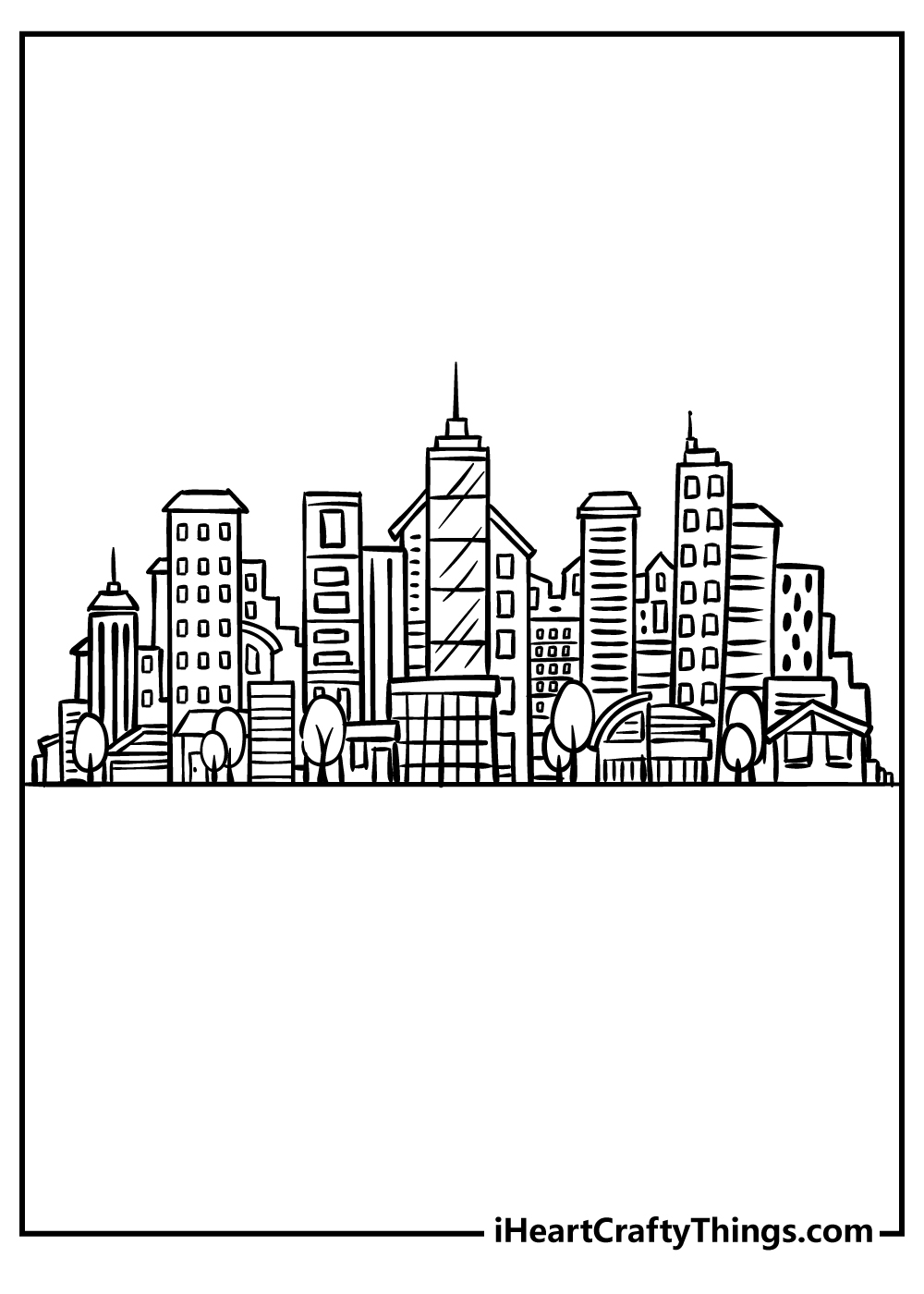 This lively metropolis is bustling with energy and motion. Sleek skyscrapers, brick row houses, and glassy office buildings all crowd together.
As you color this building , think of the millions of stories unfolding within its walls
Cars, buses and taxis zip down the busy streets. As you color, think of the millions of stories happening inside.
Bring your own perspective and creativity to this cosmopolitan crossroads, coloring a city that pulses with the beat of your imagination.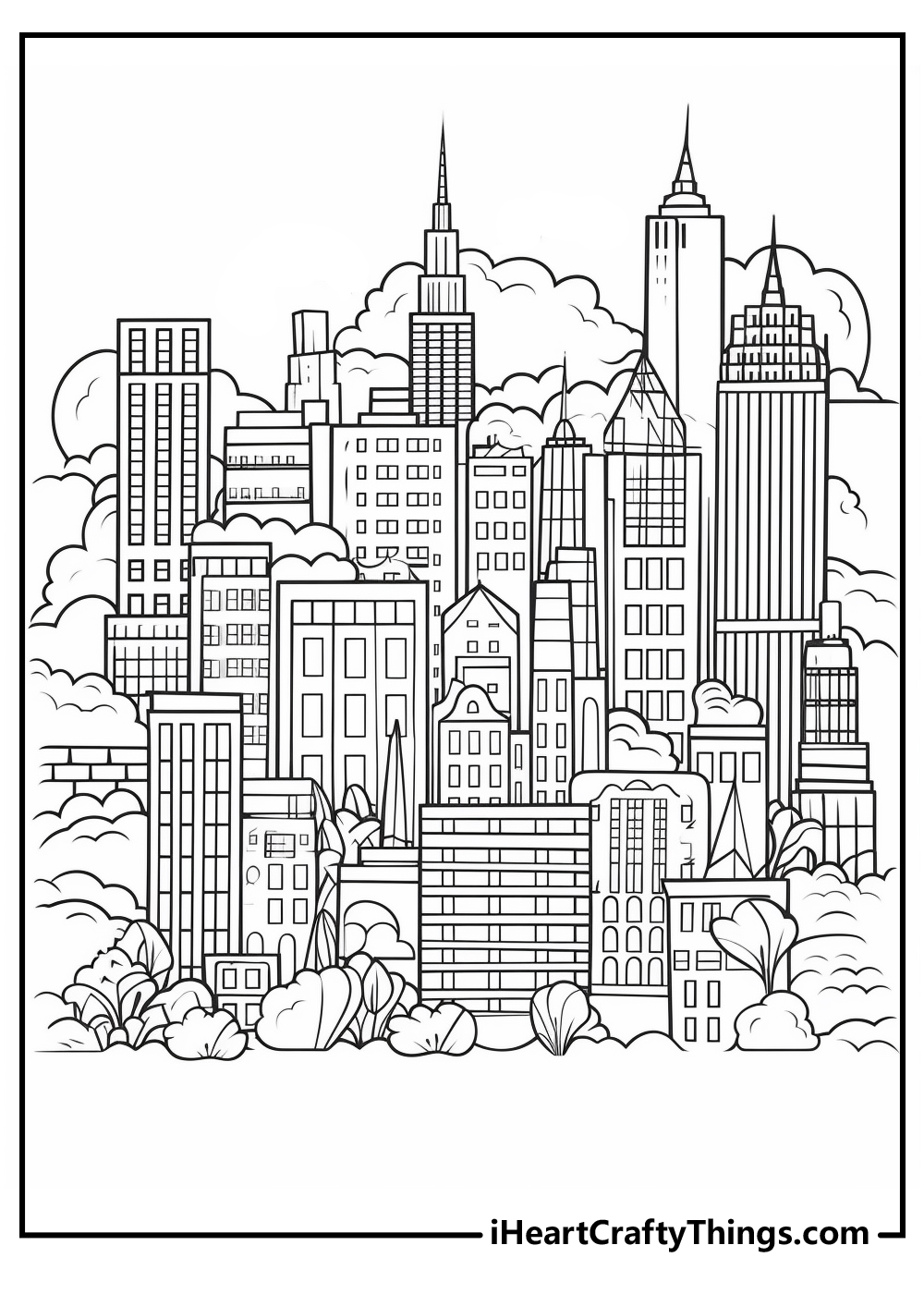 This final city that we have for you to color is possibly the most detailed one yet! This image has so many details to color in that it can be hard to know where to start.
For a picture like this, you'll want to grab a comfy chair and settle in for a long, fun coloring session.
This is a picture you could spend a lot of time on as you add some amazing color details to the composition.
Will you change up the mediums you use for this one, or will you stick to your favorite art tools?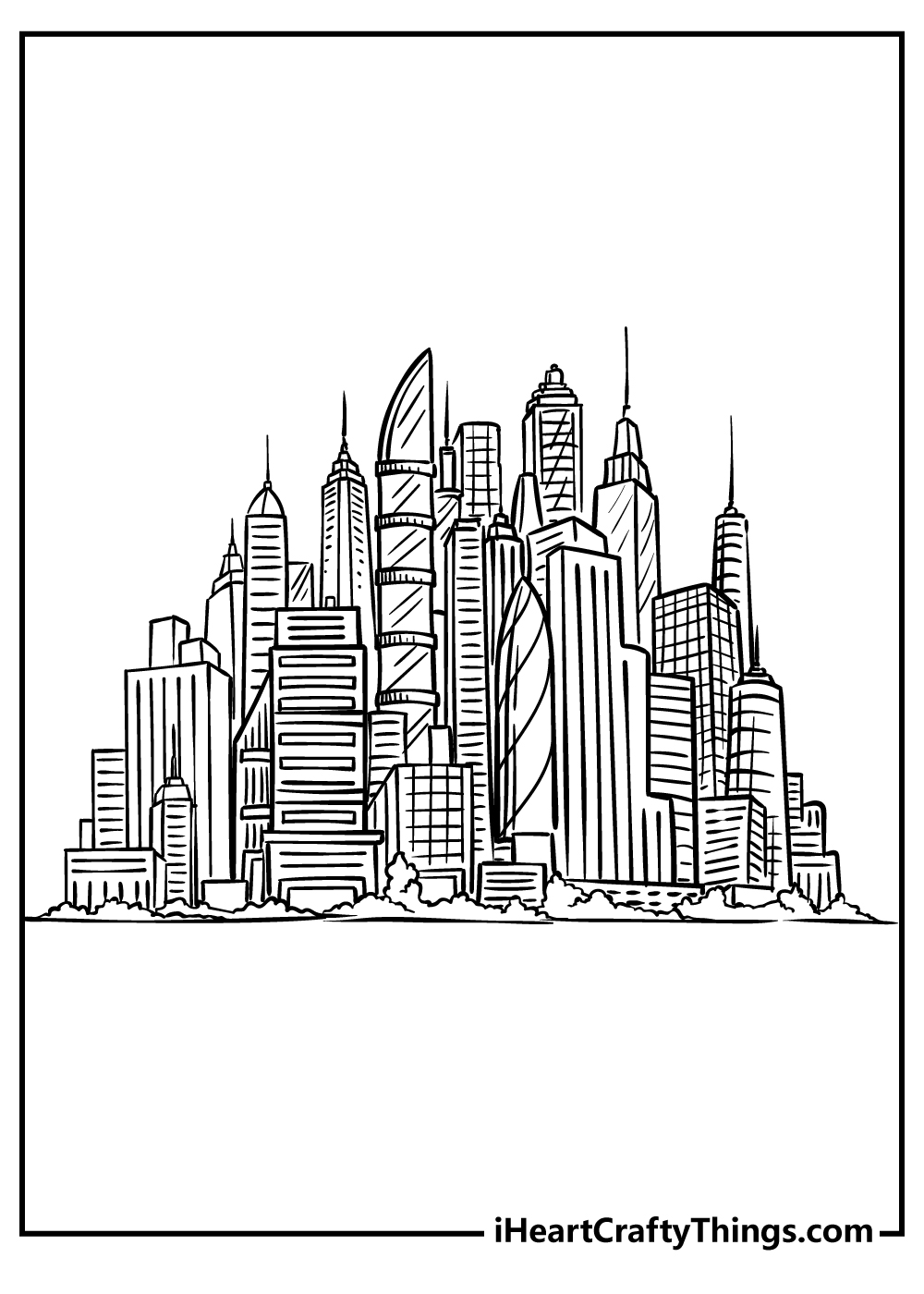 Metropolis Coloring Pages – Which will you choose?
Our collection of free metropolis coloring pages for kids had so many incredible city scapes for you to enjoy.
We hope that you enjoyed creating your very own big cities using your colors and extra details!
When you're ready to try your skills out on some new coloring challenges, you can visit our website for even more incredible coloring guides and other goodies to enjoy.
Be sure to visit often to make sure you never miss out!
Lastly, it would be very interesting to see how some of these came out! You can share your favorite finished metropolis coloring pages on our Facebook and Pinterest pages for us to admire.
We can't wait to see your colorful creations!