There are a few new superhero movies and shows coming out pretty much every month these days, and these costumed heroes are still bigger than ever.
When watching these super-powered men and women leaping over buildings and wearing cool costumes to save the day, it's hard not to wonder what it would be like to a superhero yourself.
These free superhero coloring pages for kids are the perfect way to imagine what it would be like to be an awesome superhero while having hours of fun coloring in.
You could even come up with your own cool settings and superhero themes for these characters as you color in!
Using different mediums such as paints could also give some cool color effects to really make these heroes leap off the page.
Once you've finished coloring in your favorite free superhero printables, please share your colorful heroes to our Facebook page for us to see so we can share in the colorful hero fun!
Here are my RECOMMENDED Art Supplies!
10 Brand New Superhero Coloring Pages – Free to Print and Color
Our first free superhero coloring page for kids shows a hero boy ready for anything. What do you think his superpower could be?
If you're feeling extra creative, you could draw on a superhero symbol onto his chest, so now the only thing to decide is what his symbol could be.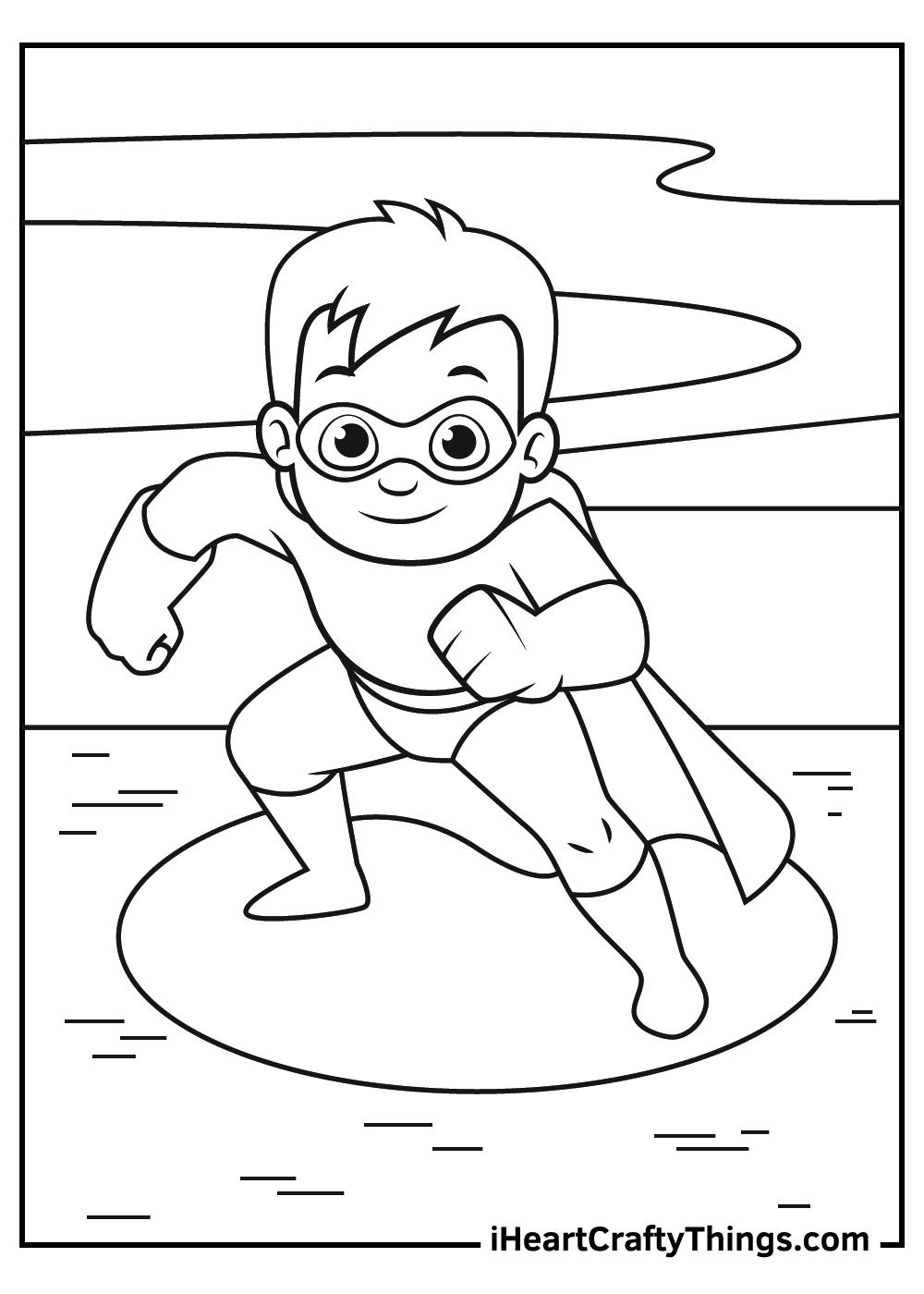 This super girl is looking like a superstar in this superhero coloring sheet.
With all the stars surrounding her, I think it's safe to say that her superhero name might just be star related!
It also gives a great opportunity with lots of pretty yellow coloring for the stars in the background, so maybe you could make her outfit a darker purple to compliment the yellow coloring.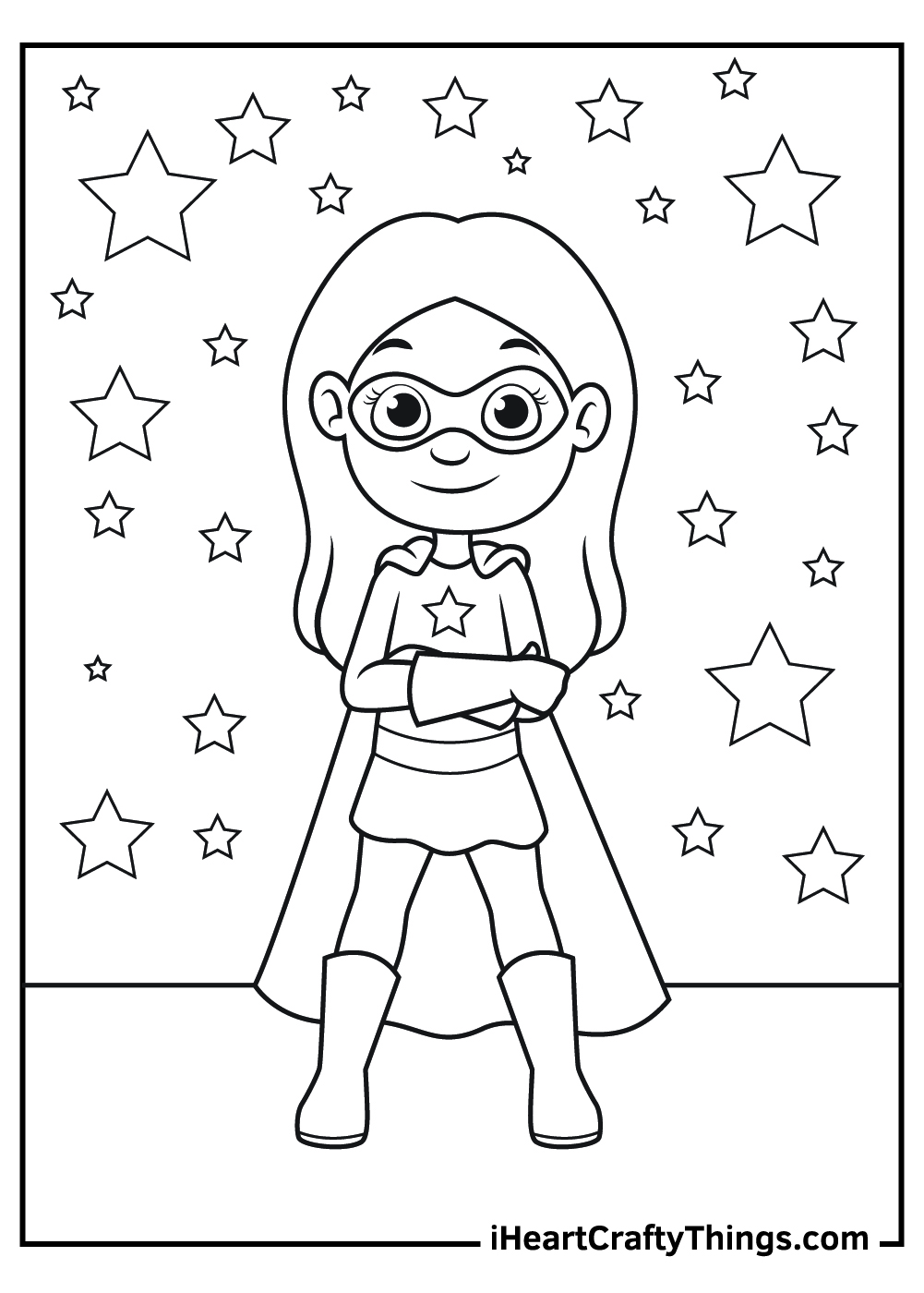 It's time to soar through the air for this superhero coloring printable!
Superhero comics often have cool and stylistic coloring for their backgrounds, so you could use oranges and yellows for the sky behind this flying hero to give the scene a sunset feeling.
Don't forget to draw in a symbol on his chest!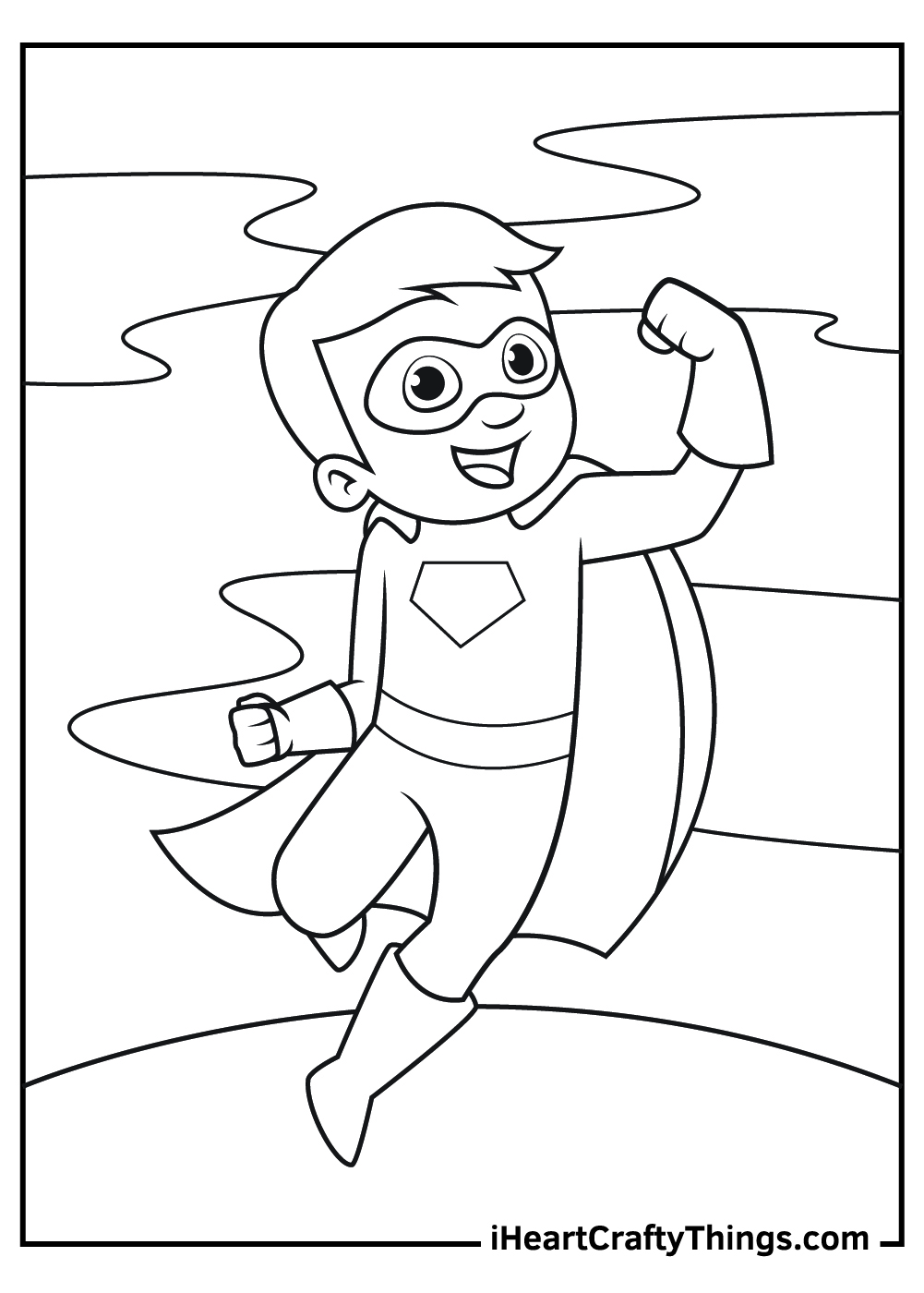 We're taking to the skies again in this superhero coloring page.
There are clouds in the air behind this hero which makes me think he's flying pretty high up on a nice day, so for this one I would think that some bright blues for a clear day background would look good for this heroic image.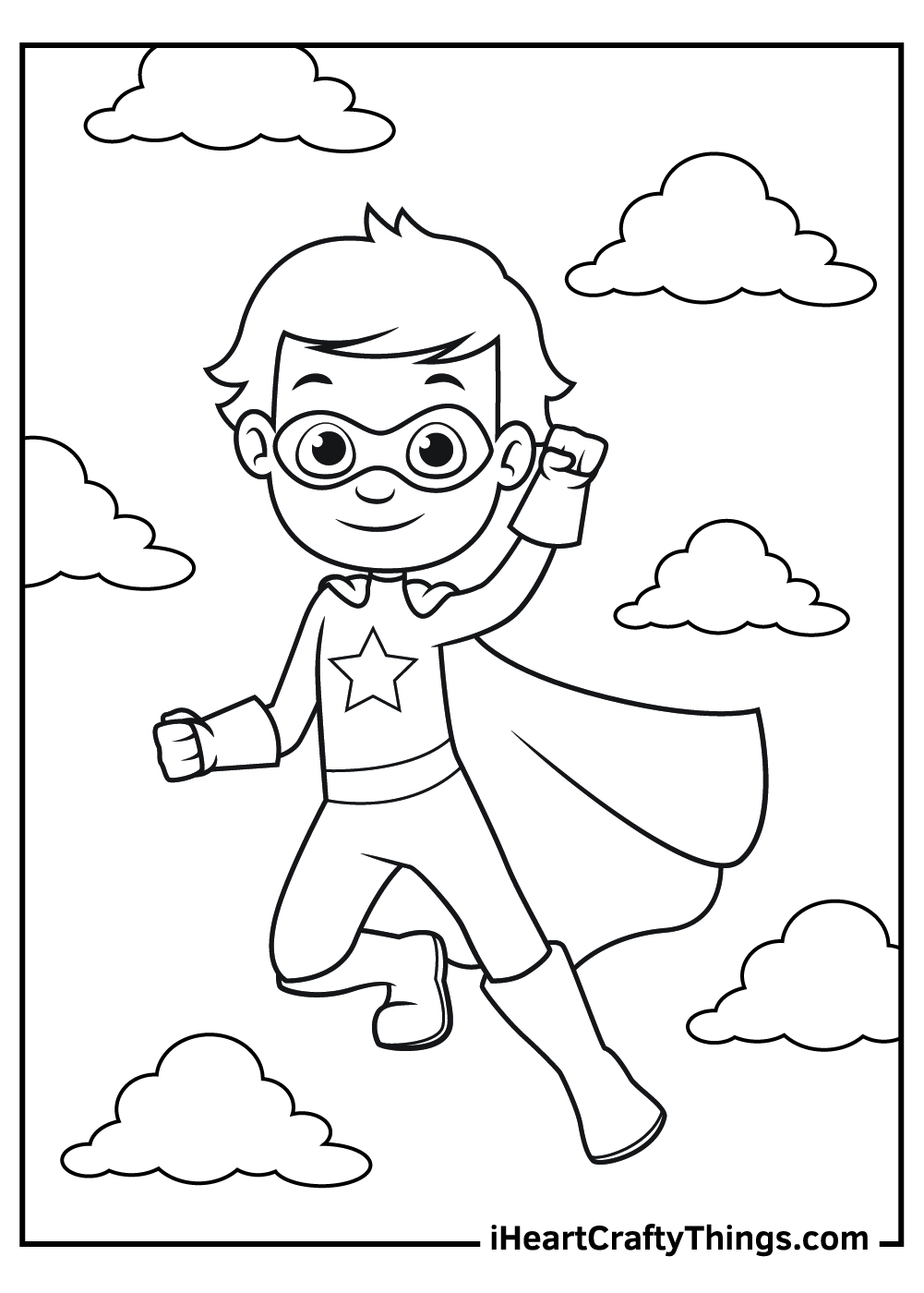 Another super-girl is the star of this next free superhero coloring sheet.
There are diamond shapes behind her, so I think that incorporating some glitter or glitter pens into the background and onto her costume would give this superhero printable a fancy, sparkly look that will really stand out!
What superhero name would you give this little hero?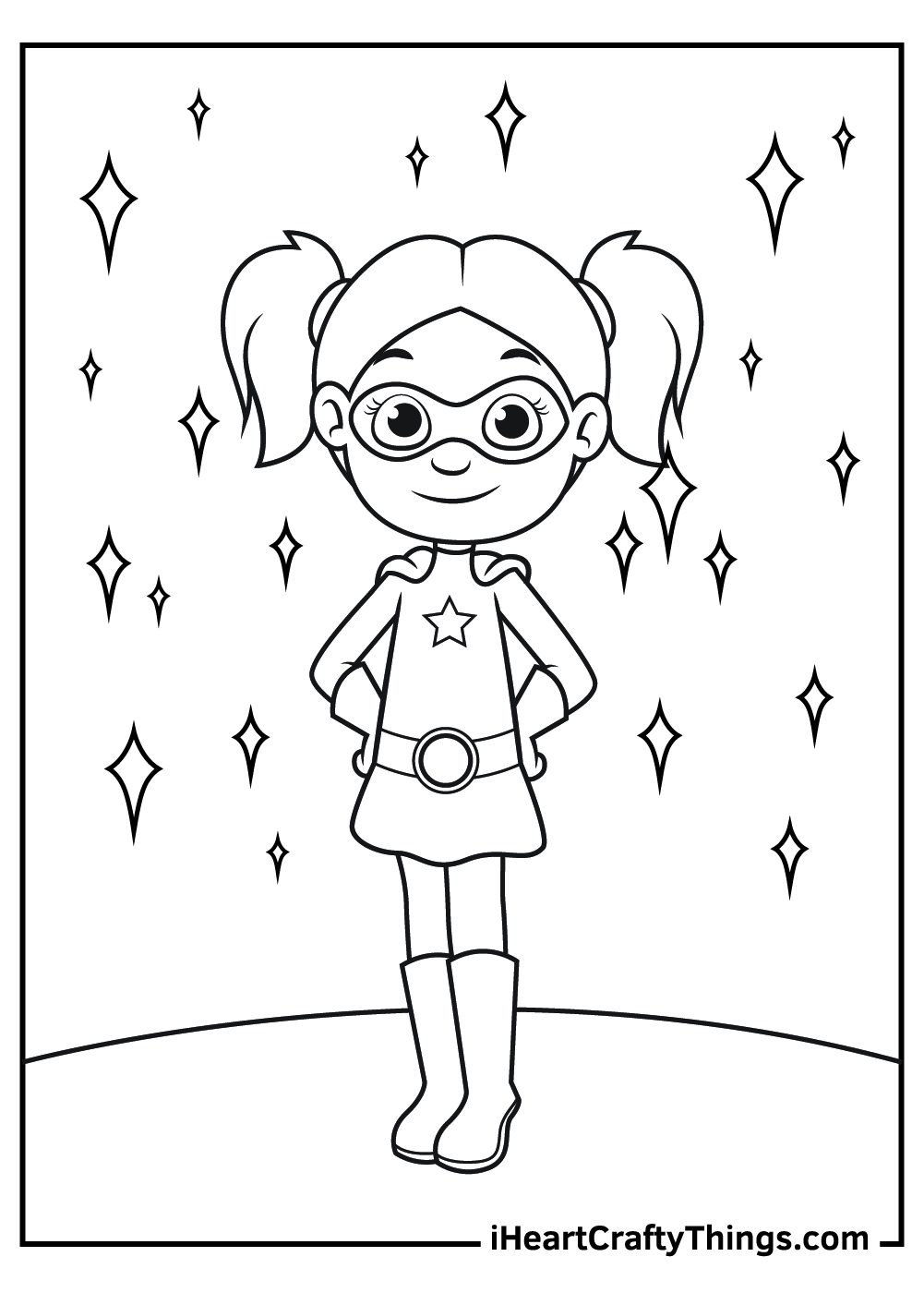 This super boy is flying high to look for crimes to fight!
For some extra fun, maybe you could draw in a sidekick flying beside him, like maybe a dog or a cat in a mask and cape that could be his pet when he's not being a superhero.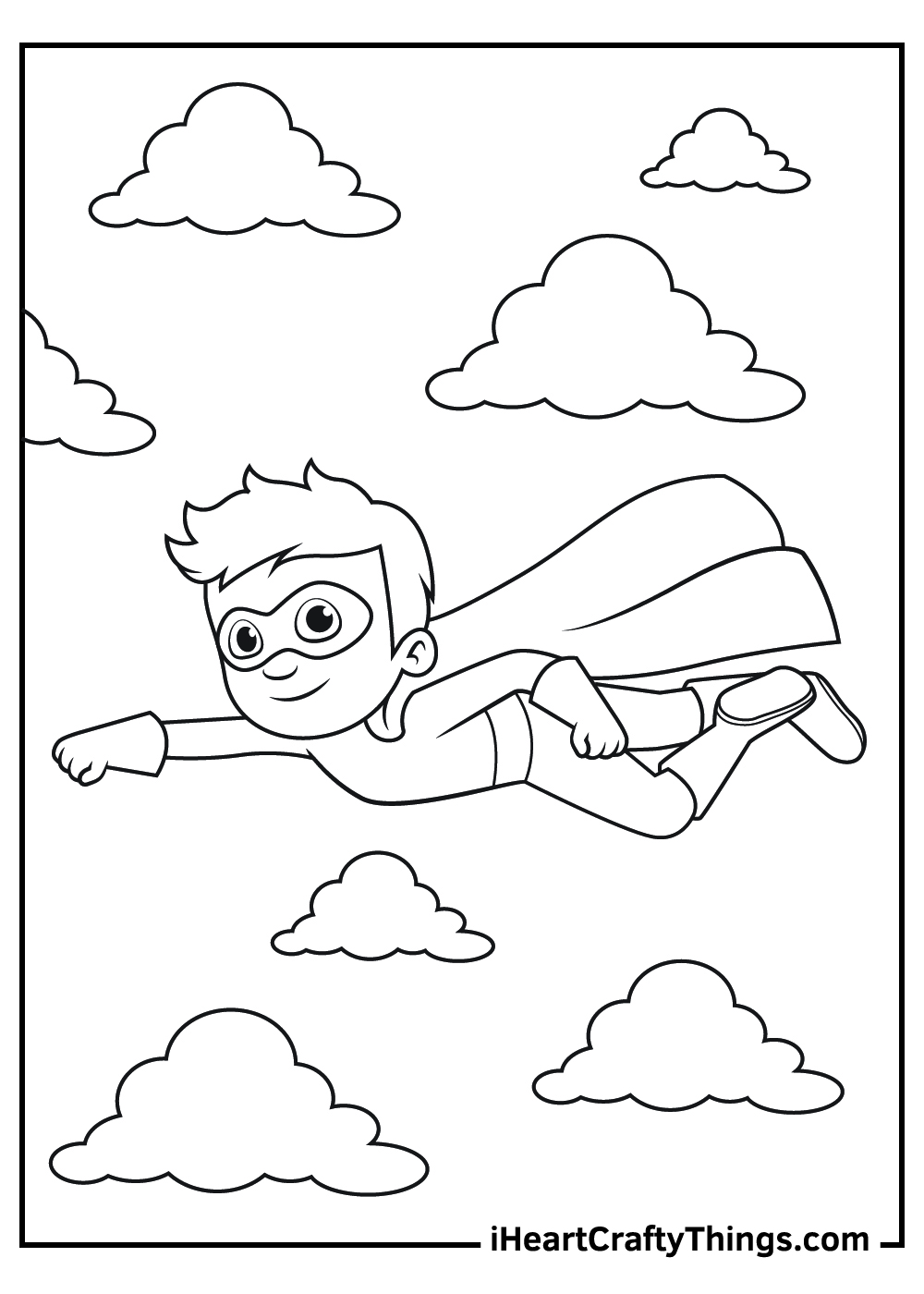 This next superhero printable shows another heroic girl ready to save the day! Superheroes usually have a signature color scheme, so what colors will you choose for this hero?
You could try to alternate different shades of the colors you choose for the background to make this look like a movie poster for this hero girl.
What colors will you pick for this superhero coloring page?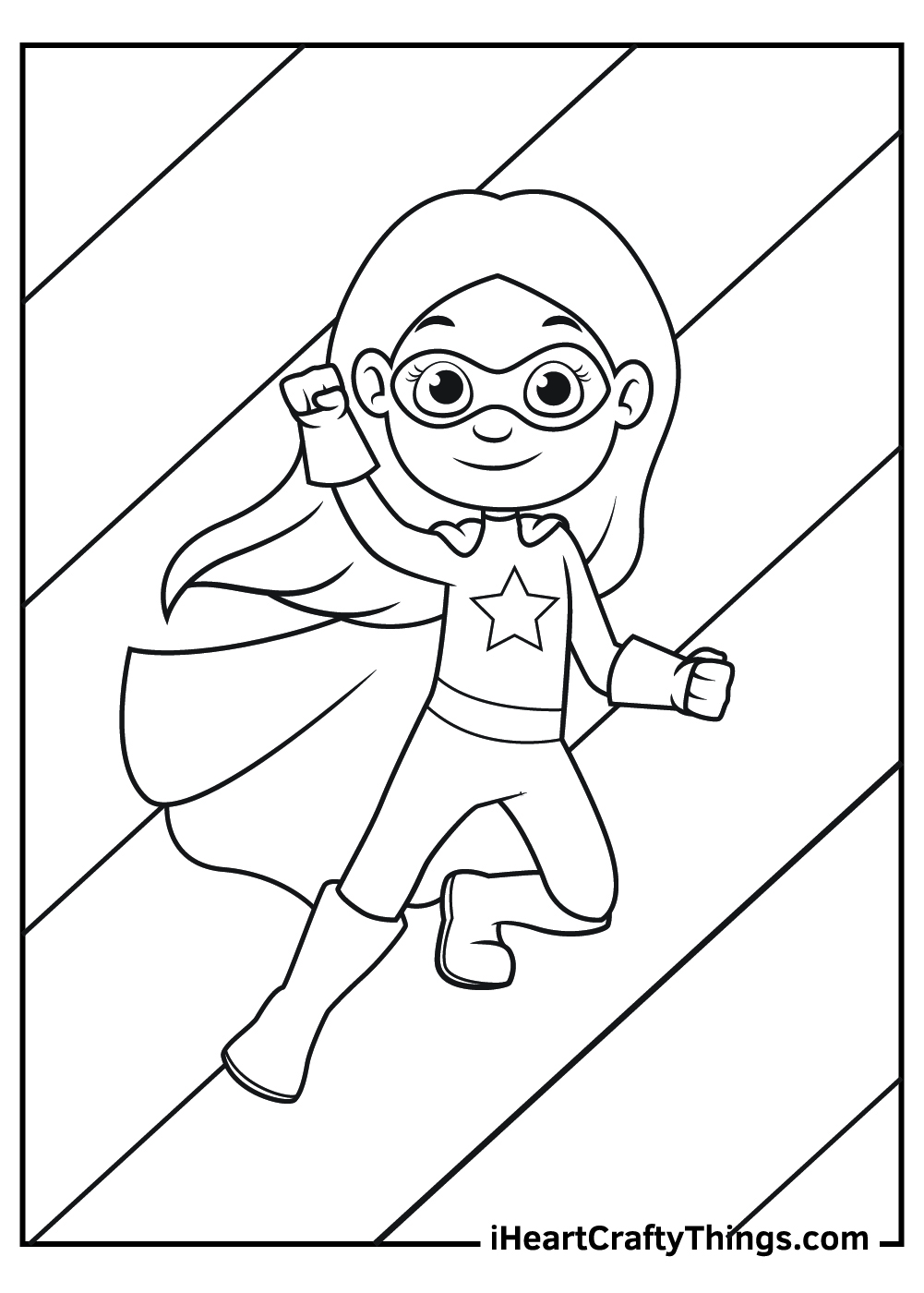 The spotlight is on another super boy for this superhero coloring page!
If I were coloring in this page, I would use a bright yellow for the circle he's standing in and a really dark color for the background like black or a dark blue to make it look like he's standing in a spotlight. What colors are you thinking for this page?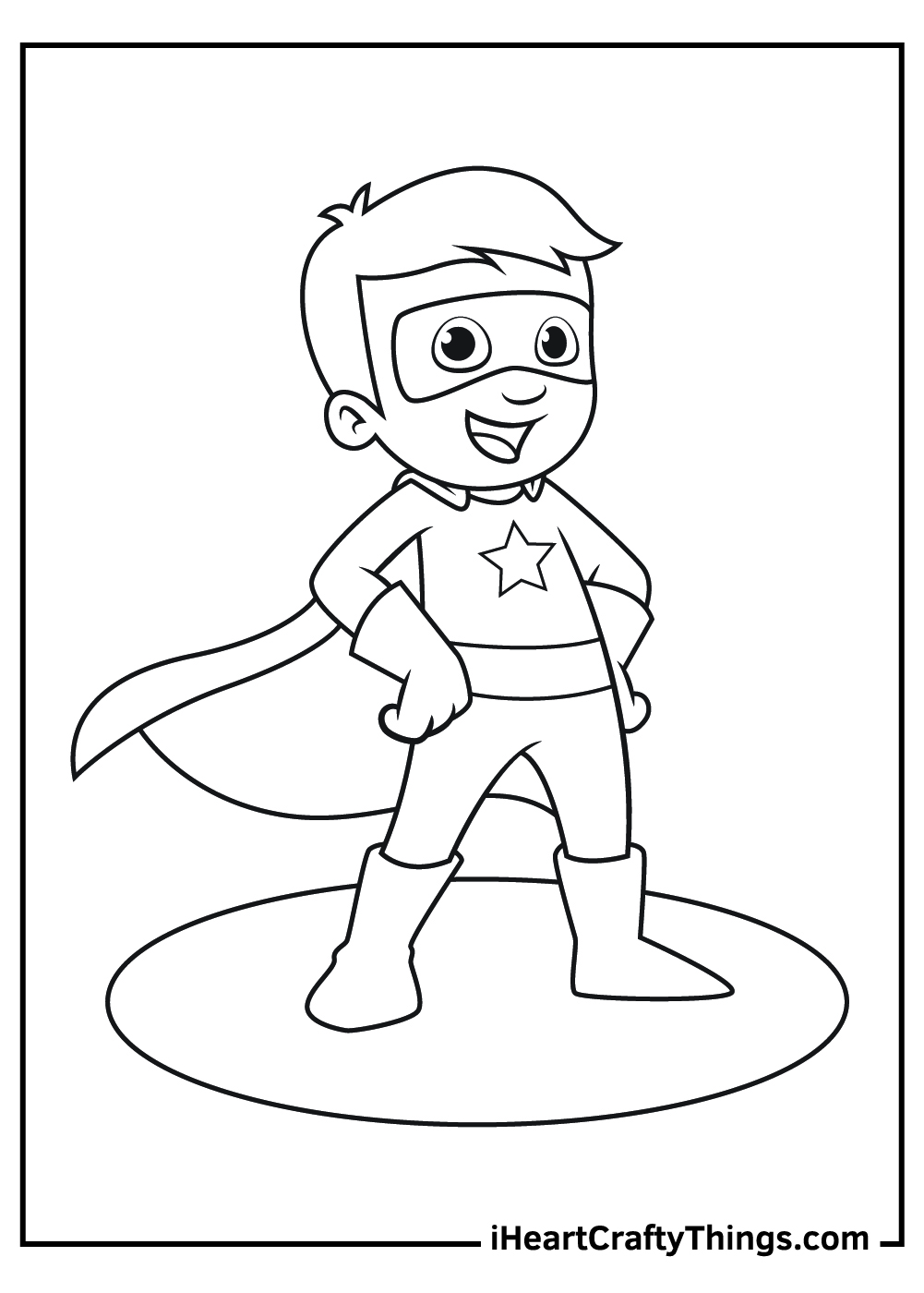 This young superhero is looking happy, confident and ready for anything in this free superhero coloring sheet!
Once again, we need to decide what colors his superhero outfit would be! I would pick dark green with a nice red to give his outfit some bright, complimentary colors. We can't wait to see what you go with for this outfit!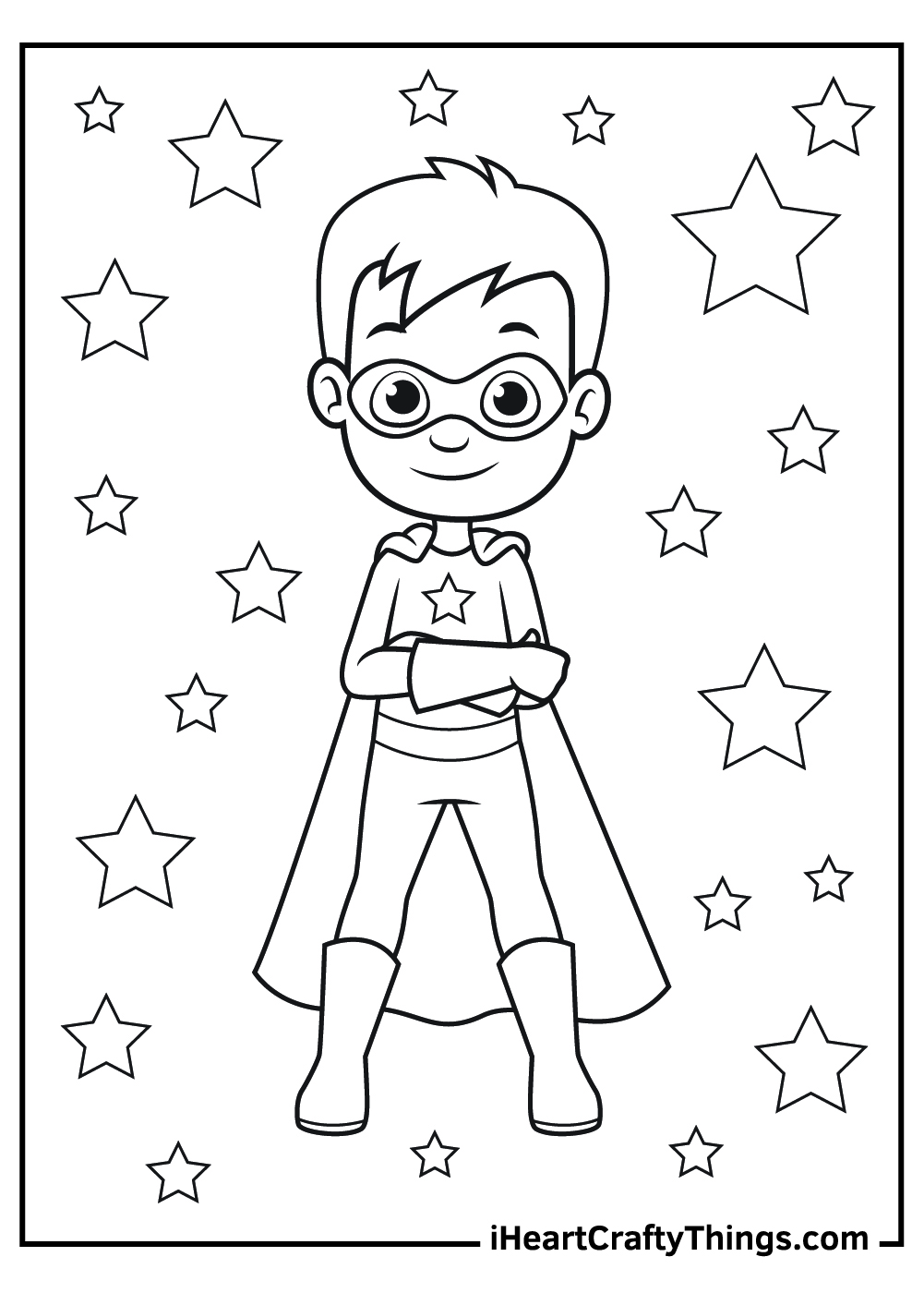 This last free superhero coloring page for kids shows another girl soaring through the sky! I think that this would be another great opportunity to draw in a furry sidekick for this super girl.
If you have a pet, maybe you could depict them as the sidekick to this superhero! For her super suit, I would use some lovely darker pinks and purples alternating to create a striking look for her, but what will you decide for this last superhero printable?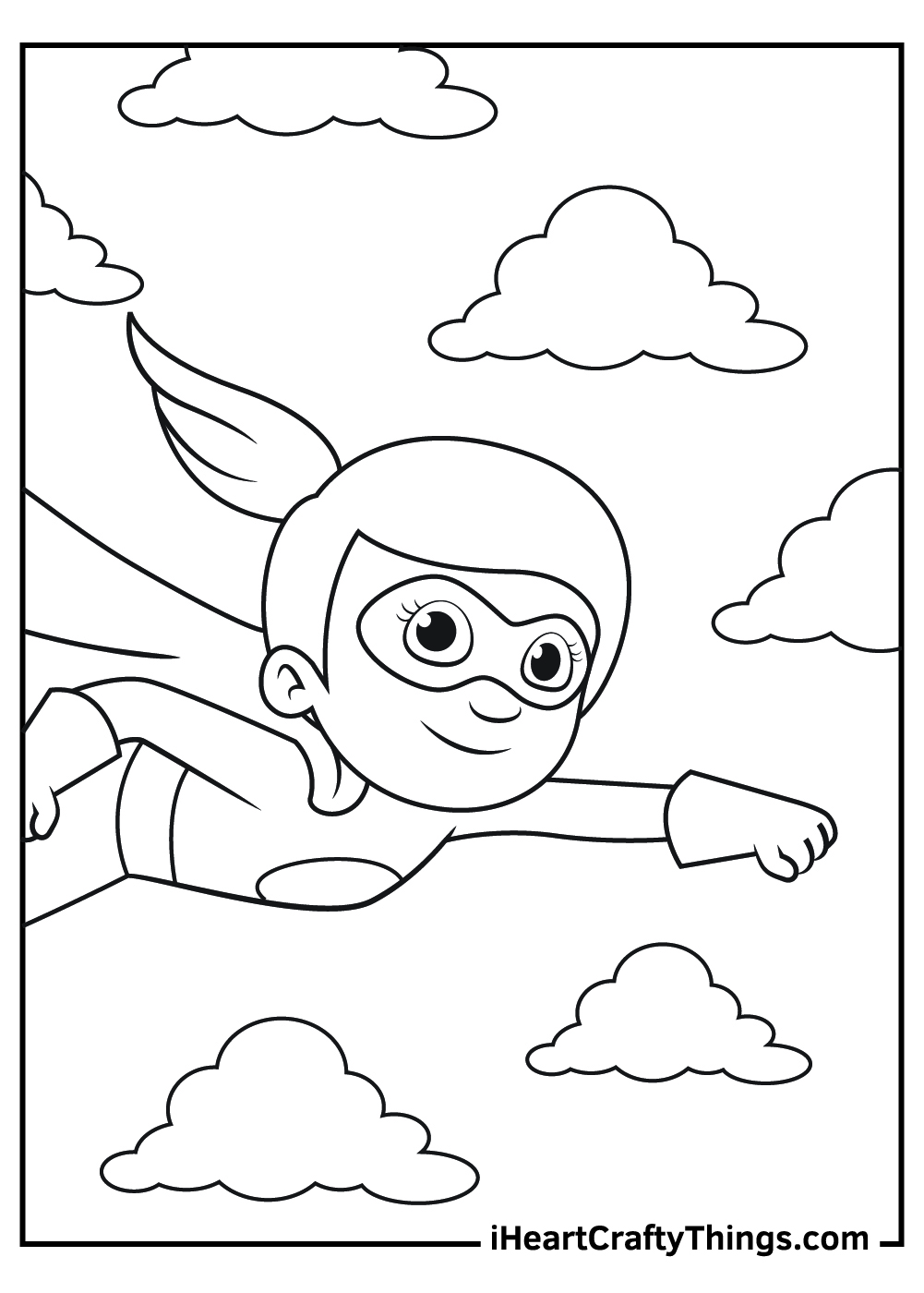 Superhero Coloring Pages – Which will you choose?
We hope you had hours of super fun with this awesome set of free superhero coloring pages for kids!
Remember that all of our coloring pages and printables are free for you to print out and enjoy as much as you like, so why not print out a few copies of your favorite free superhero printables to create even more characters and variations?
You could also try out different mediums such as watercolor paints and colored pens and pencils for more unique looking images.
Please be sure to like and share our Facebook page to never miss out on any of our cool coloring pages and other printables that we'll be bringing out. There's plenty of coloring fun to be had so we'd love you to be a part of it!
Also, please share your favorite completed superhero coloring sheets to our Facebook page for us to see! We'll be looking forward to seeing some new bright and colorful superheroes that you've created with your colors.