There are a seemingly unlimited amount of cartoons for people to enjoy. There are cartoons for the youngest of toddlers and others that people in their 90's can enjoy too.
There's definitely something for everyone with this art form!
Because cartoons are so popular throughout all ages, many people have wondered how they can learn how to draw a cartoon girl, only to find themselves lost.
The good news is that this guide on how to draw a cartoon girl will show you how easy it can be when you know what to do! Be sure to read through this guide to find out how you can do it yourself.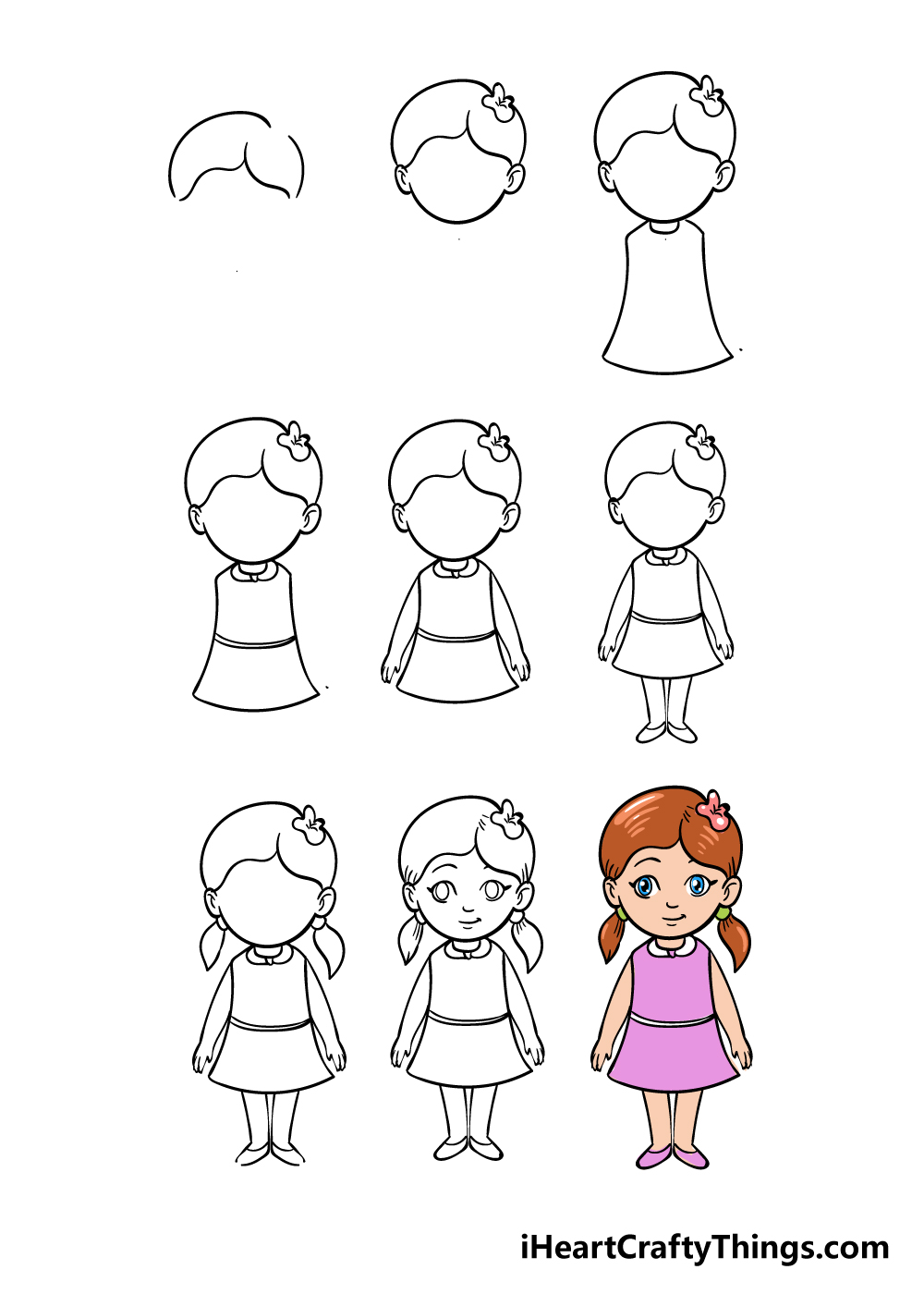 How to Draw A Cartoon Girl – Let's get Started!
Step 1
We will be kicking off this guide on how to draw a cartoon girl by starting with the hair.
As you can see in our reference image, on top of the hairstyle there will be two curved lines that have a small gap between them.
Then, below those lines there will be two more lines that curve upwards to the center.
We will be adding more to finish off this hairstyle in the next few steps, so once you have it looking like our reference image then we are ready to proceed!
Step 2 – Next, finish off the head
For this part of your cartoon girl drawing, we will finish off the head outline. First, draw the ears into the tiny gaps left between the lines on top and on the bottom.
Then, use a curved line to connect into a rounded chin beneath them. Finally, draw a small flower shape into the gap that you left in the two lines at the top.
Step 3 – Now, draw a dress for your cartoon girl drawing
We will be leaving the head for now as we draw a dress in this step of our guide on how to draw a cartoon girl.
First, draw a small, squat neck between the head as you can see in our reference picture.
Then, extend the shoulders of the dress down from the bottom of the head, and then use two straight lines coming down from that. Finally, join them with a slightly curved line at the bottom to finish off this step.
Step 4 – Draw some more details for the dress
This step of your cartoon girl drawing will be quite a simple one! We will be drawing some line details onto the dress that she's wearing for this step.
First, you can draw a thick collar under her neck, and then finish off with two thin lines near each other across the midsection of her dress.
Step 5 – Draw some arms for your cartoon girl
We will be drawing some arms in this step of our guide on how to draw a cartoon girl.
These will start at the corner of the shoulder of the dress and then extend down to be level with the bottom of the dress.
As you can see in the reference image, we used a nice, simple design for the arms that is quite effective!
Step 6 – Next, draw some legs
Drawing arms is one thing, but your cartoon girl drawing also needs some legs! Luckily, these will also be quite simple to draw.
They will be quite close to each other coming out from the bottom of the dress and end in some small shoes.
Step 7 – Draw the ponytails for your cartoon girl
Step 7 of this guide on how to draw a cartoon girl will be another simple one! For this step, we will be drawing some ponytails for your cartoon girl.
These will have small circles at the base of the ponytails connecting to the face right under her ears. It's easy as that, and now we're ready to move on!
Step 8 – Finish off the facial details
Your cartoon girl drawing needs a face before e move on to the final step, so let's take care of that now!
Her eyes will have a big, circular iris with some curved lines around them to give them more expression. Then, her nose and smiling mouth can be drawn with some simple, small, curved lines.
Finally, once you're happy with how the face looks, you can add some line details to her hair and ponytails to finish it off. Before you move on, maybe you could draw a nice background or some accessories for her!
Step 9 – Now finish off your drawing with color
Nothing brings a picture to life like some beautiful colors, so let's add some in this step of our guide on how to draw a cartoon girl.
We showed you how we would interpret this drawing with our colors, so now it's up to you to show us how you would do it!
When it comes to coloring, there is no wrong answer or incorrect way to do it. You should use any colors that you love and feel would suit this character!
Once you know the color scheme you would like to use, which fun art tools and mediums will you use to finish off this drawing?
Here's how you can make your cartoon girl drawing even better…
See how you can make your cartoon girl drawing look even better with these tips!
You can drastically change the way this cartoon girl sketch looks with a few simple details. For example, you could change her hairstyle or her clothing.
Even if you keep them the same, you can still give her a new look by adding some small accessories and patterns.
Many of these changes may not seem like much, but they can make a huge difference!
Once you are happy with how this drawing of a cartoon girl looks, you could give her some friends to hang out with. To add some more characters, simply follow the steps of the guide again and change a few details.
A great way to differentiate characters would be to change the facial expressions of the characters. Then, you could alter their hairstyles and clothes that they're wearing to create some unique characters!
If you would like to add some more characters, you could maybe base them on your own friends and family.
You can also really take this cartoon girl sketch to the next level by adding a background to finish it off. You could use any location you can think of if you wanted to do this!
They could be some normal locations such as a park or a school, but you could also do something more imaginative.
Maybe you could add a space helmet over her head and make it look like she is exploring the moon!
There are also many ways that you can make this cartoon girl drawing even more amazing with the colors and mediums that you use.
We showed you just one way that you could color her in, but there are no wrong ways to do it.
You can also use some wonderful art tools and mediums that you haven't used much before. Not only that, but different mediums can be combined to really bring the colors to life!
What are some of the colors and mediums you think would suit this drawing best?
Your Cartoon Girl Drawing is Complete!
Give yourself a pat on the back, as you have reached the end of this guide on how to draw a cartoon girl! You should be proud of the incredible drawing that you have in front of you now.
We really hope that you had a lot of fun with this guide and that you discovered that learning how to draw a cartoon girl was easier than you expected.
Now that you can draw this character so well, perhaps you could make some variations by changing her position, facial expressions or colors.
There's no limit to how much you can personalize your picture, so let your imagination run wild!
There is lots of drawing fun in store for you on our website, so be sure to check in for more awesome guides!
We have plenty for you to enjoy and we will upload more all the time, so make sure to visit frequently!
We would love to see your finished cartoon girl drawing when you're finished with it, so please be sure to share it on our Facebook and Pinterest pages for us to enjoy!