On this page, you will find 25 all new Batman coloring pages that are completely free to print and download.
There are many amazing superheroes in comics and films, but one of the coolest heroes has no superpowers or abilities!
At night, Bruce Wayne suits up as the dark knight of Gotham and uses his wits, skills and resources to take on the nastiest criminals the city has to offer.
This collection of free Batman coloring pages for kids is here to shine the bat-signal on this iconic character!
Every page in this collection is free for you to print and enjoy, and you can share them all with other bat-fans as well!
When you have chosen your favorite pages and colored them, you can then share some of your finished artworks on our Facebook and Pinterest pages!
25 Brand New Batman Coloring Pages – Free to Print and Color
The caped crusader is on the move in this Batman coloring sheet. Superheroes can't be everywhere at once, so there is no time to waste when moving between crimes and supervillains.
Because he is running fast in this one, we would use lots of smaller strokes of color behind him in order to create that feeling of movement.
That is one way you could show the speed that Batman is moving at, but you could also go for a more detailed background if you prefer!
How will you complete this action-packed portrayal of our hero?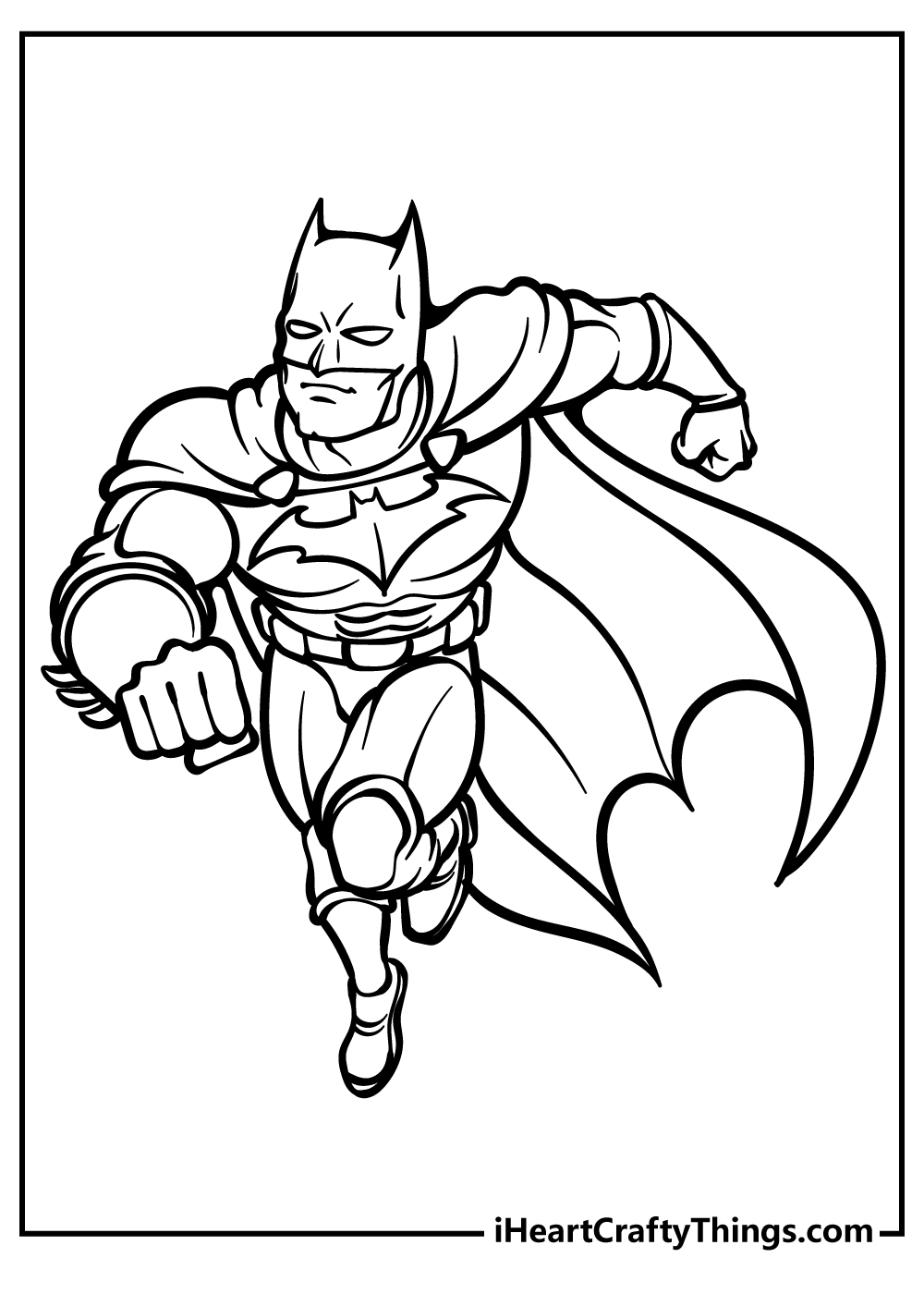 Batman's batsuit has gone through many different forms throughout his various comic, movie, TV and video game appearances.
This one seems to have elements from a lot of these appearances, as it has a more cartoony style but is also really detailed.
That means that you have many ways that you could color this one.
Do you think you will go for a more muted approach with some darker colors or use slightly brighter colors to make him look like he does in the comics?
If you can't decide, remember that you can print out a few copies in order to experiment!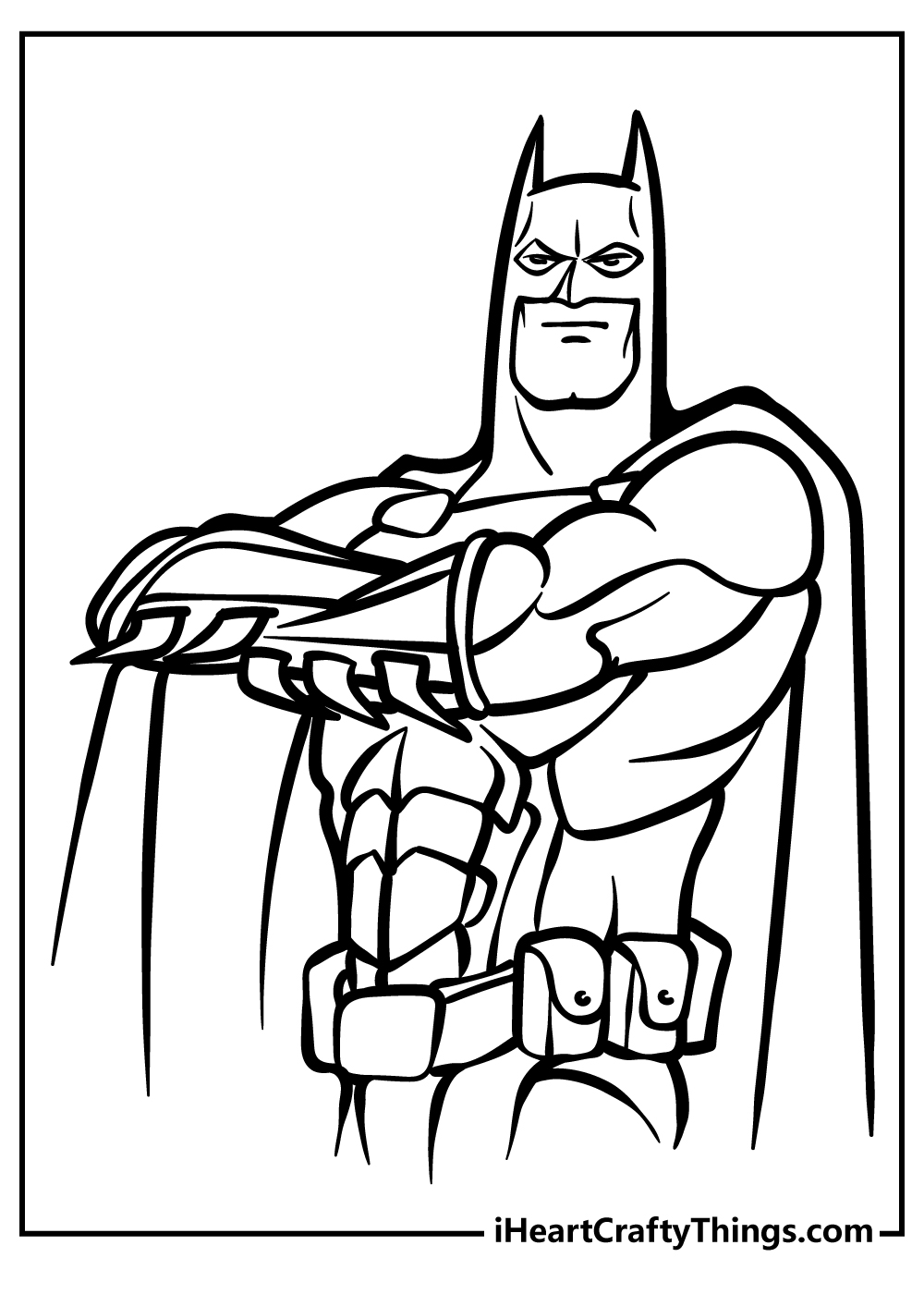 We have a really heroic pose for the caped crusader in this first Batman coloring sheet!
He looks like he is standing vigilant, and you can imagine that he may be standing on top of a skyscraper, surveying his city for crime.
What kind of color scheme will you choose for this awesome Batman pose?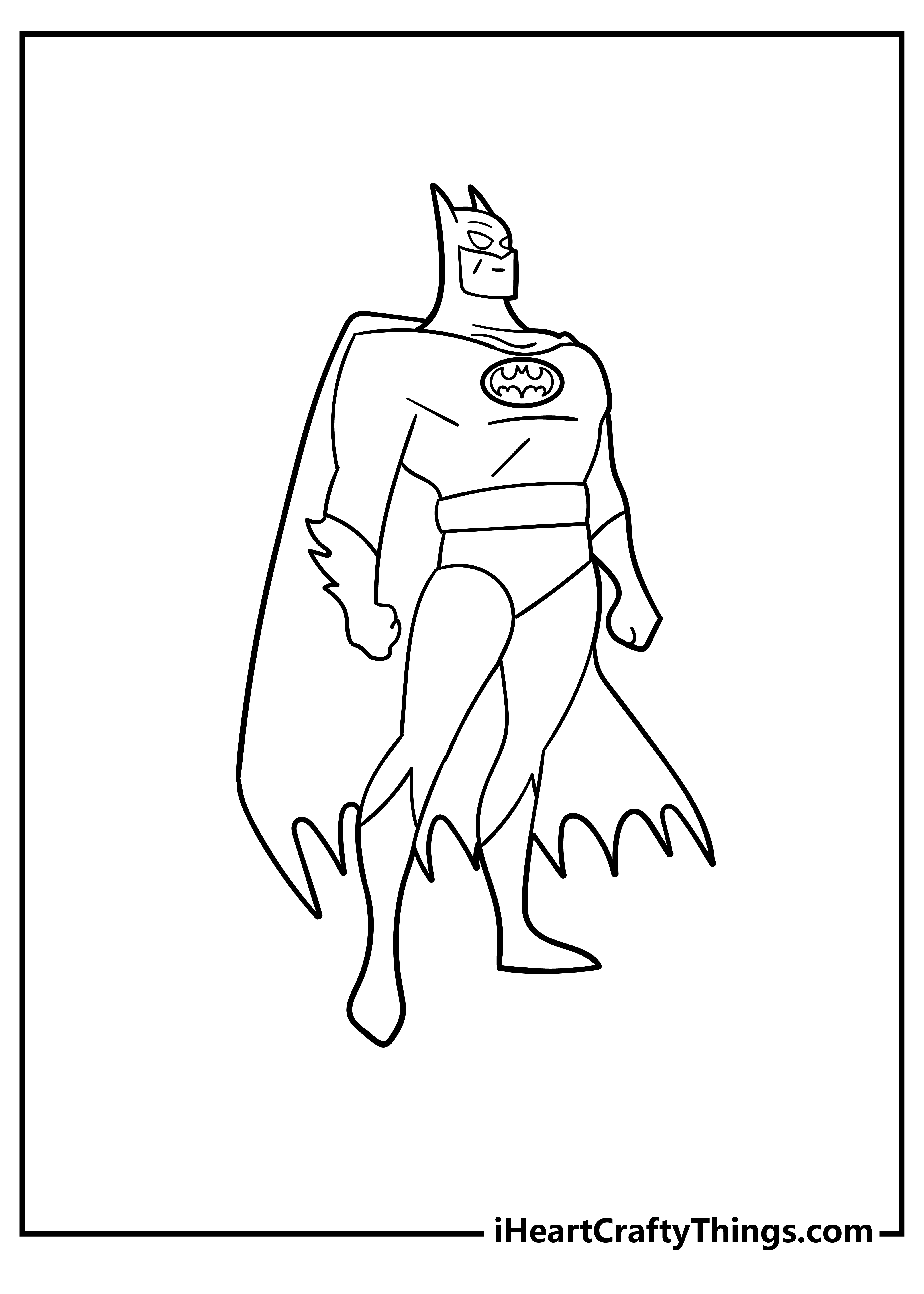 The first page that we had for you featured a calm pose, but this next one is more of an action scene.
Batman is leaping forward and looking fierce, and it makes you wonder which of his many villains he may be up against.
You could show which villain you think it could be by drawing some clues into the details of the background!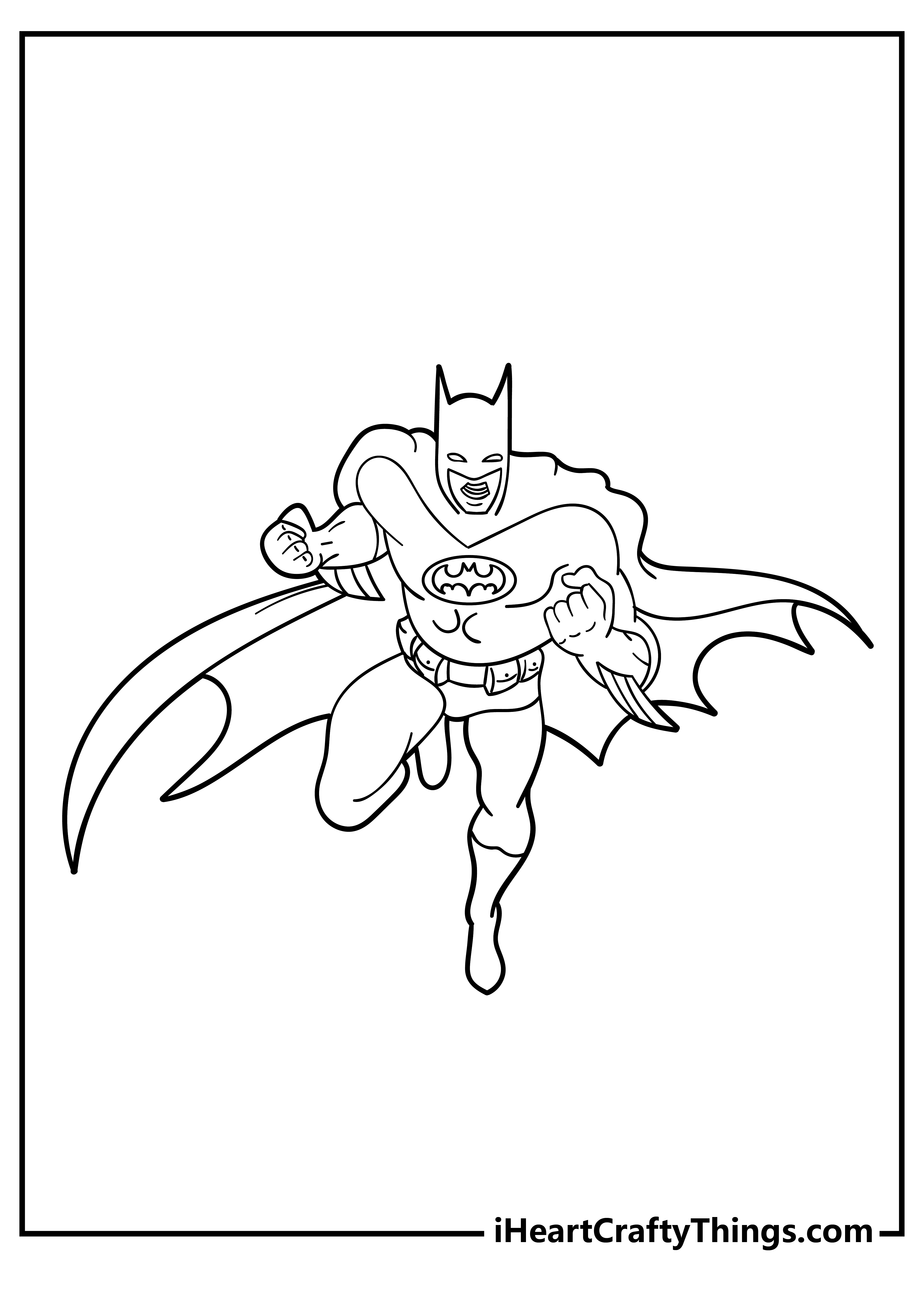 A common visual for Batman is seeing him perched high up on a skyscraper looking down on Gotham City, and that looks like it could be the case here.
Batman is looking very noble here, and you can see that he is ready for any new challenge that comes his way.
To make this image even cooler, you could add a city background behind him.
Cities like New York and Chicago are often used as inspiration for Gotham, so you could look up pictures of cities like those to help you out.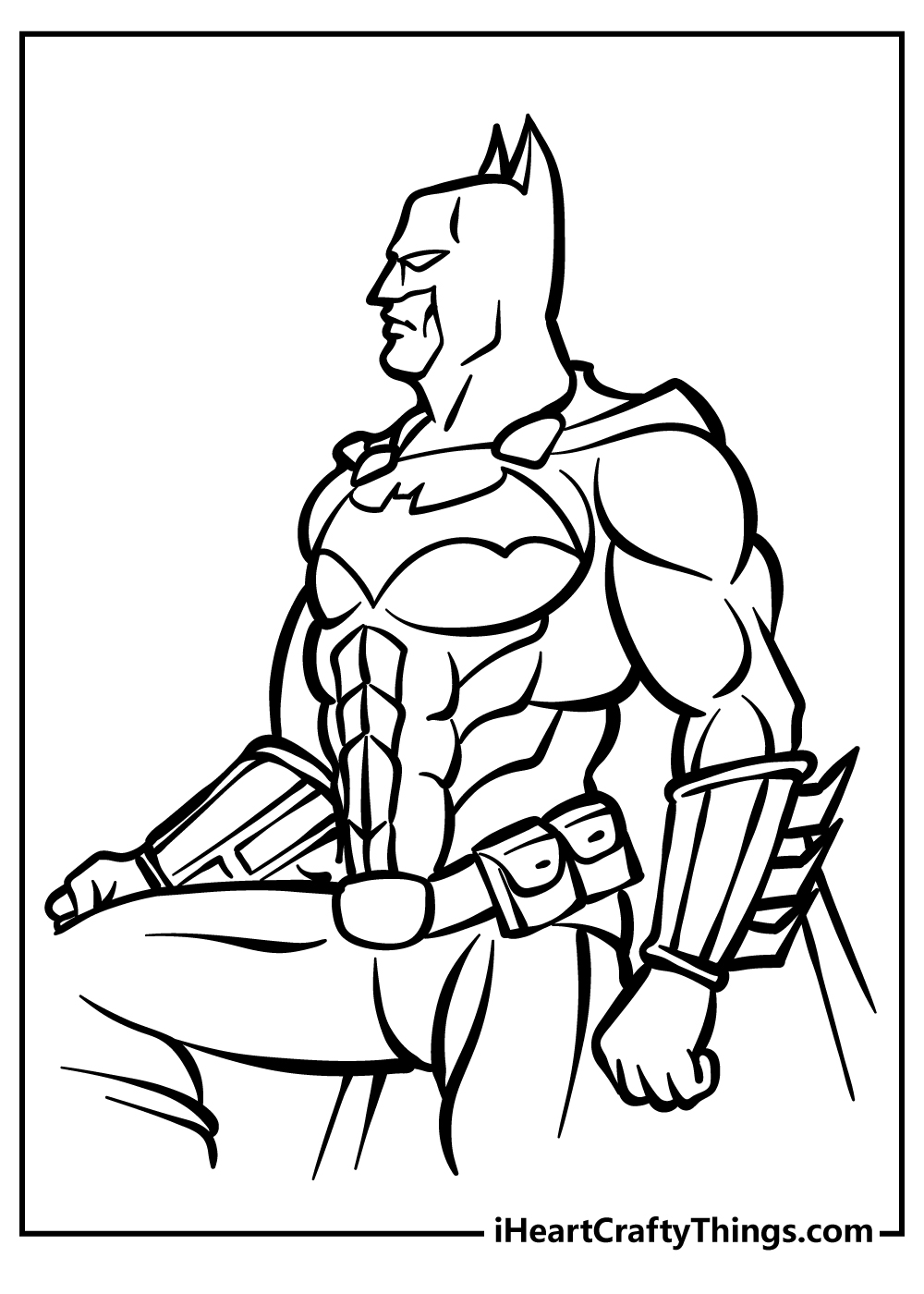 Every superhero needs to practice their cool superhero landing. That is exactly what is being shown off in this next picture in our collection of free Batman coloring pages for kids.
He has just landed from a higher vantage point, and the way he is posed makes it look like he is ready to take on some bad guys!
There is a lot of empty space here, so you could add some awesome background details to show where Batman is fighting crime in this image.
What classic Batman settings would you use for the background?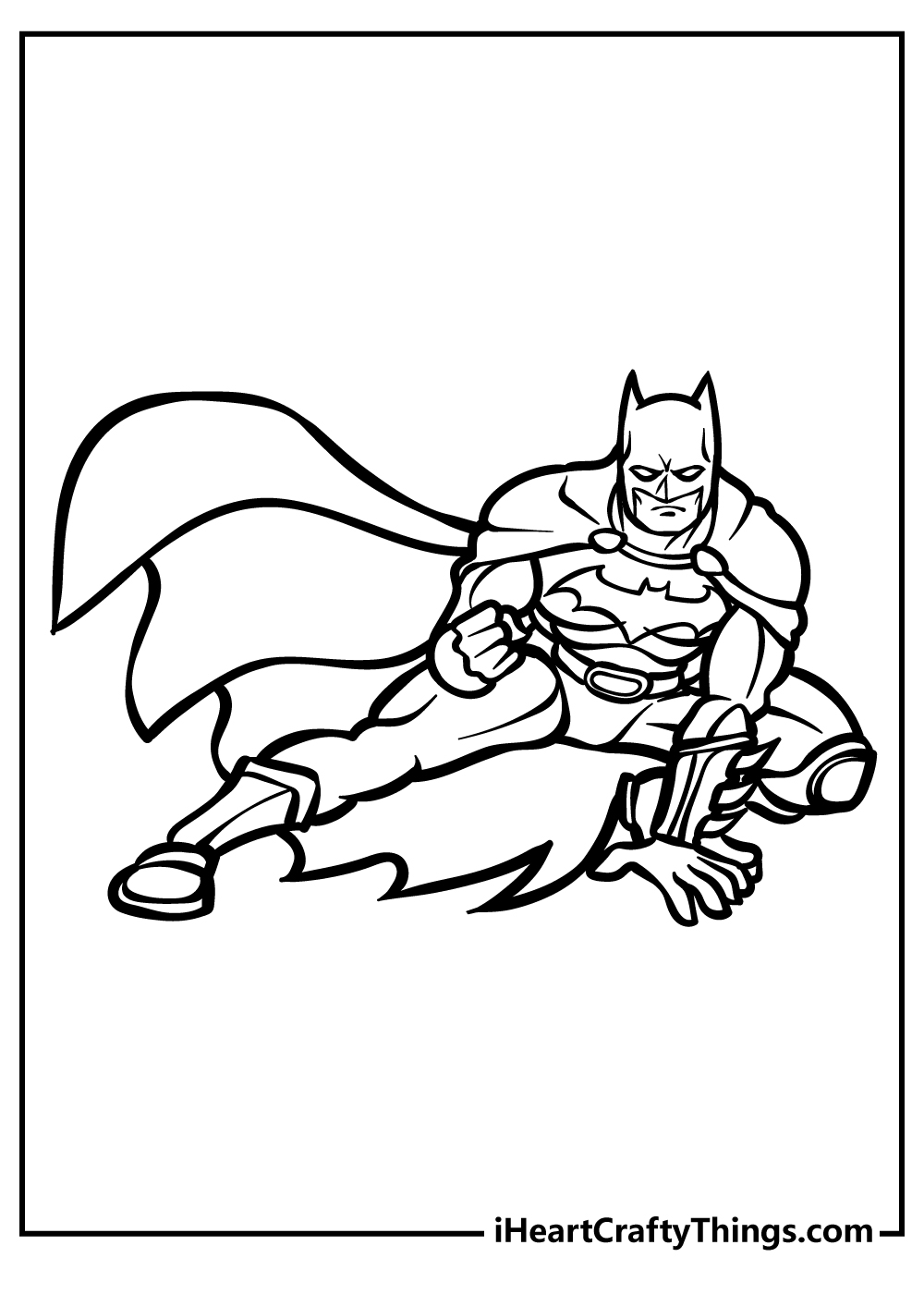 Our third free Batman coloring page for kids features him in another calm pose. Batman has had a huge amount of different costumes in his various appearances!
Sometimes he has a blue and grey scheme while others he has a black and grey one.
These are just a few examples, so which iteration of Batman will you choose?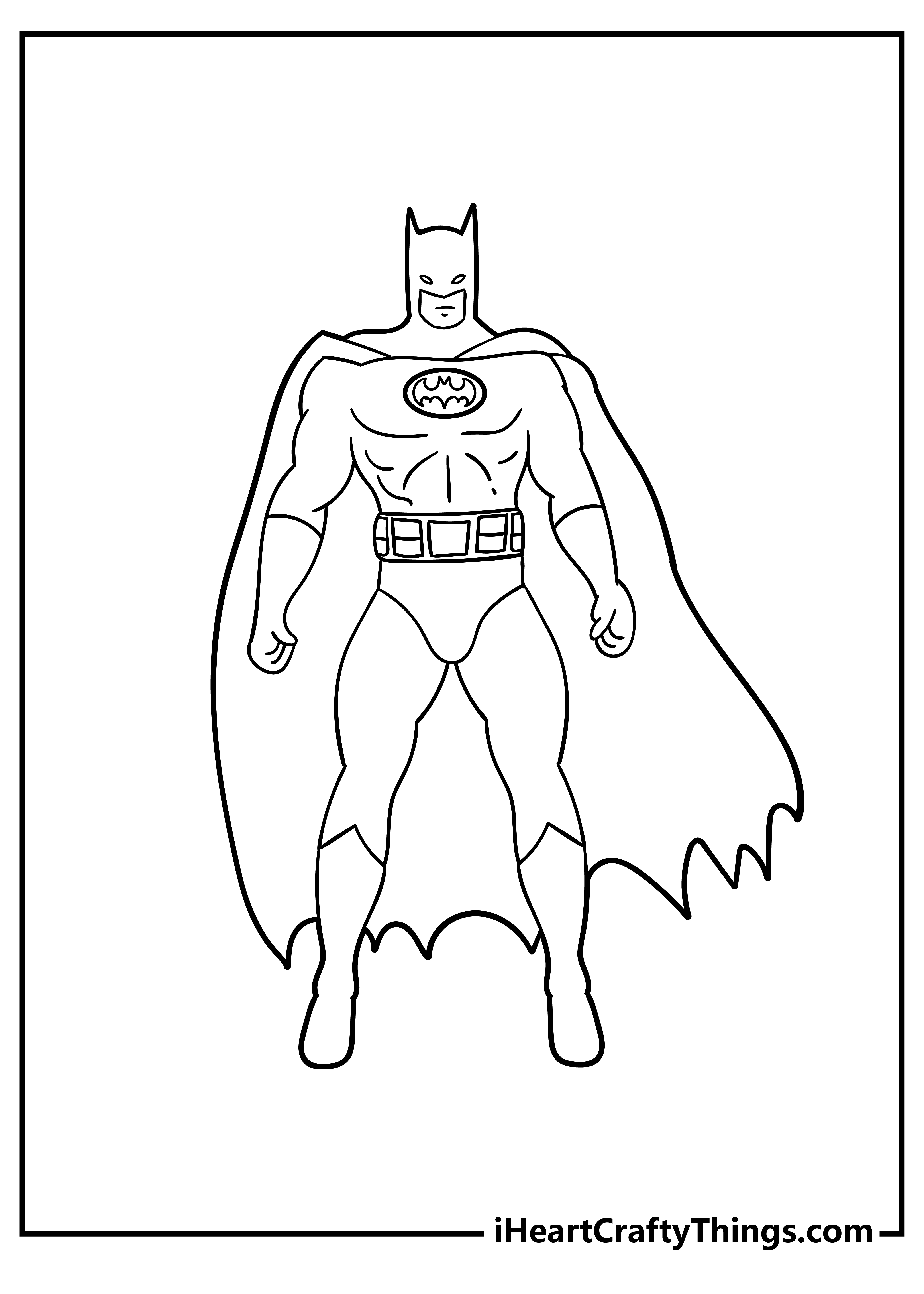 This fourth page that we have for you features Batman in another action pose! He is leaping forward with an intense look on his face, and now it's up to you to bring this awesome page to life.
This is another picture where adding a background could be really fun to do, as it would give this scene even more context.
What kind of setting would you choose?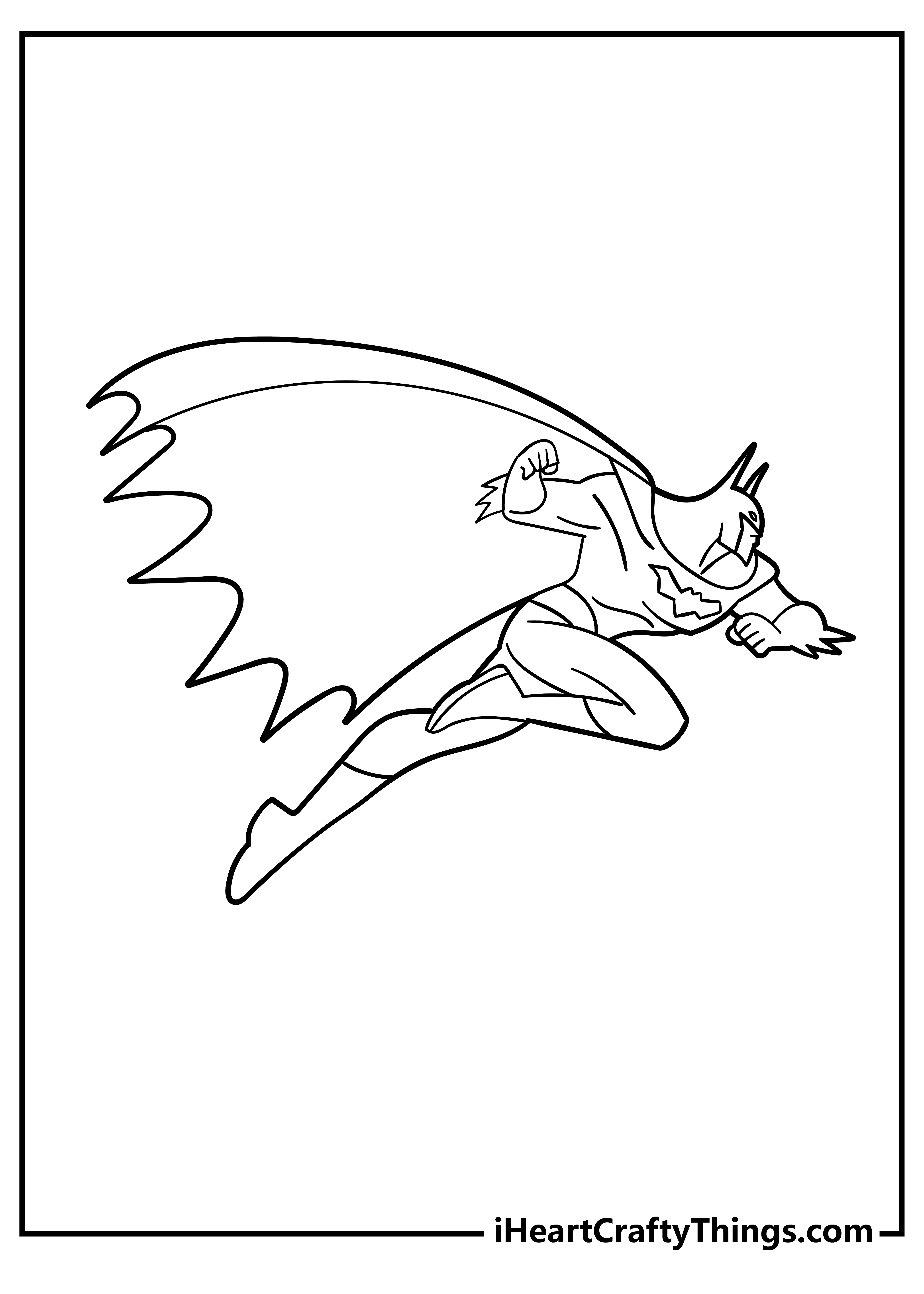 Batman is looking super cool in this next image. This is also one of the most detailed looks we have gotten at his batsuit so far in this collection, and there are so many awesome details to color!
We would probably use some colored pens or markers for this one, as some of the details are very small and thin.
This image takes inspiration from the comic books, so these mediums would also help to make it look like a panel from a comic book.
Do you think you will go for these mediums or try something else?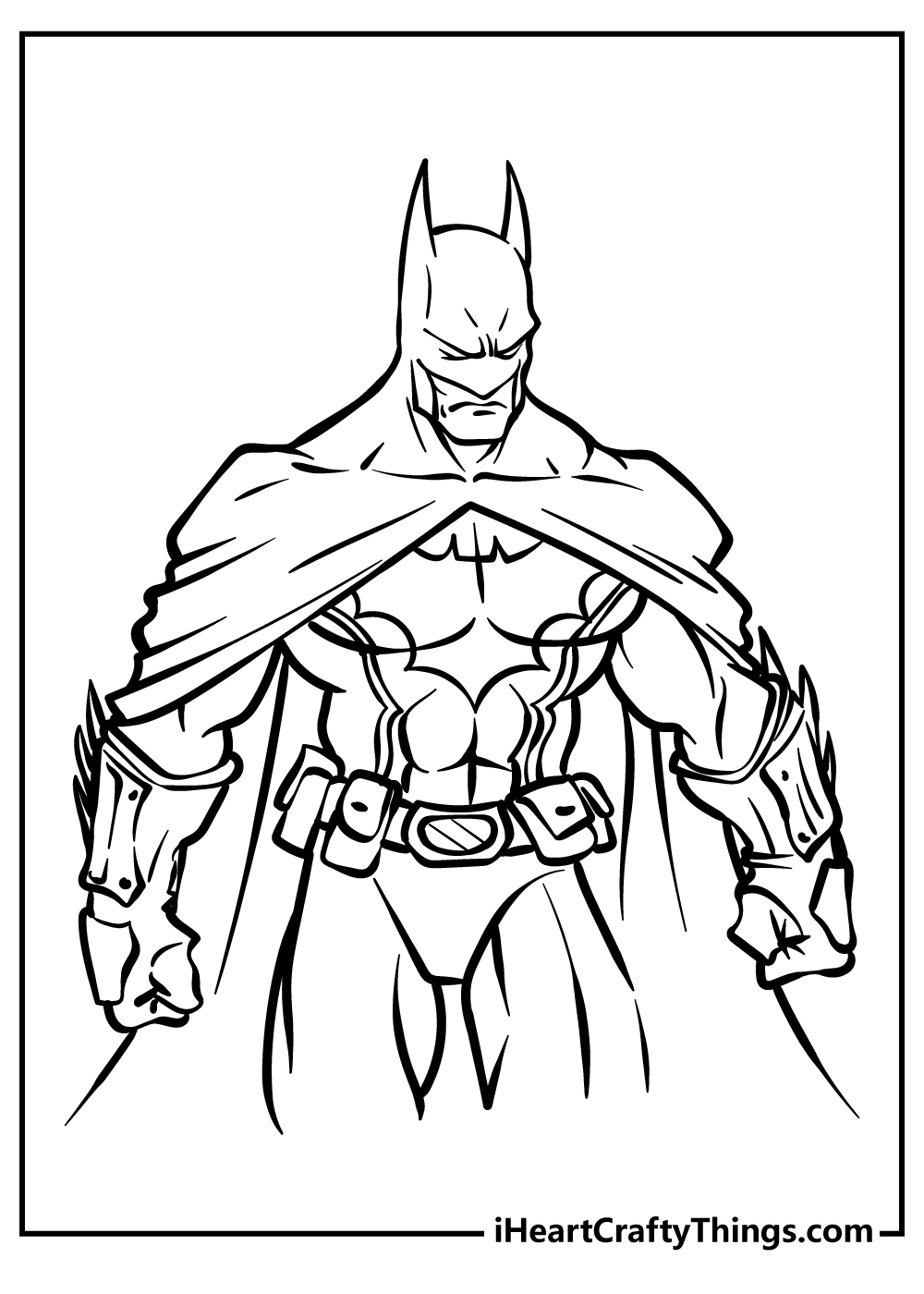 This is another portrayal of Gotham's hero that makes him look very noble and heroic. It is also a picture that makes it look like he is high up on a building and surveying the city below.
The angle he is at would probably have the night sky behind him, so you could add these details in order to finish off the scene nicely.
Do you think you will add some sky details for the background or keep to some simpler colors for this one? Either way will look great, so let your creativity flow and see what happens!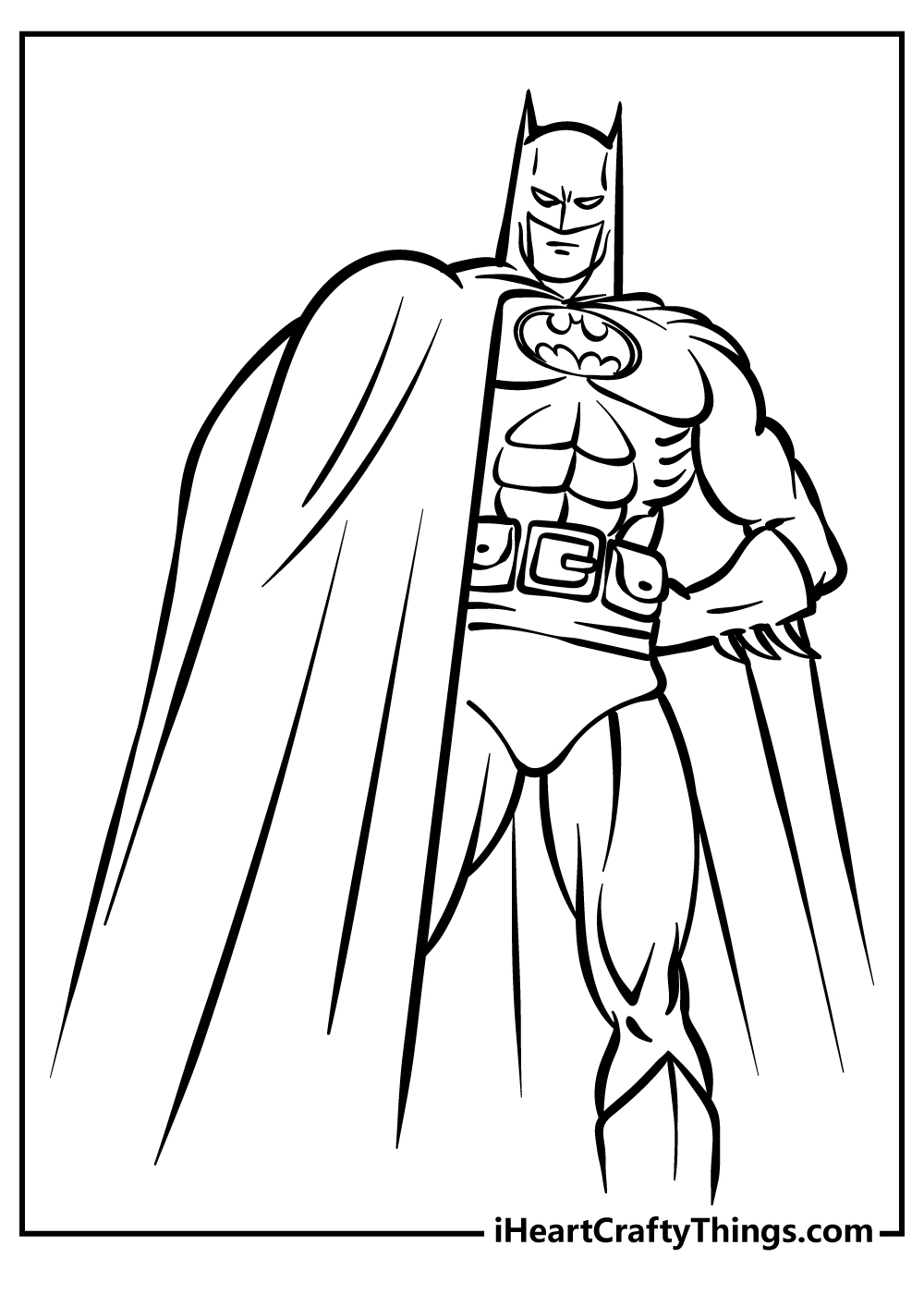 It's time for a close-up in this next page! This time we have a great look at Batman's face as he has a rather intense look.
The bottom portion of the image has been left blank, so you could draw some extra details to show which iteration of Batman you think this could be from.
This should be a really cool one once it's done!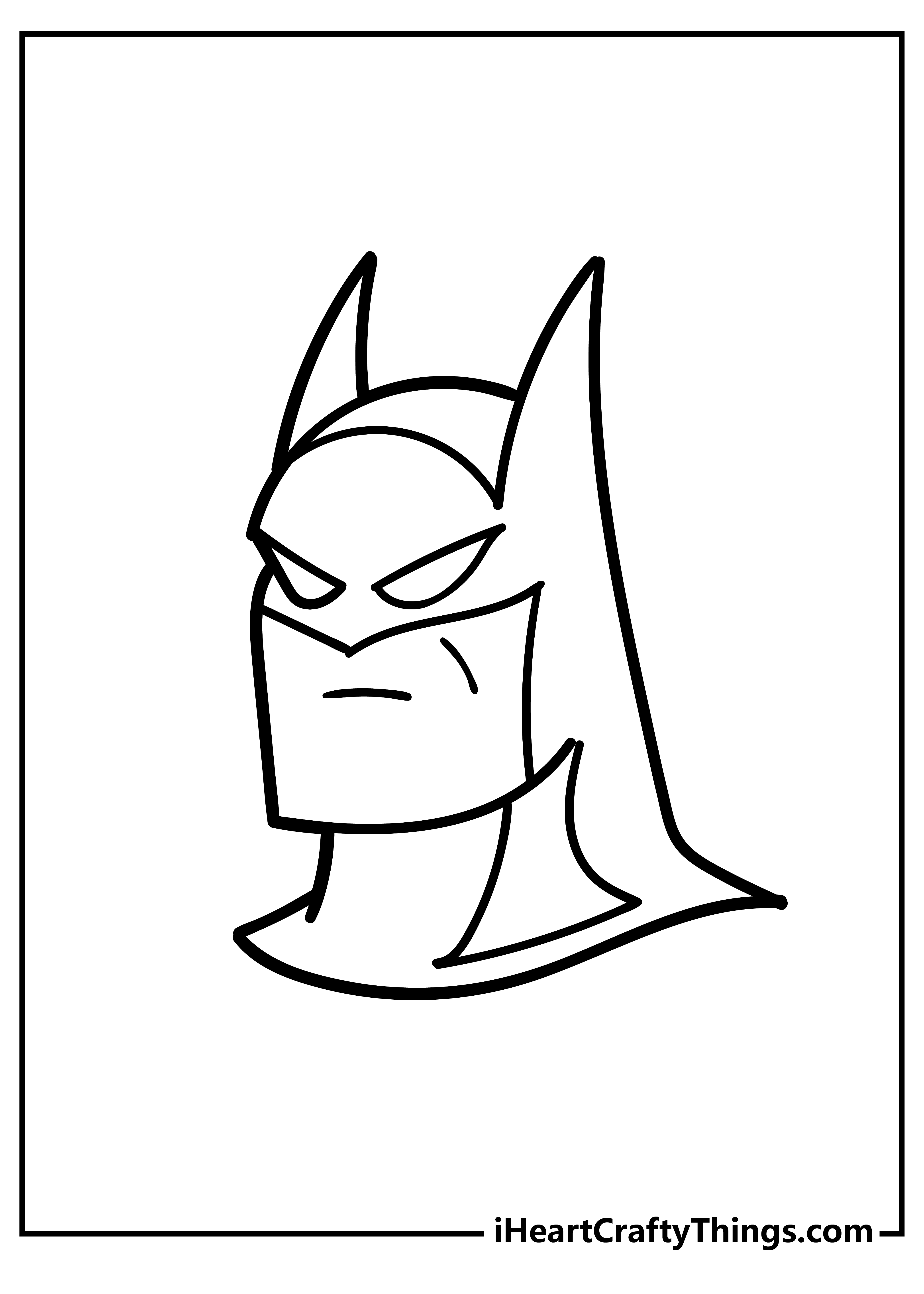 The sixth Batman coloring printable we have for you features him looking rather pleased with himself.
Batman is a very serious character most of the time, so things must be going very well for him to be giving a rare smile!
Will you use some brighter colors to match the happy look on his face?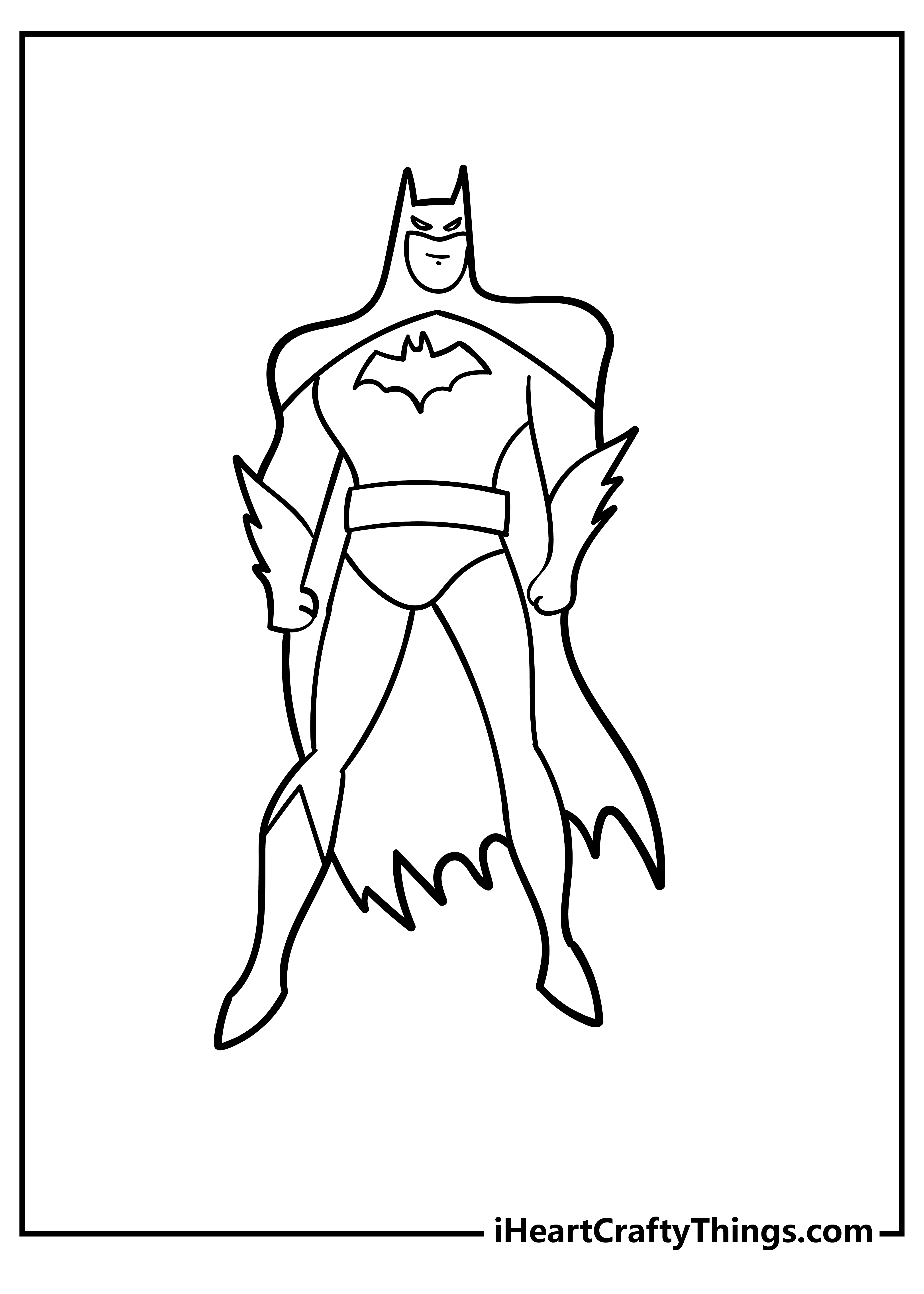 Our next Batman coloring printable features a design that takes inspiration from some of Batman's film appearances.
It is also a highly detailed design, so that lets you have all kinds of fun adding some subtle color details.
Because this one is based on his movie looks, we would keep the colors a bit darker and more realistic for this one if we were to color it.
That would be the way to go if you want to keep to the movie theme, but you could also go for a more comics-inspired look if you prefer!
It's up to you, so what look will you give Batman in this one?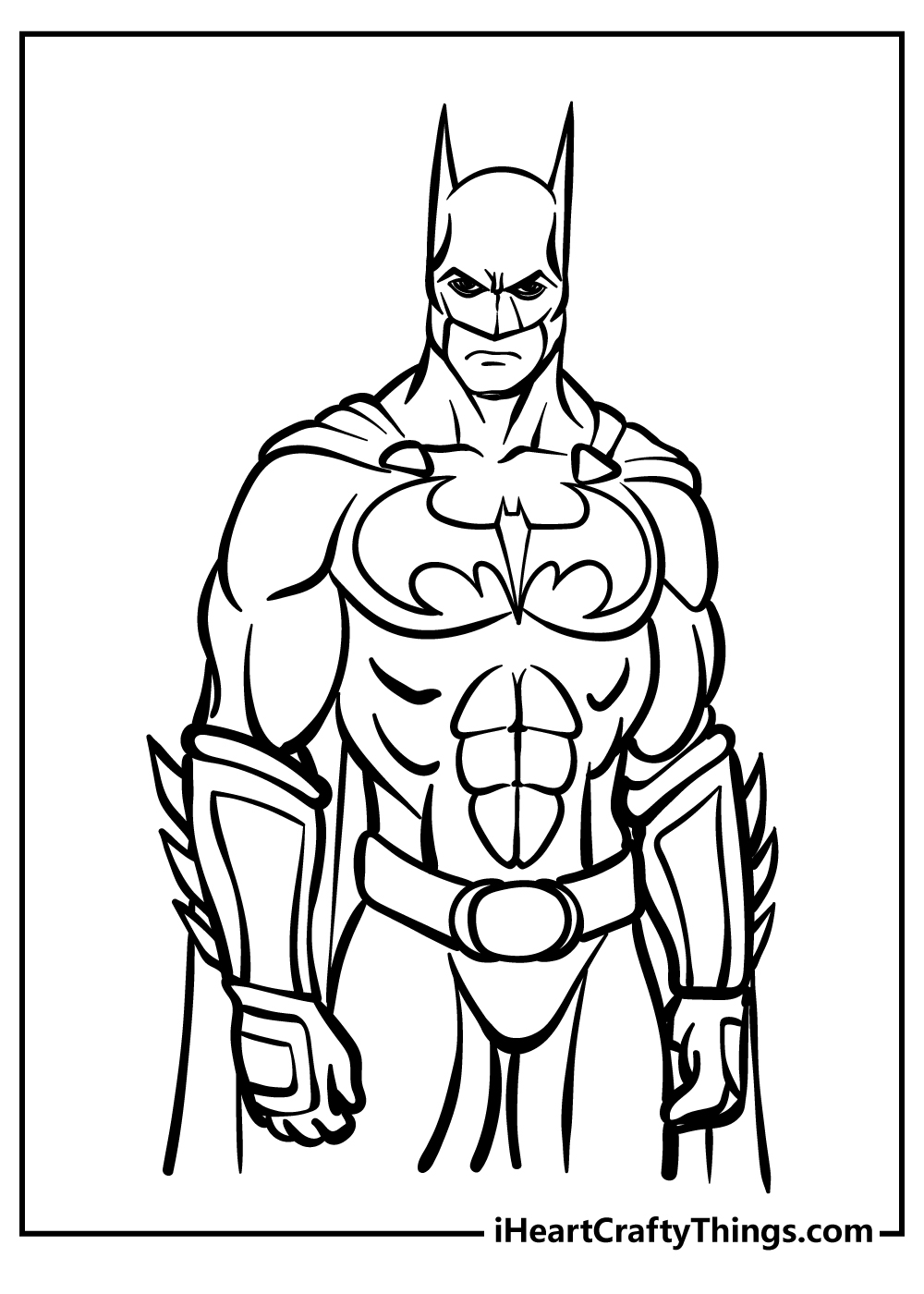 Next, we have a close-up on Batman for a really cool picture. This one takes inspiration from the classic Batman Animated series, and this show had a really distinctive art style.
In the show, Batman has a black mask with grey batsuit, and you could add some details of the batsuit under the mask if you like.
Otherwise, we think this image would look really cool with some solid colors in the background. There are many ways to finish this one off, and it will be very interesting to see what you choose!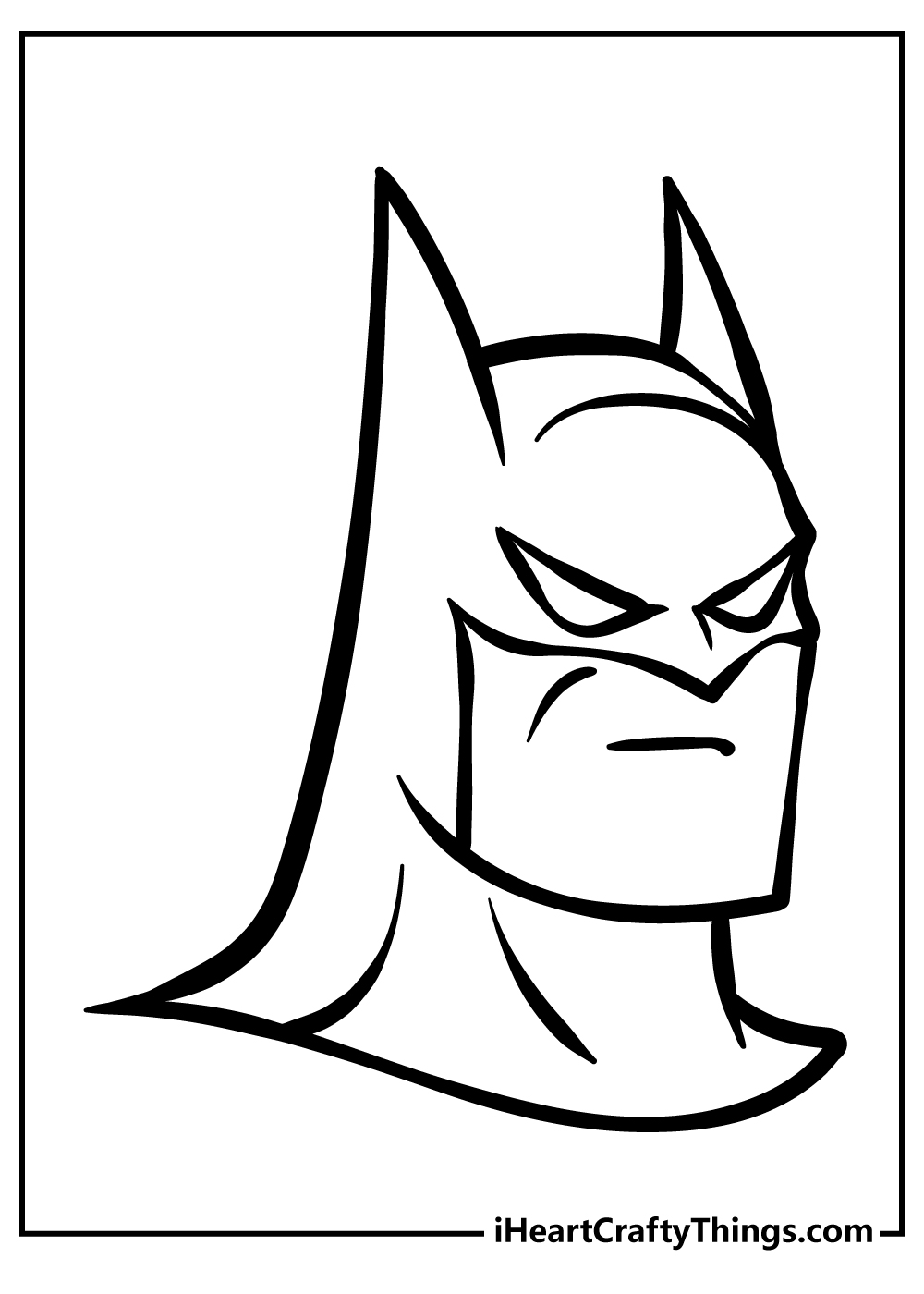 Our previous page featured a smiling Batman, but he is back to his usual brooding self in this next one!
He is standing in a simpler, relaxed pose here, and it seems to be a quiet moment. Perhaps you could also draw a background for this one to finish it off!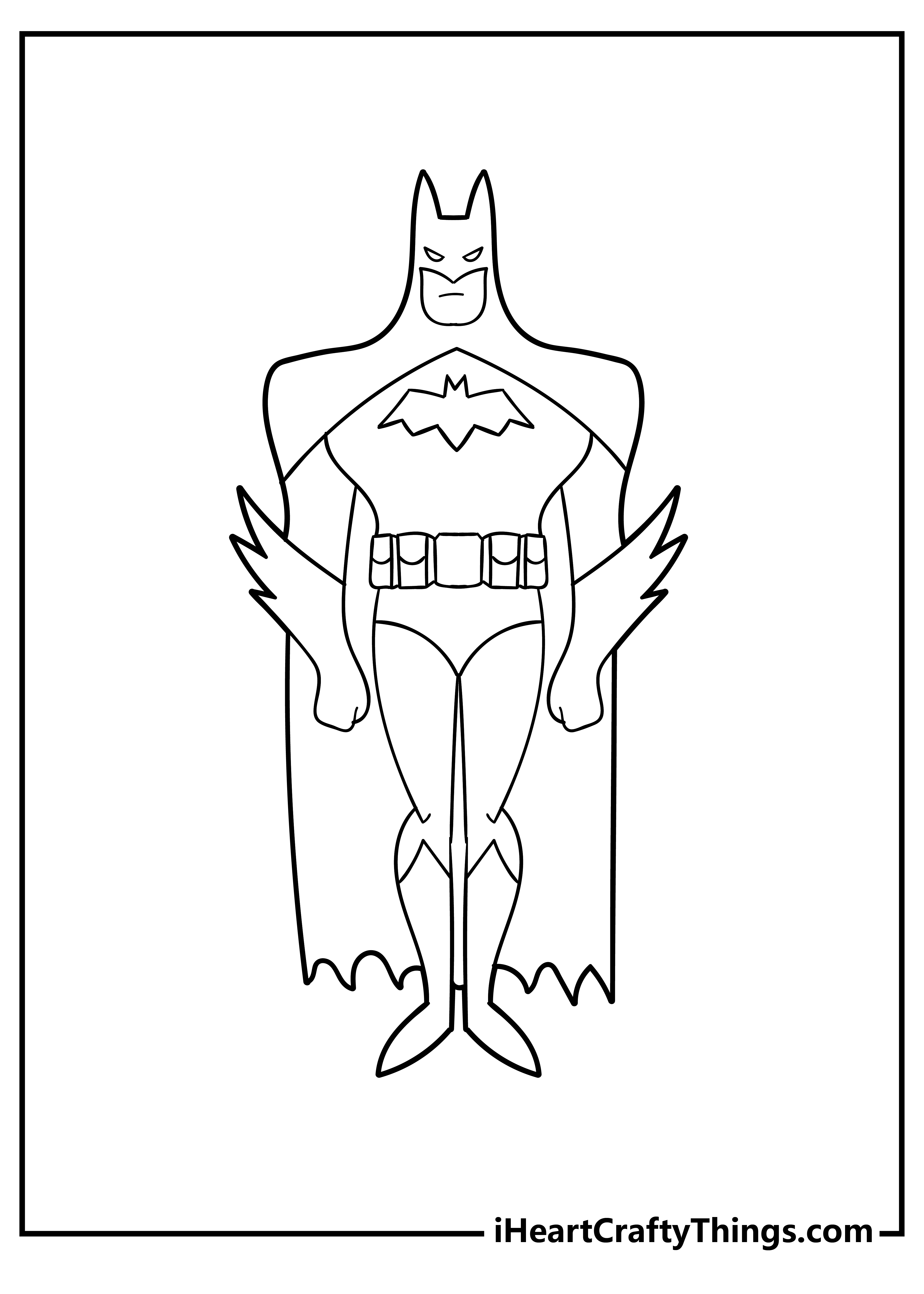 A really dramatic pose is featured on this next page! Batman is leaping into action here, and we are looking up at him as if we are on ground level.
This is a character that often strikes from the shadows, so you can imagine that there may be some bad guys about to meet him!
Maybe you could draw some of these villains below him.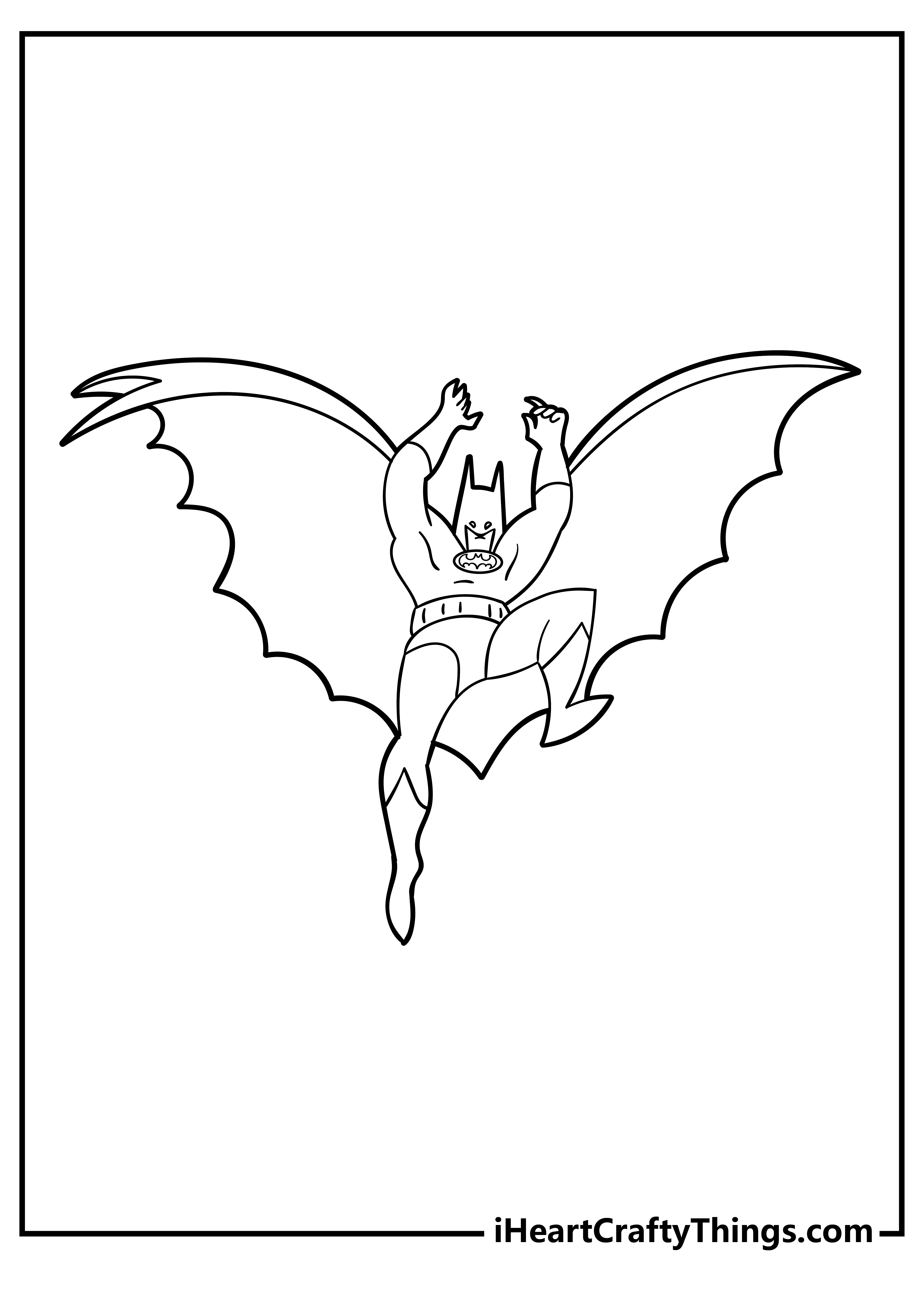 Batman uses many tools and weapons in his war against crime, and most of them have a bat theme.
This image shows him wielding his iconic Batarang, a bat-shaped weapon that he throws with pinpoint accuracy.
This picture will definitely be one of the coolest in the collection once you finish it!
Another batsuit inspired by his animated series is here for you to color, and it's a really cool look for Batman.
Much like in the show, the details have been pared back a bit for this look, but that's not to say that there aren't some cool details worked in.
Some of the details will work well for some shading detail, and you could use different shades of grey to accomplish this shading.
Once he has been colored, what will you choose to do to finish off the background of this one?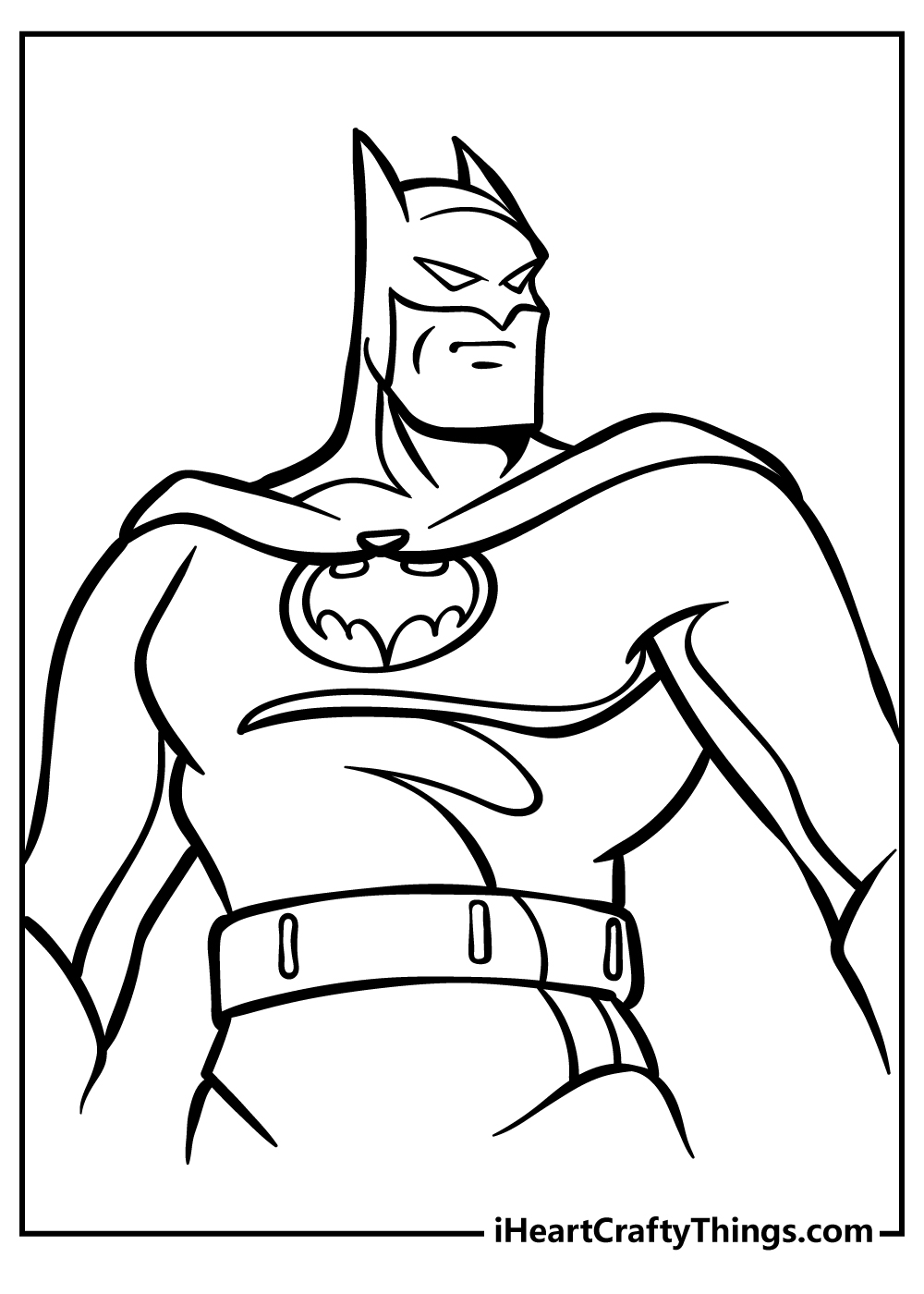 This Batman coloring page shows off a super cool look for our masked hero.
This is another one that takes inspiration from many different forms of media, and there are so many cool small details to color in.
It's a more realistic take on this hero, and for that reason it is another one that we would use some darker, more muted colors on.
That's what came to mind for us, but while you could go for a similar look you could definitely choose some other looks instead! What will you choose for this awesome portrayal of Batman?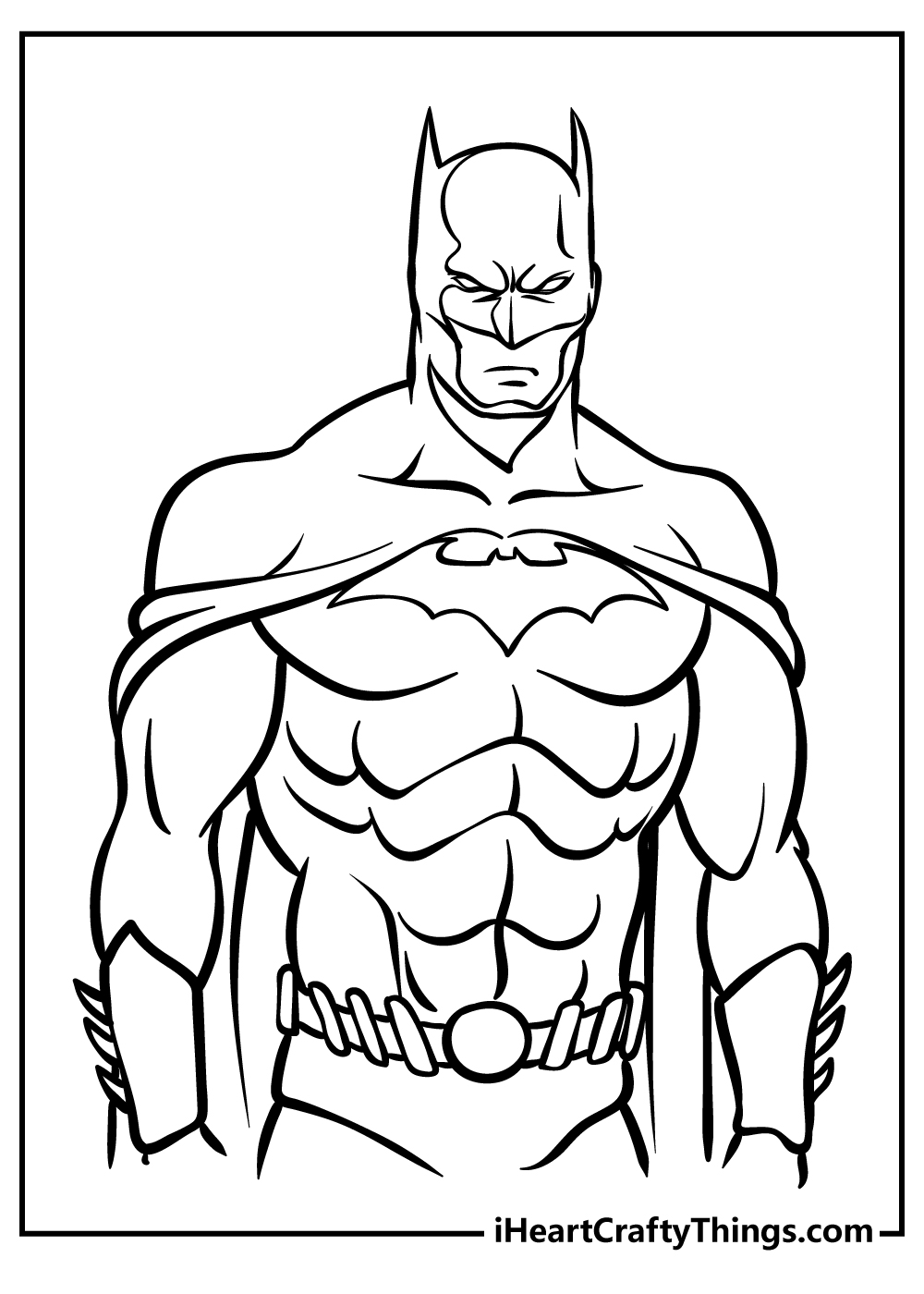 Another action pose is featured on this next Batman coloring page. Batman is a master of martial arts, and he seems to be going in for the strike in this one.
Even though this is such an action pose, he has a calm look on his face to show that he is in control of the situation.
We would use a bright, vibrant background for this one, but what colors come to mind for you?
We've mentioned how Batman is a very serious guy, and that is shown in this next pose. It's another quiet moment, but there is a real intensity to this one.
We would use some darker colors to fit the mood this image gives off, but anything you use will look great!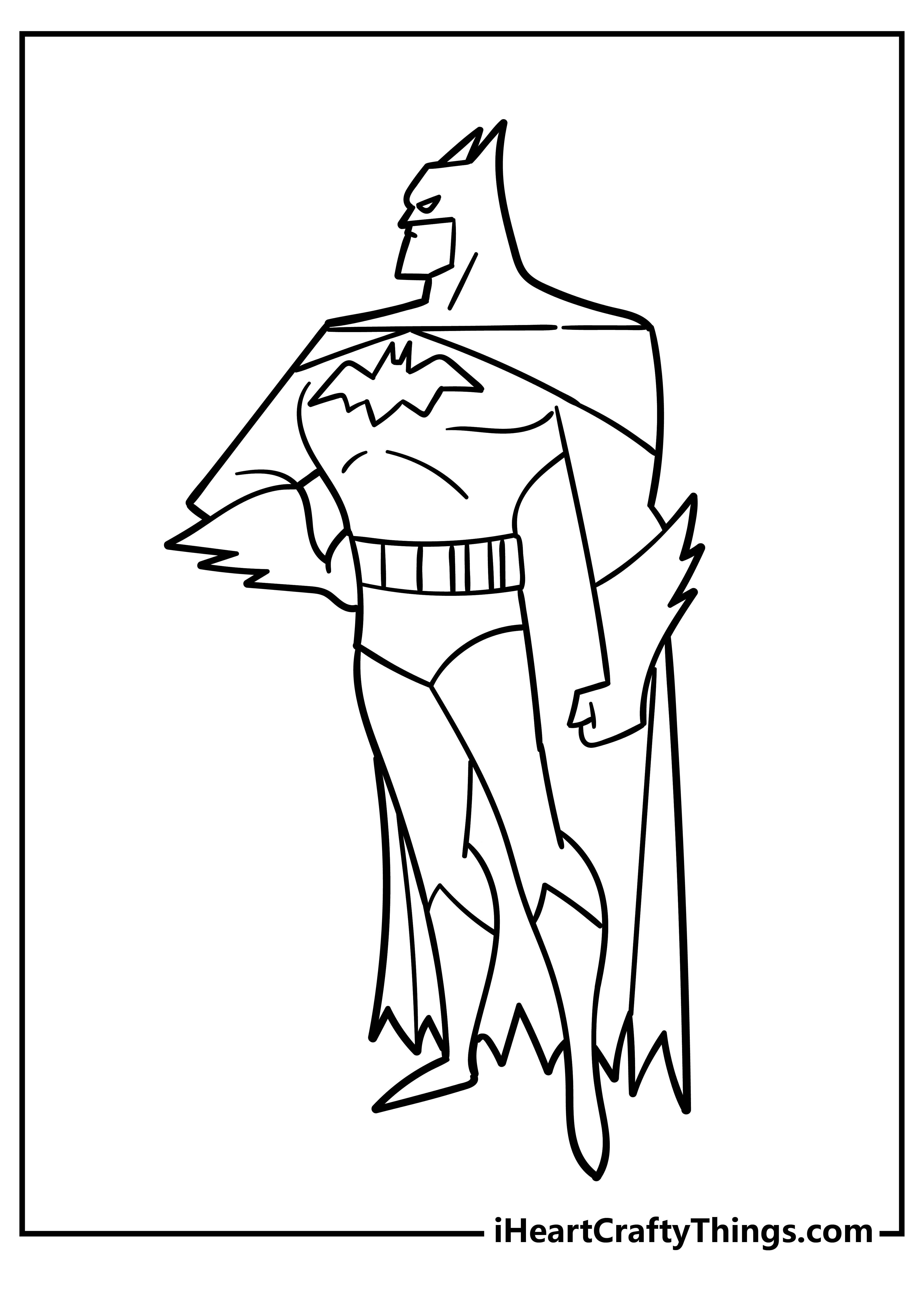 Let's turn things up a notch for this next awesome page! Batman is again leaping into action in this one, and there is a lot of empty space around him.
This again gives you the opportunity to have some fun drawing a background and some extra details.
What background setting do you think would suit this one best?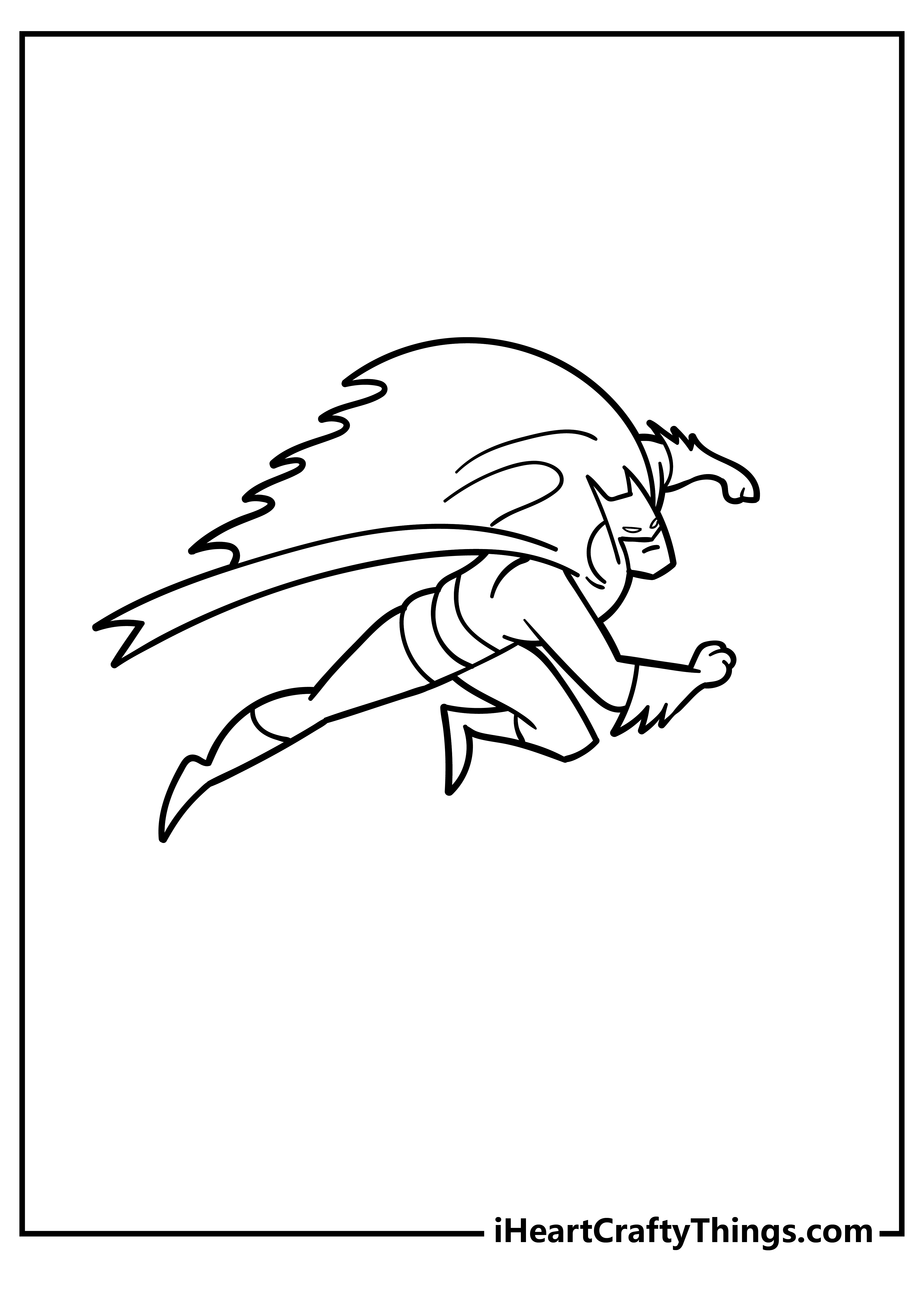 Batman is again looking ready for anything in this next image! By the way he is posed here, you may think he is surrounded by bad guys that are about to be taken down.
There is an intense, suspenseful feeling to this one, and you can highlight that feeling with the colors and art mediums that you use.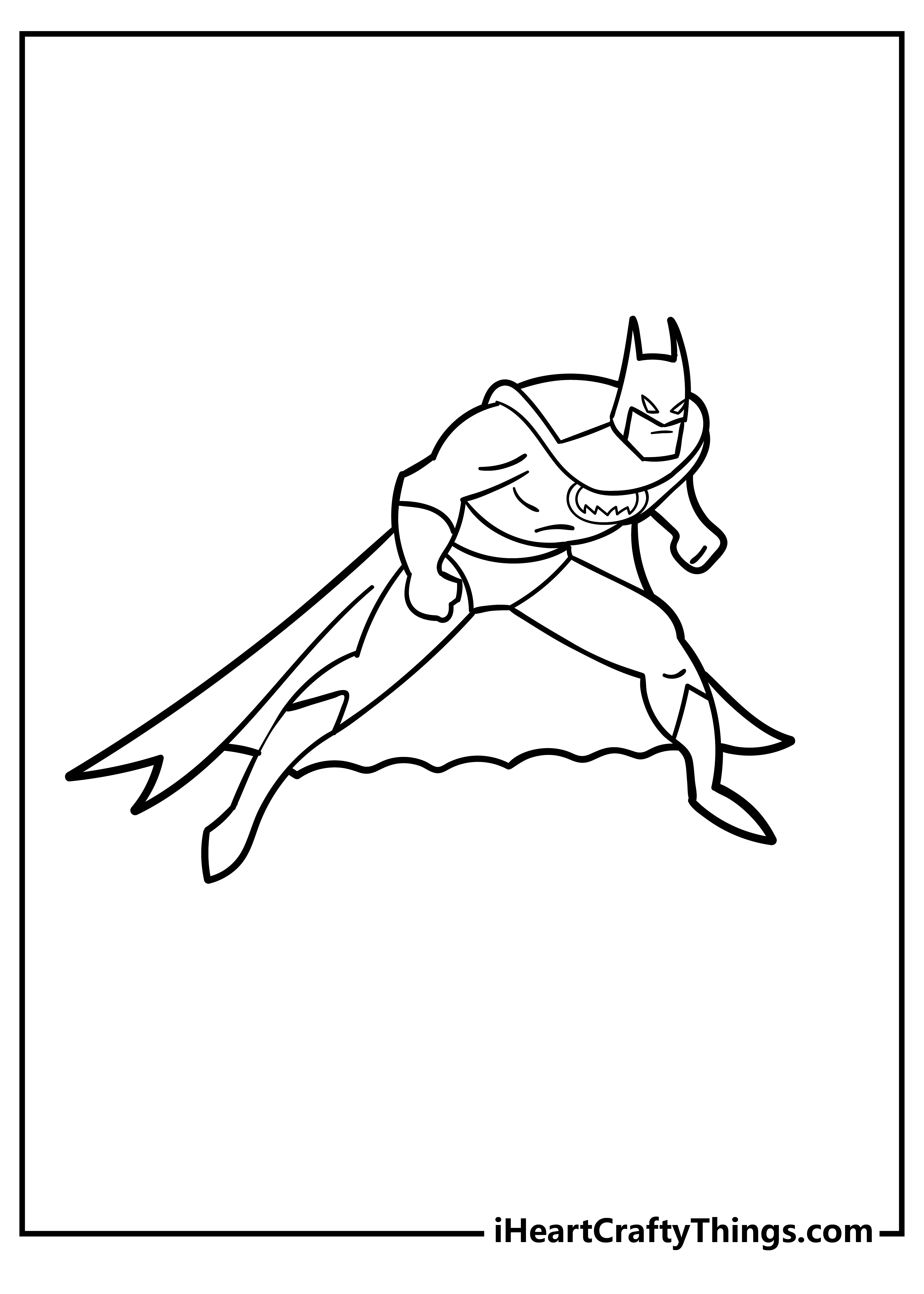 We're on the move again in this one, as Batman is running full speed towards something. Knowing him, it's probably to save the day!
Which colors, art mediums and coloring techniques will you use for this one? Don't forget that you can also add some extra details to really make this image even cooler!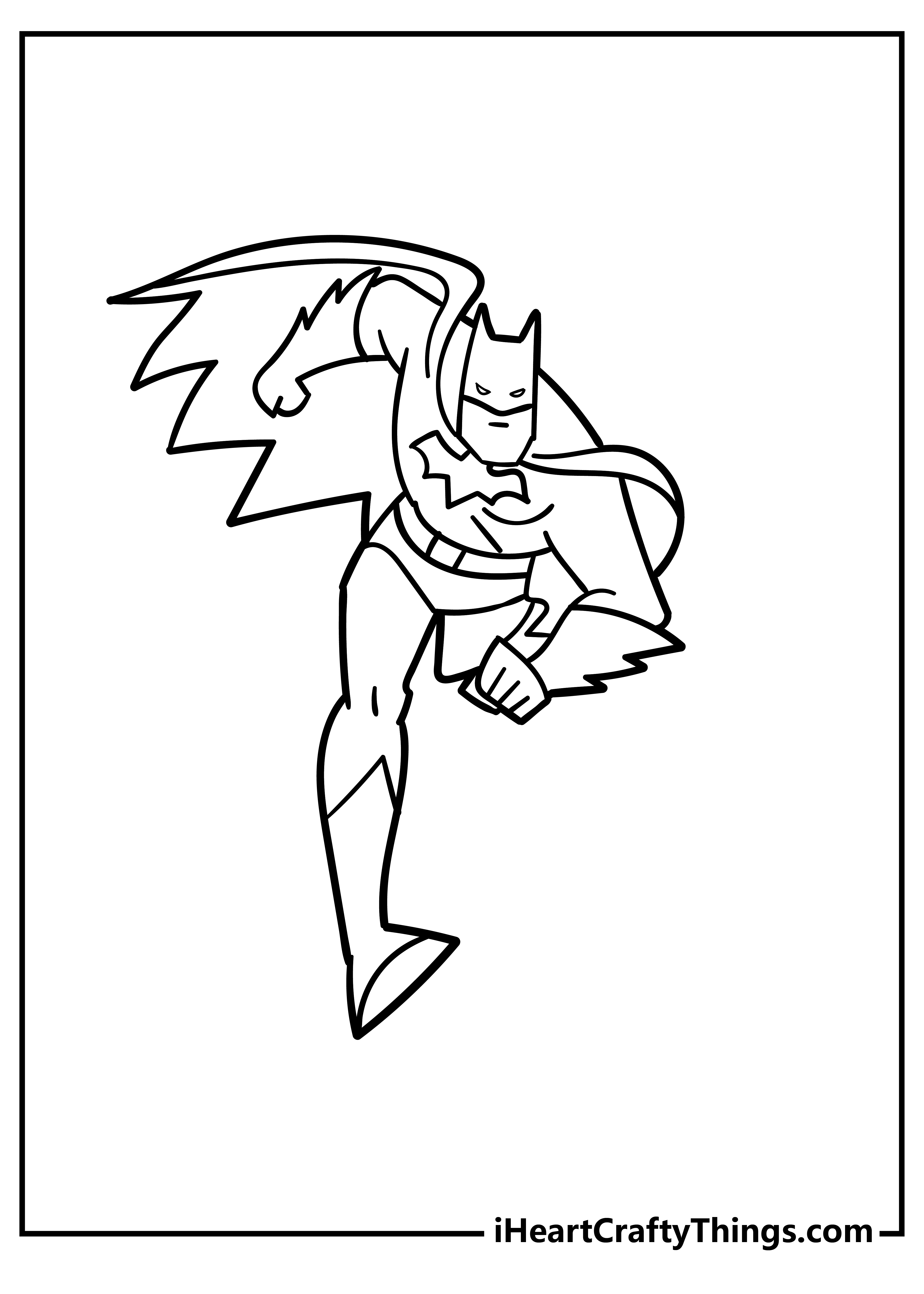 This is the final page of this collection of Batman coloring sheets, and it's a really awesome image! He is swinging on a cable, and there are tons of possibilities for this one.
We think it would be stunning to draw Gotham City below him, and you could look up some inspiration pictures online if you agree!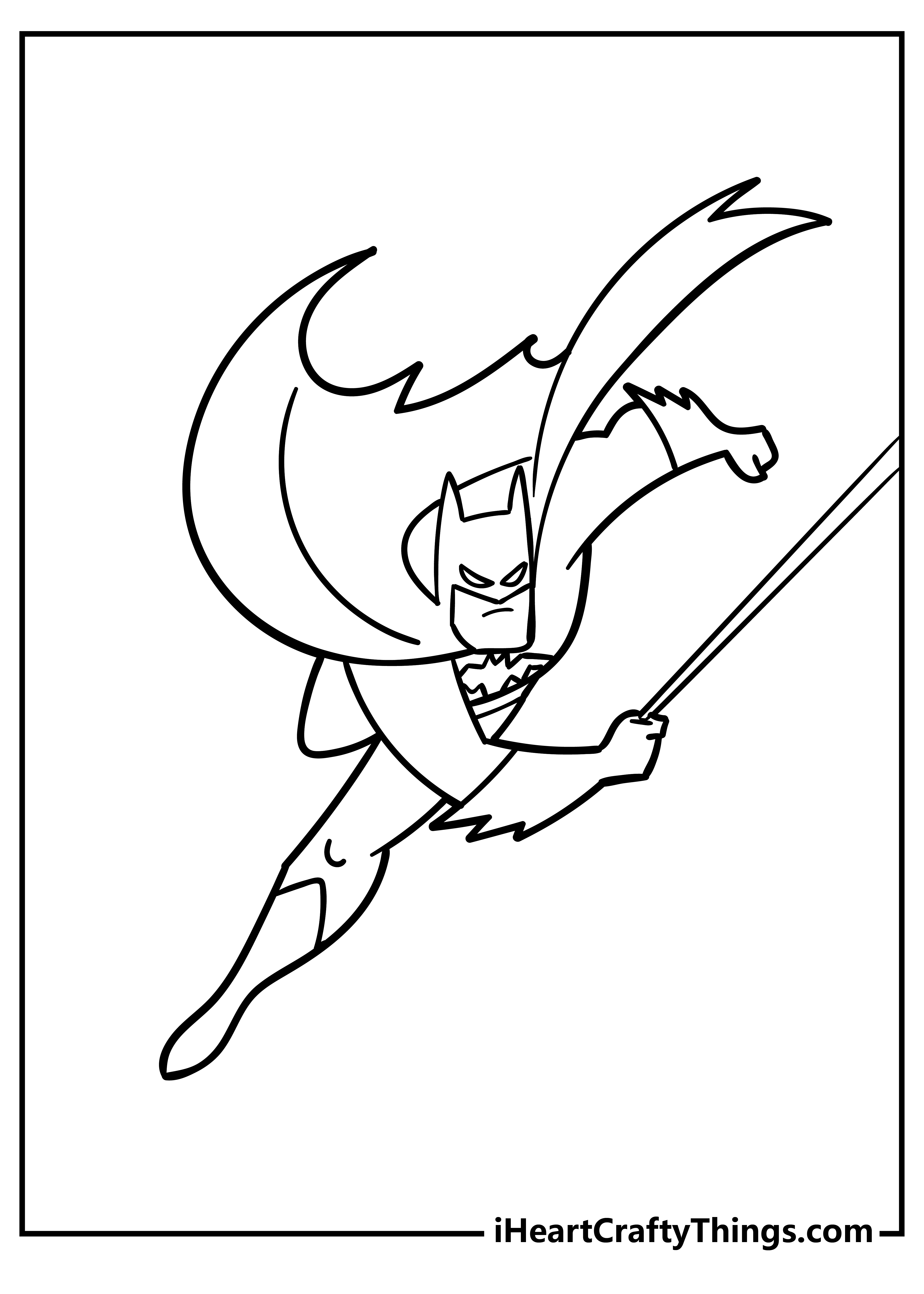 Batman Coloring Pages – Which will you choose?
This is definitely one of the coolest superheroes ever created, and we hope you had an amazing time coloring him as you worked through this collection of free Batman coloring pages for kids!
All of these pages are totally free for you to print, color and share, so there is plenty of fun to be had.
It can be lots of fun to compare how different people color the same images, and each one will look unique in its own way!
When you have picked and colored your favorite Batman coloring pages, you can share your colorful artworks on our Facebook and Pinterest pages for us to enjoy!