Superheroes often have some incredible powers that they use to help others and save the day. It's hard not to wish that one could have some of these powers in real life!
Of all heroes, The Flash has some of the most enviable super powers ever thought up. Who wouldn't like to get to where they want to be in the blink of an eye?
The Flash is an iconic speedster, and he has appeared in countless comics, movies and other media.
This collection of free The Flash coloring pages for kids is the perfect collection for anyone that loves this character.
While he is known for his speed, you can really take your time enjoying these 15 awesome pages!
15 Brand New The Flash Coloring Pages – Free to Print and Color
We're getting this collection of The Flash coloring sheets started in style with this highly detailed image.
There are so many ways that you could color this page, and there are so many opportunities for some amazing colors.
The main colors of The Flash's outfit are red and yellow, so you could use those primarily if you would like to maintain the classic look of the character.
Even if you do, you could use all sorts of colors for the background and color effects!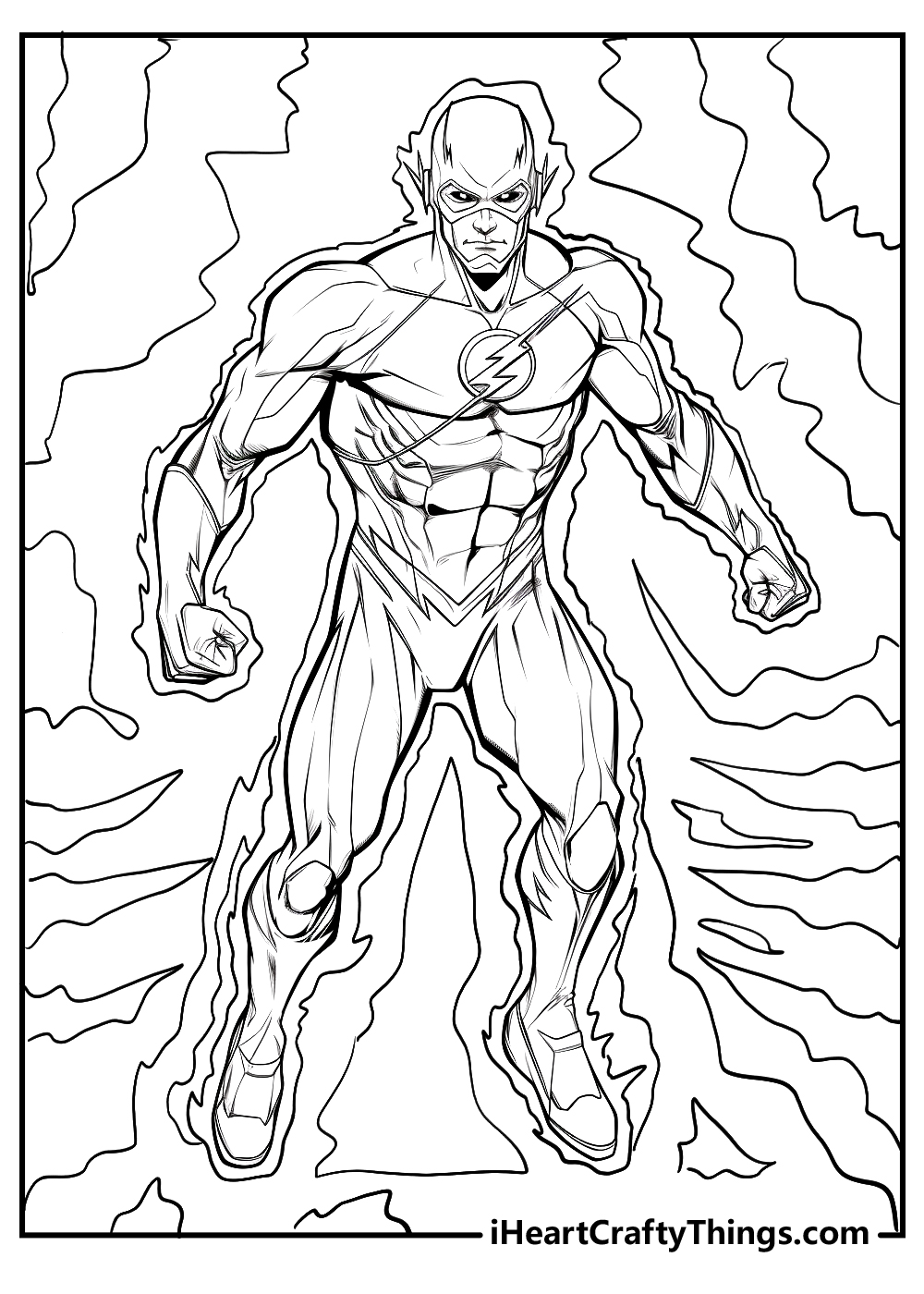 When The Flash is running at full speed, it would be so fast that you would not be able to see him at all. This page creates a freeze frame that allows you to see him mid stride.
It's a great view of this speedy hero at top speed, and it allows you to add some cool colors. When coloring a page showing The Flash at full speed, you probably want to keep the background more indistinct.
Using large strokes of colors would obscure the background and make it so that the location is a blur at such high speeds.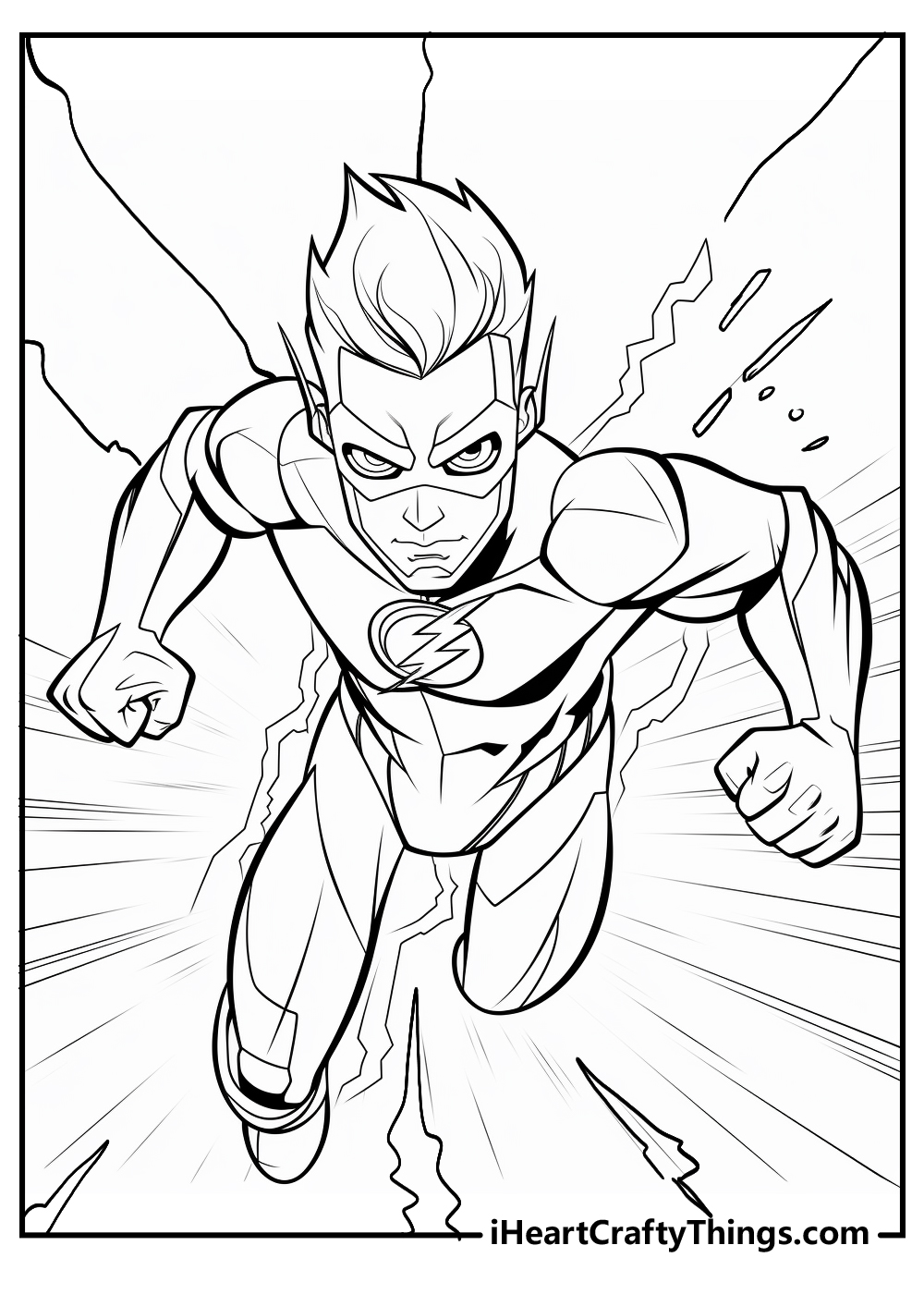 The details on this next page are something else! There are so many different styles of comic art, and I always love it when artists really portray a high level of detail.
It can make coloring a page like this a bit intimidating, though. That's because there are so many details to color, that it can become overwhelming.
As mentioned before, just because The Flash is a speedy hero doesn't mean that you need to rush this page! In fact, you can take as much time as you like.
Coloring is just as much about the journey as it is the destination!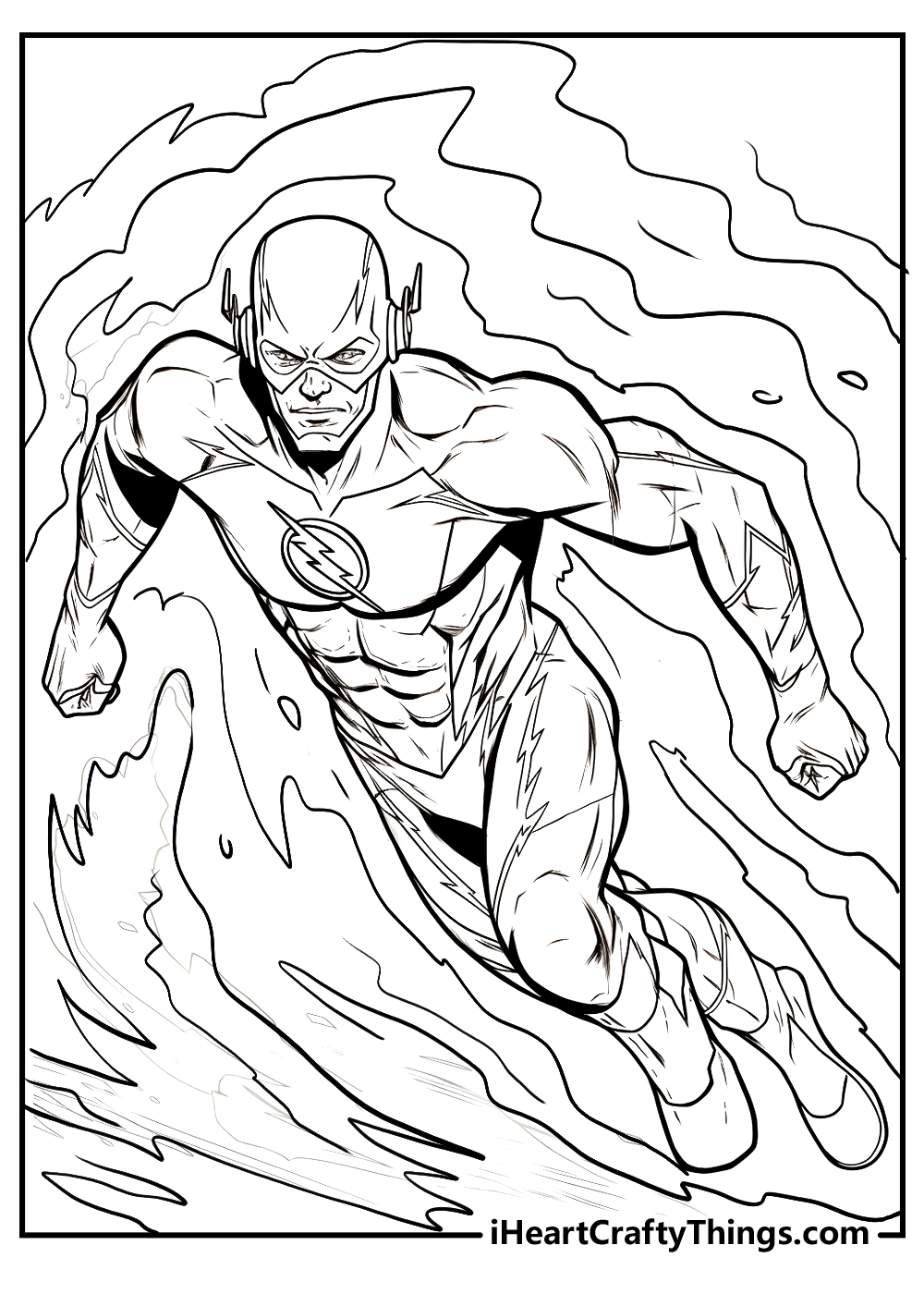 Adding text to an image is a great way to add a whole new element for you to color. It also makes a picture perfect to use as a poster on your wall, as it shows off the name of the character.
This page has Flash written in block letters above the character, so you can choose how to color the letters.
Using the classic Flash colors of red and yellow would be one way to do it, and you could alternate them.
Or, you could use a different color for each letter of the word to make it even more colorful! There are no wrong ways to do it, so make sure you go for what feels right to you.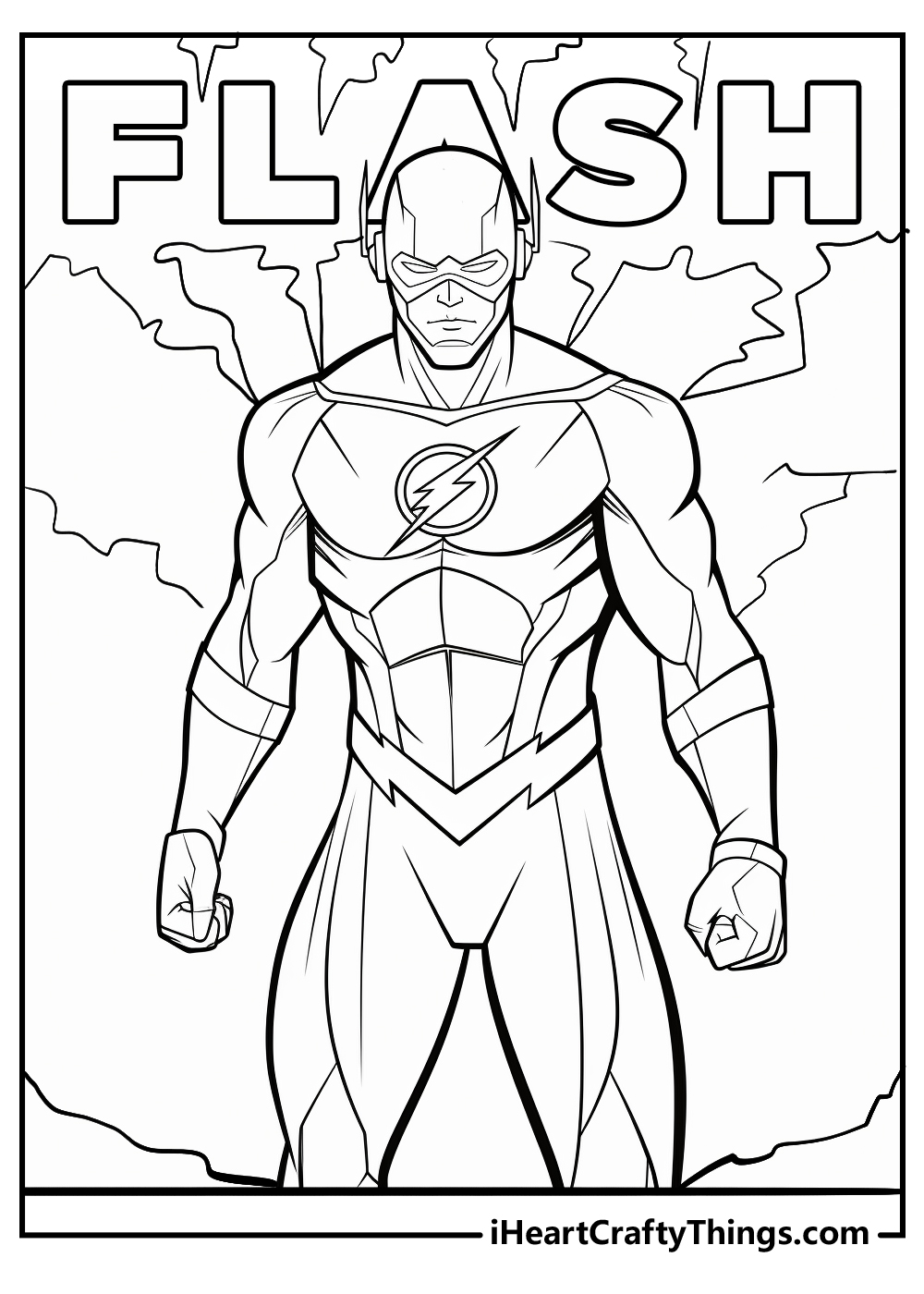 We have something a bit different for this next The Flash coloring printable. Most of the other pages in the collection focus on the hero himself, but this time it focuses on the symbol.
Every self-respecting superhero has an icon that they wear, and The Flash is no different. His symbol is appropriate, as it features a lightning bolt.
When you color this symbol, you can make it match the films, comics and other media that The Flash has appeared in. Or you could use completely unique colors instead!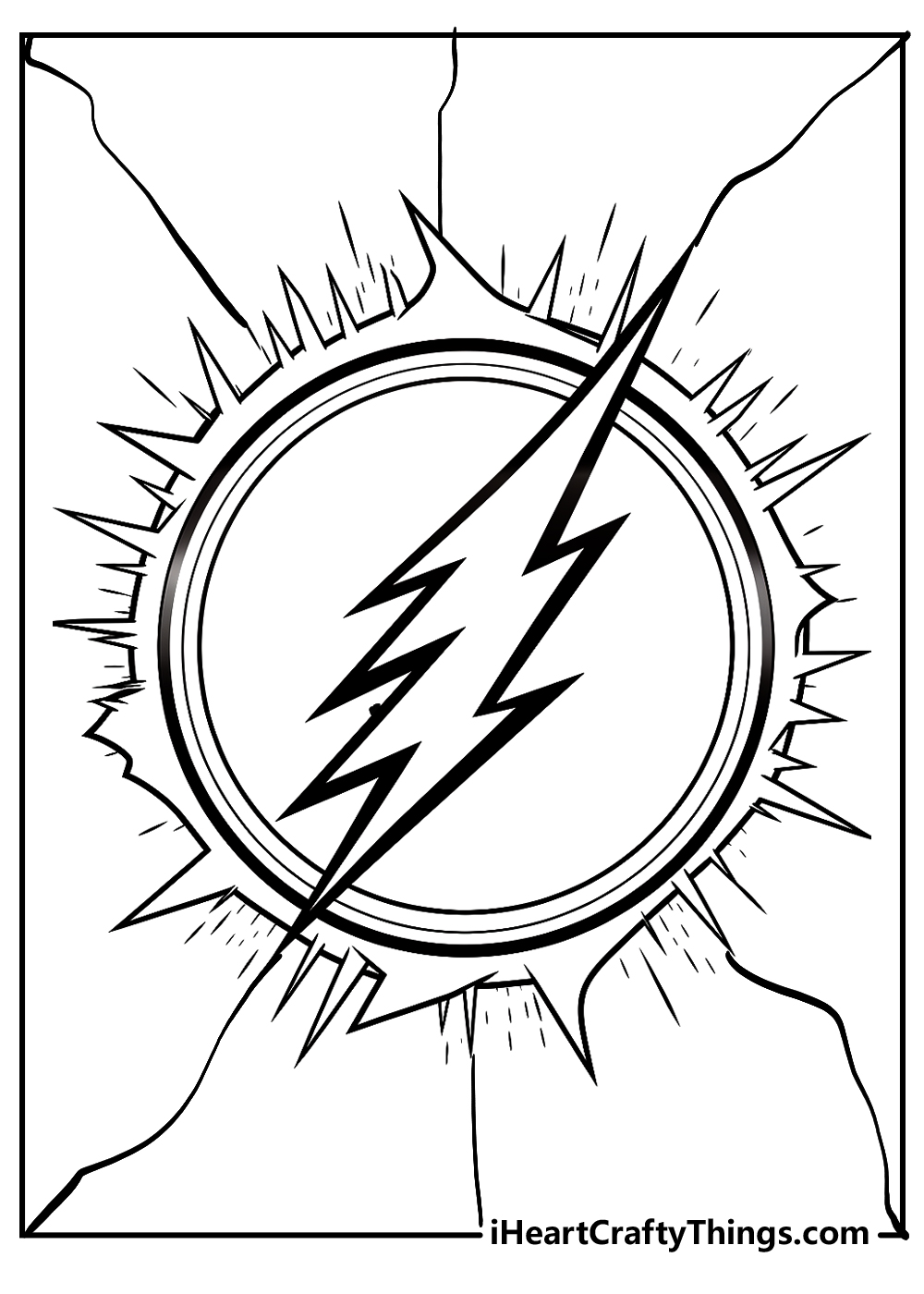 The Flash is a character that is a part of the DC Universe, and so he is sometimes joined by other heroes. He is also a member of the Justice League, and so he will often team up with other heroes.
This page shows him alongside the iconic Superman. It means that you have two characters on one page to enjoy here!
The presence of Superman means that you can mix in some cooler colors, as blue is a prominent color in his color scheme.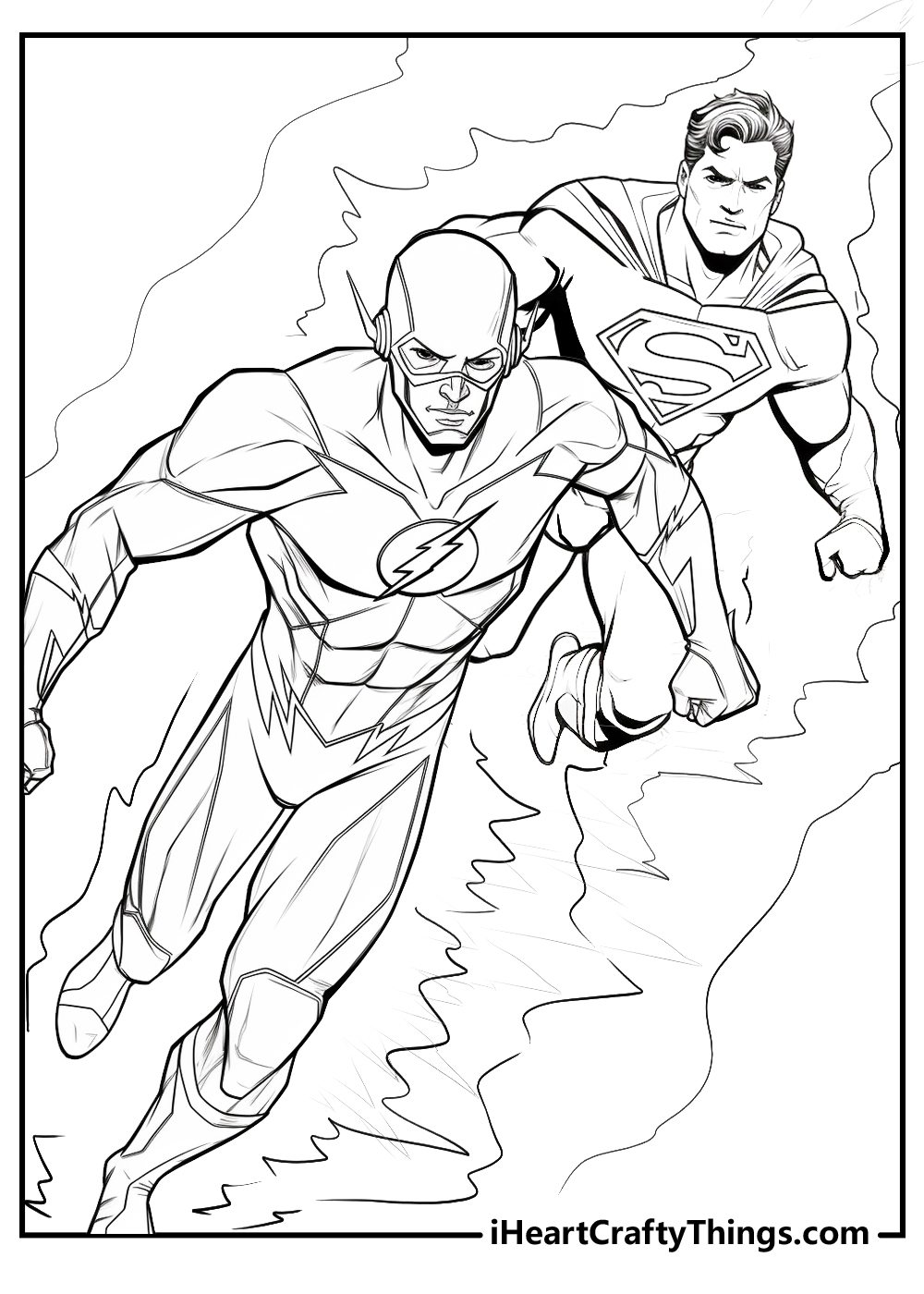 Next up, we have another page that would make an awesome poster for your wall. Not only does it have a cool pose, but it also shows The Flash written above the character.
Text in an image means you can work in more of the characters color scheme, but it also allows you to use alternate colors.
The Flash has a lot of red and yellow, so the text could allow you to use darker colors.
What will you choose for the text on this page to finish it off nicely?
Most of the depictions of The Flash in this collection show him with his famous mask on, but this page is a bit different.
We get a look at the unmasked version of The Flash for this page, and it helps to set it apart.
He is surrounded by plenty of lightning and power effects, so you have plenty to color on this page. I would probably use some colored pens and markers for the lightning effects.
These mediums would help to make the colors look bright and make them pop on the page!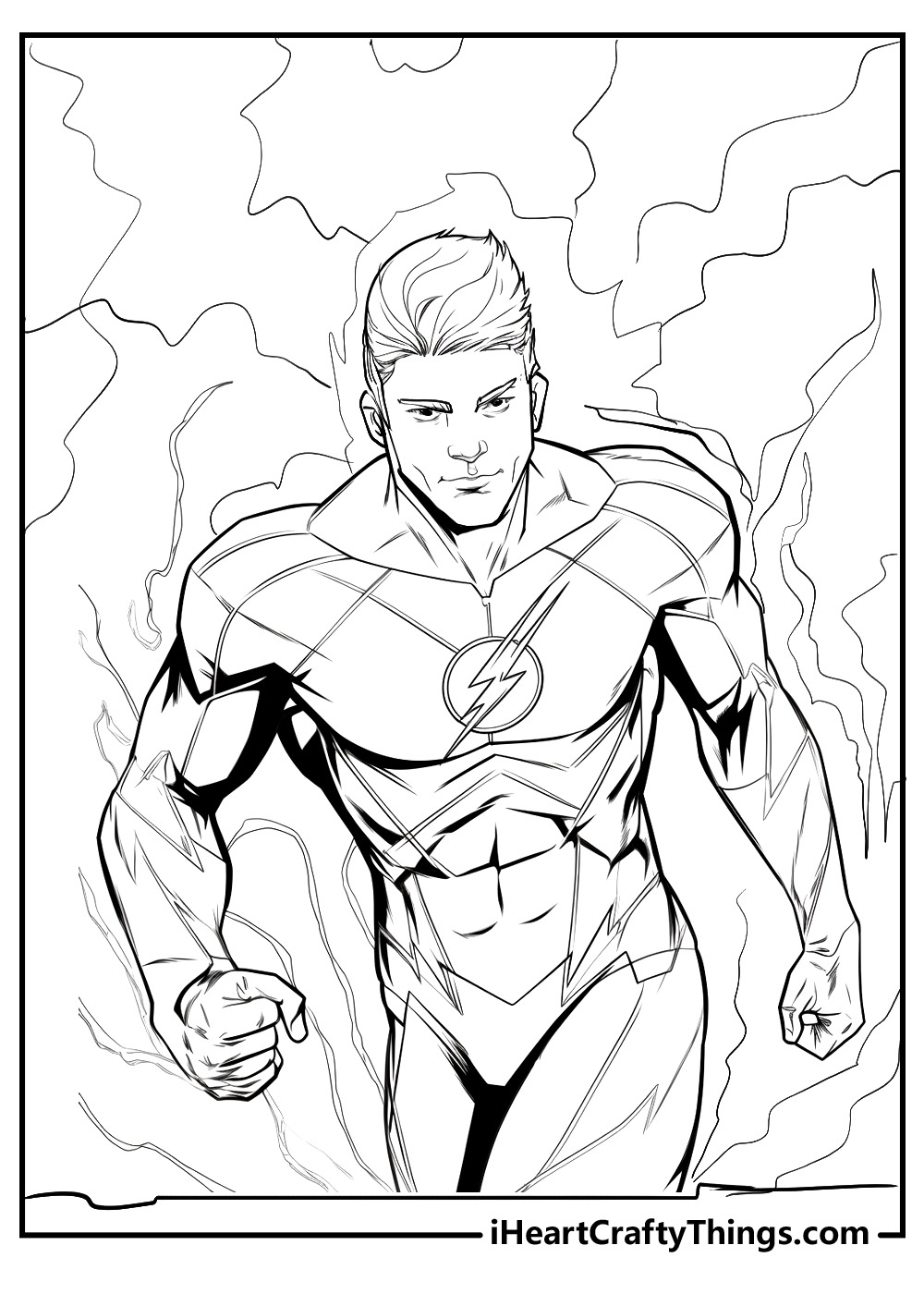 We get another great look at the details on The Flash's outfit on this next page. He is looking very cool and confident here, and so you can match this feeling with your favorite colors and art tools.
When coloring such an iconic character, you can choose which version of him to use as inspiration. Some people will want to use the comics, while others may want to use the films as inspiration.
There are no right or wrong answers, so you could use your favorite incarnation of The Flash or use your own unique color choices.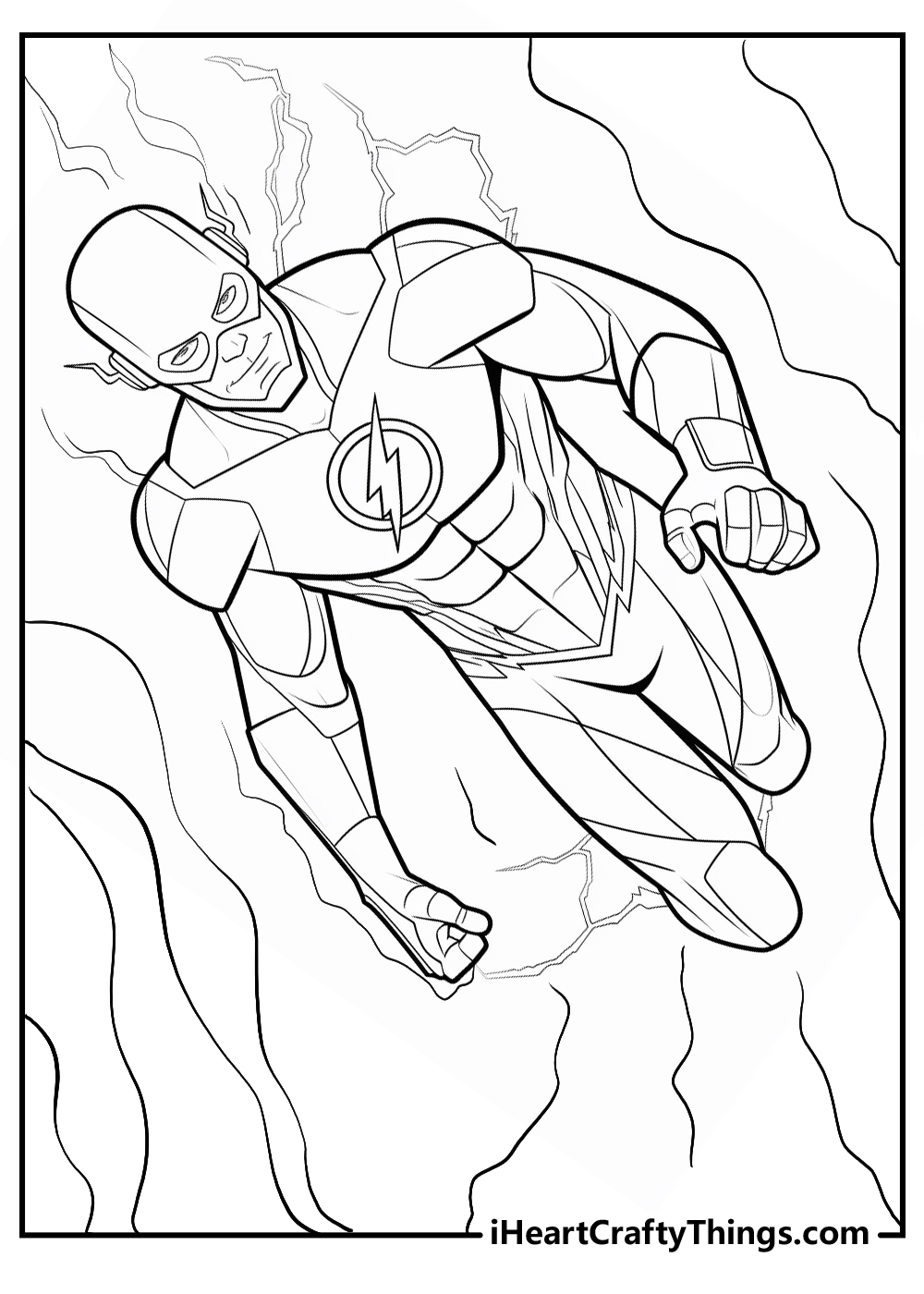 Racing through the city as The Flash gets to do would be so awesome, and this The Flash coloring page illustrates this feeling brilliantly.
Here, he is traveling through the city at full speed, and there are some amazing details.
He has a very serious look on his face, so this doesn't look like he is running for fun! It makes you wonder what is happening to make him speed to his location with this look.
You could always add some of your own details and additions to show what crisis The Flash is dealing with on this page.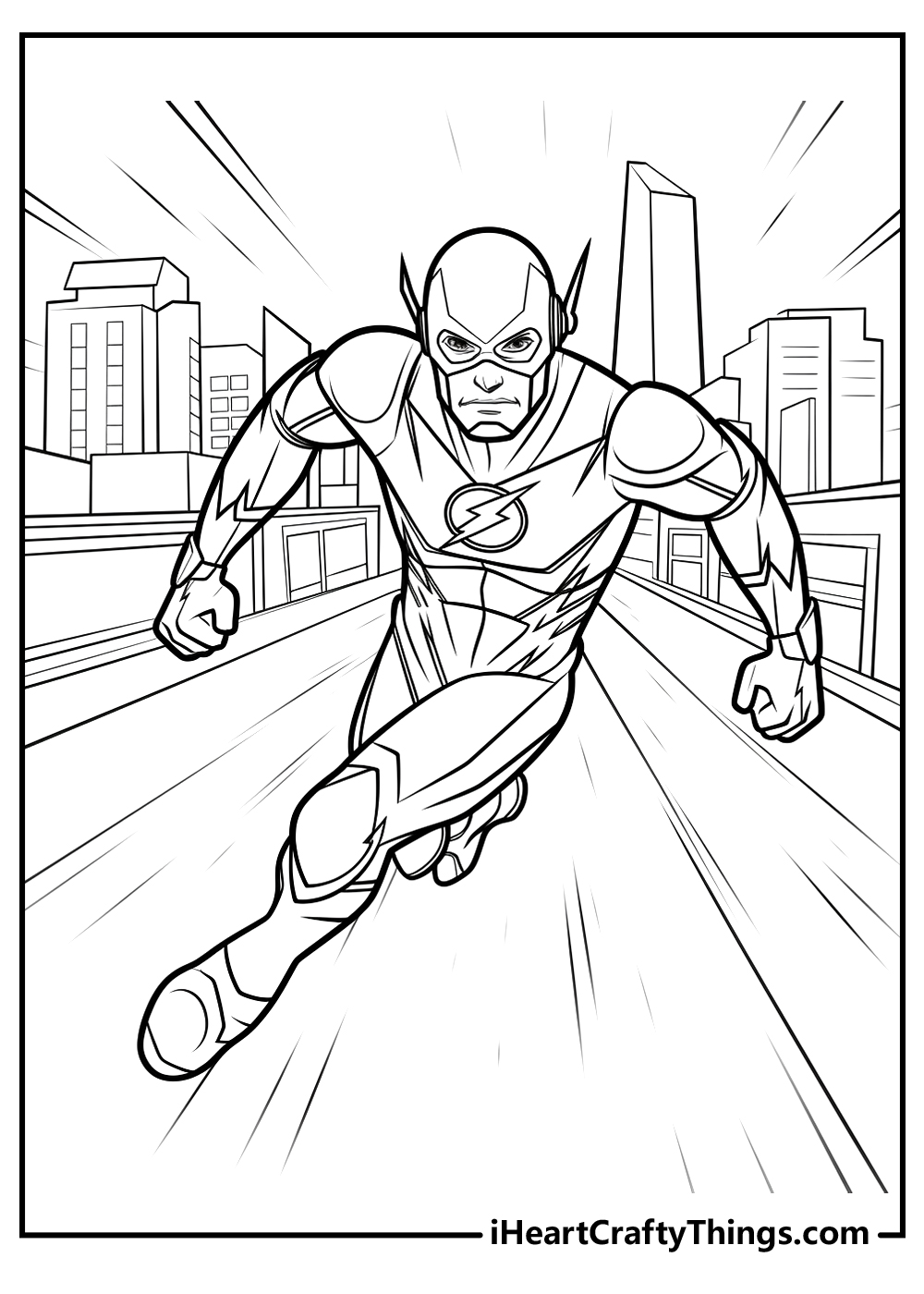 It's time for a close-up on this next page! We have zoomed in on The Flash's face for this one, and it gives you a great look at the details on his mask.
Now you can have some fun bringing color to the details on the mask, and you should try to use the right art tools and mediums for the job.
I know that if I was coloring this page, I would use some colored pens and maybe pencils for the finer details. It would make it easier and also look great!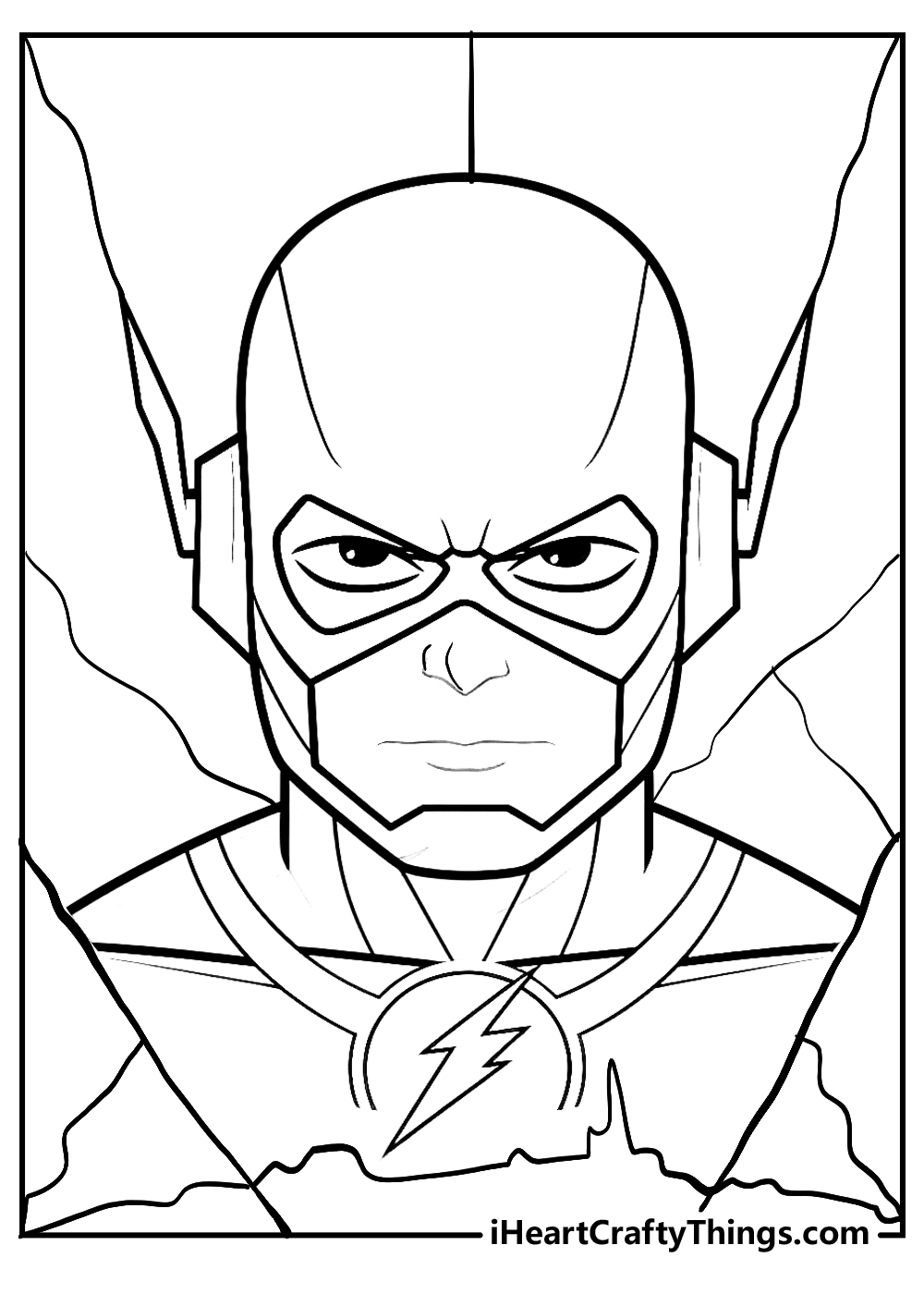 When artists are portraying The Flash moving at high speeds, they will use all sorts of interesting methods to do so.
This next page shows reality twisting and warping around The Flash in an interesting way.
It shows how fast he must be moving, and adding color will only serve to make it even more impressive!
Once you have finished coloring The Flash himself, you can color this background in some awesome ways.
Which colors do you think would best suit the twisty background on this page?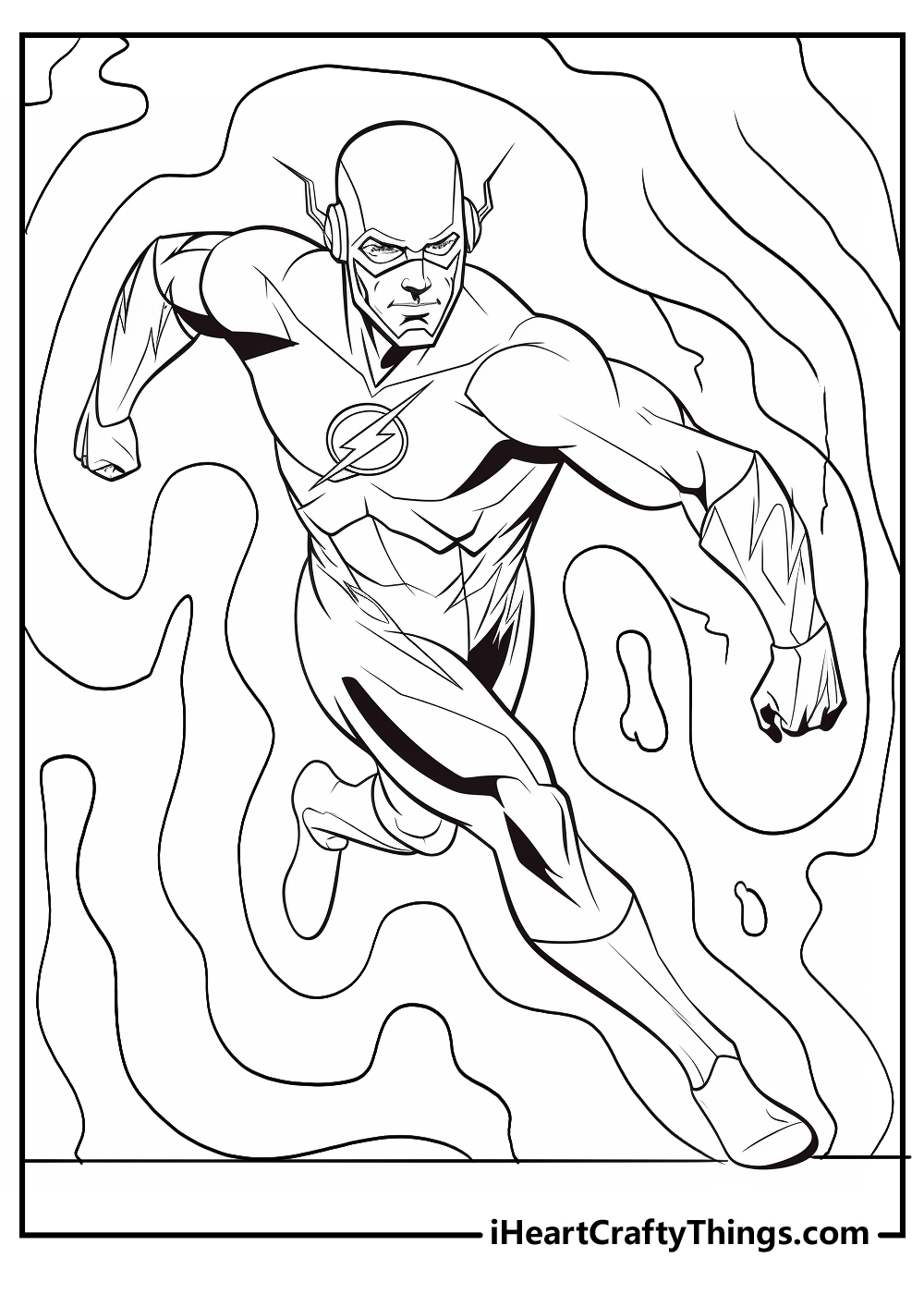 You're not seeing double on this next page, there are indeed two instances of The Flash on this one! It makes for an interesting image, and it could be that Reverse Flash is present.
This is an evil version of The Flash that he needs to fight on occasion, and it would explain why there are two of him on this page. While the regular Flash has a red and yellow color scheme, Reverse Flash is mostly yellow.
Will you make this a combination of Flash and Reverse Flash or simply have two instances of The Flash?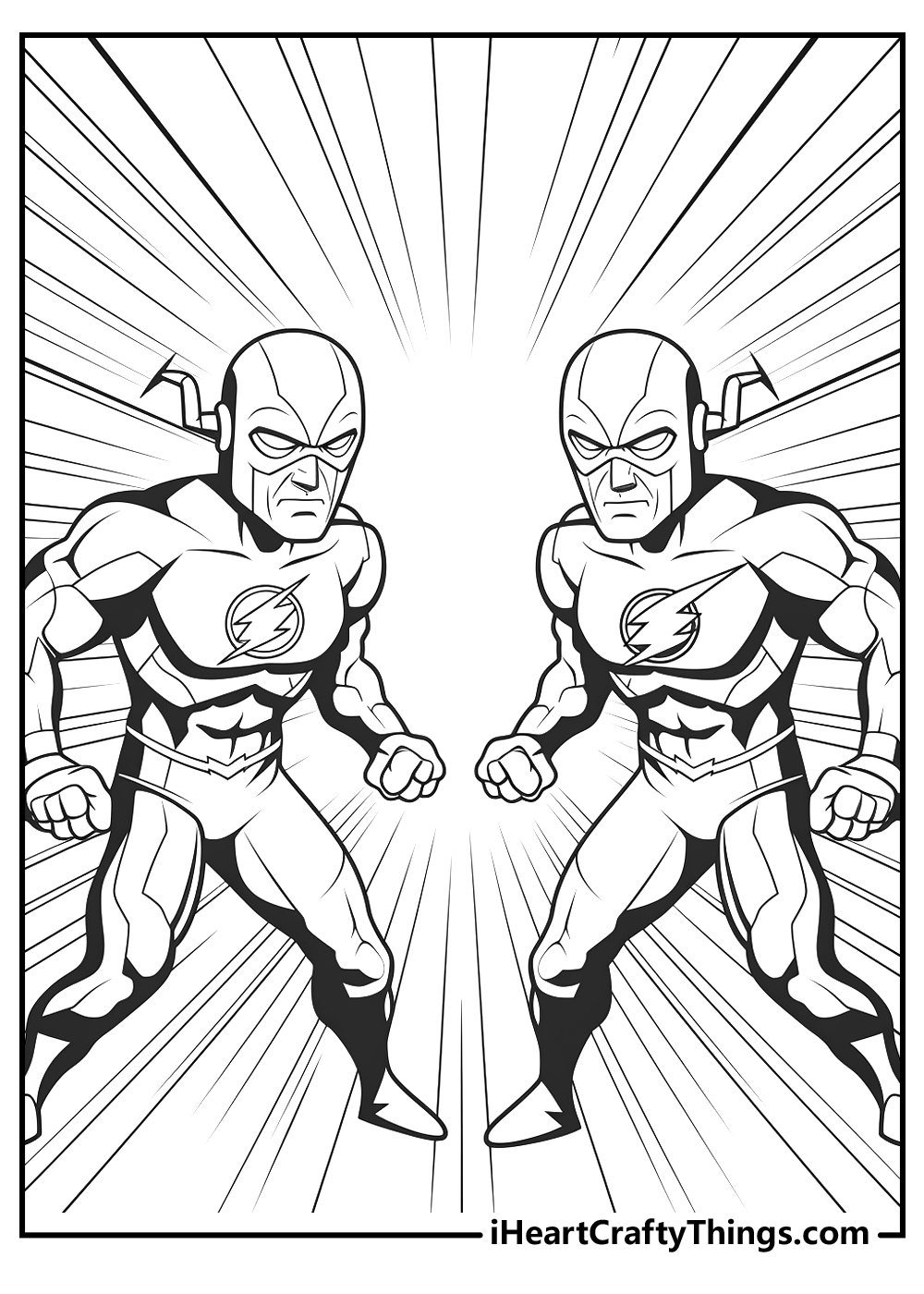 The style used for this next page is something a bit different, as it shows a more detailed and sleek look for The Flash's outfit. One thing is for sure, it looks really cool!
The background has been left a bit more blank for this page, and so there is plenty of room for you to add some of your own extra details both drawn and with colors.
That would be a great way for you to create a bit of a story around this page! What scene would you like to create?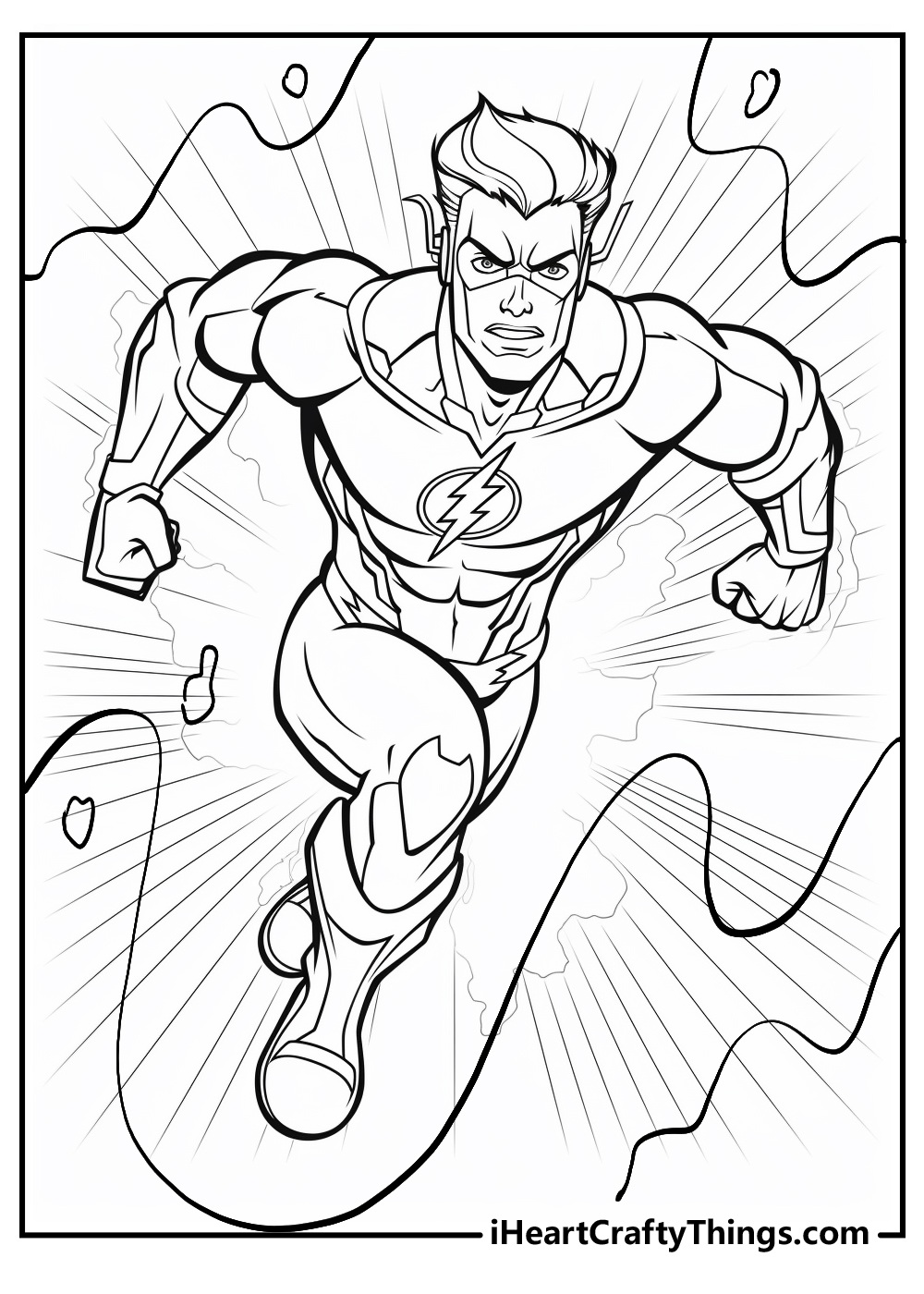 The Flash can sometimes move so fast that he can warm through time itself. This next The Flash coloring page shows this happening in a very cool way.
He is running so fast that he seems to be either entering or leaving a city dimension, and it looks very interesting. You could do some great color effects with this city scene as well as the other power effects.
Remember that you can also use and mix different art tools and mediums on the page in order to achieve some cool and interesting colors!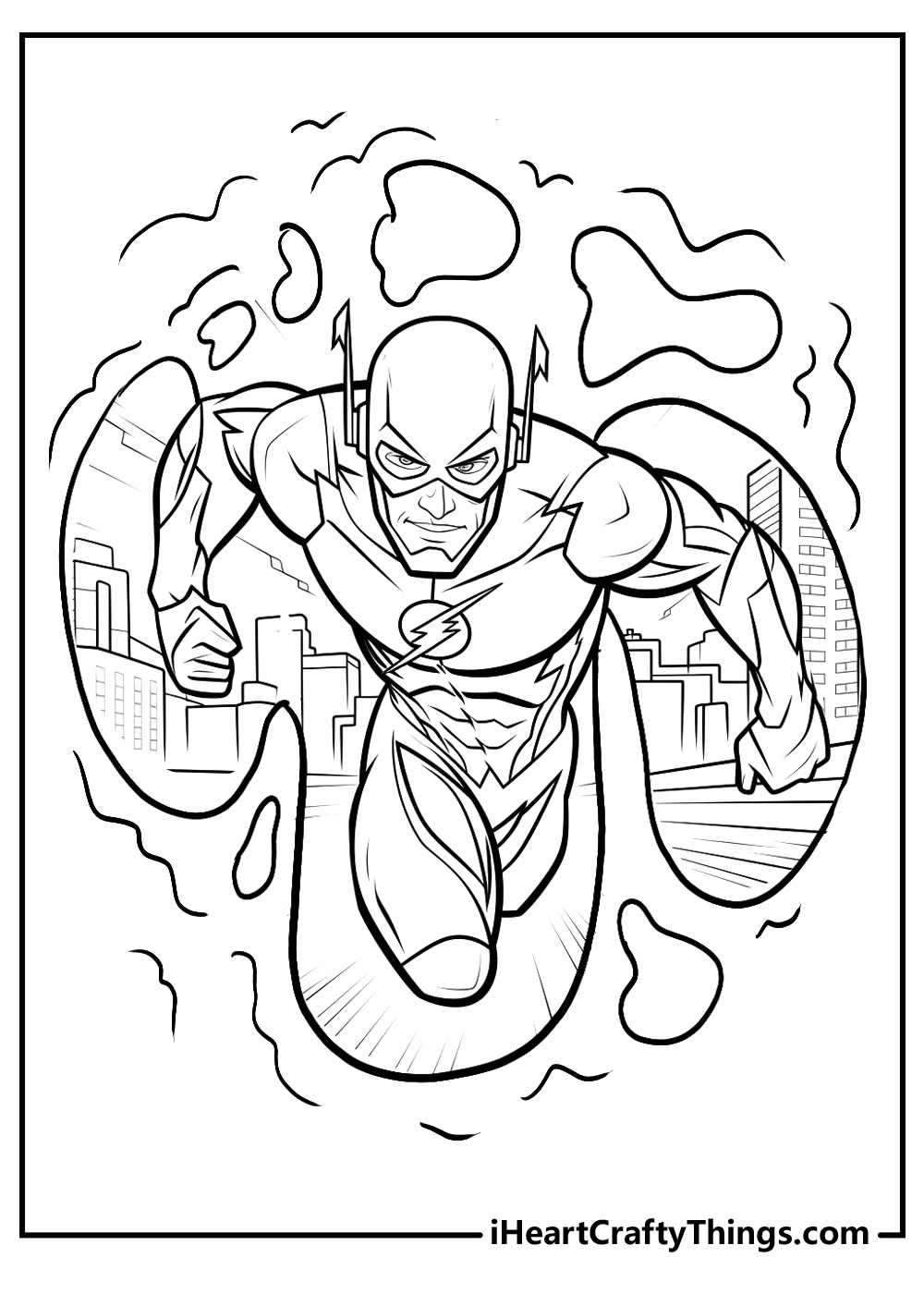 The Flash Coloring Pages – Which will you choose?
This collection of The Flash coloring printables showcased this speedy hero in all of his glory!
Hopefully, you enjoyed working on this collection and found a few pictures that caught your eye.
It can be great to choose a few of your favorite pages, but coloring each and every one is an option as well. Each page is free to color and enjoy, so it's up to you!
Sharing the fun is great as well, as you could send the collection to your fellow The Flash fans.
Then, please consider sharing some of your finished pages on our Facebook and Pinterest pages for us to see.