Superheroes are meant to be noble, brave and selfless, as they give us an ideal to strive for.
Deadpool is none of these things and trades most of these facets for insanity and mayhem.
He is more of an anti-hero, as he does sometimes perform good deeds, but other times doesn't seem to care about how his actions affect others.
One thing is for sure, he's definitely a lot of fun to watch, as you never know what he will do or say next!
This collection of free Deadpool coloring pages for kids is here for fans of this crazy character to enjoy.
We have 15 pictures featuring this memorable character for you to color, so let's begin!
15 Brand New Deadpool Coloring Pages – Free to Print and Color
Our first free Deadpool coloring sheet shows him drawn in an amusing cartoon style. This style is quite exaggerated, but it still captures the essence of the character well, wouldn't you say?
He is armed with a gun and ready for action, so there are plenty of details for you to color here. His name is also written in block letters above him, so you can color those letters as well.
What colors will you choose for the details surrounding Deadpool on this page?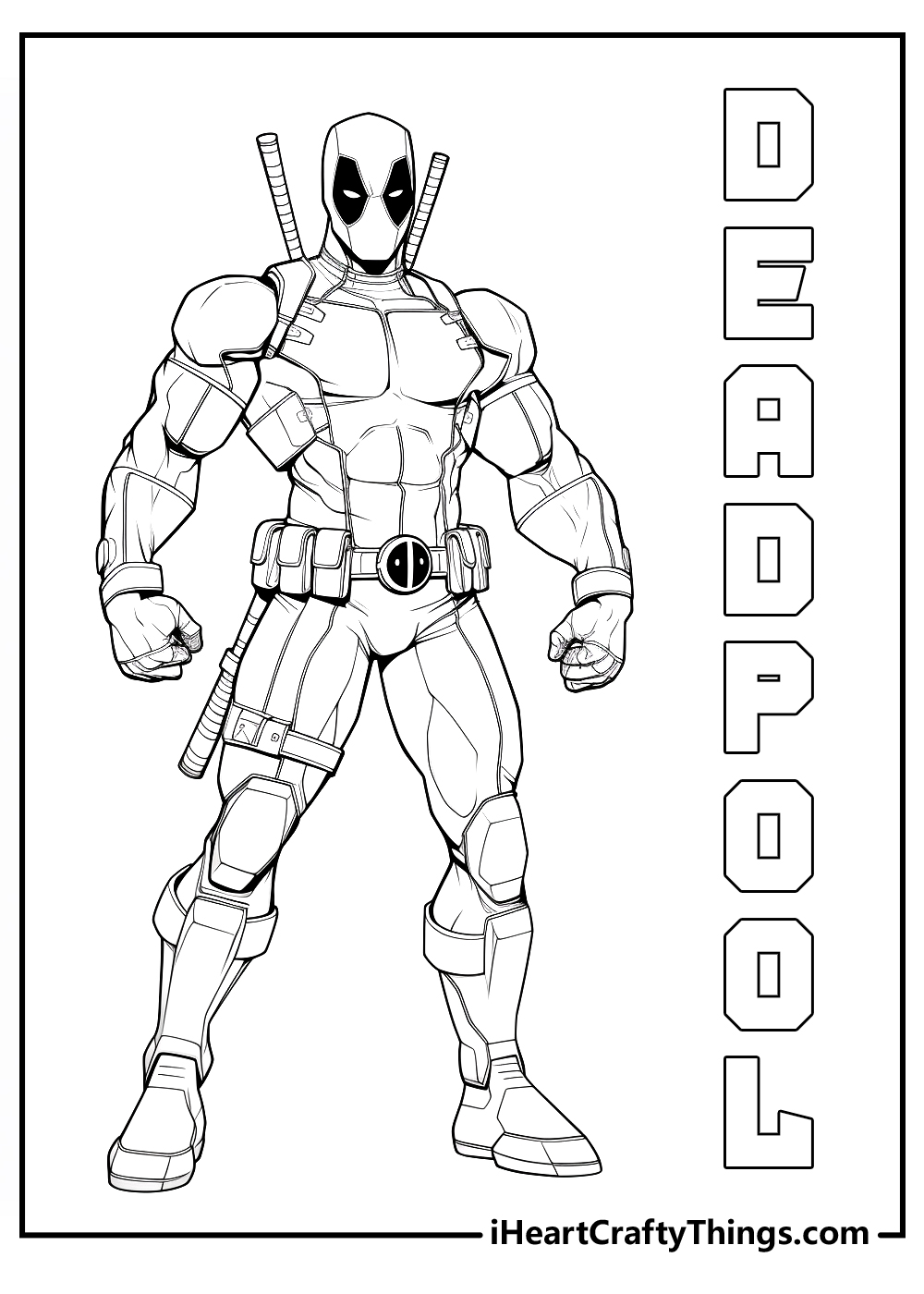 We wanted to show Deadpool in a cartoon style again, so we have another page of him in this style. He is armed with a paddle-like device, and it makes you wonder what it could be for.
You could show what you think Deadpool could be up to by drawing some extra details and by using your colors wisely. Deadpool's uniform is mostly red and black, and this makes for a striking color scheme.
You can of course change up the colors, so don't be shy about getting creative with it and venturing off the beaten path to create something unique!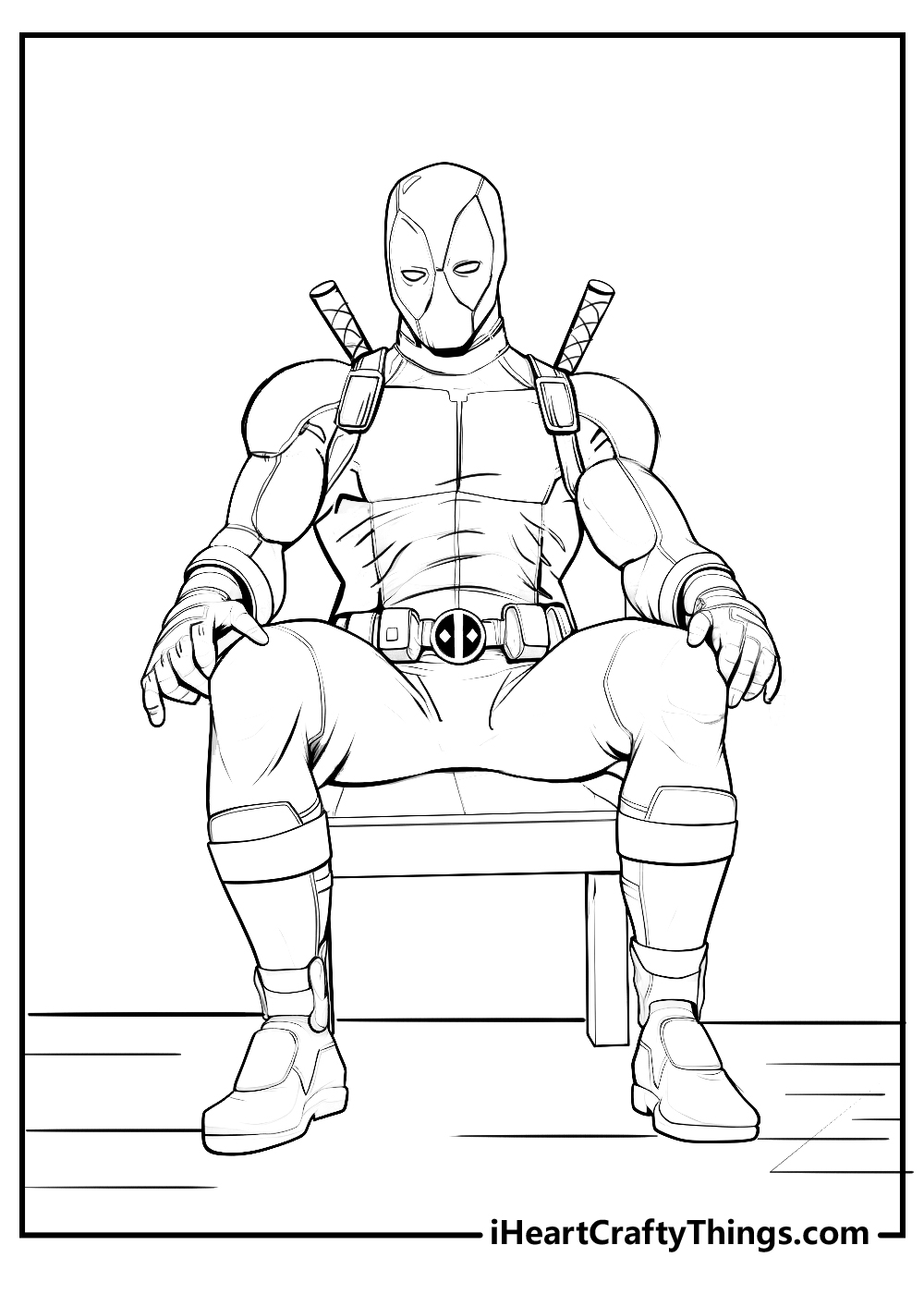 Deadpool may not always be the most serious character, but he certainly looks the part. This next page shows him drawn in a very detailed style, and he looks so cool here!
There are plenty of details to color on this page, and you could spend a lot of time having fun with this page. If I were coloring this page, I would use some colored pens for the finer details.
These would allow you to have some more precision, and the colors would really pop as well.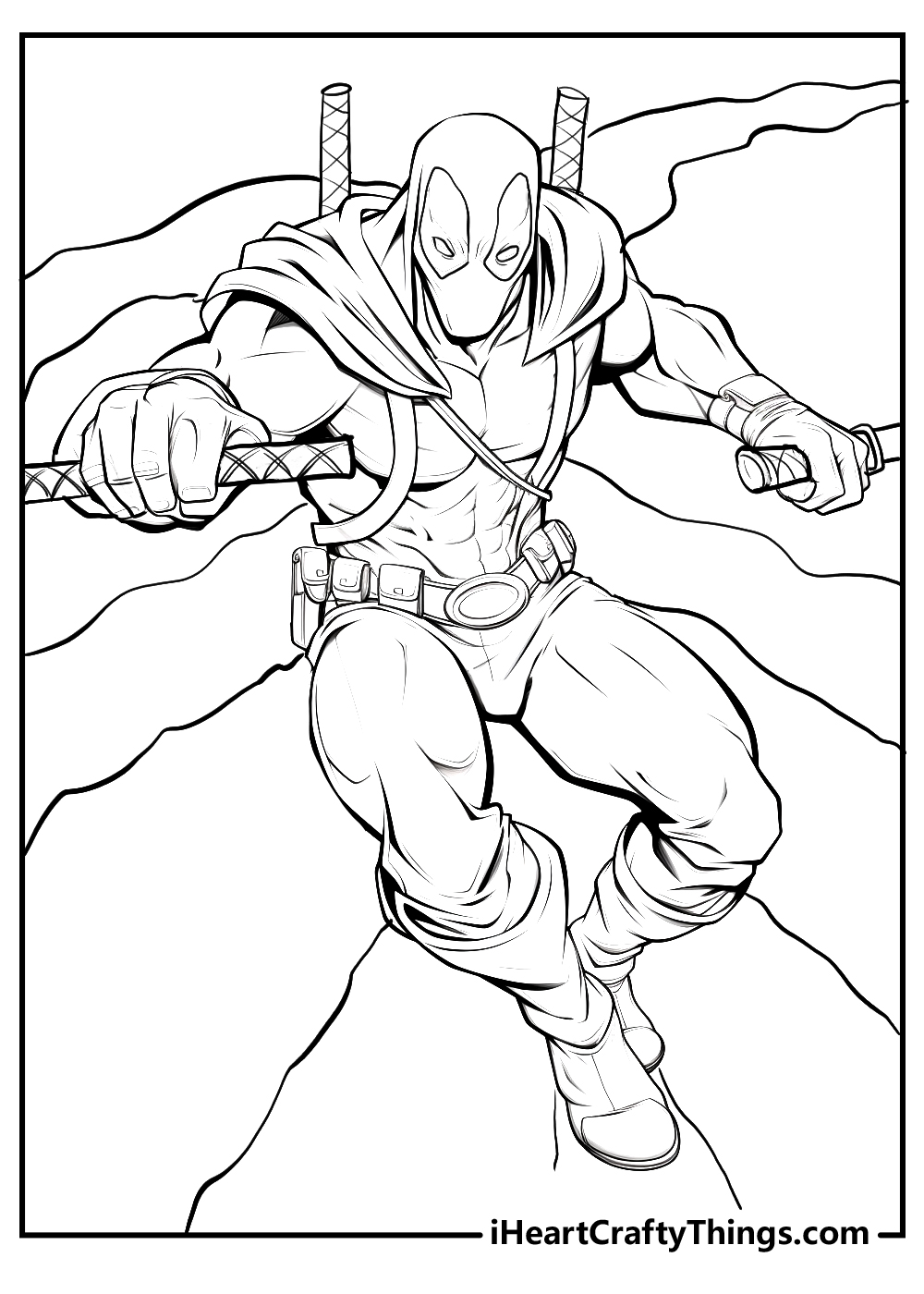 Deadpool is ready for his close-up! This page gets up close and personal with this charcater, and so you get a great look at the finer details of his mask and uniform.
There are so many ways that you could color these details, so you can get creative with it. Once again, I think that some colored pens or pencils would be perfect for this page.
Some mediums like crayons may be a bit difficult for this page, as there are so many small details.
You can use these if they're what you want to, though!
It's up to you in the end, and you should use anything that feels right to you.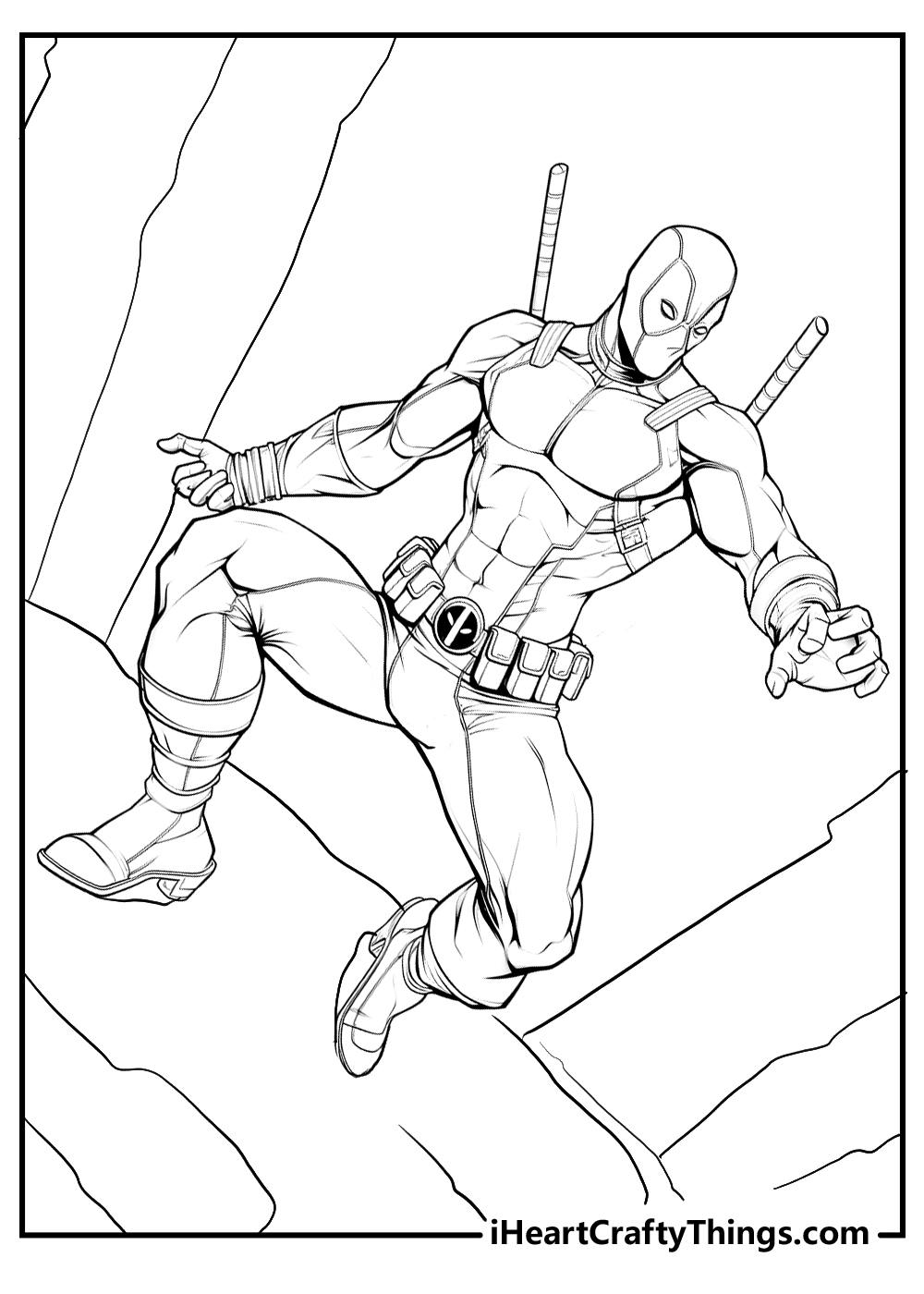 Here's something you wouldn't normally expect to see! This Deadpool coloring printable shows our hero dressed up in formalwear, and I have to say that he looks pretty dapper!
Something about the contrast of a crazy character like Deadpool dressed in a fancy suit is inherently funny, and now you can bring this amusing picture to life with your colors.
You could make his suit look classic and muted, or maybe you could draw and color a crazy pattern on the suit instead. Either approach would be good in its own way!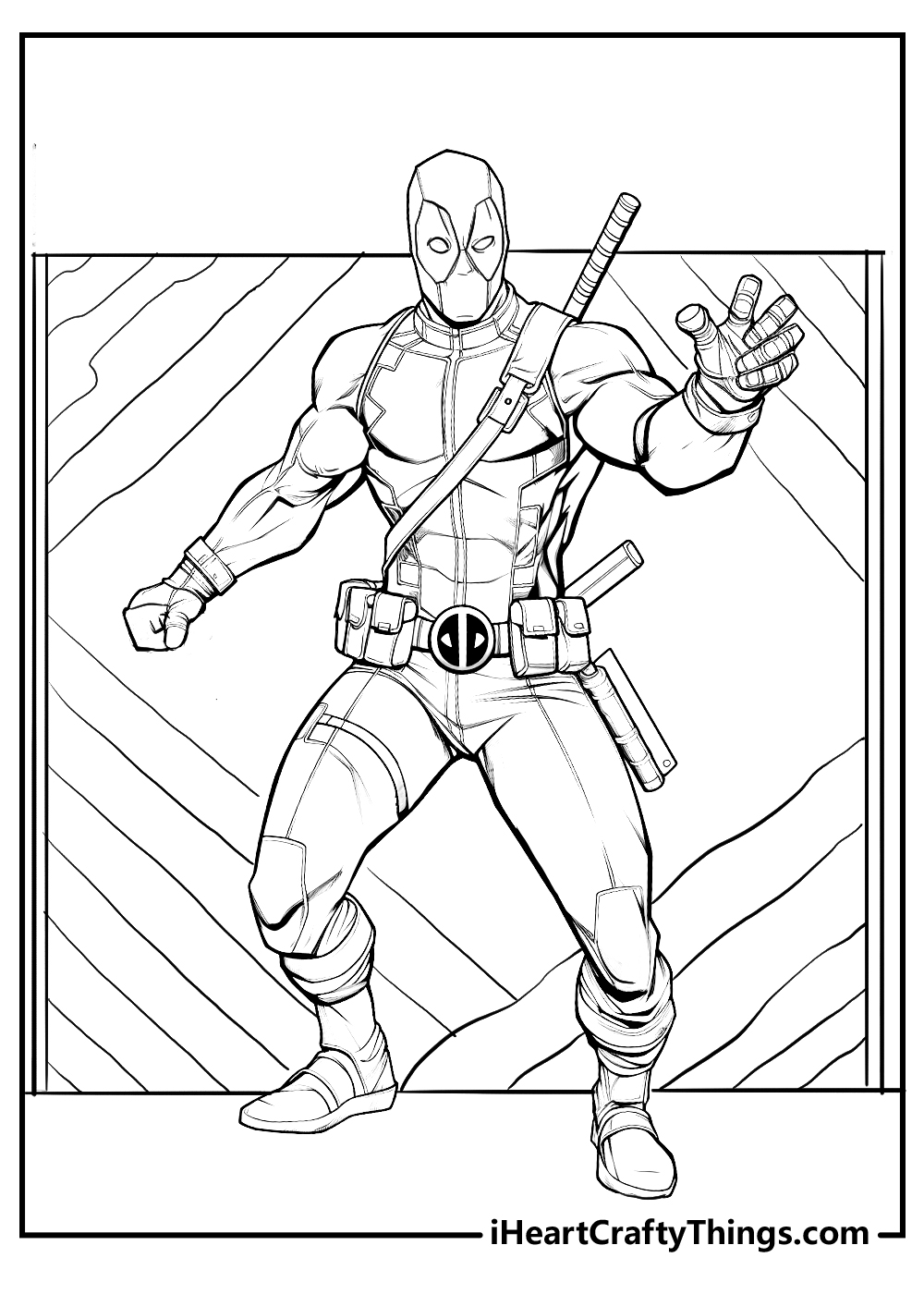 We have another highly detailed picture of Deadpool for you to enjoy on this next page! He is not only looking super cool, but is also posed next to his name.
When most people think of Deadpool, they will probably think of the colors red and black. You could alternate these colors for his name in order to stick to the theme, but you could use any of your favorite colors instead.
Which colors do you think you will use for the letters of his name as well as the background and other details of the picture?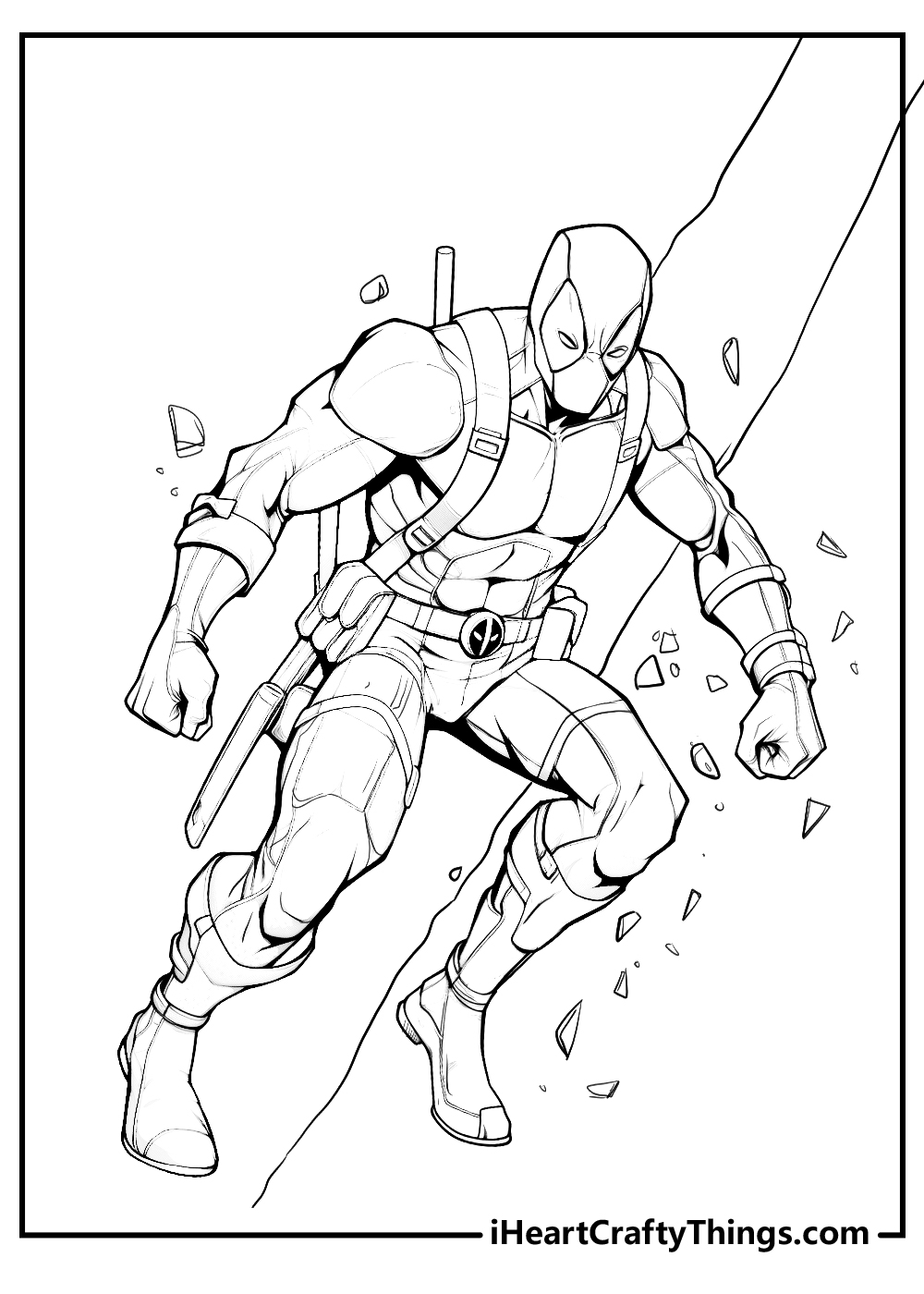 This next page has a really great pose for you to color, but it's not all there is for you to color. While
Deadpool is front and center on this page, he is also surrounded by a segmented background that looks a bit like shattered glass.
This may be a simple addition, but it actually really opens things up. You could color these segments in so many different ways, and it's a great way for you to work in all sorts of amazing colors!
Maybe you could challenge yourself to use a different color for each segment of the background to make it really pop.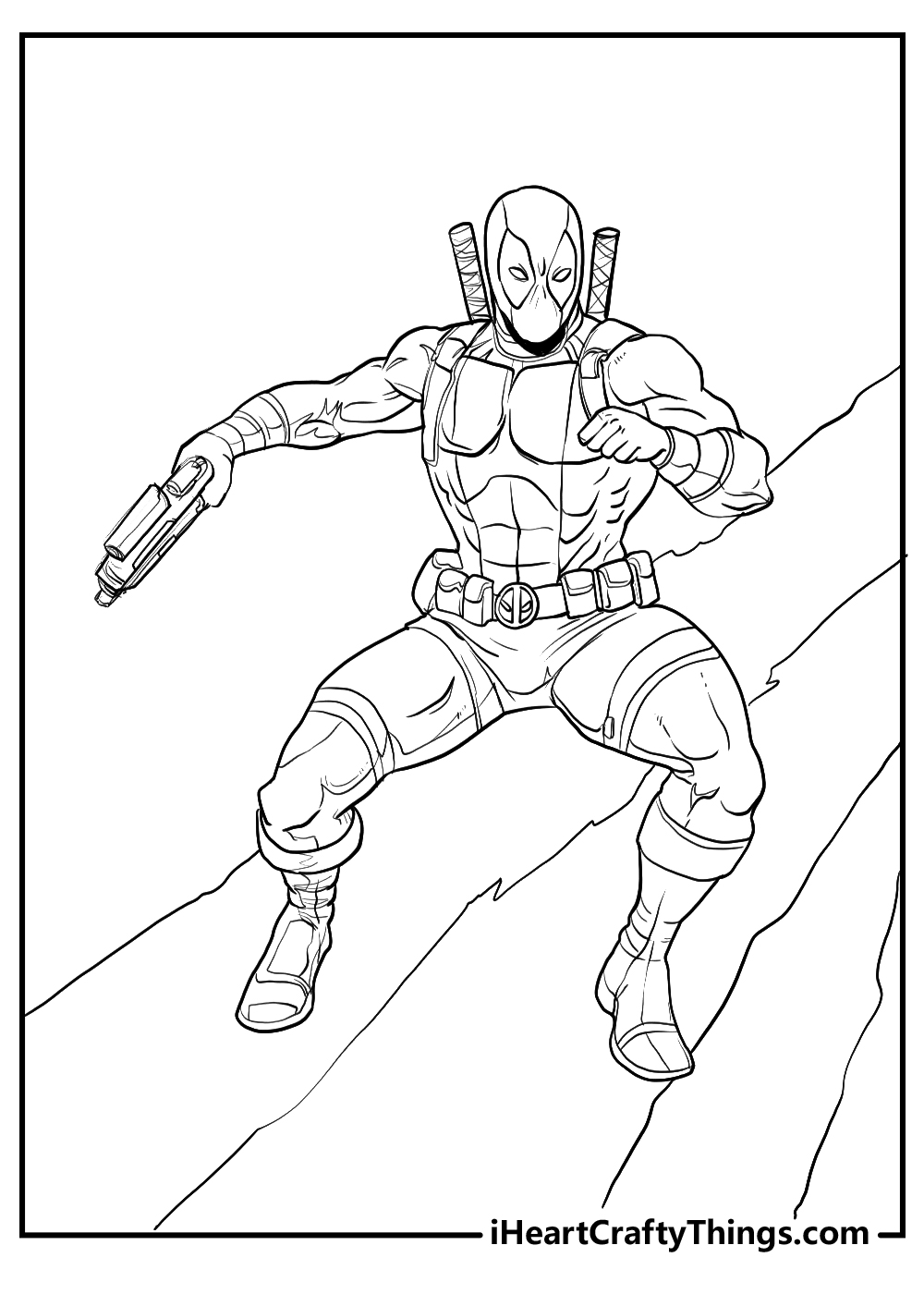 It looks as though Deadpool is in the midst of an awesome action scene on this next page. He has some sort of energy beam behind him, and you could color this in some cool ways.
Perhaps he is being fired at by a big energy weapon, in which case you could make this beam brightly colored. That's one idea, but what else do you think could be happening in this image?
It would be interesting to see how you decide to tackle this incredible, action packed scene, so let your creativity flow!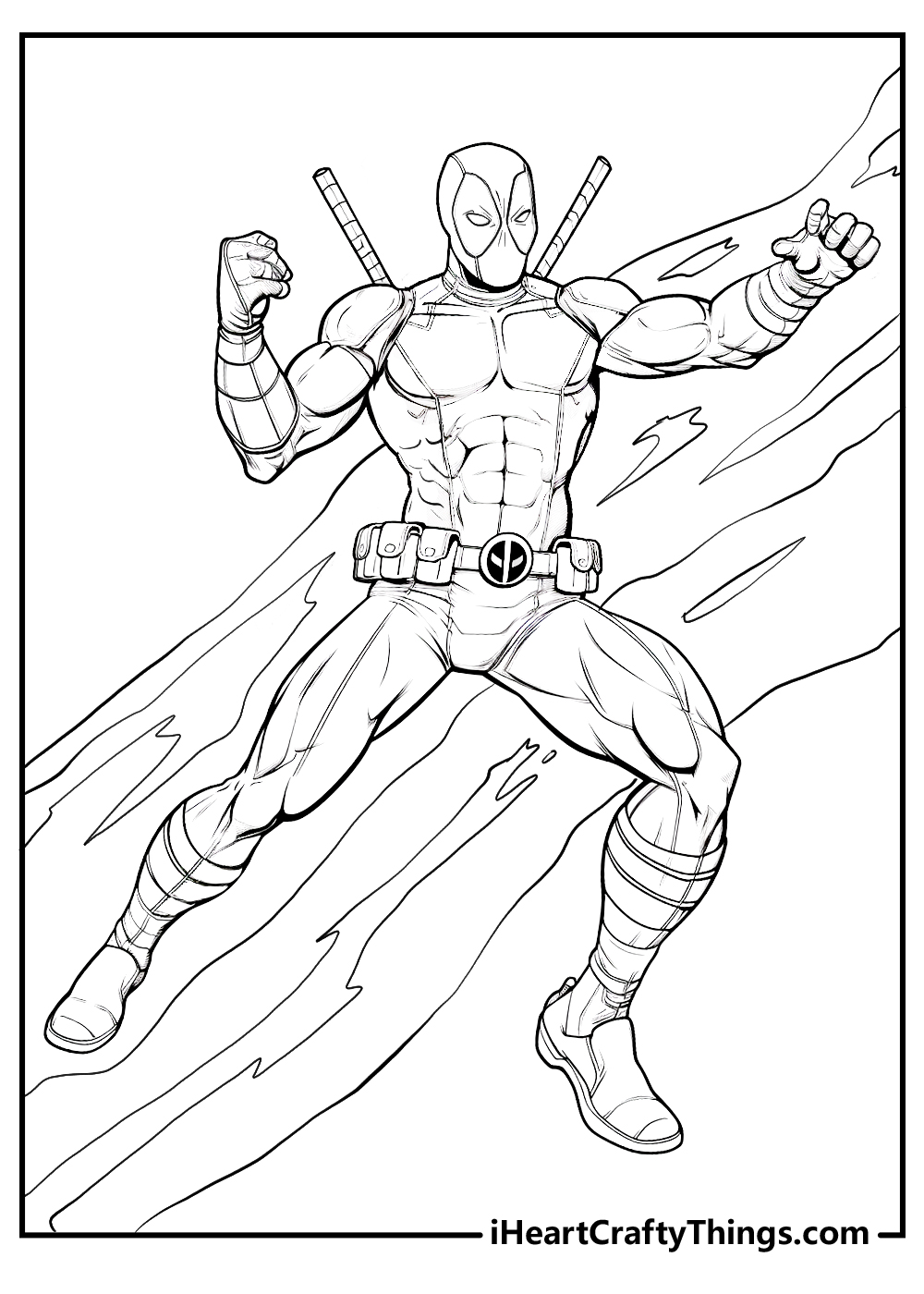 Deadpool finds himself in all sorts of dangerous situations, and he seems to be in the middle of one here. What do you think could be happening here?
If you want to make this image even more interesting, you could draw some background elements. This would be a great way for you to make a story for this page.
In doing so, you could use the Deadpool comics or even the films as inspiration. That way, you could recreate your favorite Deadpool moments!
Which scenes come to mind for you when you think about the character of Deadpool?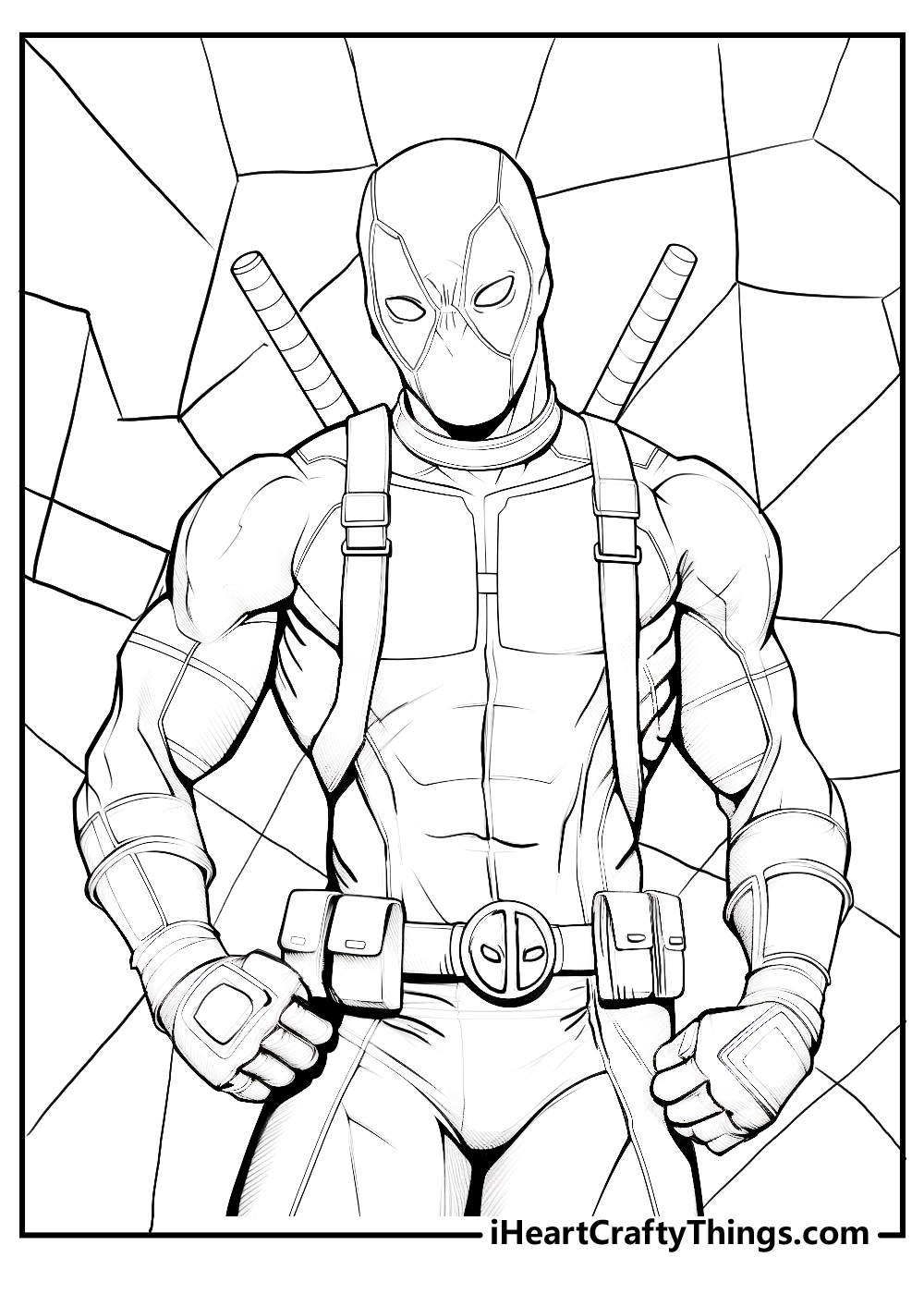 This next Deadpool coloring sheet makes it look a bit like he has just burst through a wall during an action scene. Do you think this is what has happened here?
Once again, it could be fun to draw and add some elements of your own. If you struggle to imagine background settings, you can also look up images online to help you.
So if you wanted to have him in a museum, looking up pictures of one would be super helpful and give you something to reference as you draw! What settings can you think of?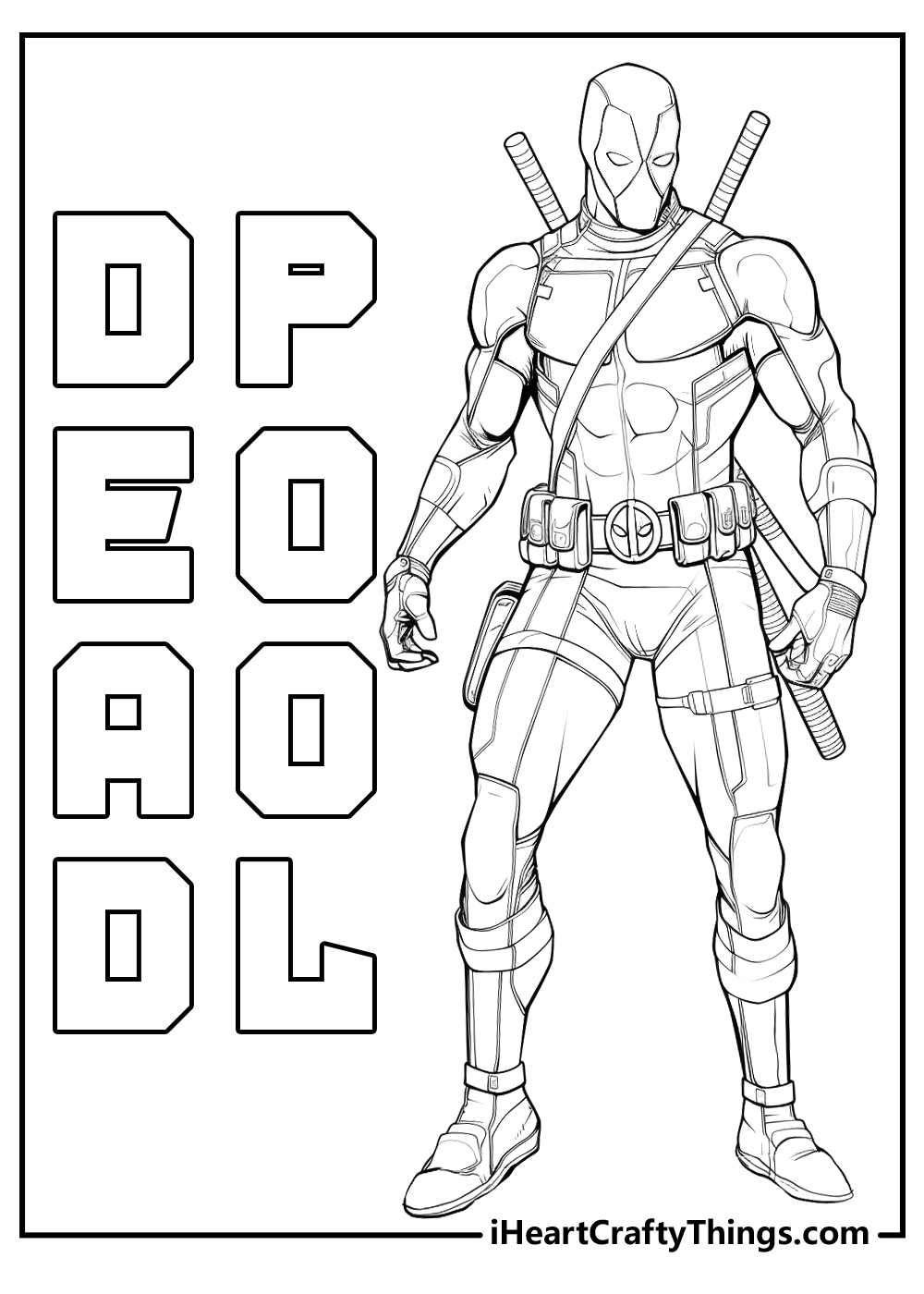 Deadpool is known for his smart mouth, as he is constantly making quips and jokes. He is also known for breaking the fourth wall, which means that he addresses the audience.
It could be done to show that he knows that he is in a film, video game or comic, and it's always amusing when it happens. You could have him breaking the fourth wall on this page!
This could be done by drawing a speech bubble with some text acknowledging that he is part of a coloring page. What could he be saying?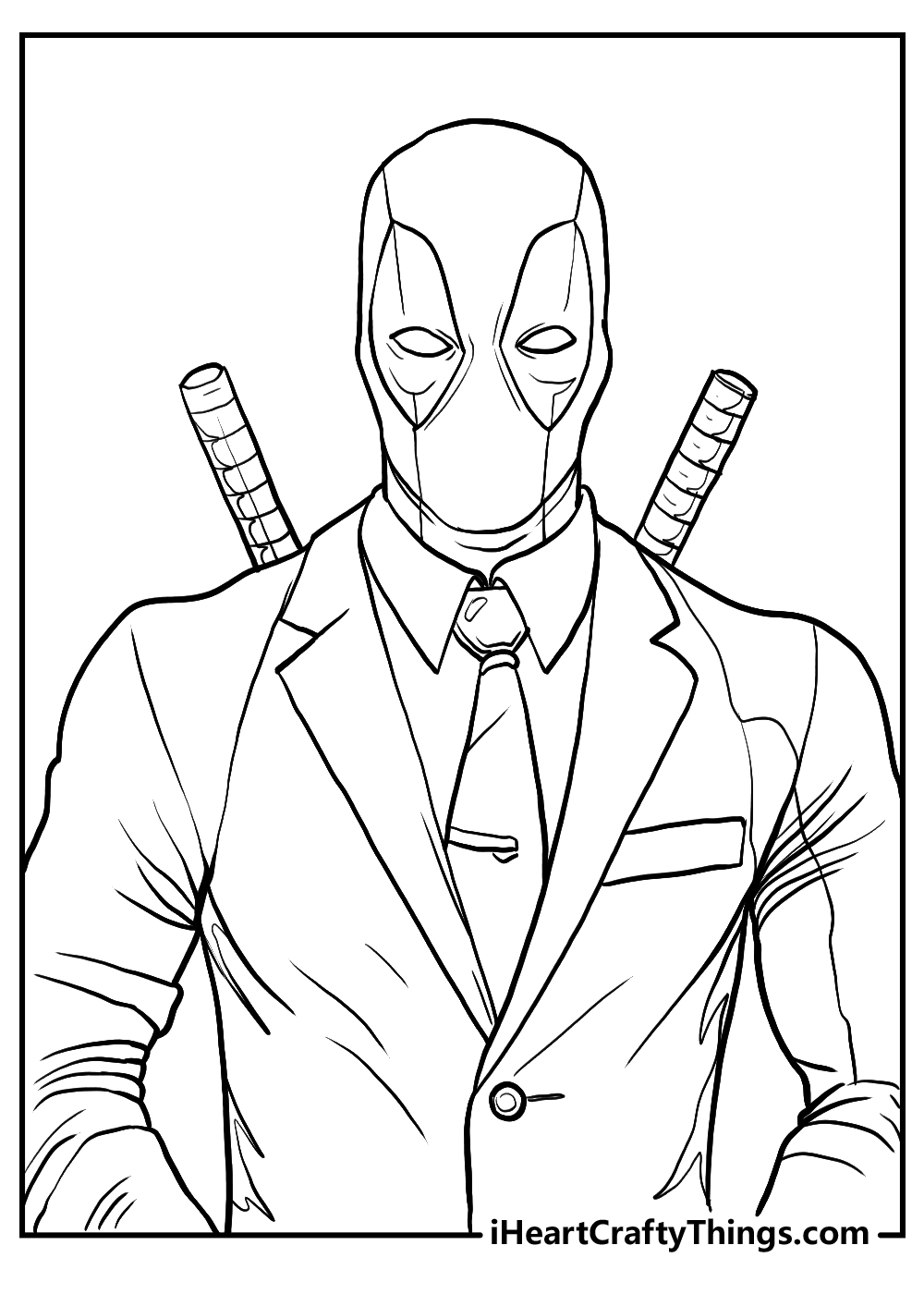 It's safe to say that Deadpool is not a particularly stealthy character, as he prefers to tackle situations in a loud and proud manner! This page shows him possibly trying to be a bit stealthier.
That's at least what came to mind for me, but you may have a different idea as to what is going on here.
If you agree that he is being stealthy here, then you could use a dark background to make it look like nighttime.
What sort of tone will you choose for this page?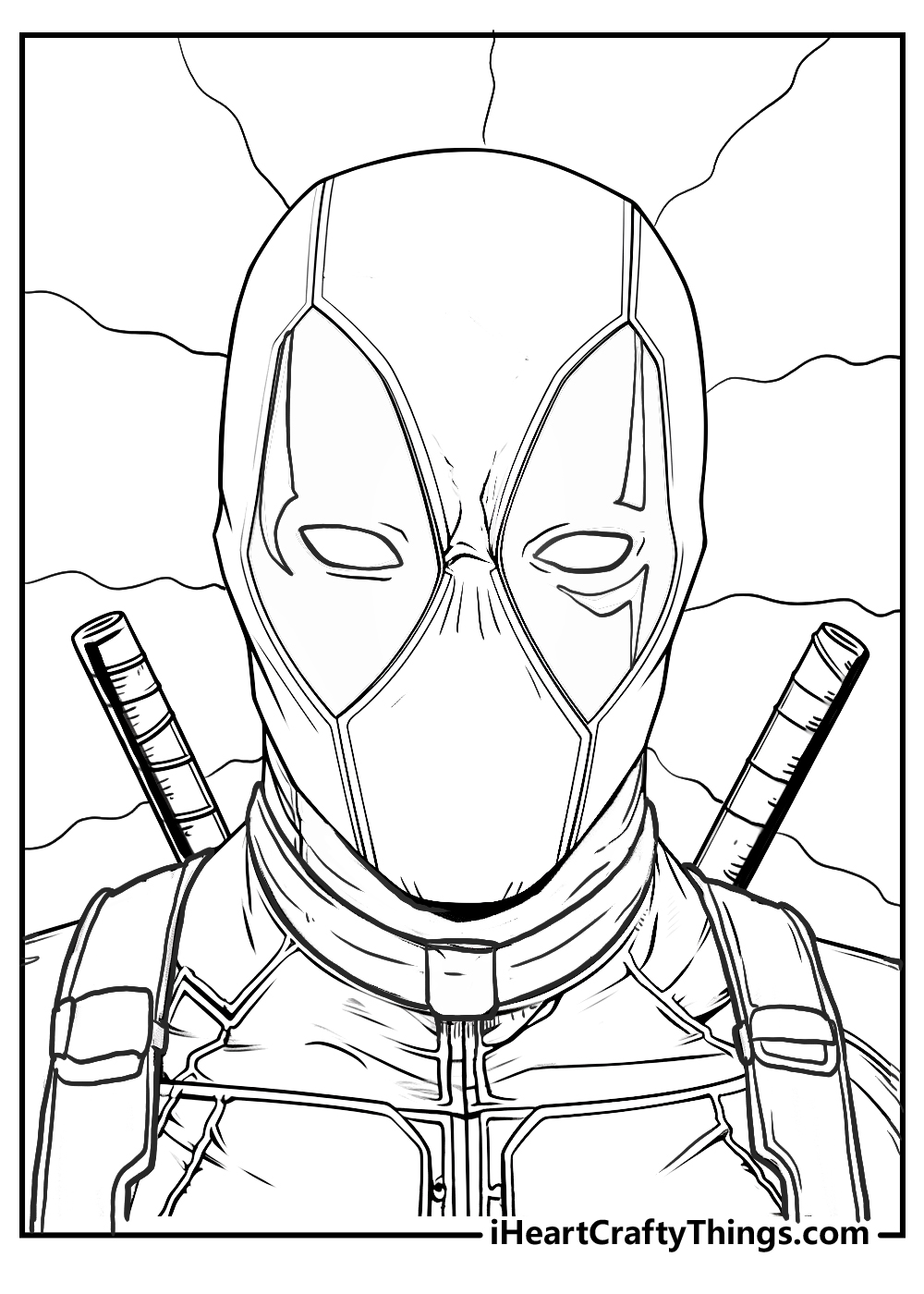 There is no weapon that Deadpool won't use, and on this page he is wielding two weapons in an action pose. I wonder what these weapons could be?
You may think that it could be his katanas, but they seem to still be sheathed on his back. Maybe they are nunchucks or different kinds of swords.
The image allows you to come up with your own theories, and you could draw extra details to finish off the weapons that he is wielding. What do you think he is using for this battle?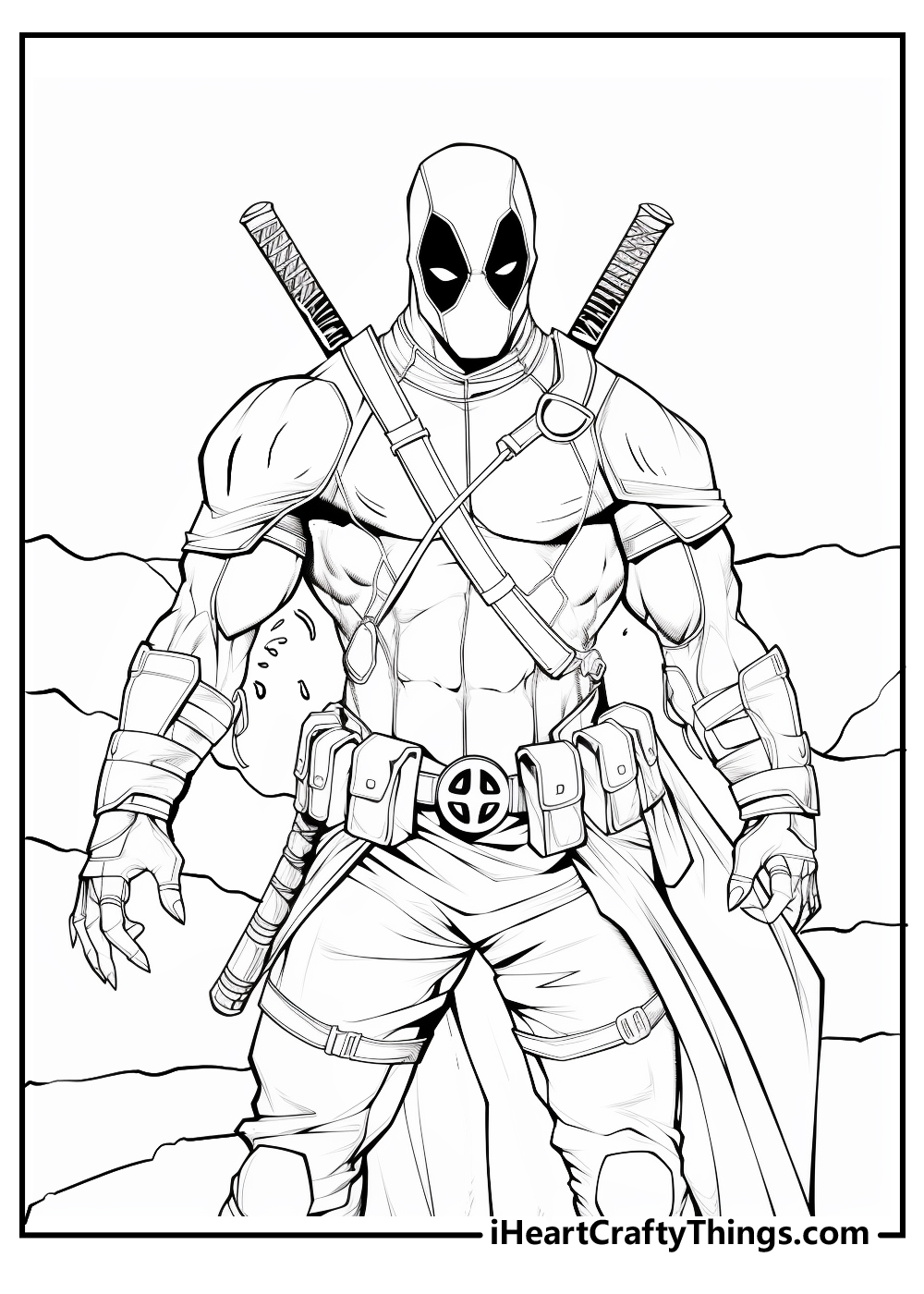 Even superhumans need to take a breather every now and then. This next Deadpool coloring page is a bit more chilled than the others as he takes a break on a chair.
What do you think has gotten him so tuckered out? Adding some subtle background details could suggest the mayhem that occurred to get Deadpool looking so tired.
It also looks a bit like he is at a waiting room, and that could be a funny setting to contrast this crazy character. So many possibilities await on this relaxed page!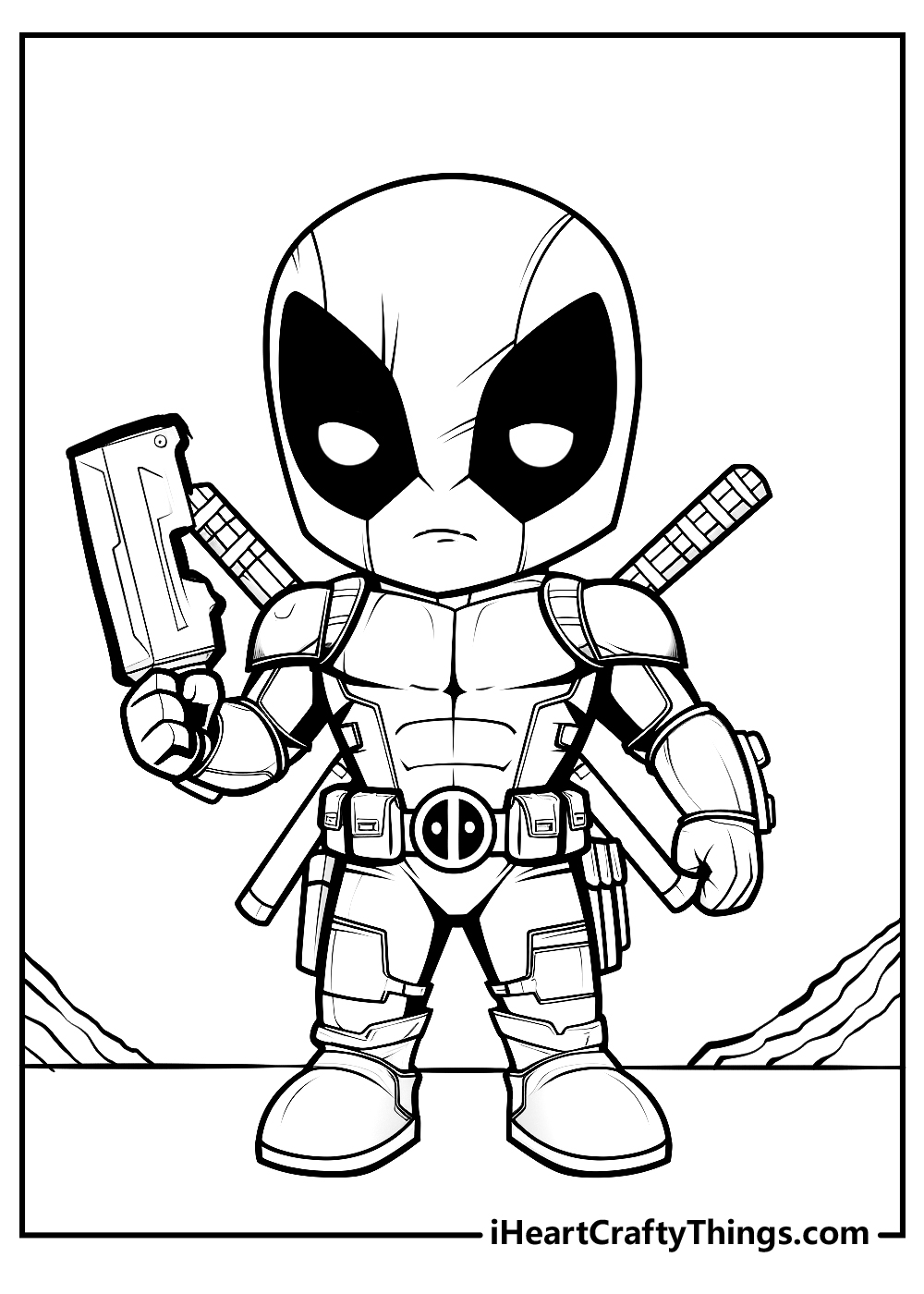 Deadpool has a slightly more armored look on this final page of the collection. There are so many incredible details to behold on this page, so it could take a while to finish.
Coloring is not a race though, so take your time with it and enjoy the process! You can try out different ideas and techniques until you're happy with it.
You can print out this and any other pages in the collection as many times as you like, so you don't ever have to worry about making mistakes and starting over!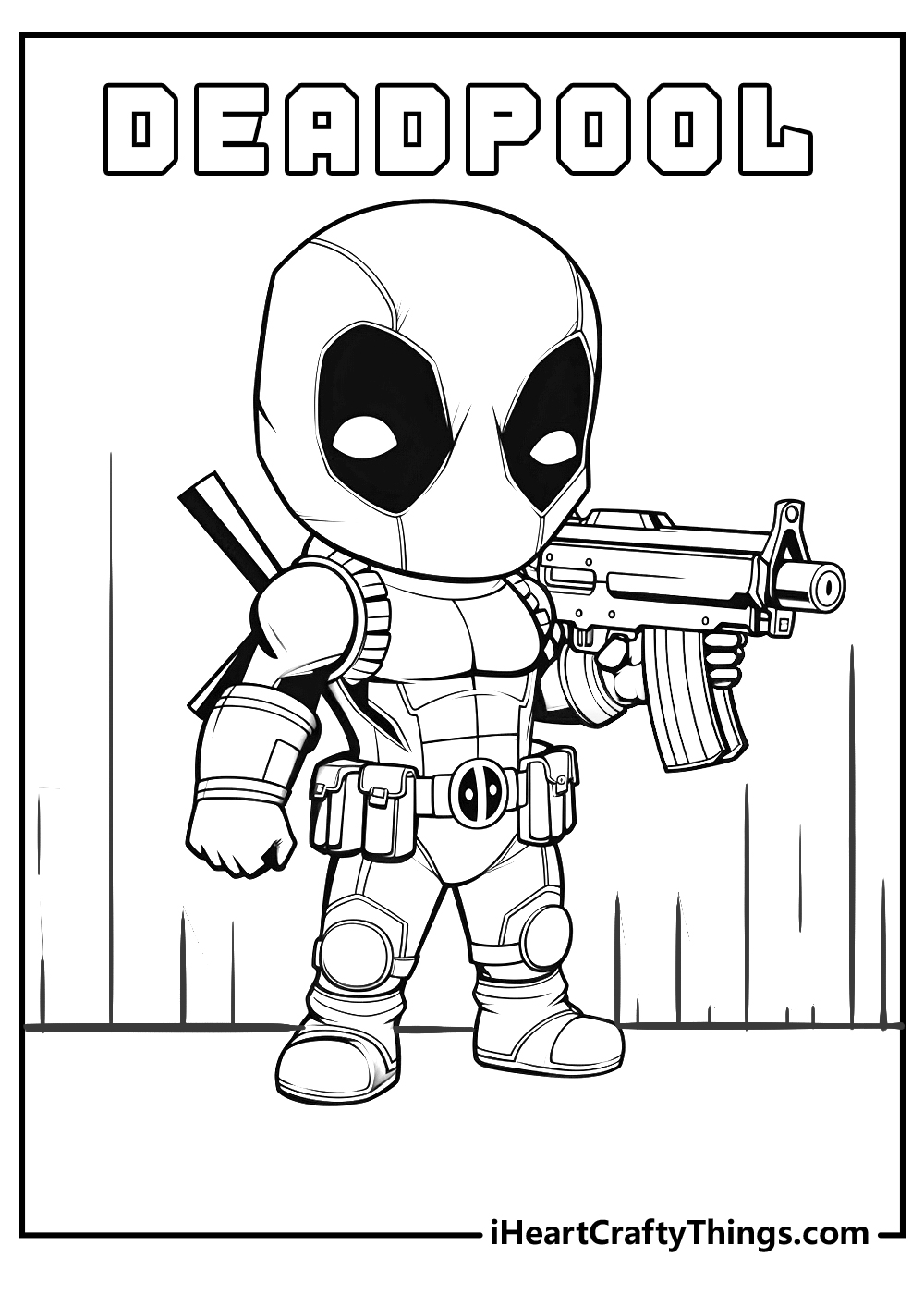 Deadpool Coloring Pages – Which will you choose?
This collection of free Deadpool coloring printables for kids certainly presented an amazing showcase for our favorite anti-hero! We tried to have a wide range of poses and scenarios for you to color.
These should allow you to enjoy getting creative as you add some amazing colors to the page.
Remember that you can also print out the pages as many times as you like!
If you know other Deadpool fans, it would be awesome to send the collection to them to enjoy as well. We would also love to see how your pages turn out!
You can share your finished pages on our Facebook and Pinterest pages!