Every great hero needs a great villain, and few are as memorable or long-lasting as the Joker.
This villainous clown has fascinated millions throughout various comics and film interpretations as he goes up against his nemesis Batman.
He is one of the most famous fictional characters ever created. and this collection of free Joker coloring pages for kids is here to celebrate the clown prince of crime.
There are 15 pages that cover this character throughout his various incarnations, so if you have a favorite Joker then he's probably in here!
So let's get ready to have some hilariously vile coloring fun as we begin the first page in this dastardly collection!
20 Brand New Joker Coloring Pages – Free to Print and Color
We have a close-up of our main man with this first Joker coloring sheet.
This portrayal of Joker is based on his appearance in the famous Batman Animated Series, and it is a popular incarnation of the character.
This version is known for being both hilarious and menacing, and now you can decide whether to make him look as he does in the series or give a new look for him.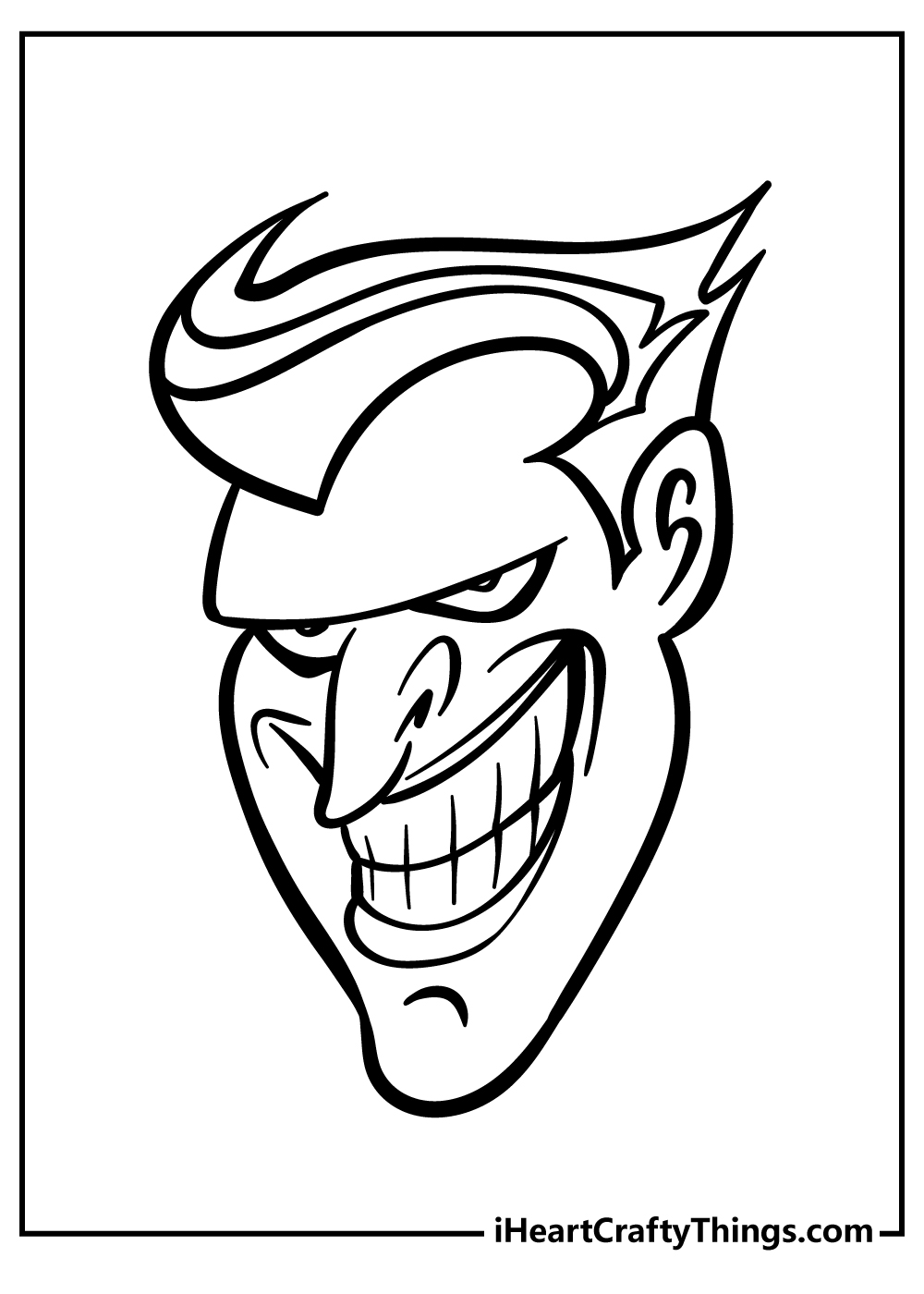 This second page features another image of the Animated Series Joker, but this time we get a better look at his entire design.
The Joker almost always wears a bright purple suit, and that will make for a really striking picture if you go for that color scheme in this one! Will you add a background for this fleeing Joker?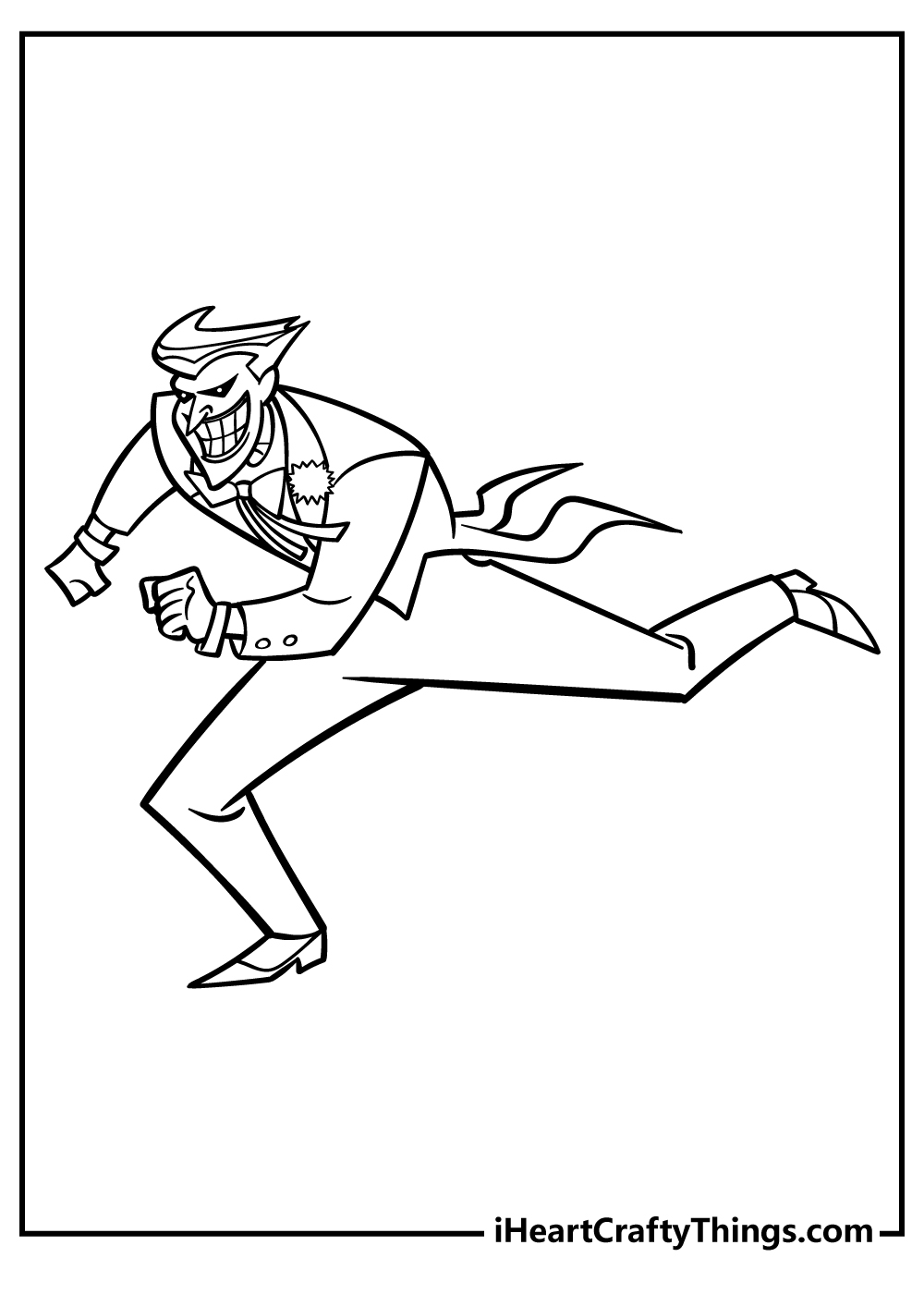 Get ready to bring the mischievous Joker to life with this fun coloring page. Here, we have Joker with his signature wide grin, messy hair, ghostly white skin, and piercing eyes.
You can color his outfit with purple for suit and green for vest, orange for shirt, and patterned tie.
Color in his wild green hair with your favorite crayons or markers – will you make it neon green or darker forest green?
Make the background pop with bold oranges and yellows to represent an eerie glow behind Gotham's most chaotic villain.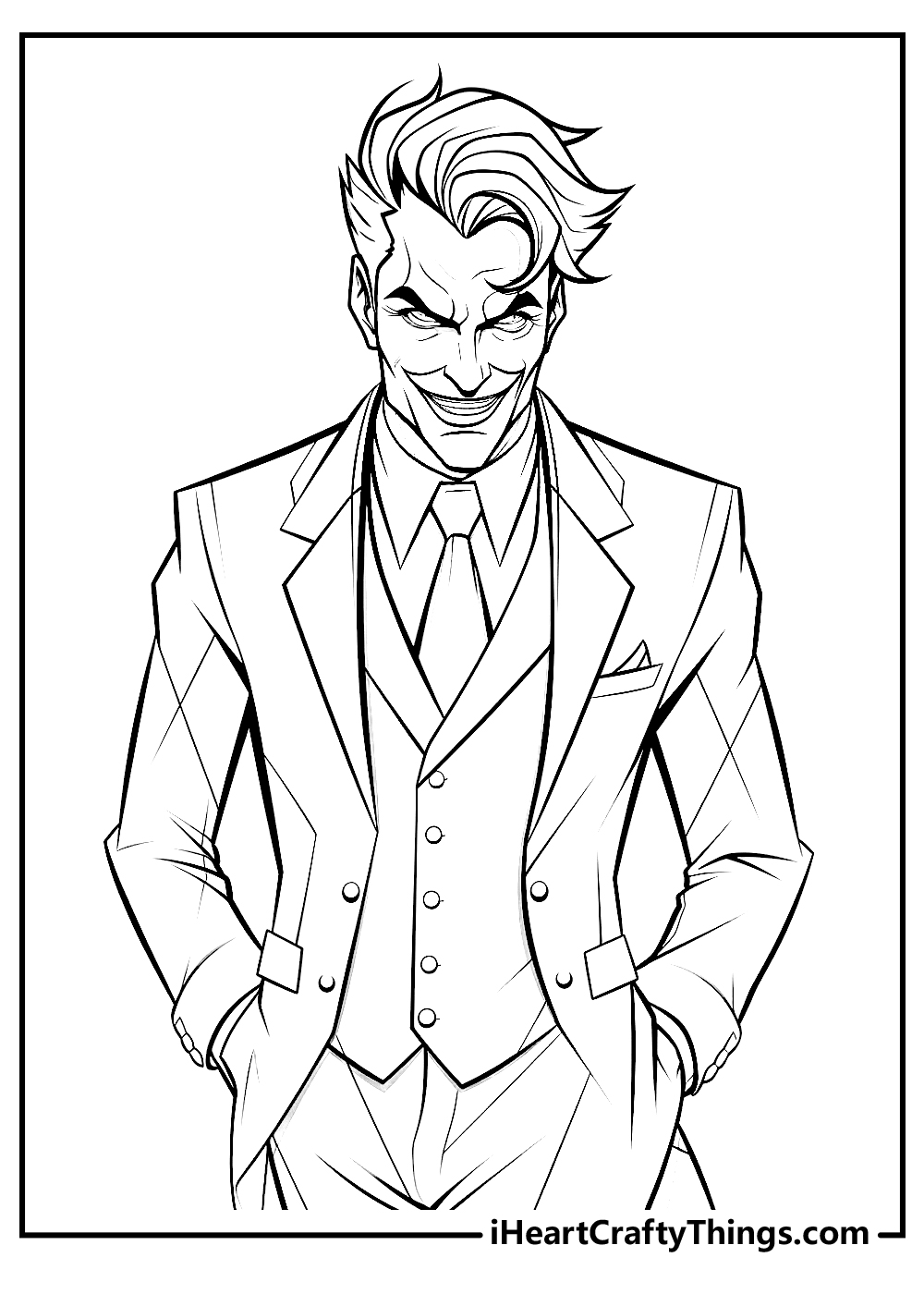 Here is another awesome pose from the animated Joker. This is a picture that really captures his character brilliantly, and it shows how he can be both smiling and menacing!
Maybe you could use some colors and mediums to closely match the look of the show. That would look great, but you can also get more experimental with it if you prefer!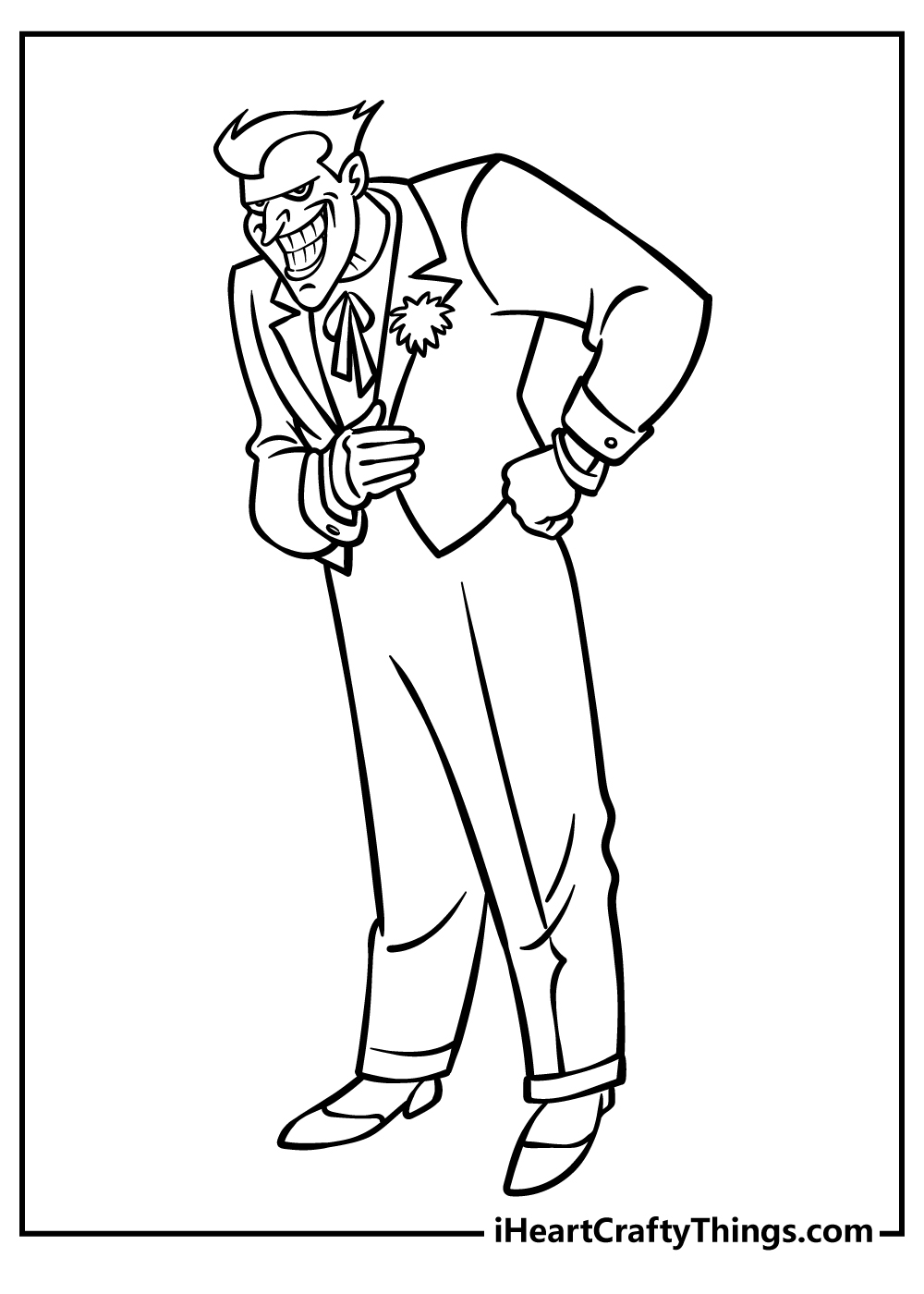 Grab your coloring supplies and have fun with this Joker coloring page. Concentrate on shading his chalk-white face and adding shadows to bring out his sharp cheekbones and chin.
Use your darkest green to color in his wild, frizzy hair and shade in his menacing brows. Make sure to bear down hard when coloring his smile across his face to highlight the Joker's chilling grin.
For an extra fun touch, add your own creative background like "HA HA HA" in bold letters or graffiti-style "JOKER" to set the chaotic scene.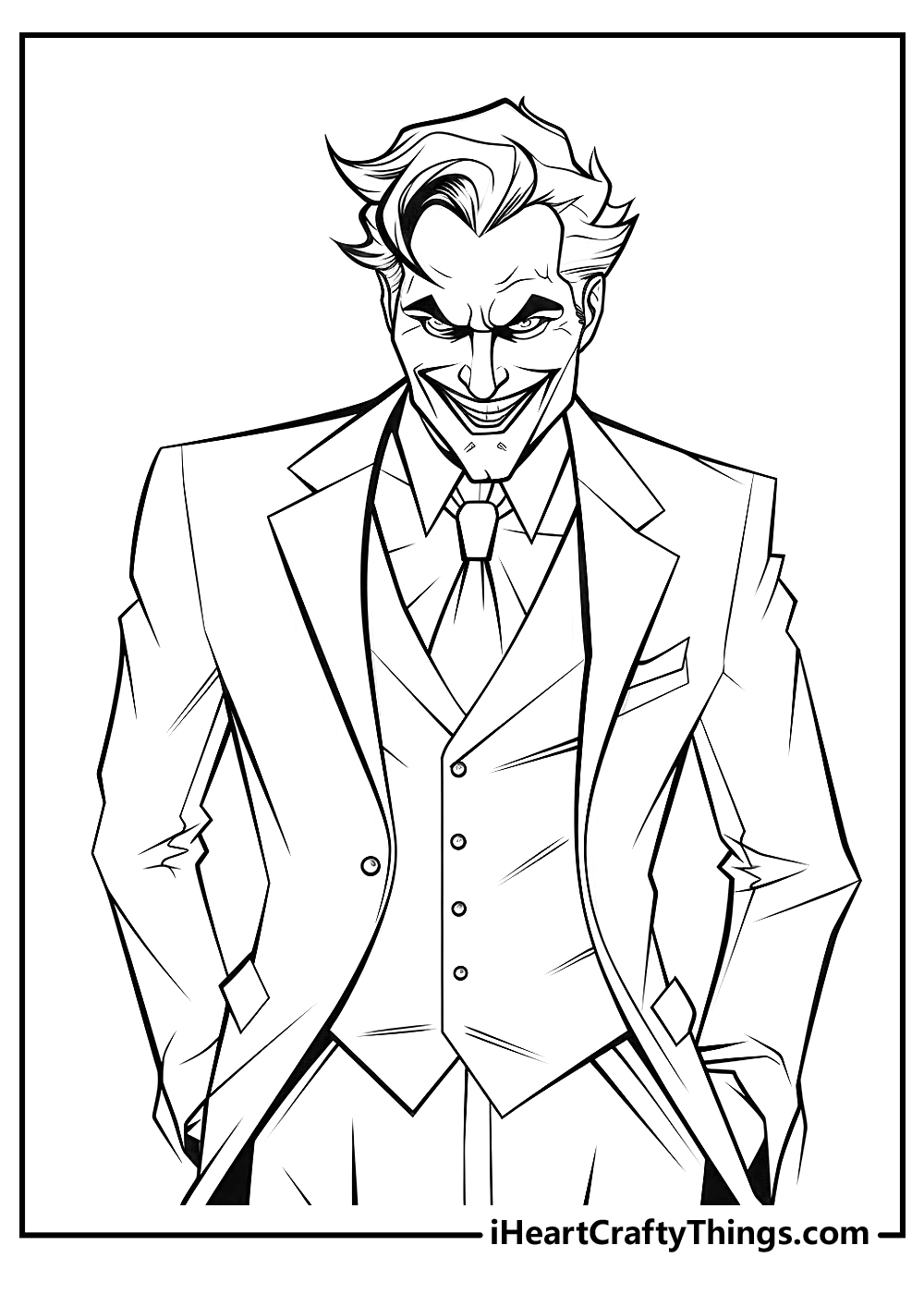 The villainous clown himself gets another close-up in this Joker coloring page. He is wearing a hat in this one, and it creates a really classic feeling for this particular portrayal.
Will you stick to his normal purple and green color scheme, or is it time for a Joker makeover?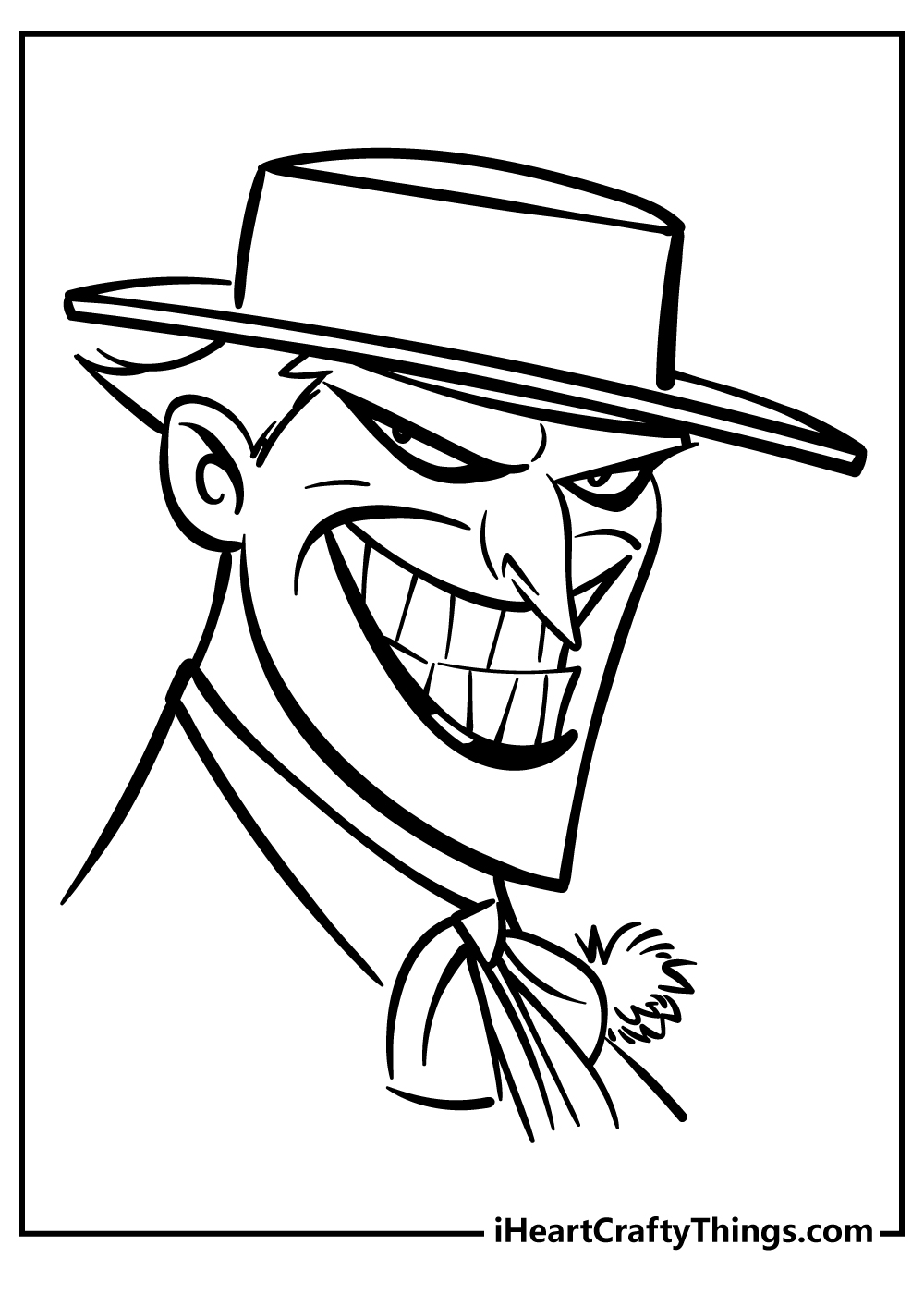 This coloring sheet shows a stylish joker. He has a smirk on his face and his hair is styled in a messy, yet stylish manner.
He looks like he is ready to cause some trouble. What colors will you use for this image?
Will you go for the classic purple and green, or spice it up with some other colors? How will you color his hair and skin? Will you use paints, pencils, or markers for this image?
Unleash your inner artist to bring Joker to life.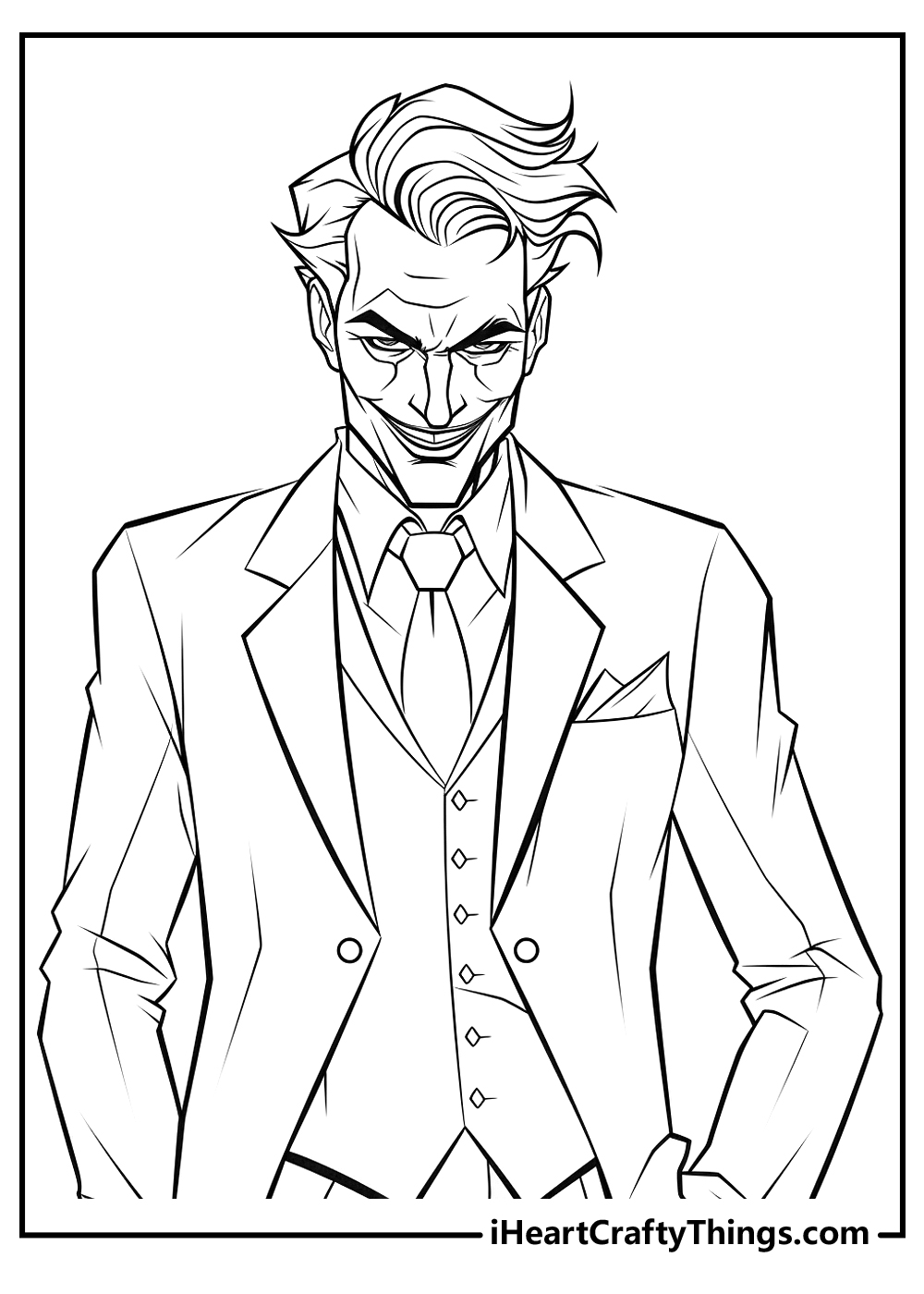 This next portrayal of the Joker is very detailed and creepy! This one moves more into his look in the comics, and that calls for a different approach to colors.
We would use some bright colors done with some colored pens to give this a vibrant look that hearkens back to the comics, but this is just one approach of many.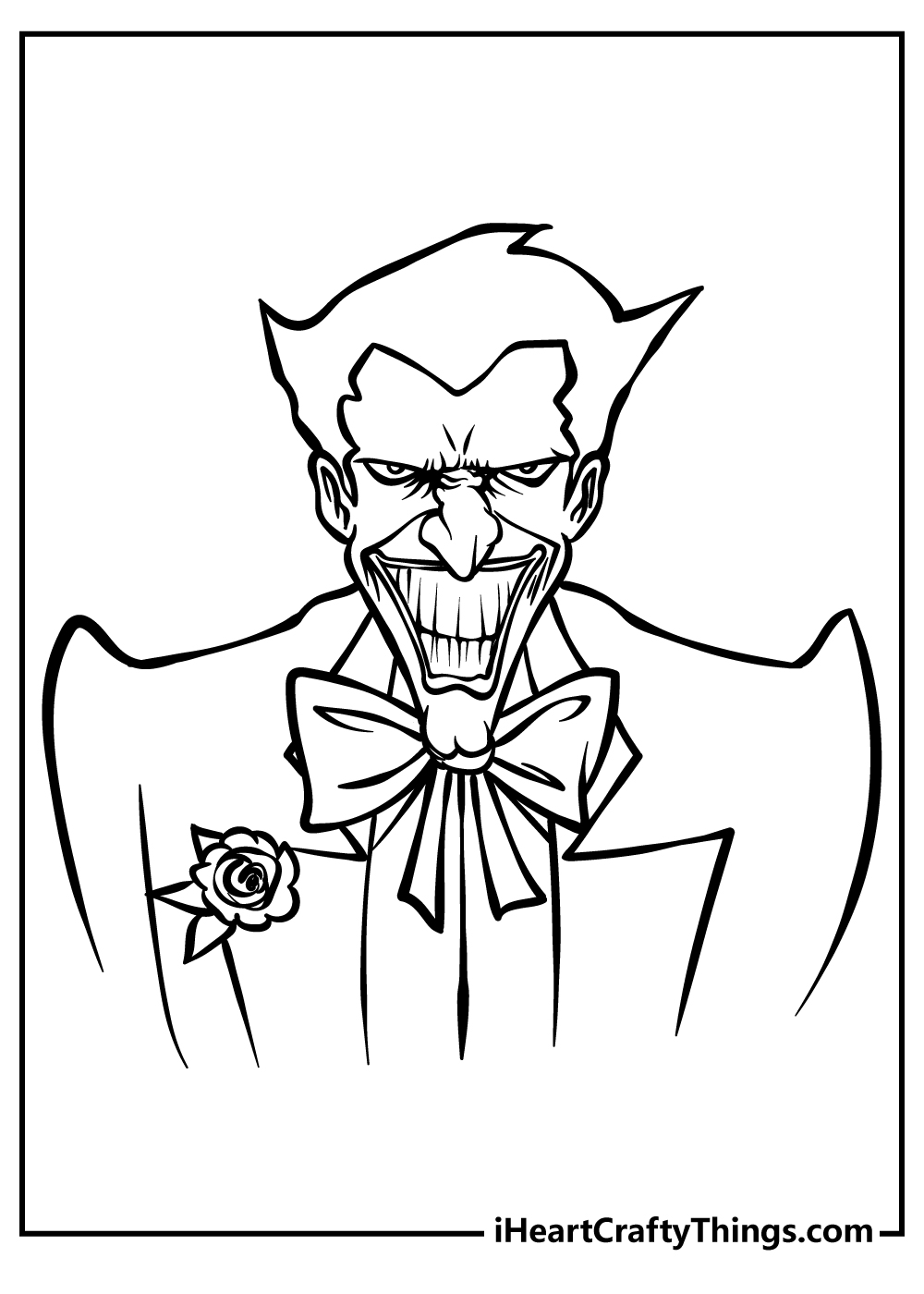 Our sixth page we have for you would make for an awesome poster! The Joker is known for his cruel tricks, and this one shows him firing a gun that lets out a harmless flag.
There are some amazing details here, and the circle around him makes it look like he's in the spotlight.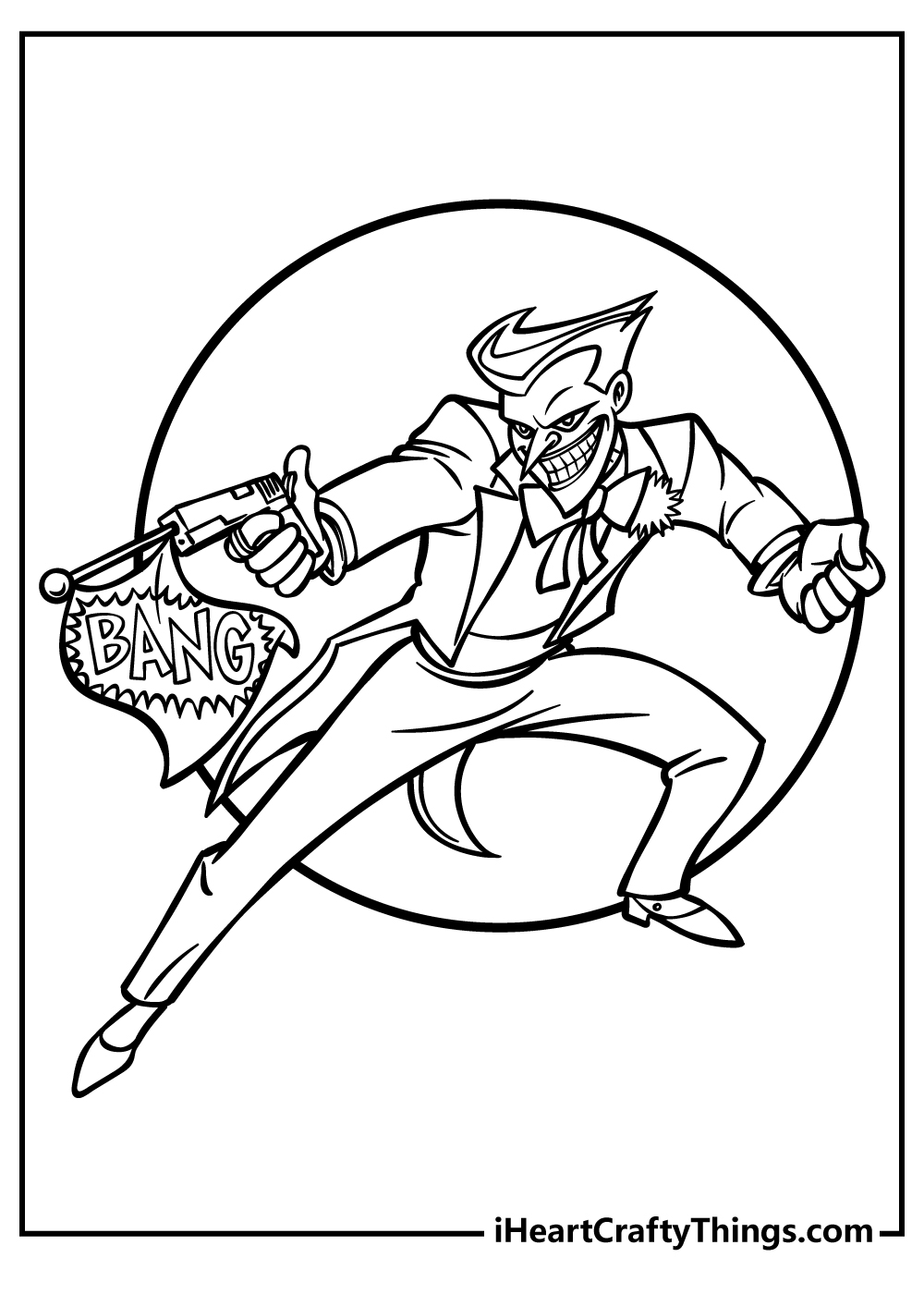 Bring the Joker's mischievous grin to life in this super fun coloring page. Use bright greens and deep violets to color in his expertly coiffed green hair.
Shade his white face using light blues, grays, and pinks to add dimension to his bony cheeks and pointed chin.
Use bright reds and pinks to fill in his giant grin, leaving white highlights on his teeth for extra emphasis.
For an artistic touch, make the background a bold contrast using vivid blacks, oranges, and yellows to represent fire and destruction – the Joker's chaos comes to life.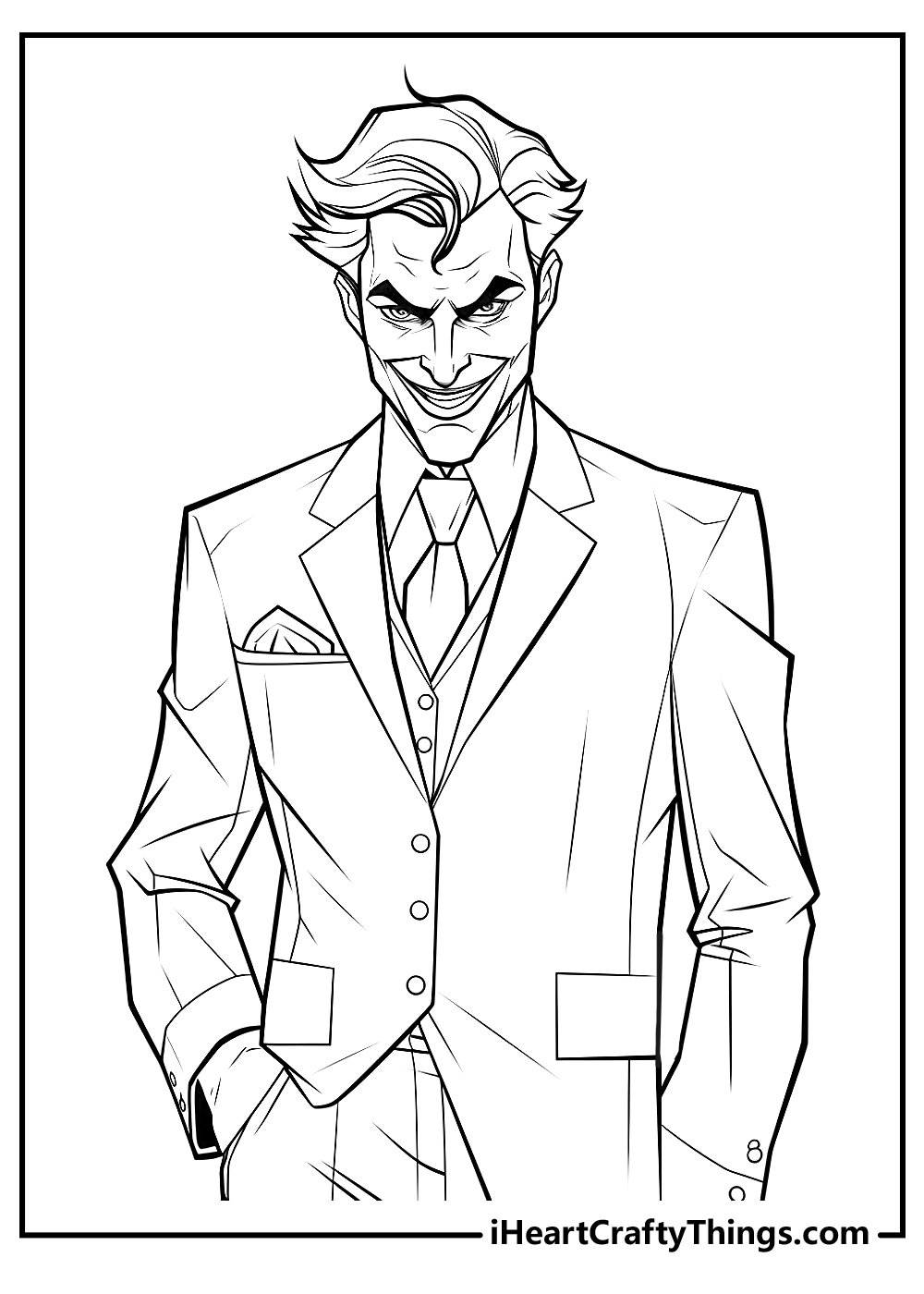 This character has been drawn in many different styles throughout the years, and this next page in our collection of free Joker coloring pages for kids we have another detailed, creepy version.
For this image, we would keep the colors a bit more muted and restrained in order to create a more realistic portrayal of this famous criminal.
We're heading back to the Animated Series for another portrayal of the Joker. Even though this is based on his animated version, it is still highly detailed.
This gives you lots of options for how you can color him, and you can shake up the mediums you use for it as well.
If you have a favorite Joker moment, you could show it by drawing a background for him!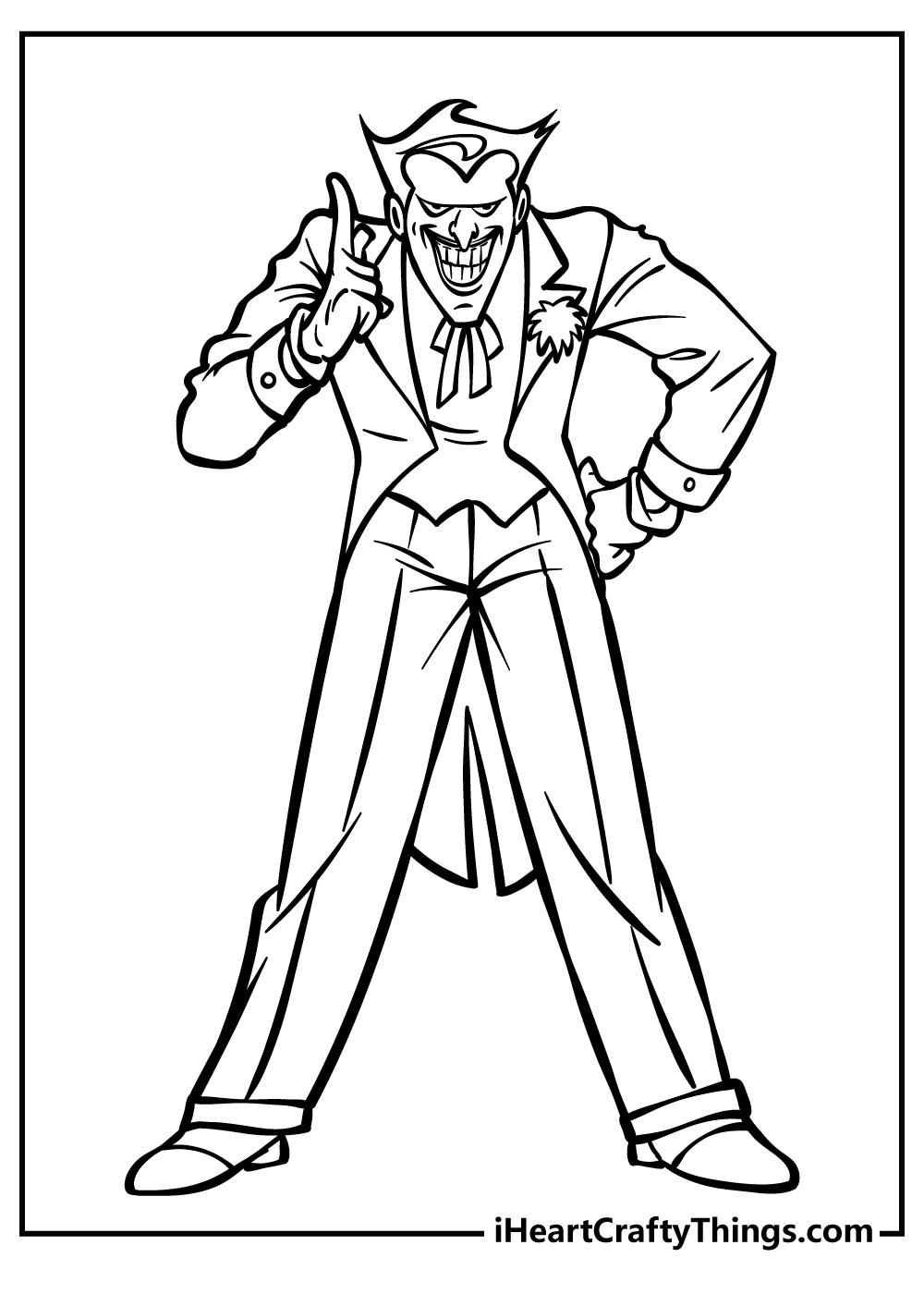 It's time for one more close-up on the Animated Series Joker as we get a good look at his famous grin!
We will be focusing on different incarnations in the next few pages, so you can really go all out as you add your color choices to this portrayal of Joker.
Will you try out something completely different or stick to his classic colors?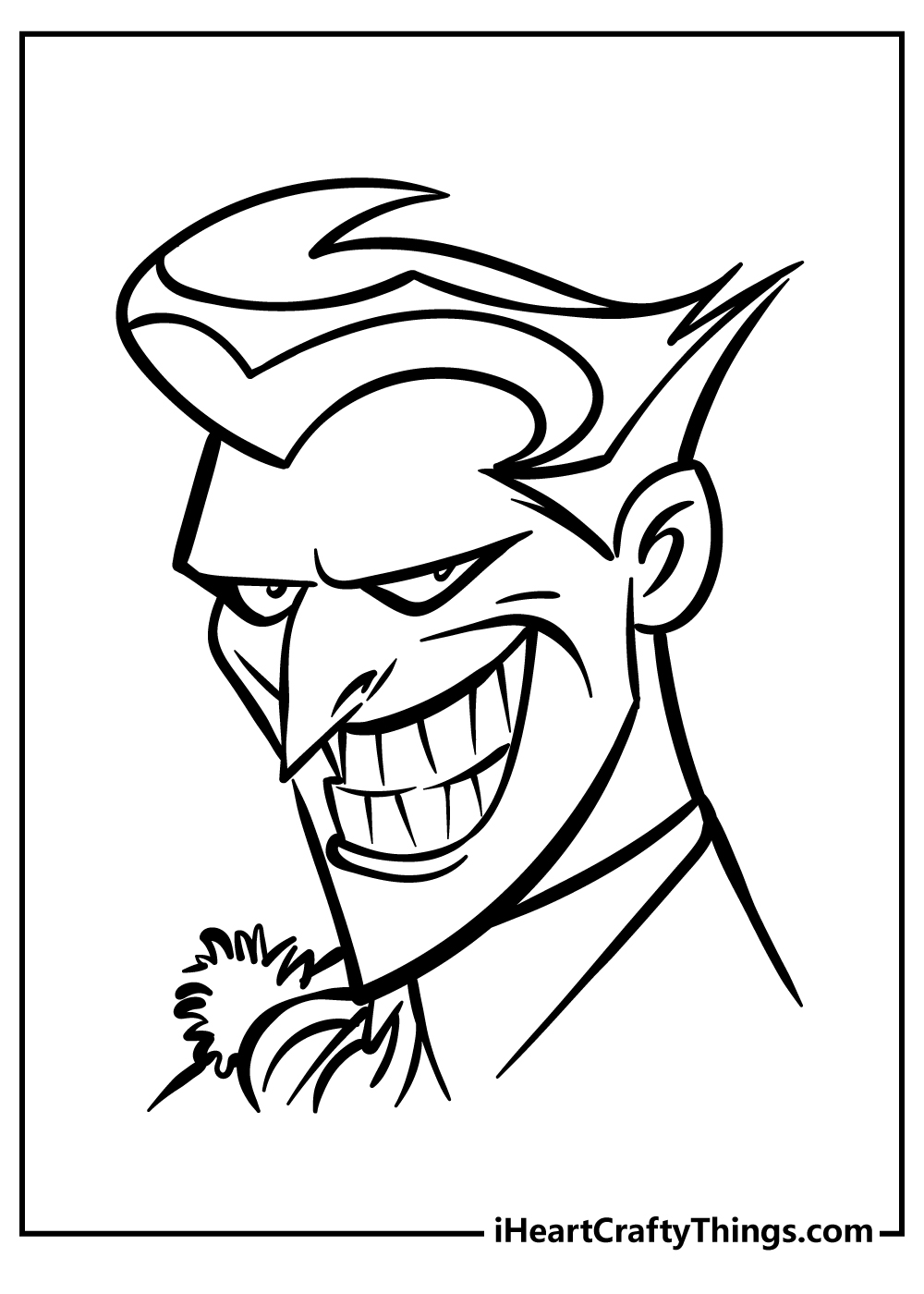 This Joker coloring page is a great way to unleash your artistic creativity. The Joker's mischievous grin leaps off the page, complete with a button suit, vest, and patterned dress shirt.
I would use shades of violet and emerald to color in his expertly coiffed hair, varying between light and dark for texture.
Shade his ghostly white face using light blues and grays, leaving highlights on his nose, cheeks, forehead and chin.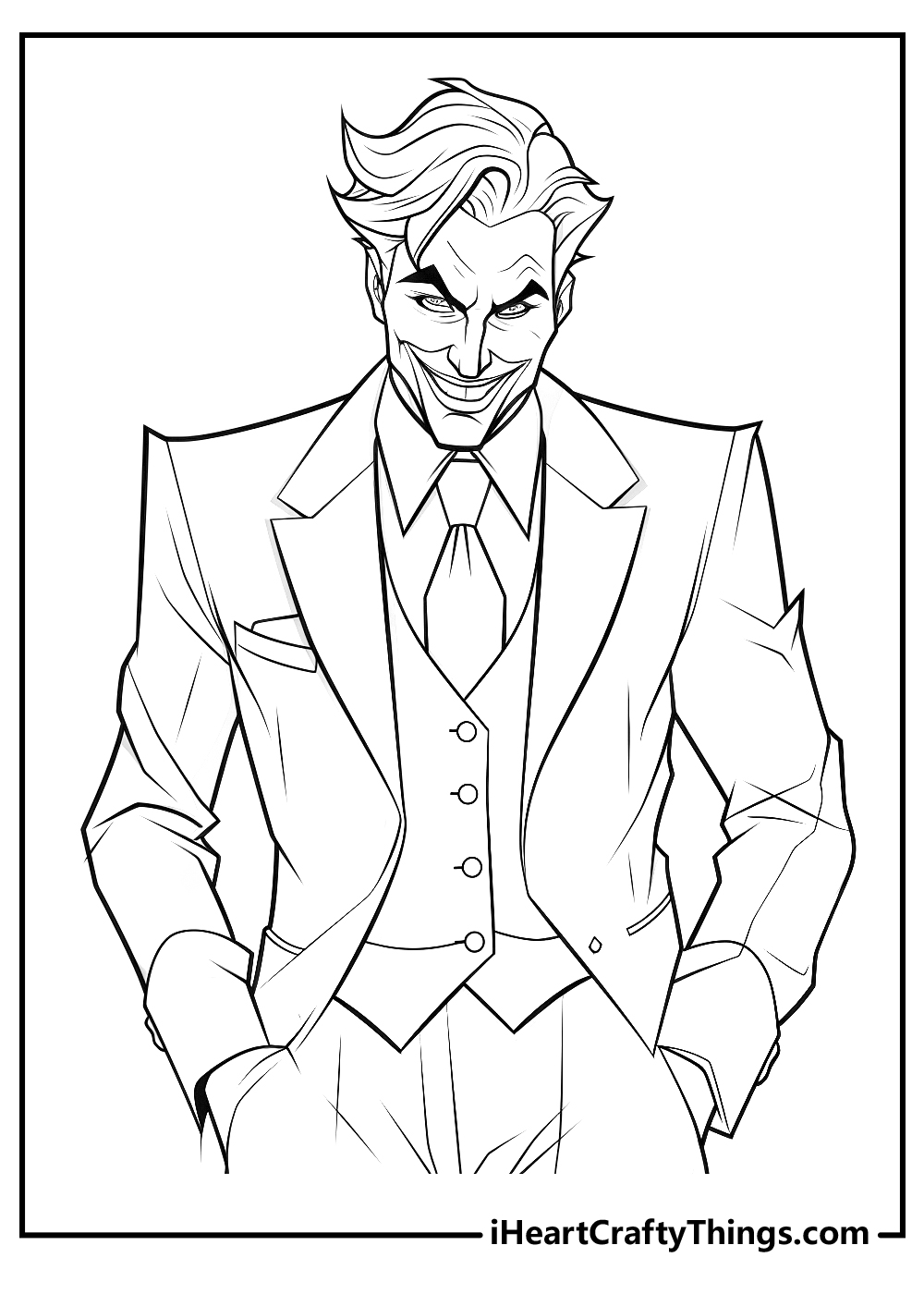 This Joker coloring printable features our first look at one of the many live-action portrayals of the Joker in film.
This one focuses on the character as portrayed by Jared Leto, and there are some great details!
It's a slightly stylized version of his portrayal, but it has all of the small details that you would expect, such as the tattoos on his face.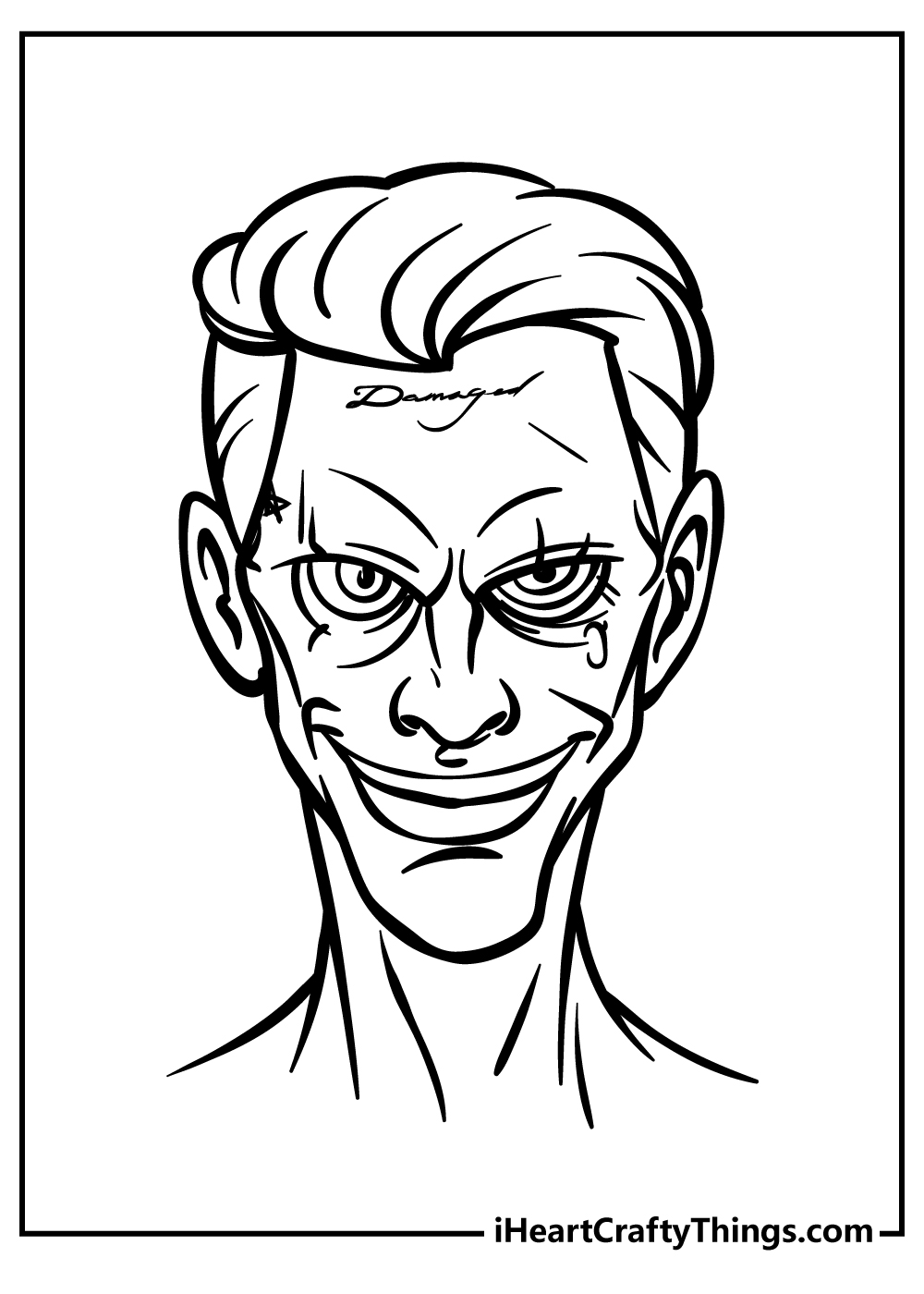 We get another good look at Joker in this next image. He is running towards someone here, and this image could be the scene as experienced by Batman!
There is a lot of empty space in the background, and this would be another prime example of an image that would look great with some background details added.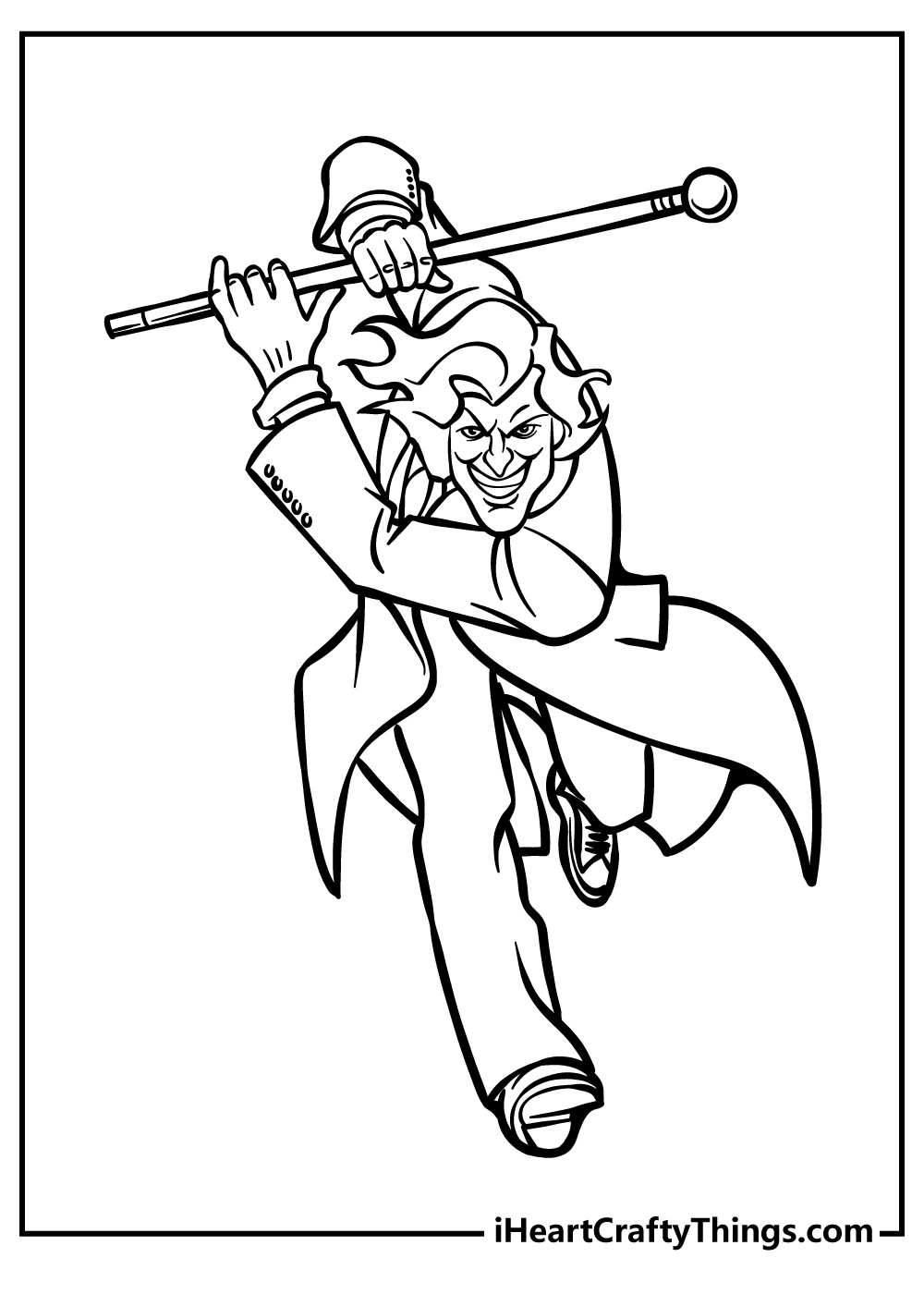 Next, there is another live-action Joker for you to color. This one shows the character as portrayed by Joaquin Phoenix in the film simply called Joker.
It presented a dark and very realistic origin story for the character, and for that reason we would keep the colors more muted and washed out to fit the feel of the film.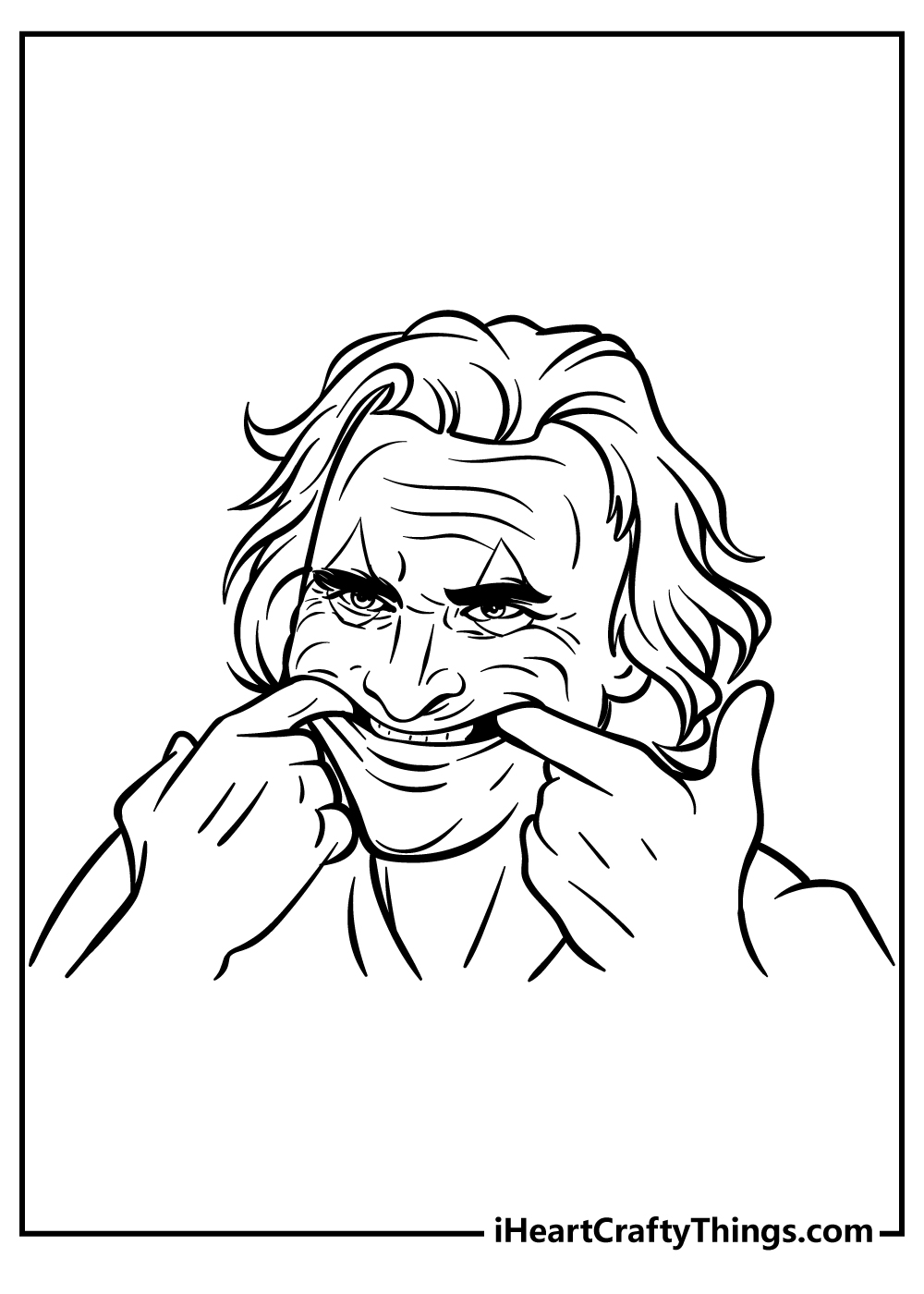 There is much debate as to who is the best on-screen Joker, but a favorite of many is the portrayal by Heath Ledger in The Dark Knight.
His performance is considered one of the greatest in film history, and this next Joker coloring page draws from it for inspiration.
There are plenty of details to color for this classic portrayal!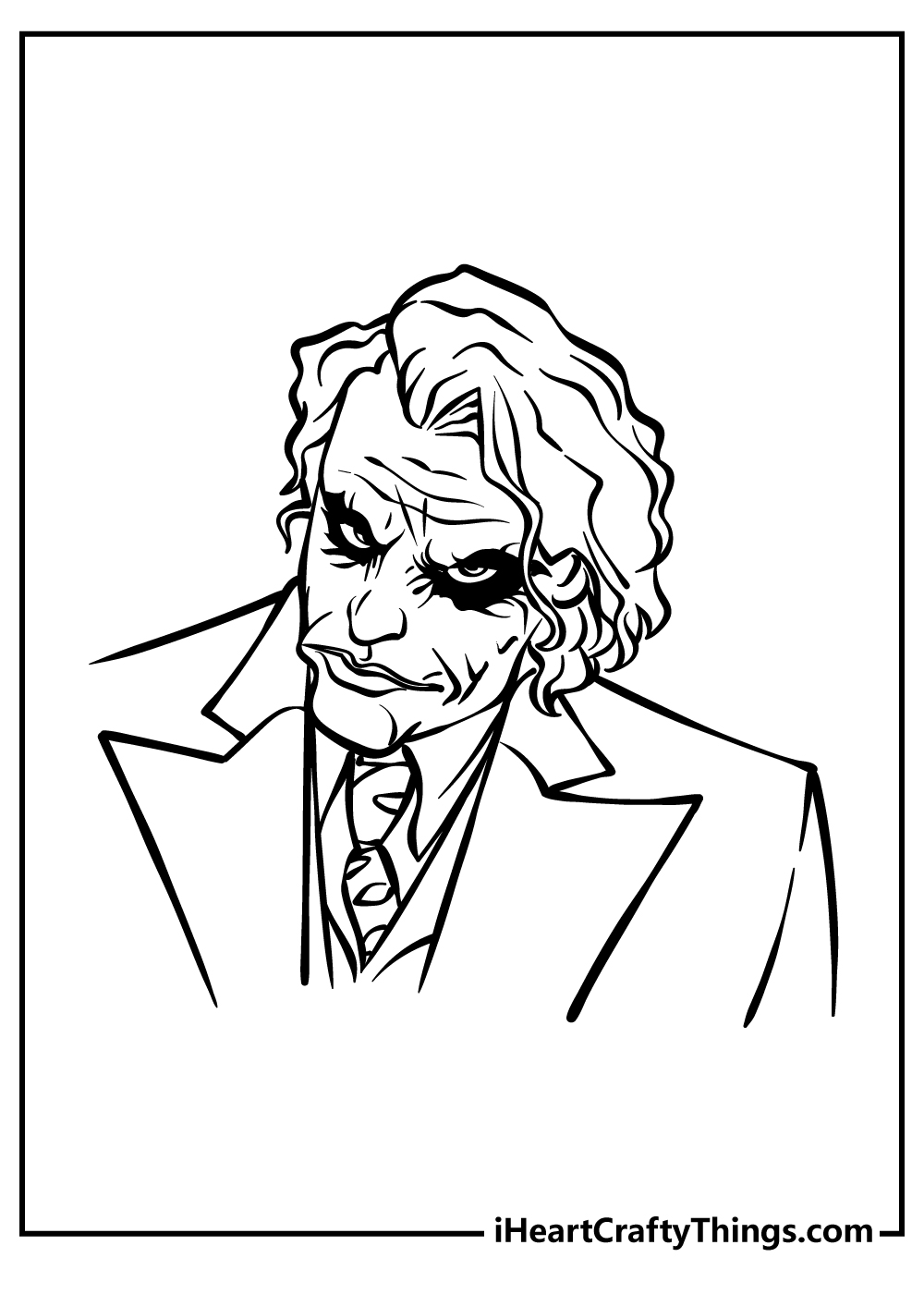 The Jared Leto Joker is back for one more go in this close-up portrayal.
This one is done in a much more realistic style than the previous appearance, so it's another one that we would color in a more muted fashion.
It would also look cool with some more vibrant colors, and you could create some interesting effects that show the character's insanity if you want to get creative!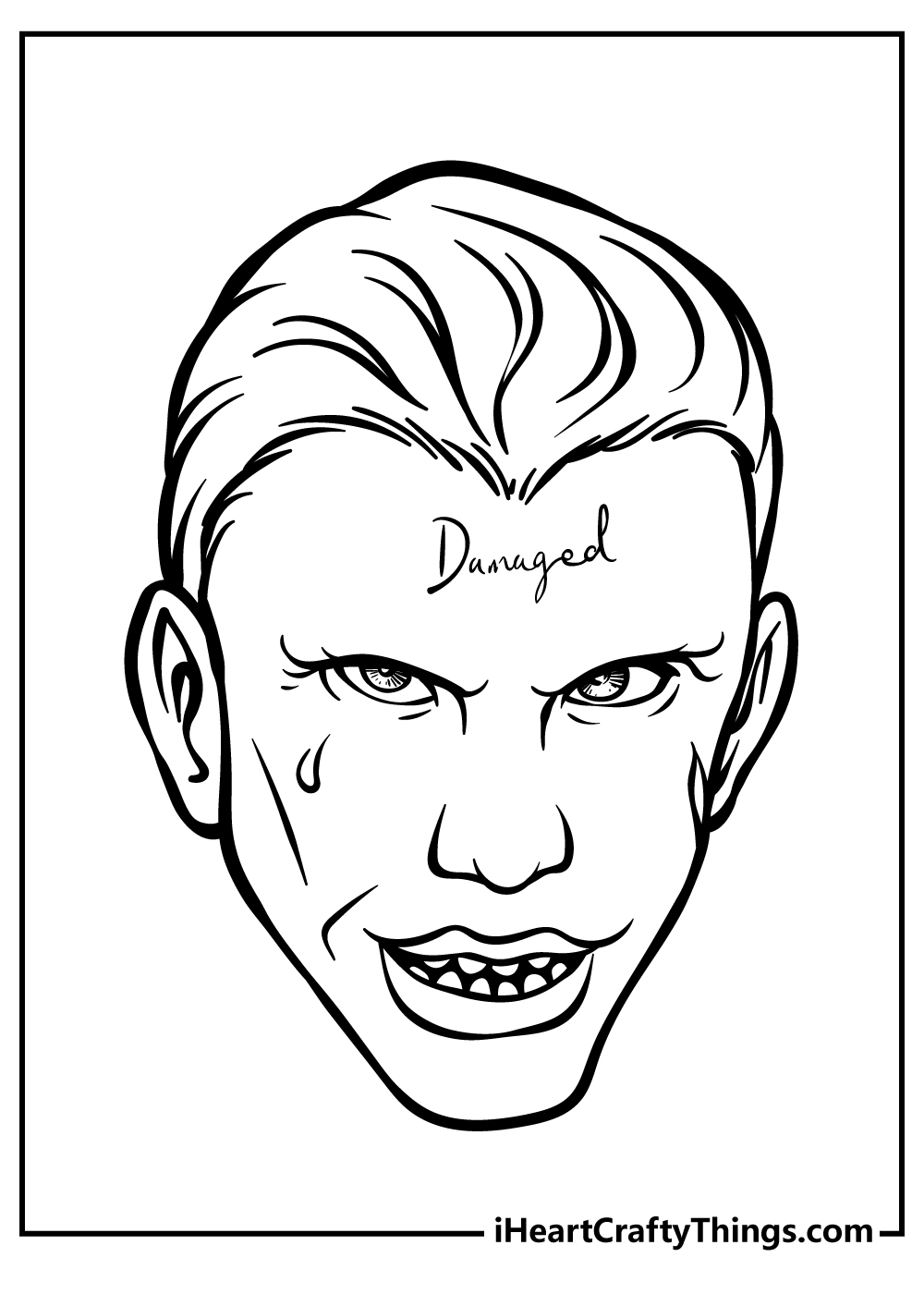 We shall close off this collection of Joker coloring pages with one more look at the classic Heath Ledger Joker. He has a really distinctive look in the movie, and this page captures it brilliantly.
There are so many great details on his face, hair and clothing, and you can really have a great time bringing this terrifying portrayal to life with your colors!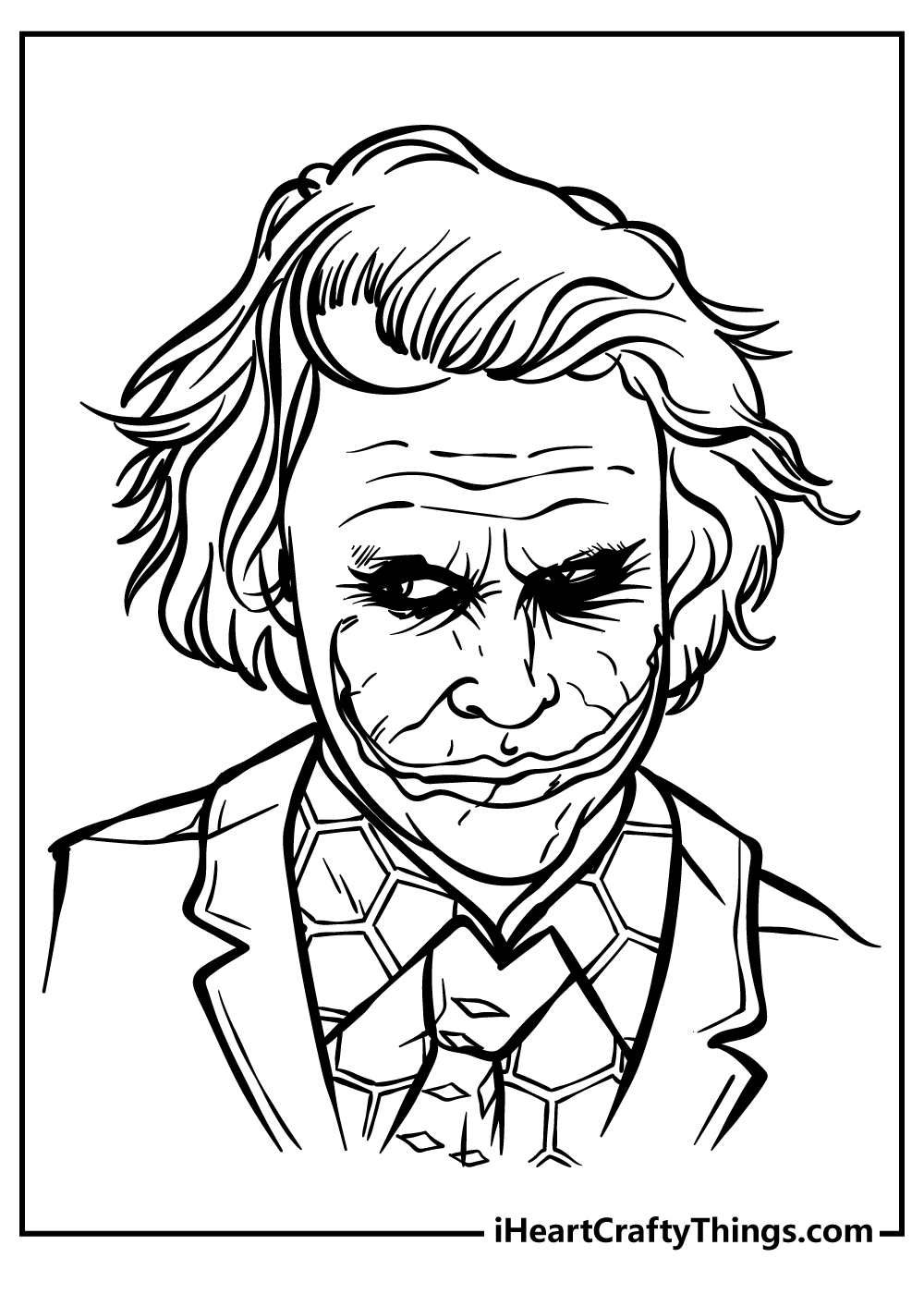 Joker Coloring Pages – Which will you choose?
We hope you enjoyed this villainous collection of free Joker coloring pages for kids!
We really wanted to extend into the history of the character so that there would be lots of different styles for you to get creative with.
If you had fun with this collection, you can find more to enjoy on our website!
We would also love to see some of your finished Jokers, so please share some of your finished pages on our Facebook and Pinterest pages!