Spongebob Squarepants has been one of the most popular children's television shows since the '90s. Kids never get tired of the adventures of Spongebob, Patrick, and the rest of his friends in their life under the sea.
Spongebob has only become more popular with the release of multiple Spongebob movies. There has even been a Broadway musical based on the series. Today Spongebob's face can be seen on everything from toys to keychains, to tennis shoes. We can't get enough of this character.
The popularity of this famous sponge makes him a great subject for Spongebob coloring pages that you can print and color for free.
So without further ado – enjoy all 20 of these new fun new Spongebob coloring pages and dive under the sea with your favorite sponge and his pals.
Spongebob Coloring Pages – 20 All-New Printable Sheets
Spongebob's famous catchphrase is "I'm ready!" and it looks like he is repeating it now on his walk to work. Spongebob's catchphrase is a perfect reflection of his positive and excitable attitude. He is always ready for a new adventure.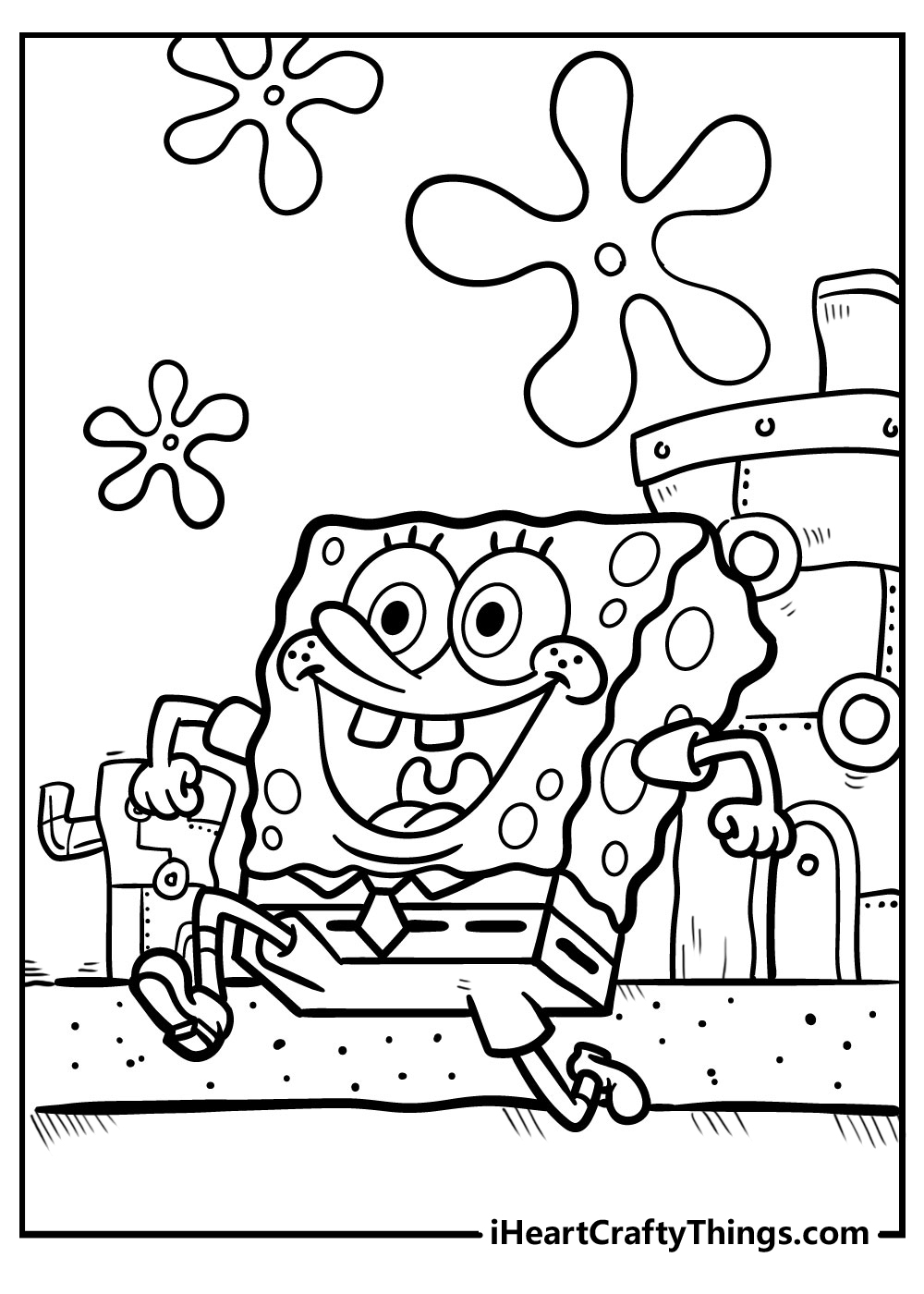 Spongebob's best friend is Patrick, a starfish who lives under a rock next to Spongebob's home. This Spongebob coloring page shows him laughing and sliding down and a muddy hill on his back. It looks like he is having a great time!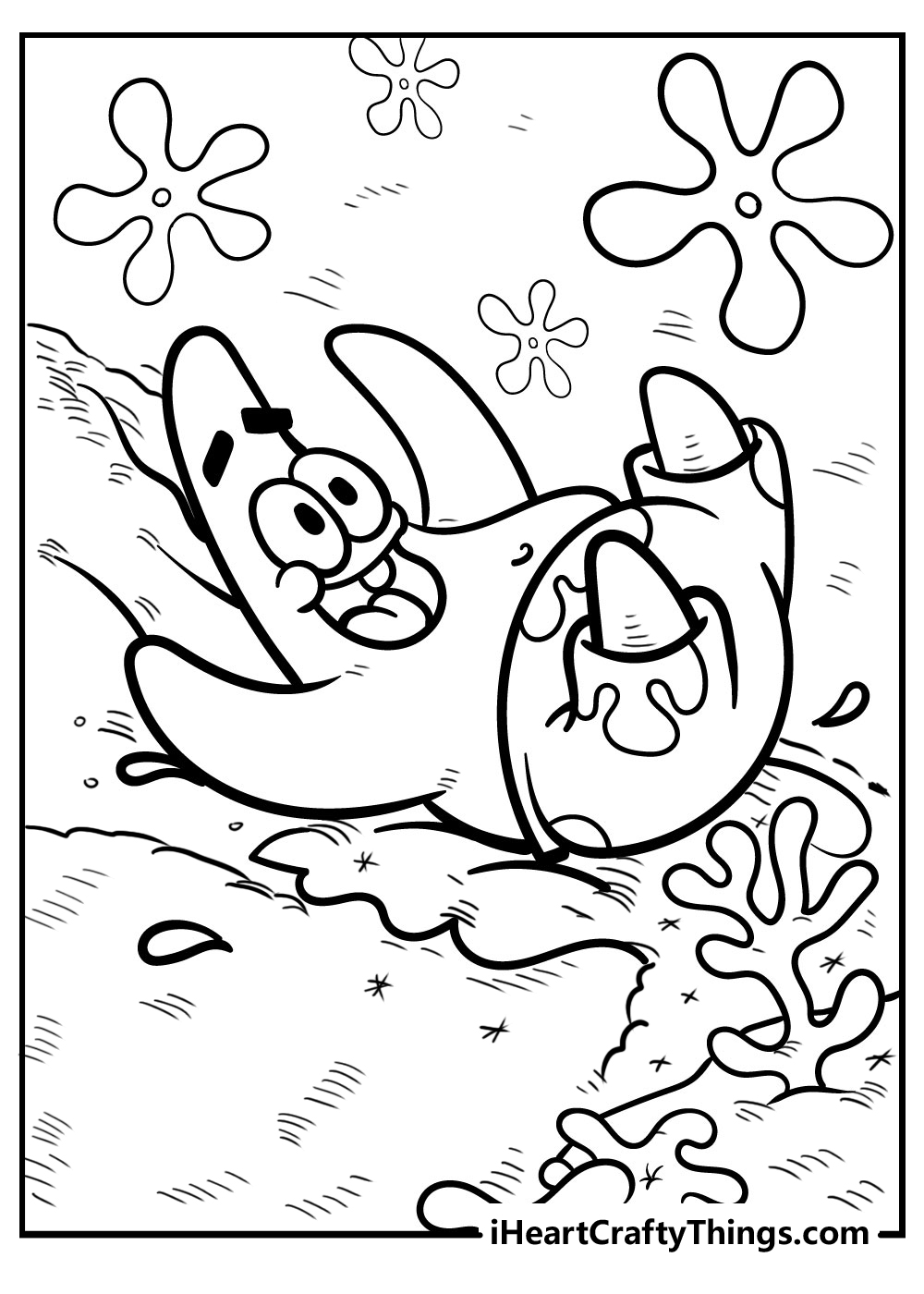 Everyone knows that Spongebob lives in a pineapple under the sea. It's even in his theme song. Spongebob loves his house. In this free printable he walks out his front door and smiles and shoots finger guns at someone.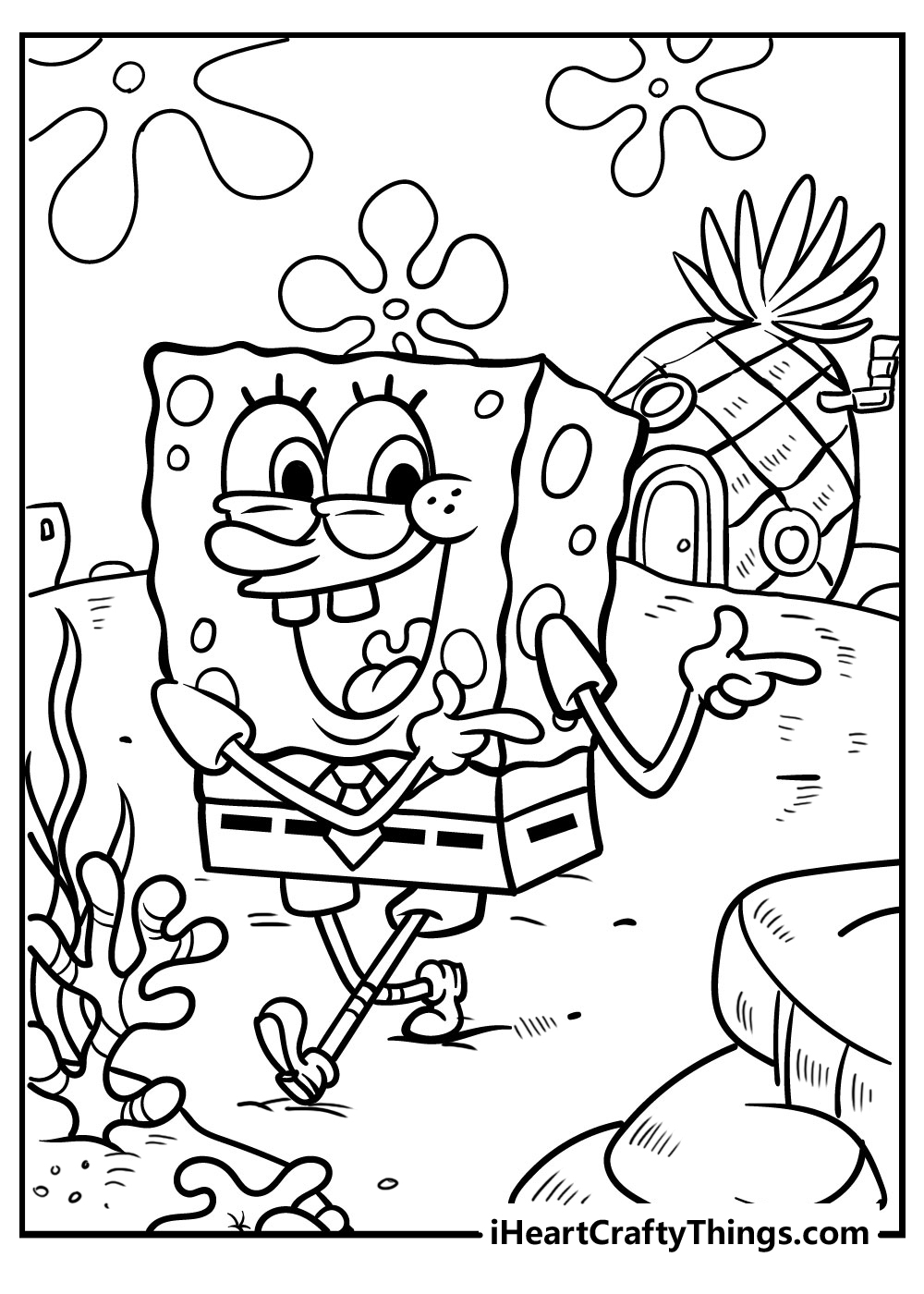 Spongebob has a very energetic personality and you can tell that from this coloring sheet. He holds his hands up by his face as if he was jumping out to surprise someone.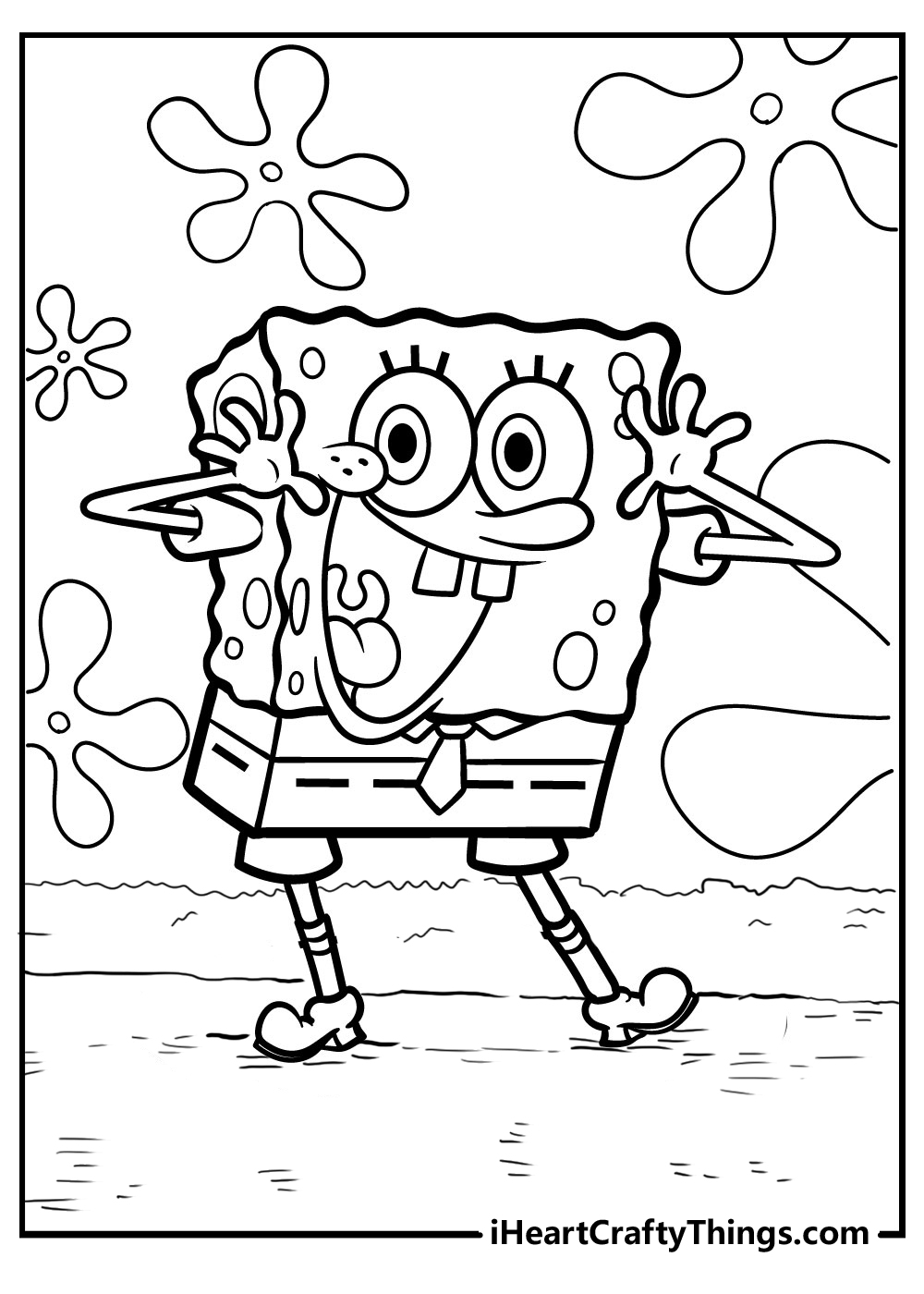 Spongebob has been known to sing on some occasions, like performs in a band at the Bubble Bowl halftime show or teaches Plankton the "F.U.N." song. Spongebob looks like he is about to break out in song in this fun coloring sheet. The spotlight is on him!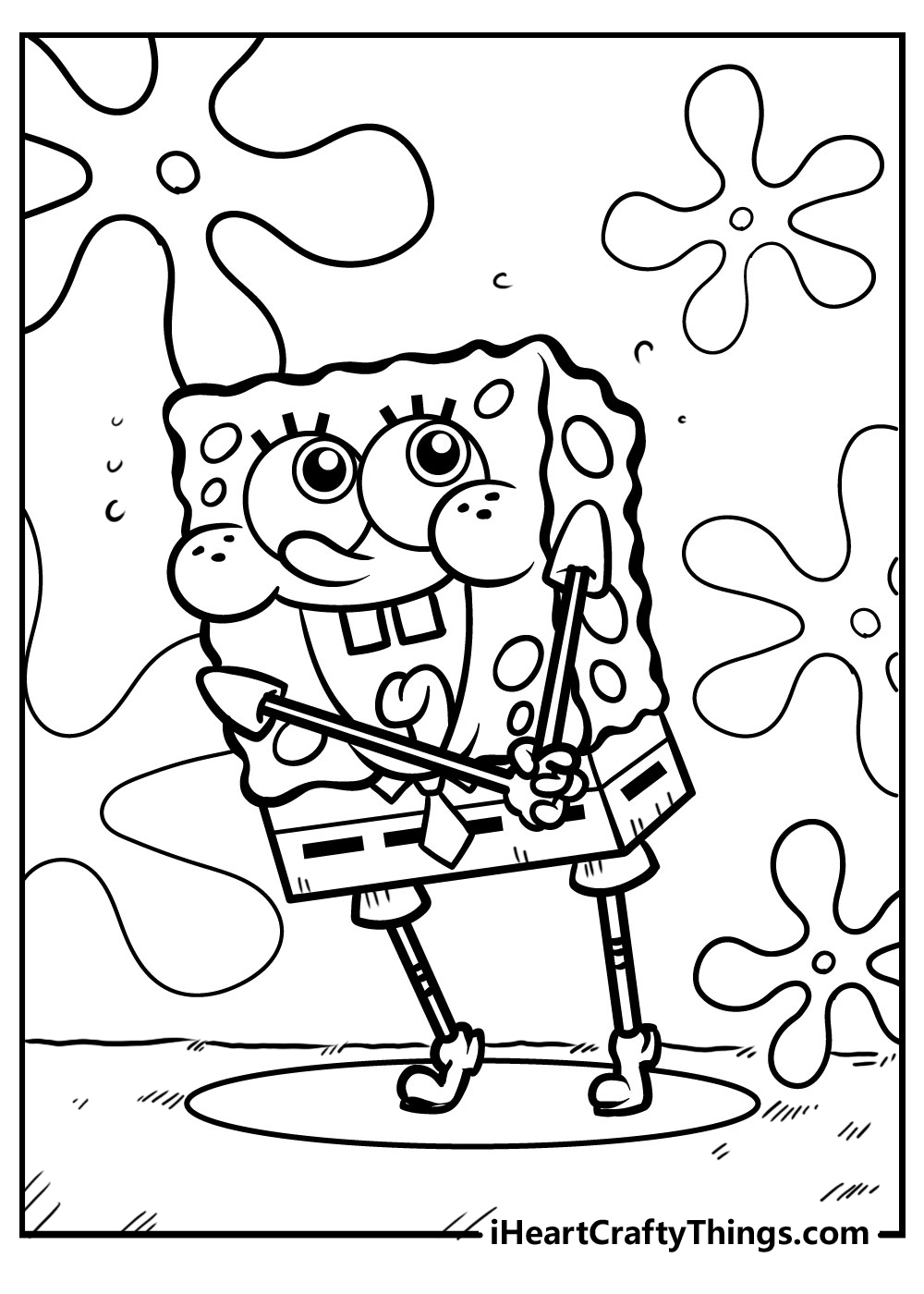 One of Spongebob and Patrick's favorite activities is to go "jellyfishing." Here Patrick runs excitedly after what must be a very big jellyfish as it swims away from him.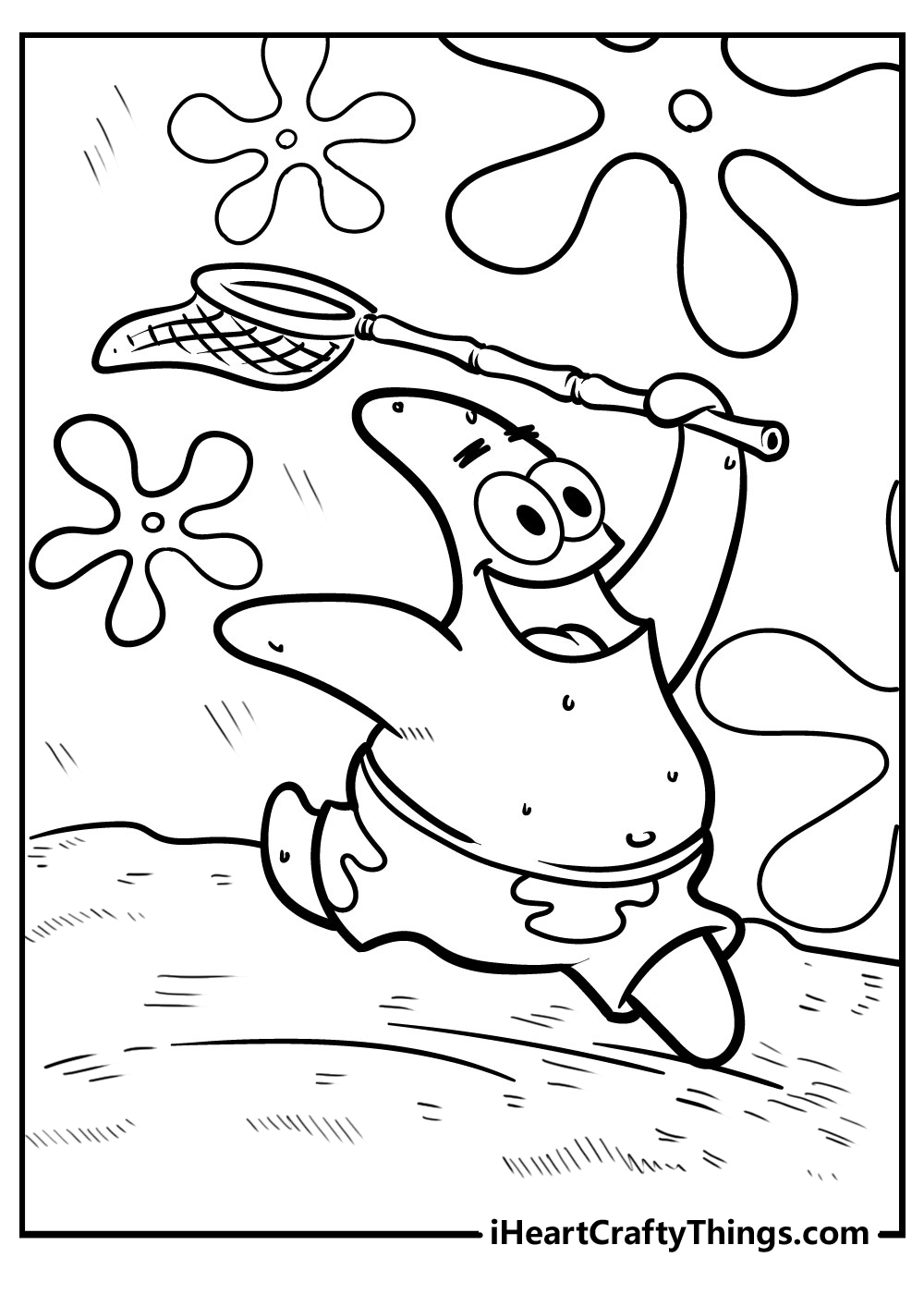 Now it is Spongebob's turn to go jellyfishing, and he has brought his pet snail, Gary, along for the fun. Gary rides along on top of Spongebob's head while he runs past a jellyfish that he seems to have not seen.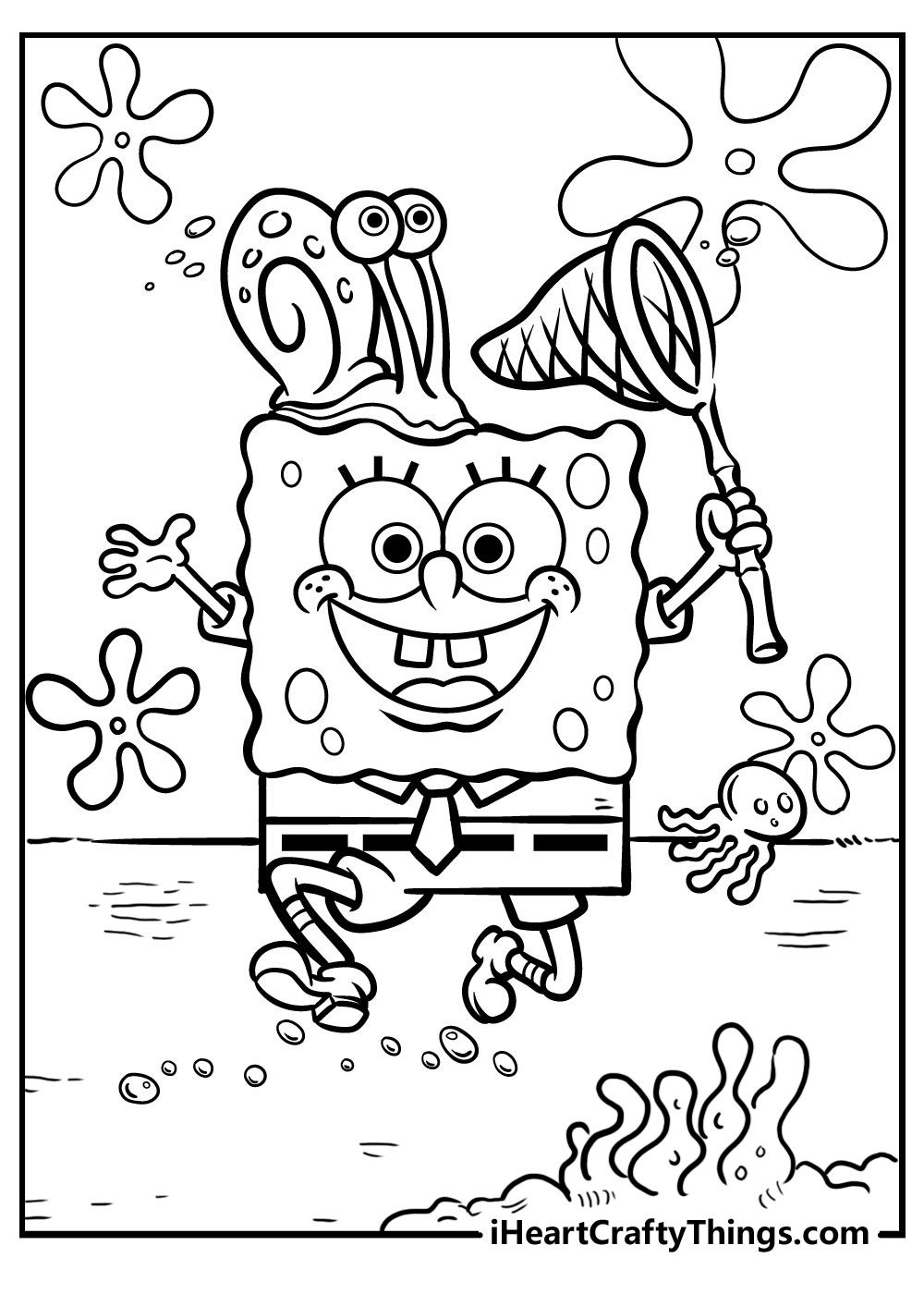 Spongebob looks like he is waiting for someone. He holds two balloons that have come together to look like a heart and he sits patiently on a rock, looking off to the side.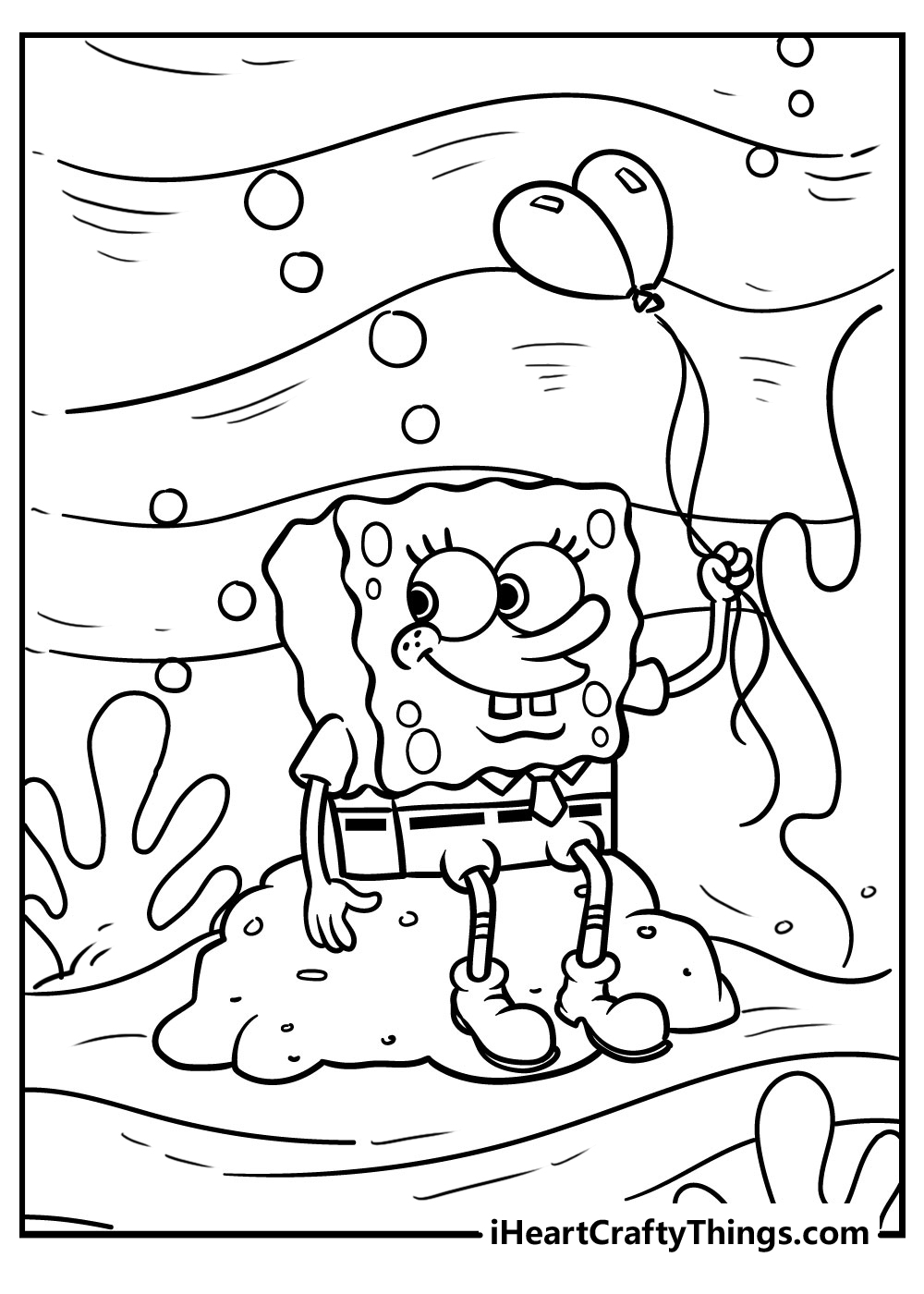 Spongebob and Patrick love to blow bubbles. They even have a special technique for creating huge bubbles and awesome shapes. This coloring page shows Patrick blowing bubbles from the ground while Spongebob leaps into the bubbles in the air.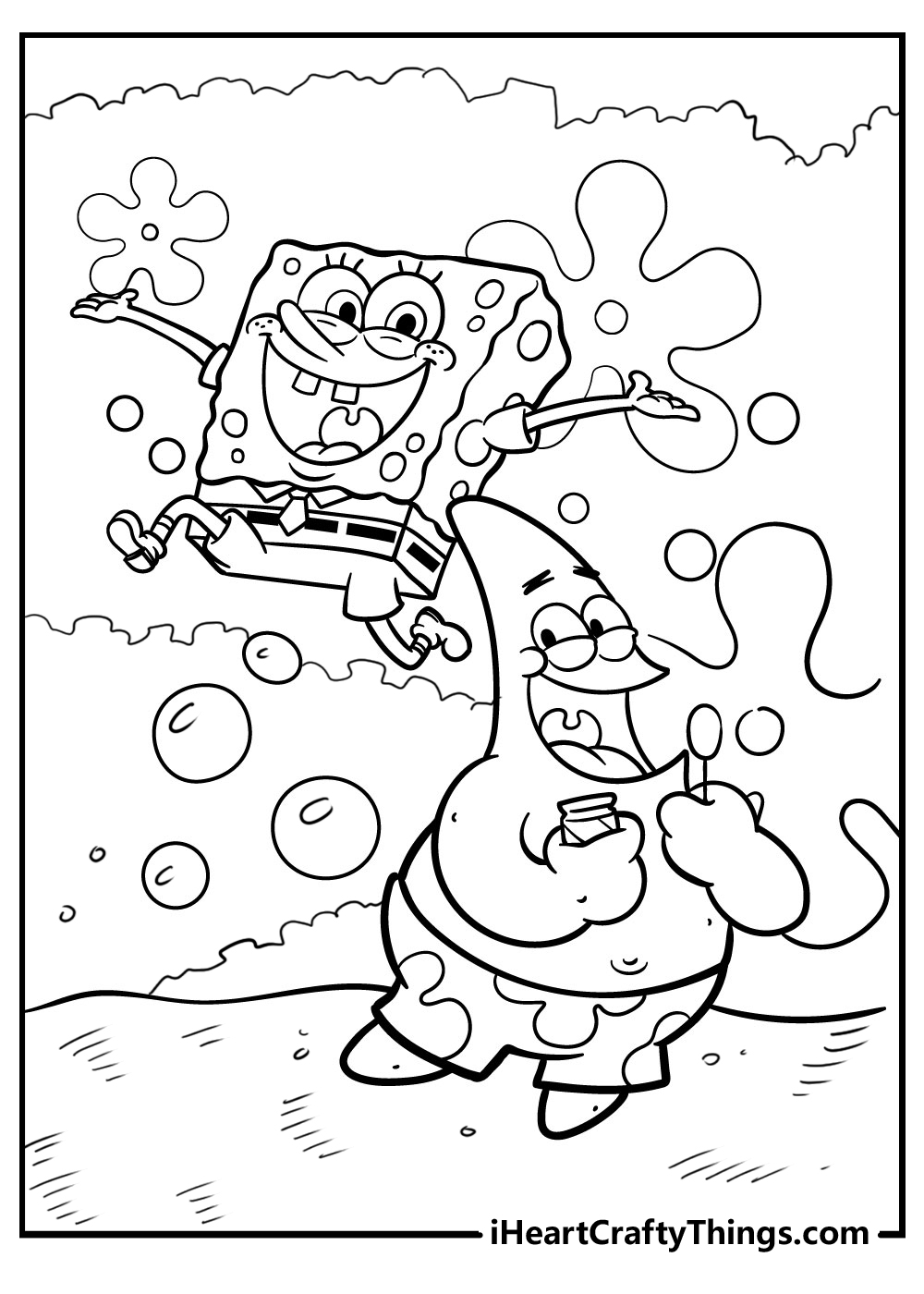 Spongebob always has a positive attitude. Here he is giving a big thumbs up and a wink. Don't forget that all of these Spongebob coloring pages are completely free to print, so you can color as many of them as you want.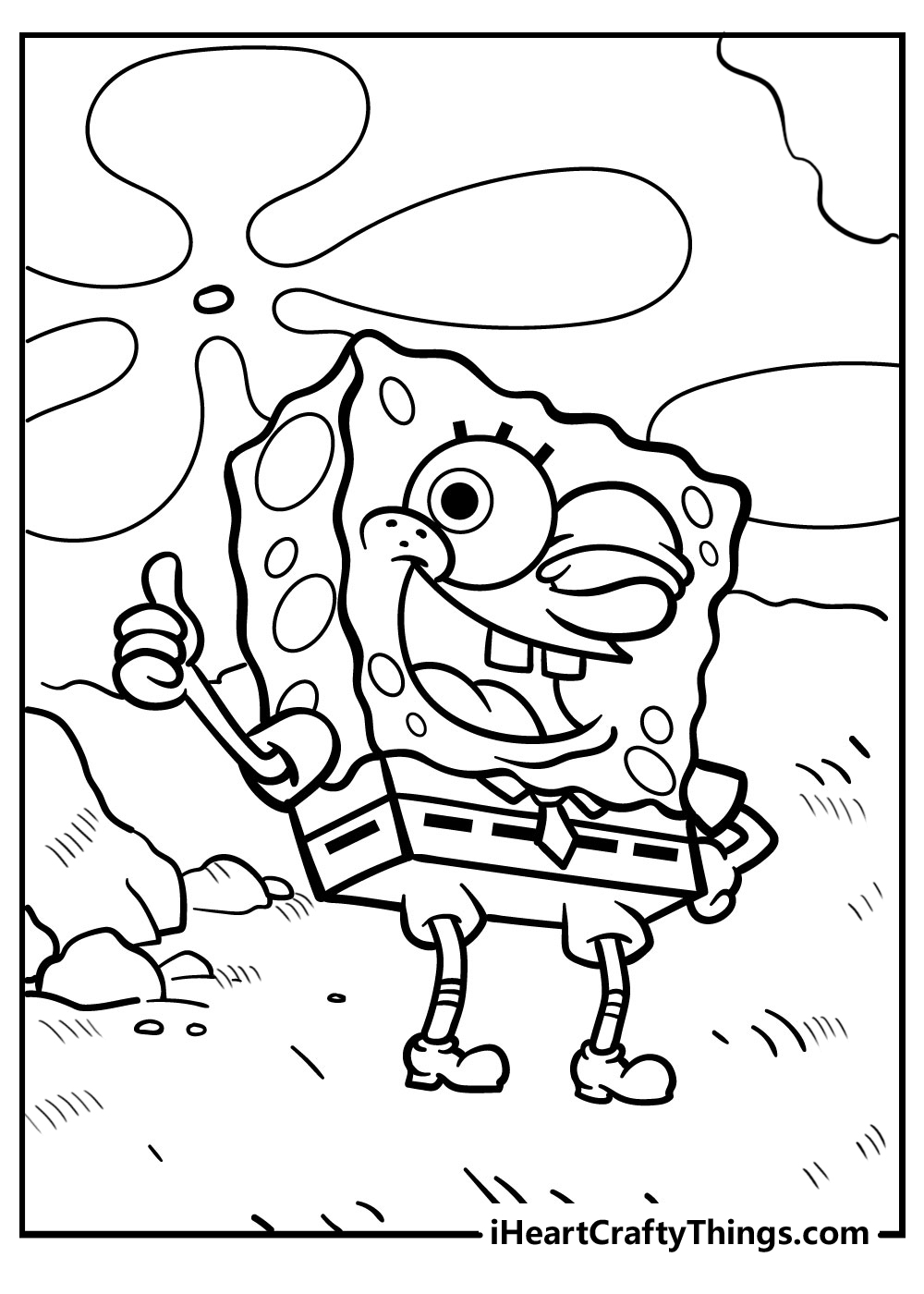 Spongebob and Patrick love to use their imagination. In this kids printable they are dressed up in rodeo clothing. Spongebob wears a little hat and a bow tie and Patrick wears a cowboy hat and overalls. He rides on a stick horse while Spongbob sits on his shoulders and spins a lasso.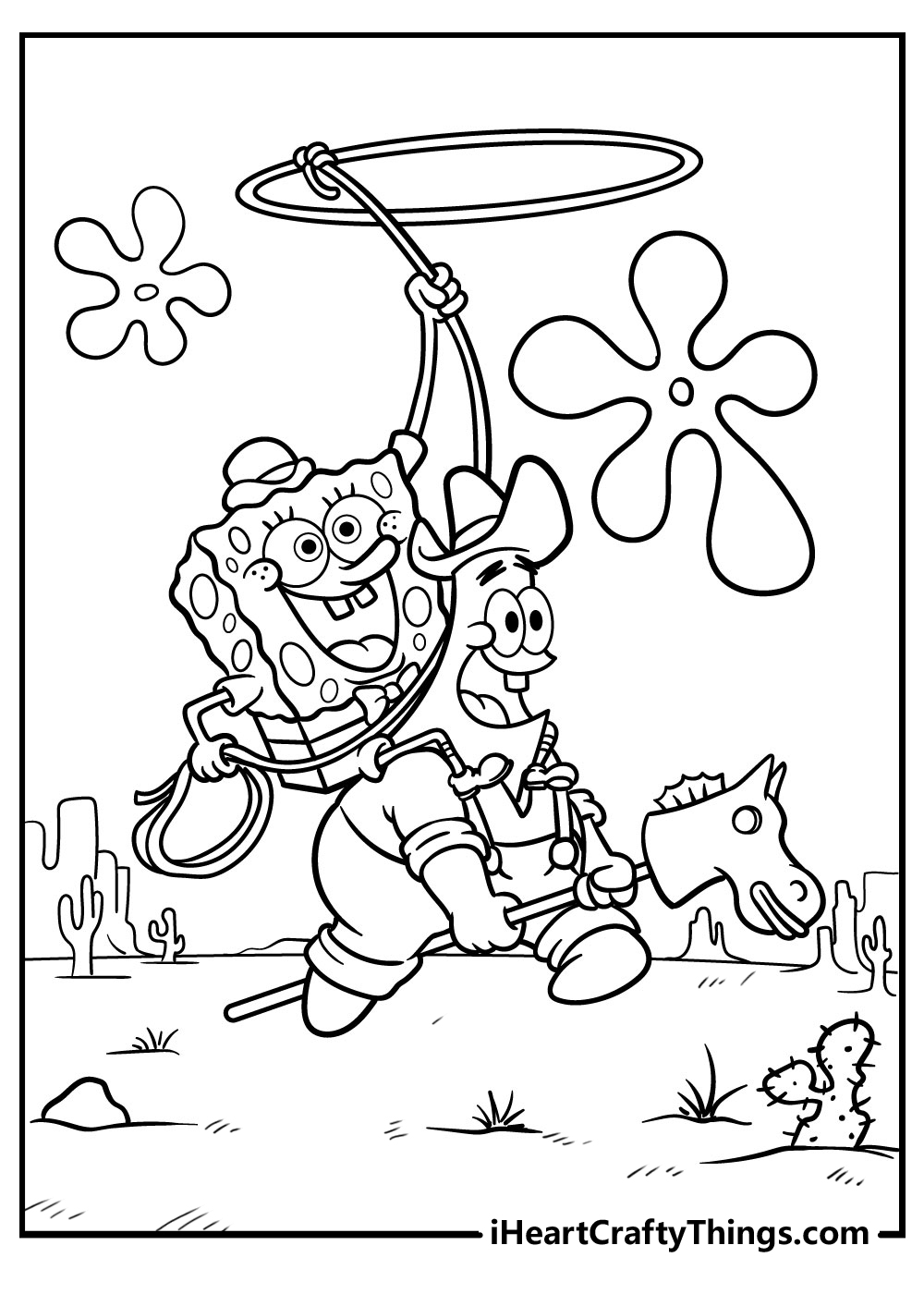 Remember to post your finished Spongebob coloring pages onto our Facebook page. Every month we hold a contest where the best-colored sheets win a special surprise!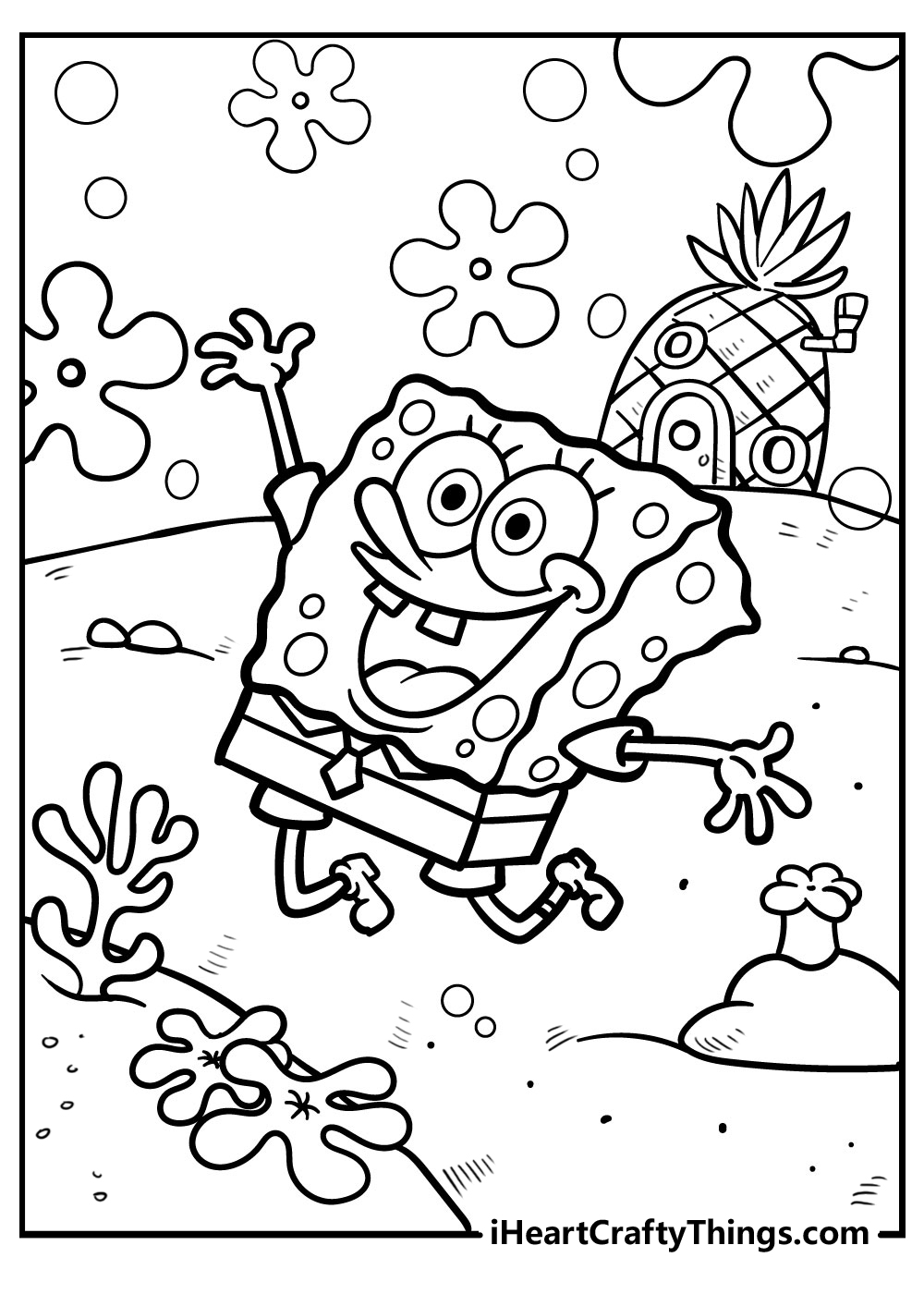 Spongebob and Patrick get pretty riled up when they are having fun together. It looks like they are making a lot of noise outside of Spongebob's house in this Spongebob printable. We hope they don't disturb Squidward.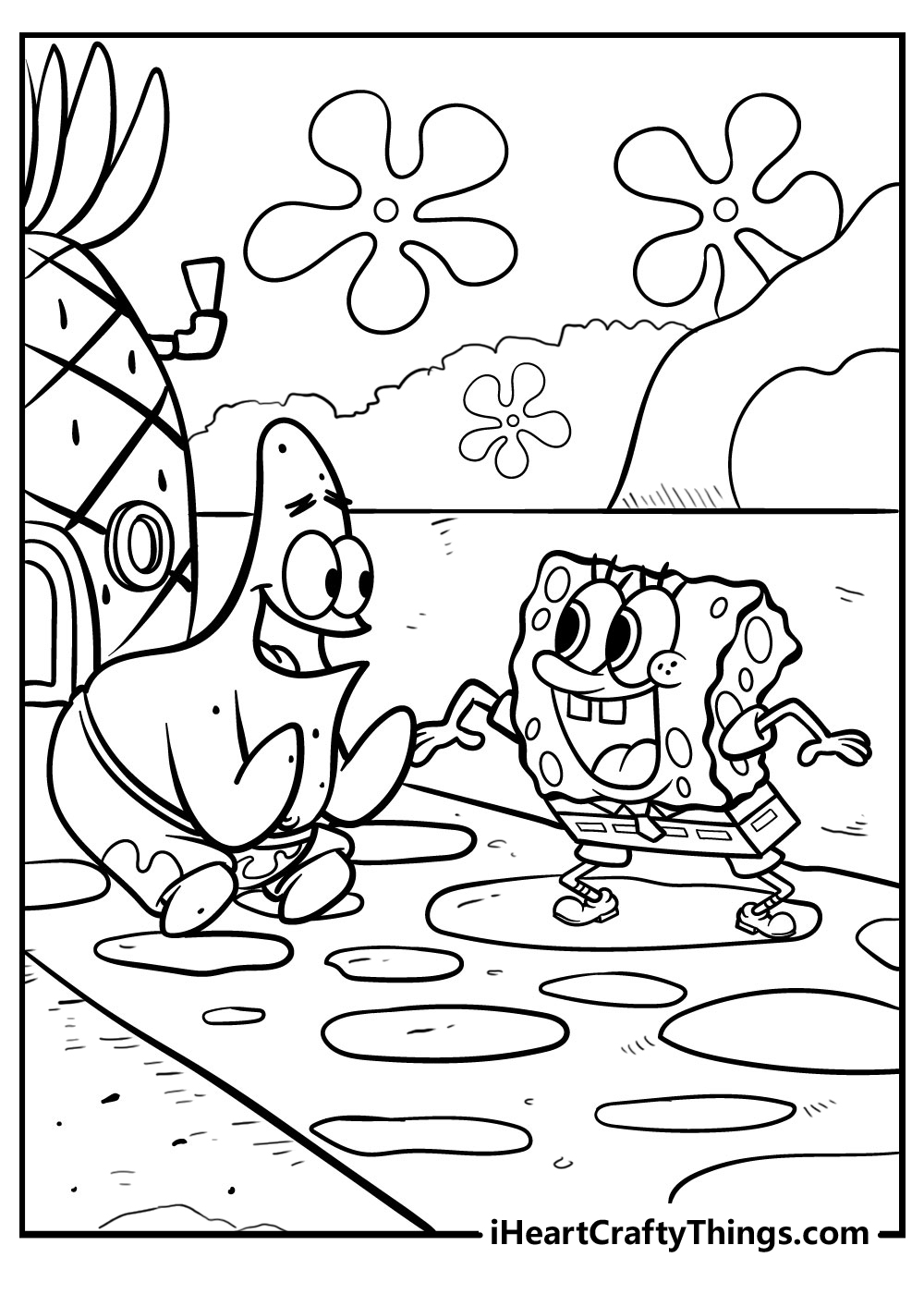 Patrick and Spongebob have been best friends since the two were babies. Although they get in fights occasionally, it's pretty clear from this coloring sheet that the two care a lot about each other. They put their arms around each other and smile.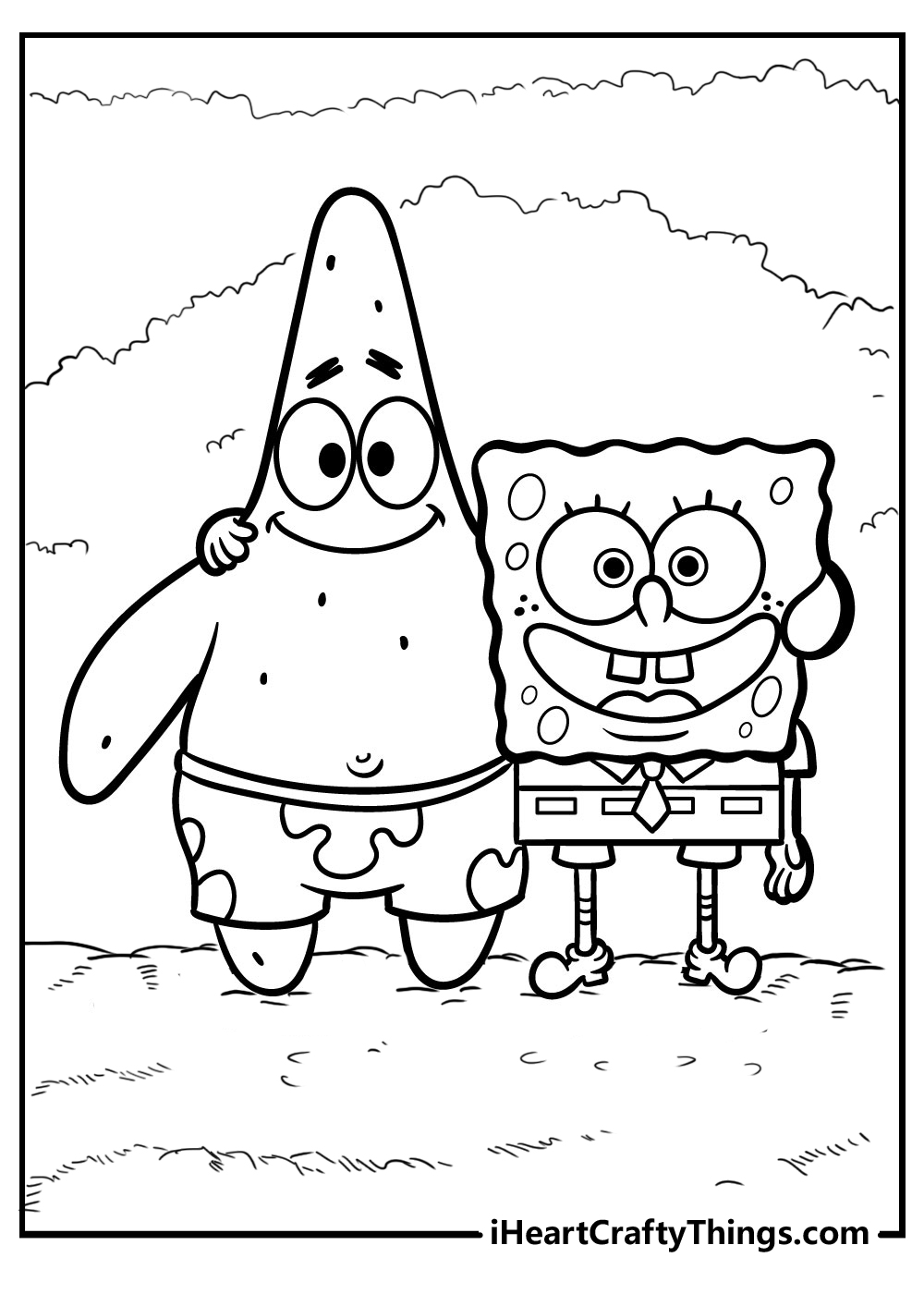 It looks like Patrick has gotten dressed up to visit Spongebob at work. He wears a little hat with a feather coming out of the side and overalls with a bow tie. Spongebob has his trusty Krusty Krab hat on and seems to be telling Patrick something important.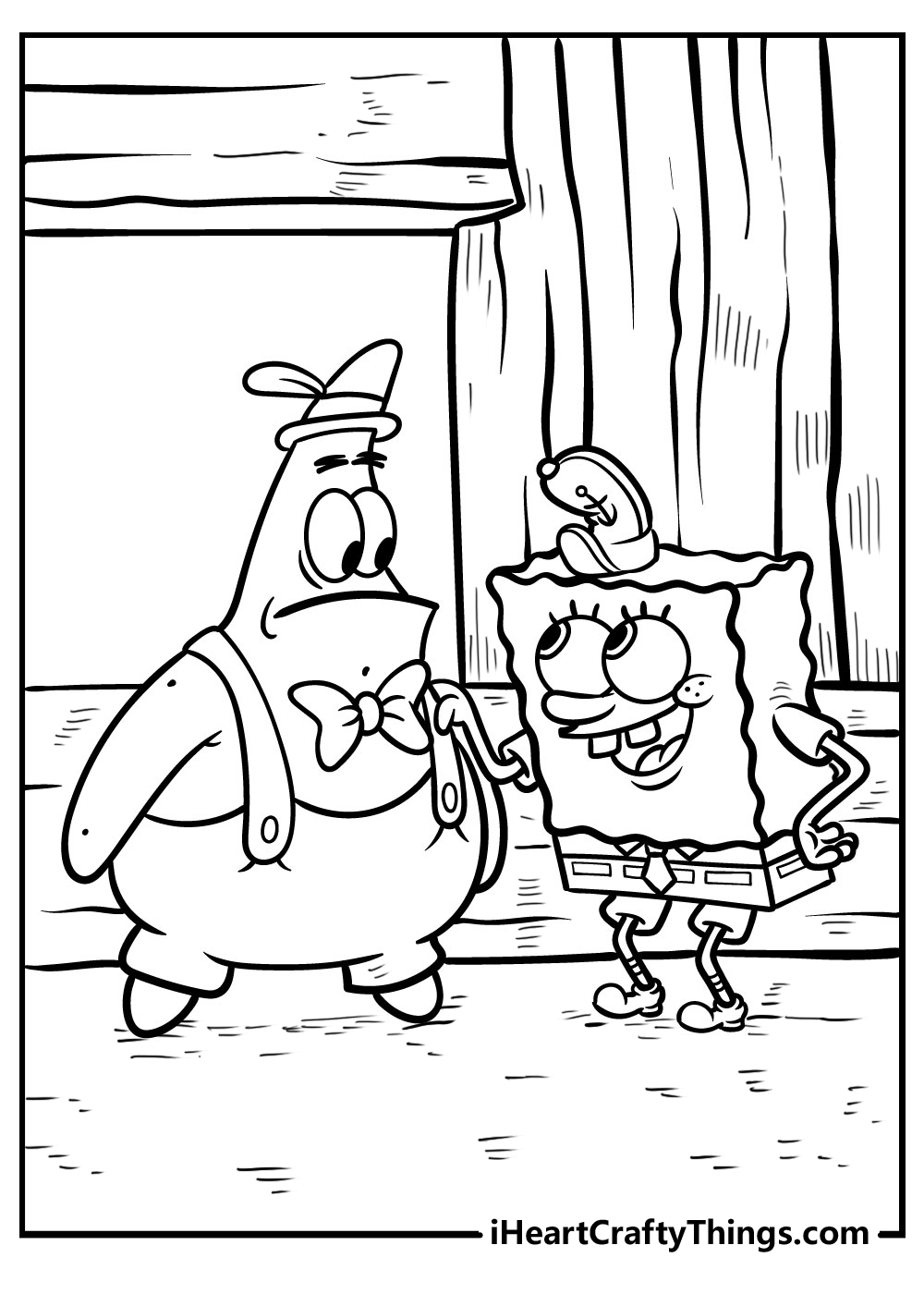 Spongebob and Patrick must be going on a serious mission in this printable sheet. We wonder what they could be up to.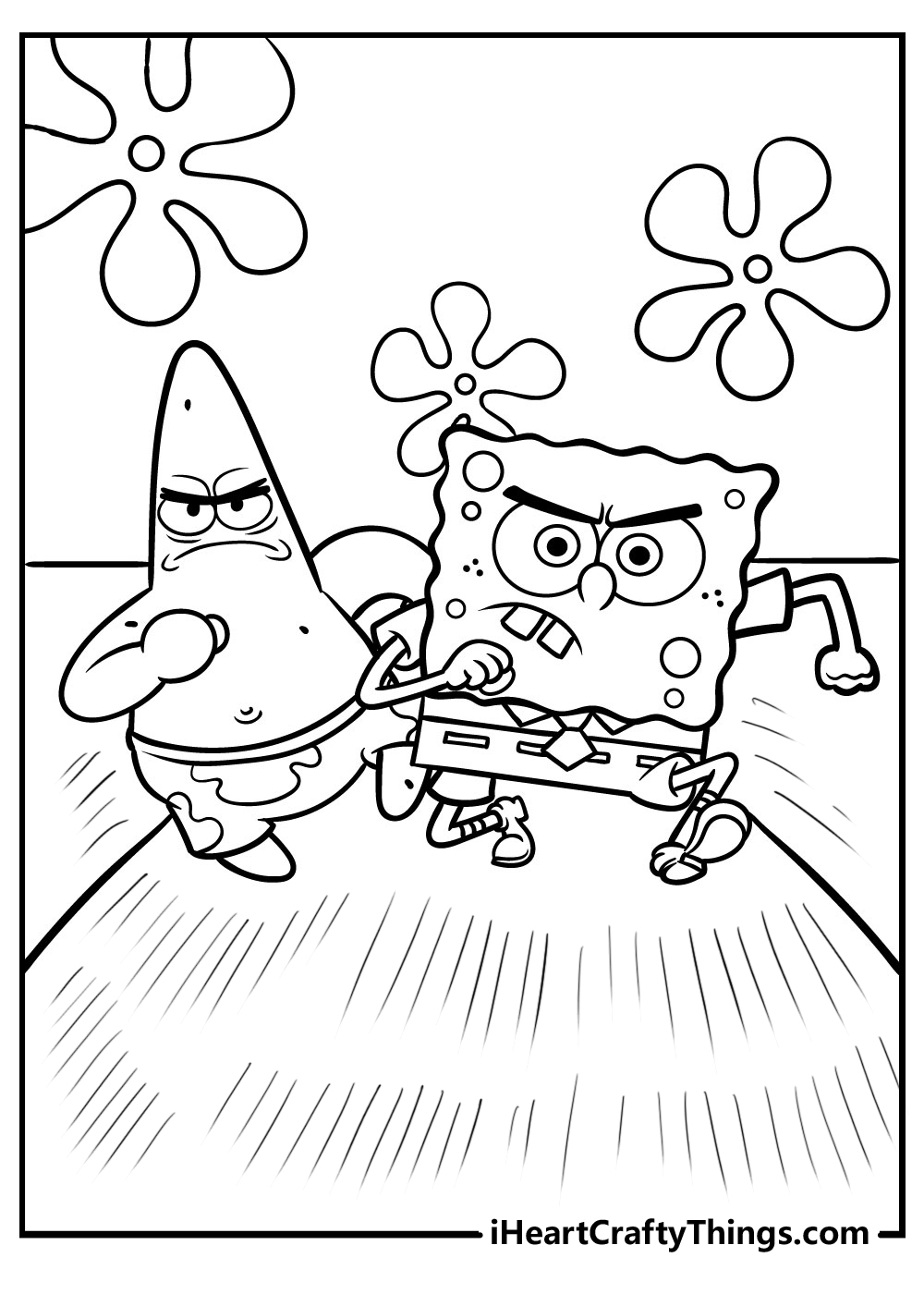 Blowing soap bubbles into interesting shapes is one of Spongebob's favorite things to do. In one episode, Spongebob even creates a human-sized friend out of bubbles named Bubble Buddy. That is some pretty impressive talent.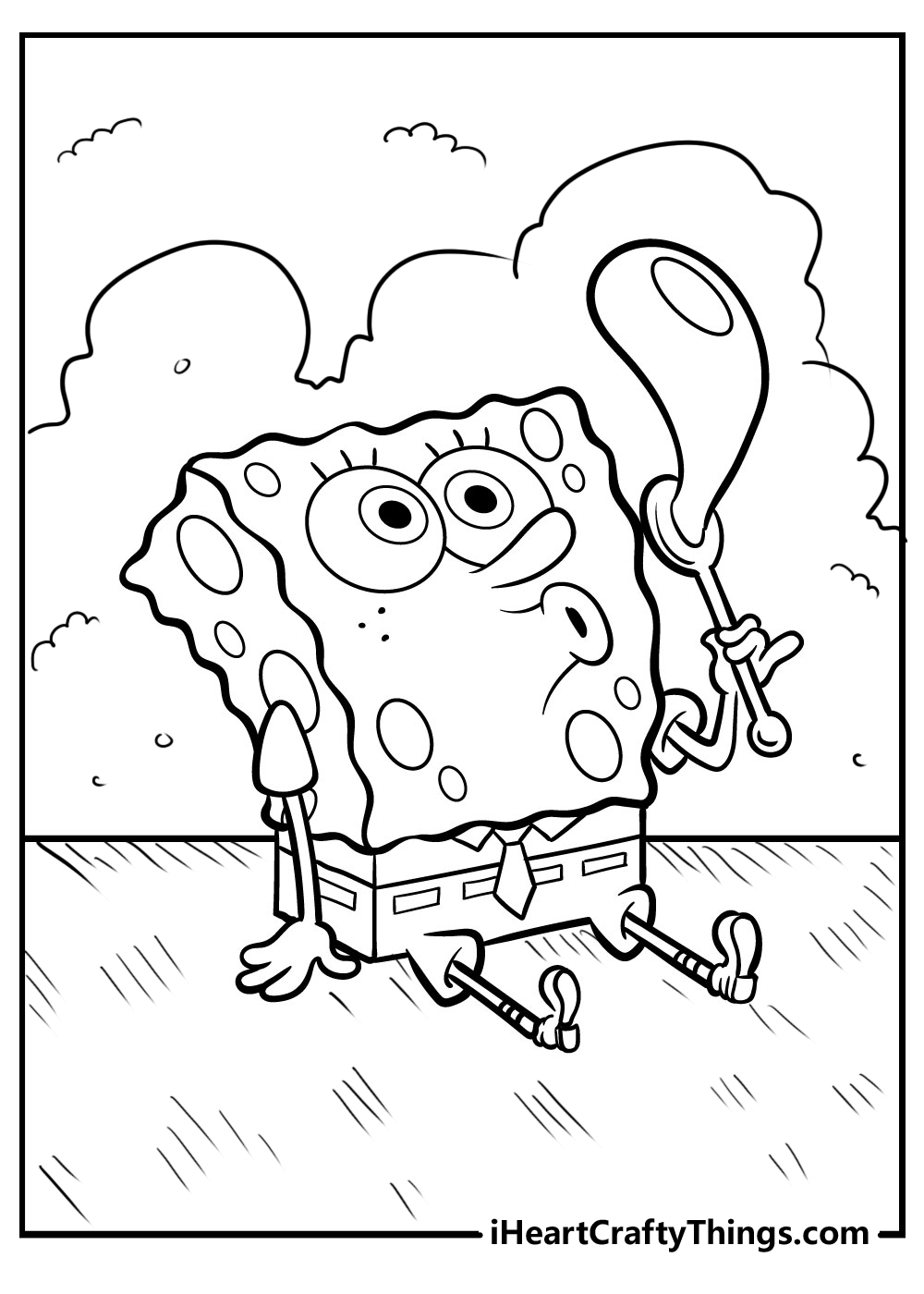 It's no secret that Spongebob and Patrick have a great time together. They have no shortage of way to entertain themselves and have fun. What do you think these two are laughing at in this Spongebob printable sheet?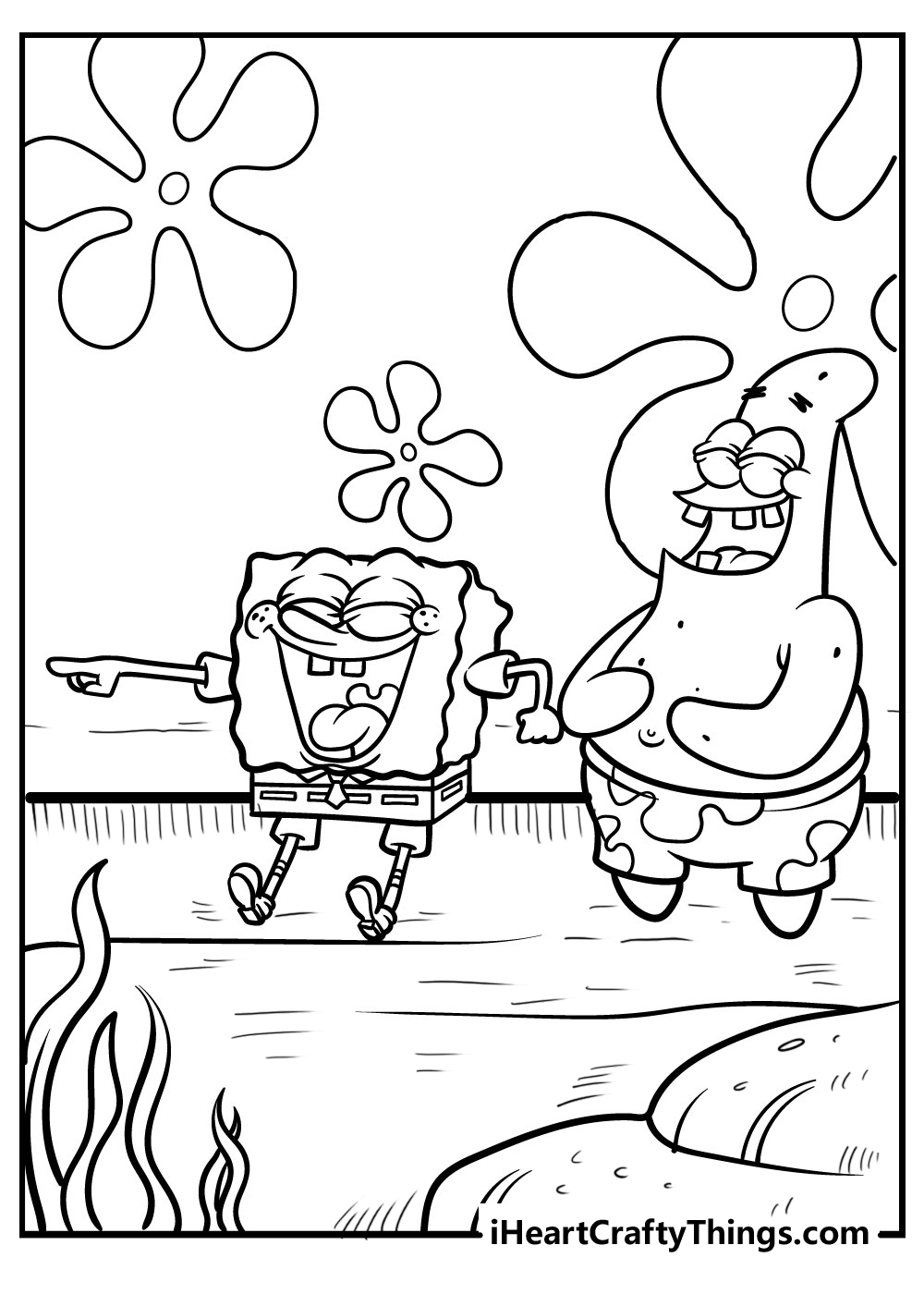 Spongebob and Patrick make quite a bit of racket when they are hanging out. This sometimes annoys the other residents of Bikini Bottom. Here Patrick is blowing an air horn, while Spongebob appears to be doing some kind of dance.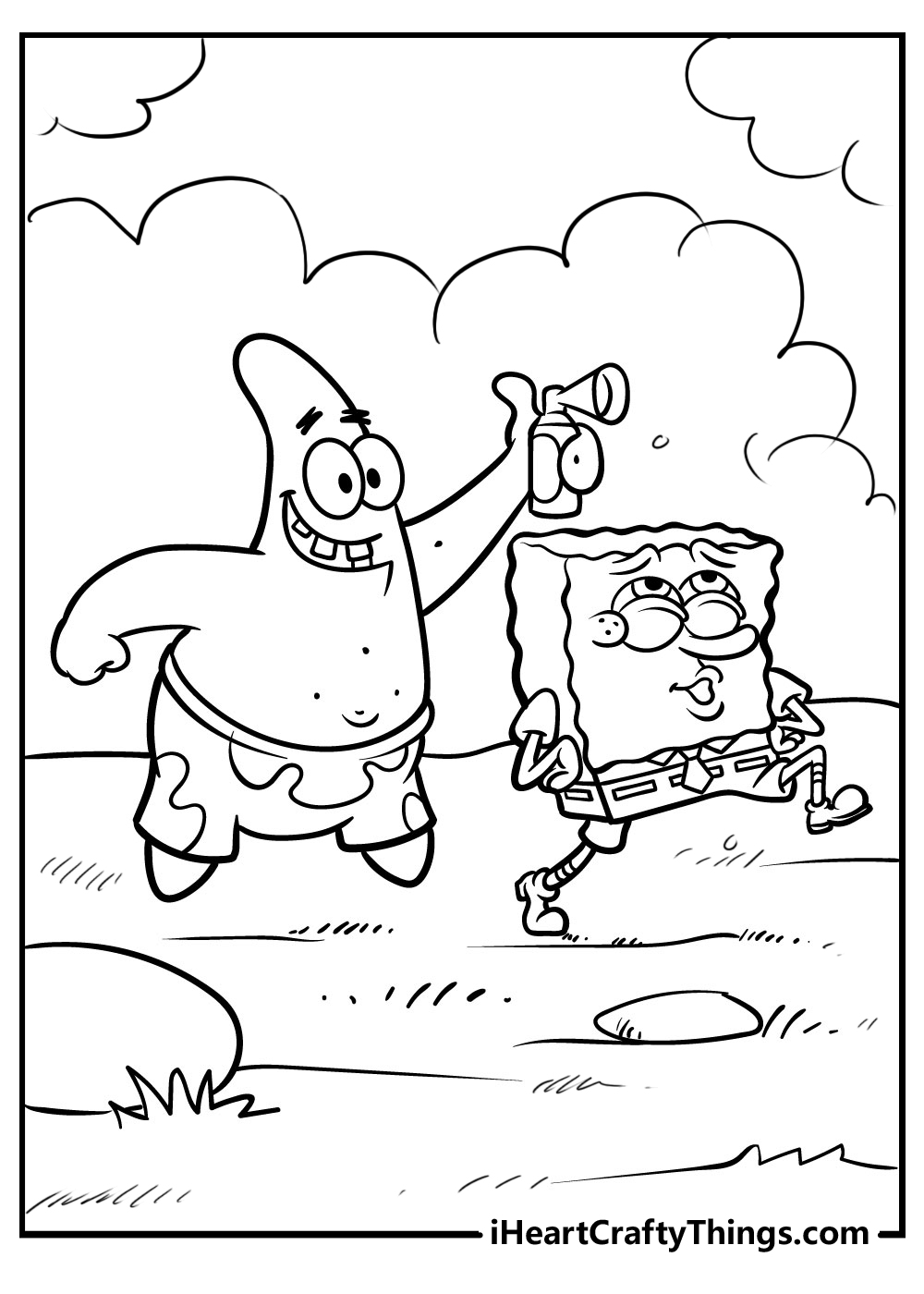 Have you ever noticed the sky flowers that float all over Bikini Bottom? This coloring sheet shows Patrick and Spongebob going for a walk underneath the pretty sky flowers. It looks like Spongebob is explaining something to Patrick that he might not fully understand. Patrick might not be the brightest, but at least he is a great friend.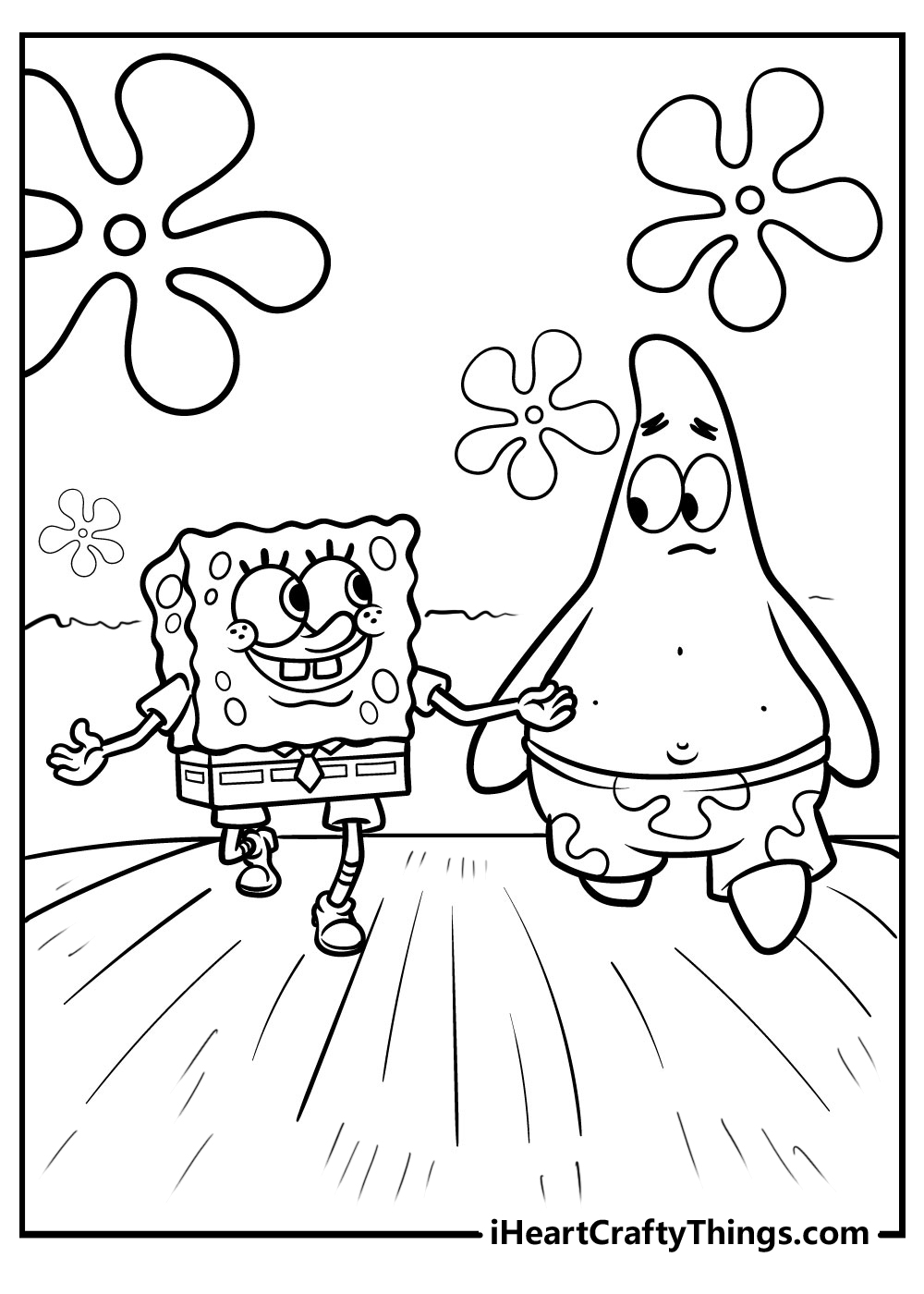 You've reached the end of these Spongebob coloring pages, but don't worry, there is more fun to come. Every week we update our catalog of coloring pages and printable sheets with more fun characters and animals for you to download and enjoy.
We hope the antics of Spongebob and Patrick have brought a smile to your face. Remember to post your completed coloring sheets onto our Facebook page. We can't wait to see what you'll come up with next!