On this page, you will find 20 all new Pete the Cat coloring pages that are completely free to print and download.
The Pete The Cat series of books have taken the world by storm, and these stories have captivated readers from all over.
The books present some valuable life lessons with good humor and charming artwork, and now they are being featured in this collection of free Pete The Cat coloring pages for kids!
This collection features many different poses, looks and scenarios featuring Pete The Cat, and you can have a great time bringing your color creativity to each image.
We can't wait to see how you take on these delightful pages, so let's begin the collection to get the fun going!
20 Brand New Pete The Cat Coloring Pages – Free to Print and Color
This first Pete The Cat coloring page features a close-up of Pete himself. In the books, Pete has a very simple color scheme of dark blue fur with bright yellow eyes.
He also has a light pink nose, so you can use these colors if you wish to make him look as he does in the books. Will you go for that approach or do a new look for Pete?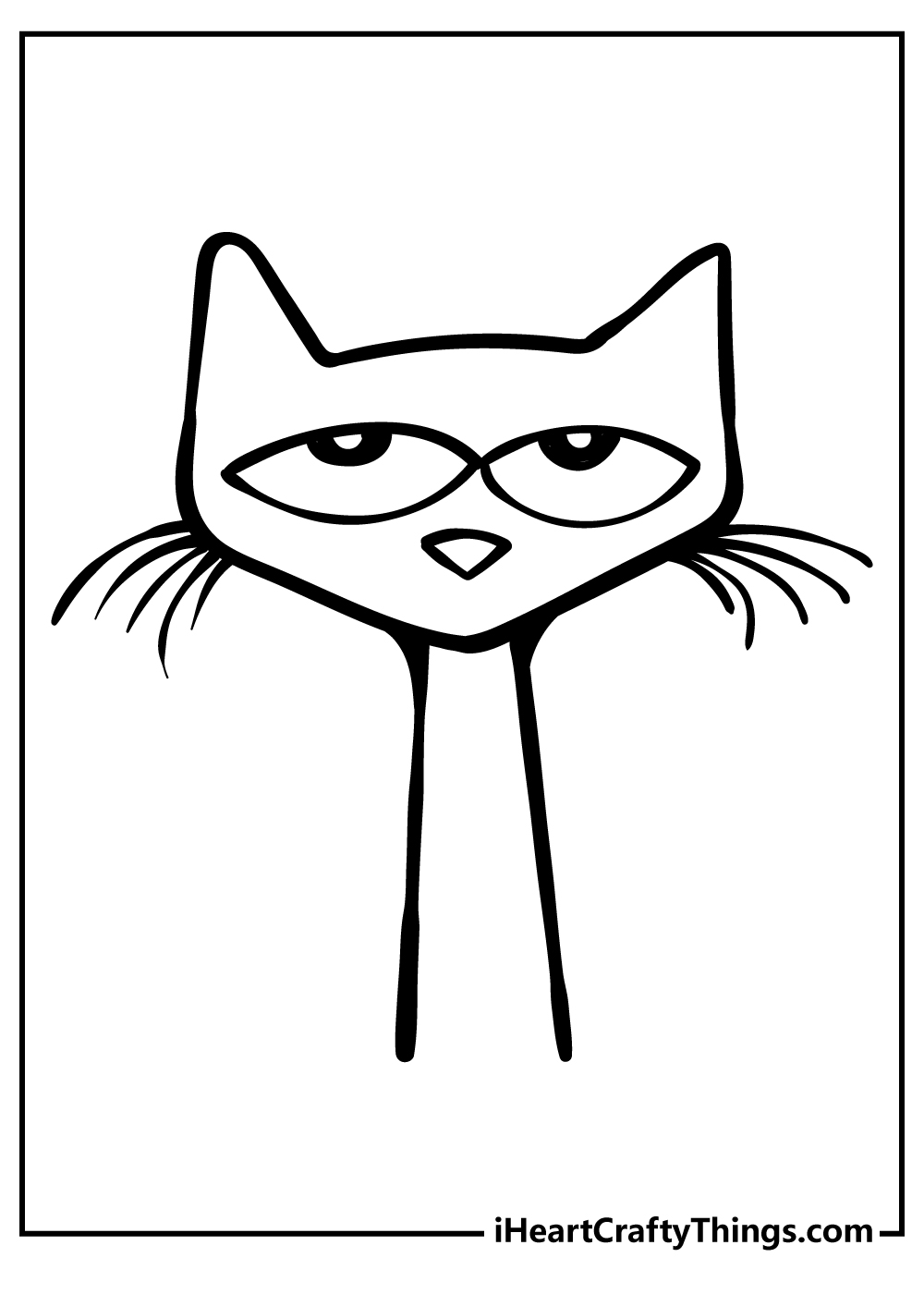 Pete The Cat looks as cool as can be chilling on his skateboard. He's relaxing with his front paws up and tail raised, just soaking up the sunshine. This mellow kitty loves to skateboard in his free time.
Let's decorate the skateboard with crazy colors and designs. Don't forget to make his fashionable sneakers pop too!
We can also give Pete's fur some colorful patterns. He'll look so chill and vibrant gliding along. What awesome colors will you choose for this laidback skateboarding cat?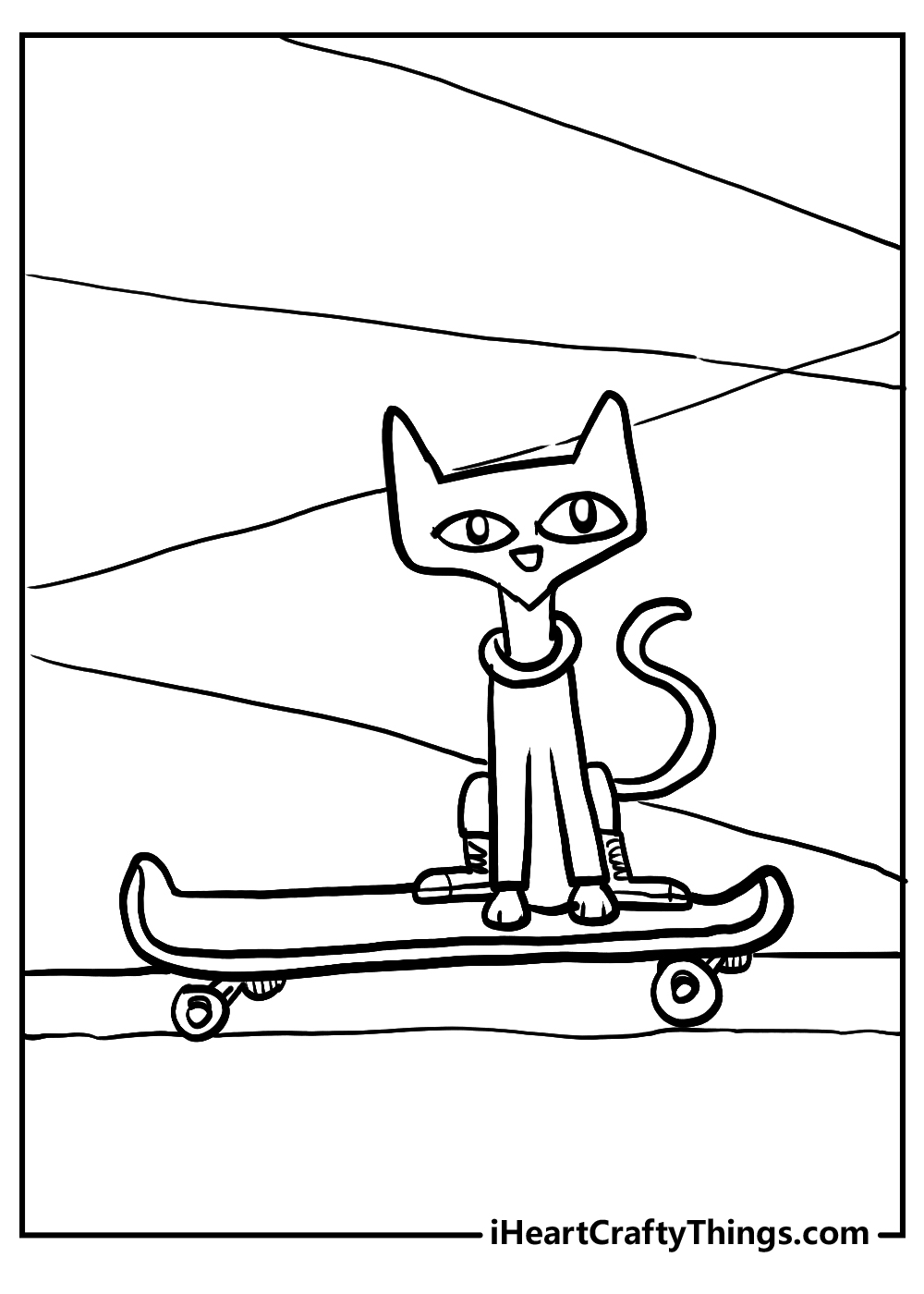 We get an even closer look at Pete's face in this next image. When coloring these images, remember that you don't need to focus only on Pete himself.
You can also color the background or even add some fun background details to finish it off. What will you add here?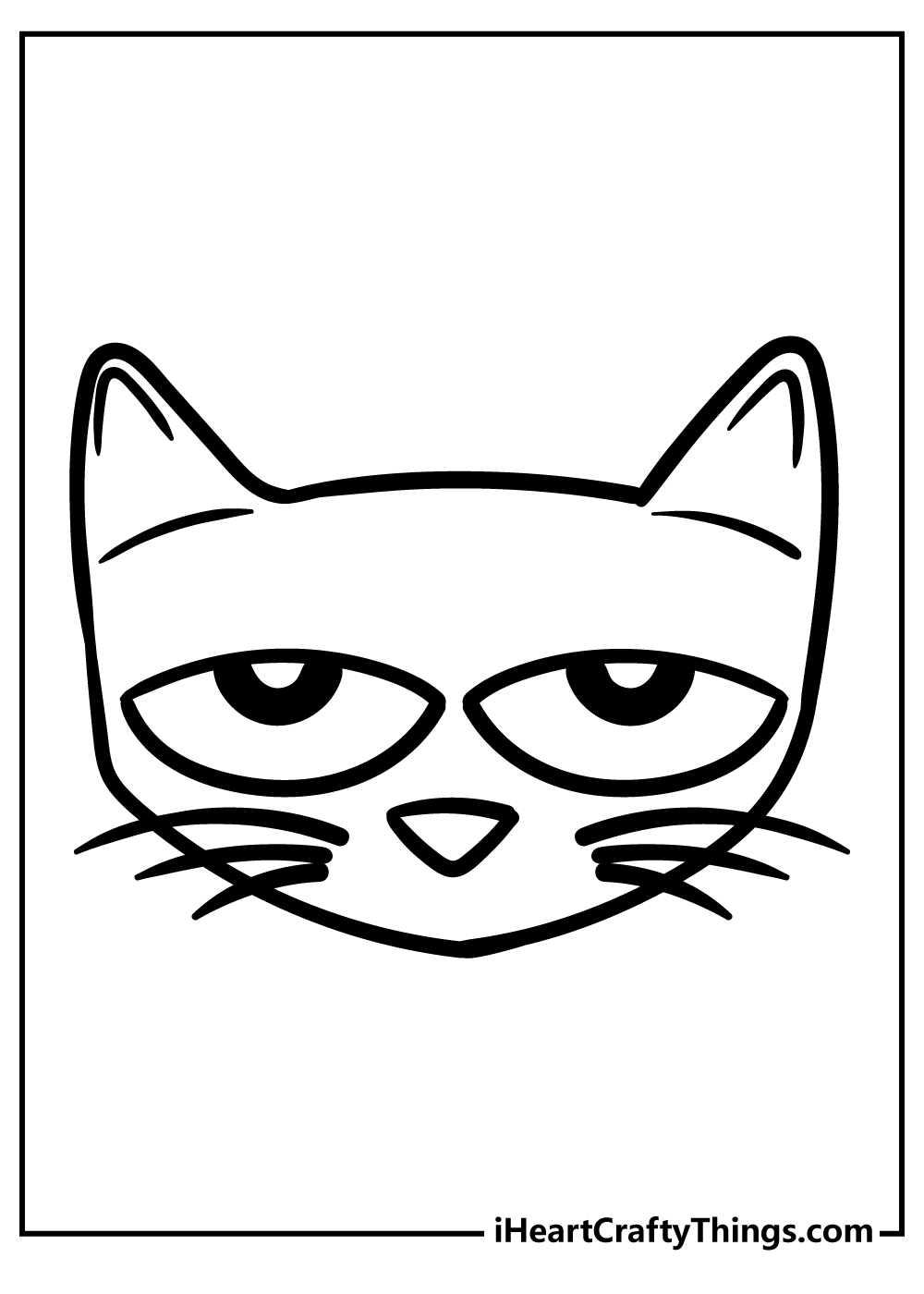 It's time to rock in this next awesome image! Here Pete is wielding a cool electric guitar, and there are some great smaller details to color on it.
He looks like he is playing some intense rock music here, so we would use some bright and loud colors to really make this a striking image that represents the liveliness of rock.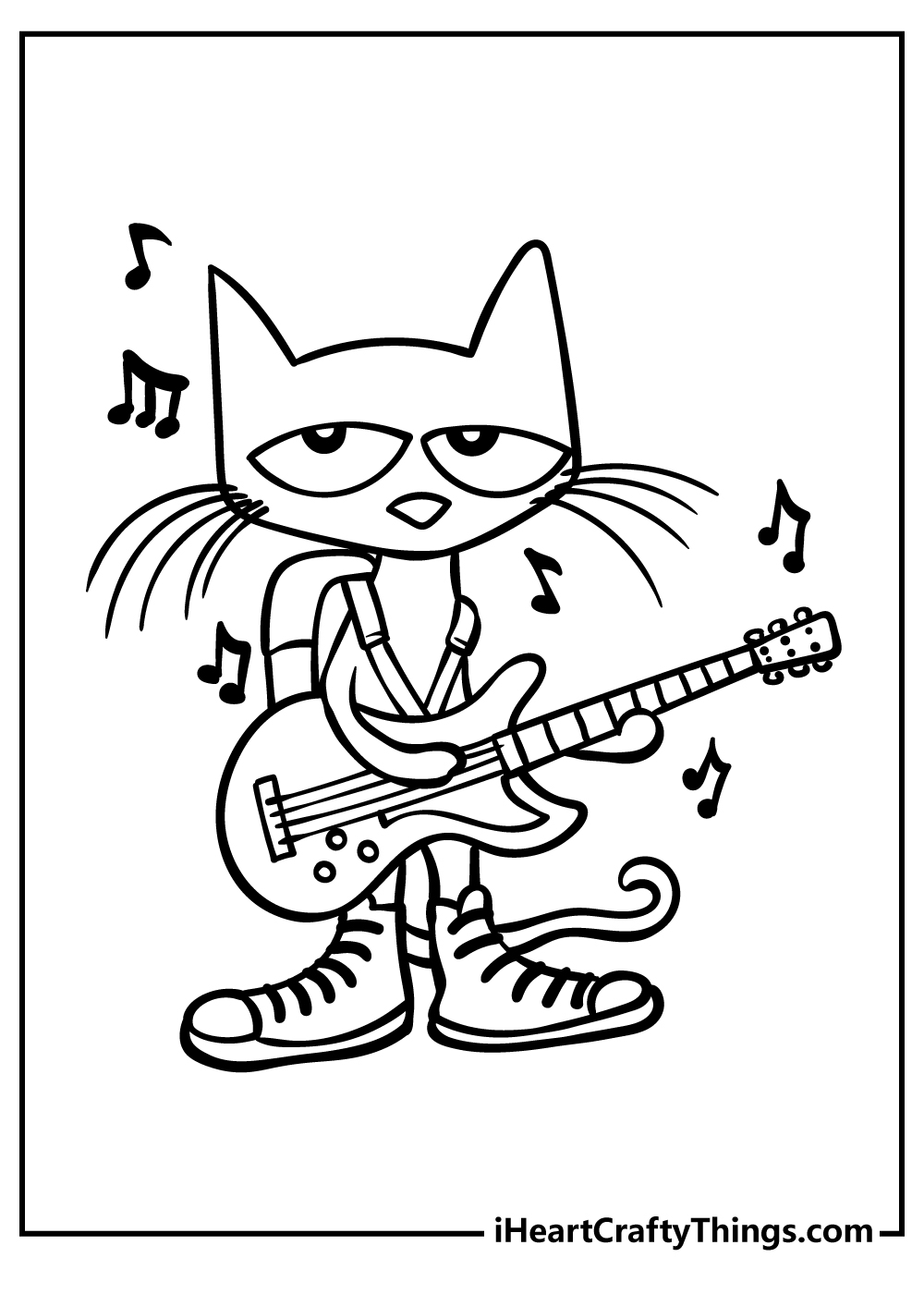 Get a load of Pete The Cat looking sharp in his stylish tie and sneakers. He's standing tall and proud on all four paws, smiling wide with his tail held high. Pete loves to dress to impress.
I would use vibrant, exciting colors for his trendy clothes and accessories. Color his tie with different colors and patterns. Give him flashy sneakers fit for a hip cat.
And his fur is the perfect canvas for fun patterns and colors. Let's make Pete look jazzy and snazzy.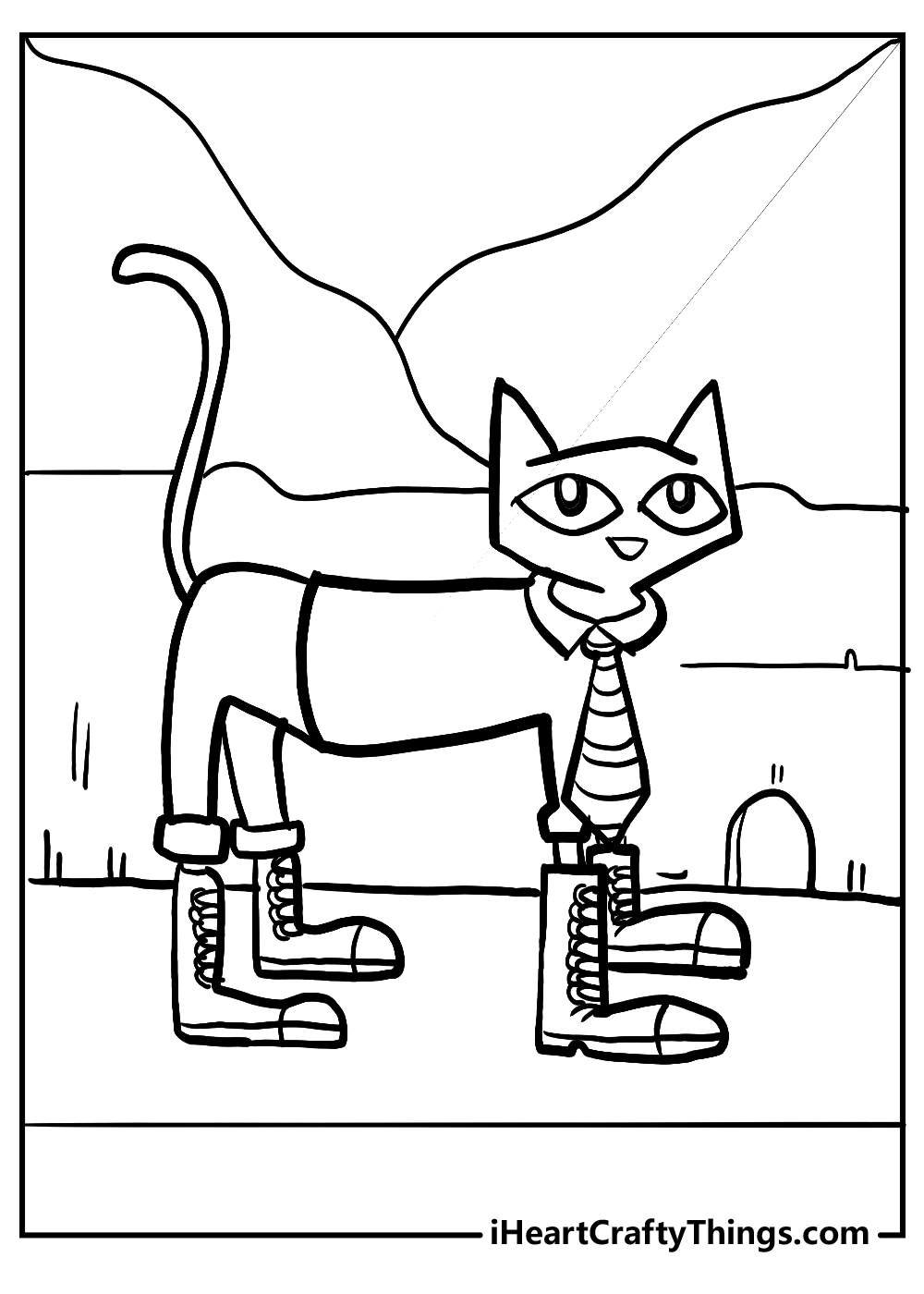 This next picture is an amusing one, as Pete is dressed in a buttoned shirt with some shoes.
It's a really fun outfit for Pete, and we think it would look great to use lots of different bright colors for the various details. Which colors come to mind for you when you see this picture?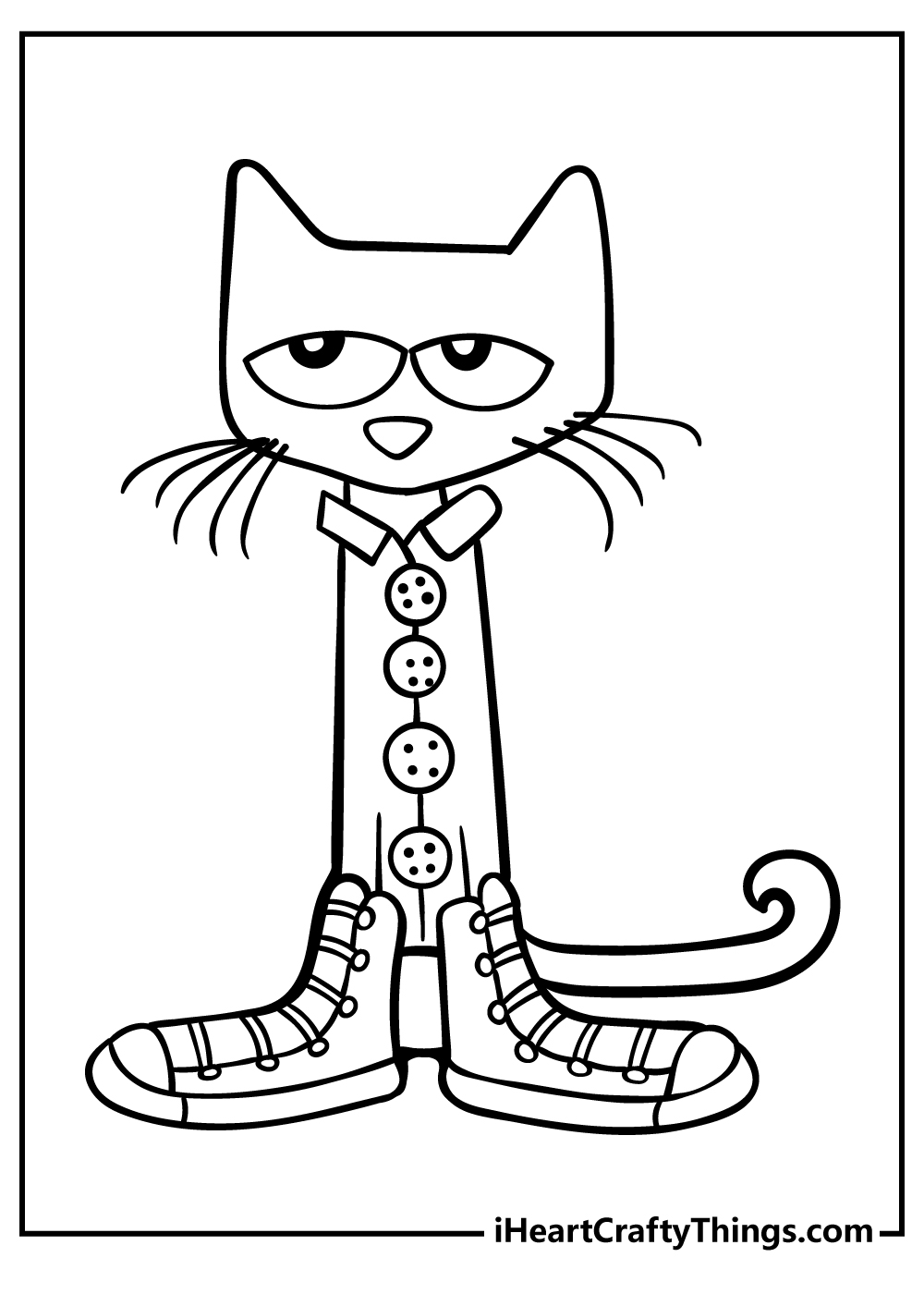 In this fifth page of our collection of free Pete The Cat coloring pages for kids, we have a really funny picture of Pete as the tooth fairy!
For this one, we would want to create a softer look for the image, so we would maybe try out some watercolor paints or colored pencils.
If you have these mediums available, will you use them for this depiction of Pete?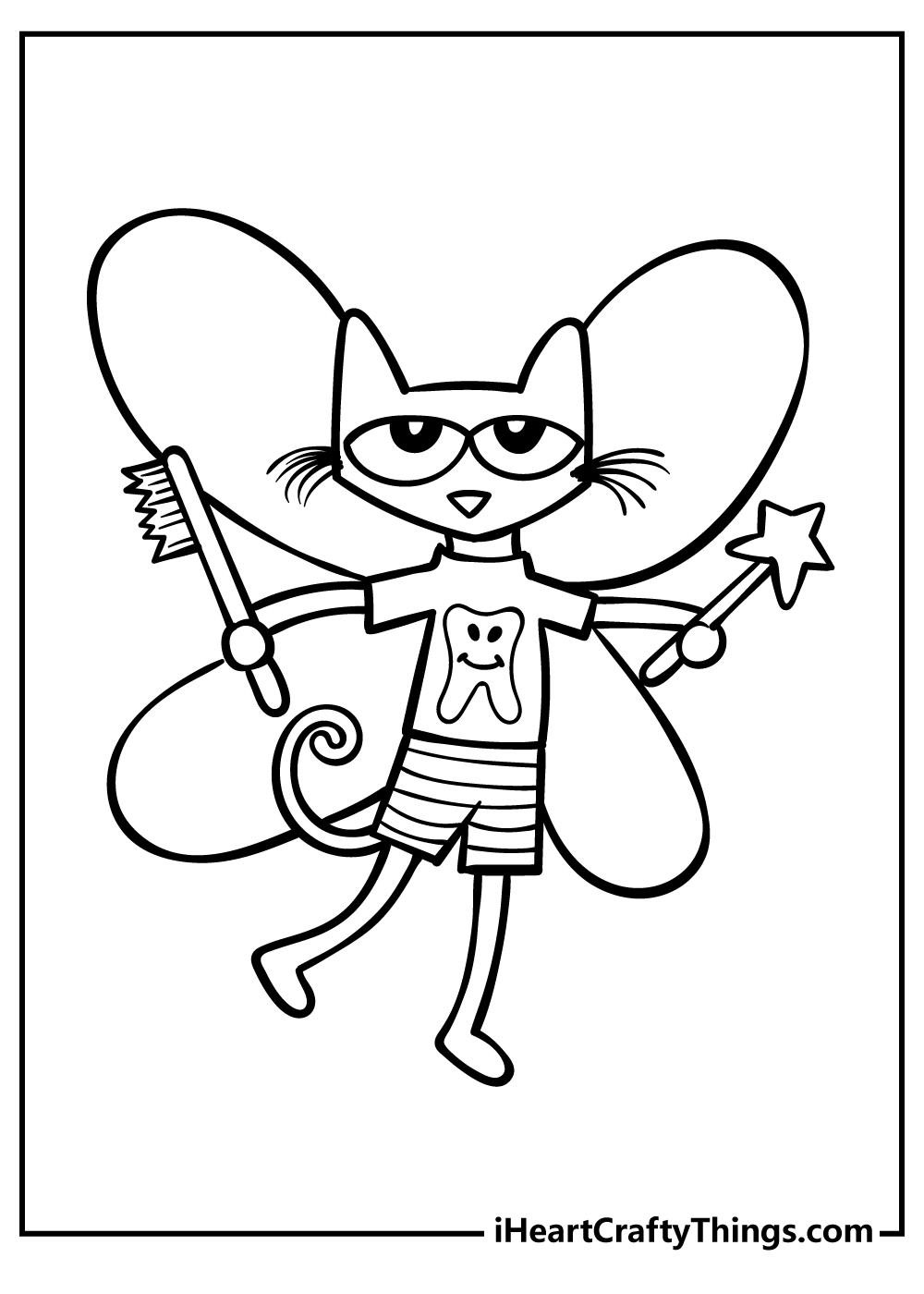 A music theme is present again in this next image. This time, the mood is much calmer as Pete plays an acoustic guitar while sitting under the shade of a tree.
We also think that this one would look great with a calming background setting, and there are so many ways that you could go about drawing that.
What kind of calm setting would you choose?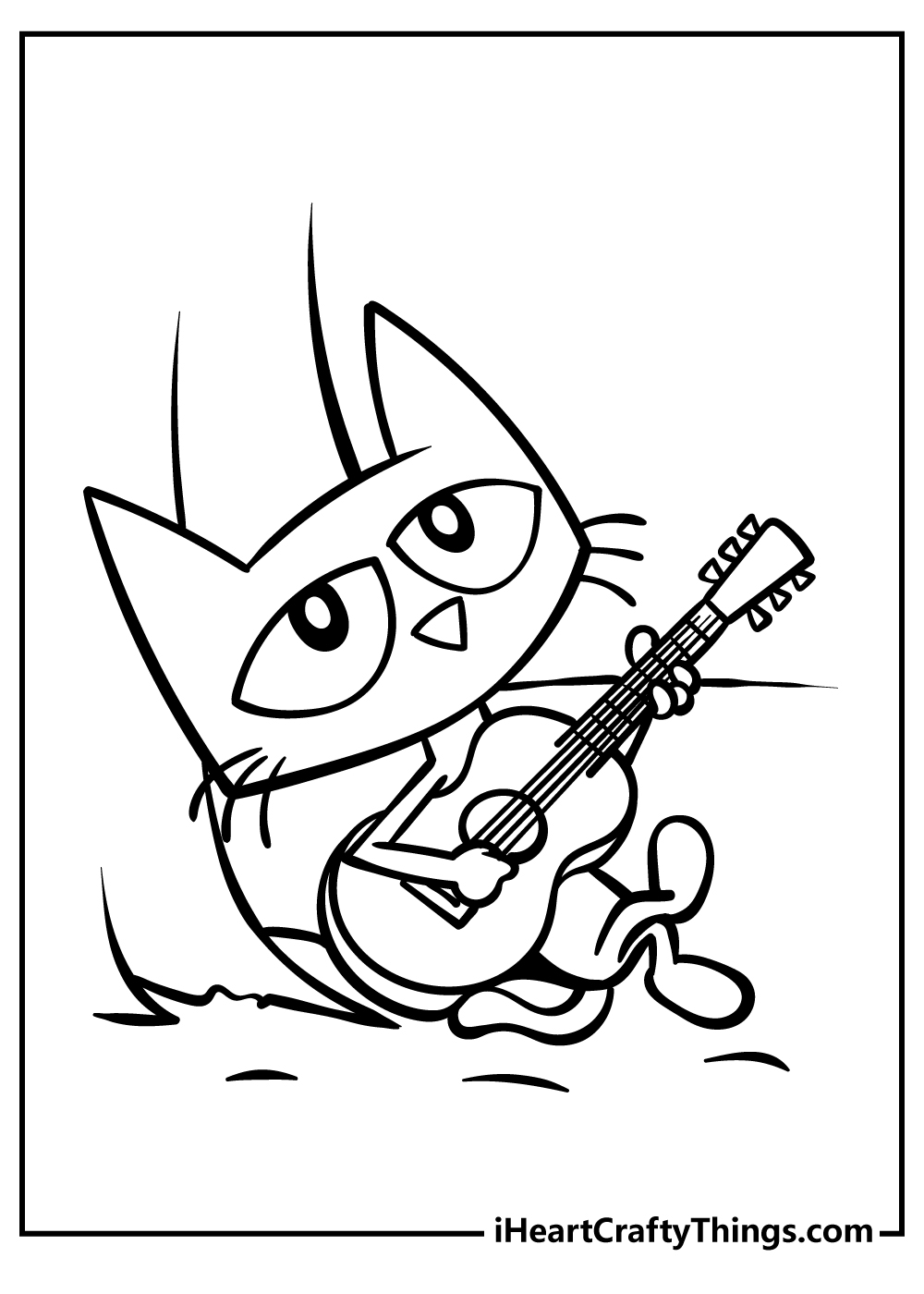 Pete The Cat is jumping for joy and dancing up a storm. He's pumped his paw up and his tail is sticking straight up showing how thrilled he is. Pete sure loves to boogie!
You can capture his energetic dance moves with brilliant colors. Make his fur swirl with crazy patterns as he twirls.
In the background, you can add disco balls, music notes, and other funky shapes for a dance party scene. Use your coolest colors on this Pete The Cat coloring page. He will look so lively and full of spirit!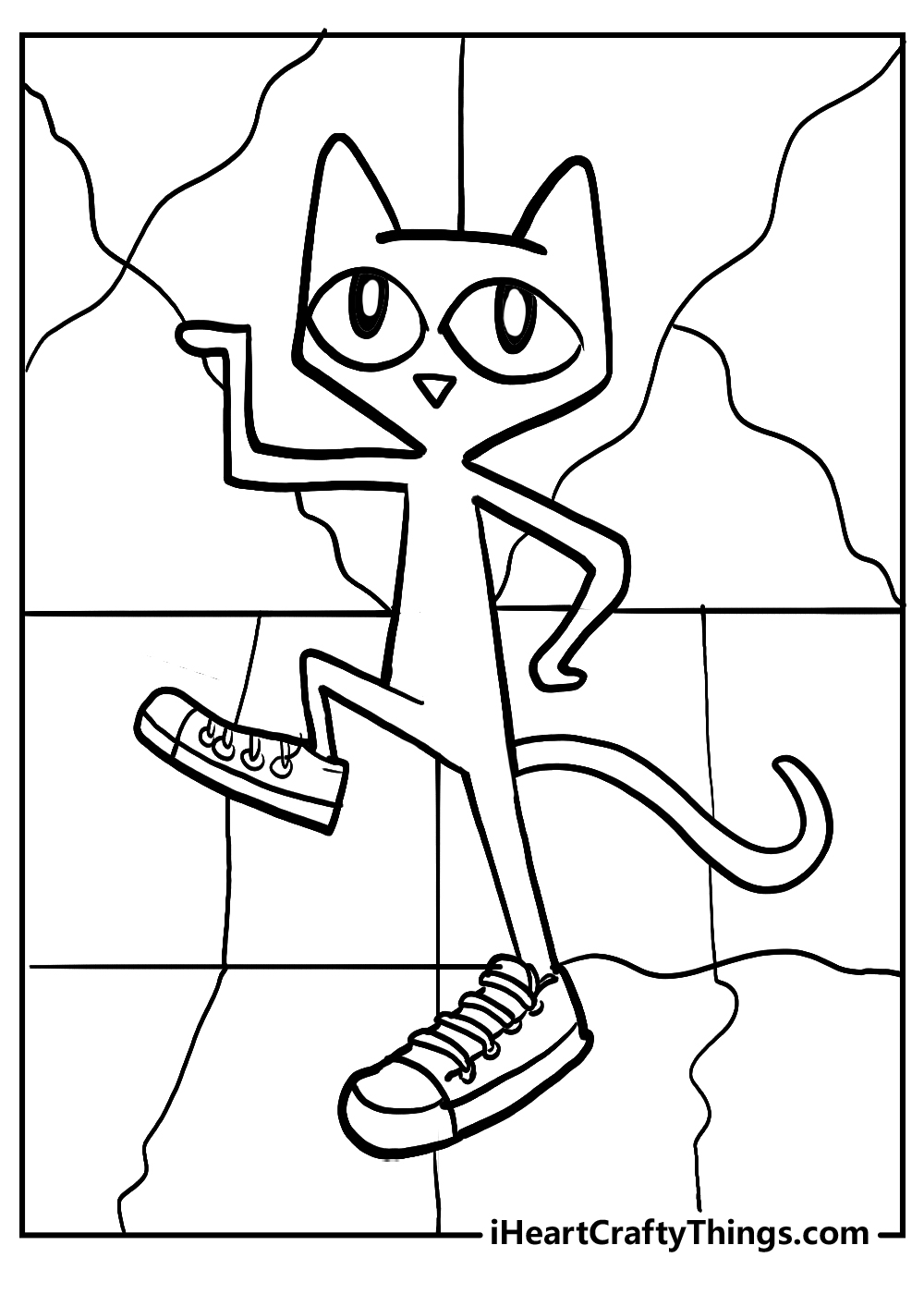 This time, we have a version of Pete where he is a superhero! In this image, you have the chance to create your very own superhero persona for Pete.
We think it could be fun if you created a theme for him and then went with colors that go with that theme. What kinds of superhero themes can you think of?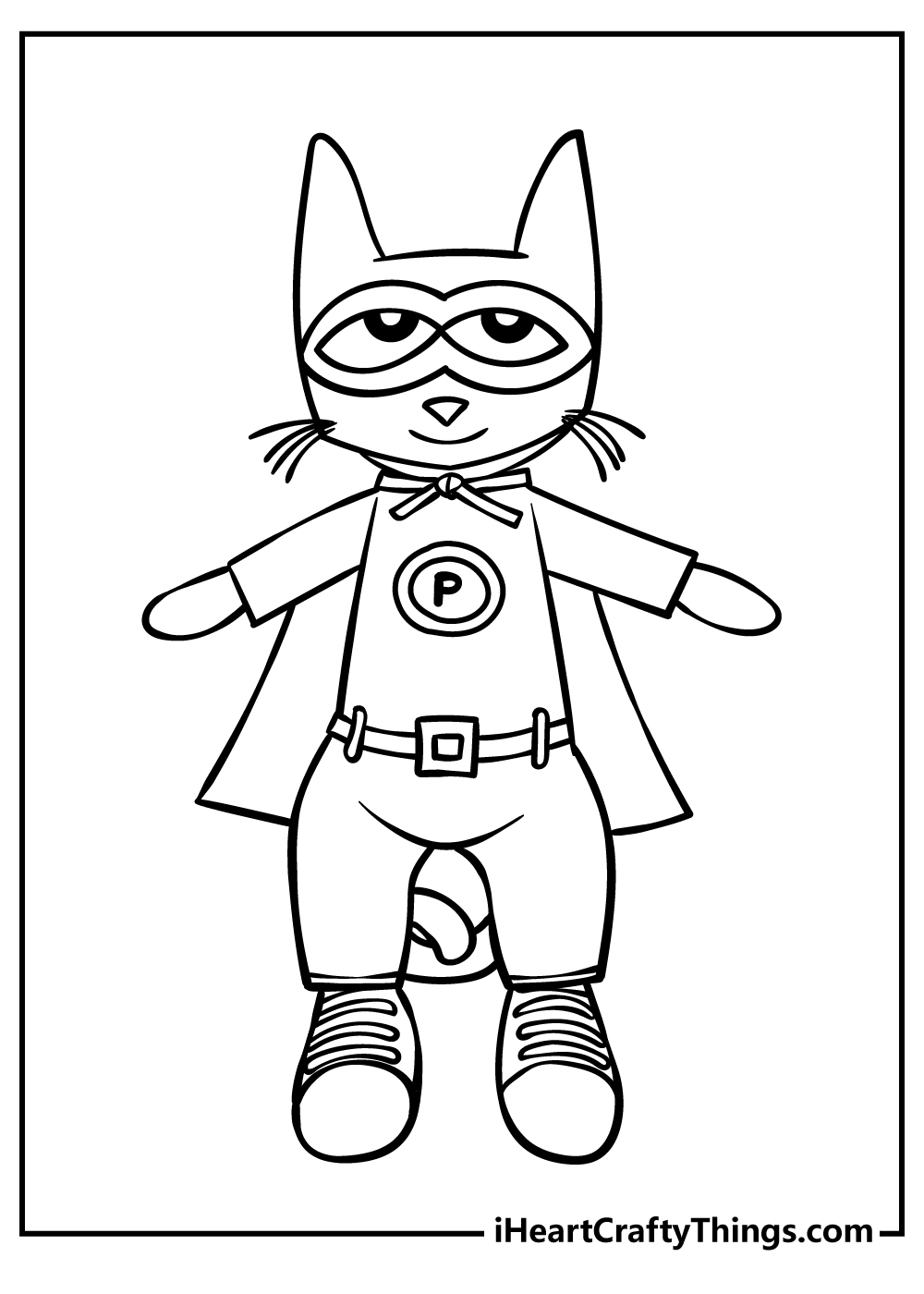 In this next picture, we are being presented with the gift of coloring fun! This one has a Christmas theme, and that means it would look amazing with some brighter colors.
What favorite Christmas colors can you think of that would look good with this festive portrayal of Pete?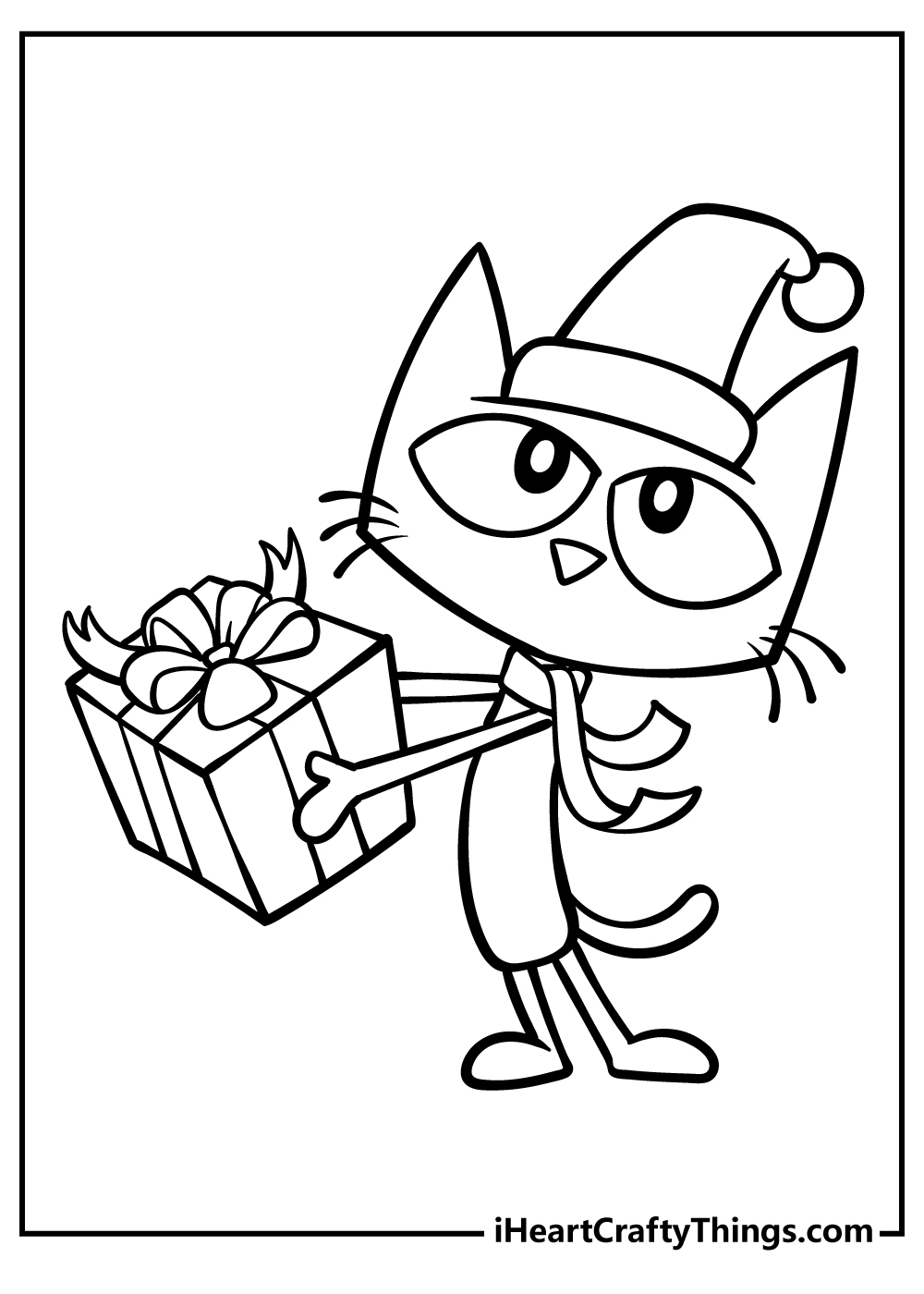 For the first time in this collection, we have a Pete The Cat coloring printable where he is joined by a friend!
Here we see him with Grumpy Toad, and they look like they're ready for a swim.
We would use some blues and yellows for the background to create a tropical vacation feeling for this picture, but it's up to you to decide on what you will use!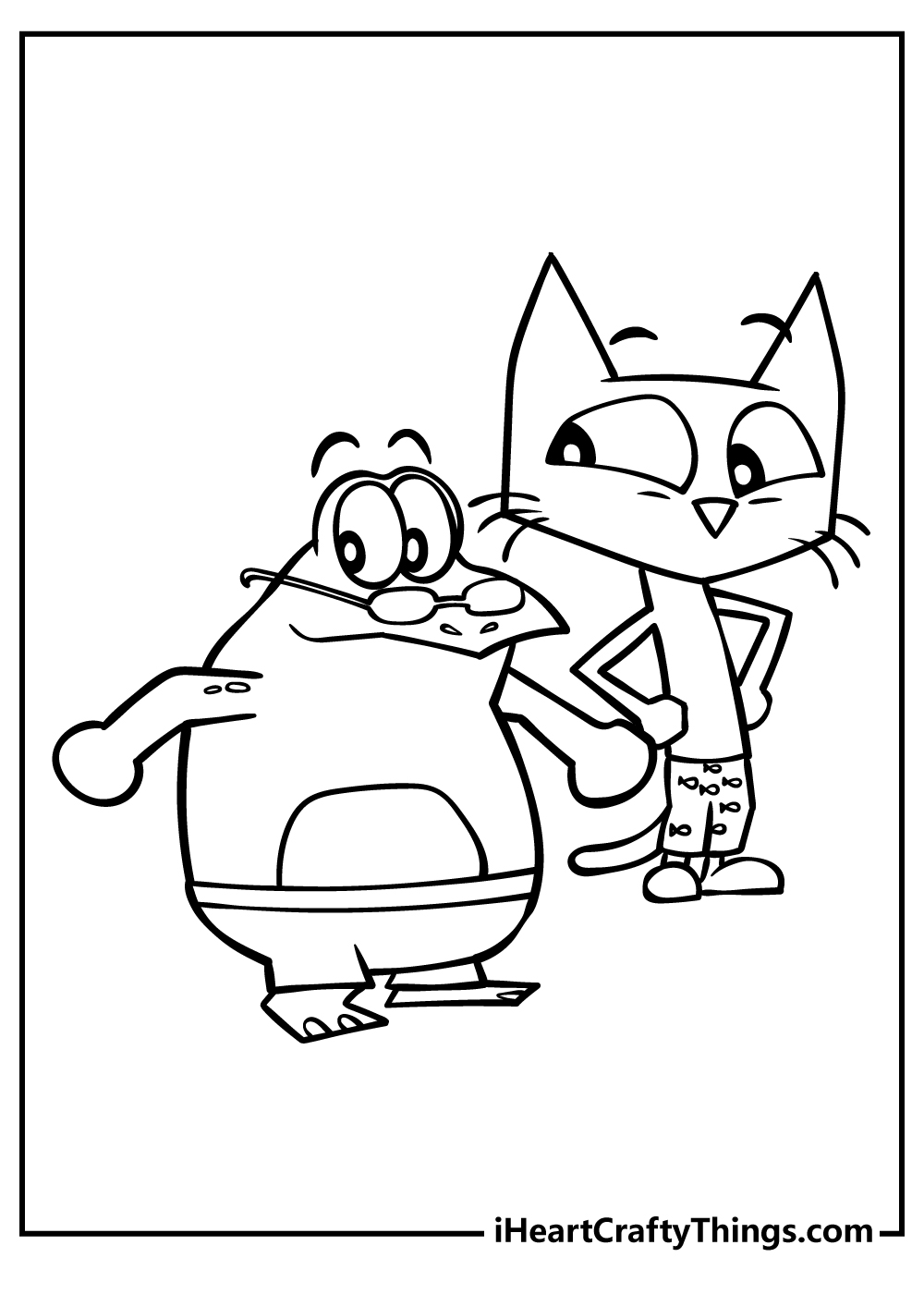 Check out chilled-out Pete The Cat flashing that cheerful grin! He's just hanging out on all fours, showing off those fly high-top sneakers.
Fashion is very important to this cool cat. He knows how to rock her shoes and make them shine.
Let's give his sneakers wild designs and colors fit for such a trendy feline. And we can color his eyes with beautiful iris patterns too.
Give him spots, swirls, checkerboards or anything you wish! This laidback kitty would love your creative style.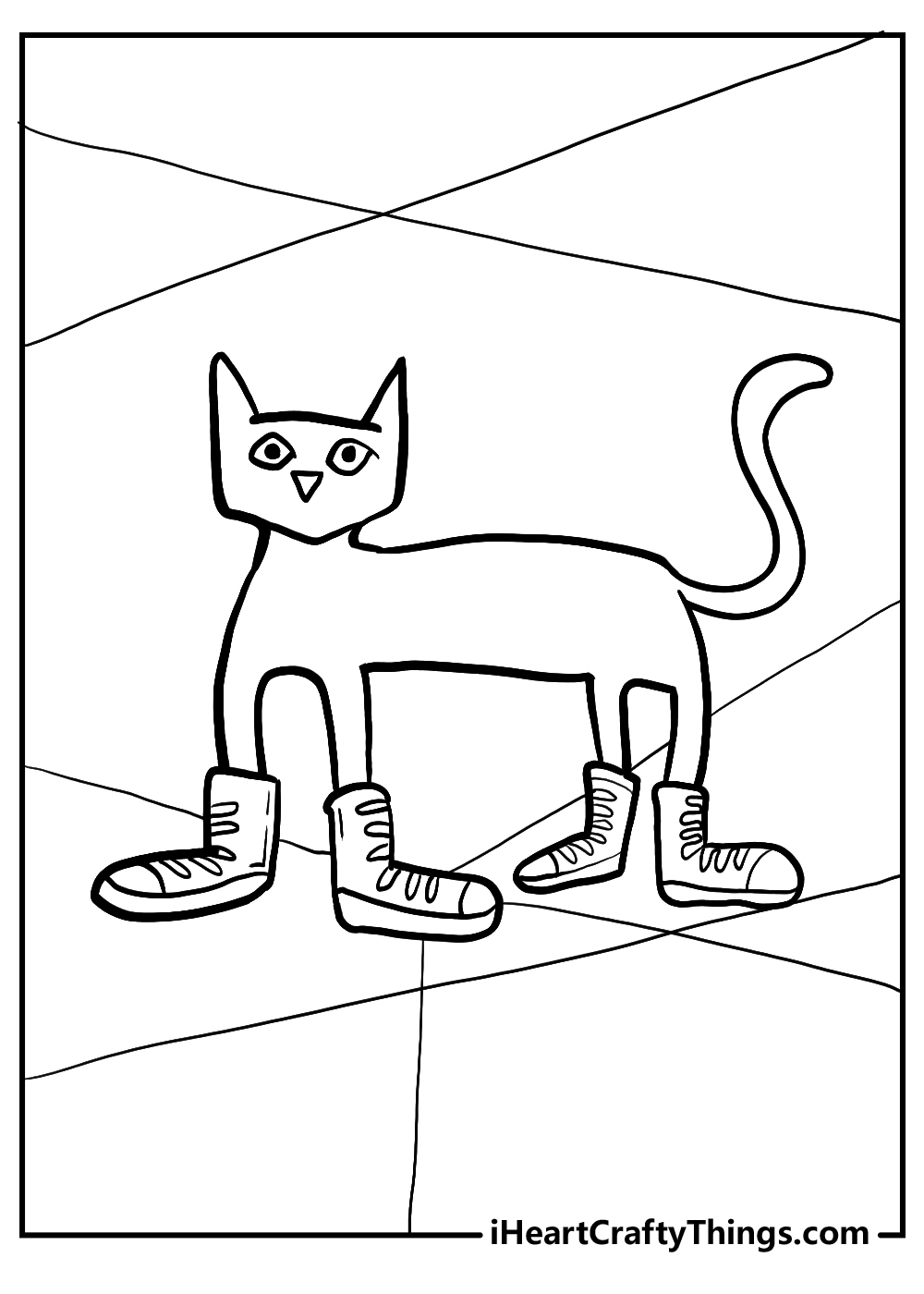 We have another new character for you to color here, and this time it is Pete's friend Callie! She has a similar design to Pete, but in her appearances she is colored white with a pink nose.
She is holding a tambourine here, so we think that some more bright colors for the background would create a musical feeling to this image.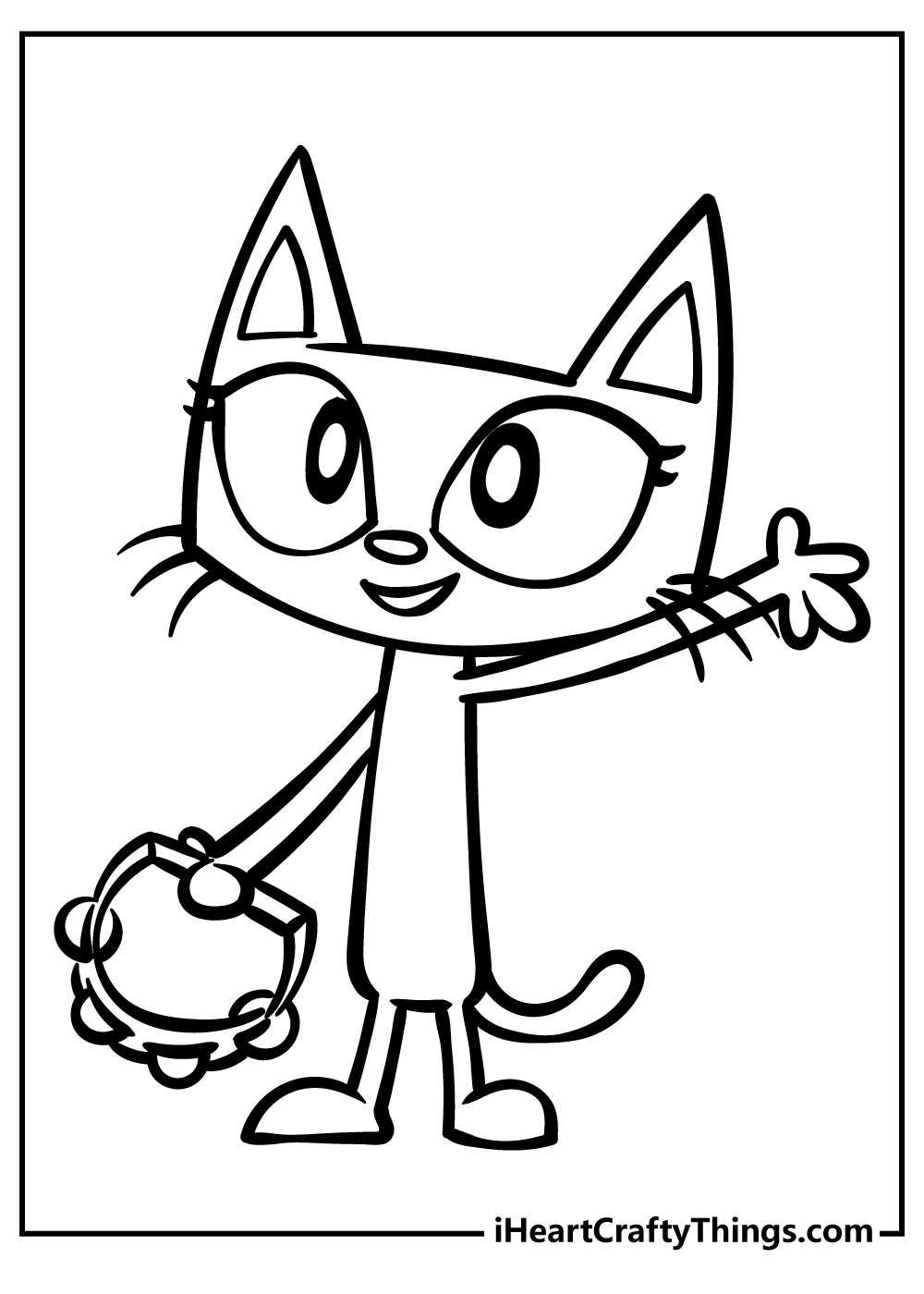 It's time for some more Christmas fun in this next picture. Pete is playing the role of Santa here, and he is barely able to hold all of the presents that he is delivering!
We think that some more watercolors or colored pencils would be great for creating a storybook feeling for this image, but what are you thinking of using?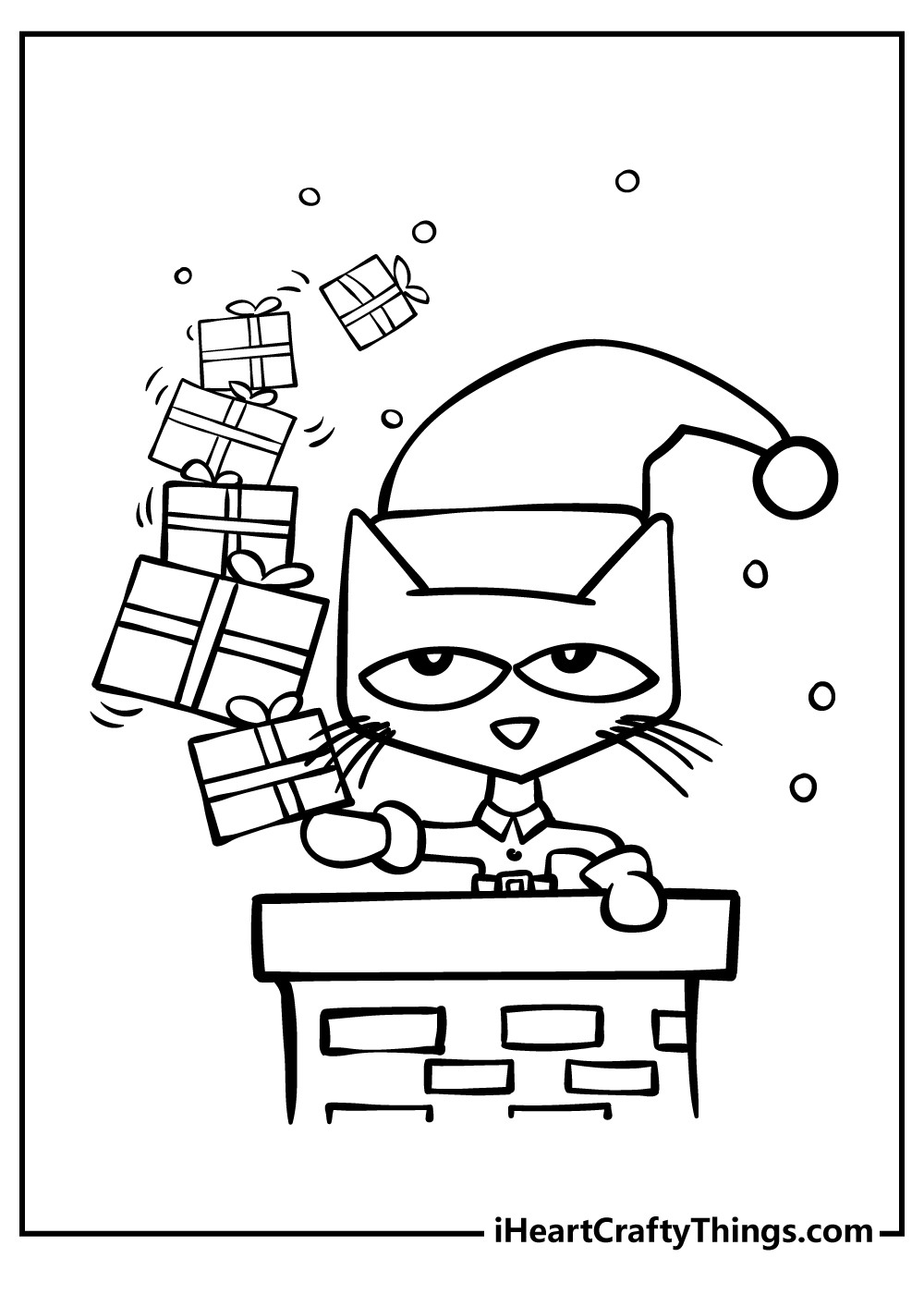 Now Pete is on a skateboard, and while he is a character known for never losing his cool, he looks a bit nervous here!
First, you can use some cool colors to customize the skateboard, and then you can show what kind of environment he is skateboarding in.
This should be an awesome image when it's done!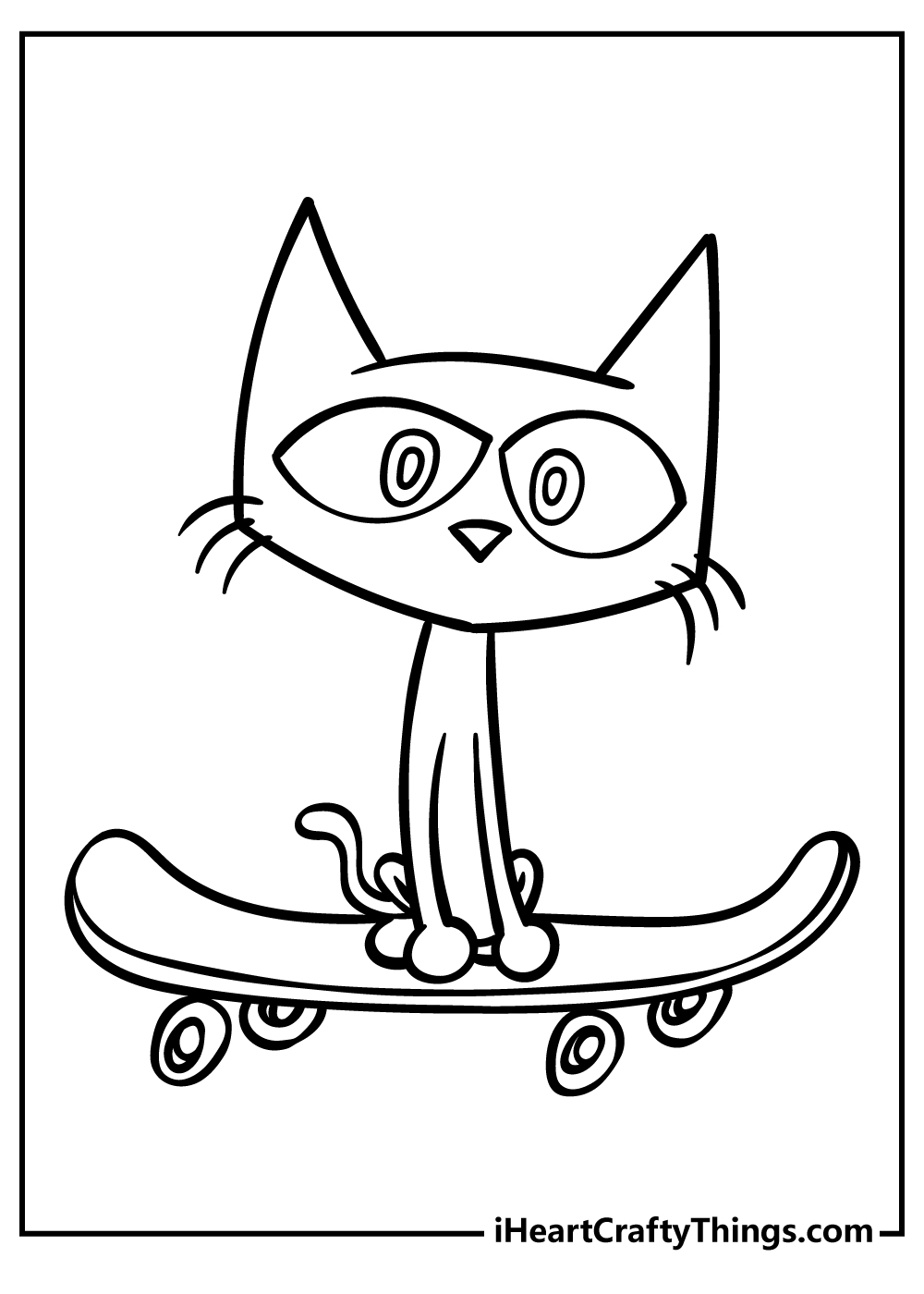 Pete The Cat is jamming out on his guitar and looking so cool. Let's make this an electrifying scene with the most brilliant colors. Make that guitar shimmer and shine with crazy patterns.
Give Pete some rad accessories like spiked wristbands or star-shaped sunglasses. You can add some psychedelic colors and designs to his fur.
And you can also add colorful music notes floating around him as he wails on the guitar. Go wild and make this Pete The Cat coloring page pop!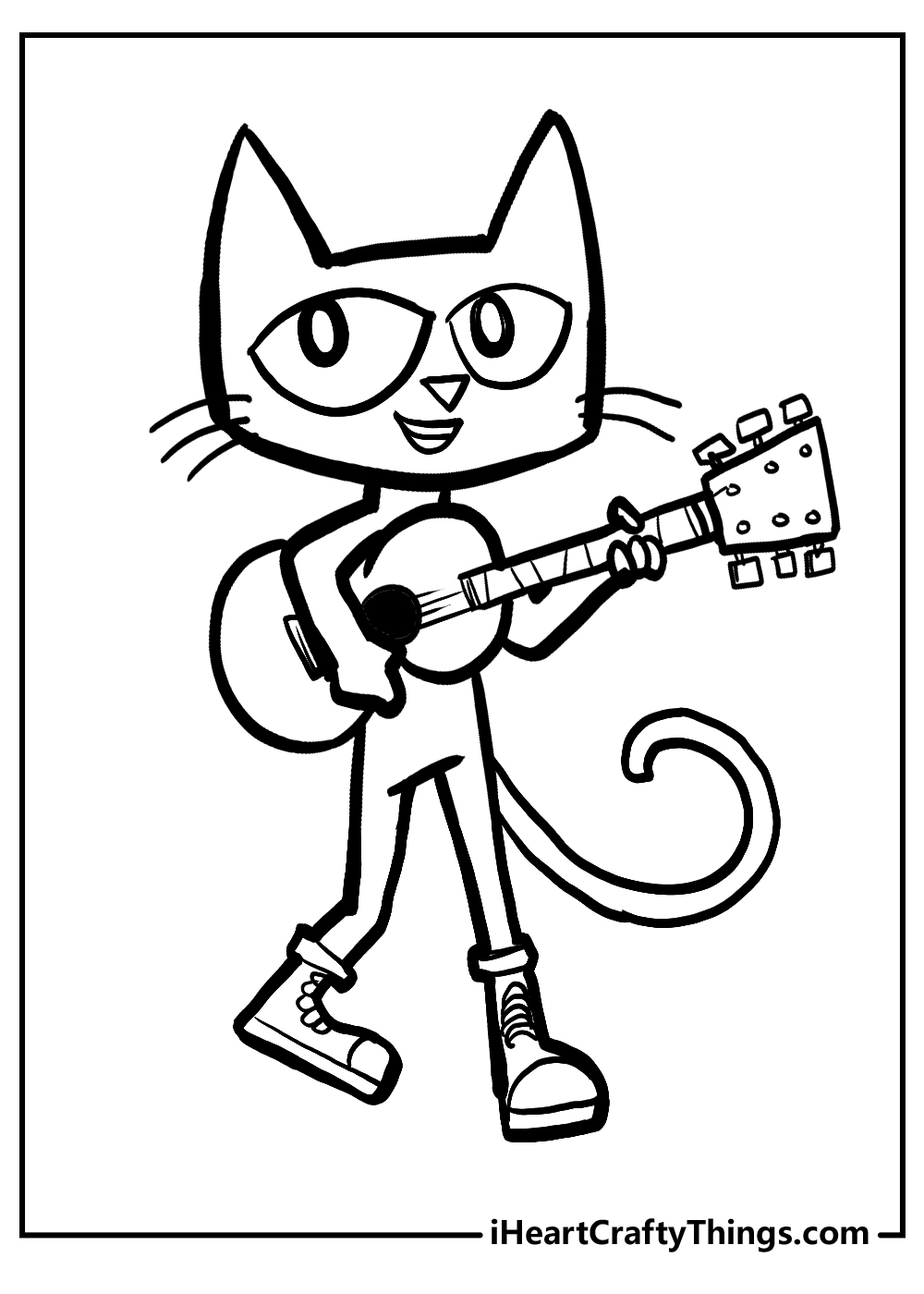 Pete is enjoying a book in this next image, and there are loads of possibilities here.
If you have a favorite book, you could draw the cover of that book onto the blank cover of his one to make it look like he is enjoying your favorite book!
If you add a detail like this, which book would you choose?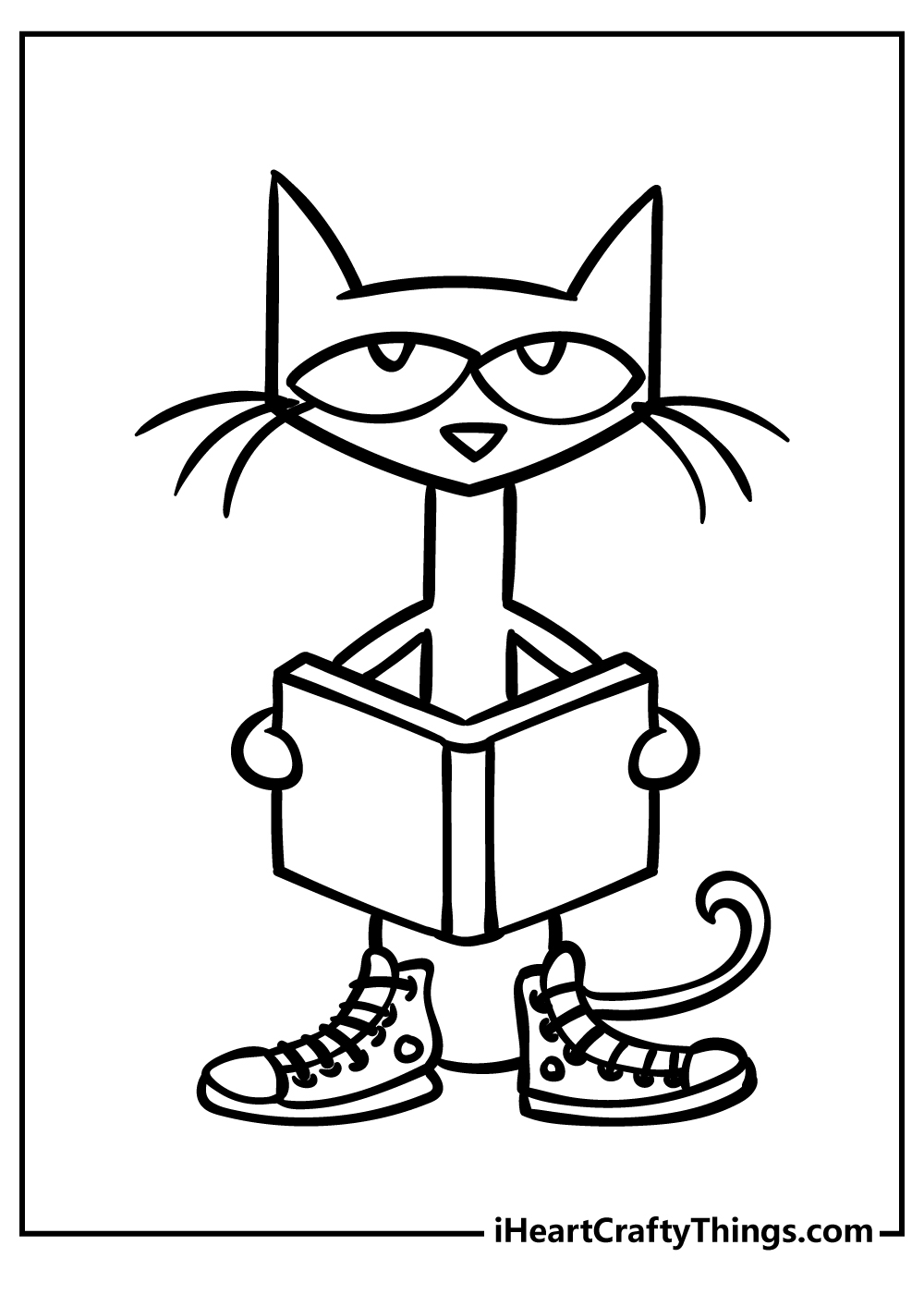 We're back with a music theme in this next image. Pete is once again posed with a guitar, and he is wearing a really cool outfit as well. What kind of situation do you think he could be in?
You can show us by drawing another background scene for the image to create a bit of a story behind this pose.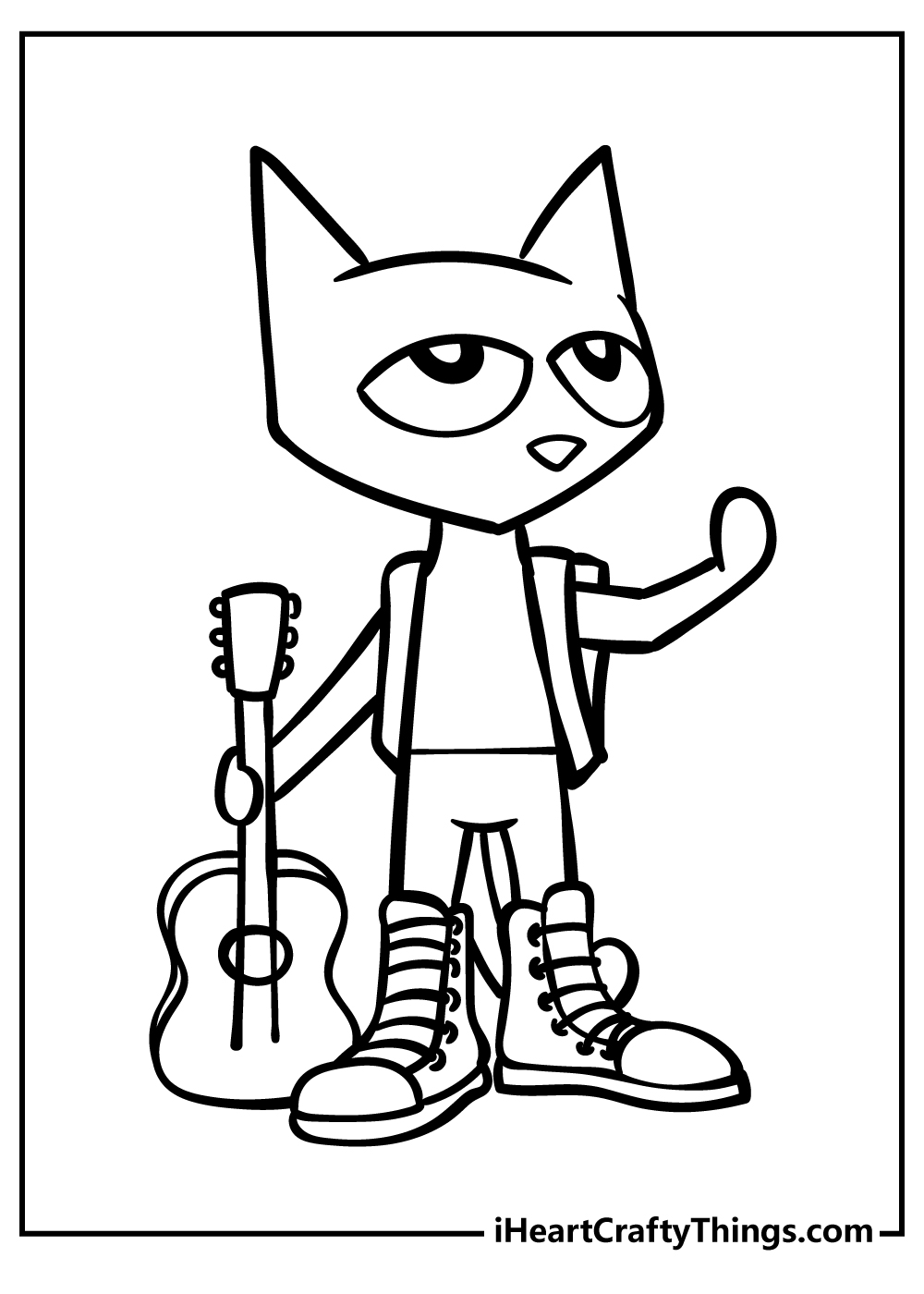 Let's end things off with a really cool Pete The Cat coloring sheet! This time Pete is surfing, and he is looking really cool doing it.
When you have colored his surfboard, you have the chance to use some beautiful blues and greens for the wave he is surfing on. How else can you think to finish off this collection in style?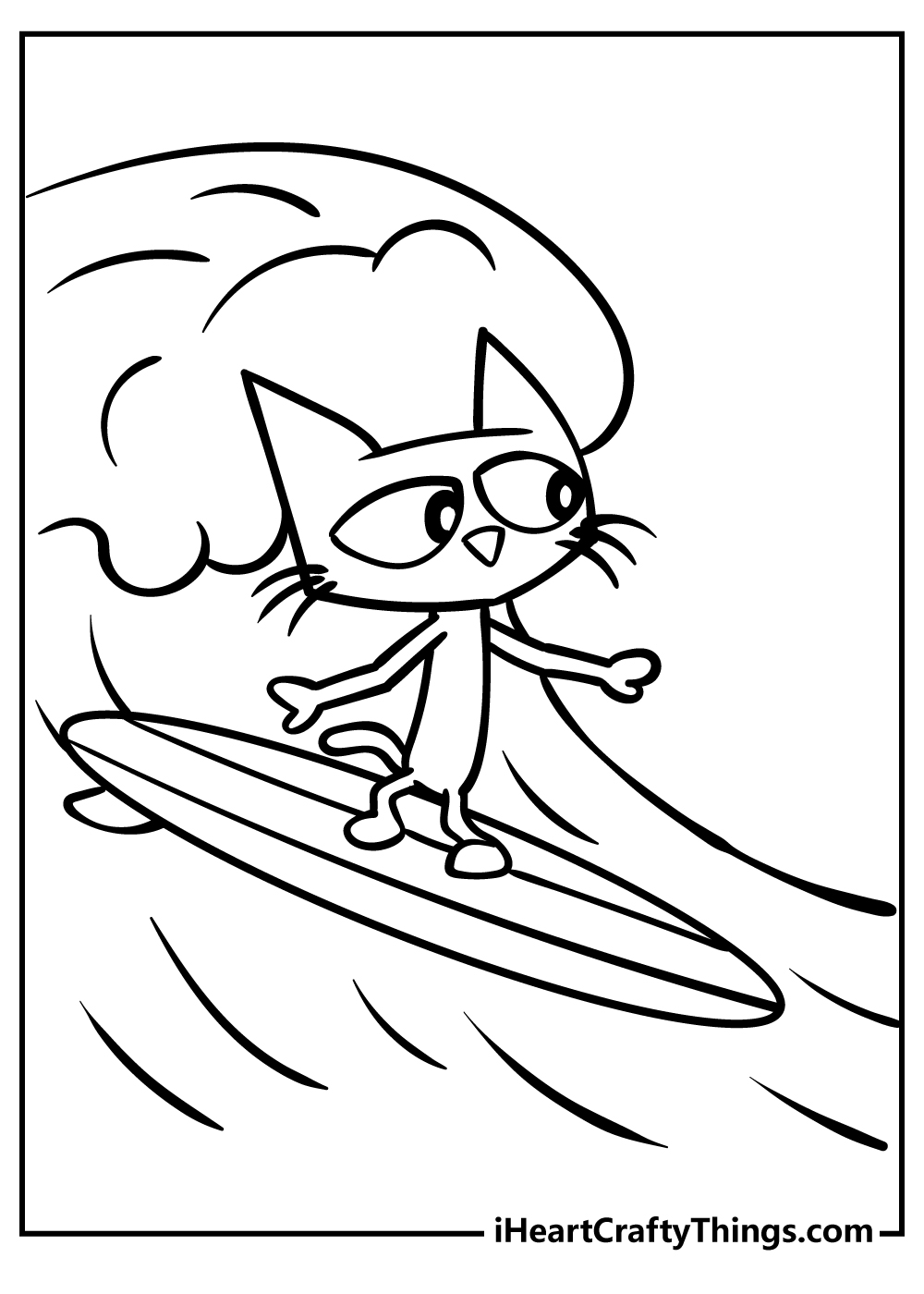 Pete The Cat Coloring Pages – Which will you choose?
That will do it for this collection of free Pete The Cat coloring pages for kids!
We hope you enjoyed joining Pete on all his adventures, and we hope you had a great time expressing your color creativity.
Remember to share the collection with other Pete The Cat fans you know to enjoy!
When you have picked and colored your favorite pages, remember to share them on our Facebook and Pinterest pages for us to see. We will be looking forward to seeing how amazing they look!