Pegasus is a popular character that appeared in numerous movies and cartoon shows such as Hercules, Fantasia, Clash of the Titans, and Barbie and the Magic Pegasus.
Pegasus is a winged horse that first appeared in ancient Greek mythology. The legend says that it sprang from the neck of the Gorgon Medusa, which Perseus killed.
Our collection of Pegasus coloring pages lets your children relieve the enjoyable experience of the cartoons and movies they watched.
10 Brand New Pegasus Coloring Pages – Free to Print and Color
Pegasus coloring printables don't always feature the original mythological creature but winged horses. Pegasi is a name used to define all winged horses, not only Perseus' companion.
This coloring page shows a winged horse that seems to pace on the spot. How do we know? He has one of his front legs suspended in the air and a mischievous look in the eyes.
When it comes to Pegasi, we know that the Holy Grail is a white horse with large feathered wings, but your children can choose other color combinations if they want.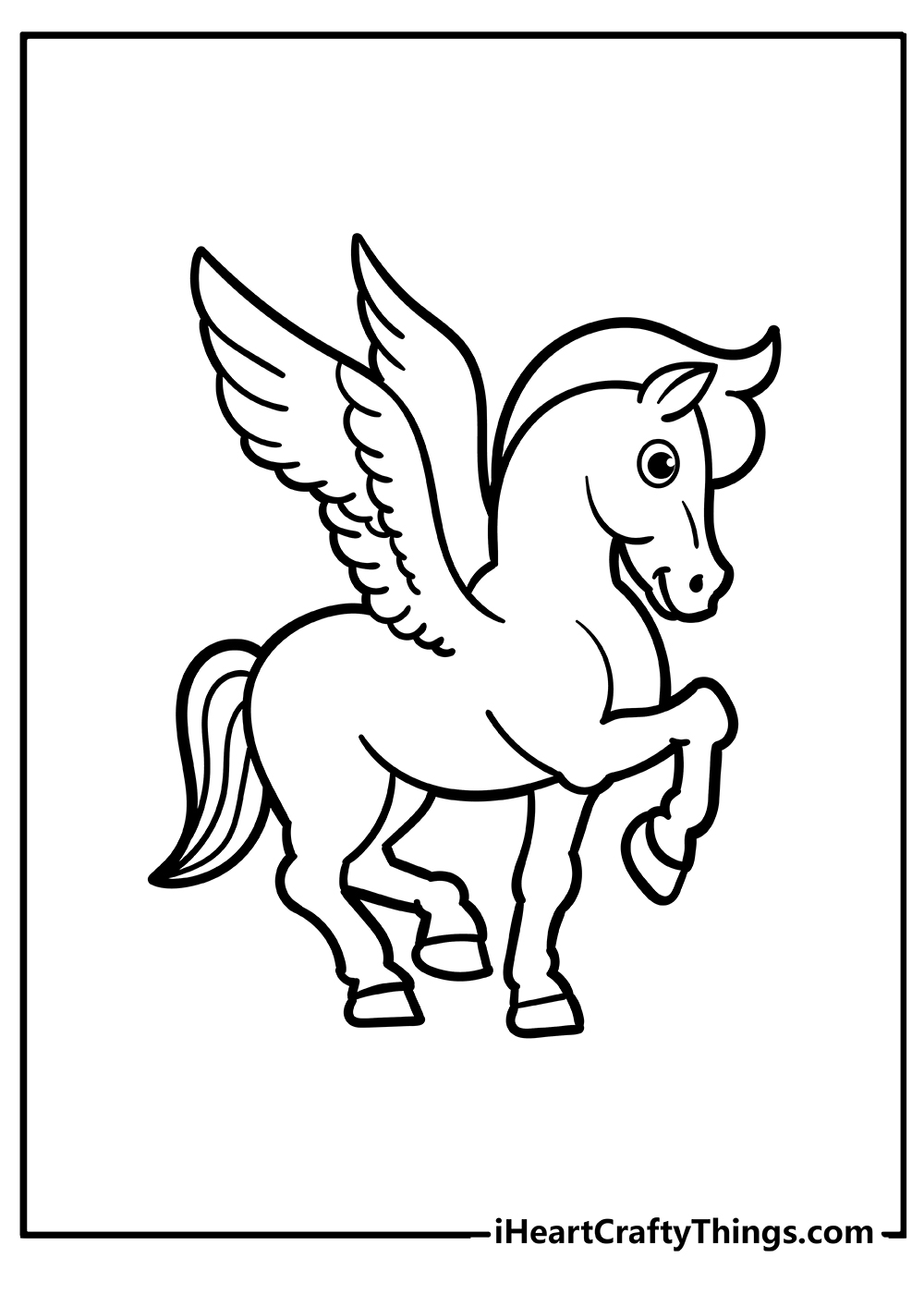 Pegasi are strong, brave, and loyal creatures. They come in a wide range of colors, from white to brown, black, and mixed shades.
Percy Jackson's Pegasus is called Blackjack, and as you easily guessed, it has a pure black coat.
If your children read the Percy Jackson stories, they probably know that the first Pegasus was the son of Poseidon and Medusa, and when he landed on the ground, spring flowed from his hoofs.
This Pegasus coloring sheet shows a winged horse with his back hoofs touching the ground.
Even if the background is plain, your children can draw flowers and trees around it to make it look like plants sprang from his feet when he landed.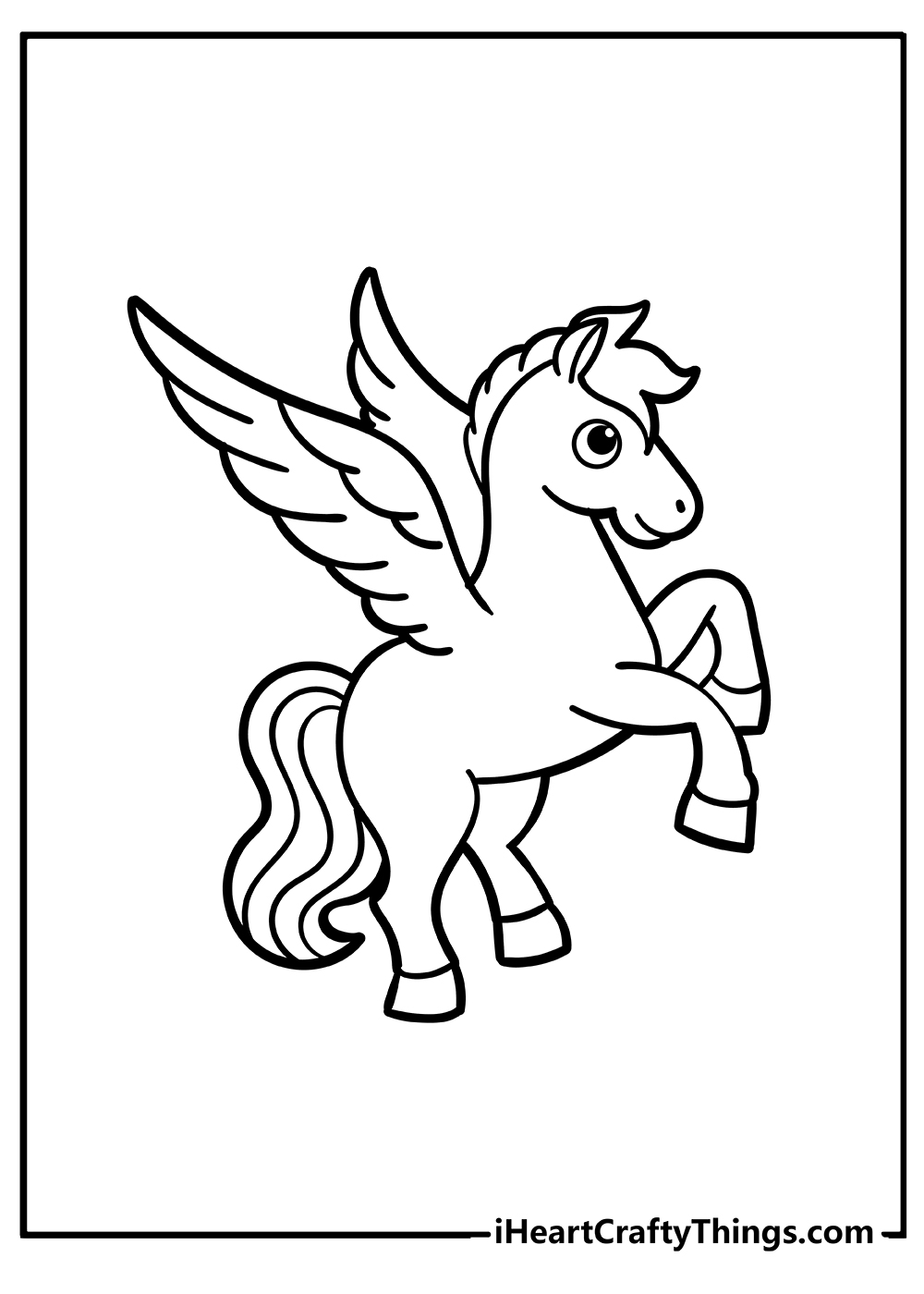 Our collection of Pegasus coloring printables includes all types of flying horses because we know that children love diversity. For instance, this sheet depicts a little Pegasus flying carelessly.
The winged horse from this coloring page looks like Peter Pegasus. Does your child see the resemblance? They couldn't miss it if they watched Fantasia.
Peter Pegasus is black with a lavender mane and nose and purple and lavender wings. His hooks are a deeper shade of purple.
Your children can use the same hues to paint it or choose other ones they like more.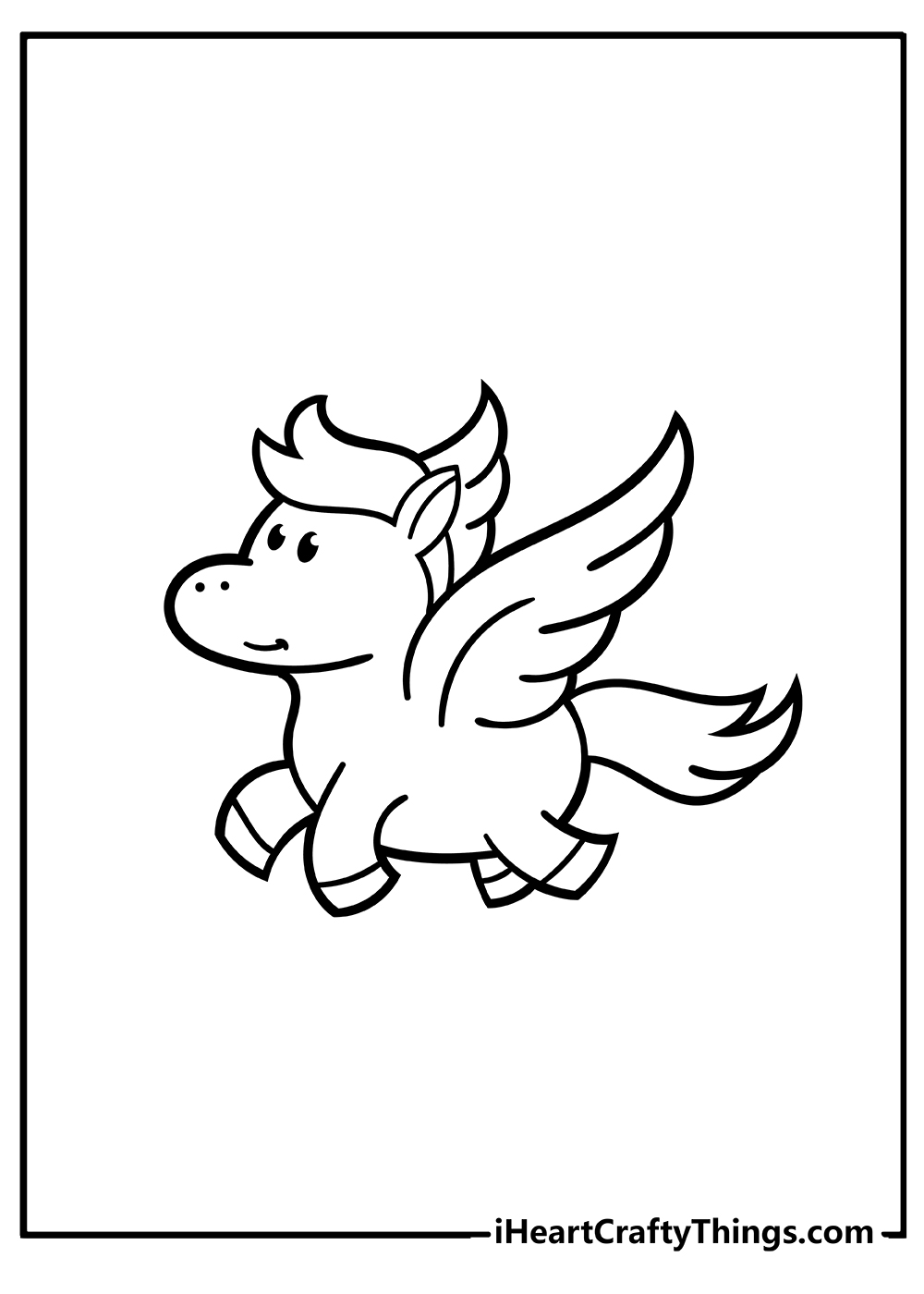 Pegasi are named after the first Pegasus because some stories identify them as his off-springs. Similar to their father, they also often accompany heroes in quests.
We created a list of Pegasus coloring sheets to show several winged horses because we wanted to make sure your children could find the character they want to paint.
The Pegasus from this printable seems on its way to meet a hero. He checks the ground to spot the hero to land near him.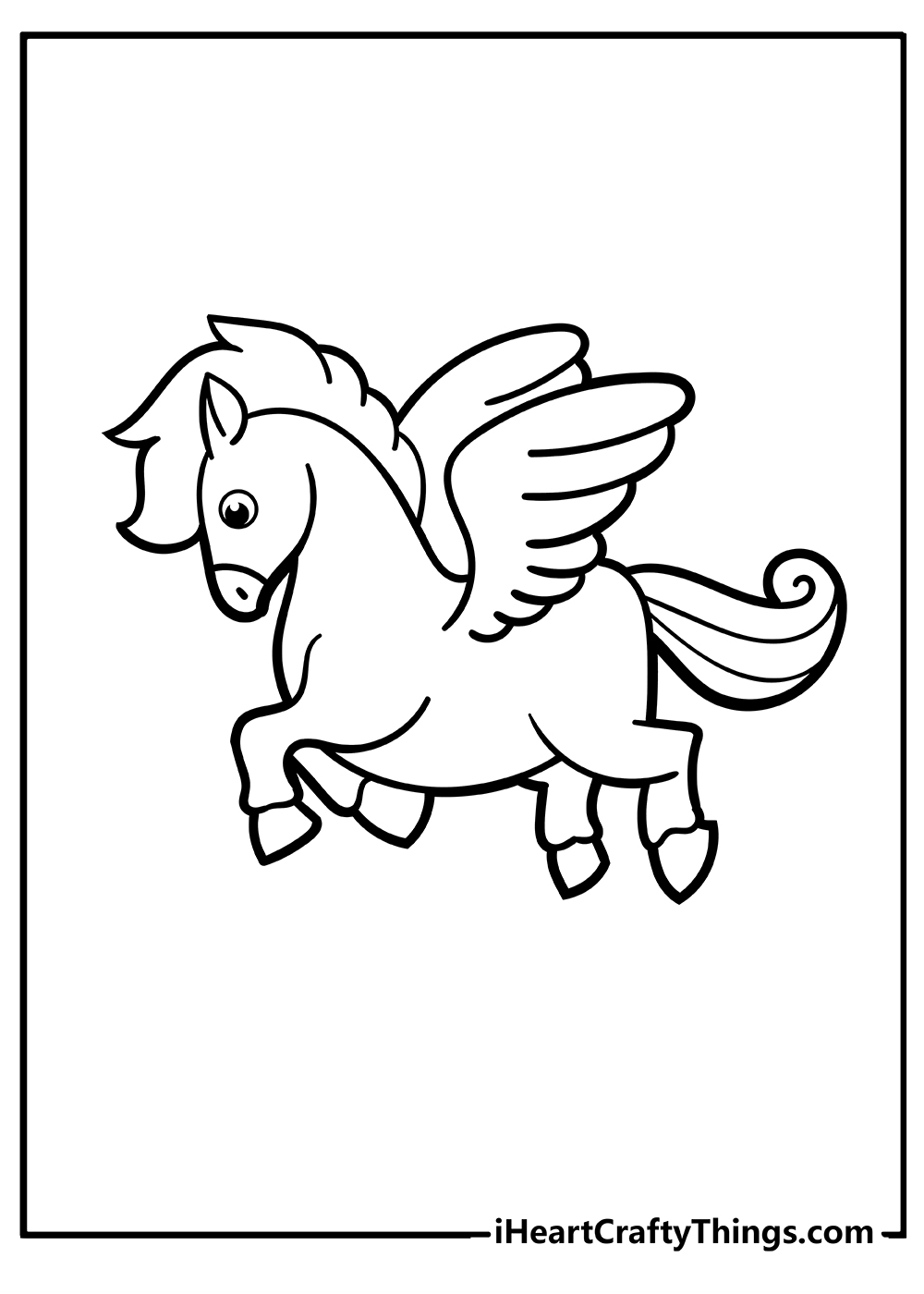 We don't know about you, but we want to scoop up this beautiful Pegasus and hug it.
But since it's not possible because Pegasi live in a different land and don't like someone other than their heroes to touch them, we're happy to do the next best thing; encourage your children to bring it to life through painting.
As with most Pegasus coloring pages, this one also shows a winged horse with a voluminous mane and tail. The little guy from this printable has his hair parted on the side to show one of his ears.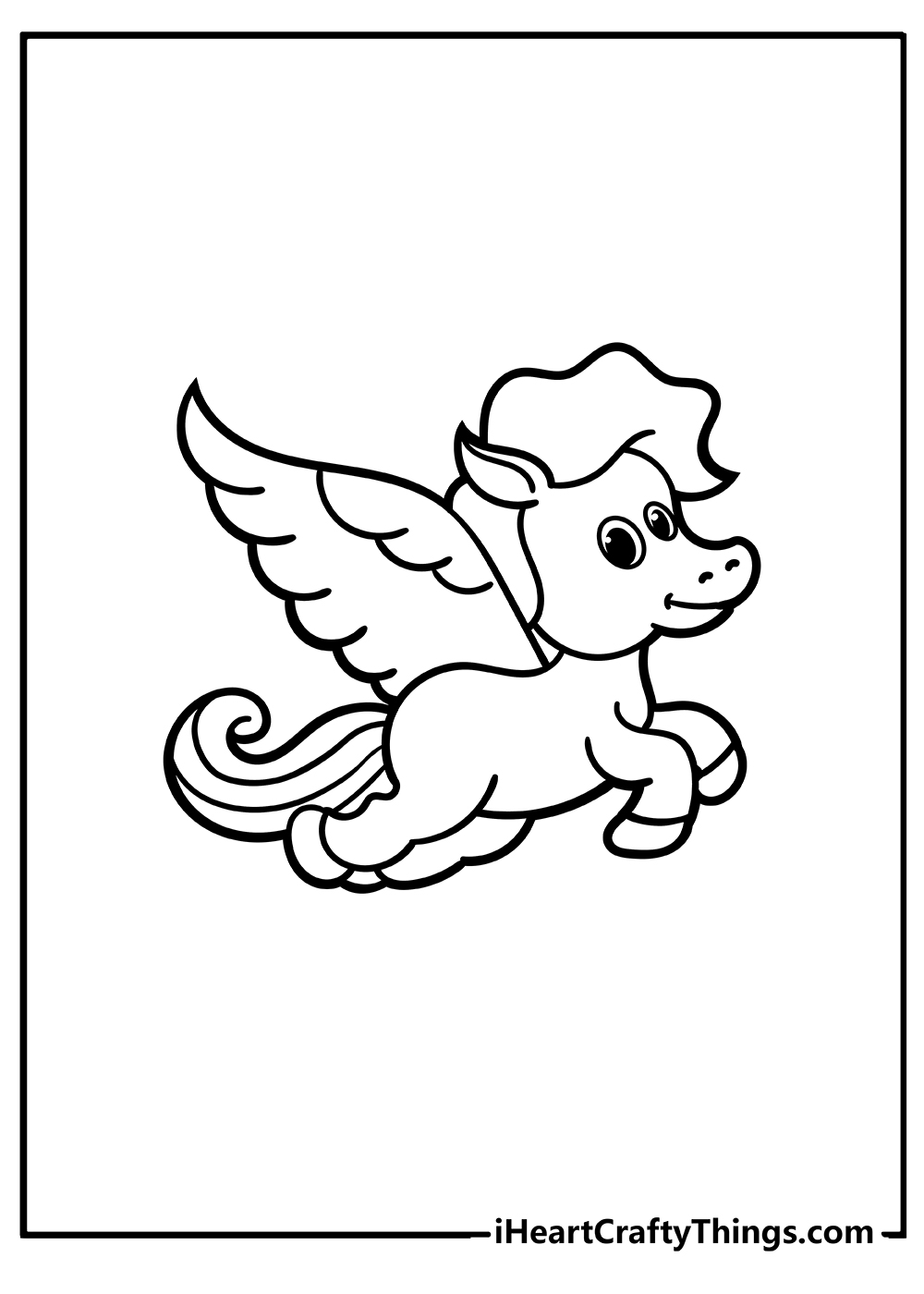 Give wings to your children's imagination with our educational Pegasus pages.
Apart from stimulating their artistic talents, printables like this enable you to enlighten them on Greek mythology.
Here we have a Pegasus with a smaller mane and tail than the previous page. But look how large his feathered wings are.
What color should your children paint them? We think a light blue would work great with a white coat.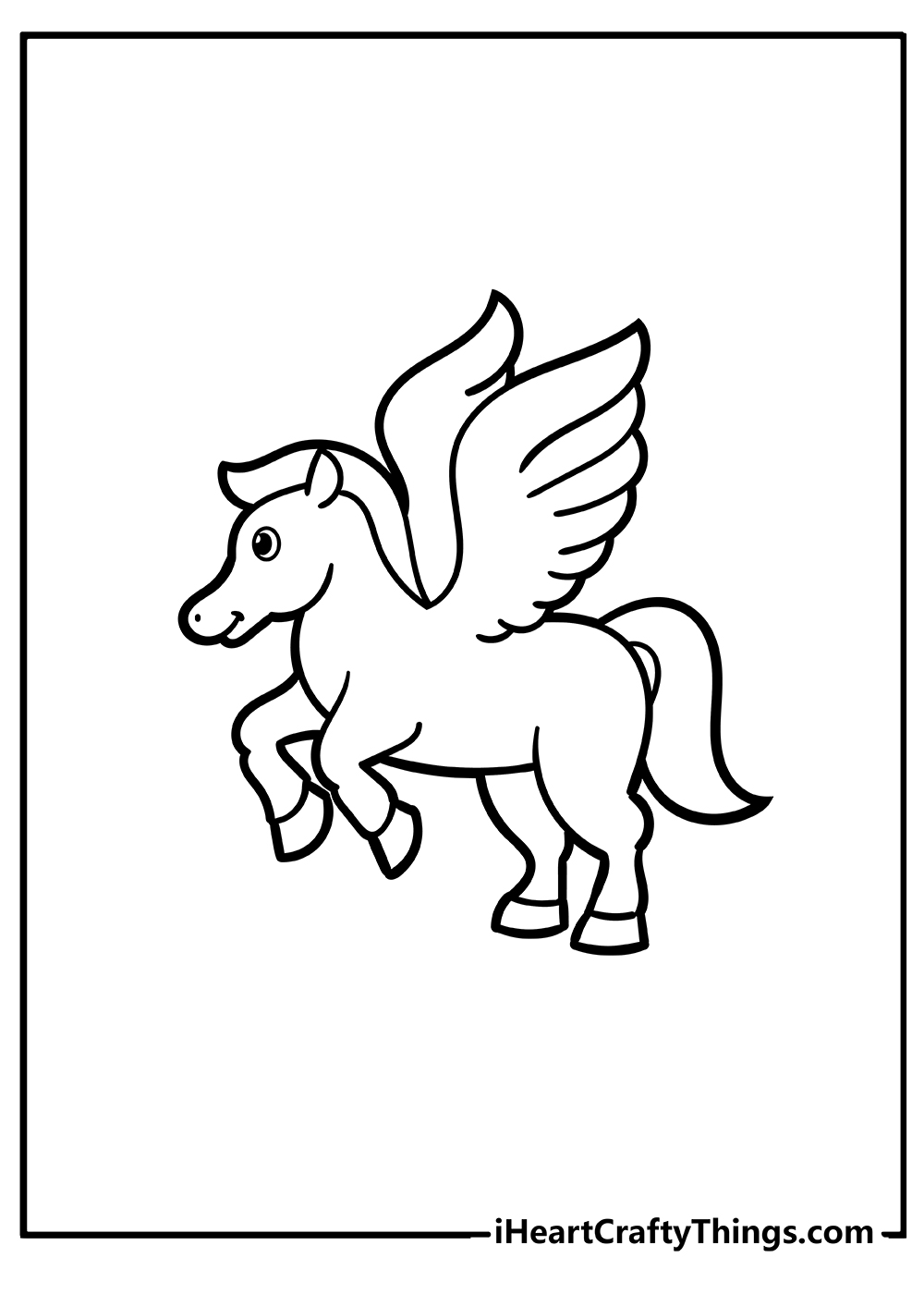 When we look at this Pegasus printable sheet, all we want is to pat this little one's belly, but we know we cannot.
In fact, it would be pretty dangerous to get under his stomach because Pegasi, similar to horses, get frightened quickly and use their hooves to defend themselves.
Where do you think this Pegasus is heading? He seems pretty determined to reach his destination quickly. Maybe a hero waits for him there to start an adventure together.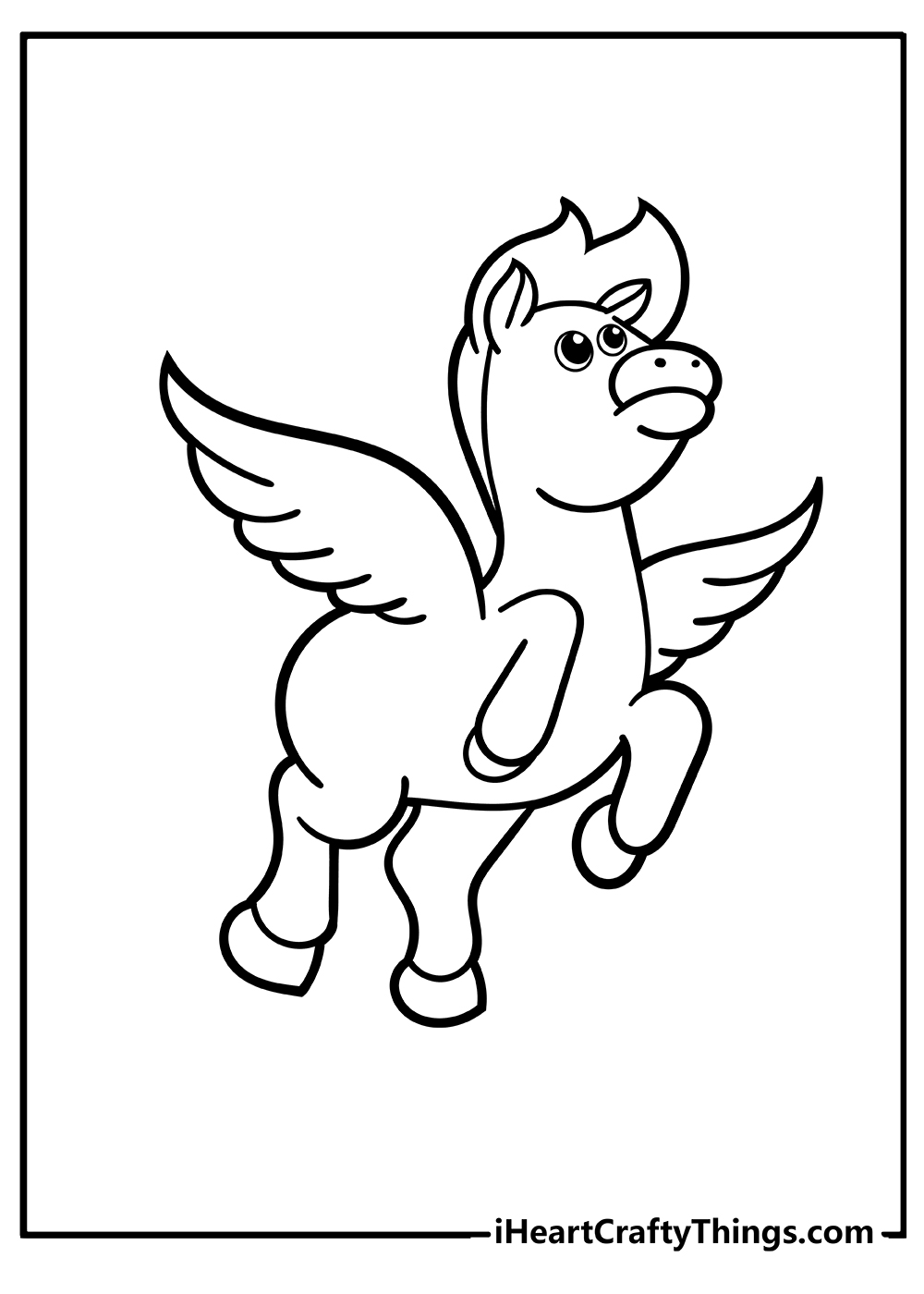 Our Pegasus printable sheets show winged horses of different types and sizes. For example, this one features a Pegasus that seems ready to hoist himself in the air.
His wings look quite strong, so they'll easily support him to fly over the clouds and reach his destination.
The background is blank, but it doesn't mean your children cannot draw a landscape.
When not in a quest, Pegasi usually spend their days relaxing on green fields where they eat grass and have fun with their friends.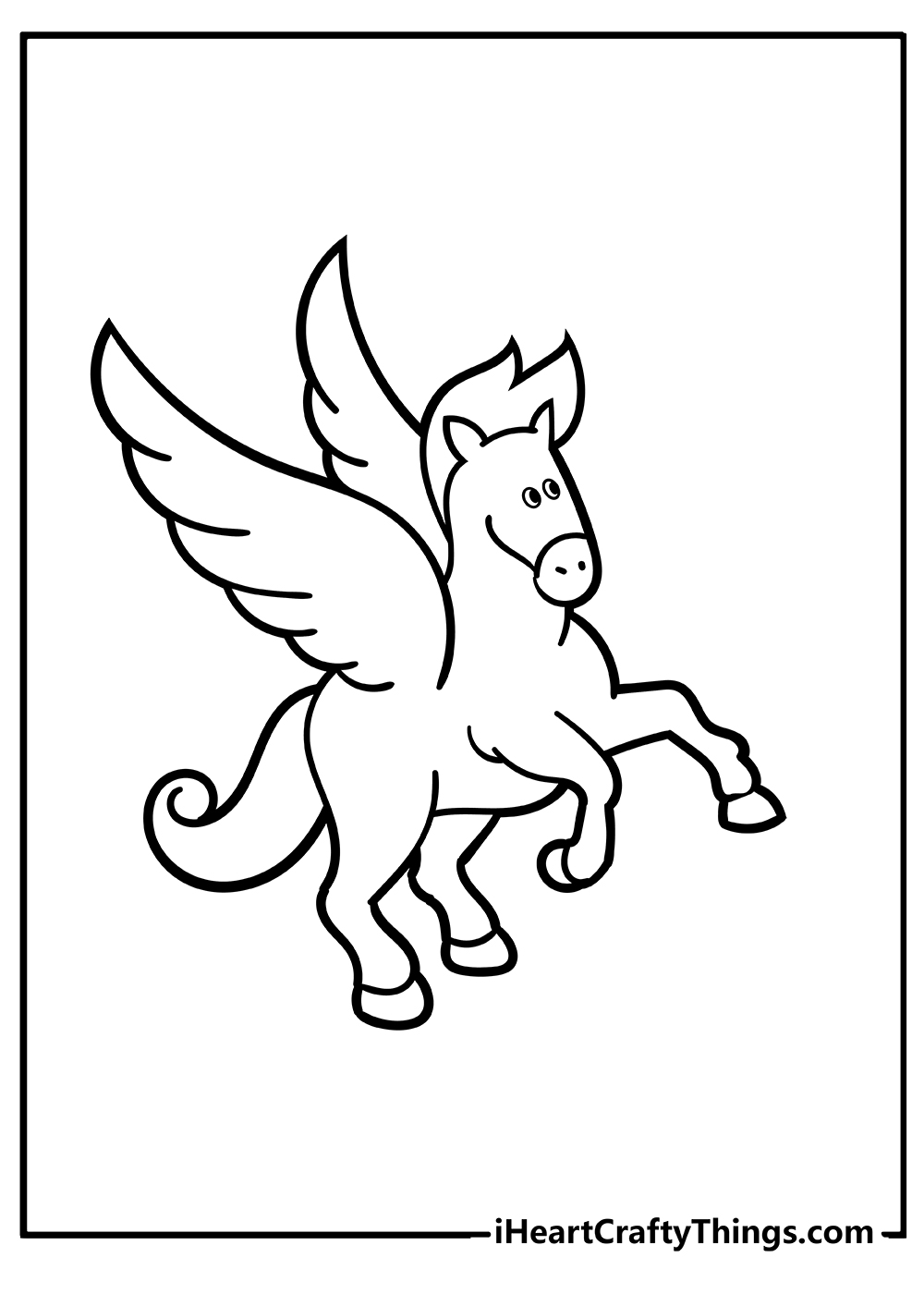 What shampoo does this Pegasus use? That mane! Wow! We're speechless.
If the creatures from the other Pegasus printable pages didn't resemble cartoon characters, this one looks a lot like Fluttershy, a female Pegasus pony who lives in a small cottage near the Everfree Forest.
Fluttershy has a yellow coat and bright pink tail and mane. She has emerald eyes and long lashes.
However, if your children don't want to paint this Pegasus in Fluttershy's colors, they can choose any other combination.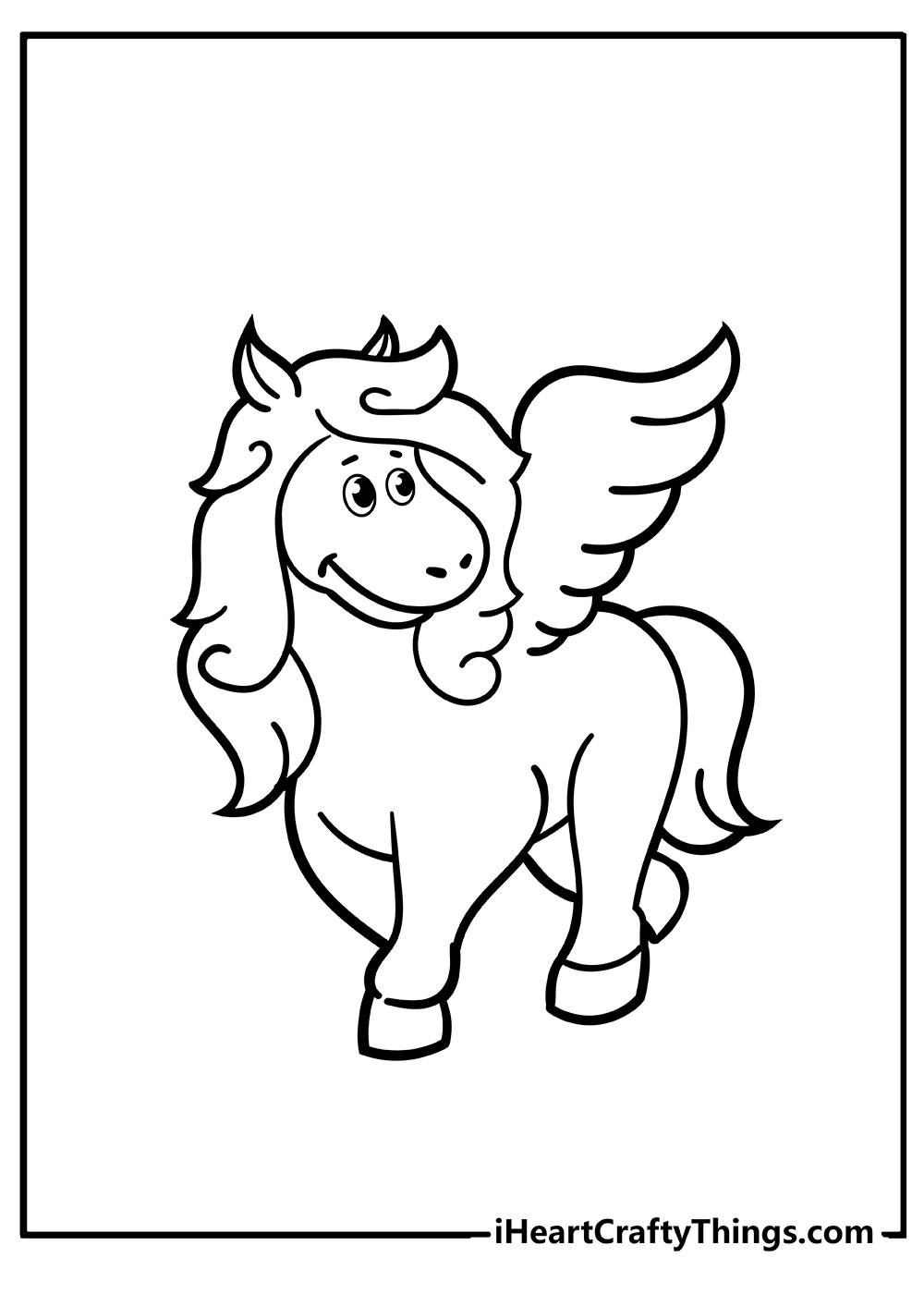 This Pegasus looks like a cartoon character. We don't know who he might be, but your children can definitely identify him.
We created this page as part of the collection of Pegasus coloring pages for younger children who haven't read Percy Jackson yet, and don't know that winged horses come in colors other than white.
However, you can encourage them to pick other shades if they're bored with how often they used the classic white and yellow to paint Pegasi.
With our Pegasus printable sheets, the stage is set for your children to make a splash in the Greek mythological world.