On this page, you will find 15 all new Octonauts coloring pages that are completely free to print and download.
The Octonauts series is a really fun and creative one with many memorable characters!
The series features some adorable little animals that pilot imaginative underwater vehicles to explore the ocean depths.
This collection of free Octonauts coloring pages for kids is here to celebrate this wondrous series with some coloring fun!
You will meet some of your favorite characters in these pages, and they're all free to enjoy and share.
We would love to see how you choose to color these pages, so please share some of your finished favorites on our Facebook and Pinterest pages!
15 Brand New Octonauts Coloring Pages – Free to Print and Color
Our first Octonauts coloring sheet features the lovable Peso the penguin! Here he is having a great time as he pilots his little submarine.
For this first page, we think it would look great to draw in an ocean background to finish off the scene and show where he is exploring.
What kinds of aquatic wonders would you have him looking at if you were to draw a background here?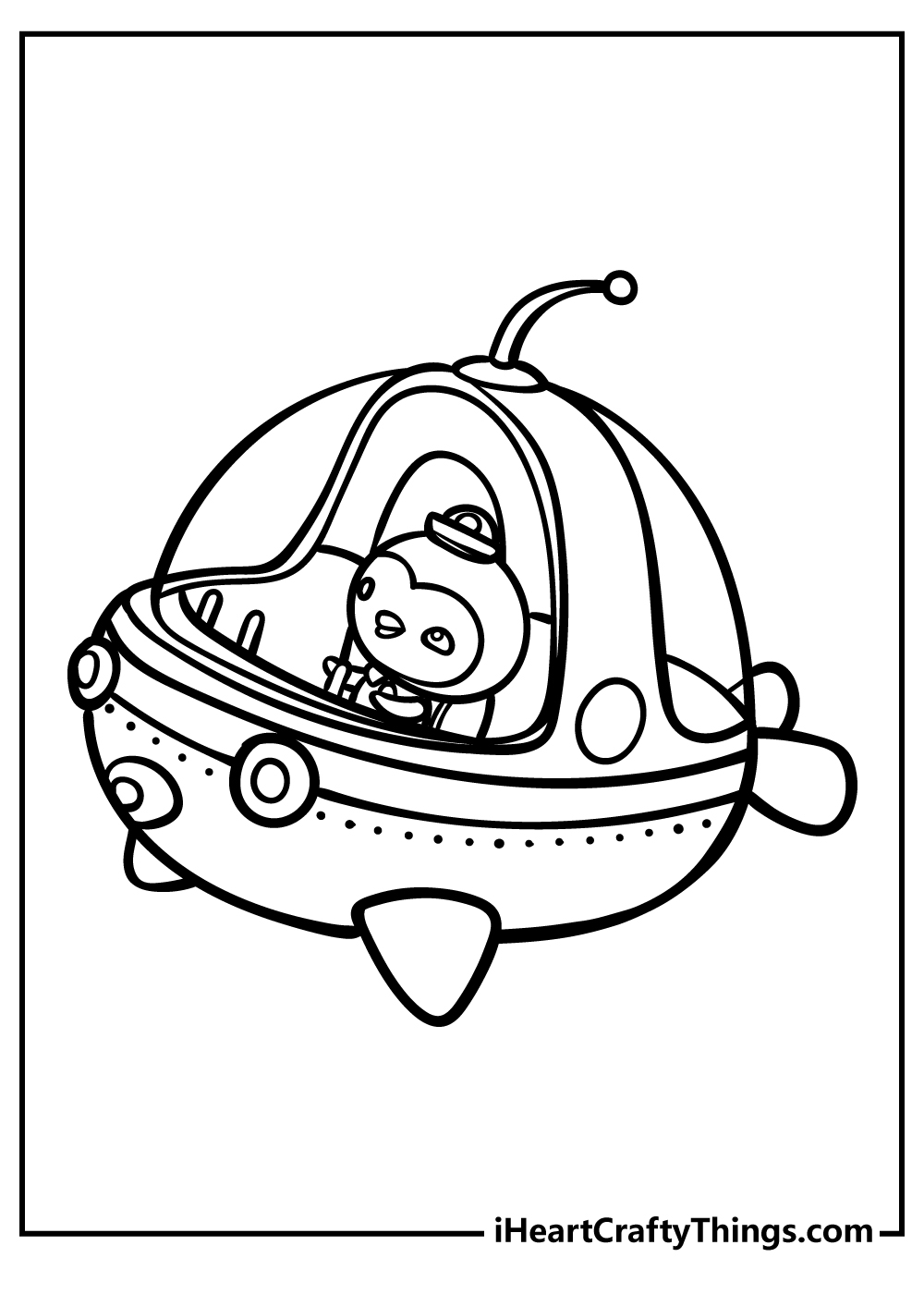 Tunip is a very interesting character, as he is a half animal half vegetable!
As his name and his appearance may suggest, he is based on the turnip vegetable, and he is also the cook for the Octonauts gang.
He is presenting some adorably tasty treats here, and they will make for some great little details to color in as well.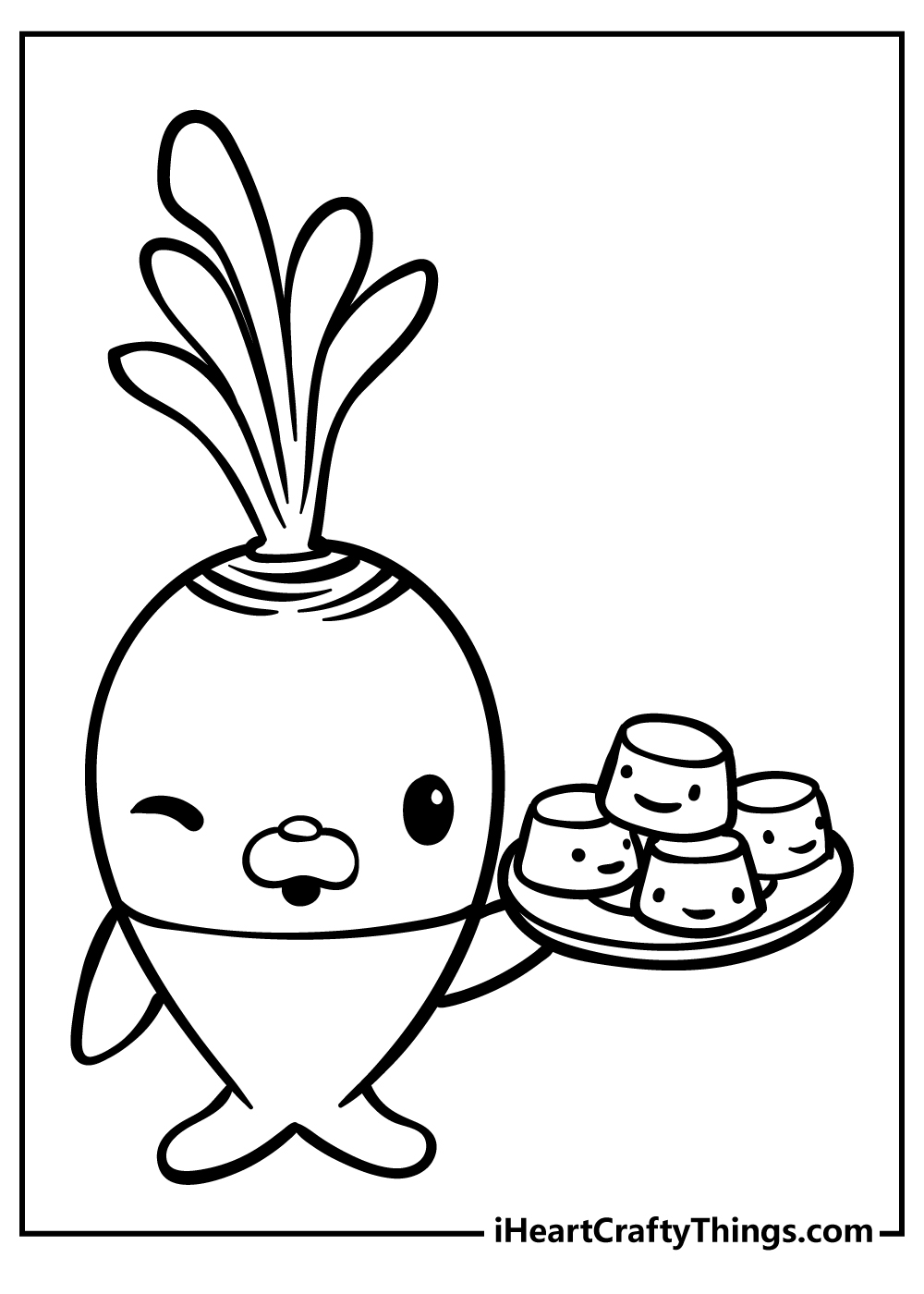 Captain Barnacles the polar bear is up next for you to color in this great coloring page! He is enjoying a hearty laugh here, and it makes you wonder what could be making him so jolly.
If you wanted to finish off the scene, you could always draw some background details to show what kind of situation he's in that is making him feel this way.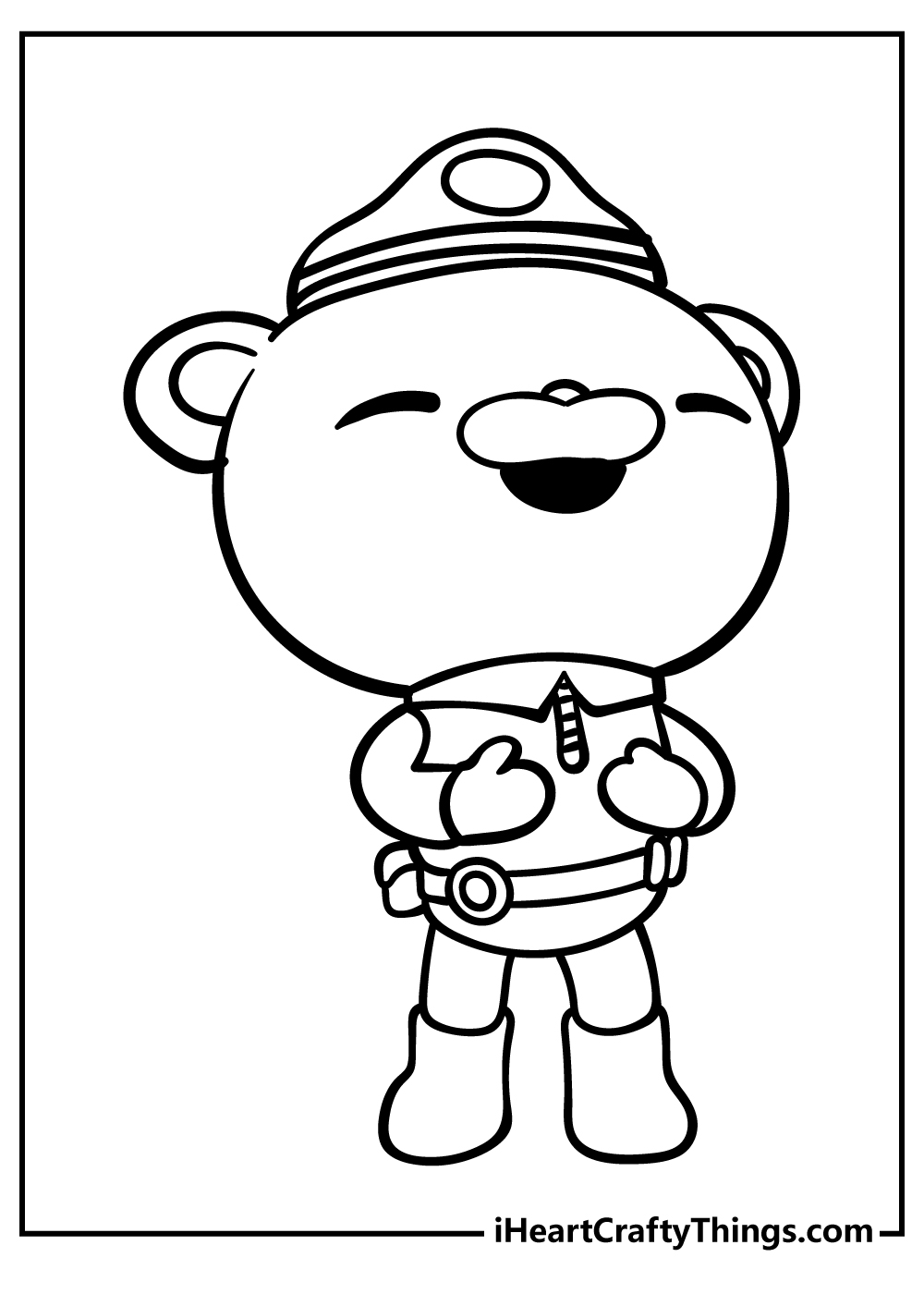 It's time for another underwater scene, as this time we are featuring Dashi the Daschund as she is exploring in a diving suit!
She is also taking a photo of something here, and we wonder what it could be. You could create a fascinating sea creature by drawing one in the path of her camera for her to capture.
What kind of weird and wonderful creature can you think of?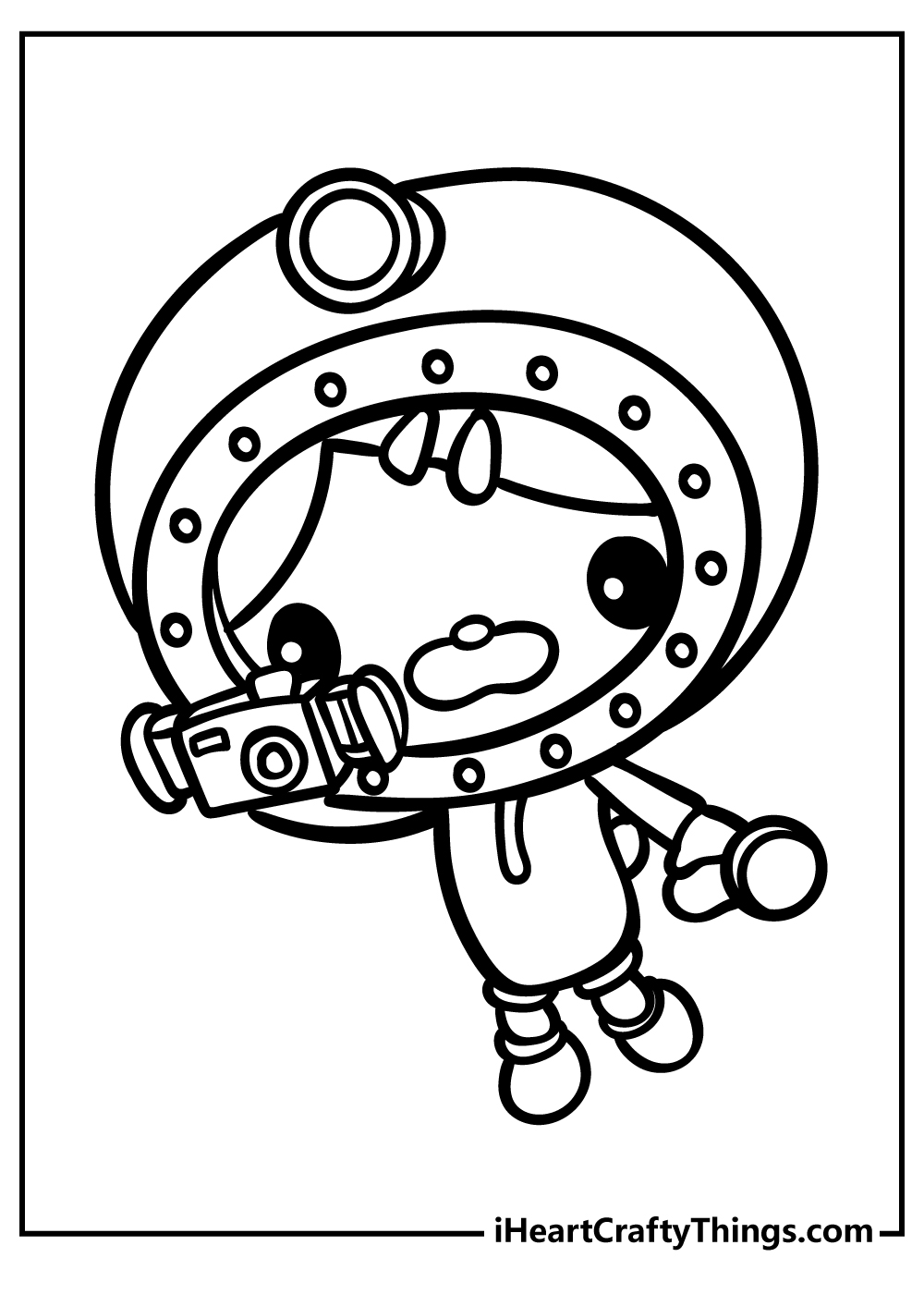 Our fifth page in this collection of free Octonauts coloring pages for kids features a picture where Captain Barnacles has moved up in the world!
Here he is portrayed as a king, and it serves two purposes of making him look really cool and giving you loads of small details to color in.
This should prove to be a really fun one to work on!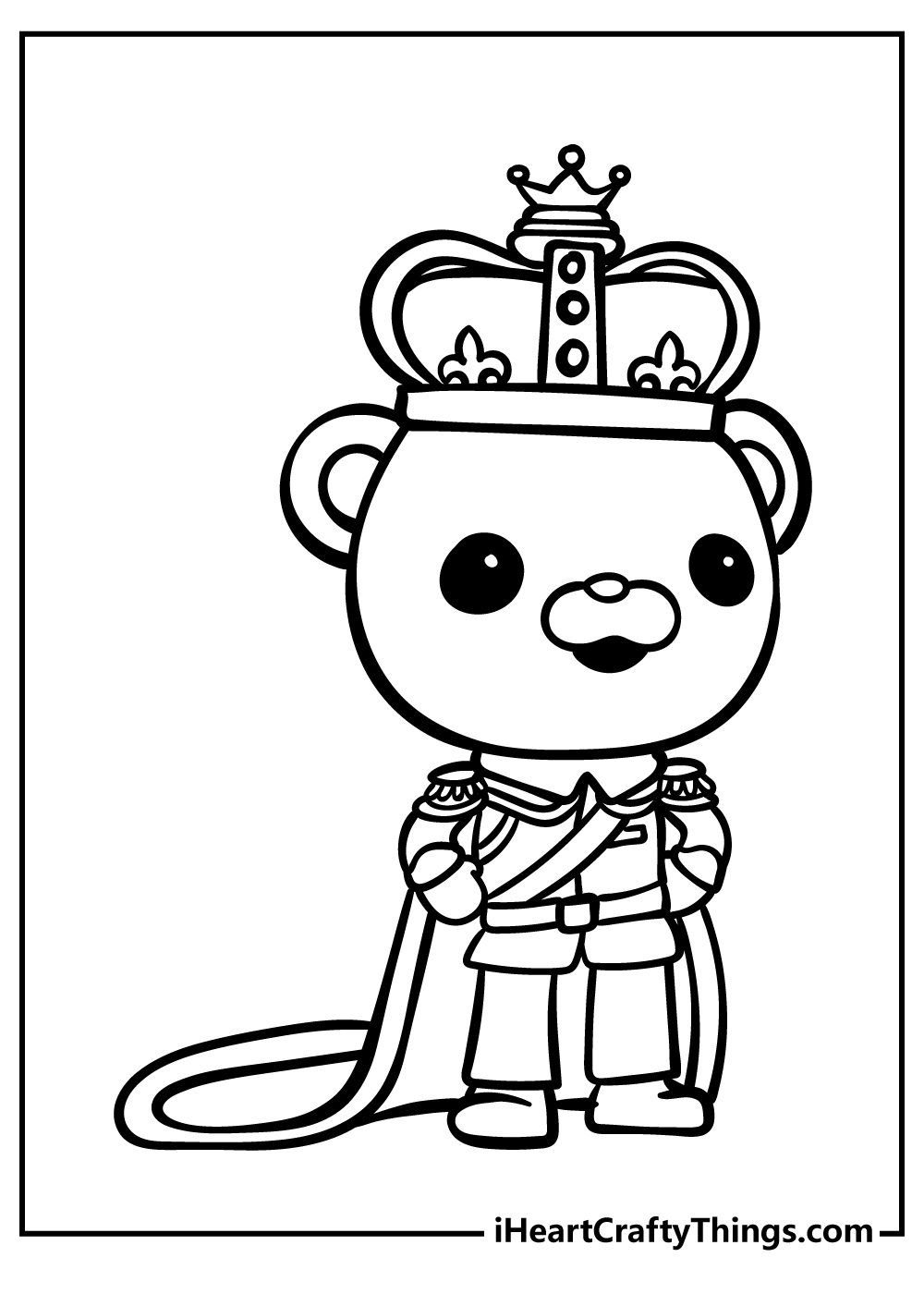 We have Dashi in a much more casual attire in this next image!
When coloring any of these characters, you have the choice of using their usual color schemes from the show or creating a brand new look for them.
Which approach do you think you will take for the adorable Dashi?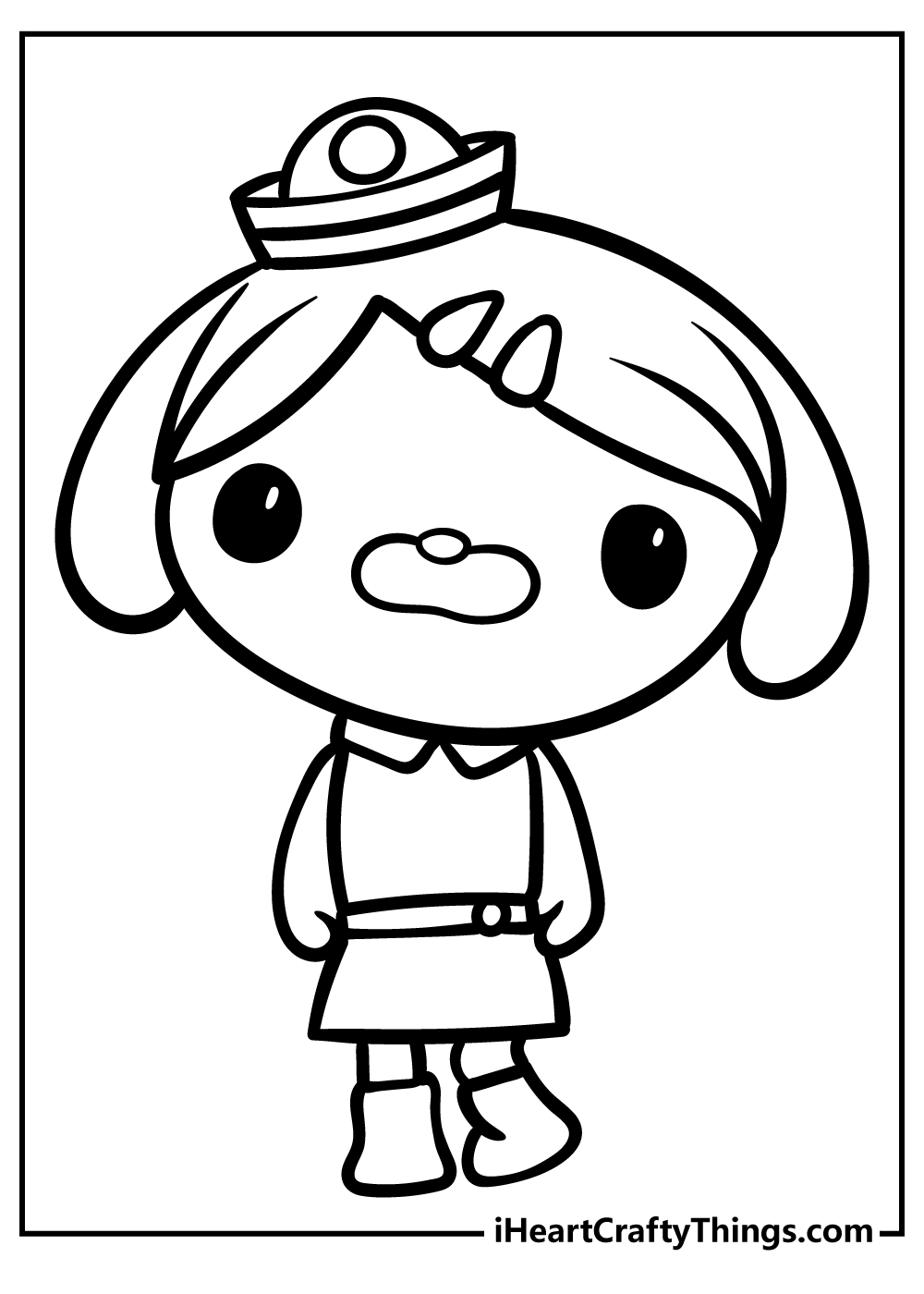 Next, we are featuring Shellington the sea otter! This character is known for his curiosity and intelligence, and here he is investigating a cool fish.
If we were coloring this one in, we would use some bright colors for the fish to really make it stand out.
This should be a really fun picture when you have finished coloring it!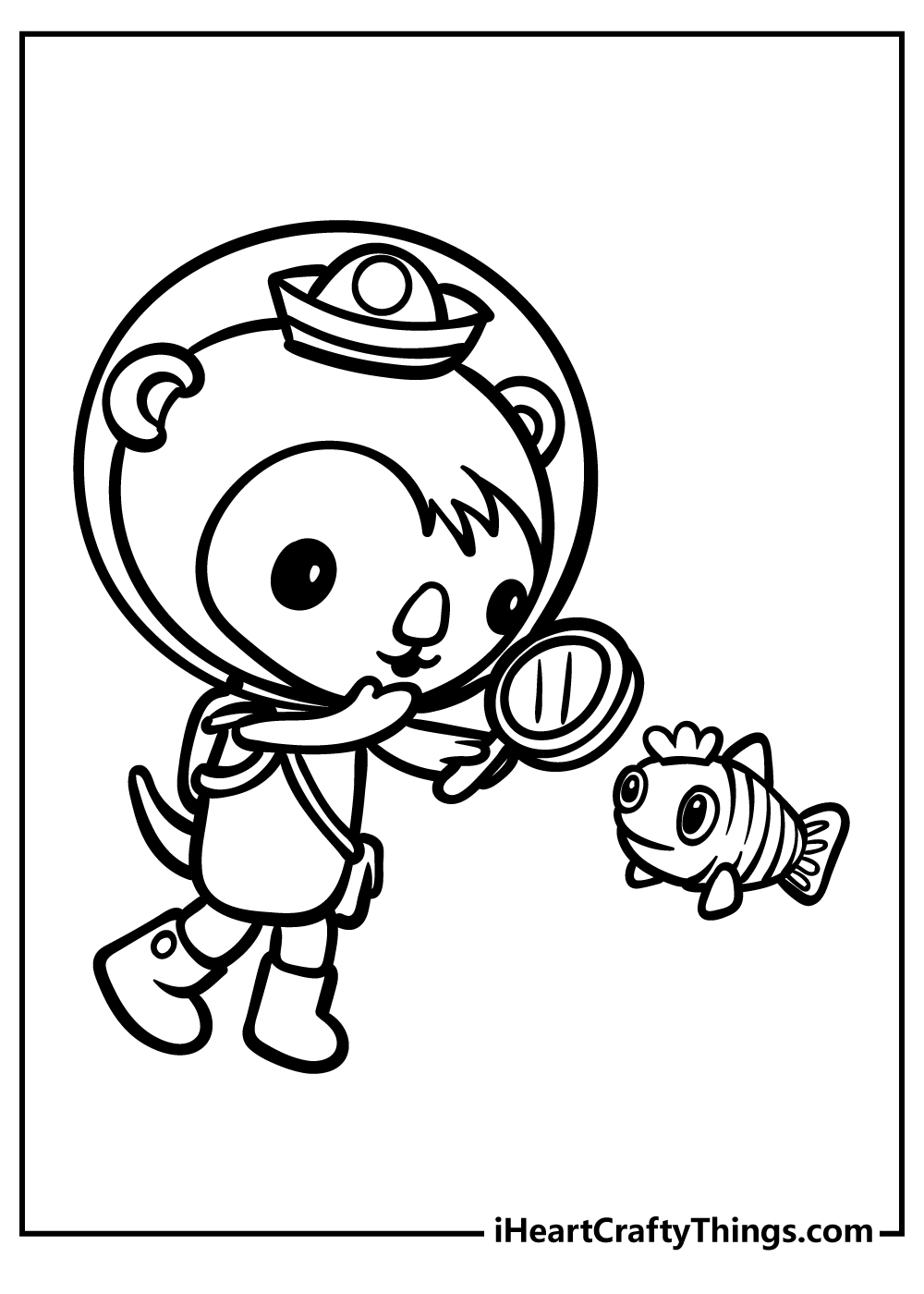 We're not done documenting cool sea life quite yet! This time, it's Dashi who is again in a diving suit and taking a picture of a cute seahorse.
Even though you have the detail of the seahorse already drawn in, don't be afraid to draw even more details into the background to finish off the scene.
What other fun sea creatures can you think of that would make this scene even busier?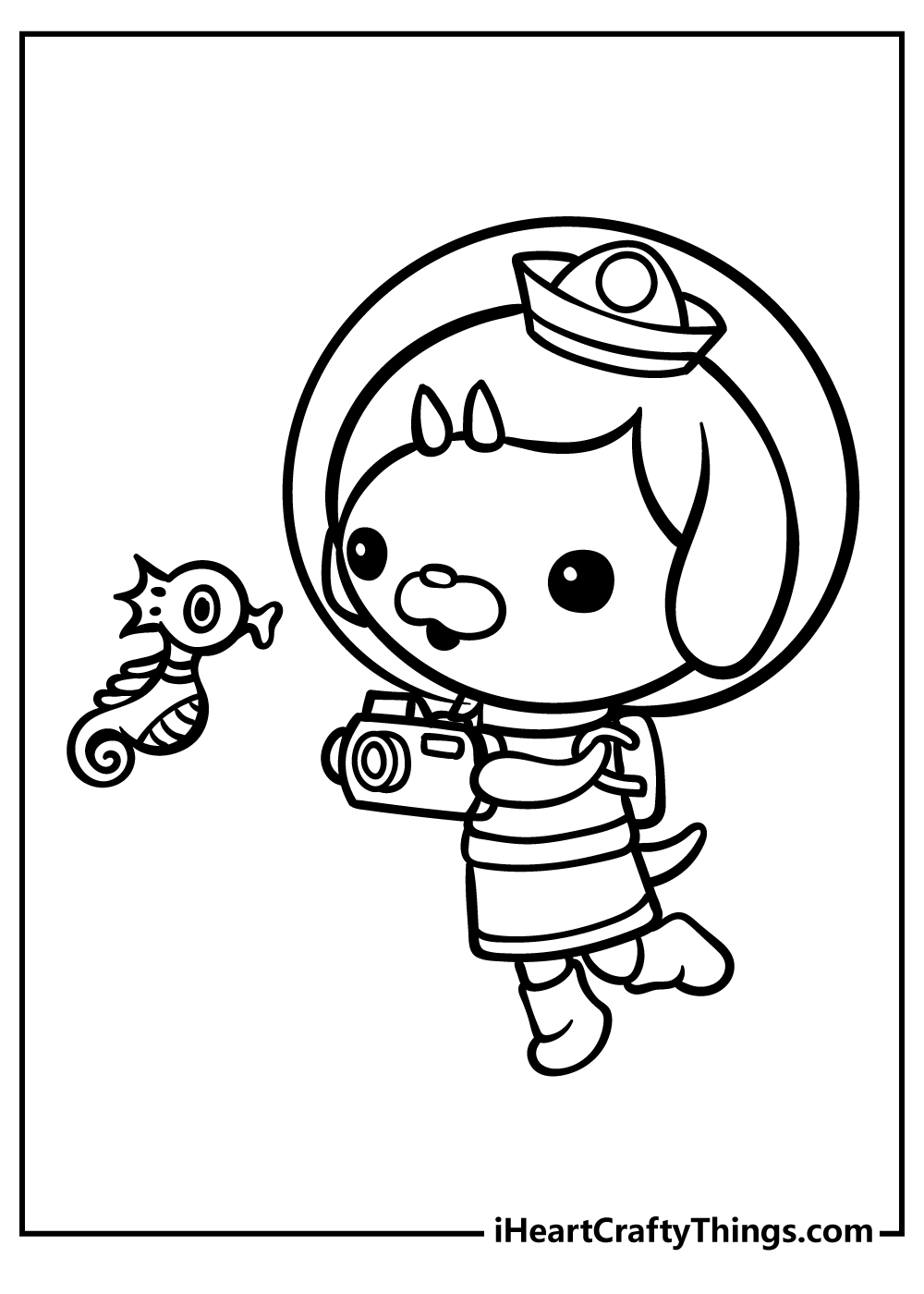 Every crew needs an engineer to keep things up and running, and that is the job of the rabbit character Tweak!
She is talented at fixing up any damaged machinery or messes made by her clumsy teammates, so she always has a lot to do.
Here she is fixing up some kind of small device, and there are some great details for you to color on this device!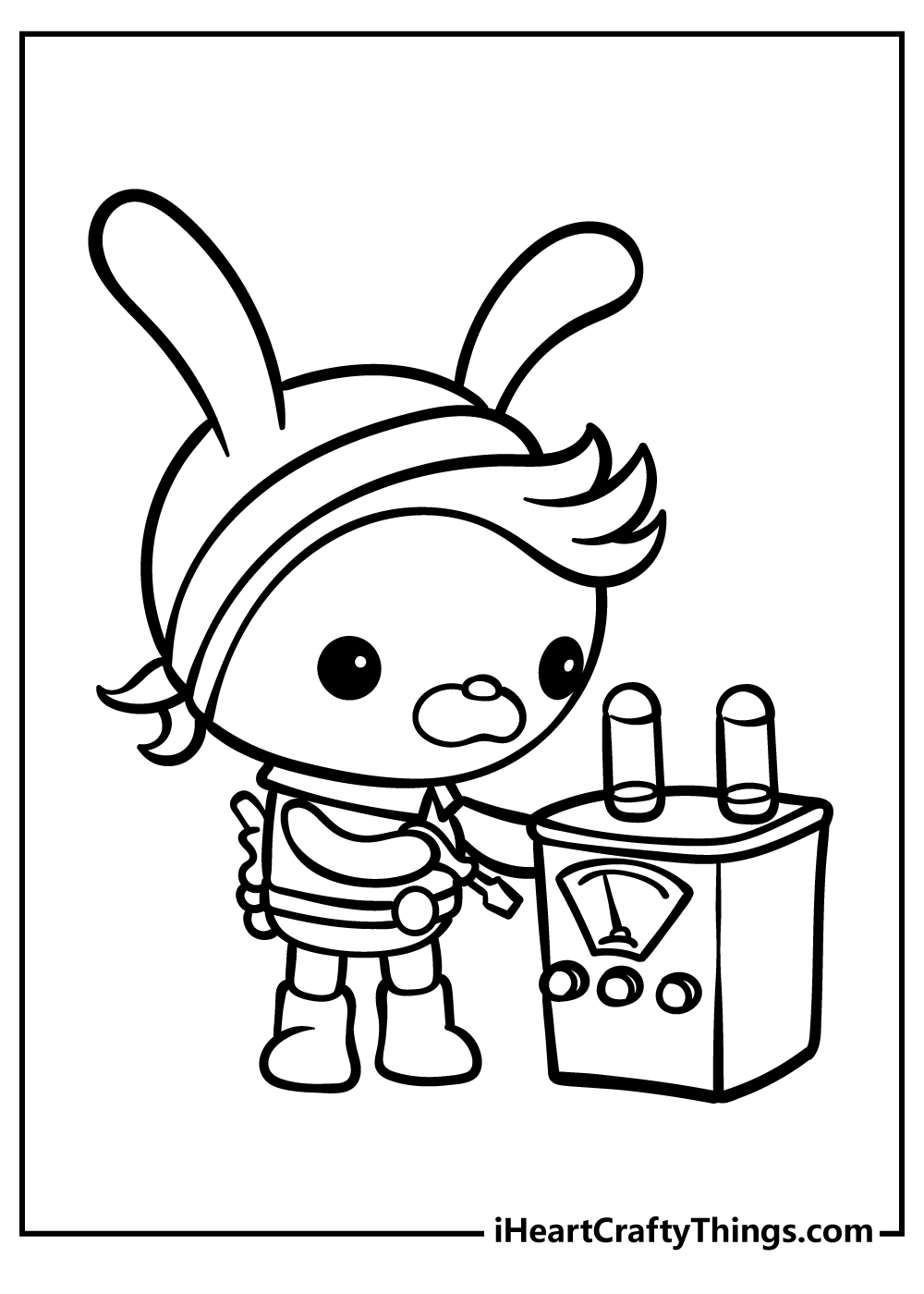 Captain Barnacles is back for more in this next Octonauts coloring sheet! He is on the move here, and we get a great look at the details on his uniform here.
This looks like quite an action shot, and it would be another perfect image to add some kind of background situation to. What kinds of backgrounds can you think of?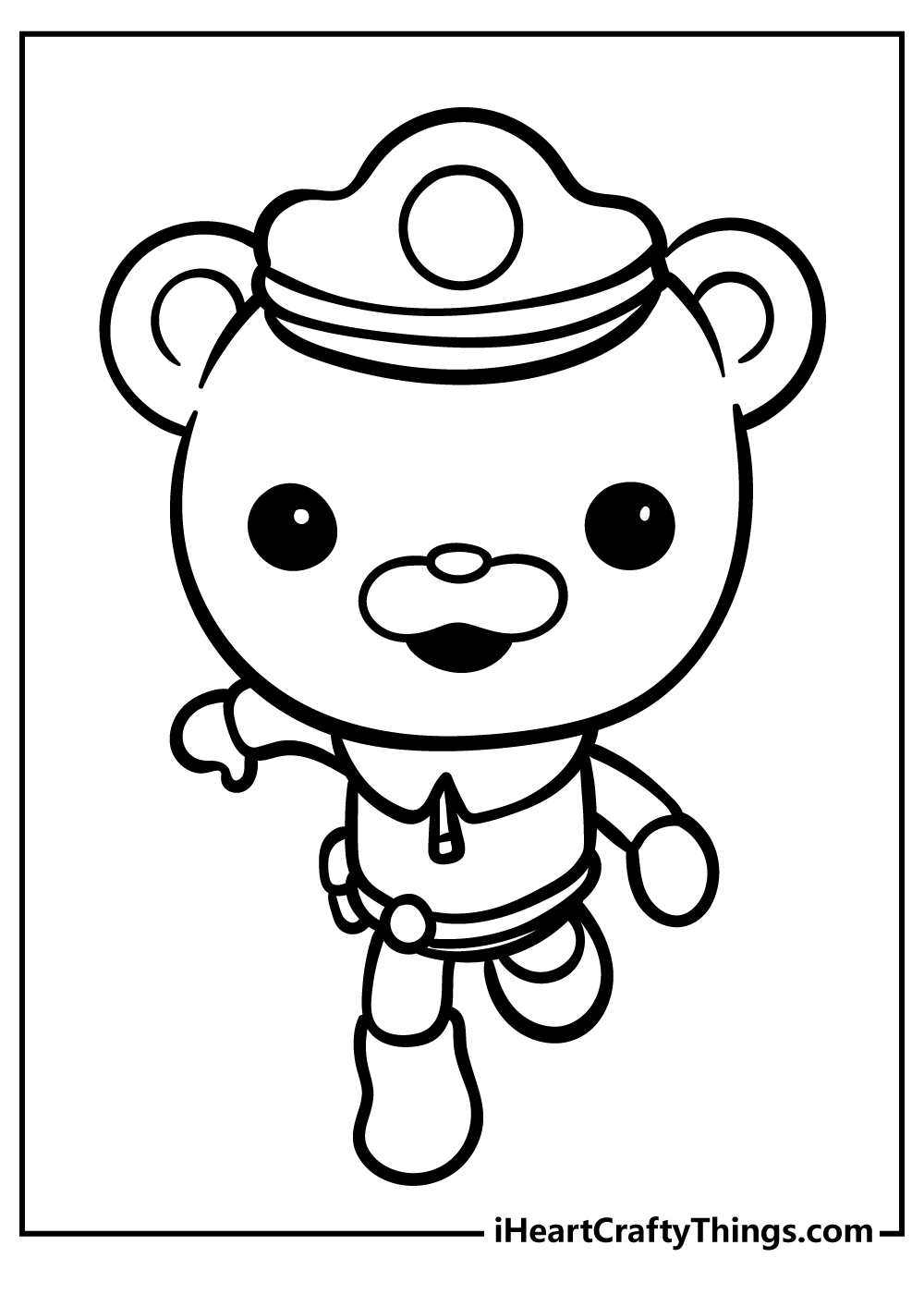 The mysterious Kwazii is a pirate cat who is one of the most interesting characters on the show!
This image of him marching along really captures his character brilliantly, and there are so many great small details to color in here.
Which art tools and mediums will you use to portray the colors you choose here?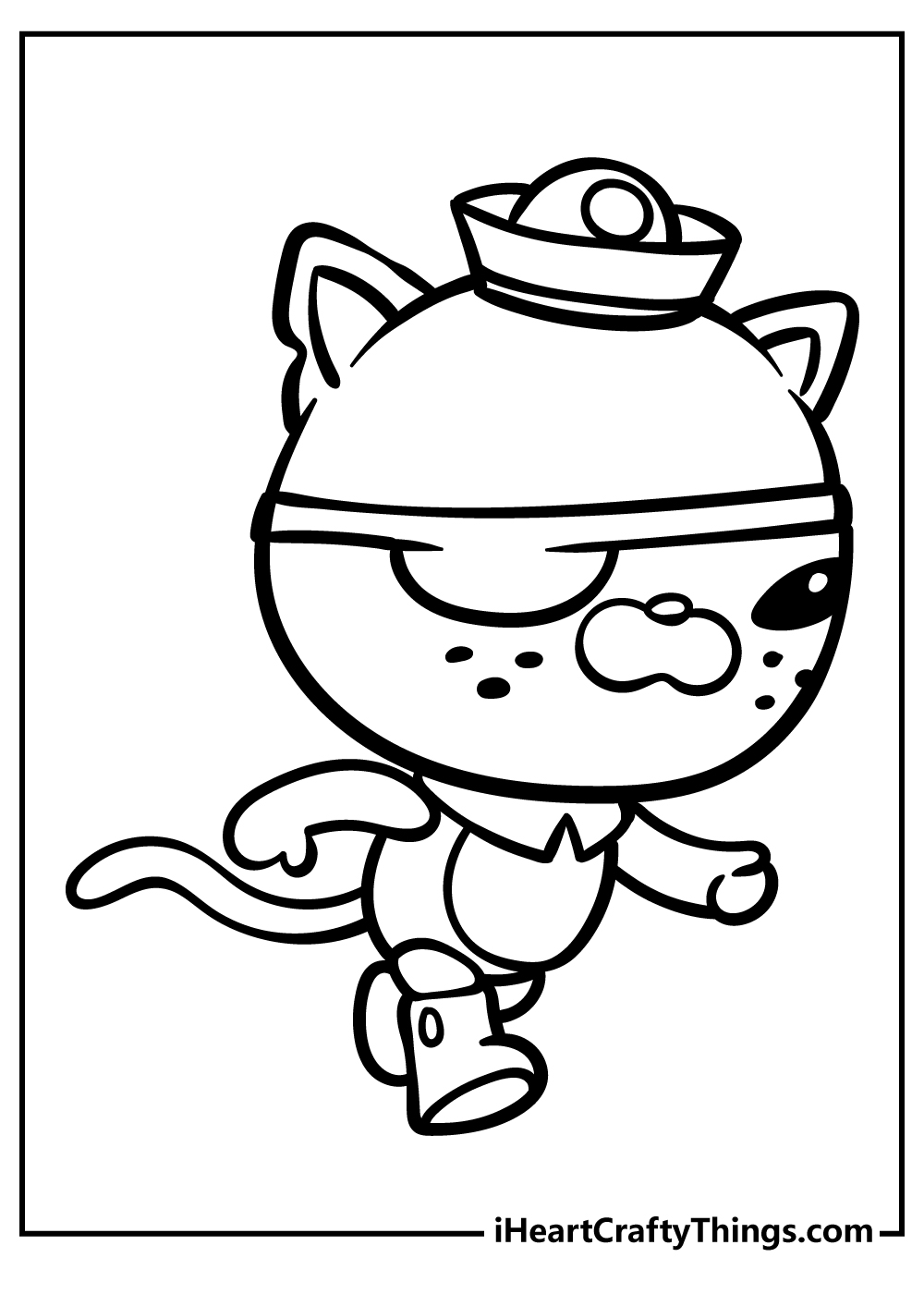 Captain Barnacles is back in this twelfth image, and he is looking really serious here! He certainly means business here, and it again makes you wonder what the situation could be.
For this one, we would use some darker, more intense colors to highlight the gravity of the situation he is in. what shades come to mind when you see this one?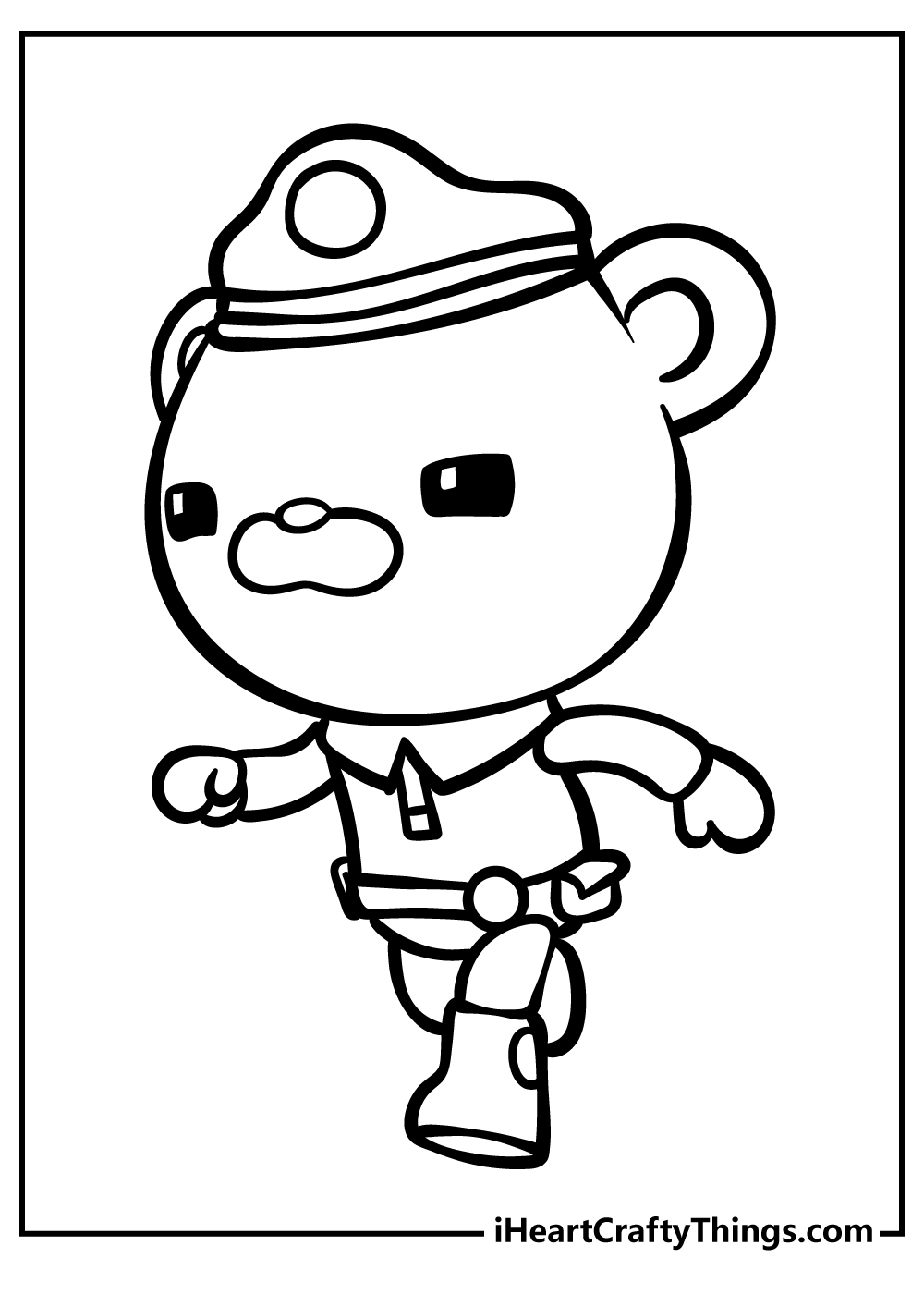 There is a cute picture of the penguin Peso for you to color in here. This time, he is not in a diving suit but rather in his usual sailor outfit.
His colors are pretty simple usually, but even if you stick with them you could incorporate some brighter colors to the background to balance it off.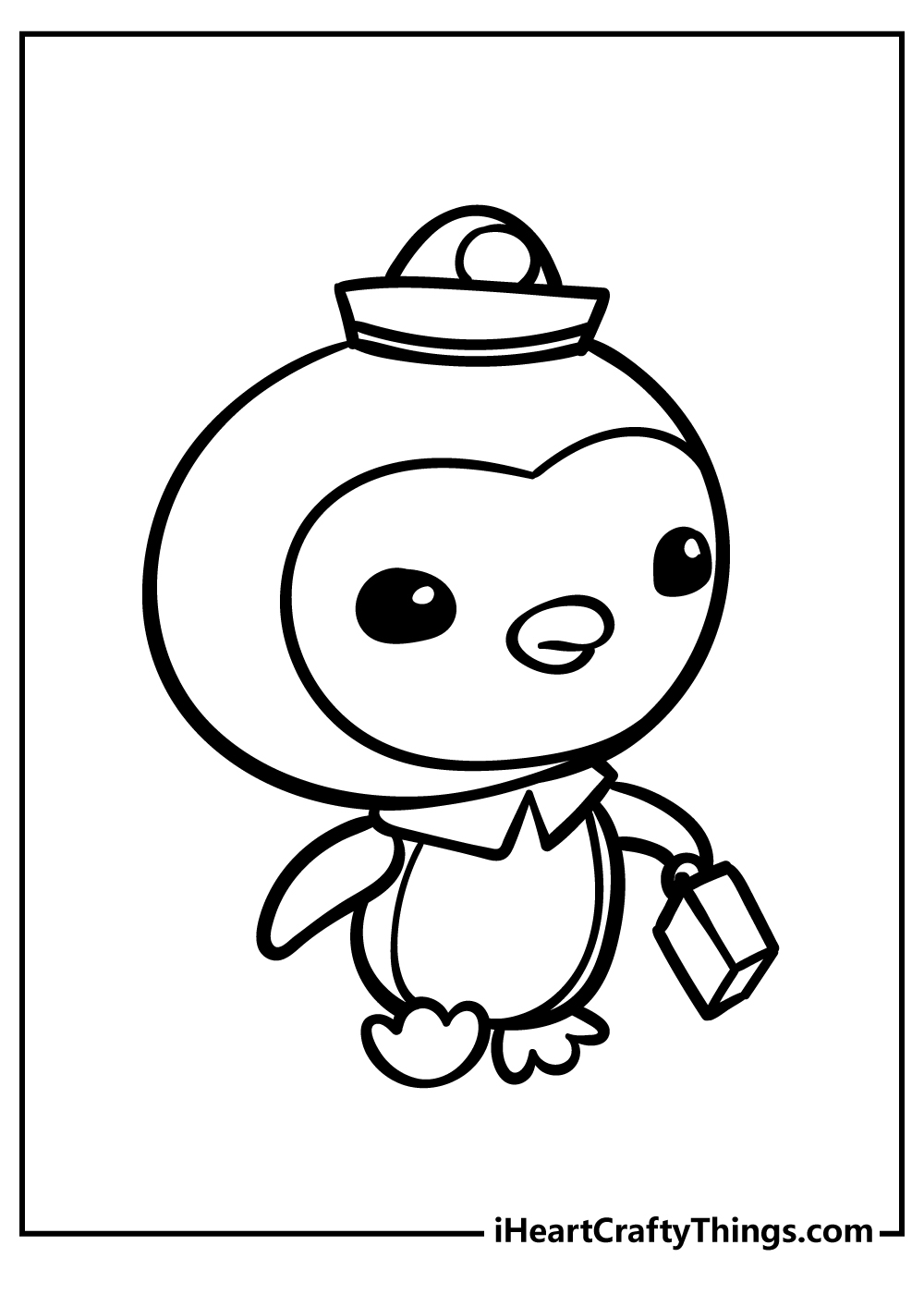 Another adorable version of Dashi is here for you to color! She is also in her casual sailor's outfit here, so you could use the show as a reference if you want to go with her usual colors.
Remember that you're the captain of this guide, so you can use unique colors if you prefer!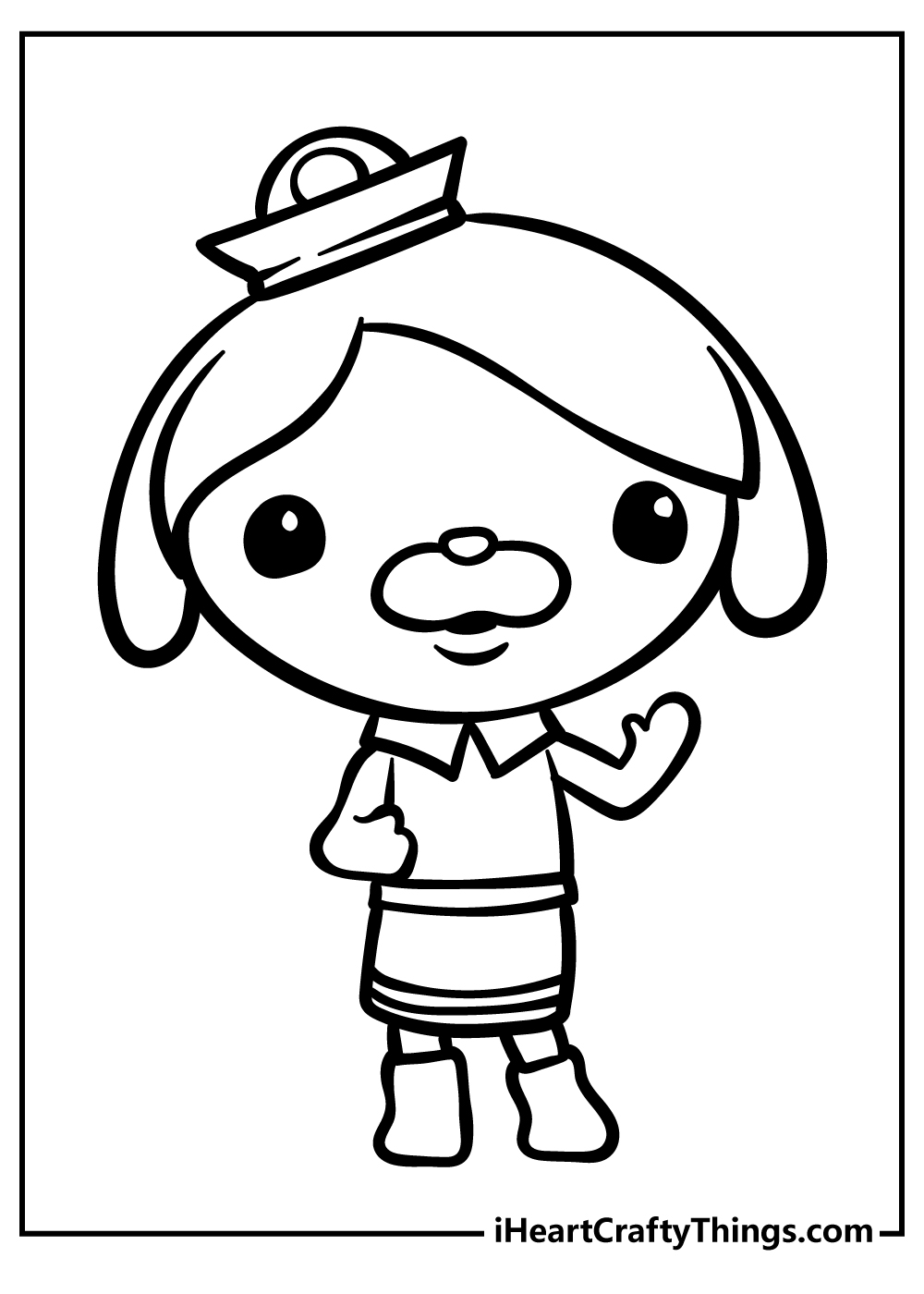 We're closing off this collection of Octonauts coloring printables with the Octopod. This imaginative structure is the main vehicle and home base of the Octonauts.
It usually has an orange color scheme, so you could go for that usual color scheme or create your very own Octopod design!
Remember that you can print out multiple copies if you want to experiment. How will you close off this collection?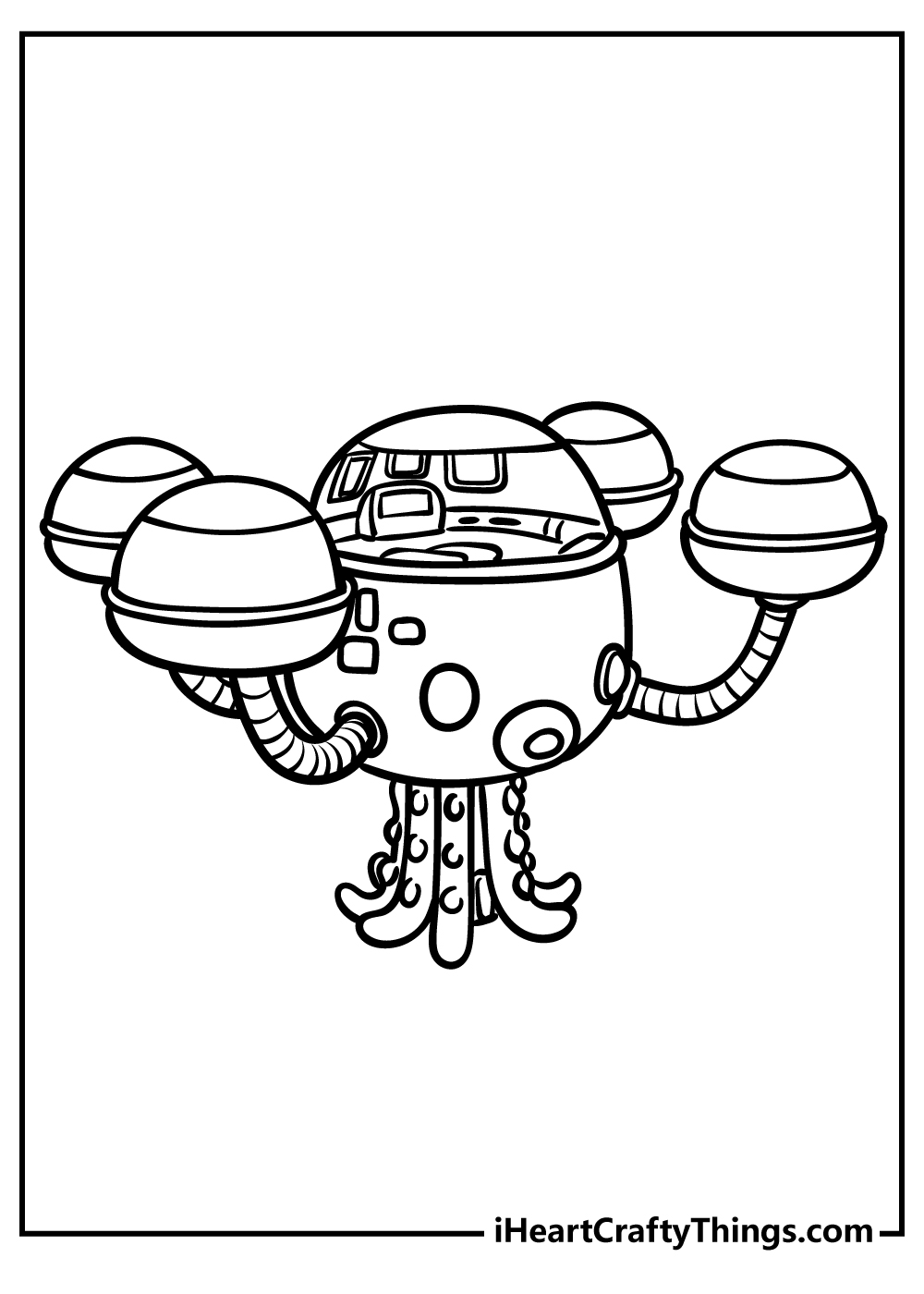 Octonauts Coloring Pages – Which will you choose?
We hope you enjoyed this colorful deep dive into this collection of free Octonauts coloring pages for kids!
There were so many great portrayals of our favorite characters here that you can use all of your favorite colors on.
When you have colored your favorite pages, remember that it's free to share the collection with friends and family as well!
Please also be sure to share some of your finished pages on our Facebook and Pinterest pages!