In recent years, superheroes have become very popular in modern culture.
While costumed heroes may be what comes to mind when mentioning heroes, we have many real-life heroes working every day to serve their fellow humans.
Nurses are some of these heroes, and we wanted to honor them with this collection of free nurse coloring pages for kids!
We have lots of fun images featuring nurses that cover a wide range of styles and settings for you to enjoy.
You will get to use all of your favorite colors and art mediums as you work through this amazing collection.
All of these nurse printables are free to print out and enjoy as many times as you like! You can also share these coloring sheets with others so that they can join in the fun as well.
Sharing these pages and comparing how different people colored them in can be a lot of fun!
We think these free nurse coloring pages will be just what the doctor ordered if you're itching for some coloring fun.
Be sure to share your favorite completed coloring sheets on our Facebook and Pinterest pages for us to see!
15 Brand New Nurse Coloring Pages – Free to Print and Color
We have a happy, friendly nurse for you to color in this first free nurse coloring page for kids that we have for you.
Nurses' uniforms can look very different around the world, so this will be a great chance for you to create your very own unique nurse uniform. When coloring these printables, you can also add some background colors or details to really finish it off.
How will you go about finishing off this first nurse coloring printable?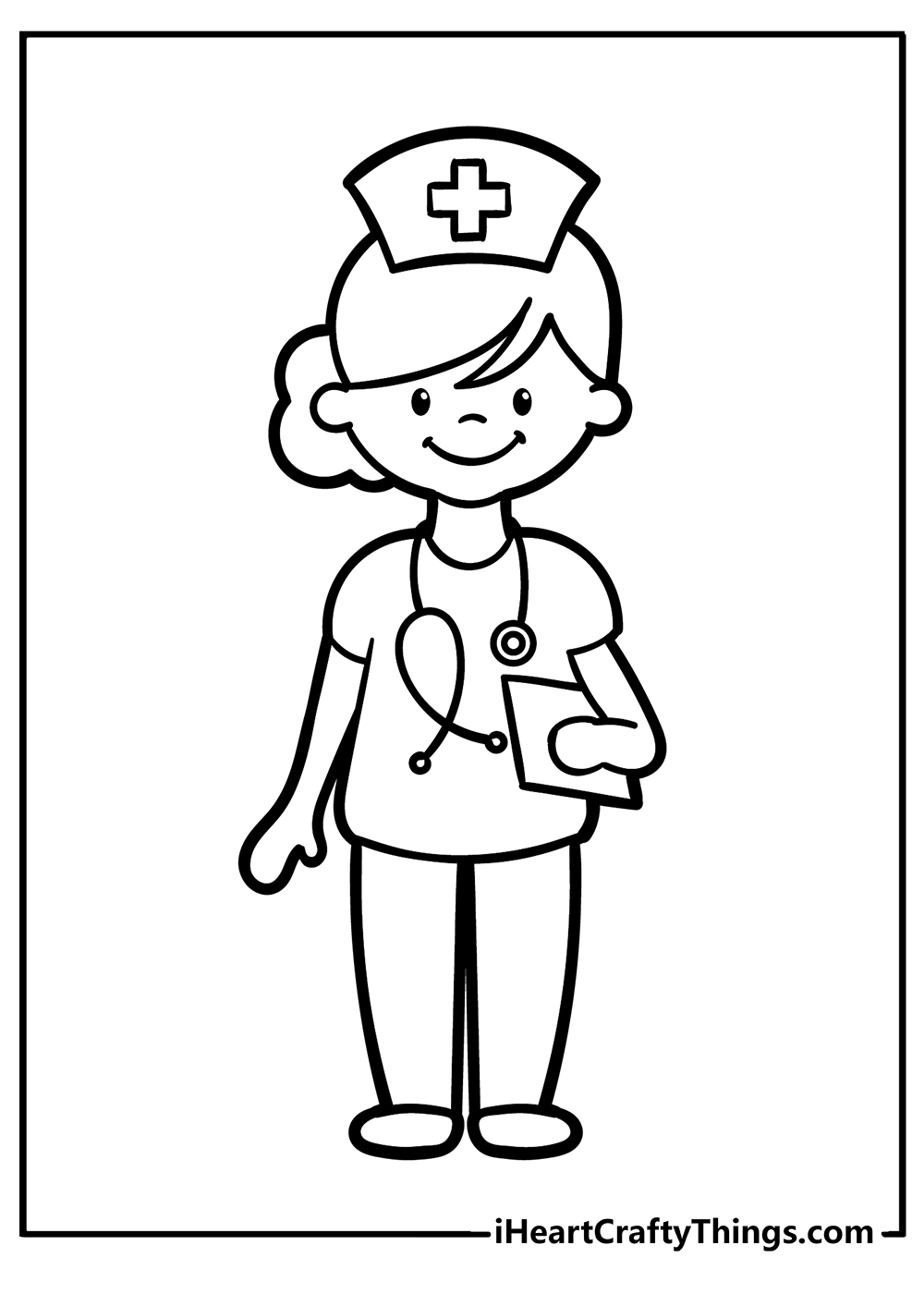 Meet the friendliest nurse around. This adorable young nurse is dressed in a pretty dress with white buttons and collar.
She has short hair with a matching headband. With rosy cheeks and a big smile, she waves happily at you from her round platform.
Let's make her look as cute as can be by coloring in her dress with your favorite bright colors. Don't forget to add some patterns or designs too.
We can also color the platform and background with fun colors. Our sweet little nurse friend is ready to provide top-notch care with a dose of cheer.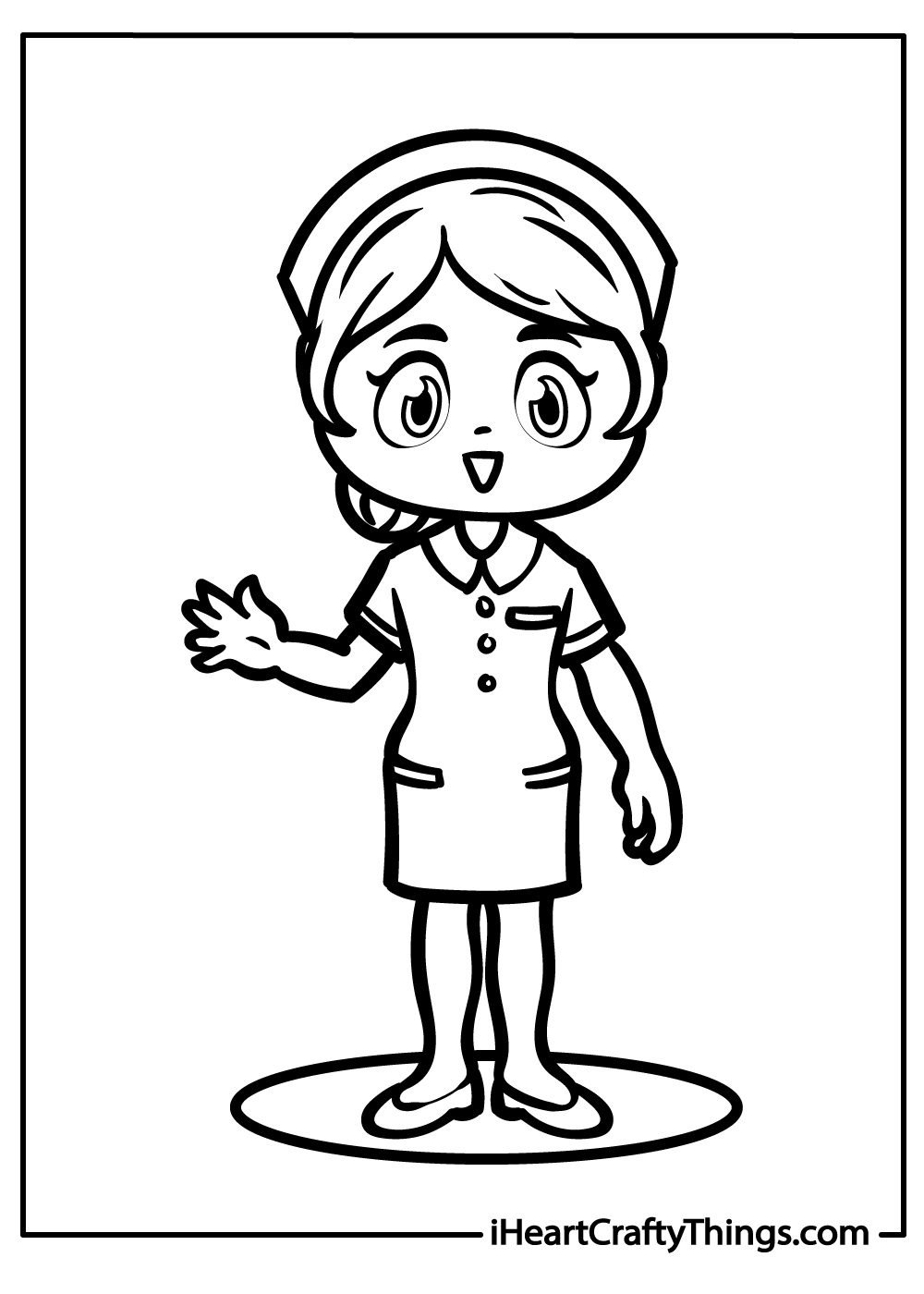 This second nurse coloring sheet that we have prepared is super cute!
This adorable nurse is looking very friendly, and we think that using a color scheme that suits the mood of this image would be a great idea.
We think that some lovely warm reds, purples or rich pinks would be great for the background of this printable. What colors came to mind when you first saw this picture?
We can't wait to see what you choose to go for!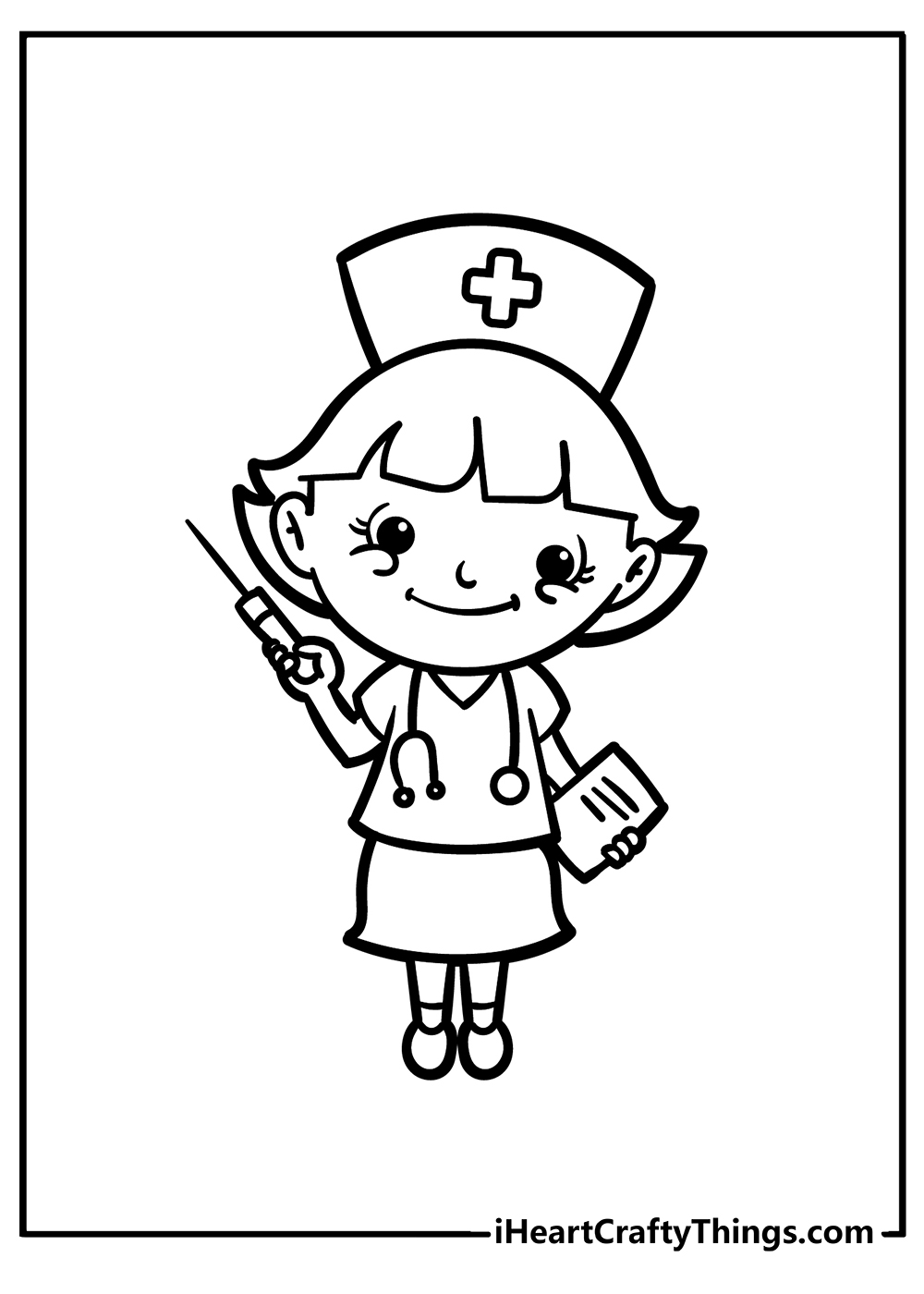 For the third nurse coloring printable in this collection, we have a nurse that is drawn in a very different style to the first two.
This nurse has more realistic proportions than the first ones did, and for that reason we would use some milder, more realistic colors to finish this one off.
You could also draw a hospital background that is done in a similar style to the nurse to add even more dimension to this charming printable!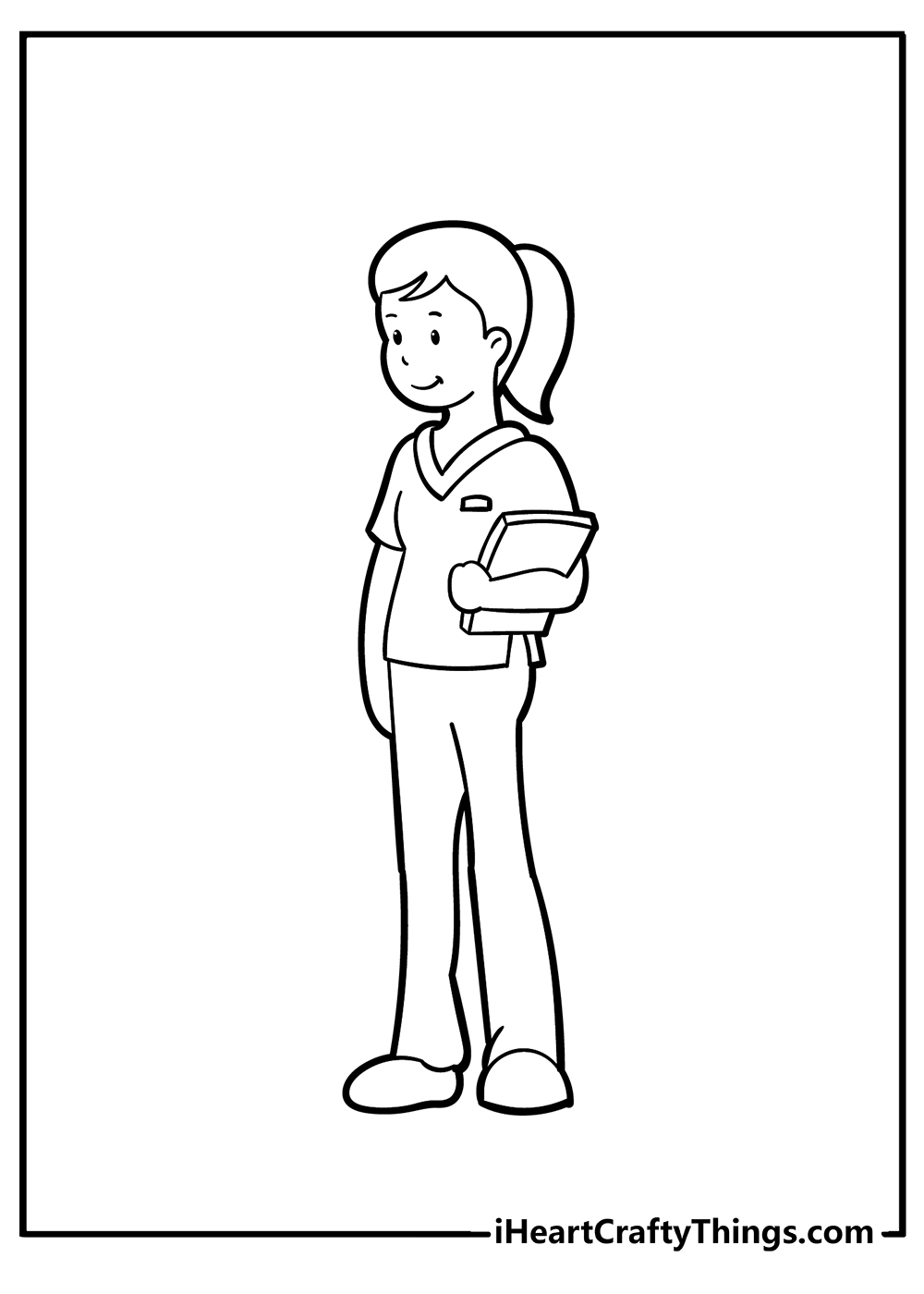 Check out this studious nurse, ready to learn new medical facts and skills. Dressed smartly in a dress, white apron and matching headscarf, she smiles warmly while reading from a large book.
As a lifelong learner, her favorite subjects are anatomy, nursing practices and medicine. Let's color her dress and apron a crisp white, with a red cross on the apron pocket.
We'll use blue for her headscarf, and a deep burgundy for the medical book in her hand.
Our intelligent nurse friend is always seeking to expand her expertise in order to provide the best possible care.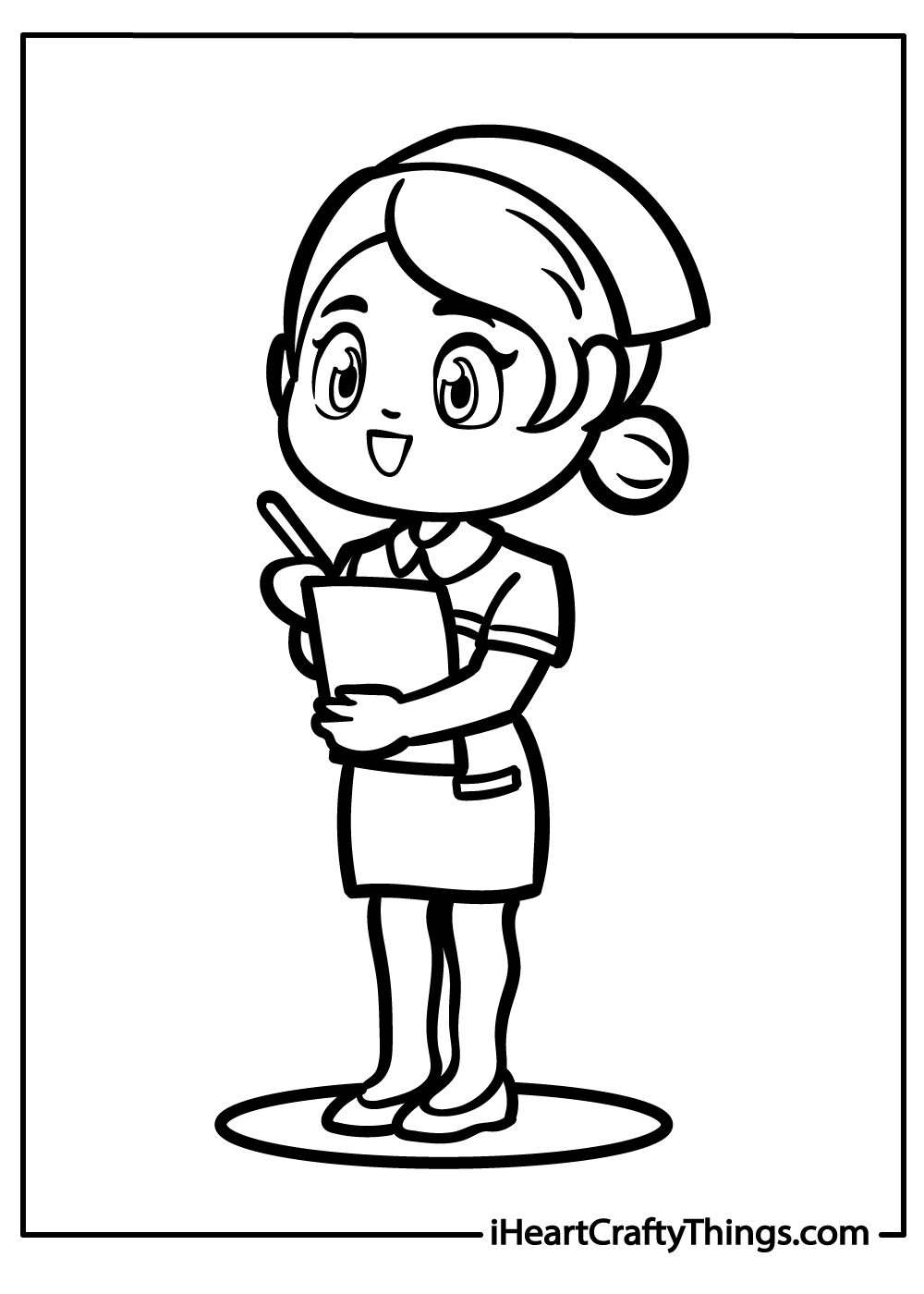 Here's another cute picture for you to color in this next free nurse coloring page! This one is also drawn in a simple cartoon style, but she still manages to give off a lot of personality.
For a fun extra element, you could draw a doctor or another nurse drawn in a similar style standing next to her!
What fun extra details and elements can you think of to finish off this sweet nurse coloring sheet?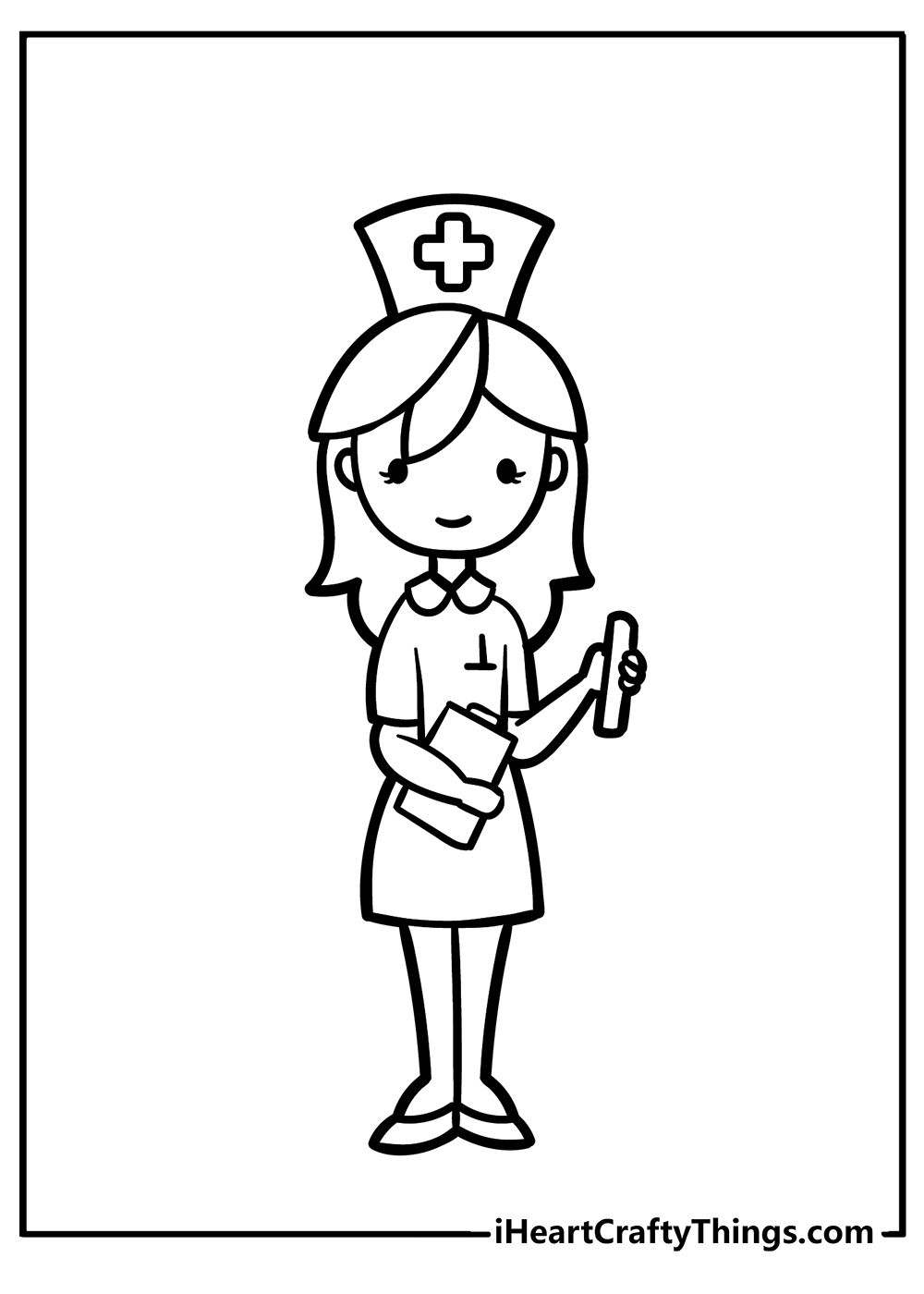 Here we have a courageous nurse on a mission to help others. Dressed in a jade dress with white buttons, she wears a surgical mask and cap to protect her patients.
Though you can't see her smile underneath because of the nose mask, her kind eyes show she is friendly and approachable. Let's use shades of green for her dress, with bold white for her mask and cap.
Our brave nurse is ready to provide medical care to anyone who needs it, no matter how challenging the situation.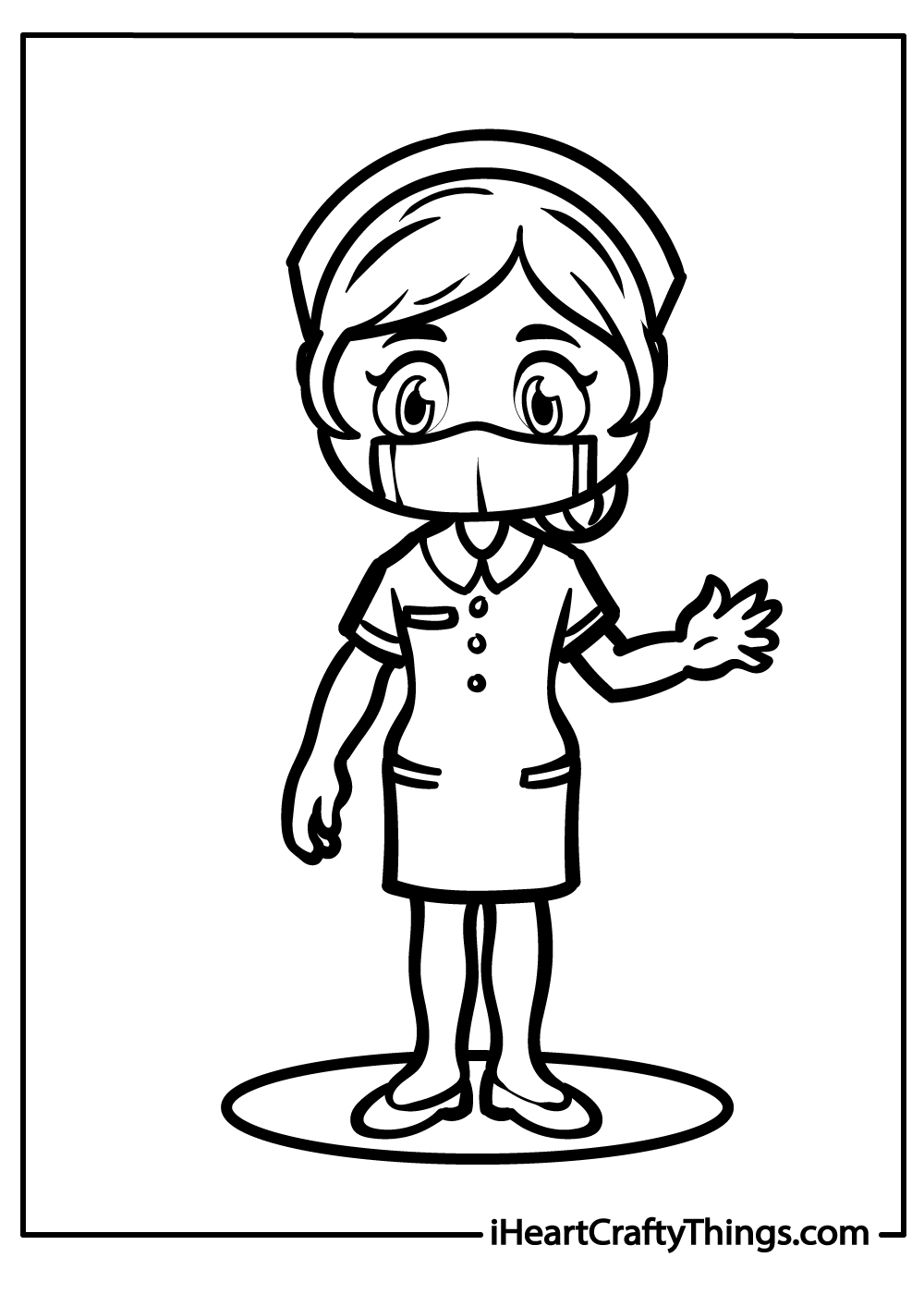 Our fifth nurse coloring sheet shows another friendly nurse that is looking rather happy! A friendly nurse like this can certainly make a hospital visit a lot more pleasant.
We spoke about how colors can be used to convey certain moods, and you can use that in this printable.
When looking at this image, what kind of mood comes to mind for you? We will be very interested to see what colors you choose to use to convey the feeling you get from this printable!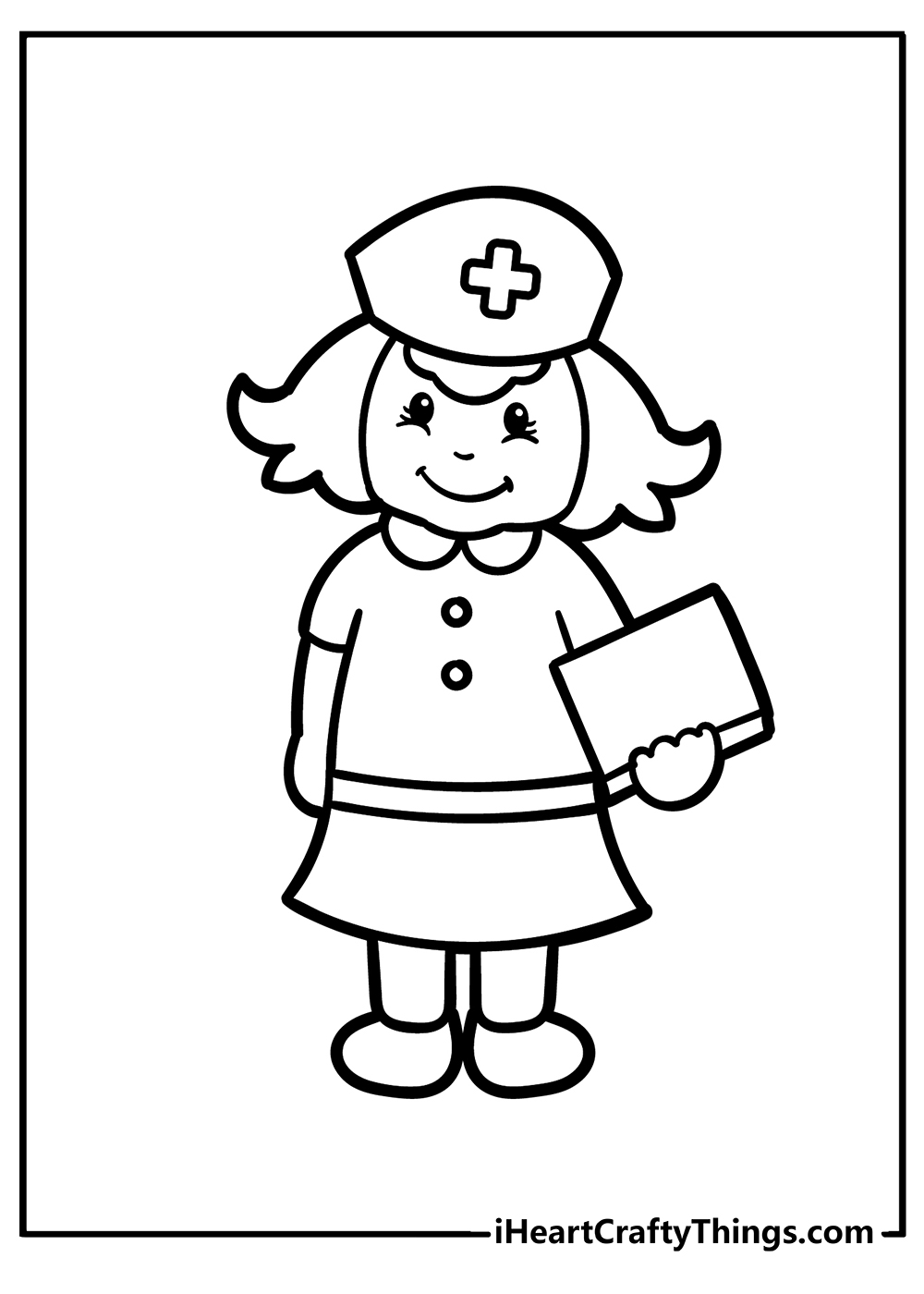 We love the playful style that this next free nurse printable is drawn in! This is a very stylistic picture, and we think that some bright, fun colors would be perfect for this one.
She is wearing a face mask to help protect herself from germs, and you could draw a fun design onto the mask for an extra touch.
This one would be another one that could be fun to add some other characters drawn in similar styles! Who would you draw with this nurse?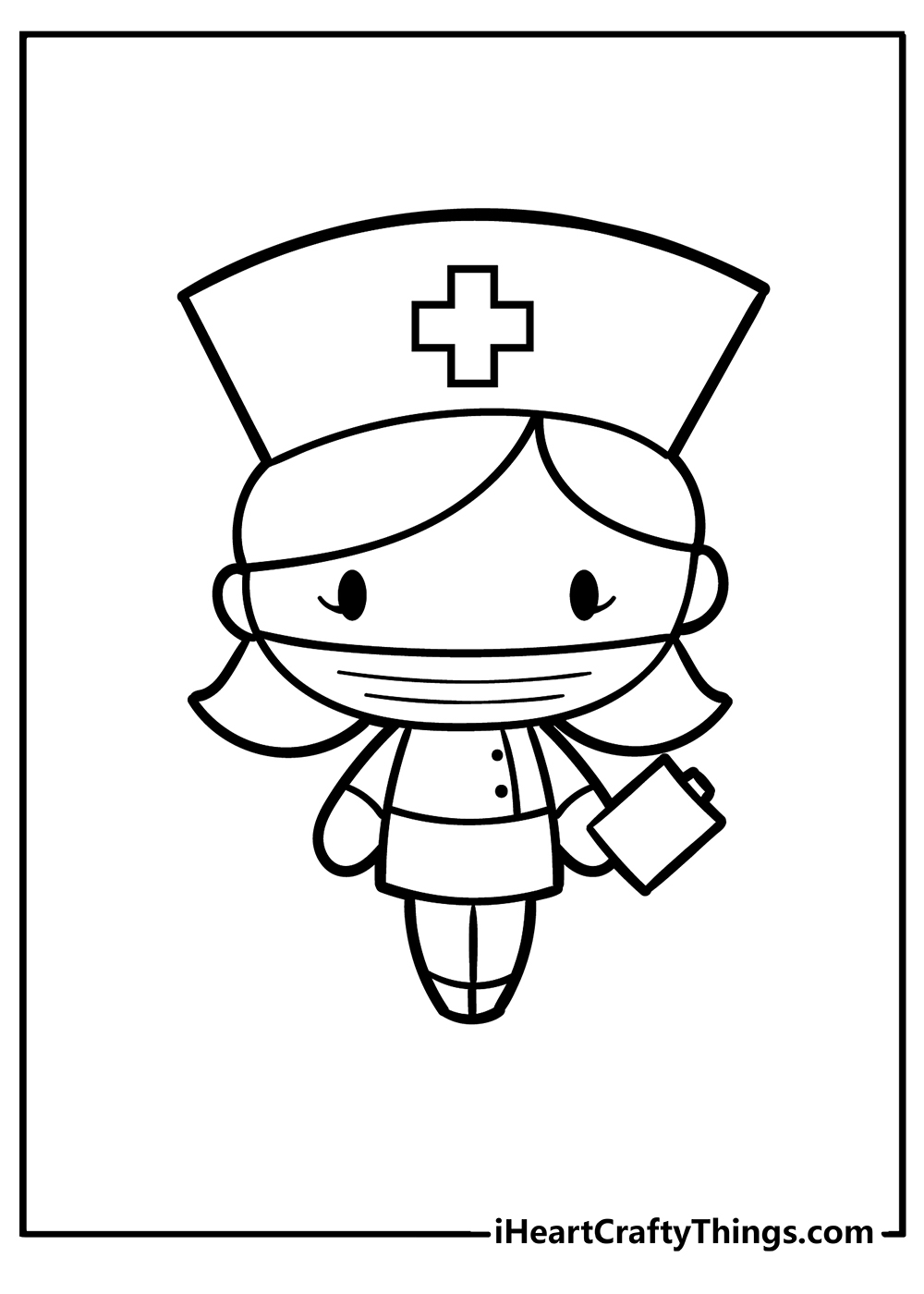 This nurse is always happy to see you and make you feel better. She is standing with her right arm extended as if she is presenting something.
Maybe it's a gift, a card, or a balloon. You can decide what it is and color it as you like. She is wearing a lovely dress with a collar and buttons, and she has a stylish headband on her short hair.
Make her look as bright and joyful as she is. Have fun coloring this delightful nurse and share your work with your friends and family.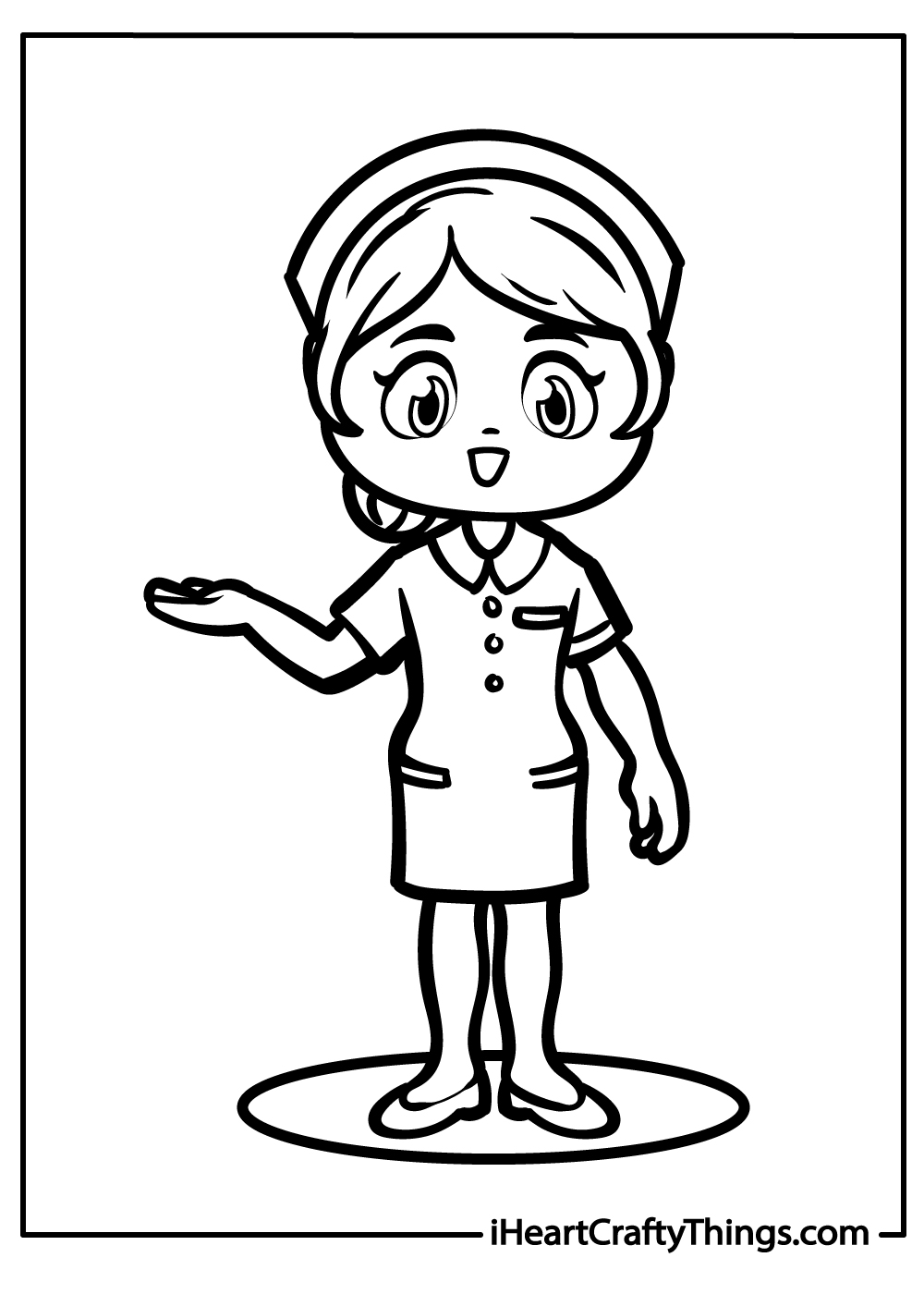 In this seventh free nurse coloring page, we have a nurse that seems to be doing her rounds delivering medications that will help patients to feel better.
For this image, we think it would be a great extra detail to draw a hallway with doors on the sides behind her to finish off the setting.
That's just one idea that you could go for, but what other background settings can you think of for this nurse printable?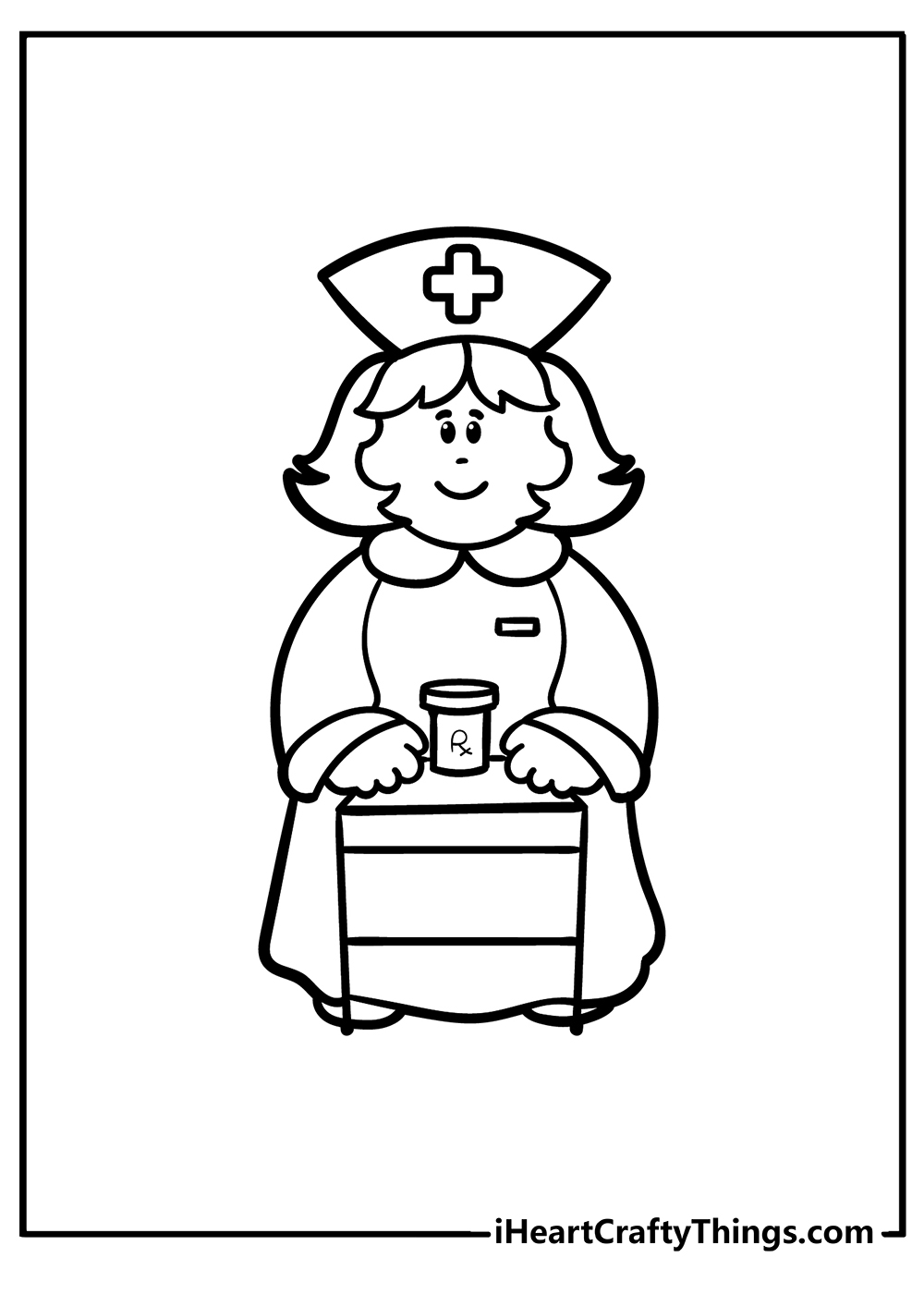 We have another adorable little nurse for you to color in this next free nurse coloring sheet! She is also drawn in an interesting cartoon style that should be lots of fun to color.
When you are coloring, remember that you don't have to stick to the same art mediums all the time!
Changing up the art tools and mediums you use can help to make coloring even more fun. Why not try an art medium that you have not used as much when coloring this sweet nurse?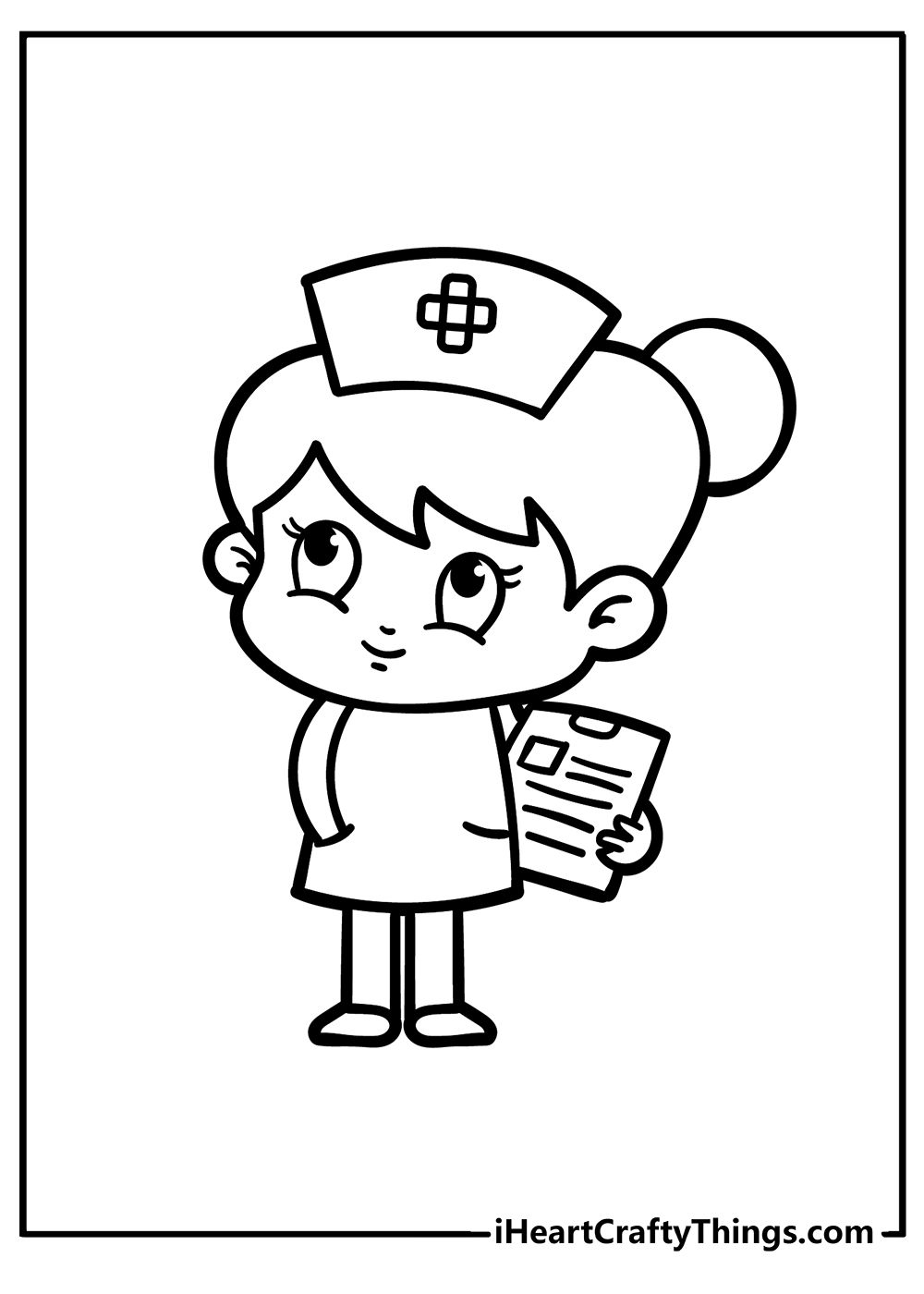 No one likes getting injections, but sometimes they are necessary to help us feel better and to protect us from nasty germs!
While having an injection is not fun, it can be made so much easier when a friendly nurse is administering it.
That is the case in this free nurse coloring page! This friendly nurse has an injection ready, and she looks like she would try to make it as quick and painless as possible!
What colors will you use for this friendly nurse?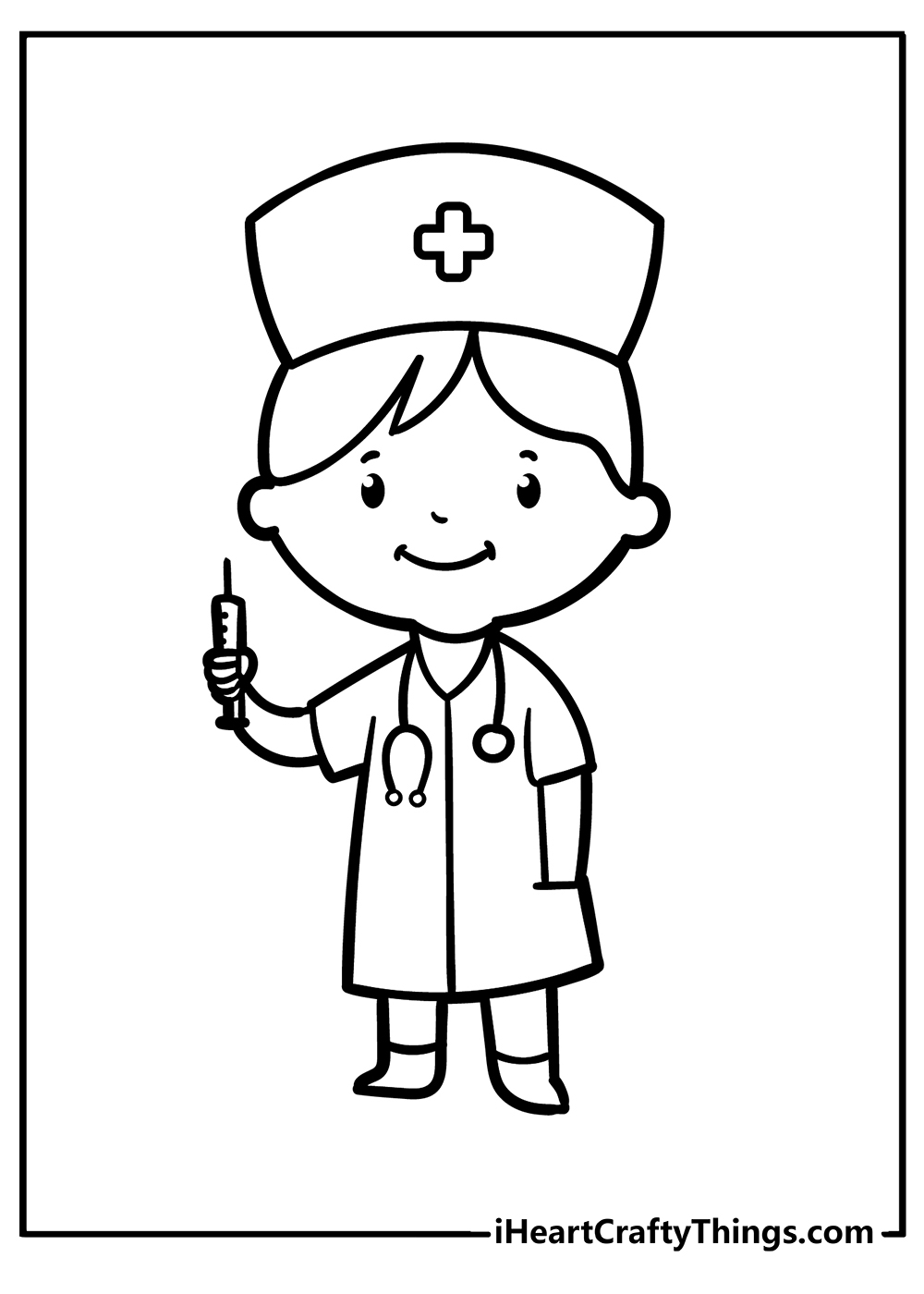 This young nurse loves her job. She's holding a to-do list. What do you think she is working on today?
This nurse coloring page can help you appreciate how much nurses work hard to treat us and help us get well.
Let's use bright, cheerful colors to bring her to life! A sunny yellow dress seems fitting, since she brightens everyone's day.
In the background, draw the hospital or clinic where she works. Show all the ways she helps people feel better!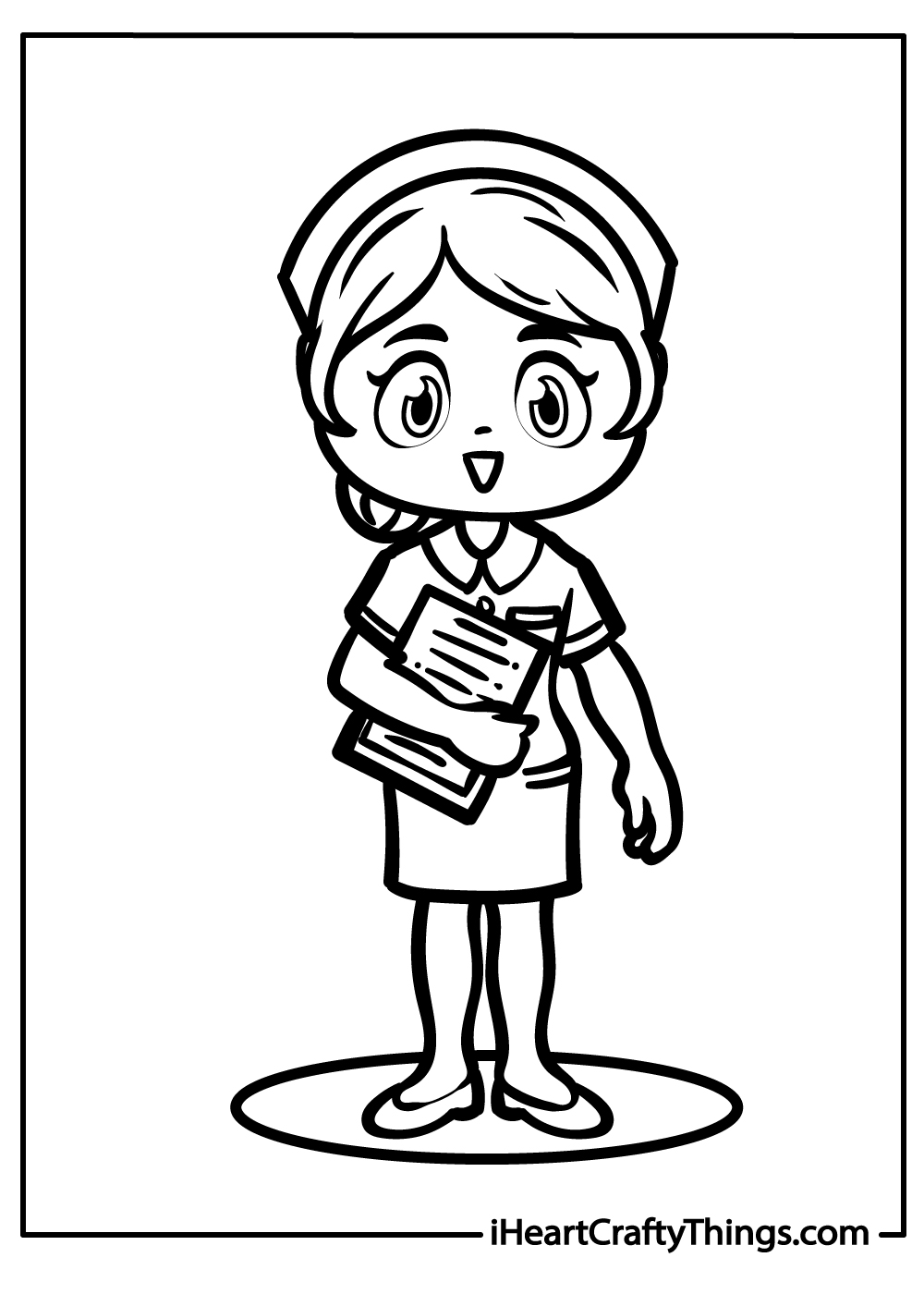 We have arrived at the final free nurse printable in this collection, and this one is also drawn in a fun, unique style!
This one looks different to all the others, so this one may be fun to also try out some new art mediums on.
For example, if you haven't used paints that much then you could try out some acrylics and watercolors.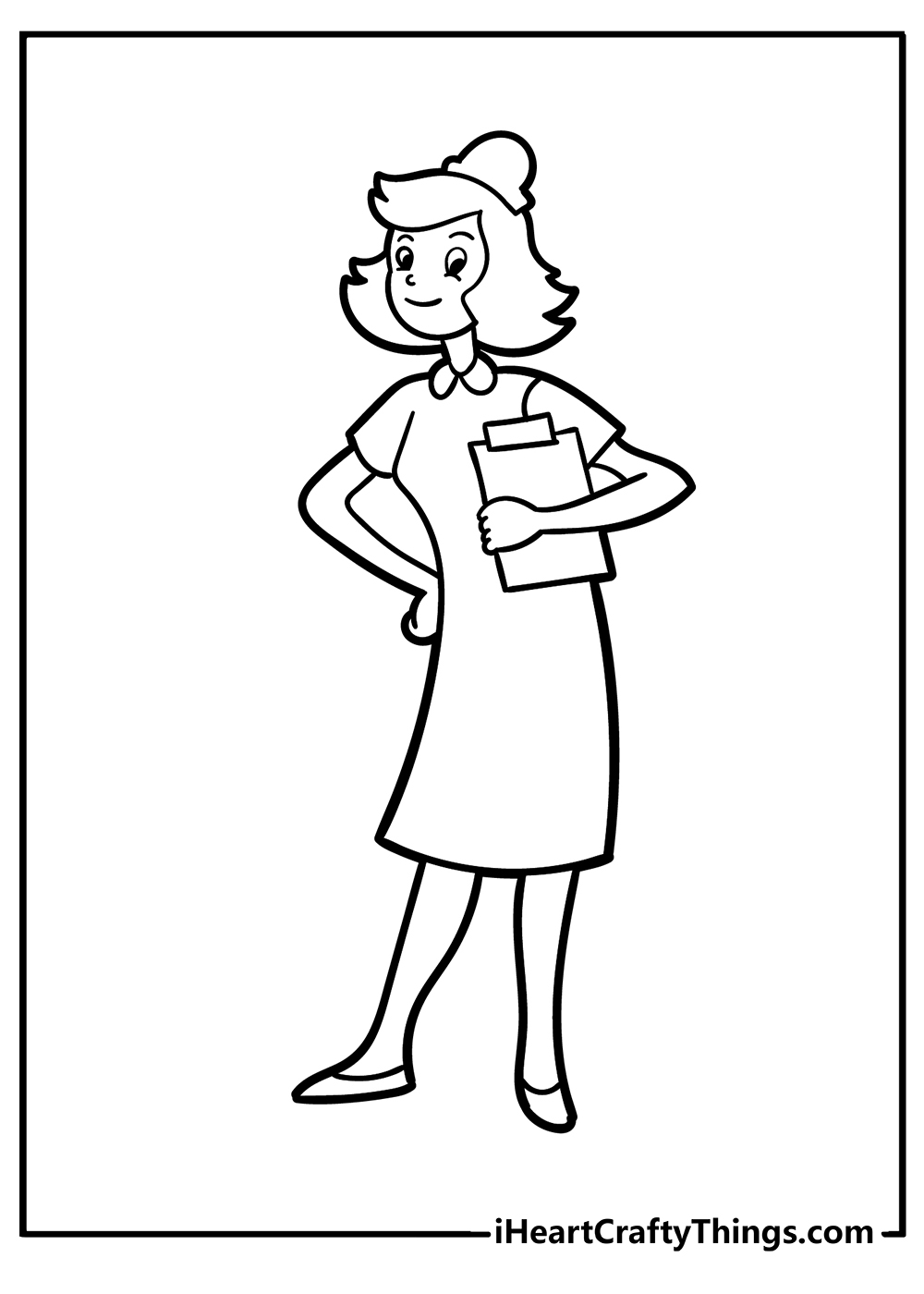 Nurse Coloring Pages – Which will you choose?
We hope that you have enjoyed celebrating our brave nurses with this collection of free nurse coloring pages for kids!
There are so many styles and interpretations in this collection for you to get creative with.
Remember to print out as many copies as you like so that you can experiment! Be sure to share these with friends and family to share the fun.
We have so much coloring fun in store for you on our website! We have coloring sheets for every taste and style, so there's something for everyone.
We have new ones we will bring out soon, so keep checking in for those as well.
Then, when you have colored your favorite nurse coloring sheets from this collection, you can share your finished artworks on our Facebook and Pinterest pages.
We always love to see how these coloring pages turned out!