Being a parent can often be a rather thankless job filled with many sacrifices, but there are a few days a year where parents get some much-needed recognition.
Mother's Day is the day of the year where we all show the mothers in our life some appreciation, and this collection of free Mother's Day coloring pages for kids is here to celebrate it!
Whether you use these pages for some Mother's Day card ideas or some coloring fun, they're all free to enjoy and share!
You can also share the love by sharing some of your finished pages on our Facebook and Pinterest pages!
15 Brand New Mother's Day Coloring Pages – Free to Print and Color
This first page in our collection of free Mother's Day coloring pages for kids features a simple yet lovely design!
The phrase is written out in a great font, and there are some pretty flowers made up from some heart shapes surrounding it.
This is a wonderful image to get this collection started, so how will you color this first page?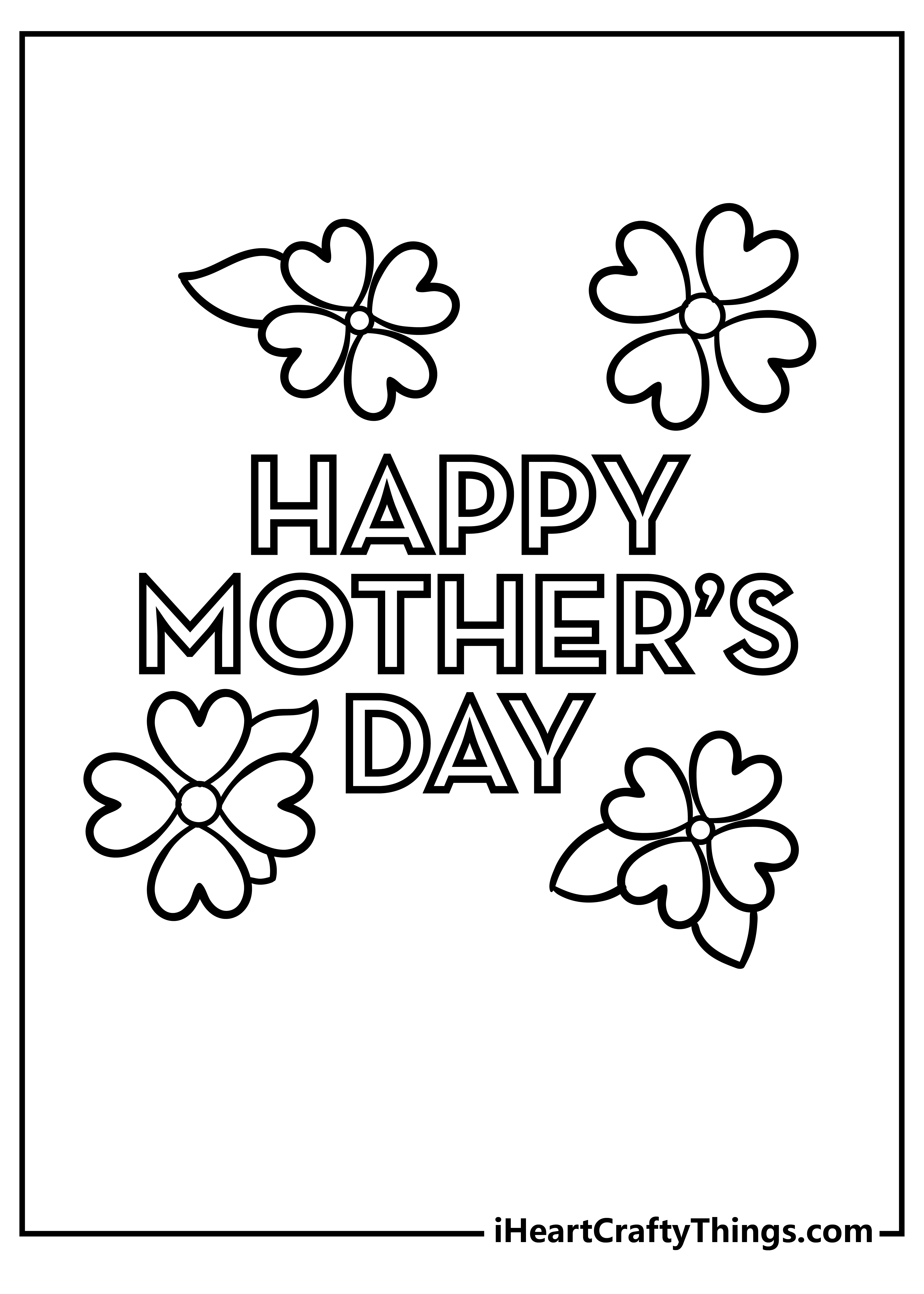 For the second page we have for you, we have the phrase 'happy Mother's Day' written out in another wonderful, vibrant font.
There are also some cute little bees and flowers surrounding the phrase. This helps to give a lovely vibrant feeling to this page that also has a bit of a Spring vibe to it.
We think some bright colors would be perfect for this one!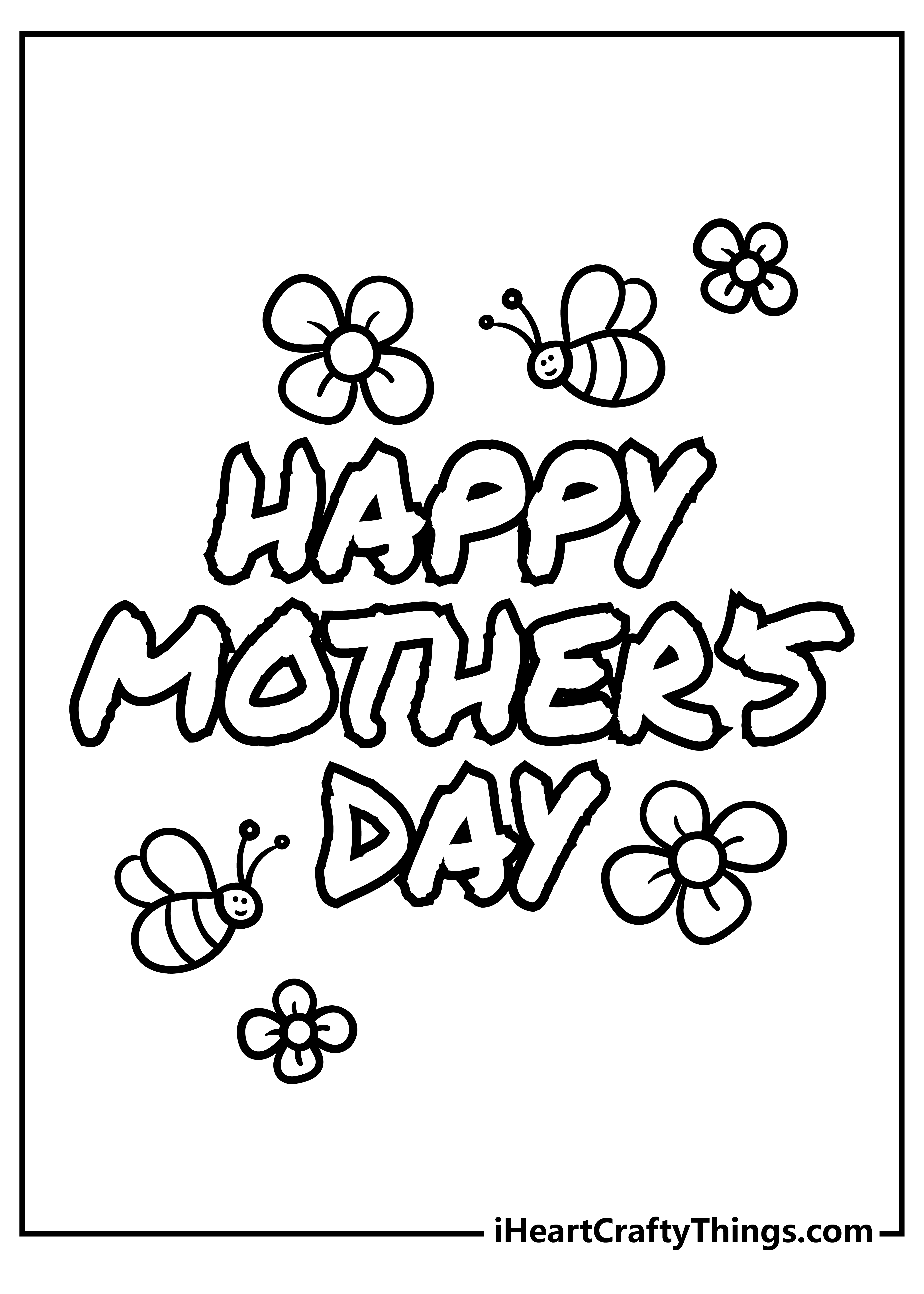 We're continuing the flower theme with this next page we have for you.
This time we have a potted flower beneath the phrase of happy Mother's Day, and there are so many wonderful colors that would look great with these flowers.
We would maybe use some watercolor paints for these flowers, but what mediums would you like to use?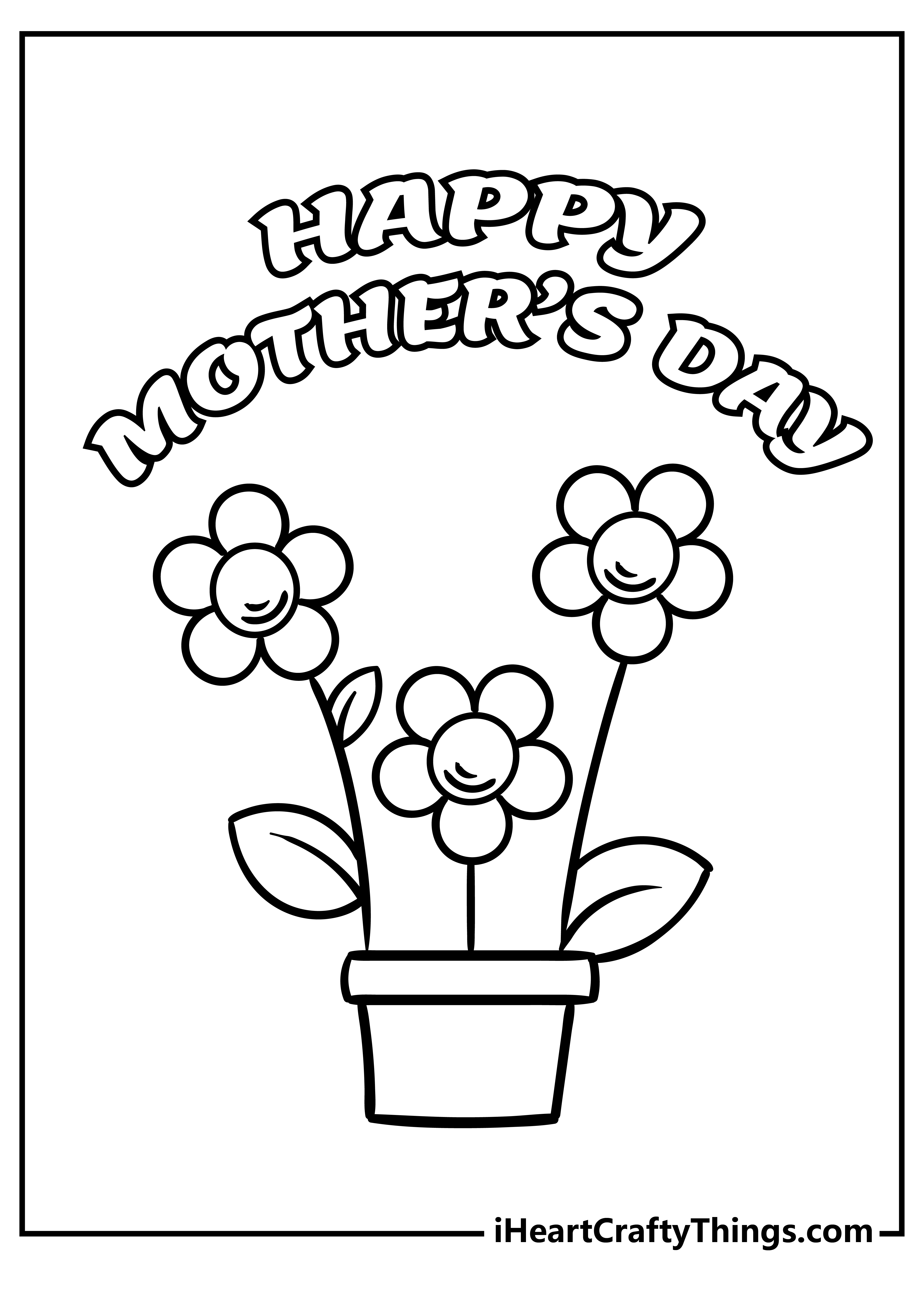 It's a beautiful flower extravaganza with this fourth page of the collection! This time the main flower that is used in the design is the tulip, and there are a few other pretty flowers used as well.
Do you think you will color all of these flowers the same set of colors or will you use a wide array of different colors?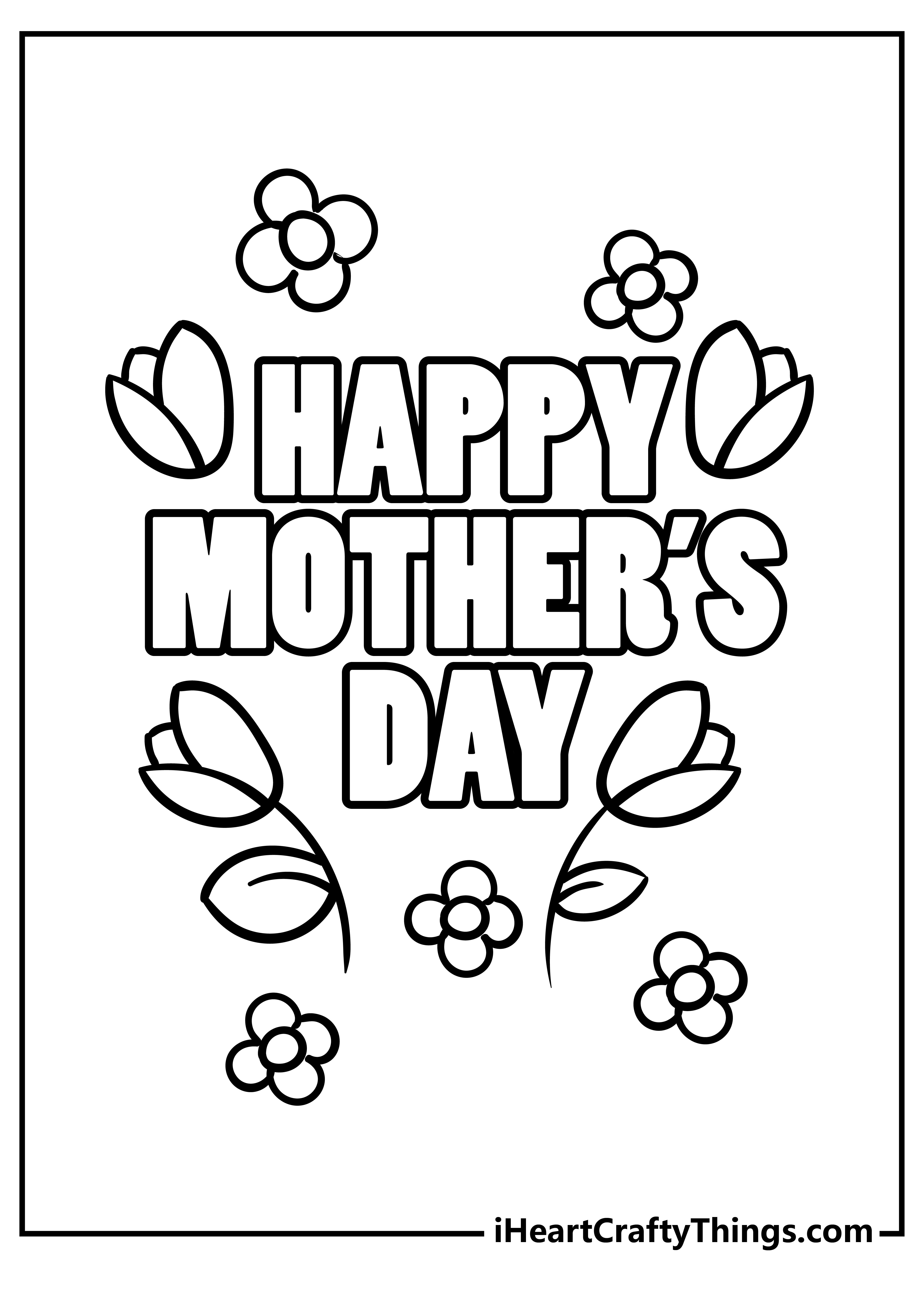 We're really feeling the love with this next Mother's Day coloring sheet!
There are lots of hearts incorporated into this design, and for that reason we would use some bright, warm reds, pinks and purples for this one.
Those kinds of colors would be perfect for this kind of image, but what other colors do you think you may want to use for this page?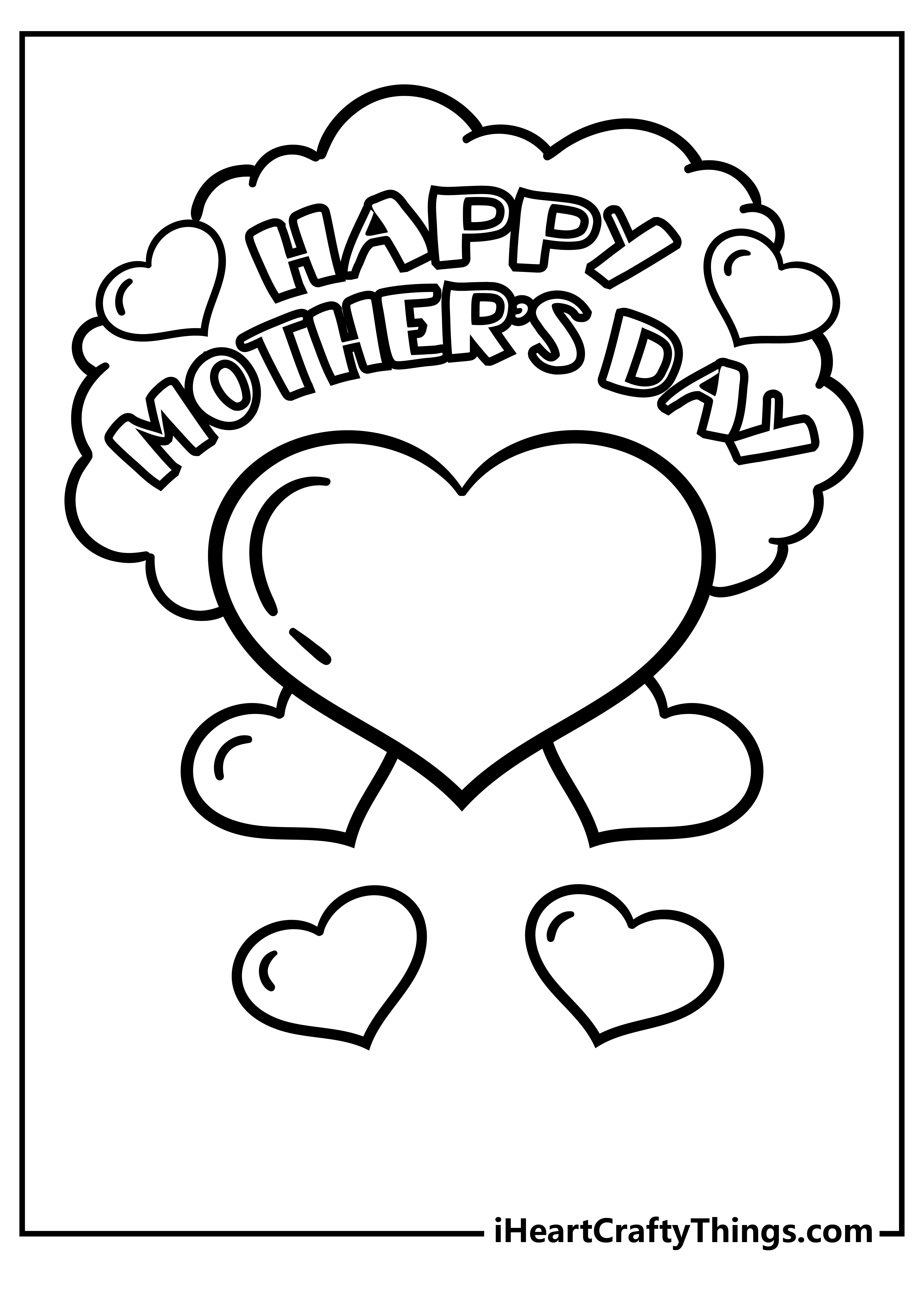 There's another loving image for you to color with this next one. The center of this page is taken up by a large heart, and it makes for a wonderful picture.
The font used for this one is also really fancy and intricate, and it will look stunning once you have added some color to the letters.
Some colored pencils, pens or markers would make coloring these fancy letters much easier!
This next page is really sweet and charming! It shows a scene of a mother walking with her child, and it is an image that gives off a really happy feeling.
The details on this mother and child have been left vague enough that you could color them or add some details to make it look like this could be you and your mother for a fun touch!
Our next page really manages to catch the eye! Happy Mother's Day is written in a big, bold font, and it is surrounded by a heart made up of lots of smaller flowers.
It makes for a really fun and vibrant display, and some bright colors would be perfect for such a fun display!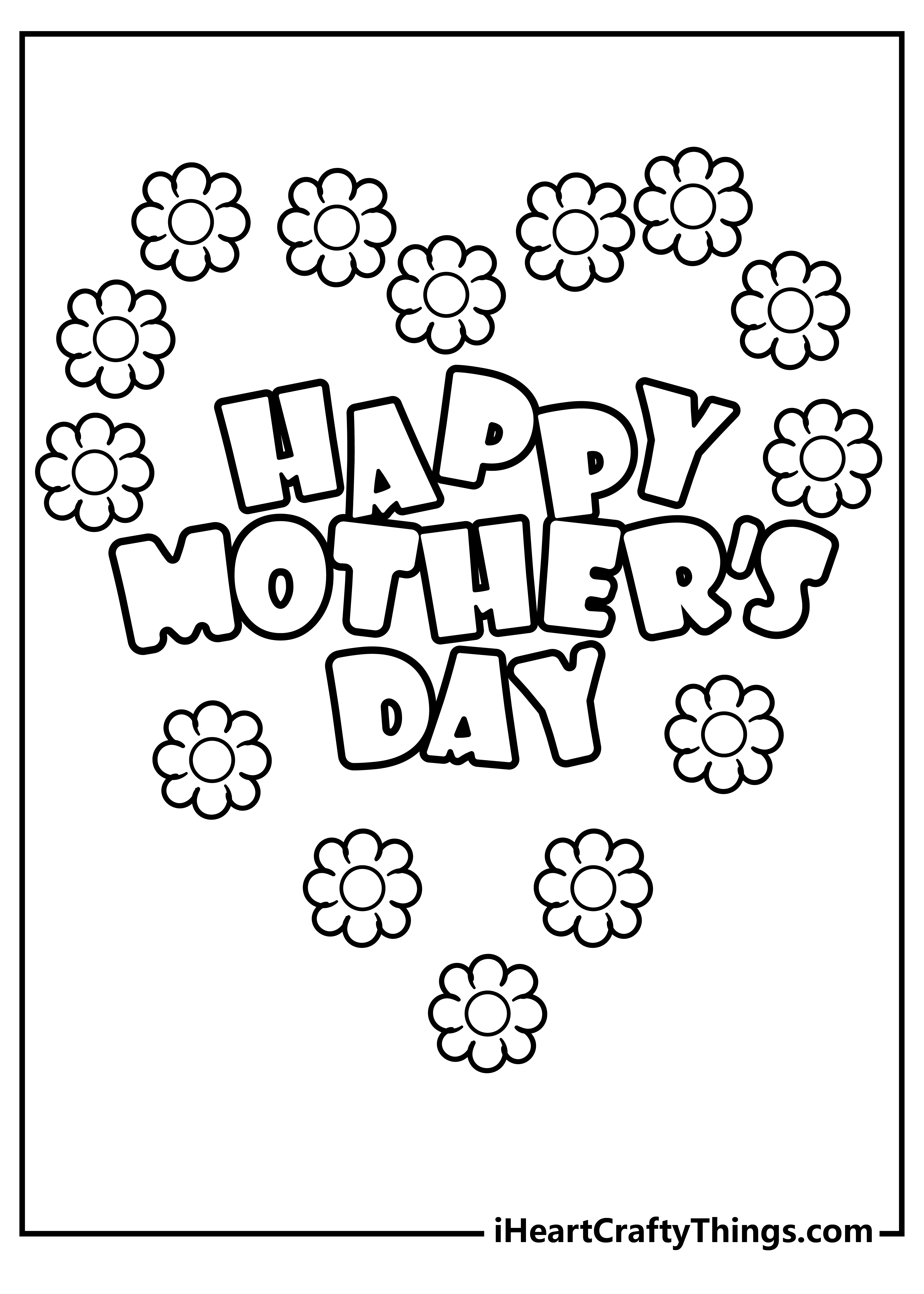 We will be dialing things back a bit for this next Mother's Day coloring printable. Even though this one is simpler than the previous one, it is still really pretty!
We would probably use some milder colors done with watercolor paints or colored pens if we were coloring this page, but what do you think you will use?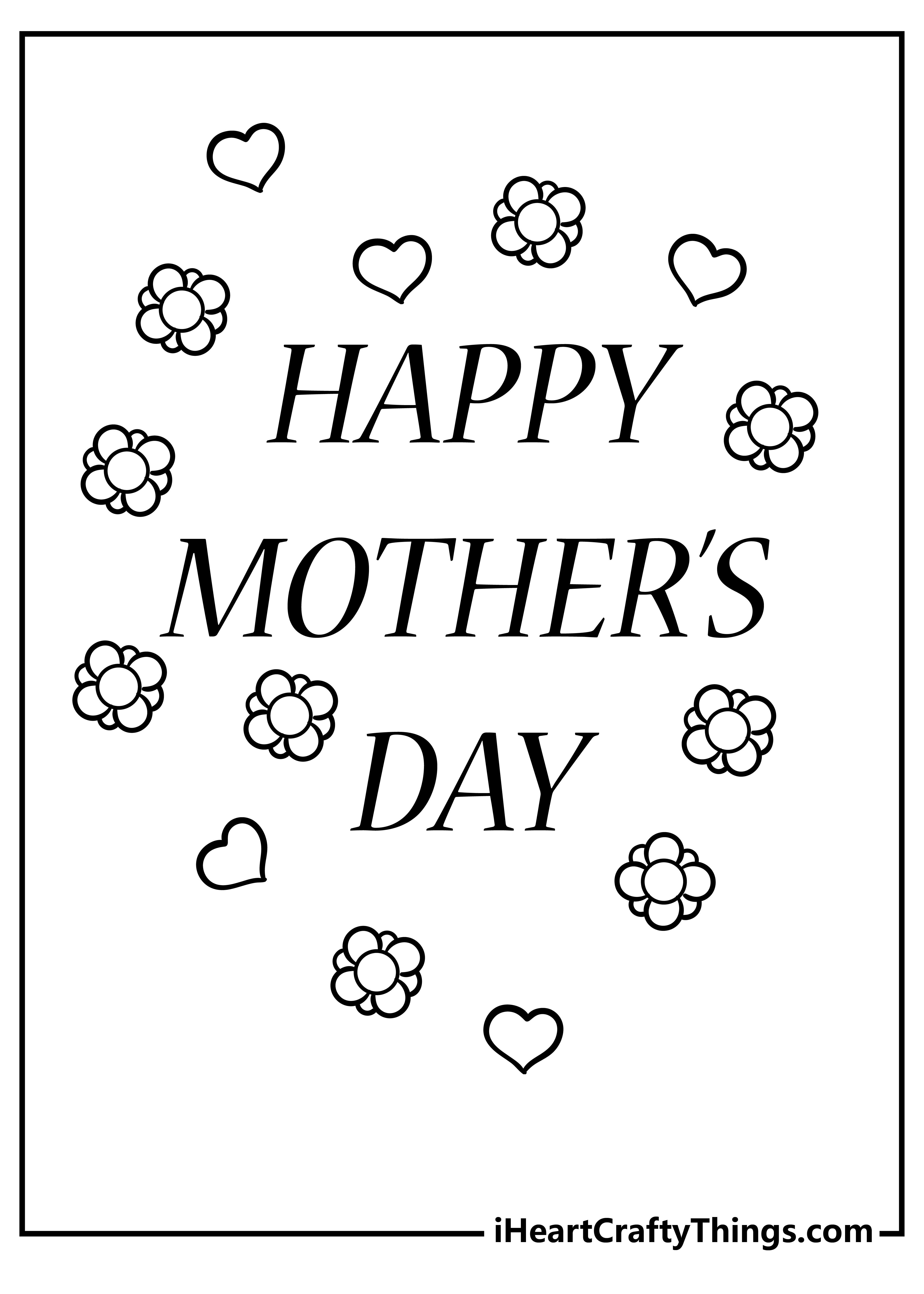 With many of these pages, the phrase is surrounded by shapes and elements that grab most of the attention, but in this one the letters are the focal point of the image.
Whether you decide to use just a few colors for the letters or make each one unique, we know this will look amazing when it is done!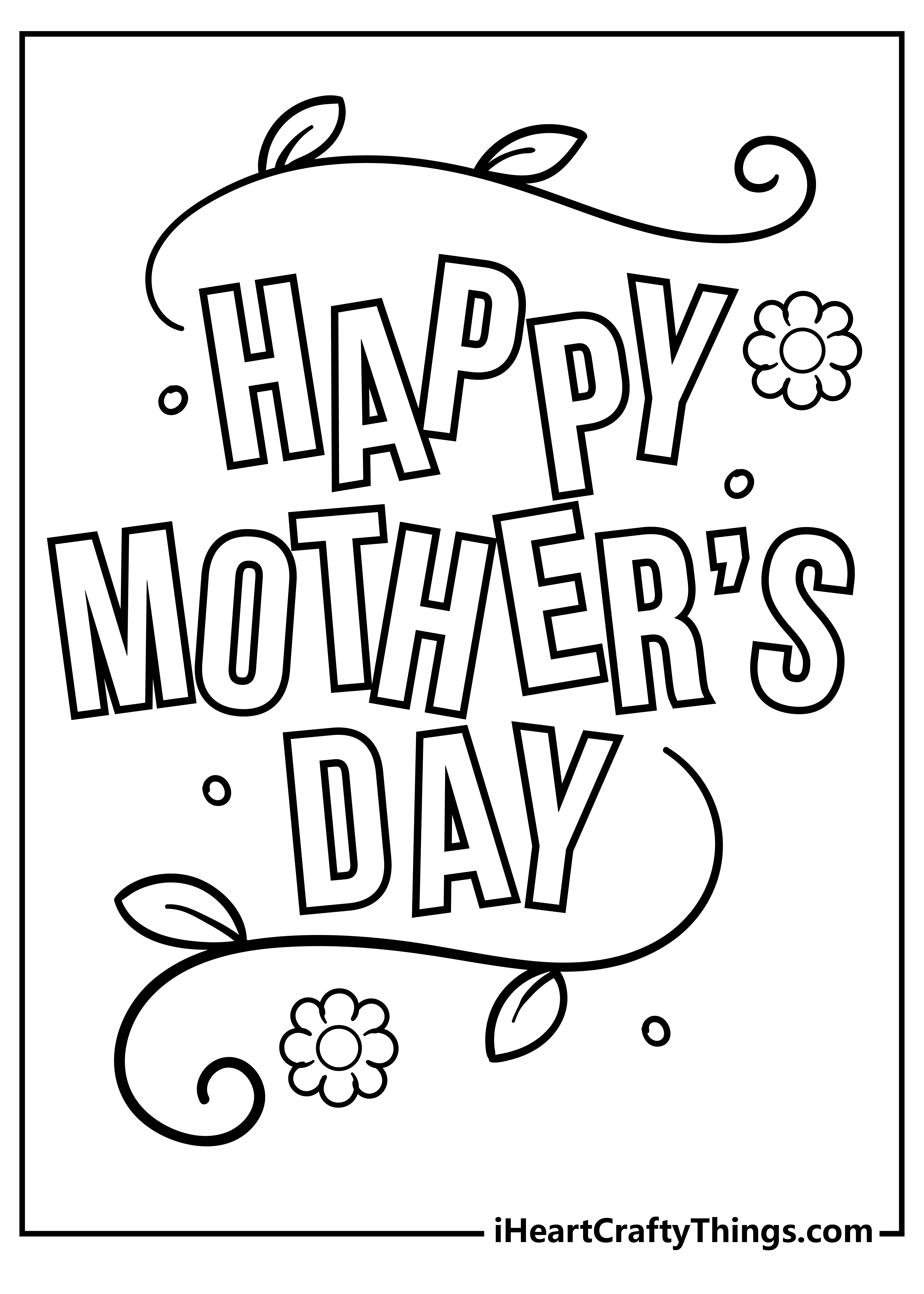 We're featuring another fancy font for a more elegant image with this next page. The flowers surrounding the phrase are simple and lovely, and there are loads of ways you could color them.
You could also keep the fun going by adding some extra details and shapes of your own to personalize it even further!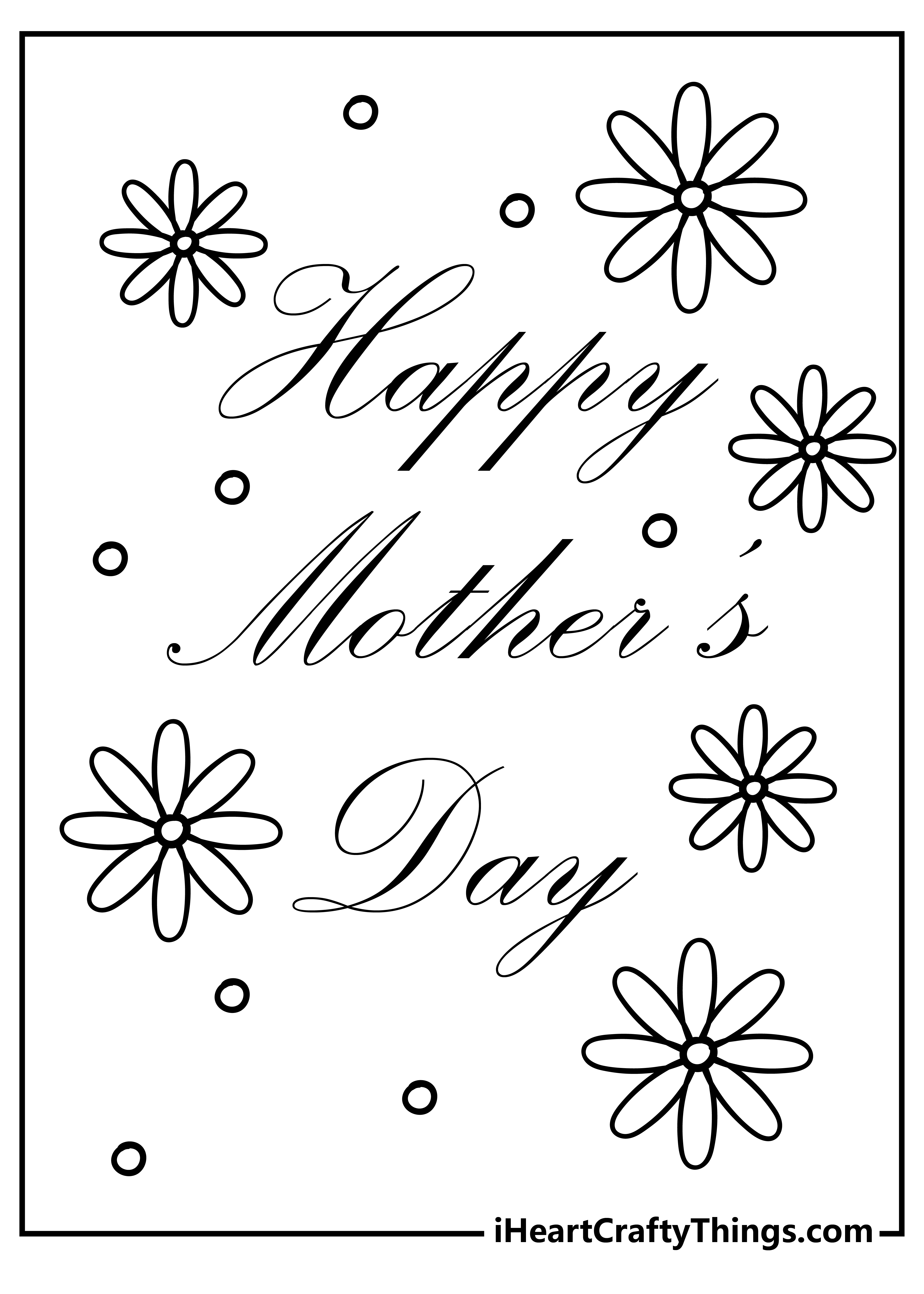 For this next image that we have for you to color, we have another instance of the phrase written in a more formal style.
For this one, we would again probably go for some lighter shades and mediums such as watercolor paints and colored pencils to suit the more understated feeling of the image.
This is just one approach, and there are many other ways to color it in!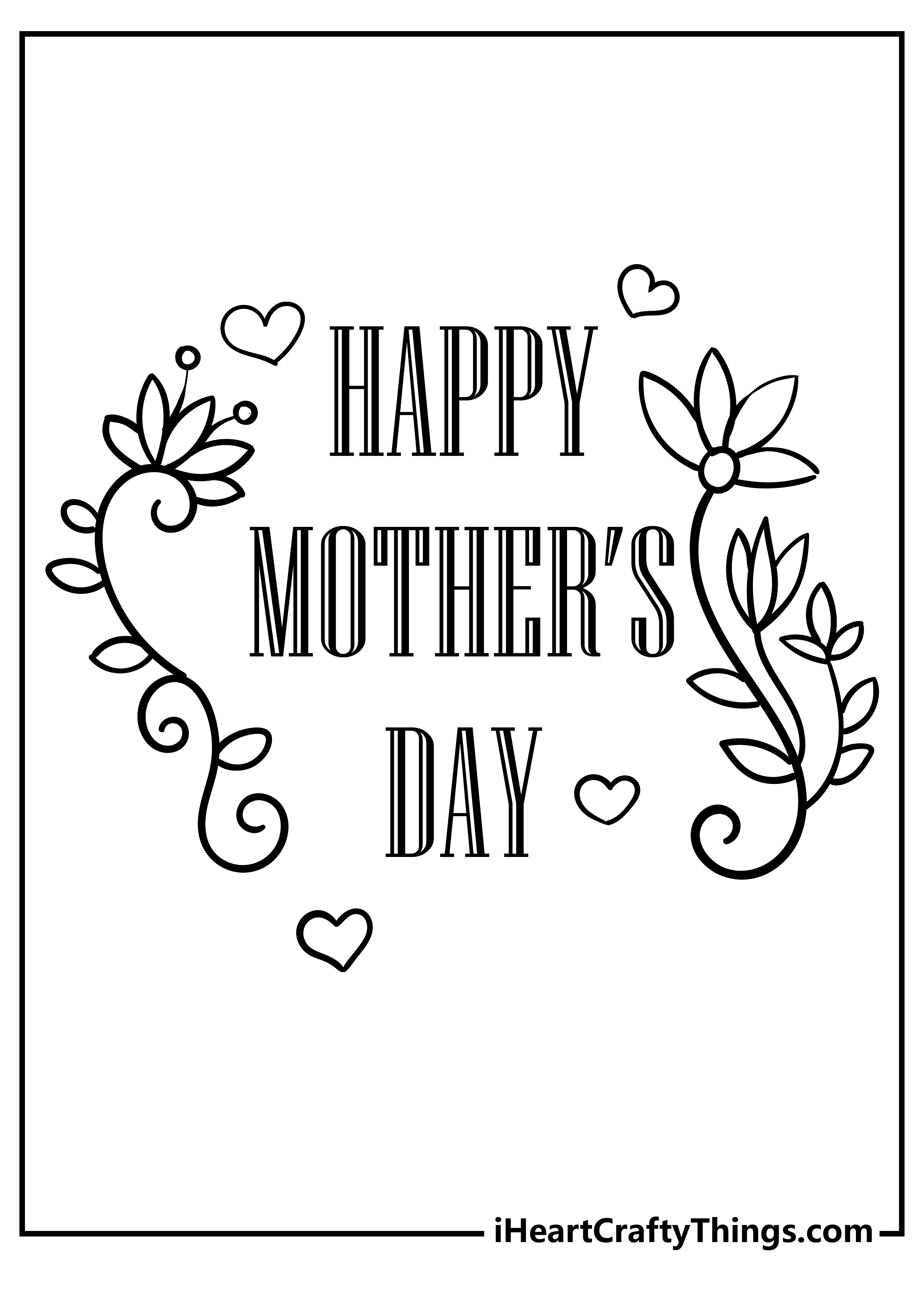 There is a really charming design for the scene of this next page! Some cute bees are buzzing around a flower, and it replicates the feeling of a beautiful day outside.
Once again, we think that some bright and vibrant colors would really make this scene pop!
Do you think that is the approach you will take?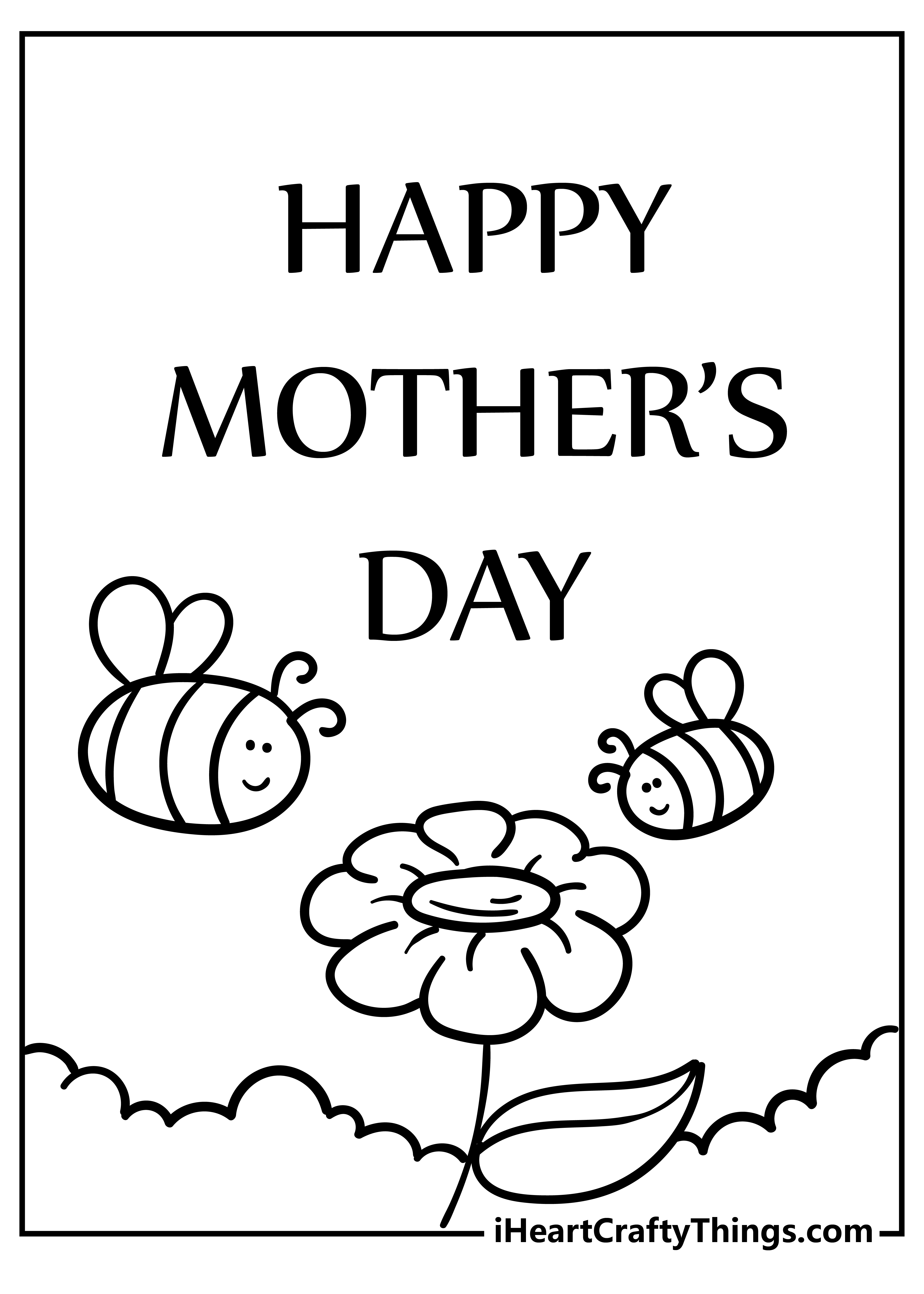 The design featured on this page is rather cool and unusual! The phrase on this page is done in a really unique font, and it is surrounded by some great shapes.
This is another one where you could make it look even cooler by adding some extra details of your own!
What kinds of patterns and shapes would you add to this one?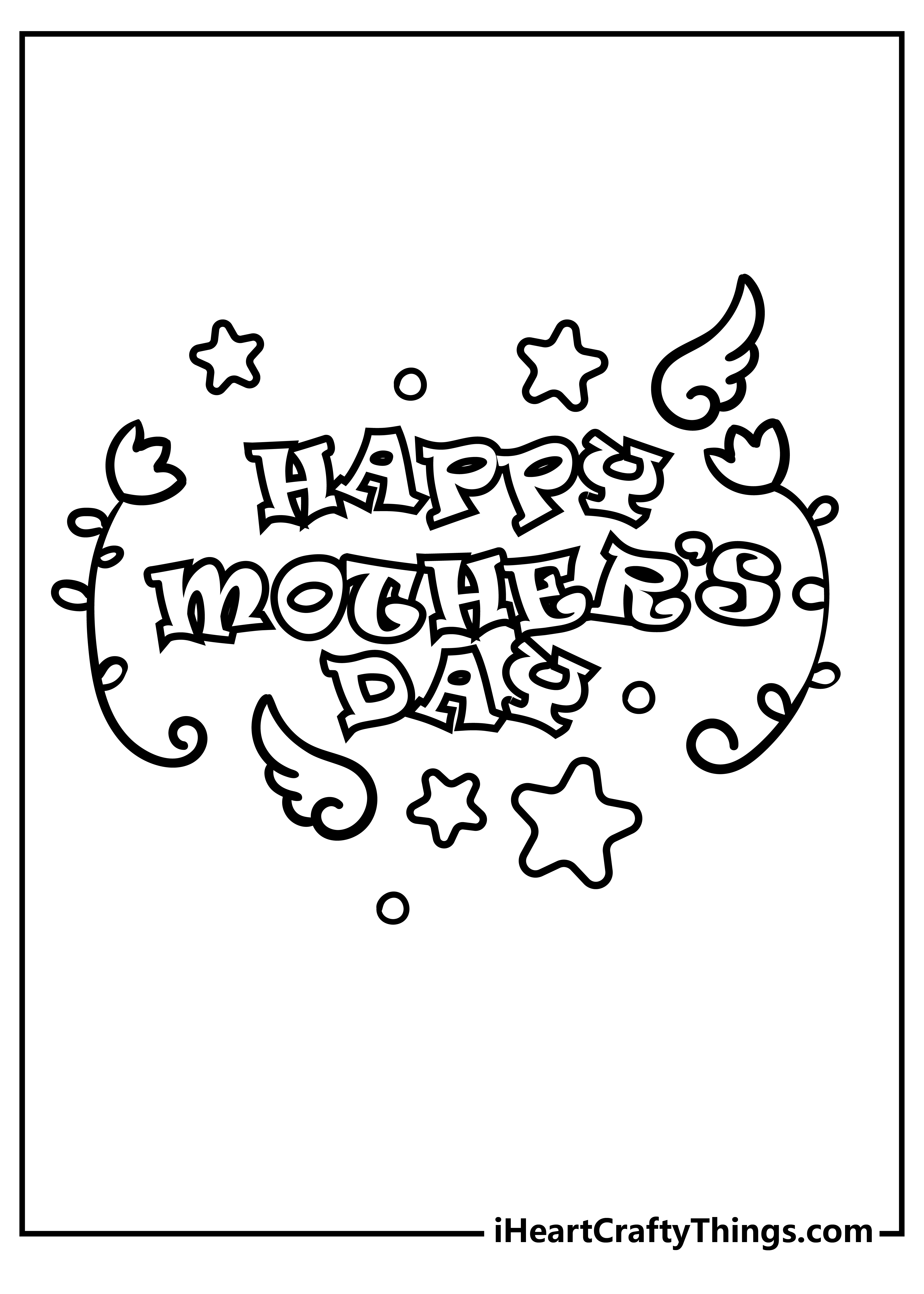 Now it's time for the final Mother's Day coloring sheet we have in store for you. This is one of the most intense designs in this collection, and there are so many great details for you to color in here.
Once this one is done, we think this will be one of the most eye-catching pages in the collection!
Will you use any of these pages as a Mother's Day card for the mother in your life?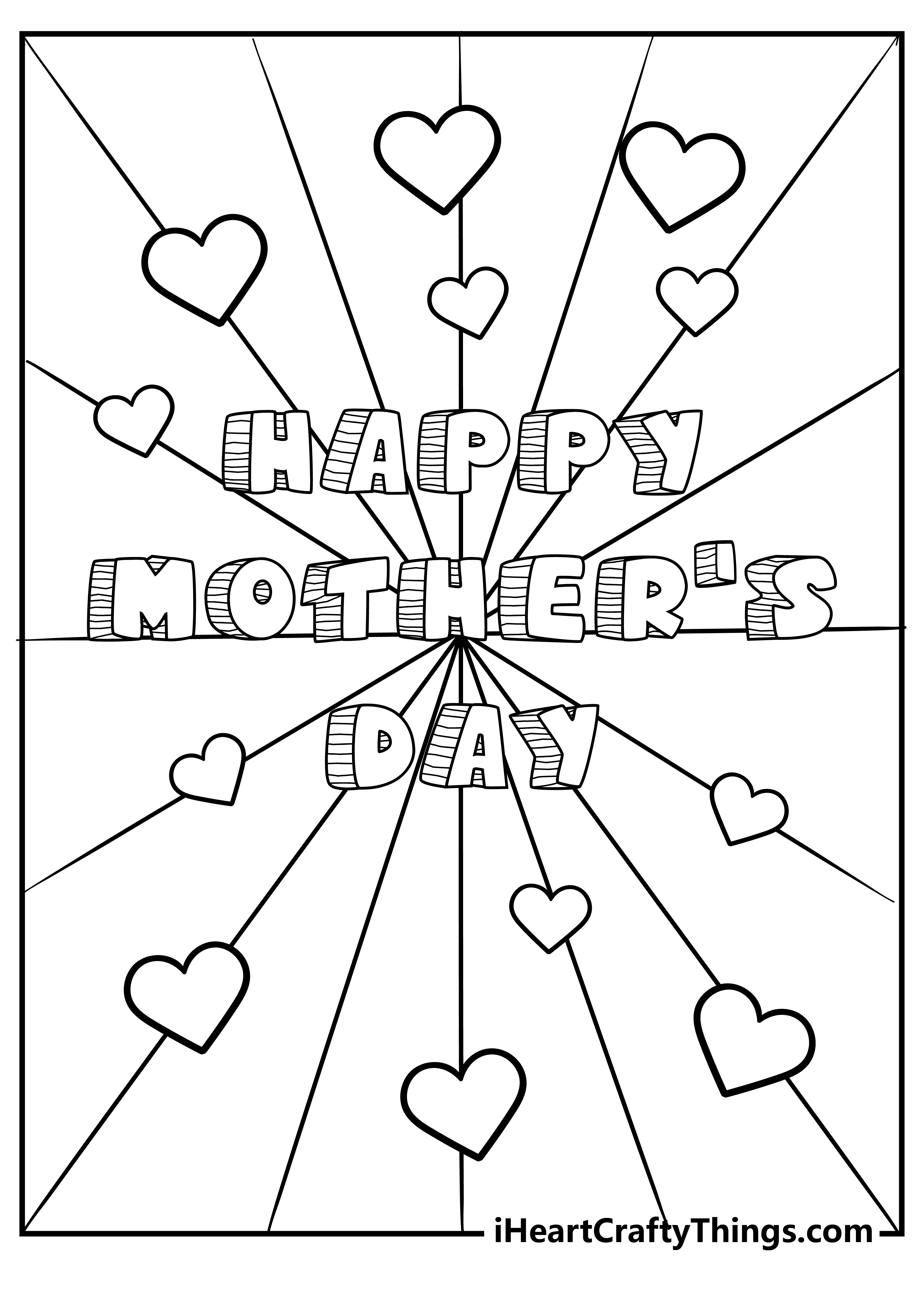 Mother's Day Coloring Pages – Which will you choose?
That finishes off this collection of free Mother's Day coloring pages for kids!
We hope you had an amazing time celebrating motherly love with these pages, and now you have plenty of artwork to use as some Mother's Day cards when the day arrives.
We would also love to see how some of these pages turned out, so please share some of your artwork on our Facebook and Pinterest pages!