Jungles hold a lot of fascination for people, as they are filled with life and mystery. They hold some of the most diverse ranges of animals, plant life and geography, and they are as beautiful as they are dangerous.
With this collection of free jungle coloring pages for kids, we wanted to capture the adventure and mystery associated with the jungle.
These 15 pages contain many of the plants and animals you may see in jungles around the world.
The pages also have so many amazing small details for you to have fun coloring!
This collection will surely be a challenge for any coloring enthusiast. So let's begin this journey as we venture into the jungle for some coloring fun!
15 Brand New Jungle Coloring Pages – Free to Print and Color
A jungle is filled with many sounds as well as things to see. I can imagine that the main sound you would hear in this jungle coloring sheet would be the sound of the stream passing through.
Of course, you would probably hear birds, bugs and other wildlife to go along with that sound of the stream!
These sounds will have to be imagined, but you can portray what it could feel like to hang out in this spot by adding your colors!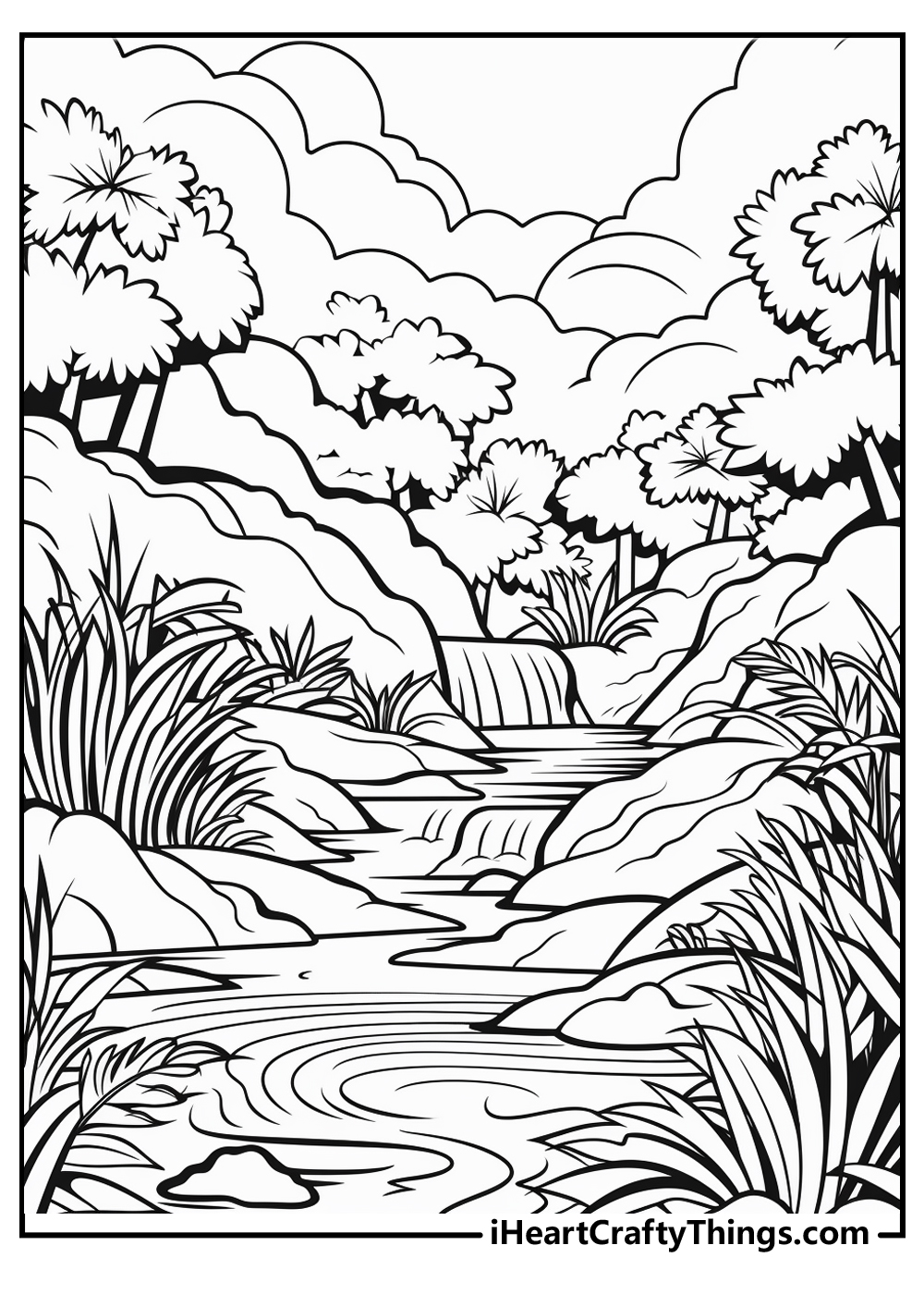 The jungle may not be the most quiet and peaceful place you can visit, but there is a sense of peace to this next scene. Some palm trees sway in the breeze, and there are no living creatures visible.
I would certainly not mind spending a bit of time enjoying this quiet scene! Now you can make this peaceful place even more beautiful by adding some color to the page.
You could also use some interesting art tools and mediums to make these colors stand out in interesting ways. What will you use?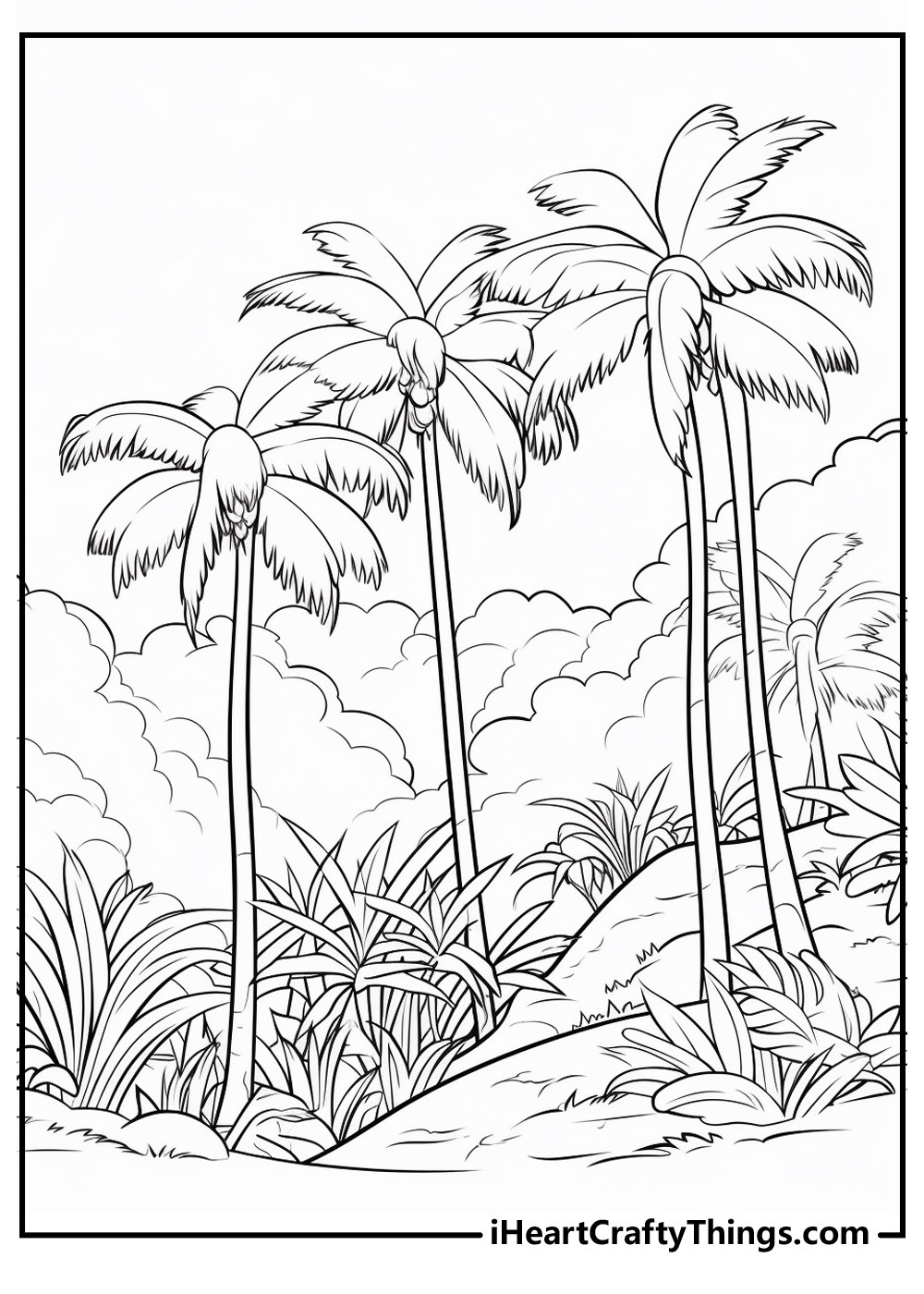 Another peaceful stream is shown on the next page, and there are plenty of details for you to color on this page as well.
You can almost hear and feel the jungle around you when looking at this detailed page!
Coloring all of these details will be a fun challenge indeed, and there are so many ways that you could go about it.
Will you use more natural colors and shades or perhaps some bright and vibrant ones?
Whatever you choose will look amazing in its own way, so feel free to get creative with it!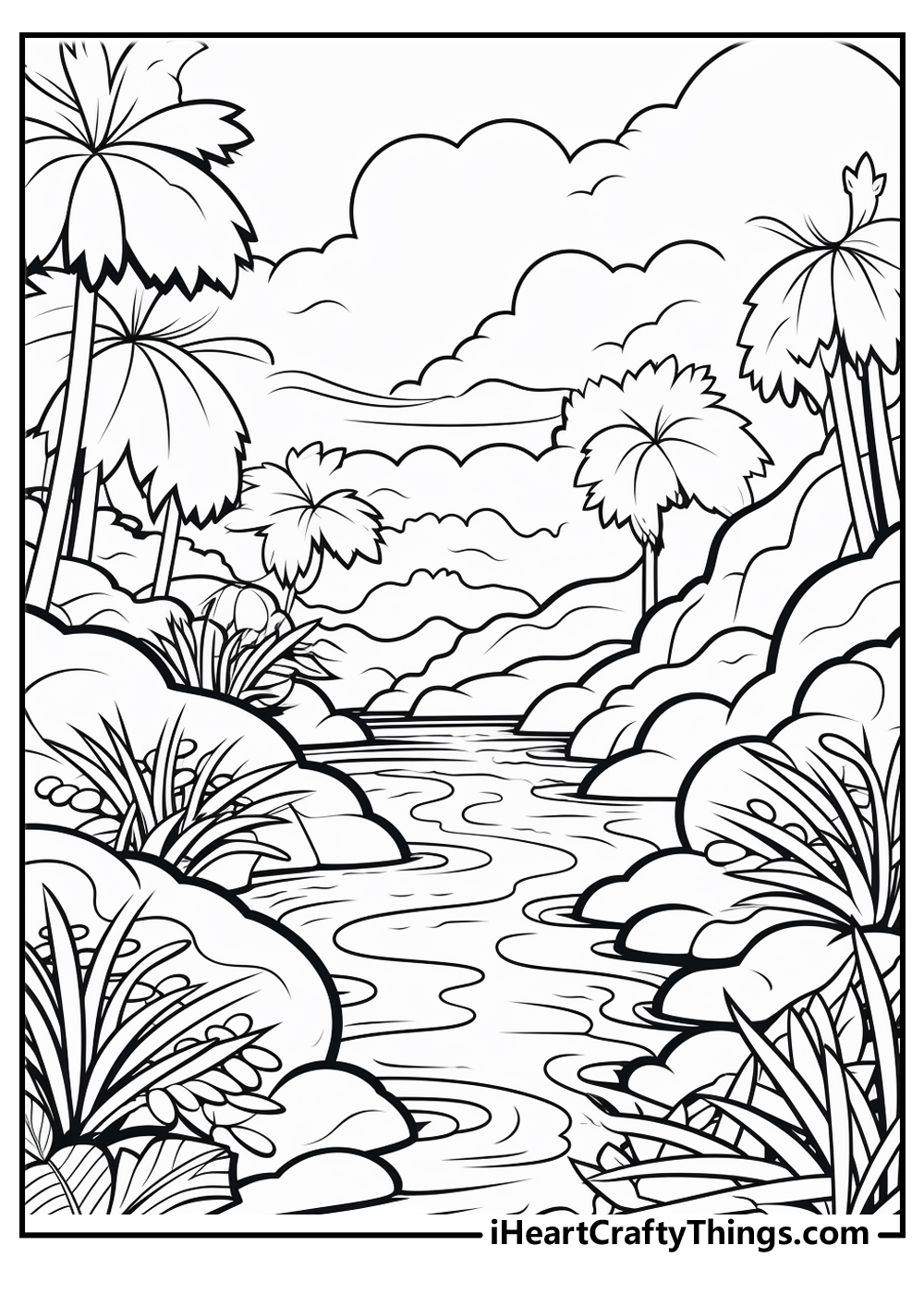 Jungles can be a bit scary, as there are many dangerous animals that live there. This little guy is an exception to that though!
On this page is an adorable little monkey, and he is waiting for you to color him. Not only can you color this monkey, but also the details around him.
The background details are really great on this picture, and there are so many small areas that you can add color to. By the time it is done, you should have a stunning picture to look at!
What color do you think this monkey would be?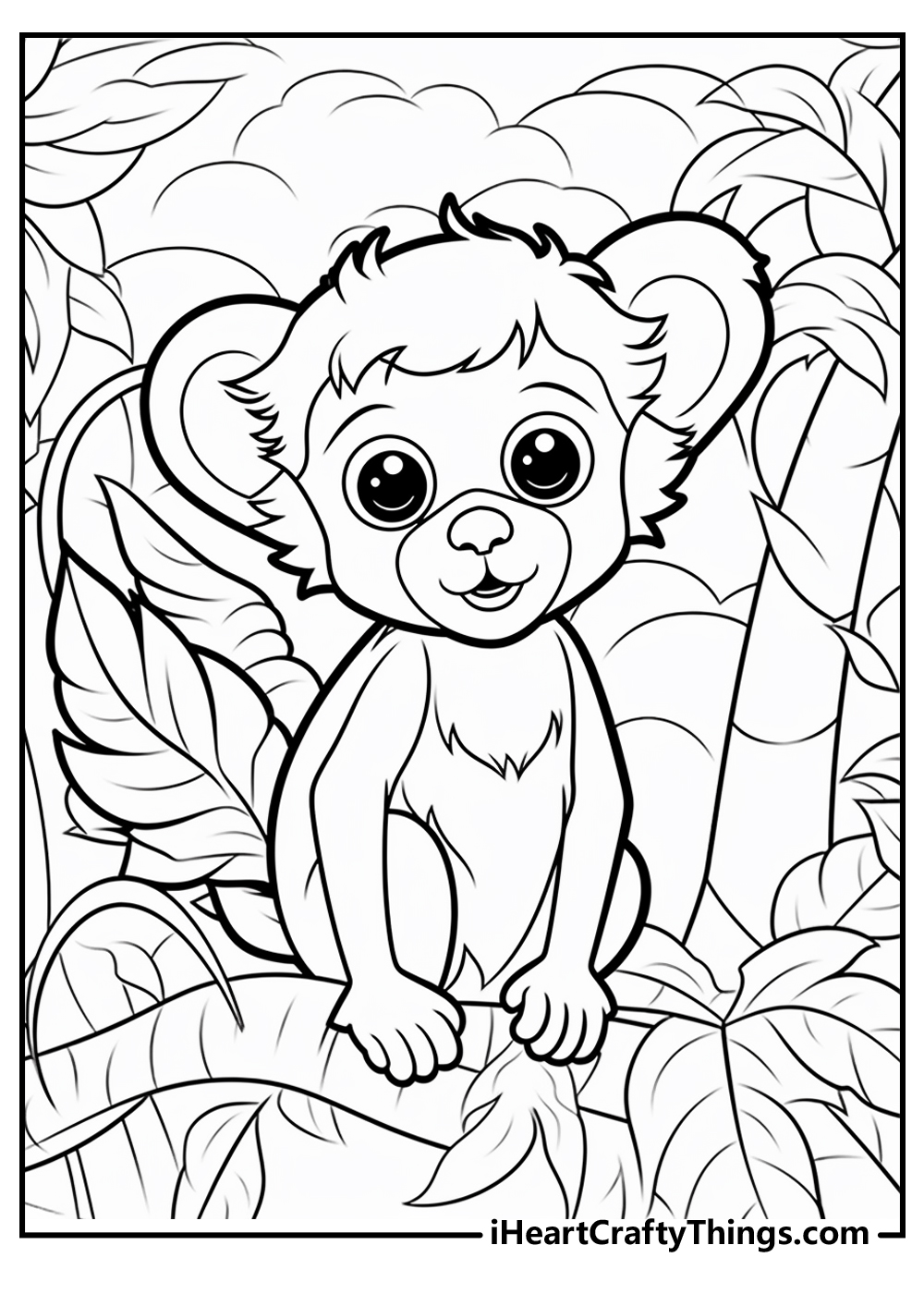 This next jungle coloring printable shows another scene that would be lovely to visit. It's another scene that looks quite peaceful, even though jungles can be so chaotic.
When I want to portray a scene that is calmer, I like to use art tools and mediums that are a bit softer. Watercolors are one of my favorites, as they make the colors look soft and pretty.
Softer mediums can also help to make a picture look more classic, so it's a great option. Of course, you could use any colors and mediums that you love when filling in this page.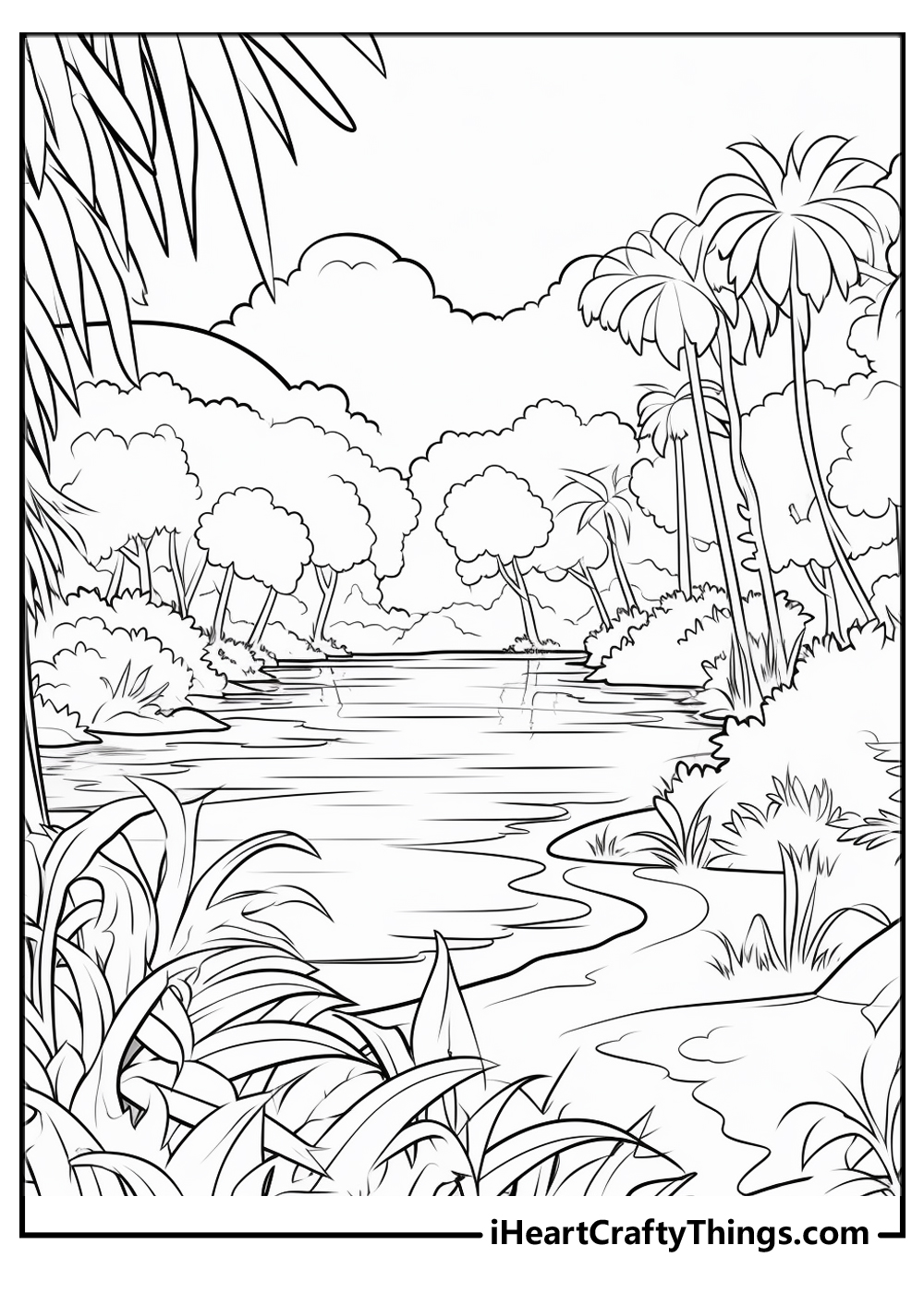 If you ask me, the tiger is one of the most beautiful animals on the planet. They have unique black, white and orange fur that makes them look really unique and incredible.
A cute tiger cub is the star of this next page, and you can represent this amazing animal with your colors and favorite art tools. I think that this page would look stunning with some bright orange.
Once you have colored the tiger, you could add some color contrast by coloring the plants and background details around it. This should be an incredible page when it's done!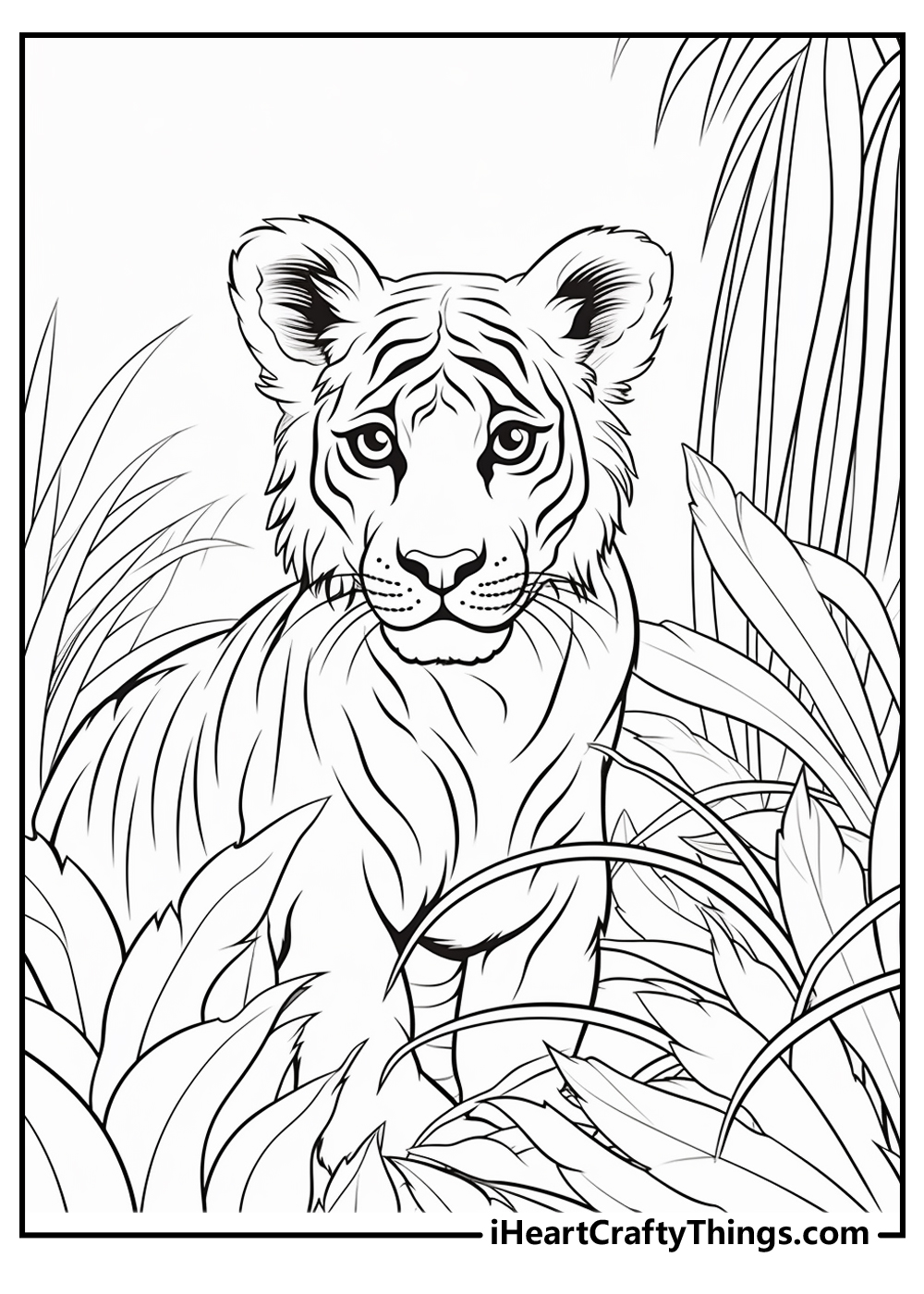 Elephants are some of the most unique animals on the planet, as they are currently the largest land animals walking the earth. They also look super unique with their big ears, long trunks and tusks.
Elephants are grey in color, so they may not be the most colorful animals on the planet. However, even if you stick to this color you can find ways to bring other colors to the picture.
For example, there are plenty of details surrounding the elephant. You could use some lovely greens and other bright colors in these surrounding elements to make this picture more eye-catching.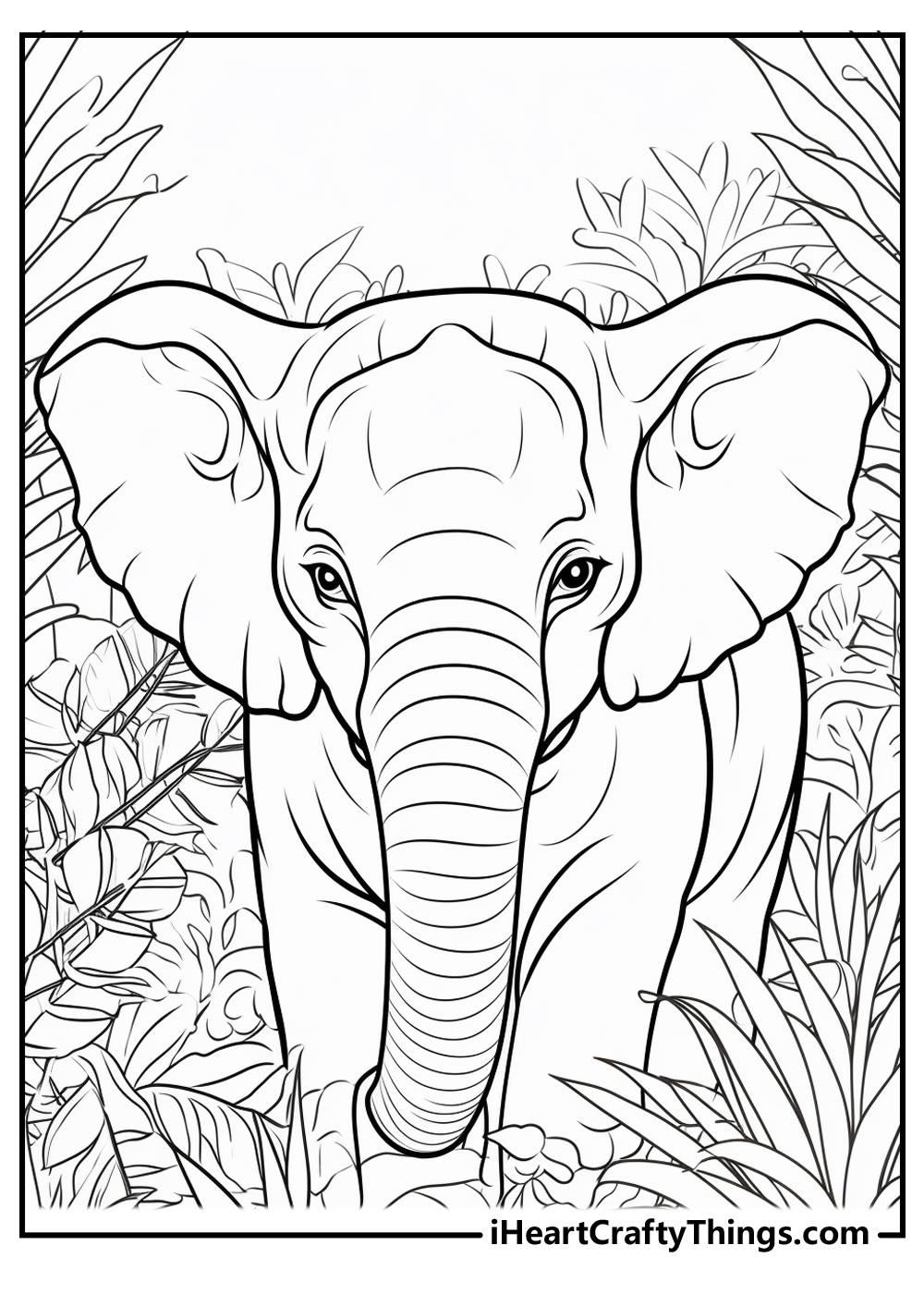 There are so many amazing details on this next page, as it showcases the many types of amazing plants that can grow in the jungle.
It may seem hard to know where to start, but you can begin anywhere and work from there! The jungle is filled with all sorts of amazing colors, so you can use any colors you love on this page.
Switching up and mixing various art tools and mediums can also be a great way for you to make the colors pop and stand out. Which colors will you begin with for this page?
There are many kinds of monkeys in the jungle, and this page shows one of these species. It's an adorable scene, as we see a baby monkey with its parent.
What could make this scene even better? Some incredible colors, of course!
That's where you come in, as you can show off your favorite colors to bring this cute scene to life.
You can make the colors realistic and natural, or you can make them more stylized.
Either approach is great, and it can depend on what your personal preference may be, so have fun with it!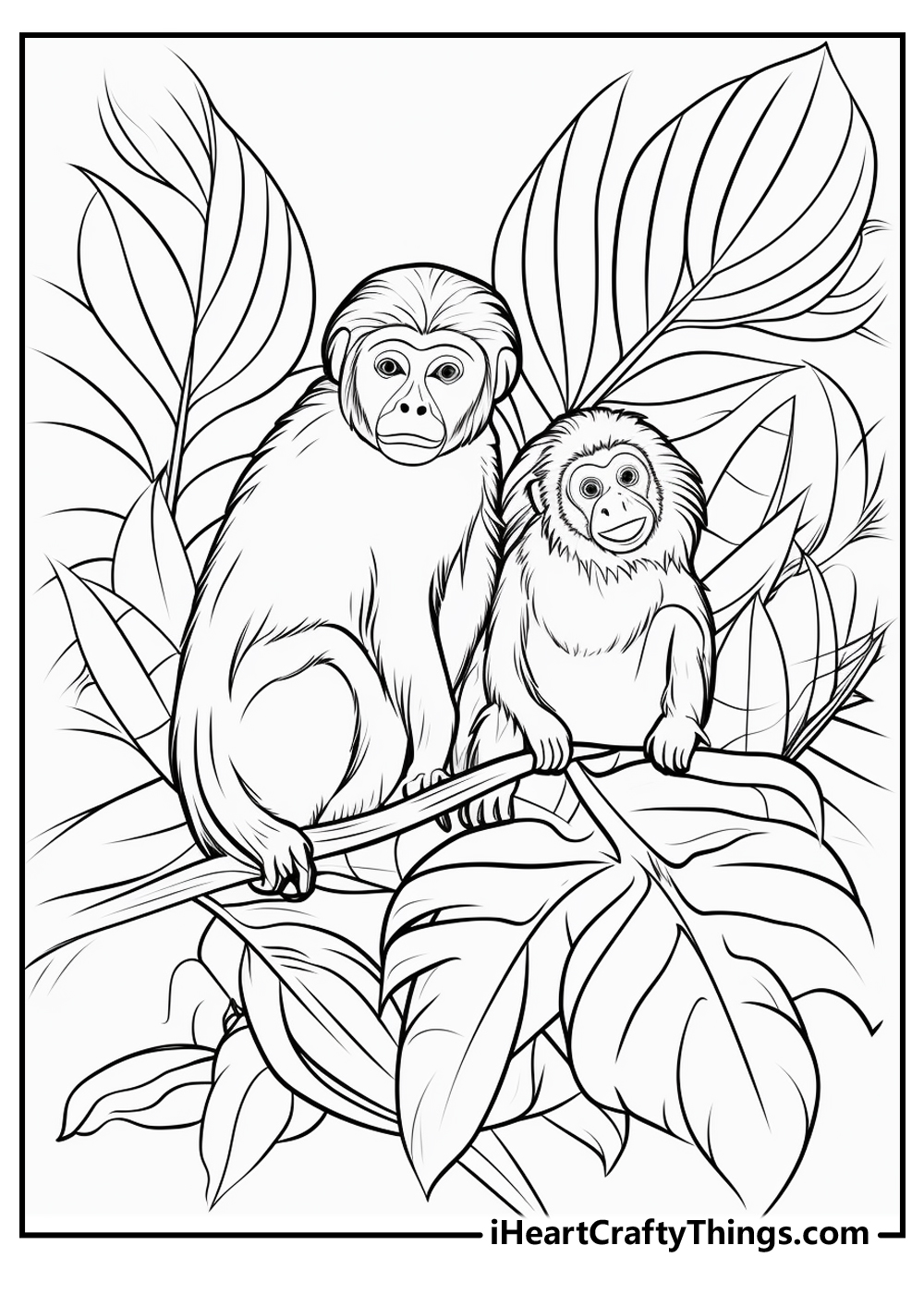 Gorillas always seem like such wise animals to me, I'm not sure why it is, but they always seem that way! This jungle coloring printable shows a wise-looking gorilla for you to color.
Gorillas are another species of animal who are not known for being particularly colorful. As always, there are many ways that you can bring color to this page.
Even if you color this majestic ape with some muted colors, you can fill the rest of the page with some amazing bright colors. There is a lot of fun for you to have here!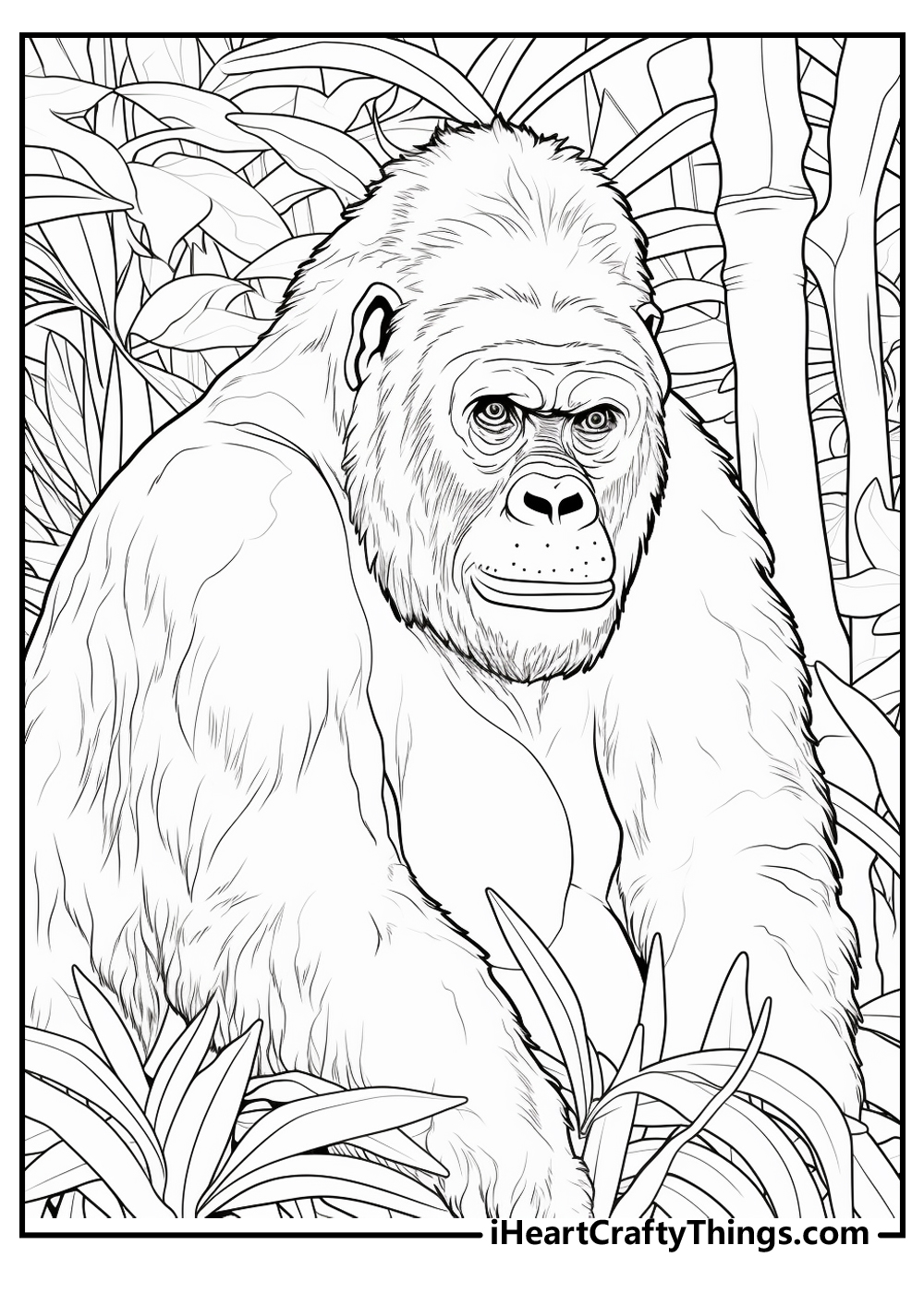 We're slowing things down again with another chilled scene for you to color. Jungles have many streams, rivers and other bodies of water, and this page shows one of them.
This allows you to contrast some blue with the greens of the jungle. The water in jungles can also be brown when they're muddy, so you have some options just for that part of the picture.
No matter what you choose, it will look amazing, I'm sure of it! What color scheme do you think you will choose for this peaceful jungle scene?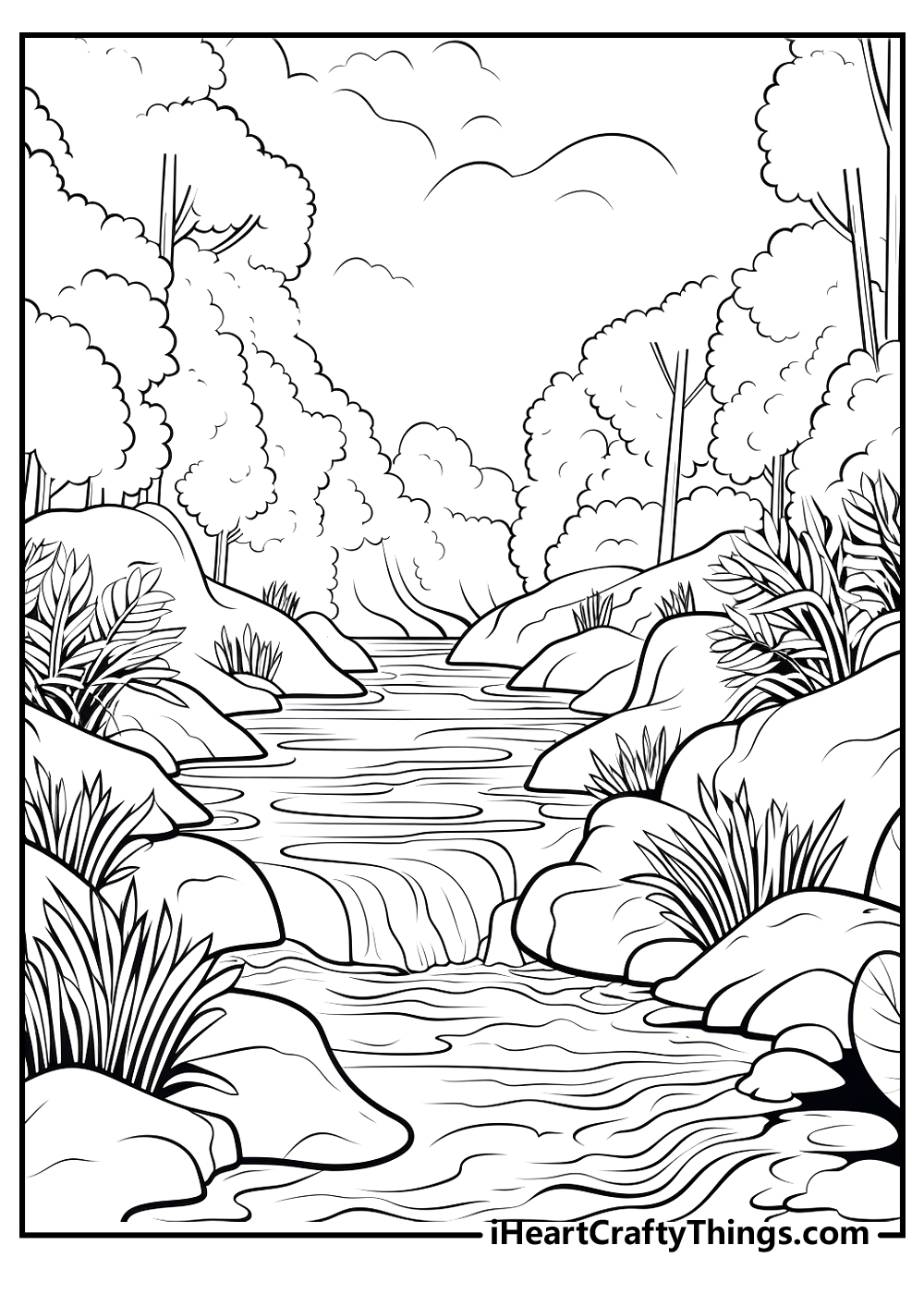 How lush and beautiful is this next page? There is a wide variety of different plants on display here, and these plants are ready for some coloring fun.
Some of the details here are quite small and fiddly, so you may want to use certain art tools and mediums for these parts.
Colored pens, pencils and small paintbrushes can be perfect for these kinds of details.
It depends on what you like to use, though, so be sure to go with whatever colors and mediums feel right to you!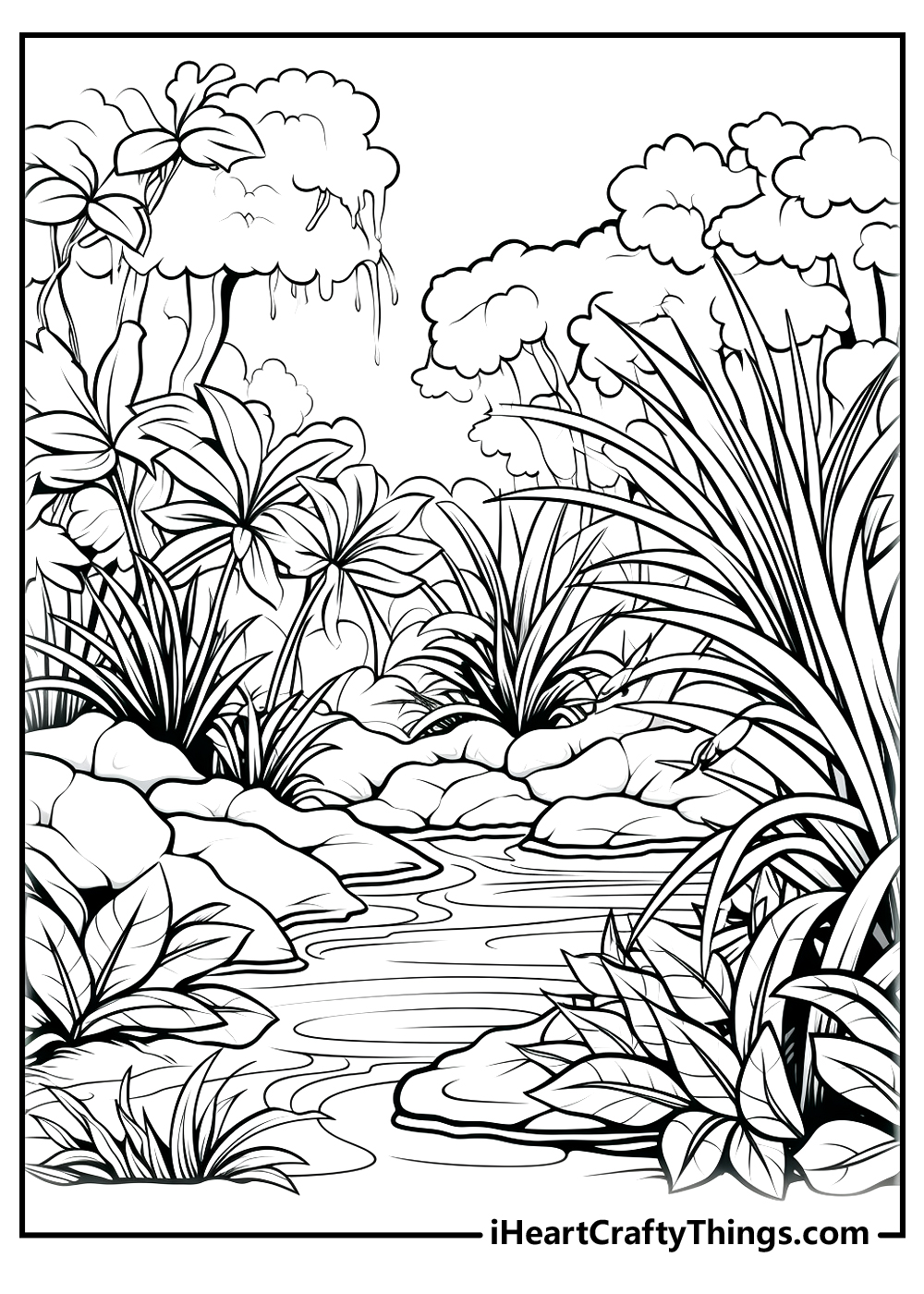 Jungles are home to some of the most incredible birds on the planet. This next page shows off one of my favorites, the macaw.
Macaws can come in many different colors, as some are mainly bright red while others may be green, blue or yellow. This means that this page is ready for a bright focal point of color.
I would be tempted to use some colored pens or acrylic paints for the macaw to make it nice and colorful, but what will you use for this parrot?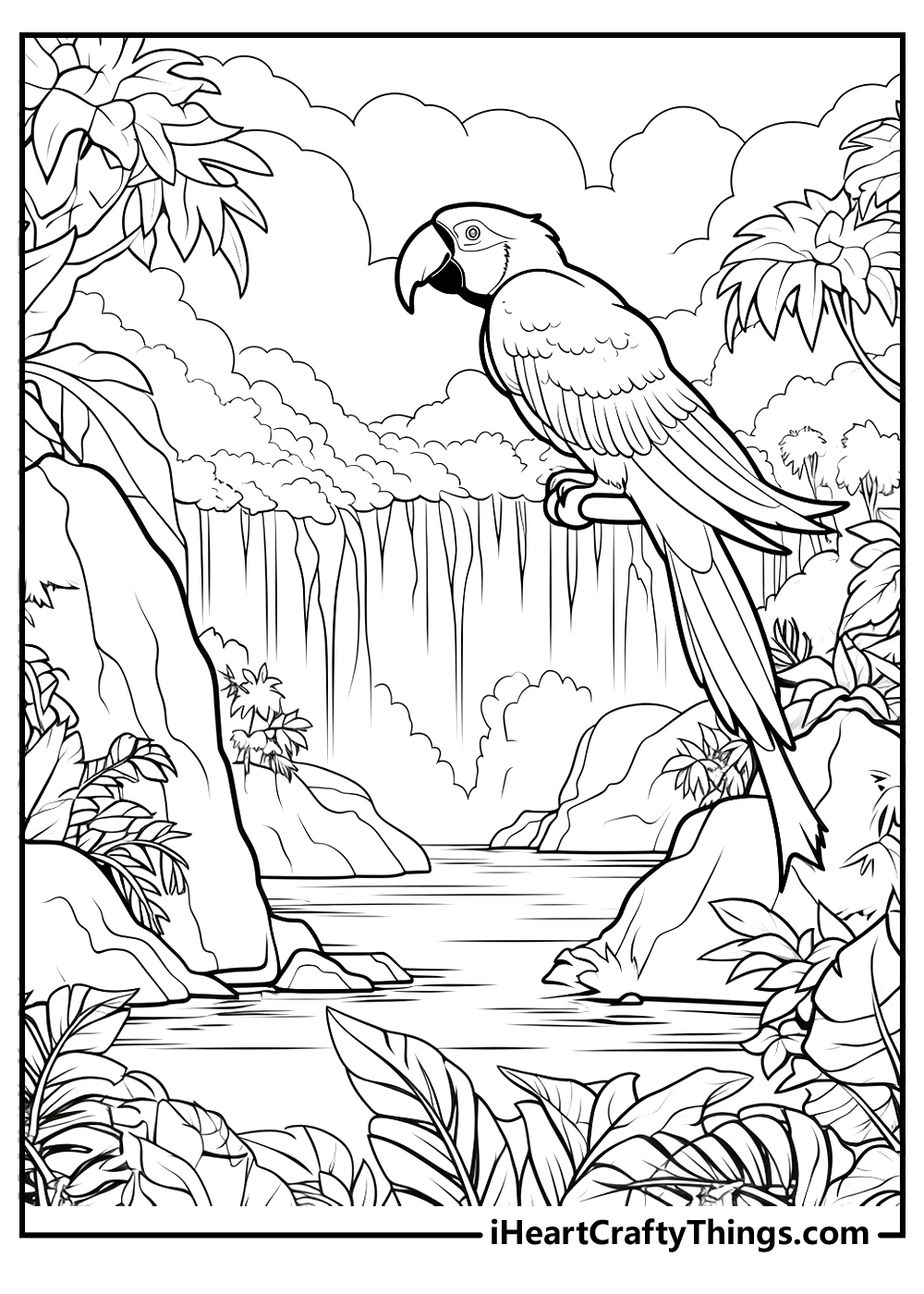 The sloth is one of the laziest and slowest animals on earth. But that sounds a bit negative, so I prefer to think of it as one of the most chilled animals on the planet instead!
Who wouldn't like to spend each day being lazy and content in the jungle? This jungle coloring sheet shows one of these lugubrious fellows enjoying a nice calm day.
The way the background is drawn makes it look like there is a sunset or a sunrise, so you could use some beautiful bright reds, oranges and yellows for the sky in the background.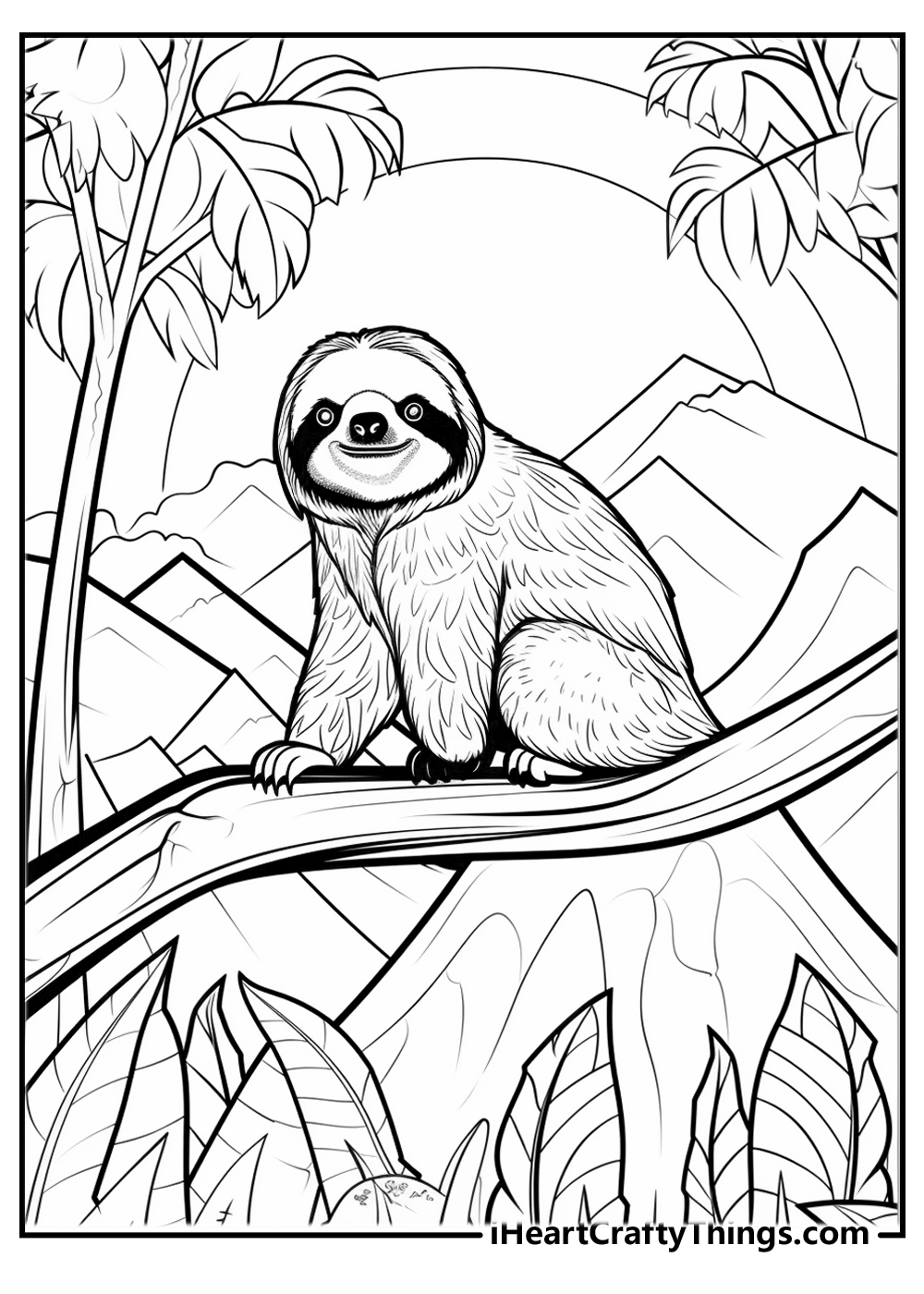 To close off this collection, we have one more scene of the jungle for you to color. This is a great way to finish off, as it brings the focus to the jungle itself.
For this page, why not try out some new and interesting mediums and colors to bring it to life? It could be a fun opportunity for you to try out some that you haven't used in this collection yet.
Remember that you can print out this page as many times as you please if you want to try and experiment a bit!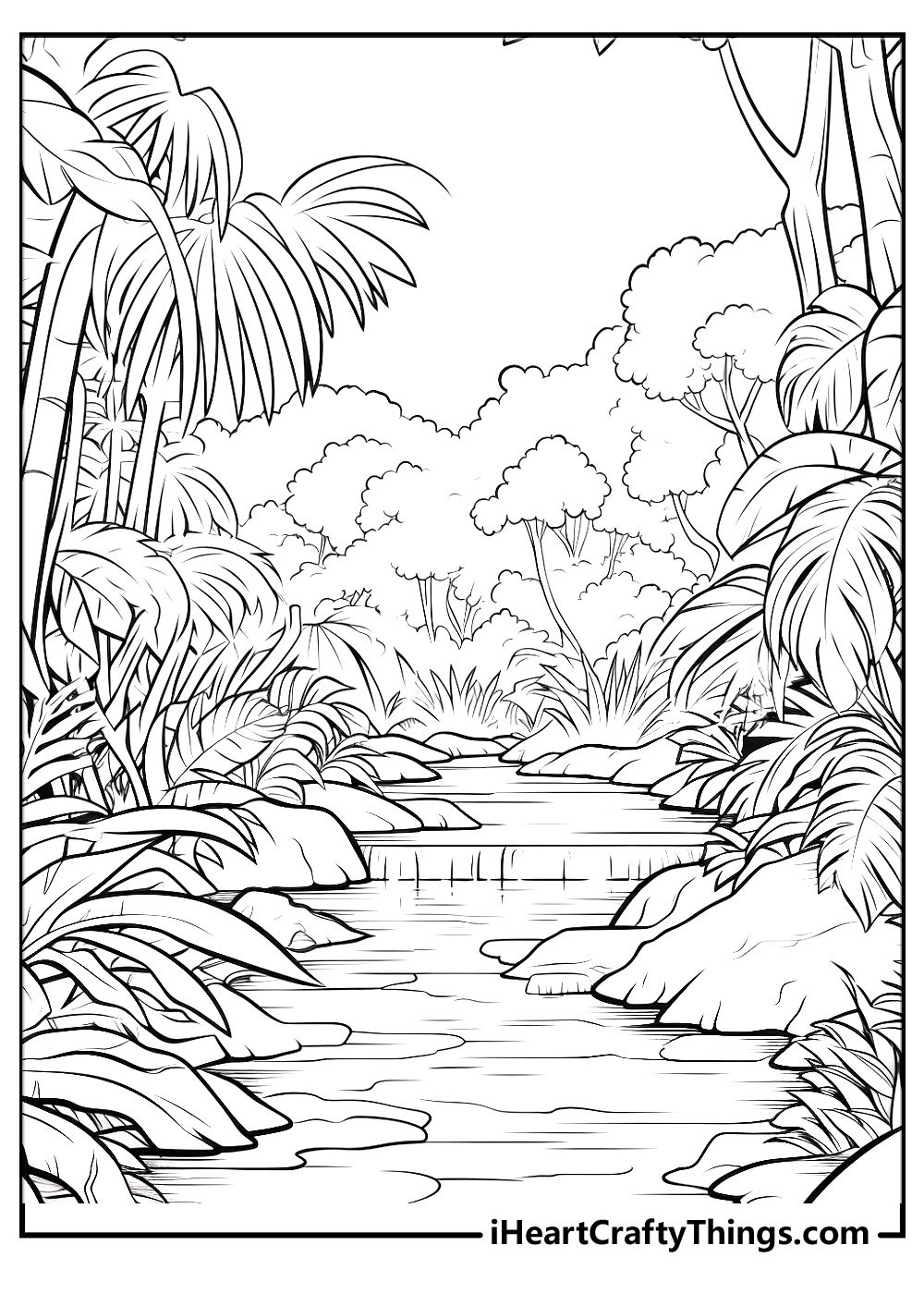 Jungle Coloring Pages – Which will you choose?
I hope that you enjoyed this journey into the jungle! This collection of free jungle coloring pages for kids was designed to showcase many of the amazing animals and plants the jungle has to offer.
This allows you to use a wide range of colors, art tools and techniques to make each page beautiful and unique. If you know anyone who loves the jungle, you can share this collection with them too!
Speaking of sharing, we would love to see some of your finished pages. You can share your artwork on our Facebook and Pinterest pages for us to see and admire!