There are some amazing feats that can be performed by people when they train and work hard, and there are few better showcases for this than gymnastics performers.
There are many different styles and moves in gymnastics, and we will be representing some of them in this wonderful collection of free gymnastics coloring pages for kids.
These printables feature a wide range of different gymnastics scenarios for you to have fun coloring!
On top of this, we have also left some room for you to add your very own extra details and background elements.
There are no wrong answers for how you can finish them off, so be sure to have fun getting creative!
Within this selection of free gymnastics coloring sheets, you will find many fun pictures that you can choose to color.
You can print these out as many times as you wish, and it is fun to share them with friends and family to see how different people interpret them!
We hope that you have a great time stretching your creative muscles with these free gymnastics printables!
When you have colored and finished your favorites, we hope you will share your artwork on our Facebook and Pinterest pages for us to see.
10 Brand New Gymnastics Coloring Pages – Free to Print and Color
Our first page in this collection of free gymnastics coloring pages for kids features a little athlete pulling off an elegant move!
The style of this image is rather simple, but it helps to focus the attention on the move being performed.
There are lots of aspects to add color to in this composition, and the main decision will be what colors you will use for her gymnastics outfit.
You could also incorporate some shapes, details and colors into the background behind her for some extra fun in this image. How will you finish off this fun scene?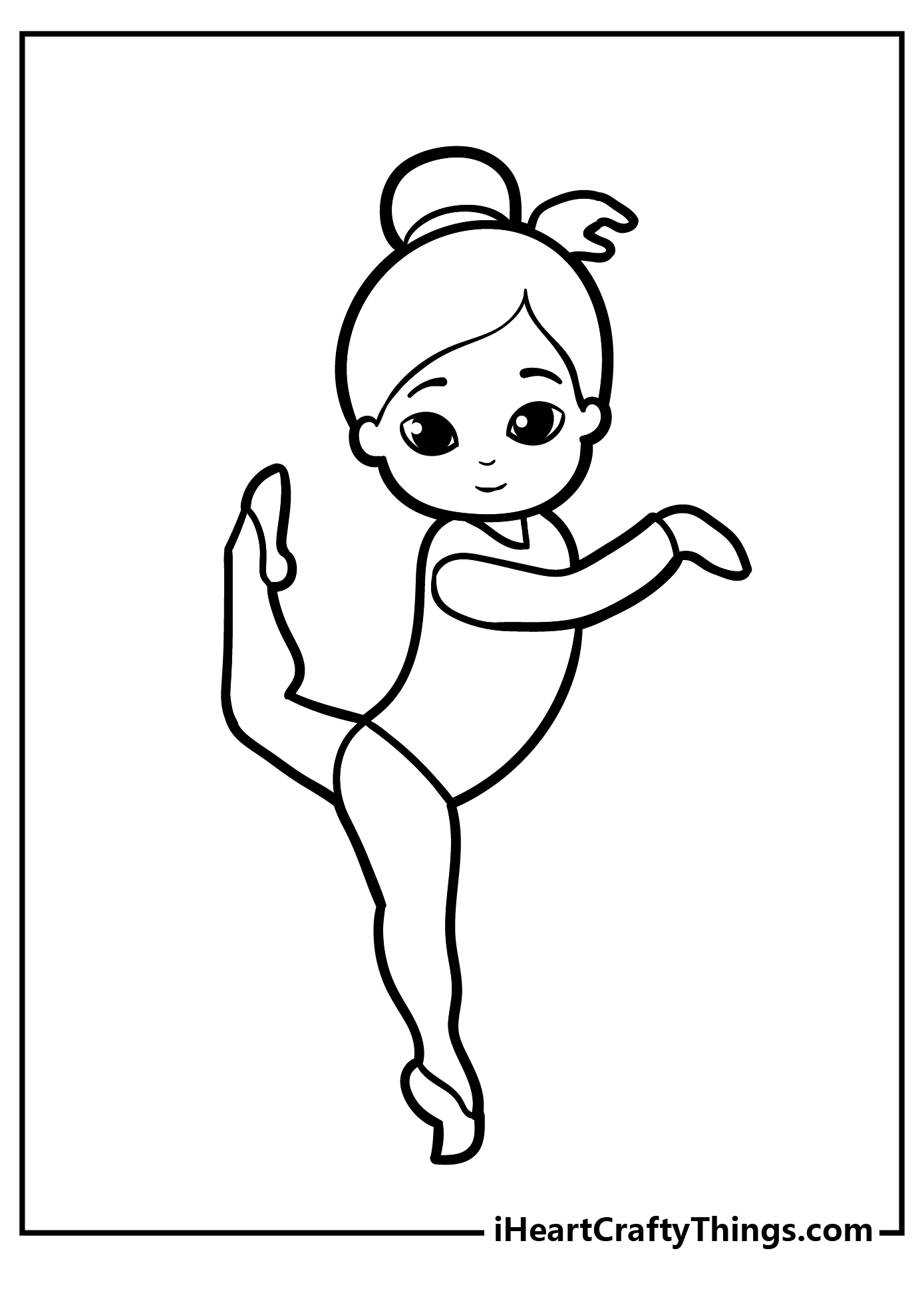 The move being performed in this second gymnastics coloring sheet is quite a feat to behold!
This little ballerina is leaping through the air, and this certainly appears to be a move that would take a lot of skill and practice to pull off.
The only question left is what colors and mediums you will use to complement this fancy gymnastics move!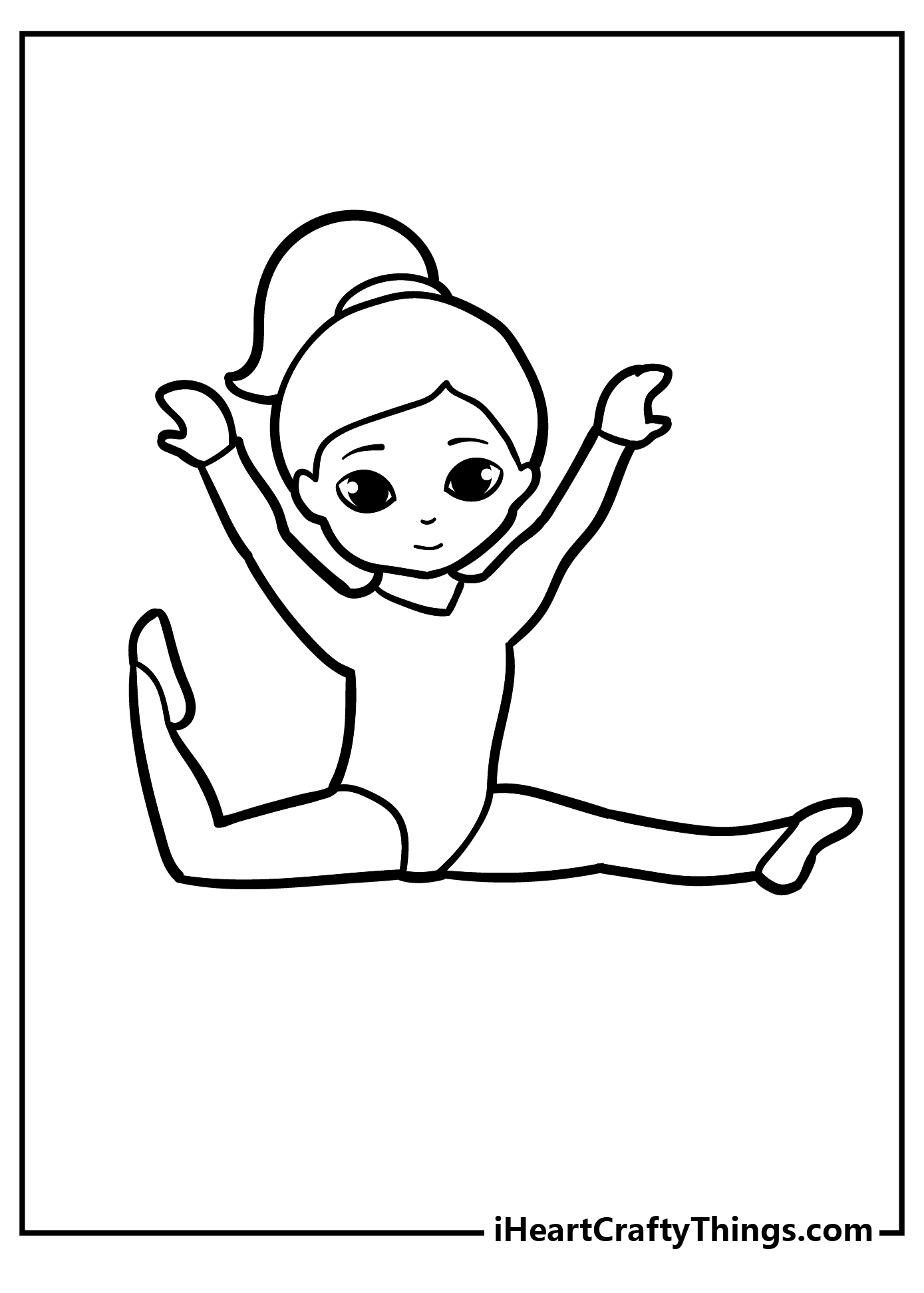 We have some more gymnastics elegance for you to color in this third picture in our collection of free gymnastics printables.
Once again, this looks like a move that would require a lot of practice and dedication!
This is another image where the background has been left blank, and this allows you to add your own elements to the background to help personalize this scene a bit more.
What colors and details are you thinking of using for this image?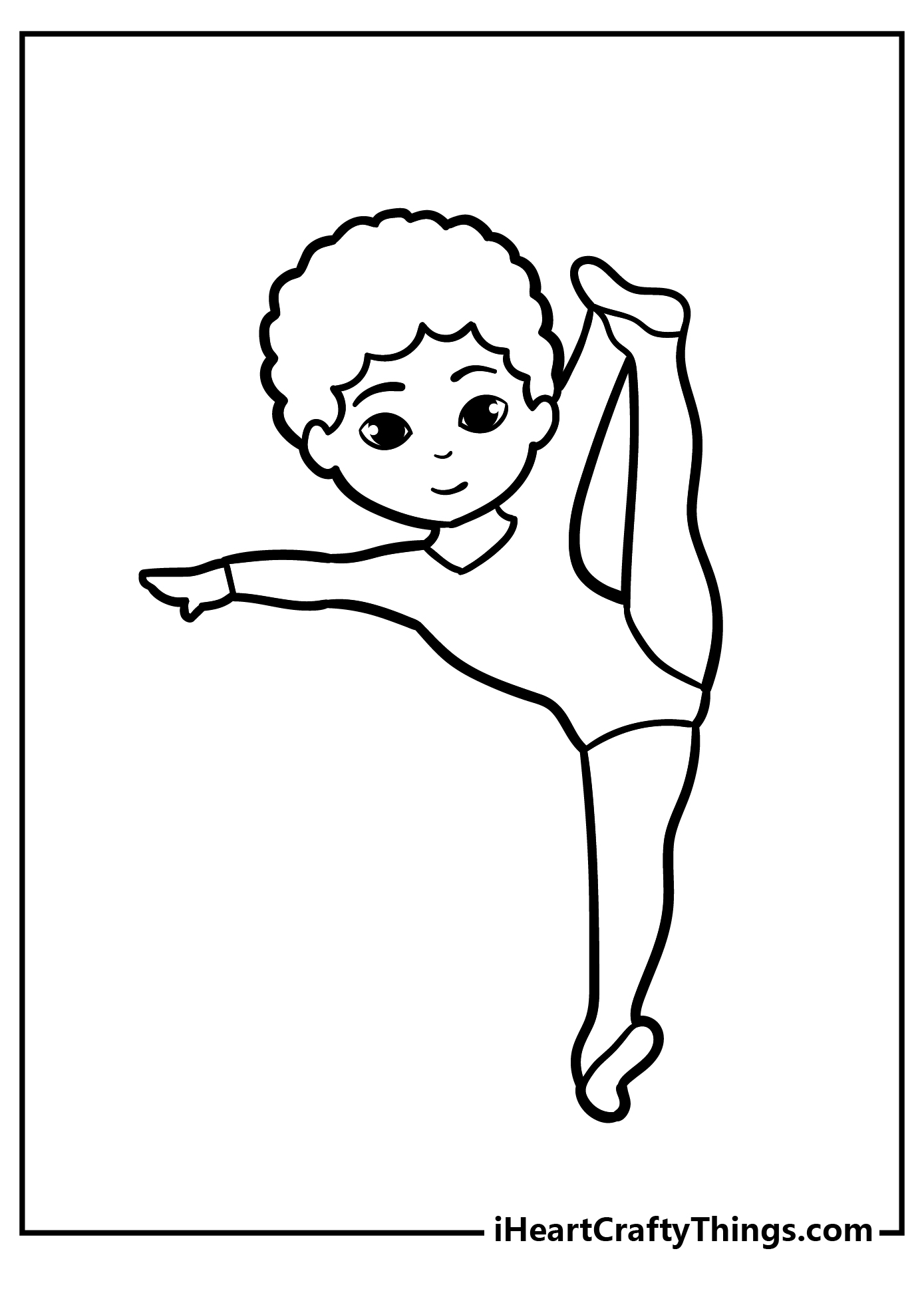 It's safe to say that the move being shown off in this next gymnastics coloring page would require a lot of balance and concentration!
If most of us tried a move like this we would probably end up falling over to the ground! That only makes viewing moves like these even more impressive.
We would use some darker color shades to help replicate the feeling of concentration shown in this printable. Do you agree with this approach or do you have different colors in mind?
The athlete in our fifth gymnastics coloring sheet is soaring gracefully through the air. In moments such as this, these performers almost look like they're as light as air!
For that reason, we would take an opposite approach to the suggestion in the previous printable. We would use some light blues and greens for her outfit, but these are just a suggestion!
You should definitely feel free to use any other colors and shades that you prefer.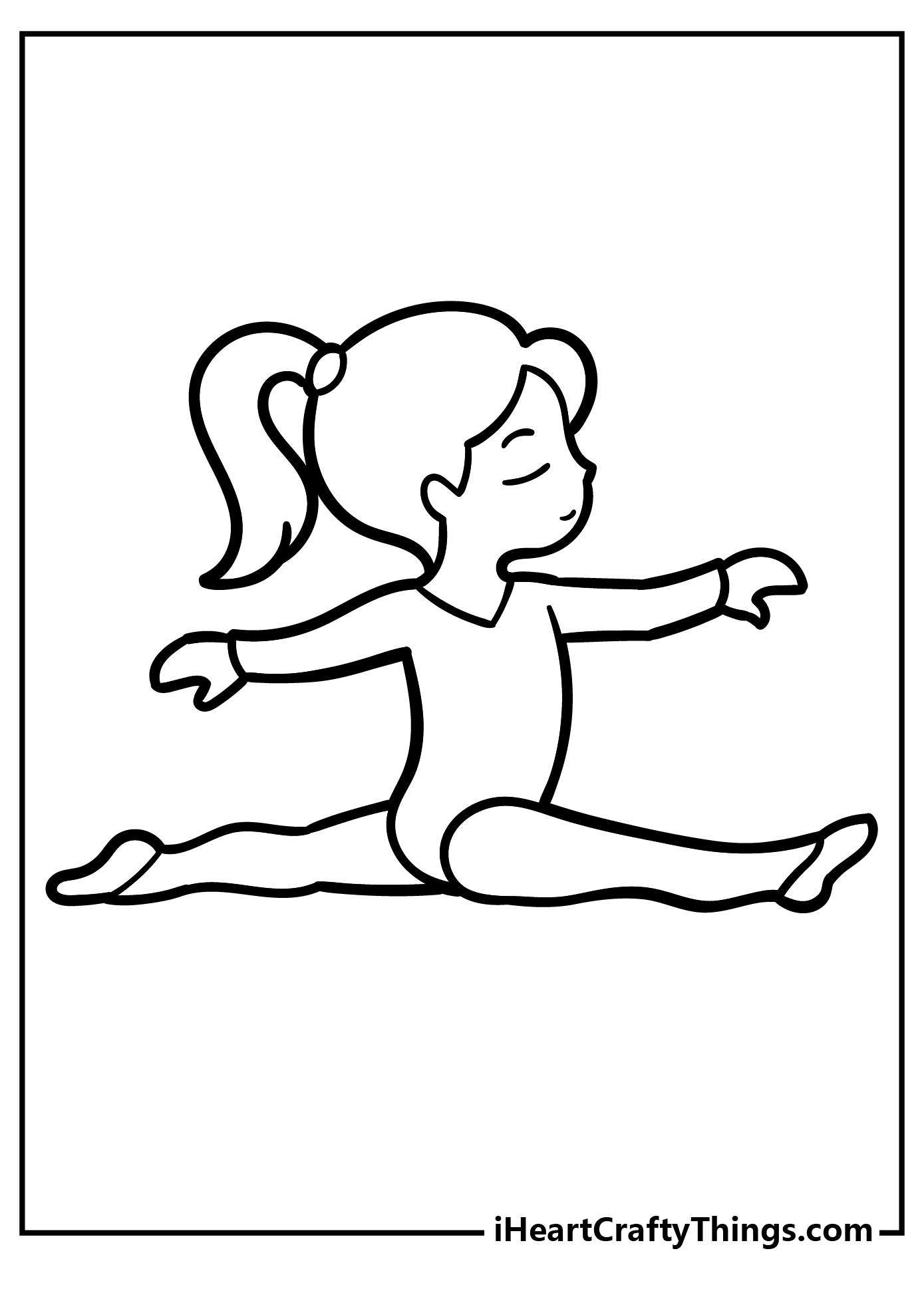 We can only begin to imagine the kind of strength and concentration that the move in this sixth gymnastics coloring printable requires.
This performer is holding onto some rings attached to ropes, and this must take a great deal of practice to perform without falling down!
What colors and mediums do you think would help to highlight the concentration that goes into a move such as this?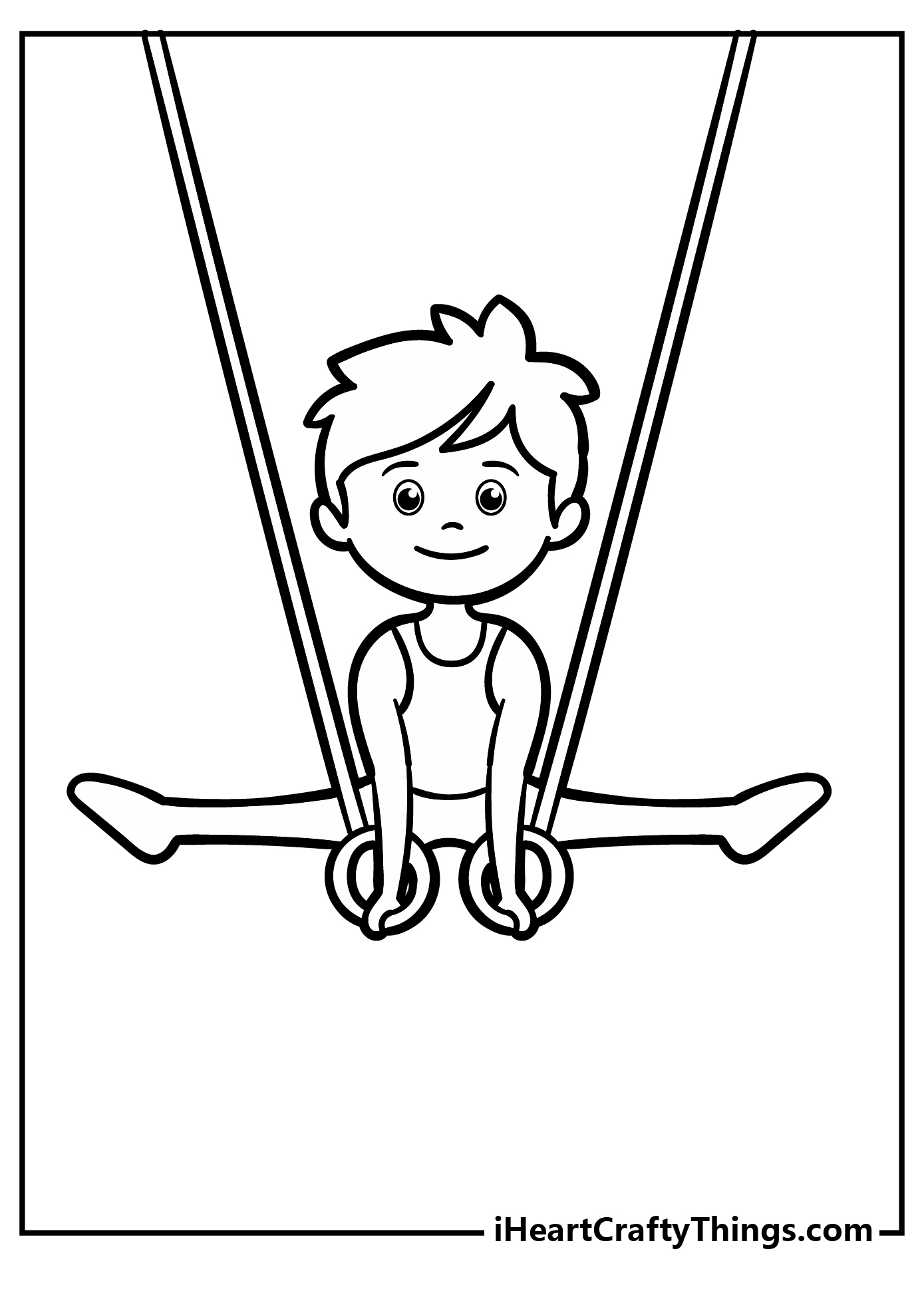 This little gymnast seems to be having a great time as he performs another daring move! The big smile on his face seems to indicate that this is a move that he enjoys showing off.
When coloring this gymnastics coloring page, you could use some bright cheerful colors that highlight the happy feeling this gymnast gives off.
What colors do you most associate with happiness?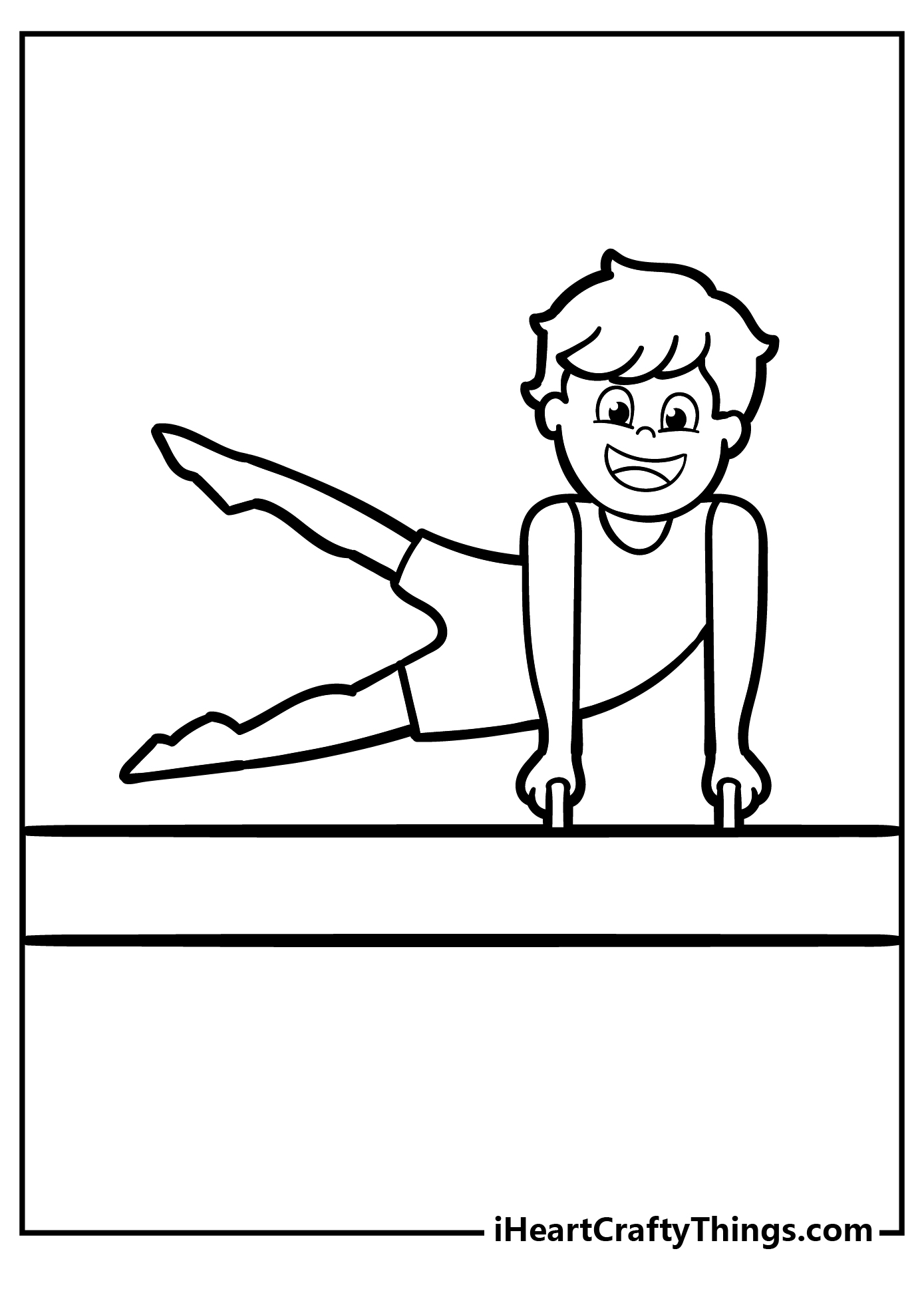 We have another kid showing off a spectacular move in this eighth gymnastics coloring sheet.
He is at the critical point of this move, and this would probably be the moment that would have the crowd clapping and cheering like crazy!
Speaking of the crowd, there is a lot of empty space in the background of this printable.
You could fill this space by drawing a cheering crowd that is enjoying this awesome move being performed! That's an idea for one background, but what others can you think of?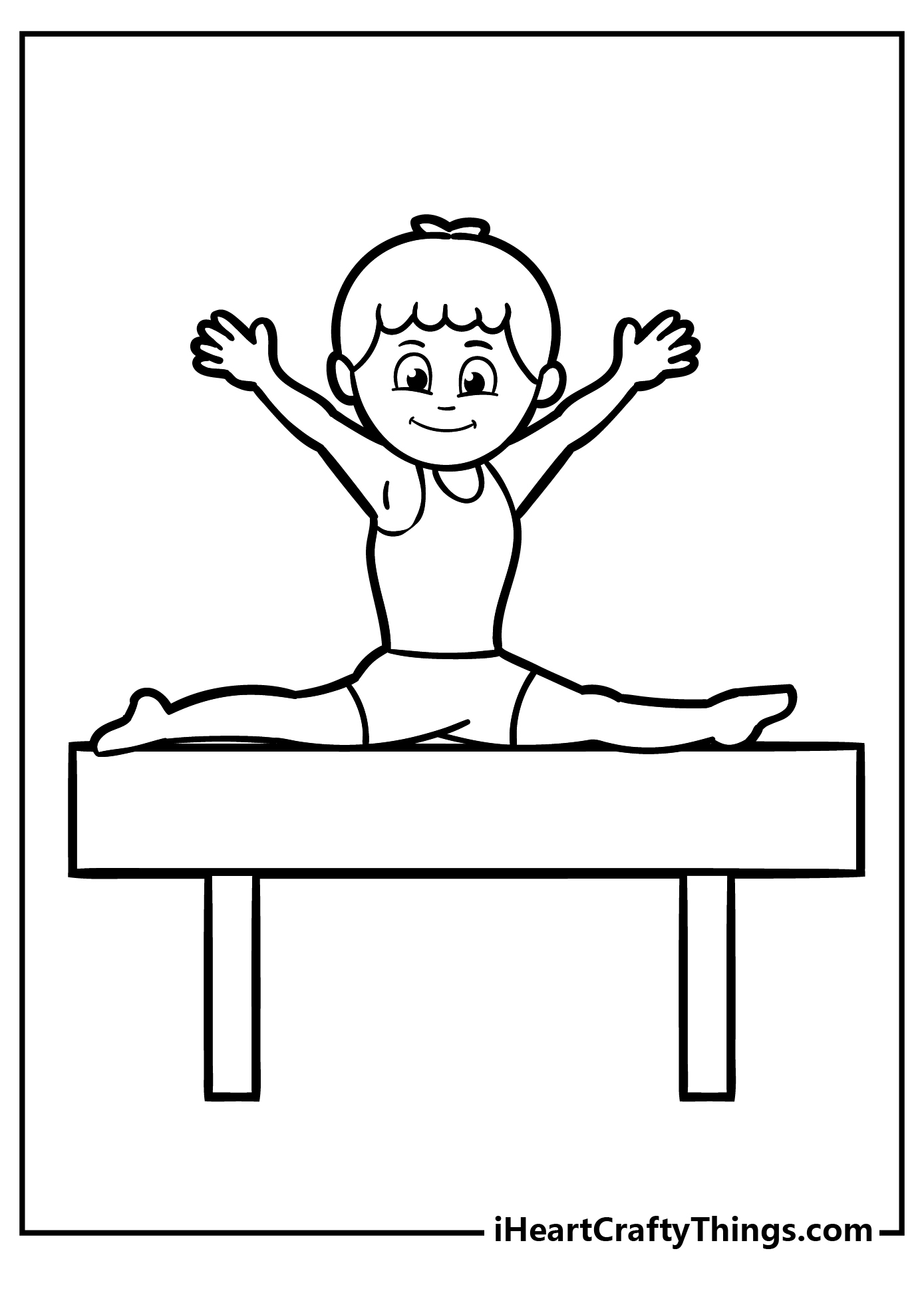 The look of concentration on the face of the gymnast in this gymnastics coloring page seems rather justified for the move being performed!
This one also looks like it would require a lot of strength, practice and concentration.
For this image, you could maybe try out some mixtures of art mediums and tools to create a more dynamic look for the scene.
Remember to also draw any extra details or background elements that you think would suit the image!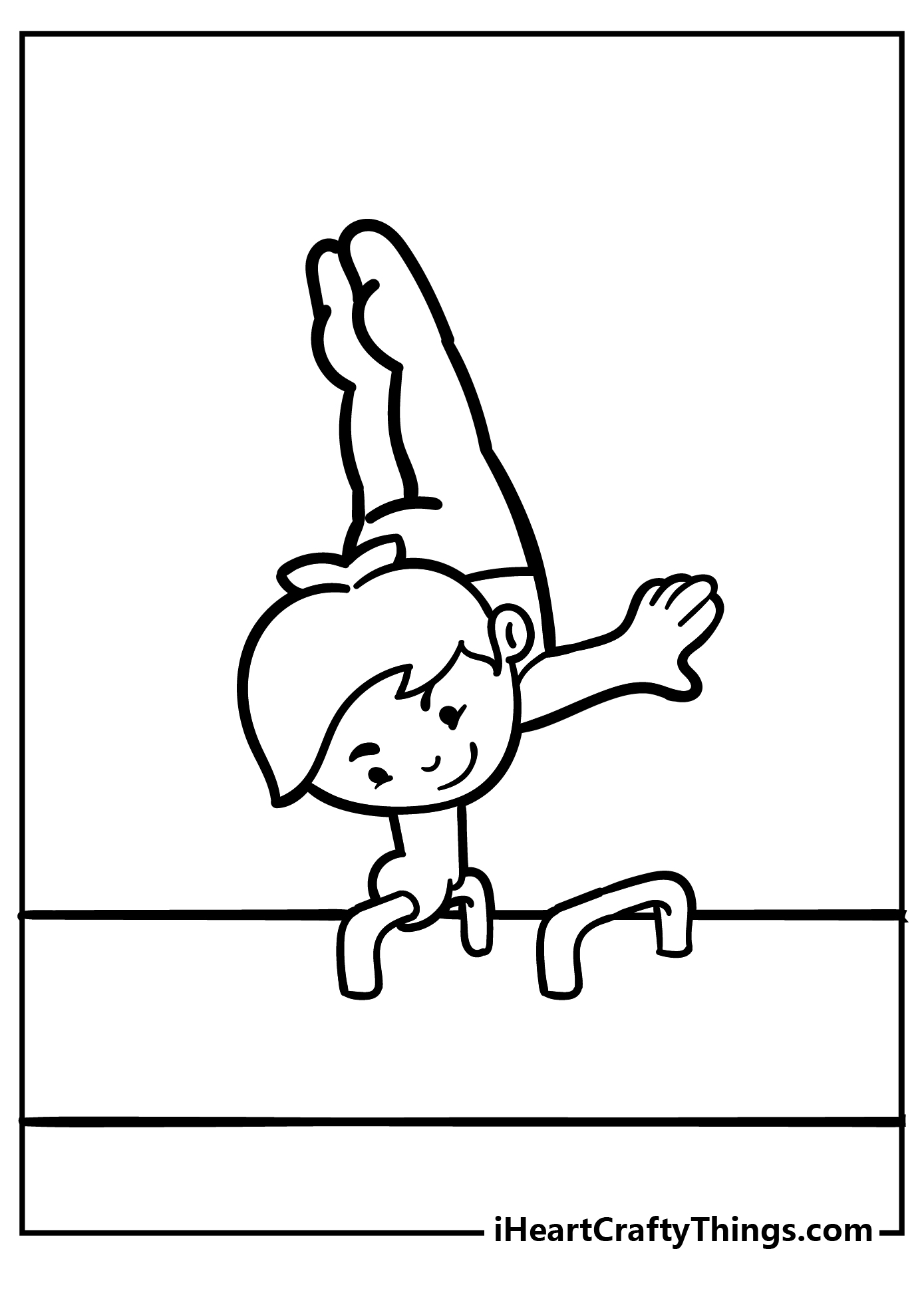 We have a twirling, elegant move for you to color in this final gymnastics coloring printable! This little gymnast is twirling some batons, and there is a great deal of flow and movement to the composition.
When coloring this one, you could use some wide strokes of paint and color in the background to give off the impression of movement that suggests she is spinning around.
Do you have any other artistic tricks up your sleeve that you could use for this image?
Gymnastics Coloring Pages – Which will you choose?
Gymnastics is one of the most elegant forms of physical performance you can witness, and we hope you enjoyed representing it in these free gymnastics coloring pages for kids!
These pages are all free for you to print as many times as you like, so you can really experiment with color. Be sure to also share them with your friends and family!
If you had fun with these coloring sheets, you can find many more collections to color on our website!
We can't wait to see you there for some more coloring fun times. You'll want to check in often as we upload new ones frequently.
Please also consider sharing your favorite finished gymnastics coloring printables onto our Facebook and Pinterest pages so that we can see how they turned out!