Soccer is one of the most popular sports in the world, and it's easy to see why! There are amazing skills and tricky moves on show with the thrill of seeing a triumphant goal!
Soccer is enjoyed all over the world, and with so many people, teams, uniforms and countries it's the perfect event to test out your creative and colorful skills on. We're sure there will be all sorts of amazing and crazy colors to represent the chaos and the skill of soccer within these coloring pages!
These free soccer coloring page printables for kids are the perfect way to get into the spirit of the beautiful game. Be sure to show off your favorite team's colors in the uniforms displayed in these coloring pages!
We always love to see how colorful and creative you can be, so be sure to share your completed coloring pages on our Facebook page for us to see.
REMEMBER: You can get the COMPLETE set of these coloring pages >> HERE
10 Brand New Soccer Coloring Pages – Free to Print and Color
We kick off this first in this series of soccer coloring page printables with a literal kick off! This player has his boot on the ball, and perhaps he's about to get the match started with the very first kick of the match.
Can you feel the excitement in the air? I think it would be best represented with some bright and striking colors like reds and yellows to capture the thrill of the start of the match.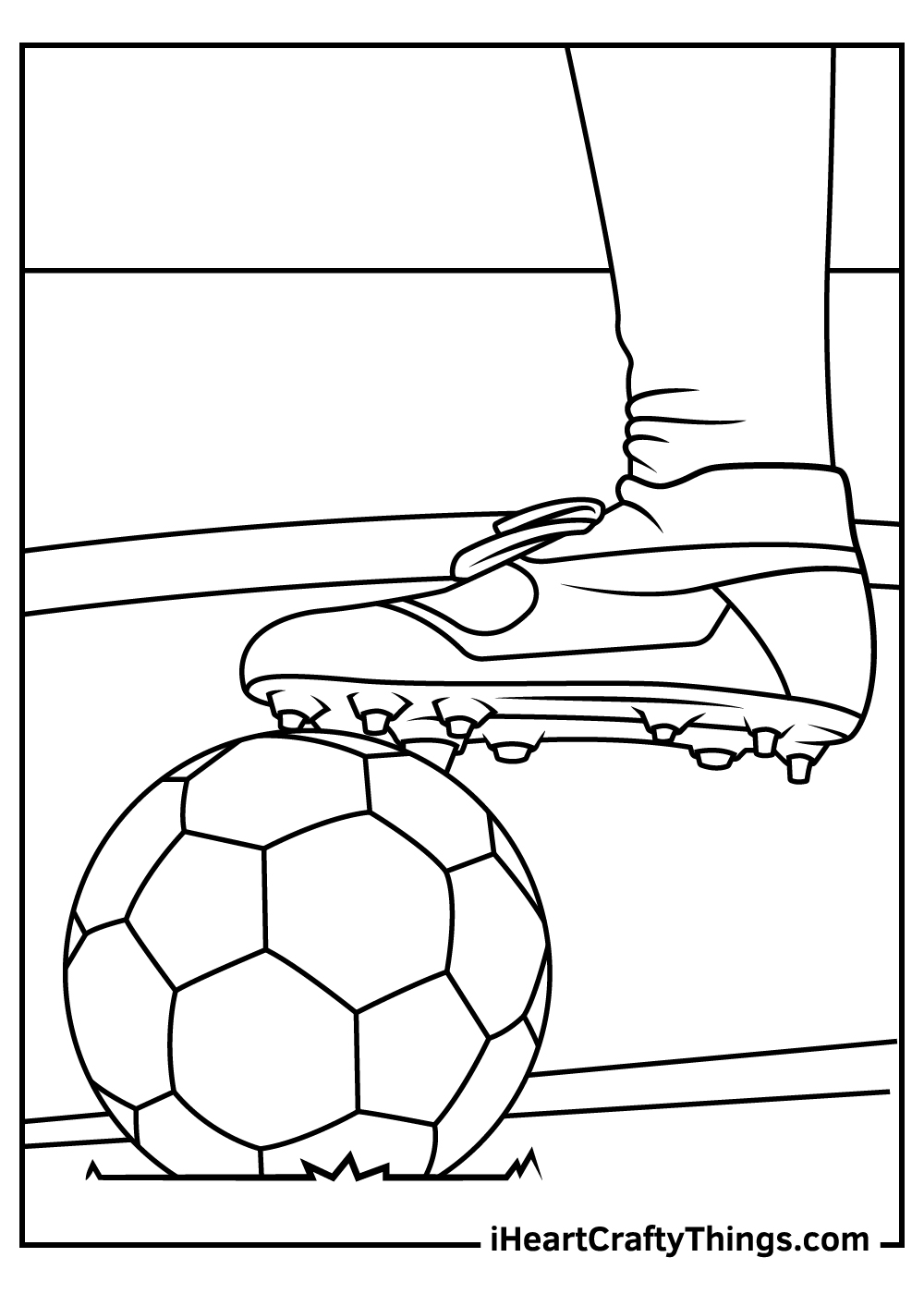 If the first coloring page was a player preparing for a kick, this next printable shows him going for it! Do you think he's kicking the ball to get the game started or going for the first goal of the match?
How will you represent this moment in color?
I think using lots of different colors in the background would have an effect of making a sense of movement for this moment.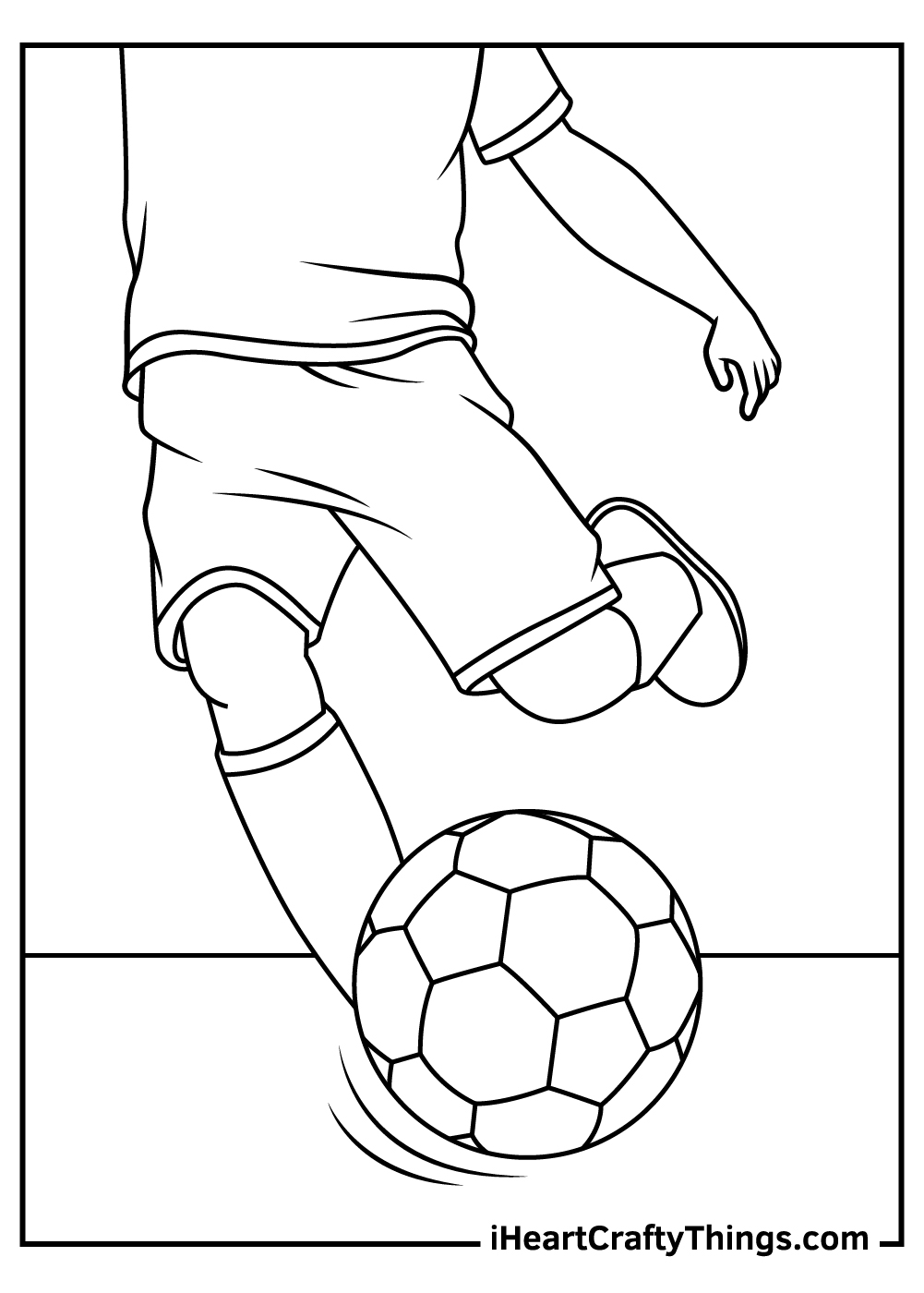 Anyone who's ever loved soccer has probably dreamed at one point of being a soccer star themself, and that is the feeling I get from this coloring page printable!
This player has stars all around him, and he's either dreaming of being on this pitch himself or enjoying the fact that he's reached his goal, I think. Why don't you color his uniform in the colors of the team you'd most like to play for yourself?
REMEMBER: You can get the COMPLETE set of these coloring pages >> HERE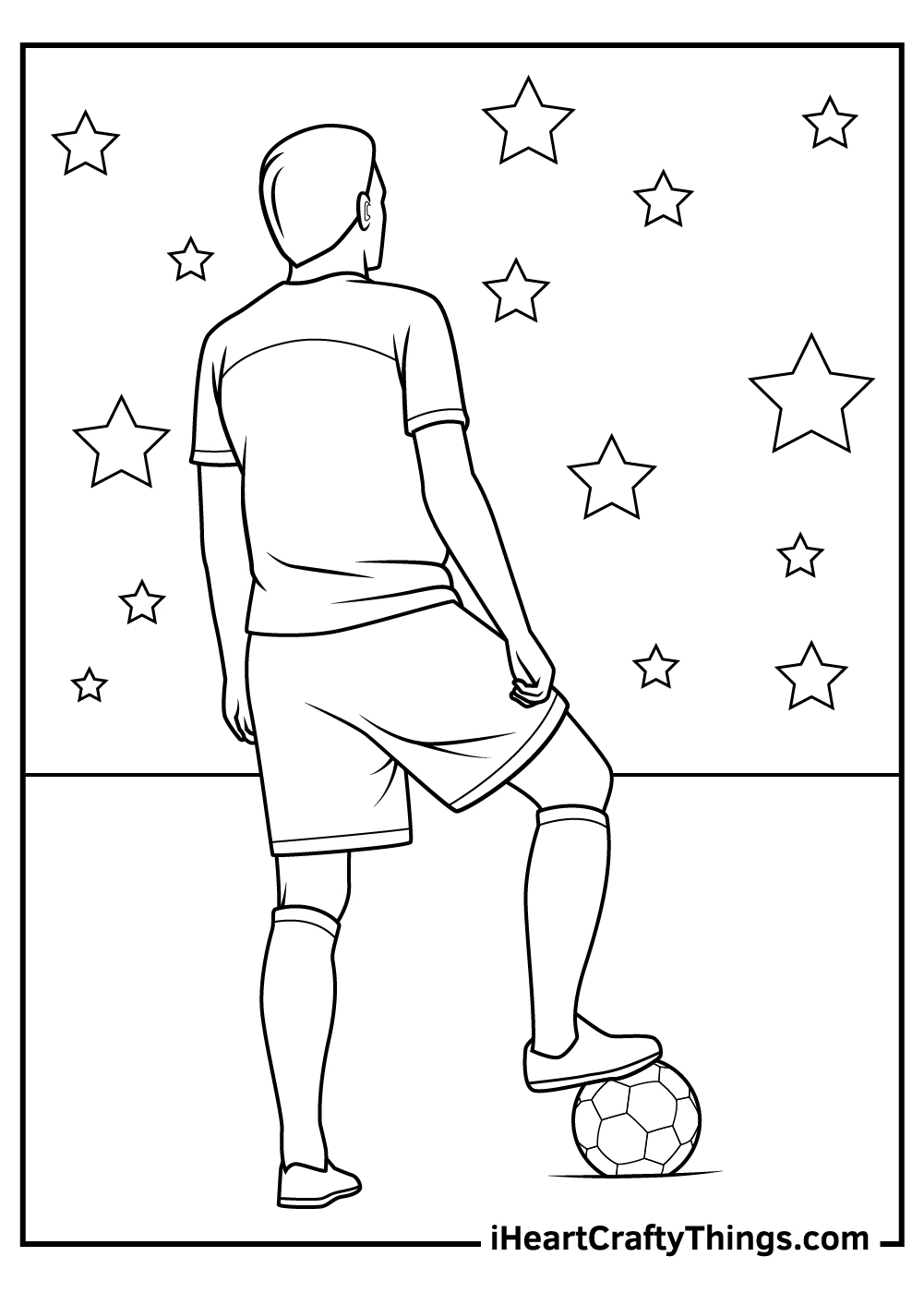 The image in this coloring page shows the moment that every fan in the stands will be cheering for, unless you're on the opposing team, of course. Goal!
This is always a highlight in the game, and you can almost hear the cheers in the background. Why not be really bold with your colors for this one, and see if you can incorporate some bright tones into the nets of the goal.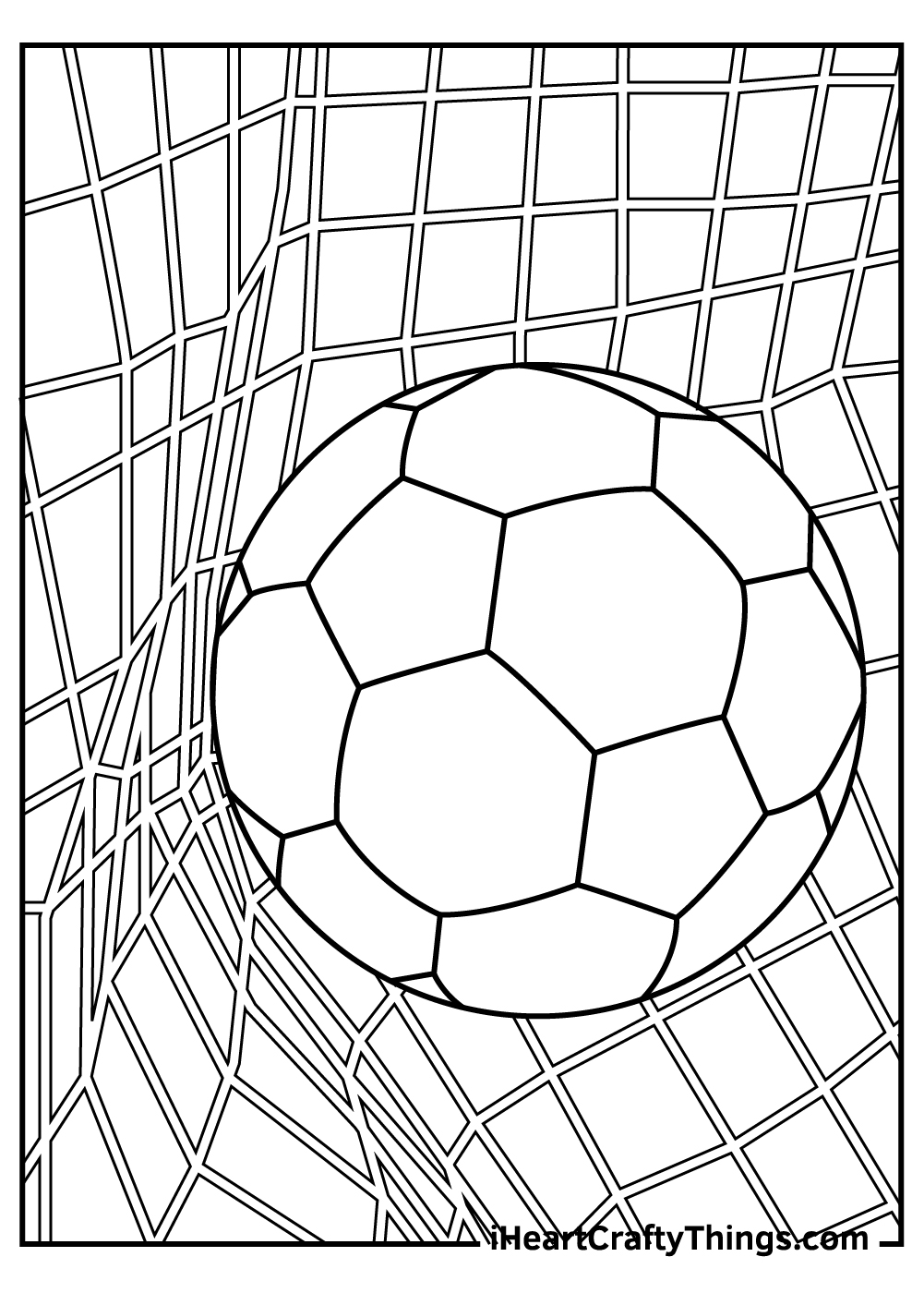 Another action shot for this coloring sheet, a player going for a kick. He looks like he means business! Maybe his team needs one more goal to catch up and he's about to make a go for it.
Maybe this one would look good with a darker background and a dark green for the grass to represent the tension of the moment.
REMEMBER: You can get the COMPLETE set of these coloring pages >> HERE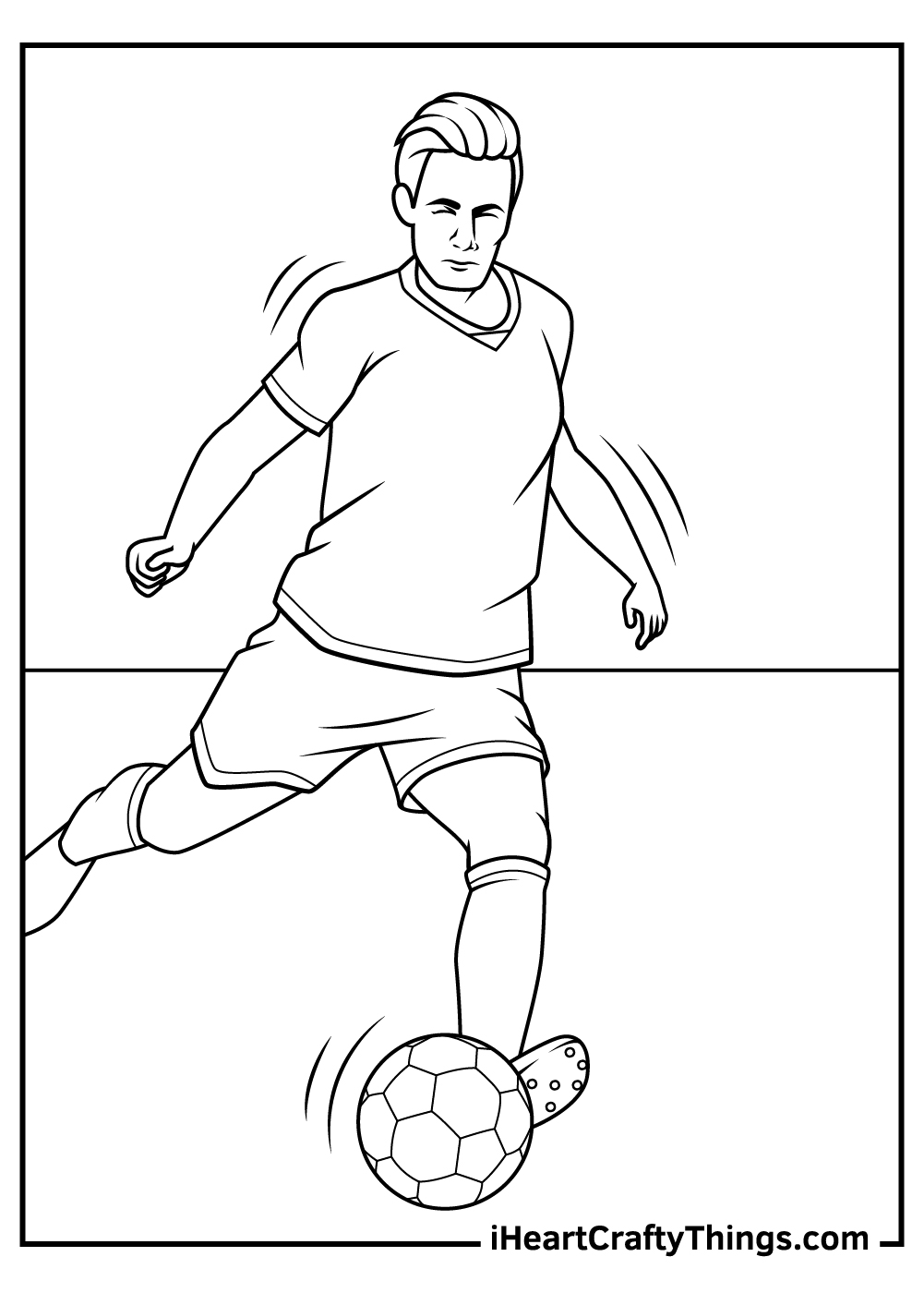 The ball has just been passed to the player in this coloring page printable. For this dramatic shot don't you think it would look great with a solid, rich red background color? What color will you use for this moment?
A solid, bright background can really make an image pop and there are many choices you could go for in this coloring sheet.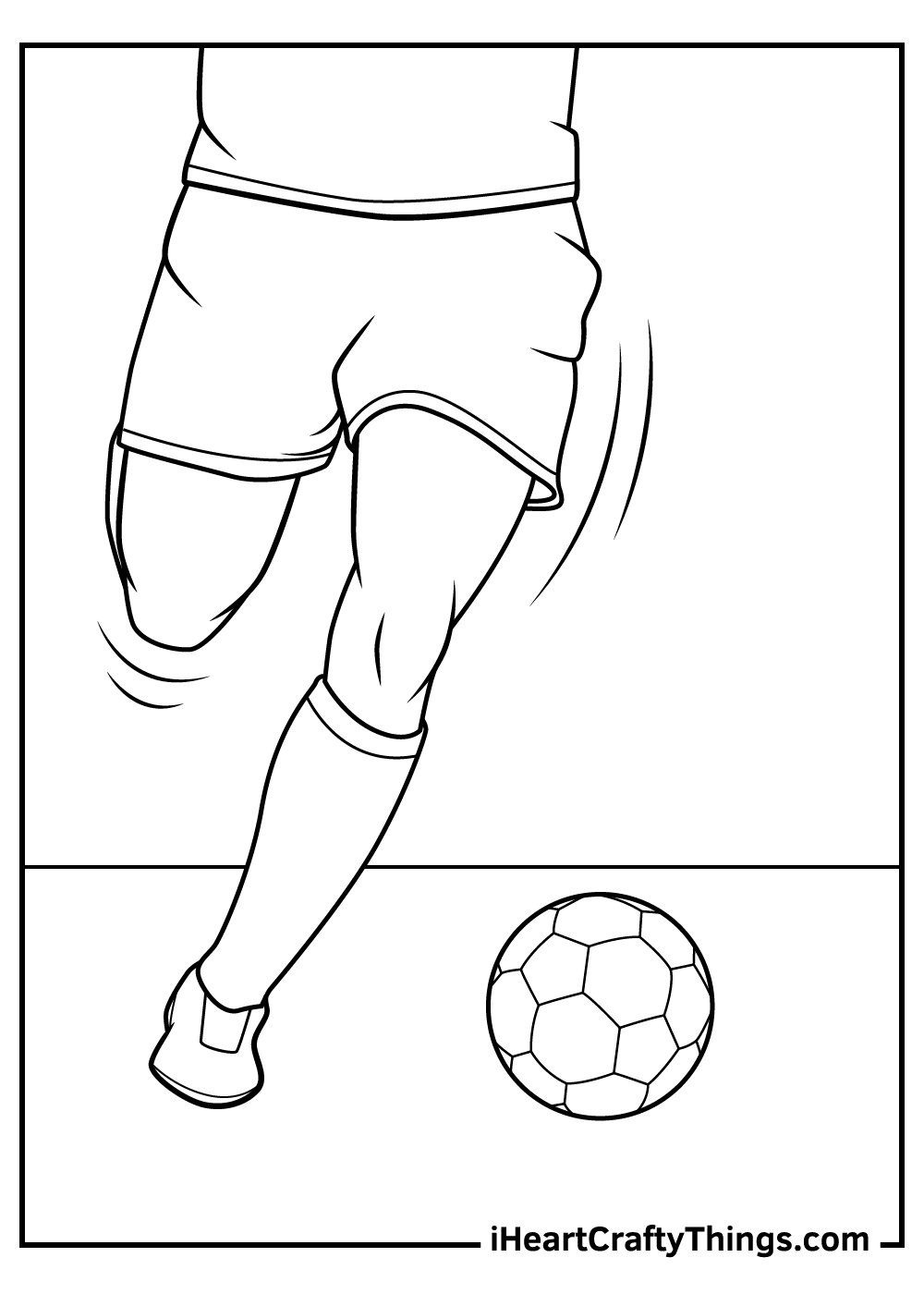 For this coloring sheet, we have a close up on the object every fan will have their eye on; the ball before an important kick! With this coloring page, you can almost imagine you're the one about to take this kick.
I think a dark blue or purple sky with bright yellow for the lights would help represent the tension of this moment.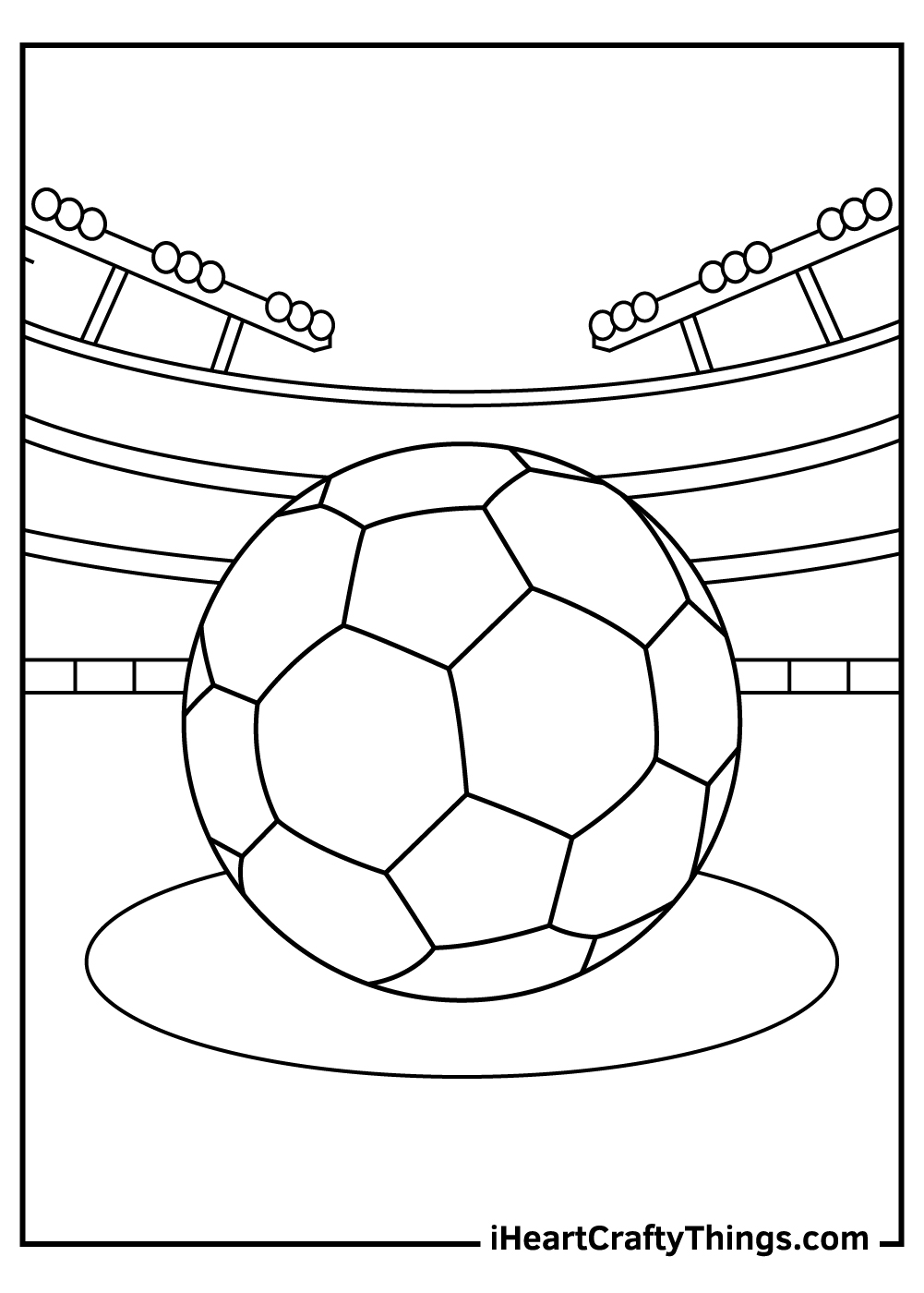 We have another cool shot for this coloring page, a player dribbling or intercepting the ball. Maybe you should use the brightest shade of your favorite color for the background of this printable.
Once you're done maybe you could use it as a poster for your wall!
REMEMBER: You can get the COMPLETE set of these coloring pages >> HERE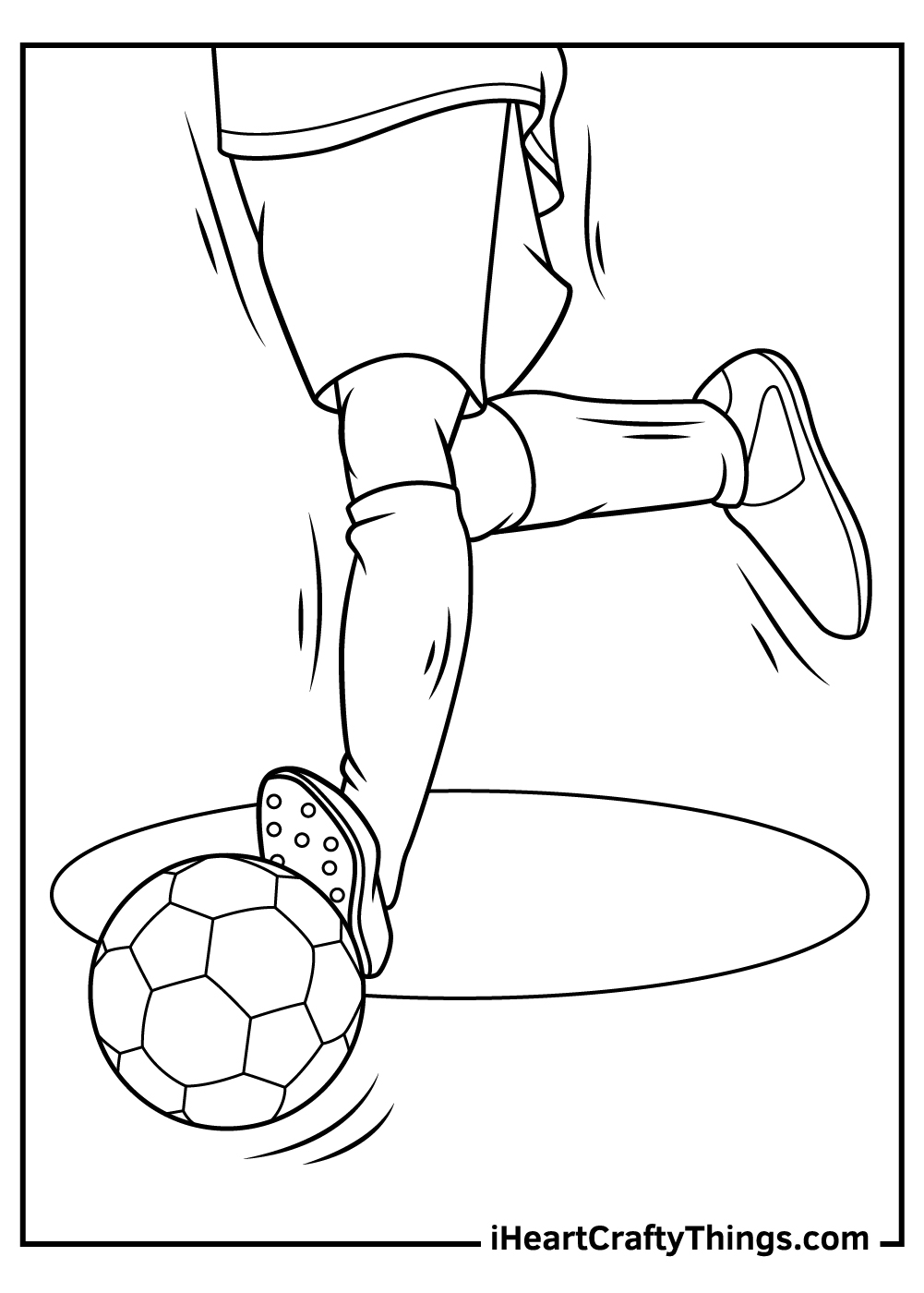 The background is segmented in this coloring page, and leaves an opportunity for you to use some striking colors! Why not take the colors of your favourite teams uniform and incorporate it into the background of the printable?
Be sure to share it on our Facebook page when you're done so we can see who everyone is supporting!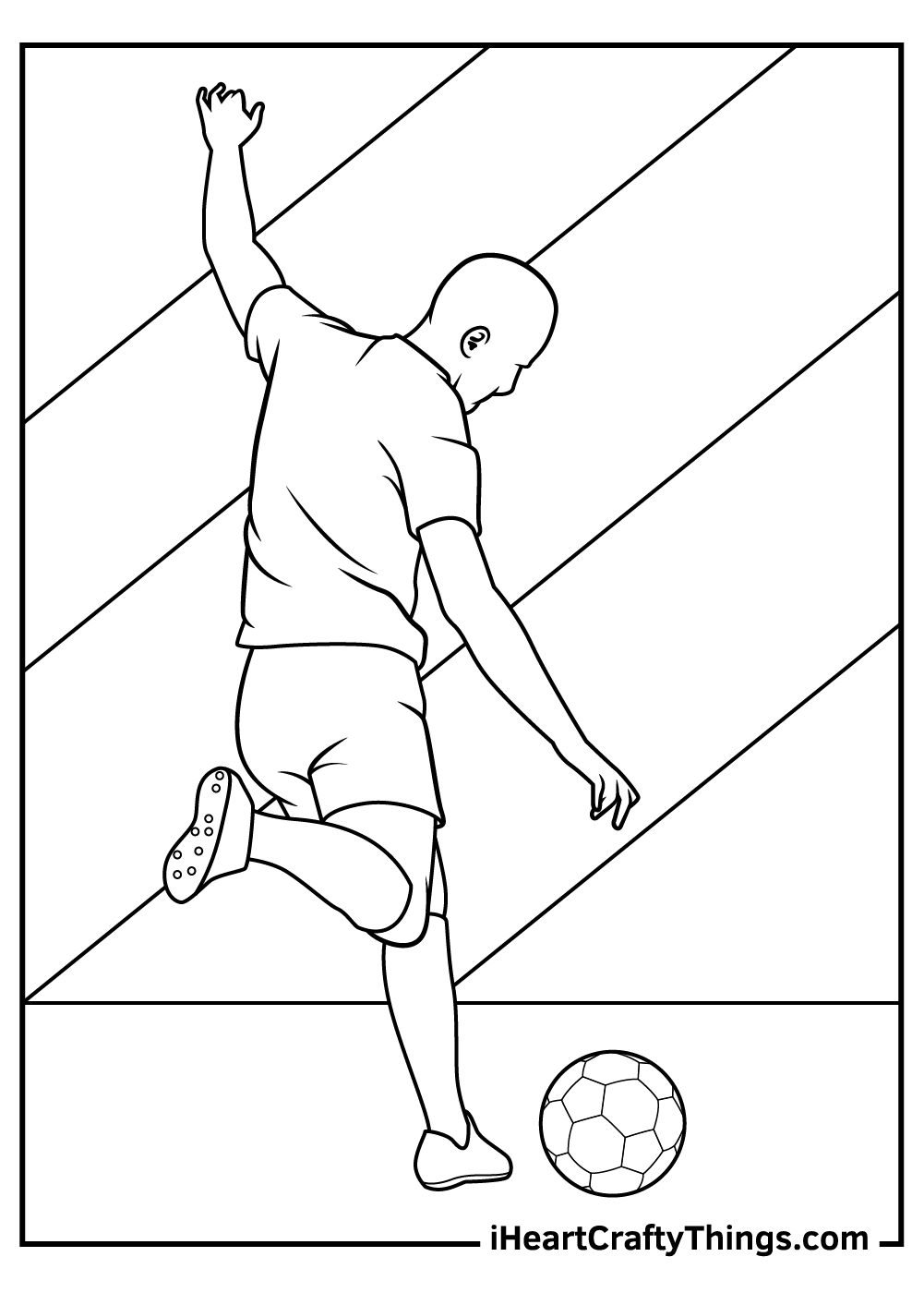 For the final coloring page in this soccer collection of printables we have another player surrounded by stars. For this one, maybe some darker, more muted variations of your favorite colors would look really appropriate for this calmer, more contemplative moment. Why don't you try and color each star in a different color?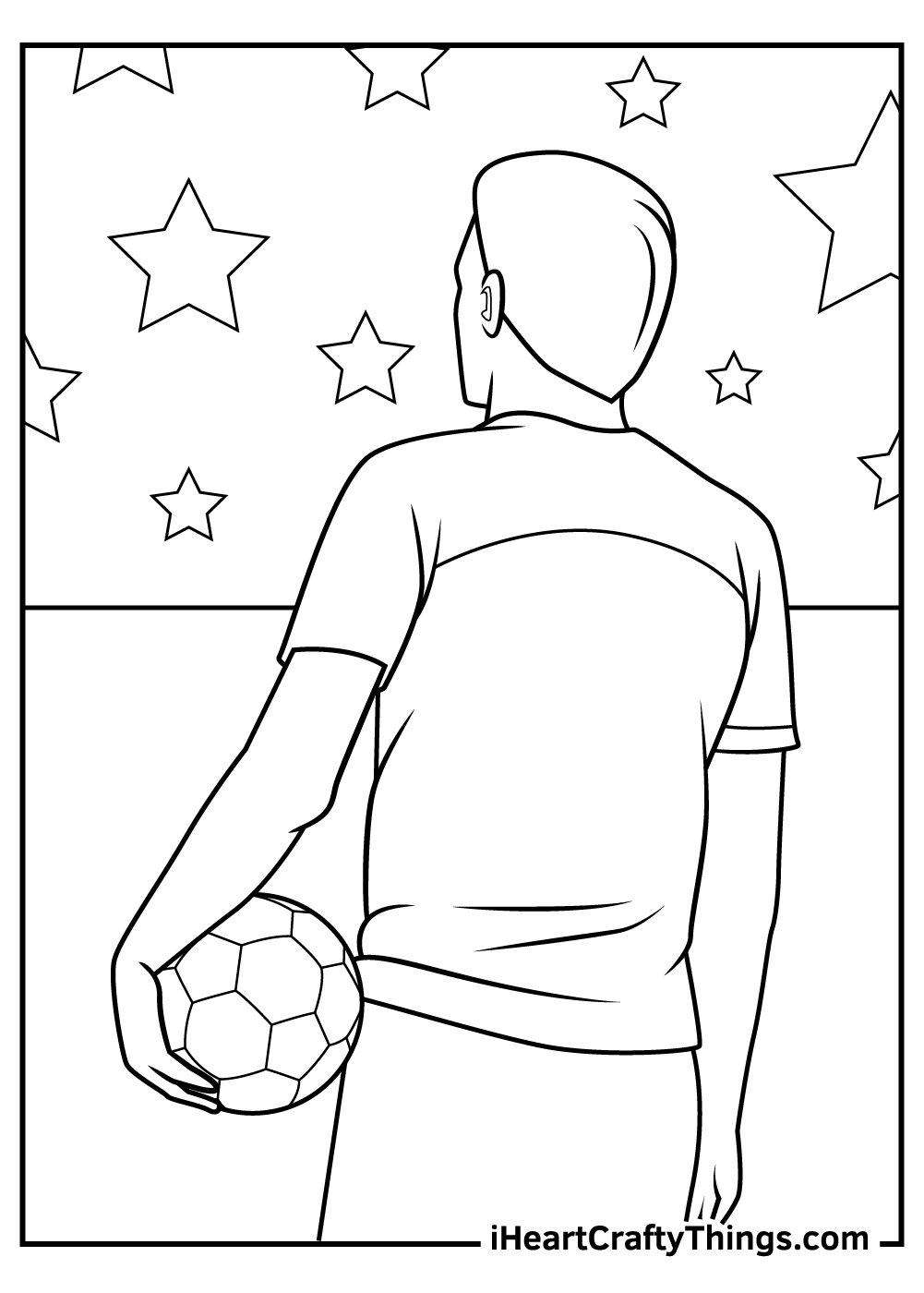 Soccer Coloring Pages – Which will you choose?
We hope you had an exciting time reliving all of your favorite soccer moments with this great collection of soccer themed coloring pages!
Don't forget that all of our art and coloring printables are completely free for you to print out and color, so be sure to pick your favorites and print a few copies so that you can try out different pencils, crayons and paints.
Also, don't forget to like and share our Facebook page for access to more awesome free coloring pages and other goodies. Once you've finished coloring your soccer coloring pages, please share your favorites on our Facebook page; we always love to see the creative ways you complete these pages.
We can't wait to share in the soccer excitement with you!
REMEMBER: You can get the COMPLETE set of these coloring pages >> HERE