On this page, you will find 15 all new Baseball coloring pages that are completely free to print and download.
All you need to play baseball, a type of bat-and-ball game, is a bat, ball, and glove. It is played between two opposing teams consisting of nine players.
The teams take turns in batting and fielding. The team who scores the most wins the game.
The extreme popularity of baseball has created a huge demand for free baseball coloring pages. You've asked for it, so we delivered.
So without further ado, we present to you: 15 brand-new, original baseball coloring sheets that you can enjoy with friends and family.
There are lots of baseball teams, and each of them have their own signature baseball jersey in various colors.
You can opt to color these images inspired by your favorite baseball teams or use a customized set of colors! Feel free to mix and match colors to your liking! Why not try experimenting with different coloring materials as well?
Allow your imagination to run wild and unleash your creativity!
REMEMBER: You can download a COMPLETE set of these coloring pages >> HERE
Baseball Coloring Pages – All-New Free Printable Sheets
Are you ready to play baseball? The ball is right in front of you and the stadium is ready and will fill up with all the eager spectators and baseball fans very, very soon!
Give this baseball coloring page a beautiful dash of colors to make it come alive! We can't wait for your masterpiece!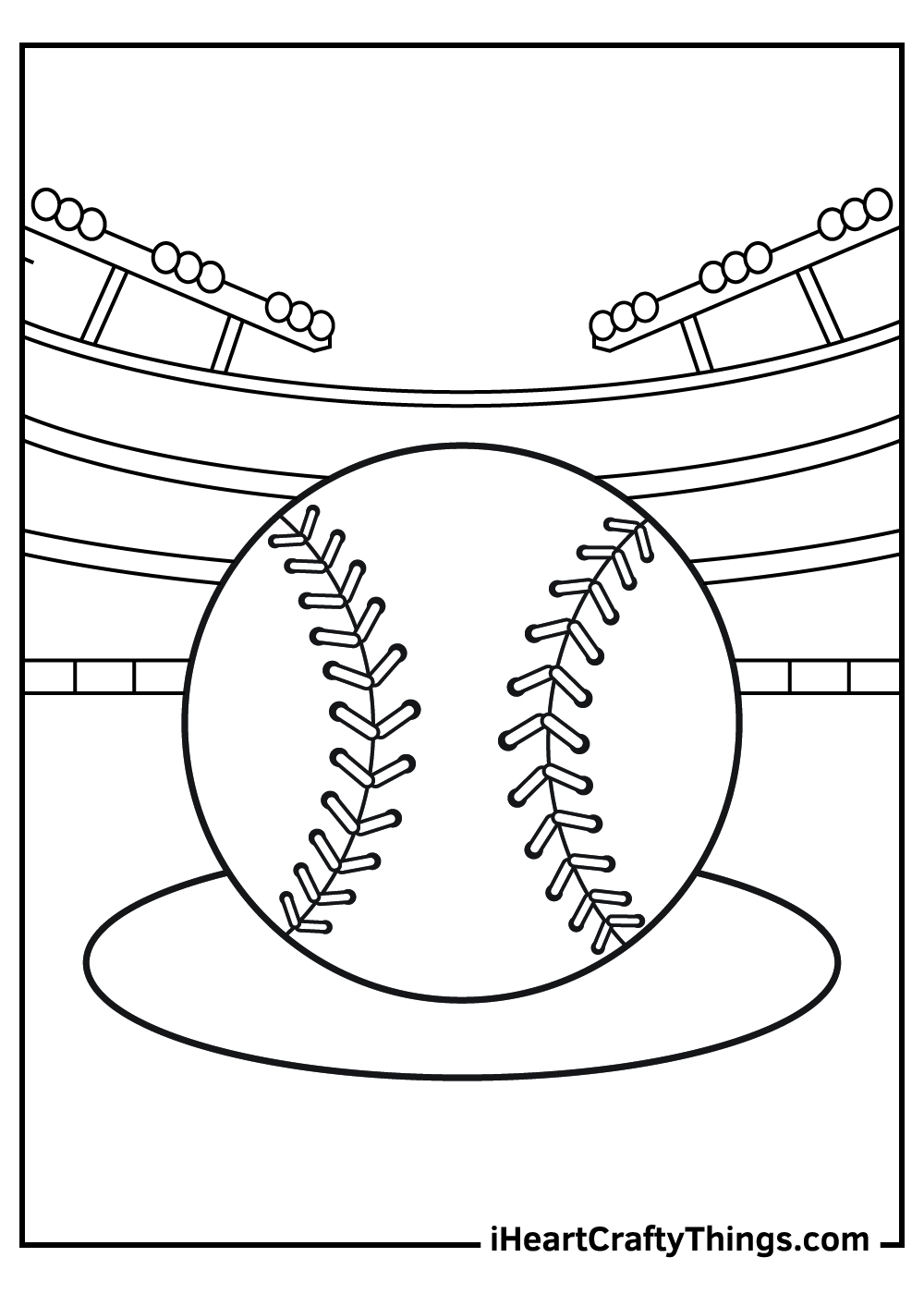 On this baseball coloring page, you can see a baseball bat, a baseball glove, and a baseball that perhaps are placed on a wooden table for everyone to see.
This is pretty much all you need to play baseball! Are you ready to play or will you put colors on this page first?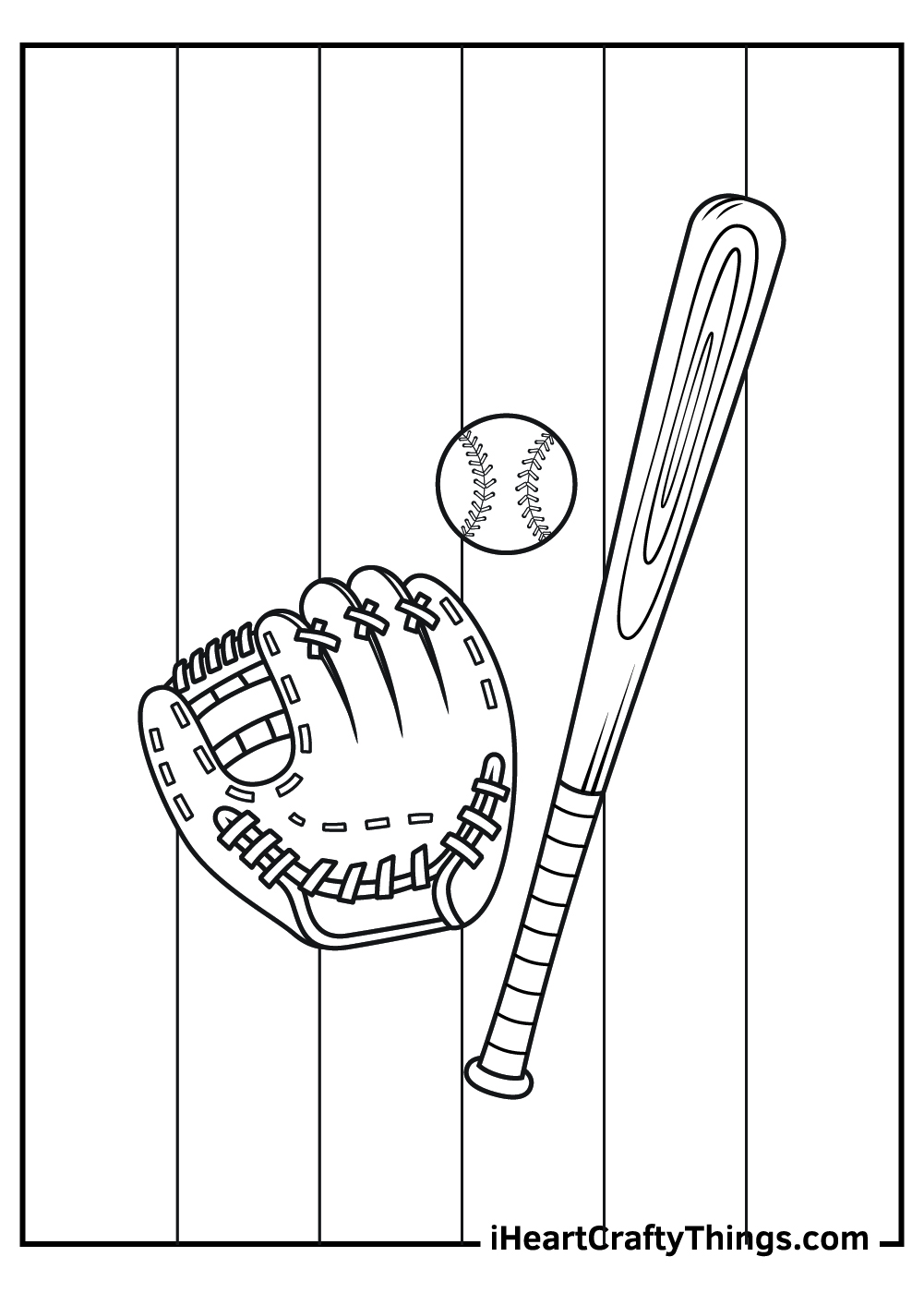 This baseball coloring page features a smiling boy gearing up to hit a home run. He is wearing a baseball cap and a helmet to protect his head.
How good do you think this boy is at baseball?
His cap and helmet are ready to be colored in with his team's colors – You can try bold reds, greens or oranges.
Since he's swinging the bat with gusto, use crisp lines and motion marks to capture the energy of his swing. Color the bat with realistic wooden browns or imagine a colorful, lightweight material.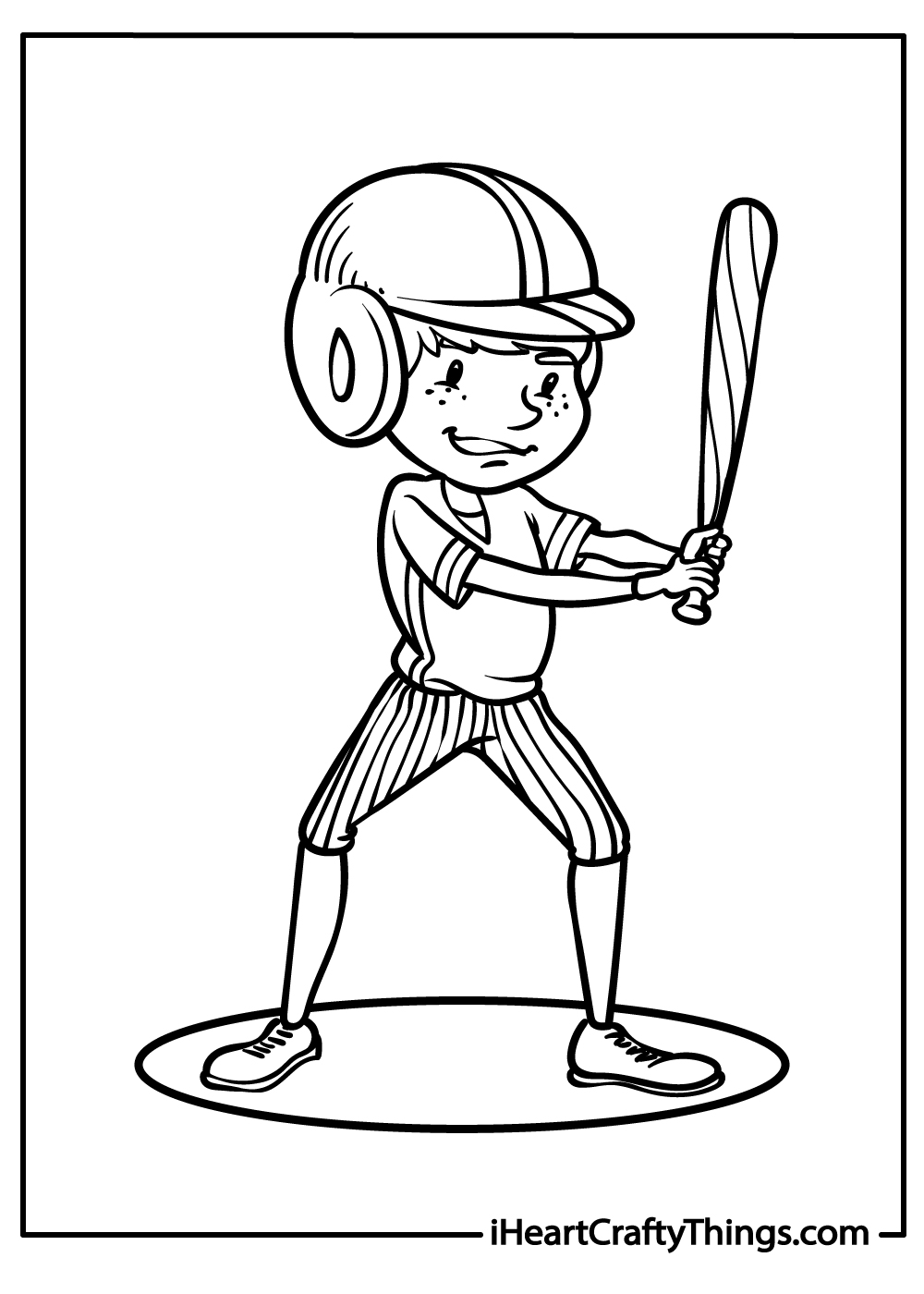 This baseball coloring page is a fast-paced one. A teenager is eagerly waiting to swing his baseball bat.
He is so laser-focused and ready to swing whenever he sees the ball at the right spot in front of him! Give this coloring page justice by adding the right dash of colors!
REMEMBER: You can download a COMPLETE set of these coloring pages >> HERE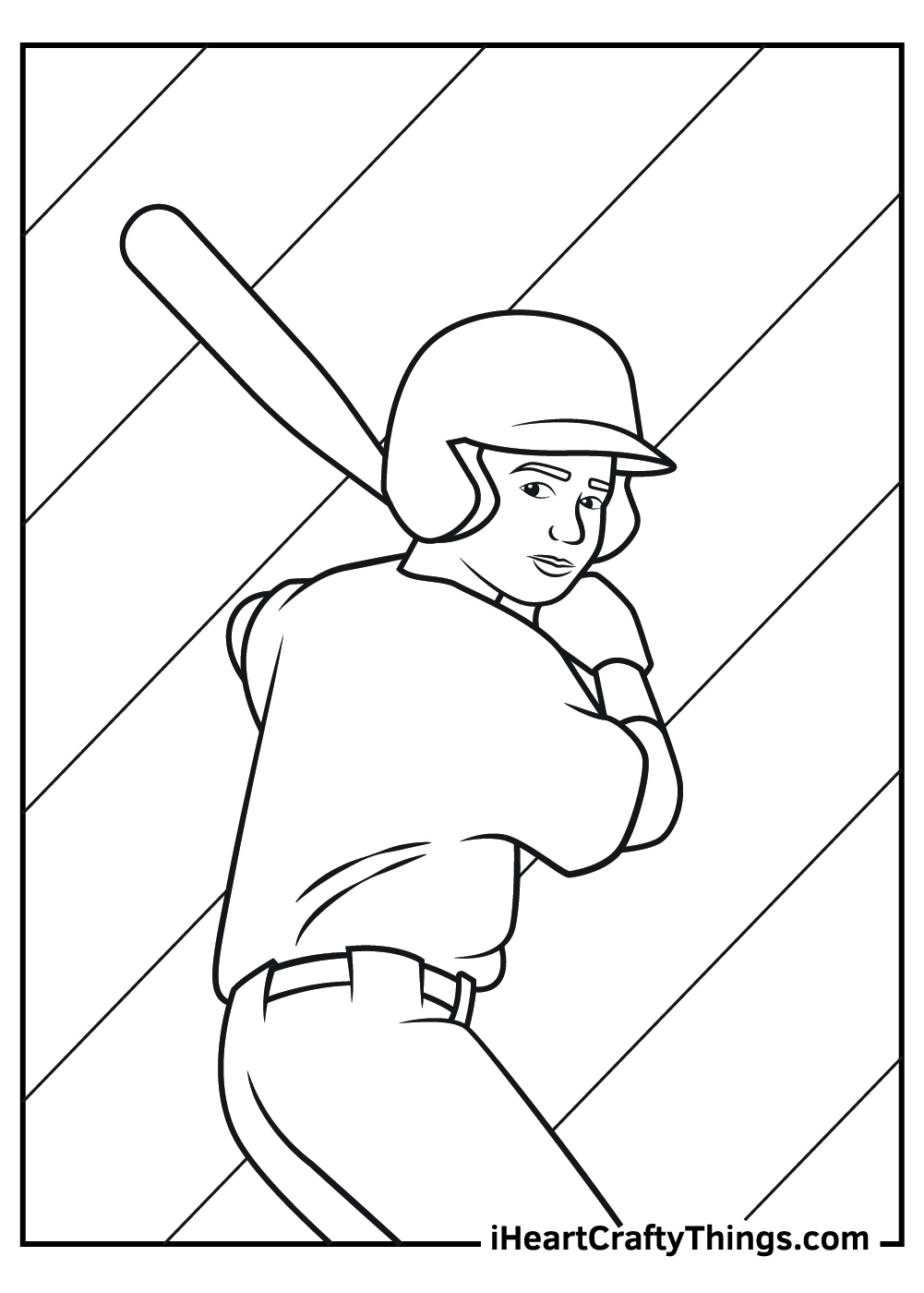 Wow! This baseball is literally set on fire! With that flame and all those stars surrounding this fantastic baseball, this definitely could be one of the most colorful artworks in these baseball coloring pages.
We are wondering which dominant color or colors will you use on this image?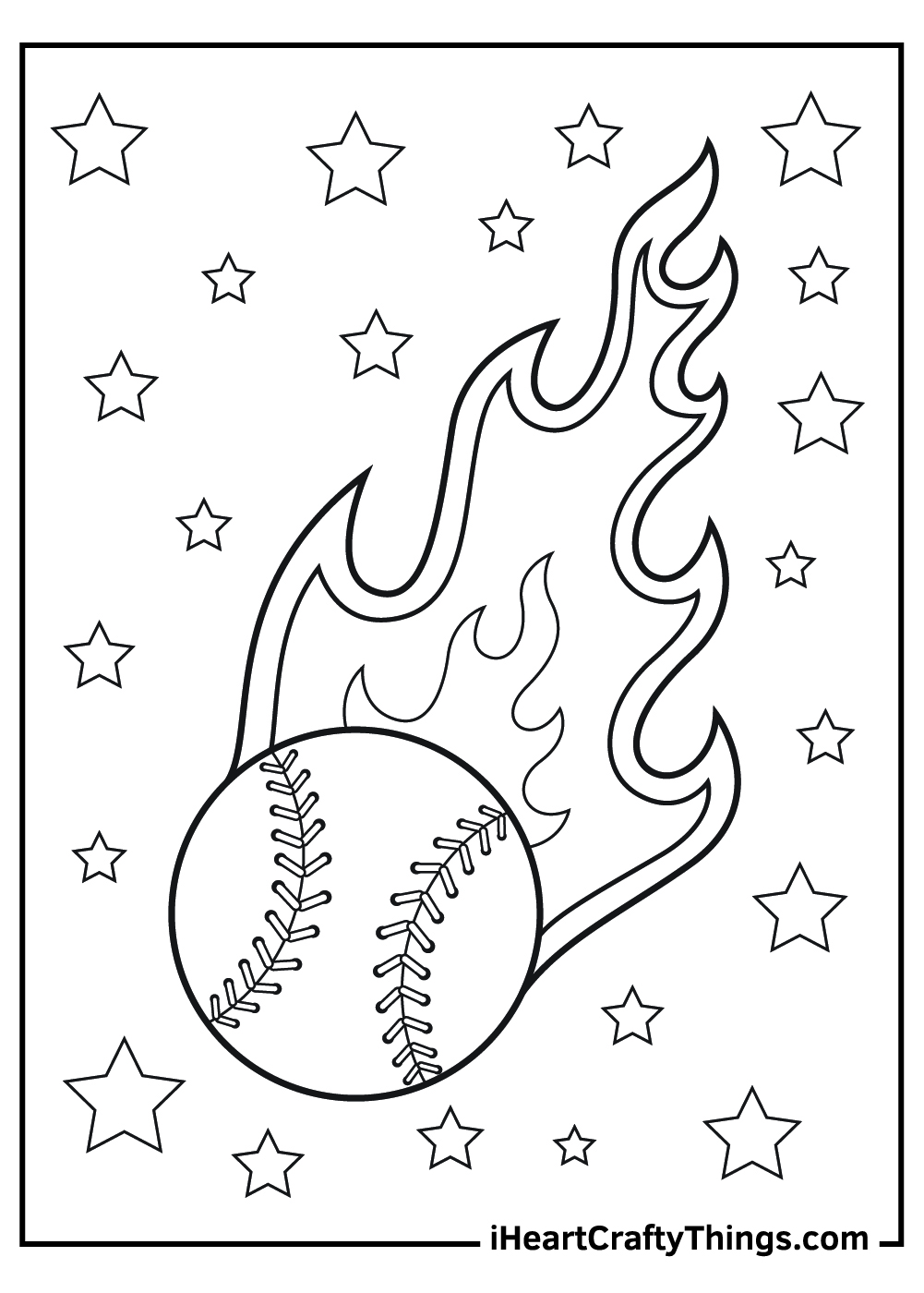 Just look at this energetic young boy playing his favorite sport. His infectious smile shows his passion for the game as he winds up to pitch.
He is throwing a baseball with his right hand and showing his enthusiasm for the sport. In the background, we can extend the scene beyond the grassy field.
Draw a crowd of fans cheering from the bleachers, or create a scoreboard counting his strikeouts. Add trees, clouds and birds for some nature scenes.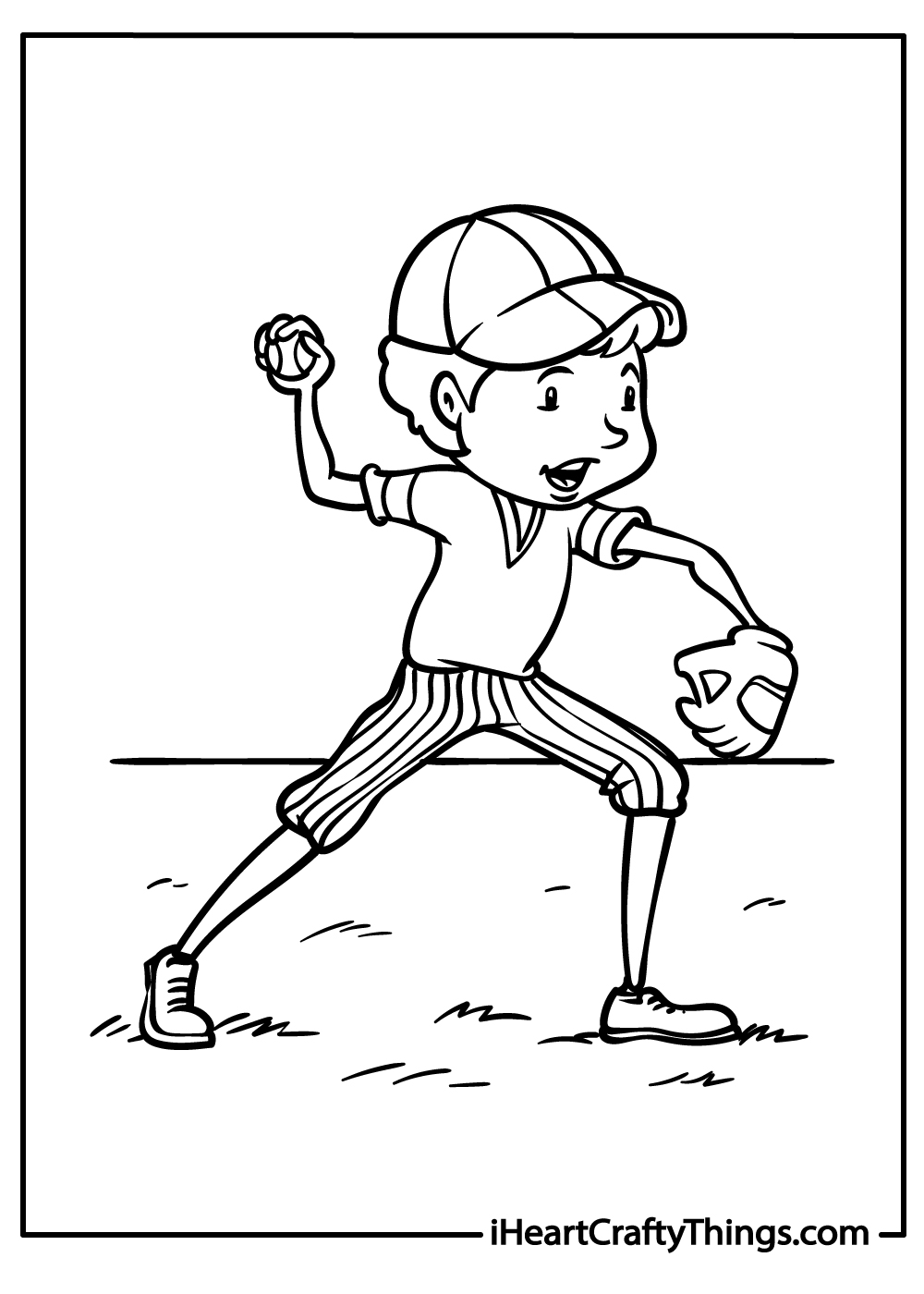 The pitcher in this baseball coloring page looks like a veteran pitcher that is calm yet confident.
In baseball, the pitcher is the specific player assigned to throw the baseball from the pitcher's mound toward the catcher.
The pitcher's task is to make a batter retire (the batter attempts to either make contact with the pitched ball or draw a walk).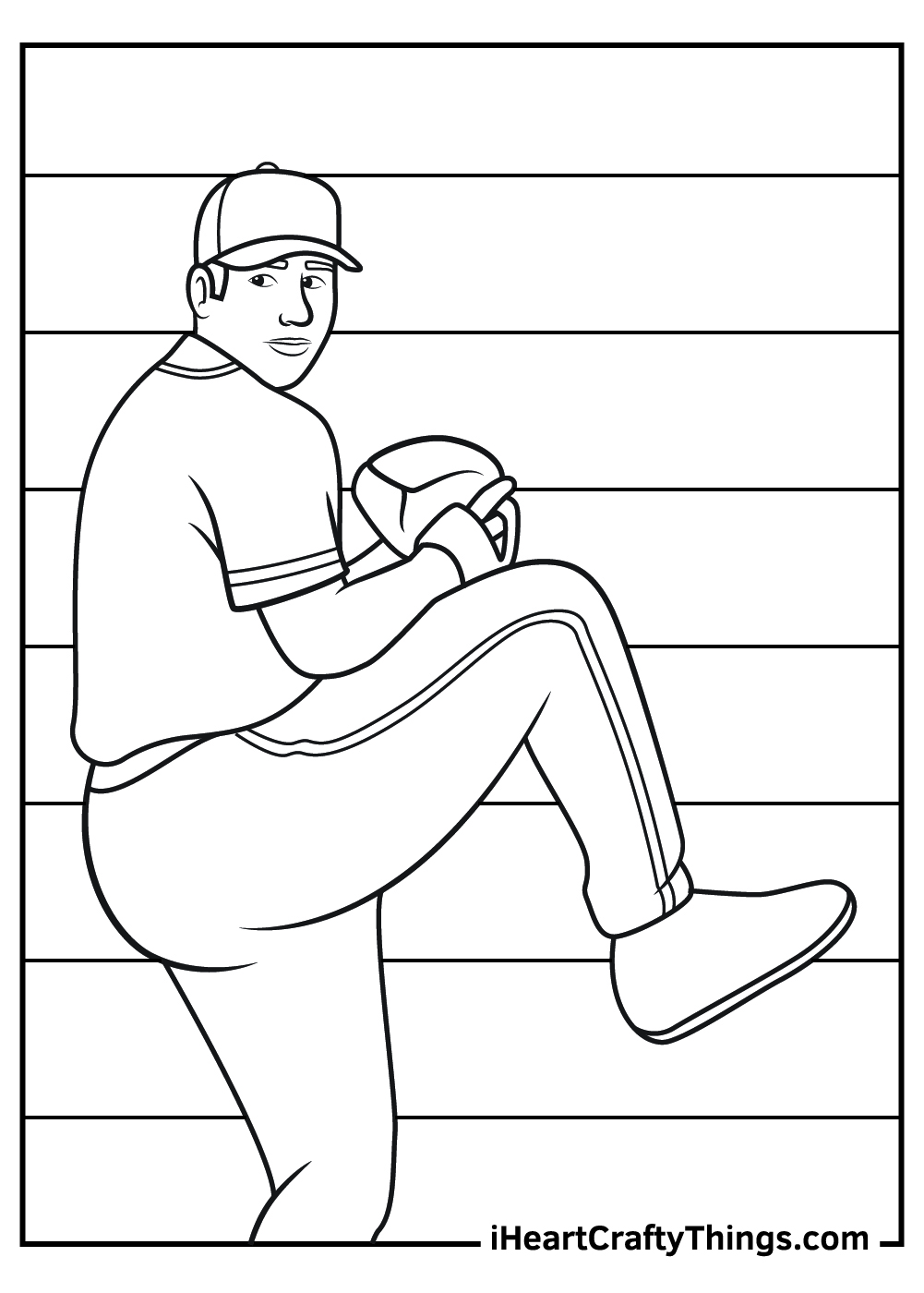 This baseball coloring page is displaying two baseball bats and a baseball. It reminds us of a baseball version of the "Mighty Ducks" logo (an ice hockey team and movie).
The right set of colors will make this coloring page truly stand out from the rest! What color or colors will you use on this printable sheet?
REMEMBER: You can get the COMPLETE set of these coloring pages >> HERE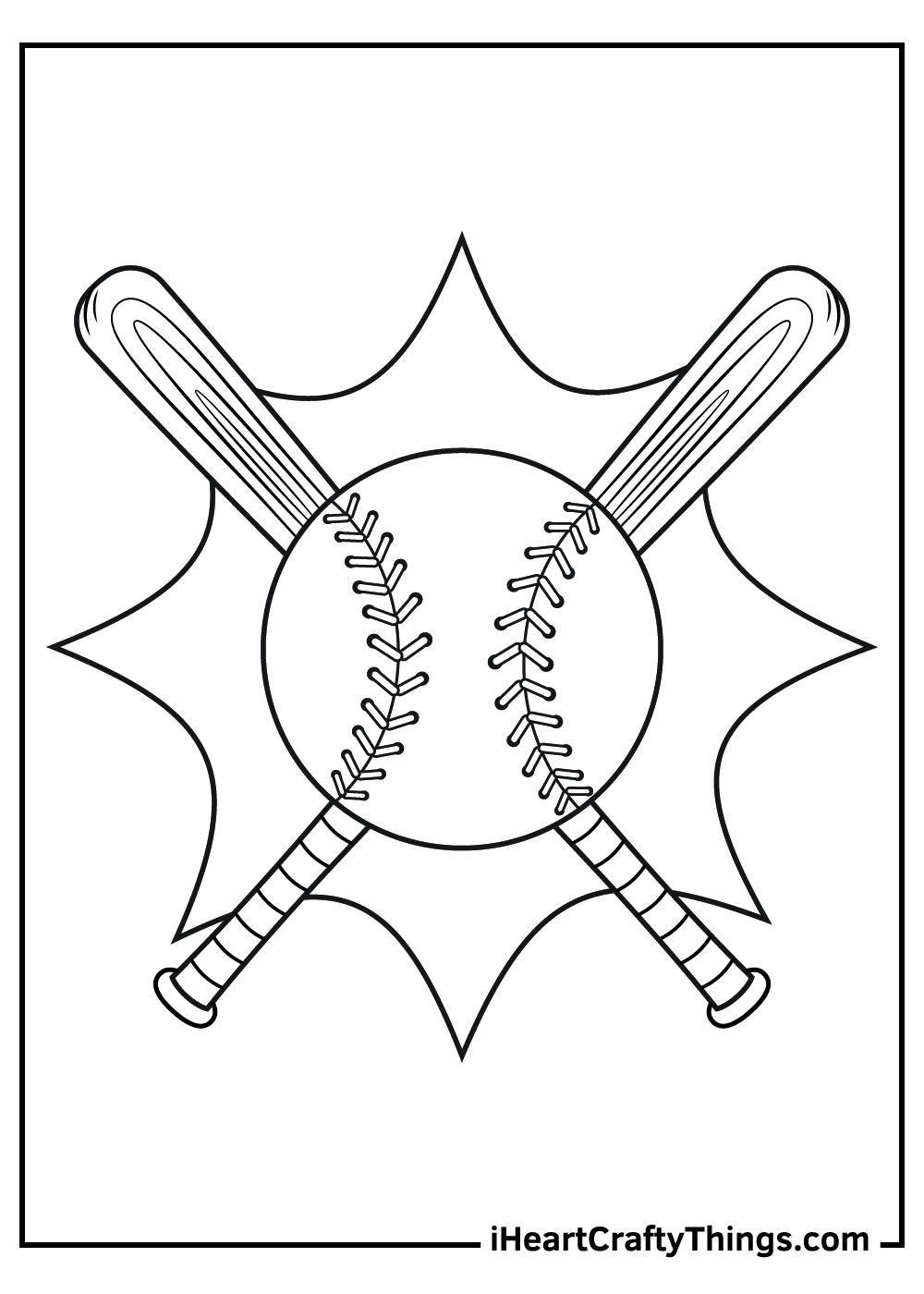 This boy is holding a baseball in his right hand and is in a throwing stance. He is standing on a small circle, which is called the pitcher's mound.
The pitcher's mound is the raised dirt area in the center of the infield from which the pitcher pitches.
Try classic blues and reds or get creative with neon oranges and lime greens for his cap, jersey and pants.
The baseball in his hand could be a standard white and red, or imagine a unique design like camo print or tie-dye swirls.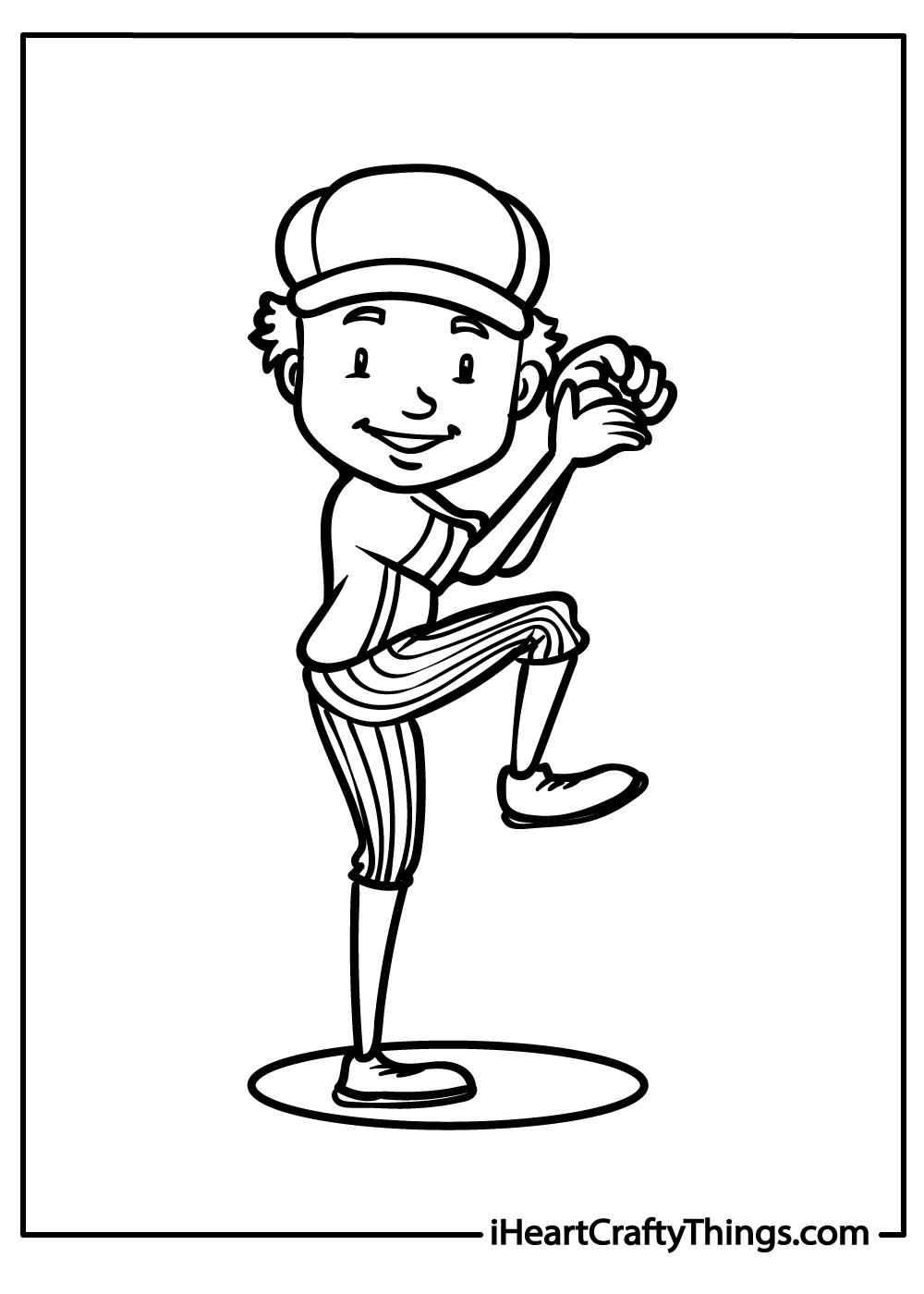 This baseball coloring page is sporting another young batter ready to swing at a baseball at the right time for the win of his team!
Look at his stance; he seems to be using the perfect form for the task and is ready to hit the ground running right after his swing!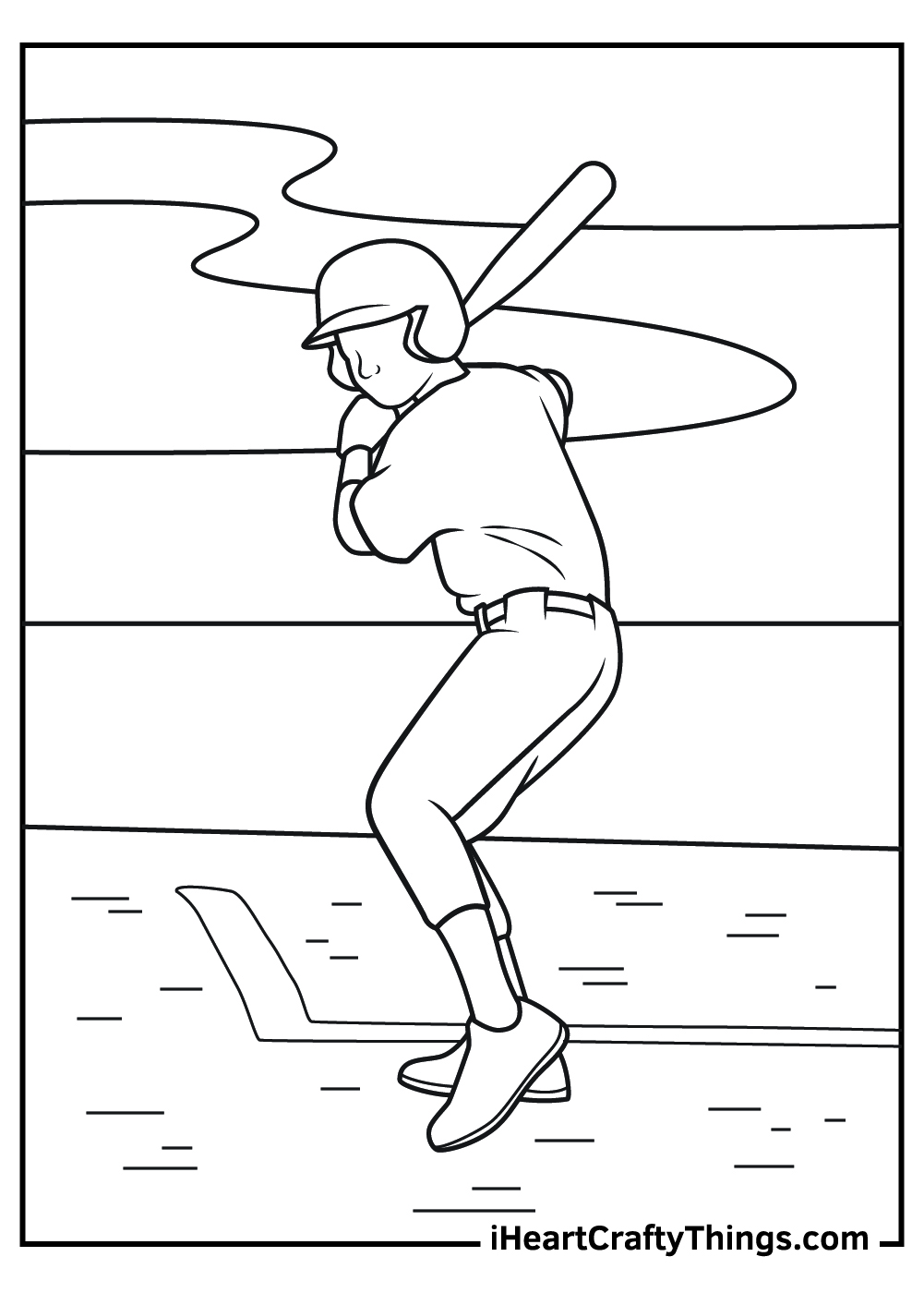 This baseball coloring page will definitely be oh so colorful, would you agree with us? So many baseballs in this printable coloring sheet!
Choose the right colors and this will surely stand out. What colors are you planning to use for this printable?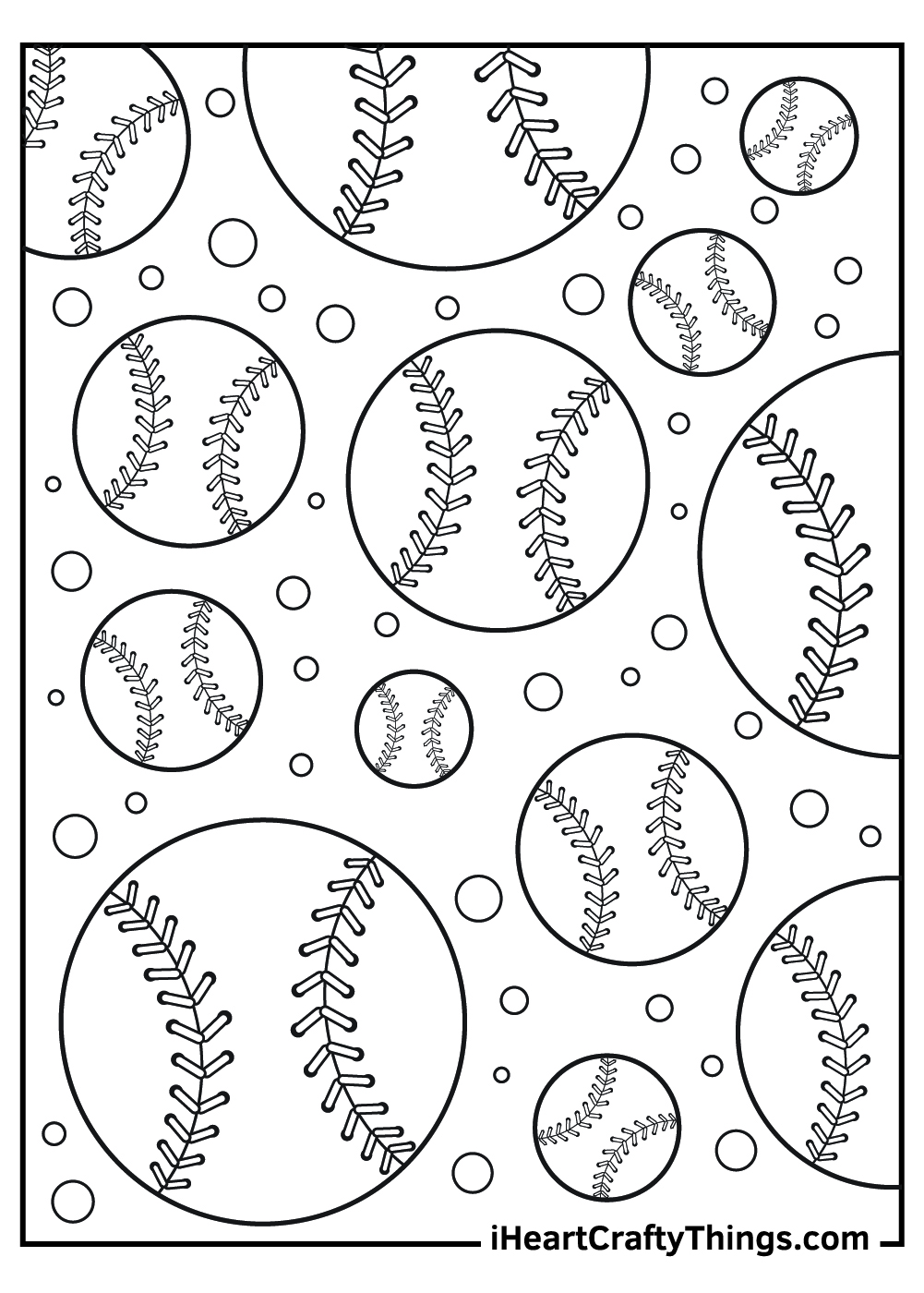 This baseball coloring page shows a happy kid enjoying his game. He's wearing a casual outfit of a t-shirt, shorts and sneakers.
His batting stance is full of energy and motion as he swings the bat with gusto. You can use broad, sweeping lines to capture the movement.
With vivid colors and details, you can bring this baseball scene to life. Show your love for America's pastime by creating a fun and lively page for this enthusiastic young player.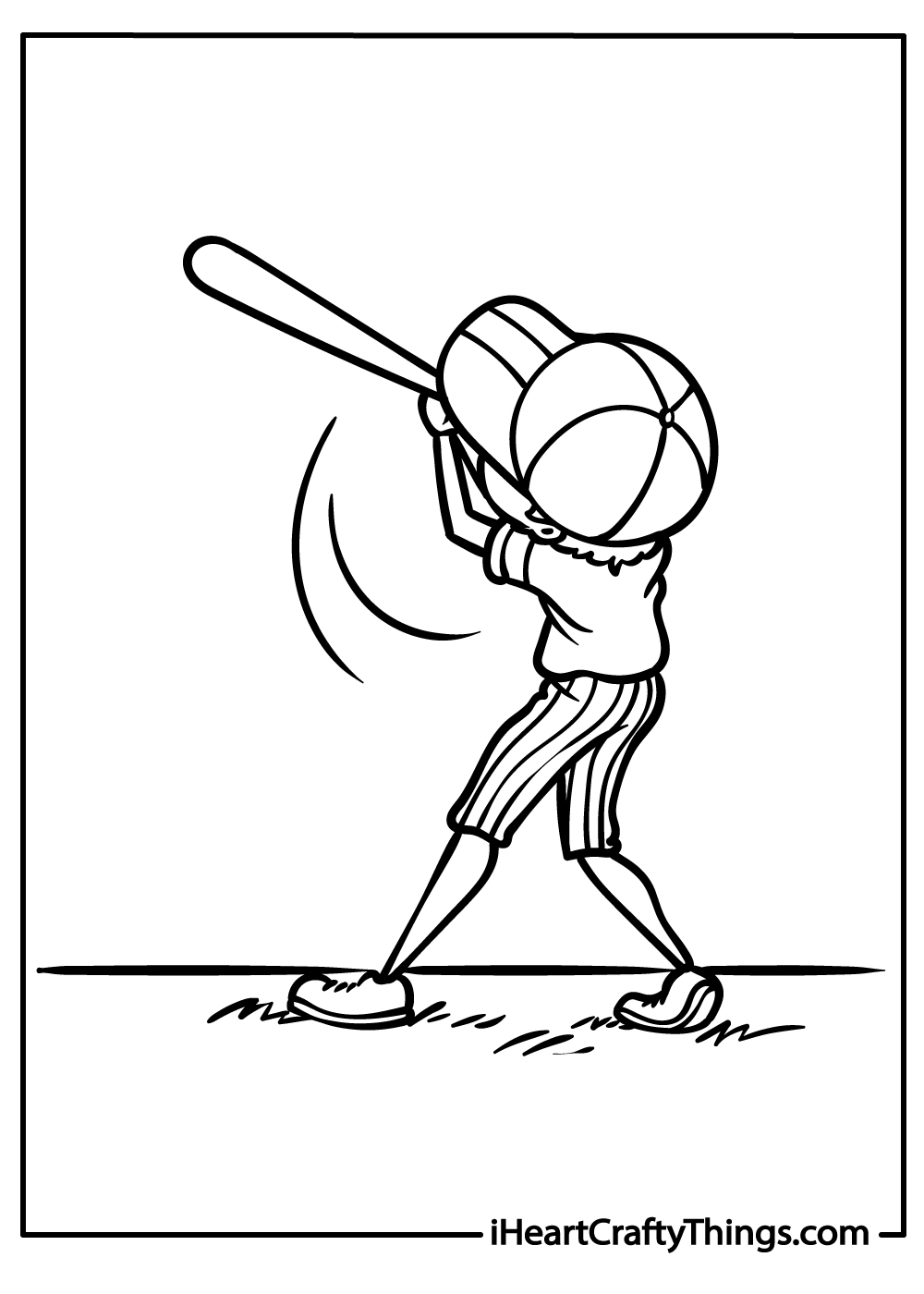 In this image, there's another pitcher who looks like he has been doing this for a very long time and who looks good at it!
But this time, this baseball coloring page is showing a silhouette of this veteran pitcher, with the stadium right behind him and all to himself. Like anything, practice makes perfect!
REMEMBER: You can get the COMPLETE set of these coloring pages >> HERE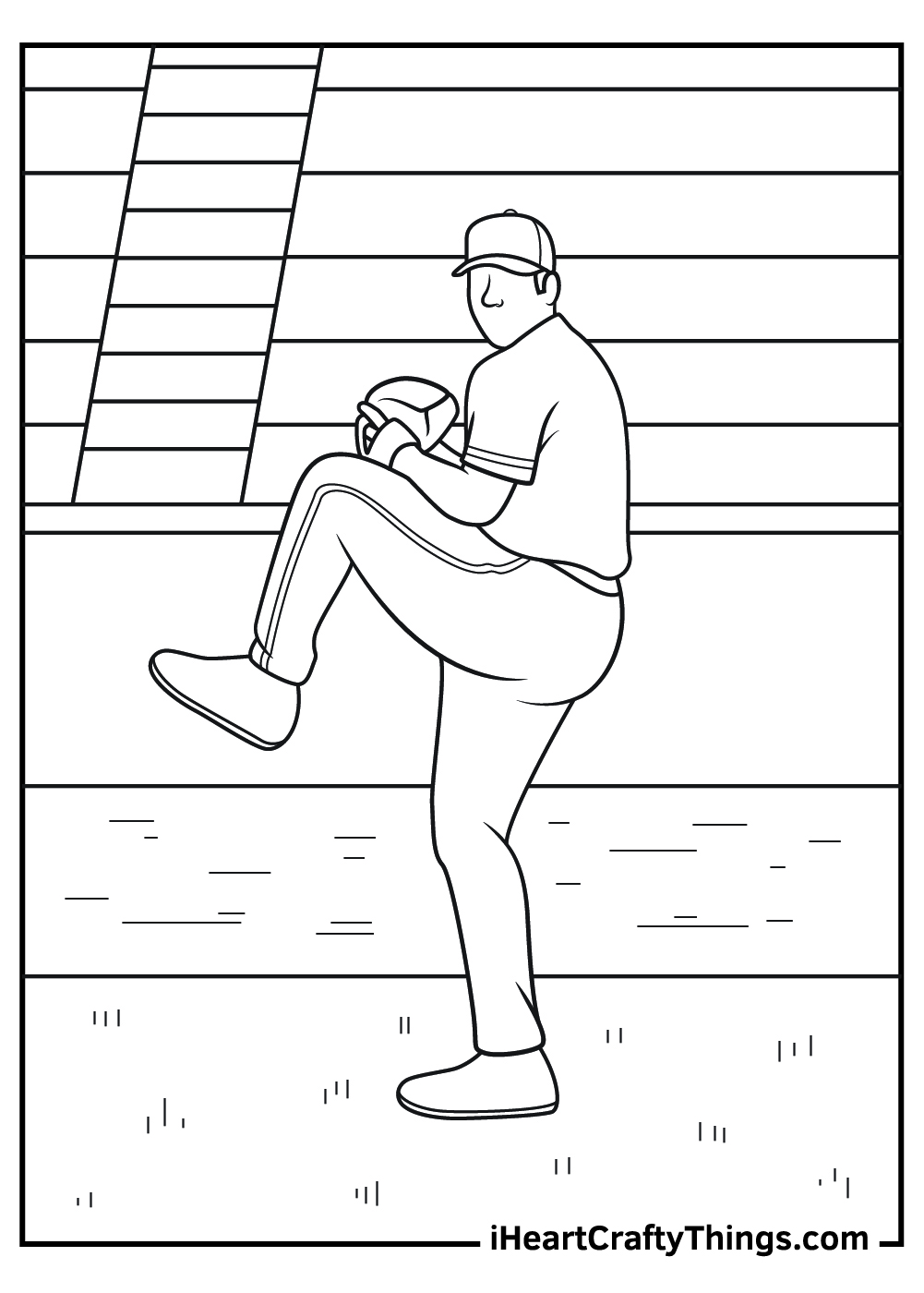 This player is captured in a ready position, gloved hand outstretched to catch that line drive. His authentic uniform includes a cap, jersey, striped pants and cleats, all blank slates for you to color.
Choose bold team colors or realistic shades – just like the pros wear.
In the background, you can draw more action – a batter at the plate, the swoosh of a pitch, a fast base runner. And add textures like grass stains and dusty baselines.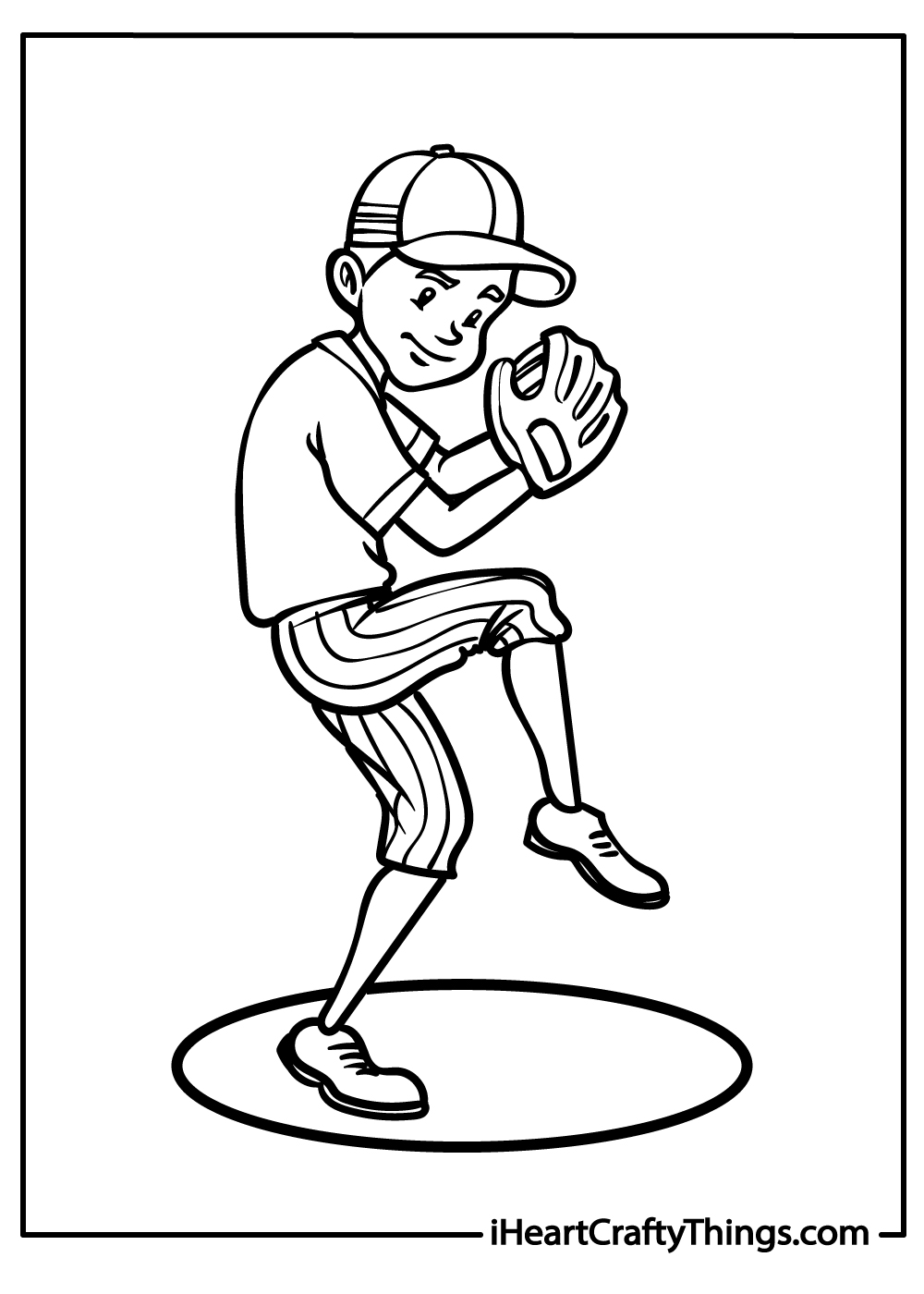 This baseball coloring page shows a baseball glove and a baseball. For many, these are all they have and these are all they need to play ball.
Will you use the typical baseball glove colors or will you stand out by using different ones?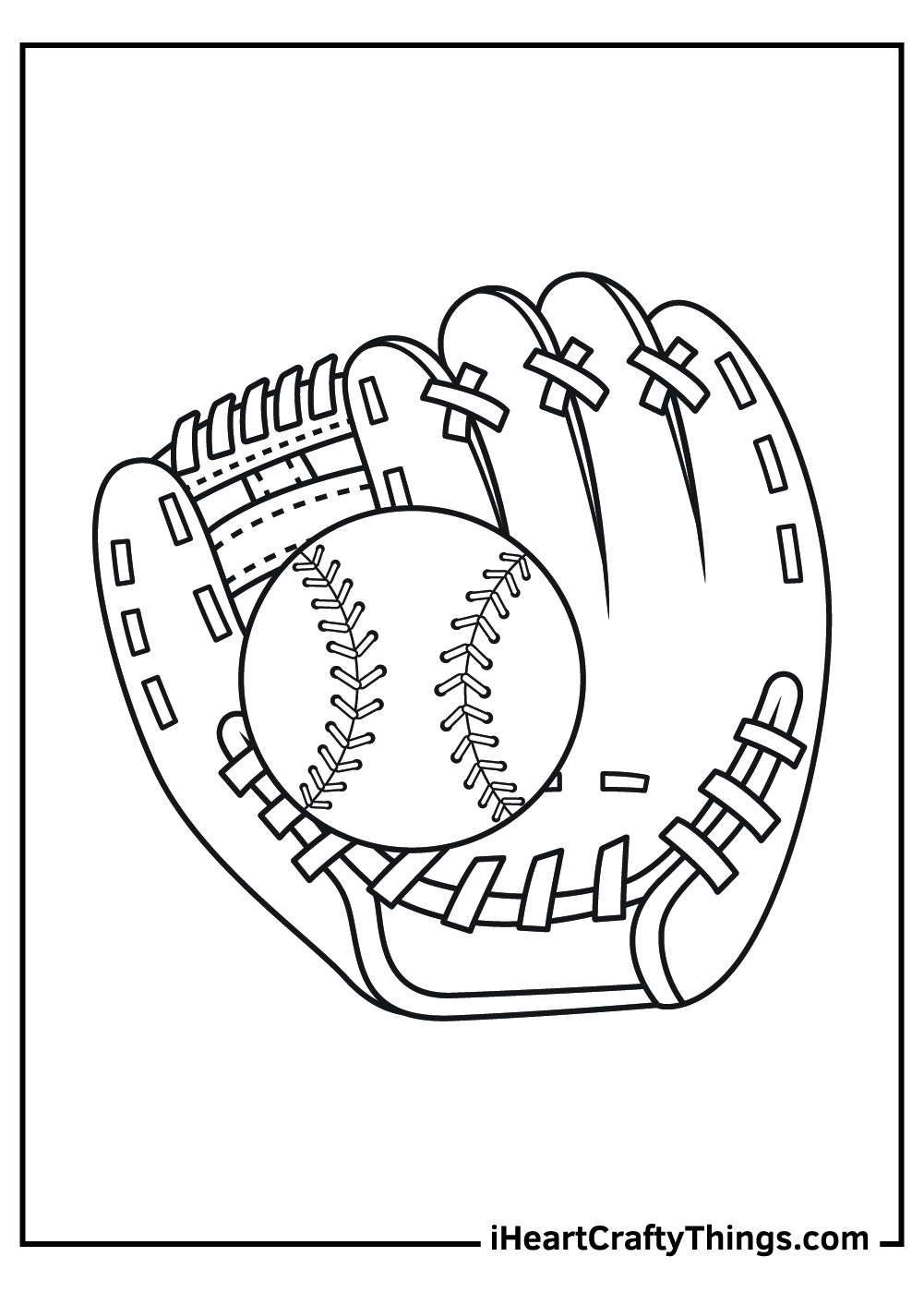 Baseball Coloring Pages — Which image will you color?
We hope you enjoy these baseball coloring pages. It consists of simple and intricate illustrations of baseball players and baseball equipment.
Coloring these baseball coloring sheets is the perfect activity for kids of all ages who play baseball or who love sports in general.
Remember, all of our crafts and coloring printables are 100% free for you to download, print, and color. We are always updating our catalog and uploading new content to our catalog. So, don't forget to keep re-visiting our website to continuously enjoy all-new coloring pages.
Once you've finished coloring your baseball coloring printables, you must be very proud of yourself for completing a masterpiece—as you should be! Make sure to show off your work of art and share it on our Facebook page. We're sure it looks amazing!
We can't wait to see all of your colorful baseball artworks!
REMEMBER: You can get the COMPLETE set of these coloring pages >> HERE