Ballet is a classical dance, originated during the Italian Renaissance in the fifteenth century that demands precision and grace and employs gestures and steps set in flowing and intricate patterns to create expression through dance.
Ballerina Coloring Pages introduce your children to an important area of art – ballet.
Here are the latest printable sheets depicting young ballerinas working through various steps and positions.
10 Brand New Ballerina Coloring Pages – Free to Print and Color
Everyone passionate about ballet knows that its dance positions have the role of expressing an idea or telling a story. Ballet is more than dancing; it's a way of life for ballerinas.
This printable sheet shows a young ballerina in an en pointe position. She is the expression of elegance with her hair tucked in a high bun and a delicate smile on her face.
The dancer has one arm raised over her head, and the other slightly pointed to the side to maintain her balance.
Our graceful ballerina wears a tutu skirt and a tight top, a typical attire for a coryphée.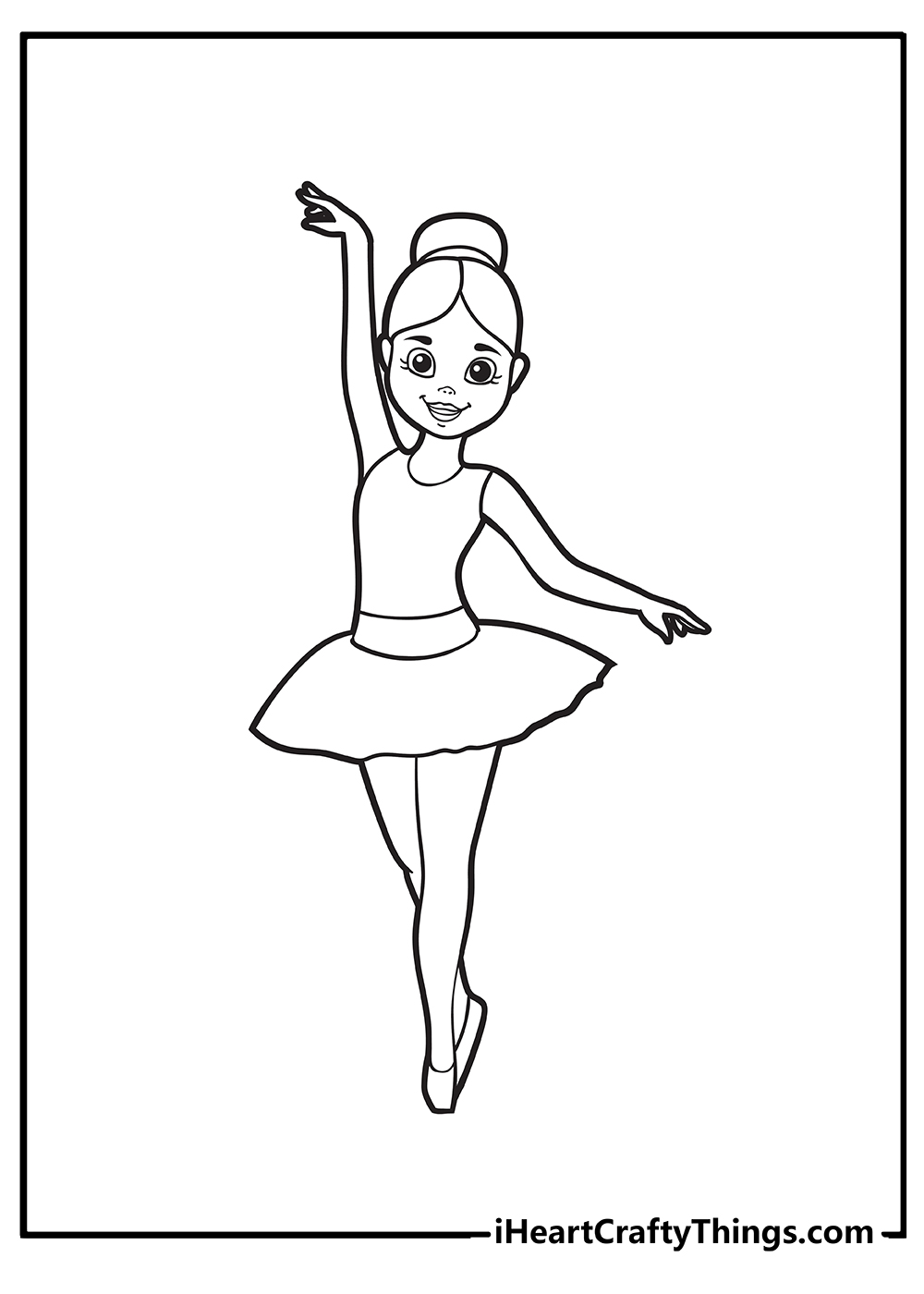 Professional ballet dancers start their training as young as three years old, and regular pointe work around age 11. Pointe work makes them appear weightless and more elegant.
This ballerina coloring printable depicts a dancer who masters her pointe position. She supports her weight on one leg while winging the other toward her head.
Her hands are also directed upwards to make the position look elegant. Our dancer wears a delicate dress with long sleeves and the hair tucked in a high ponytail.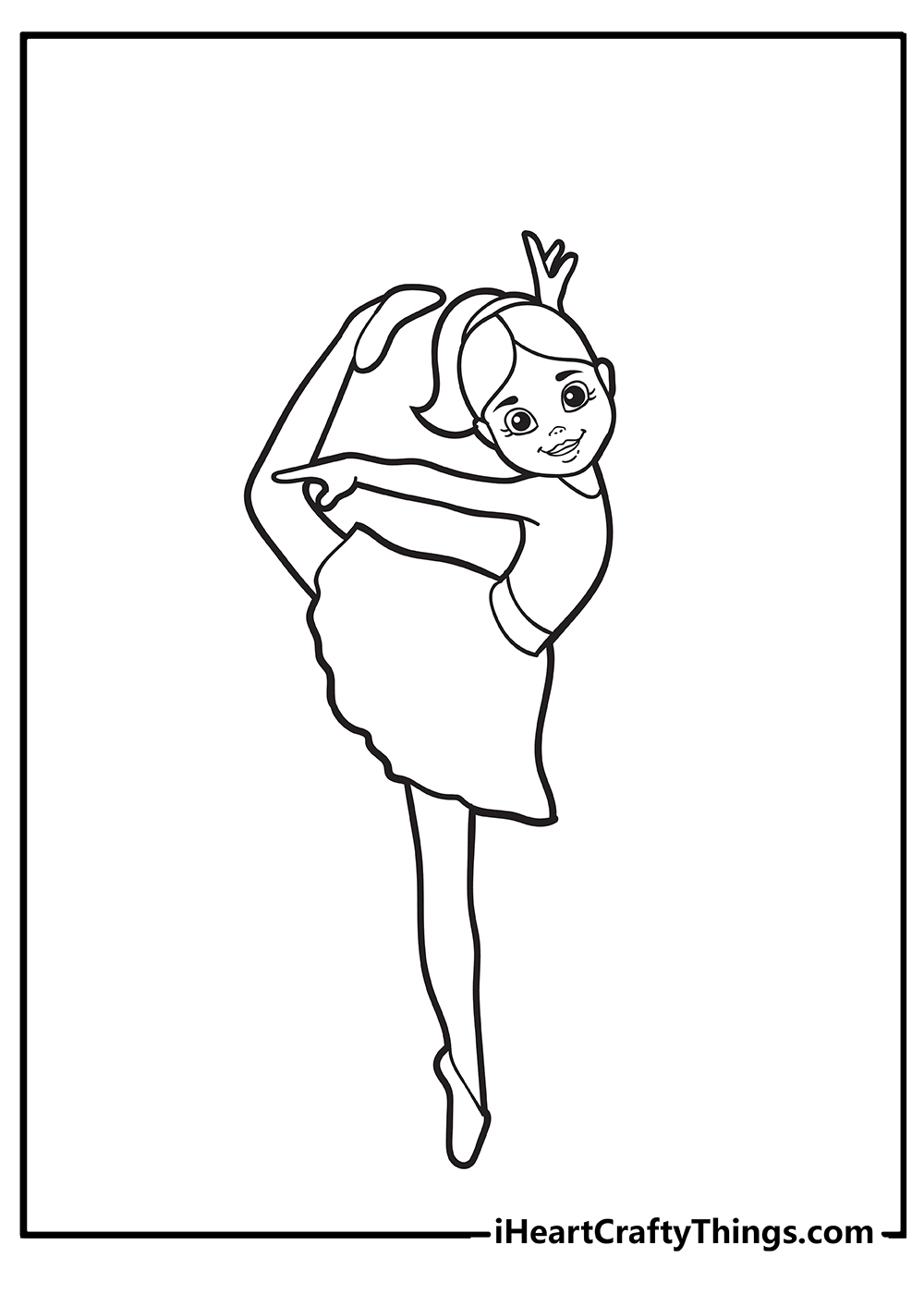 Ballet is a form of art that uses movements, music, and scenery to tell a story. The most famous ballets in history are inspired by classic tales like the Nutcracker, Cinderella, or Romeo and Juliet.
Coloring ballerina coloring sheets is a fun way for children of all ages to develop creativity because they picture the characters they color as dancers in a ballet recital.
The dancer in this printable sheet has her feet elevated in the en pointe position and wears comfortable attire made from a delicate skirt and a tank top.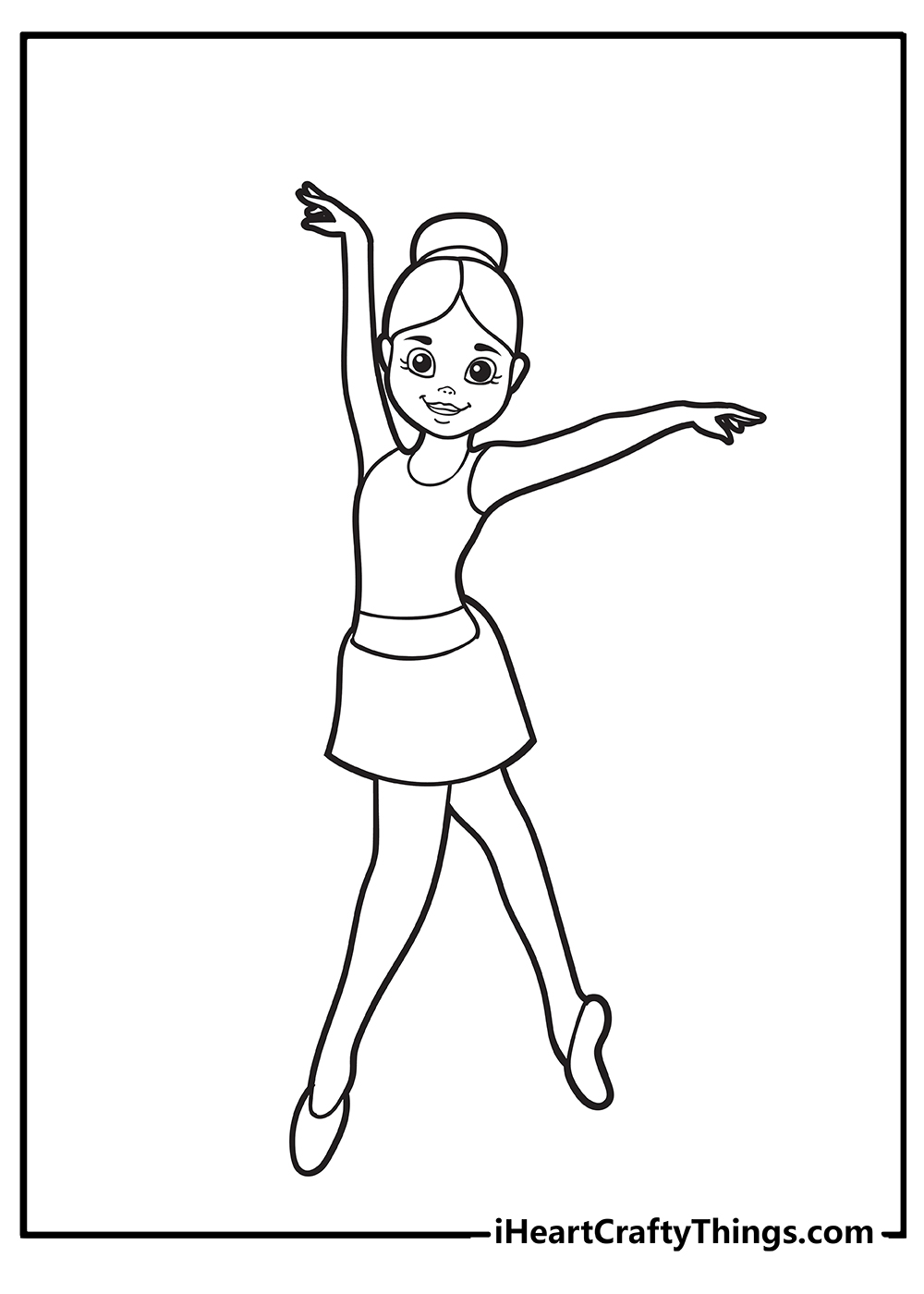 The ballerina in this coloring page looks like she is flying with her arms spread like fairy wings.
The dance move makes her dress glide gently, enhancing the impression she is floating above the ground.
Ballerina coloring pages are fun to paint because they allow children to use their creativity to design the dancers' outfits.
Ballerinas are usually dressed in pastel hues, and your children need to carefully pick the shades they use to resemble the costumes from ballet shows.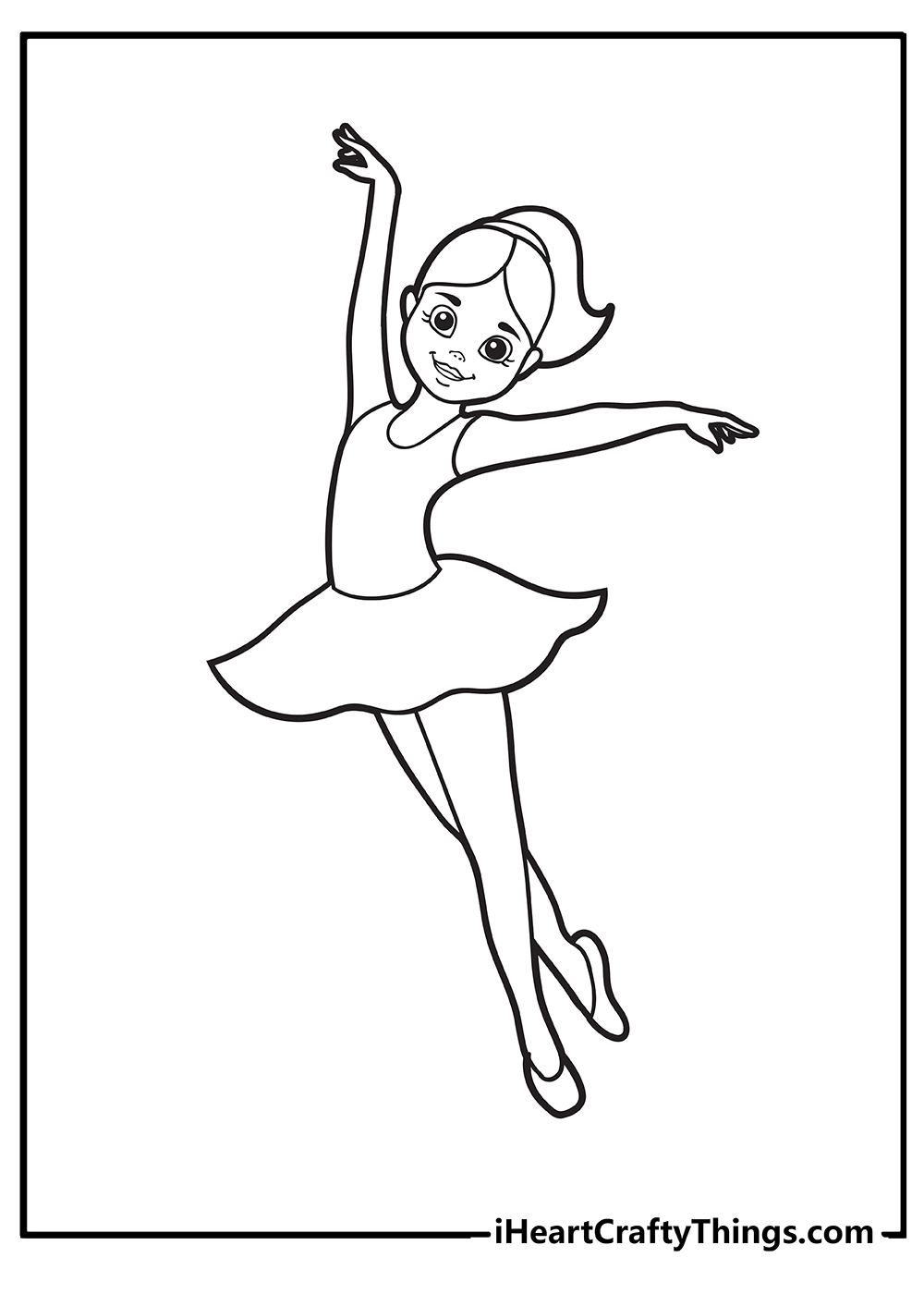 The ballerina from this coloring page looks like a character from the Nutcracker, one of the most recognizable ballets in history. The Nutcracker is the first time on stage for many young dancers.
The girl in this coloring sheet has her head slightly pointed to the right. Maybe she looks toward one of her colleagues. What do you think?
We love her dress, with the elegant ribbon tied around her waist and the A-line skirt.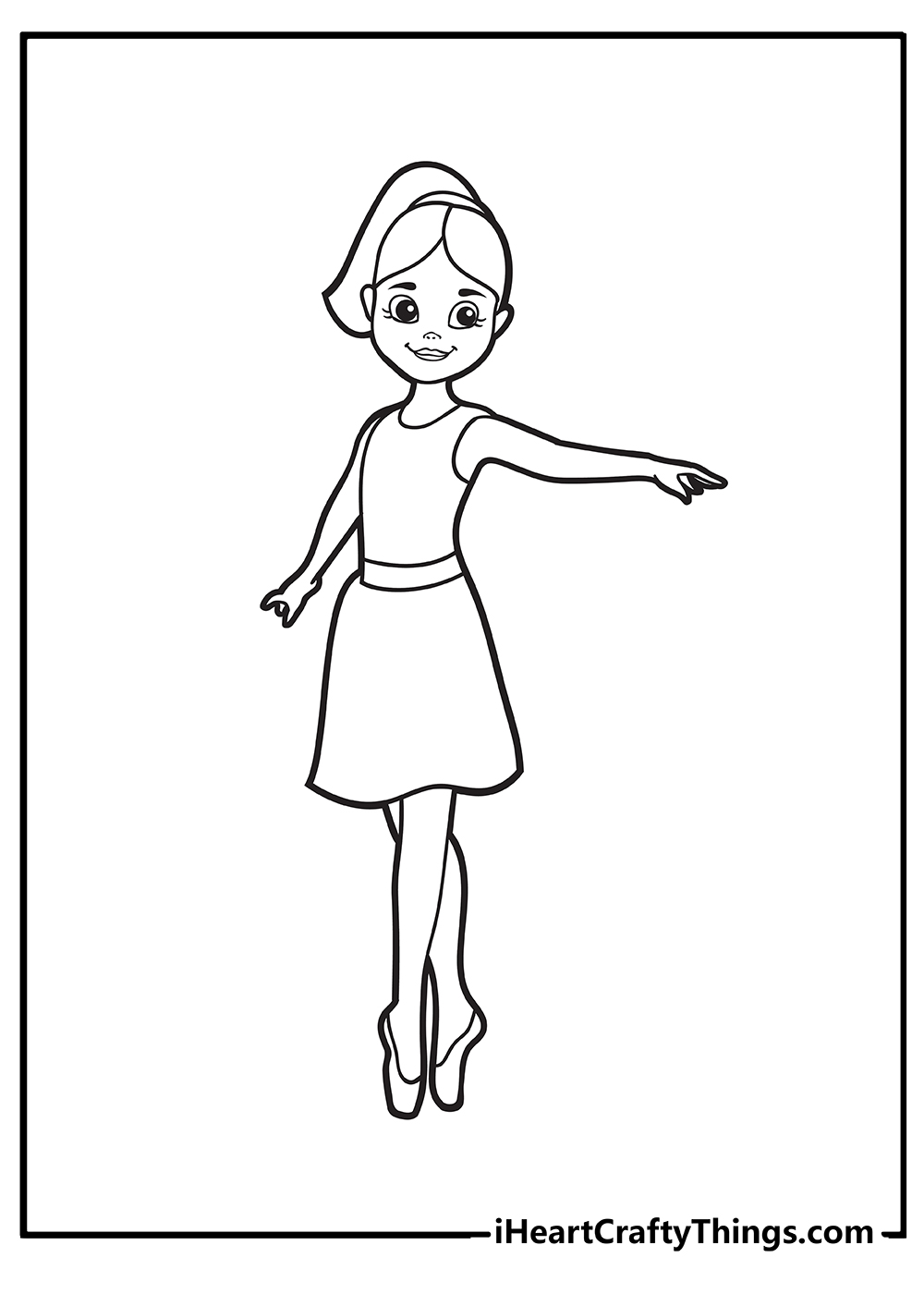 Look how cute this ballerina is! She probably just landed from a pirouette, and her teacher applauded her for her pose.
Similar to other ballerina coloring sheets, this one also depicts a dancer with a tutu skirt, specific to this classical dance. Her dress is more festive than of the girls from the above pages.
Maybe she is getting ready to enter the stage for a performance.
Definitely so, considering she also has her hair styled in a voluminous bun, tied with a strip of ribbon, and her bangs parted in the middle.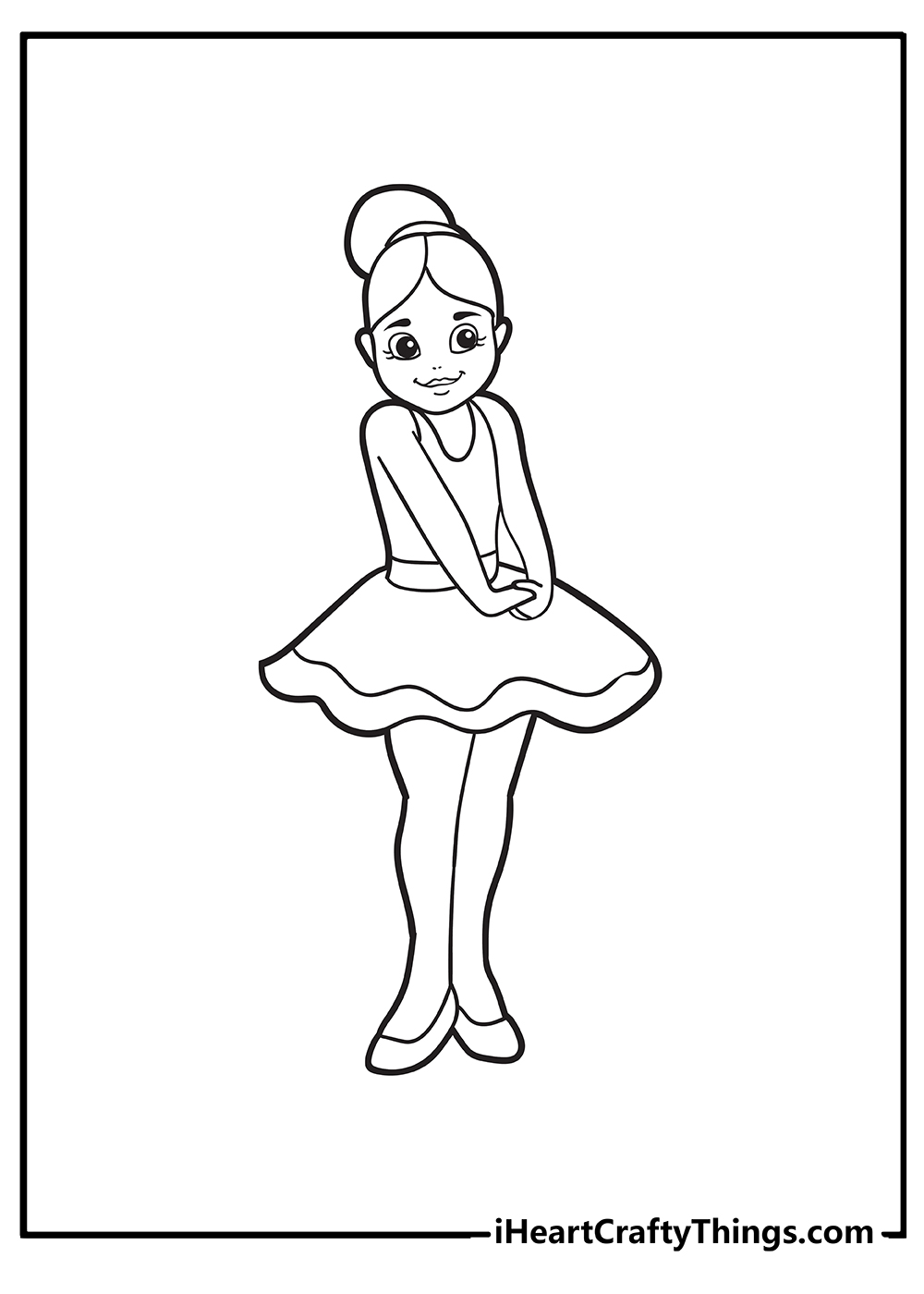 The children who enroll in ballet classes love to dance and express their feelings through movements.
Our ballerina from this printable page also seems to enjoy being on the stage and dancing to her favorite song.
This ballerina coloring sheet shows a young dancer gliding to the right with one of her legs slightly raised in the air and her arms following the direction of her legs.
She wears a beautiful dress with a fluffy skirt that features a ruffle on the bottom.
Her hair is styled in a high ponytail, adorned with a small fabric bow, and her bangs parted to the side to reveal her beautiful face.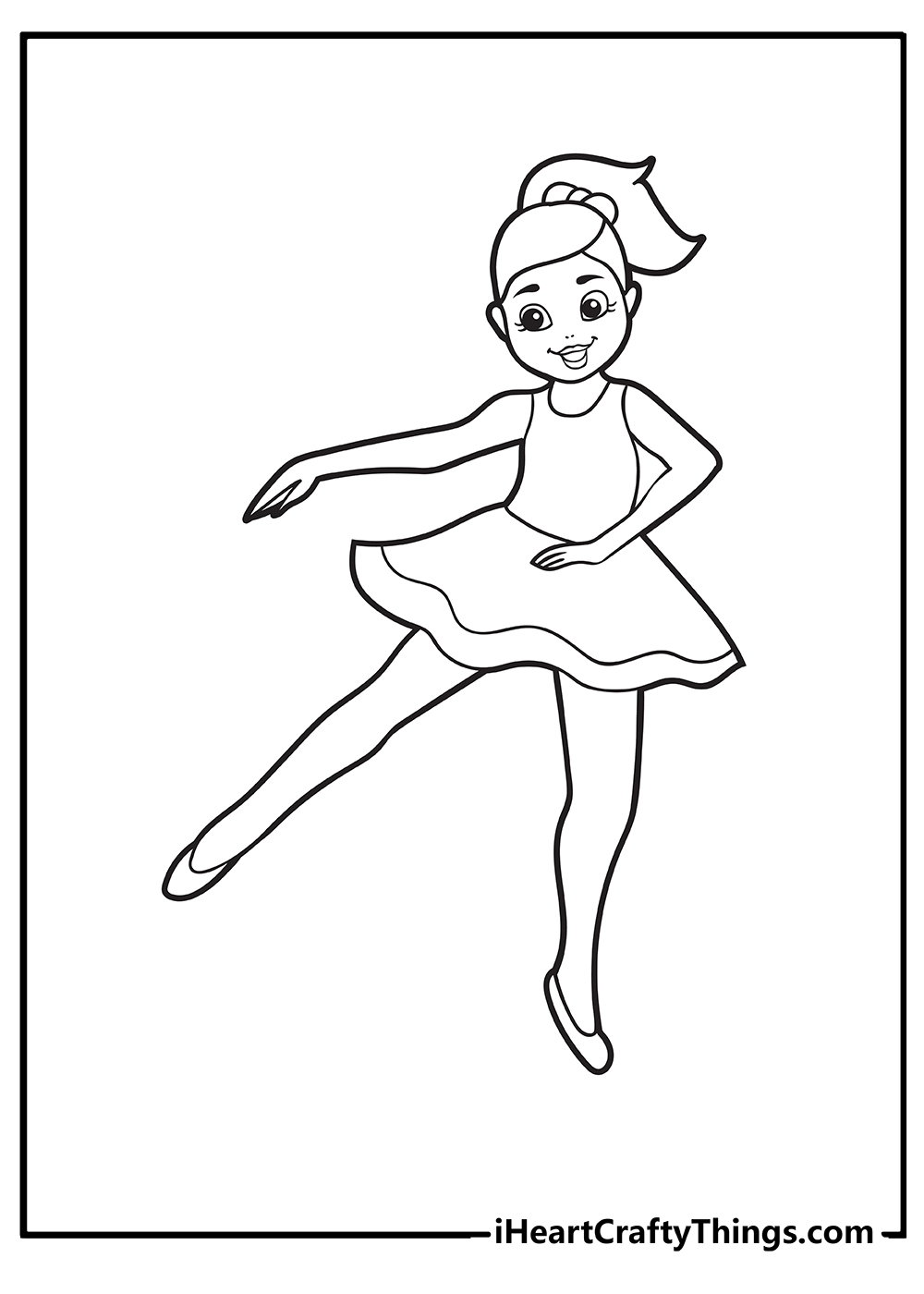 Ballerinas start dancing around the ages of 3 or 4. We created this coloring page to feature a young ballerina practicing the tendu pose.
She has a leg raised in the air and the other fully attached to the floor to support her movement. Her arms are wide open to offer her stability and balance.
Our tiny dancer sports a delicate smile and wears her hair in a loose bun and her bangs parted in the middle to highlight her big eyes.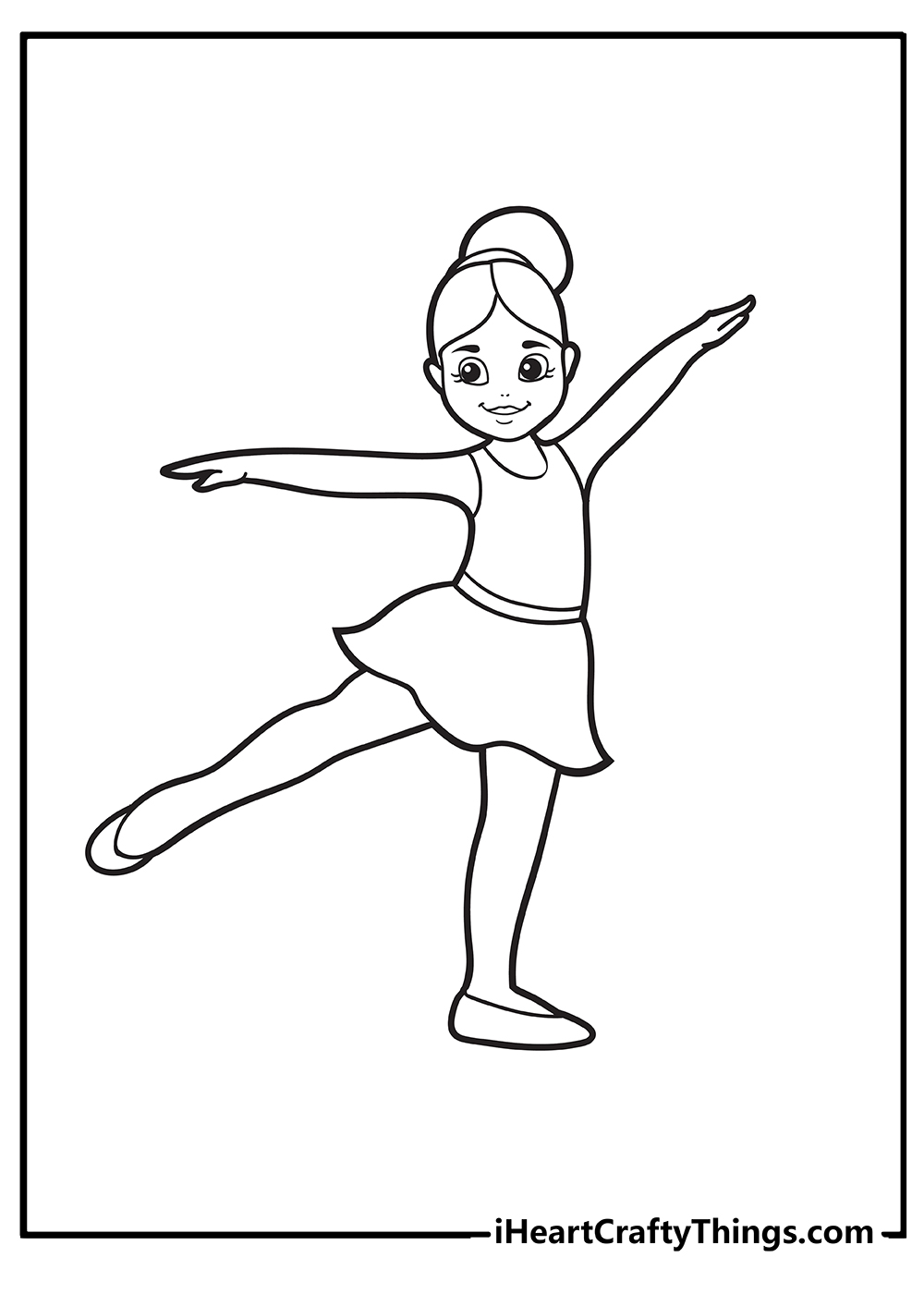 This ballerina looks very young. This coloring sheet shows her in a releve position with both her arms up around her head and one of her legs slightly pointed to the back.
It's a classic ballet pose that dancers learn during their first classes.
We love how she has the bangs cut short and her hair tied in a puffy bun. Your children will definitely have fun painting her dress.
She wears a long-sleeved top and a mini skirt that floats around her legs when she moves.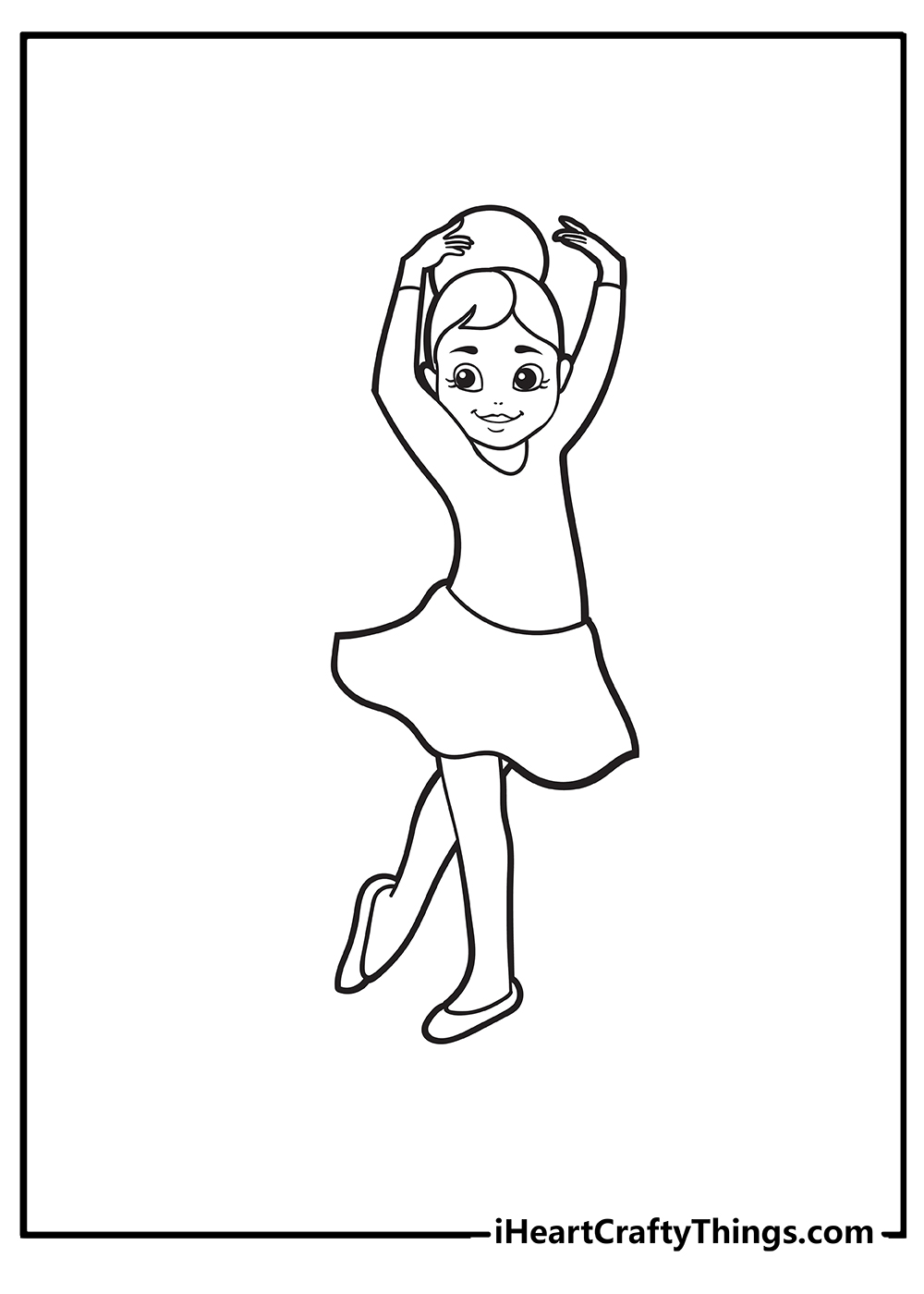 This ballerina coloring printable shows a dancer in the echappe pose, which they learn later in age.
The girl from this page looks like an adolescent practicing her routine dance. A large part of ballet involves the dancers getting ready for recitals.
Our ballerina wears an A-line skirt and a tight top that allows her to move around comfortably. She has her hair styled in a low bun at the back of her head.
If your children love to paint ballerina coloring pages, visit our website regularly because we constantly update our catalog with unique printables.