Springtime is an exciting season of the year, mainly because this is when beautiful flowers are blooming. One of the flowers that bloom in spring are tulips.
They come in a wide range of colors, and some of them even have petals with multiple tones or colors in a single bloom.
There is a tulip for every color of a rainbow, and each color signifies different meanings. Red tulips are most commonly associated with love, while the purple ones symbolizes royalty.
Tulips are not only lovely, but they are also very interesting.
The beauty of tulips is what generated a huge demand for free tulip coloring pages. So, we have created and compiled tulip coloring sheets for you to enjoy with friends and family.
With these tulip coloring printables, you can create a unique tulip of your own design. Have fun coloring these beautiful tulips!
REMEMBER: You can get the COMPLETE set of these coloring pages >> HERE
Tulip Coloring Pages – Free Printable Coloring Sheets
Tulips are sentimental and meaningful flowers. Many people give different colors of tulips to their loved ones to express their feelings.
This coloring sheet shows a bunch of tulips in a beautiful pot. The pot is adorned with a ribbon wrapped around it—so pretty!
This coloring page would make a precious gift once you've finished coloring it. Give it to someone you love to let them know that you care for them. We're sure they would appreciate it!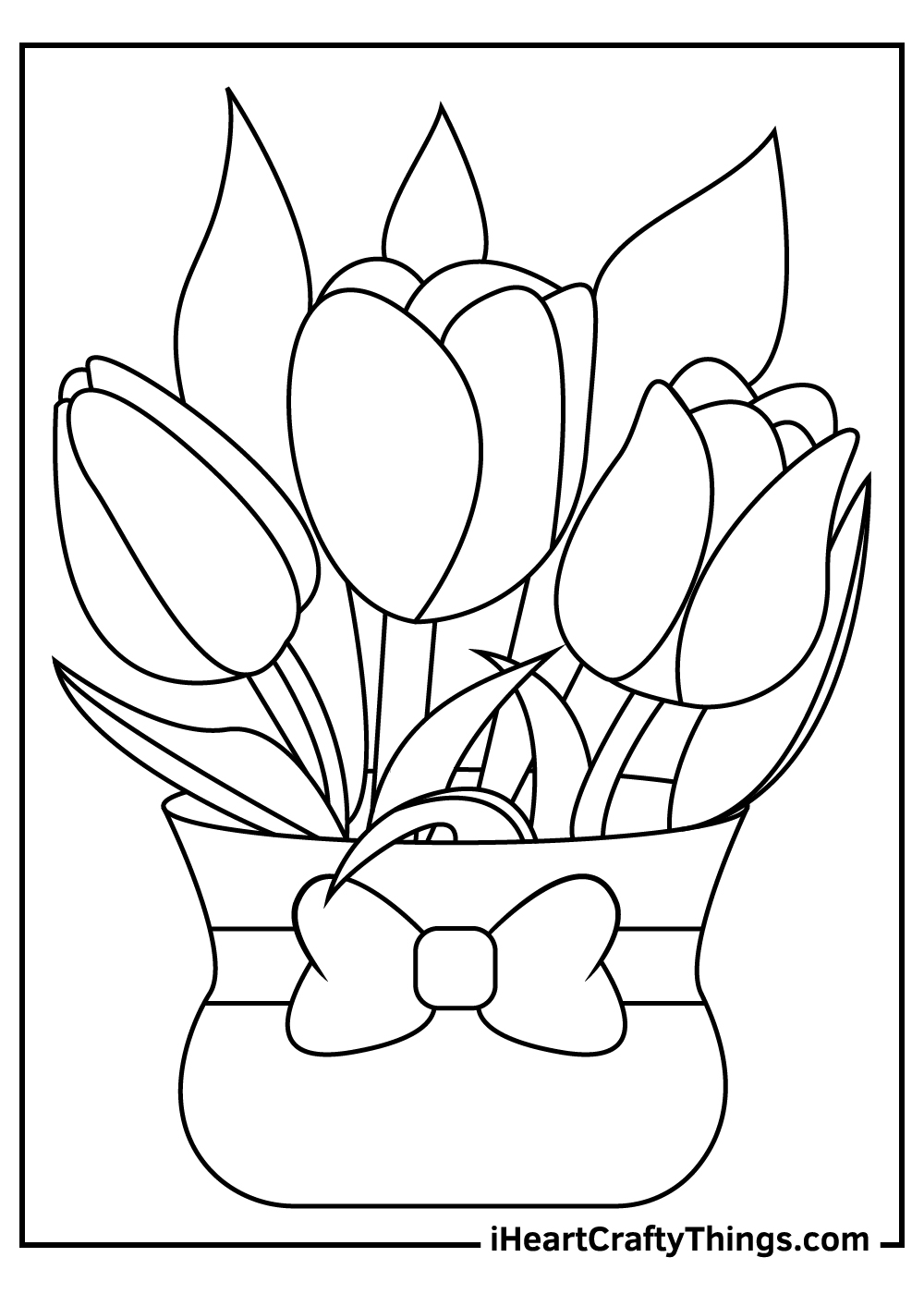 There are two flowers to color on this tulip coloring page for kids, and you have a few ways you could bring color to the flowers. You could make them each the same color.
Or, you could go for contrasting colors instead! Which approach do you think you will take for this duo of beautiful tulips?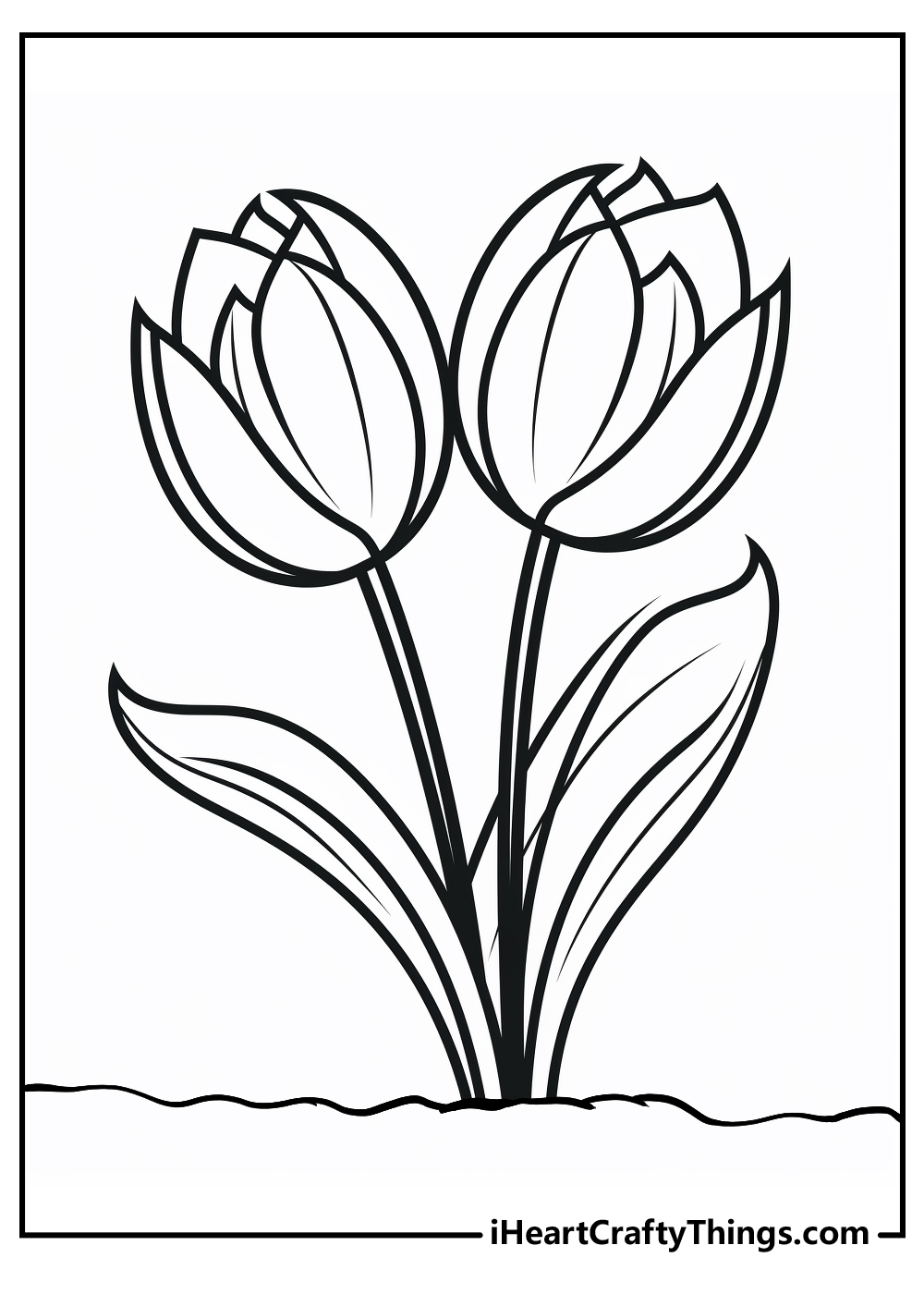 Tulips usually take a long time to blossom. But when they do, their beauty is definitely worth the wait. In this coloring page, there's plenty of tulips in different growth stages.
The tulip in the middle is blooming perfectly, while the others are still preparing to bloom. It doesn't matter in which stage of growth these tulips are, all of them still look gorgeous every step of the way!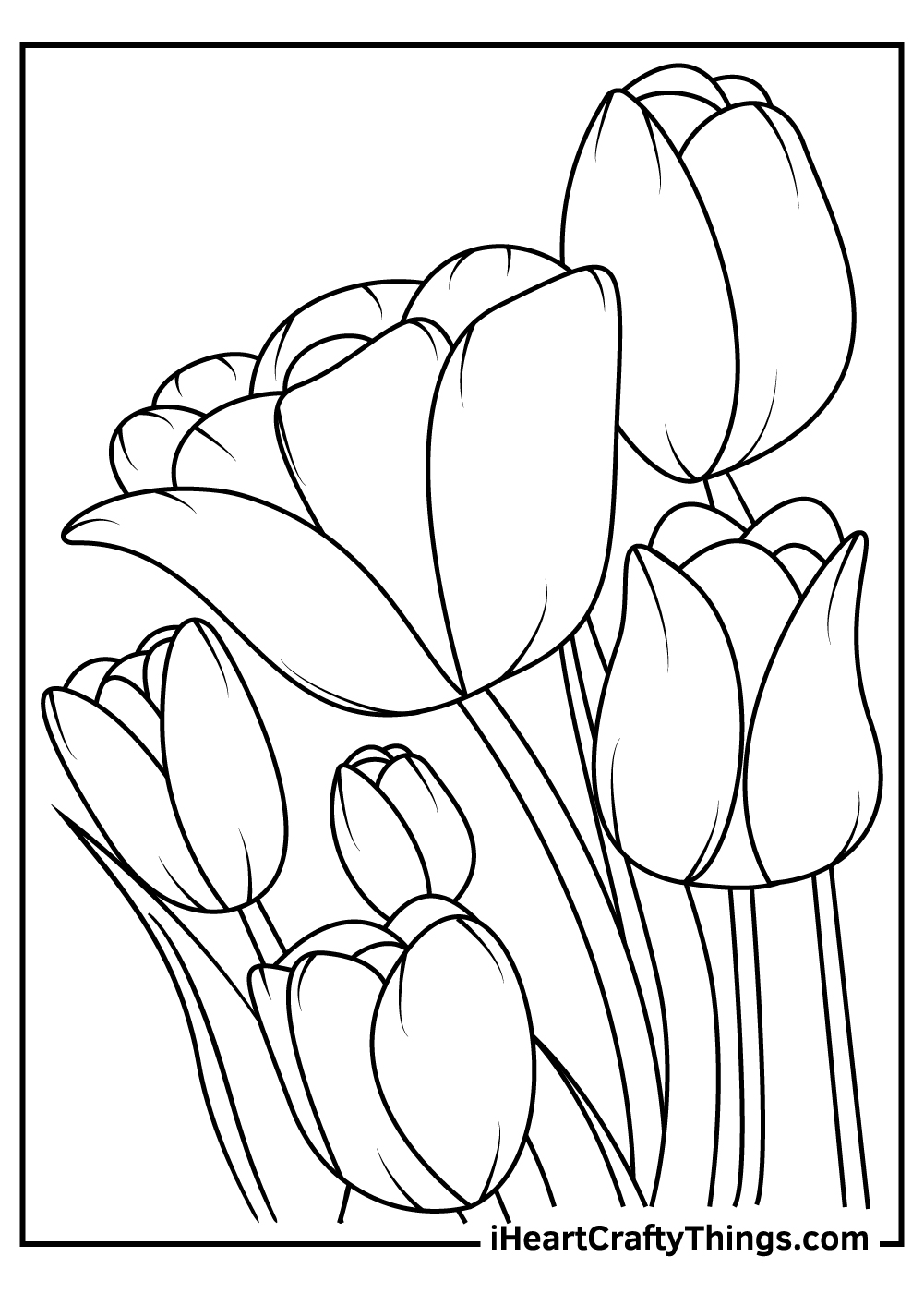 The tulips in this coloring sheet are flourishing! There's a total of three tulips in this printable and all of them are blooming halfway through. Glimmering sparkles are all over the background, making the image look even prettier!
We bet this art would make a beautiful decoration to be hanged on the wall once colored and framed. In which part of your house would you love to put this up?
REMEMBER: You can get the COMPLETE set of these coloring pages >> HERE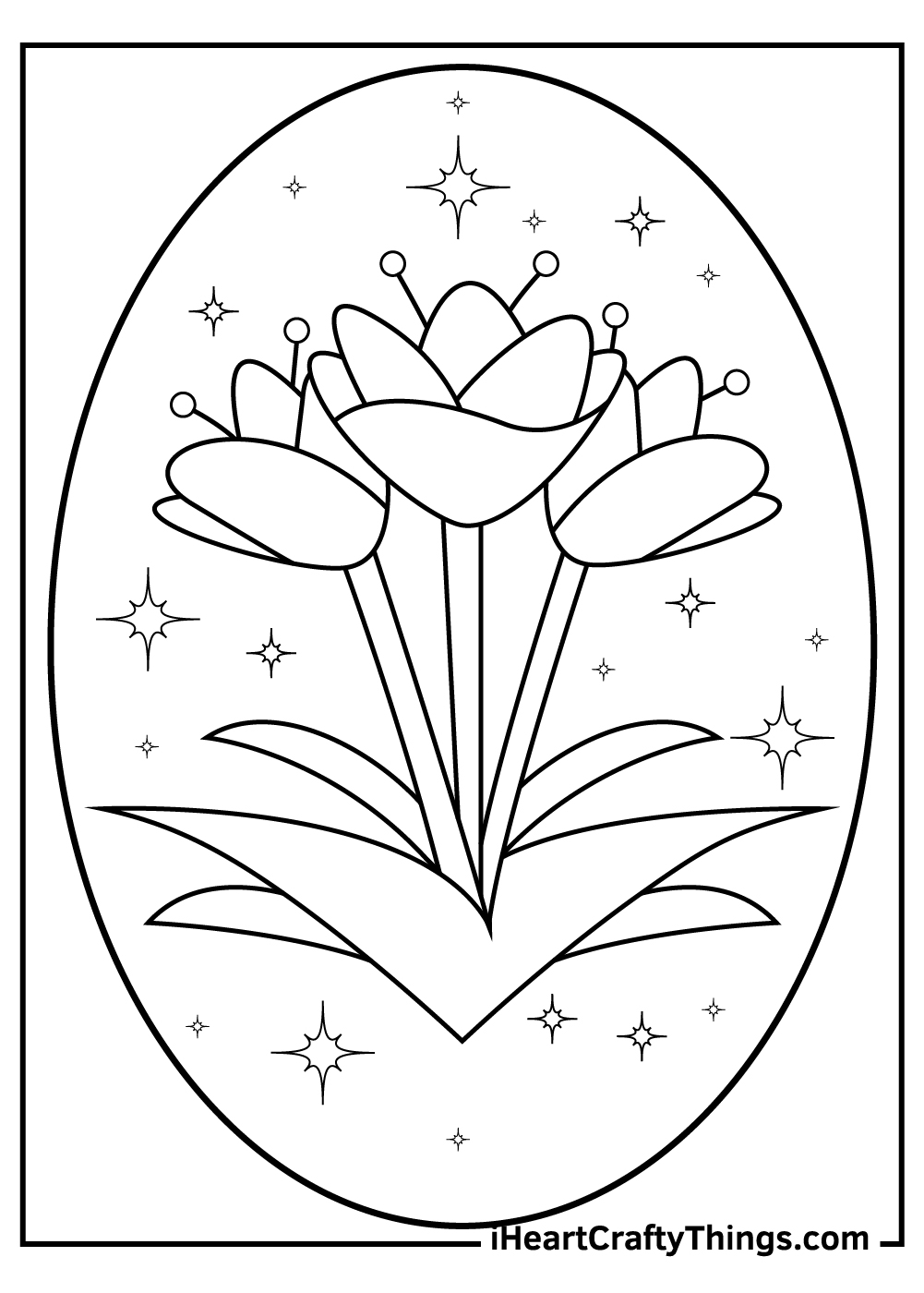 This beautiful tulip is so detailed, and you can use many colors to bring it to life. Not only can you choose a color, but you can use various shades of the color to make the picture look more realistic.
Some simple techniques and choices can make a world of difference, so what will you use?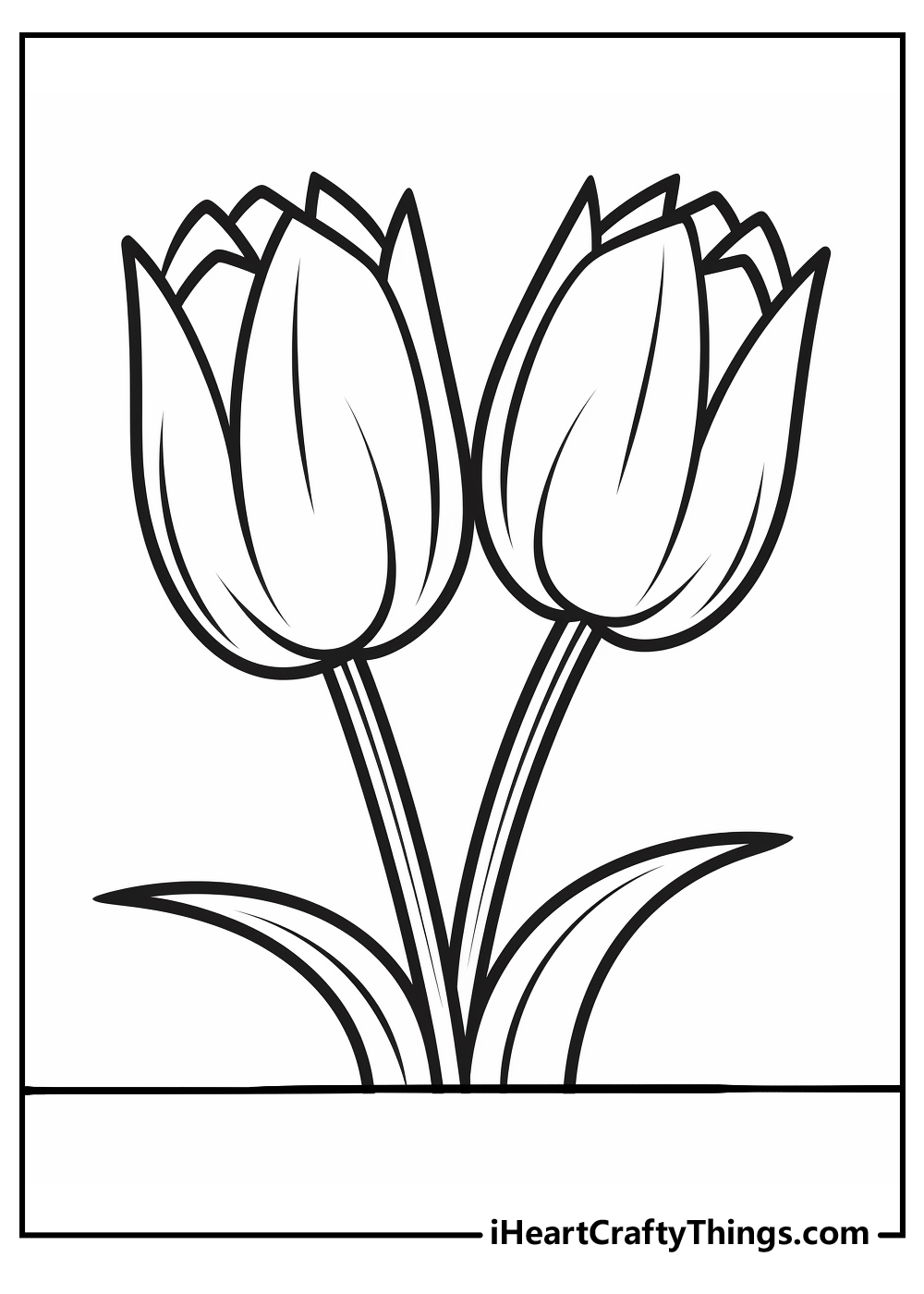 Sunlight is essential for a flower's growth. In this coloring page, a bunch of tulips are enjoying the sunlight on a hot sunny day.
The tulips are probably in the garden, having a good time and preparing to bloom. We suggest coloring each tulip with a different vibrant color to create a colorful and fun image!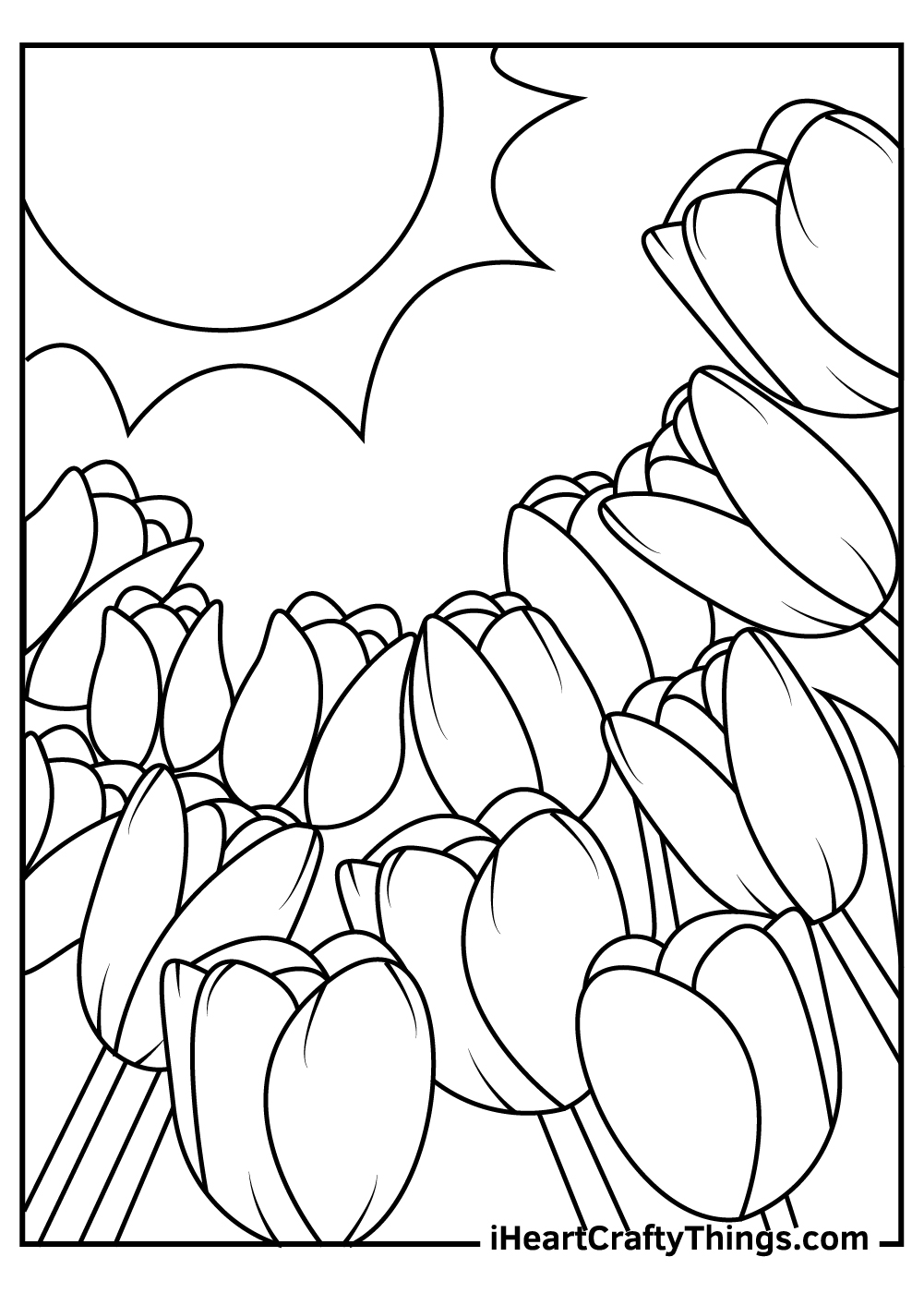 Tulips are blooming on a hot spring day! In this coloring sheet, the tulips are sprouting beautifully.
Their leaves also look healthy. These tulips must be getting a lot of sunlight and are getting watered often.
Imagine having your own plant of tulips in your backyard. That must be so nice! What colors do you imagine these tulips should be?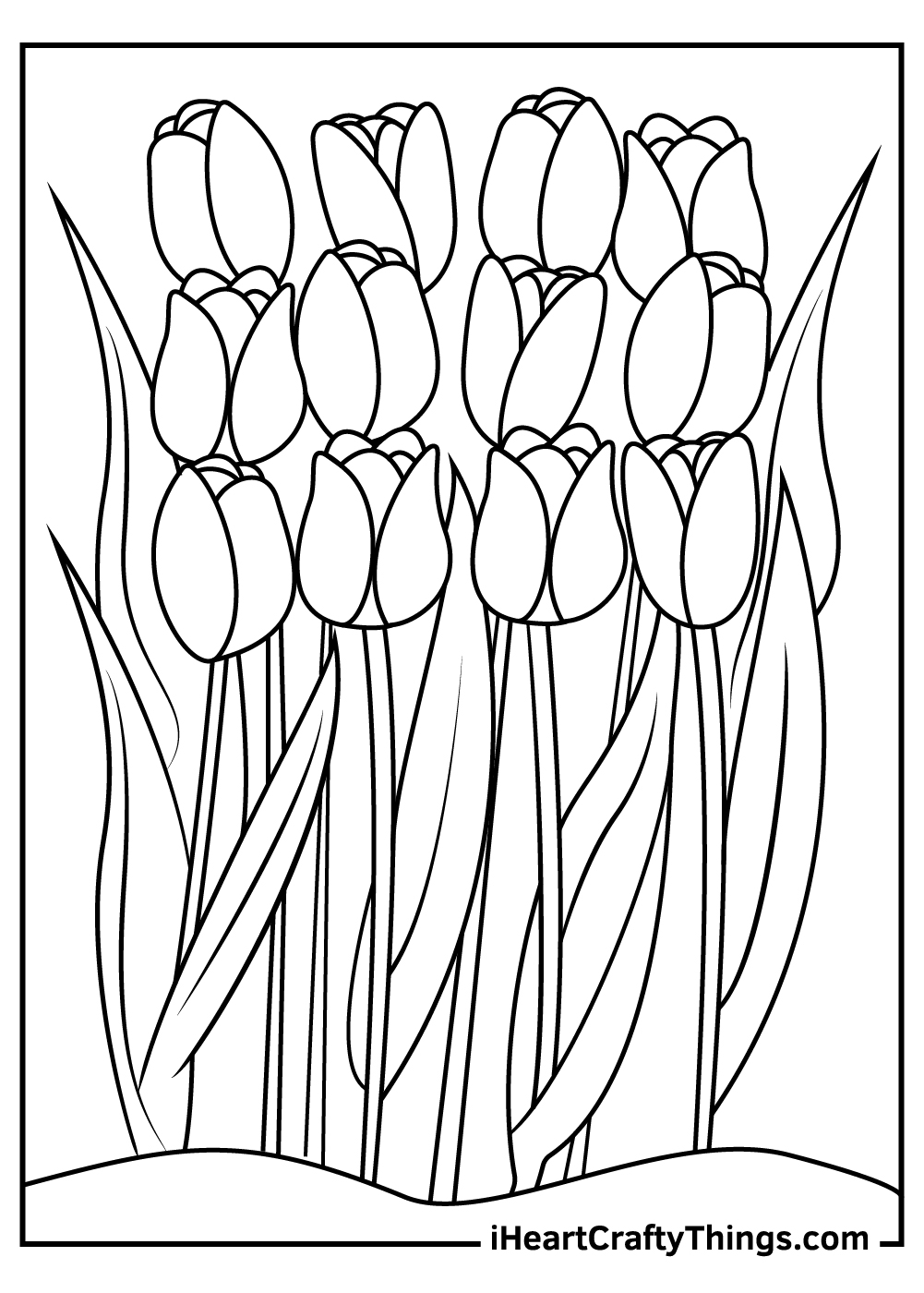 We have a lovely simple image for this tulip printable, but there are ways that you can make it more complex!
You could draw a background for one idea, and this could include even more flowers behind it.
Adding small details like buzzing bees would also be a fun touch! What else could you add to the picture?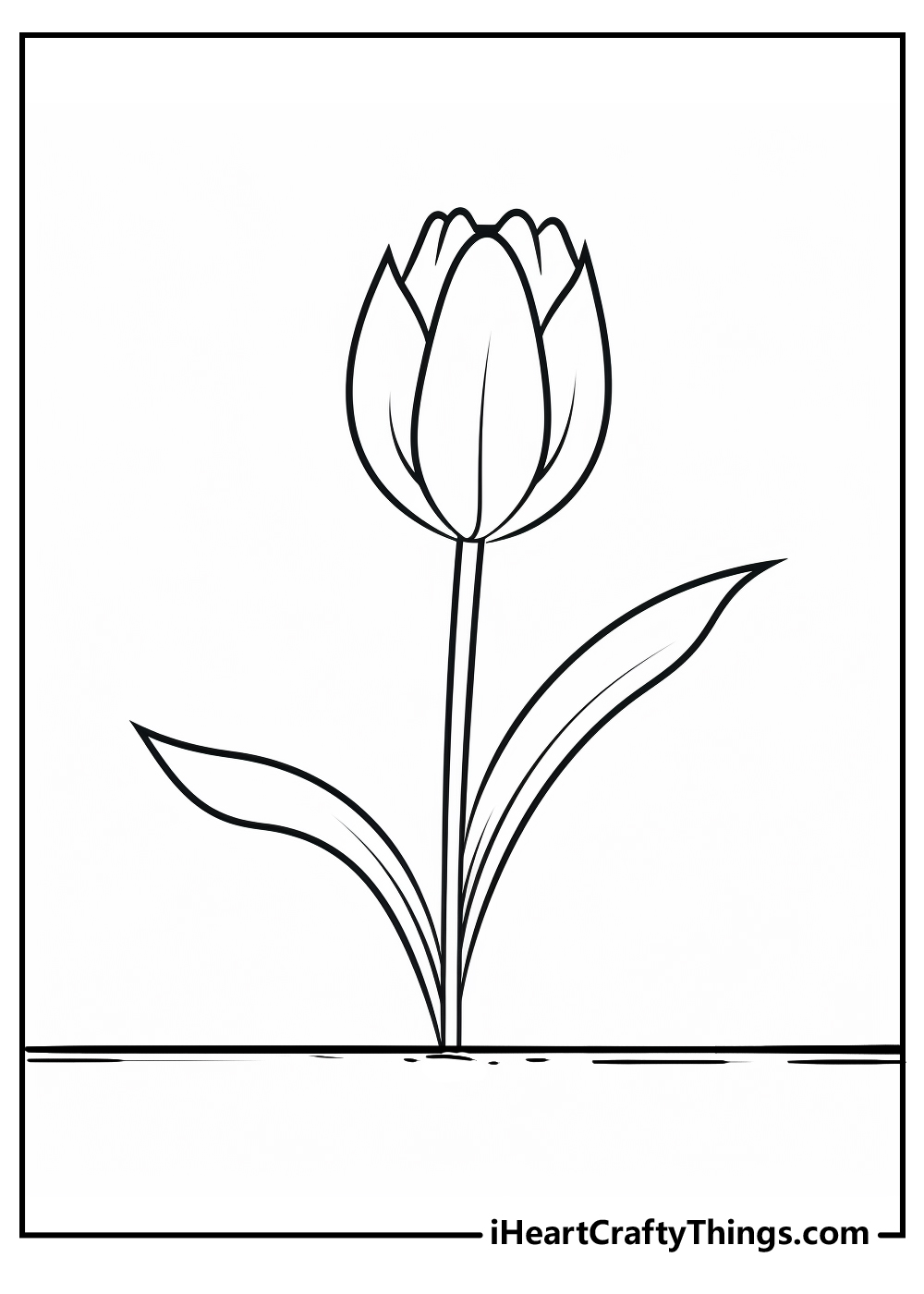 This coloring page shows a number of tulips standing loud and proud. They look flourishing with those healthy, long leaves.
Even though they have not fully bloomed yet, they still look lovely. The flowers are rising above the bricks, they must be very tall!
REMEMBER: You can get the COMPLETE set of these coloring pages >> HERE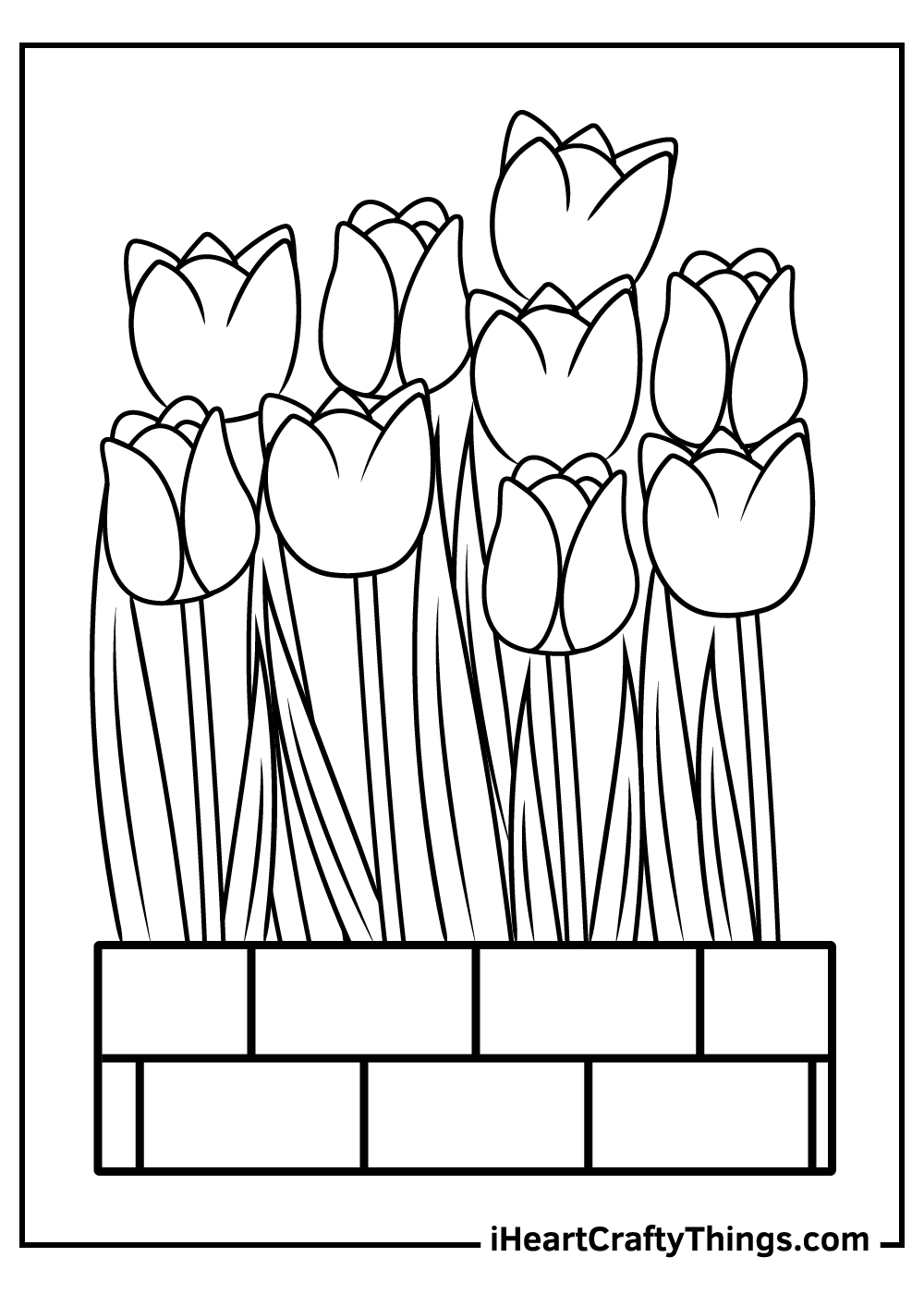 In this coloring printable, a bunch of tulips are arranged in a ceramic vase. The aesthetic of the vase made the tulips look even prettier!
The vase was designed with clover symbols surrounding it. Use a variation of colors for the vase to make it look colorful!
If this were real, this flower arrangement would look perfect at the top of a coffee table in a living room. So fabulous!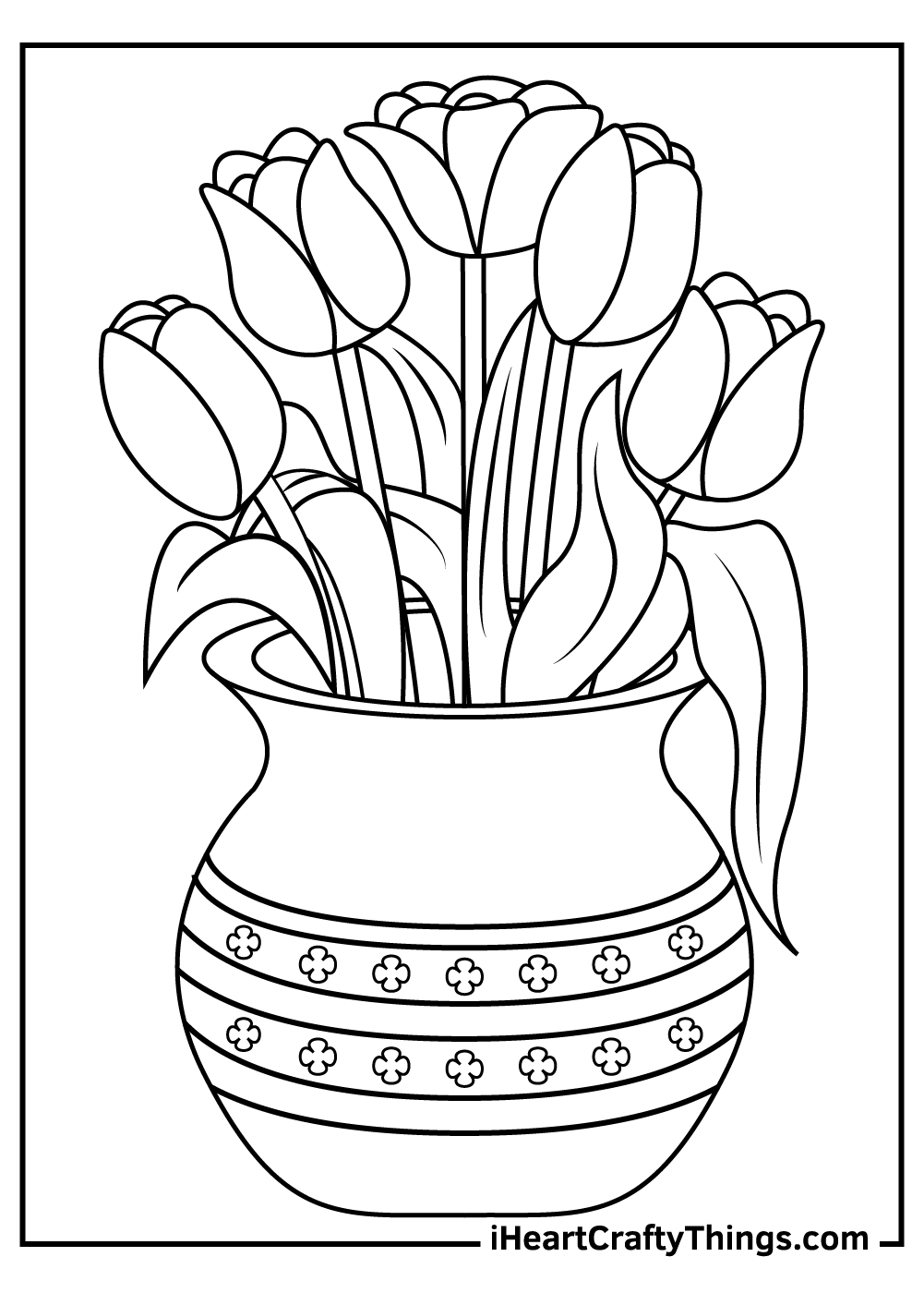 This page has another pair of beautiful tulips for you to color. Once again, you have the choice of matching colors or contrasting ones.
If you can't decide, then you could print a few copies and try a few different approaches to see which one you like the most, so have fun experimenting with it!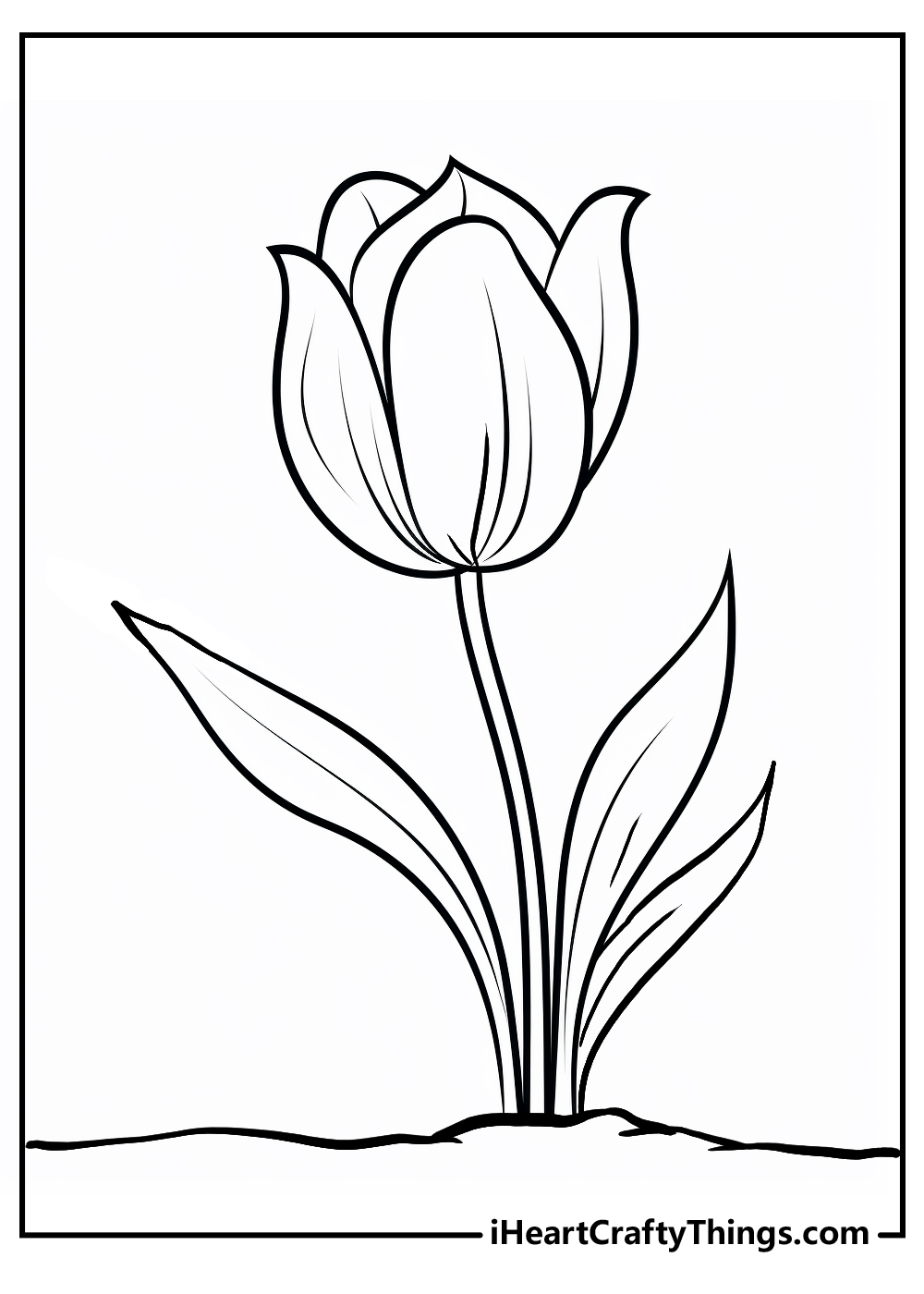 This coloring printable perfectly captures the beauty of tulips. This image shows two tulips: one is in blossoming, while the other is preparing to bloom. Regardless, both of them look equally beautiful!
Imagine someone giving you a bouquet of tulips that look exactly like these. That would be so romantic! What color would you like your tulips to be?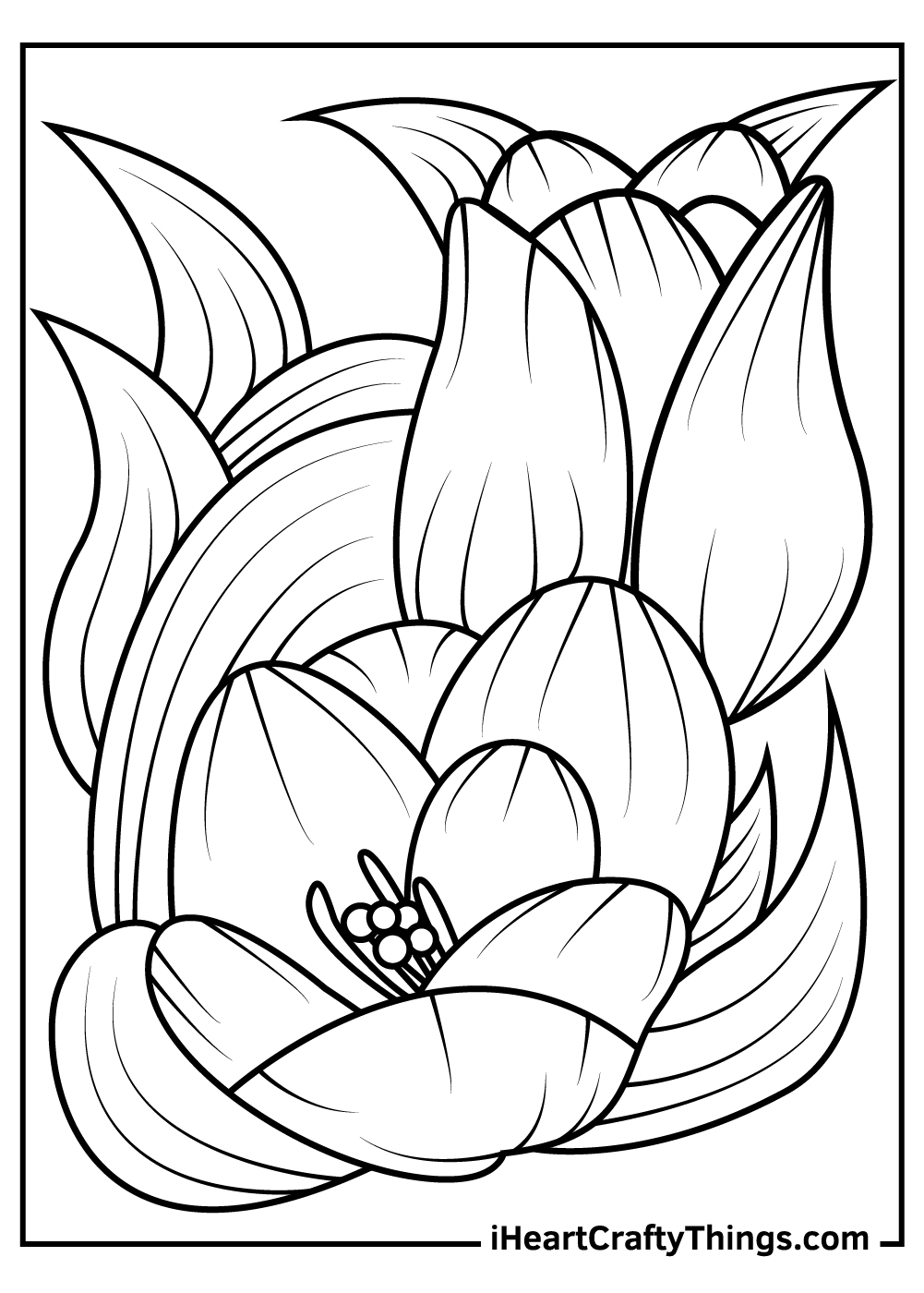 The tulips in this coloring sheet are in different phases of their growth. Some of them are currently in full bloom, while others are yet to blossom.
This image proves that tulips look gorgeous in every stage of their bloom.
The leaves are also growing bountifully. The rich green color of the leaves would surely complement the bright colors of the flowers.
REMEMBER: You can get the COMPLETE set of these coloring pages >> HERE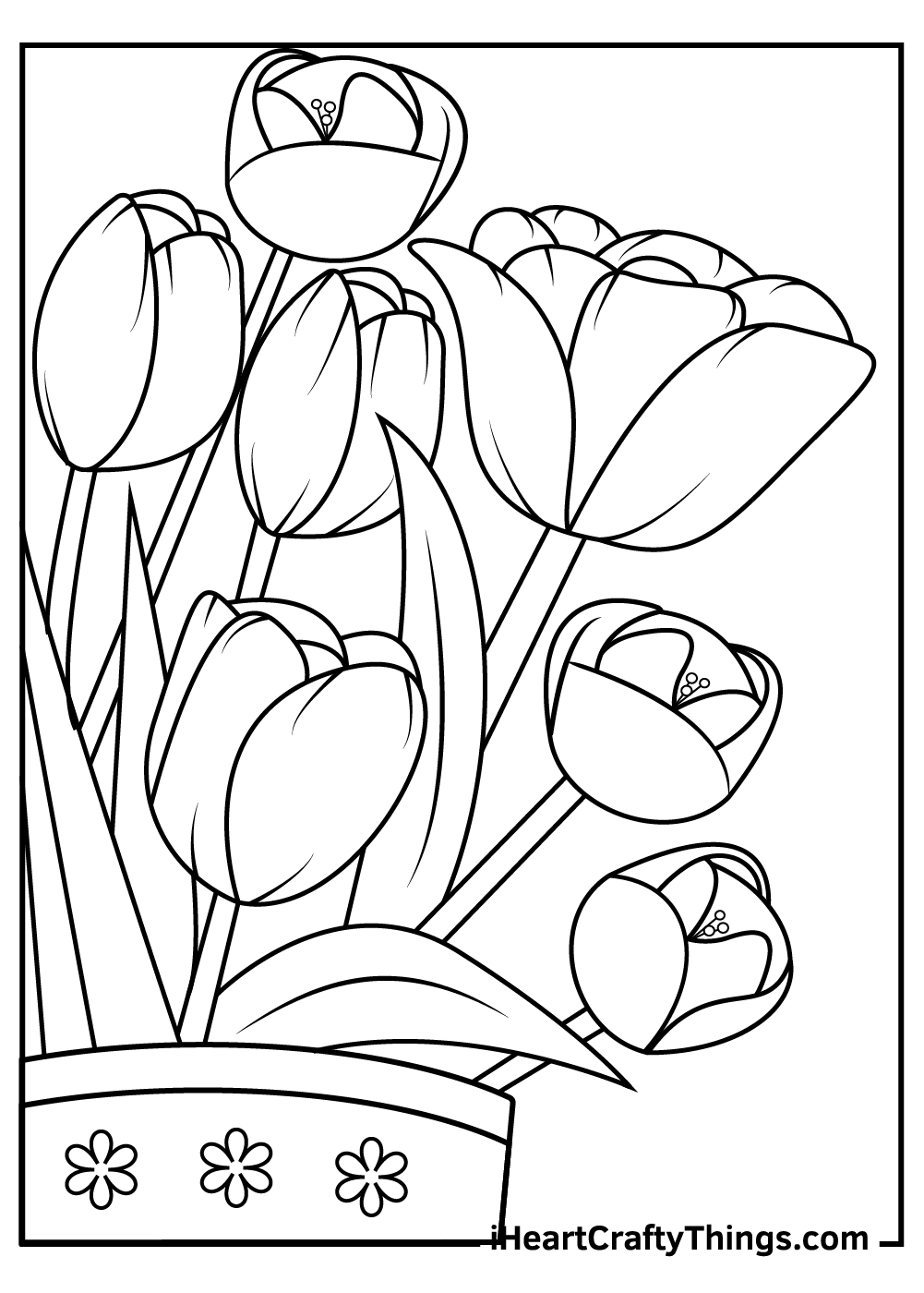 The next tulip coloring sheet we have for you is one of the most detailed yet. You could spend a lot of time on this one.
Some subtle color details would look amazing on this one, and you could mix different colors and mediums. Definitely let your creativity go wild on this one!
I'm sure that whatever you do will look absolutely incredible!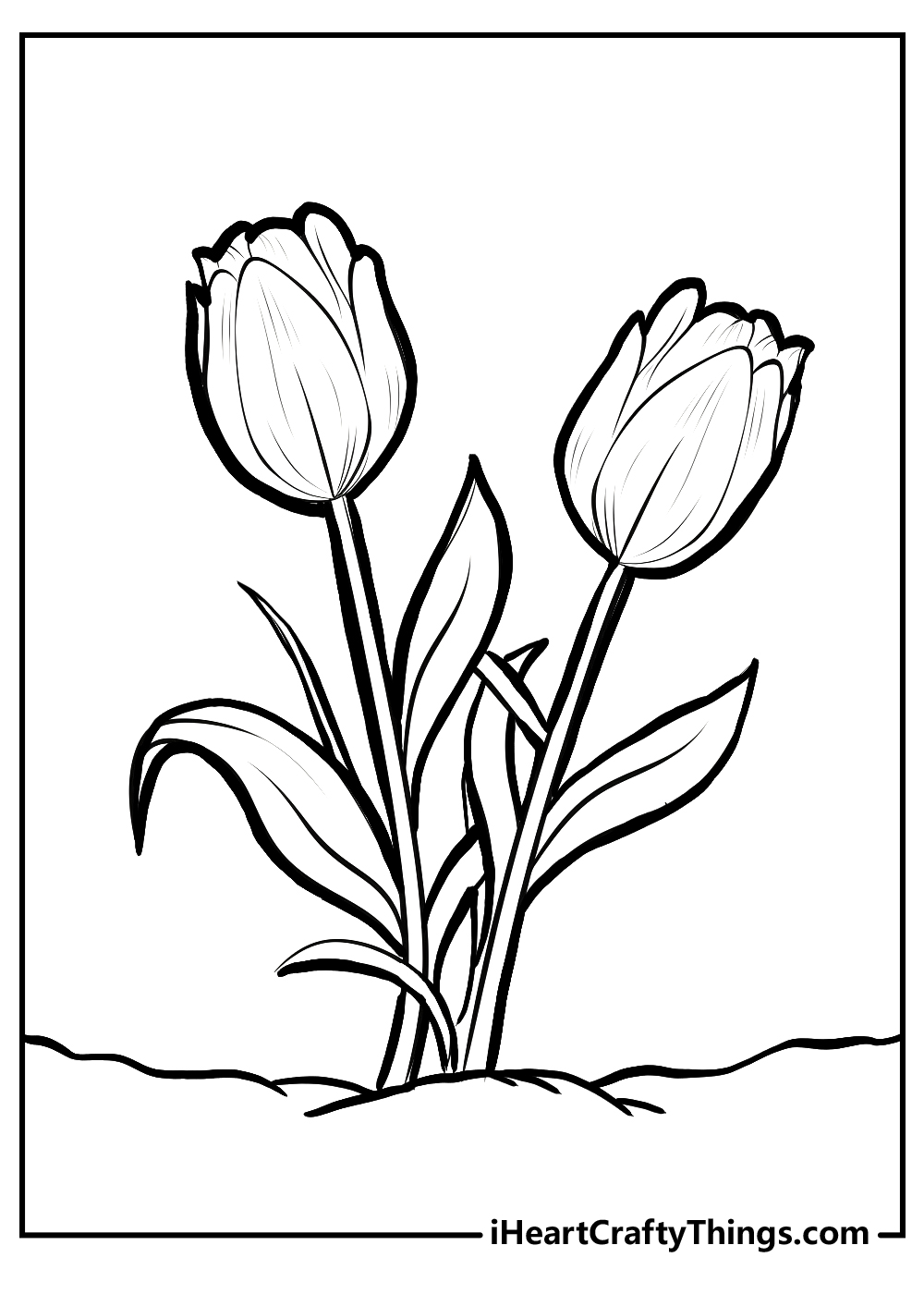 This coloring page exhibits a bouquet of tulips in the midst of their bloom. The flowers look like it is well taken care of with those healthy-looking leaves. It must be getting a lot of sunlight and water everyday to look this pretty!
This image would make a beautiful decoration when colored and framed. In which part of your house do you imagine it looks best?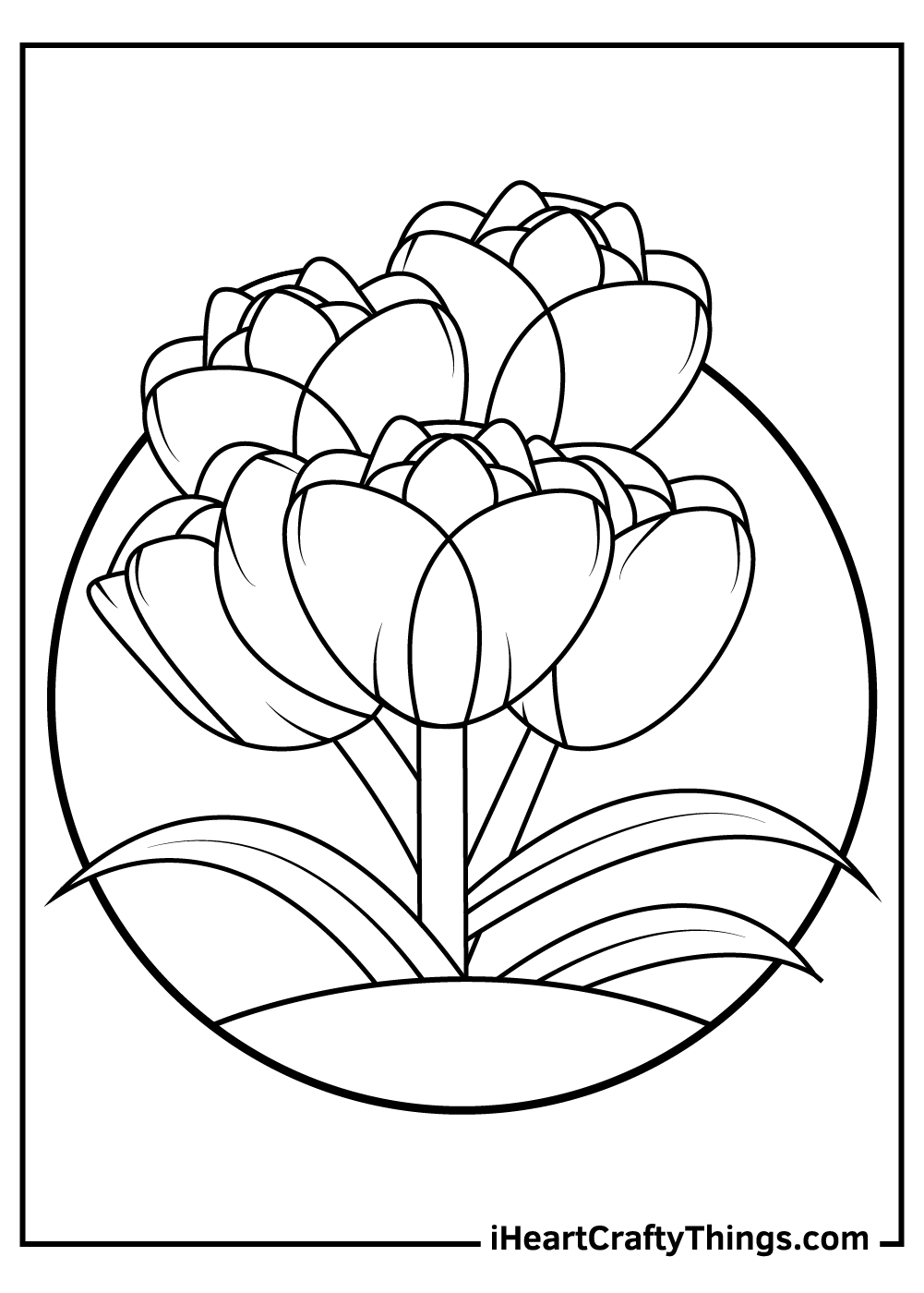 Tulip Coloring Pages — What is your favorite tulip color?
Flowers have the ability to brighten up the day and put you in a good mood. With these tulip coloring pages, you can create your very own variant of tulip. Feel free to choose any color you like to color these free tulip coloring sheets.
We're always updating our website and uploading new coloring printable sheets regularly. So, don't forget to check back anytime soon so you can keep enjoying all-new coloring pages. Remember, all of our crafts and printables are 100% free for you to print, color, and enjoy.
We hope you have fun with these tulip coloring sheets. Once you've finished coloring the printable, make sure to show off your masterpiece and share it on our Facebook page.
We're looking forward to seeing all of your wonderful works of art!
REMEMBER: You can get the COMPLETE set of these coloring pages >> HERE