On this page, you will find 15 all new Creepy coloring pages that are completely free to print and download.
It seems that children's stories have always been somehow, horror. Old fairy tales and all sorts of stories contain supernatural elements.
Surprisingly, children react very well to scary stories, as they get the chance to learn moral lessons through many descriptions regarding monsters, zombies, werewolves, vampires, and ghosts.
If you want your children to get into a world with creepy characters, here you have it: Creepy coloring pages.
15 Brand New Creepy Coloring Pages – Free to Print and Color
Explore fear with this clown zombie who seems not too happy because he left this world! Or, shall we say that he's looking right at you?
We cannot deny the hunger in his eyes and drooling mouth. If you did not know, zombies eat brains.
We can conclude that his brains were eaten up by other zombies, and then he turned into one creepy zombie.
Now, he seems to be looking for food, so you might as well hurry up and color this creepy zombie and maybe tame him a little bit?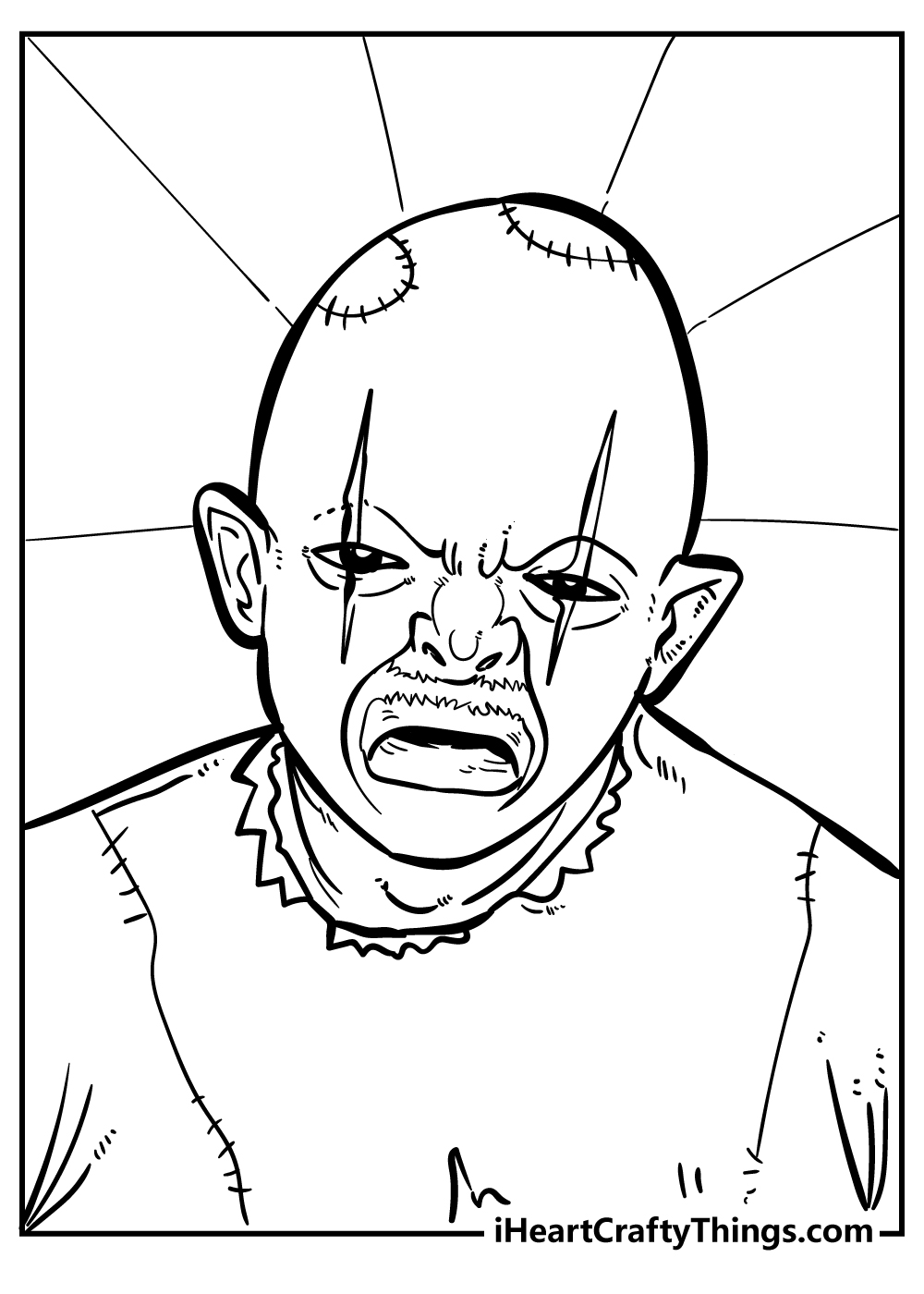 Are you ready for a spooky challenge? This creepy coloring page features a person's face surrounded by terrifying monsters in the dark.
Can you see the sharp teeth, the slimy tentacles, and the glowing eyes of these creatures? What are they planning to do with the person? How did the person end up in this situation?
This coloring page is perfect for those who love horror and mystery. You can use your favorite colors to bring this scene to life and add your own details or effects.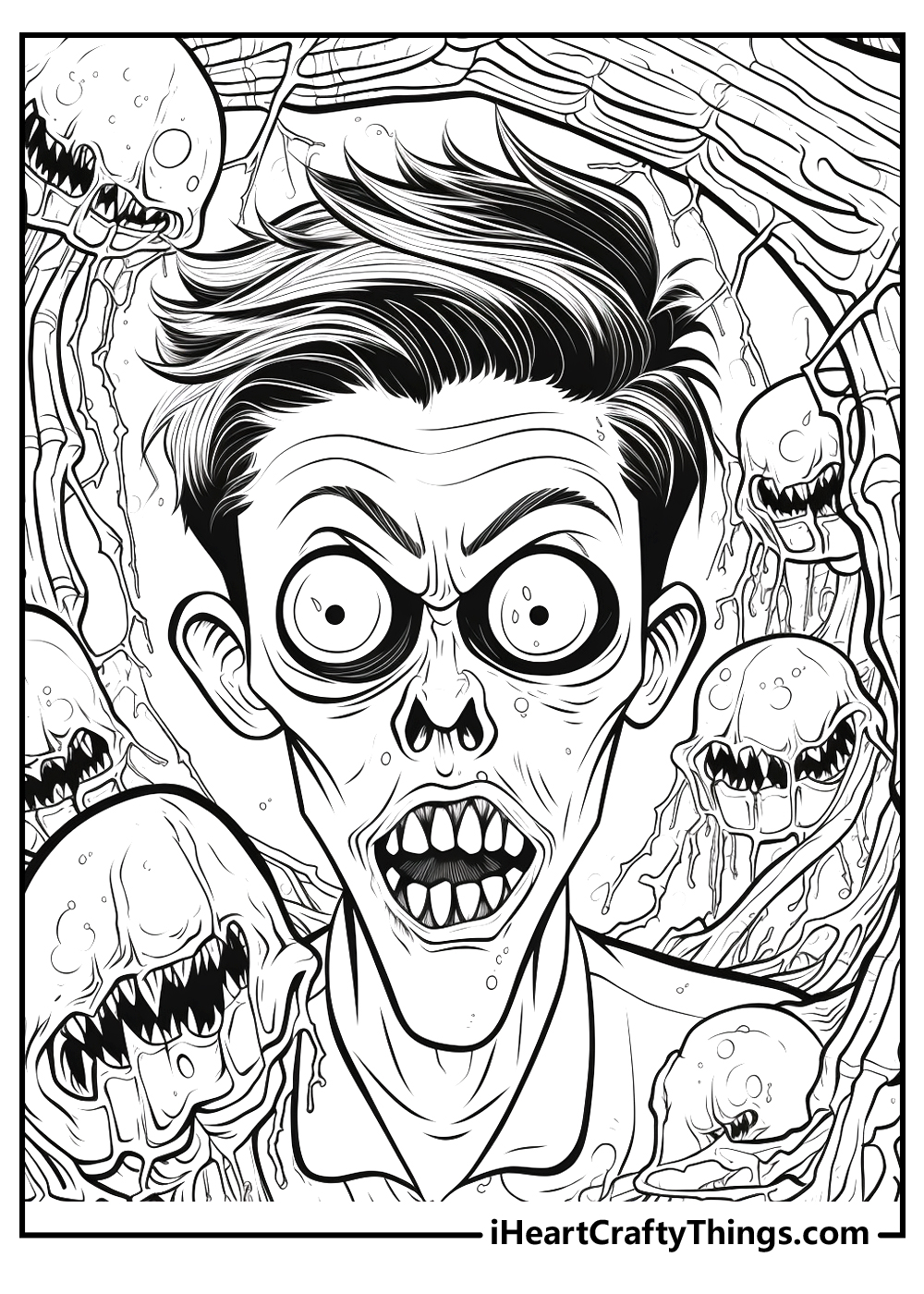 We don't really know what comes after death, and so death becomes frightening. It's perhaps the scariest subject of all!
Zombies, noises, ghosts – these are sources that could provoke fear. It seems that the scary zombie in the picture plays with children's fear.
We might not think that he is thirsty, but for sure he's hungry for brains! Stories about zombies and monsters are so popular amongst children!
And thanks to many popular movies, cartoons, books, and TV shows, zombies are totally in vogue right now. Who would have thought that zombies could be trendy?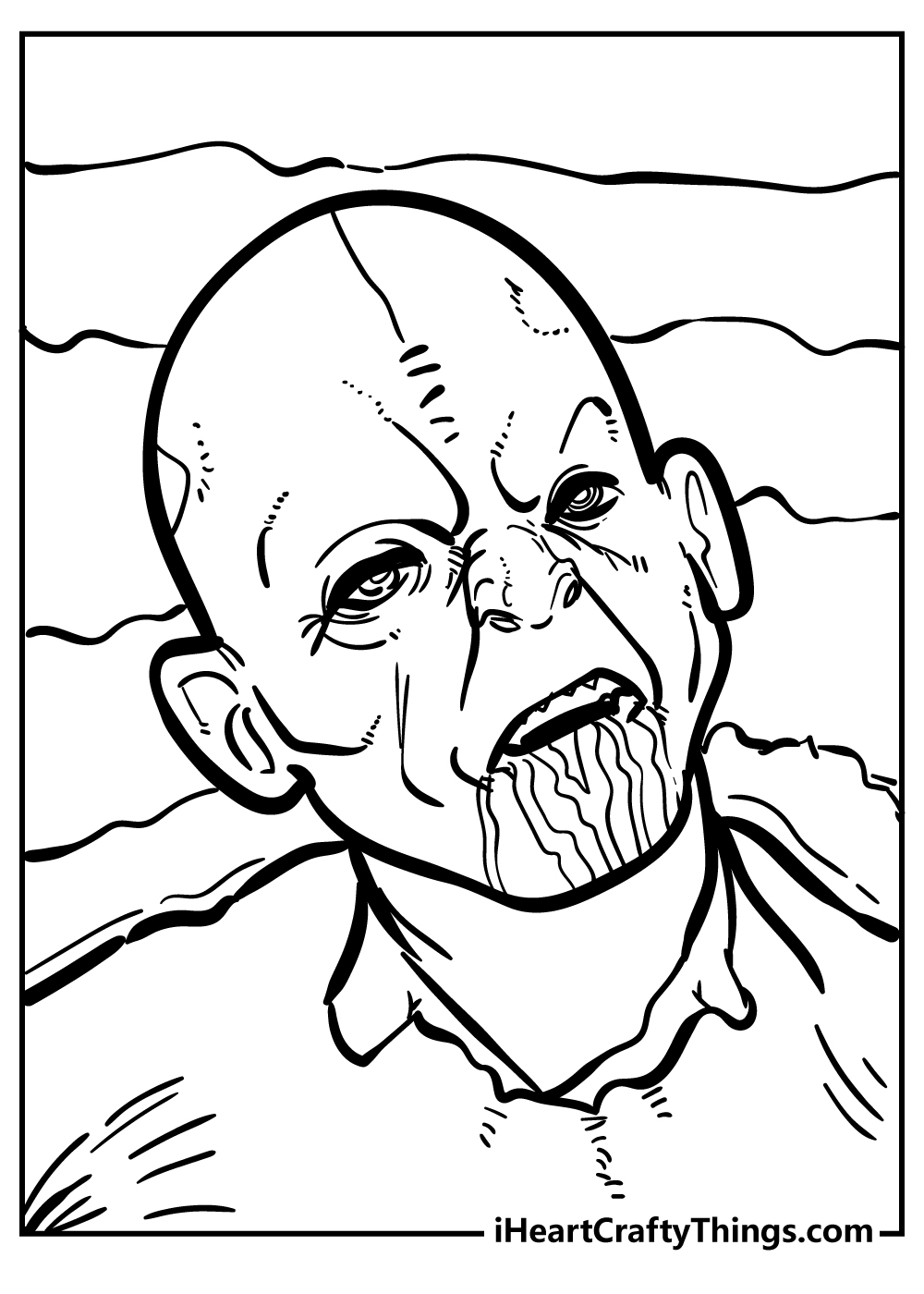 There is more to zombies than grotesque brain-eating and groaning.
They've been lumbering through literature for centuries, and now, children have the opportunity to use these Creepy Coloring Pages and color or print them.
It's time to see a gentler side of creepy creatures and terrifying animated corpses.
Give your little ones some age-appropriate zombie-themed creepy coloring sheets, like the ones in this package. It looks like this creepy creature is smiling at you, isn't it?
Although we can see his veins, scarry white eyes, and toothless mouth, it will be lots of fun to use your imagination and color it.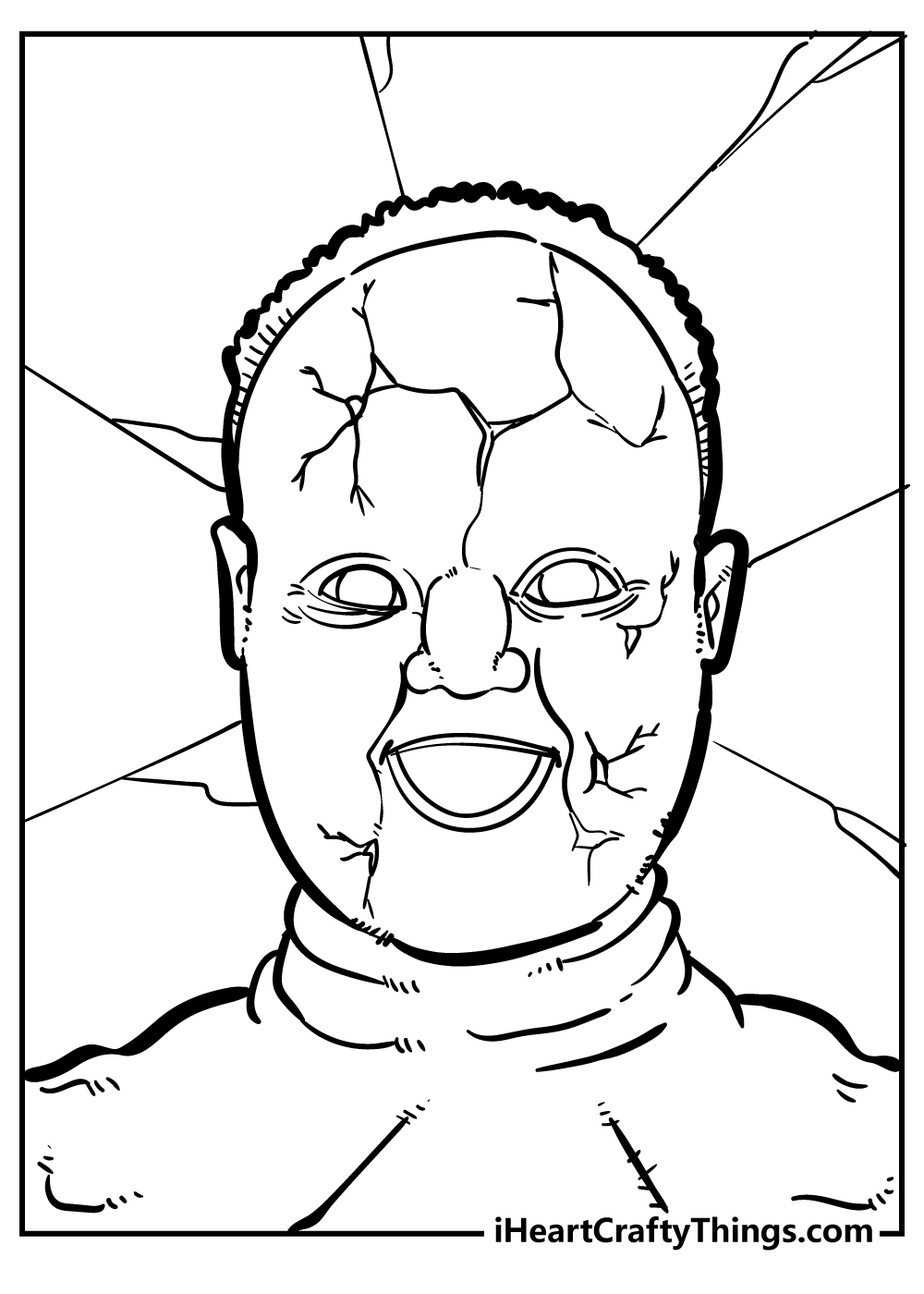 This creepy coloring page shows a scene of a zombie-like figure feasting on some bones and skulls.
It looks like it has found a secret stash of human remains in an old brick archway.
You can see the details of the figure's large head, bulging eyes, sharp teeth, and messy hair. You can also see the bones and skulls that it is holding, chewing, and dropping.
You can use different colors to make this image more realistic or more frightening.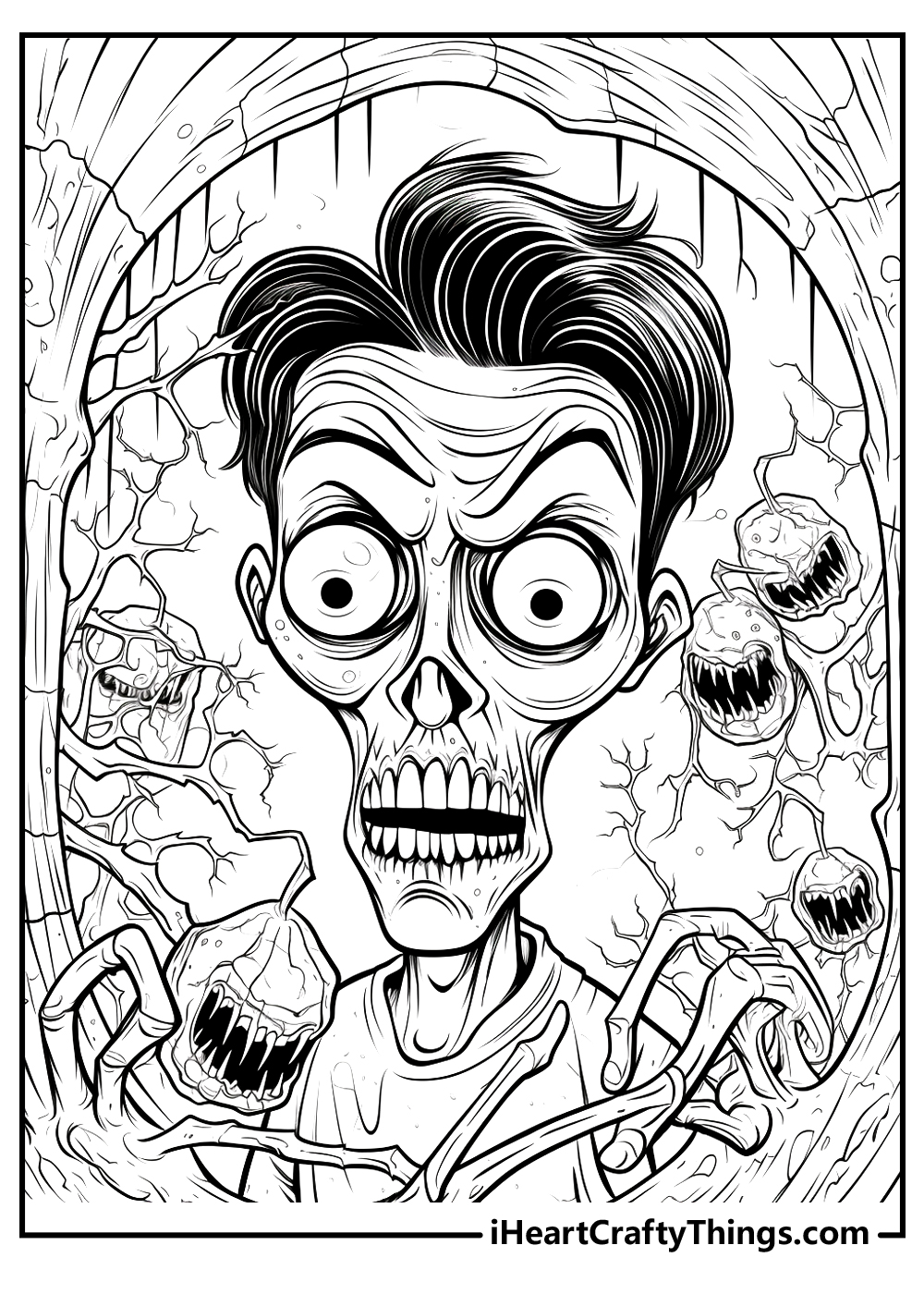 Oh, is that a potato? A monster potato? It looks anything but creepy! It's actually cute and, look! Even give your little ones a large smile.
If we use our imagination and creativity, we might even say that he looks like melting ice cream. These creepy coloring page sheets are full of inspiring pictures with creepy creatures.
So, find a name for this sweet zombie who's boring eating brains, and maybe all he wants is some ice cream, peanut butter, and jelly.
If you are determined to show your buddies that creepy creatures like zombies are more than brain-eaters, show them these Creepy Coloring Pages, and encourage them to try new things.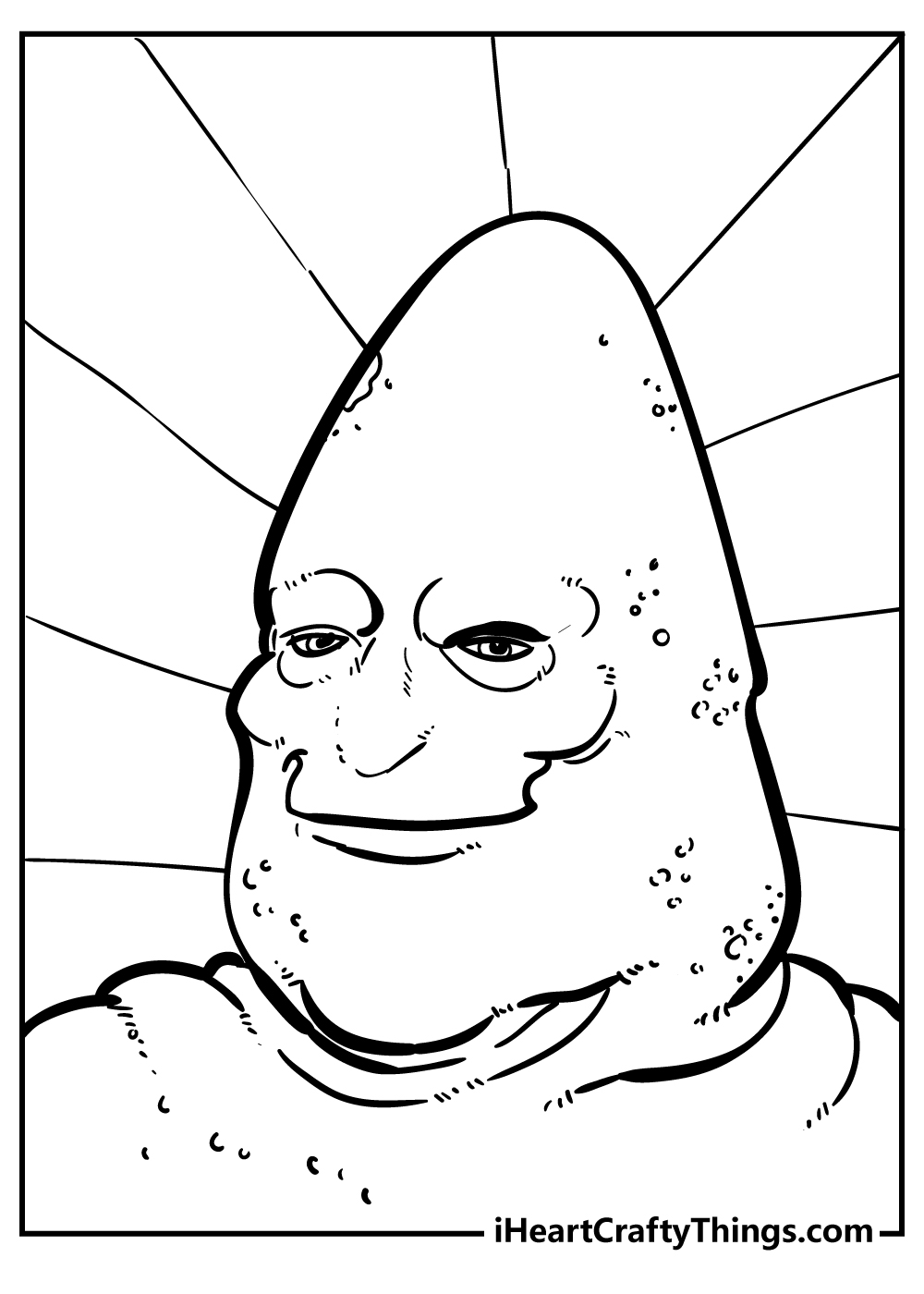 Zombies are, indeed, oddly enough, but this doesn't stop young children to love monster movies. Actually, they've inspired a vast number of popular TV shows, comic books, and novels.
Zombies are meant to be scary, but it's not quite advisable to teach your children to see them that way.
Although this Creepy Coloring Page is a bit spine-chilling, it's not like your little ones can't give it some zombie-love action.
Use fun and unique colors to give this creepy creature reasons to smile a little bit!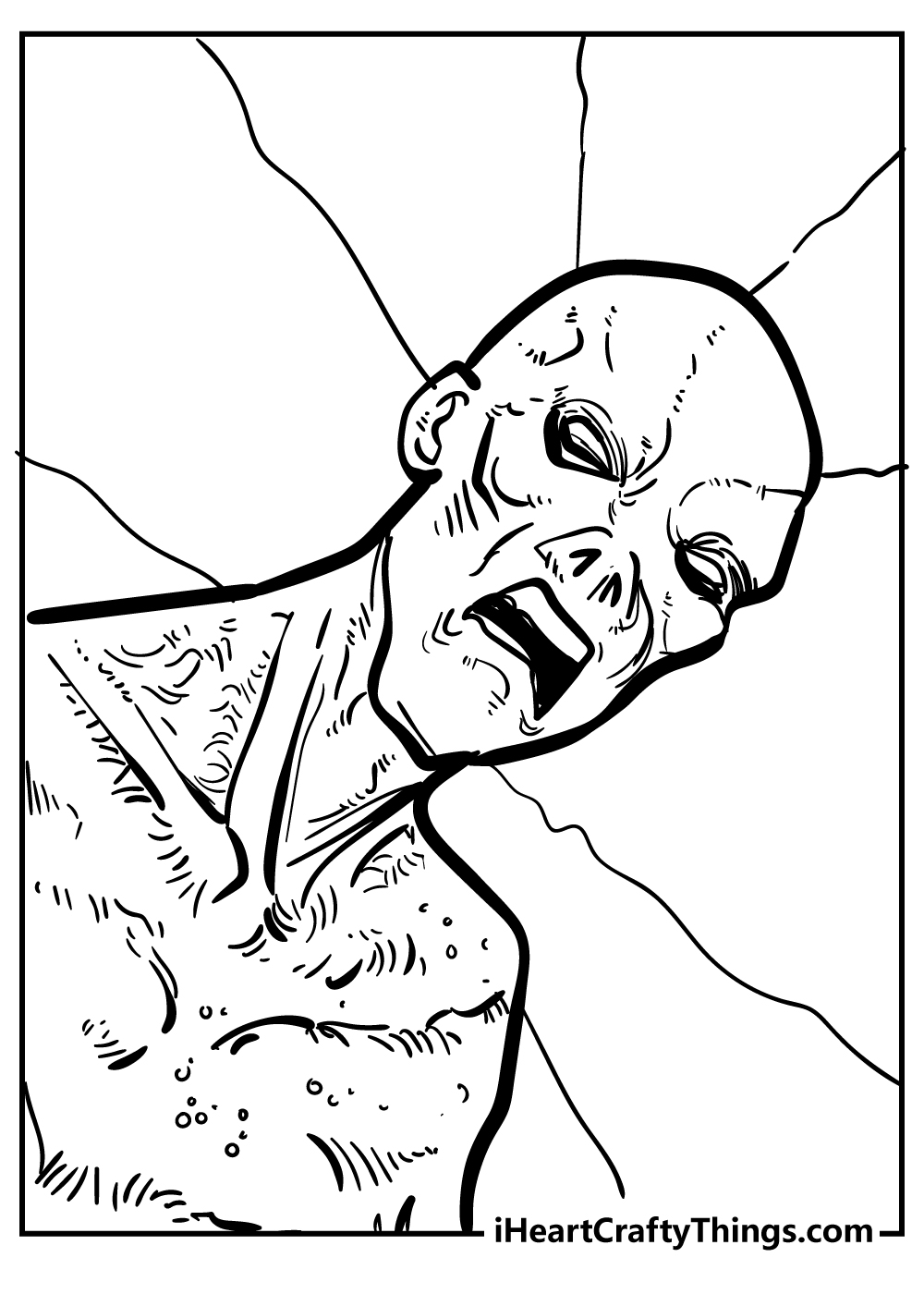 This coloring page is not for the faint of heart. It features a creepy head and neck with blurred rectangle covering the face.
What could be hiding behind the blur? Maybe a horrifying monster or a gruesome wound.The creepy hair is messy and sticking up, as if they have been through a lot of trouble.
The background is filled with zombie-like faces with sharp teeth and wide eyes. Use your imagination and creativity to color this creepy faceless coloring page.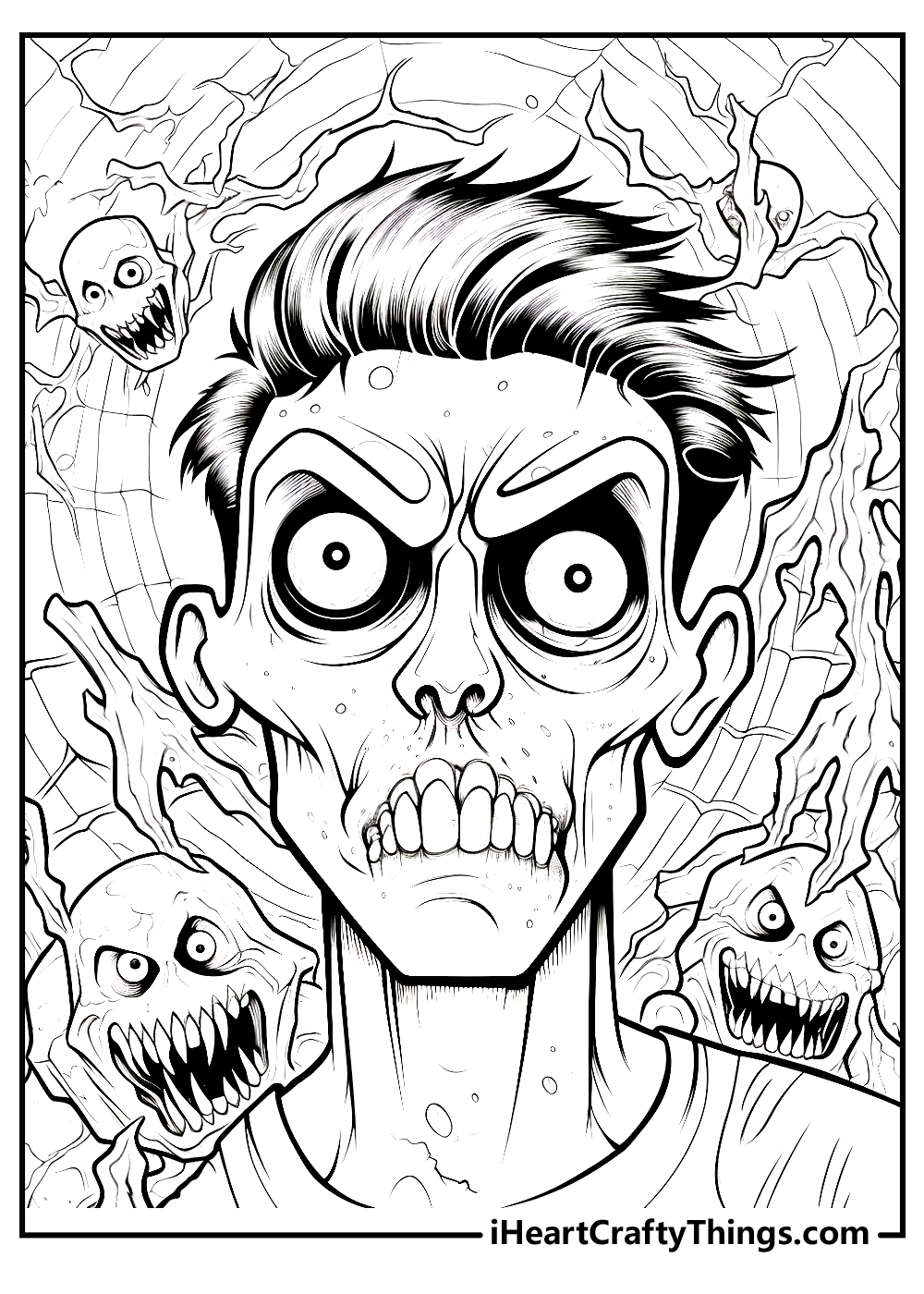 As you look at this Creepy Coloring Printable Sheet, you cannot help but observe the many teeth this creature has.
Also, the wavy hair makes it look like he's trying to hypnotize you! Be careful, you might lose your mind by looking for too long at this image.
So, what shall we call this creature here? Is it a person? An evil clown? He might have escaped a party and sought new friends now.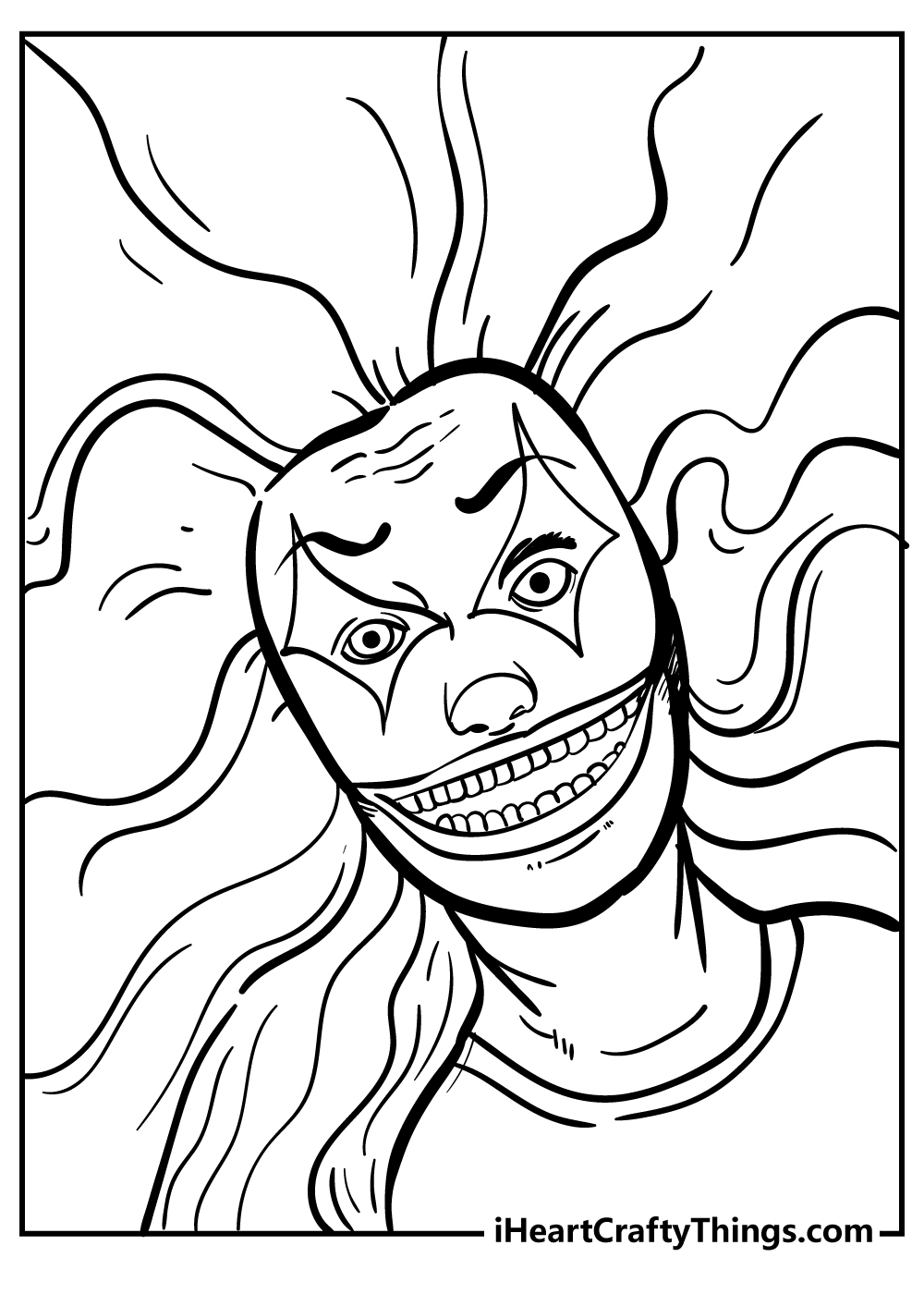 How did hilarious comedians become creepy? Do you love going to birthday parties, circuses and watch the clowns?
Some of the clowns can be funny, but others are a bit creepy like the ones you find in these Coloring Printable Sheets.
Are you somehow scared by the clown in this picture? You're not the only one. Most children find clowns more scary than funny.
In fact, even some adults are afraid of clowns! But why something that's supposed to be fun is so frightening to some people?
Back in the day, clowns acted like fools to make people and children laugh. But then, they've become sad and angry, like the one in the picture.
Now, it has become popular to color clowns. Give it a try! Use unique glittery colors to make this clown happy again!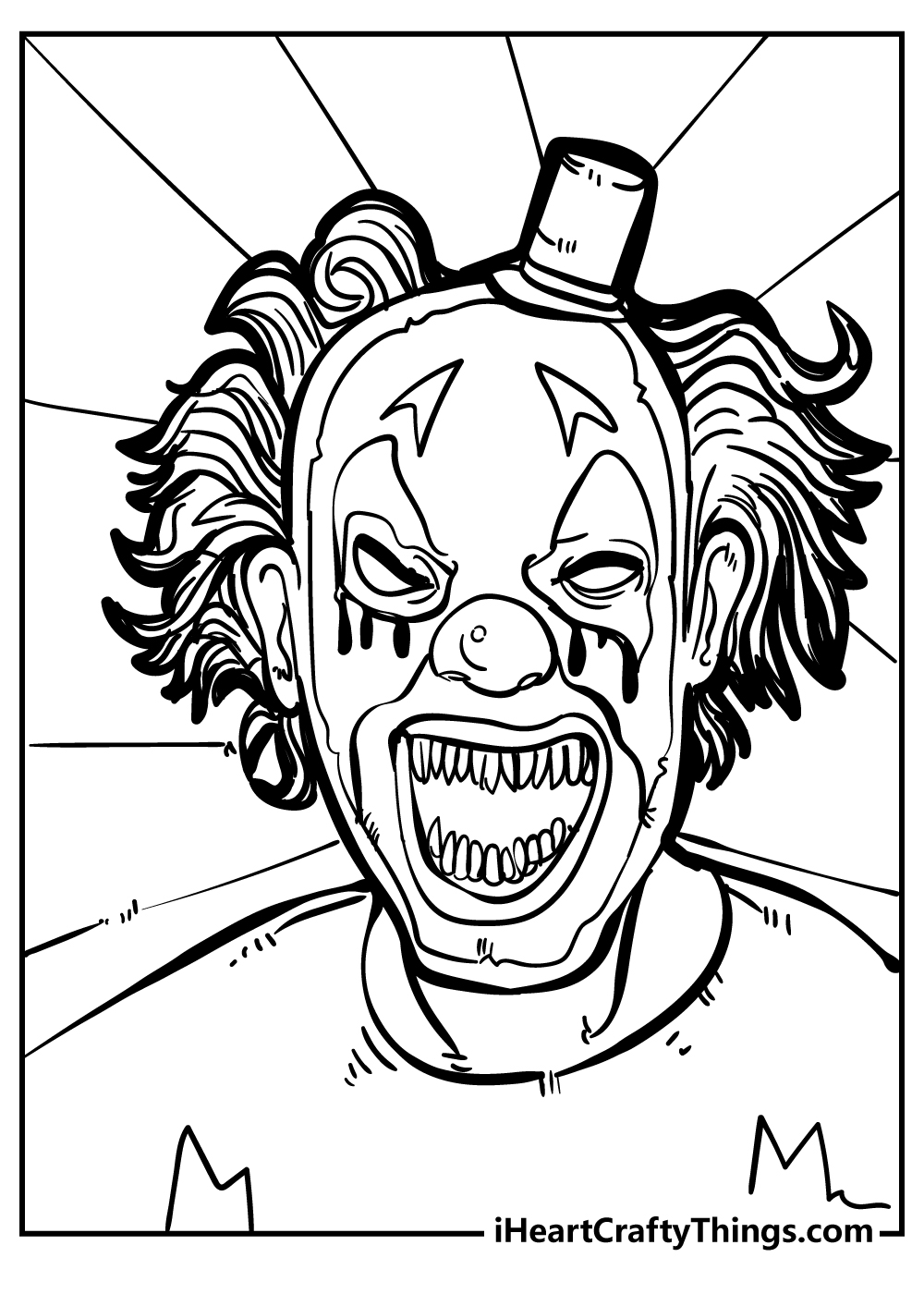 This coloring page is for the brave and adventurous. It features a creepy with a large head and a small body. The Creepy looks like he is hungry for some fresh meat!
The background is filled with other zombie-like creatures and a chaotic, apocalyptic landscape. There are explosions, fires.
You can make the zombies look more scary or funny, depending on your mood. You can also add some more details and effects to make the scene more realistic or fantastical.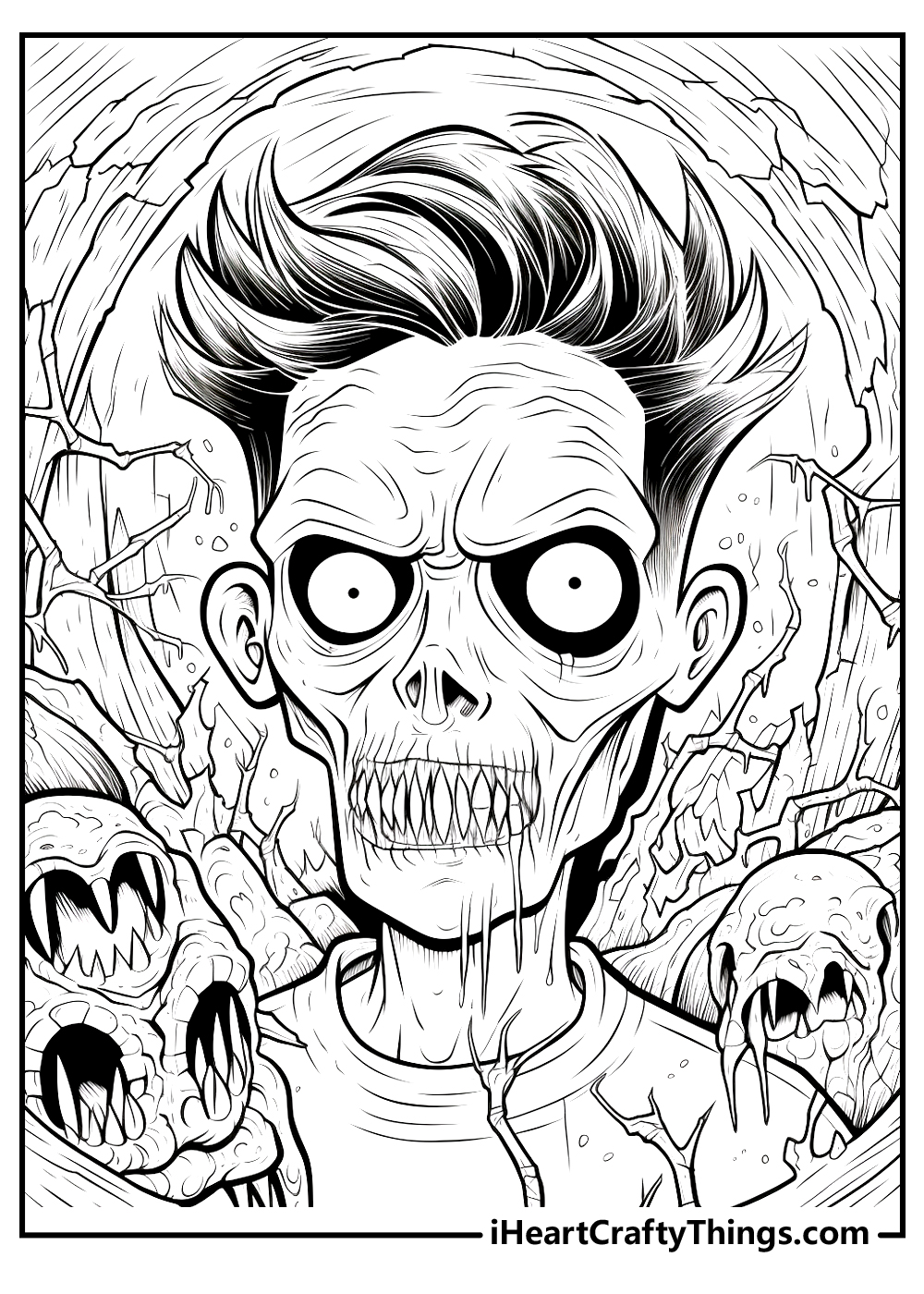 It looks like these Creepy Coloring Pages are not all about clowns and zombies! Here is a lady who might need a makeover, so she looks pretty again.
Some red lipstick and a nice eyeshadow color might brighten up her day! Her hair also looks like it needs some dye.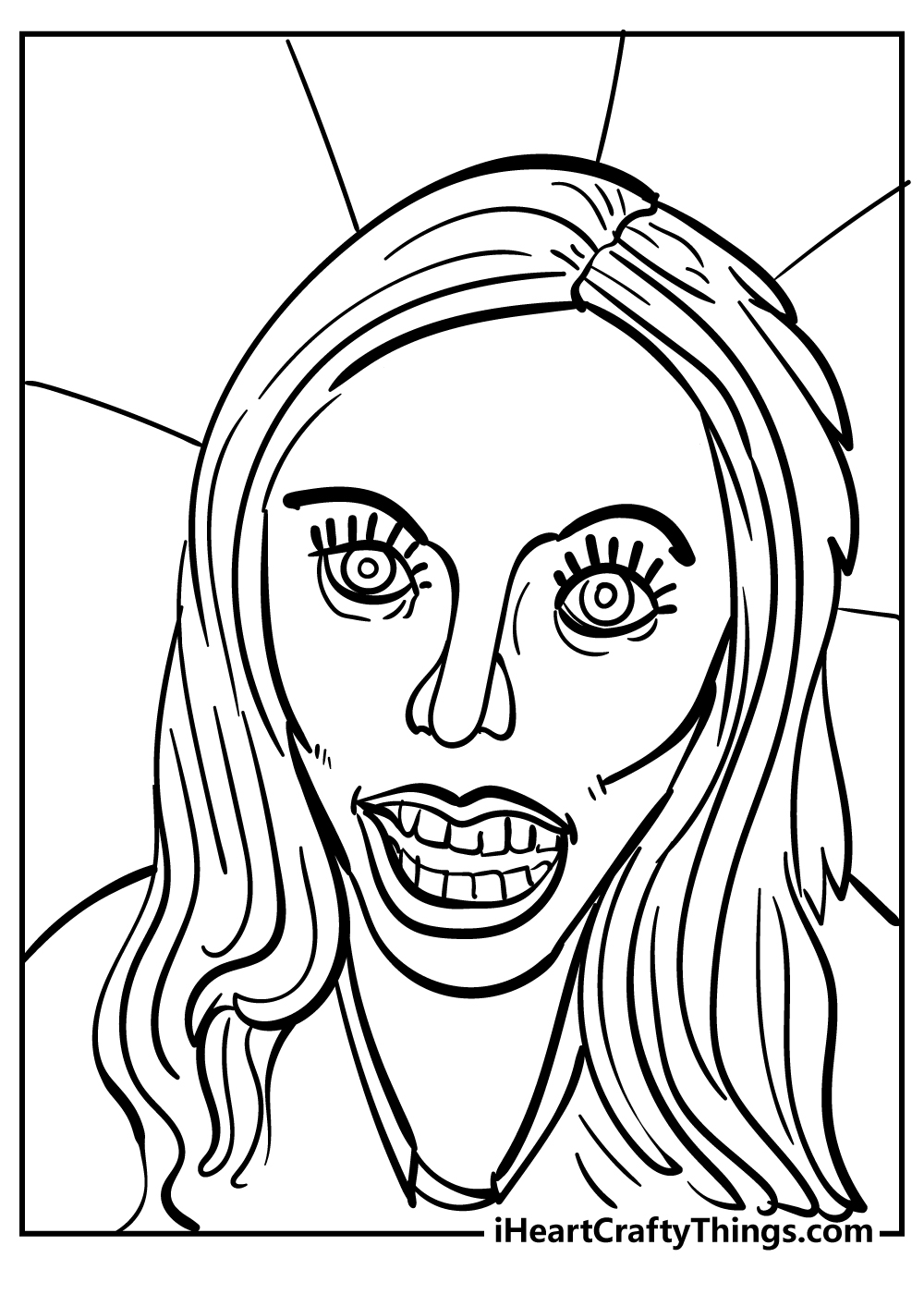 This is an image of a girl character with pigtails and big eyes with a creepy look. It's visible that she did something scary, as she looks evil and full of horror.
It might be a good Creepy Coloring Page for children to enjoy for Halloween.
Big disproportioned eyes, scary look, giant neck, and a petrifying scar in the middle of her forehead. It gives you chills down your spine, right?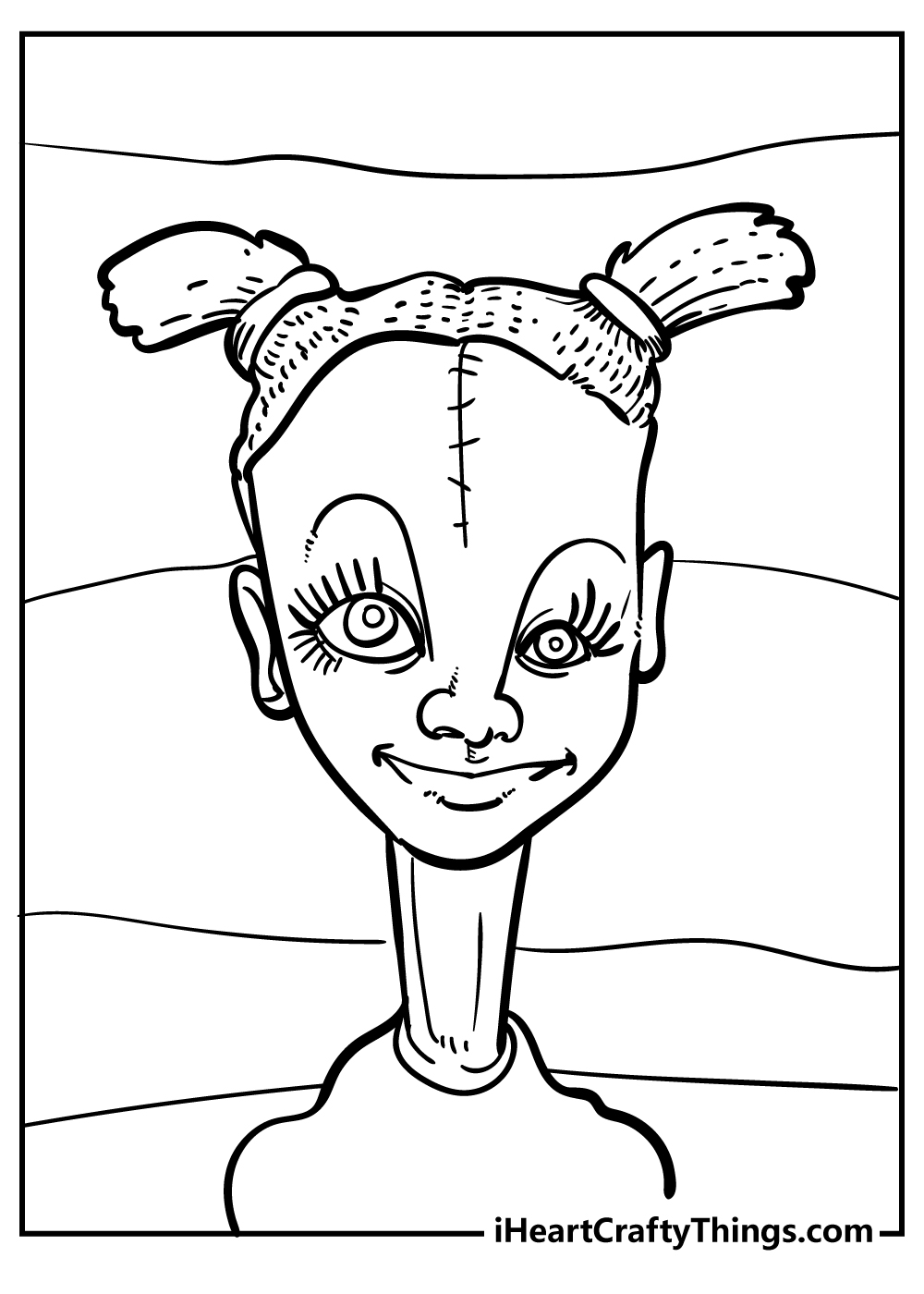 Forget about ghosts and trolls – there is plenty of other evil and eerie creatures living out there, like this frightening clown in this Coloring Printable Image!
He looks like a historical clown who just come out of the dead. But what happened to him? Why did he lose all of his teeth? Oh, maybe this is your chance to draw some teeth and color him a little bit.
Although this won't make him look less scary, this coloring page might look a bit more sophisticated.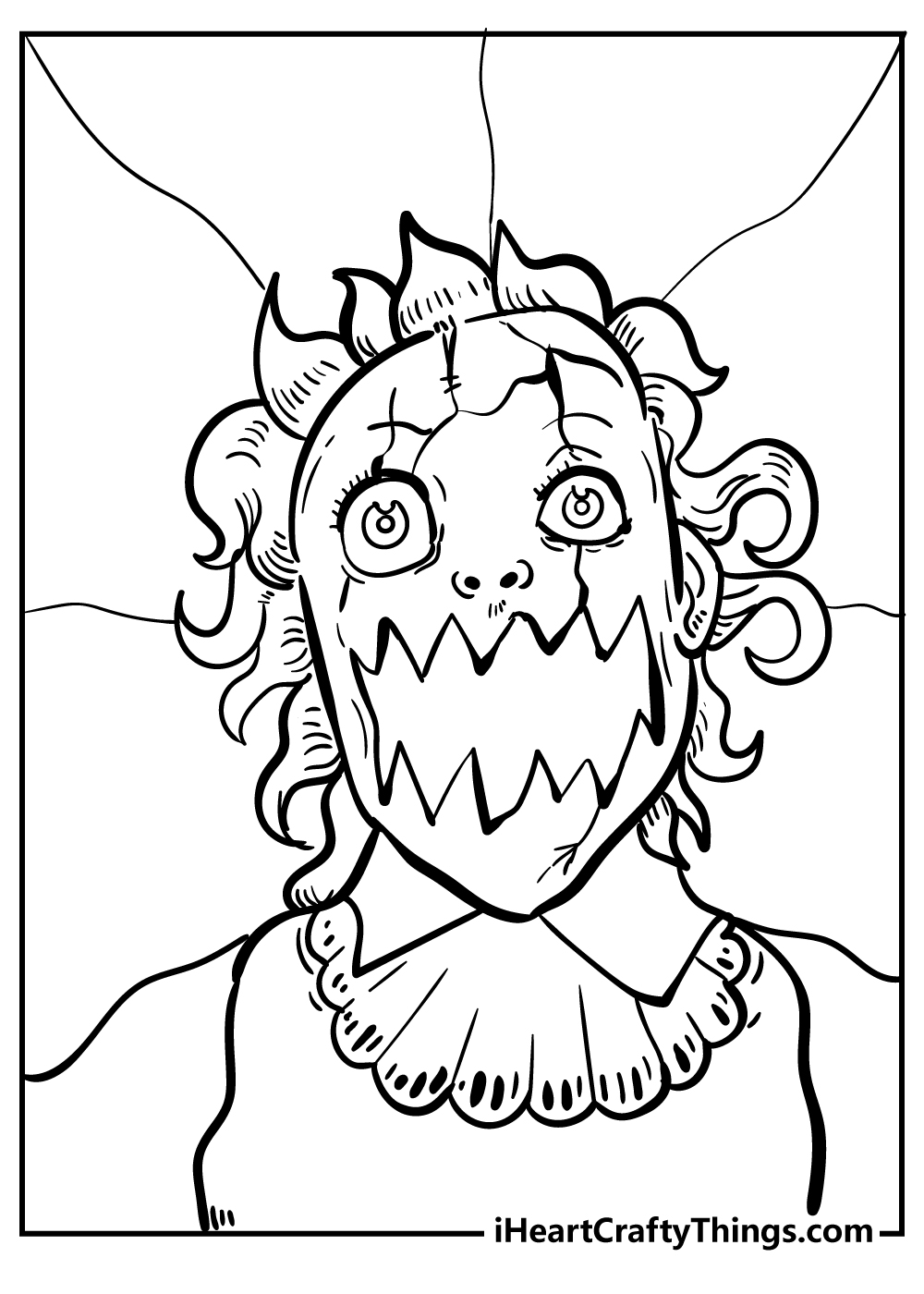 This coloring page is for the thrill-seekers and horror-lovers. It features a creepy face with a horrified expression. He looks like he has seen something terrifying!
The background is filled with skulls and bones. They are piled up and scattered around. They have different shapes and sizes.
Some have cracks, holes, or missing parts. They look like they belong to some unfortunate victims of a gruesome fate.
You can finish it off by coloring the eye a bright, beaming orange.